Top Crochet Cardigan Patterns For Beginners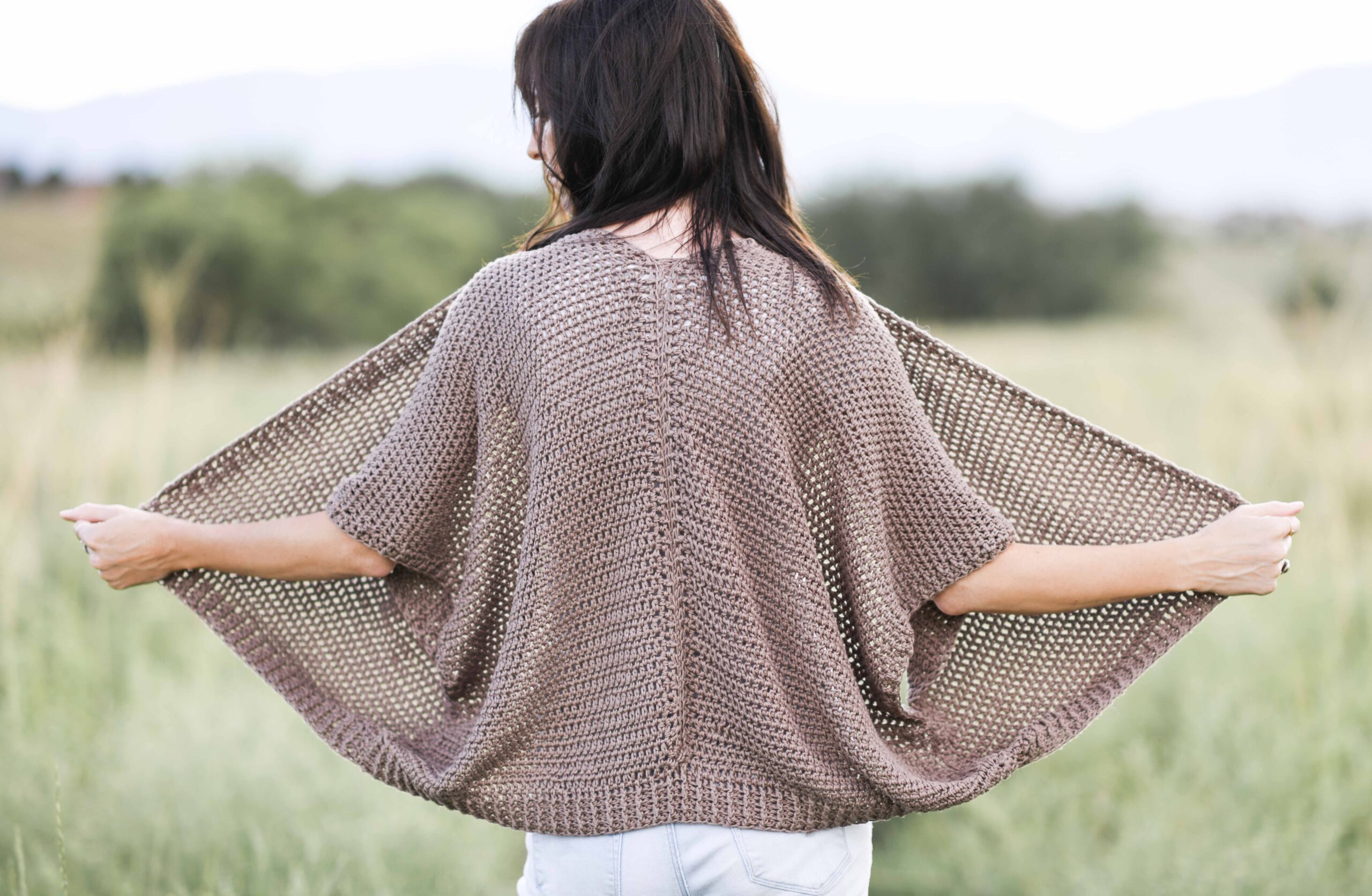 Once you learn to crochet small beginner items such as hats and scarves, it's time to take your craft skills to another level by crocheting cardigans! I'm sharing my top crochet cardigan patterns that beginners can make.
Who doesn't love cardigans? They're so versatile, comfy, and cozy! Plus, they provide just the right level of warmth for any time of the year. And they're a must-have wardrobe staple that's perfect for any occasion and season because they go with a large variety of outfits.
My closet is filled with cardigans. I love wearing cozy plush versions in the winter, chunky and oversized designs in the spring and fall, and airy and lacy patterns in the summer. There's truly a perfect cardigan for every occasion, and I am a firm believer that you can never have (or make!) too many.
I love to crochet cardigans! In fact, blankets and cardigans are two of my favorite items to crochet because they're so easy, satisfying, and practical.
Over the years, I've created many different crochet cardigan patterns. I think that at this point, I've got designs for every style and season. I've been busy sharing some of them, and I figured it might be nice to combine several of the ones I've shared into one easy-to-find post.
Check out this roundup of my favorite free crochet cardigan patterns for inspiration.
Crochet Cardigan Patterns Perfect For Beginners
So here we go! I pulled some of my favorite patterns together to share with you. There are even more on the site (and I'm always adding more designs), so don't feel limited by this list, but it's a great starting point!
Are you searching for summer crochet cardigans? How about chunky crochet cardigan patterns for fall or winter? Whether you want long sleeves, short sleeves, bulky, or oversized crochet cardigan patterns, you can find the free patterns below!
Toppers are my go-to for throwing on when I'm running out the door or covering my shoulders on cool summer nights and fall days. Shrugs like this one are a cinch to crochet because all you do is make two rectangles and seam them together up the back and the sides.
This is a very beginner-friendly pattern. If you know how to half double crochet, you're set!
This sweater is made with velvet (yep, you heard me right!) for a super soft, cute piece that's perfect to wear in both winter and spring. This is the ultimate spring cardi featuring a relaxed design with an on-trend cropped fit and understated bubble sleeves.
If you're ready to crochet your first cardigan, I can't recommend this one enough, thanks to its simple design and the use of half double crochet stitches.
I made this crocheted cardigan pattern with beginner crocheters in mind. The entire piece is crocheted in basic shapes, uses beginner stitches, and has light shaping at the sleeves.
It does use a slightly different process for crocheting the sleeves, but it's easy. I will walk you through it step-by-step. It's a great go-to for newer crocheters!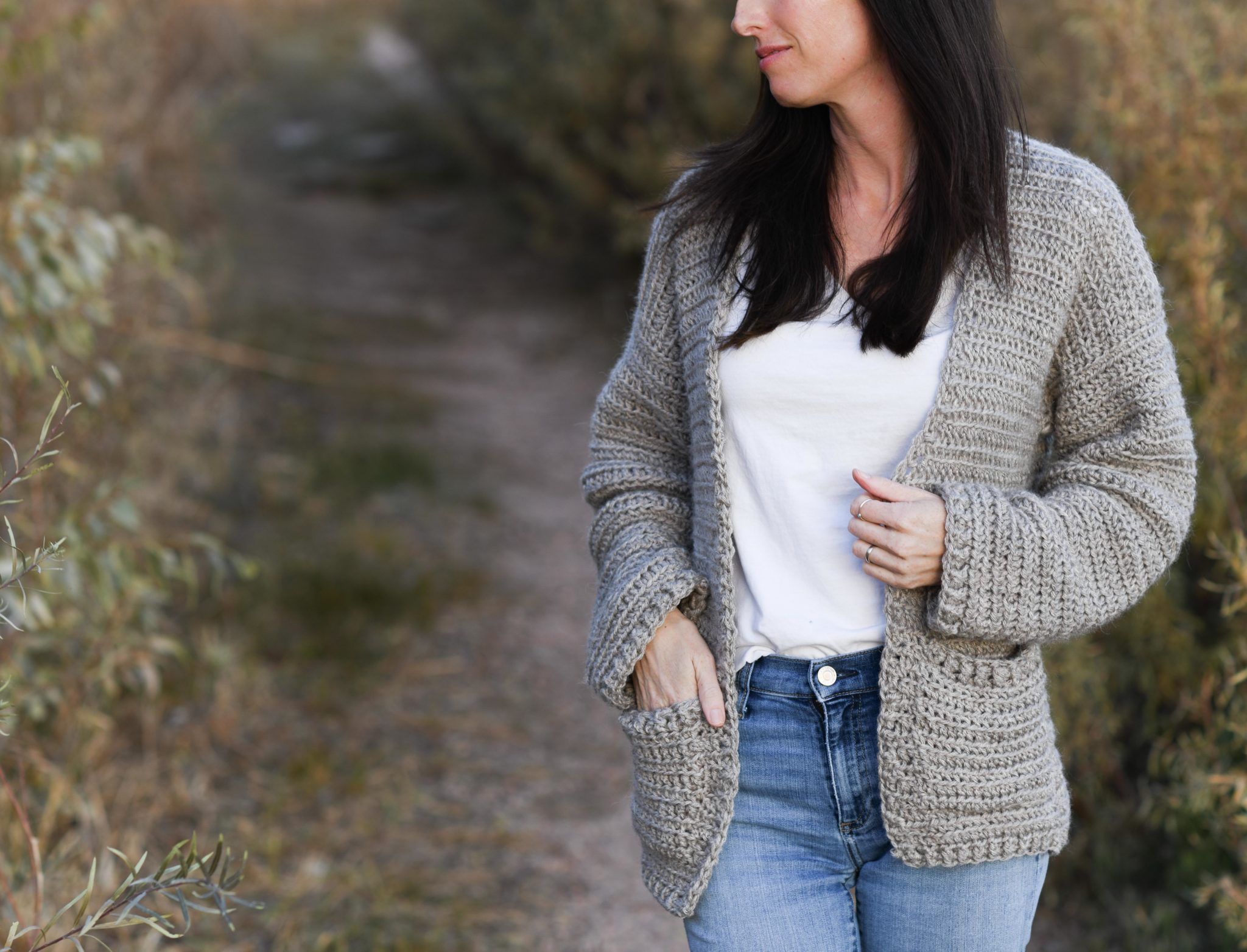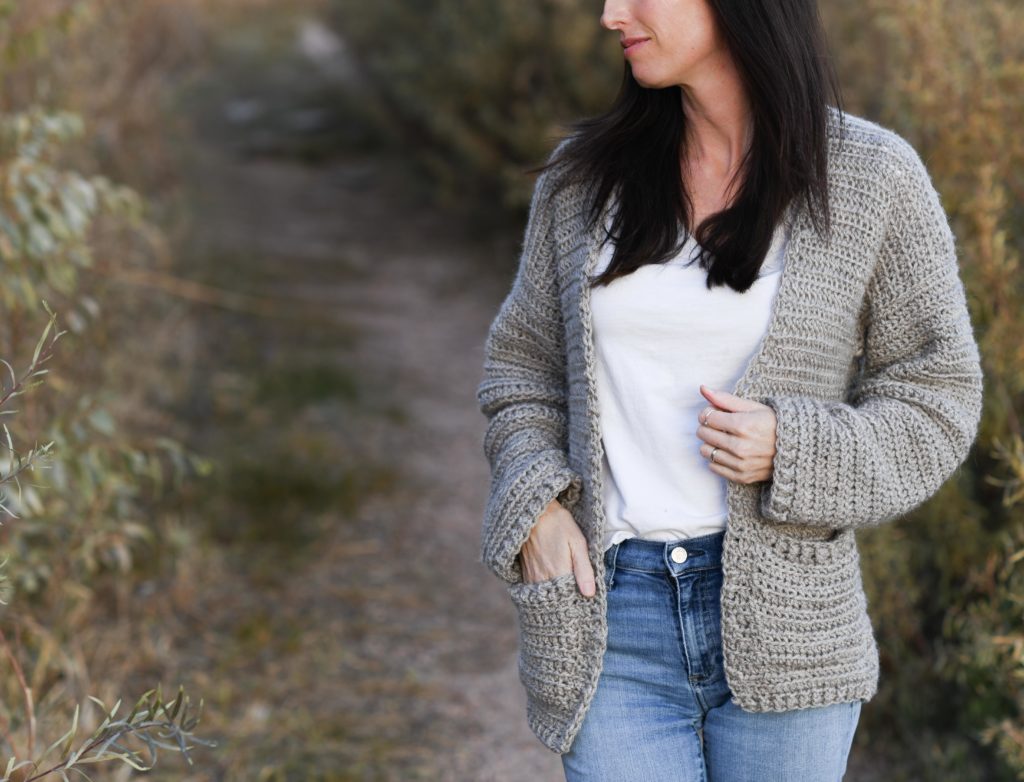 Say hello to your new fall wardrobe staple! Designed with a longer fit and big pockets, this comfy sweater will keep you warm all season long. All you need is beginner-level crochet skills (including the half double crochet and slip stitches) to get started, so it's ideal for any crocheter.
Crochet cardigan patterns like this one work the sleeves in rounds, but don't let that turn you away. It's simple, and I take the guessing game out of it by showing you how!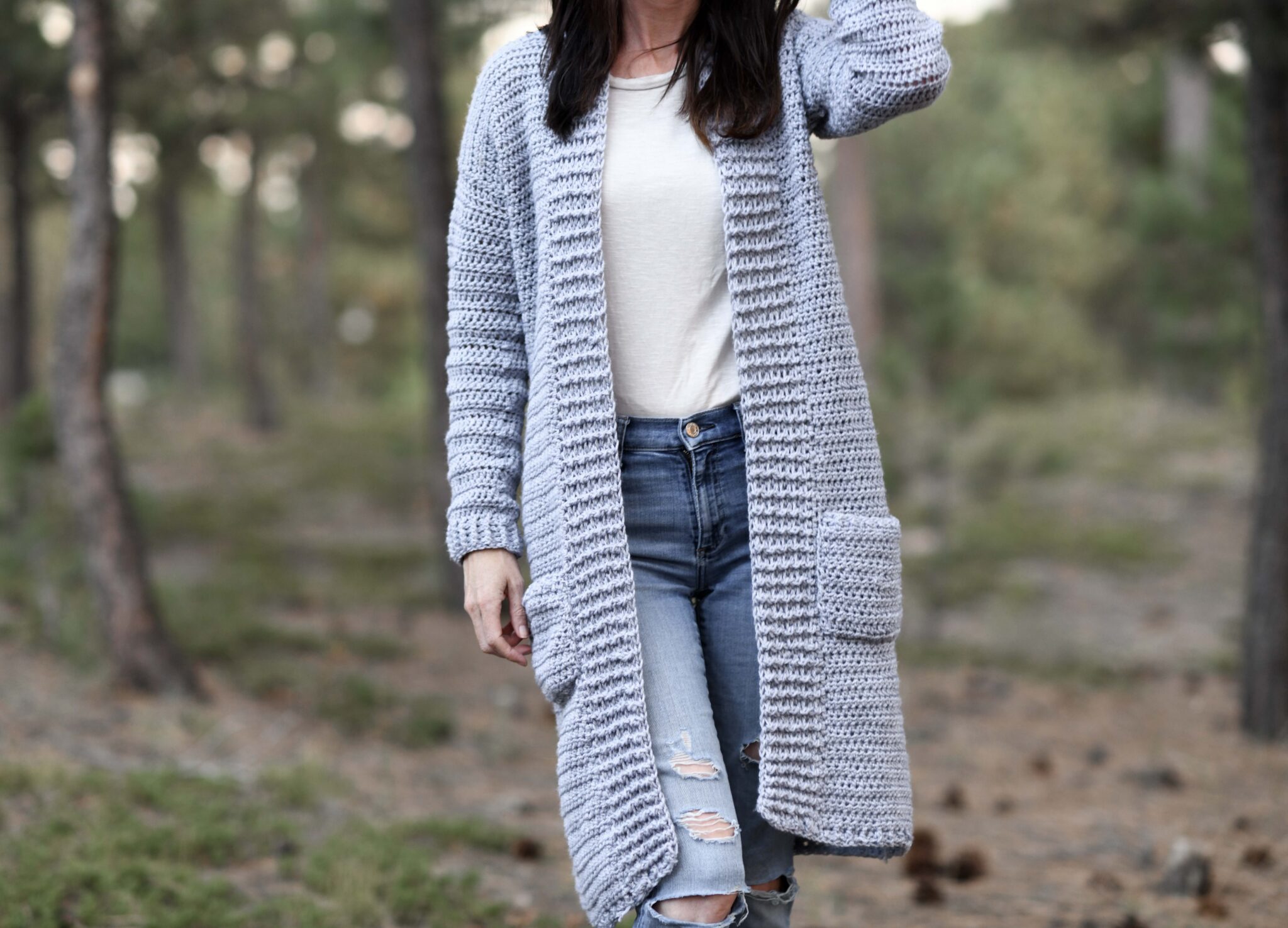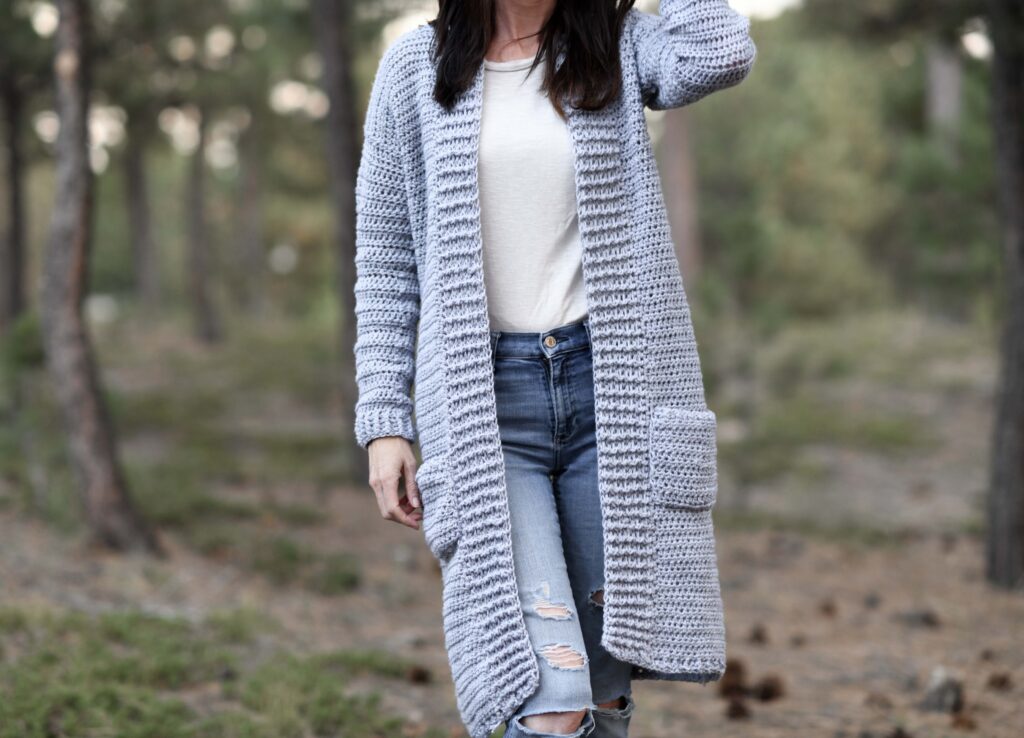 This cardi is one of the softest, most comfortable designs I've made. It's light and airy, fits well, looks stylish, and the bamboo soft yarn gives a whole new meaning to the word soft! The vintage lace and dreamy drape make this cardigan pattern a showstopper.
This design uses double and treble crochet stitches to provide the lacy look that makes this cardi so special.
This beginner-friendly design has minimal shaping and is crocheted in panels, so it's easy to make. The eyelets are easier than they look and create simple cardigans that stun.
Once you become familiar with the stitch pattern, it becomes pretty mindless and works up quickly. This pattern is excellent for crocheters who don't want to spend a year working on a single project!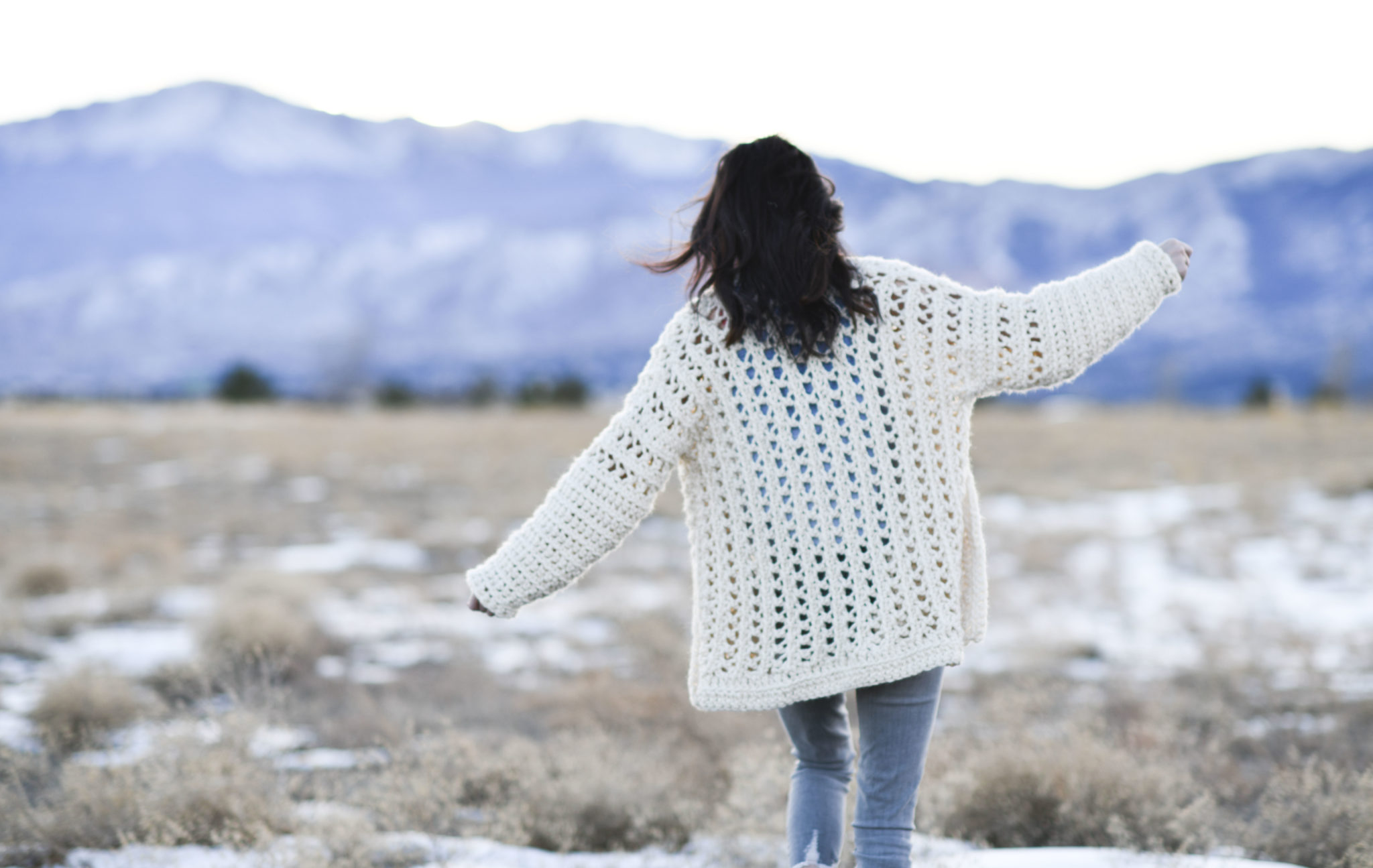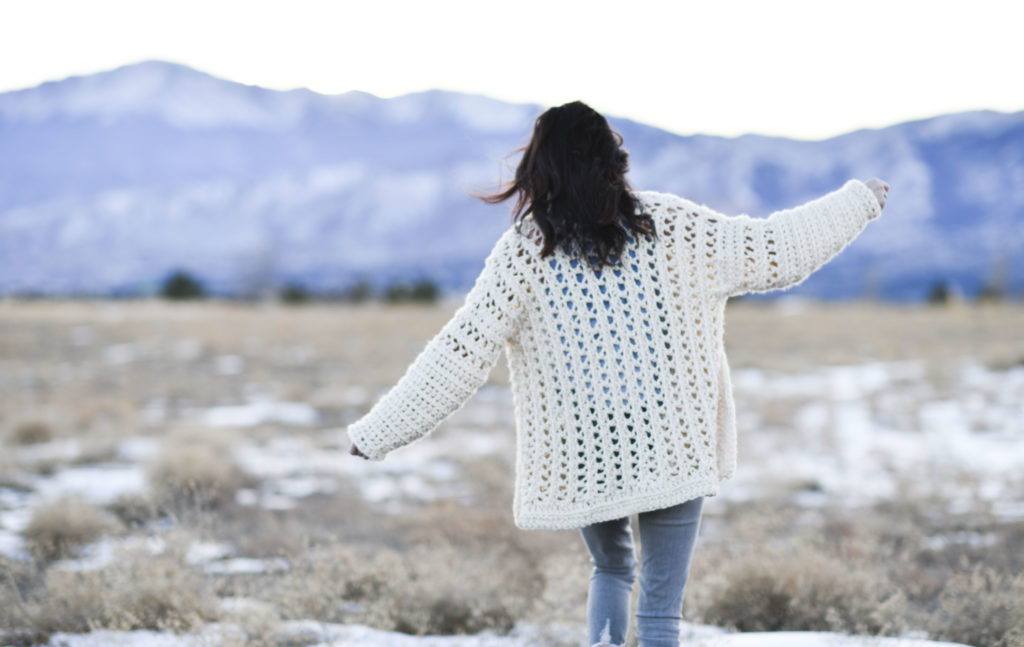 I'm always a fan of making a cardigan that is super cozy, chunky, and oversized. What's comfier than wearing a blanket? And, as a beginner, nothing is more straightforward than crocheting a rectangle!
This free crochet pattern makes a garment that's slouchy, floppy, and ultra-comfy. I love the buttons for keeping it closed when you want! This design is almost entirely done in the V–stitch, which uses beginner-friendly double crochet stitches.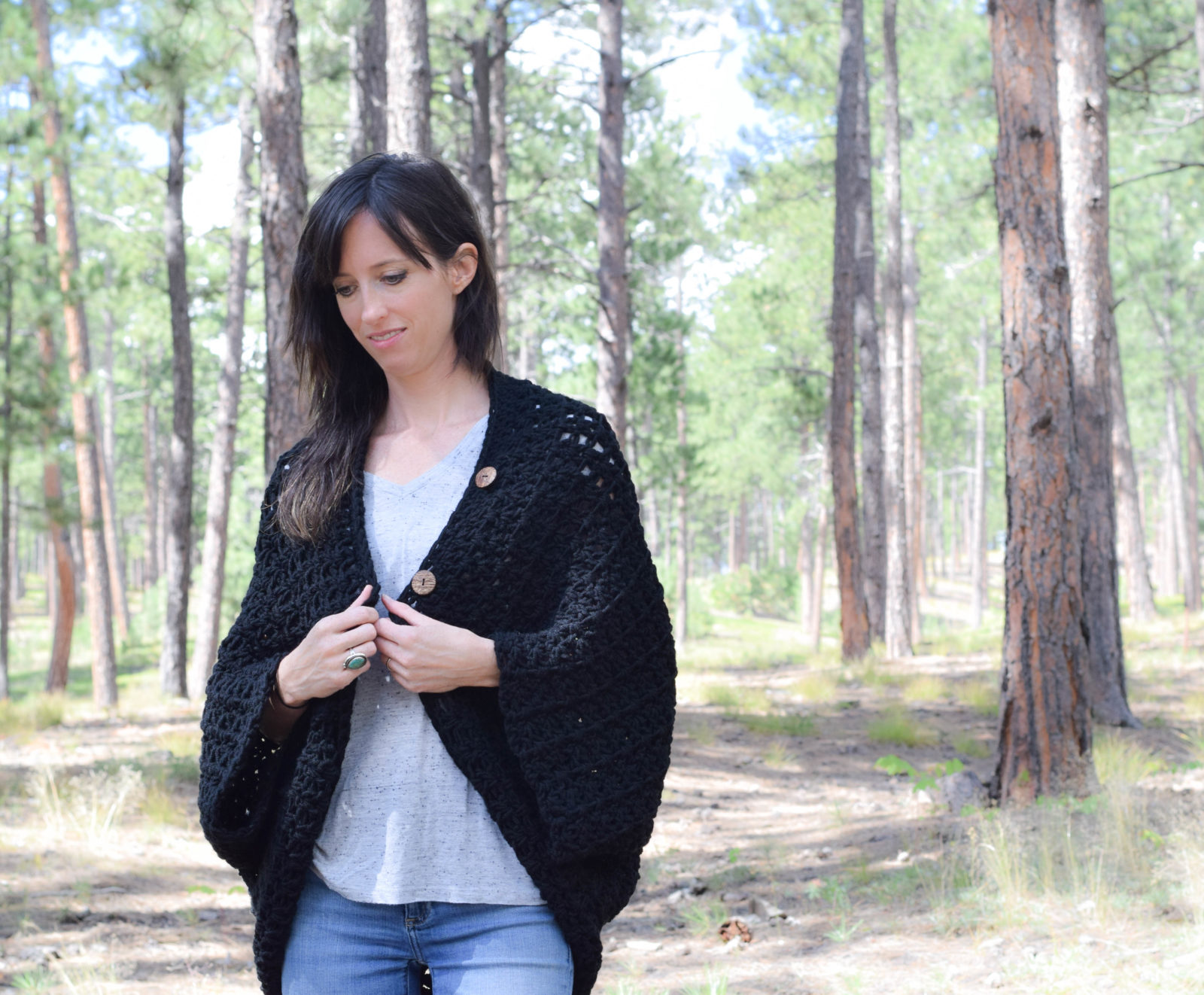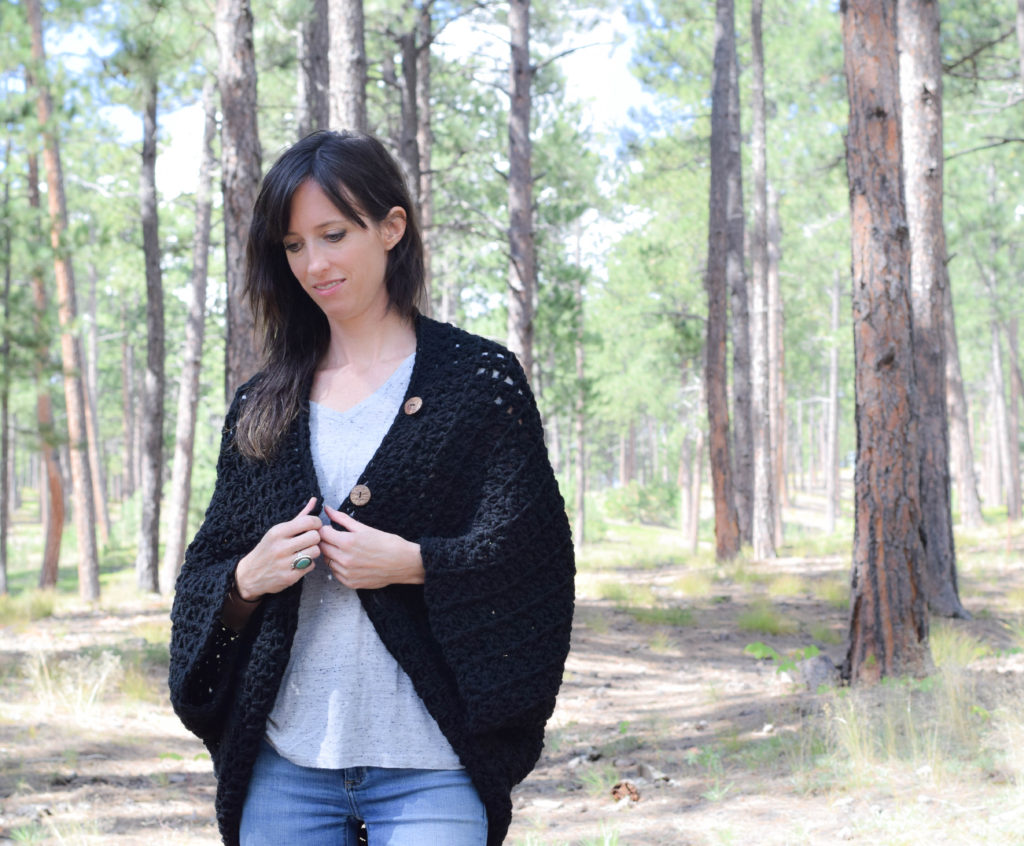 This pattern uses super simple construction to yield a flattering and relaxed fit. It's a beautiful, comfortable kimono cardigan with a generous collar that you'll reach for on cool days. Pair this cozy and practical sweater with leggings or jeans when you want a relaxed look.
Although it's a very beginner-friendly skill level, I recommend practicing the Textured Section stitch pattern with your crochet hook (tutorial provided) on a small swatch before starting this design.
If you love granny squares, you'll probably love this comfy cardigan! The entire cardigan design is made by crocheting basic granny squares and seaming them together. If you've never crocheted granny squares before, you'll pick it up very quickly.
The crochet cardigan pattern offers lots of flexibility to adapt it into precisely the cardi you dream of. Use neutrals or go hippy by making it multi-colored.
I made this kimono with an airy, open mesh stitch pattern to create a drapey, lightweight fabric perfect for summer.
It's great for beginners because you just need to know how to double crochet and make chain stitches. Then, to make the simple shape of this cardi, all you need to do is create two rectangles and seam them together.
Ok, in full disclosure, this pattern is more of a jacket than a cardigan. But it might be just what you want if you tend to feel cold a lot during the winter. It works up similarly to a cardigan, and the Sherpa Fleece yarn is perfect for those brisk winter days.
The entire project is made with the basic single crochet stitch with very little shaping, so it's an easy pattern that's ideal for beginners. If you're looking for a plush warm jacket to wear over the winter season, this may be it!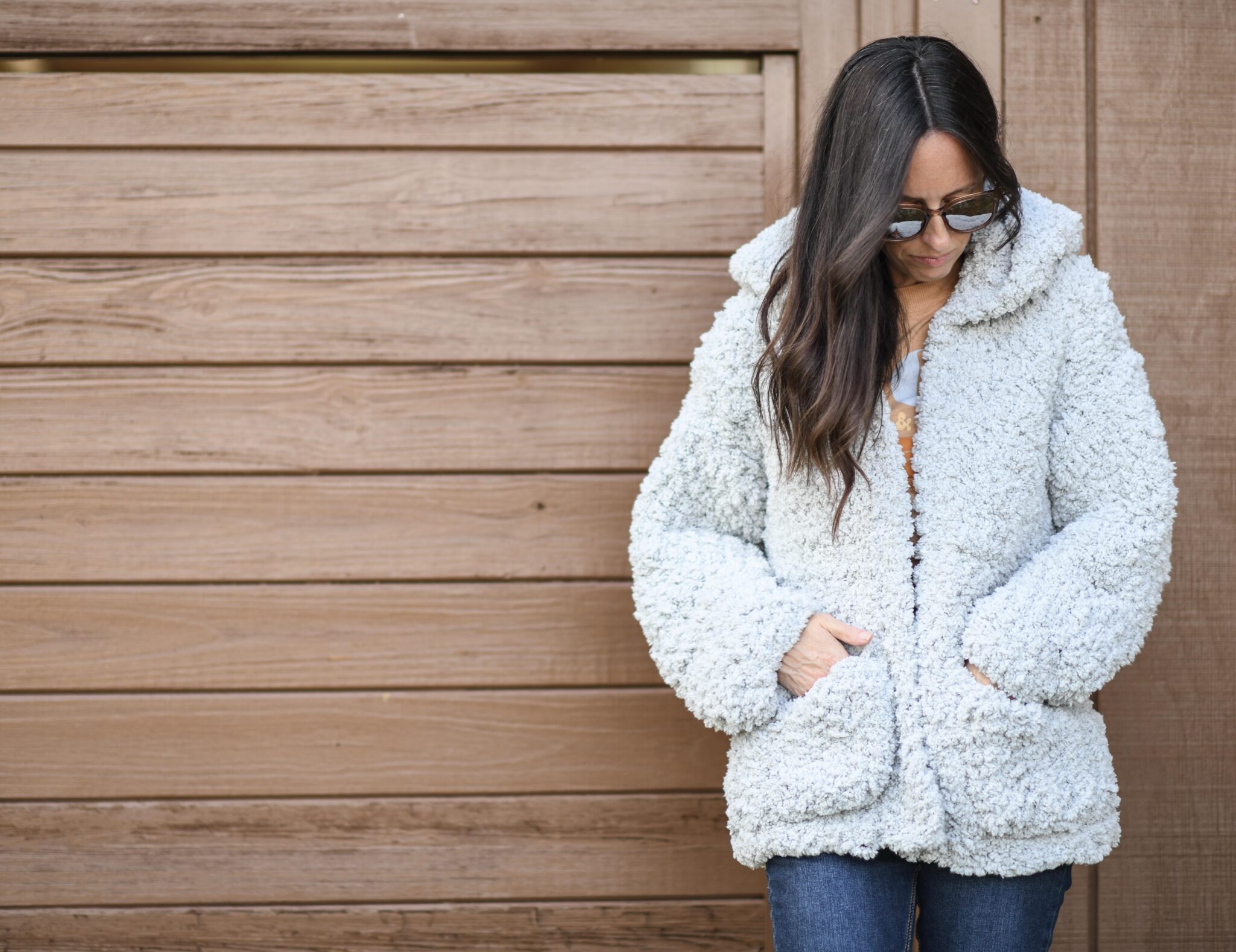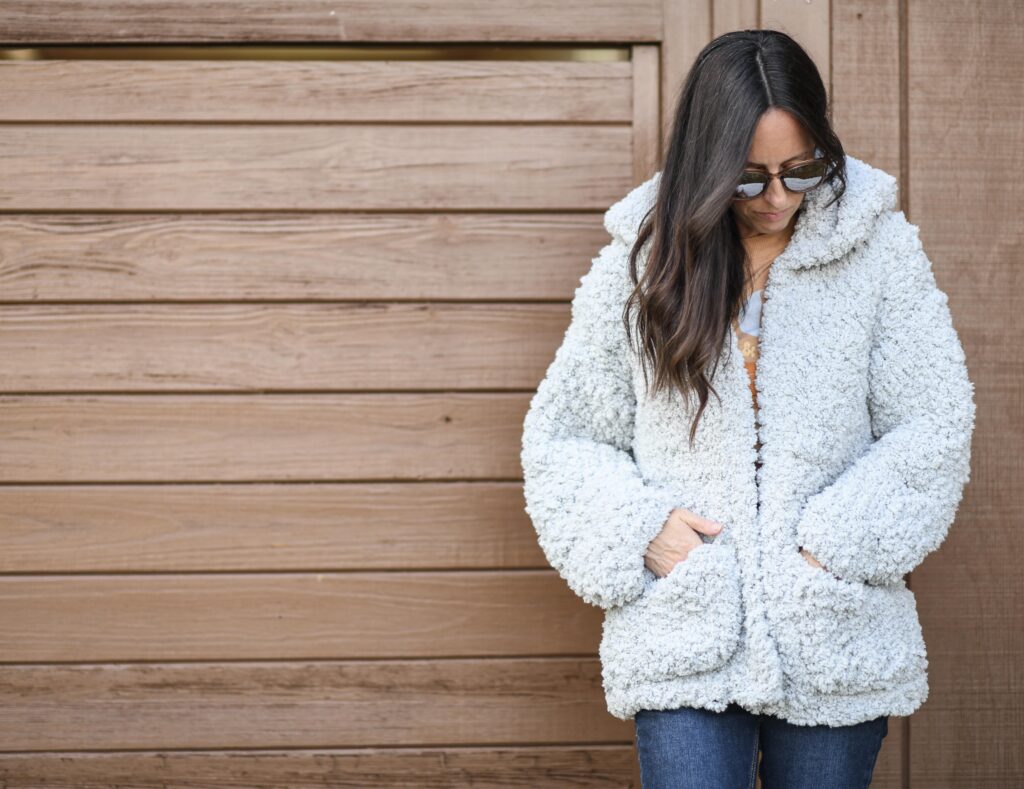 This crochet cardigan pattern is unique and timeless, thanks to the look and vibe of granny squares. But it's easier to create than a typical granny square cardigan because you don't actually need to sew a ton of squares together.
My favorite part might be the variety of fun colors without the need to change yarn colors, thanks to the color-changing yarn I used. The endless eyelets and two-row repeat granny stitch pattern create an airy and drapey final product that looks terrific with jeans, shorts, or swimsuits!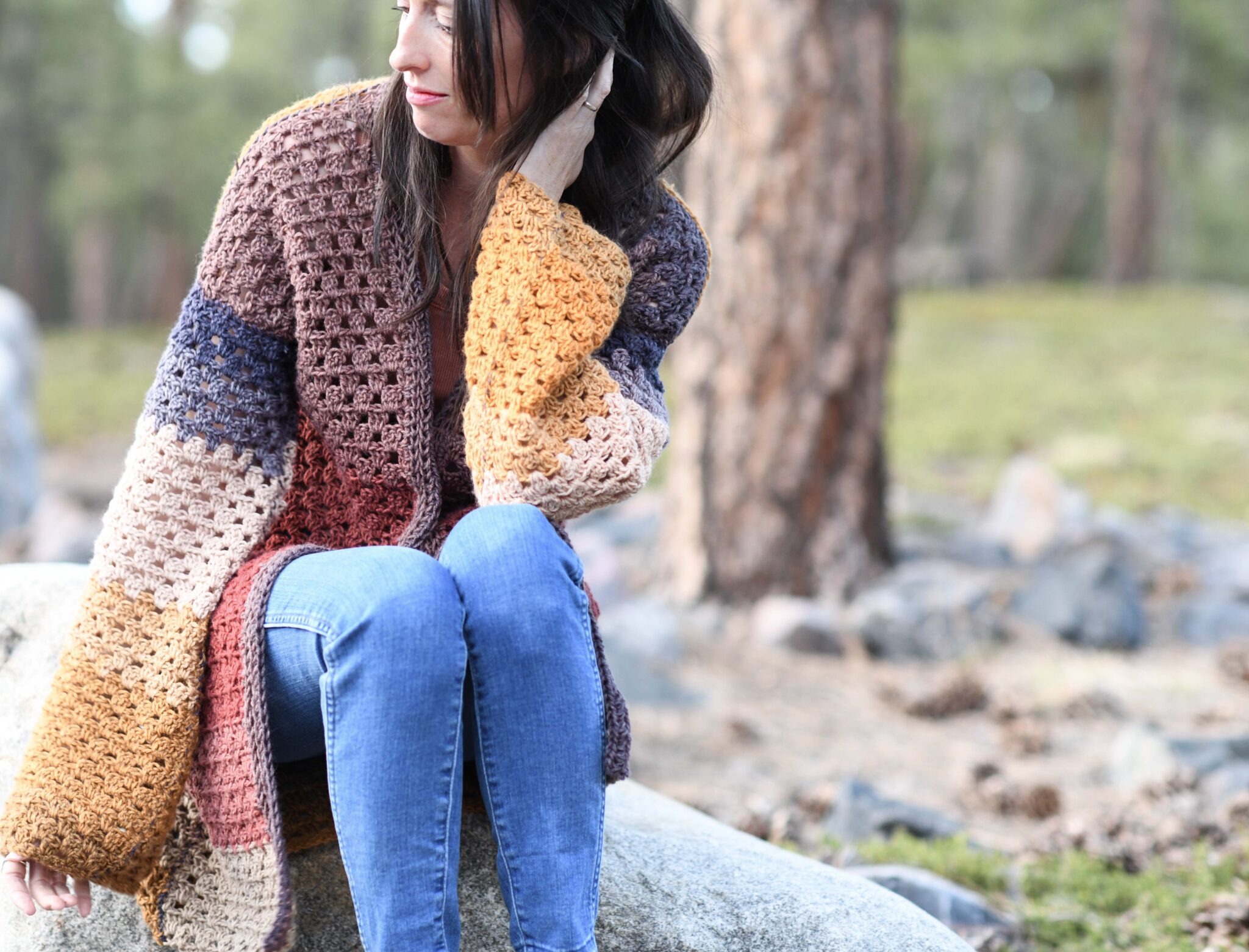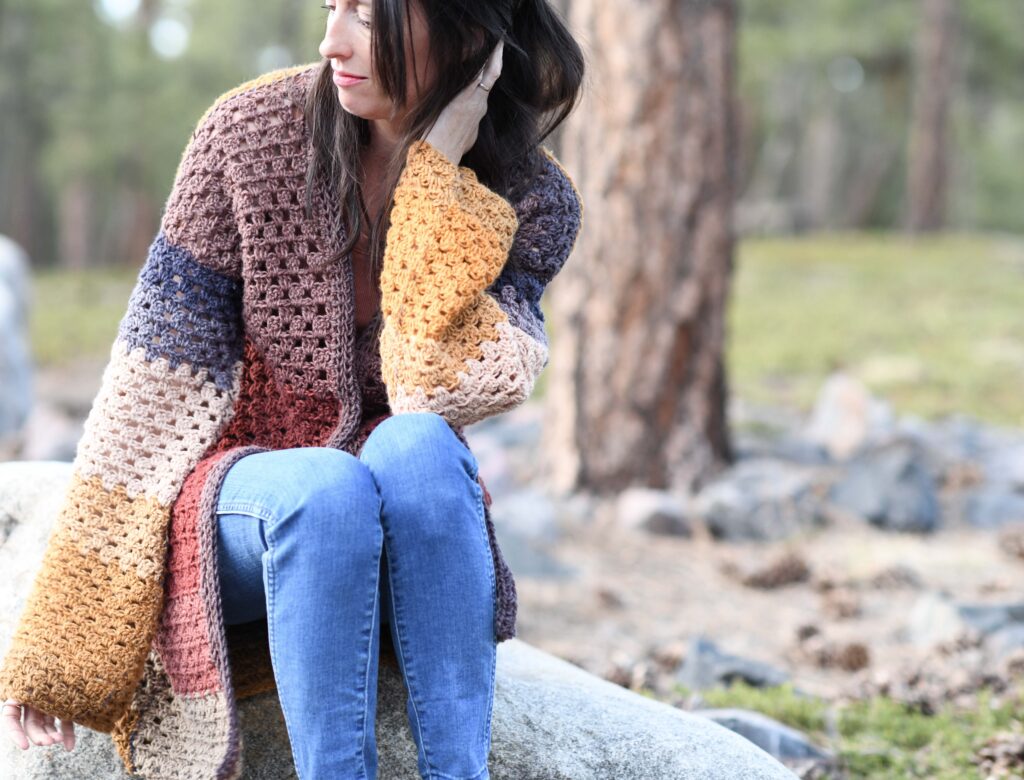 I love the fantastic drape and understated boho look of this simple crochet cardigan pattern. Beginners will be happy to know that this project uses basic shapes and simple stitch patterns.
There's a flowing collar, textured stitches, and a lovely lengthy fit with very minimal shaping. Isn't it great?
Heads up: While this isn't one of the most beginner-friendly crochet cardigan patterns on this list, it is easy to do and uses basic stitches. I say that it's not "as beginner-friendly" because the drop stitch isn't one that most beginners know. If you have just a little experience under your belt, don't let it turn you away because it's easy to learn!
Or an option for true beginners is that you could just use the double crochet and single crochet stitches and create a lovely sweater without the drop stitch rows.
When it's sizzling outside, you don't want to wrap up in anything heavy. Good thing this summer fun cardi keeps it light and airy while adding that perfect cover for the pool, the beach, or a cool summer evening.
Although I try to publish straightforward designs that anyone can make, occasionally, I enjoy doing a slightly more complex design and sharing it. This one is an example for the more advanced crocheter and may not work well for true beginners. However, with a bit of practice, anyone can make this cardigan.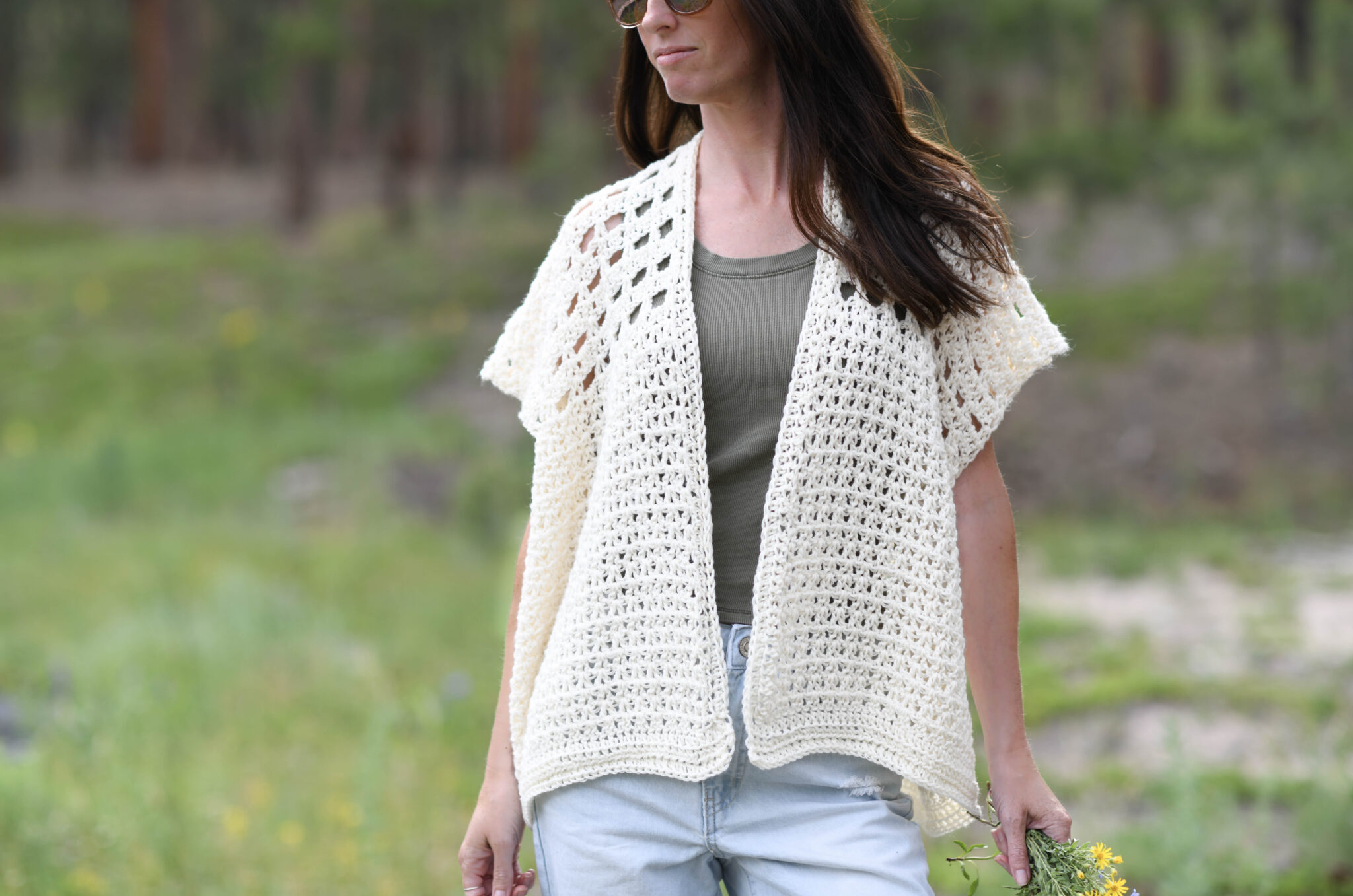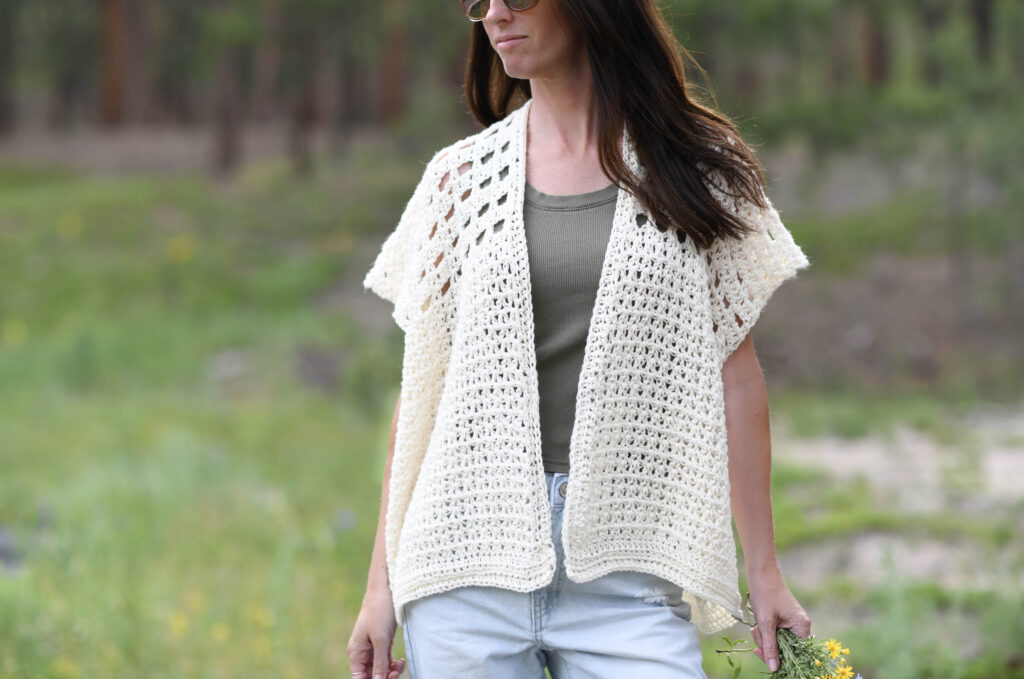 Try These Crochet Cardigan Patterns Yourself
I hope this post has highlighted a few crochet cardigan patterns you haven't seen before! Crocheting cardigans is one of my favorite things to do because it's so rewarding to make something you then turn around and use (and love)!
If you're a visual learner, I encourage you to check out my YouTube channel to find crochet video tutorials on any pattern you want to learn.
More Crochet Resources