Yellow Brick Road Blanket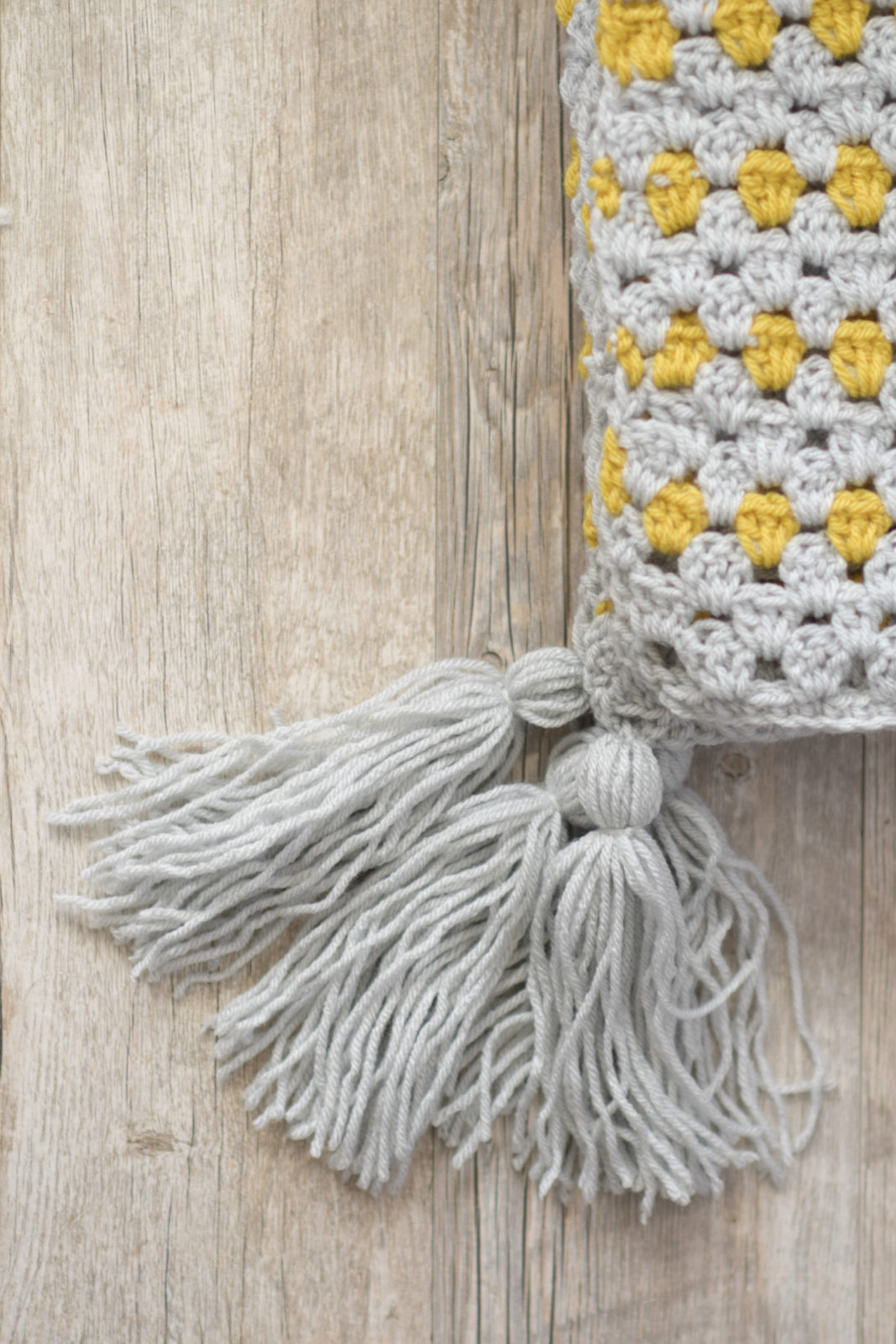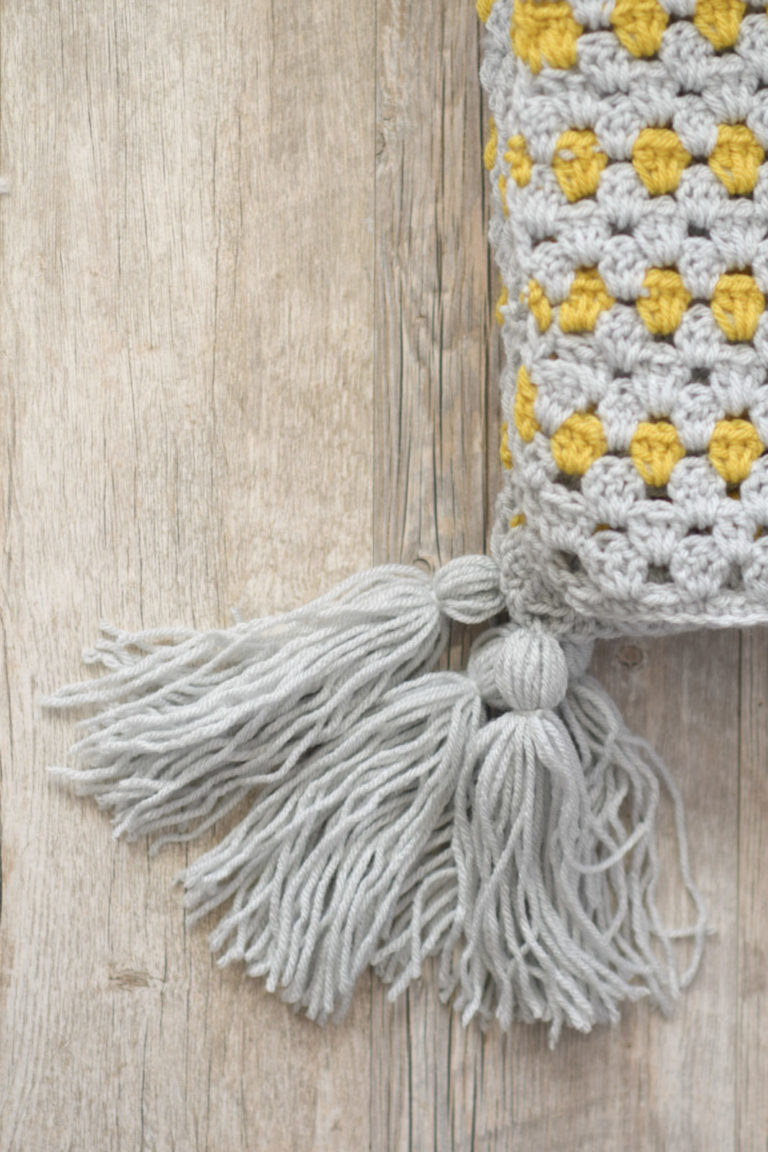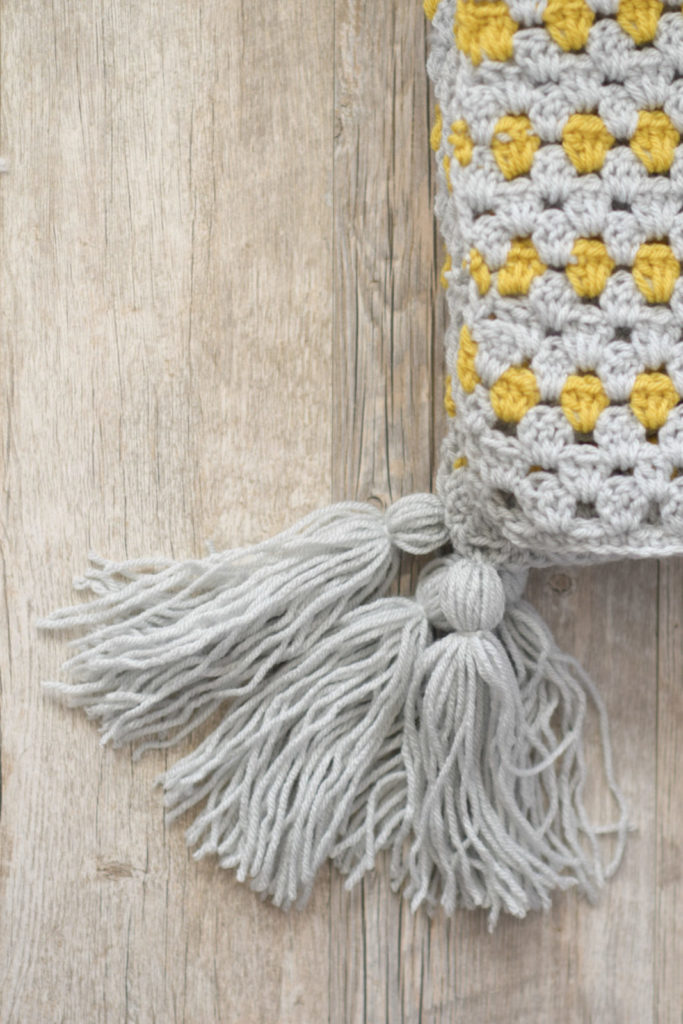 Lions and tigers and granny stripes – oh my!
One of the coolest aspects of blogging has been meeting so many of you as well as other bloggers here in internetland! That's why I'm so happy and honored today to be sharing a pattern with you as part of a blog hop with some of my bloggy friends (ChiWei, Krista, Jess, Michele, Nicole). We are each sharing a granny square inspired project today and I'm sure you'll find plenty of inspiration from each of them (scroll down to see links to each of their patterns). There's also an amazing giveaway where you can enter for a chance to win all kinds of yarn from Lion Brand and you'll find the entry widget at the bottom of this blog post! (Update: Lion Brand Yarn has made a kit for this pattern that you may choose to purchase HERE)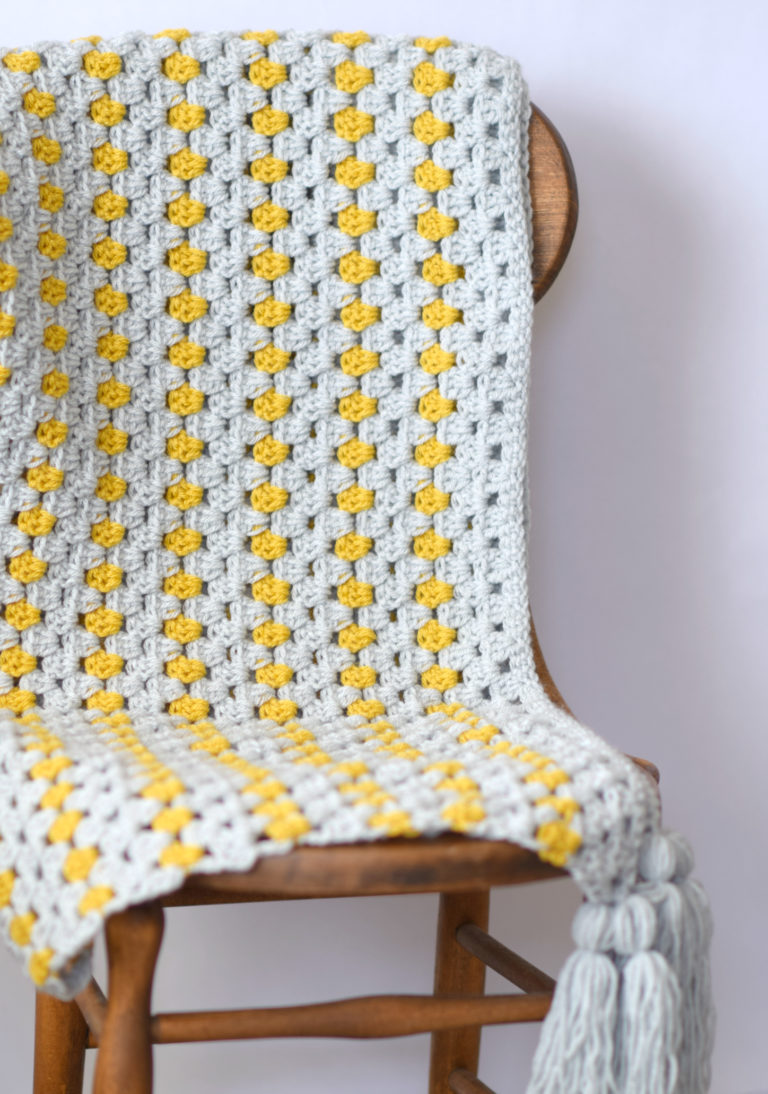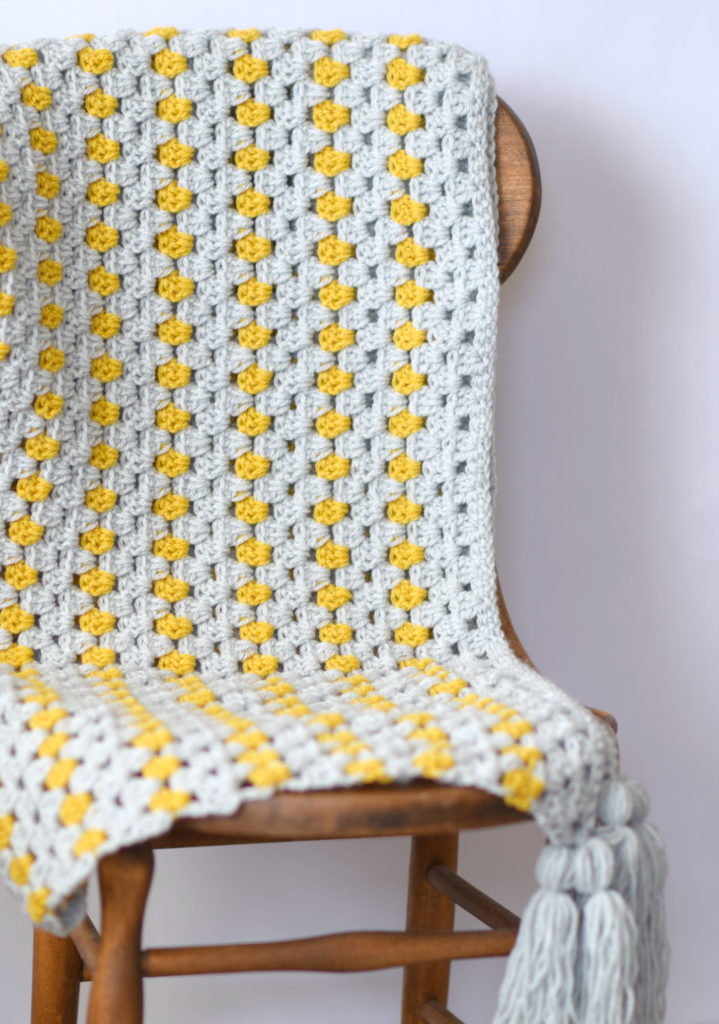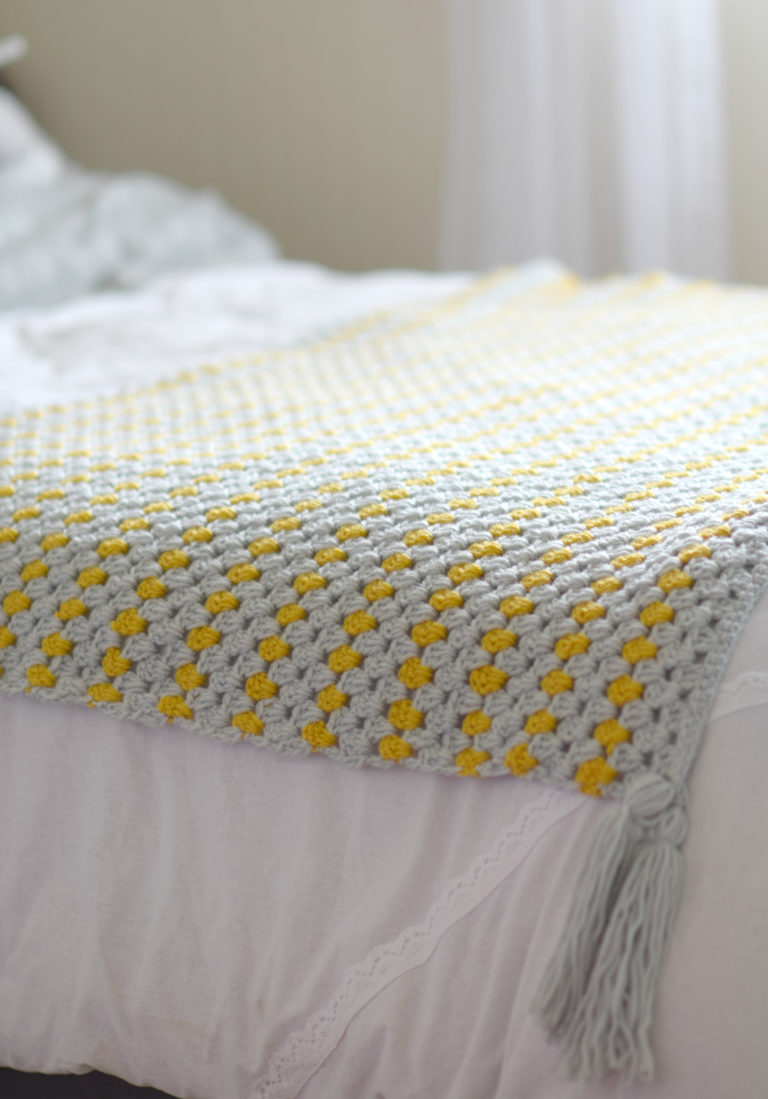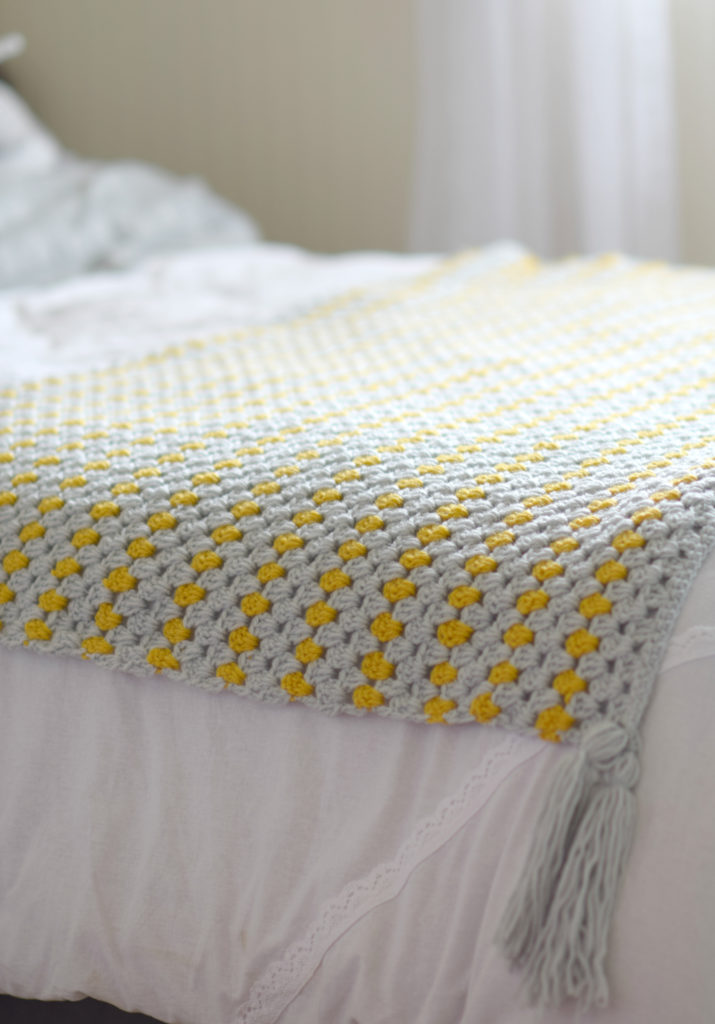 I was reminded a couple of weeks ago how much fun it can be to work with "granny" projects when I made the Smoky Mountains Triangle Wrap which is a sort of granny triangle. That thing worked up so fast which is just the kind of project that I love. And, if you've followed my blog for a while you might also remember my little granny square hot pad that I keep in our pop up tent trailer. It makes me oddly giddy any time I use it. And again, they say everything that's old is new again, so consider the granny square brand new. 🙂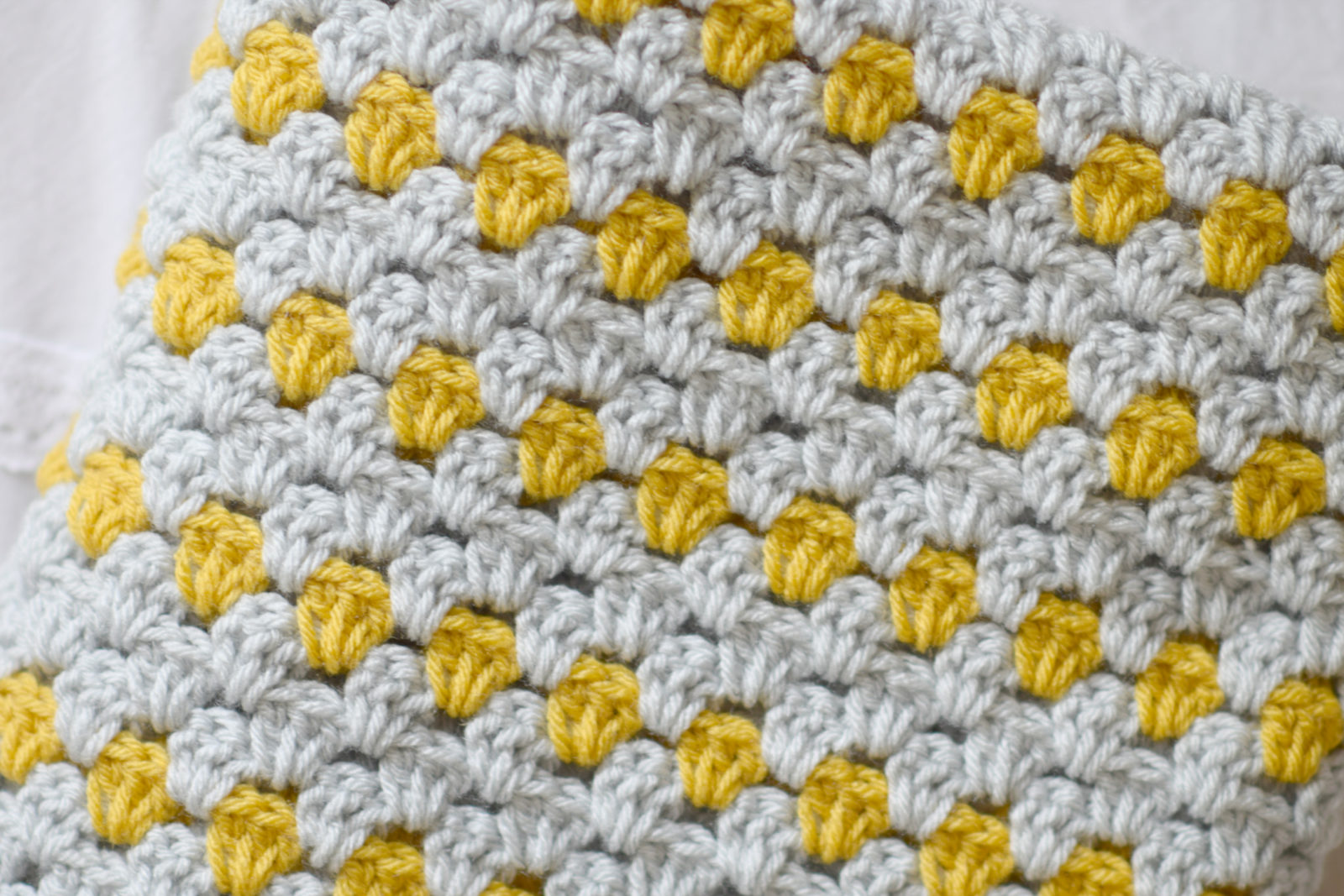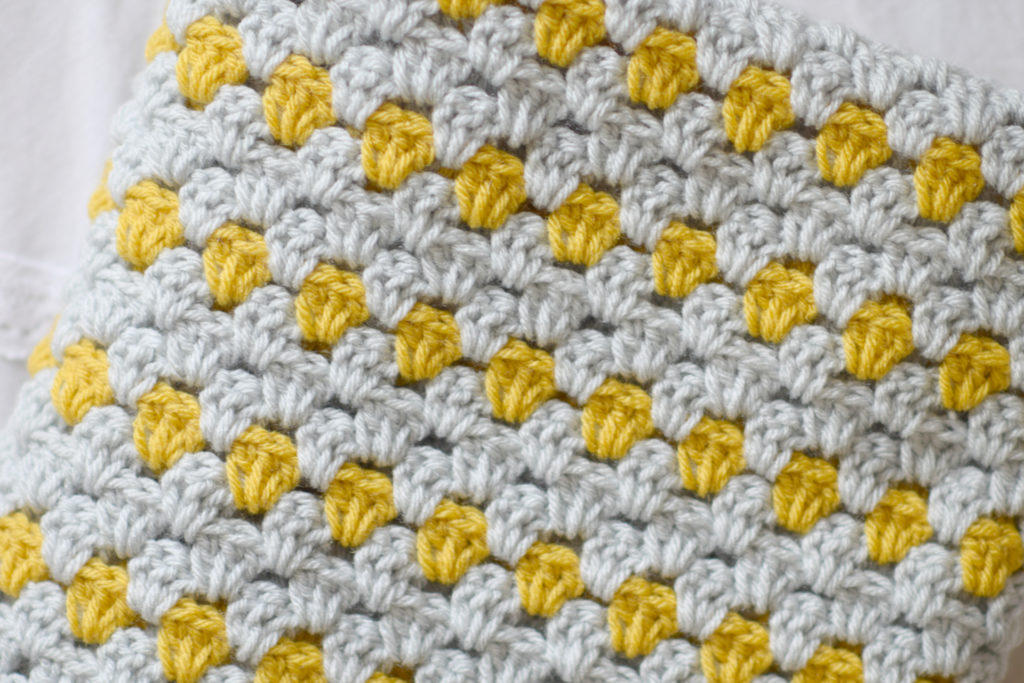 Today's project is a fun granny stripes lapghan that can be made with any colors that you'd like. Feel free to get as wild as you want with the colors, or just play it safe like I typically do. But seriously – look- there's color in that there blankie! A rarity for me, but I'm hopefully getting more comfortable at using color. My favorite part about this blanket is it's simplicity. The grey with the yellow makes a soothing yet playful pairing and the mix isn't overly bright or busy. It's so easy too! You just have a two row repeat throughout the entire pattern and it is mindless, Netflix crochet at it's best. I love this pattern for a toddler blanket, or if you just want a modern vintage looking blanket to put over the end of a bed or over your couch. It's actually a lovely size to keep legs warm without a whole lot of bulk which is why lapghans are my favorite blankets to make these days. And you know it had to be named the Yellow Brick Road Blanket because just look at it. It's like little yellow bricks stacked perfectly in line to make, ya know, a yellow brick road. 😉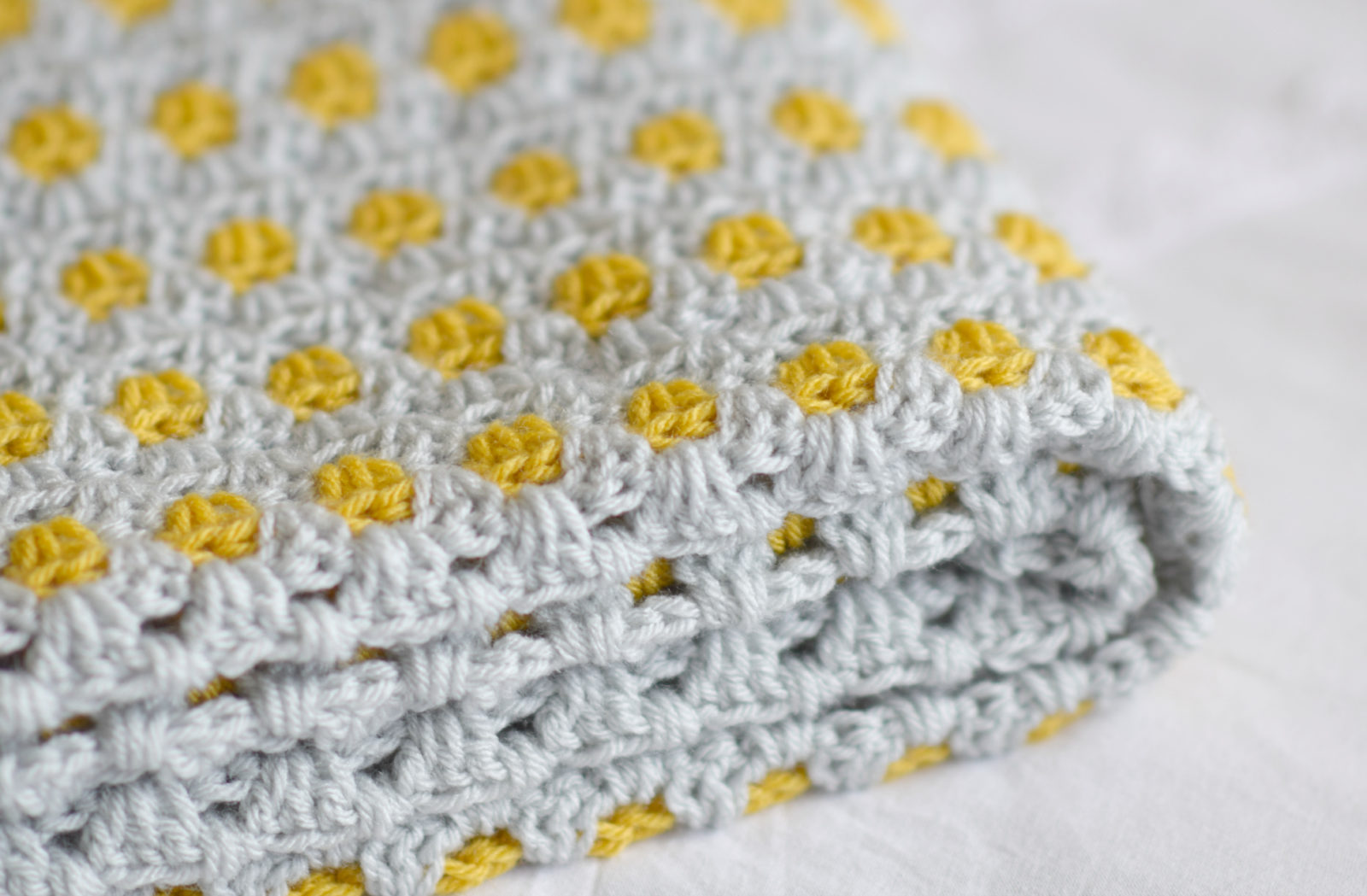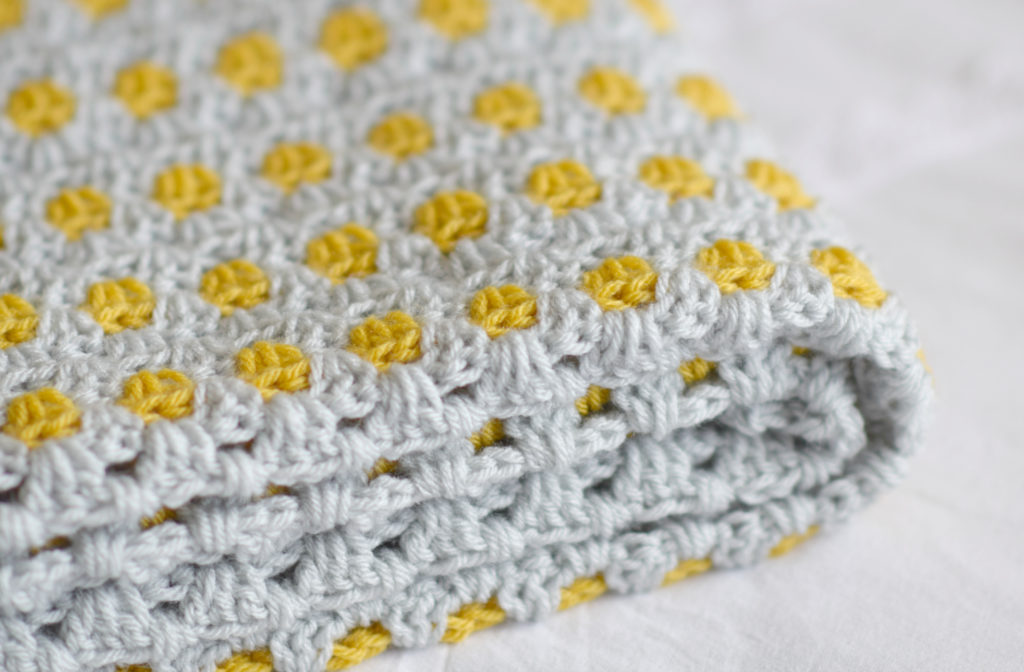 Granny projects are so versatile….remember these?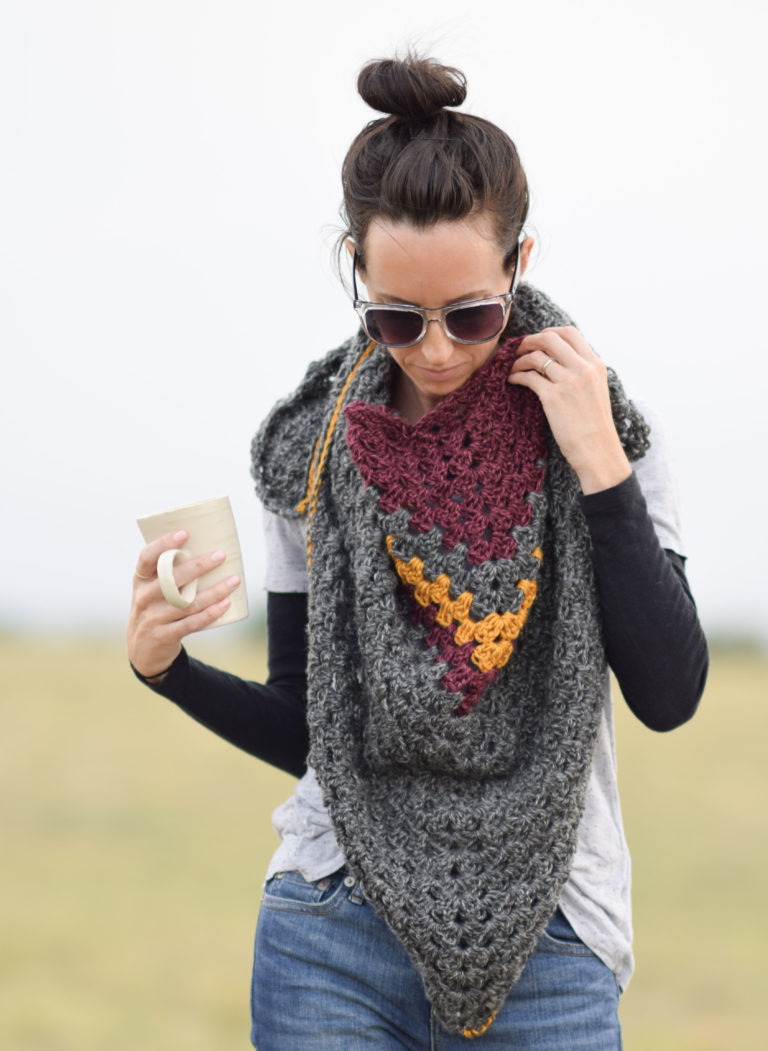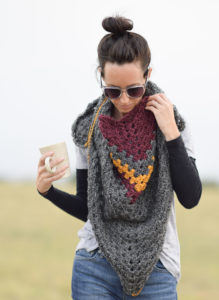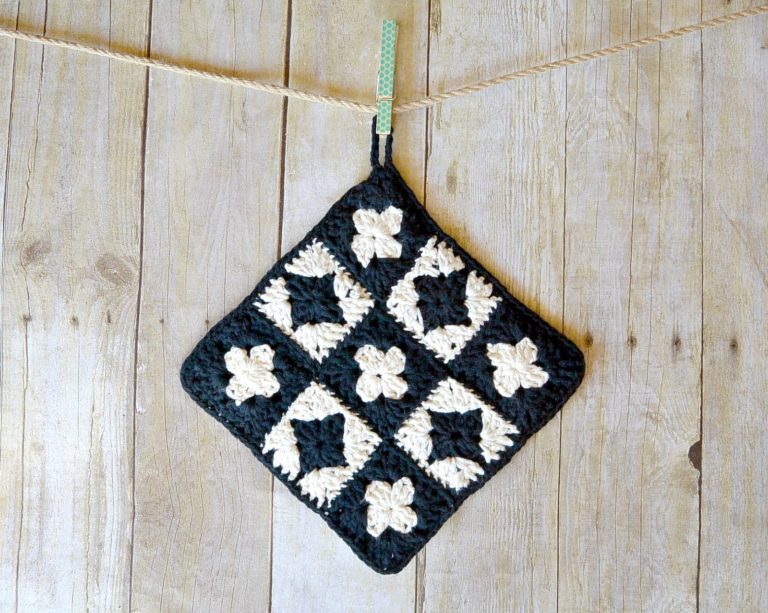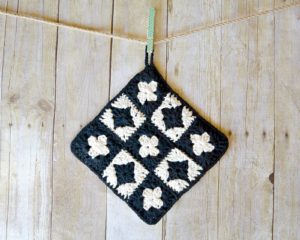 So scroll down to see Yellow Brick Road Blanket Pattern and be sure to check out each of these amazing bloggers who are also sharing a pattern with you today!
ChiWei www.1dogwoof.com
Krista www.rescuedpawdesigns.com
Michele www.stitchandhustle.com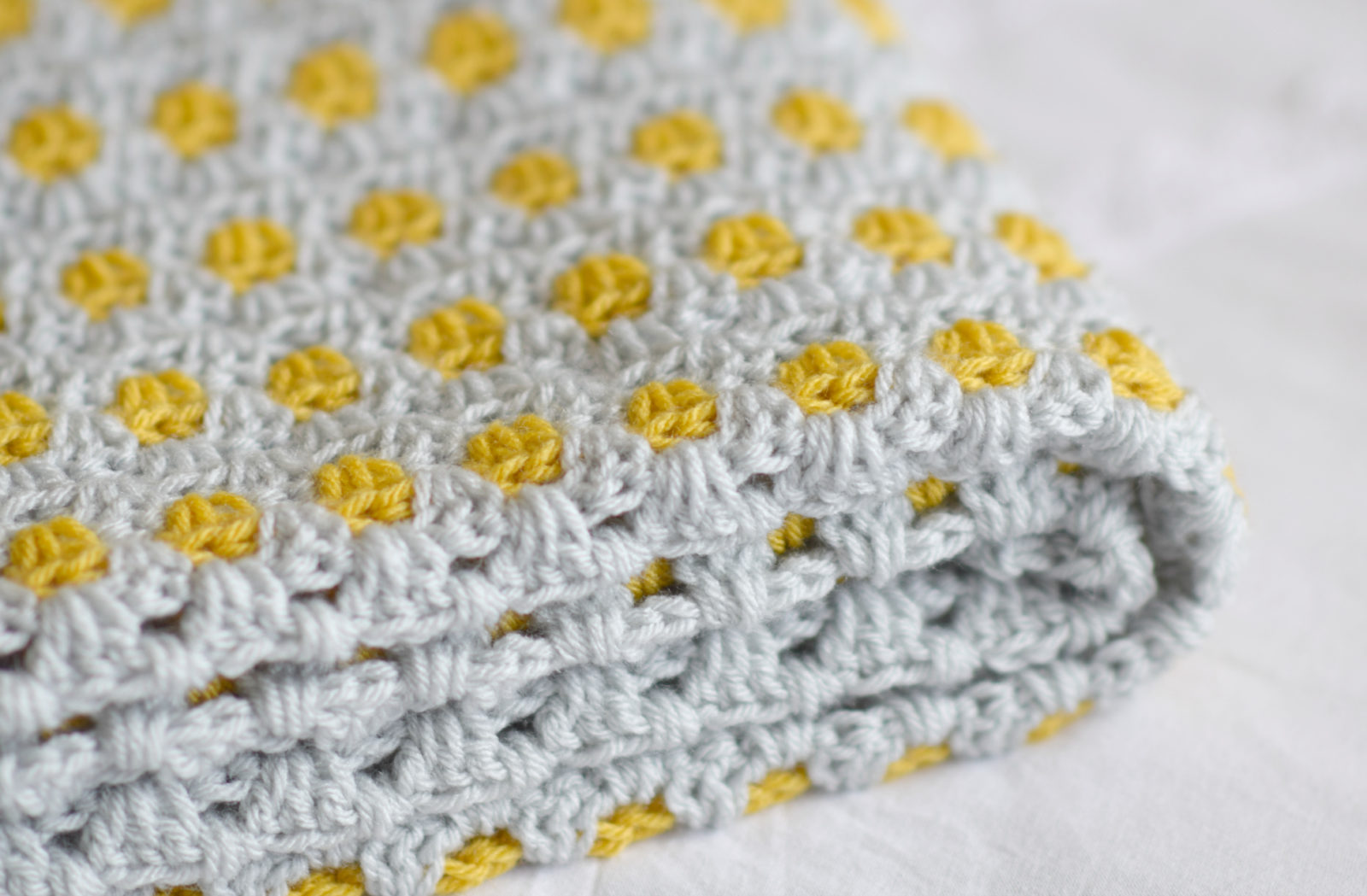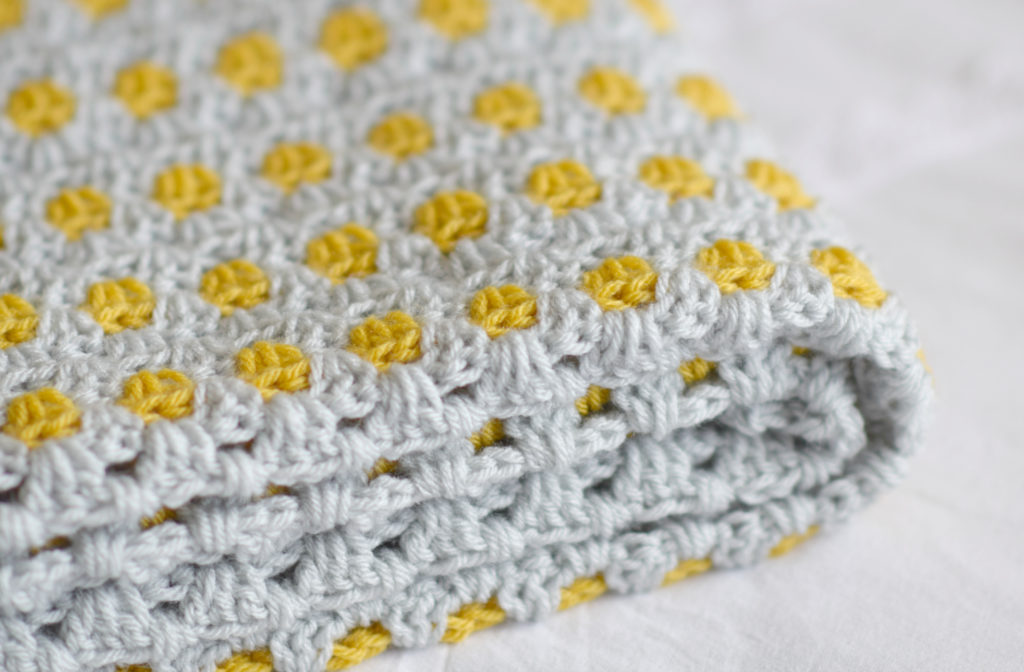 Here's how you make it:
You will need:
Size J 6.0 mm Crochet hook
6 skeins Lion Brand Vanna's Choice worsted weight yarn in Pale Grey
2 skeins Lion Brand Vanna's Choice worsted weight yarn in Mustard
(Pattern uses a total of approximately 734 g of yarn)
Scissors
Tapestry Needle to weave in ends
Size:
Lapghan measures approximately 47″ x 34″
(You can easily modify the size of the blanket. Simply make a shorter or longer chain in a multiple of 3+2)
Notes:
For row two you will begin with a group of 2dc then make groups of 3 across to the last stitch where you will end with another 2dc group. For the third row, you will begin with just 1dc, then work groups of 3 dc across, ending with 1 dc in the last stitch. If you start with 1 dc, you end with 1 dc. If you start with 2dc, you end with 2 dc. Make sense? 😉
Pattern:
With Pale Grey
Chain 122
Row 1 Sc in 2nd ch from hook and in each ch st across (121)
Row 2 Ch 3, turn, dc in same st as ch3, *sk 2 stitches, 3 dc in next stitch; repeat from * across row until final stitch, make 2dc in last stitch.
Row 3 Ch 3 (counts as 1dc), turn, make 3dc in first space of row below and in each space across the row until last stitch; make one dc in top of last st of row. (121) (Note: "Space" refers to the space between the group of stitches below. Do not work into the stitch, but rather into the space between groups of dc stitches)
Row 4 Ch 3 (counts as 1dc), turn, dc in same st as ch 3; 3dc in each space across row until final stitch, make 2dc in last st of row. (121)
Row 5 With Mustard repeat row 3
Row 6-8 With Pale Grey repeat row 4
Repeat rows 3 & 4 for remainder of the pattern working 3 rows of Pale Grey followed with one row of Mustard until your piece is approximately 34″ long, ending with Pale Grey. Make one final row of single crochet stitches across.

That is all there is to it!
In keeping this simple and for the sake of time, I didn't add a border to the edge but you certainly can. I would probably stick to a few rounds of single crochet to finish it off.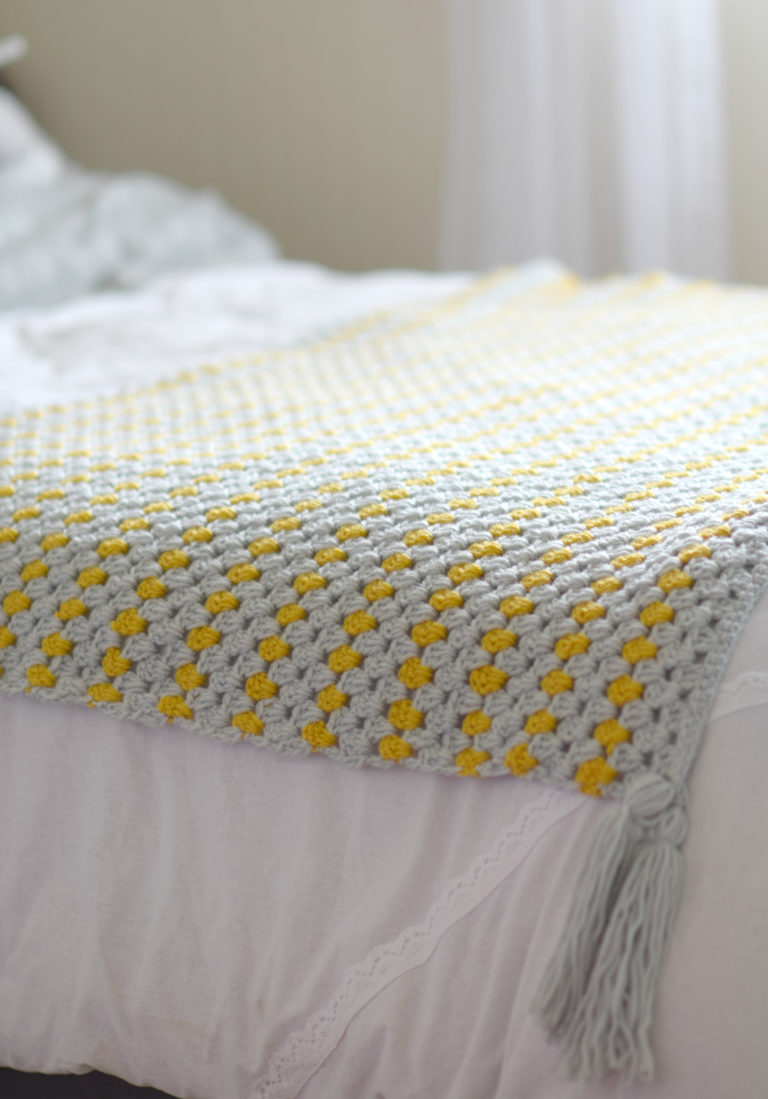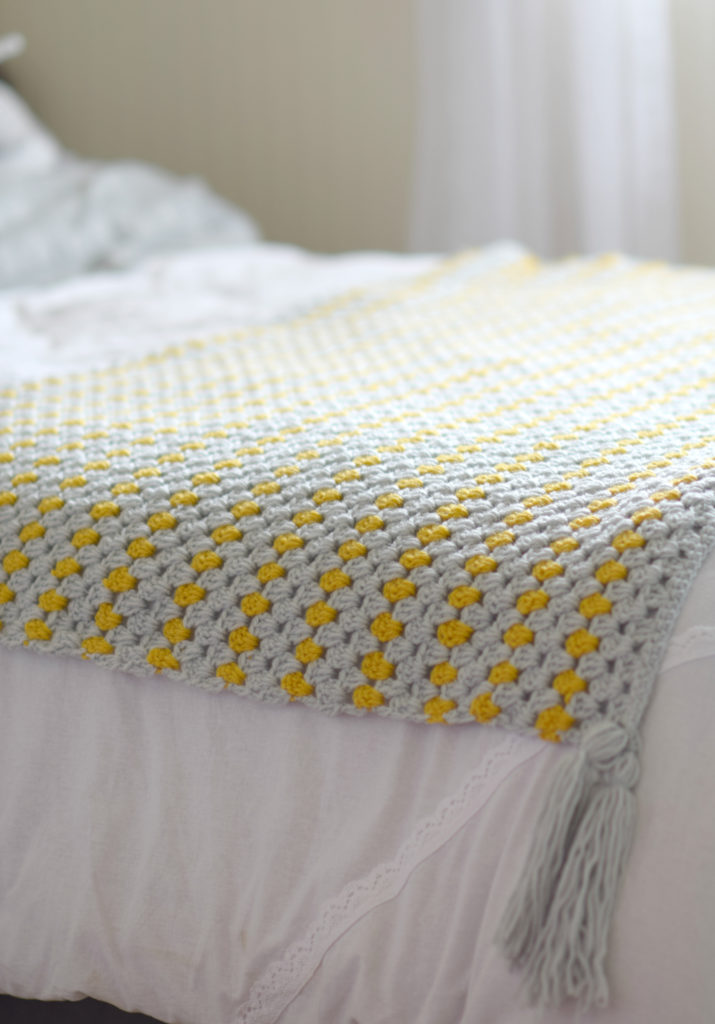 Now, for the giveaway. It includes 37 skeins of yarn! 🙂
To be eligible, you must be 18 years of age or older, with a valid, USA or Canada shipping address. Giveaway organized by Stitch & Hustle and sponsored by Lion Brand Yarn. Ends Friday at 11:59 PM.
Good luck and I hope you enjoyed the Yellow Brick Road Blanket!
XO
Jessica