When I began blogging, it was pretty much me tossing my crochet and knit projects onto the blog in order to keep track of them (and share as well). I still do that, but a lot more thought goes into pre-planning and sizing patterns these days. This project reminds me a little bit of the old days as I had a sudden need to make this long granny cardi this week. It was a nice way to distract myself from the fact my baby started first grade! Ugh! Anyway, this is going to be an awesome sweater for fall. 🙂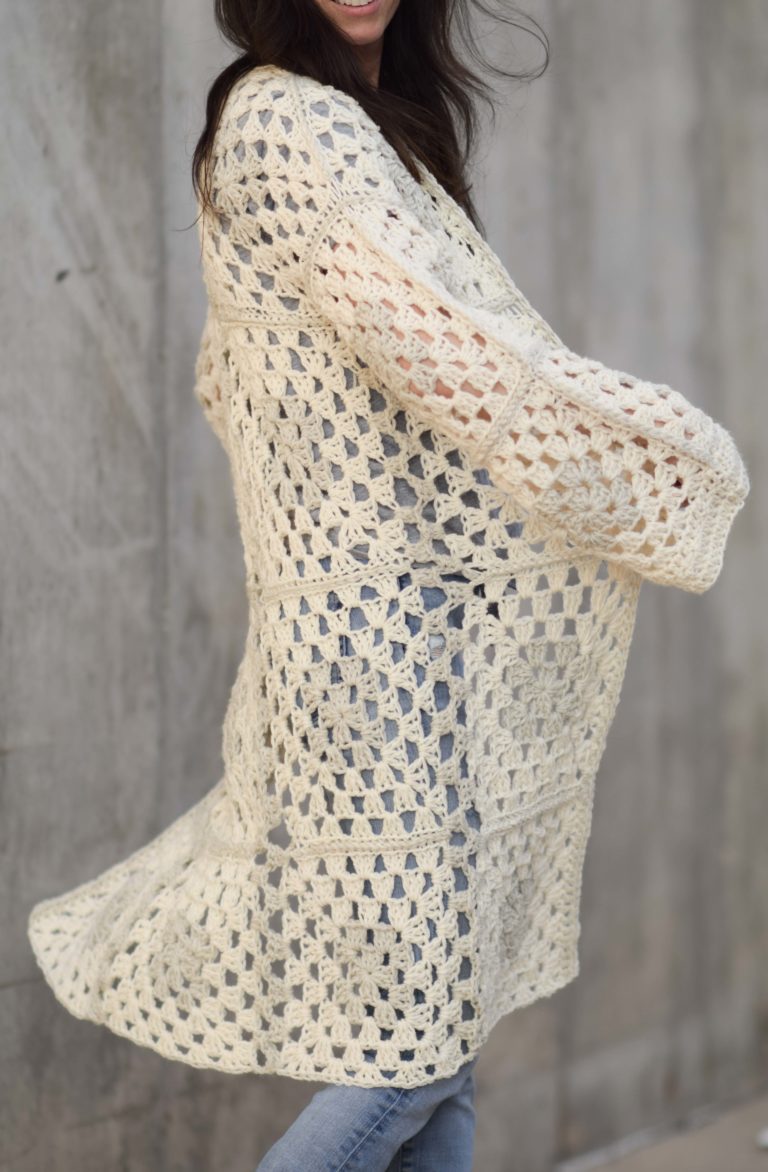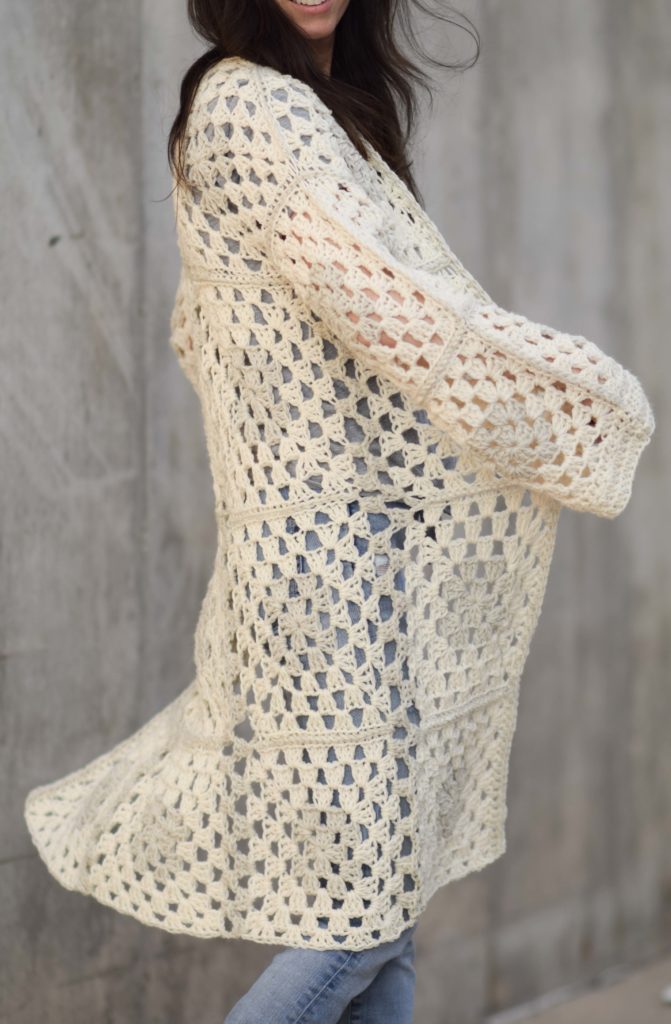 So, here you go…..the first of the Mama In A Stitch "Fall Collection"! This is such a comfy and cute cardigan that I'm actually excited for some colder days in order to wear it. It looks a lot like something you'd pay $500 for in Anthroplogie, yet it's waaaaay cheaper and and so much more special since it's handmade. While my fave winter crocheted cardigan has probably been the Cozy Blanket Cardi from last year, it might have been beat out now by granny squares. Hehe…..And you can make one too – woo hoo! As always, scroll down to see the free pattern or you may choose to purchase the ad-free, printable version in my Etsy Shop HERE (please note it's only one size)!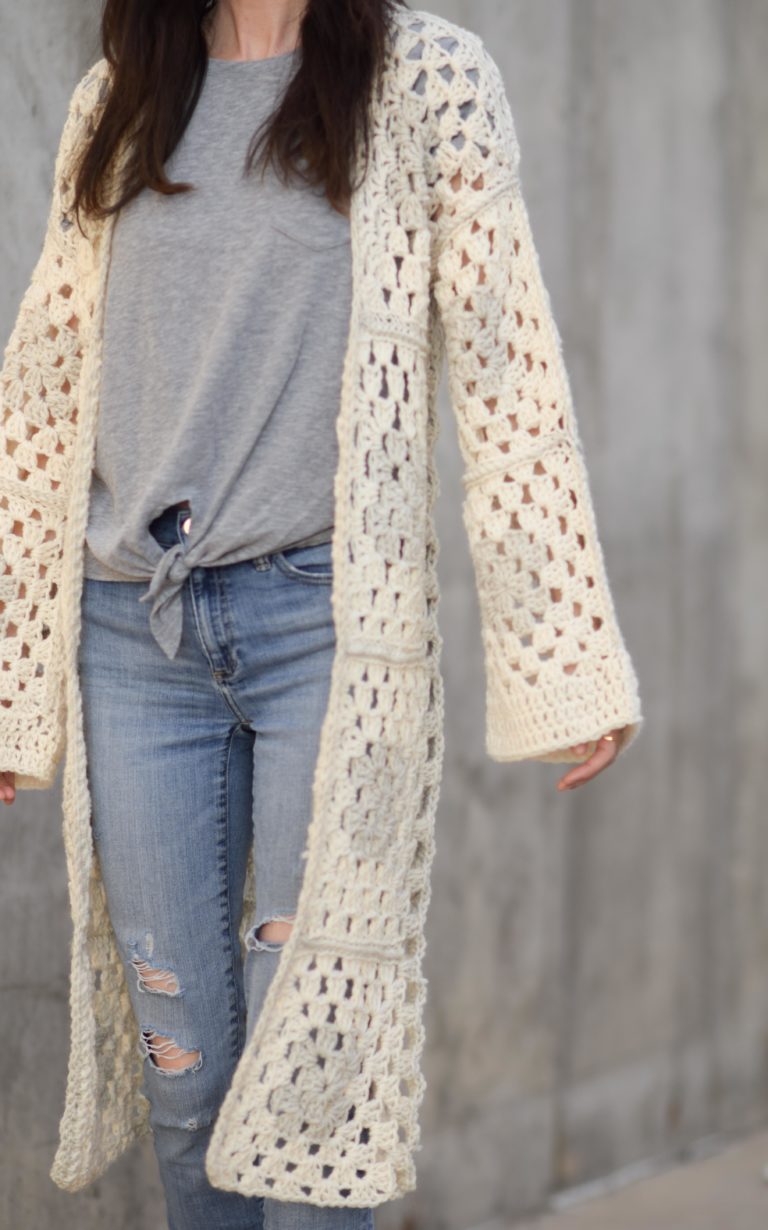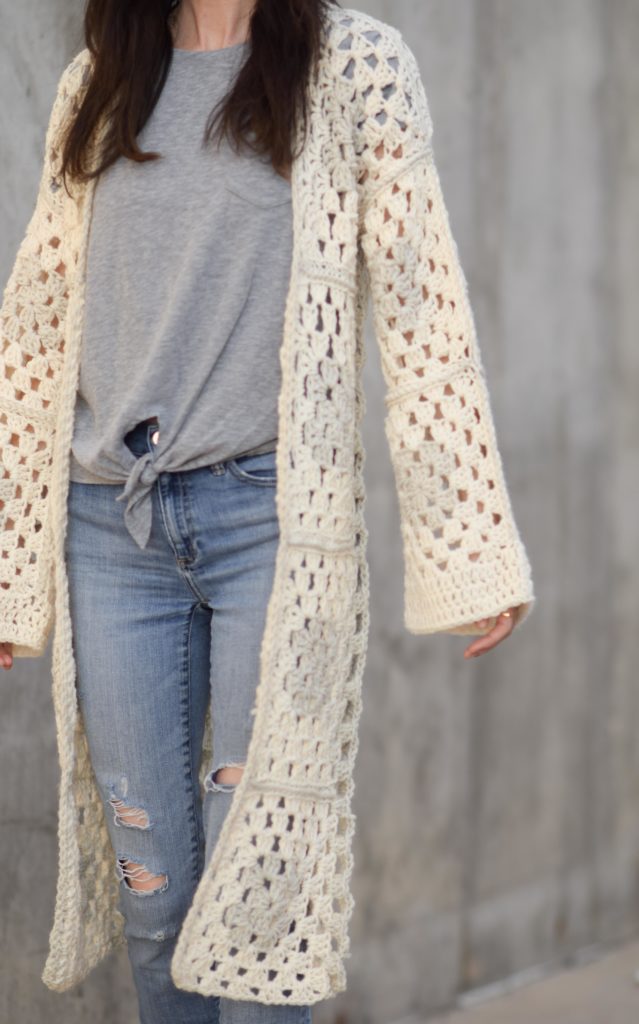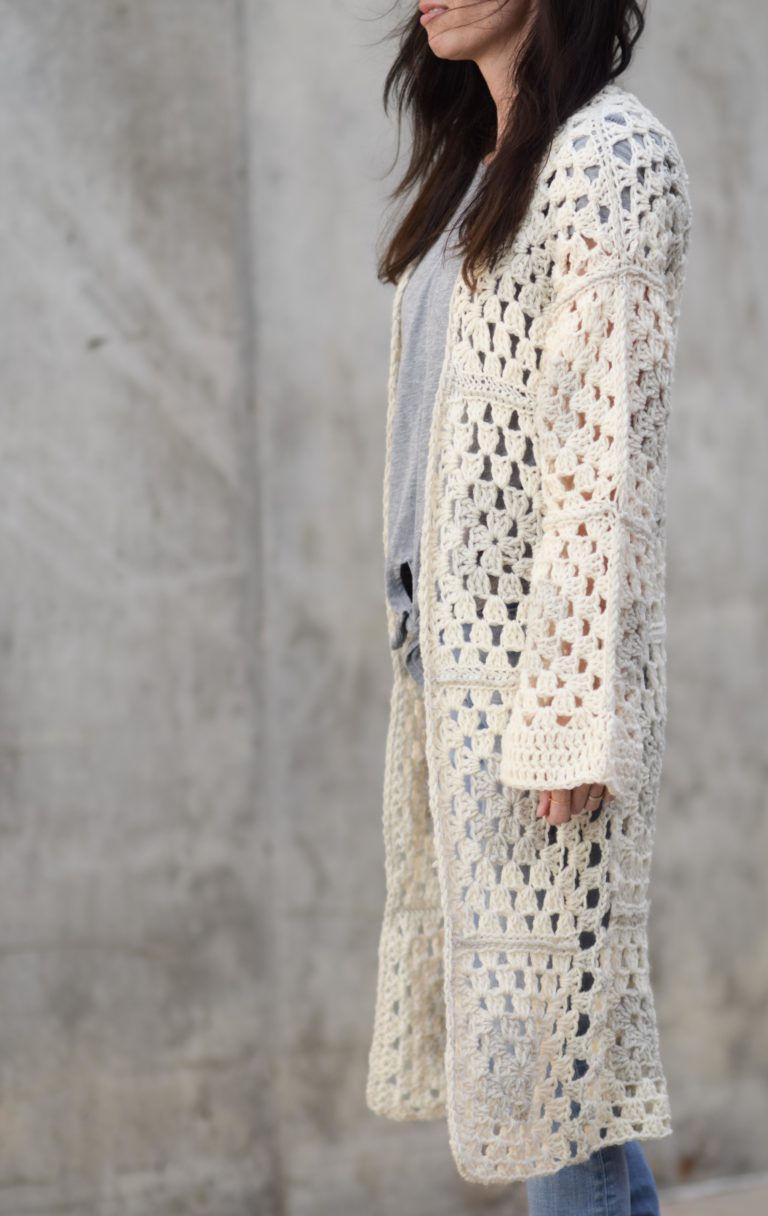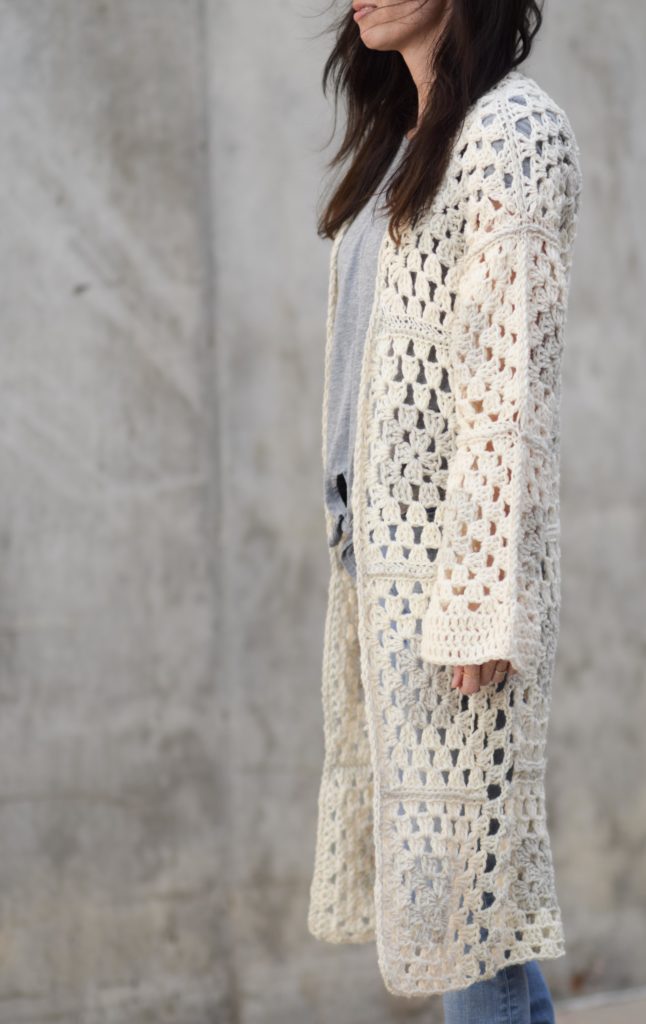 The entire piece is crocheted by making basic granny squares that are seamed together. This cardigan is made with shades of white and greyish, but you can get super fun and creative with these squares. Go all out hippy and make it multi-colored. This would be a great stash buster to use up those various colors of worsted weight yarn left in your stash.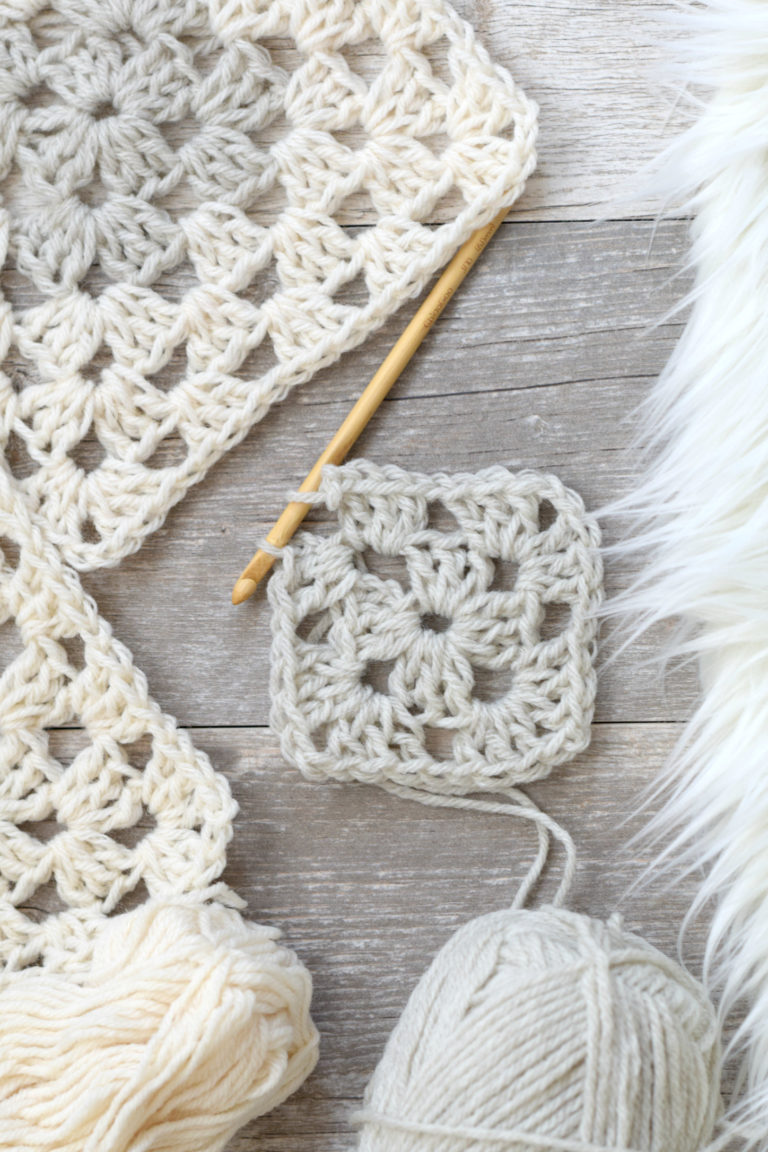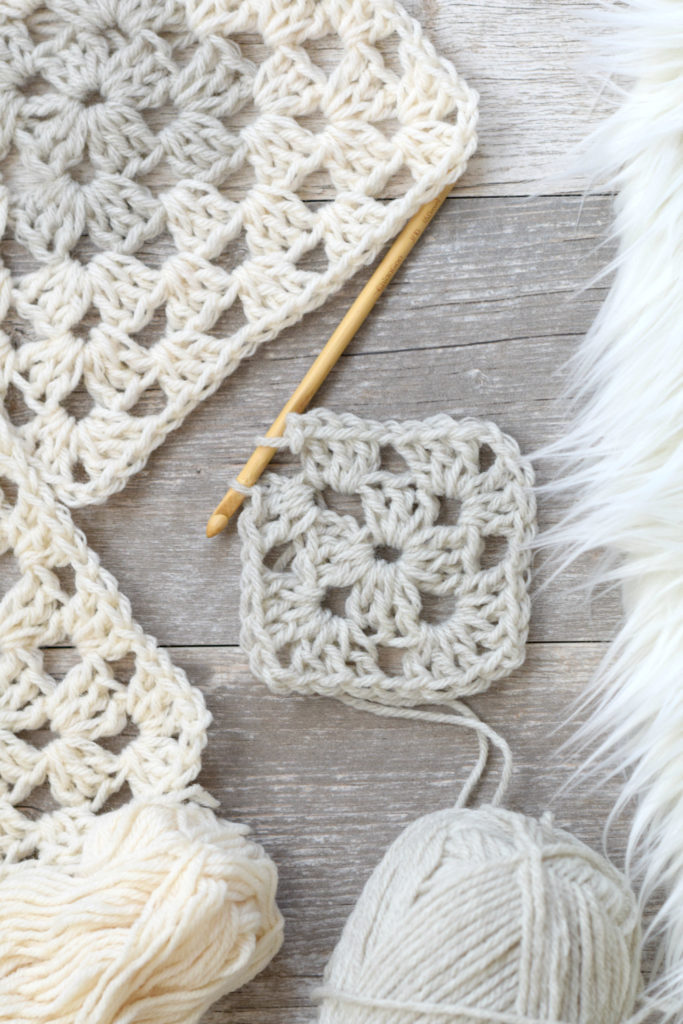 Have you ever crocheted granny squares? If you've never tried them, they are a lot of fun and the pattern's easy to memorize after a couple of squares. It also makes for a great travel project because you can crochet a couple of squares in the car or on the plane while in process of making a big sweater. I chose to use Lion Brand Wool-Ease worsted weight yarn (here) for this project for a few reasons. One, I had all of this in my current stash from a Jo-Ann's spending spree last year. Two, I love the two neutral colors together and three, the yarn is high quality and I feel good about using it on a special piece like this.
Who else is ready for fall?!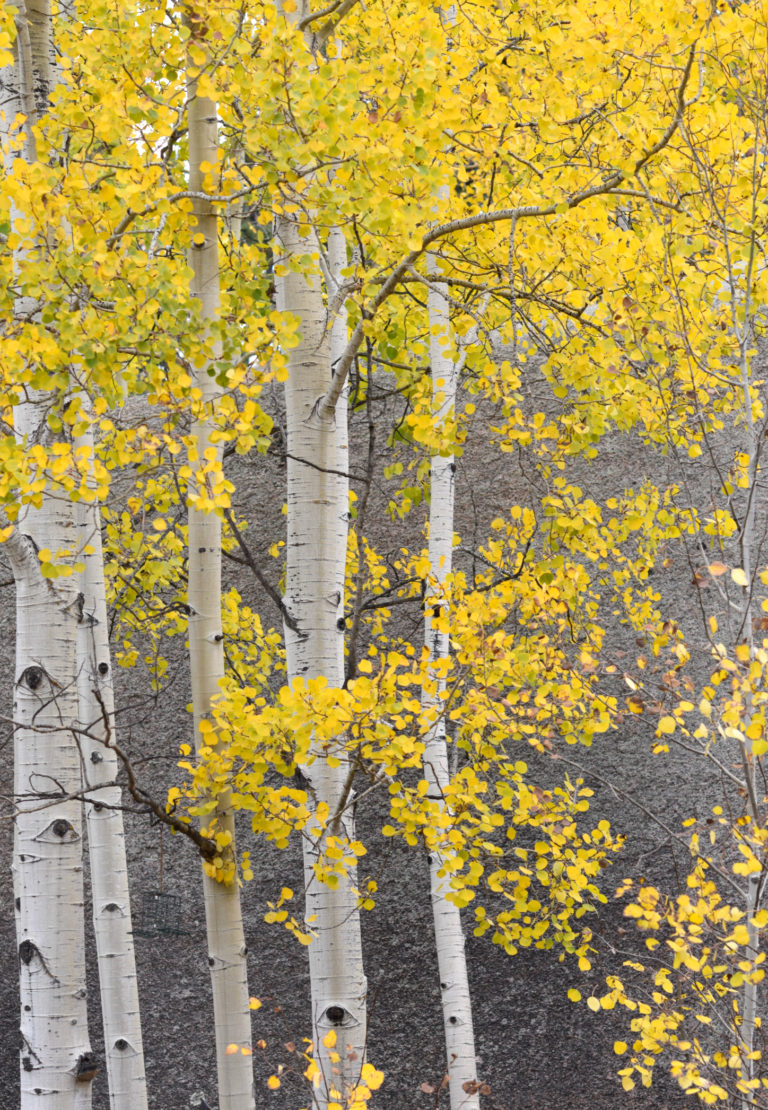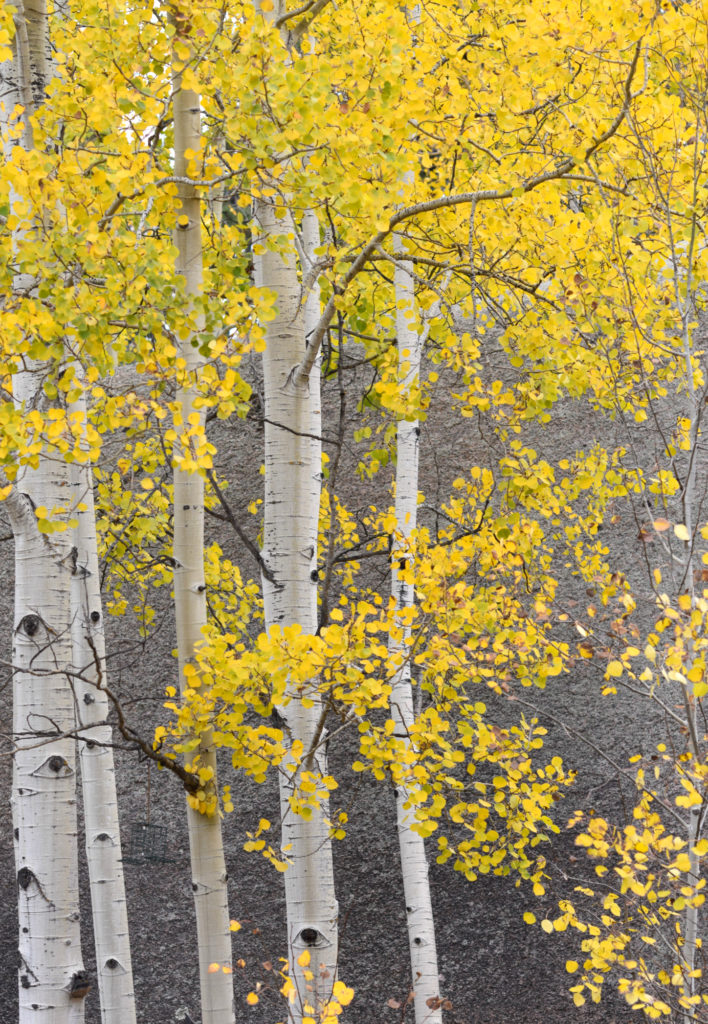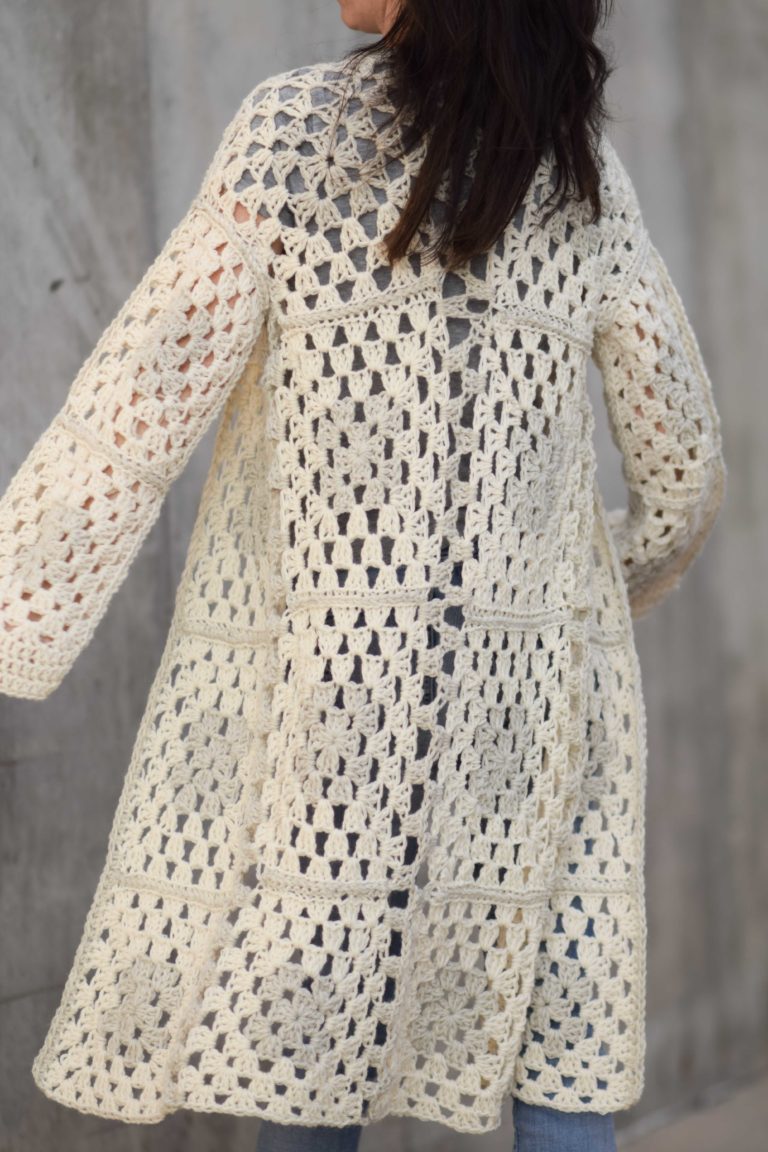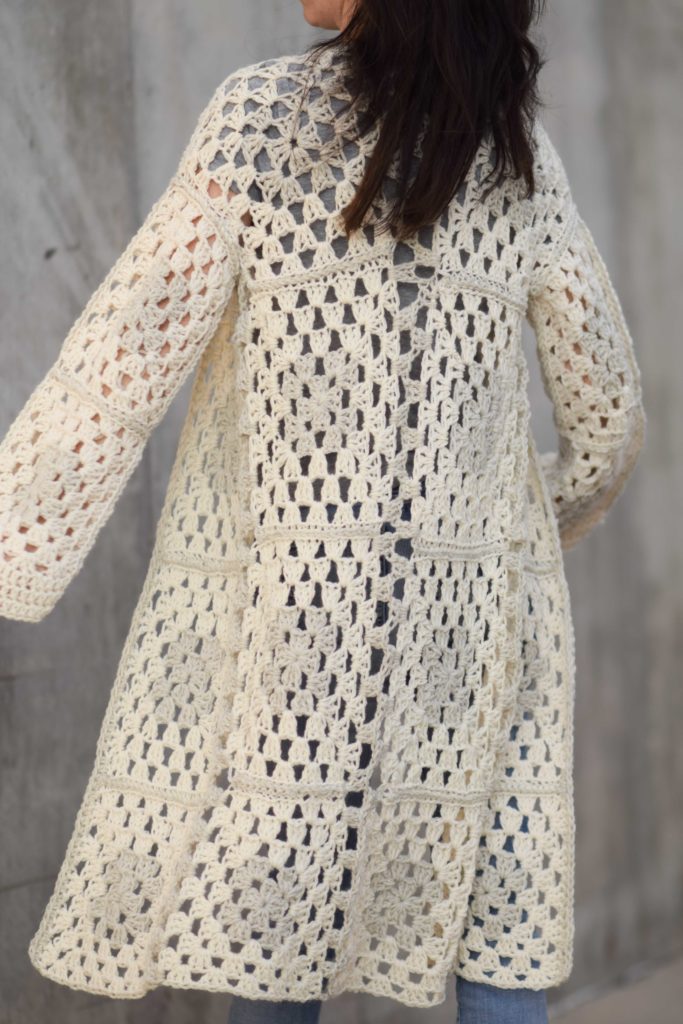 How about we get started? The pattern is free below, or you can purchase the printable, ad-free version from my Etsy Shop HERE
Arlo Granny Square Crocheted Cardigan Pattern
Pattern Description:
This fun and modern take on a granny square sweater is right on trend featuring a flattering length and big sleeves. Use your favorite colors to create your own look, or go with the understated tone with shades of cream and heather. This cardigan is made entirely of granny squares so there isn't any difficult shaping.
Skill Level:
Intermediate
Materials:
US Size L 8.0mm Crochet Hook
4 Lion Brand Yarn Wool Ease worsted weight yarn in Fisherman (HERE) (85 g/skein)
2 Lion Brand Yarn Wool Ease worsted weight yarn in Natural Heather (HERE) (85 g/skein) Pattern uses approximately 510 g total
Scissors
Tapestry Needle to weave in ends


Gauge: (Approximate) One completed square of 5 rounds should be approximately 7.5" X 7.5". There are approximately 2.5 rounds in a 4" X 4" square.
Size: One Size (pictured on a size small) My best guess is that it will fit most XS – M sizes. See notes below for suggestions on how to adjust for larger sizes. While many of my patterns are sized up to plus sizes, this one isn't. I wish I had a magical computer to make it for all sizes in a flash! Because I made this for myself and have other projects in the mix, I didn't have time to size for everyone this time. Thank you for understanding! I still wanted to share for those of you who will enjoy it. 🙂
Dimensions (approximate):
Bust: 33"
Length: 37"
Abbreviations & Skills:
sl st – slip stitch
st – stitch
dc – double crochet
ch – chain
half double crochet
Notes: This cardigan is made entirely from granny squares, joining stitches and cuffs created with double crochet stitches. If you've never crocheted a basic granny square, there are many online tutorials. You can also find extra help on the Mama In A Stitch blog at https://www.mamainastitch.com/modern-granny-square-crochet-potholder/ where I have pictures on starting your granny square. Two seams are used in this pattern, though you may modify to use your preferred seams. They are the Flat Slip Stitch seam (a great tutorial here from Craft Passion) and the Seamless Join Method (great tutorial from Carina's Craft Blog here)
Sizing suggestions: *This pattern is one size only. If you're experienced, you may be able to modify this to your specific size. Here are some suggestions in hopes to help you! To make this for larger sizes, you can make the back wider by omitting the joining method in step three and adding two to three rows of double crochet to each panel along the side, then seaming at the center. Equally, you would want to add width to each front panel by increasing the number of half double crochet stitching border and or modifying by adding double crochet rows to the sides of the panels before seaming. Sleeves can be made wider by replacing the use of the flat slip stitch seam to join and use the seamless join method or by adding rows of double crochet to sides of the squares in order to make them wider before seaming.
Pattern Instructions
Granny Square Pattern
With Natural Heather Color:
Ch 4, sl st into first ch made to create a ring
Round 1: Ch 3, 2 dc in ring, ch 2, (3 dc in ring, ch 2) 3 times, sl st into 3rd ch of ch 3 at beginning of round.
Round 2: Ch 3, ( 2 dc) in same ch 2 sp, * ch 1, ( 3 dc, ch 2, 3 dc) in next 2 ch sp, repeat from * 2 more times, ch 1, 3 dc in next ch 2 sp, ch 2, sl st in 3rd st of ch 3, (picking up the Fisherman color for color change) for beginning of next round.
Round 3 With Fisherman Color, Ch 3, 2 dc in same ch sp, * ch 1, ( 3 dc in ch 1 sp, ch 1) in each ch 1 sp to corner, ( 3 dc, ch 2, 3 dc) in ch 2 sp at corner, repeat from * two times more, ch 1, ( 3 dc in ch 1 sp, ch 1) in each ch 1 sp to beginning of round, 3 dc in final ch 2 sp, ch 2, sl st in 3rd st of ch 3 at beginning of round.
Round 4 – 5 Repeat round 3, tie off and weave in ends.
Repeat above pattern to make a total of 24 granny squares.
Next, you will move onto assembly where you will seam the squares together in order to make the sweater!
Assembly:
Step 1: Seam 4 Panels – (Two front panels and two back panels) With the color Natural Heather, seam a row of 4 granny squares together, end to end, right sides out, using the Flat Slip Stitch Join method for granny squares (you can find tutorials by doing an online search) or use your preferred seaming method.
Repeat this 4 times so that you have 4 separate panels made of 4 granny squares seamed end to end (See photos for additional assistance)
Step 2: Seam Sleeves – Seam two granny squares together, right sides facing out, along one end. Next, seam opposite ends together to create the sleeve or a "cylinder"
Repeat step 2 to create a second "cylinder"
Next, seam the two "cylindars" together, end to end, to create the entire sleeve. One sleeve is made up of 4 granny squares seamed together.
Repeat step 2 for a second time to make a second sleeve
Step 3: Seam Panels Up Center Back Seam up back panels at center using the Seamless Join method for granny squares. This is worked by crocheting 3 dc in each space between 3dc stitches on edge of panel, then working 3 dc on matching opposite panel space. This will create the look of the granny stitch and give more width to the final back panel. Tie off.
Step 4: Seam Each Side using the Seamless Join Method seam, from the bottom up, ending just after you've seamed past the 3rd granny square from the bottom.
Step 5: Seam Sleeves to Cardigan – use the Flat Slip Stitch Join seam method (or preferred method) to evenly attach sleeves to the cardigan, tie off and weave in ends.
Step 6: Double Crochet Cuff – With Fisherman, double crochet evenly along the bottom of each sleeve for a total of three rounds each. Tie off and weave in ends.
Step 6 Crochet Collar Detail Attach "Natural Heather" yarn at bottom of collar area and evenly half double crochet along entire collar to other end. Tie off and weave in all ends.
Now, block to shape if desired!
Photo Tutorial: Below – Seam squares together with the Flat Slip Stitch seam ( a simple online search will bring up links to tutorials on this specific seam)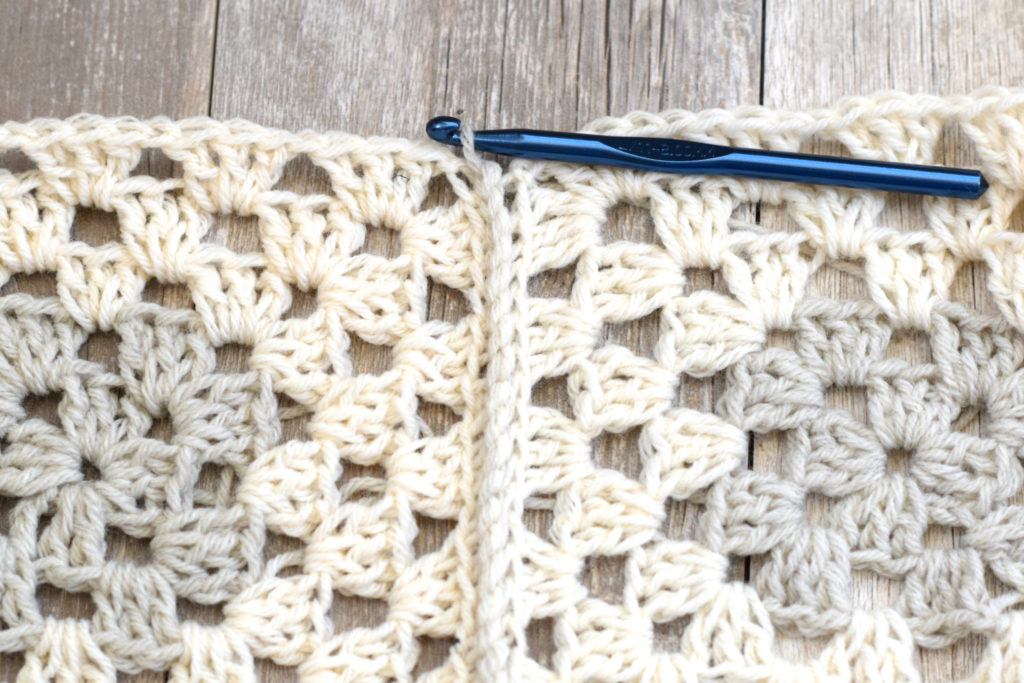 Below: The two back panels (note each panel is made of 4 granny squares) are seamed together using the Seamless Join Method. This increases the width of the back panel and also adds a nice stripe detail down the center. The sleeve is also finished and ready to be attached to the sweater once assembled.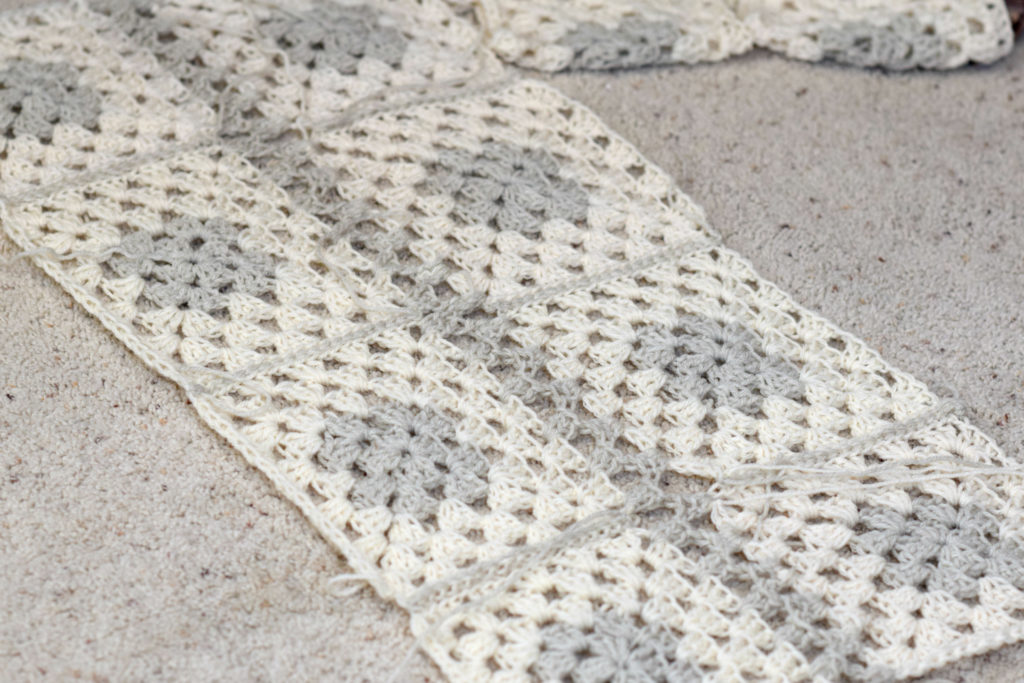 Below: The front panels are seamed along the sides to the back panels using the Seamless Join Method. Leave an opening for the arms where sleeves will be attached.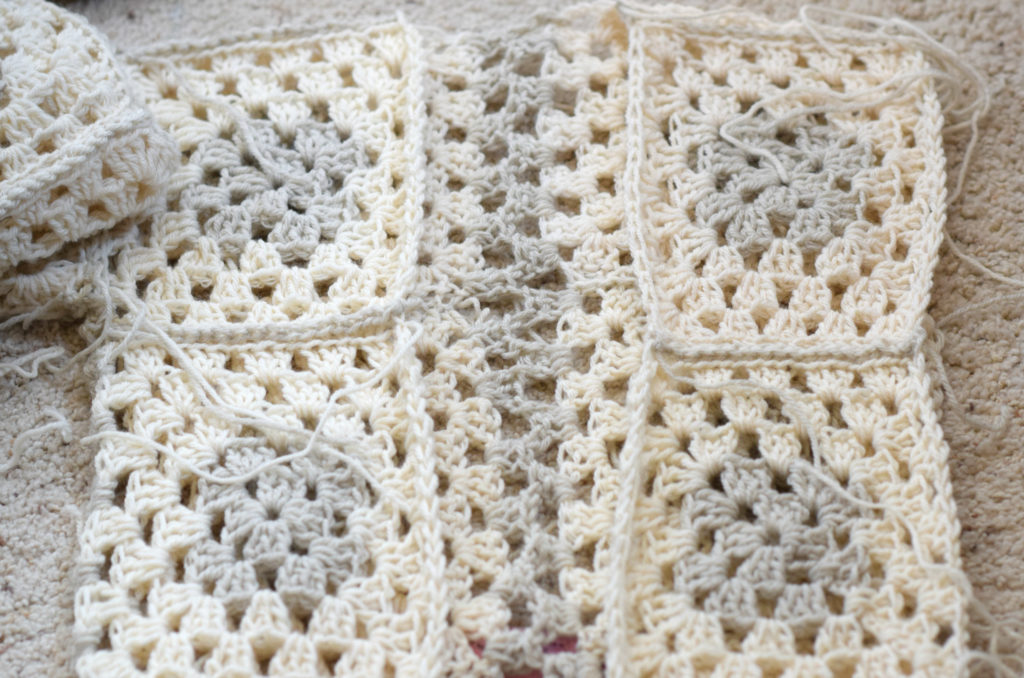 Below: All finished!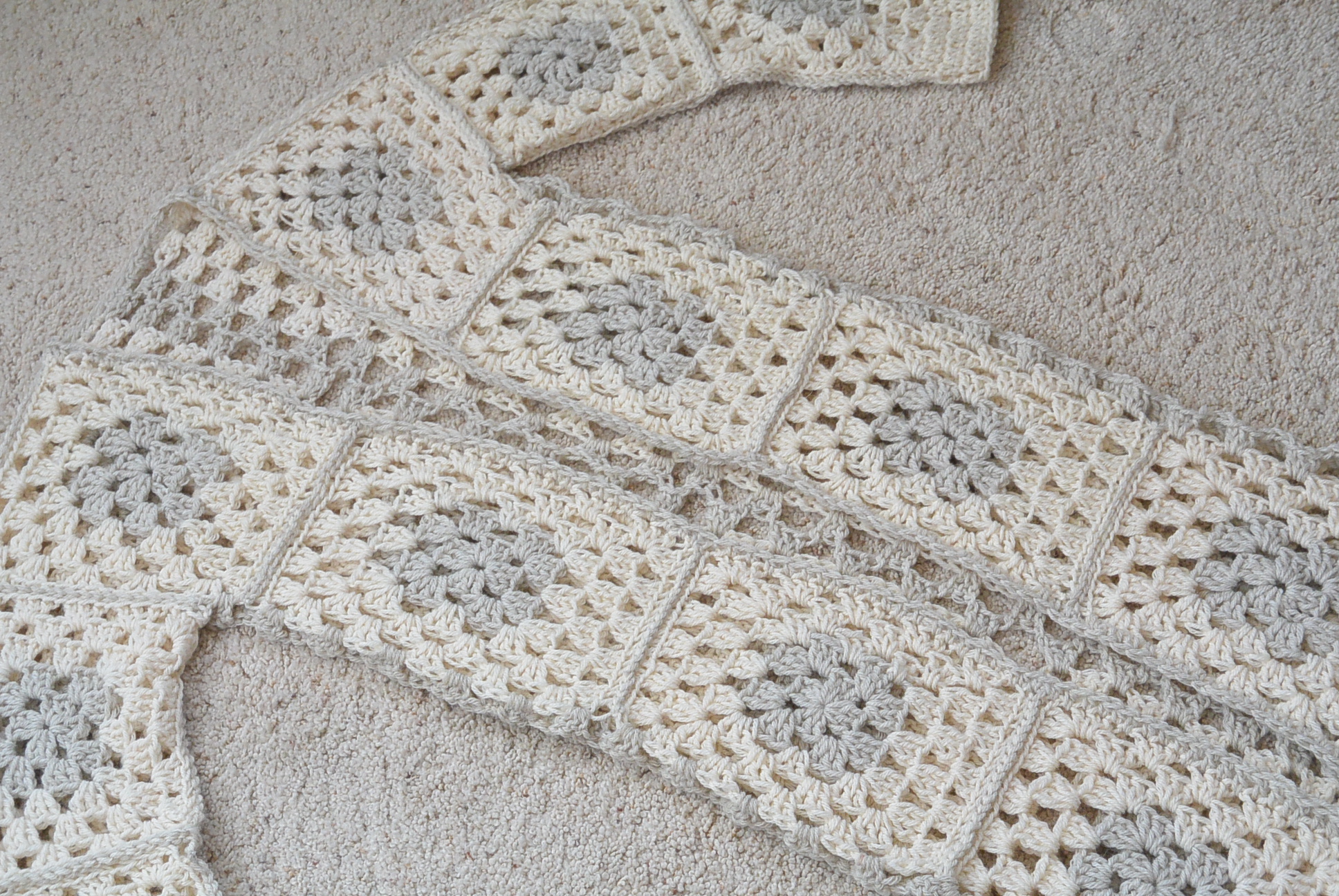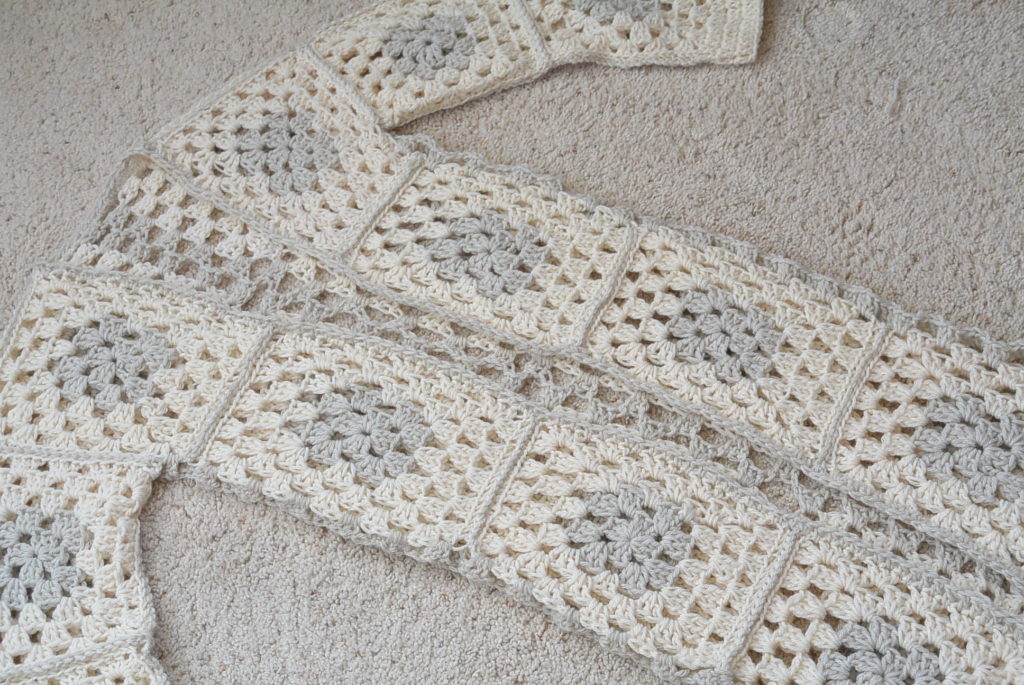 Hope you love your granny sweater!
Also, if you love granny squares, check out my Nora Granny Square Blanket Crochet Pattern TOO!
XO
Jessica
Want more crochet sweater fun? You might like these: