Cotton Blanket Crochet Pattern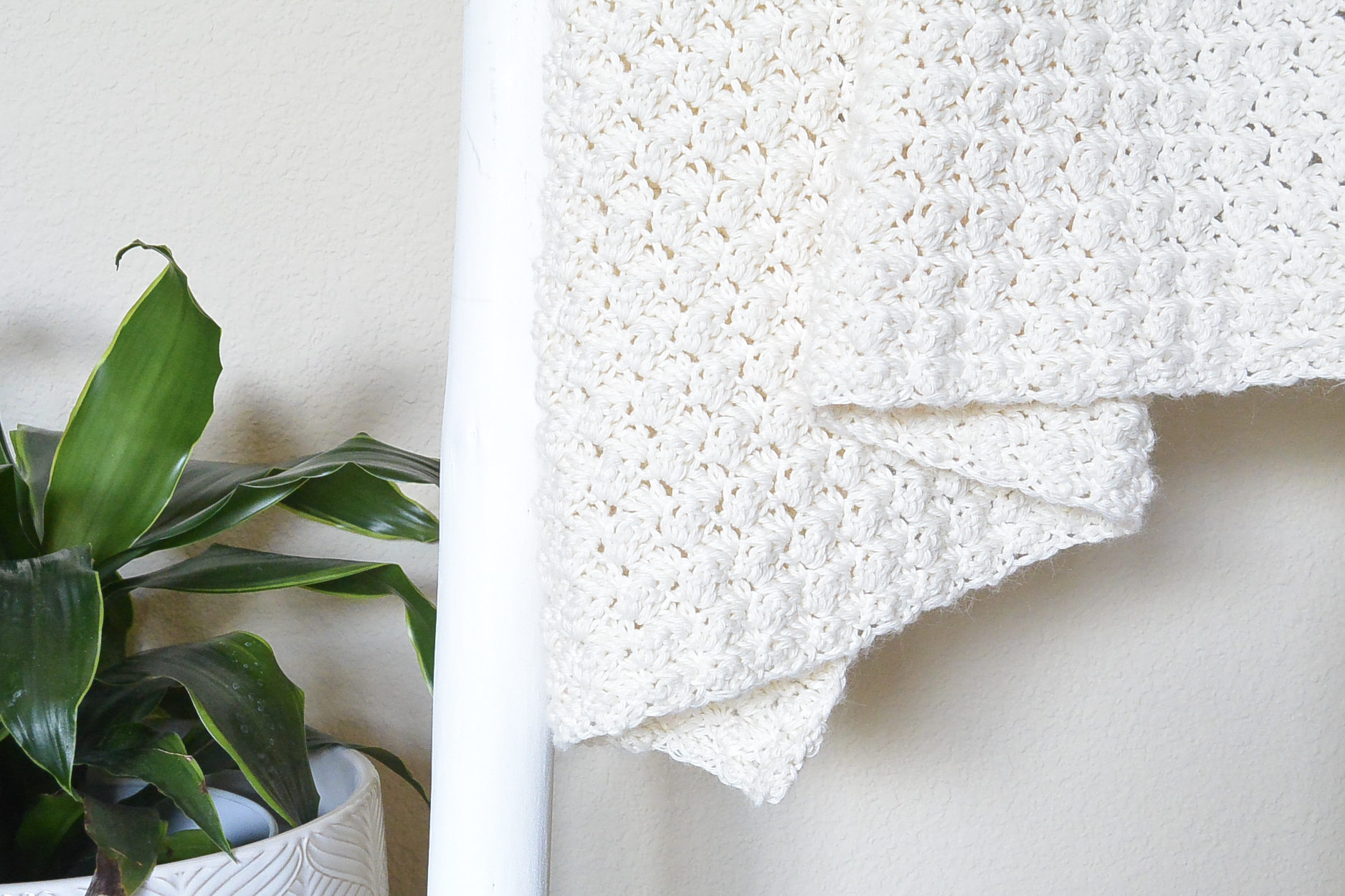 Today's free crochet pattern is for a simple, feminine, cottage inspired, cotton blanket! I'm calling it "The Cottage Blanket". Read on!
You may also choose to purchase the ad-free, printable version in my Etsy Shop HERE or if you're a Mamas Maker Member, you can grab the download HERE under "Blankets". Scroll down to see the pattern for free!
One of the best gifts that I received at my baby shower was a cotton, hand woven blanket from a family friend. At the time, I didn't knit or crochet and I was completely stunned that someone could make that! It is a treasured blanket to me.
I love to use natural fibers whenever I can, although sometimes it's tough when it comes to budget. And sometimes, there are reasons to use acrylics and other fibers as well. However, today I wanted to share a pattern with wonderful cotton.
You can make this as a baby blanket, or you can easily adjust the size to make it as big or small as you'd like. I wrote the pattern out as a lapghan size, but again, you'll see some basic instructions below on how to adjust the pattern to customize your size.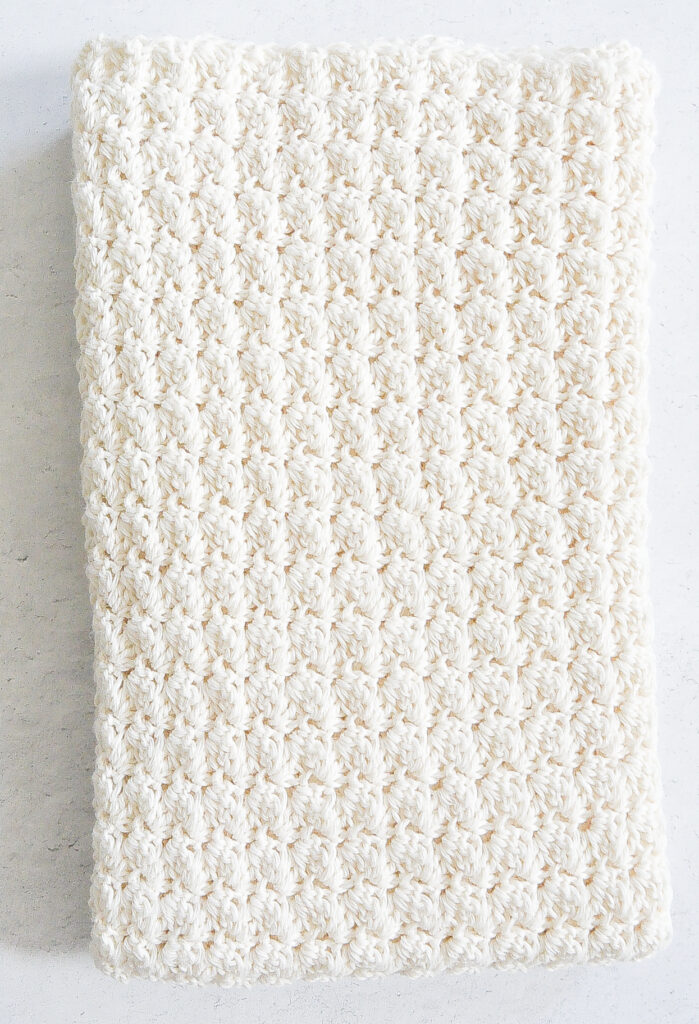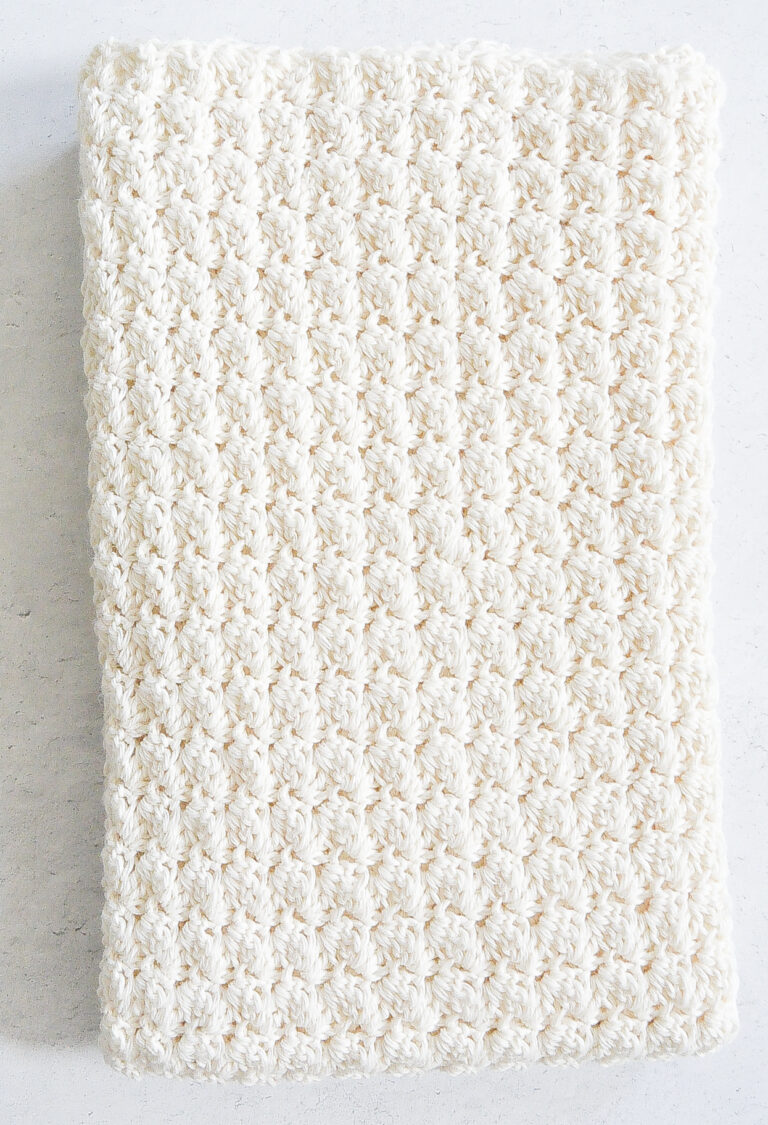 I love the cottage chic vibe that this blanket has, and I think it would be gorgeous in any farm house, cottage, or vintage style rooms. It also would make for a lovely baby shower gift!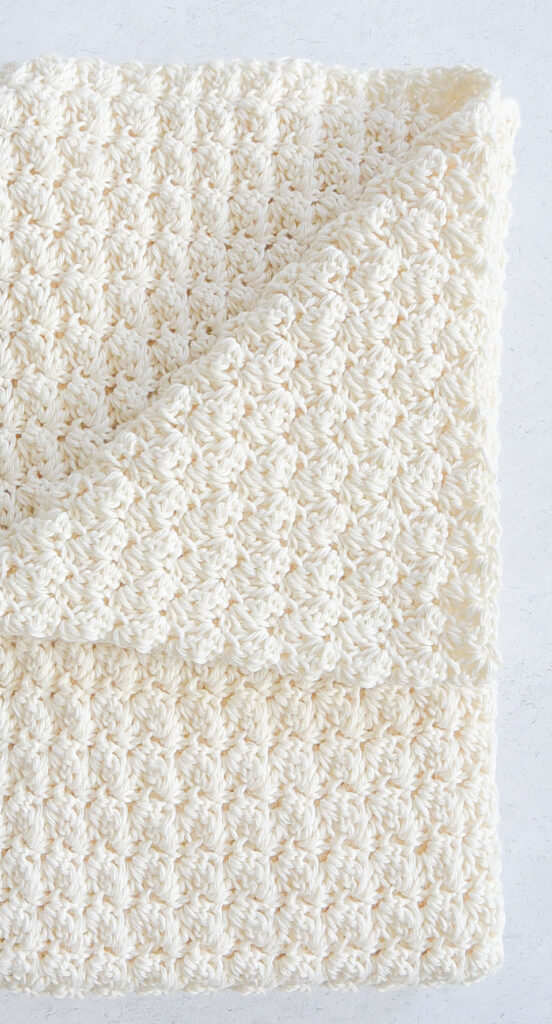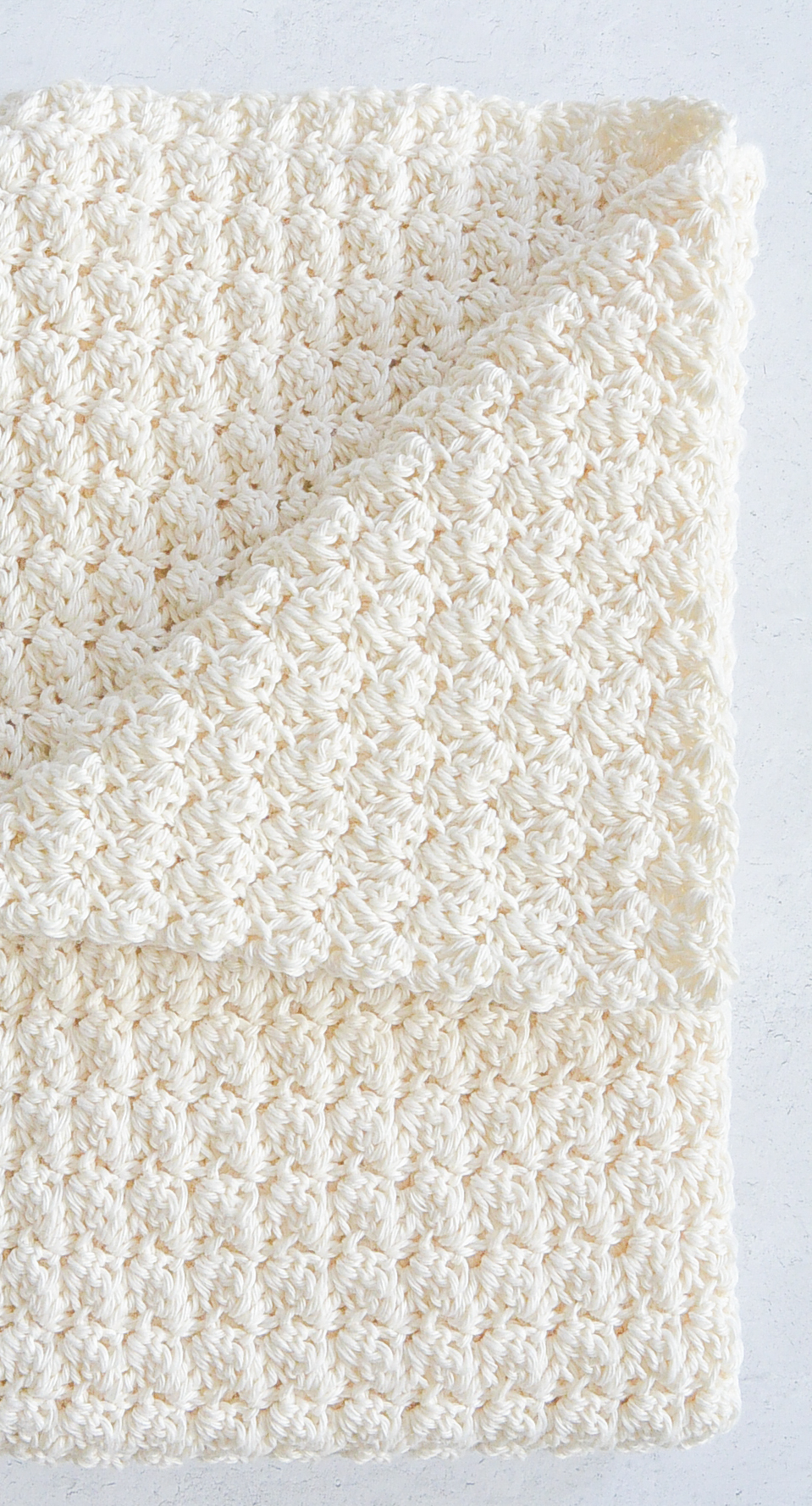 You might remember my Go-To Blanket made with chunky weight yarn – that's a fun one if you like really fast projects! This blanket uses the same stitch, the blanket stitch, and it's just such a great pattern to have on hand.
If you check out the pattern below, you will see it's just a one row repeat throughout. That's the perfect kind of mindless crochet for summer time! Hehe
So, let's hop to this pattern, shall we?
Remember that you can grab the ad-free version from Etsy, or see the free version below. 🙂
The Cottage Blanket Cotton Crocheted Blanket
Description:
A light, cotton yarn paired with a classic crochet stitch makes this the perfect, cottage chic blanket. Light and soft enough to use as a baby blanket, it can also double as a cozy lapghan or throw. Add some farmhouse or cottage vibes to your space with this timeless piece. Easy to make in any size, it's completely customizable. Check out the full video tutorial here: https://www.mamainastitch.com/crochet-blanket-stitch/ to learn this stitch and you can start making your new blanket today!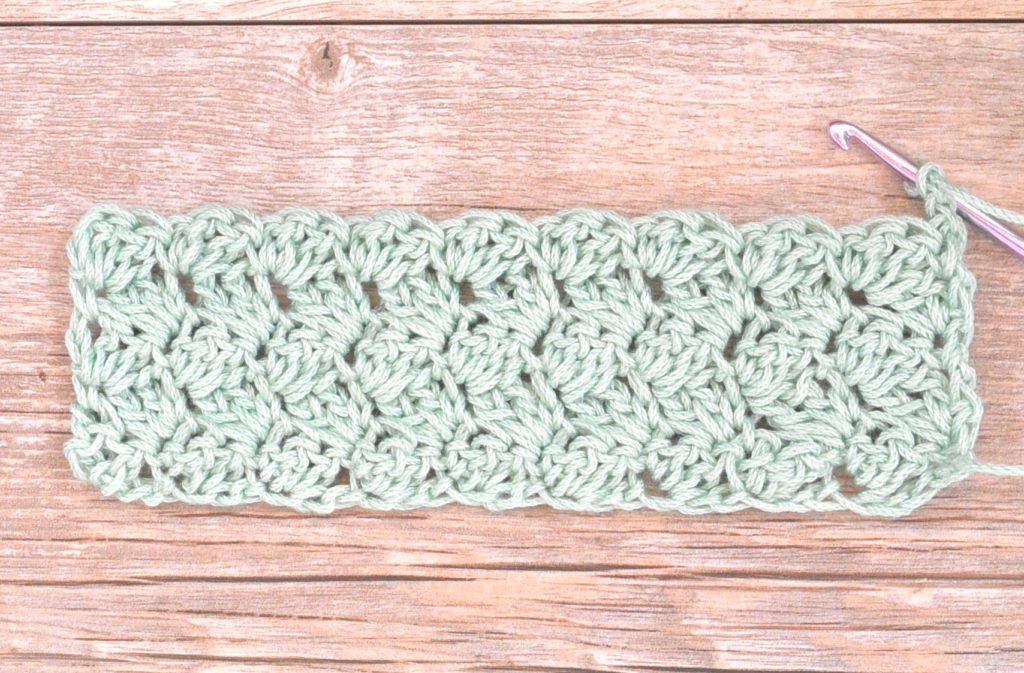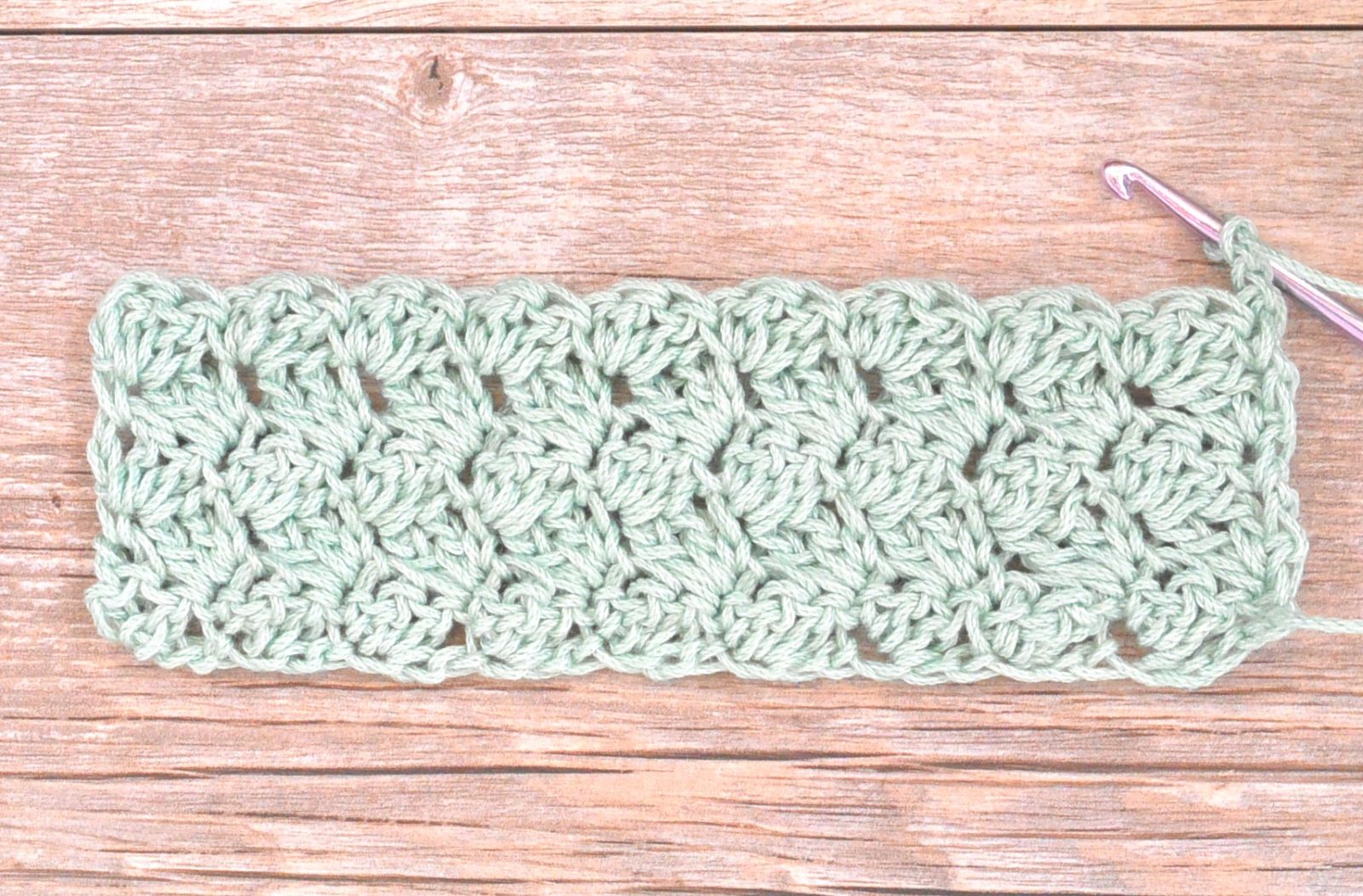 You will need:
US Size J, 6.0 mm crochet hook
3 skeins Lion Brand Yarn Comfy Cotton Blend (HERE) Light #3 yarn in Whipped Cream, 200 g / 392 yd per skein
Pattern uses approximately 600 g (This will make a lapghan size blanket or baby blanket size)
Scissors
Tapestry Needle to weave in ends
Skill Level:
Easy +
Abbreviations/Skills needed:
sc – single crochet
dc – double crochet
ch – chain
sk – skip
st – stitch
Gauge:
Not important for this pattern
Size Available:
41" x 31" inches Lapghan
(See notes for instructions on how to adjust the pattern to make it larger or smaller!)
Notes:
The pattern is worked using simple single crochet and double crochet stitches. It is very repetitive, so once you get into the groove with row 2, the rest of the project is a breeze!
You can also find a video tutorial on my blog for the stitch used in this pattern if you need more help at http://www.mamainastitch.com/crochet-blanket-stitch/ .
You can easily make this blanket wider and longer by starting with a longer chain and crocheting for more rows. Your beginning chain must be in a multiple of 3, and you're good to go!
The Cottage Blanket Pattern Instructions
Ch 108
Row 1 2dc in 3rd ch from hook, *sk 2 ch, sc in next ch, make 2 dc in same ch stitch. Repeat from * to end of row, sc in final ch st of row.
Row 2 Ch 2, turn, 2dc in first sc st, *sk next 2 dc, sc & 2dc in next sc; repeat from * across to end of row, sc in top of turning ch 2 at end of row .
Repeat row 2 until you run out of yarn, or blanket is approximately 41" long. Feel free to crochet for more rows if you have enough yarn and would like a larger blanket!
Block to shape and size as desired.
Enjoy your cuddly, new blanket!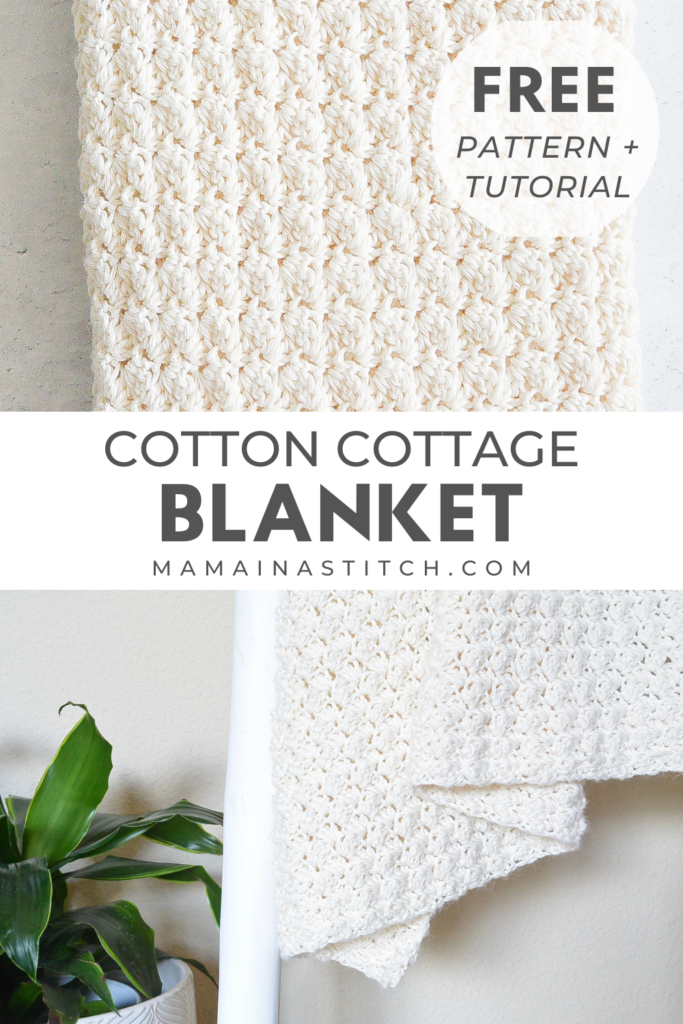 And that's it my friends!
Do you like using natural fibers when you can?
I'd love to see your projects and would love to see this blanket on Instagram! Just tag me @mamainastitch #mamainastitch, so I can check them out!
XO,
Jessica
If you're a cotton fan, check out the cotton I used in this project below!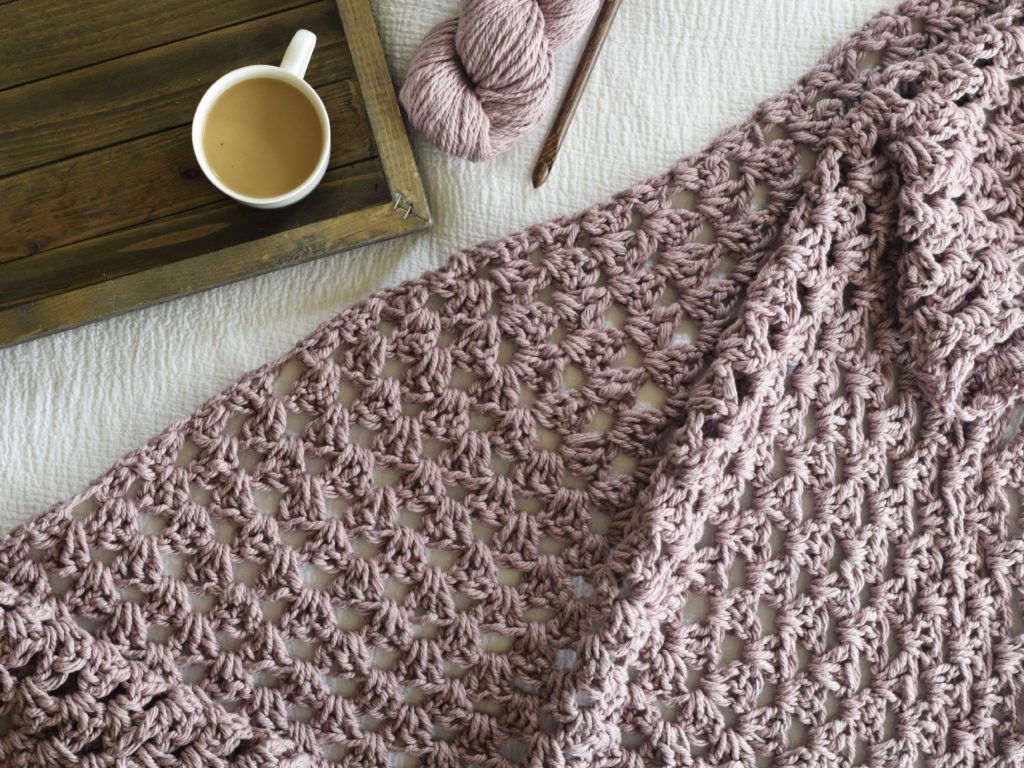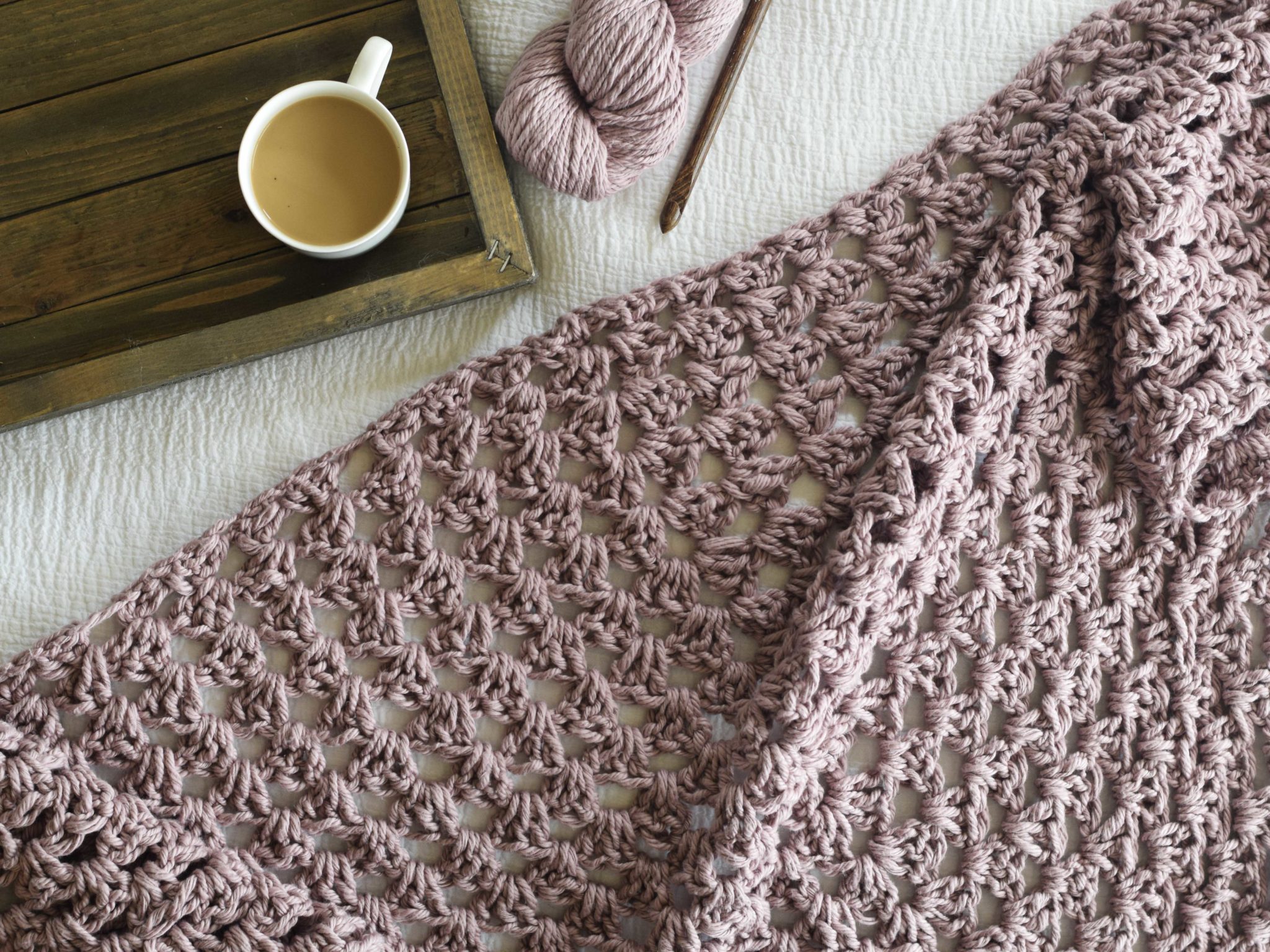 If you liked this project, you might also like the Done In A Day Cuddler below!