Easy Blanket Sweater Crochet Pattern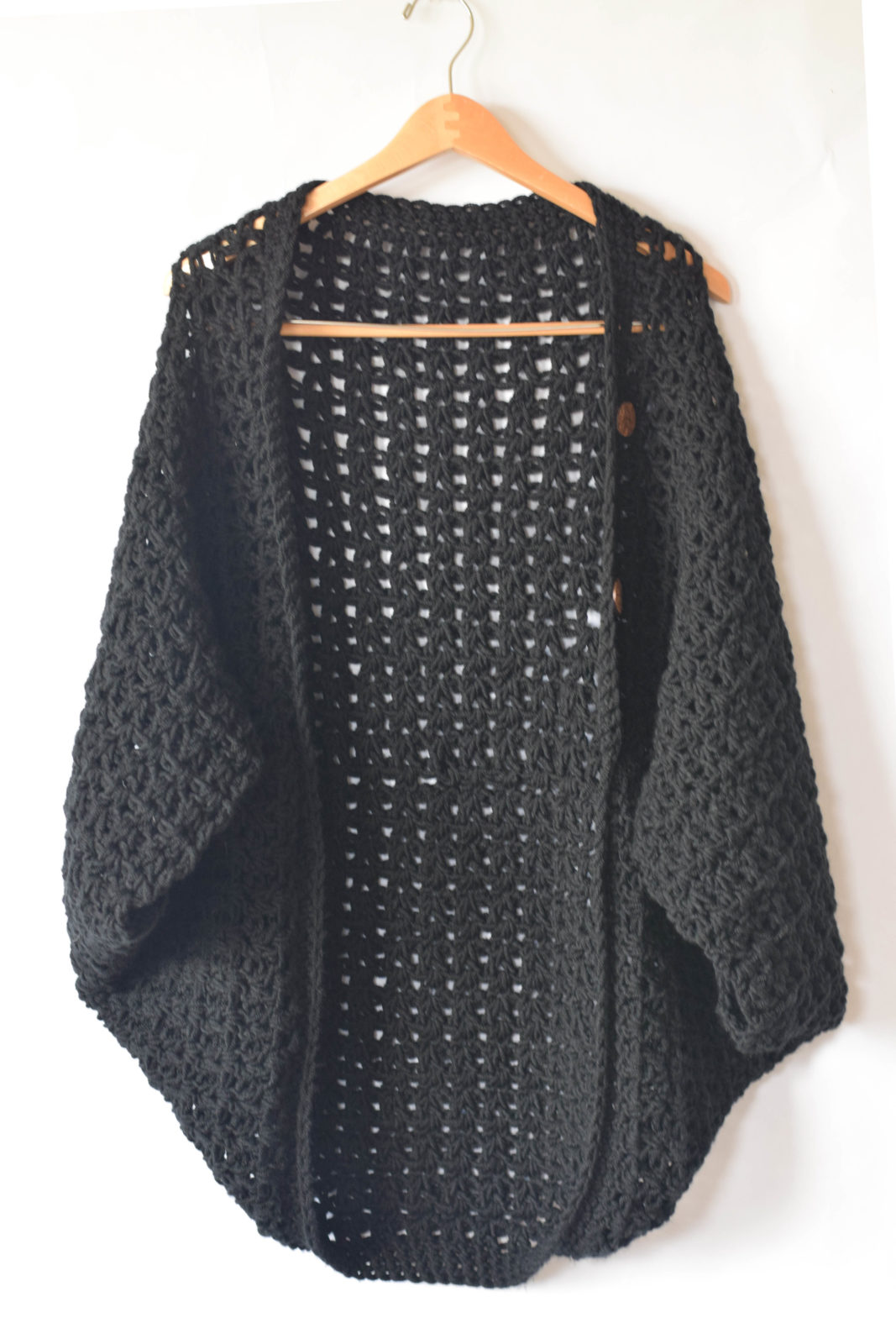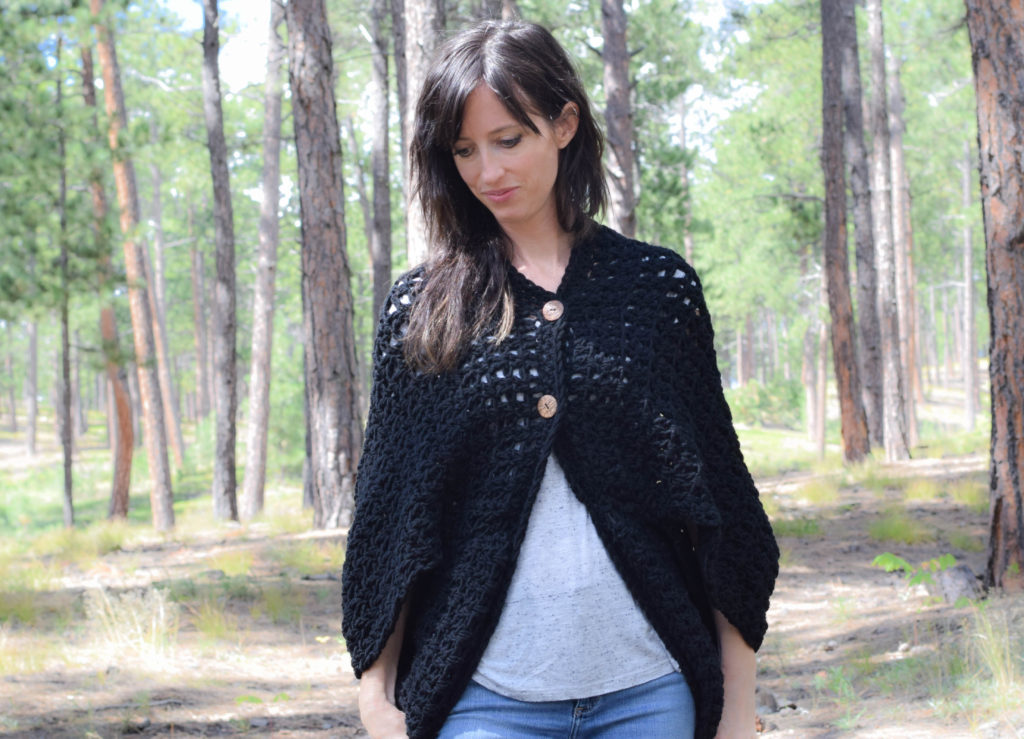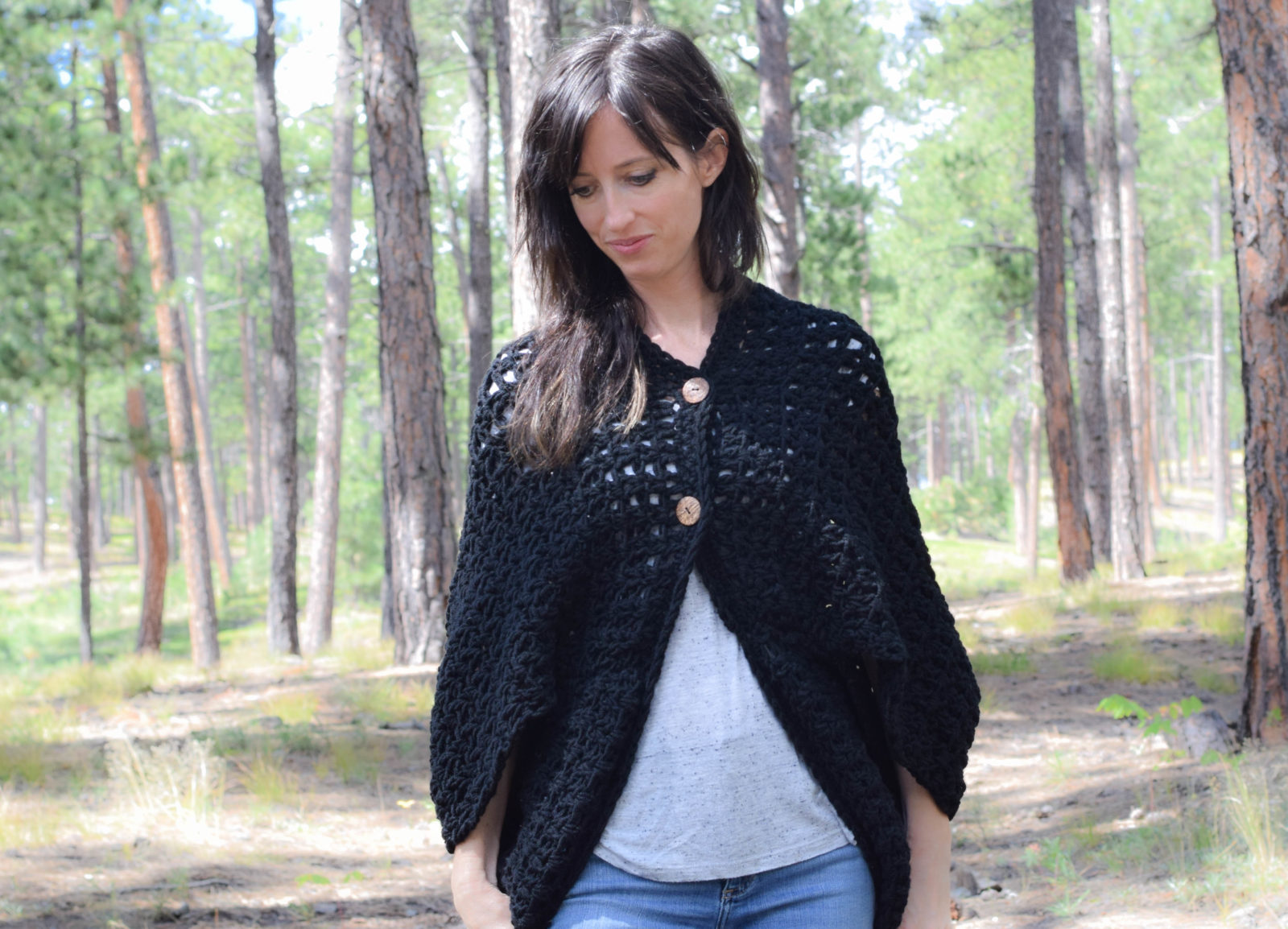 Want to wear a blanket? 😉
Over the last year, I've seen several shrugs, cacoons and cardigans of all shapes and sizes made by simply knitting or crocheting a rectangle and seaming them to make darling wearable tops. This method allows you to make anything from cropped little shrugs to long sweaters like this one. With the cool season upon us, I wanted to make something that is super cozy, chunky, over-sized AND that would button closed. What could be cozier than wearing a blanket, and what could be easier than crocheting a rectangle? I LOVE EASY!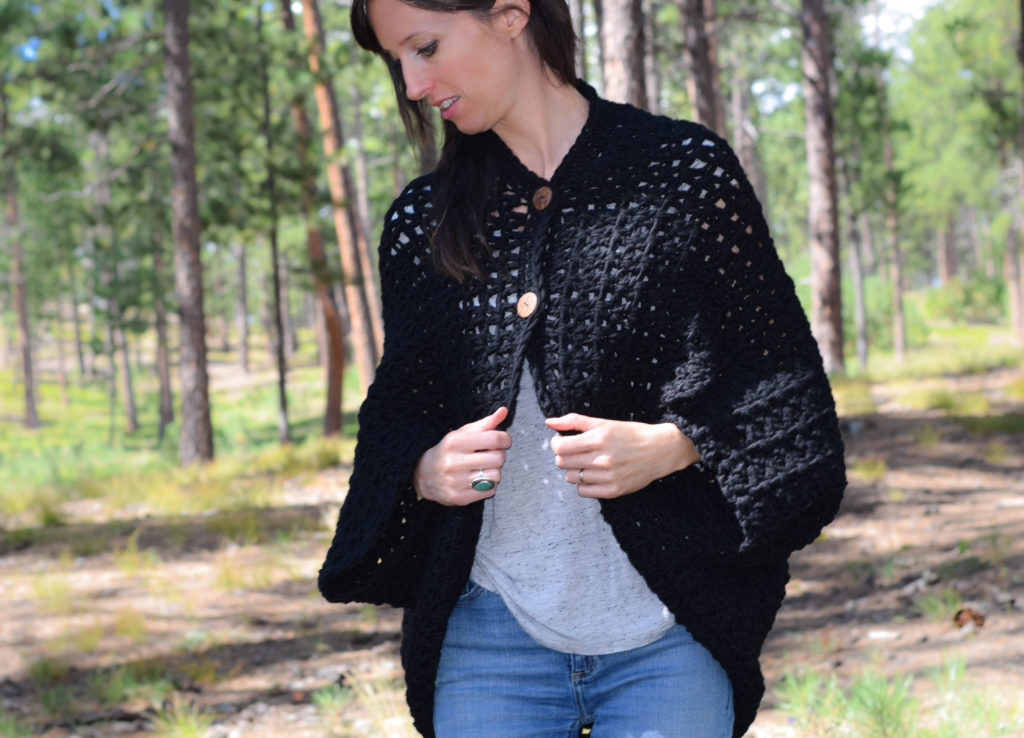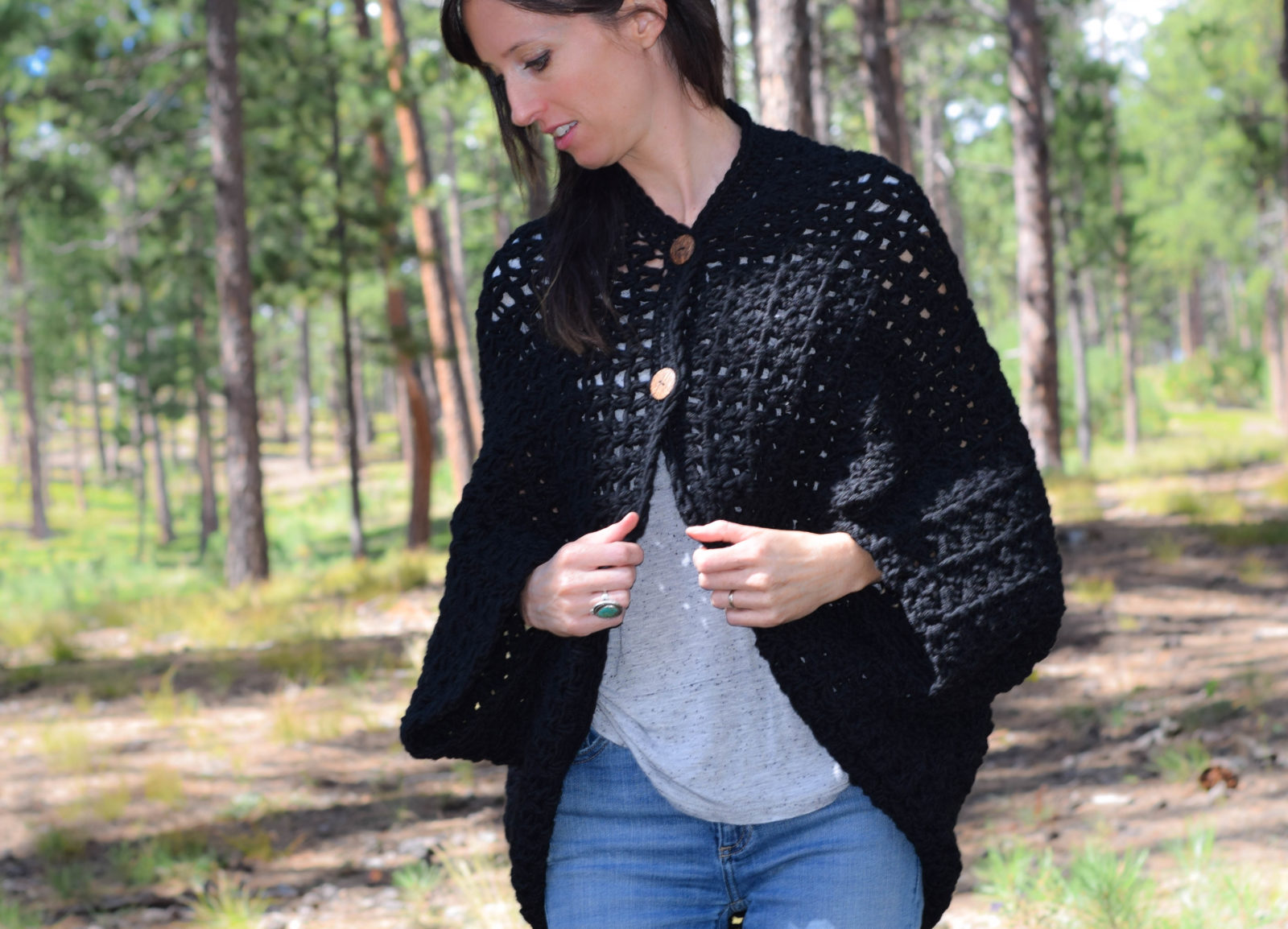 I also love wearing BIG hoodies, sweaters and sweatshirts so this fit the bill. I've mostly seen this V stitch used for blankets, and even using this chunky yarn, this particular stitch allowed for a nice drape. The Woolspun yarn is also really squishy which is a plus!

This blanket sweater is black, but I think it would look great in a brown or grey color as well. The buttons are nice because they keep the shrug in place, which otherwise is pretty open and floppy ("floppity" as my daughter puts it). So with the buttons you have the option to wear it open and "floppity" or closed and "put in it's place". 🙂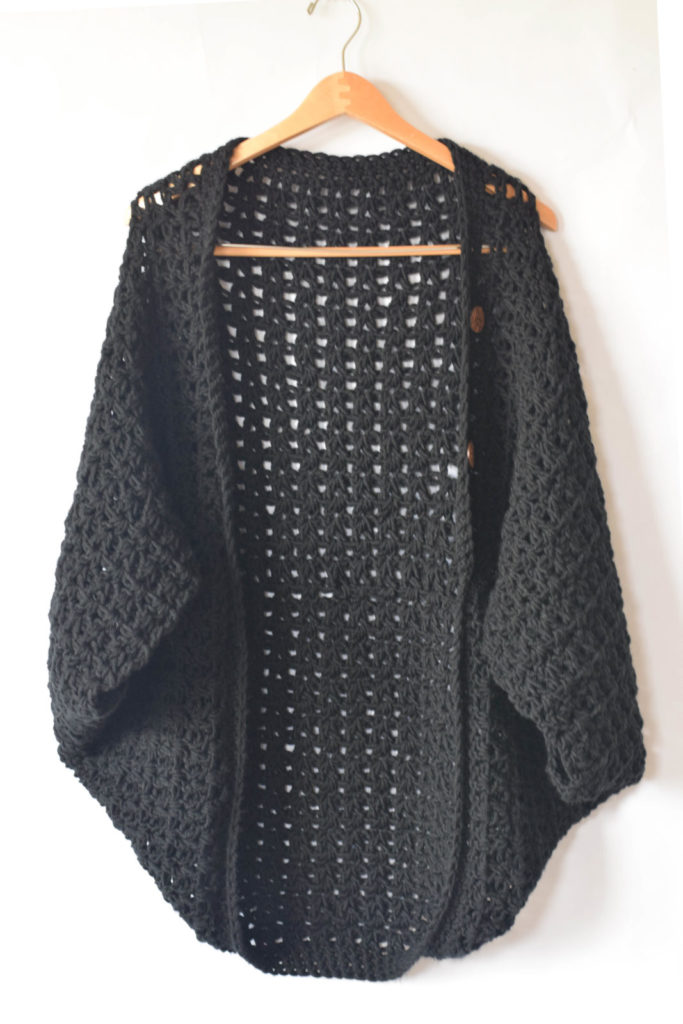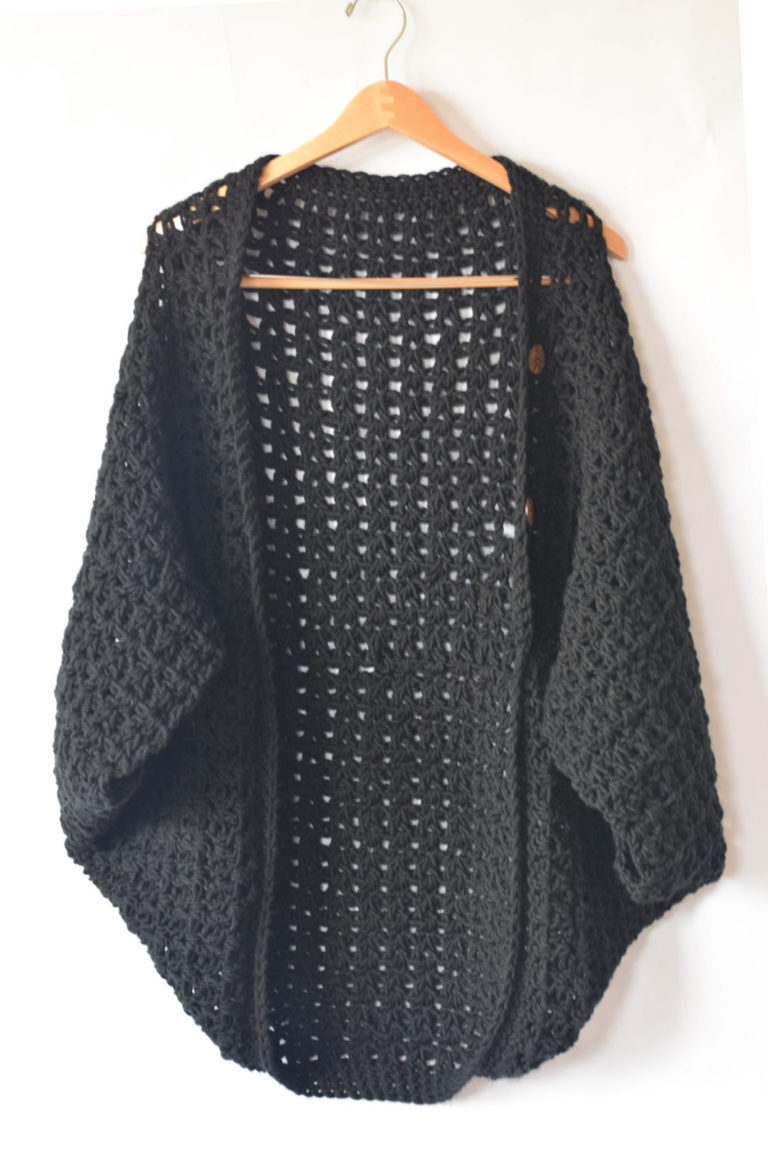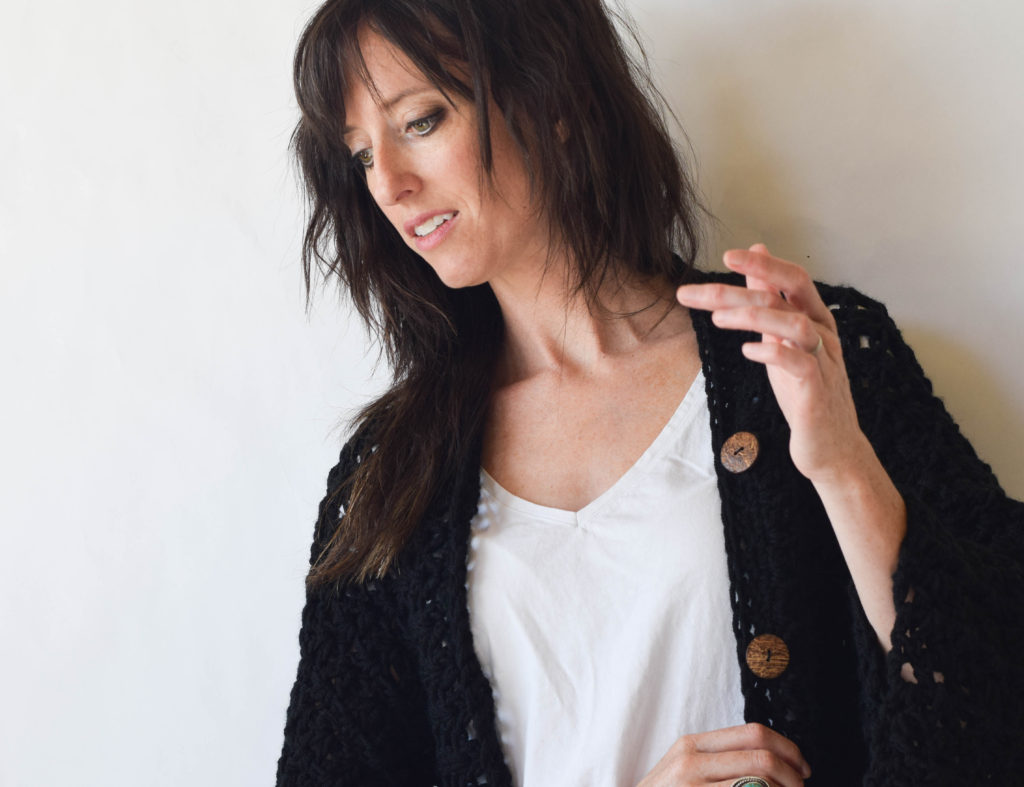 For this blanket cacoon you need to know how to single crochet and double crochet. This is the perfect crochet and Netflix (knitflix) project because it is totally repetitive and you don't have to do any counting once you get going. It's almost all done in the V – stitch which is made with double crochet stitches. I've posted a full picture tutorial on how to make this stitch HERE. The only time that you will single crochet is at the end when you work a simple border on the inner opening of the sweater. There are no complicated button holes to make as the buttons fit through the single crochet stitches.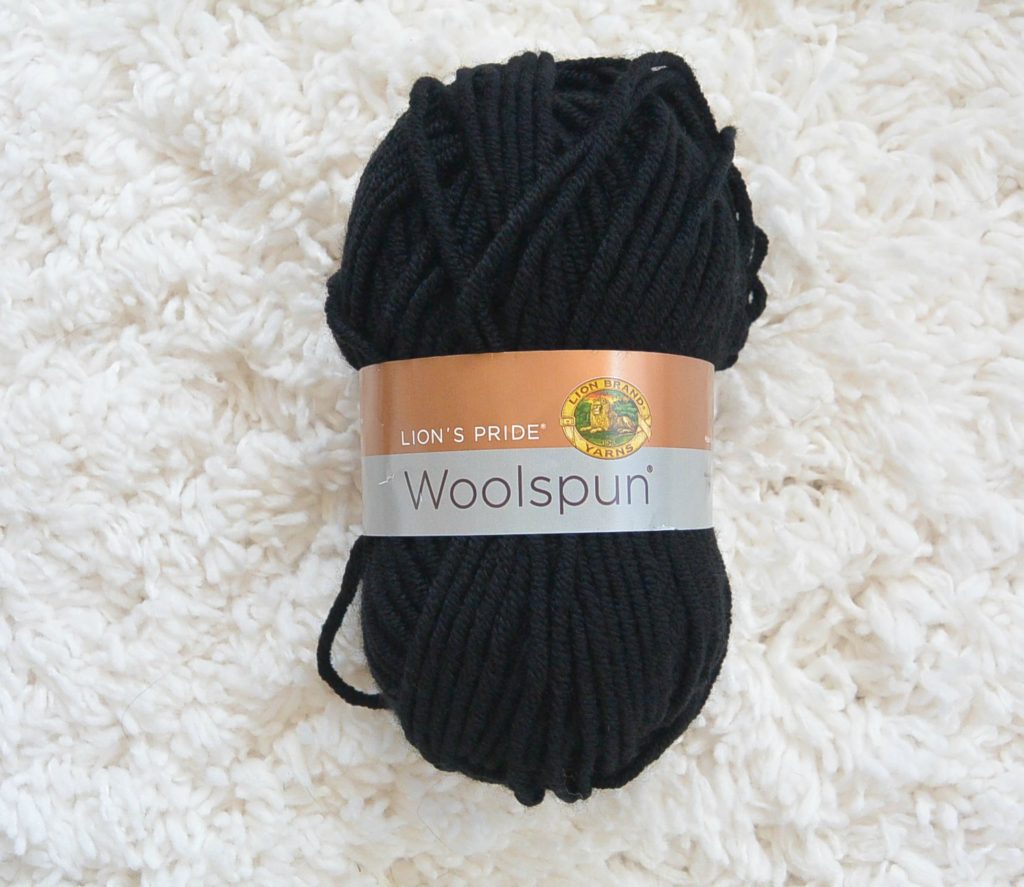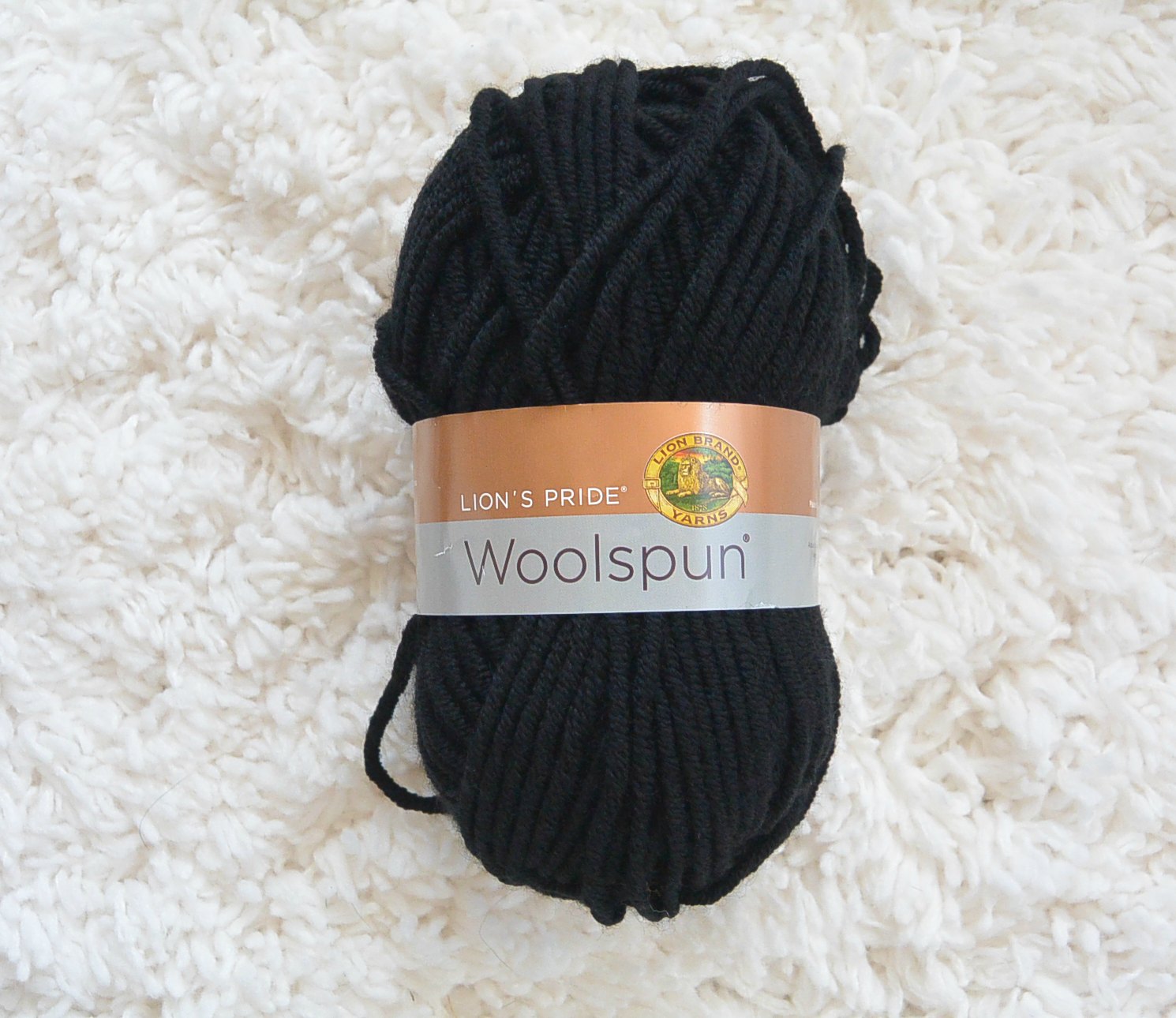 Measurements: 42″ from end of sleeve to end of sleeve. 32″ from top of neck to bottom of shirt. (It stretches downward when worn) I'd say this is a one size fits most type of top. It will fit tighter across the chest if you are a large when buttoned. Obviously, with any one size fits most shirt, the way that it drapes on a small will be different than the way it fits and drapes on a large. You can adjust the length of your initial chain to accommodate larger sizes.
Gauge isn't super important but is just over 1 ¾ stitches per inch.
**I am now offering an inexpensive, advertisement free, printable PDF version of this pattern on Etsy. You can find it HERE.
Or scroll down to see the pattern for FREE below.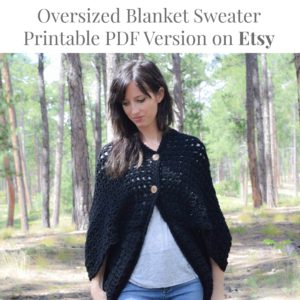 You can also purchase a kit for this pattern from Lion Brand Yarn which includes all of the yarn you will need and the pattern!
Find the kit which is 20% off until October 7, 2016
HERE – Easy Blanket Sweater Kit!
Skills:
dc-double crochet
sc-single crochet
sk- skip stitch
ch – chain
(You will also seam the sleeves with either a slip stitch or a whip stitch)
You will need:
US Size L 8.0 mm crochet hook
8 skeins of Lion Brand Woolspun in black (It uses just over 7 skeins)
Scissors
Tapestry needle to weave in ends
Small amount of crochet thread to sew on buttons (or needle and thread)
Two, 1″ inch to 1 and 1/8 inch diameter buttons of your choice (I used wooden buttons from JoAnn Fabric – note I purchased these months ago and can no longer find the exact same buttons. However there are many beautiful substitutes at JoAnn's and at other craft stores)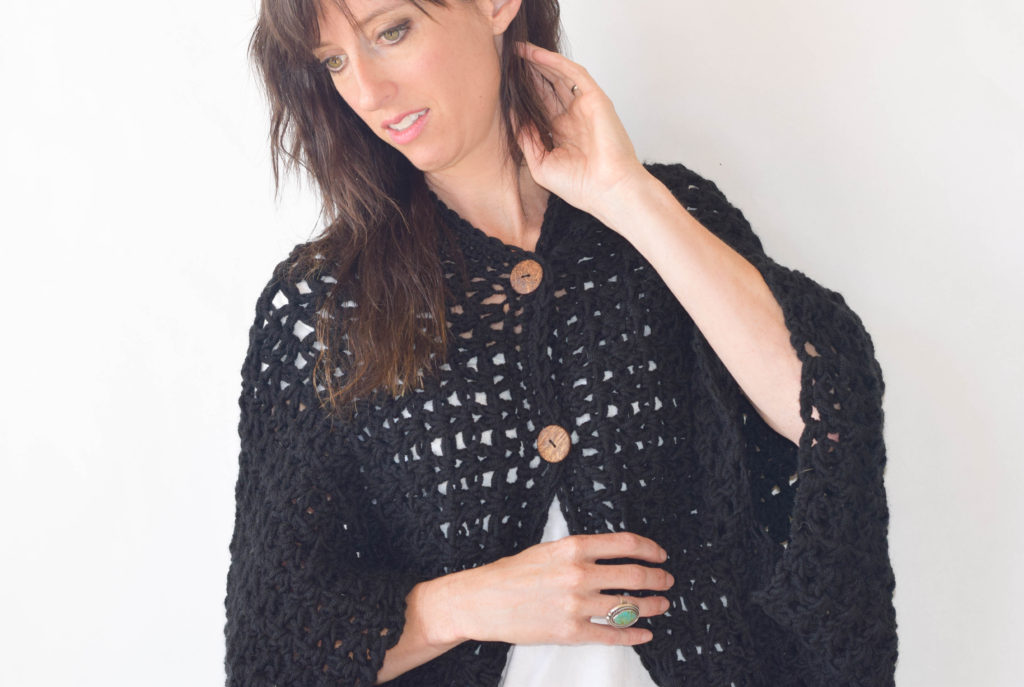 Blanket Sweater Crochet Pattern:
*Find my full picture tutorial on how to do this easy V-Stitch HERE
*Please note that on row 2 and for the remainder of the pattern you are double crocheting into the SPACE between the two double crochet stitches that form the V shape
Ch 79
Row 1 2 DC in 5th ch from hook, *skip 1 ch, 2dc in next ch. Repeat from * across the row. When you get to the end of the row make only 1dc in the last stitch, ch 3, turn.
Row 2 Make 2 dc in the space below 5th ch from hook ( this is the space between the first V shape formed by 2 dc stitches). Make 2dc in the middle of each dc group across the row. At the end of the row make 1 dc in the last stitch, which is the turning chain from the previous row. Ch 3, turn. See the picture tutorial and explanation HERE to see how to complete this row
Repeat row 2 until your piece measures 31 " long.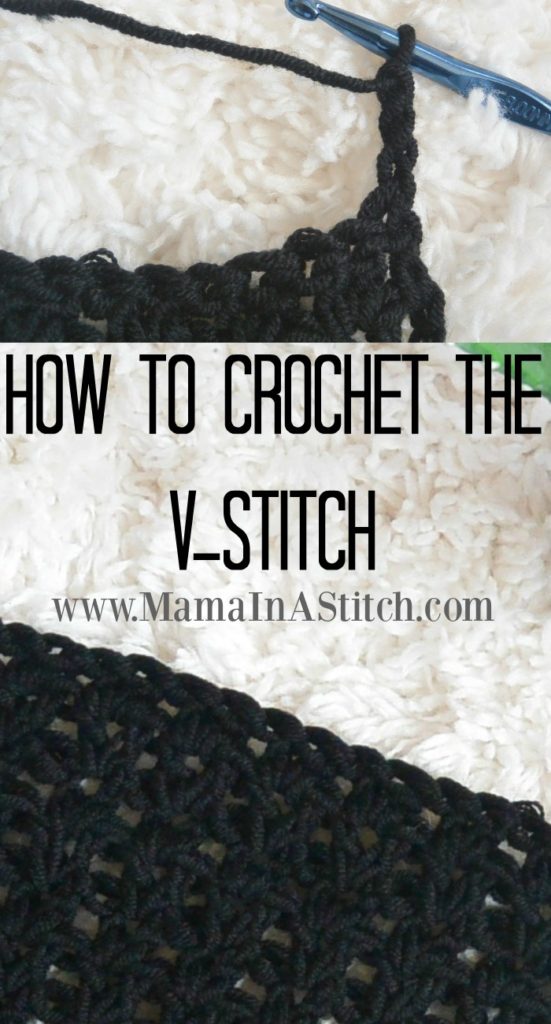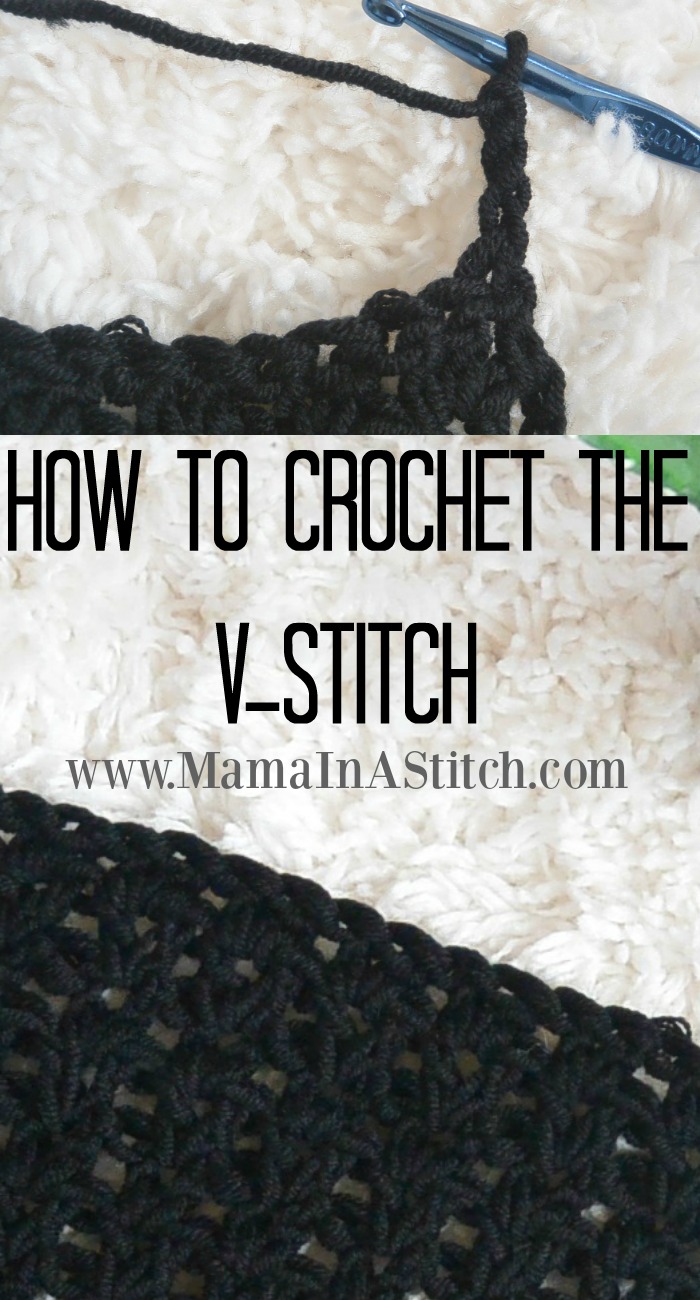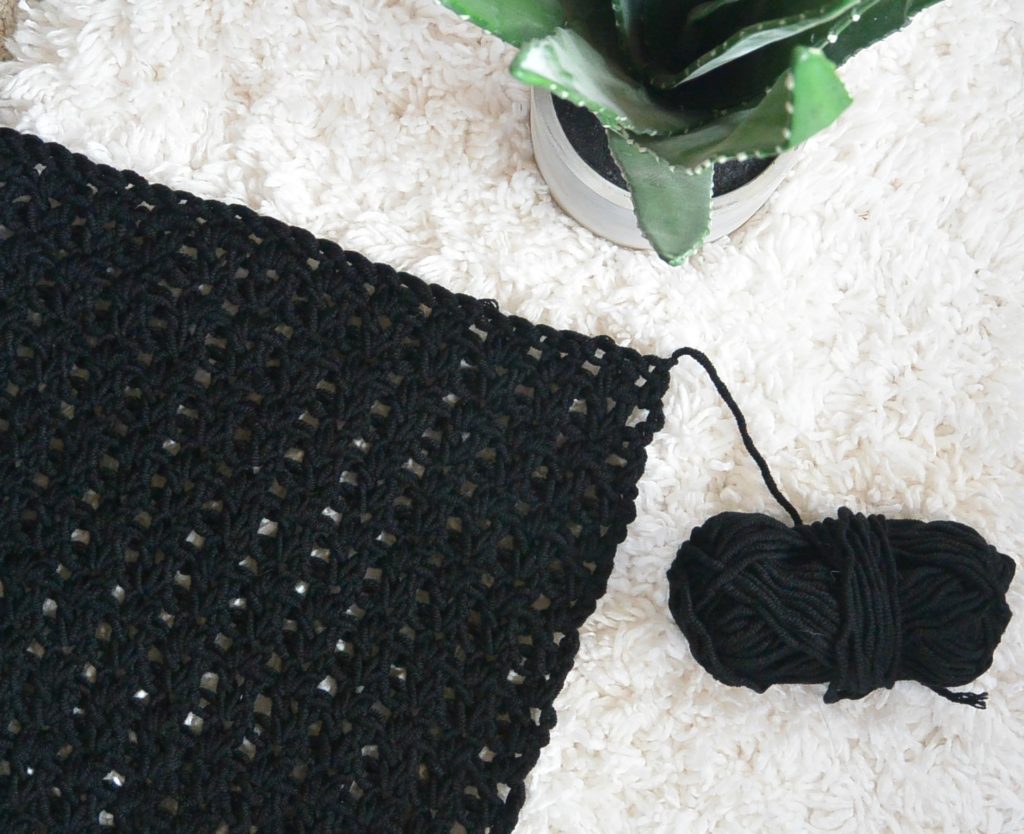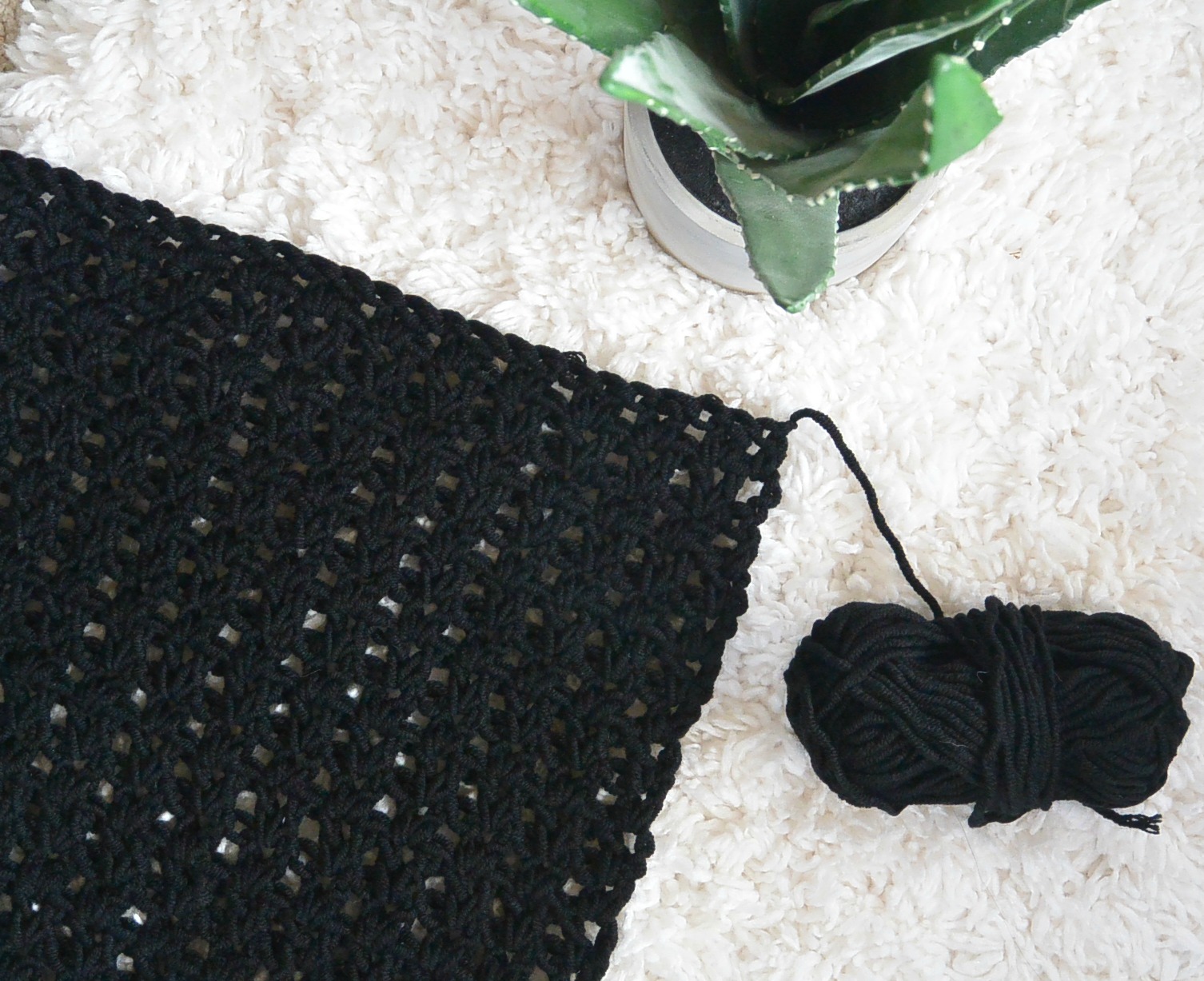 Assembly and finishing:
Lay piece flat on the ground lengthwise like a hot dog. Fold in sides as pictured. Attach yarn the end of sleeve and seam with a slip stitch, 7″ in on each side. I only grabbed one "leg" of each stitch from both sides to create less bulk at the seam. I imagine that a whip stitch could work well here too if you prefer. The wrong side is the one that will be seamed. Tie off and weave in ends.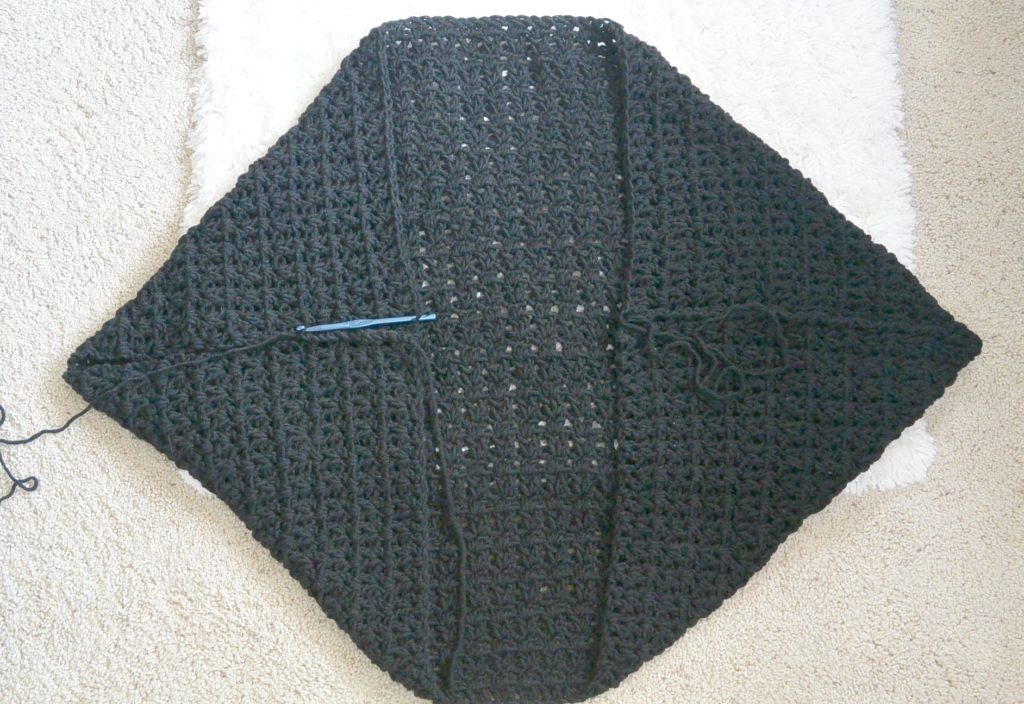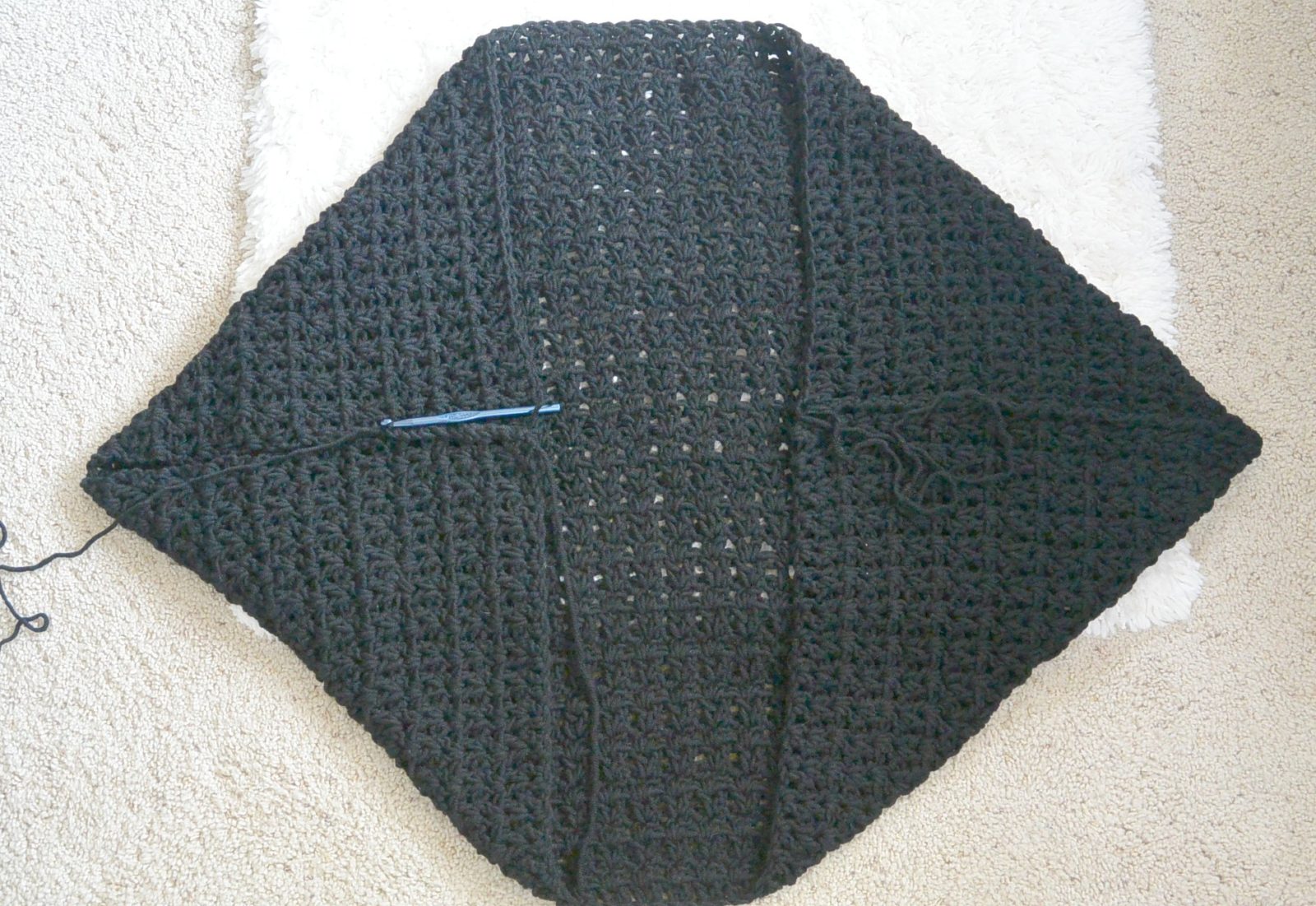 Neck line and inner border:
Attach yarn to neck line and evenly single crochet around, creating a border. ( At this point, make sure your single crochet gauge is large enough to fit a button through. It should be tight, but not so tight that you can't button it! Loosen your stitches if needed ) Make 3 rounds of single crochet stitches. Tie off and weave in all ends.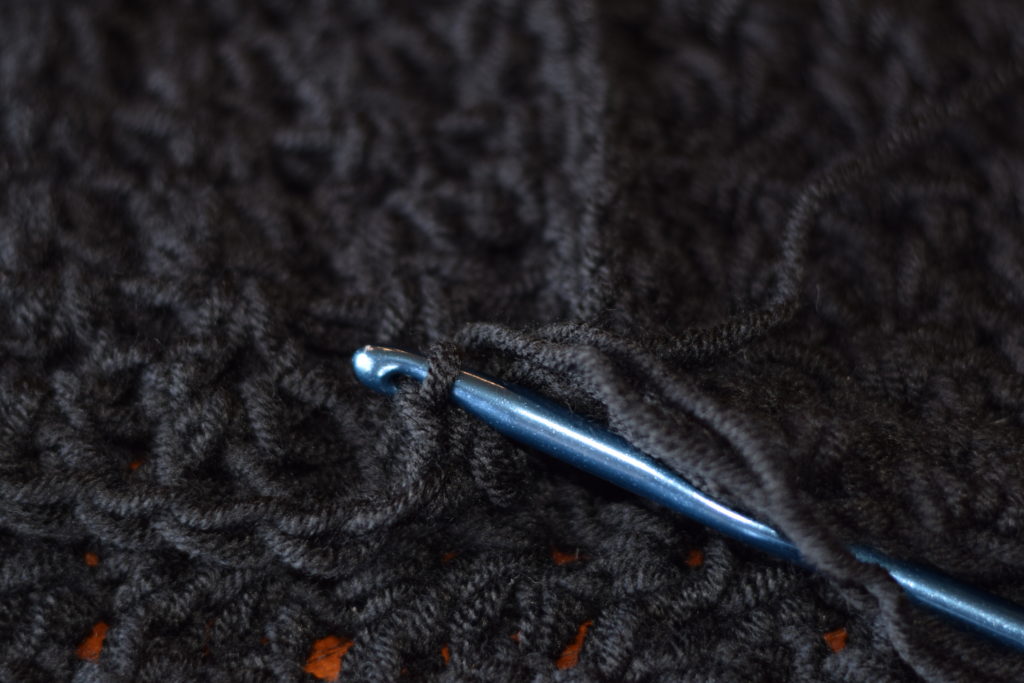 Turn your sweater right side out.
Attaching buttons:
Lay your sweater flat on the ground or table. Measure 7″ down from the neckline and sew on button next to the single crochet border (see picture). Attach well, wrapping the thread around a few stitches and tying off.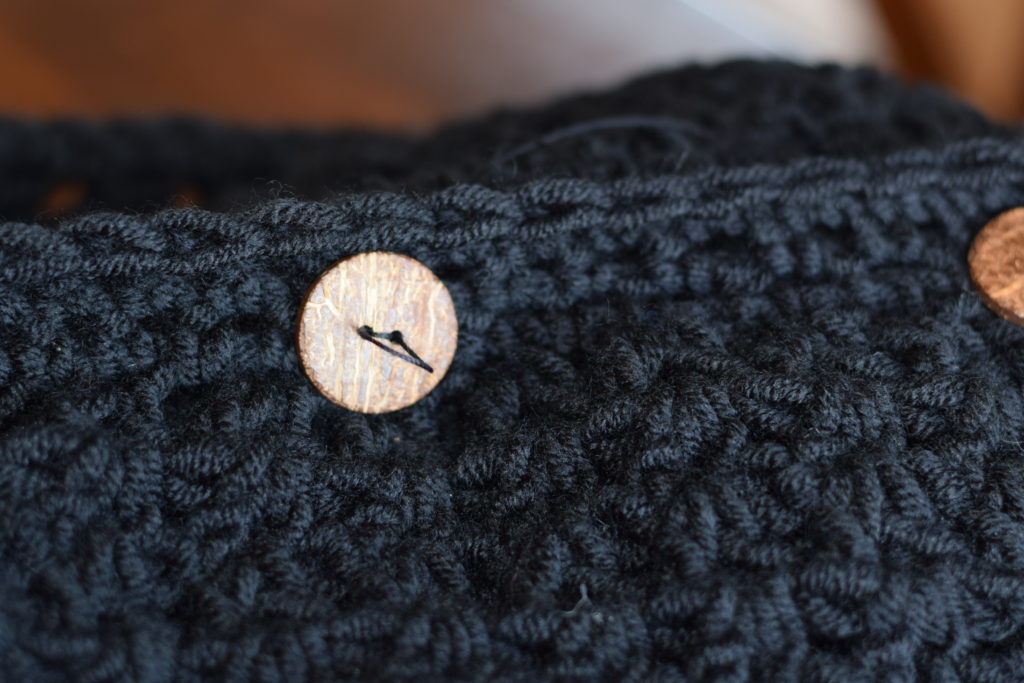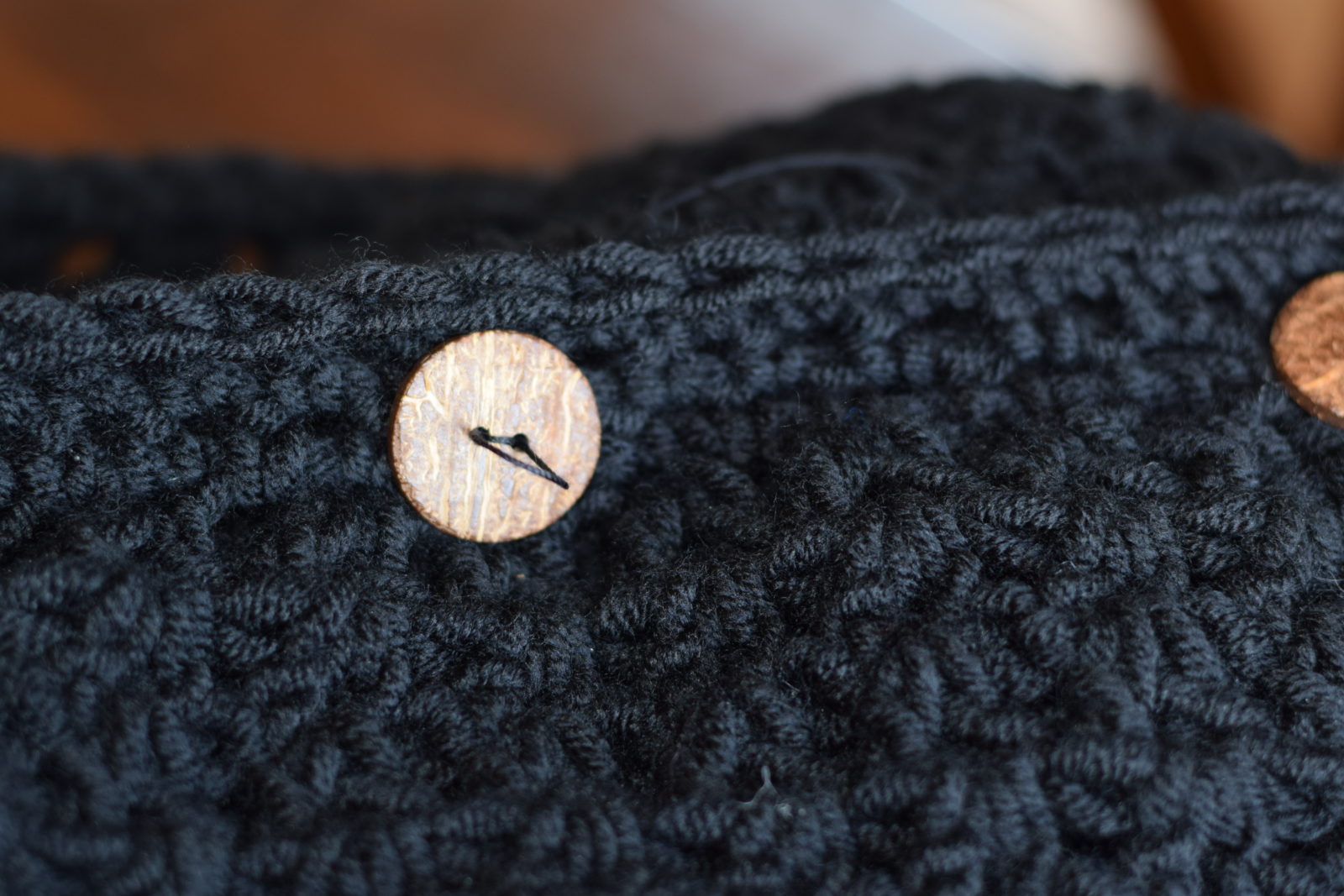 The second button should be placed directly below the 1st button, 11.5″ below the top of the neckline.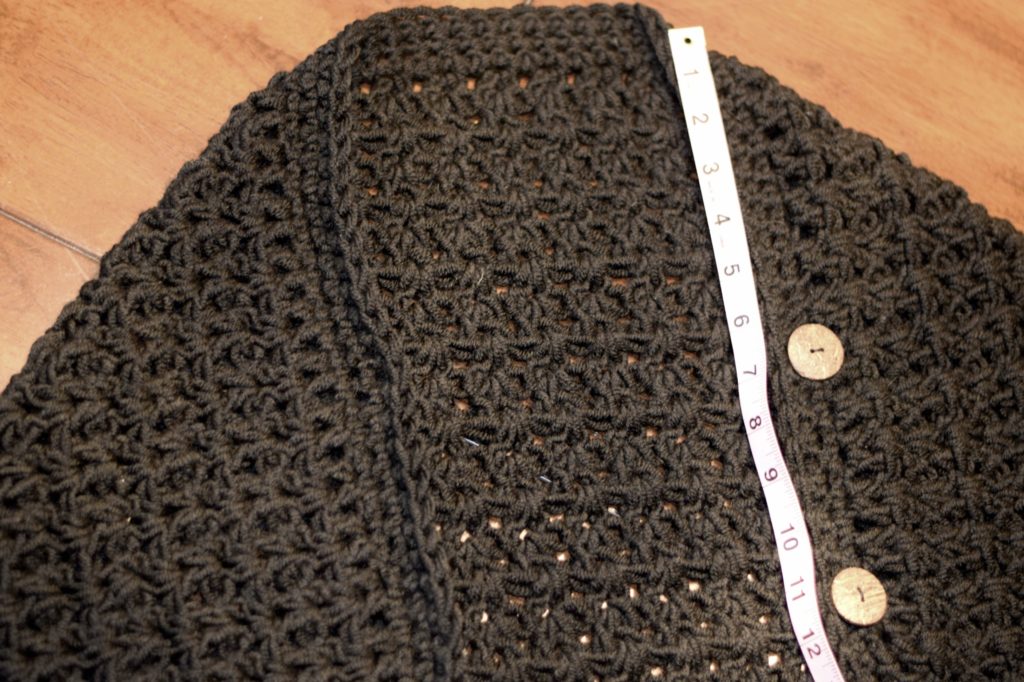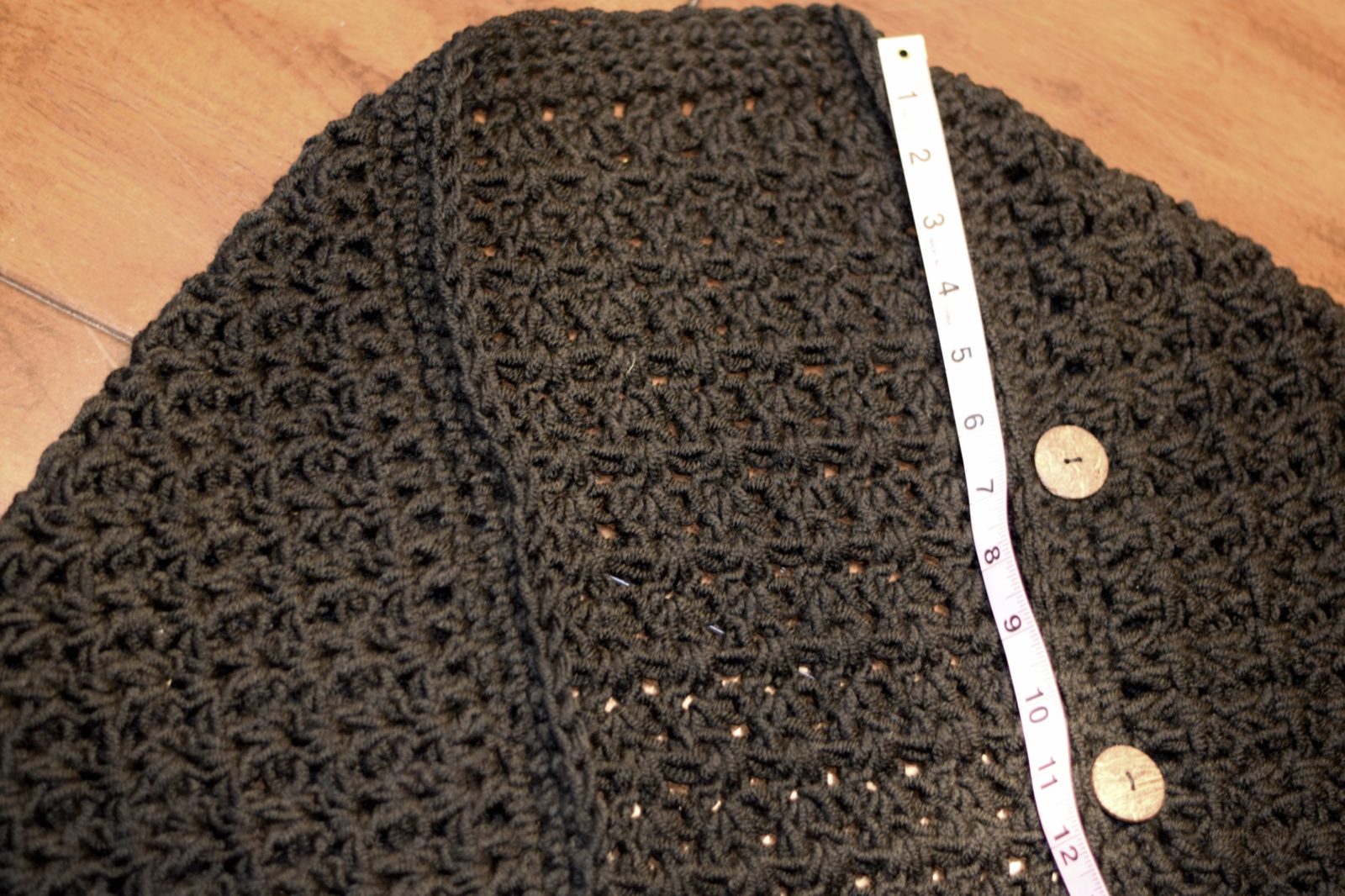 That's all there is to this buttoned up, wearable blanket crochet pattern. As I type this it looks just like fall outside and I'm going to wrap myself up like a taco in this thing STAT!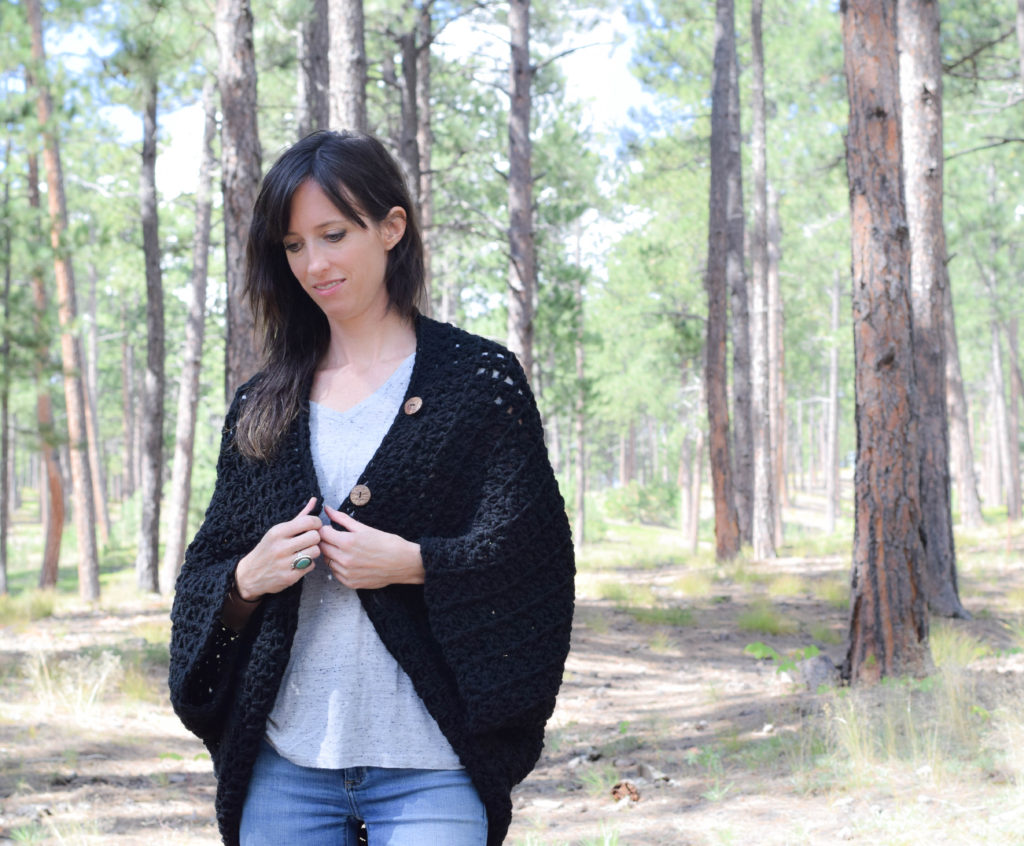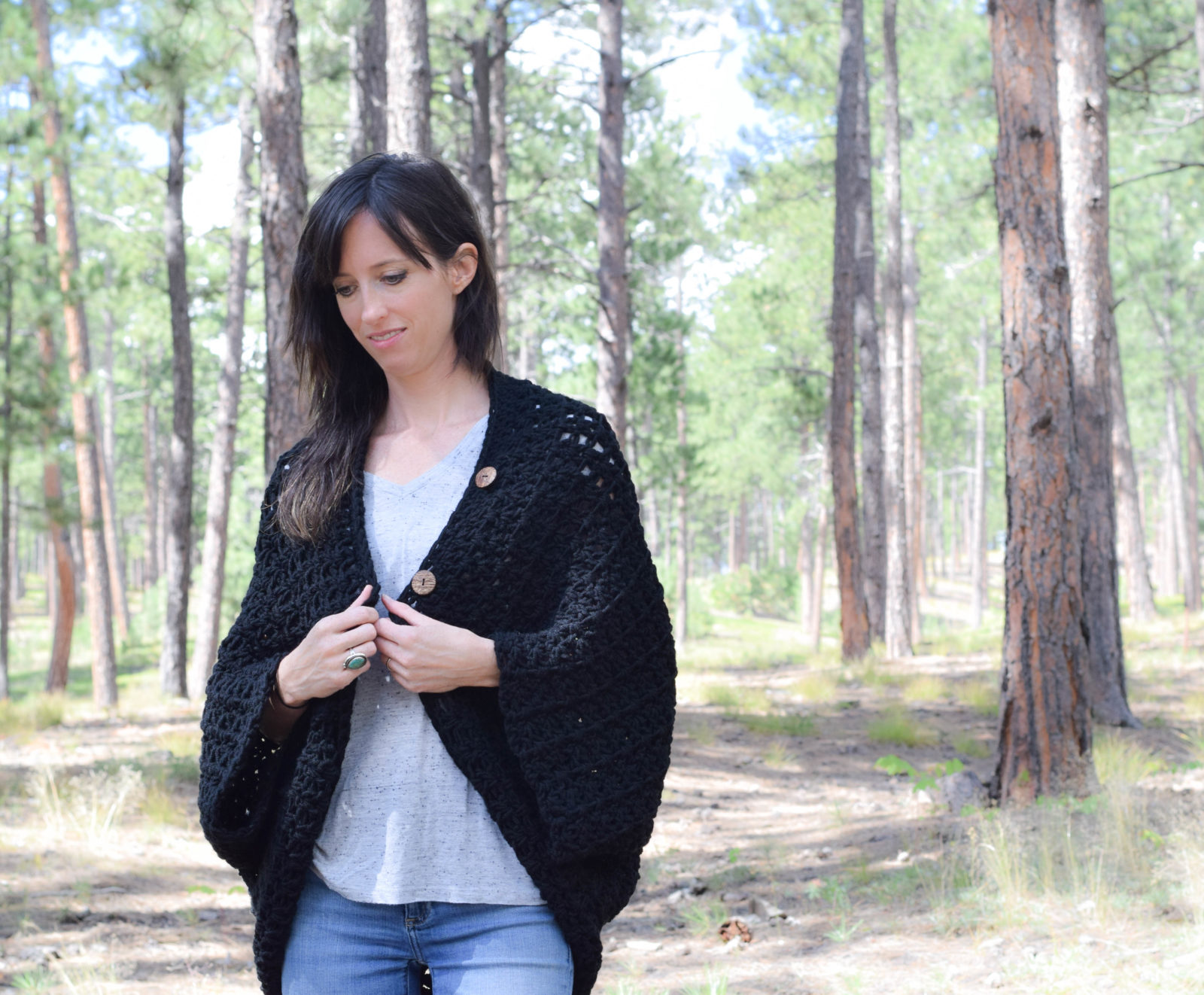 Thanks so much and I'd love to hear what you think in the comments below. Have you made anything with this rectangle method before? Feel free to share your pictures with me on Facebook or Instagram as well!
Thank you to Lion Brand for sponsoring this post!