30 Free Crochet Blanket Patterns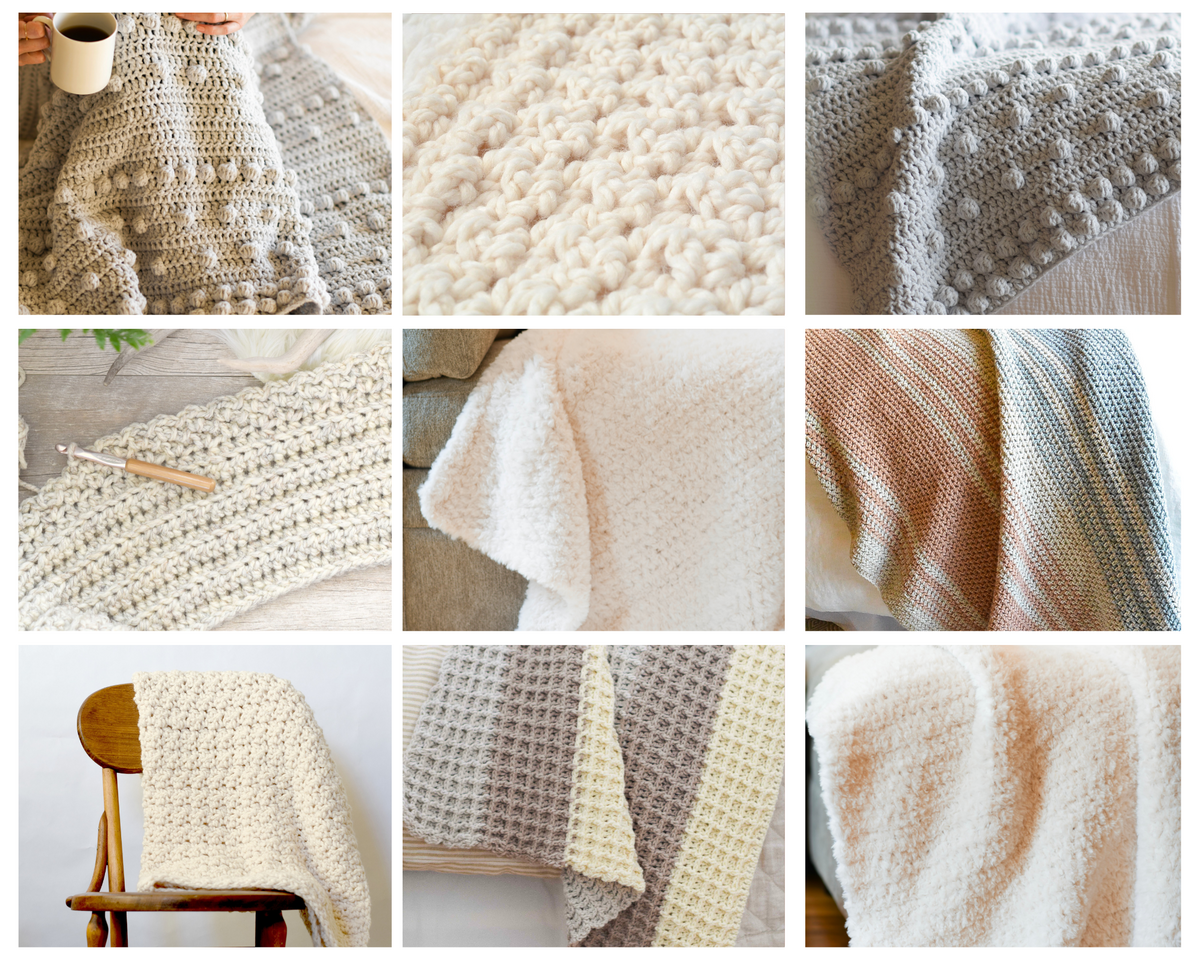 Cooler temps mean that it's just about time to start making some blankets! Today I've got some beautiful free blanket crochet patterns to get you ready for the season.
I really am so excited to share some of the most beautiful crochet throws out there from a variety of designers. There is no shortage of gorgeous options!
Below you'll find patterns for beginners and intermediate crochet artists alike!
And don't forget to check out even more as you peruse all of my Mama In A Stitch Blanket Patterns HERE.
What Supplies Do I Need to Make These Blankets?
Depending on the pattern you choose, you will want to get a nice quality yarn in the correct size indicated in the pattern. I love washable yarns for blankets, but some blankets might use expensive fibers that might need careful laundering.
You will also need an appropriately sized hook, scissors, and possibly a measuring tape!
For a quicker blanket, look for a pattern that uses a chunky or super bulky yarn. If you've got more time, you can make a blanket with worsted weight yarn or even a light yarn.
What Size Do I Make My Crochet Blanket?
You'll find blankets come in so many sizes, but I'm often asked about specific sizes. You can check out my Crochet & Knit Blanket Size Guide HERE.
The crochet blankets in the round up today are a variety of sizes, from lapghan sizes to standard afghans, and larger. Designers almost always list the intended size, and sometimes how you might be able to adjust the size.
Okay, let's get to these pretty blankets! Thank you to all the designers who've shared their patterns. 🙂
Beautiful Crochet Blanket And Throw Patterns
The Faith Throw by Lulu Stitch Co. has a beautiful border that adds just enough texture to this cozy throw.
Try the Colorado Throw for a variety of simple stitches that creates an amazing texture.
Reminisce of summer while keeping yourself warm with the Agate Beach Blanket by A Crocheted Simplicity.
The Purple Bloom Blanket by Fosbas Designs is perfect for using up your stash and bingewatching your favorite shows.
The Mountain Trail Tweed Blanket by Nana's Crafty Home uses interlocking arches columns for a beautiful woven look.
Chunky yarn and a wide array of different stitches create the cozy Wintertide Sampler. The variety of stitch patterns will keep your interest while you work on it.
The Aspen Throw by the Loop Hole Fox is nice and thick for keeping you warm on those cold winter days.
Try your hand at filet crochet with this easy Straight and Arrow blanket from Sunflower Cottage Crochet.
The Finley Blanket by Easy Crochet is a stunning baby blanket that works up in no time!
This classic throw by Jo to the World is a great pattern for beginners.
This easy blanket pattern by the Loopy Lamb works up fast using chunky yarn.
A combination of beautiful stitchwork and fringe make the Summer Crochet Throw by MyCrochetSpace a great addition to any room.
When you think of cuddling on the couch, think of this gorgeous Chunky Icelandic Throw! It uses the lemon peel stitch which makes it great for beginners and seasoned crocheters alike.
This hygge inspired Chunky Crochet Blanket by Jewels and Jones will have you snuggled up and cozy by the fire in no time!
The Sanibel Crochet and Chill blanket by Briana K has beautiful texture combinations!
The Mystic Ripple Blanket by You Should Craft has an easy to memorize stitch pattern which makes it ideal for all skill levels.
Subtle stitching and neutral tones make Papa's chunky blanket by Stitching Together a stunning addition to your home decor.
An easy two row repeat and super bulky yarn will have the Sunday Snuggles Throw by Ambassador Crochet done in no time.
The Solid Hexagon Throw by Raffamusa Designs can be worked in as many or as few colors as you want.
Simple stripes and some soft, chunky yarn make this Close to Home Blanket by Blackstone Designs a great addition to your decor.
The Basic Block Blanket by Flo's Crafty Crochet is both borderless and reversible!
The Trinity Lullaby blanket over at Stardust Gold Crochet has an easy one row repeat, which makes it great for beginners.
If you're looking for a unique twist on the granny square, try the Granny Weave Blanket from Dora Does.
For simple textures and easy stitch sections, check out the Kieran Blanket by Divine Debris.
Texture meets geometry in the Broadquay Textured Baby Blanket by HanJan Crochet.
Take the overwhelm of making your first blanket with this easy crochet blanket by Sarah Maker.
Bring back the traditional granny square to your home decor with the Granny Square blanket by Zamiguz.
Combine this fun stitch with a gradient yarn for an eye-catching effect when you make the Rolling Waves Blanket by Nicki's Homemade Crafts.
A couple more crochet blankets you might like are the Waffle Stitch Crochet Blanket and the Bobbles Crochet Blanket below!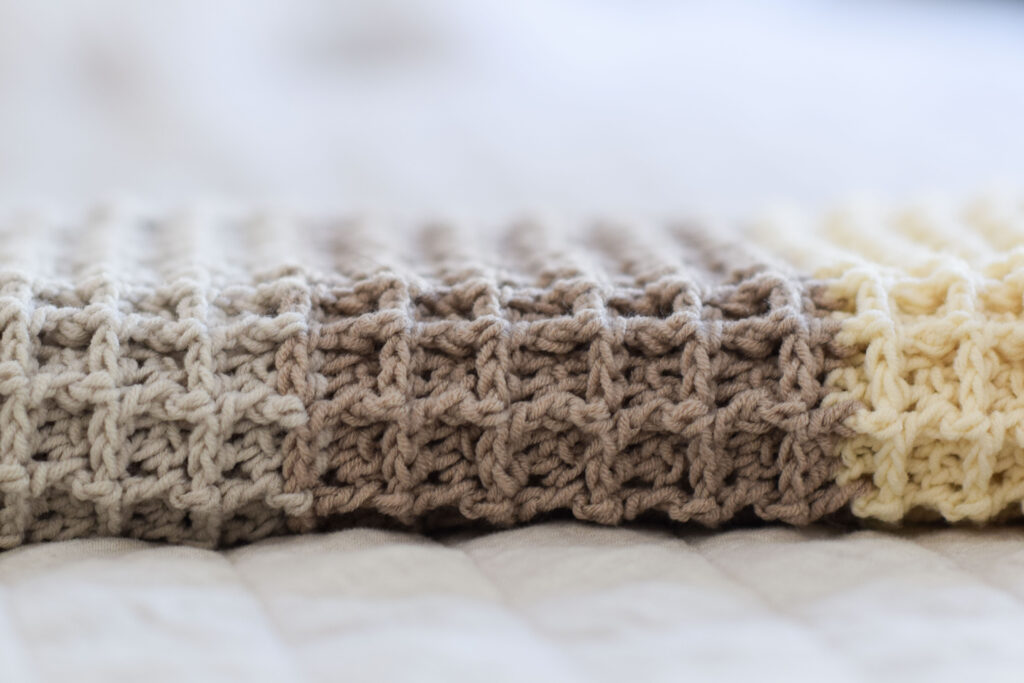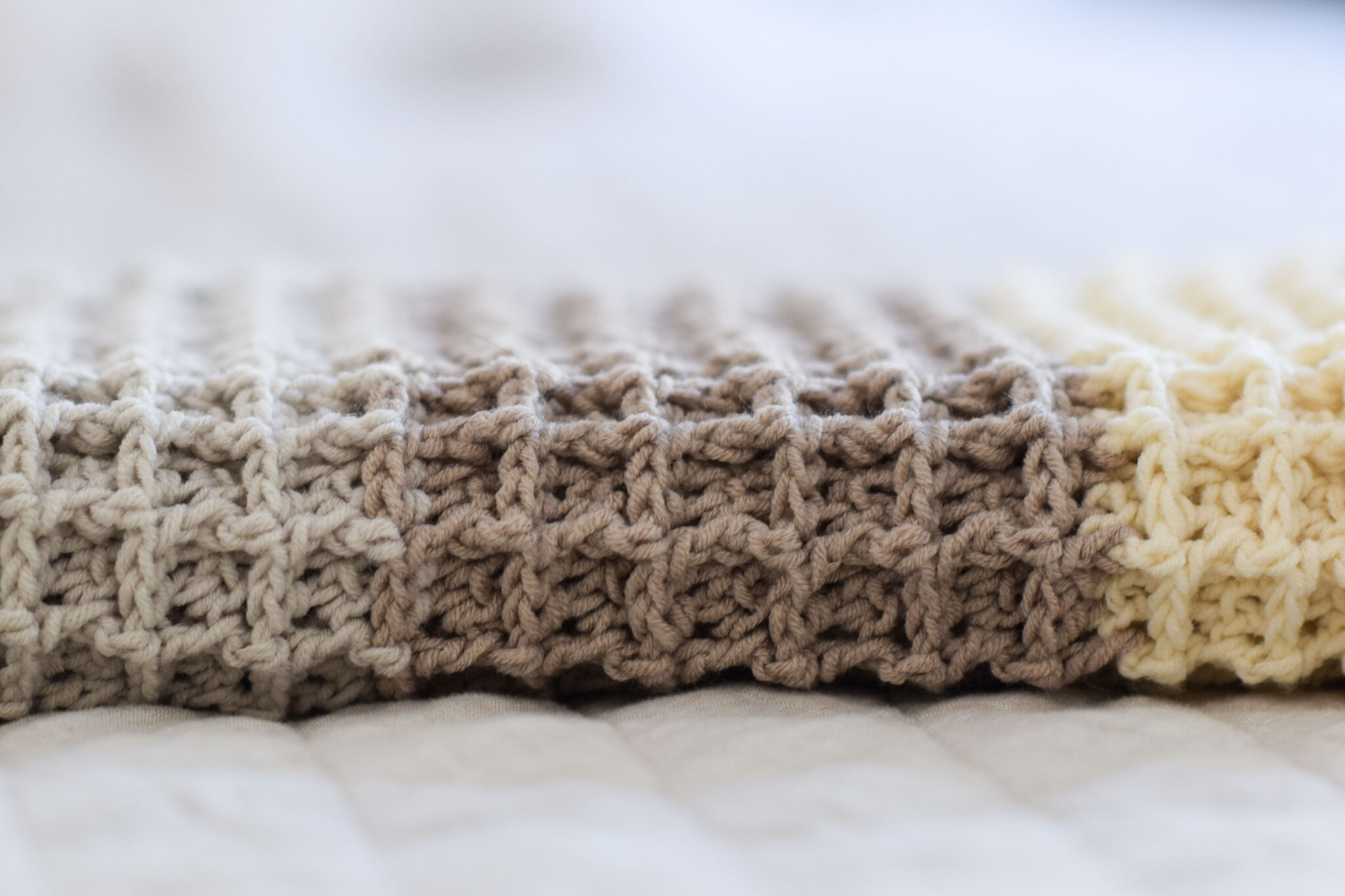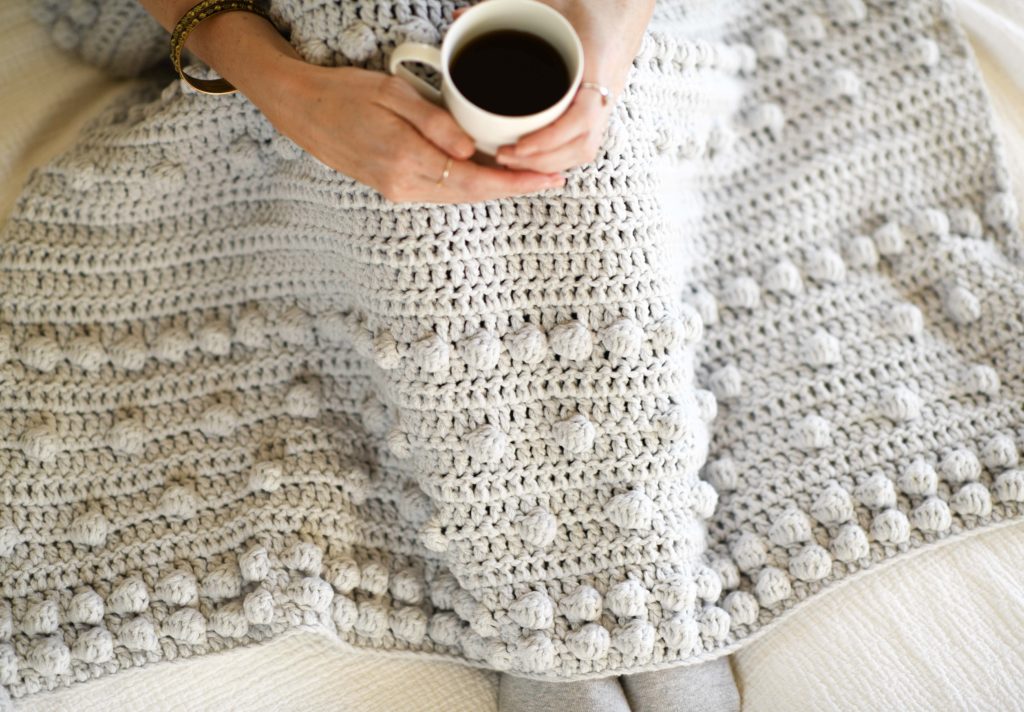 FAQ's About Crochet Blankets
How Can I Make A Quick Blanket?
Choose a crochet pattern that uses a large hook and chunky yarn. A yarn that is a super bulky #6 and a size N hook or larger is a great combo to have in order to make a blanket fast.
I'm all about quick crochet blankets, and one of my favorite fast patterns is this one, the Forest Lodge Throw.
How Do I Wash Crochet Blankets?
You will want to always take care when washing handmade blankets, but many of today's yarns hold up really well!
Look at the yarn label to see the washing instructions. If you want to be able to throw your blanket in the wash, make sure you purchase a yarn that says you can machine wash (and even dry).
Be particularly careful if you're using 100% wool, as this can't be washed safely many times. There are superwash wool options that are easier to wash as usual in the mashine.
Acrylics are usually a safe and easy bet to wash, and of course cottons can shrink if not laundered following the instructions on the labels.
Even if my blankets are made with a washable yarn, I still am careful when I wash. I try to make it as gentle as possible, just because these are handmade stitches, and I want the blanket to last as long as possible!
I hope you loved seeing these gorgeous crocheted blankets from so many bloggers and designers! While I don't do a ton of round ups, I've really grown a love of blankets and thought it would be fun to share some beauties out there.
XO
Jessica