Woodland Houndstooth Crochet Blanket Pattern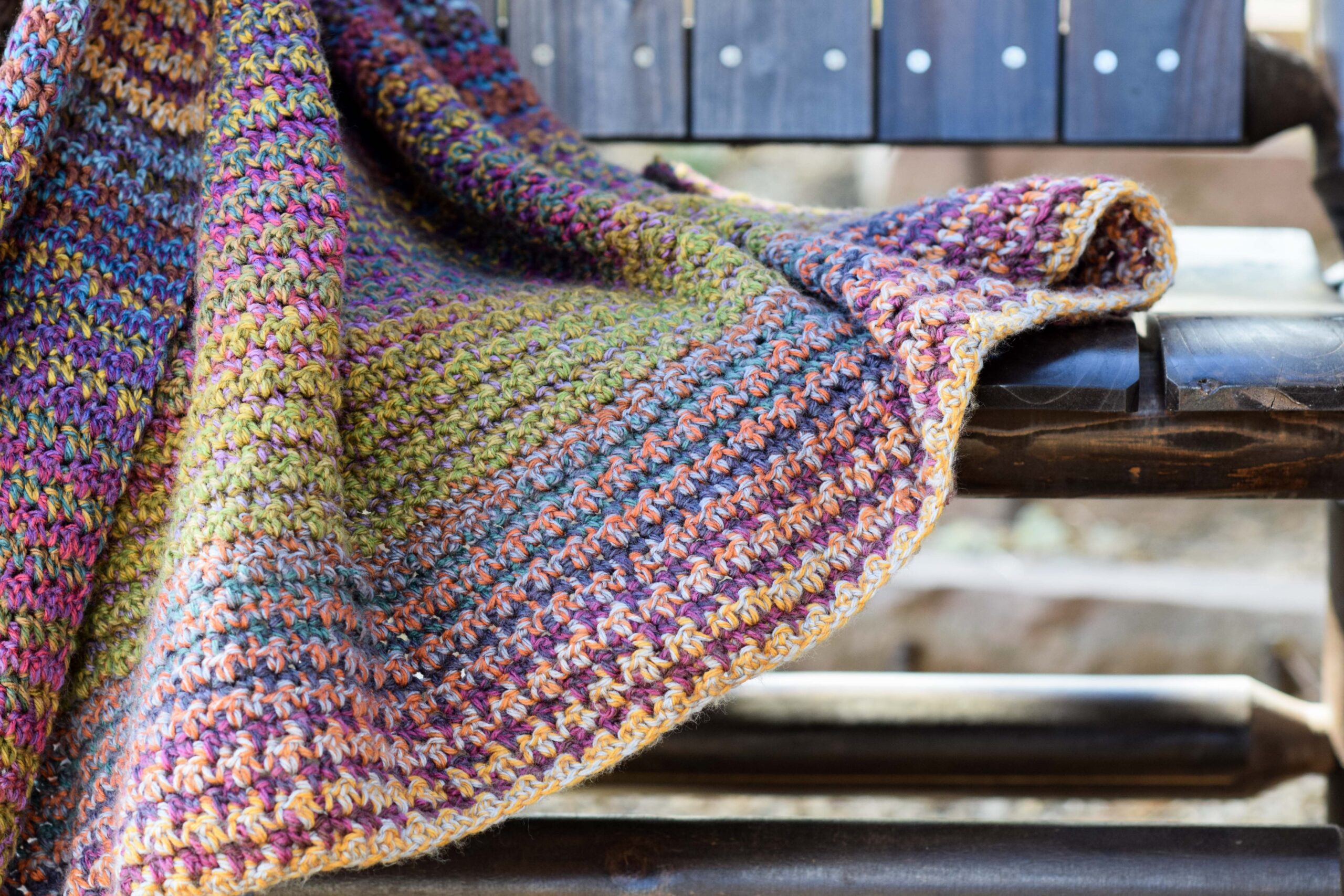 What do you get when you combine a stunning stitch with a zillion rustic colors? This lovely Houndstooth Crochet Blanket. 🙂 I just love how this blanket turned out! It is simple to make with color changing tweed yarn and a couple of easy crochet stitches (read on). You can see the free pattern below, or you may choose to purchase the ad-free printable from Etsy HERE or the kit from Lion Brand HERE.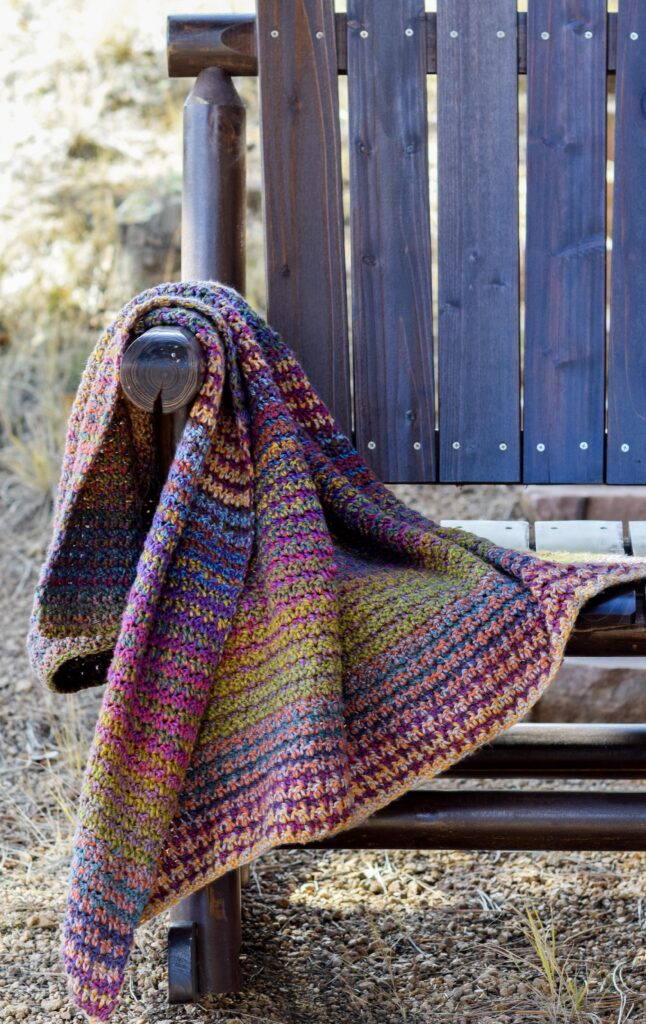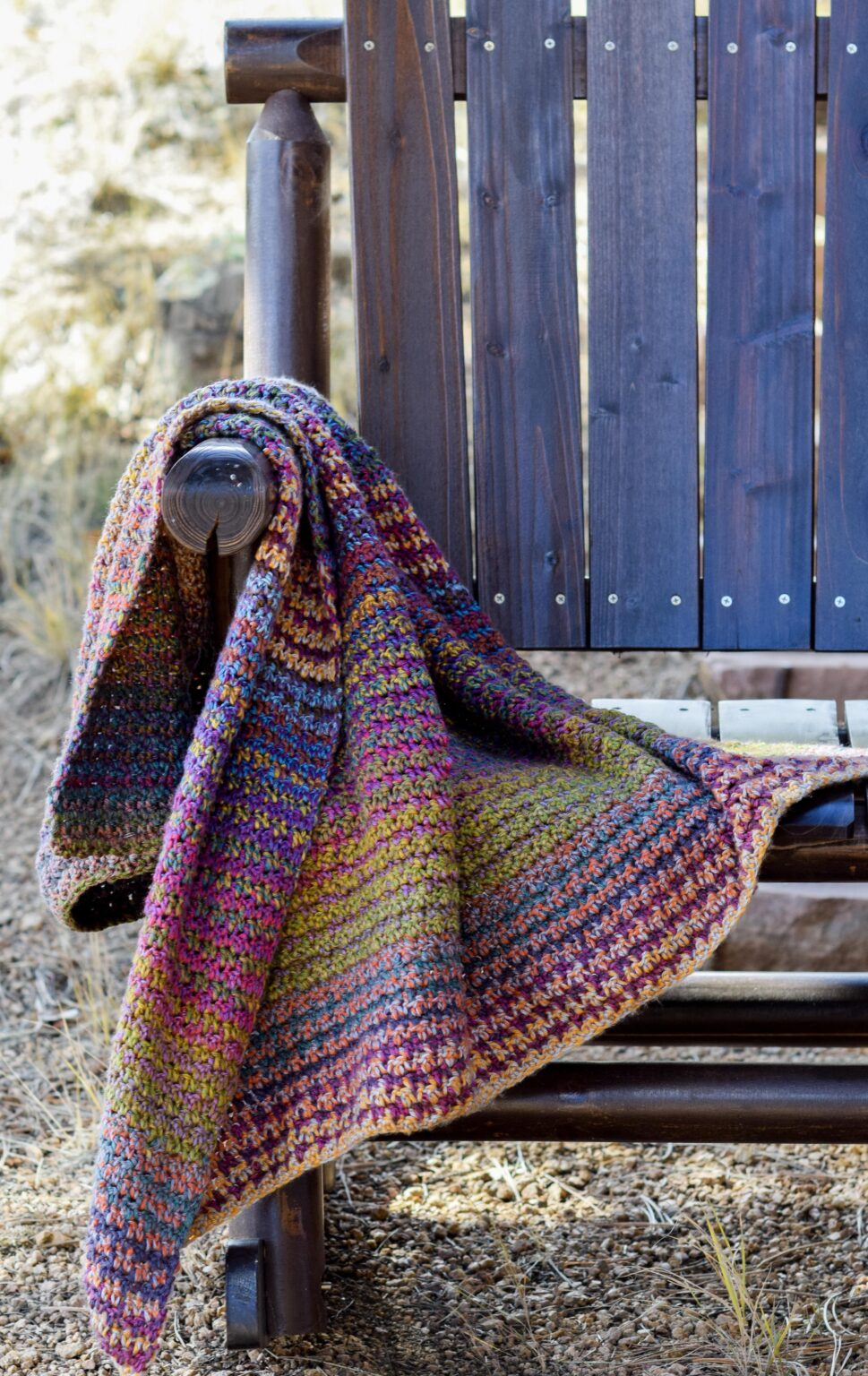 Do you like working with color? While I haven't been big on color over the years (ahem – cream is my all time fave), it's growing on me. Like, really growing on me! I'm loving things with multiple bright colors whether it's blankets, sweaters (like my Endless Eyelets Cardigan), or home goods.
I didn't count how many actual colors are in this blanket, but there are three different tweed colorways with several different colors in each one. So you are getting A LOT of color variation in this pattern. Rejoice color lovers. 🙂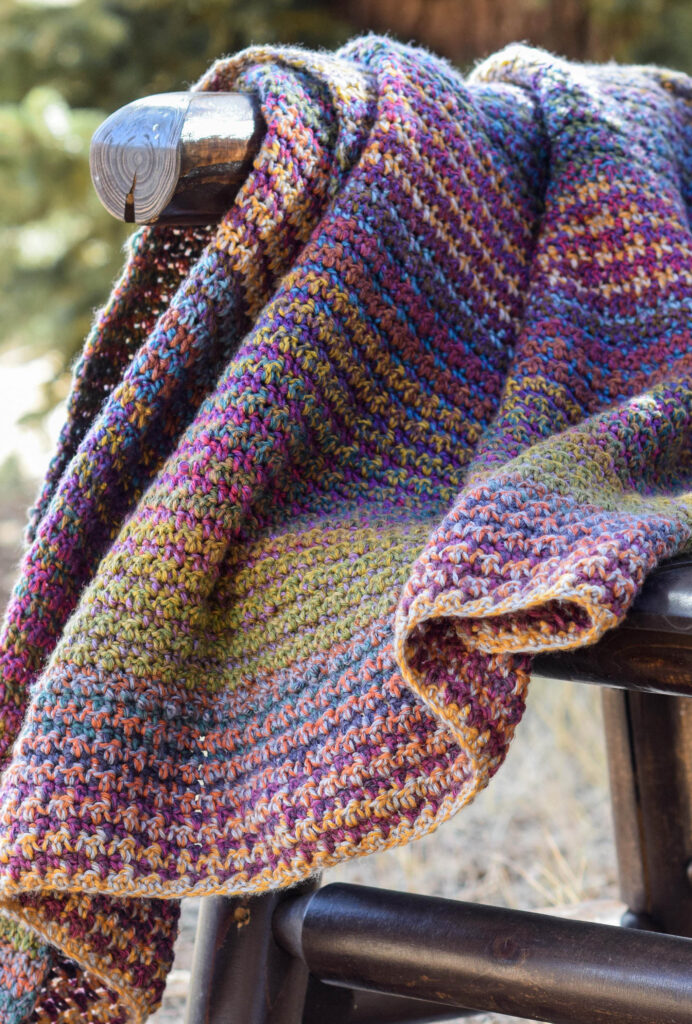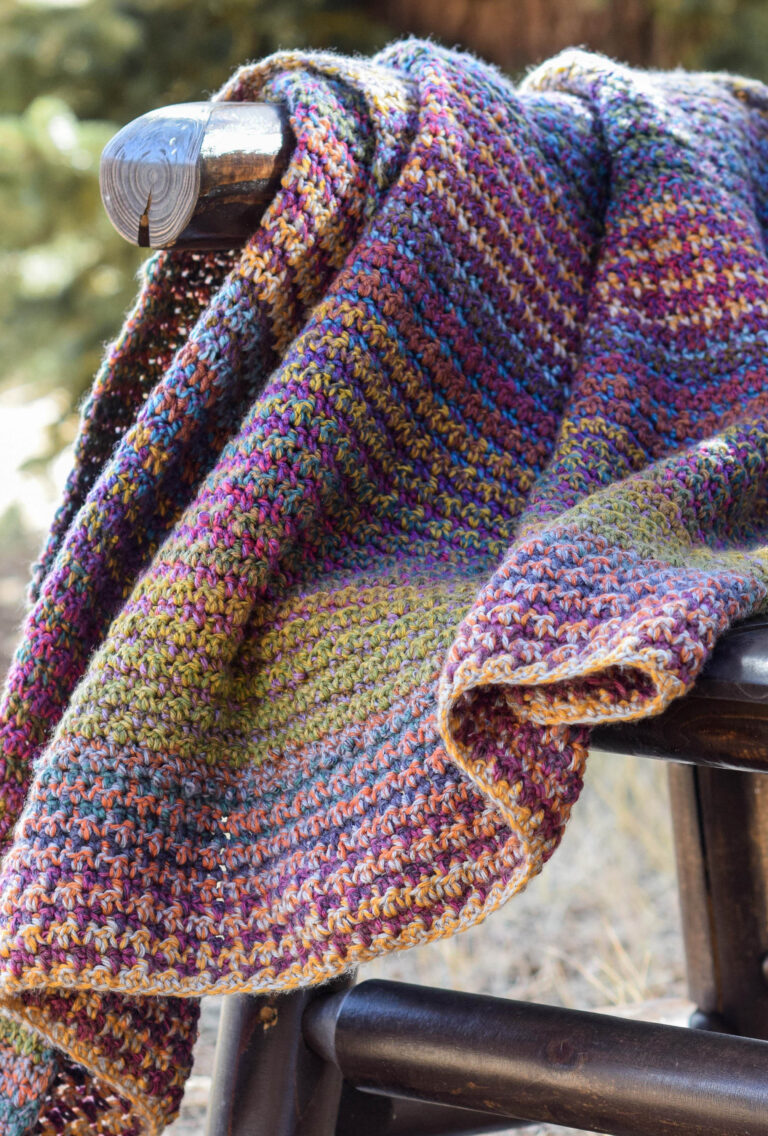 By using so many colors, and simply alternating colors at each row, you get this truly stunning stitch pattern. And no worries, the yarn is carried throughout so there's no weaving in a million little ends of yarn at each row. You can read more about that in the pattern notes and details below. By the way, if you like this houndstooth stitch, you would also probably like the crocheted granite stitch and even the spider stitch.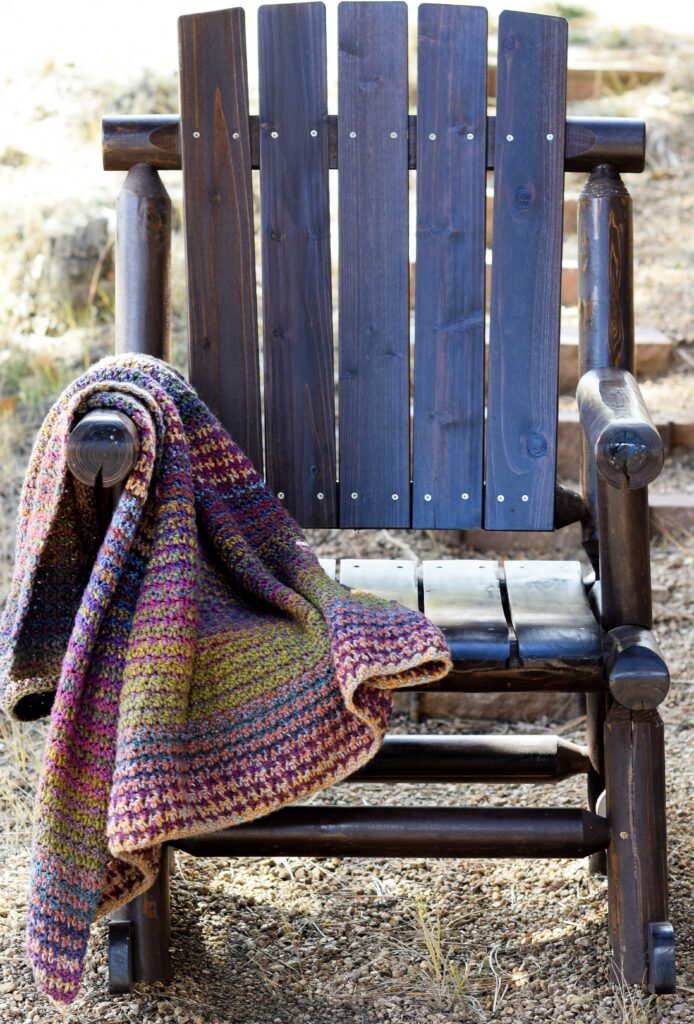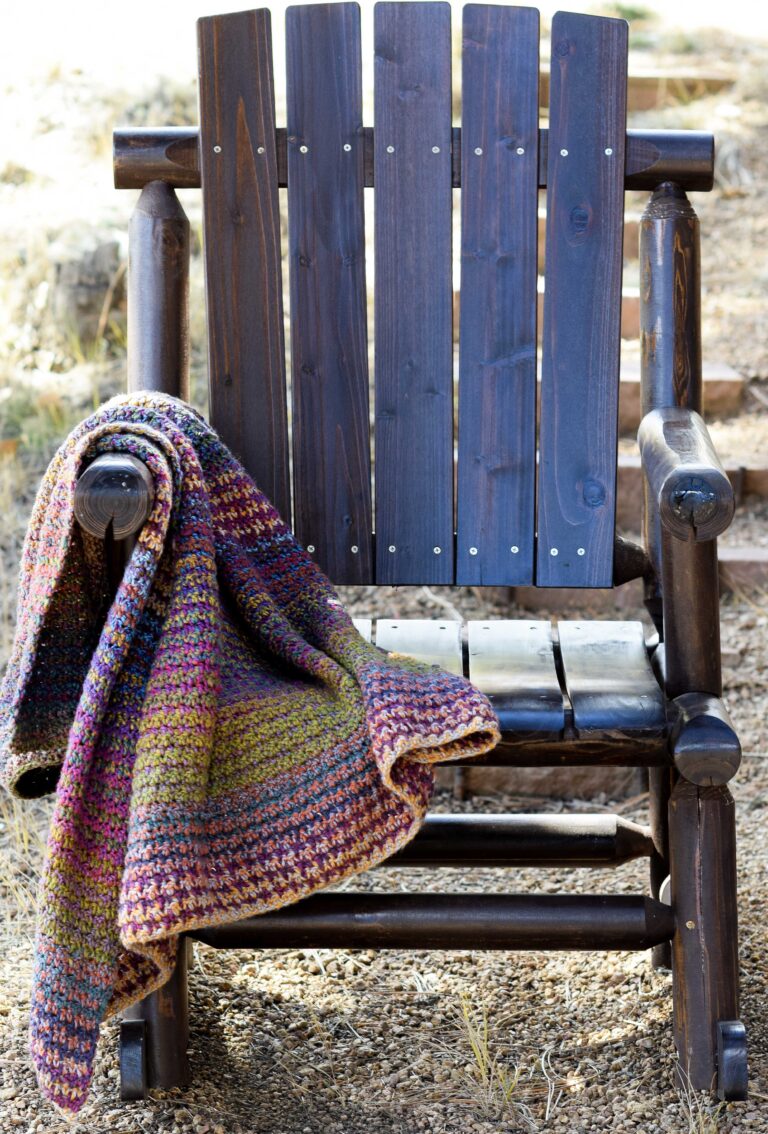 Here's a little diddy about how it's crocheted, but see the detailed, full free pattern at the bottom of the blog post.
How Do I Crochet Houndstooth?
It's SO easy! The houndstooth pattern is HOT right now in clothing and design, so it's really cool that it's so simple to create with crochet.
You will begin the row with a single crochet and follow it up with a double crochet stitch. You'll continue this pattern, alternating single crochet followed by a double crochet, across the row. It's pretty easy to remember because you will always start the row with a single crochet stitch and end with a double.
How Can I Make the Blanket Bigger or Smaller?
All you'll have to do is start with a longer or shorter chain with an odd multiple. Then you can crochet until you reach your desired length.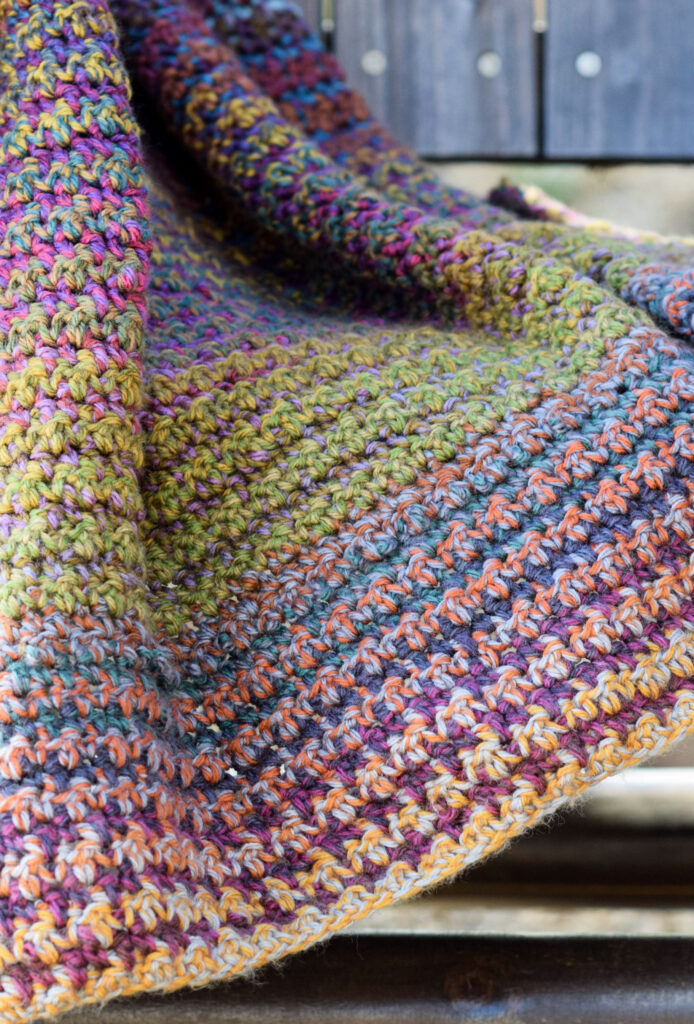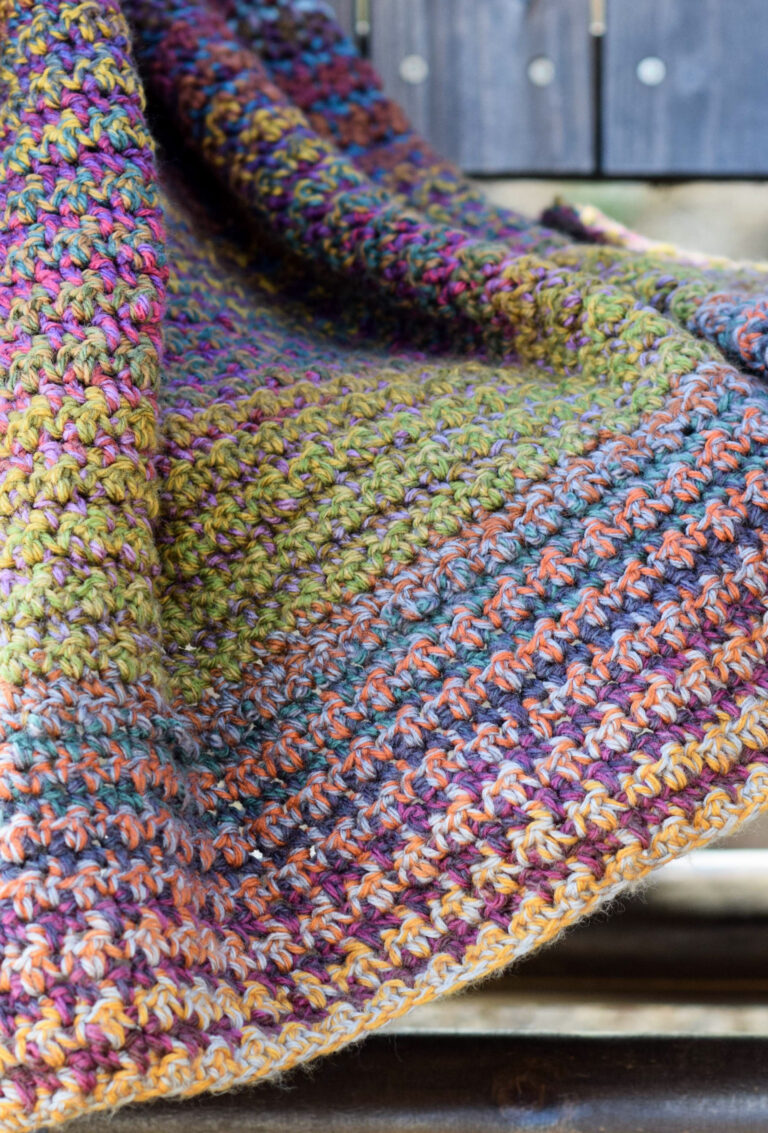 If you've never used Mandala Tweed yarn, which I hadn't before this project, I think you will really like it. I'm a huge fan of the look and feel of regular Mandala yarn, so I had high hopes for this version as well. It didn't disappoint! You can also read reviews from other folks who've used it on the Lion Brand site. It seems like there's a lot of other folks who have liked it too!
I really wanted to make this suuuuper colorful, so I went with the three different colorways. If I had to choose one, I really like the Wishing Well colorway most. But to get this very dramatic look, go with the 2 – 3 that I used or pick your own variety. It's so fun! I've really enjoyed seeing the moss stitch blanket craze, and this is definitely similar.
Okay, are we ready for the pattern?
Remember you can purchase the ad-free printable Etsy version HERE, or see the free pattern below. Enjoy!
Description:
Combine endless tweed colors, soft yarn, and a beautiful stitch pattern to create this rustic and stunning houndstooth throw. You'll love to see the new colors emerge as you crochet along the rows, working a repetitive stitch pattern that's meditative and simple. No need to weave in a bunch of ends as you can carry the yarn up the sides while you make it. It's very simple to adjust the sizing to make this beauty your very own. Add fringe for even more character!
Materials:
2 skeins of Lion Brand Yarn Mandala Tweed Stripes in Knock On Wood 150 g/skein 426 yds
2 skeins of Lion Brand Yarn Mandala Tweed Stripes in Wishing Well 150 g/skein 426 yds
1 skein of Lion Brand Yarn Mandala Tweed Stripes in Cats Eye 150 g/skein 426 yds Convenient kit available HERE
Pattern uses approximately 600 g
US size H crochet hook 5.0 mm
Scissors
Tapestry needle to weave in ends
Size (approximate):
41" x 43" (small throw/lapghan) Size is easily adjusted.
Gauge:
Approximately 12 ½ stitches and 10 rows of the houndstooth stitch pattern (used throughout blanket) in 4" x 4"
Pattern Notes:
This blanket is made from the bottom up, working with two skeins at once, and changing colors at the beginning of each row.
To avoid cutting the yarn at the end of each row, you may carry the yarn throughout the pattern, and pick up the new color at the start of each row. To carry unused yarn: place unused color on top of row you are working into, work stitches over the unused yarn and into previous row. Feel free to practice on a small swatch before beginning the blanket to ensure you understand the stitches and to get a feel on how to crochet with the two strands of yarn. It's easy, you just might need to adjust your tension and give your fabric a tug to make sure the yarn isn't popping out anywhere in the row as you carry it along. You may also choose to cut the yarn at the end of each row.
Notes contd.
To adjust the width of the blanket (or to make a small swatch), start with a chain containing any odd number of stitches. To make the blanket longer, simply crochet until the blanket reaches your desired length.
For the sample blanket pictured, some of the yarn sections containing white or pale grey within the skeins were removed and saved in balls, just as a personal preference for the look of the blanket. You may choose to do this as well, or remove any color that you'd like to omit from the blanket. The colors are all beautiful, and this is purely optional. These small amounts of yarn can then be used as fringe if desired.
If you are left with a single skein of yarn, you may wind up half of it into a separate ball so you will continue to have two balls of yarn to work with.
Abbreviations (US) & Skills:
ch – chain
st – stitch
sc – single crochet
dc – double crochet
Important:
*Do not use the same color or very similar colors on rows next to one another. Colors should be different when alternating rows.
*There is no particular order or striping pattern for the colorways. Each blanket will look slightly different depending on colors you are using together throughout the pattern. You can't make any mistakes! Just be sure to alternate colors each row. You can use two different colorways simultaneously and then split the final skein into 2 if needed.
*When finishing a skein and beginning a new skein, start the new skein at the beginning of a row rather than in the middle of the row for a continuation of colors.
*Each row begins with a single crochet stitch and ends with a double crochet stitch.
WOODLAND HOUNDSTOOTH CROCHET BLANKET PATTERN
Ch 131
*Change color at each row
Row 1 Sc in 2nd ch st from hook, dc in next ch st,*sc, dc; repeat from * across the row. (130 sts)
Row 2 Ch 1, turn, sc in 1st st, dc in next st, *sc, dc; repeat from * across the row. (130 sts)
Repeat row 2 until the blanket is 43" inches long or as long as you'd like.
Optional:
With any leftover yarn, you may choose to add a border, fringe, or tassels. A simple border with single crochet stitches would be lovely. Feel free to make it your own!
I hope you liked this houndstooth blanket pattern! If you did, you might also like my Wintertide Throw Blanket, Go-To Blanket Pattern.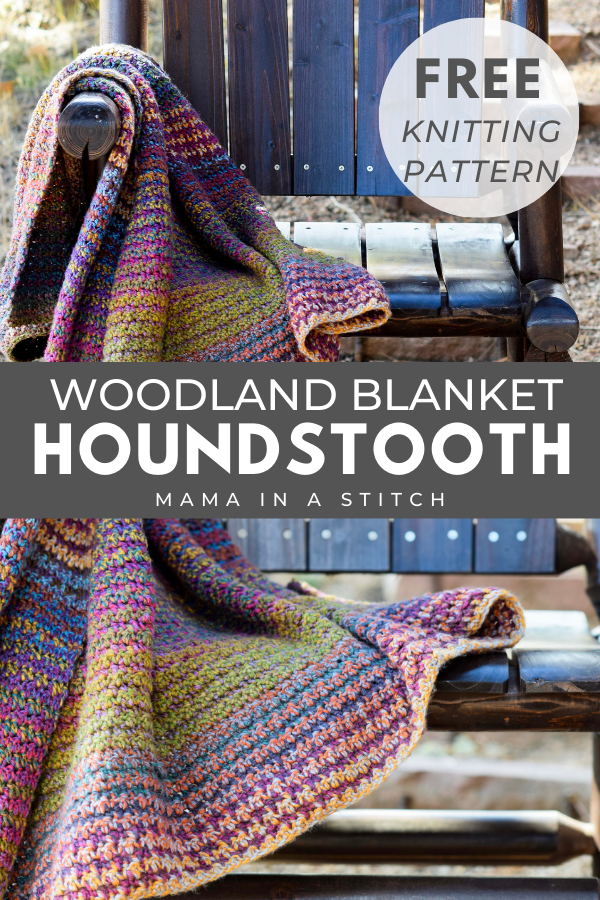 Happy cozy crocheting my friends!

XO, Jessica
If you liked this, you might also like: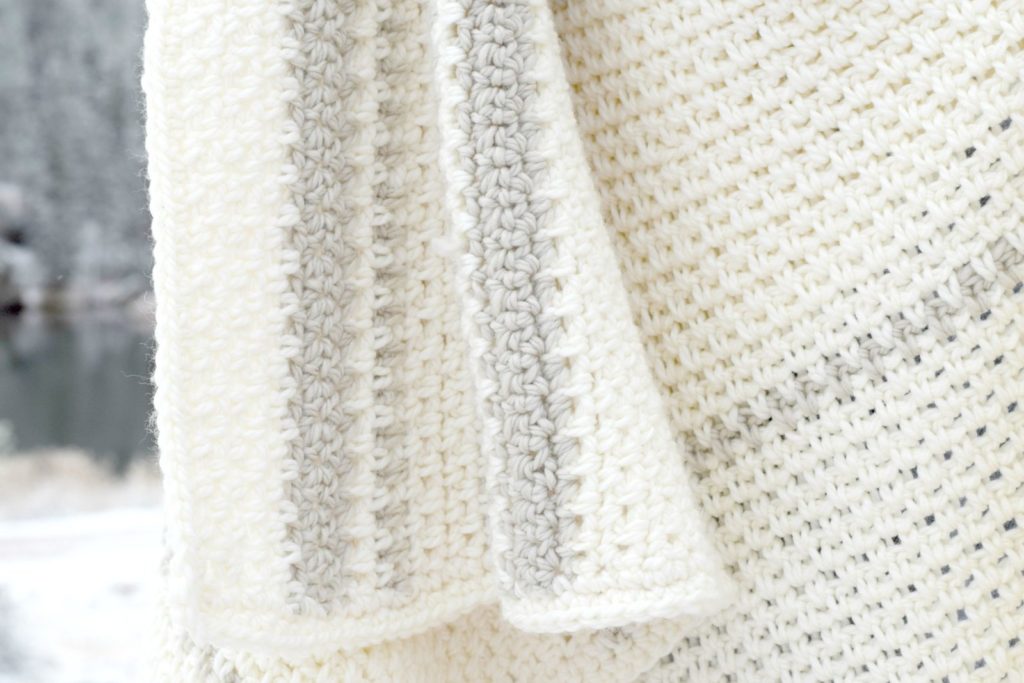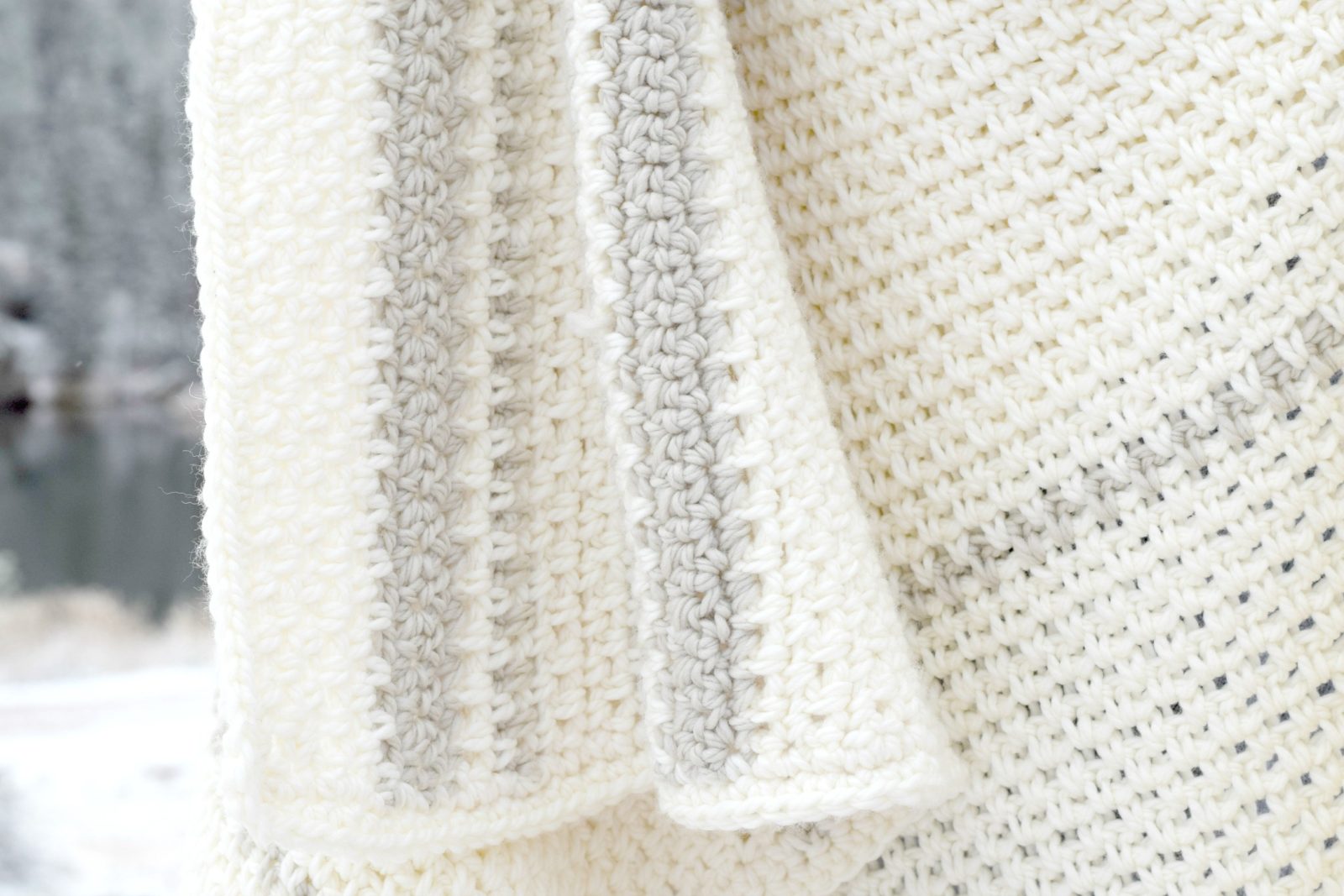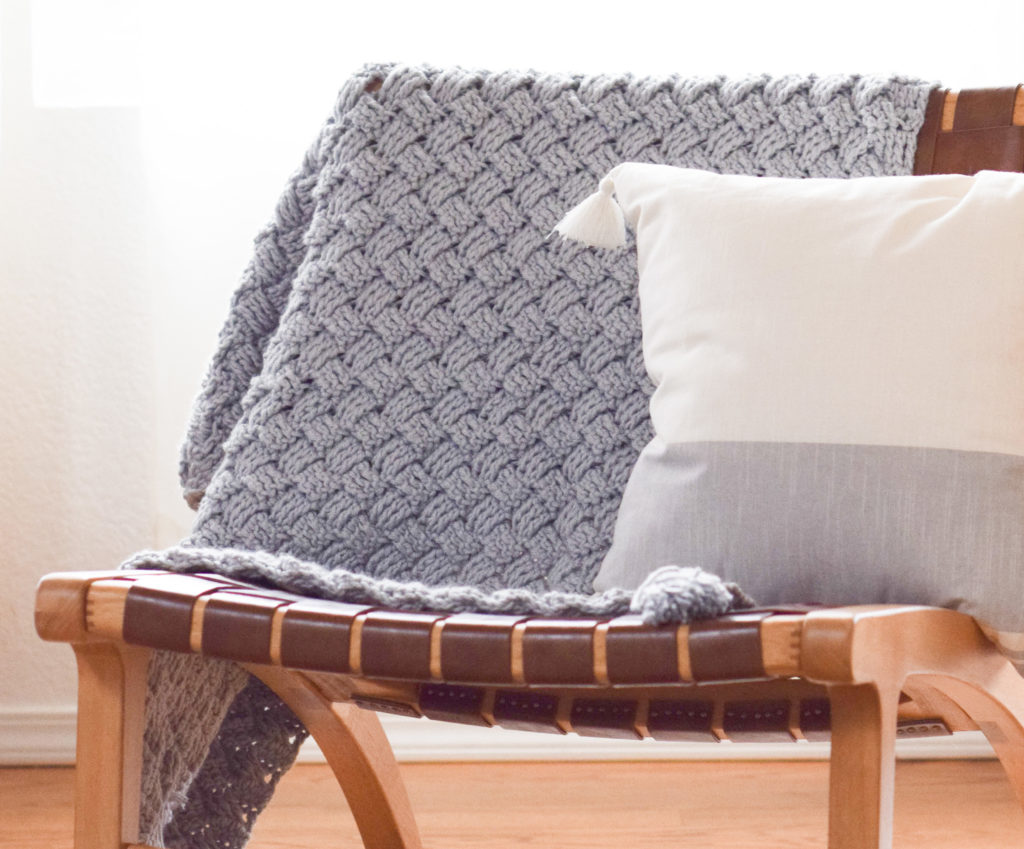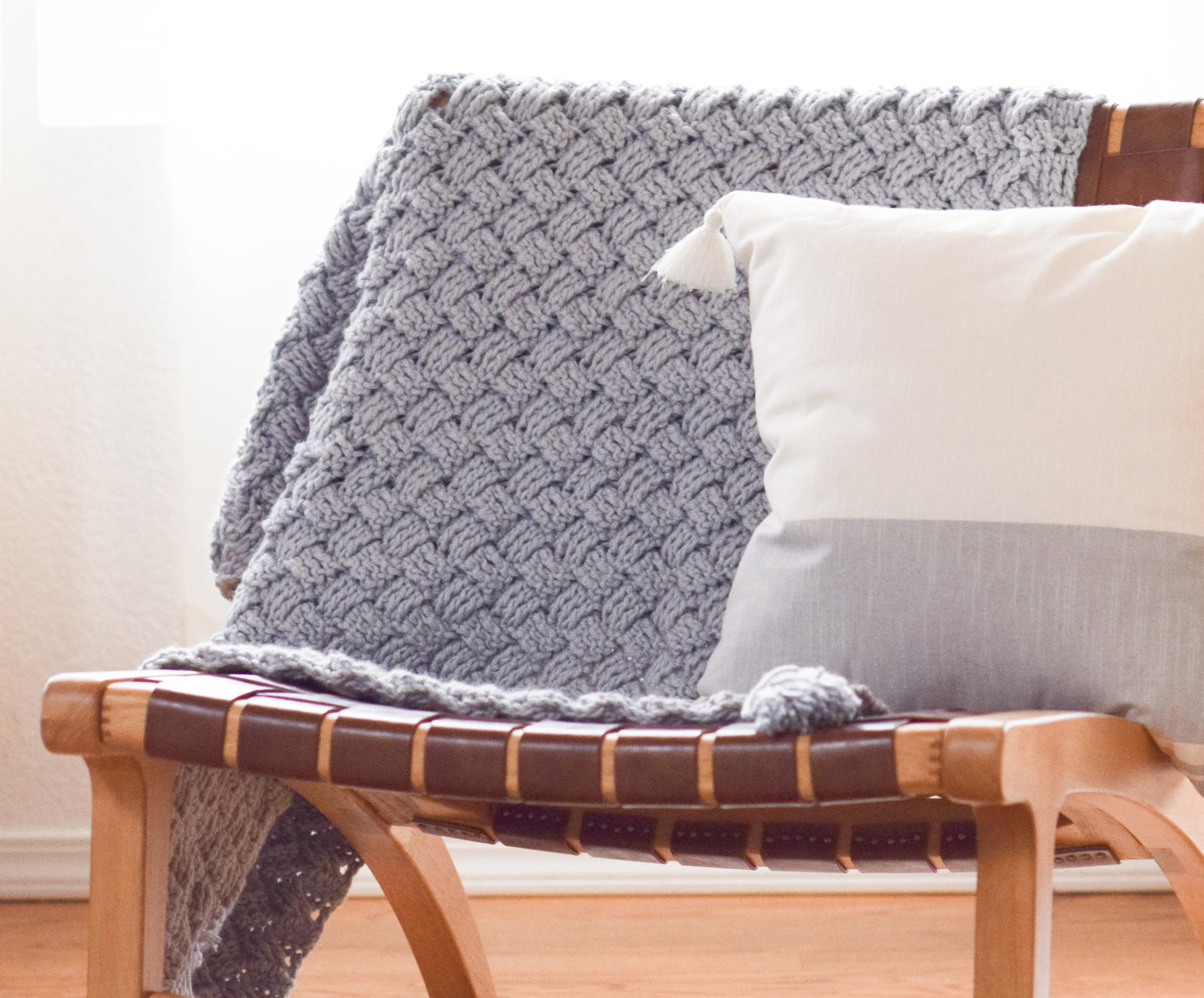 This post sponsored by Lion Brand Yarn. All opinions are 100% my own.