Smoky Mountains Crochet Triangle Wrap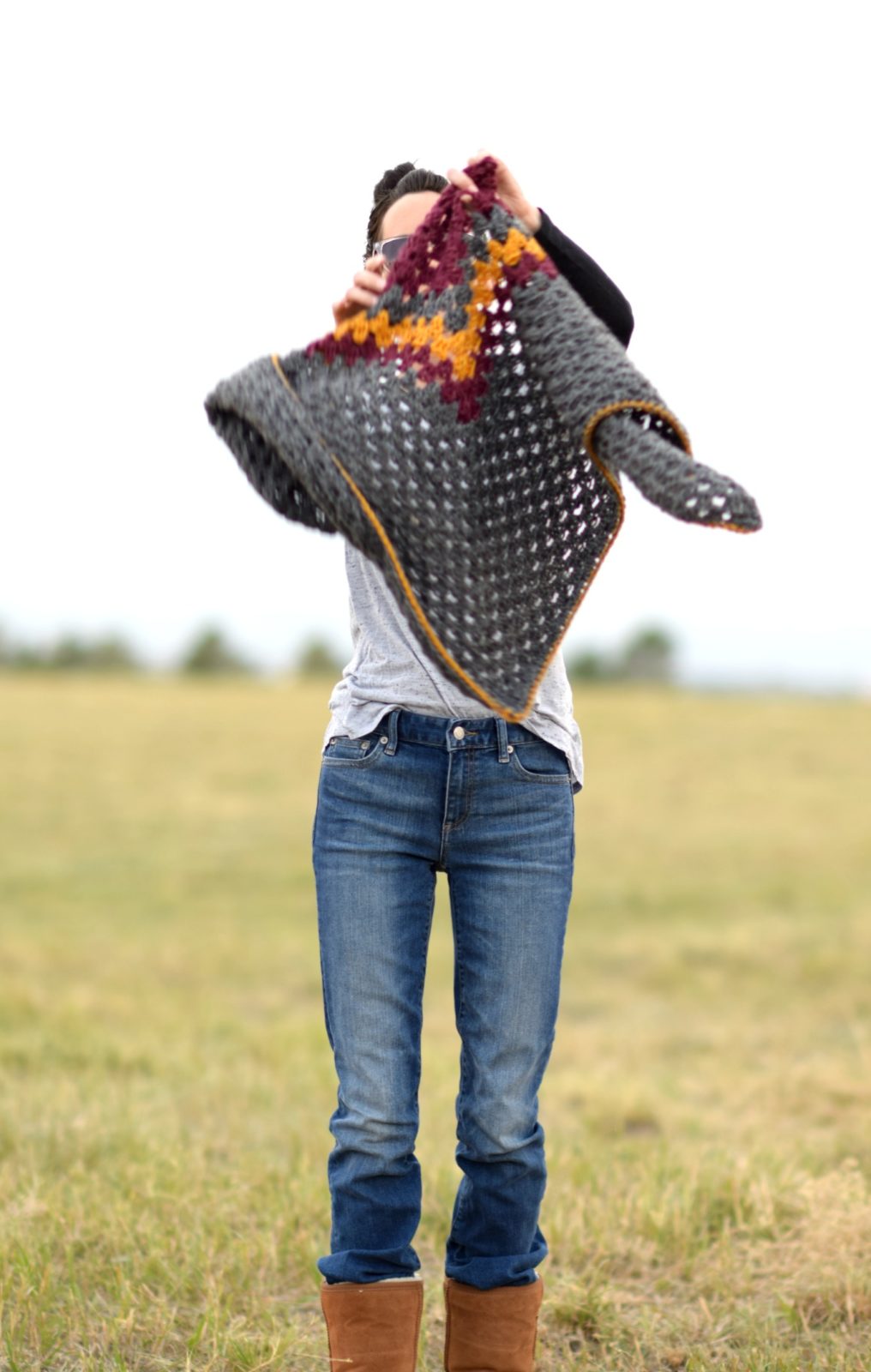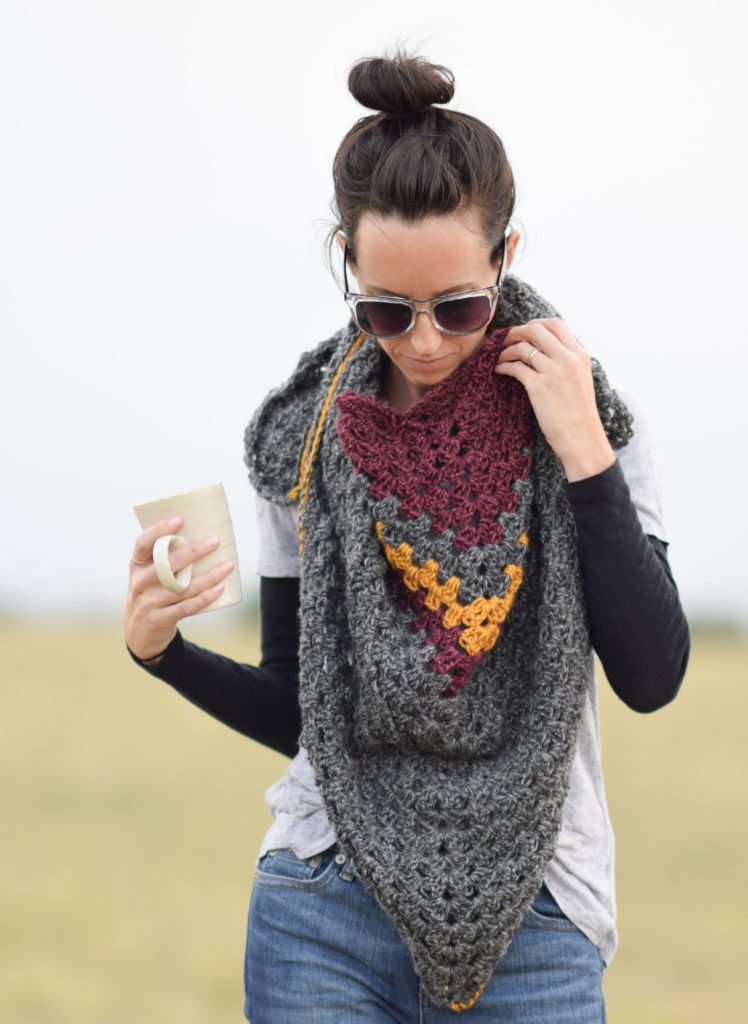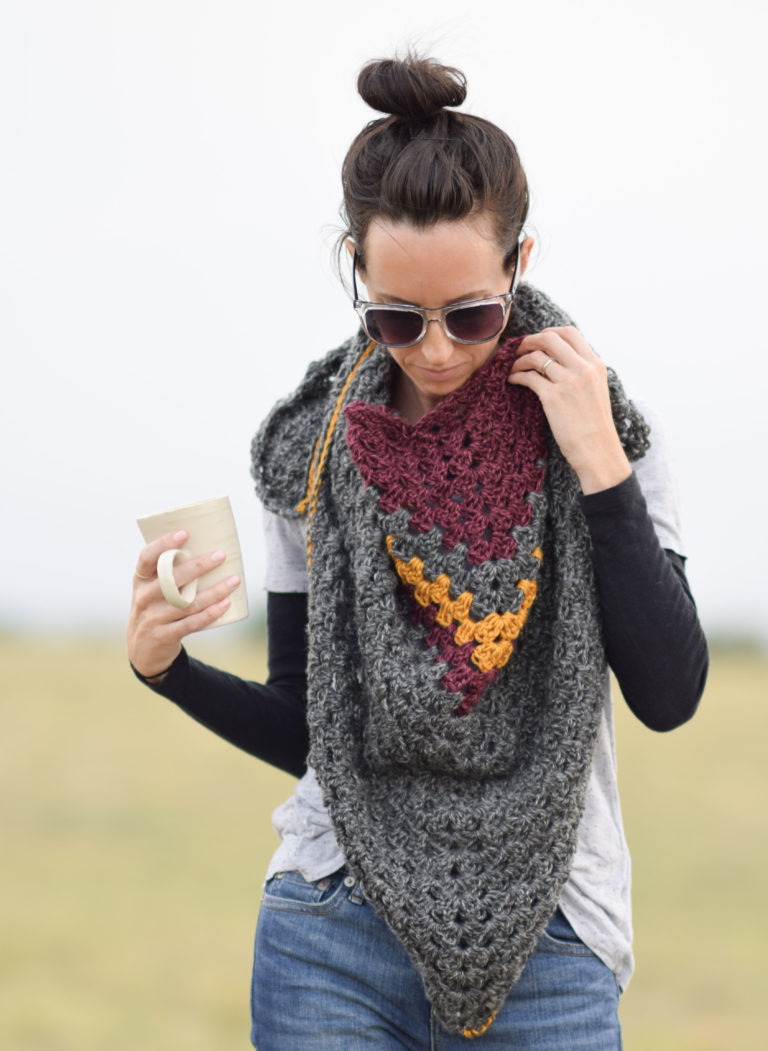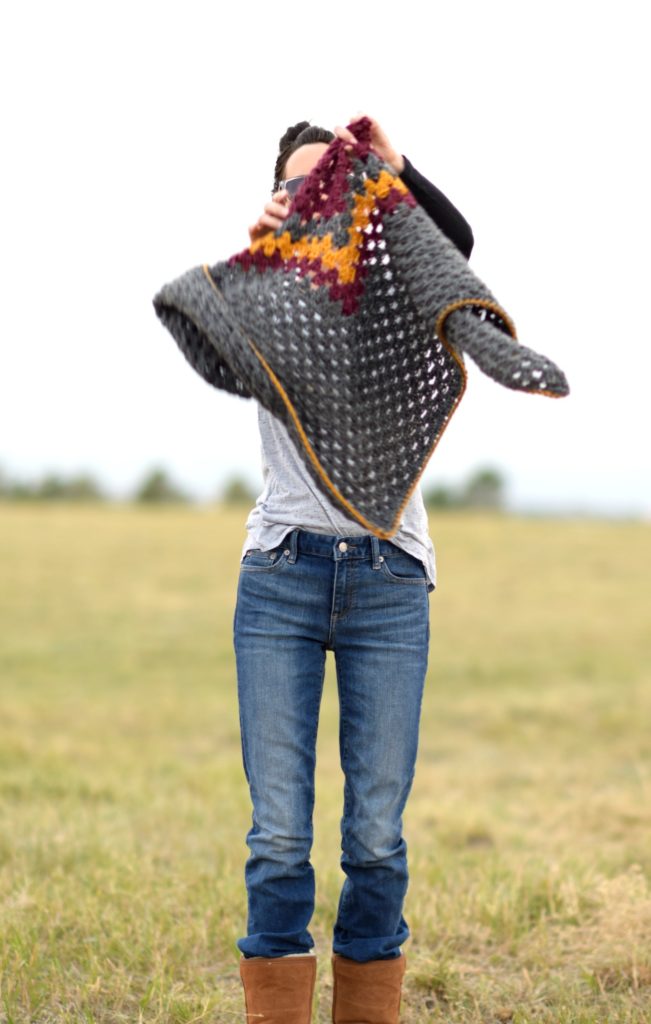 Hi friends! Not too long ago I shared how to make an easy knit triangle wrap, so of course I wanted to give a crochet triangle wrap a whirl. This triangle is so easy to crochet, especially if you're comfortable with double crochet. You might remember this almost triangle wrap (hehe) that I made a while back, and it was easy too because the shaping was done with simple decreases at the end of each row. However, this wrap is warmer and works up quickly which I love. And while there's nothing new about a granny triangle, it creates an easy, classic and beautiful wrap if you make it big enough. It's also the PERFECT stash buster. You will find the free pattern below and I've also made a little tutorial and video to help you as well in a blog post HERE. Anyway, this wrap is inspired by fall and some gorgeous landscapes, read on…
I'm such a nerd you guys, but I've never been so excited about the names of yarns as I am with the yarns I used for this project. Yellowstone, Badlands and Great Smoky Mountains. Yes. I am obsessed with Yellowstone! Have you been there? That place is a dream and I can't wait to go back someday. I've never been to the Great Smoky Mountains, but I'd love to visit that area as well. Needless to say, this triangle scarf is inspired by American landscapes and I think the beautiful colors make that clear. Nature nerd is happy. 😉 And, it's always a bonus when the yarn is not only pretty but feels good too. Lion Brand Heartland has always been a big winner in my mind when it comes to comfort and softness. Update: Lion Brand has made this pattern into a kit that you can purchase here!!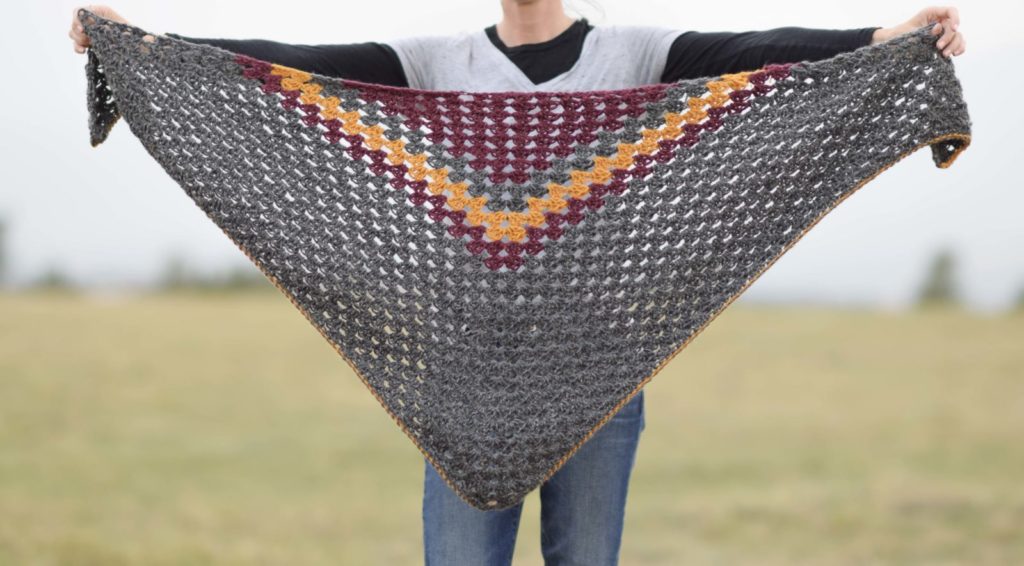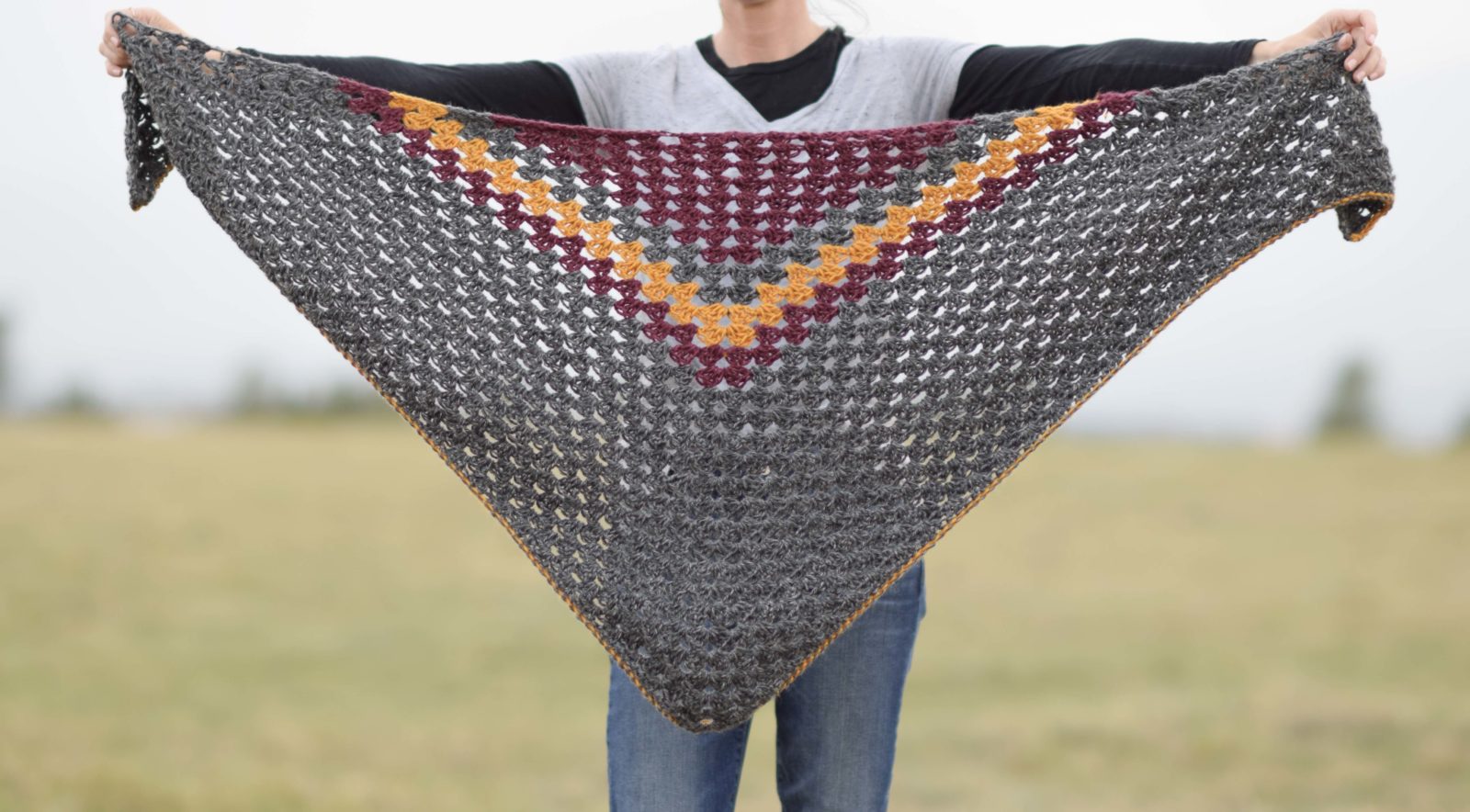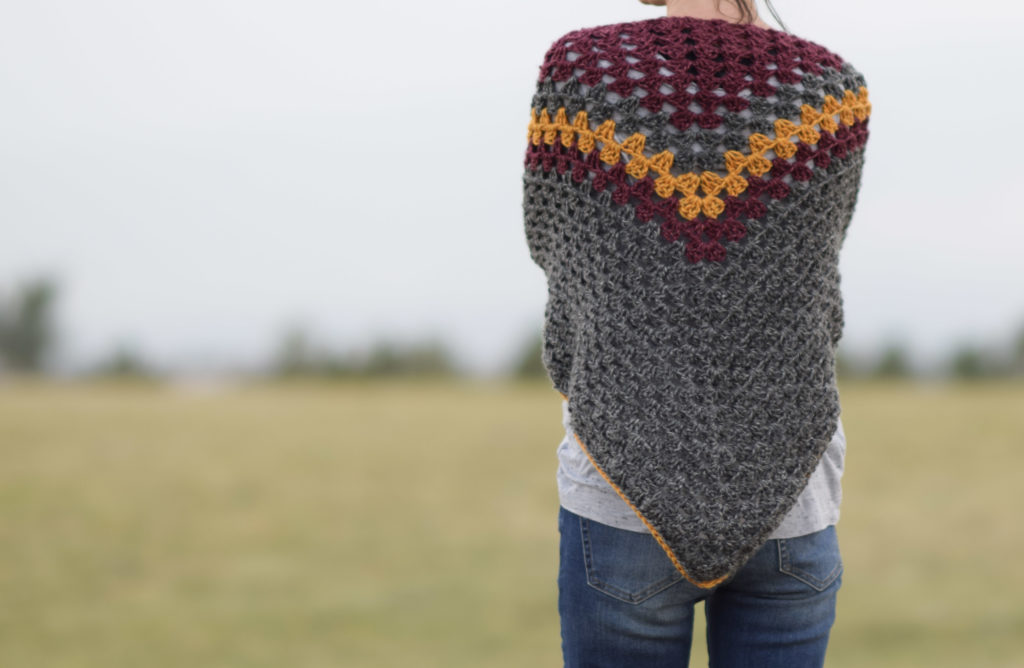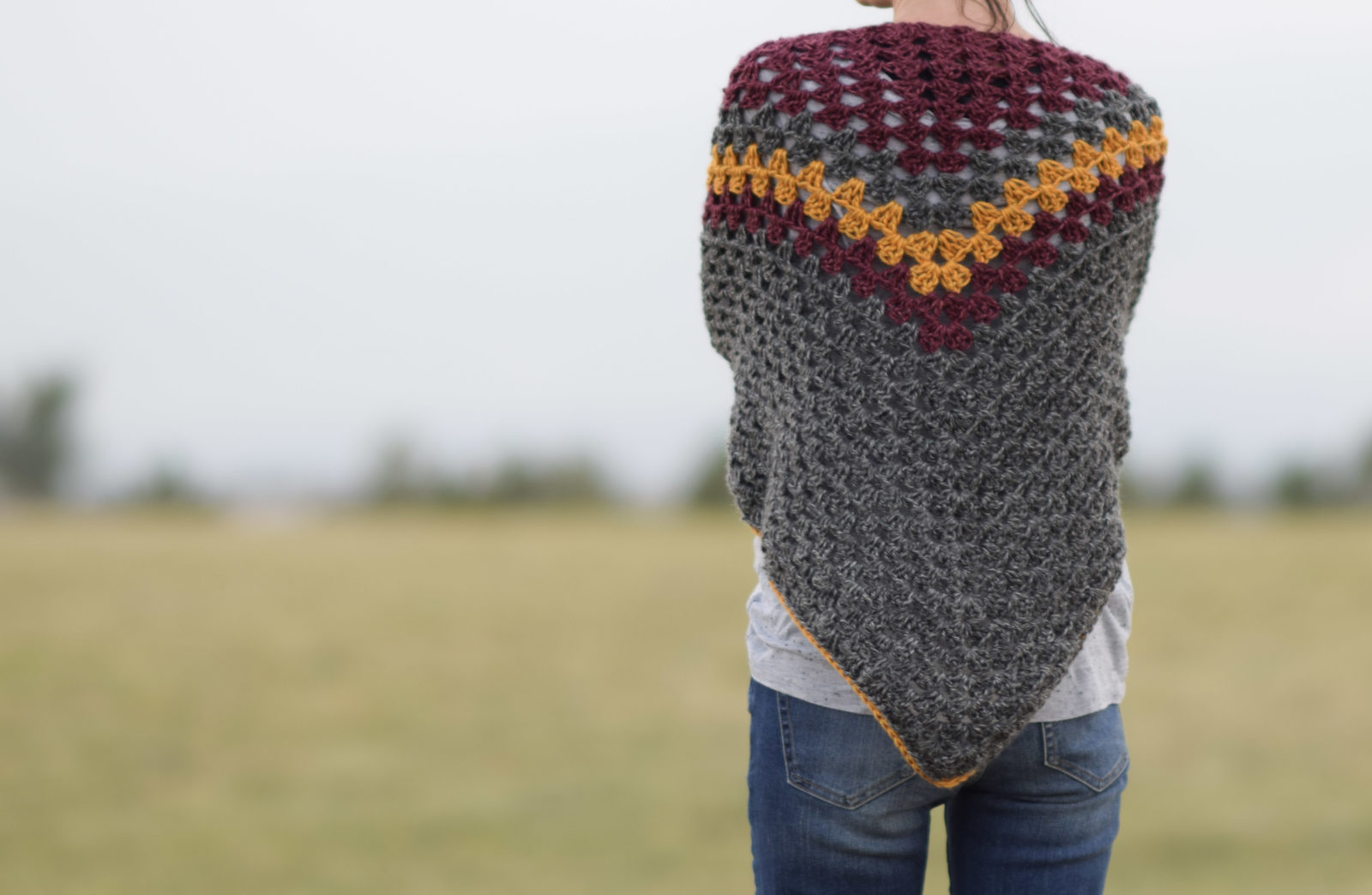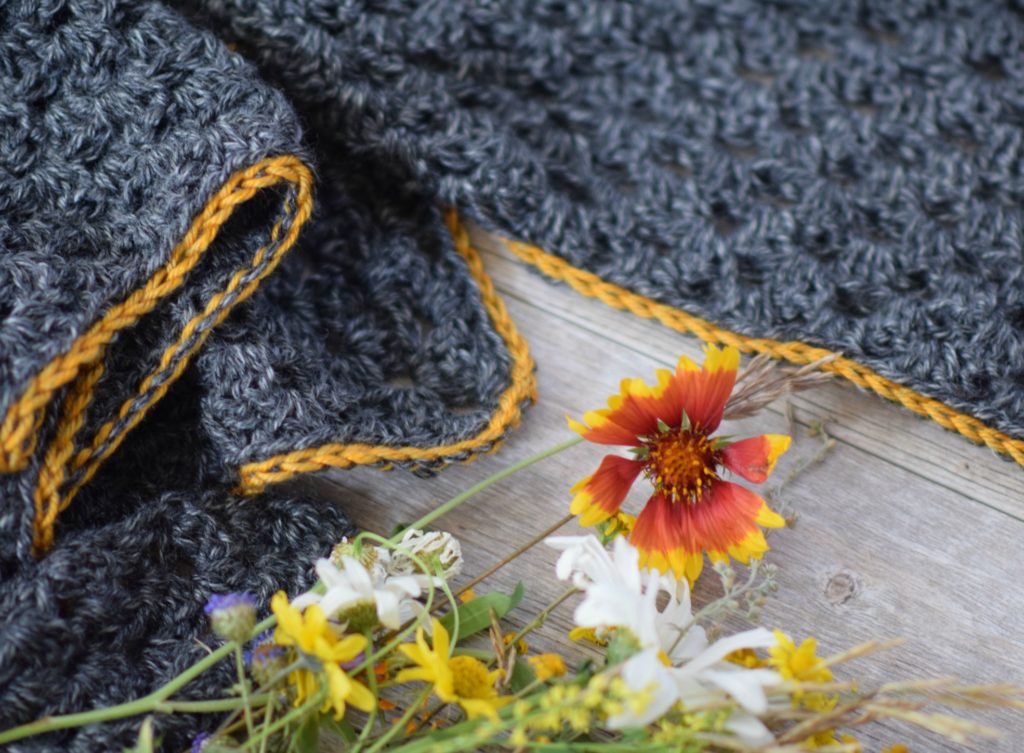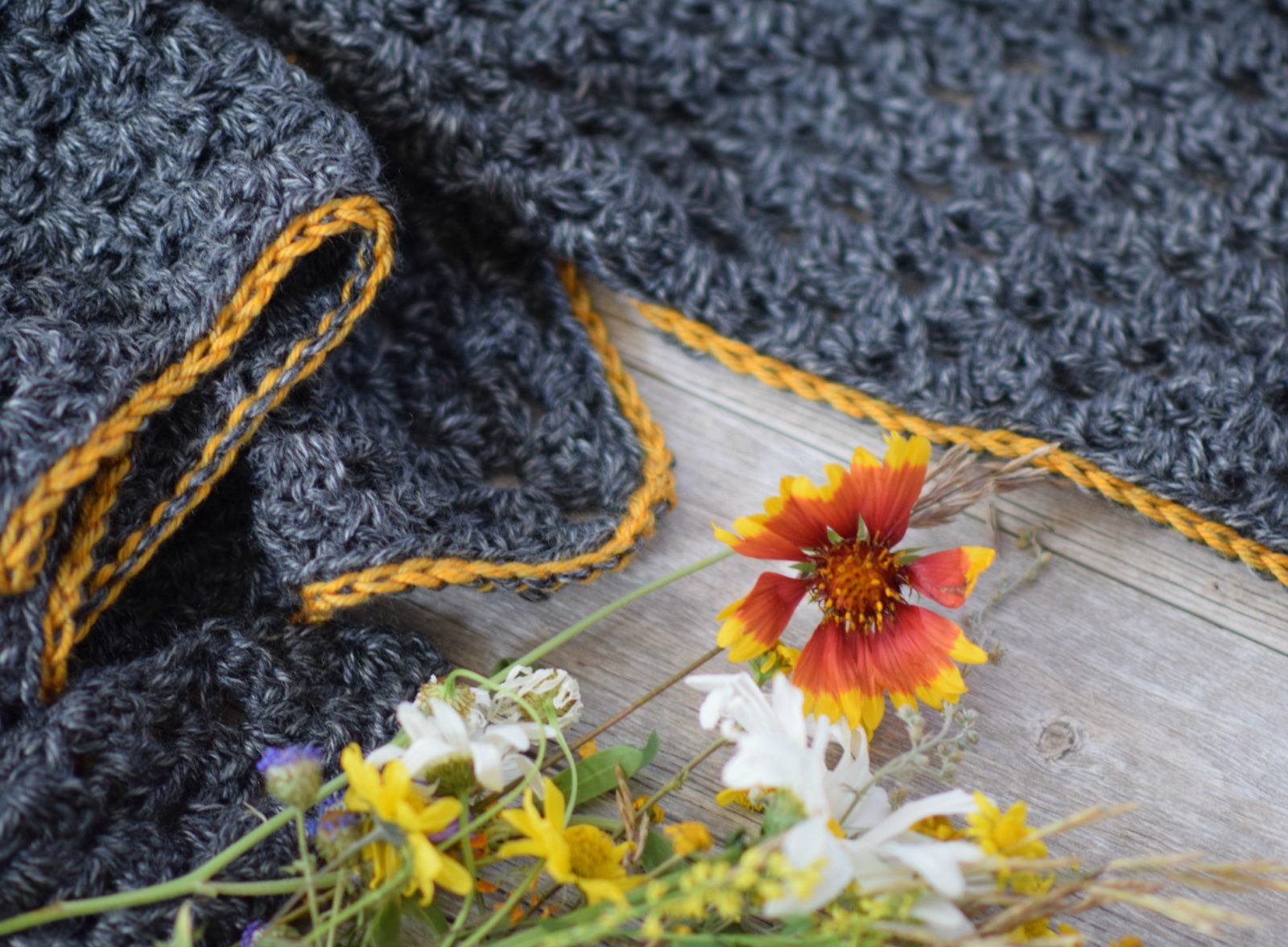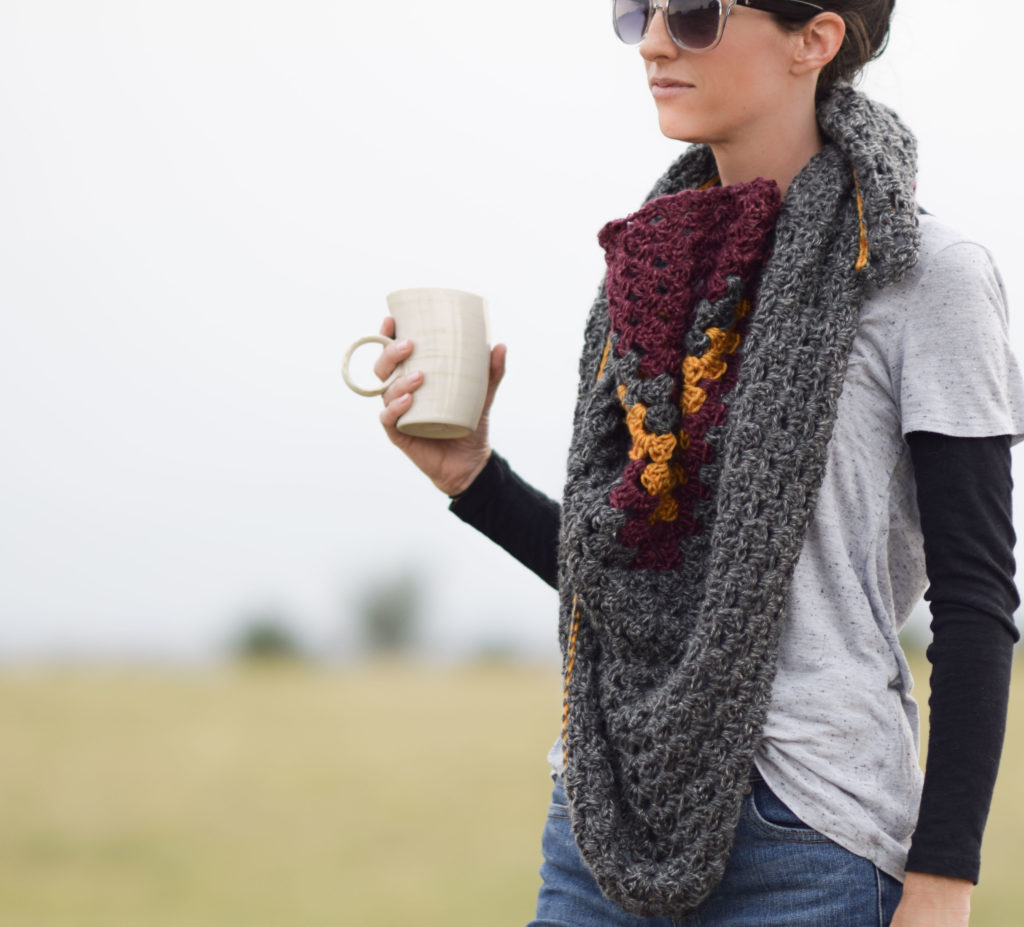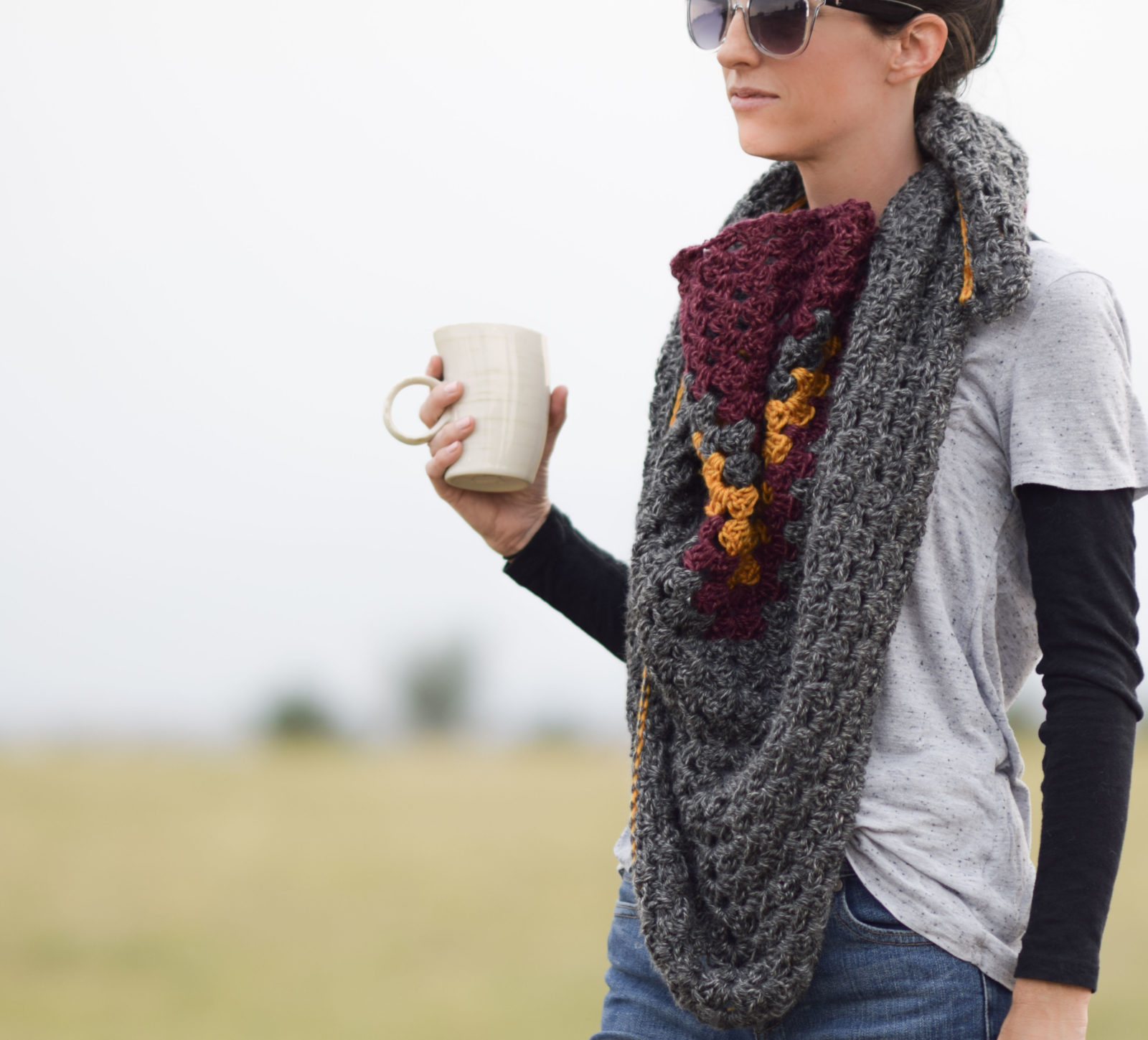 As usual, you'll see the free pattern below or you can always purchase the downloadable, ad-free, printable version from my Etsy shop HERE. 🙂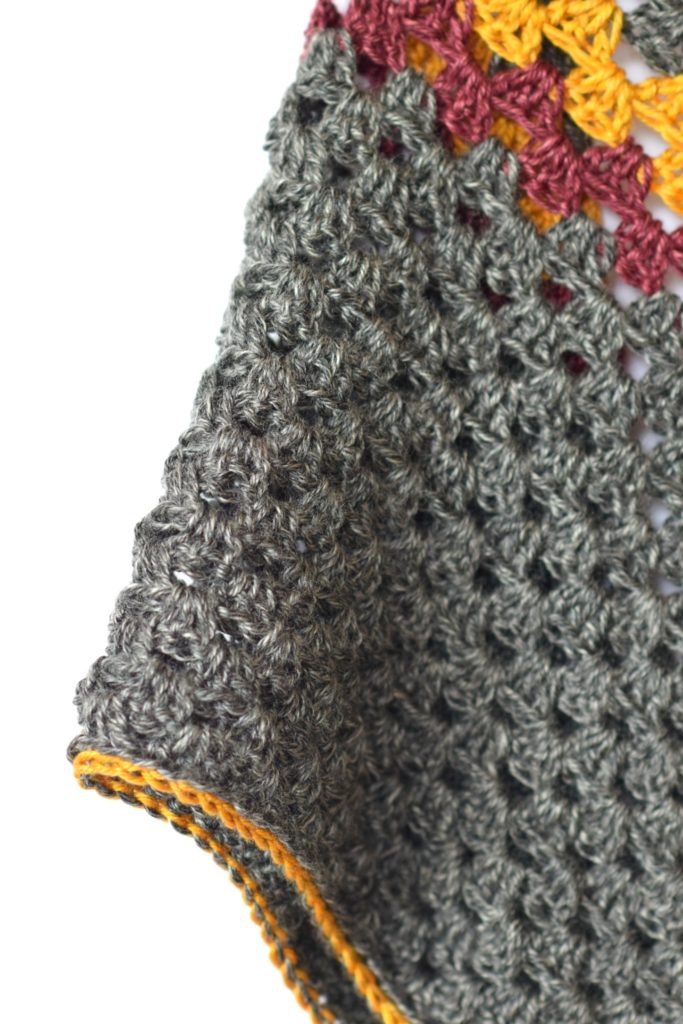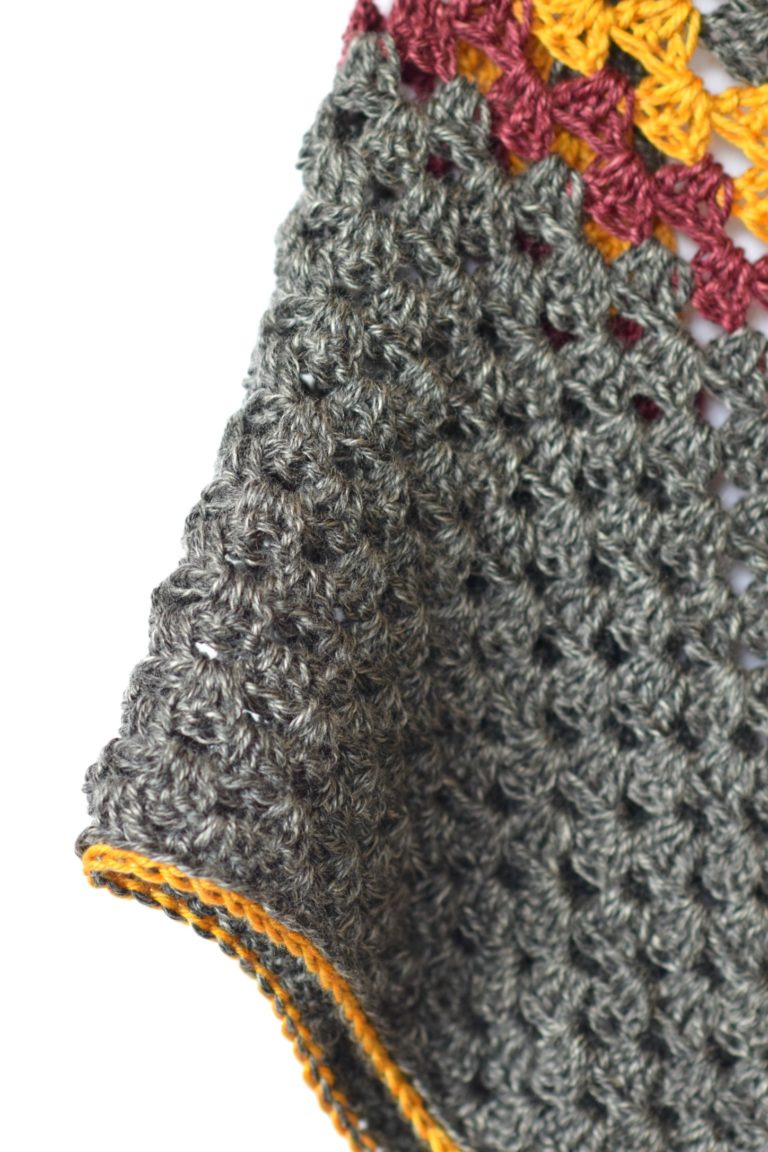 Explanation: An easy, American landscape inspired triangle wrap that can be made as small or large as you'd like. Take the basic granny triangle and make a trendy wrap, scarf or shawl for cool weather.
Level: Easy +
You will need:
Size L 8.0 mm crochet hook
2 Skeins Lion Brand Yarn Heartland Worsted Weight Yarn in Great Smoky Mountains
1 Skein Lion Brand Yarn Heartland in Badlands
1 Skein Lion Brand Yarn Heartland in Yellowstone (You may also choose to purchase the yarn & pattern kit from Lion Brand HERE)
Pattern uses approximately 290 grams of yarn total (22 g Yellowstone, 39 g Badlands, 229 g Great Smoky Mountains)
Scissors
Tapestry Needle to weave in ends
Measurements:
Wrap measures approximately 57 inches across and 27 inches from middle top to bottom point of triangle, however you can easily make it larger or smaller.
Abbreviations and Skills needed:
ch – chain
ch sp – space
dc – double crochet
sp – space
Final edging is made by crocheting slip stitches through the back loop only.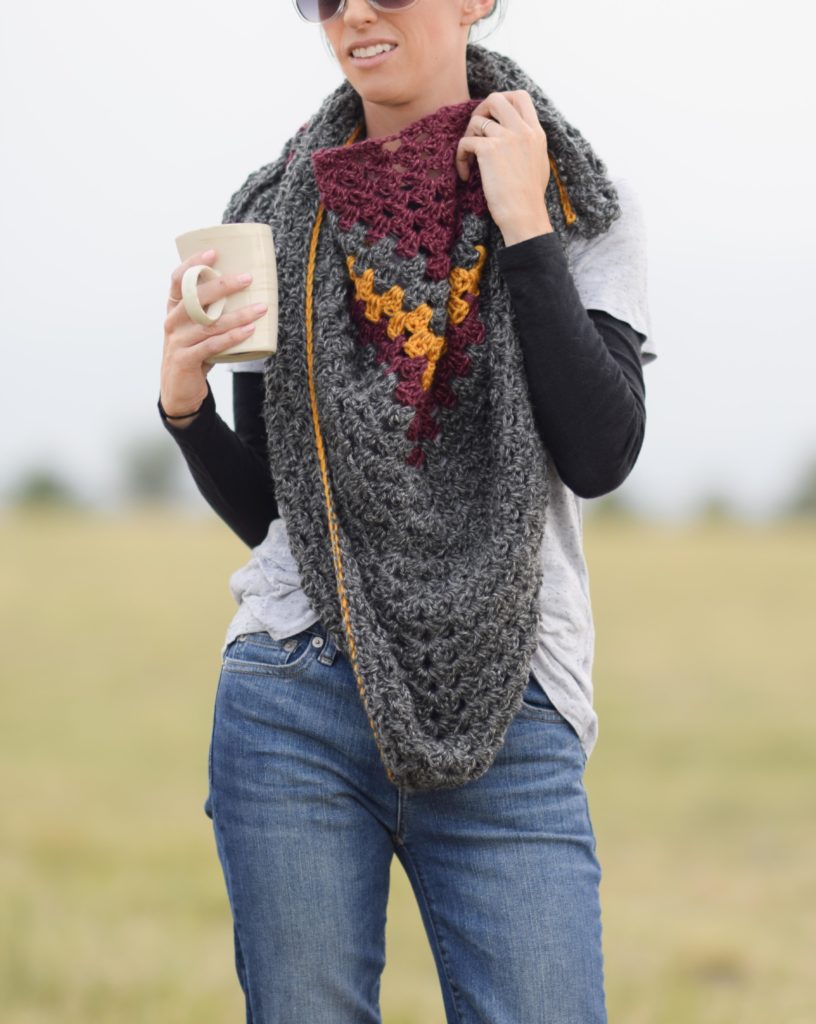 Gauge:
Gauge is not important for this pattern
Notes:
You should be comfortable with double crochet stitches to make this wrap. The fun part about this pattern is that you can modify it in any way that you'd like! Make your wrap with more of the golden yellow, make it larger or even smaller by crocheting for more or fewer rows. You can find a full tutorial including a video on how to crochet this wrap in a separate blog post HERE if you'd like additional help with this pattern:


Smoky Mountains Triangle Wrap Pattern
With the color Badlands, Ch 5, sl st to join ends to make a circle
Row 1 Ch 3 (counts as 1st dc stitch), 2 dc into circle, ch 2, 3 dc into circle
Row 2 Ch 3, turn. 2dc into the first st. 3dc, ch 2, 3dc in middle ch 2 space. Make 3dc into last stitch of row (the ch 3 from previous row).
Row 3 Ch 3, turn. 2dc into first st, 3dc in next space (this is the space created between the groups of 3dc stitches), then (3dc, ch 2, 3 dc) in top ch 2 sp, 3dc in next space, 3 dc in top of last stitch of row. (Remember to find the video tutorial mentioned in the notes above if you need further help with seeing how this is done)
Repeat the pattern from row 3, making 3dc in each space across the row and (3dc, ch2, 3dc) in middle ch 2 space for entire project making color changes as follows:
Rows 1 – 8 Badlands
Rows 9-10 Great Smoky Mountains
Rows 11 – 12 Yellowstone
Rows 13-14 Badlands
Rows 15 – 31 or until piece measures approx. 57" across or as long as you'd like – Great Smoky Mountains. Note: Feel free to try on the wrap for size and make it larger if need be by crocheting more rows.
Final Edging:
Attach Yellowstone yarn to corner of wrap. LOOSELY, crochet slip stitches through the back loop only in each stitch across. Make 3 single crochet stitches in the middle ch2 space and continue working slip stitches through the back loop only until you have worked the two lower edges of the triangle.
Tie off and weave in all ends.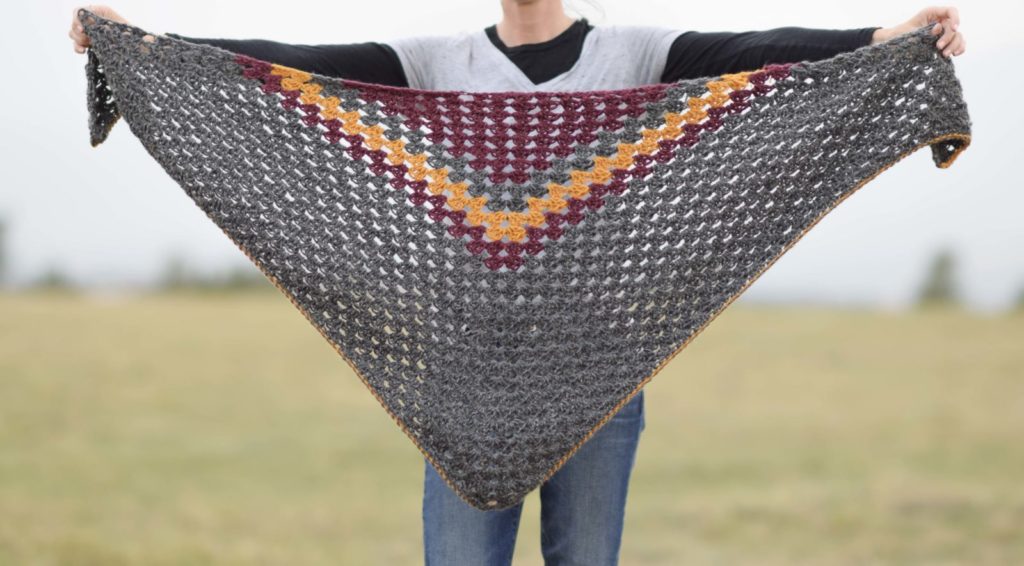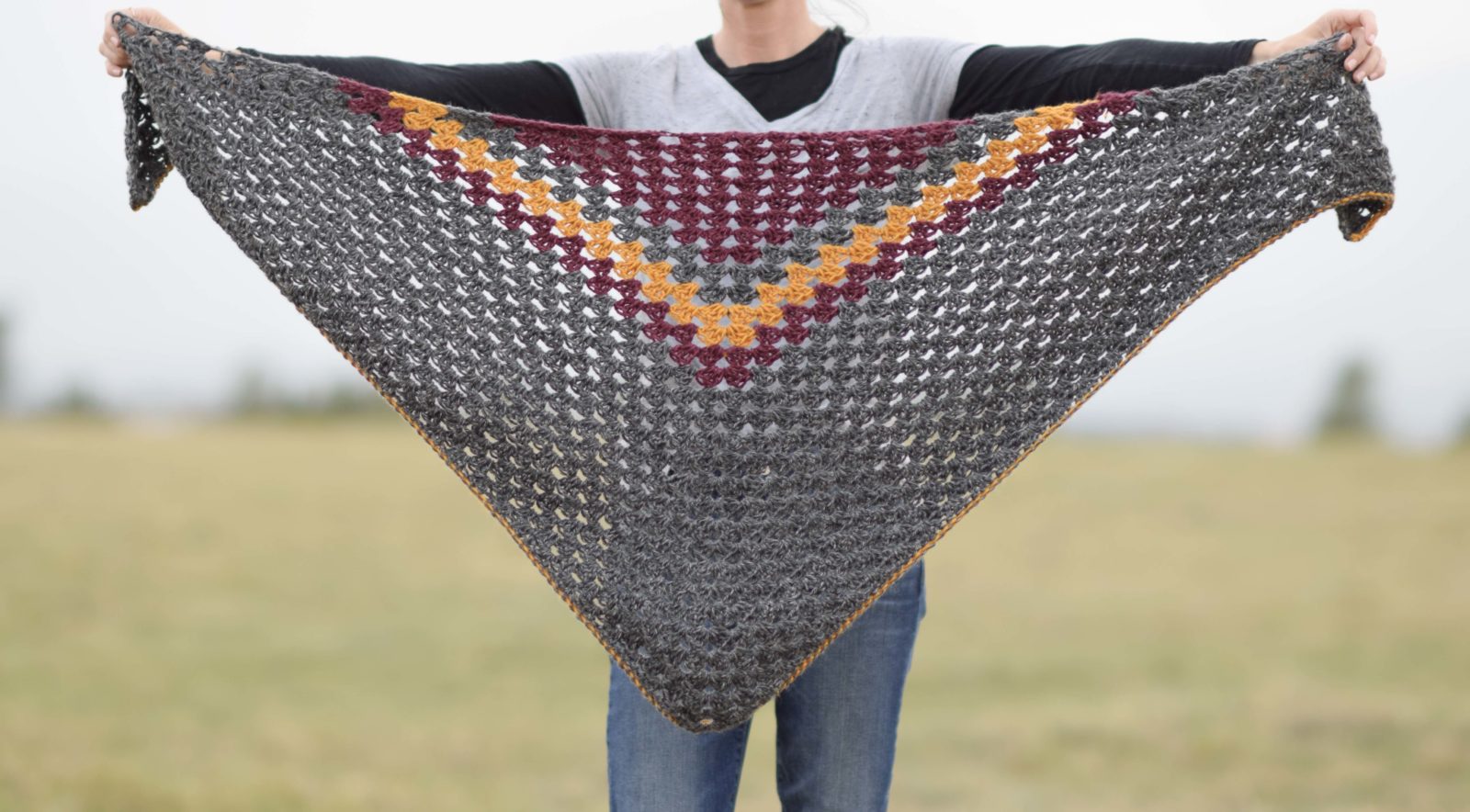 Guess who has claimed the rights to this wrap? My five year old. Yep, she felt it and said it was so soft that it was like her stuffed animals and she loves the "purplish" color in it. Hehe!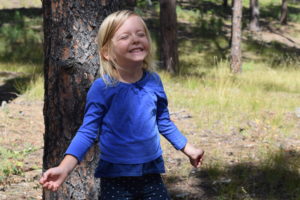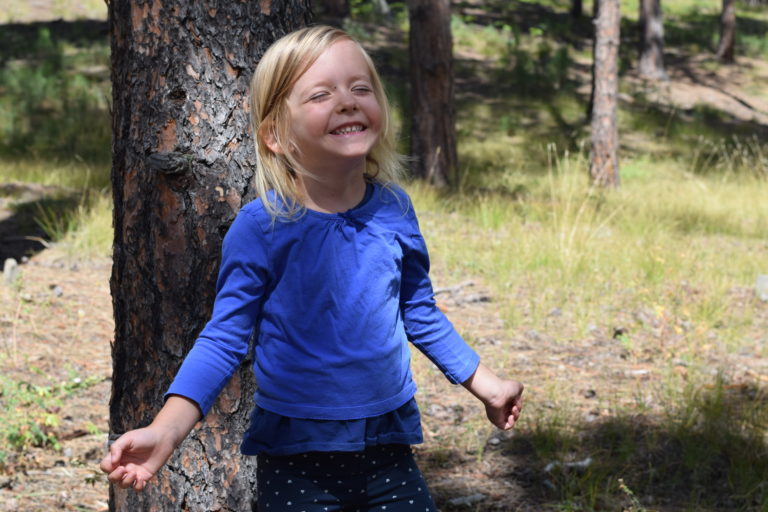 I hope that you love the wrap as much as my daughter does, and let me know if you make one!
Have a lovely day!
XO
Jessica