One Skein Crochet "Boho Shawl" Pattern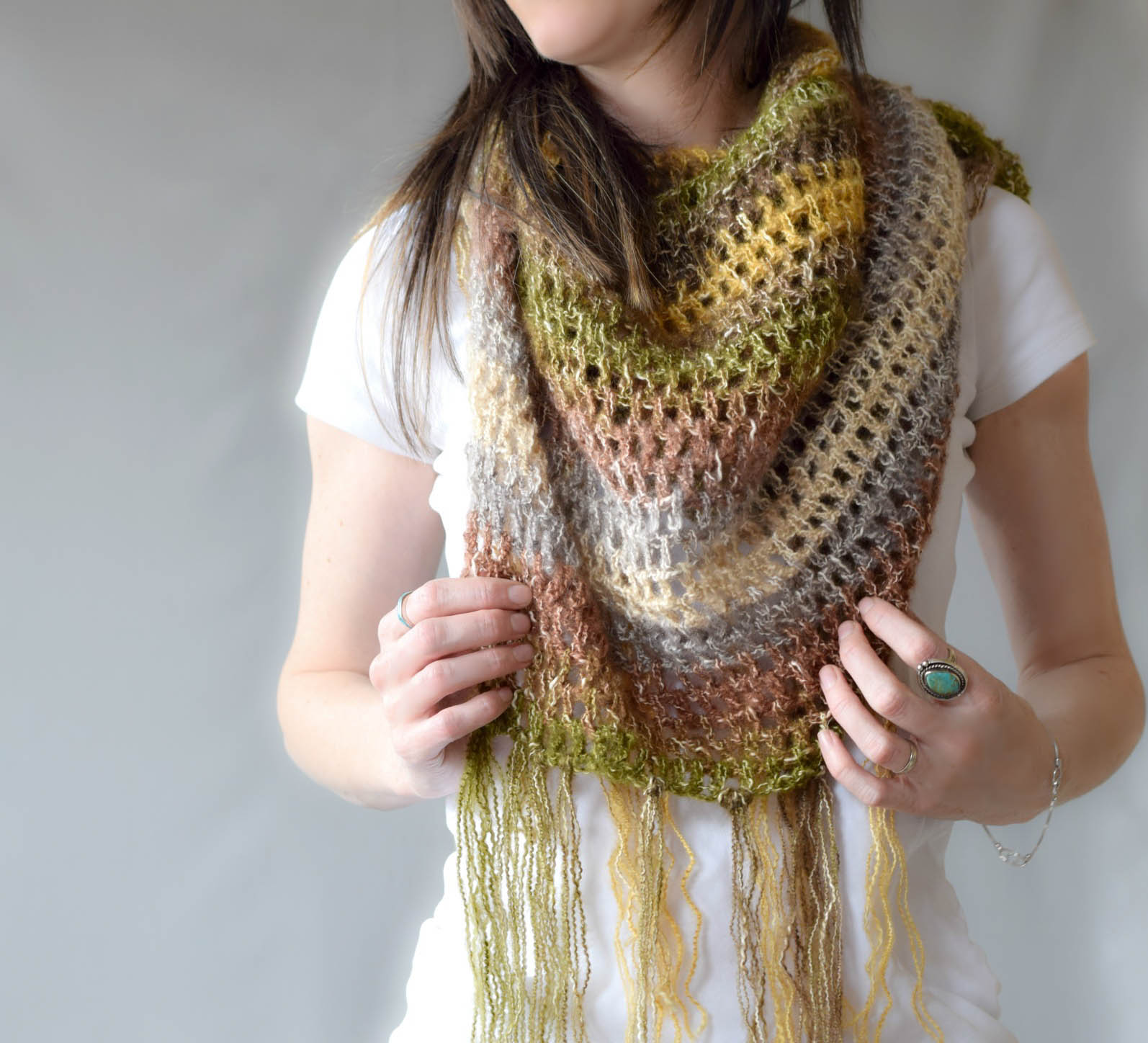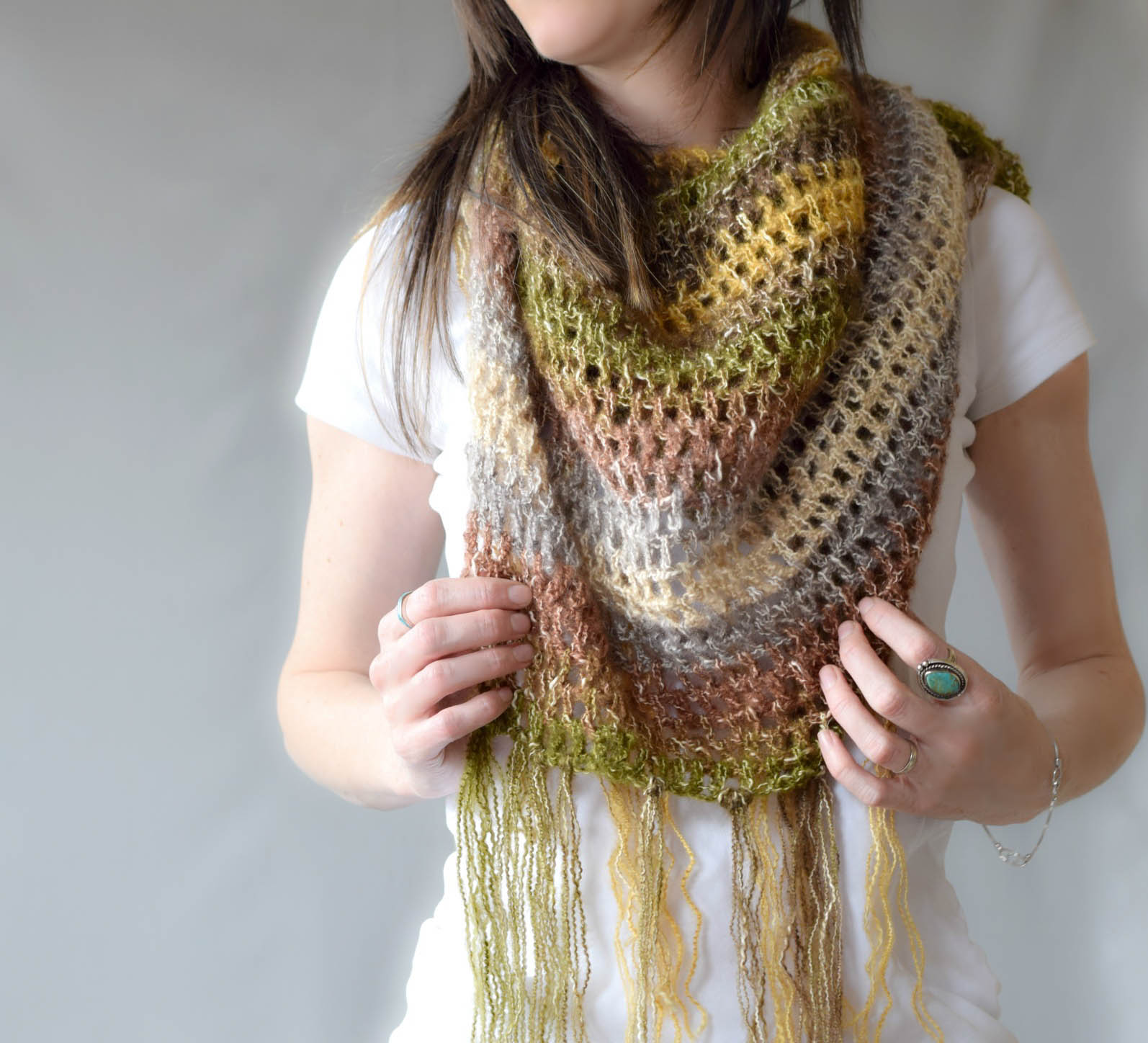 If you have read my blog for a while, you know that I love quick crochet and knitting projects. This shawl fits the bill as it's made with only one gorgeous skein of yarn (yes!), and I finished it in a day. The knit shawl that I made last year ( you can see it HERE ) has been pretty popular, so I thought it would be fun to make something crocheted that was similar. This crocheted shawl / scarf/ shawlette is made entirely with double crochet stitches and some simple decreases at the end of the rows. It's very easy but it's got a striking appearance thanks to the yarn!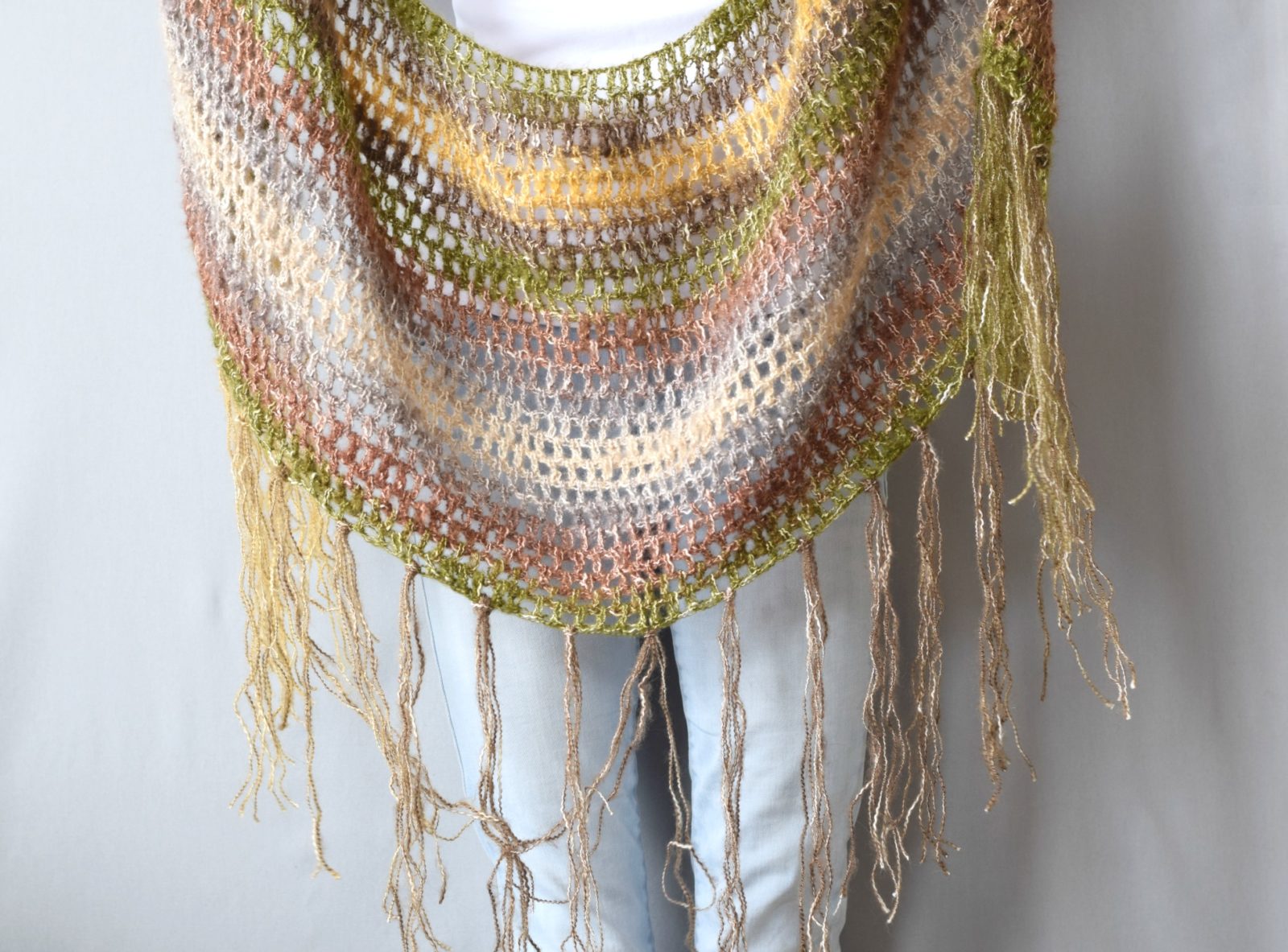 I've only used self striping yarn a handful of times and it was such a treat to try it again.
This is a new cotton blend yarn from Lion Brand called "Shawl in A Ball". It is a shawl in a ball indeed, and I imagine it could be called "Things in a Skein". 😉 You could probably get some boot cuffs and a hat out of this skein. Maybe even a headband and scarf out of a skein! Making this shawl with this yarn was kind of like opening an Easter egg as I was surprised by the new beautiful colors emerging the further I got into it. 😉 It is super soft and the cotton blend makes it perfect for the warmer temperatures.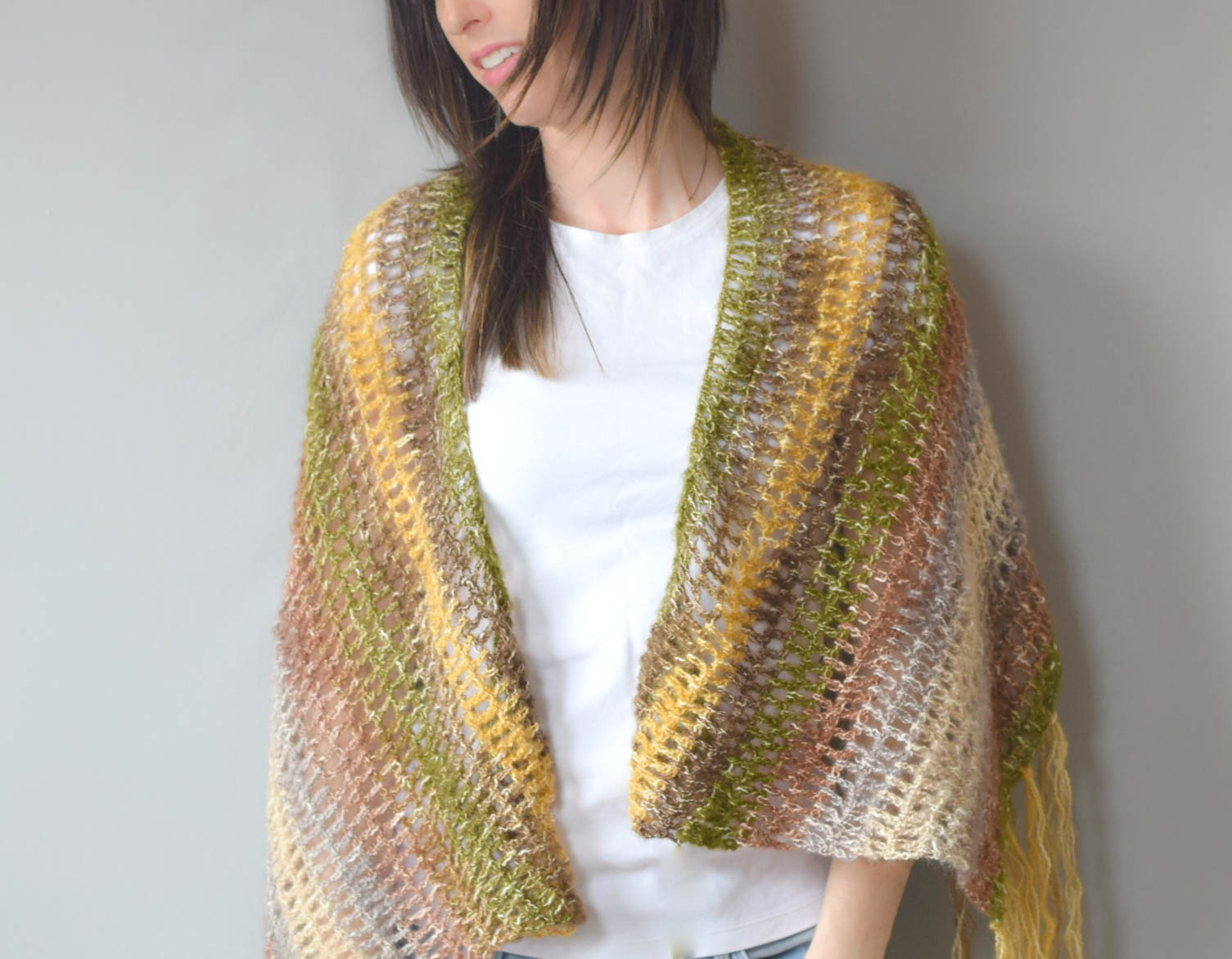 The colors scream nature to me, and have an earthy, dare I say "hippy" look. This is a small shawl, almost a "shawlette" you could say. It could be used as a shawl, scarf, or funky wrap. If you don't want the tassels and just want a larger shawl, just continue the pattern below until you run out of yarn. Don't save any for the tassels, and you will have yourself a larger shawl.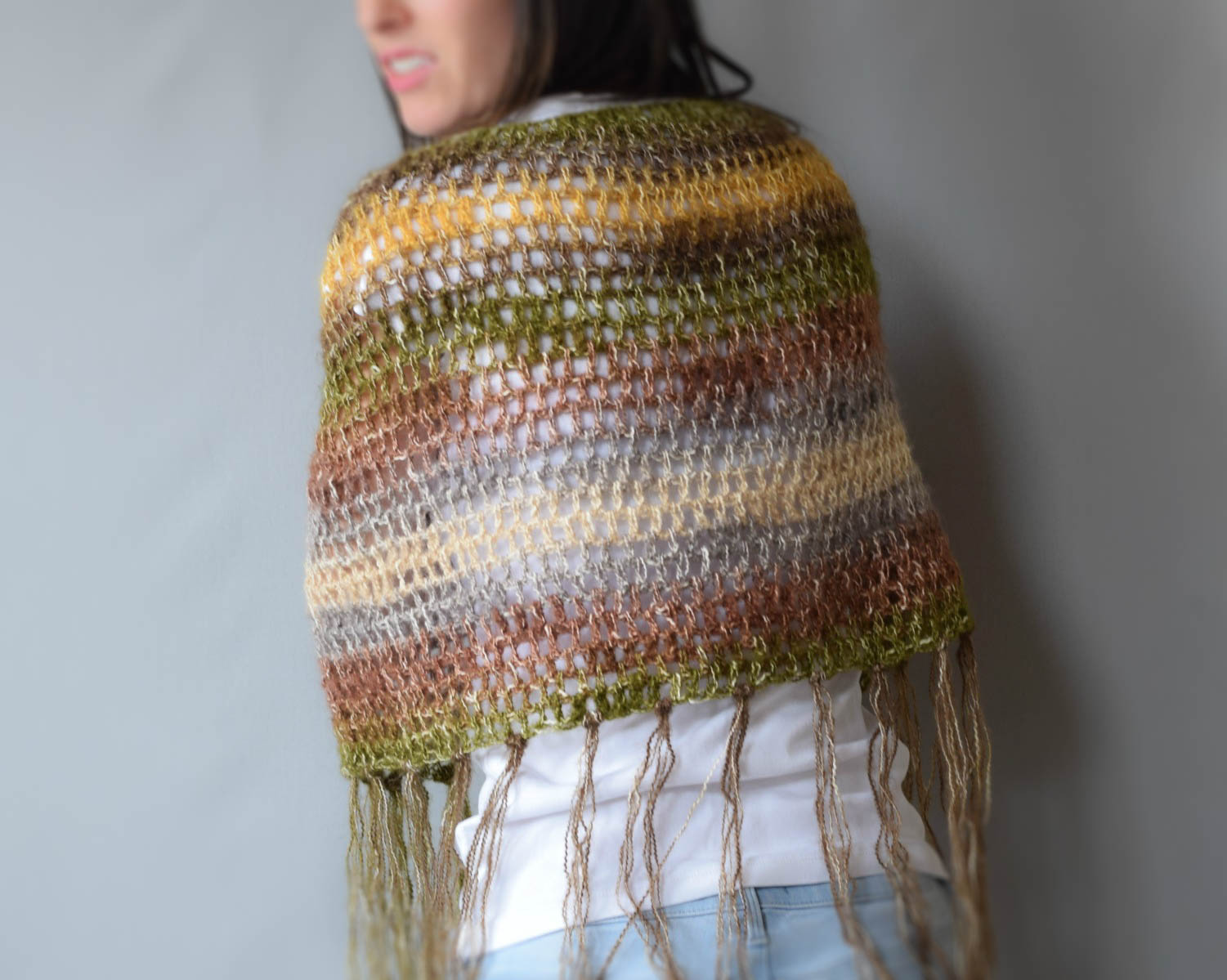 You will need:
Size H 5.00 mm Crochet Hook
One skein Lion Brand Shawl in a Ball in the color "Peaceful Earth" – or comparable worsted weight yarn (There is 518 yards of yarn in this skein!)
Scissors
Tapestry needle to weave in ends
Abbreviations:
Dc – double crochet
Ch – chain
Notes:
Size: Approximately 50″ at longest point, 15″ wide (not including tassels)
If you know how to double crochet, this pattern will be a breeze!
If you don't know how to double crochet, check out how to do it HERE from the Craft Yarn Council.
You will however at the end of each row make a decrease. Check out how to do it with this great picture tutorial from the Craft Yarn Council HERE.
Boho Fringe Shawl Pattern:
Chain 125
Row 1 In the 4th ch from hook, work a dc . dc in each chain across.
Row 2 Ch 3, turn. (Counts as a dc). Skip first stitch and work a dc in each dc space across row. Decrease one time at last two stitches. (See how to decrease in double crochet HERE from Craft Yarn Council)
Row 3-24 Repeat row 2.
At end of final row 24, tie off, weave in ends.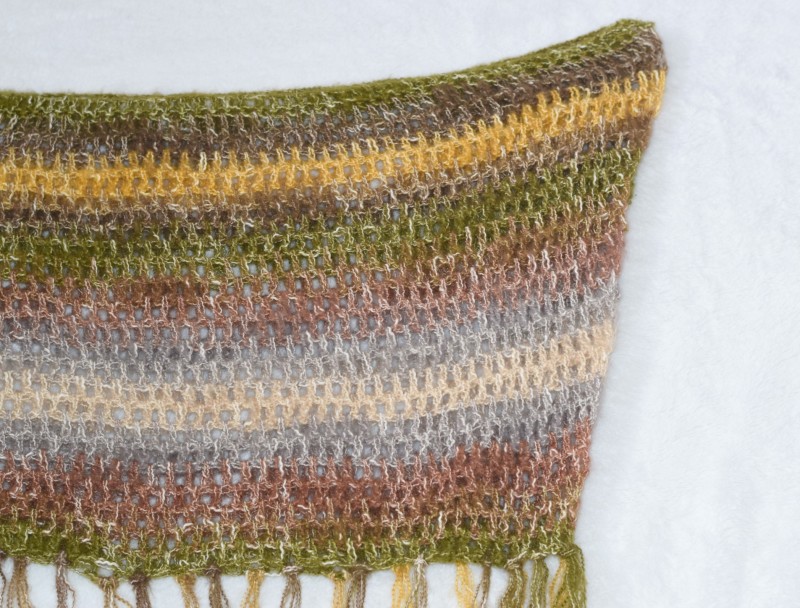 Tassels:
Cut yarn into lengths of 21 inches long. Holding three together, fold in half. Place folded half through stitch, pull through ends to make tassel on bottom edge of shawl. Repeat this along bottom, placing tassels 4 stitches apart.
That should use up all of your yarn! If your gauge is different than mine, you may have more or less yarn. Be sure to plan out your tassels before you cut and attach them to the bottom. You want to make sure you have them spaced evenly!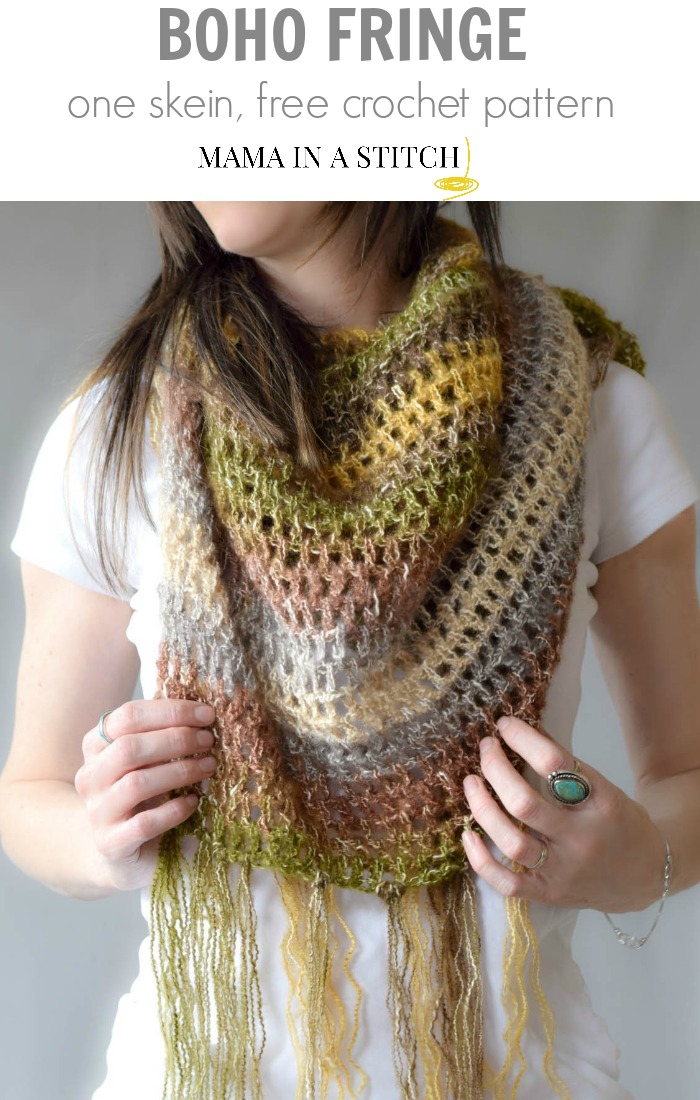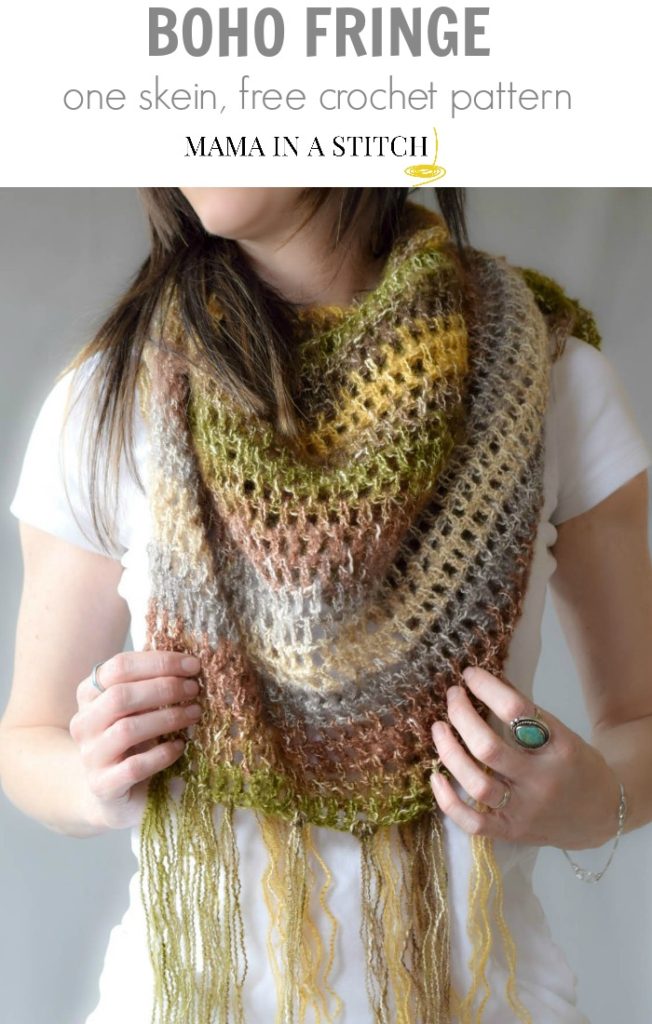 I hope you've enjoyed this fringed crochet shawl pattern!
Do you like the fringe trend going on these days?
Don't miss a post!
[jetpack_subscription_form]
**Thank you to Lion Brand Yarn for sponsoring this post. All opinions (crazy or not) are 100% my own.
You might also like: