Toddler Magical Unicorn Crochet Hood Pattern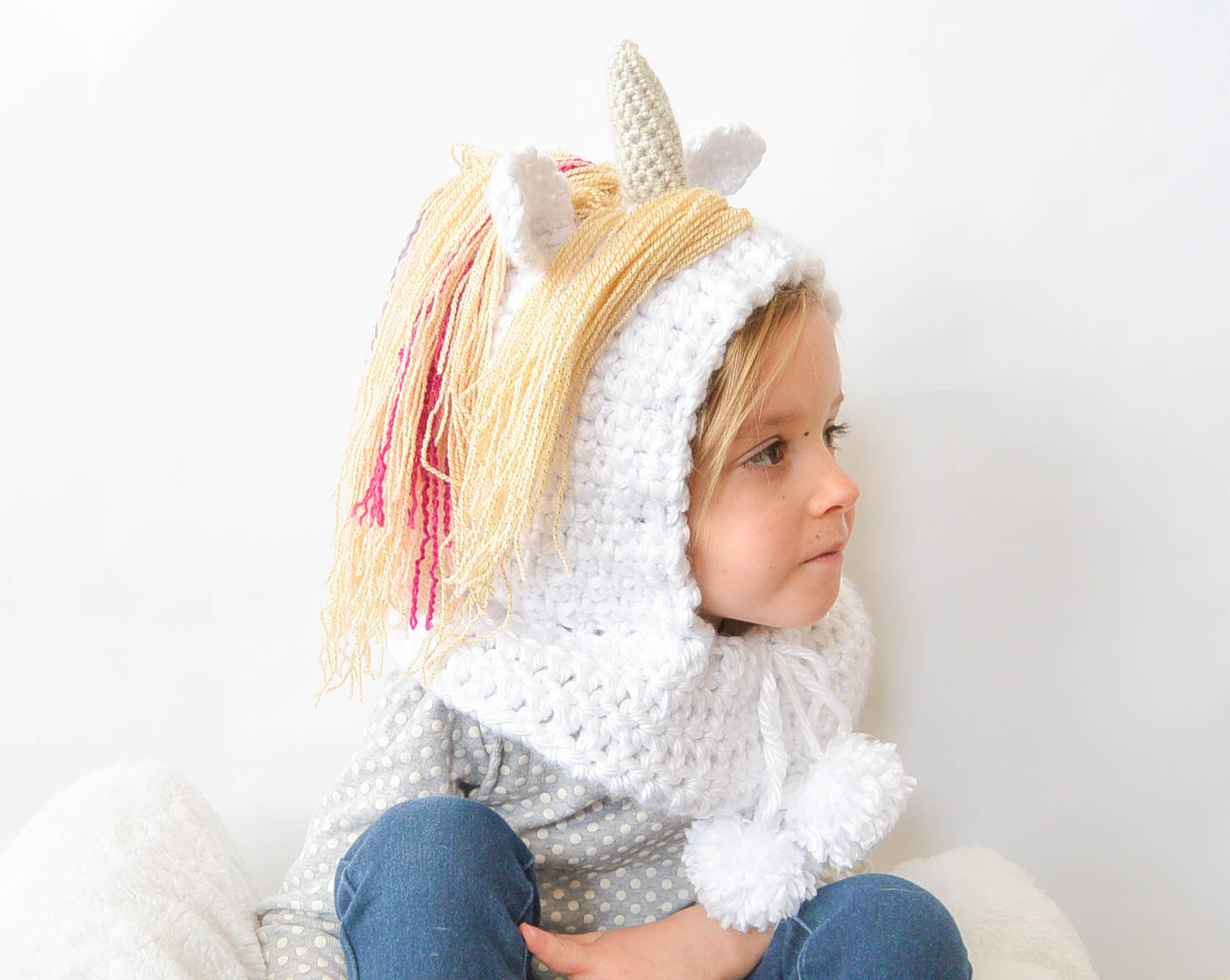 I've found that it's not just my daughter, but lots of other little girls are enthralled with unicorns. What isn't there to love with magical horned horses with their flowing manes? 😉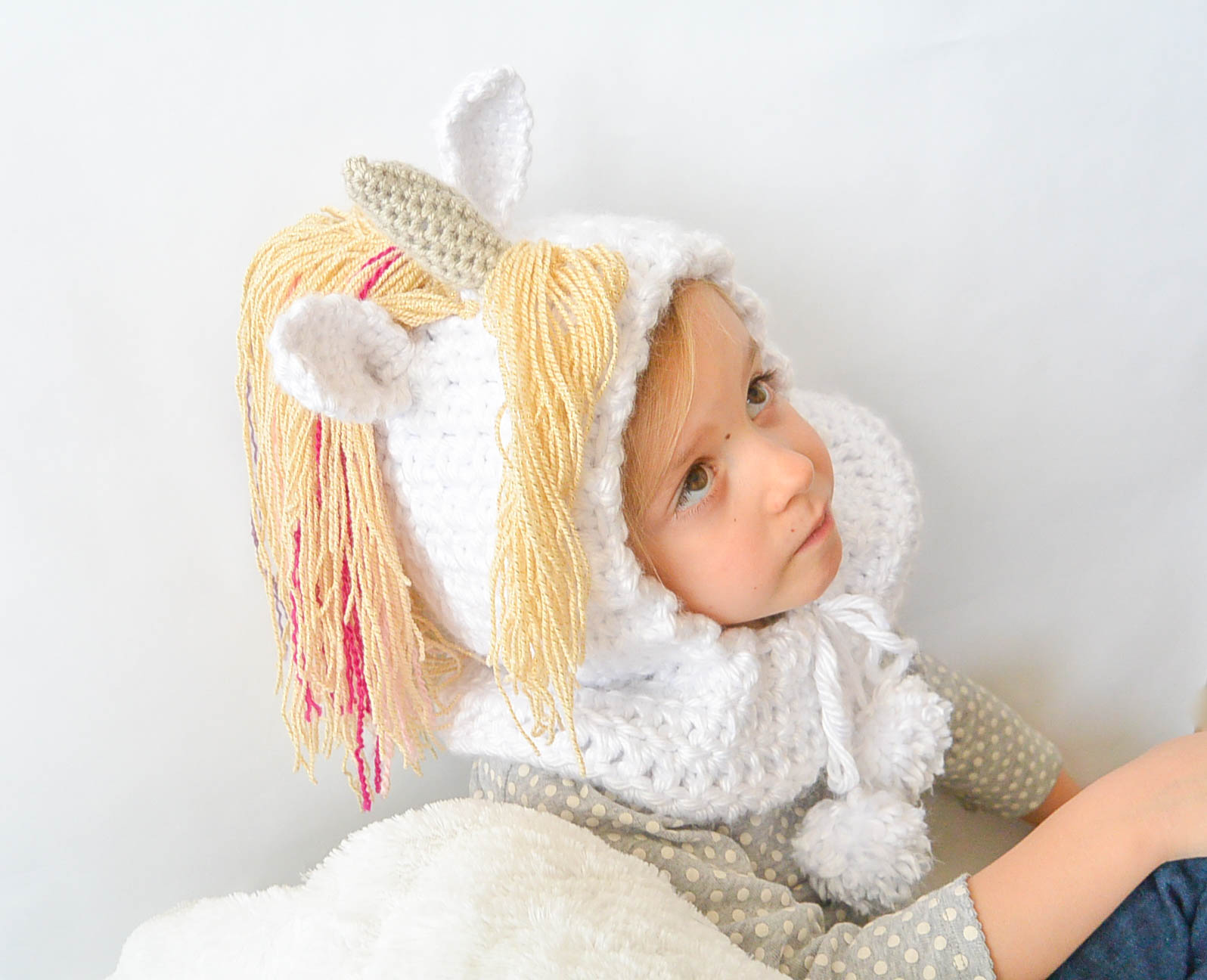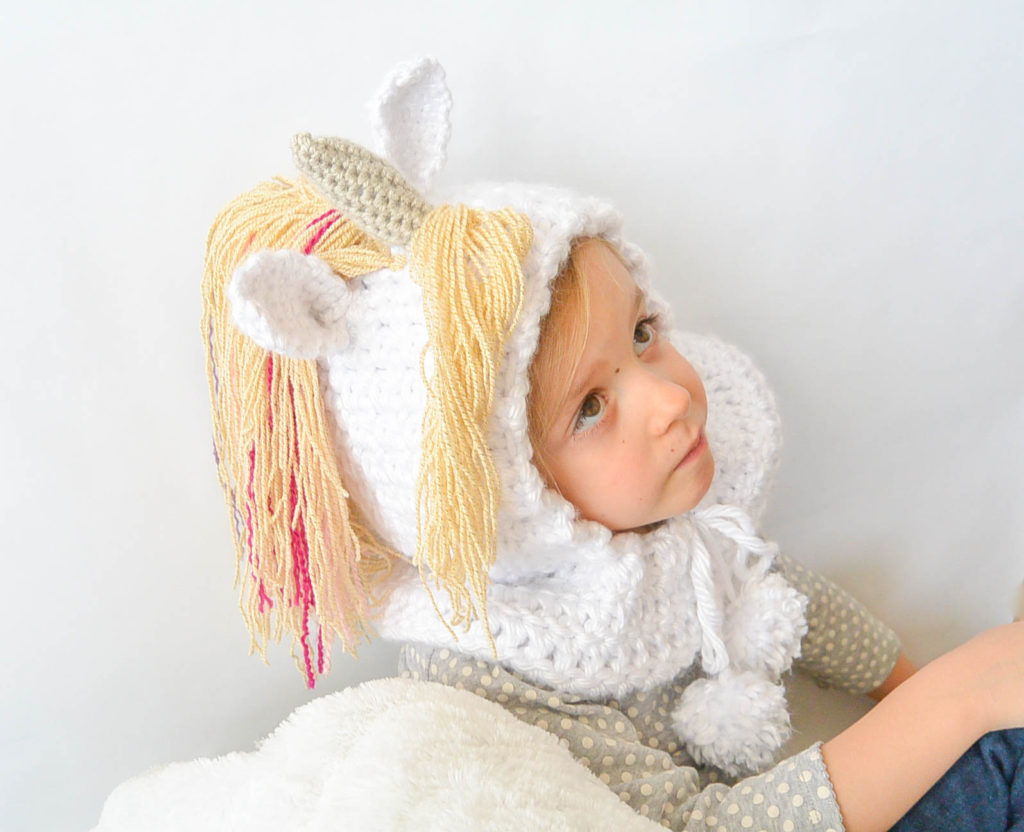 From the time my daughter could talk, she has been in LOVE with horses. In fact, for her third birthday, we splurged and had ponies in our backyard for pony rides ( I really wanted to ask if I could dress one of the ponies as a unicorn, but ultimately decided that I didn't want to be THAT mom). She has asked me for a crocheted unicorn hat for quite some time (and has a zillion unicorn toys), so I decided I better make this hat stat. 🙂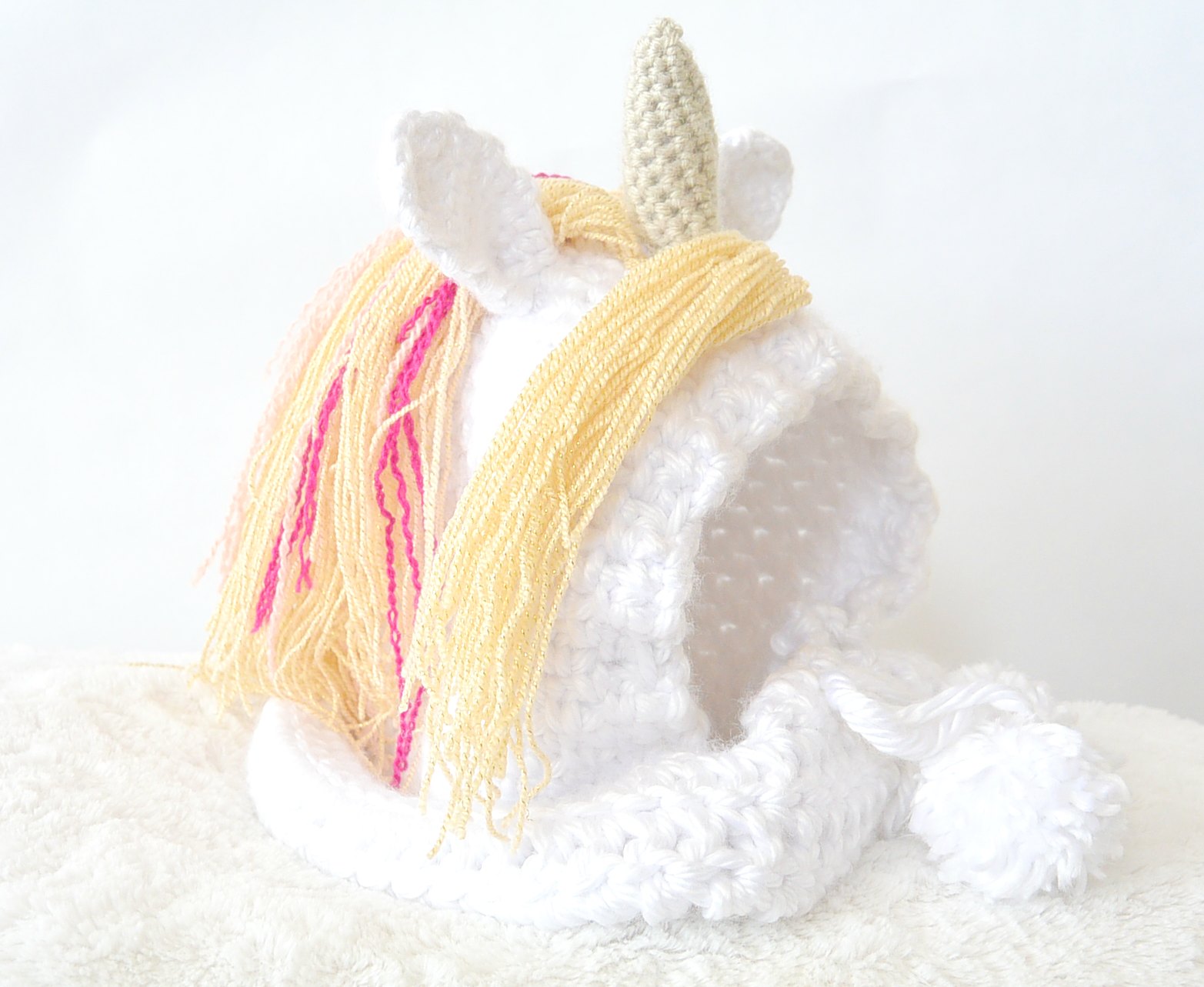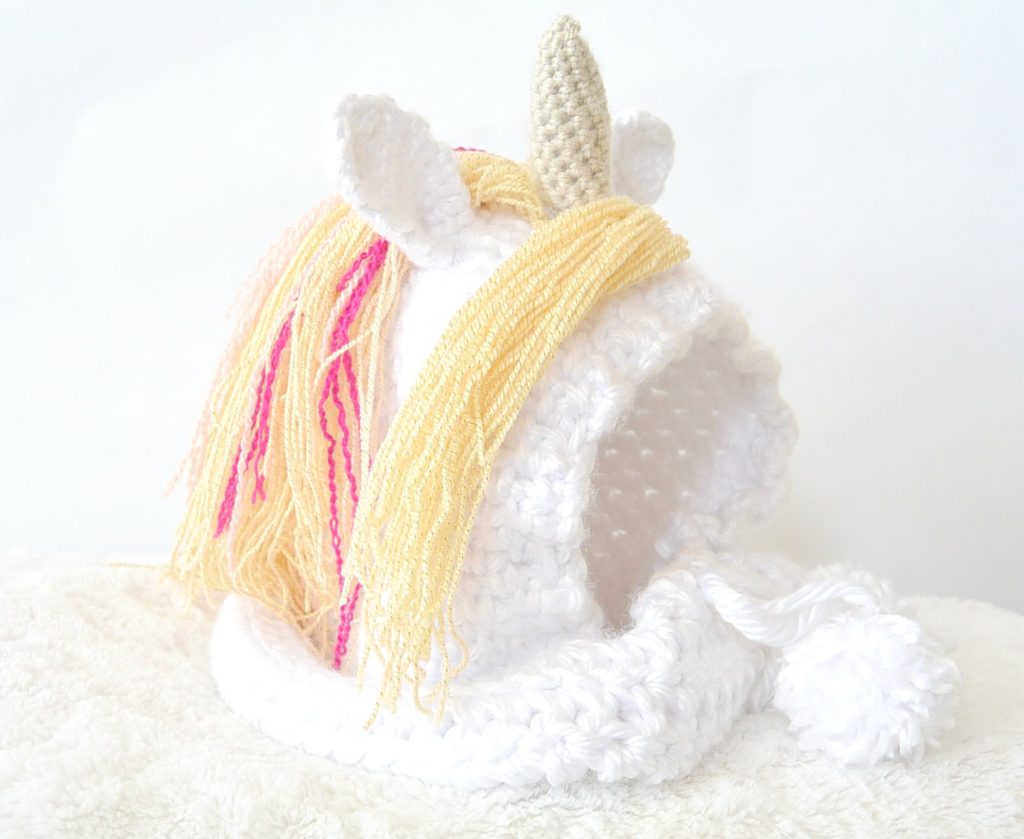 The flowing long "hair like" mane was my daughter's plan. She was all about telling me what she wanted this hat to look like. I've learned that with my girl it's best to ask her what SHE likes for a better chance that she will wear it when it's complete. Is it the same with your littles? Go ahead and ask them what colors they would like in their mane. 😉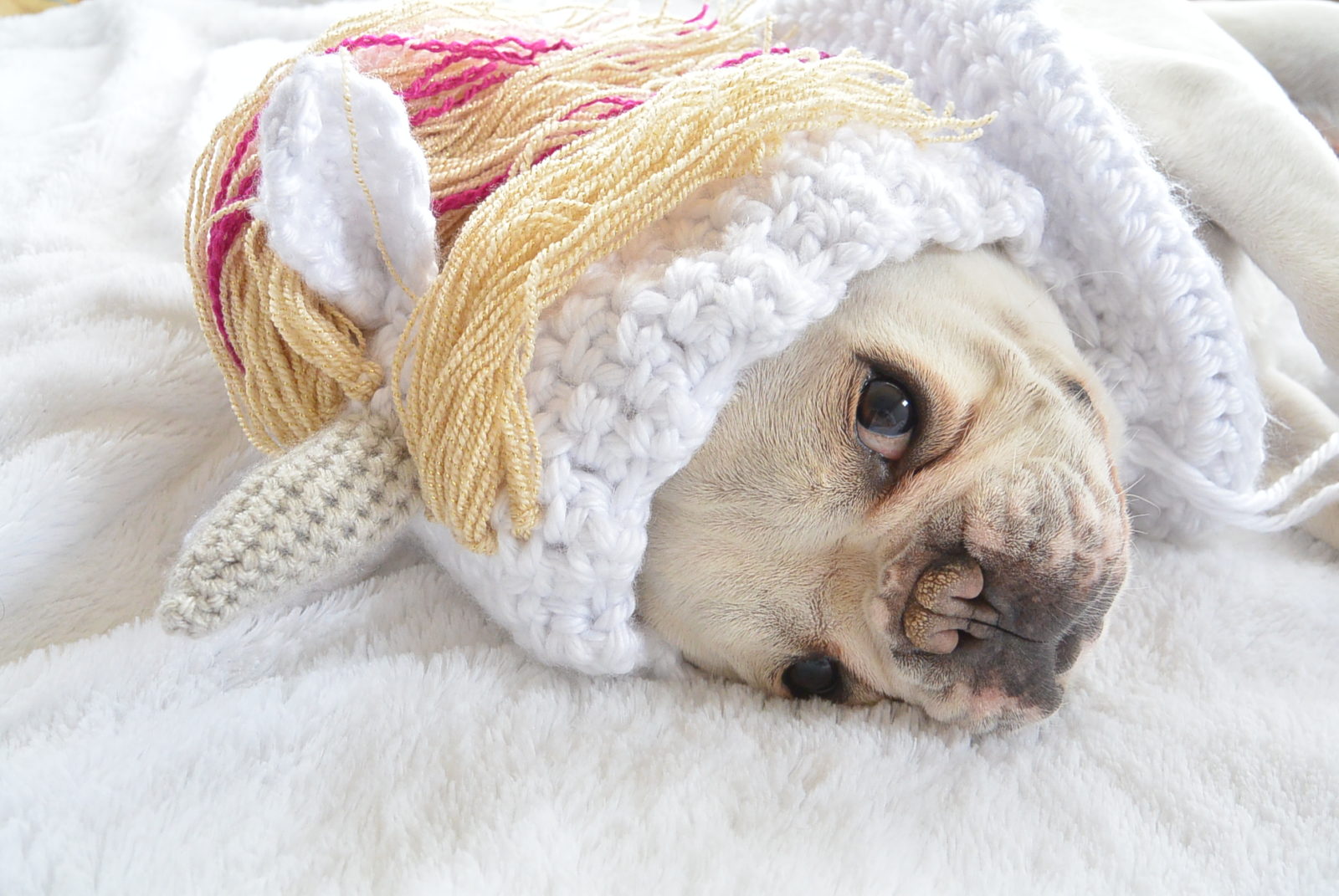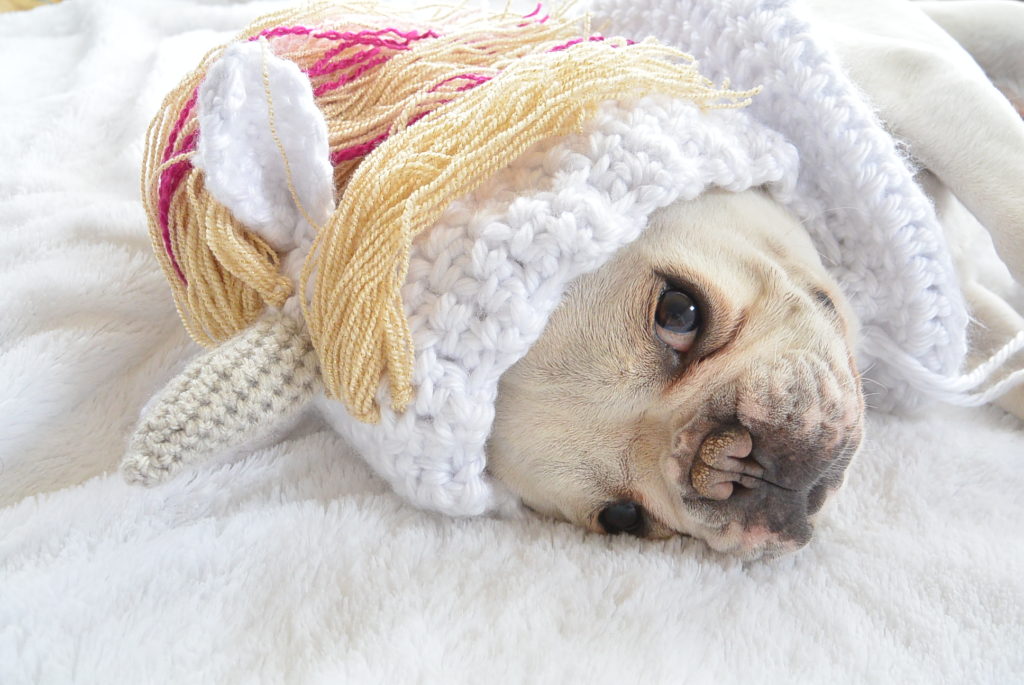 It was awesome to find this sparkly gold yarn for the mane, and could use some scrap yarn for the accent colors. I wanted to use a thinner yarn, smaller than the typical worsted weight yarn in order to give it a bit more "realistic" look to the hair.
*Size Fits Approximately 2T-4T (It measures 8.5″ front to back of hood, and 12.5 " from top of hood to bottom of cowl)
*Gauge 2 single crochet and 1 chain, 3 rows per 1″.
*To make this hat you will need to know how to single crochet, chain, double crochet. There is also minimal decreasing for the horn and ears. In order to blend the end of double crochet rounds, you also will work a half double crochet one time.
You will need:
Size J Crochet Hook 6.0 mm
Size H Crochet Hook 5.0mm
Size G Crochet Hook 4.25 mm
3 Skeins Super Bulky Yarn – I used Lion Brand Hometown USA in New York White
1 Skein Sport Weight/Fine Yarn- I used Lion Brand Glamour Yarn in Topaz (For mane)
Scrap worsted weight yarn for accent mane colors and for horn ( I used Lion Brand Vanna's Choice in Linen (Horn), Pink, Magenta & Dusty Purple )
Small amount of polyfil for horn
Scissors
Tapestry Needle
NOTES:
I like to visualize how something is to be made before I make it. This is worked by first making a long rectangle ( I used the moss stitch, but you can do the rectangle portion all in single crochet if you'd like!)
Once you have a rectangle, you then fold it in half, and seam the back. This is your hood portion. Now you will chain 5, from the front bottom corner of hood, to the other bottom corner of hood. This is where you will now start to work double crochets around to create the cowl. You go around and around making double crochets to complete the cowl. Tie off, weave in ends, and add drawstring around face. This string helps secure the hood while it's warn and is nice because you can adjust it to fit various little faces. 🙂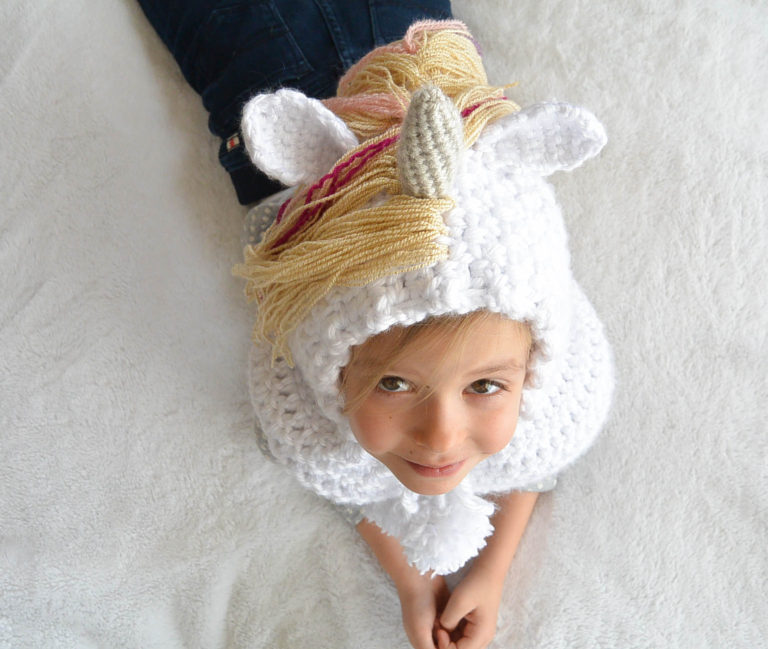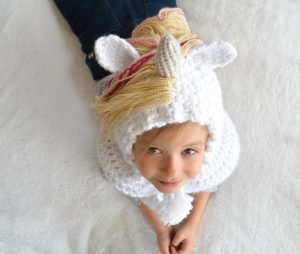 >> Friends, you will find the free pattern and how I made it below. However, I've also had requests for easy printable versions of my patterns. For some of these more complex patterns I may sometimes publish a paid, advertisement free, printable version. You can AD FREE PRINTABLE VERSION CLICK HERE to find the printable version for $1.75. Otherwise, use the very same free pattern below! <<
Pattern:
Upper Hood Portion:
(Here is a video on how to do the stitch I used for this portion, but you can certainly do this portion all in single crochet if this seems too difficult VIDEO FROM FIBER FLUX.)
With your Size J Crochet Hook and Super Bulky Yarn, Chain 25
Row 1 *Sc into the first chain, chain 1, skip chain, sc into next chain*. Repeat from * to * around. Sc in last chain stitch. Chain 1, turn. (Please note, if this stitch is too confusing, you may just single crochet this entire section of the hood – it simply might use up more yarn but will have a similar look)
Row 2 Sc into second stitch from hook, *chain 1, skip stitch below, sc into chain stitch below.* Repeat from * to * across, single crochet in final stitch. Chain 1, turn.
Row 3 and until piece measures approximately 18.5″ inches in length, repeat row 2.
Tie off.
Seaming Hood:
Fold crocheted rectangular piece in half as if to make a hood. Seam up the back with a slip stitch on the outside of the hood. Tie off, weave in ends.
Cowl Portion
With the hood portion facing you, attach yarn to the bottom, front corner, and chain 5 stitches, attach to opposite front corner of hood. This creates the front of the cowl (see the picture below where the cowl "sticks out" in front of the hood. This creates that space.)
Now you will make the cowl:
Chain 3. (Counts as one double crochet). Crochet into 5th stitch from hook, Double Crochet around (I made 54 Dc stitches around).
Continue to Double crochet around hood (continuous rounds), creating the cowl, until the cowl measures approximately 4.5″ inches from bottom of hood to bottom of cowl. This should be 4 rounds of Double Crochet stitches. When you are finishing your final round, make a half double crochet, then a single crochet, then a slip stitch (This is so you don't have a big "step" where the double crochet ended). Tie off, weave in ends.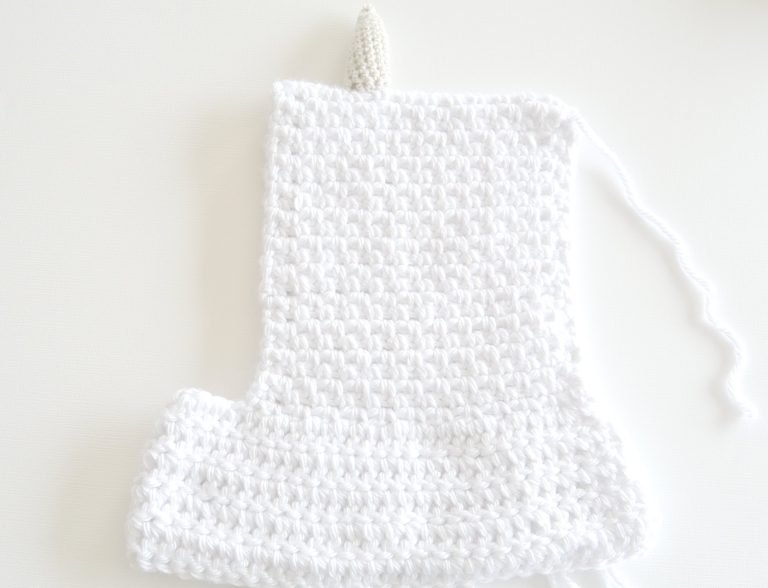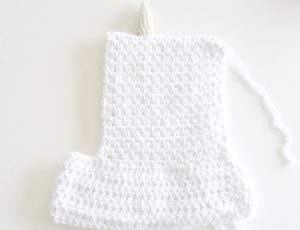 Ears:
With your size H Crochet Hook and Super Bulky Yarn, chain 7
Row 1 Sc across
Row 2 and until piece measures approximately 2.5″ inches long, repeat row 1 ( in other words, single crochet the entire piece)
Once piece is 2.5″ long, you will work the decrease rows
Decrease Row 1 – Sc 2 together, sc 2, sc 2 together, ch 1, turn
Decrease Row 2 – Sc 2 together, sc 2, sc 2 together, tie off, weave in ends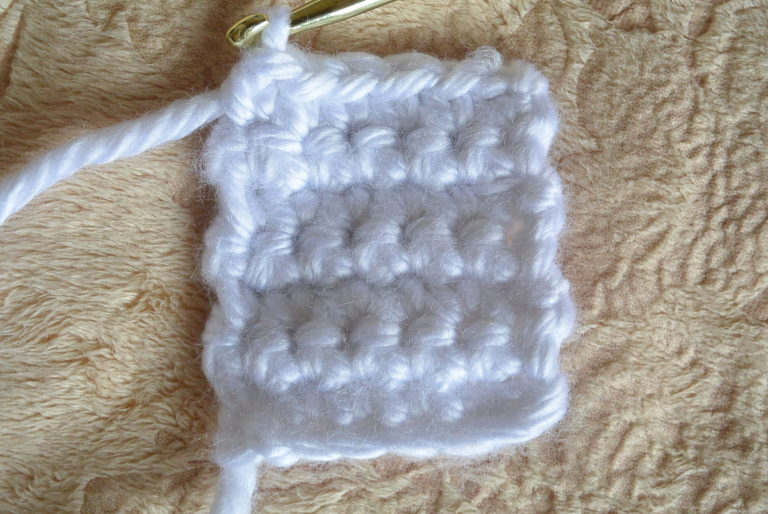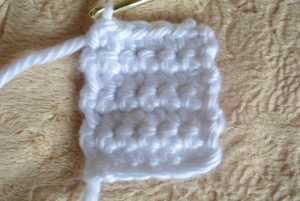 Attach Ears:
Pinch the bottom portion of the ear, and place it 3″ inches back from front of hood, and 2″ down from center.
With your tapestry needle and length of yarn, whip stitch ear to the hood. Tie off, weave in ends.
Repeat this on the opposite side of hood for the second ear.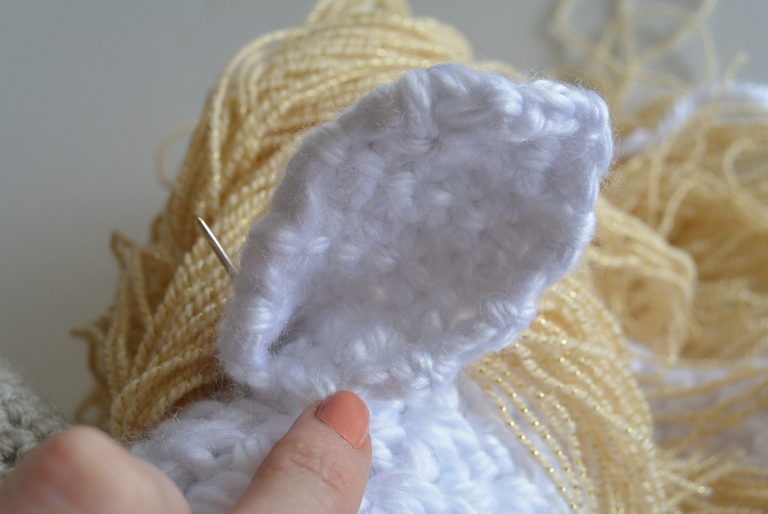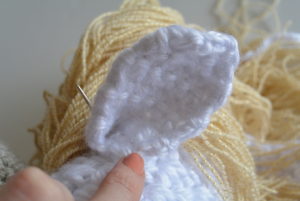 Horn:
With your Size G Crochet Hook and Worsted Weight yarn, Chain 12, slip stitch to join.
Sc in the round until you have a tube or piece that measures 2 inches tall. Next you will make a decrease round.
Decrease Round 1 – Sc 2 together, sc around.
Sc approximately 2 more rounds.
Sc 2 together all the way around. Continue to Sc 2 together until top is closed.Tie off. Stuff with polyfil. Pull ends through the horn to weave them in.
Attach Horn:
Attach horn with a whip stitch, using your tapestry needle, in center of hood, 2.5″ back from front of hood.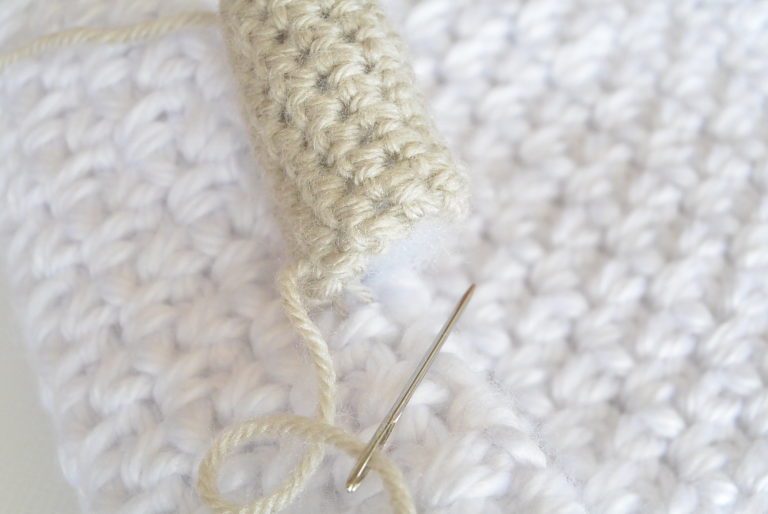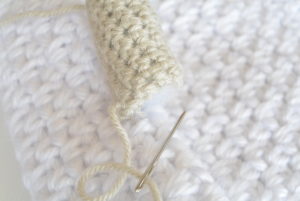 Make Drawstring:
Cut a length of super bulky yarn approximately 3 feet or 36″ long. Attach with tapestry needle, and pull through front center of cowl. Weave in and out of every other stitch around the front of the hood (where the face will be), working your way around hood and cowl. THIS STRING DOESN'T GO AROUND THE NECK. It is to go around the face of the hood. Bring the end through the front of cowl. Attach pom poms. (Use a pom maker or see my "how to make a pom" HERE on my blog). This step is important because it really helps hold the hood on and you can adjust it to show more or less of the face.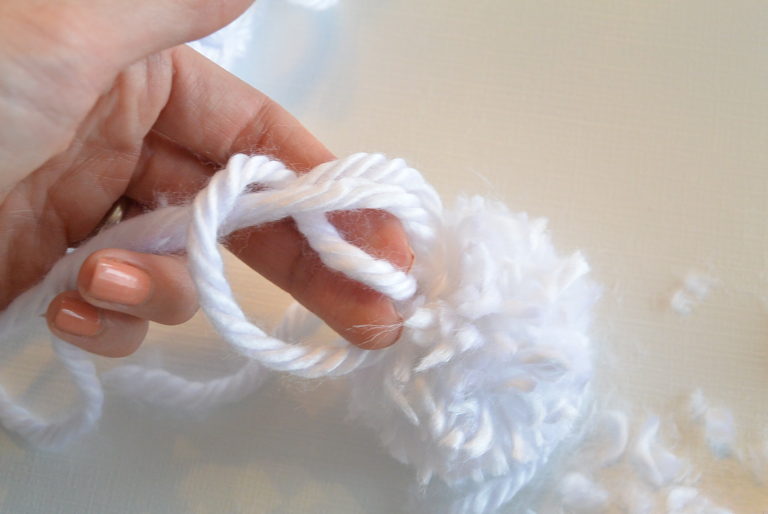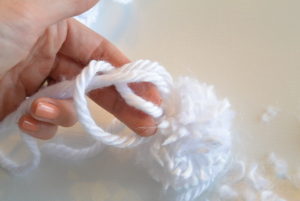 The Mane (Hair)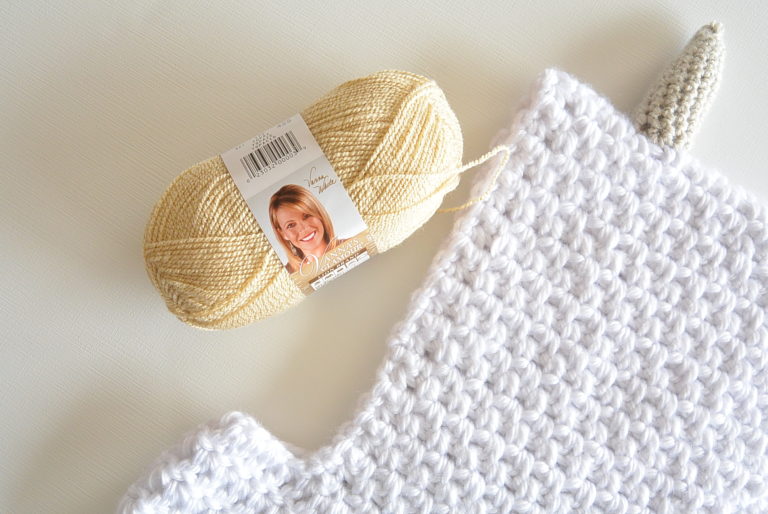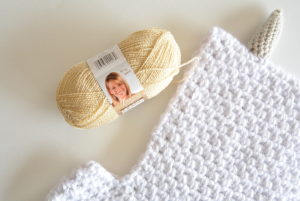 I attached the mane just as I'd attach tassels to any project. Cut lengths of yarn 14″ inches long. Take three pieces at a time, fold them in half together. With your hook, draw the half through a stitch at top of hood, then crochet or pull through ends. Pull tightly to secure. See picture tutorial below: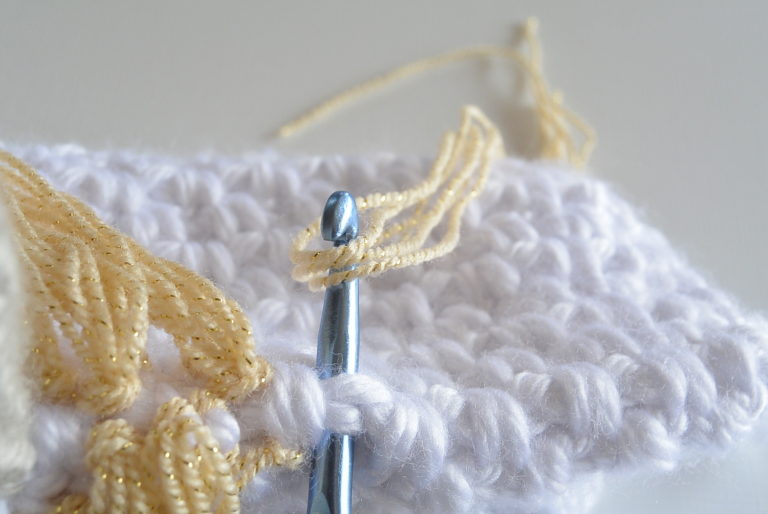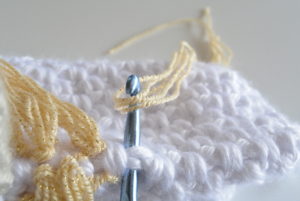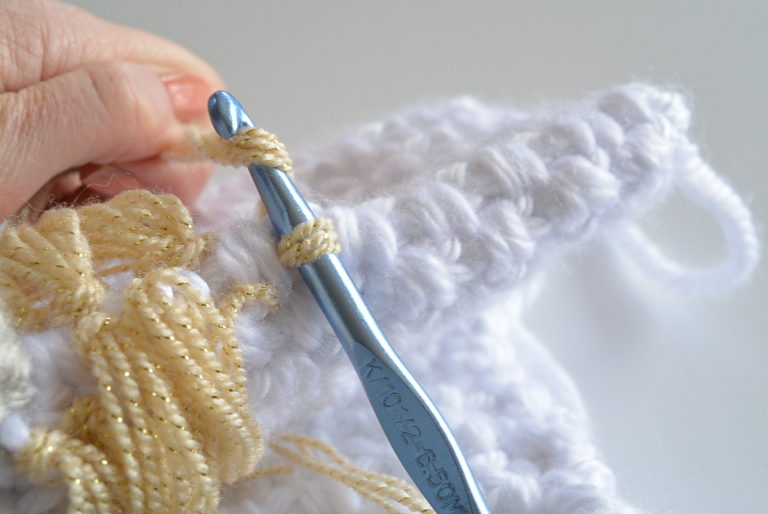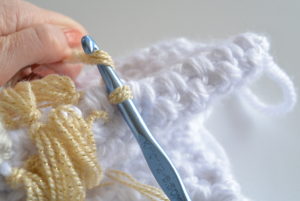 I also took my scrap worsted weight yarn in my daughter's favorite colors and pull it apart, or split it. This makes it thinner and less "yarn like" and more "hair like".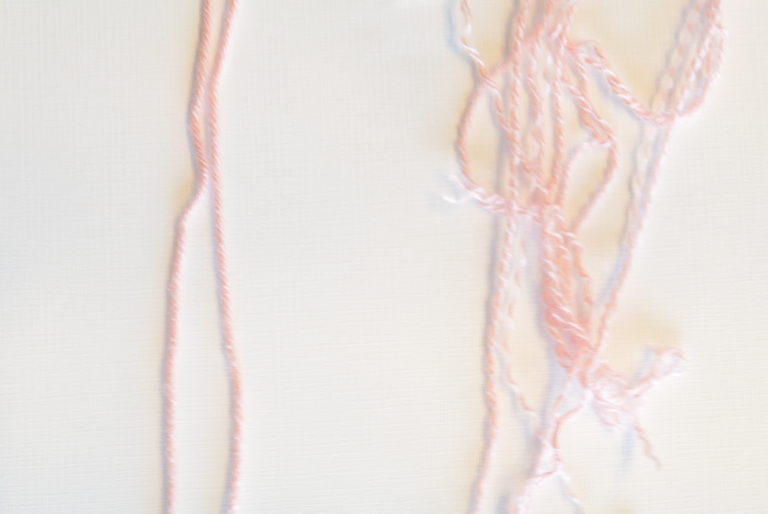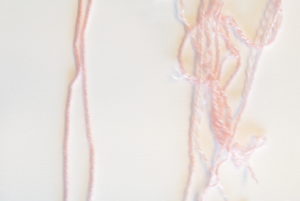 Add as much as you like all along the top of the hood, and even down the center back. I found that the more I added, the more I liked it.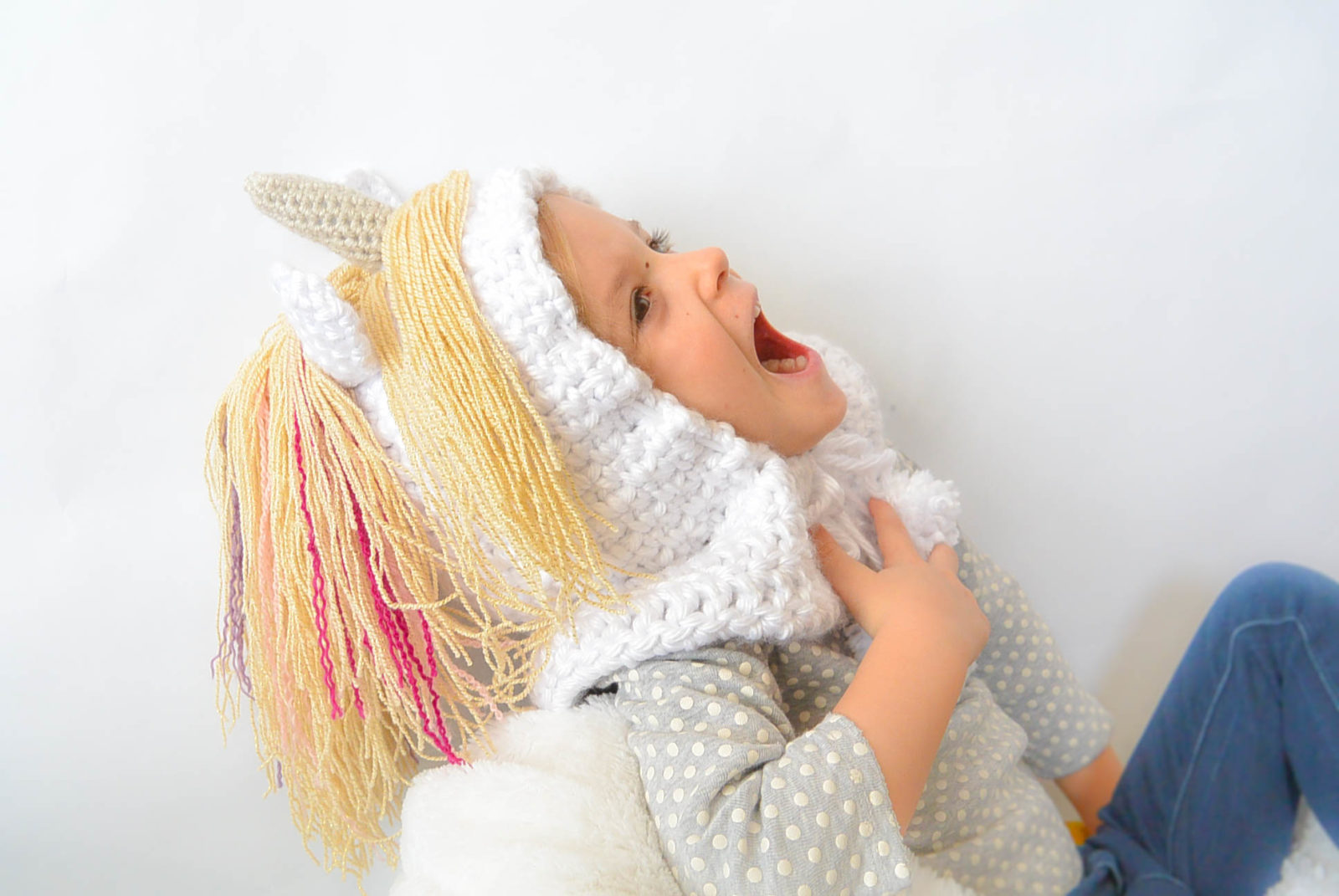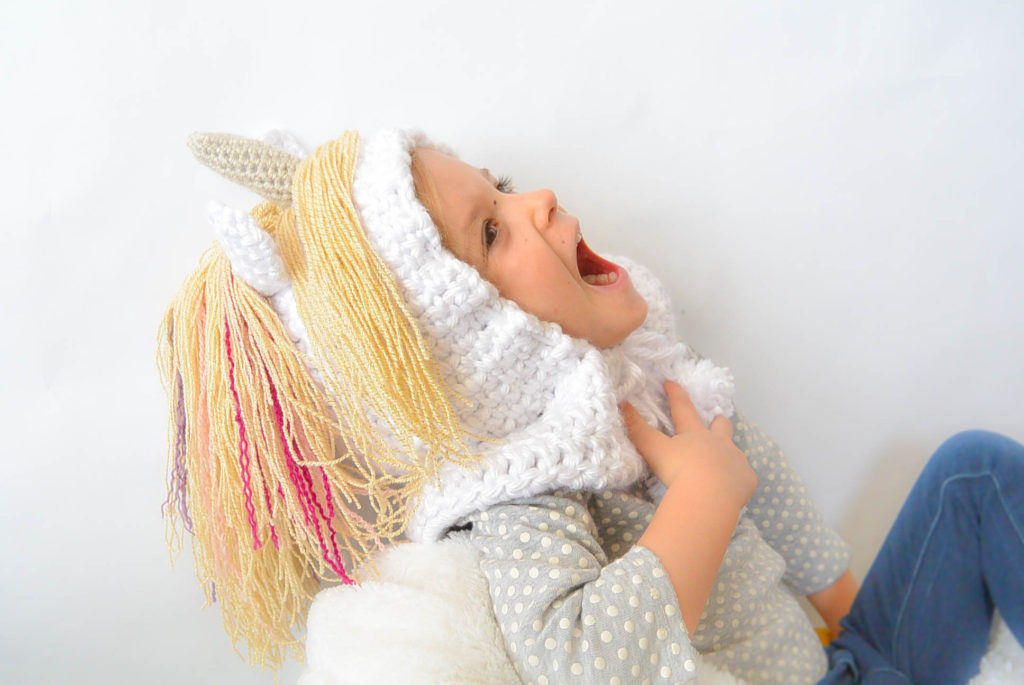 There you have your magical little crocheted unicorn hood!
I hope your little unicorn enjoys this as much as mine. 🙂