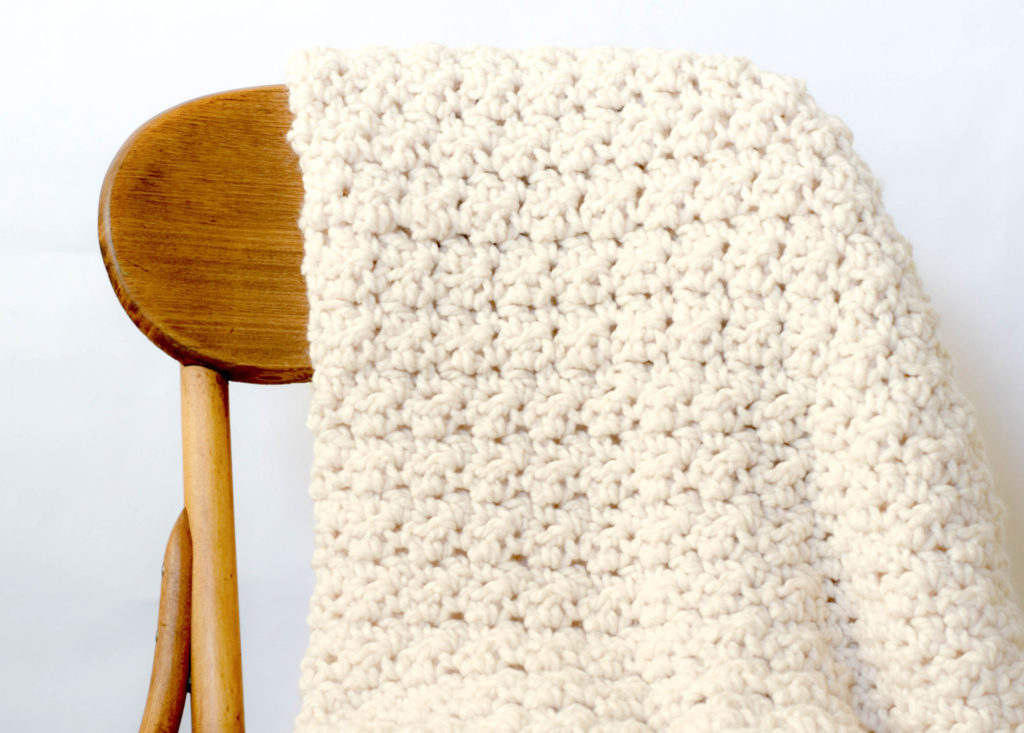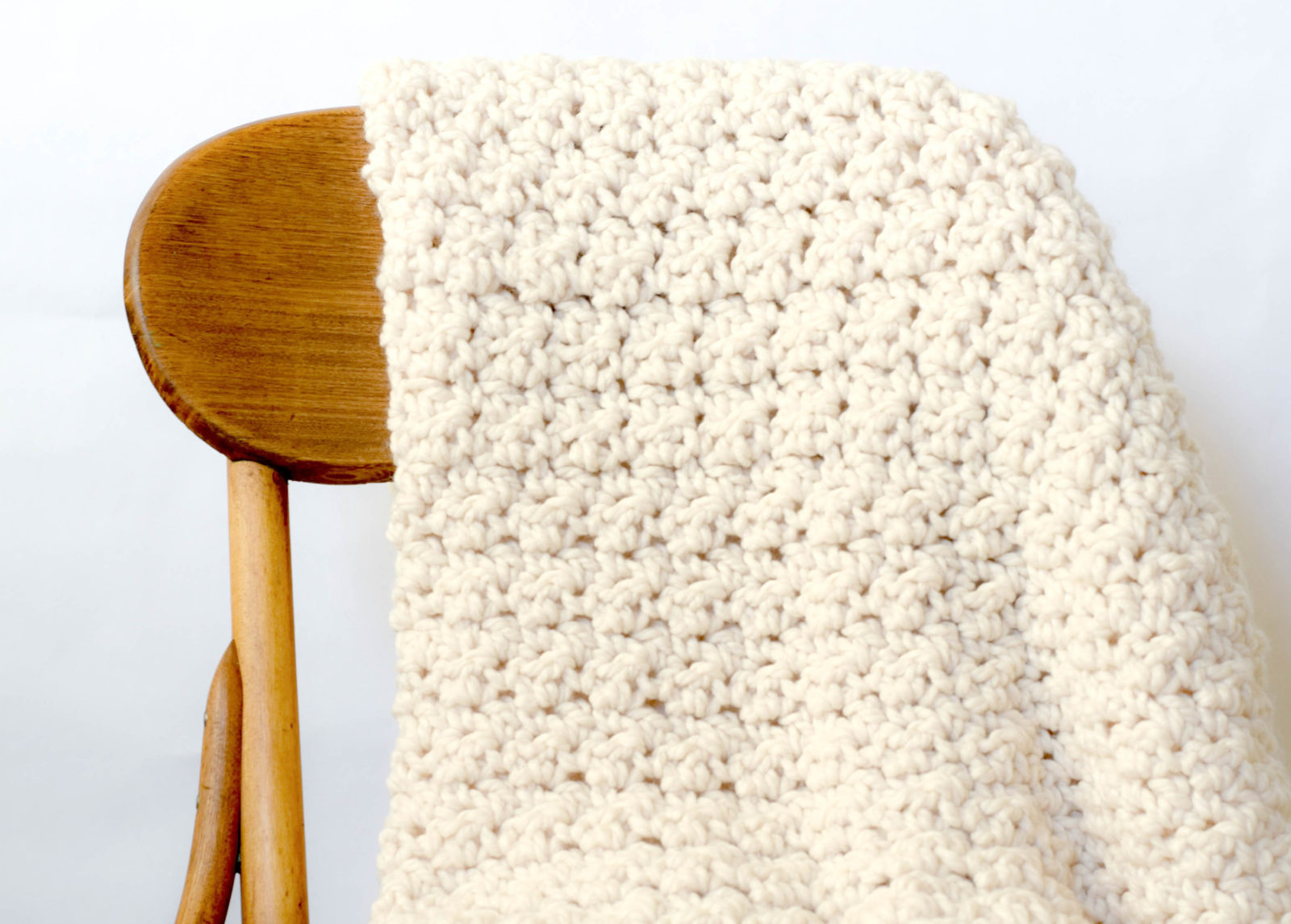 Hello friends! You may not expect me to post a super chunky, wool crocheted blanket in the middle of summer. I didn't even expect to post wool blanket in the middle of summer! After seeing so many "Christmas in July" projects lately though,  I couldn't resist. Working on this project outdoors in 90 degree weather was a bit rough the other day, but it was worth it. 🙂
It had to be named the "Icelandic" because the color reminds me of winter white, and the blanket is warm enough for the coldest of days.  The texture is so incredibly cozy and it is one of the easiest stitches I've ever done.  You literally alternate single and double crochet stitches, so if you are a beginner, this is completely doable. By using a slightly larger hook than what the yarn calls for, it came out with a really nice drape and emphasized the chunky, bubbly texture.  I didn't know what stitch this was until someone on Instagram mentioned that it is called the "Lemon Peel".  I went ahead and looked it up on YouTube and indeed, this blanket is done completely in the lemon peel stitch. Just love it!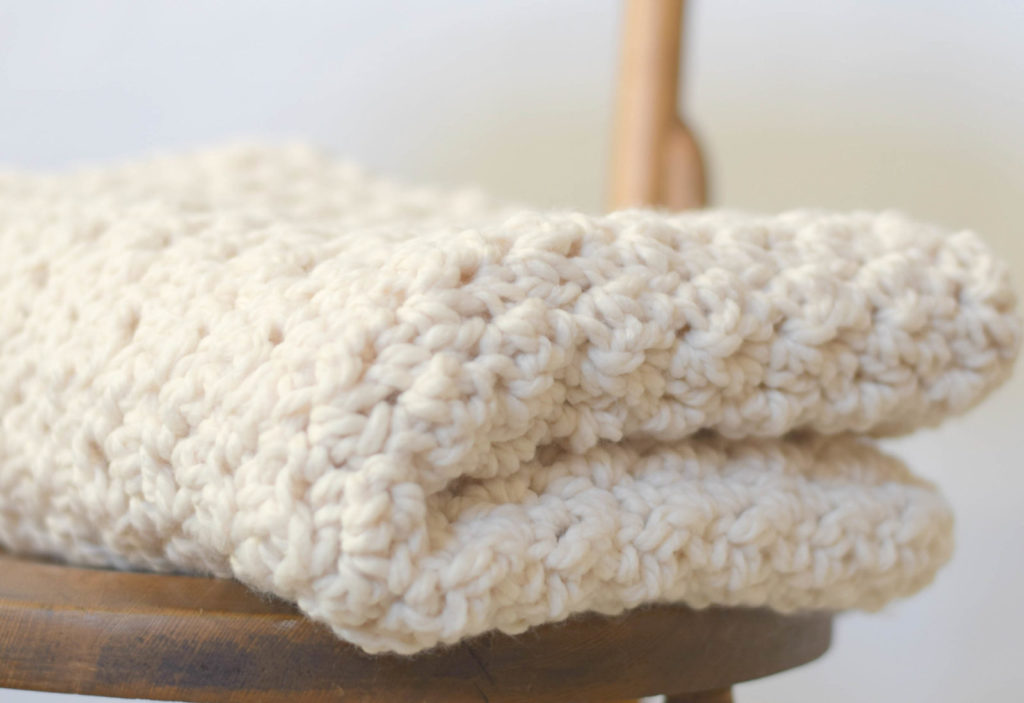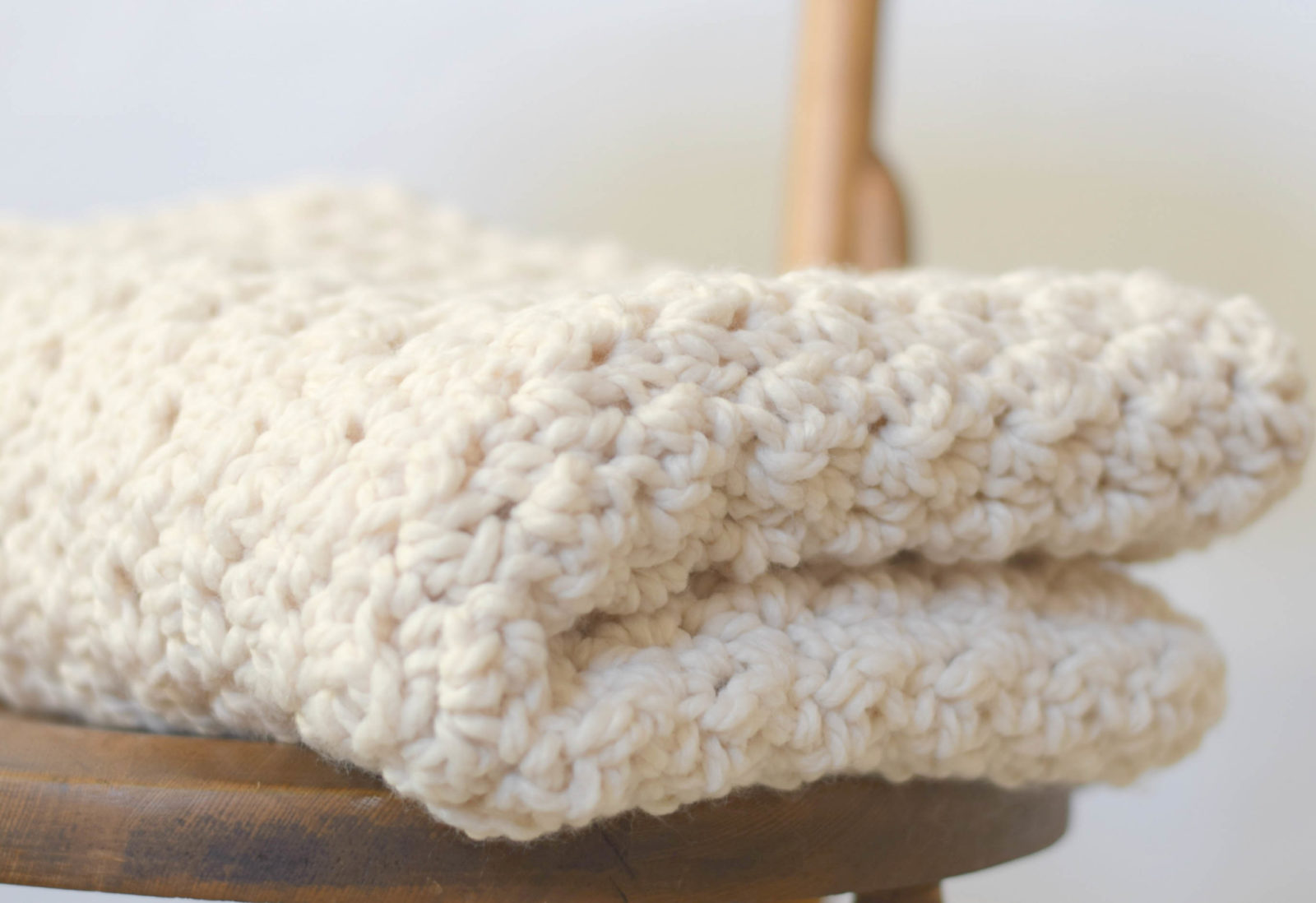 I keep seeing really cool projects and ideas for "Christmas in July" and realized this is actually a great idea.  First of all, I love Christmas, and if there's a reason to talk Christmas, I'm in. Yes, I'm that annoying person that loves seeing Christmas in the stores come October.  Second, the truth is, if I want to make some Christmas presents this year, I best get started NOW.  So here's my version of the whole Christmas in July thing as I share this blanket with you. 🙂 Hope you enjoy!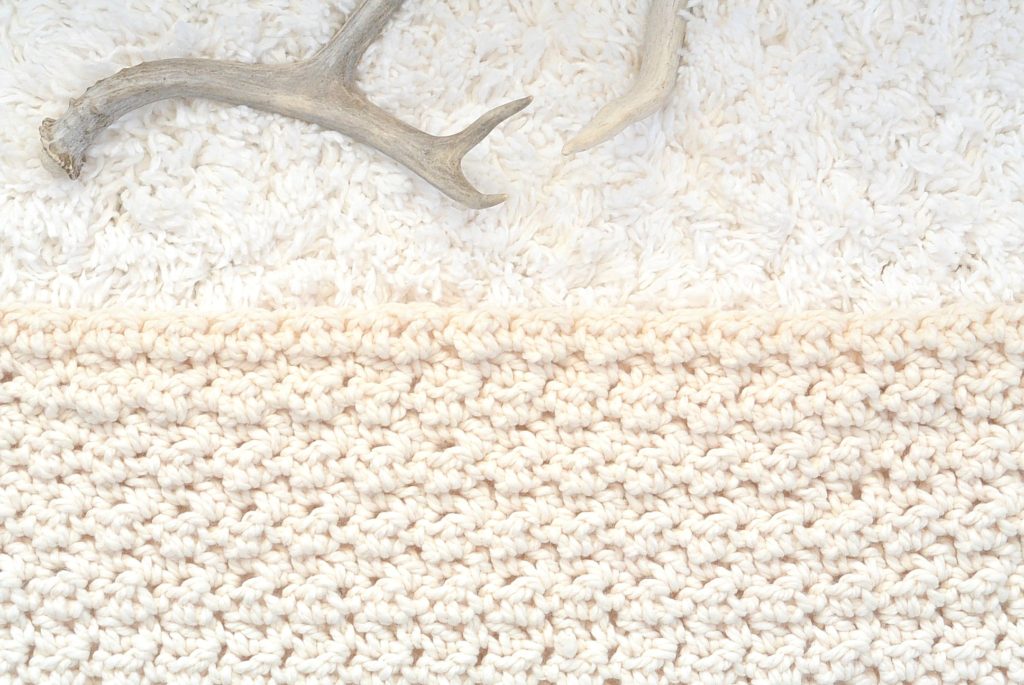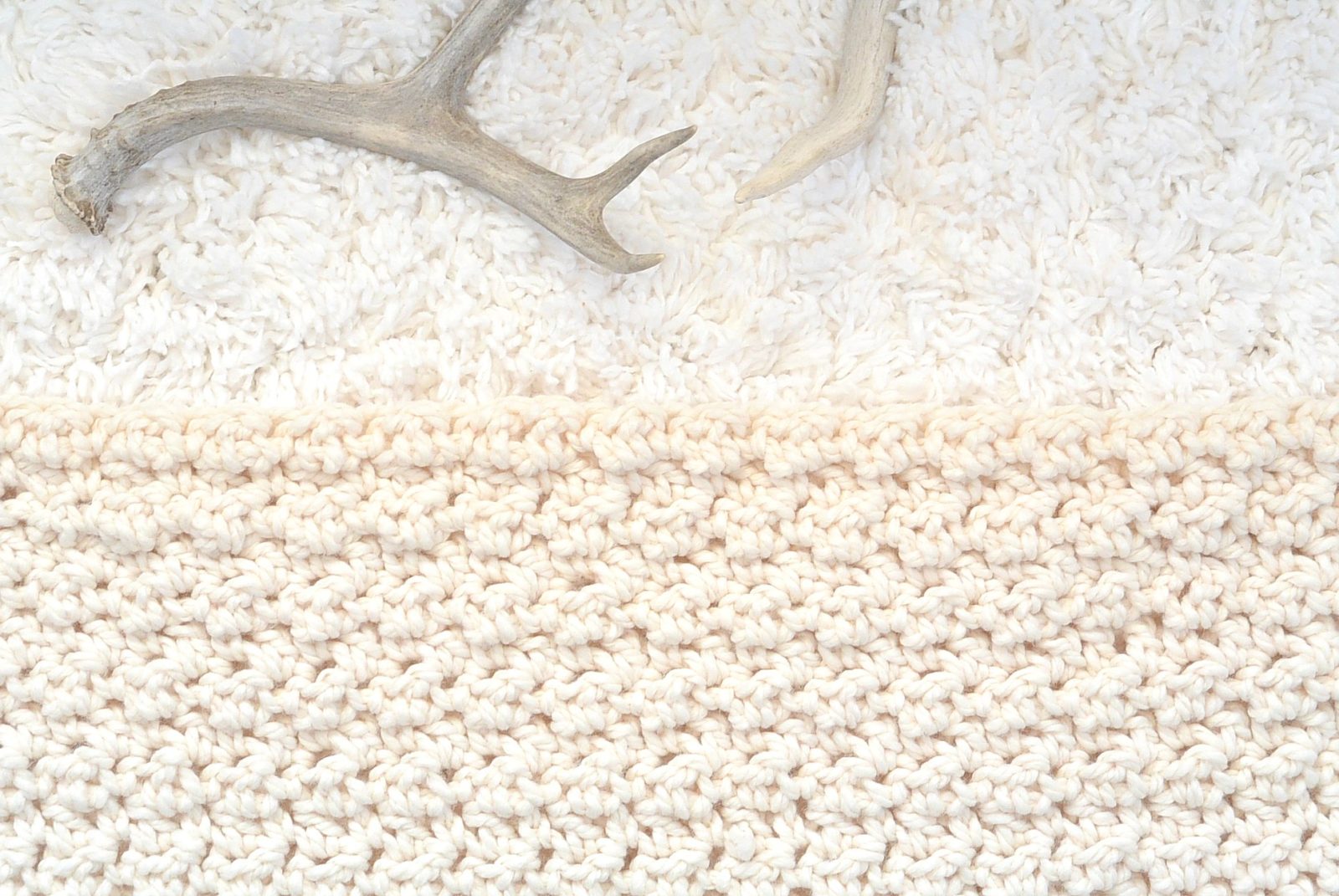 Notes:
This blanket is 36″ x 40″ making it a nice, small lapghan or toddler size blanket.  I have been into the lapghan thing lately because I think it's a nice size for a small space, however, I plan to continue working on this blanket to make it a larger throw.  You can make this blanket as big or small as you'd like though. As far as I can tell, if you chain an even number of stitches, you can simply adjust the length of your chain to a smaller or larger size. Then follow the pattern and crochet to your heart's desire.
Gauge: Approximately 6 stitches and 6 rows per 4 inches
I've made a convenient Blanket Sizing reference page that you can see HERE so you know how long to make your initial chain depending on the blanket that you want.
Obviously, for a full afghan you will need to buy more yarn!
Scroll down for the free pattern or….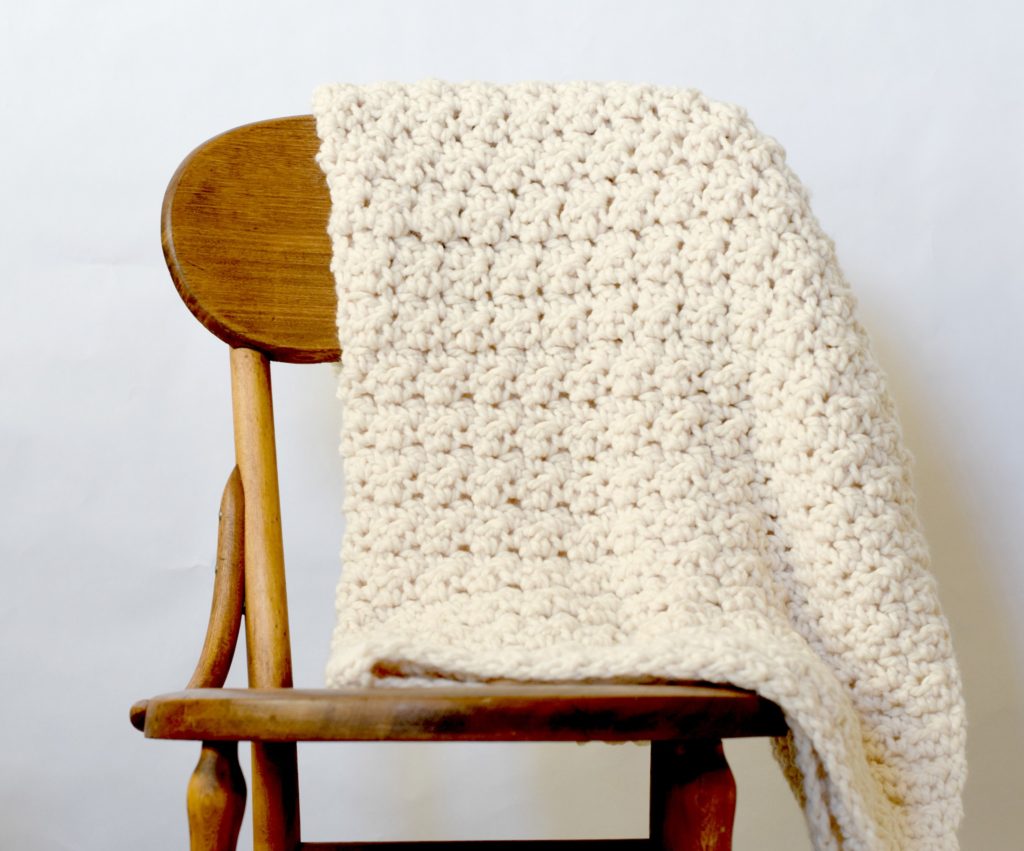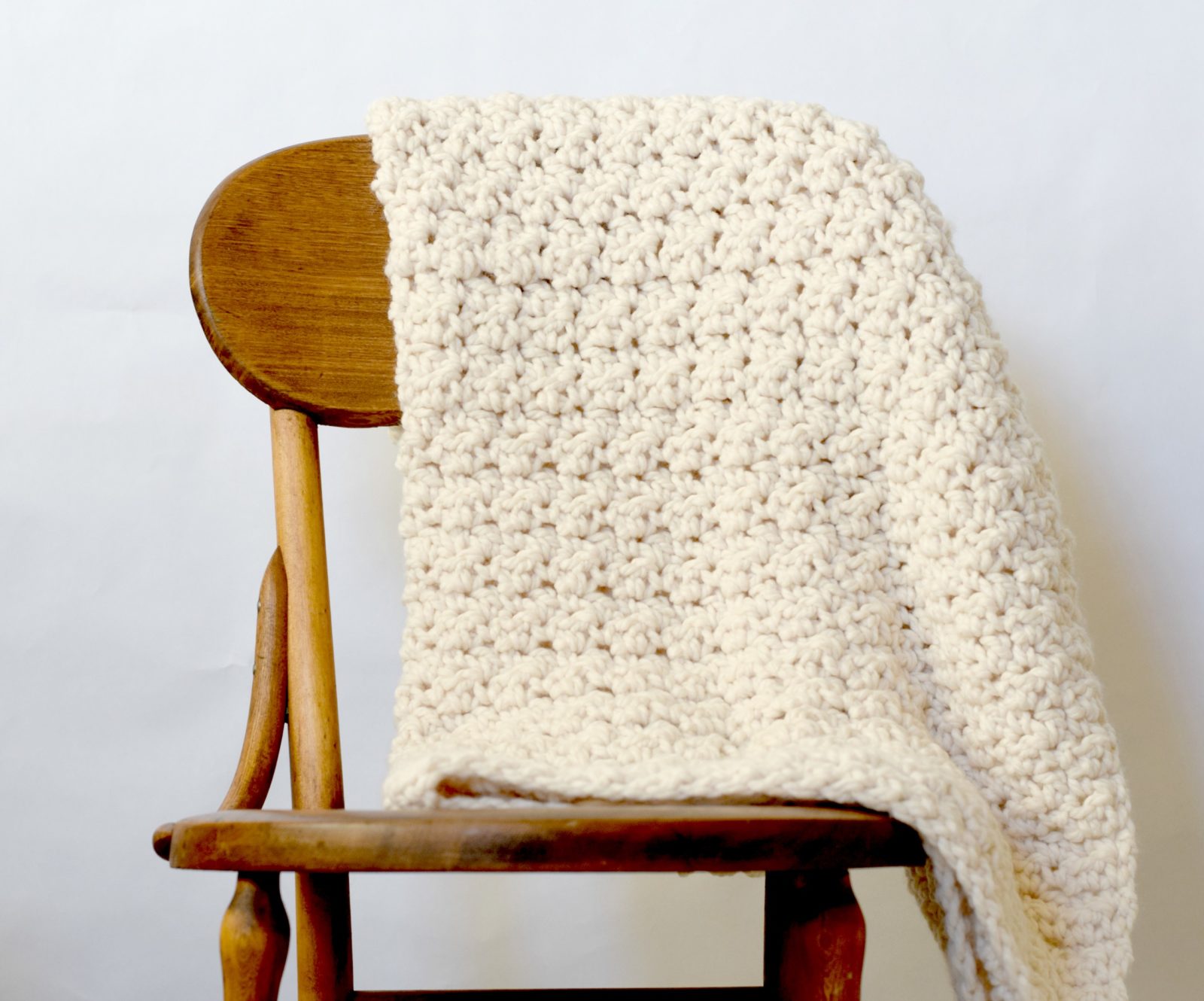 You will need:
US Size P 11.5 mm Crochet Hook
6 skeins of Lion Brand Wool Ease Thick N' Quick in Fisherman or comparable super chunky yarn
Scissors
Tapestry Needle to weave in ends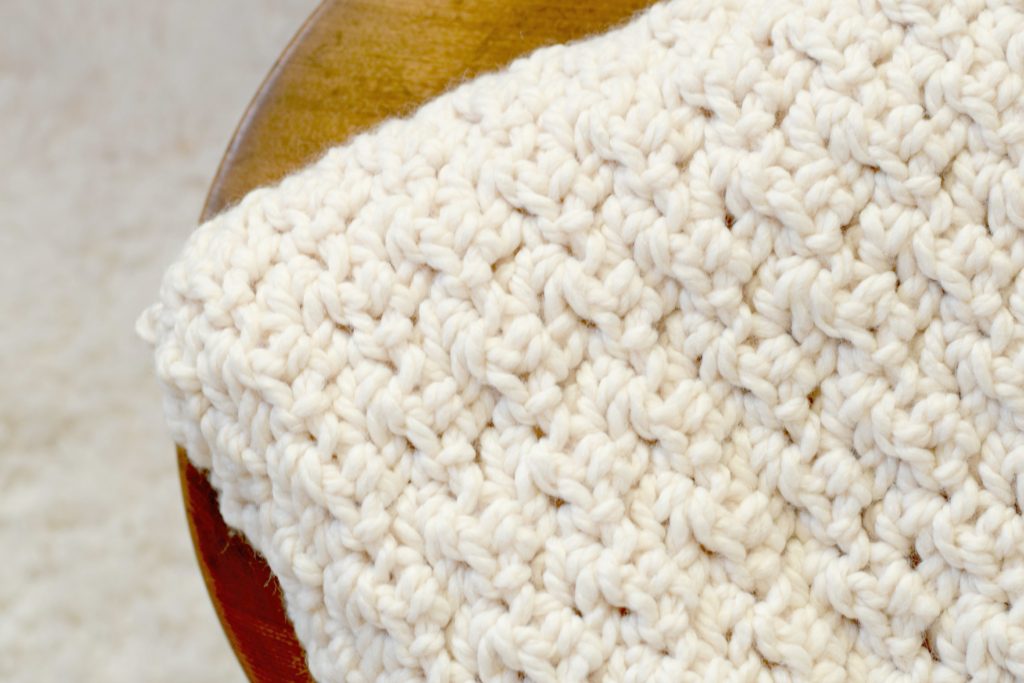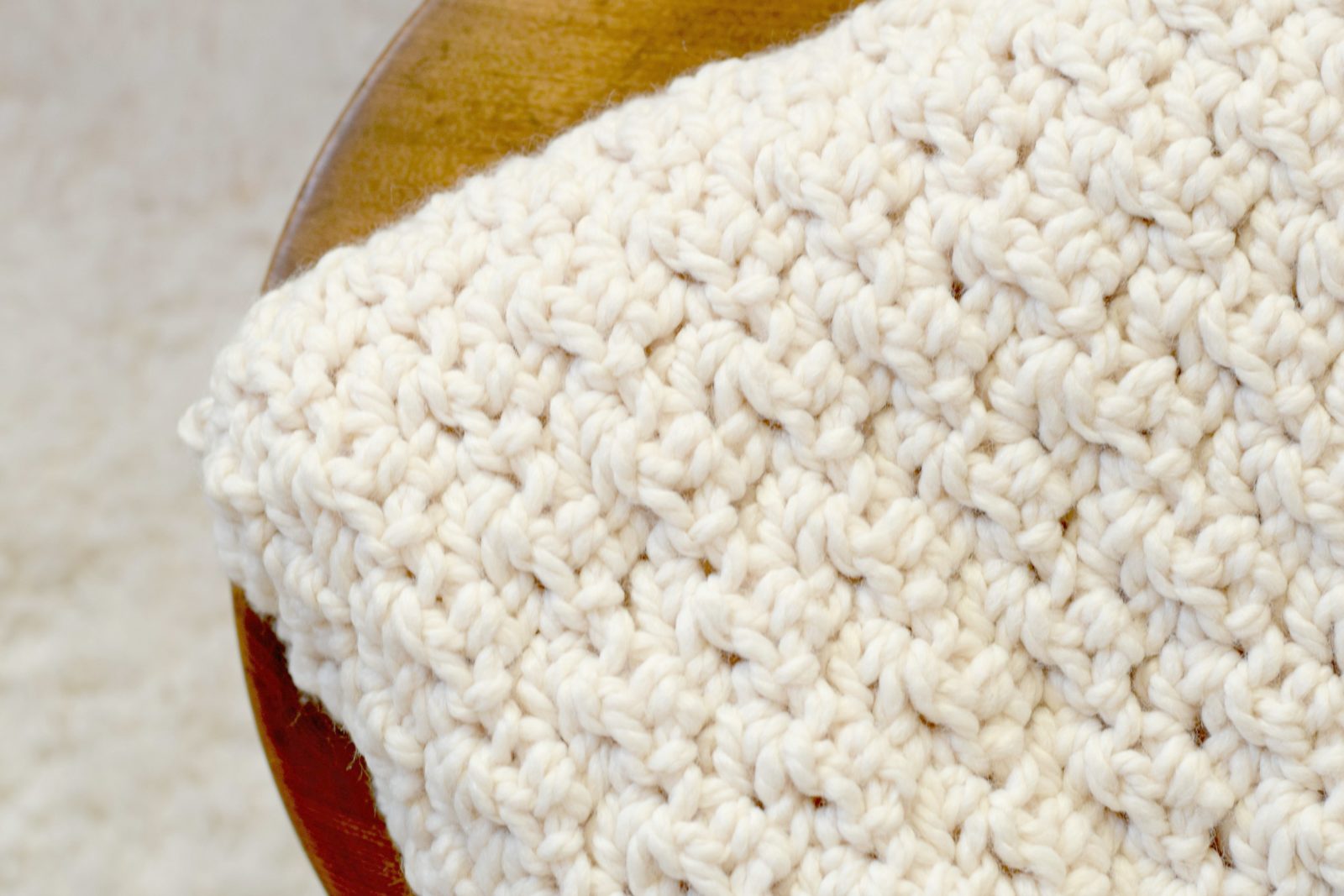 Chunky Cozy Crochet Blanket Pattern:
Chain 58
Row 1 Sc in 2nd ch from hook, sc in each st across, ch 1 turn
Row 2 Sc in 1st 2 stitches, *dc in next stitch, sc in next stitch. Repeat from * across. Sc in last stitch, ch 1, turn.
Row 3 Sc in 1st  stitch, *dc in next stitch, sc in next stitch. Repeat from * across row, ch 1, turn.
Row 4 – Repeat rows 2 & 3 until your blanket reaches approximately 36″ wide (or until desired length)
Here it is in pictures:
I think this would make a wonderful and thoughtful Christmas gift for just about anyone.  It would be really cute to add some pom poms to the corner to make it more playful. You could even add some tassels if you'd like.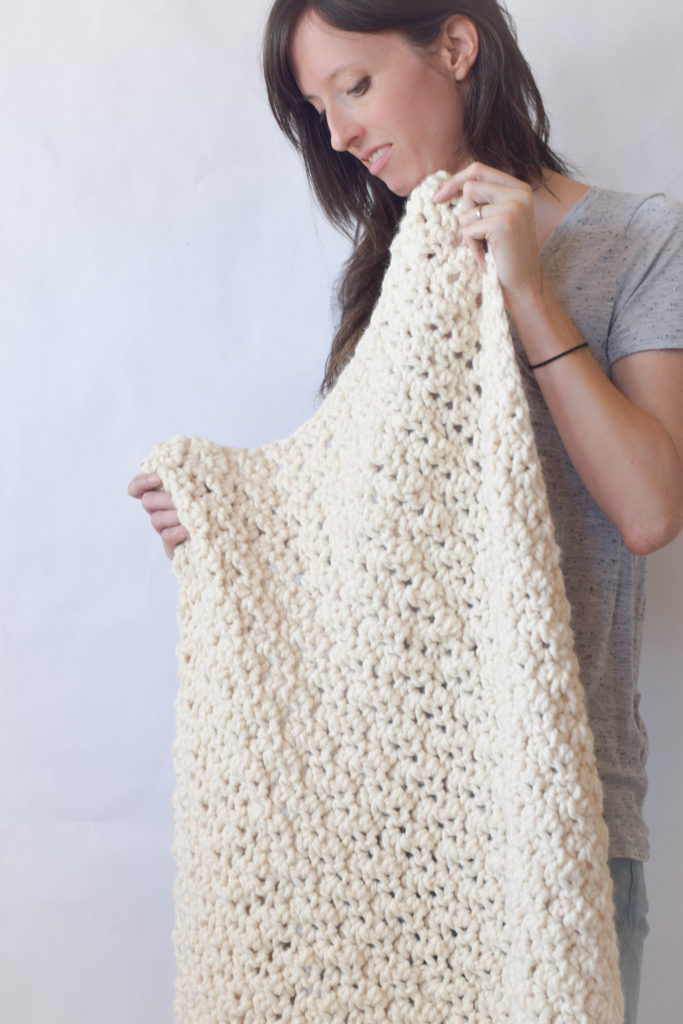 Let me know if you think you might make one! Feel free to share your pictures with me on Facebook or Instragram and tag me @mamainastitch!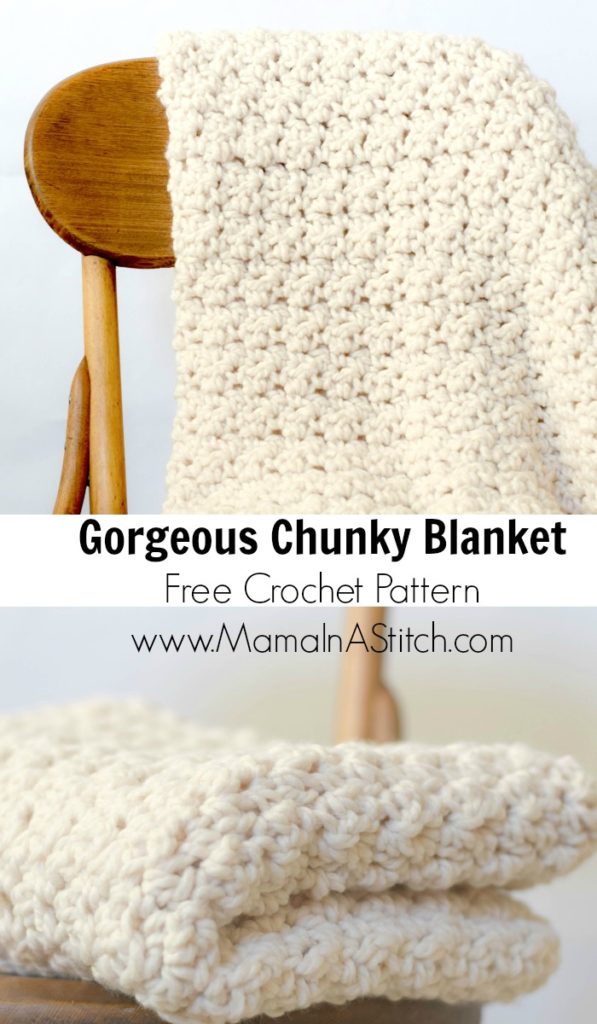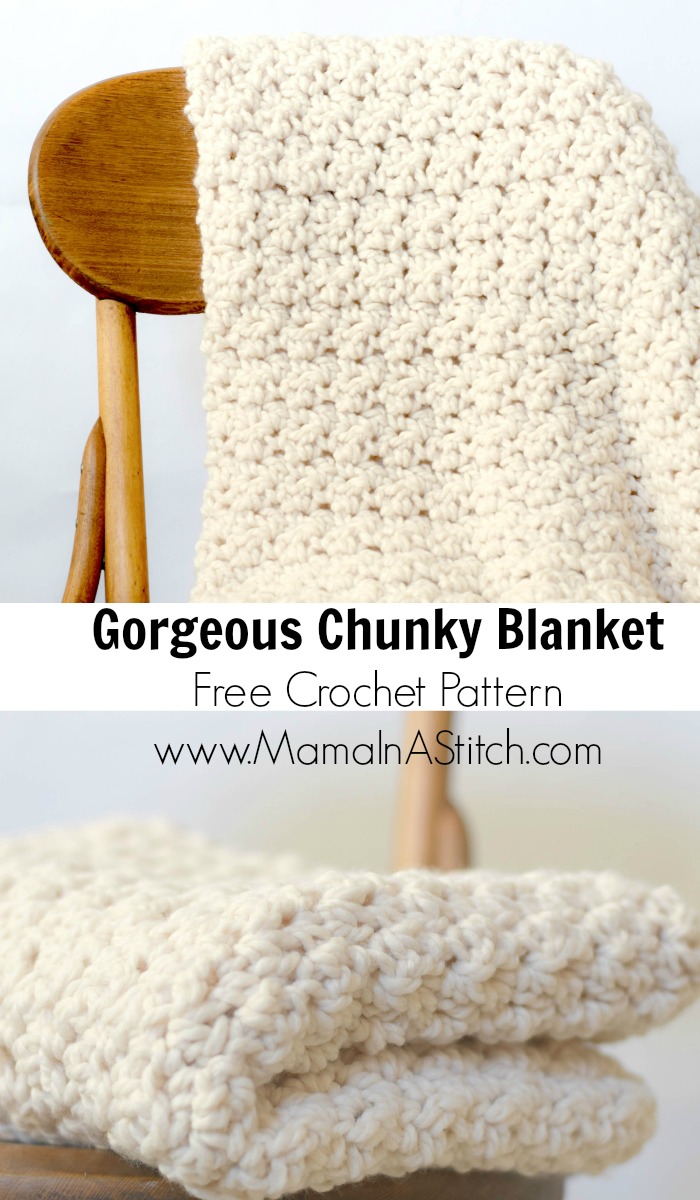 Some of you have told me that you work on Christmas gifts through the summer. I always love to hear about what you're making. Feel free to let us all know in the comments below so we can get some inspiration from YOU!
XO
Jessica