Done In A Day Quick Shrug Crochet Pattern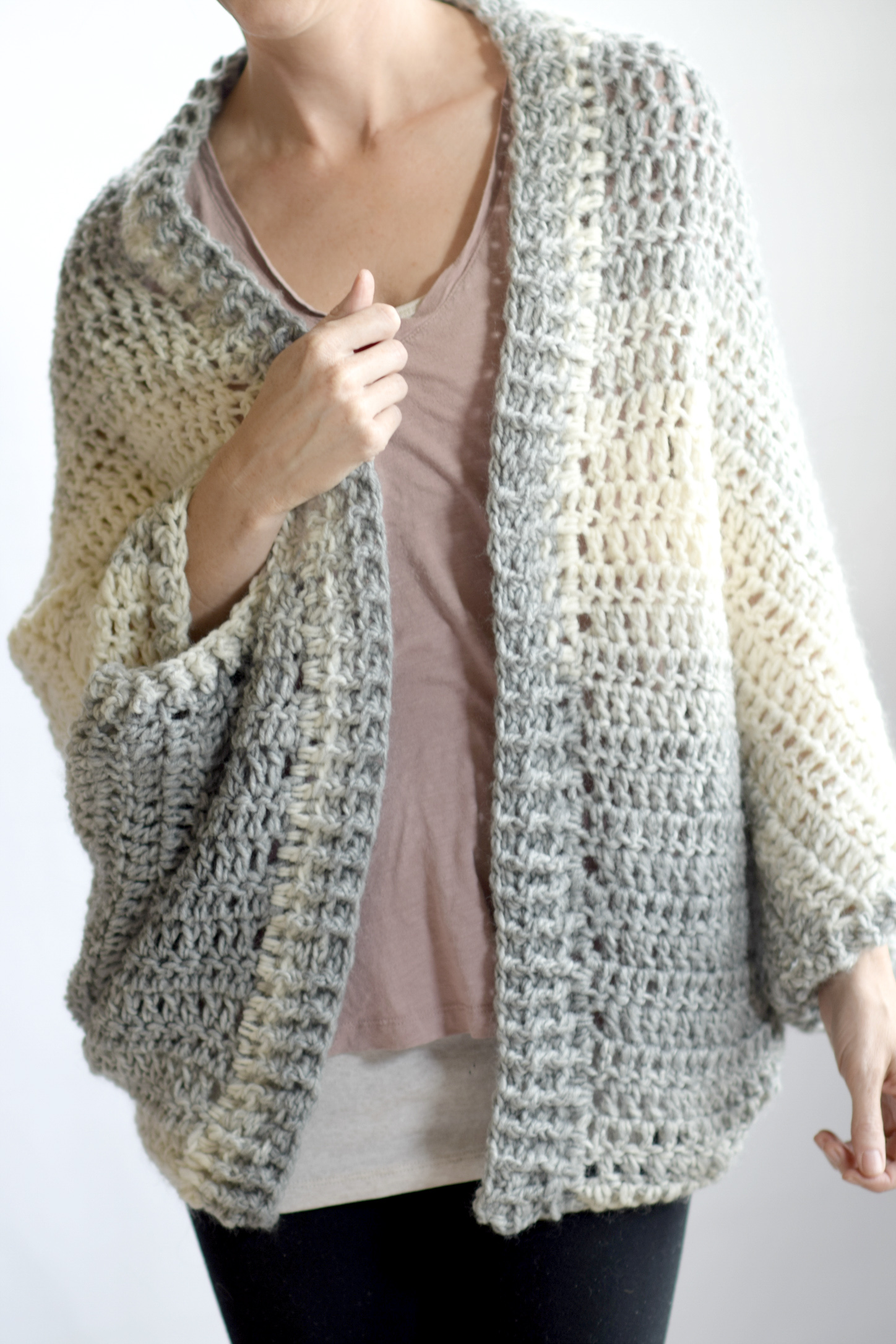 Quick projects will most likely always have my heart. This "Done In A Day" shrug crochet project is a good example of that as it's very fast to make. And yes, you can crochet this shrug in one day! Currently, there's a big blanket on my hook, and blankets take time. It was nice to break things up and make something fast to keep my brain going (and who has only one crochet project going at a time anyway?) 🙂 This shrug is good for those times when you want instant gratification but you also want to make something pretty and useful. I also love it because chunky sweaters are still all the rage and this is super comfy. With double crochet stitches and chunky Scarfie yarn, you can make this in no time.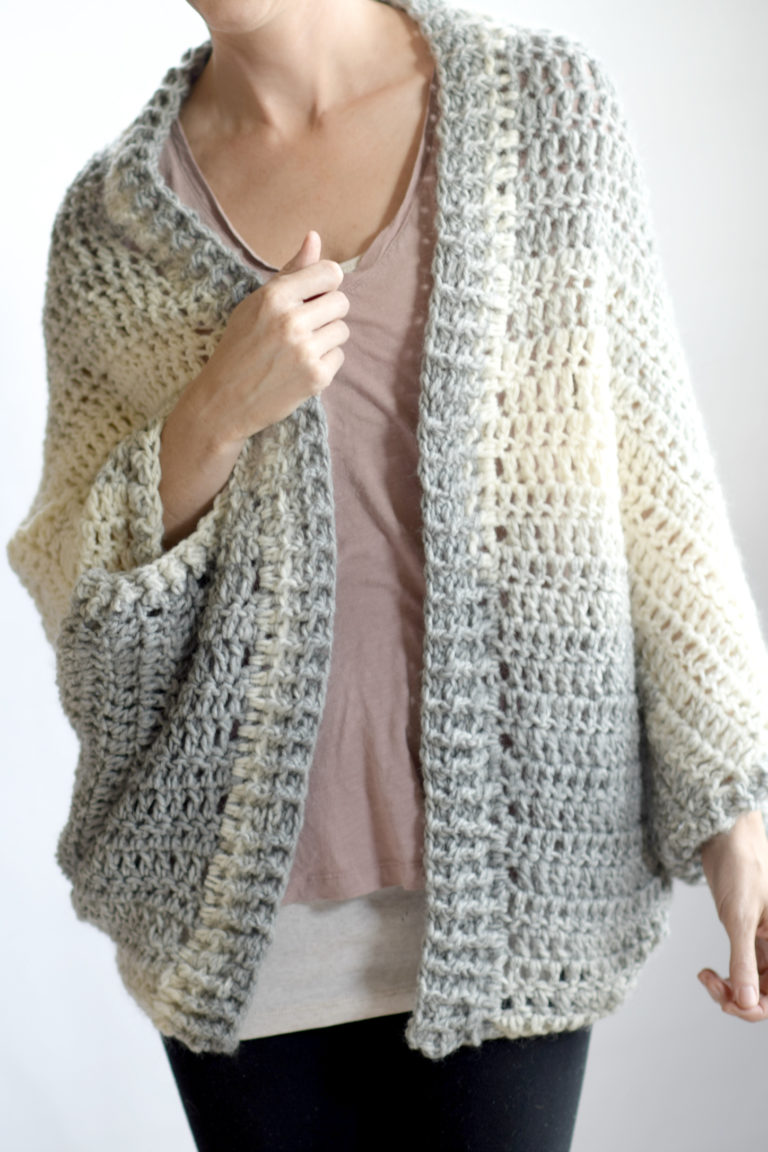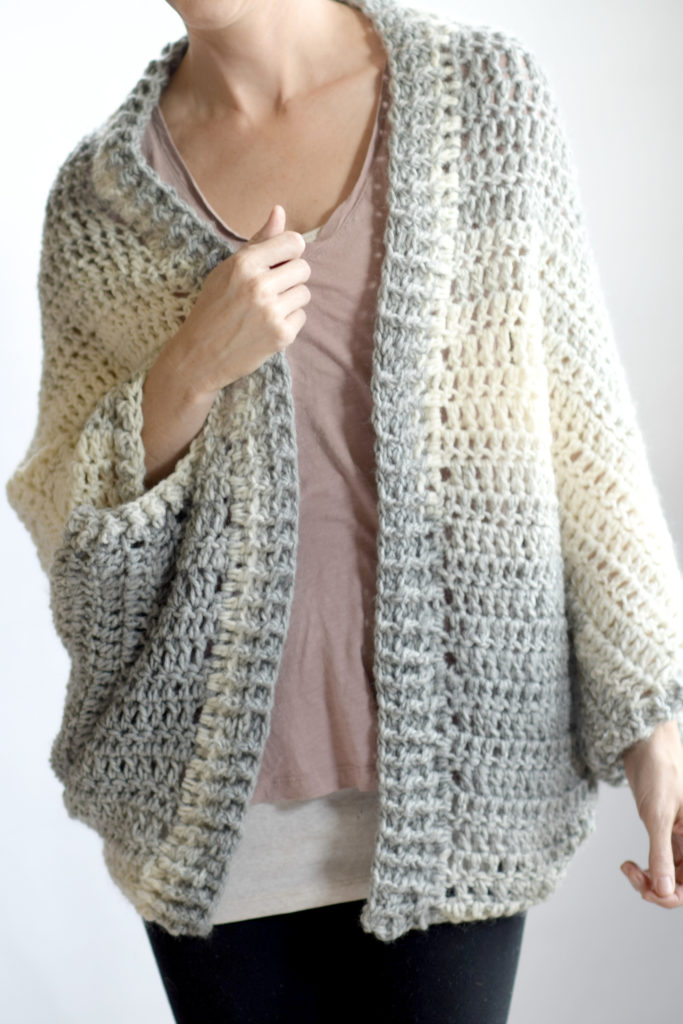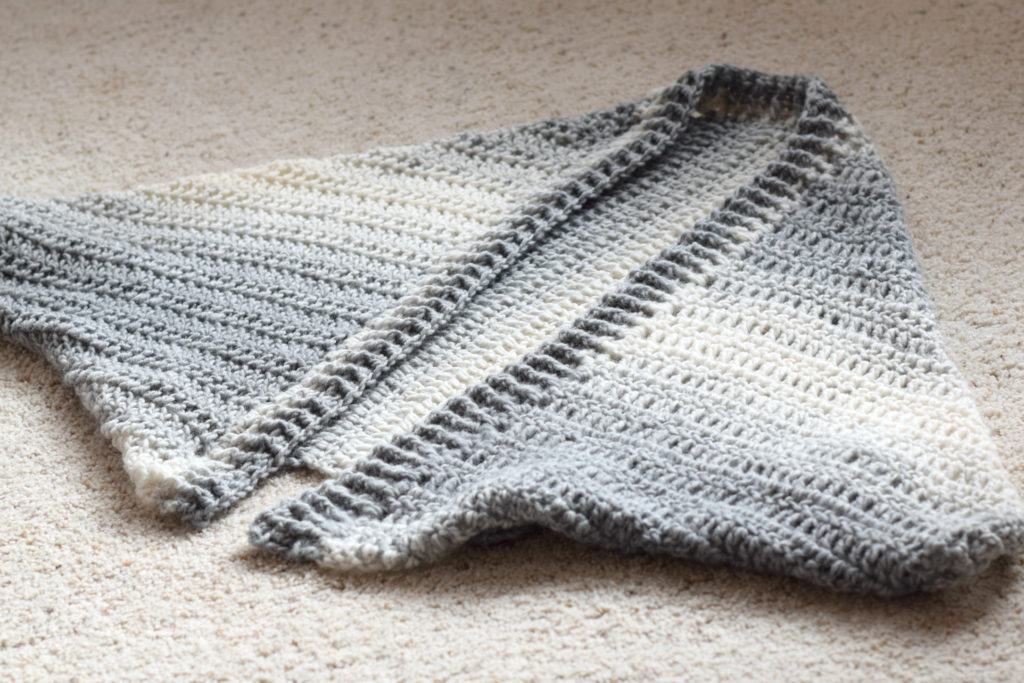 As you'll see, this piece is essentially a big scarf or rectangle shawl that is folded and seamed to wear as a shrug. I can't tell you how many times I've stood in front of the mirror with a rectangular shawl saying "How can I wrap and seam this to make it work like a shrug?" Well, hear ya go! It's different than my blanket sweaters and I actually think the fit is a bit more comfortable as I don't see the need for a button in the front to hold it in place (as is the case with many blanket sweaters).
The inspiration for this shrug actually came from this knit Pre-Wrapped Wrap from Purl Soho. Their patterns are so gorgeous! If you're a knitter, there's your knit version. 😉 I love the clean look of knitting, but it takes more time for me than crochet. Because of this, I decided to come up with a similar crocheted project. So like I mentioned earlier, it's a wrap, turned shrug that uses basic double crochet stitches, which is a super fast stitch. When crocheting with basic stitches, I like to use a variegated or colorful yarn to add interest so this Scarfie worked out great.
The chunky yarn (here) and large hook also lend to the speediness of the shrug. So let's get to this easy "Done In A Day" cardigan, shrug, wrap, etc!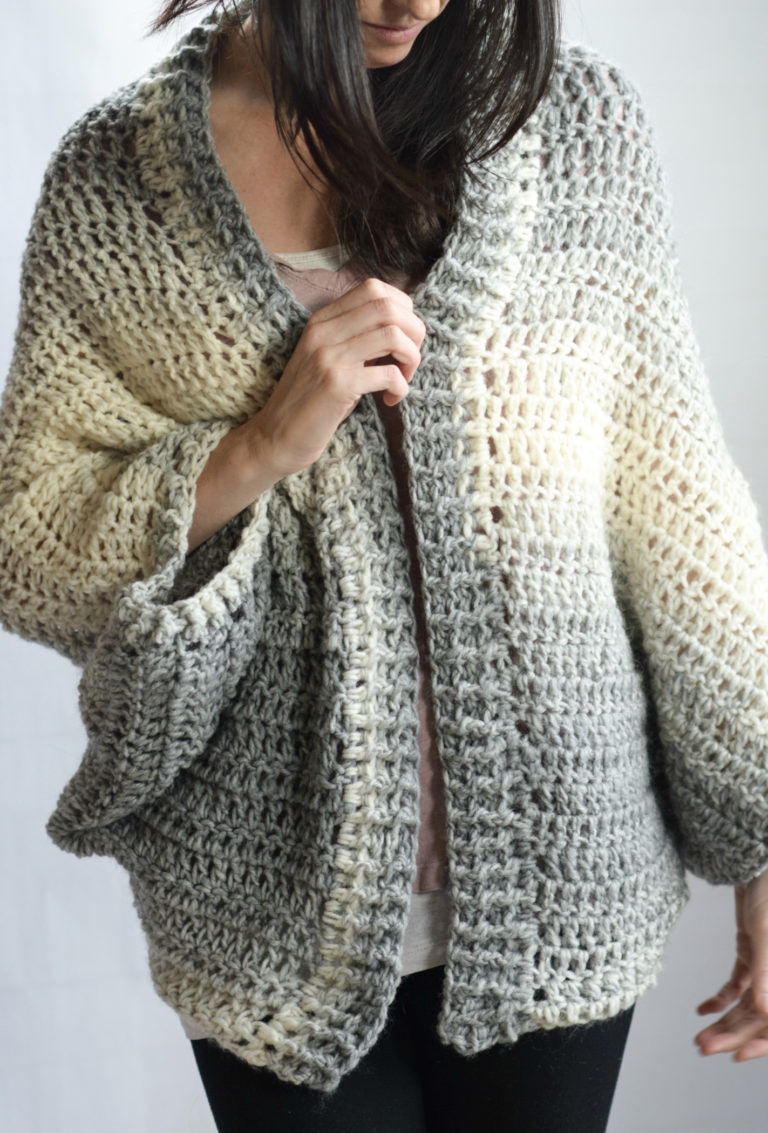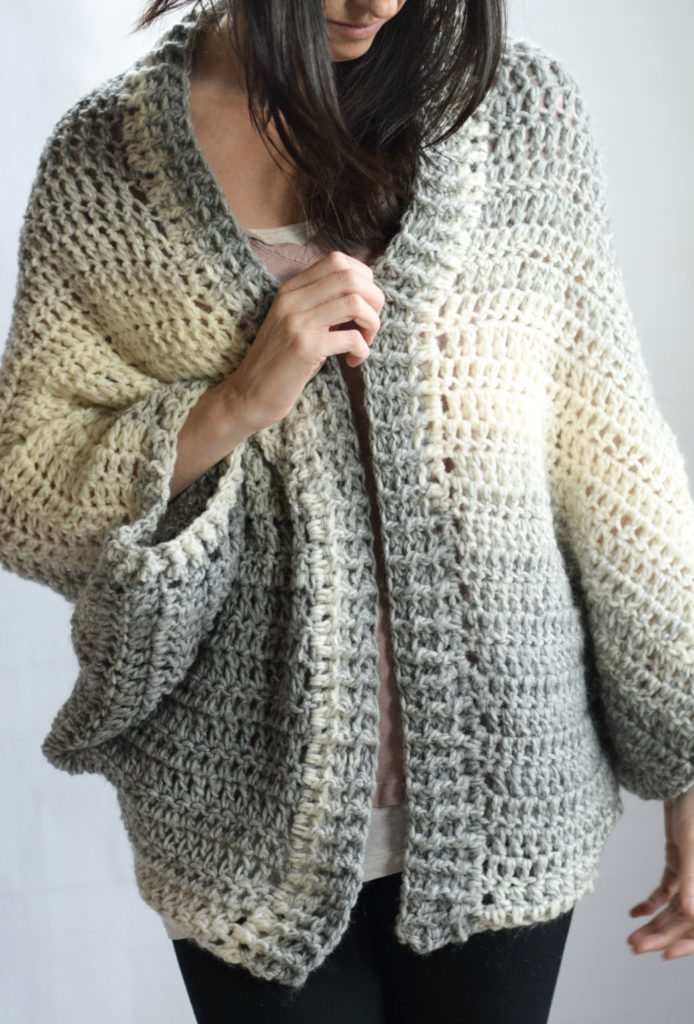 And you are right, I've used this yarn multiple times. It's a an ongoing yarn crush of mine apparently. You can see it in the Bonfire Crocheted Scarf Pattern and the Light Frost Blanket Sweater!
You will need:
3 skeins Lion Brand Yarn Scarfie (312 yards/skein) 150 g/skein Pattern uses approx 307 g
US Size L 8.0 mm crochet hook
Scissors
Tapestry Needle to weave in ends
Abbreviations and Skills
ch – chain
dc – double crochet
fpdc – front post double crochet (see how to do this stitch here)
bpdc- back post double crochet (see how to do it here)
Size:
One Size – this pattern is written as one size. Length is approx 27″ and bust circumference is about 44″.
It's pictured on me, a size small so the fit will vary on different sizes. 😉 You can easily make this larger by beginning with a longer chain (add a couple of stitches for each size up, and then crochet for longer (a couple extra inches for each size up). It's a forgiving shape in my opinion!
Done In A Day Shrug Pattern
Ch 39
Row 1 Dc in 3rd ch from hook and each st across the row (37)
Row 2, Ch 3 (counts as dc), turn, dc in each st across the row (37) (Note: after a couple of rows measure your piece – it should be at least 18″ wide. You can adjust the length of your original chain if needed to make it wider – any number of chains will work in this pattern)
Repeat row 2 until piece measures approximately 22″ or for approximately 28 rows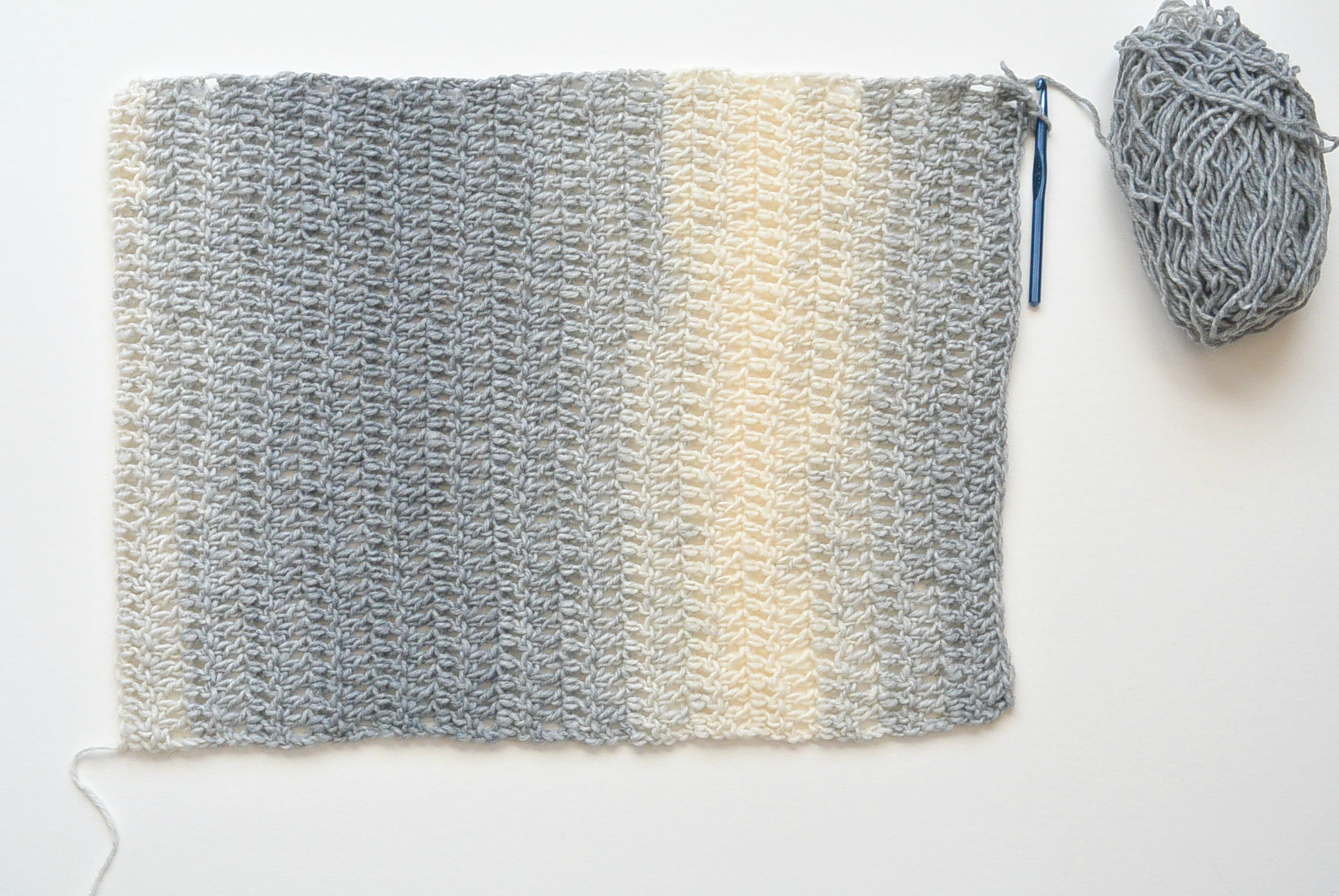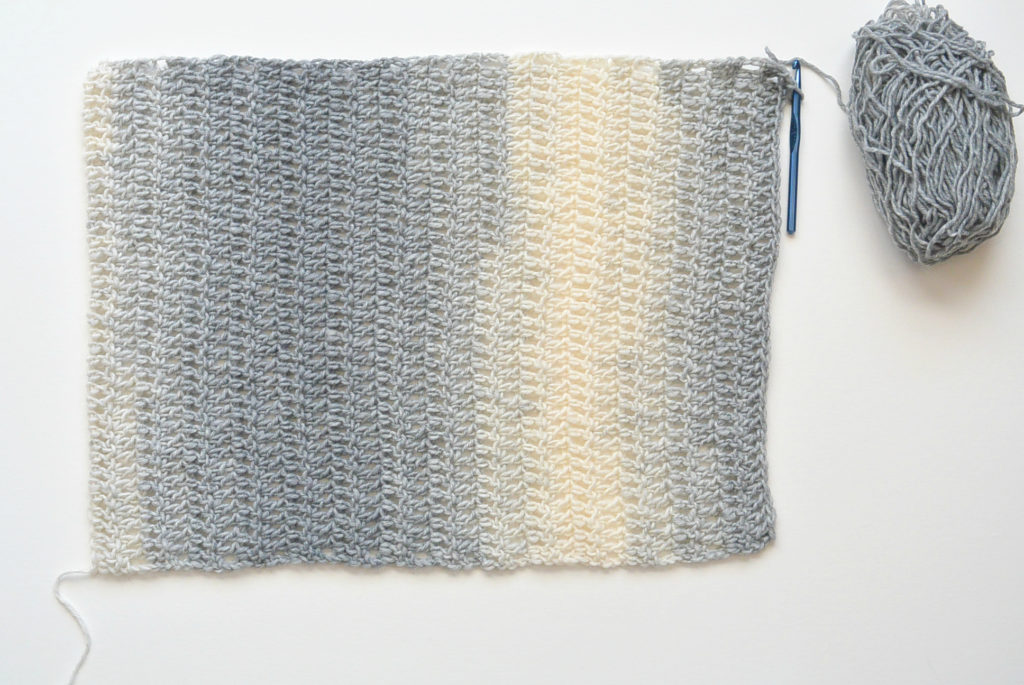 Once piece measures approximately 22″, finish current row and ch 17 stitches (see photo below)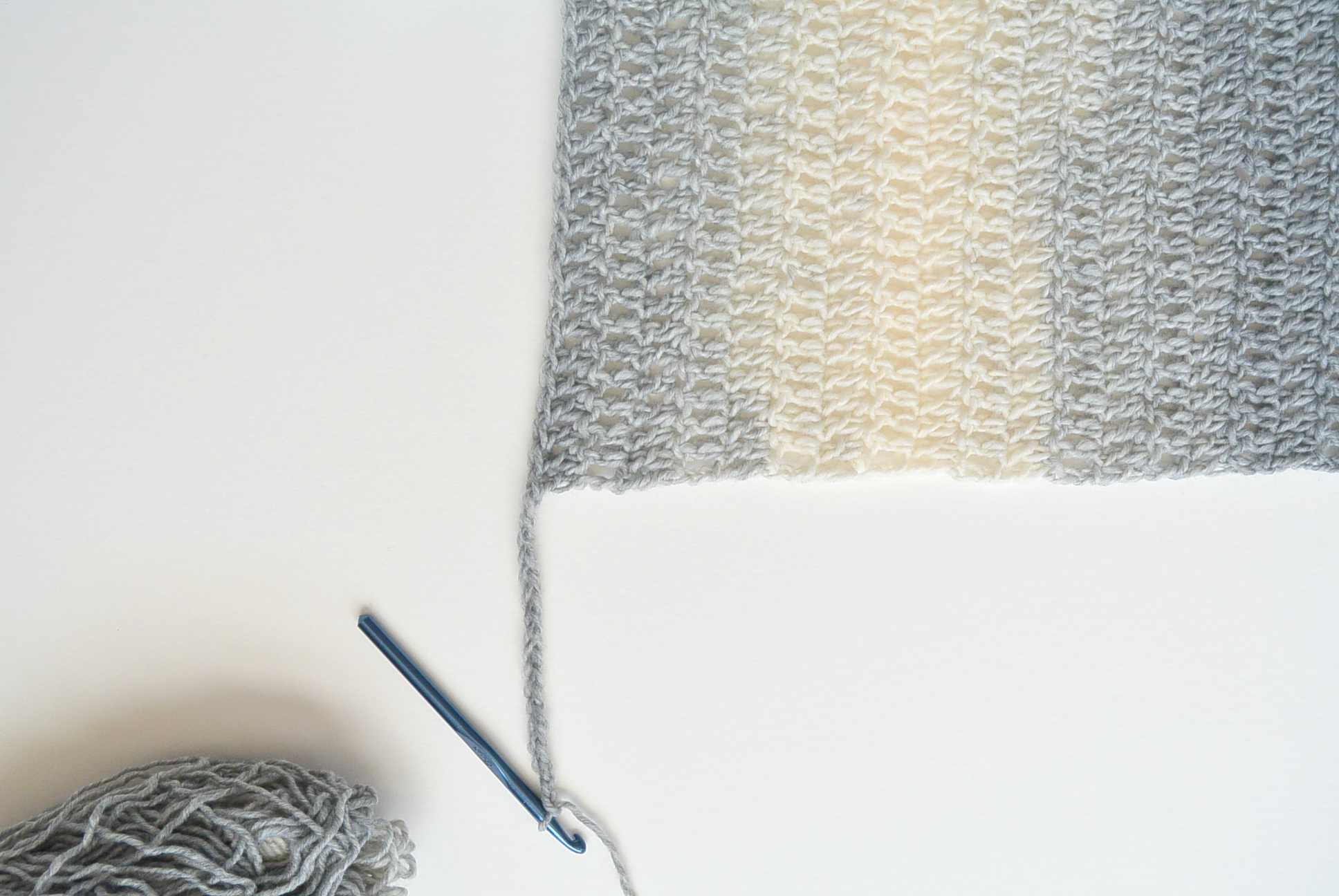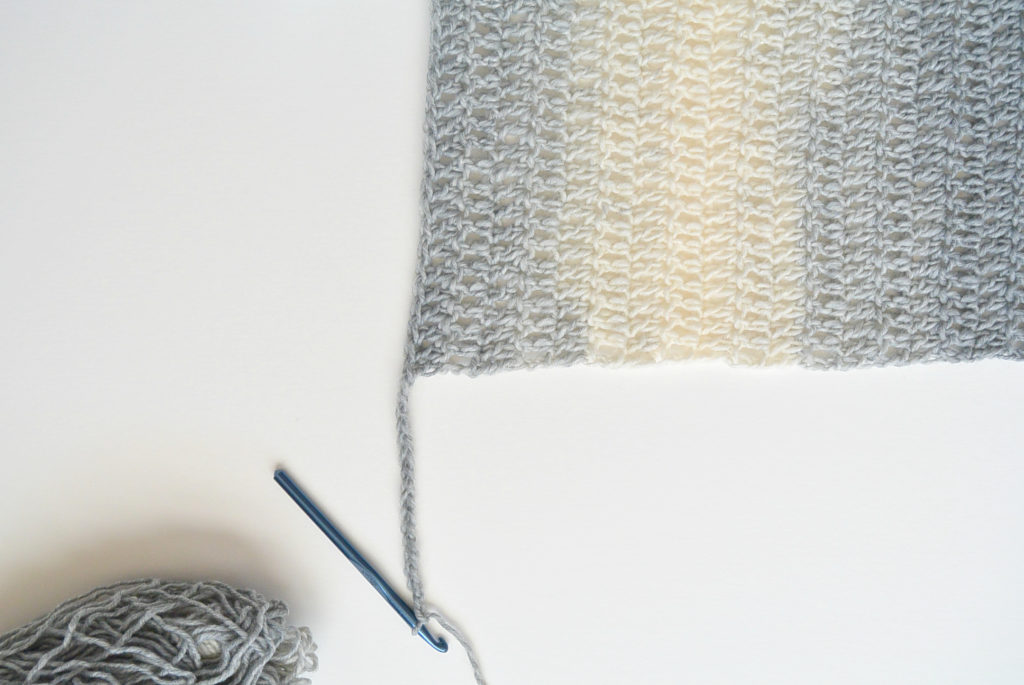 Next, dc in 3rd ch from hook and each st across the row (52 ) (sorry, my pictures got flipped around – but you will see that there's a chain and then you simply crochet across)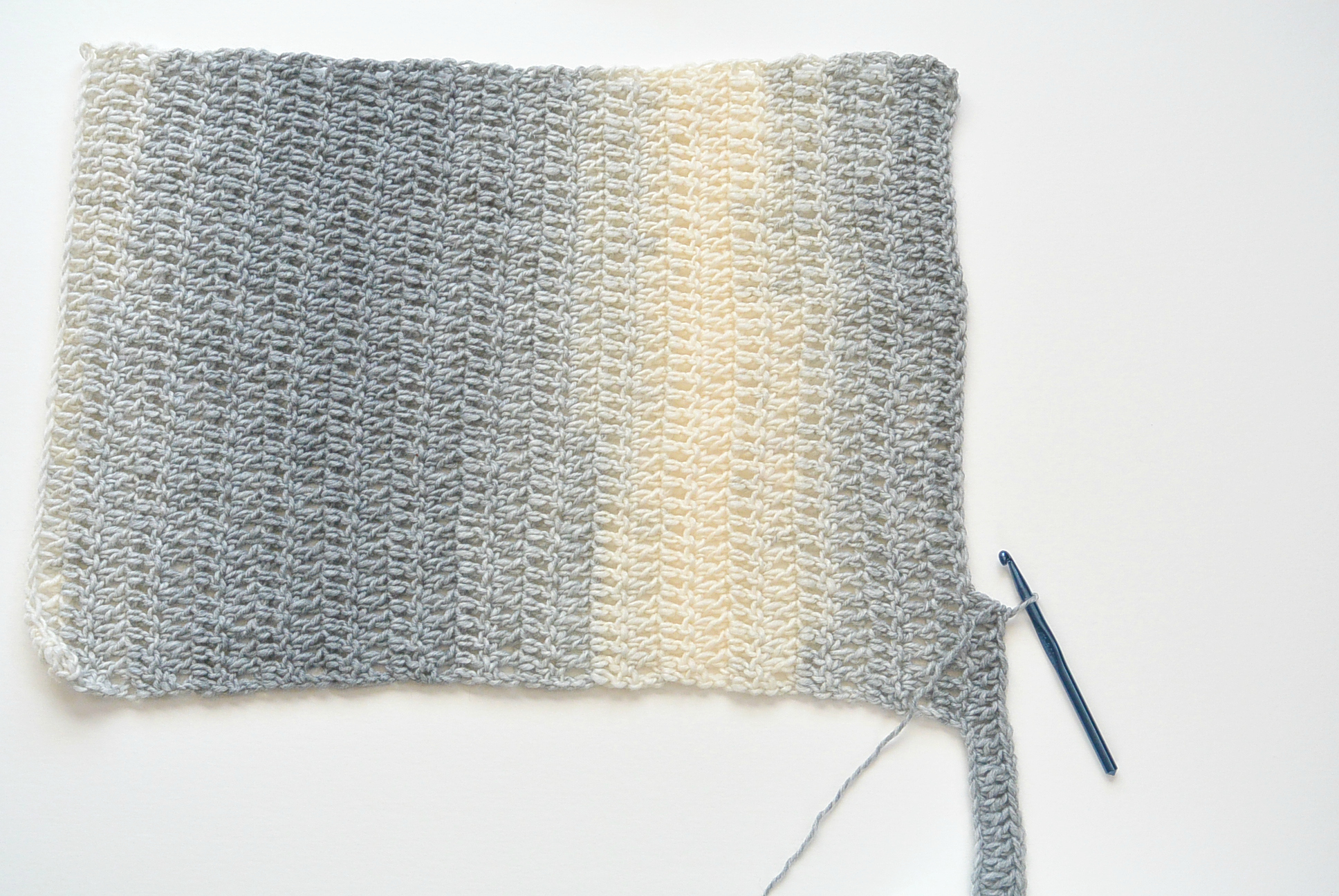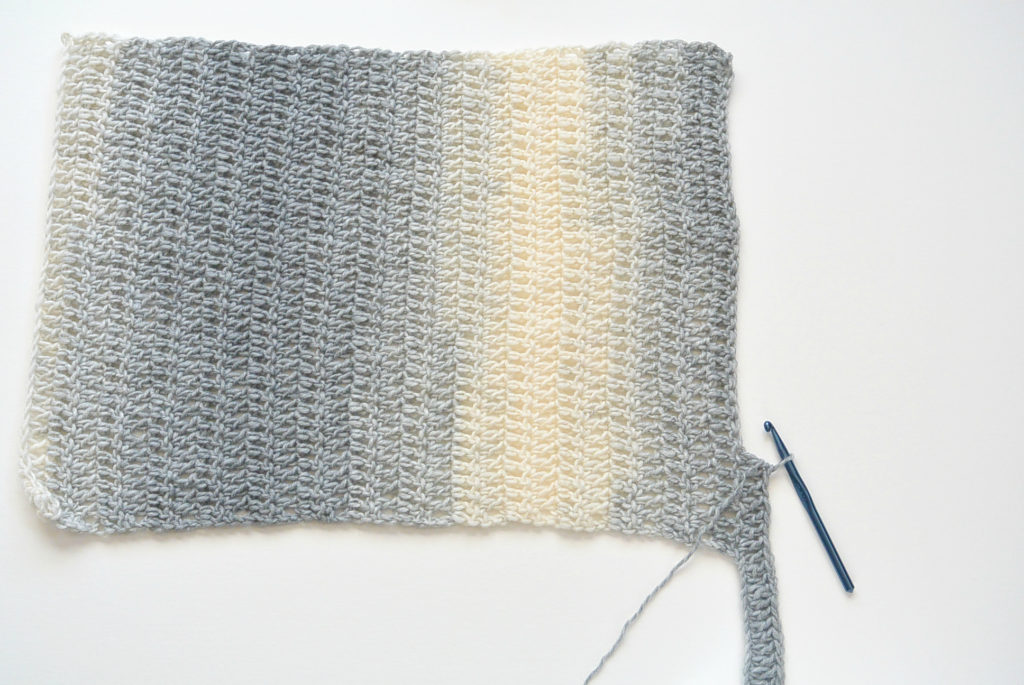 Next, dc across each row until entire piece measures approximately 37″ inches (you've worked about 15″ of this middle section, or what I'll also refer to as the "tail")
Once piece measures approximately 37″, tie off at end of row. Pick up yarn to match opposite end, 37 stitches from the top.
Double crochet each row across until entire piece measures approximately 59″ across.
Below: This is what your piece will look like at this point. It measures approximately 59″ from end to end including that middle "tail" section that's 15″ wide. You are now done with the main section and you will fold, seam and crochet the ribbed edge.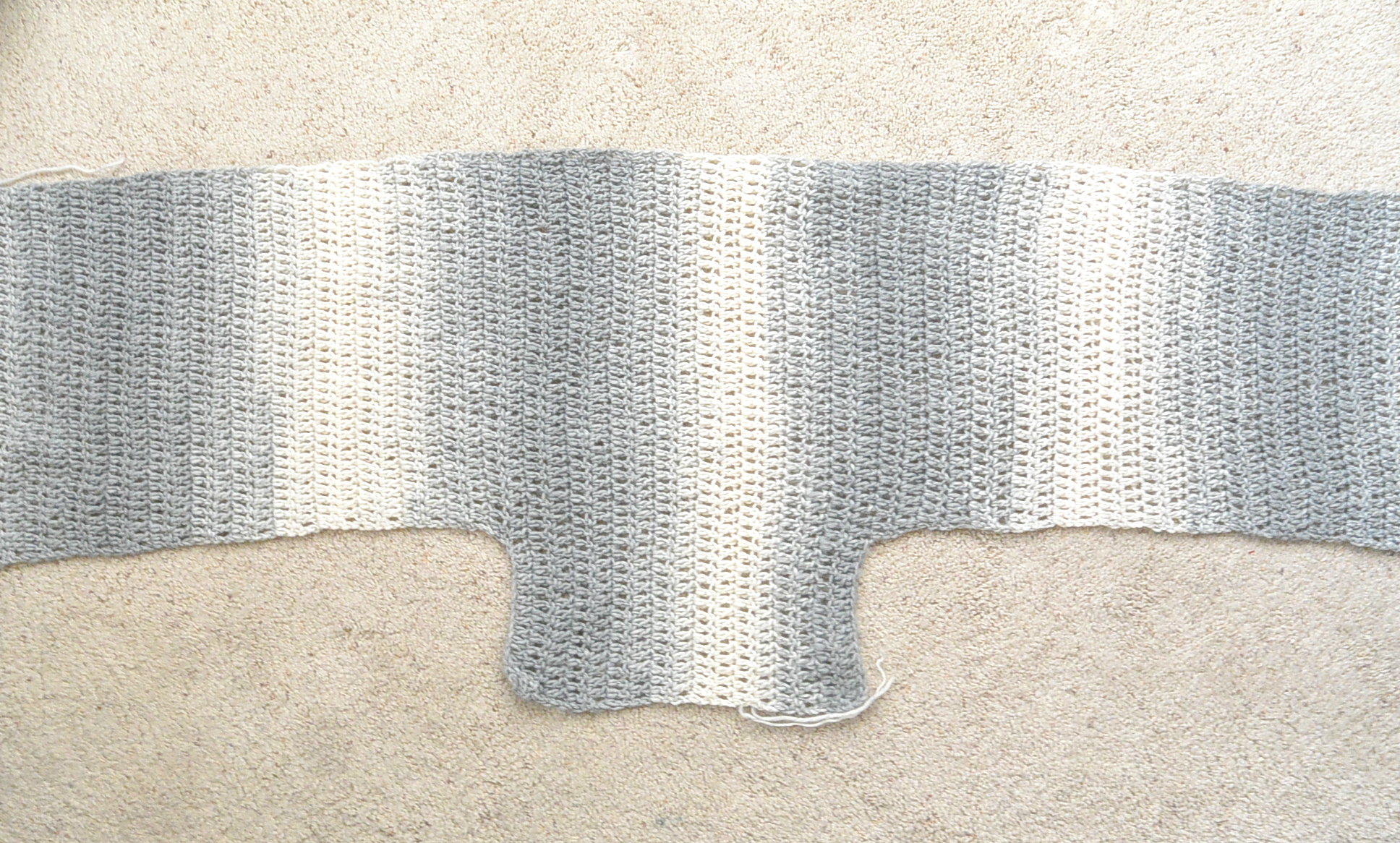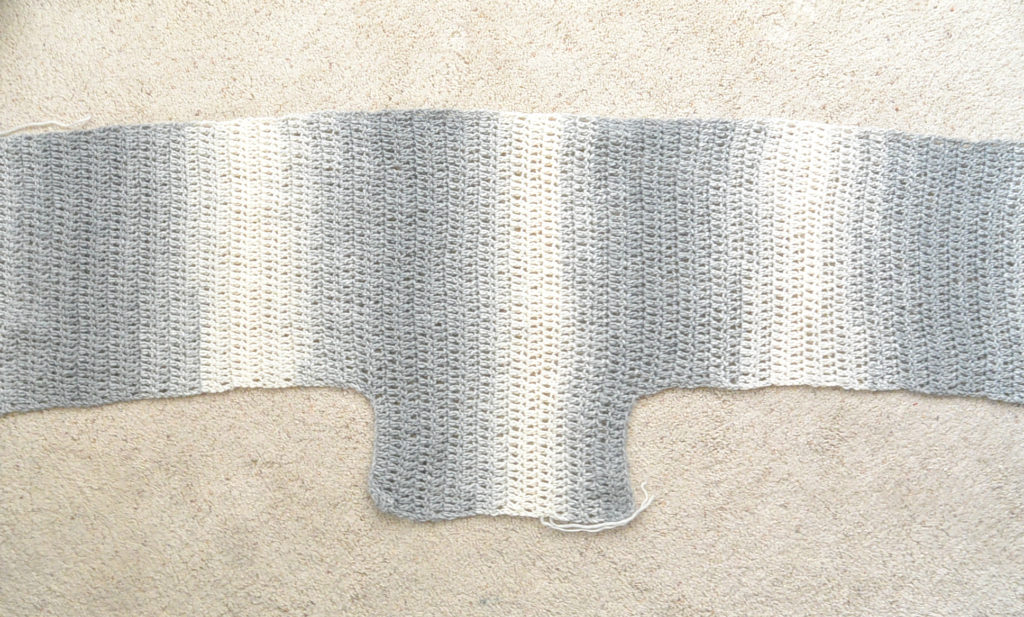 Tie off and weave in ends. Next, you will fold it to assemble! See the pictures on how to do that below. 🙂
Assemble Your Wrap Into a Shrug!
Fold your wrap as pictured below and seam. This is the trickiest part, but you can check out the photos to see how it's done.
Finally, you will want to add the ribbed collar. This ribbing is worked by alternating front post and back post double crochet stitches evenly along the collar edge. Make your collar as wide as you'd like by crocheting as many or as few rows as you want. Mine has three rows of front post, back post double crochet stitches.
I also chose to made two rounds of front post and back post double crochet stitches around the arm openings to give them a ribbed cuff.
Below: A close up of the ribbed edging. This is made with front post back post double crochet.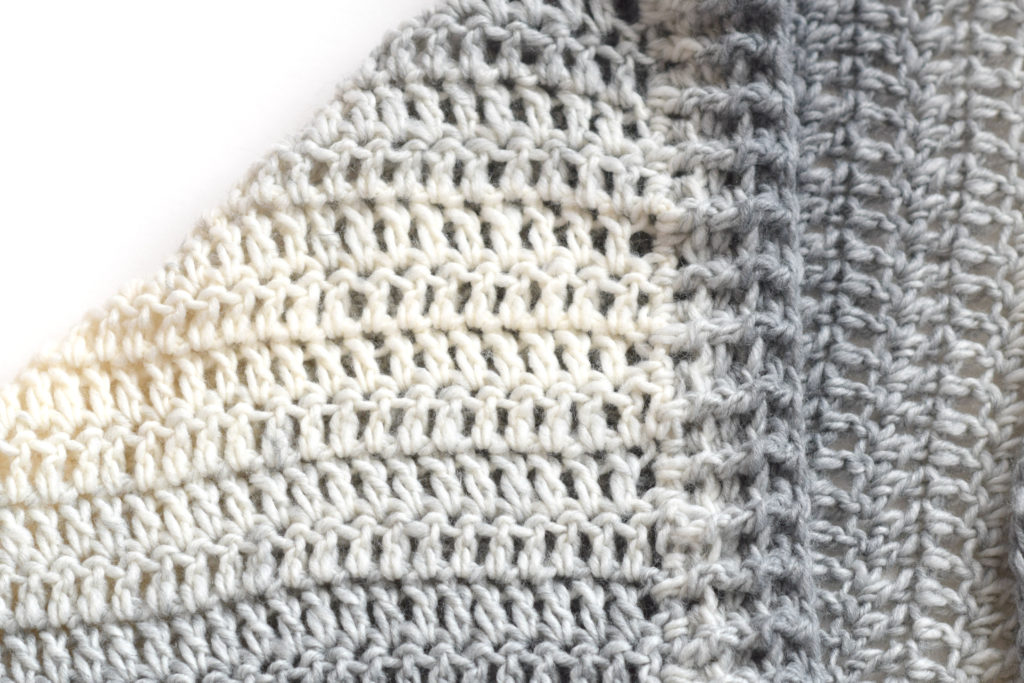 To assemble this shrug, you will be folding each side inward and seaming to the middle "tail" and up the side of it as pictured below. I left about 7″ of the side at the bottom which gave my a good size arm opening. The opening you see in the picture below is where the arm goes through.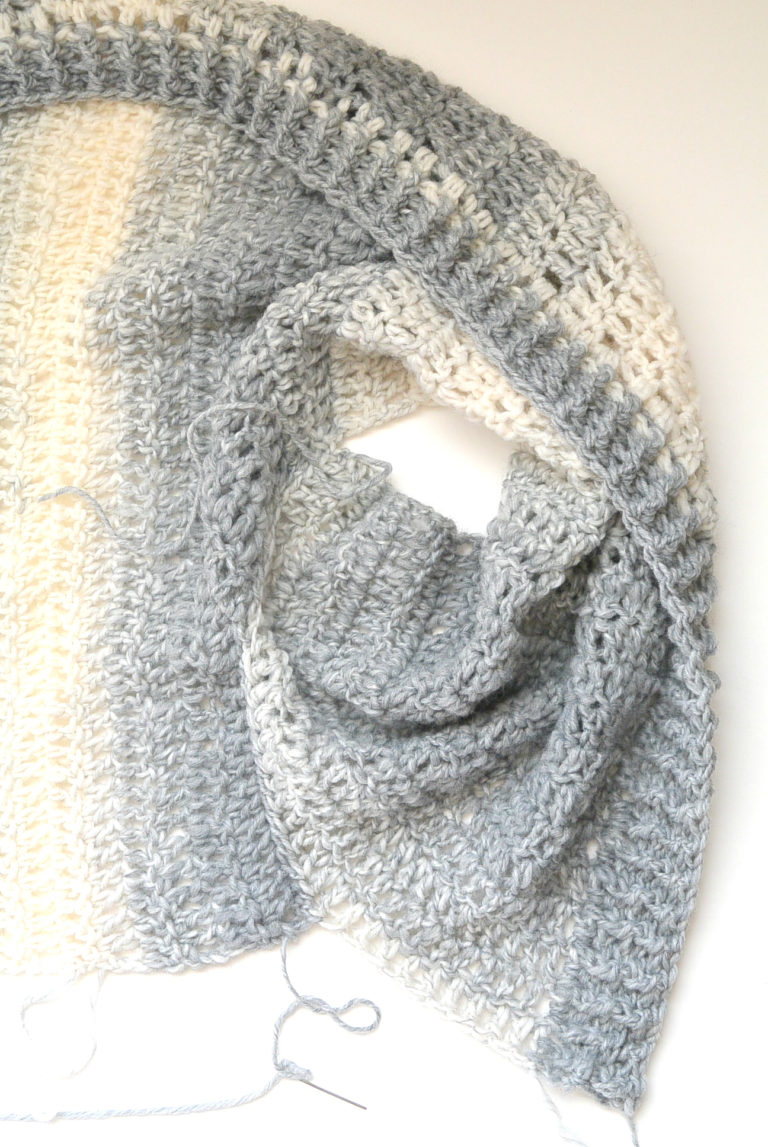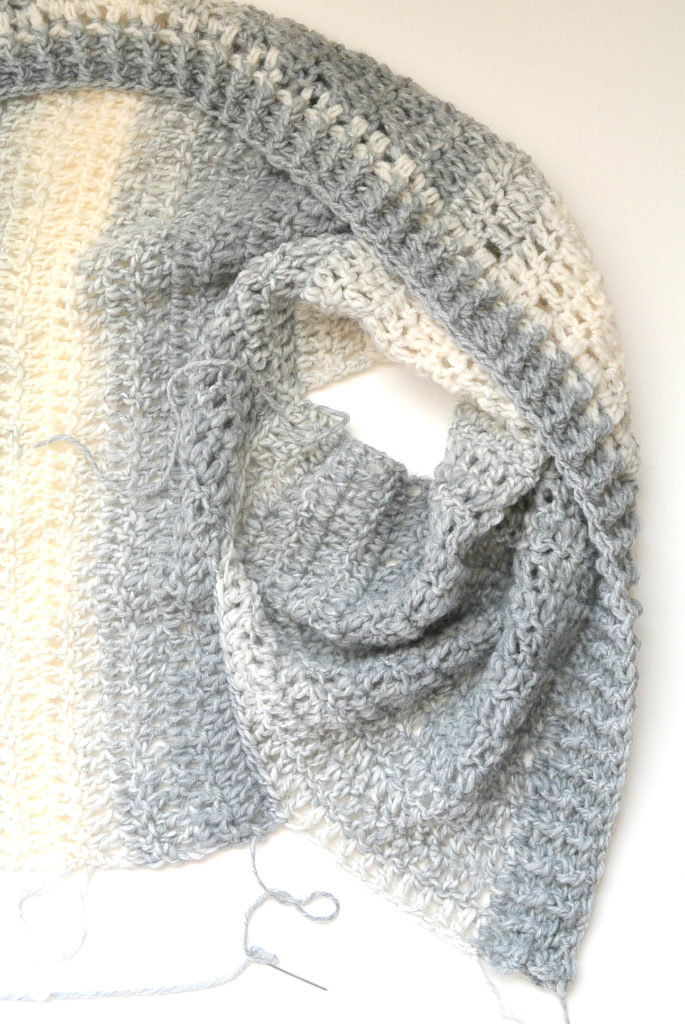 '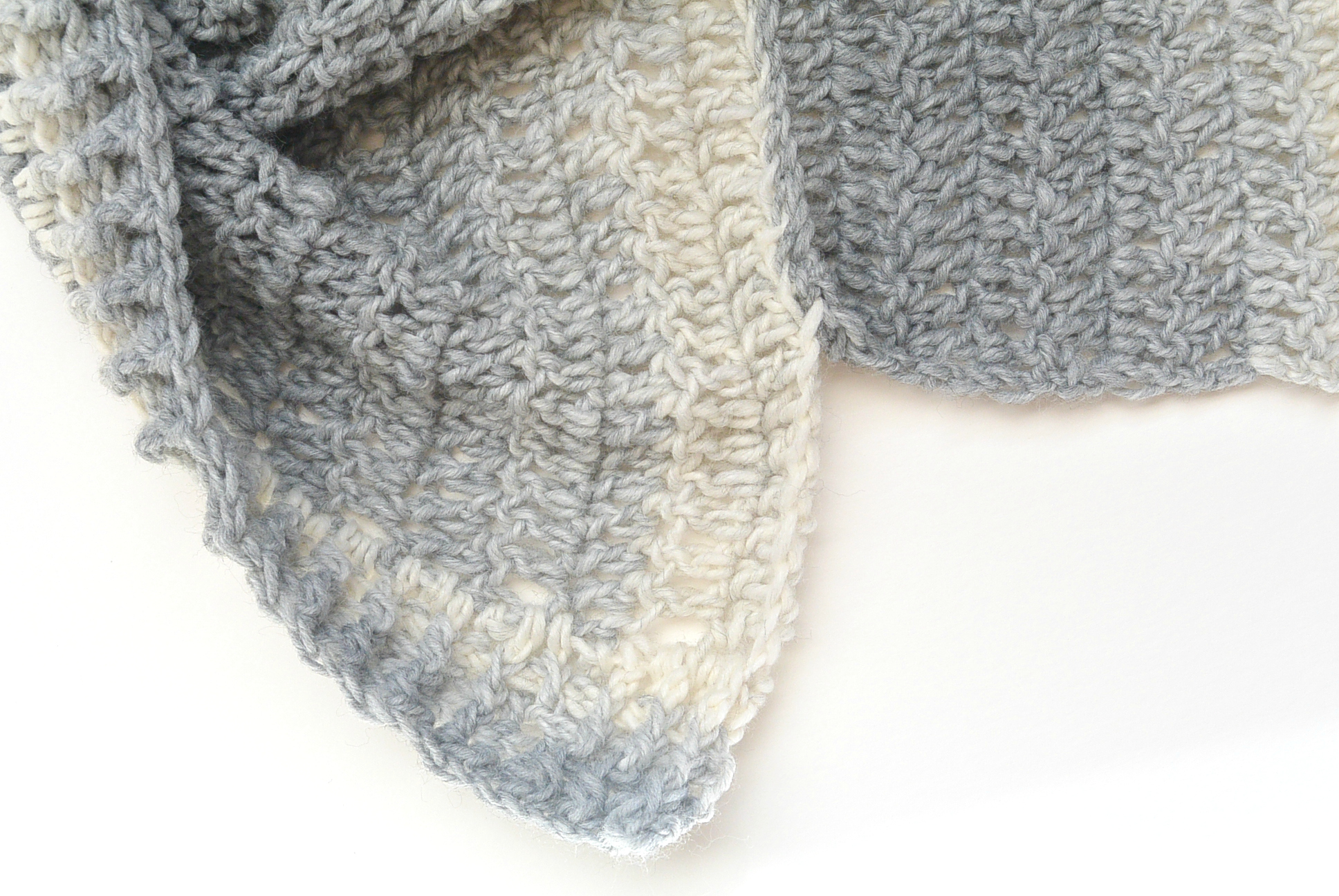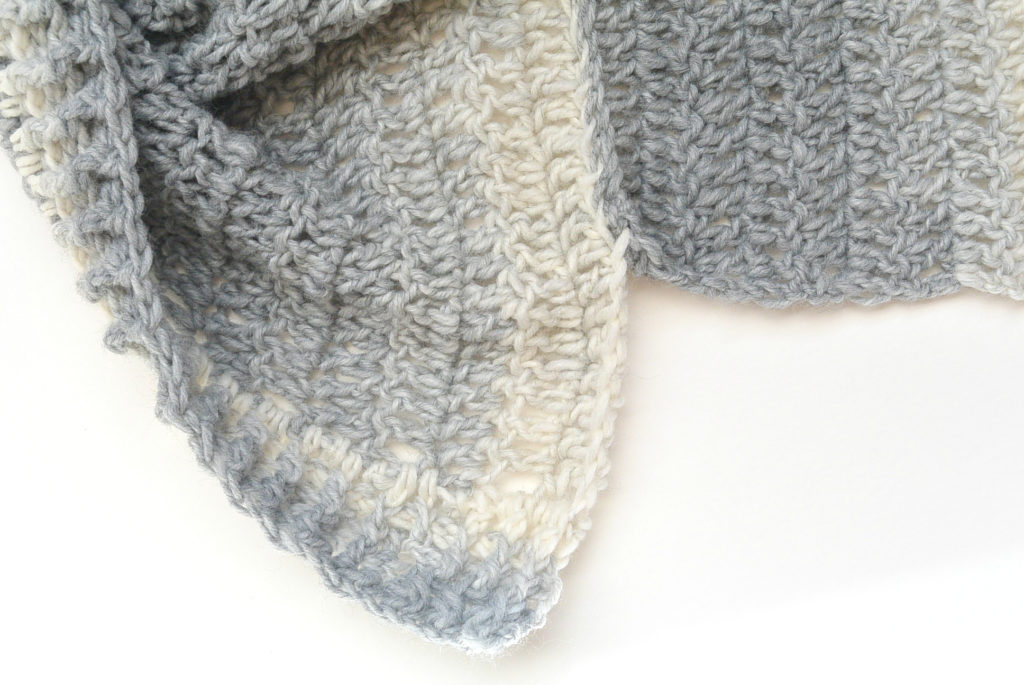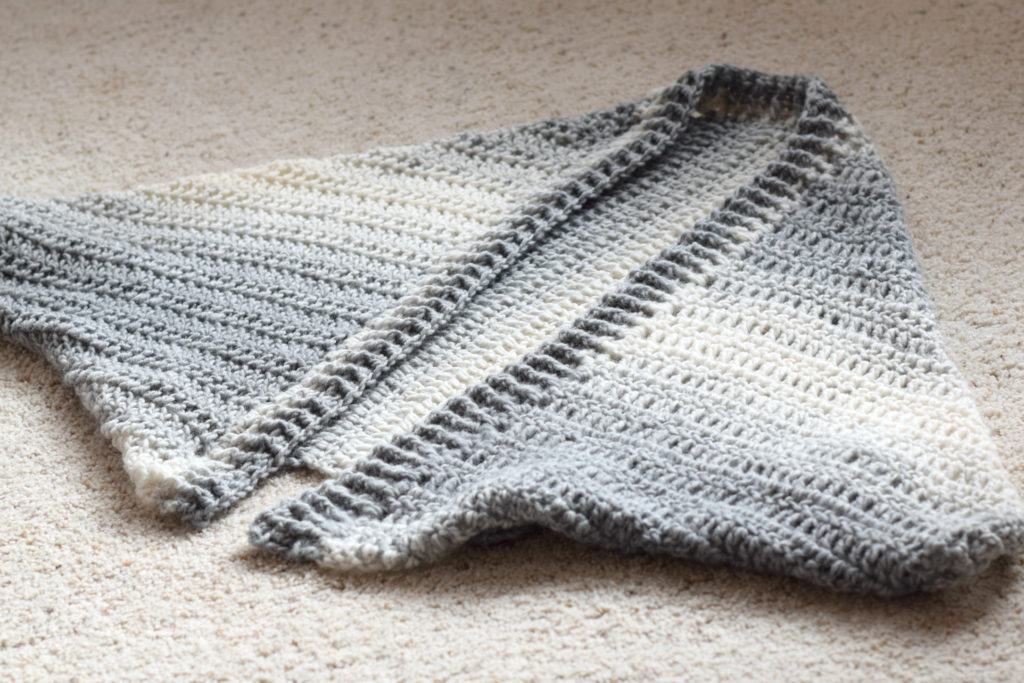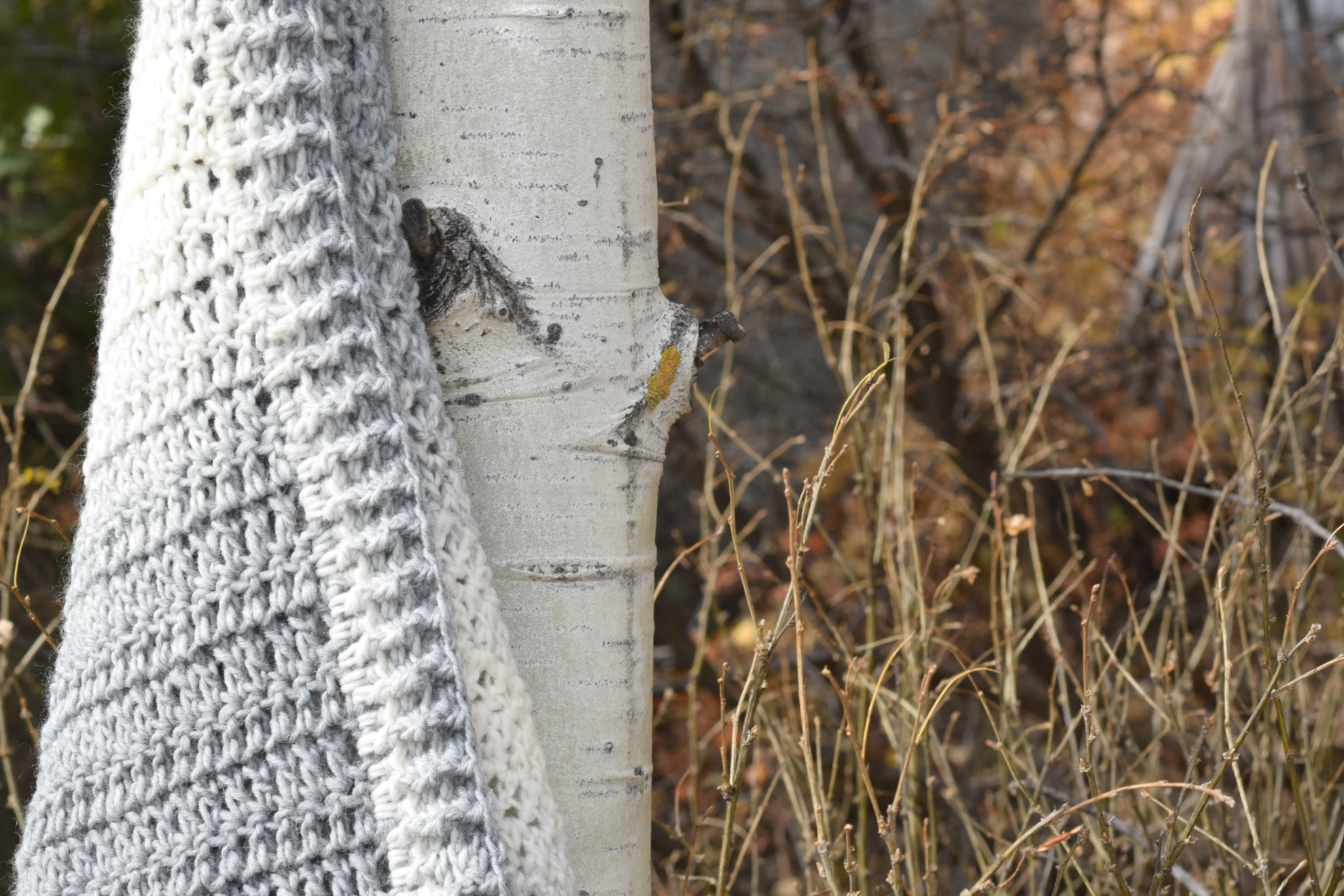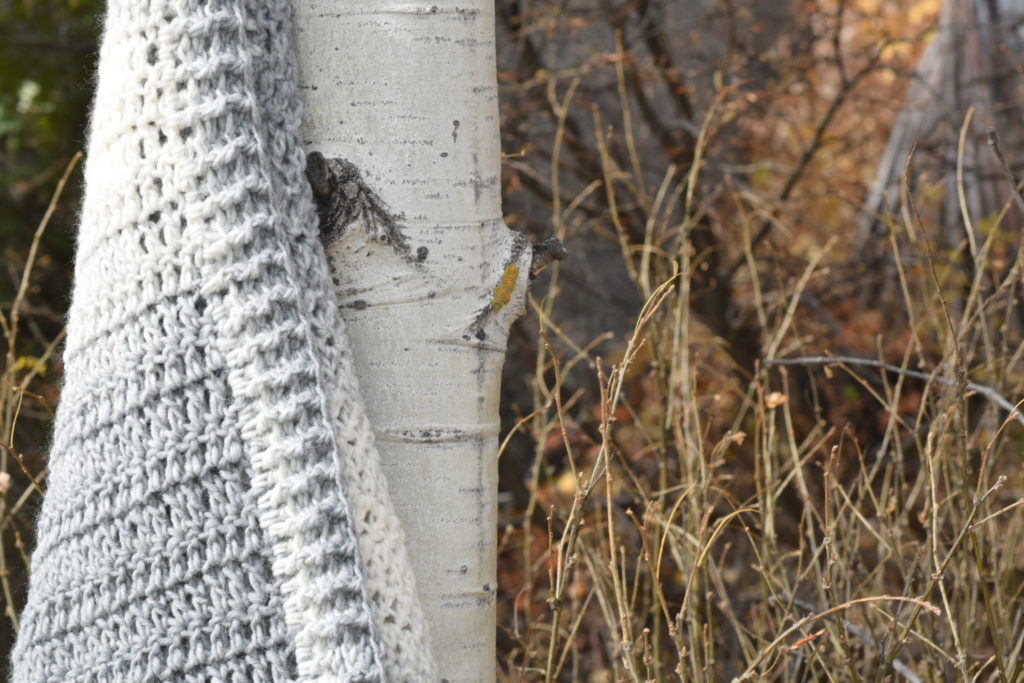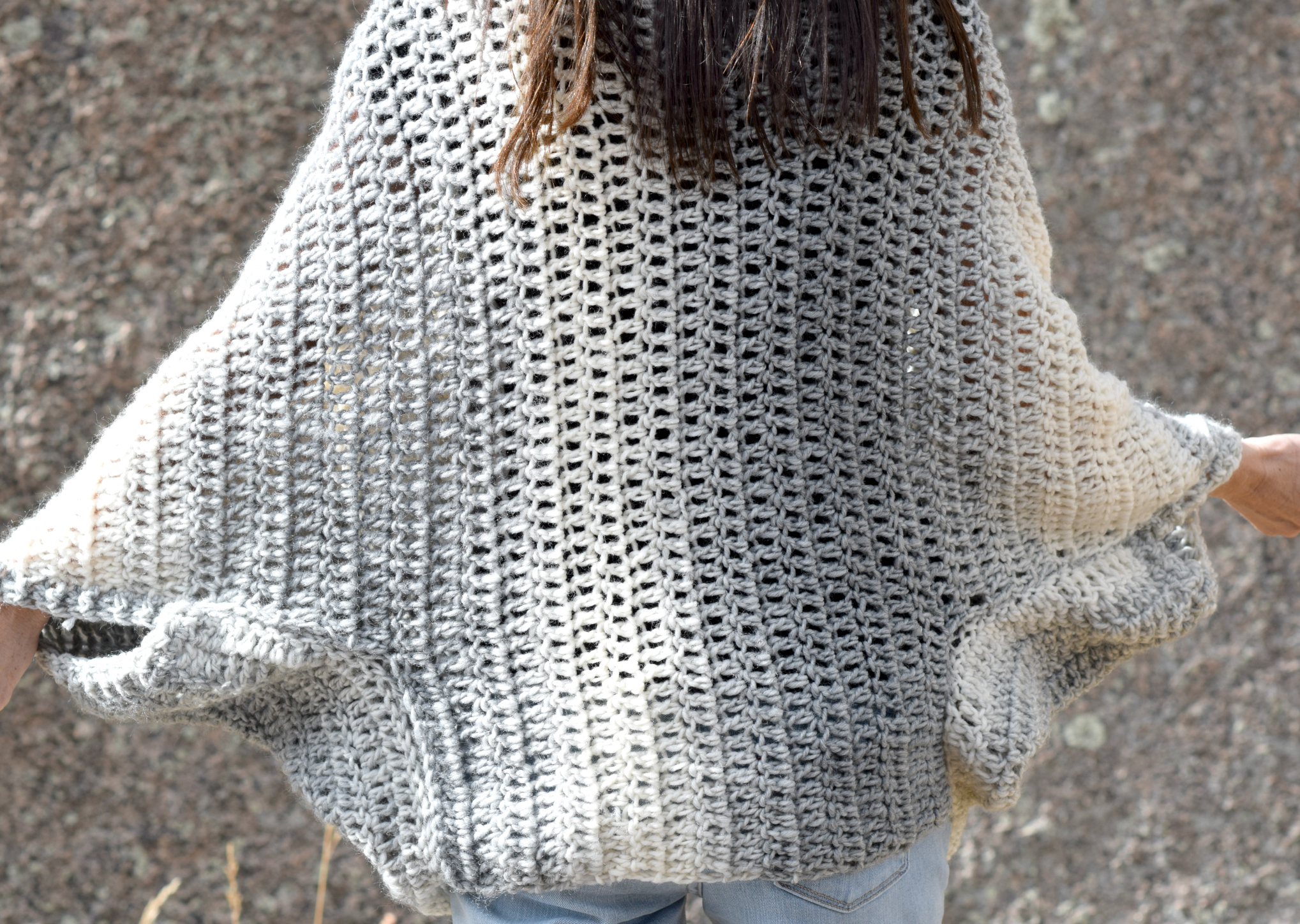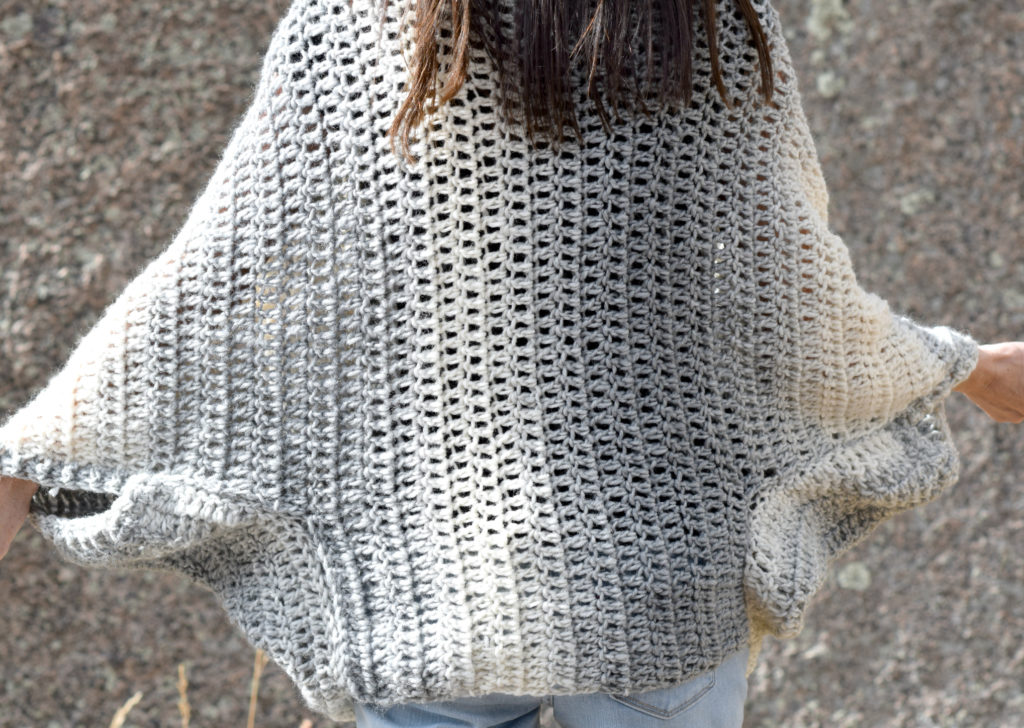 So that's it my friends!


I hope you enjoyed this quick little crochet project my friends!
XO
Jessica
PS If you like Scarfie Yarn as much as I do, you might also like:
Bonfire Crocheted Scarf Pattern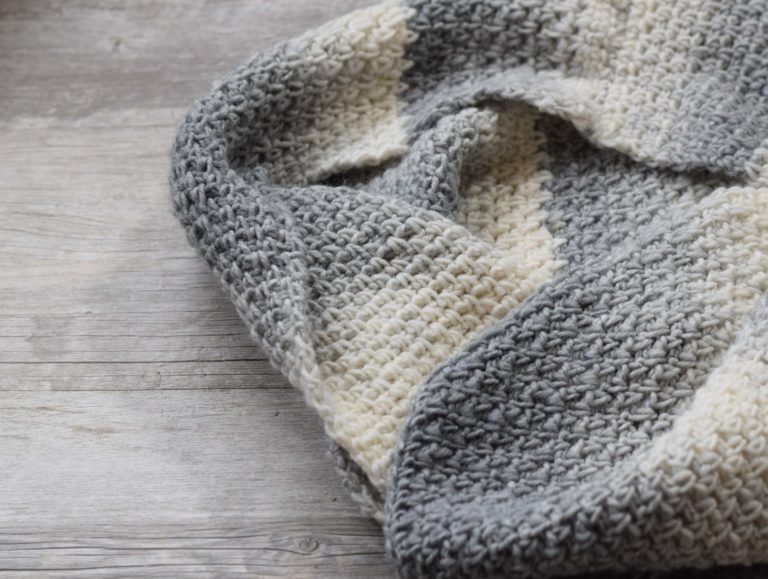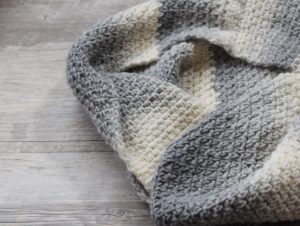 Driftwood Hooded Poncho Pattern