Diagonal Diamonds Woven Throw Crochet Pattern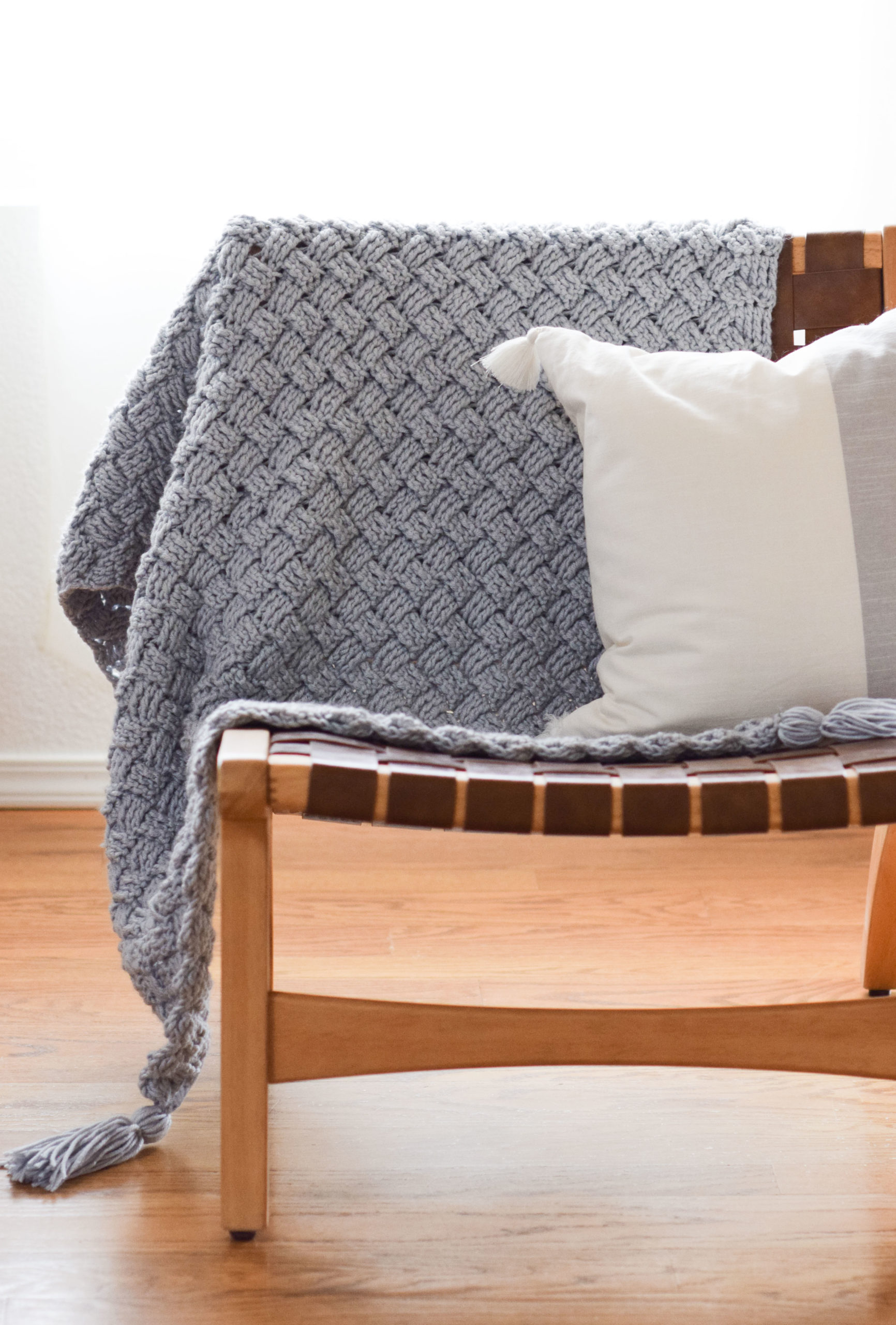 I'm so excited to share this basket weave throw crochet pattern with you today. While classic, it's beautifully unique in that the basket weave is diagonal! You'll find the free pattern below, as well as a link to a video tutorial HERE! You'll also find the printable ad-free version from Etsy HERE and the kit from Lion Brand Yarn HERE.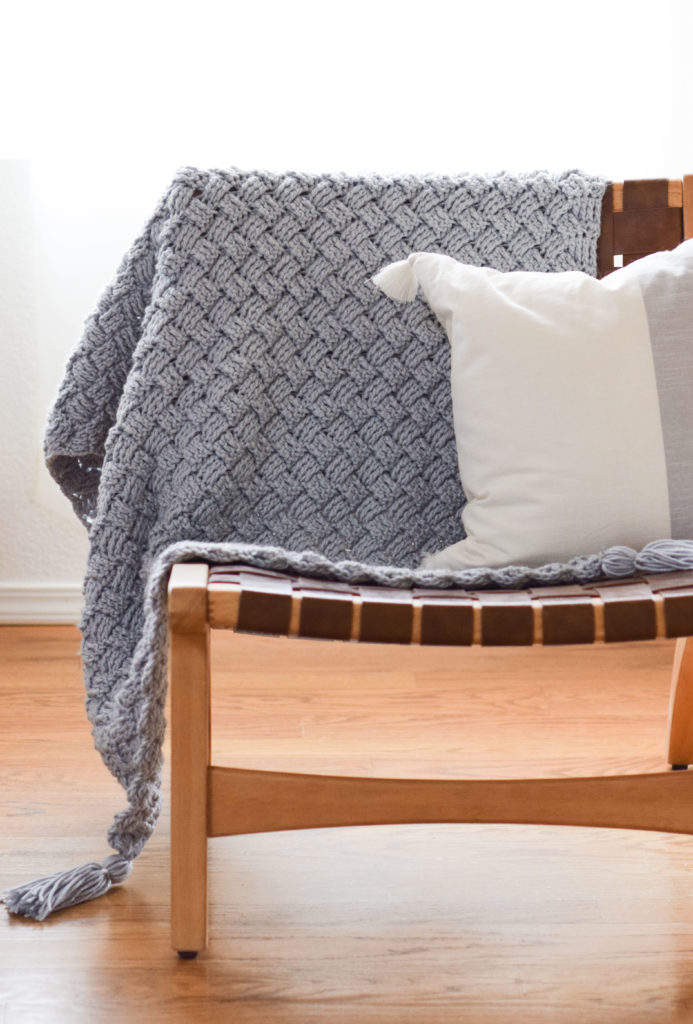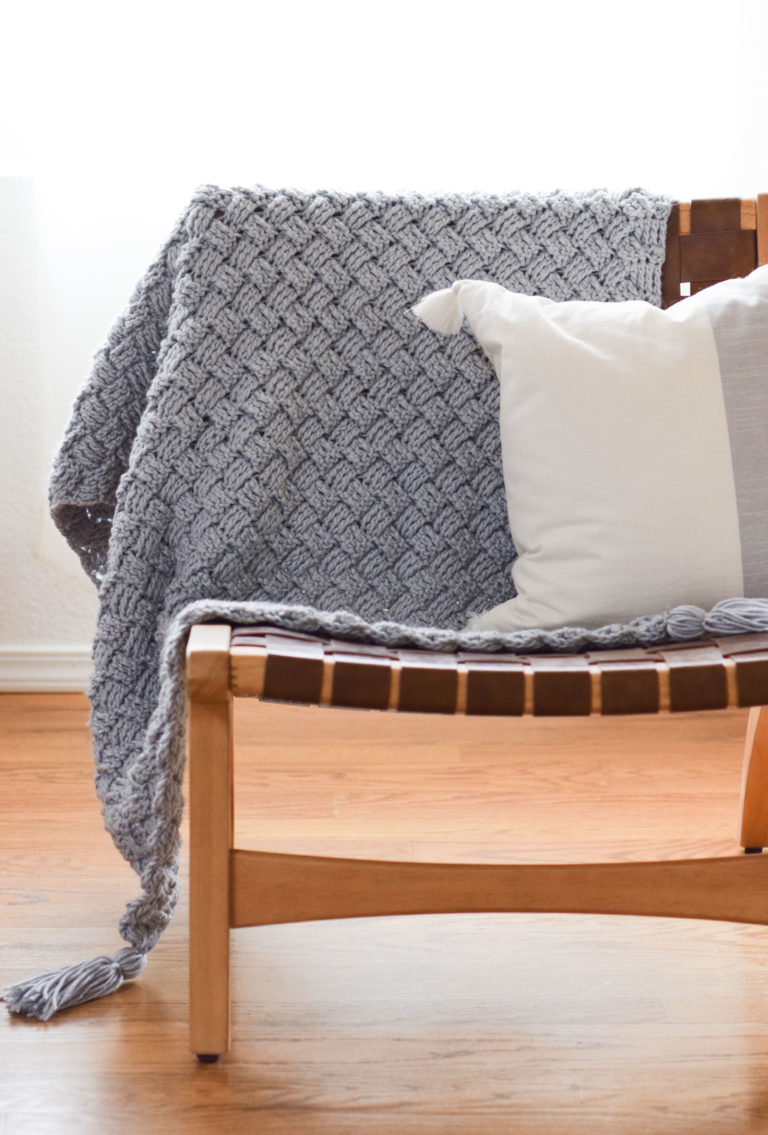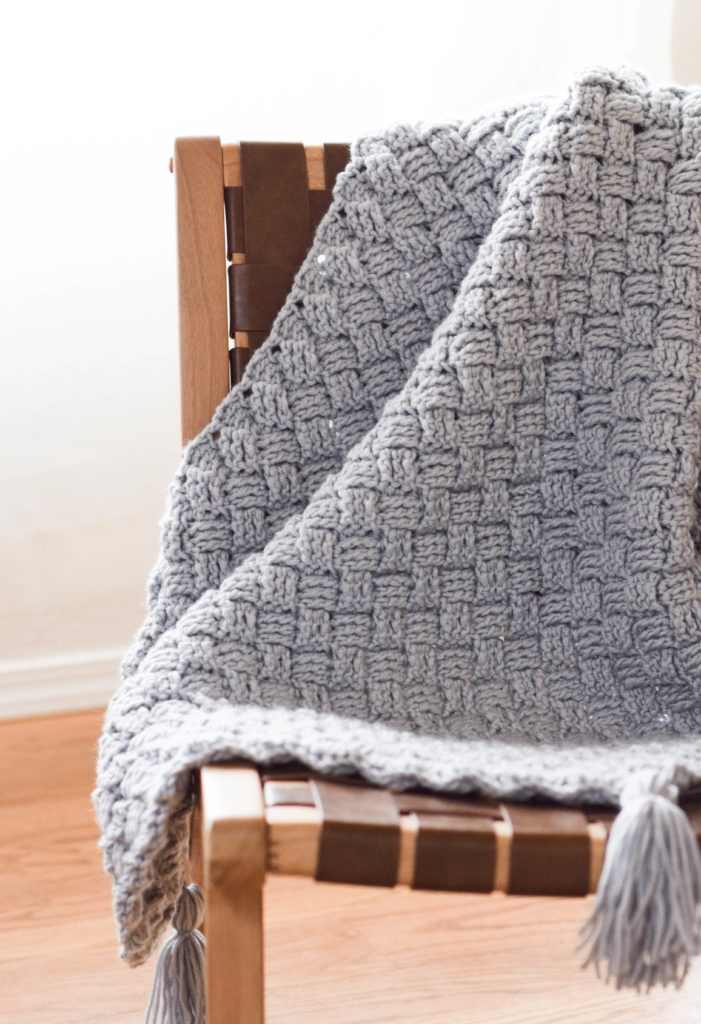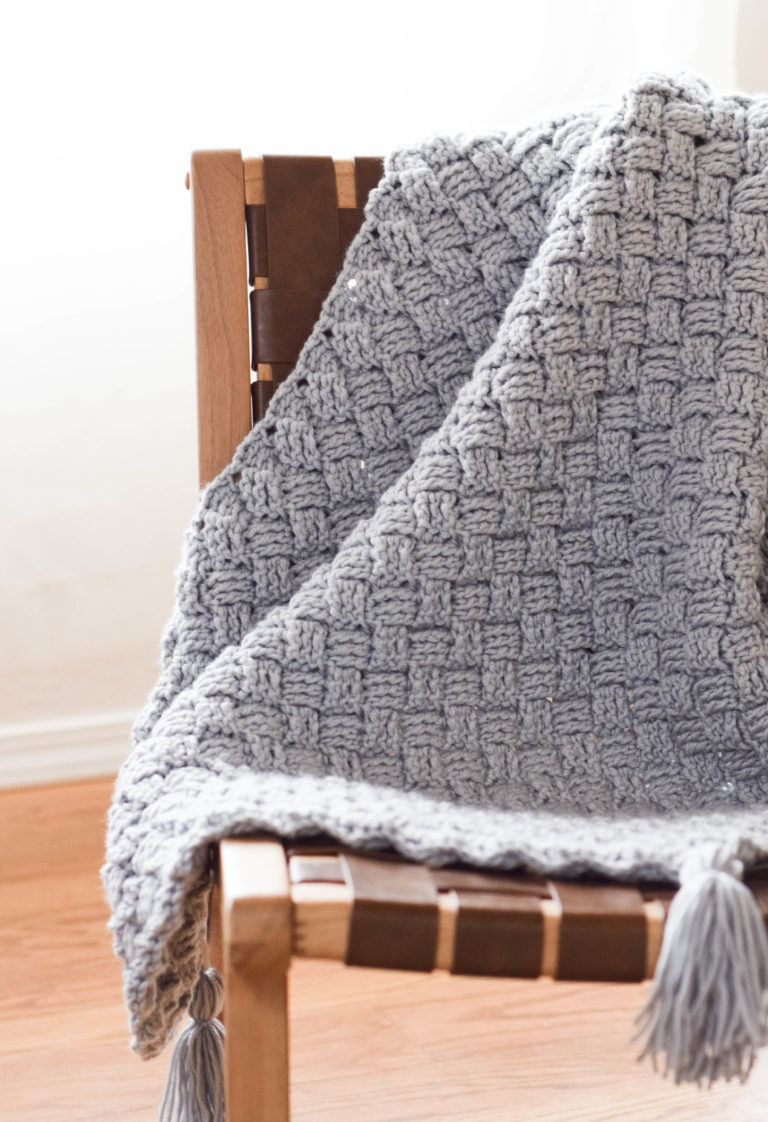 I'm so pleased with how this blanket turned out as it's super cozy and has such a modern yet timeless look. I've had a slight obsession lately with textured and raised stitches (see my Wintertide Throw HERE or Winter Cuddler HERE for example LOL). The basket weave stitch is so lovely for blankets especially, and this diagonal weave is especially eye catching, don't you think? Because of the slant of the weave, it almost looks like a diamond pattern! It's also very easy and repetitive to crochet.
I used a chunky weight yarn, Lion Brand Color Made Easy, which worked out super well as it really turned out to be high quality and comfortable. The stitch-work actually overlaps a bit, so you get a double layer effect – perfect to keep warm. My favorite stitches to use for blankets are the least "holey" type of stitches. This is definitely a warm, non-holey stitch pattern. 🙂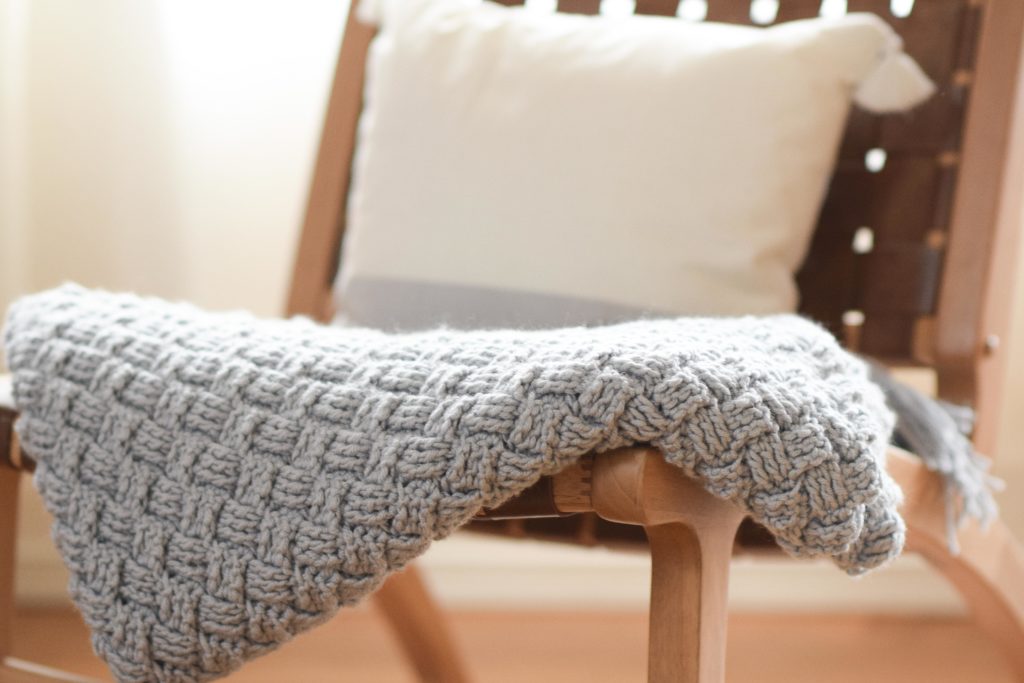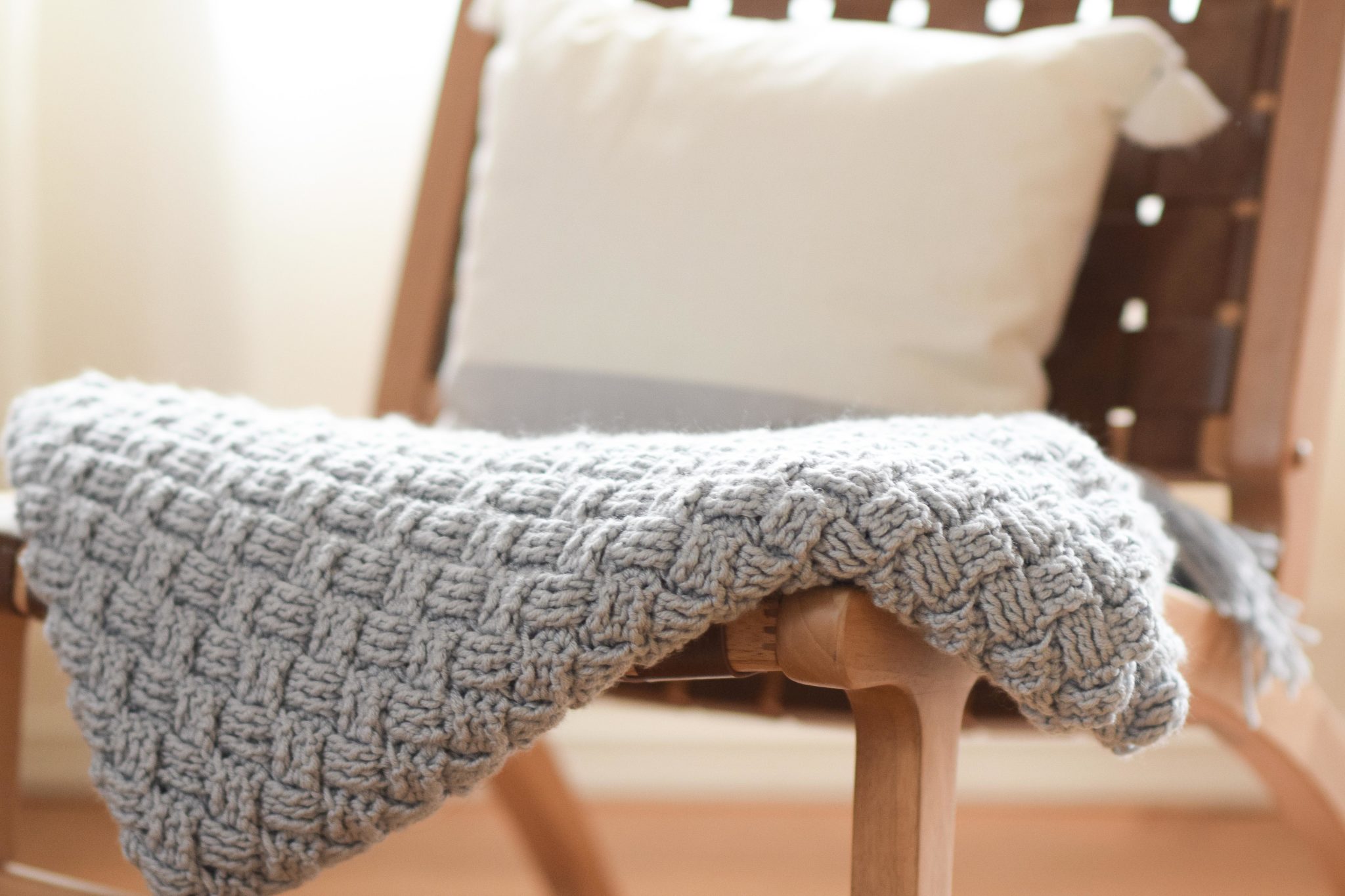 You might know by now that it's always a toss-up for me as to whether to add tassels or fringe onto my projects. I went ahead and added tassels to my blanket for decorative purposes, but feel free to leave them off of yours. I think afghans are often more practical without them, but they sure are cute! You could consider adding a pretty border to the two ends instead, or just leave it as is.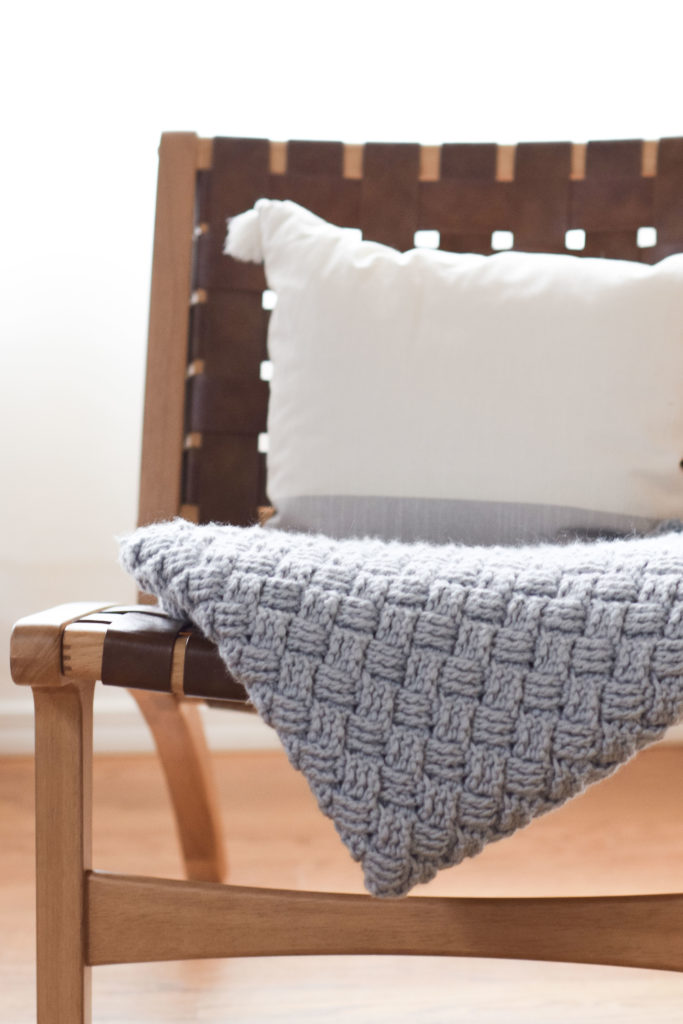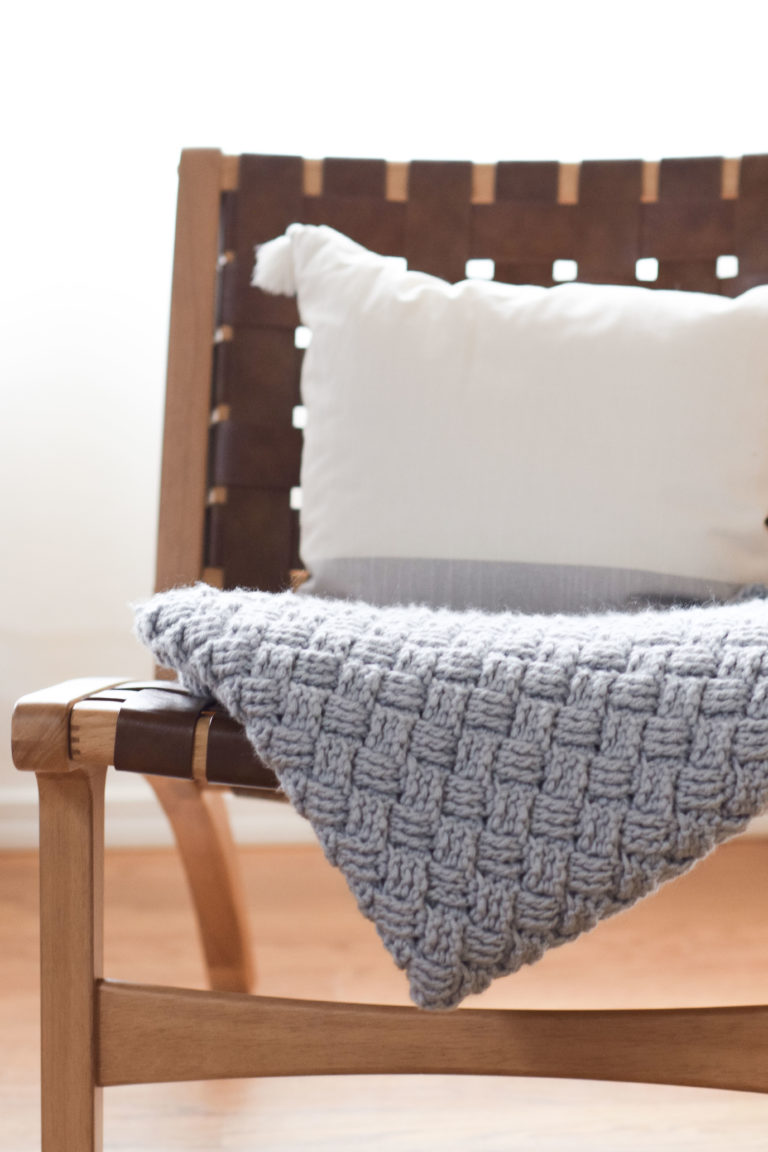 What color would you use to make yours? This gorgeous "Shade" color just really caught my eye as it goes with just about any color and has a calming, soothing look to it. Because it's a chunky yarn, the blanket works up quicker than if you were to use a worsted or dk weight. That's always a bonus in my eyes!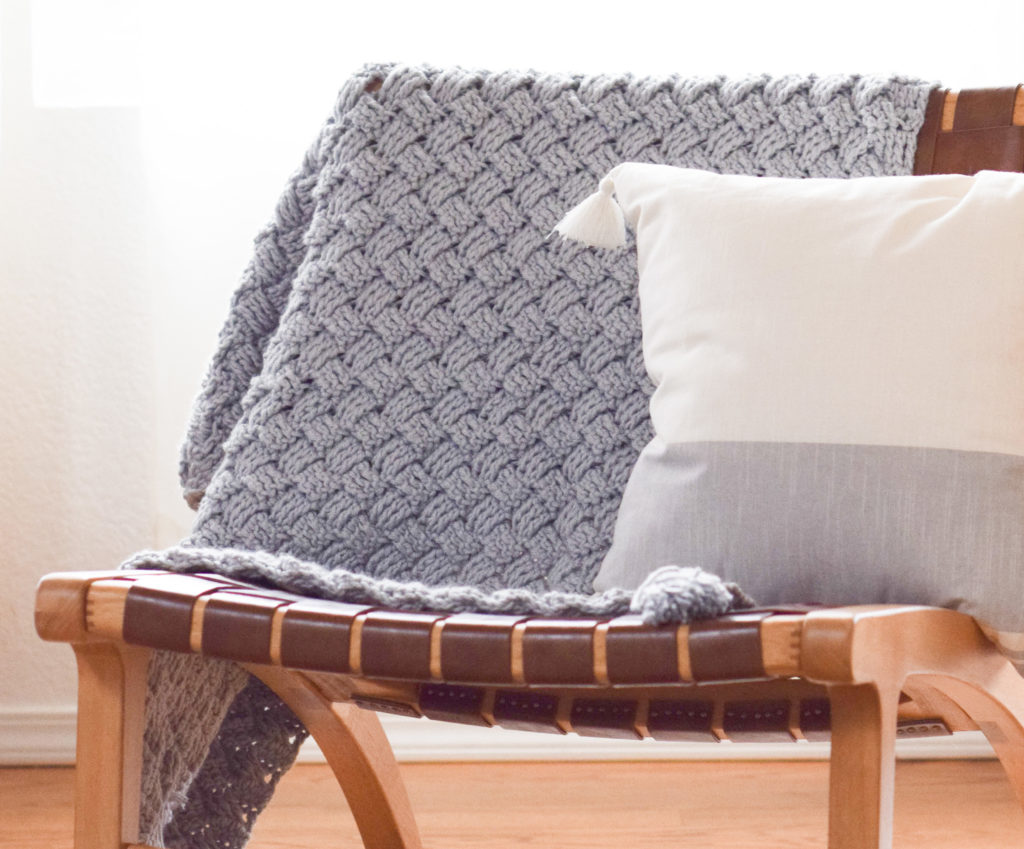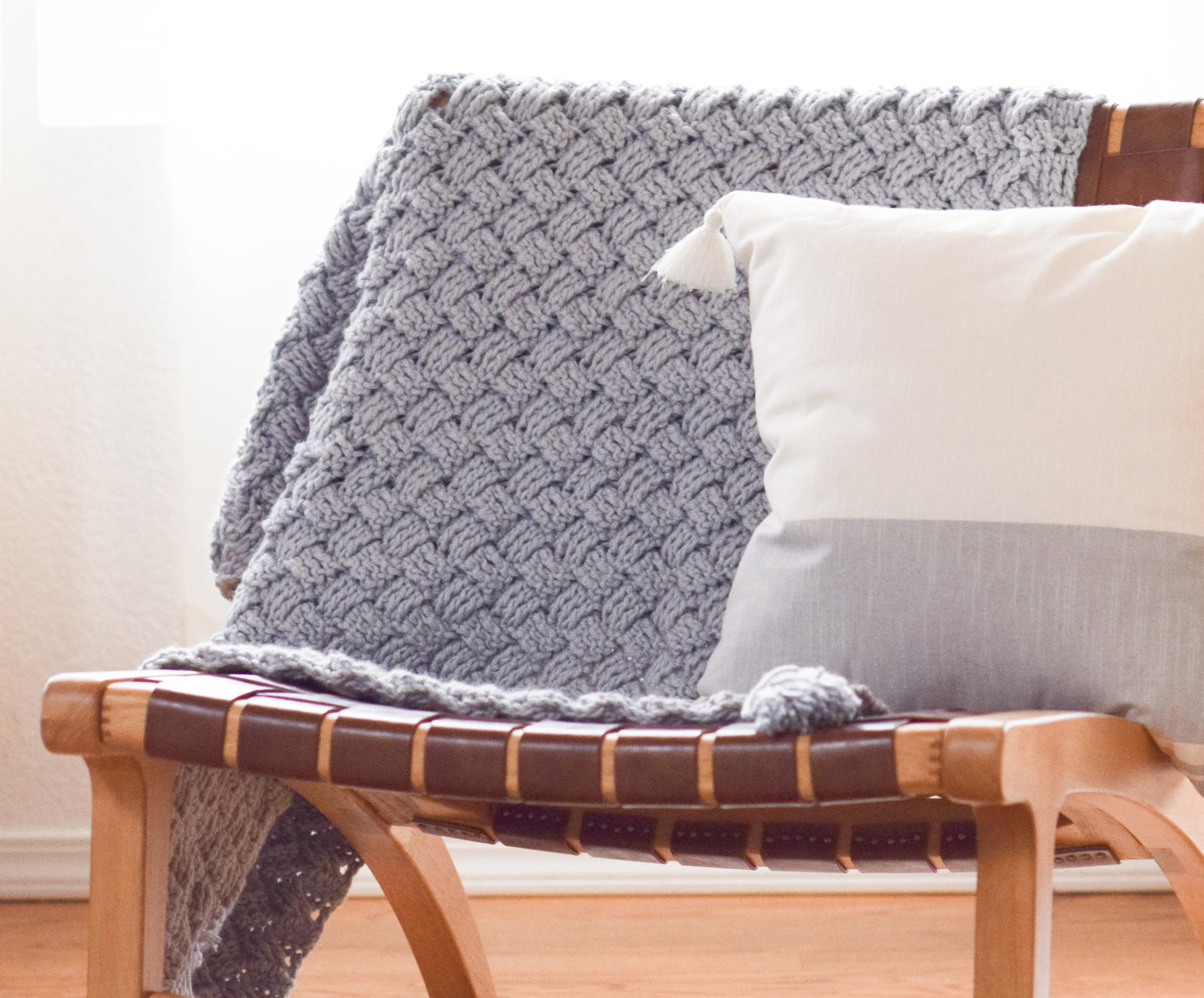 Ready for the pattern?
Diagonal Diamonds Woven Throw Crochet Pattern
Description: This beautiful throw features a stunning diagonal basket weave fabric that's perfect for any space in your home. The all-over pattern gives it an understated, modern vibe and the raised stitching makes it both visually interesting and extra cozy. Your new blanket will be durable, soft and machine washable!
Materials:
US Size K, 6.5 mm crochet hook
7 Lion Brand Yarn Color Made Easy in Shade (200 g/skein) 247 yards in one skein. This yarn has been discontinued, but you can sub with any chunky #5 yarn. Currently, Lion Brand HUe + Me or Woolspun are options. Kit available HERE in multiple color options (Shade color will be back in stock soon as of Feb 13, 2020)
Pattern uses approximately 1,300 g of yarn
Scissors
Tapestry needle
Skill Level: Easy +
Size: Lapghan Size approximately 35" x 45"
Gauge: Not important for this pattern
Pattern Notes: This blanket is worked from the bottom-up with a two row repeat. You may adjust the width by chaining with a multiple of 6 + 4 extra stitches. Adjust the length by crocheting for more or fewer rows. Keep yarn needs in mind.
Abbreviations (US) & Skills:
ch – chain
sk – skip
dc – double crochet
st – stitch
sts – stitches
tr – treble
Diagonal Diamonds Woven Throw Pattern
Ch 118
Row 1 Dc in 3rd ch from hook, * sk 3 chs, 1 tr in next 3 chs. Work 1 tr in each of the 3 skipped chs from the front*; repeat from * to * across the row, dc in last ch st. Ch 2, turn.
Row 2 Dc in same st as ch 2. 1 dc in next 3 sts, *sk 3 sts, work 1 tr in next 3 sts. Work 1 tr in each of 3 skipped sts from the back*; repeat from * to * across the row until last 4 sts. 1 dc in each of last 4 sts. Ch 2, turn.
Row 3 Dc in same st as ch 2, * sk 3 sts, 1 tr in next 3 sts. Work 1 tr in each of 3 skipped sts from the front*; repeat from * to * across the row, dc in last st, ch 2, turn.
Repeat rows 2 & 3 until you've used 6 skeins of yarn or you've reached your desired length.
Tie off and weave in ends.
Tassels (optional): Using remaining yarn, cut several strands of yarn approximately 13" long. Holding them together and fold, then tie a length of yarn around the center fold. Tie another length of yarn around the upper portion of the tassel and secure. Weave in ends. Make 1-2 tassels for each corner of the blanket. Note: There are many online tutorials on how to make a tassel with yarn if you need more assistance.
Feel free to add a border of your choice with any additional yarn (optional).
Helpful Tips & Photos:
Consider practicing the stitch on a small swatch before beginning the blanket if you're unfamiliar with the stitches. Start with a chain in a multiple of 6 sts + 4 extra.
Below: Row 1 completed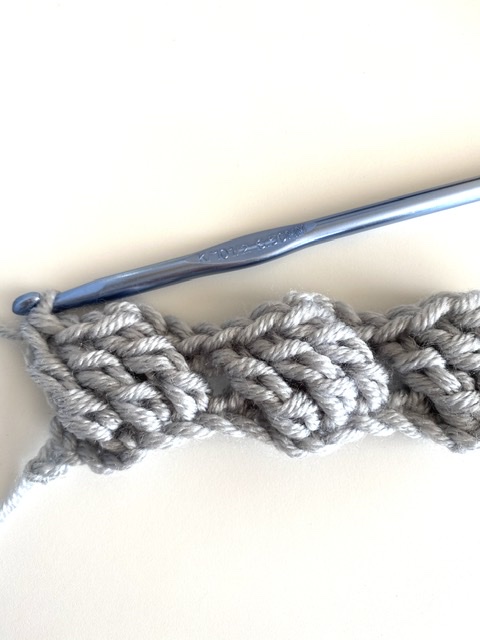 Below: In row 2 you will work a portion of the stitches from the back. Note how the hook is behind, or at the back of the 3 tr sts to work from the back.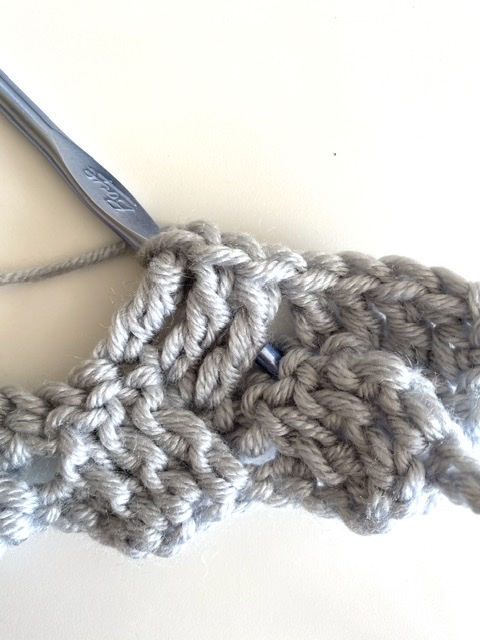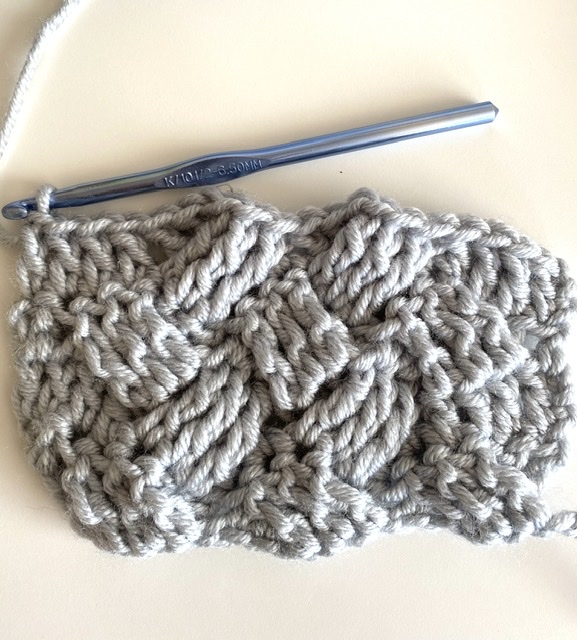 That's all there is to it!
I really hope you enjoyed the pattern today. I'd love to see if you make one, just tag me on Instagram @mamainastitch #mamainastitch or share with me on Facebook!
XO
Jessica
Thank you to Lion Brand Yarn for sponsoring this post. All opinions are 100% my own.
If you like blankets, you might also like: