Aspen Mountain Knit Bag Pattern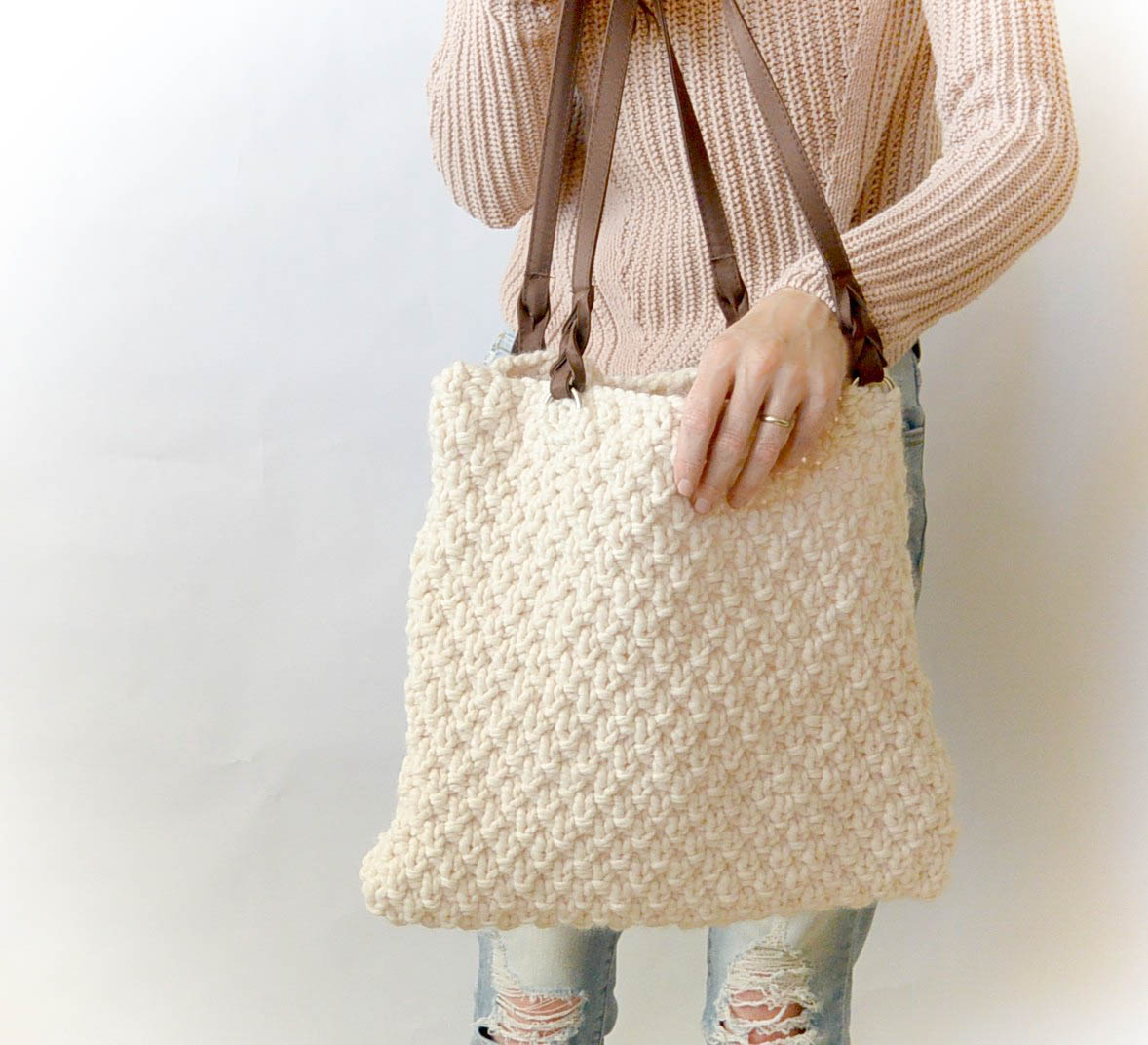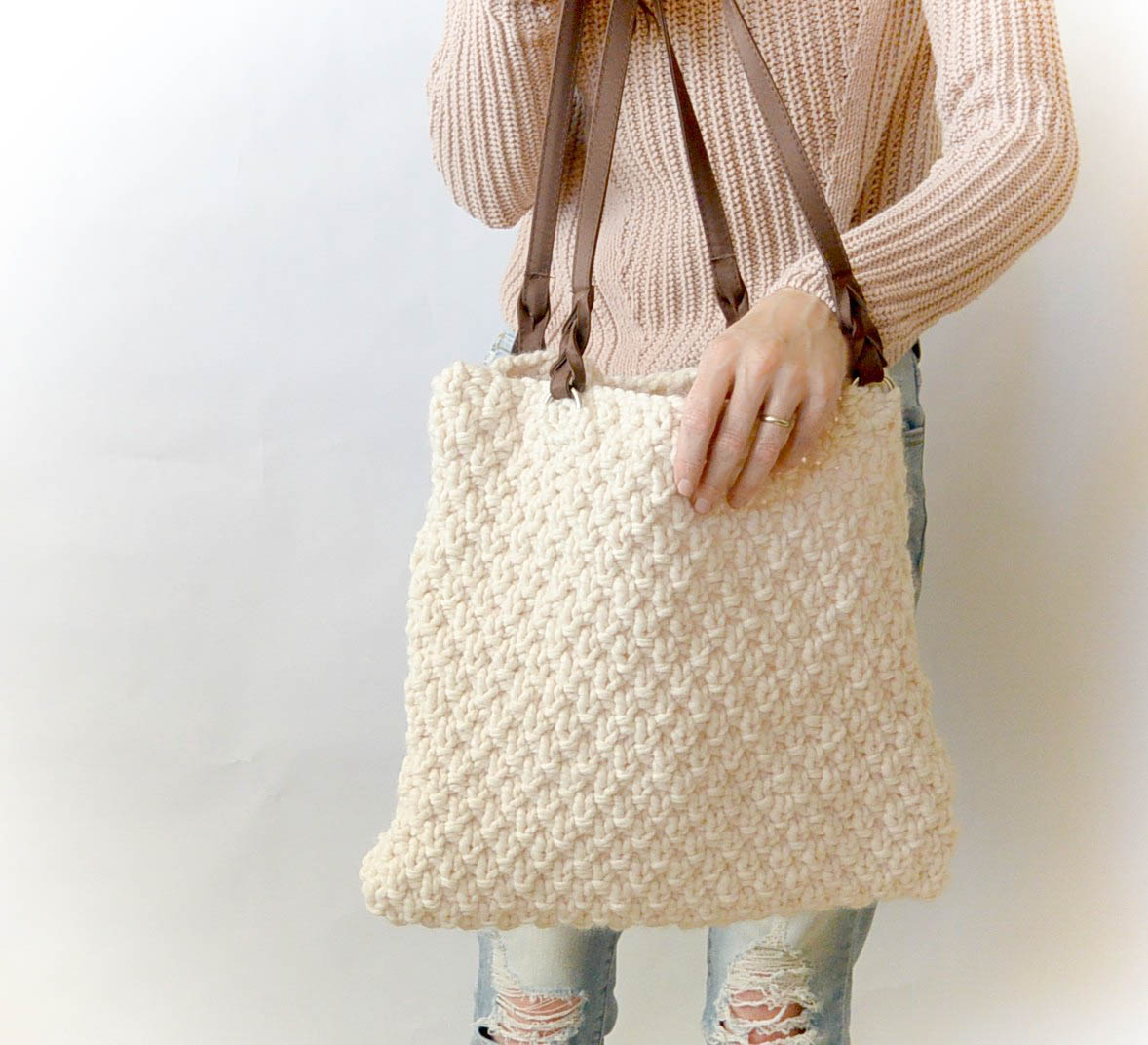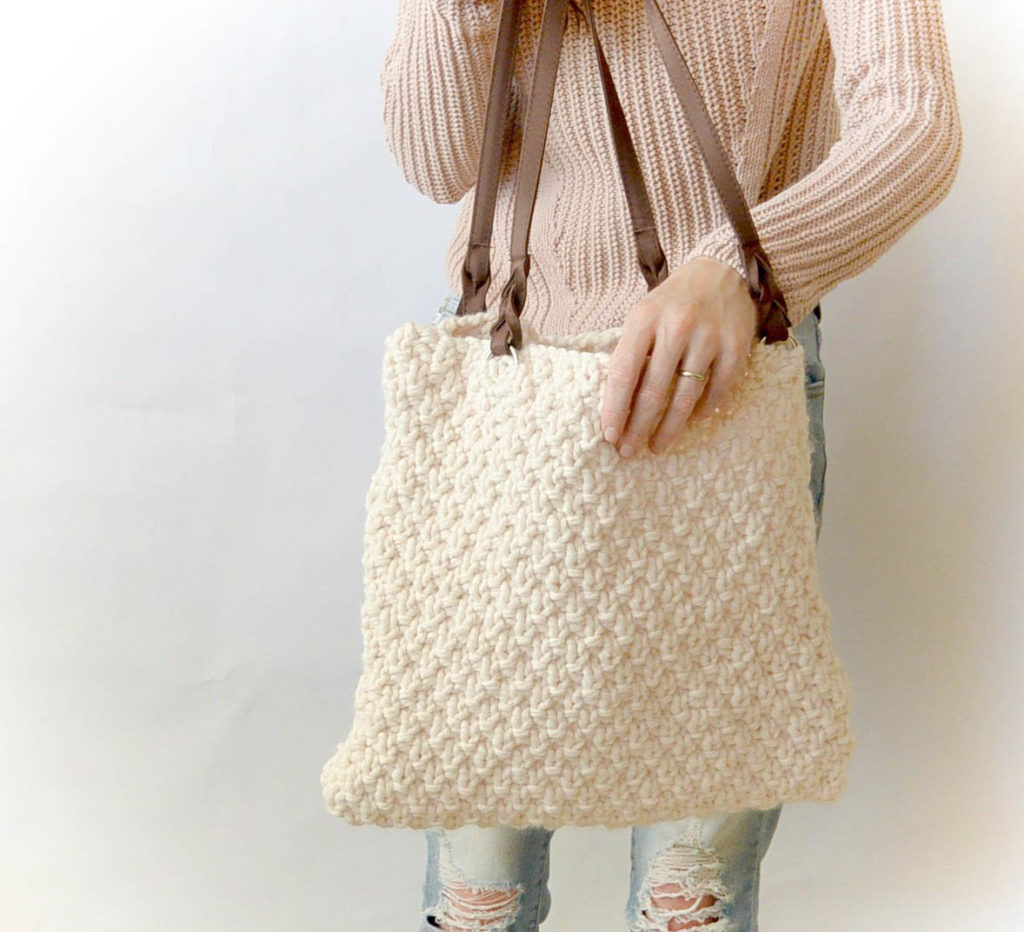 Trying out new stitches and techniques with knit and crochet is so much fun. I love finding simple stitch patterns that are pretty, but also don't make my brain hurt too much!
This bag is made with the double seed stitch pattern which looks lovely and is quite simple. There are no strange needle maneuvers (ha ha!) and you will just make a variety of knit and purl stitches.
It's made by simply knitting a large rectangle, folding it in half, seaming the sides and attaching some pretty handles. Voila! A perfect way to try a new stitch and make something useful at the same time. The edges came out a bit bumpy, but after blocking they can be made straighter. I named it the "Aspen Mountain Knit Bag" because to me, it looks like a tote suitable to carry around that fancy little ole' mountain town. I made many trips to Aspen as a child with my dad when he would go there for business meetings. 🙂 Maybe I need to go as an adult again…..yep, I could handle a little vacay there.
I've been obsessing lately over the Lion Brand Wool Ease Thick & Quick in Fisherman. Of course the Icelandic Crochet Blanket is done with it as well as the Ski Lodge Big Pom Hat I made a while ago. No worries, I'm using plenty of other yarns at the moment too – just ask the hubs! He will surely tell you of the massive amounts of yarn varieties which have over taken our house. 🙂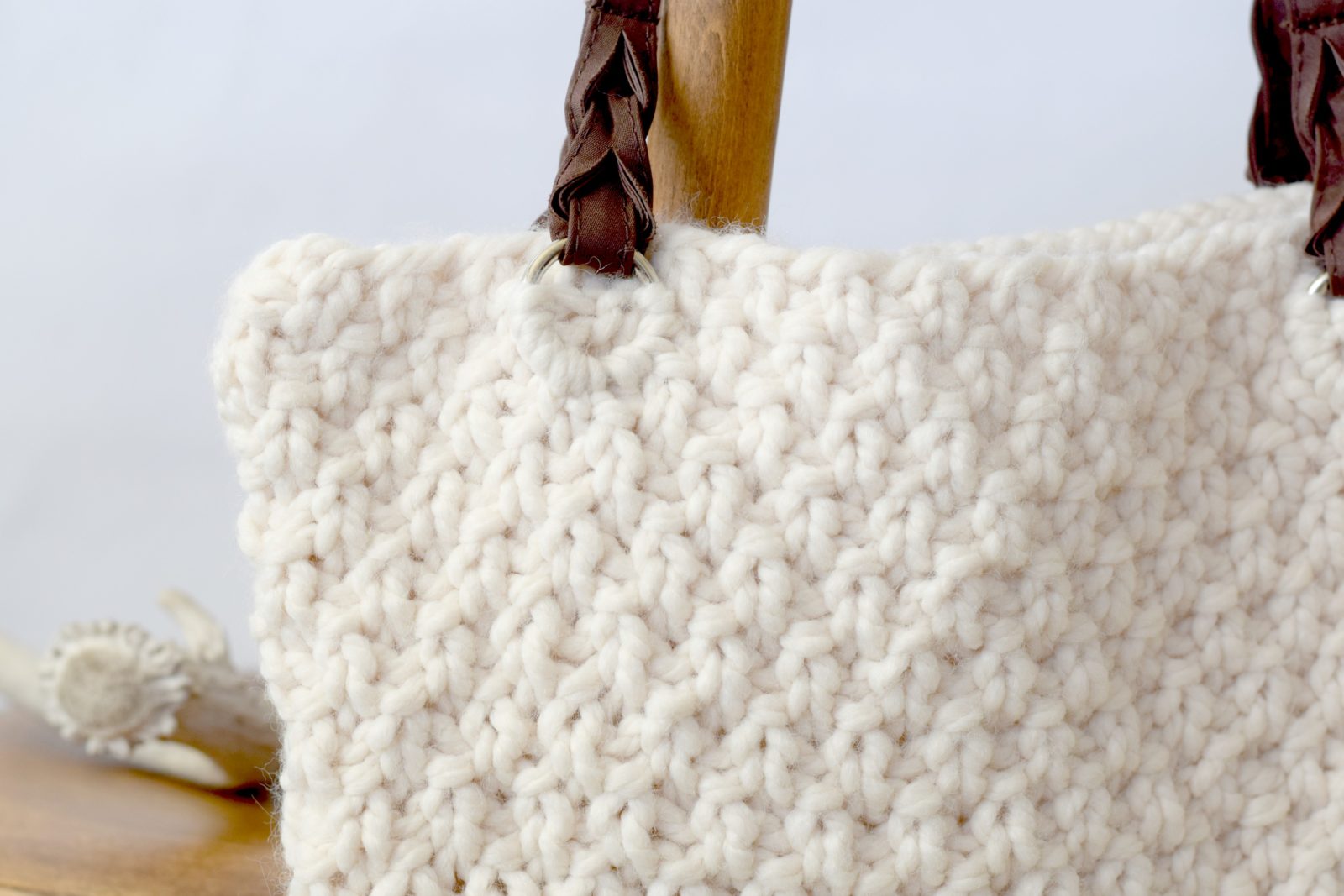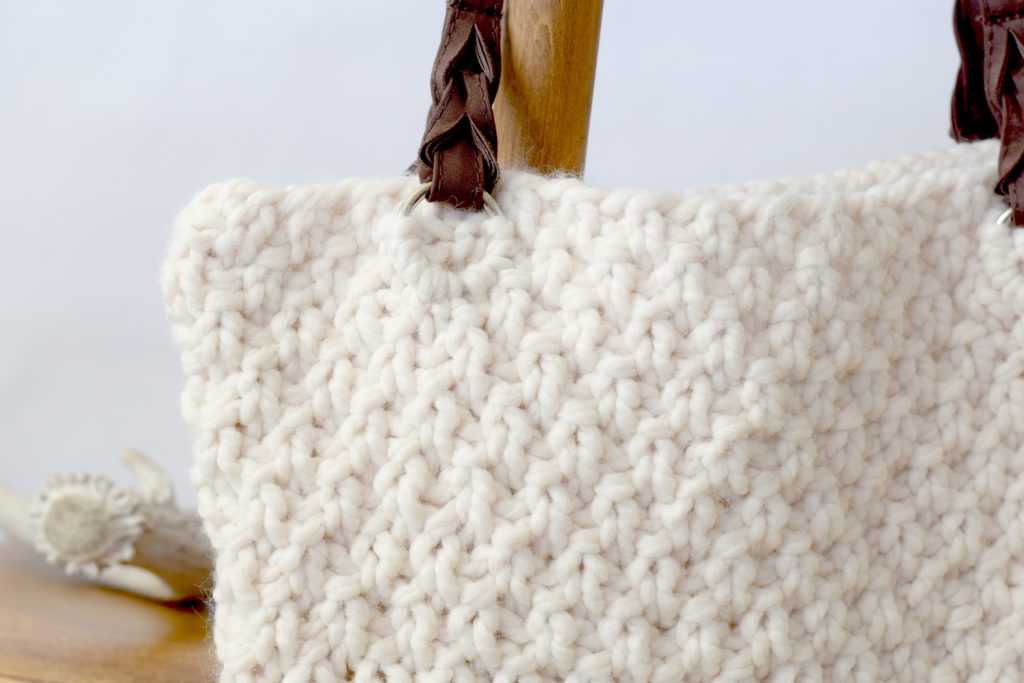 So here you go….
A feminine knit bag made with a simple but striking stitch pattern. Practical to haul around projects or other light items. You could line the bag to make it more durable for heavier items as well!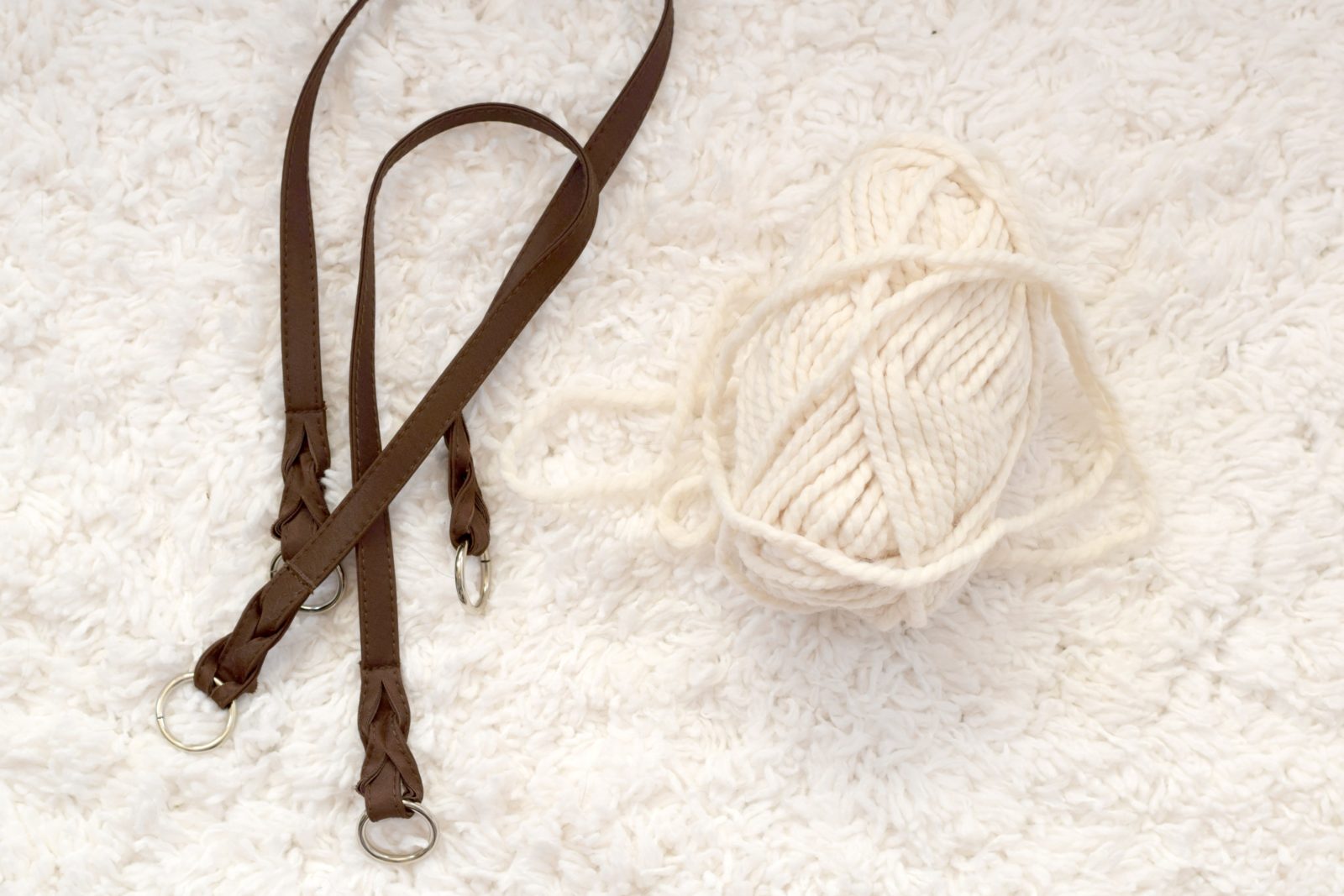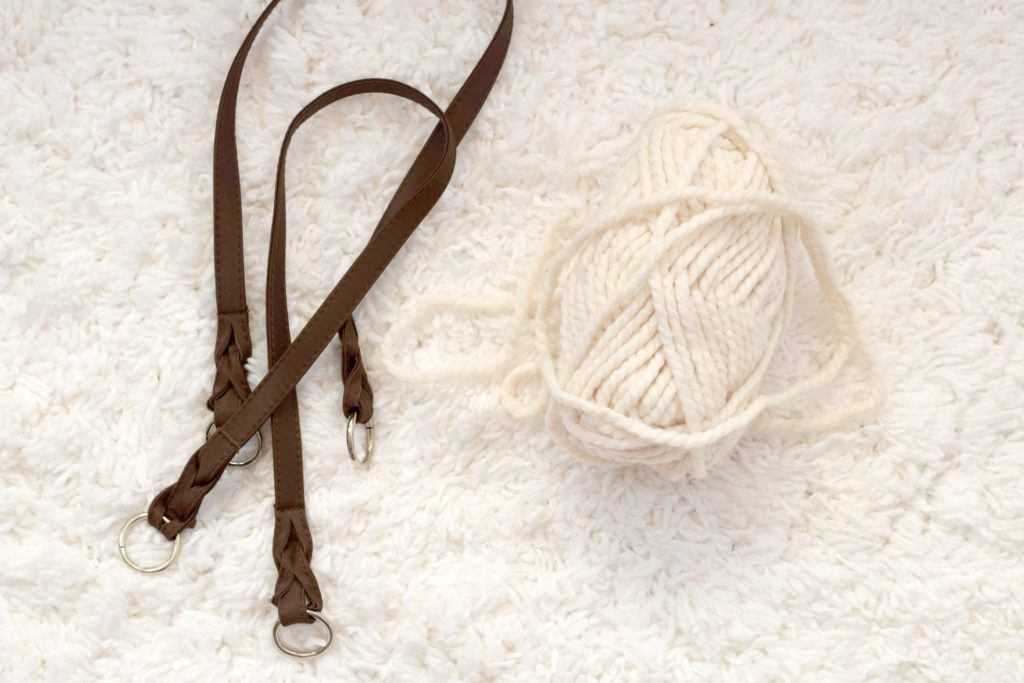 I am now sharing my patterns on Etsy where you can purchase an inexpensive, ad free printable version of this pattern HERE. Or, feel free to scroll down to see the free pattern below!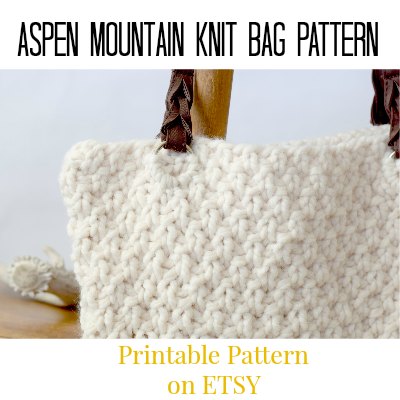 You will need:
2 skeins of Lion Brand Wool Ease Thick & Quick in Fisherman or preferred color (It uses about a skein and a half)
Purchase the yarn for this pattern (affiliate link):

US Size 15 10 mm knitting needles
Microfiber or leather handles with rings – approximately 25" in length (these were purchased at Joann Fabric Store)
Tapestry Needle to weave in ends and attach handles
Abbreviations:
k-knit
p-purl
Measures approximately 14.5″ deep
Free "Aspen Mountain" Knit Bag Pattern:
CO 36 stitches
Row 1 K1, p1 across row
Row 2 Repeat row 1
Row 3 P1, k1 to end of row
Row 4 Repeat row 3
Repeat rows 1-4 until piece measures 28.5" long
Cast off and weave in ends
Assembly:
Fold in half with cast on/off edges meeting at open, upper end of bag.
Seam up both sides with preferred method and tapestry needle. Block as needed to make the edges as straight as possible! The pictures here are shown before blocking the bag. It doesn't have super straight edges, but still works well and looks pretty!
Place handle rings 1.5" in from outer corners. With length of yarn and tapestry needle, attach to ring with knot. Wrap yarn around each ring several times, working through the fabric of the bag, tie off. Weave in ends.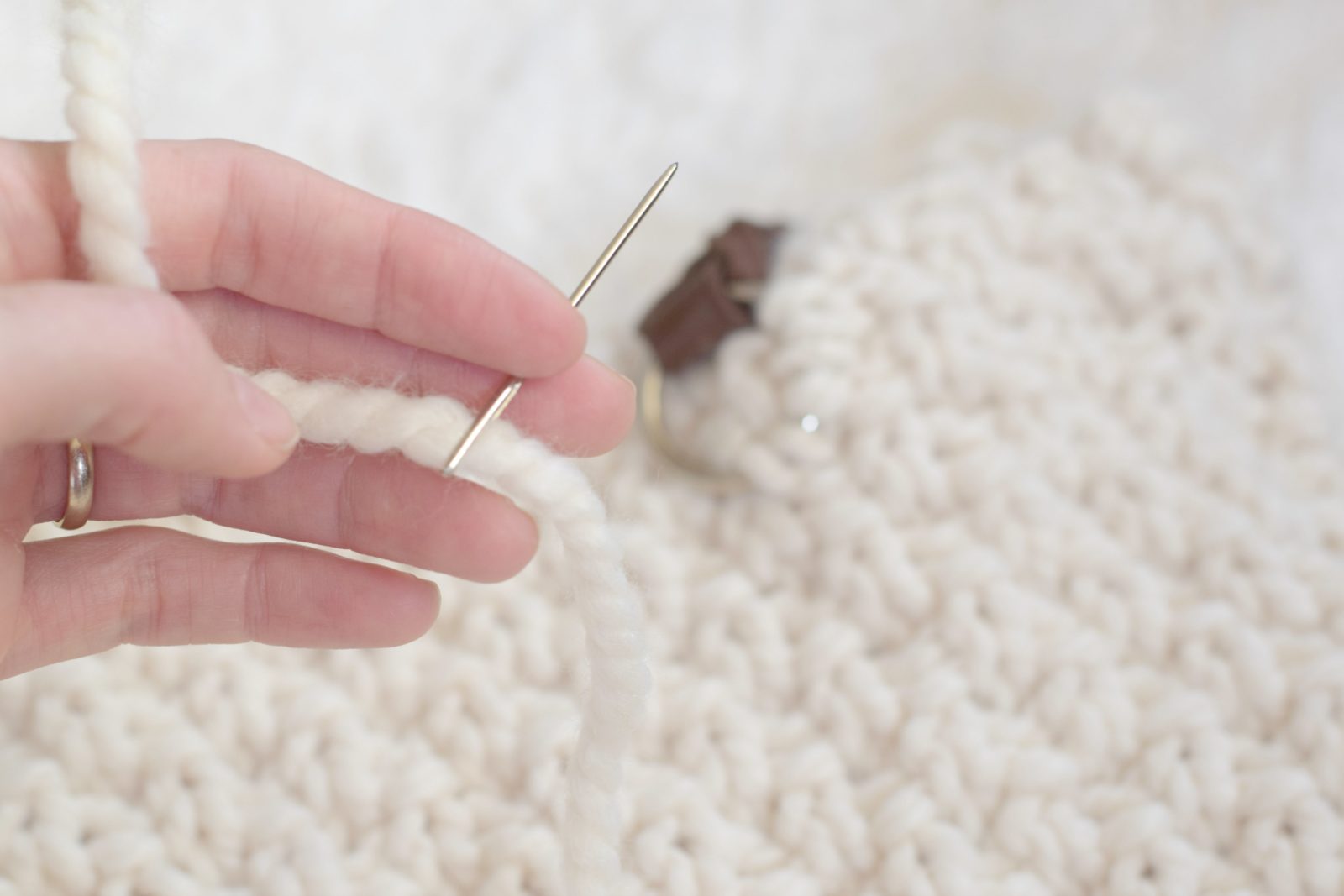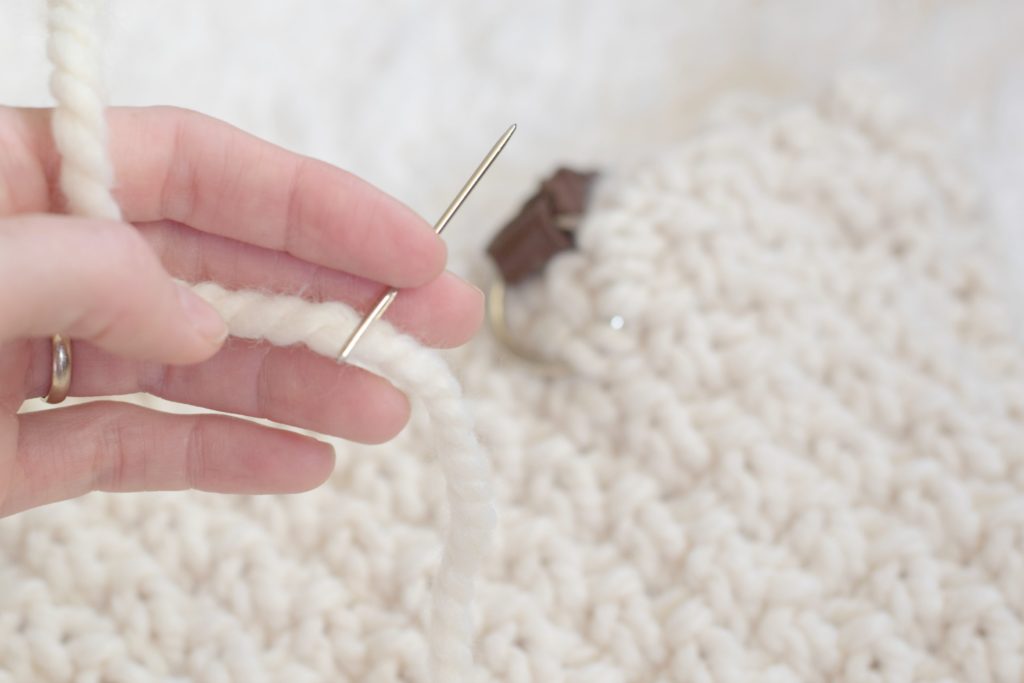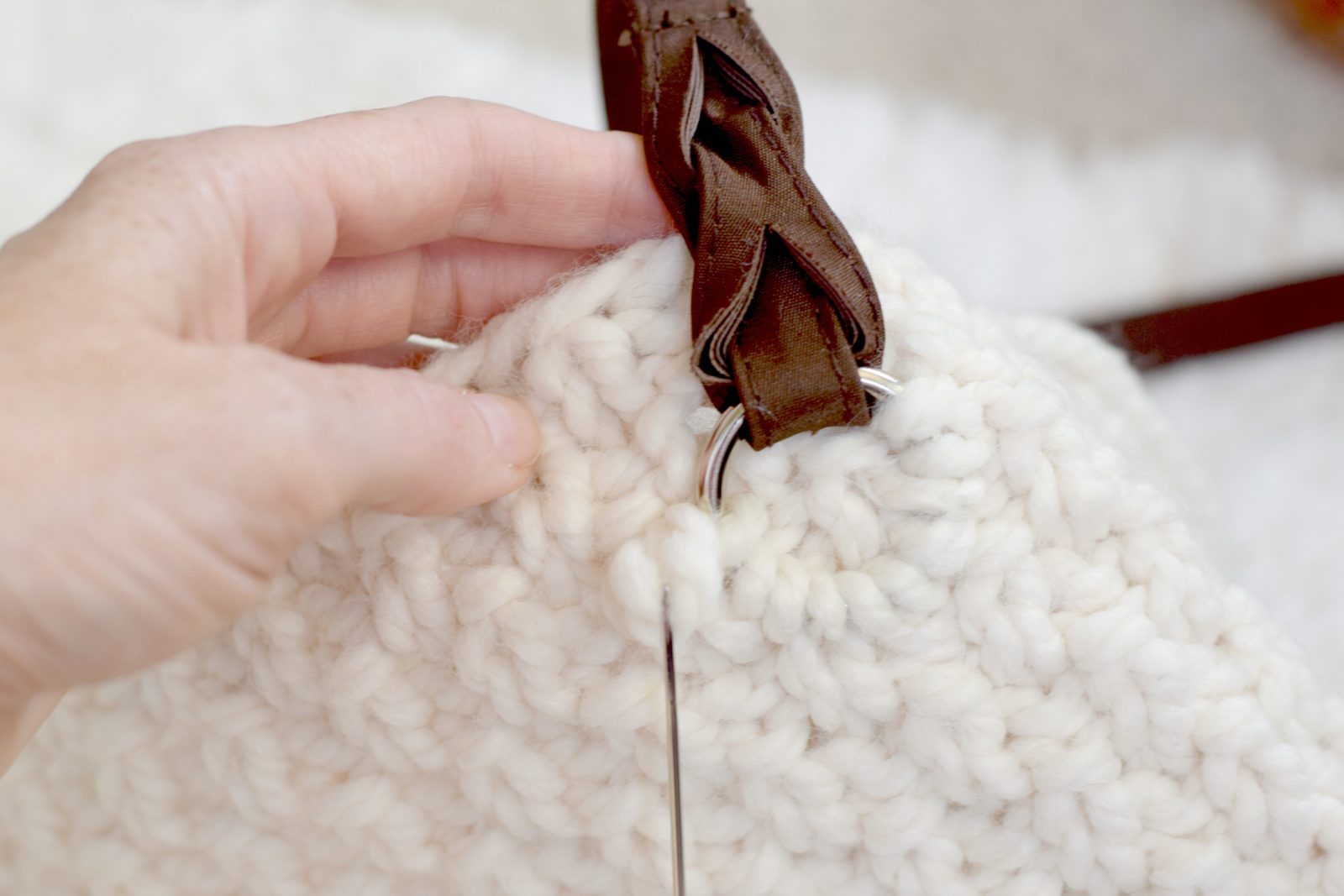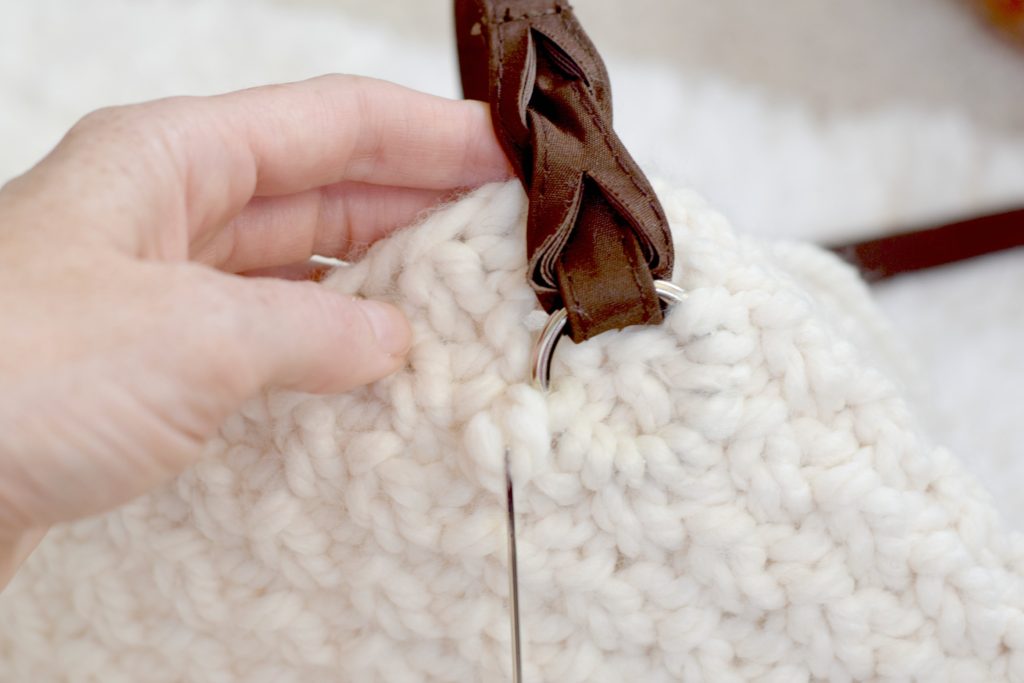 There you have it. A simple rectangle turned fun little tote. I've been wanting to make a pattern for a knit tote bag ever since I made my "Manhattan Tote" which was crocheted. This one is definitely different than a market bag, but the big open feel serves almost the same purpose. Since I've used a super bulky yarn for this knit bag, I think it's great for a fall or winter accessory. What about you?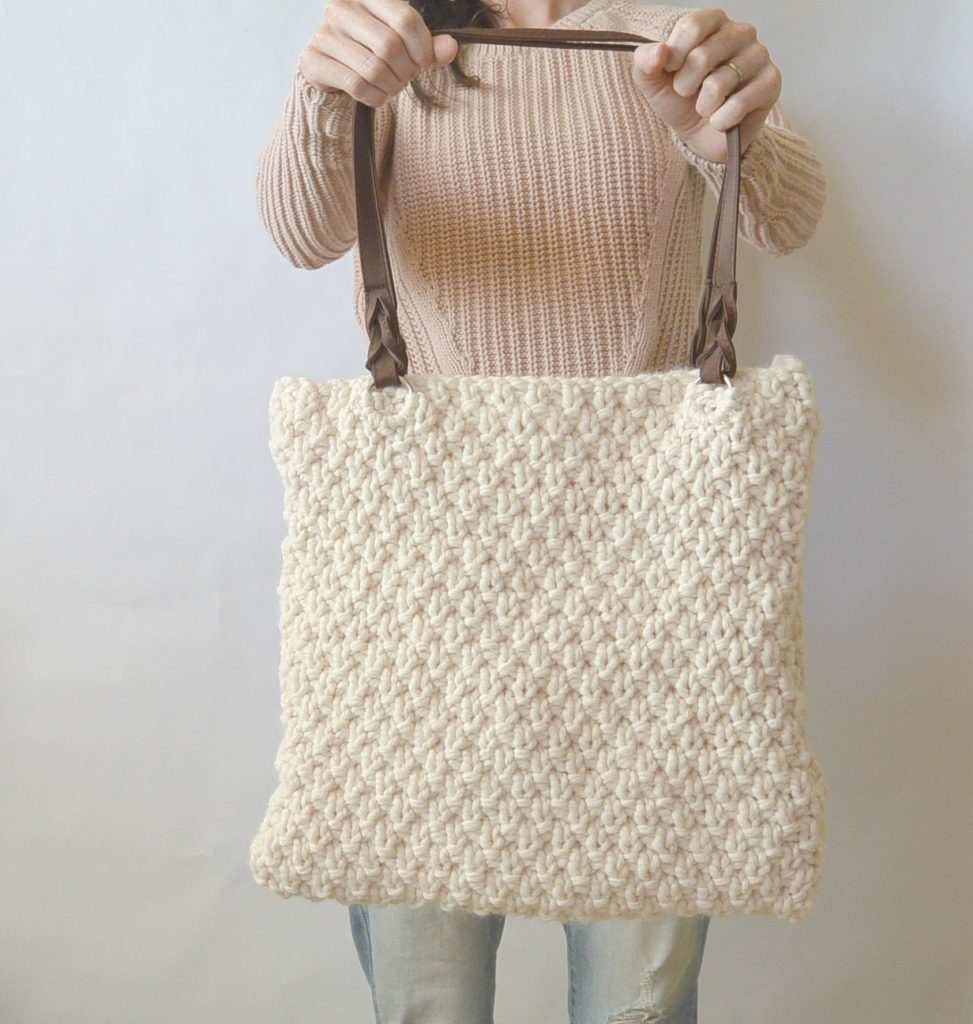 I hope that you've enjoyed this!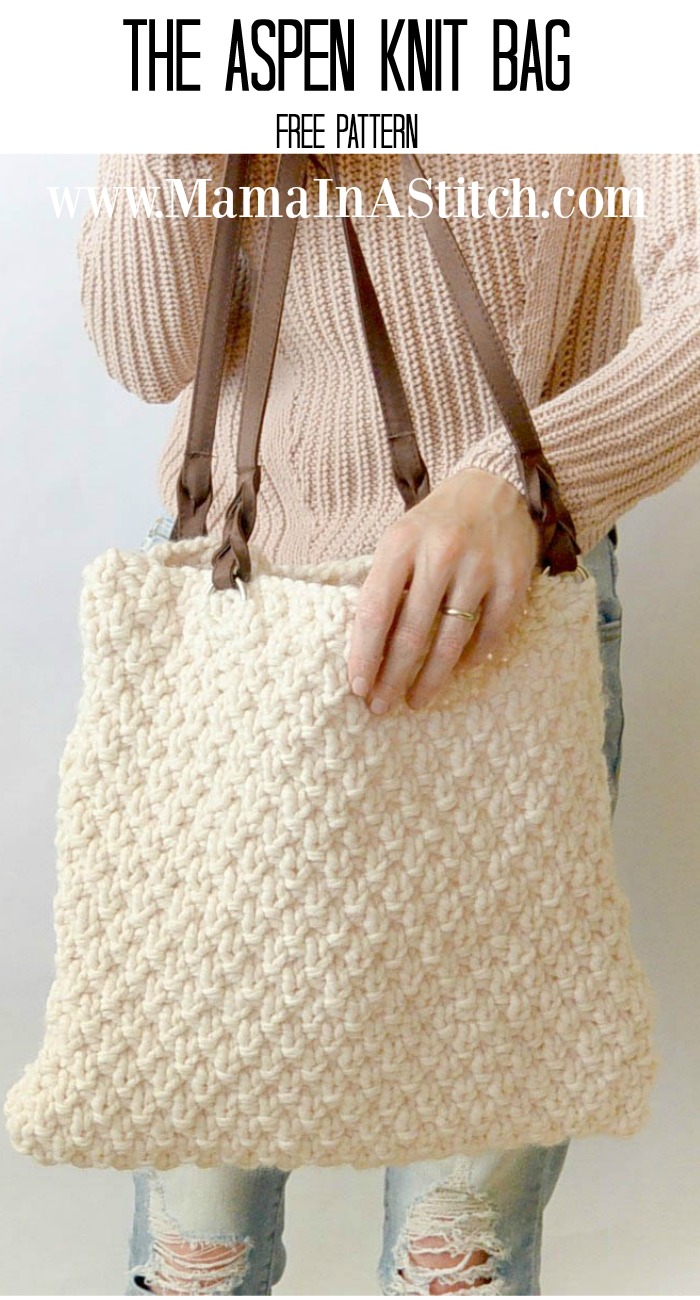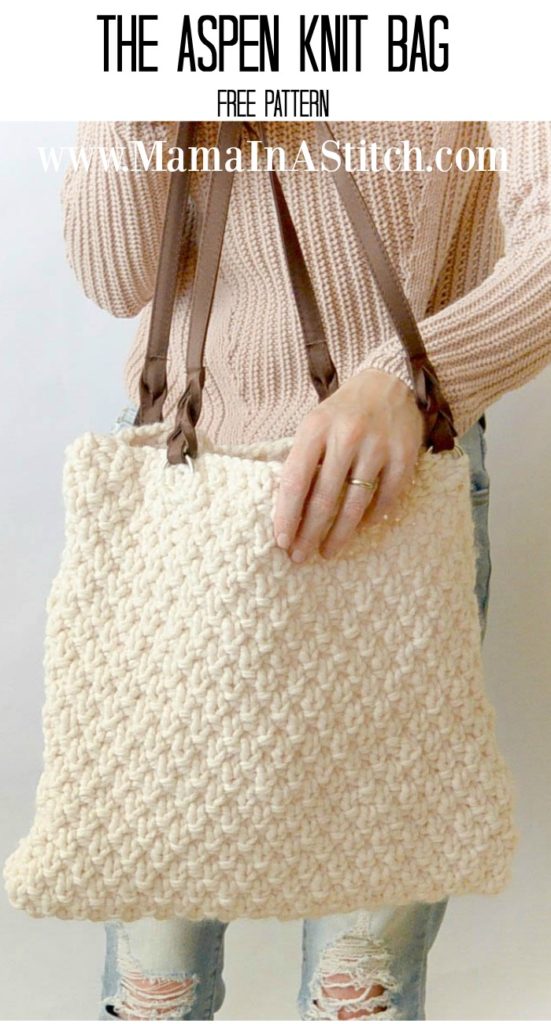 What's your favorite knit stitch? Have you tried the double seed stitch before?
Thanks so much!
-Jessica