Scroll down to see the free pattern below, or you may choose to purchase the printable, ad-free PDF from my Etsy Shop HERE. Thank you for your support!
It's been a while since I've shared a knit blanket pattern, but with fall upon us, I figure it's officially blanket season. This one turned out to be so squishy and soft and I love that it has a vintage vibe. You don't have to be an expert knitter to make this, but there's enough detail that the blanket still looks impressive. You'll be working the simple broken rib stitch through most of the pattern. I'm in love with each of the colors in this blanket, but the color options are endless and you can pick your faves! This is a baby blanket size, but it also works as a lapghan. For those who use a wheelchair, this could be a perfect size as well. You can see the free pattern below and if you're experienced, it will be easy to adjust the size if you'd like to make it larger!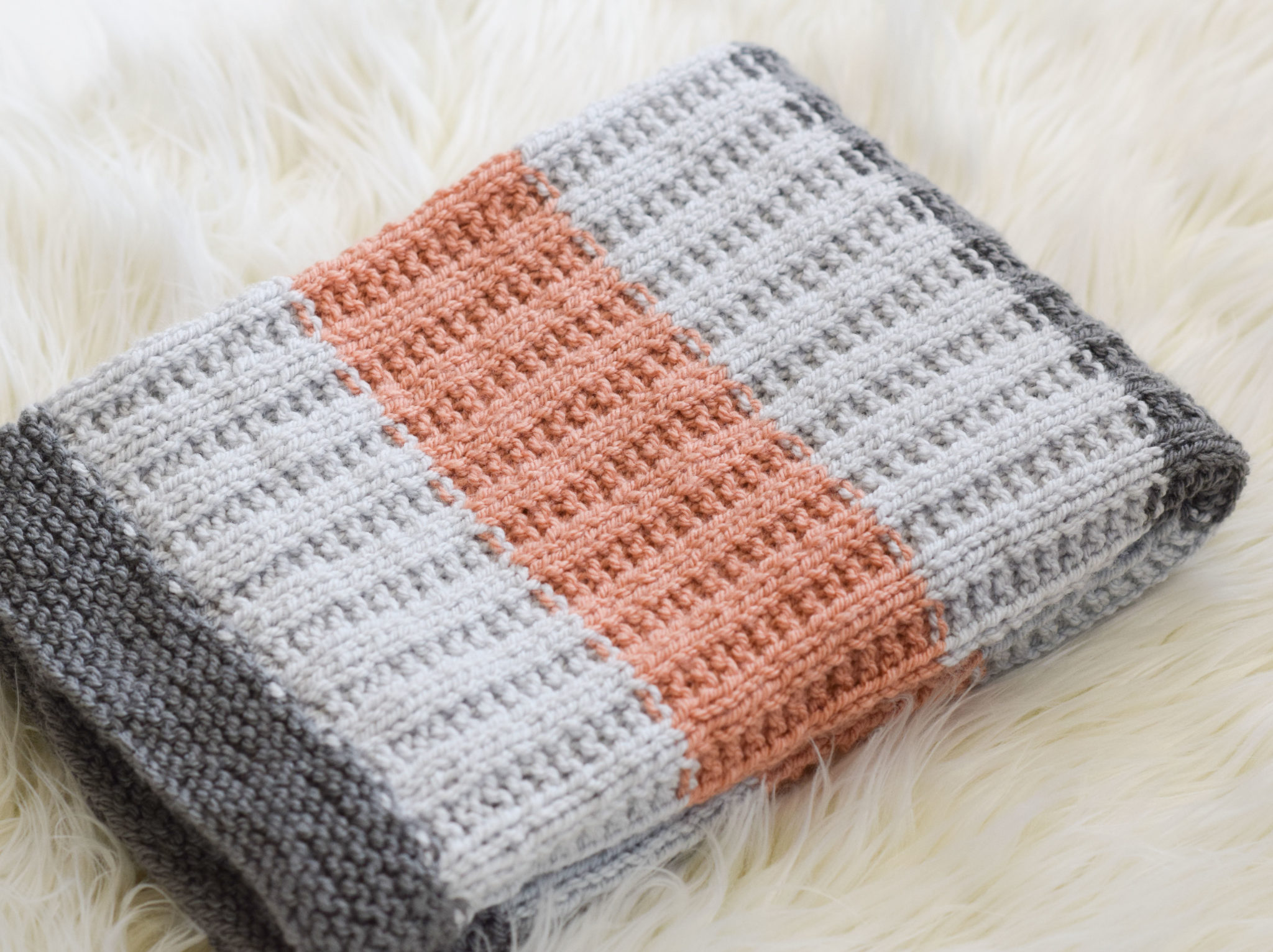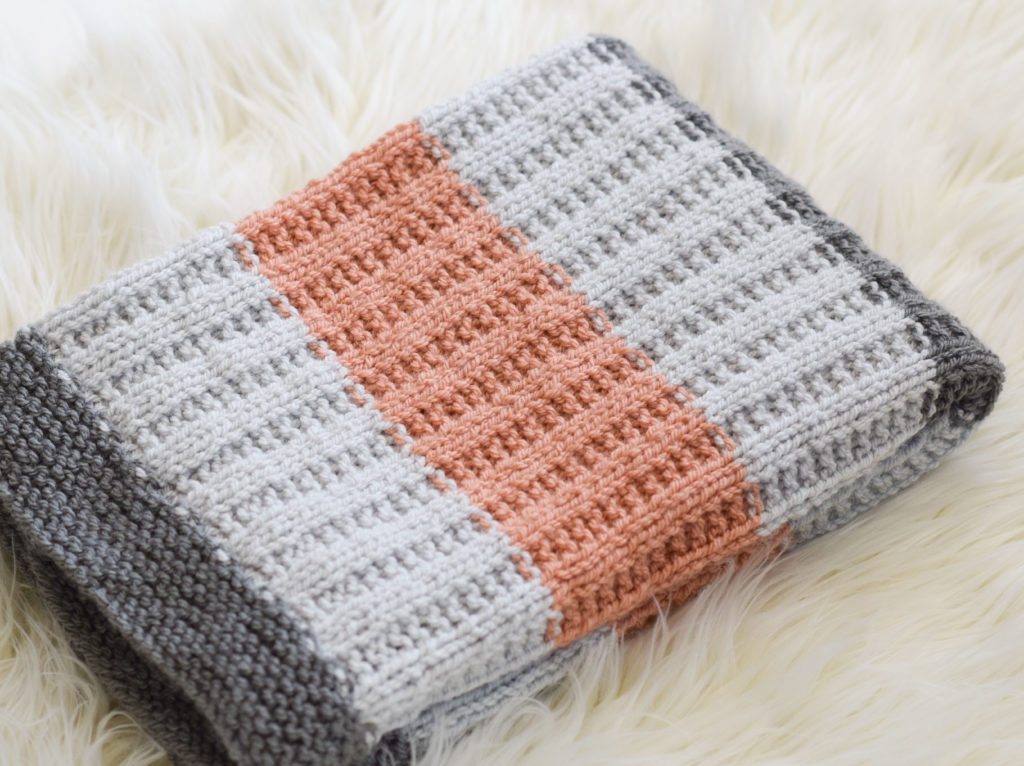 So, how do we knit it? First, using your long, circular needles, you'll cast on 132 stitches. Even though you'll be using circular needles, it's knit flat. The long circulars are used simply so that you can hold all of the stitches. After knitting the edge for several rows, you'll begin working the broken rib stitch pattern. The cool thing about this stitch pattern is that it's really beautiful on both sides of the blanket. To be honest, I can't decide which side I like more!
Below: I like the reverse side as much as the front. What about you?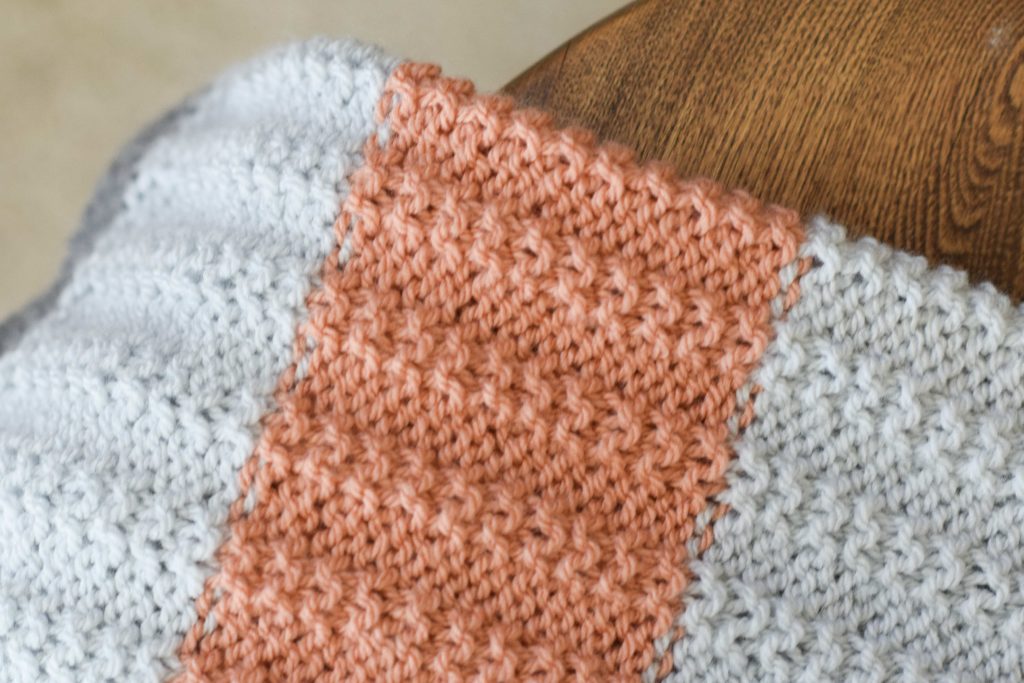 Have you used the Paintbox Yarns by Love Crafts? I had never tried them before, so I was super excited when they contacted me and offered to send some my way. I'm really picky with acrylics and don't use them if I find them to feel cheap or scratchy. While this is Paintbox Simply Aran is 100% acrylic, it's one of the nicest I've ever used. I'd describe it as lofty, soft, not splitty and really easy to work with. It's got a fairly matte finish and minimal sheen, which I love. And seriously-the color palette. Just look at it (here)!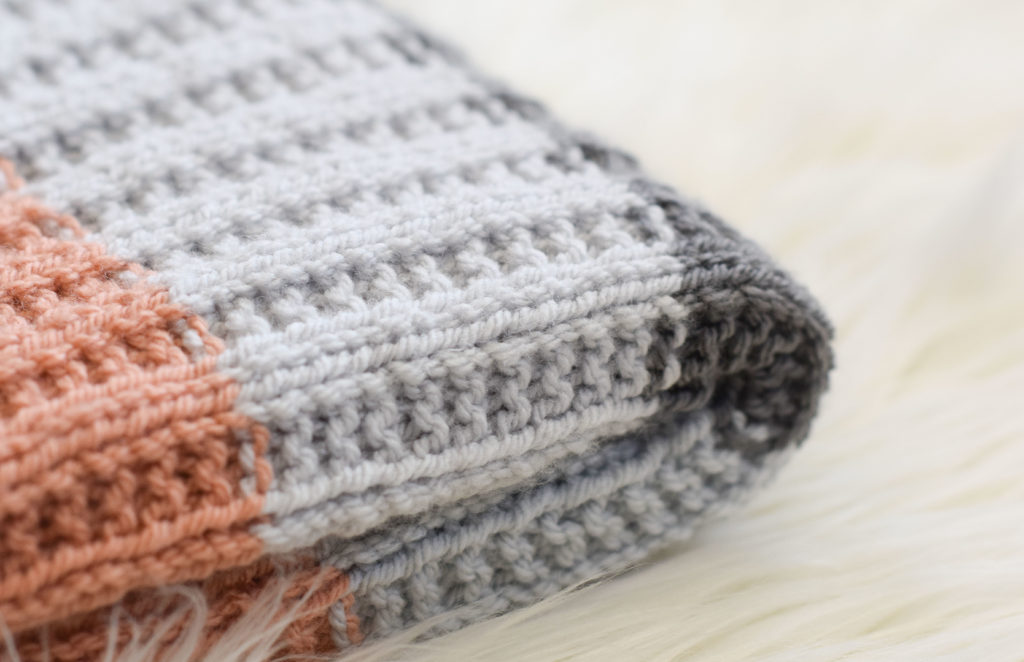 The stitch pattern works for boys or girls, which makes this pattern really versatile. The stripes are also completely customizable, so you can pick your favorite colors. If you like the look of solid colored blankets, just forget the stripes completely. Feel free to make this your own!
And really, how about that Vintage Pink color?!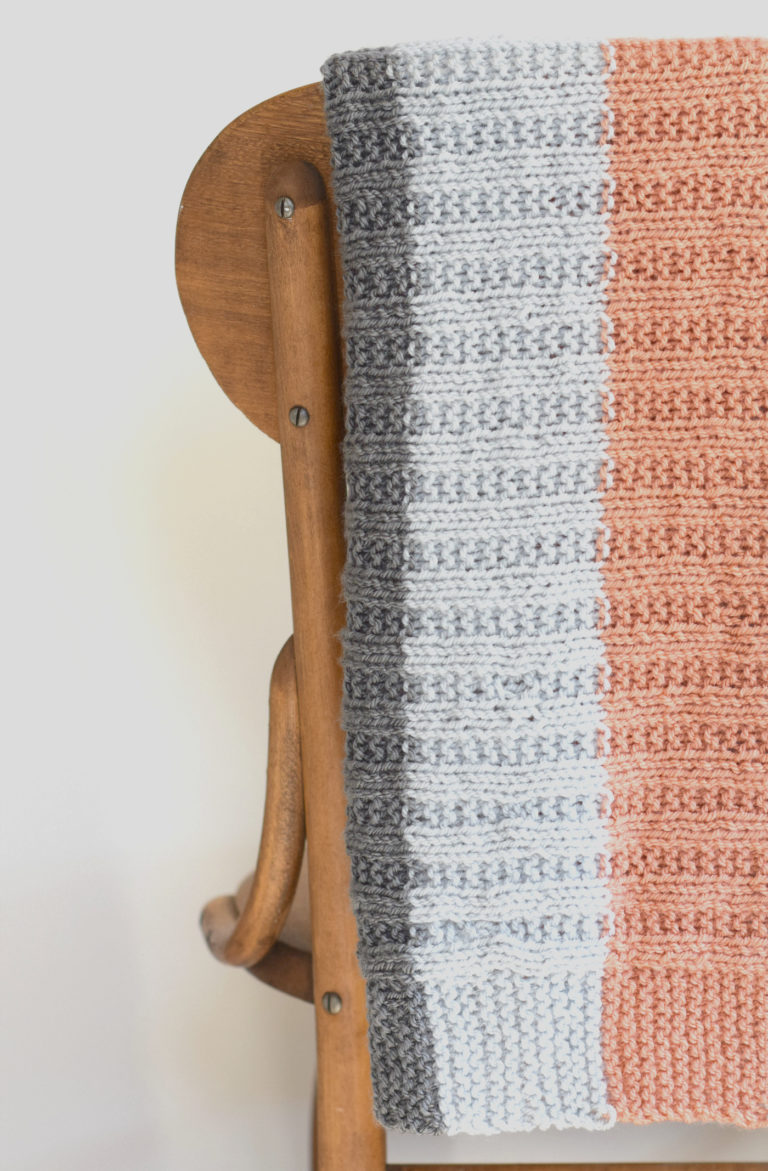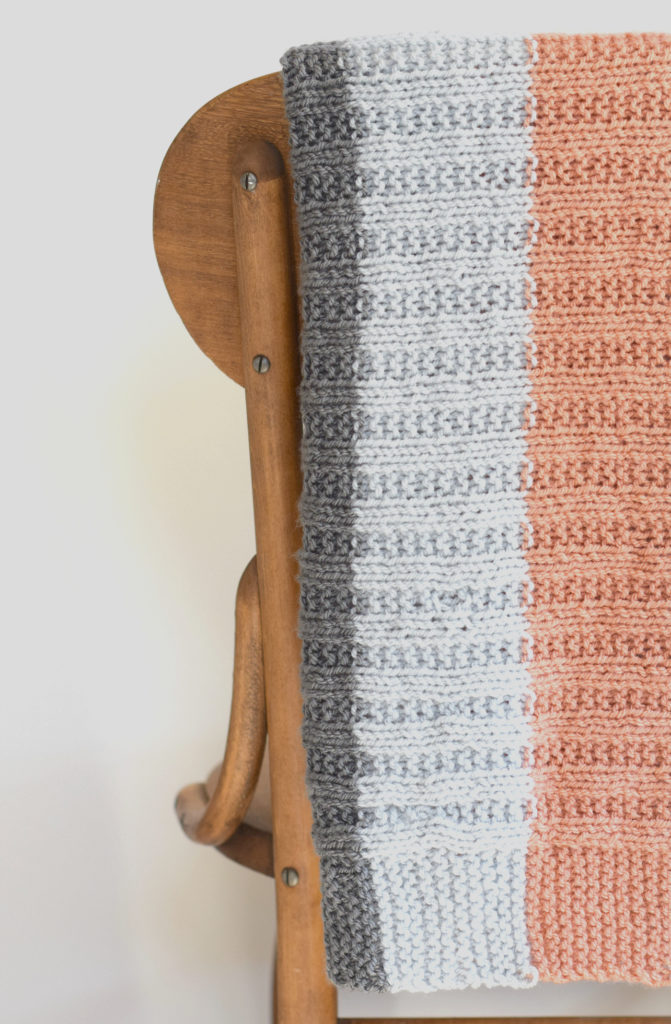 Let's get to this fun and simple knit blanket pattern, shall we?
Description:
Light ribbing and gorgeous, bold stripes make this both a cozy and beautiful blanket. Each side of this blanket has a unique look that are equally pretty thanks to the broken rib stitch. If you're comfortable with knitting and purling, you'll find this pattern to be simple and fun to work. The color palette and classic design give it a vintage feel, though you may choose to use any colors you like. It's perfectly sized for baby, or to keep your lap warm without dragging on the ground. You'll find basic instructions on how to increase the size in the notes section of the pattern. Enjoy!
Materials:
US Size 8, 5.0 mm 36" circular knitting needles
3 skeins Paintbox Yarns in Misty Grey 100 g/skein
1 skein Paintbox Yarns in Slate Grey 100g/skein
1 skein Paintbox Yarns in Vintage Pink 100 g/skein
Pattern uses approximately 340 g of yarn
Scissors
Tapestry Needle
Skill Level:
Easy +
Size:
Approximately 34" x 27"
Gauge:
Not important for this pattern
Notes:
This blanket is knit flat and is worked from the bottom-up. Circular needles are used in order to hold all of the stitches. Ensure that you make color changes on the same side of the blanket, each time, for a consistent look.
As written, the center Slate Grey Stripe is thinner than the other stripes. If you'd like to make this blanket longer, simply make the center stripe equal to the others. Continue the striping pattern for as long as you'd like. To make it wider, you may start by casting on more stitches than indicated in the pattern. Keep a multiple of 4 + 2 extra stitches for the center ribbed portion. In addition, the border is another 11 knit stitches on each side. Keep yarn needs in mind when creating a blanket with different dimensions.
Abbreviations (US) & Skills:
k – knit
p – purl
sts – stitches
CC – change color
Mae Ribbed Blanket Pattern
Using Dark Grey, cast on 132 stitches
Beginning Edge
Work the knit stitch across each row for 2"
Next, move onto the Body of Blanket
Body of Blanket
CC to Misty Grey
Row 1 K11, *k2, p2; repeat from * to last 13 sts, k13
Row 2 K11, purl across to last 11 sts, k11
Repeat rows 1 & 2, in that order, making color changes where indicated until you've reached the Final Edge. Remember to change colors on the same side each time for consistency.
Continue original Misty Grey Stripe for approximately 3.5"
CC to Vintage Pink and follow stitch pattern for approximately 3.5"
CC to Misty Grey and follow stitch pattern for approximately 3.5"
CC to Slate Grey and follow stitch pattern for approximately 2"
CC to Misty Grey and follow stitch pattern for approximately 3.5"
CC to Vintage Pink and follow stitch pattern for approximately 3.5"
CC to Misty Grey and follow stitch pattern for approximately 3.5"
Final Edge
CC to Slate Grey
Knit across each row, just as you did with Beginning Edge, for approximately 2"
Cast off and weave in ends. Block to shape and size if desired.
That's it!
Enjoy!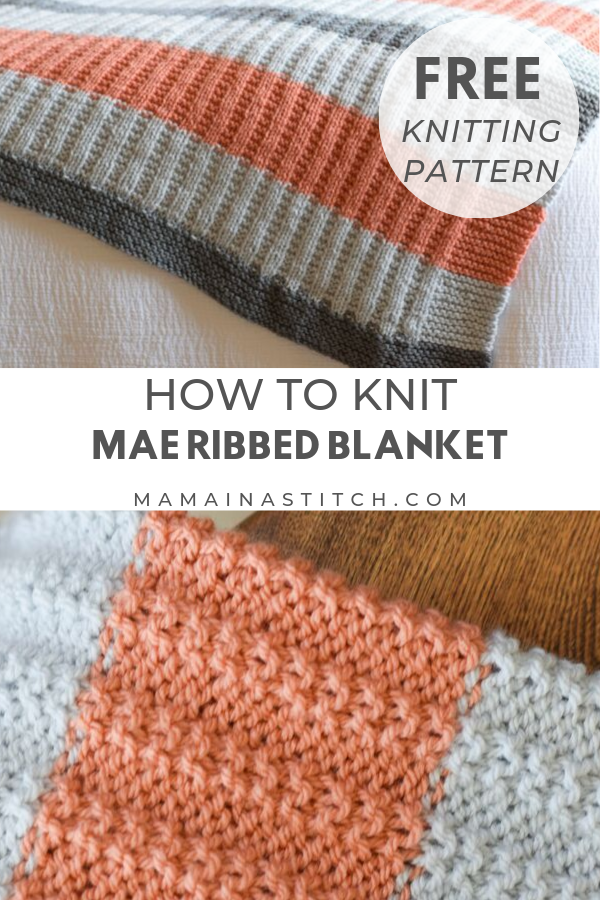 XO,
Jessica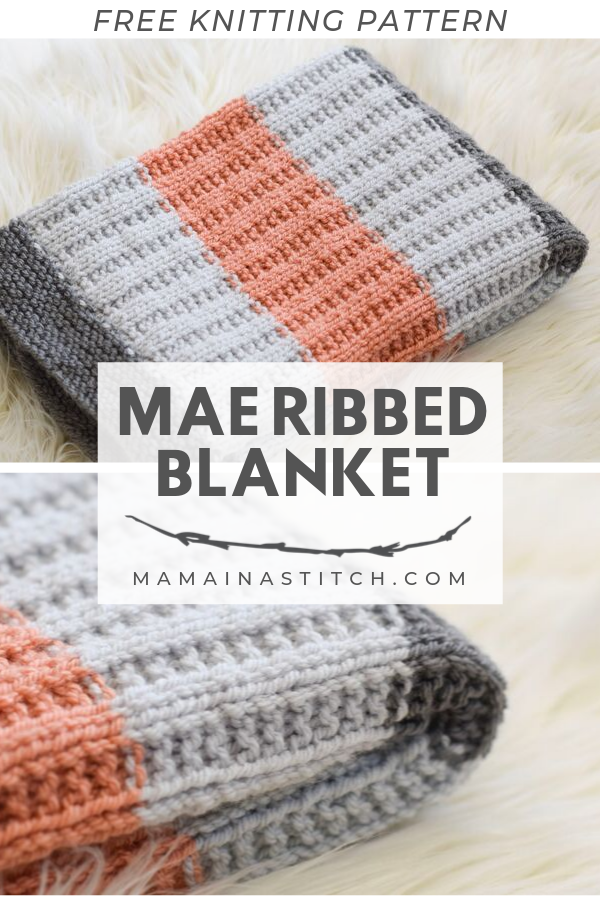 Love Crafts provided the yarn for this project. I thank them kindly!
If you liked this, you might also like:
Urban Stripes & Eyelets Blanket Knitting Pattern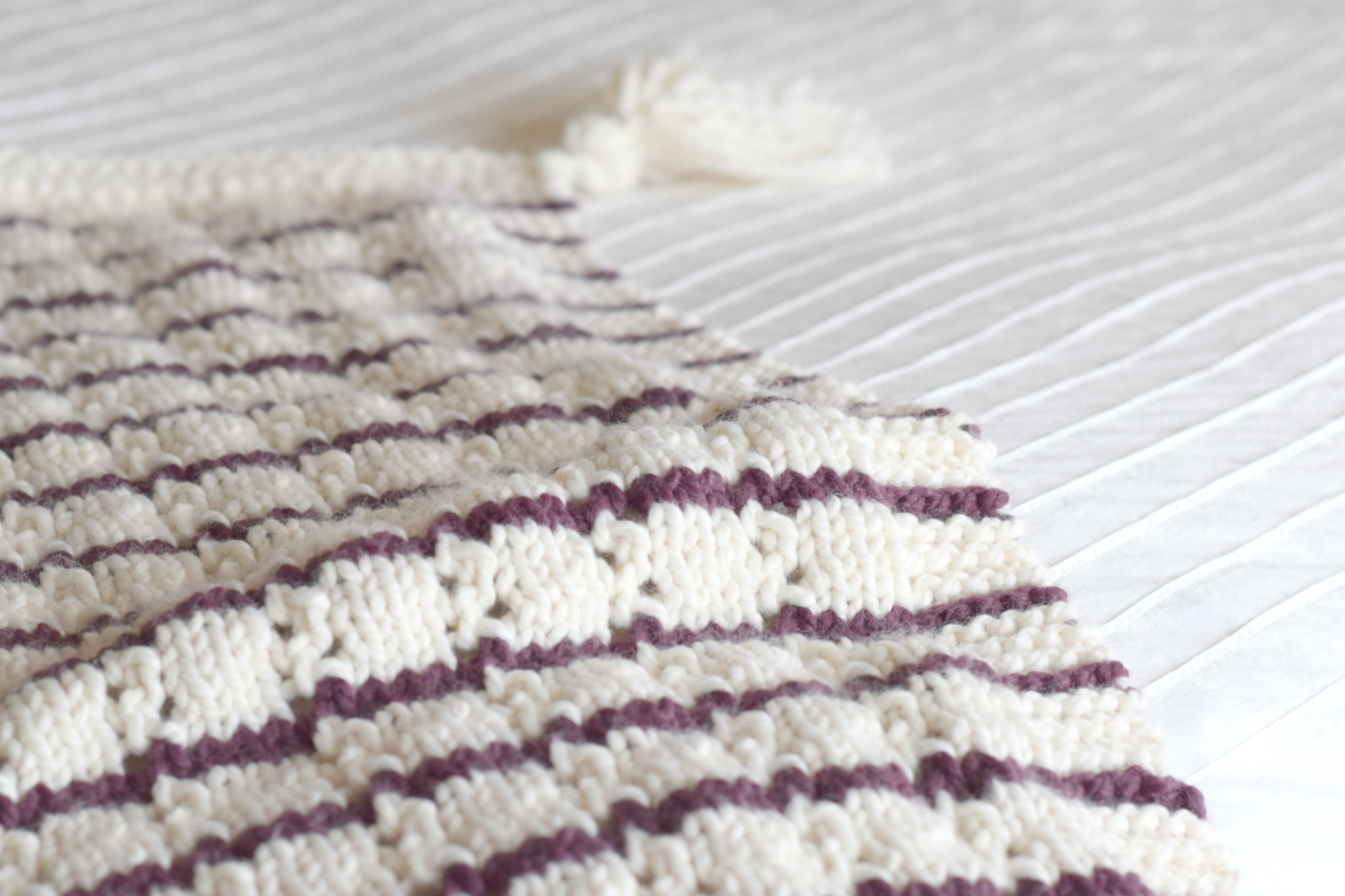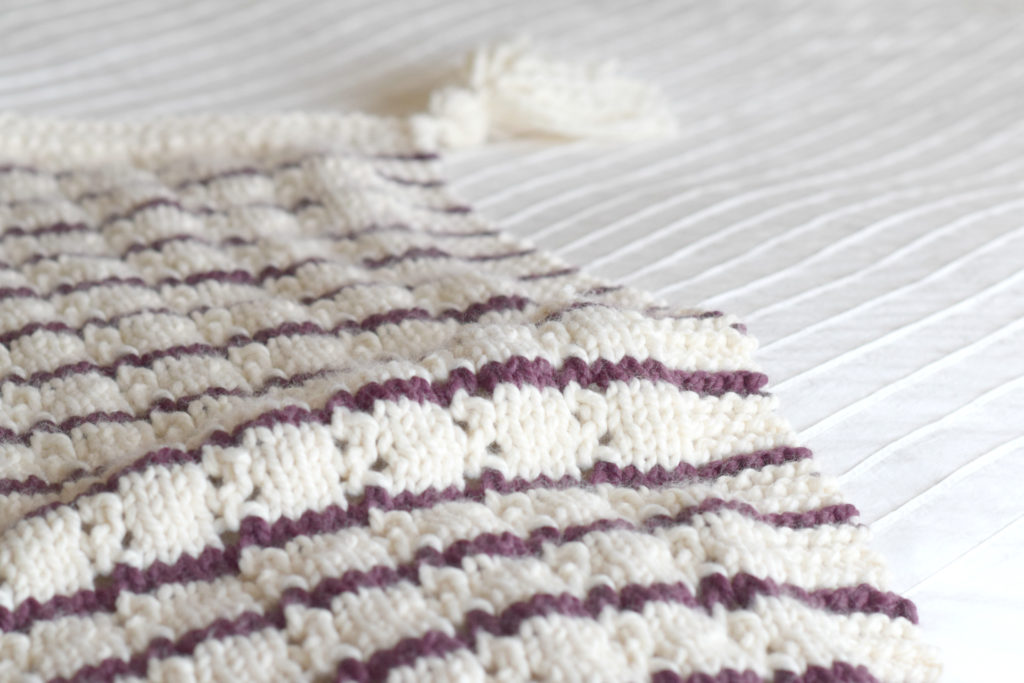 Quick & Cuddly Throw Blanket Knitting Pattern