Cabin Stripes Blanket Crochet Pattern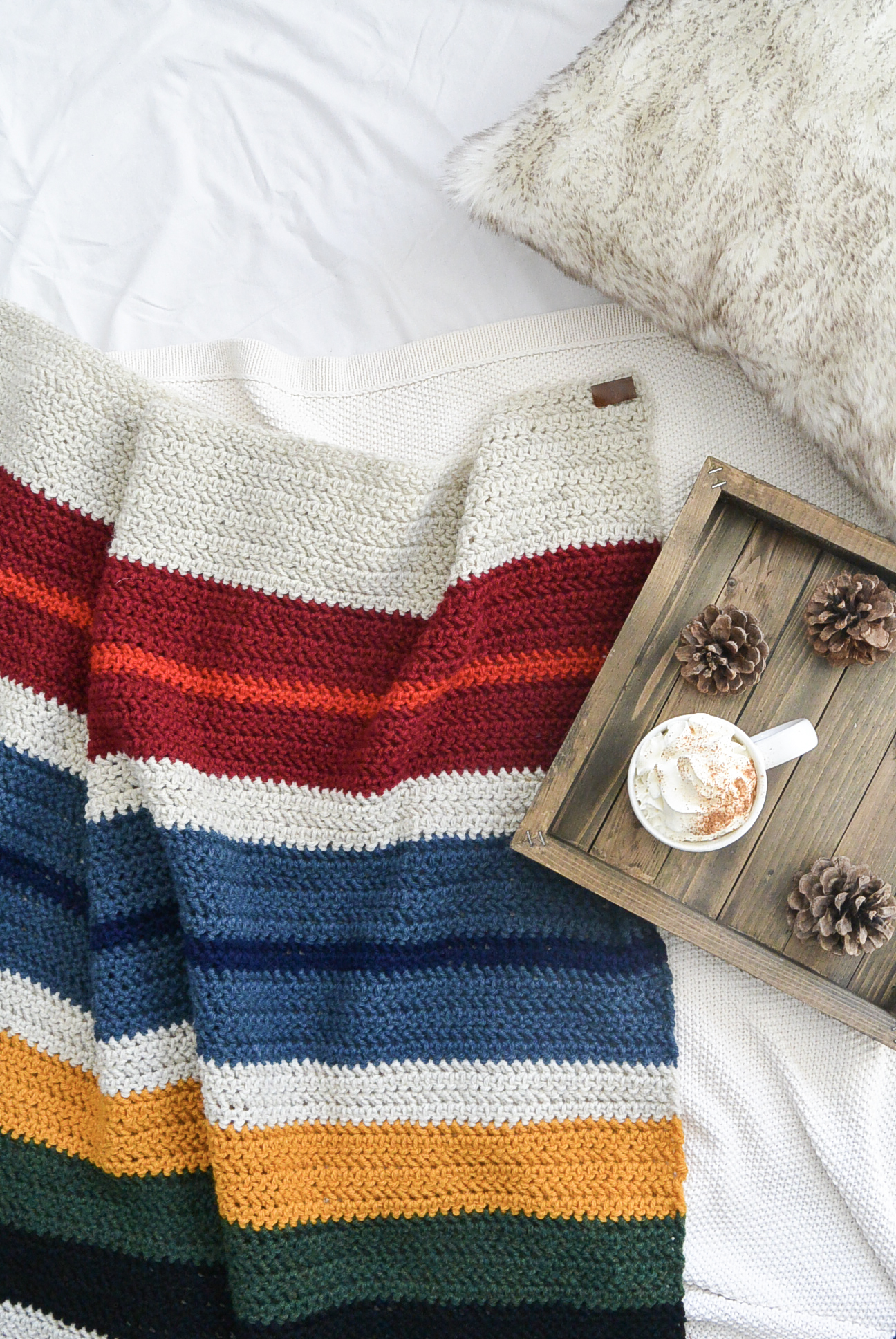 Today's easy striped free crochet blanket pattern can be found below, or you may choose to purchase the ad-free printable version from Etsy HERE, the kit from Lion Brand Yarn HERE (you can even customize your colors with the kit!), members grab your pattern under "Blankets" HERE. Have fun!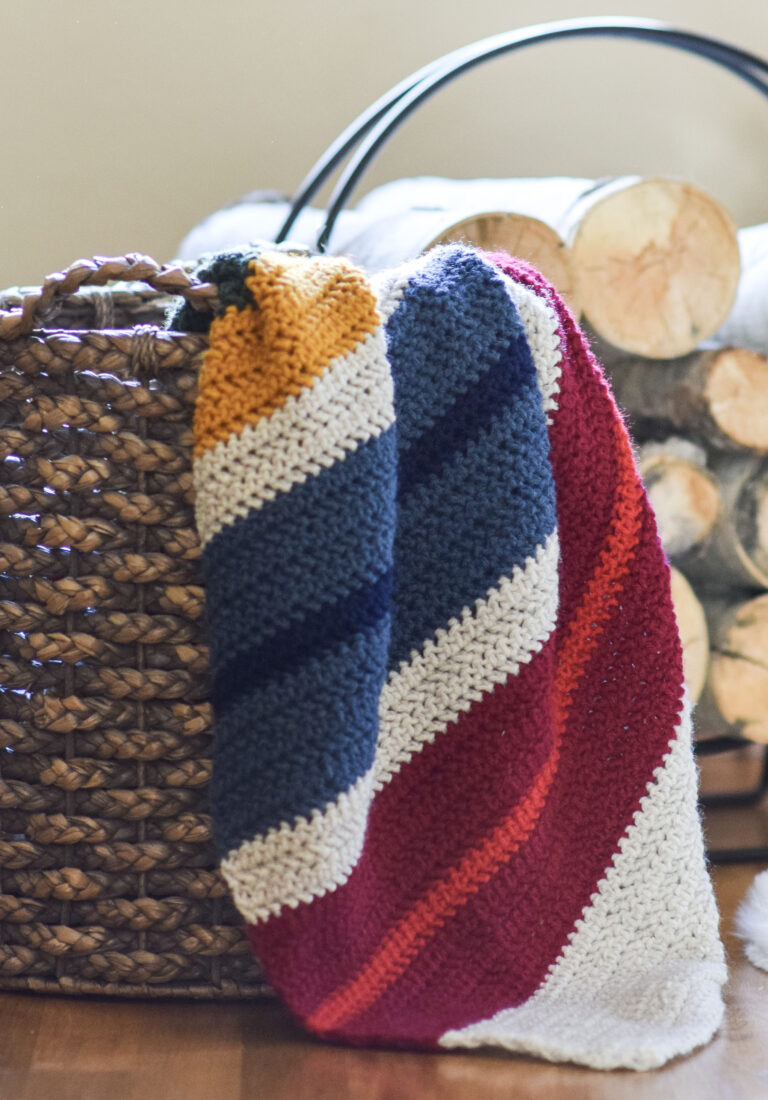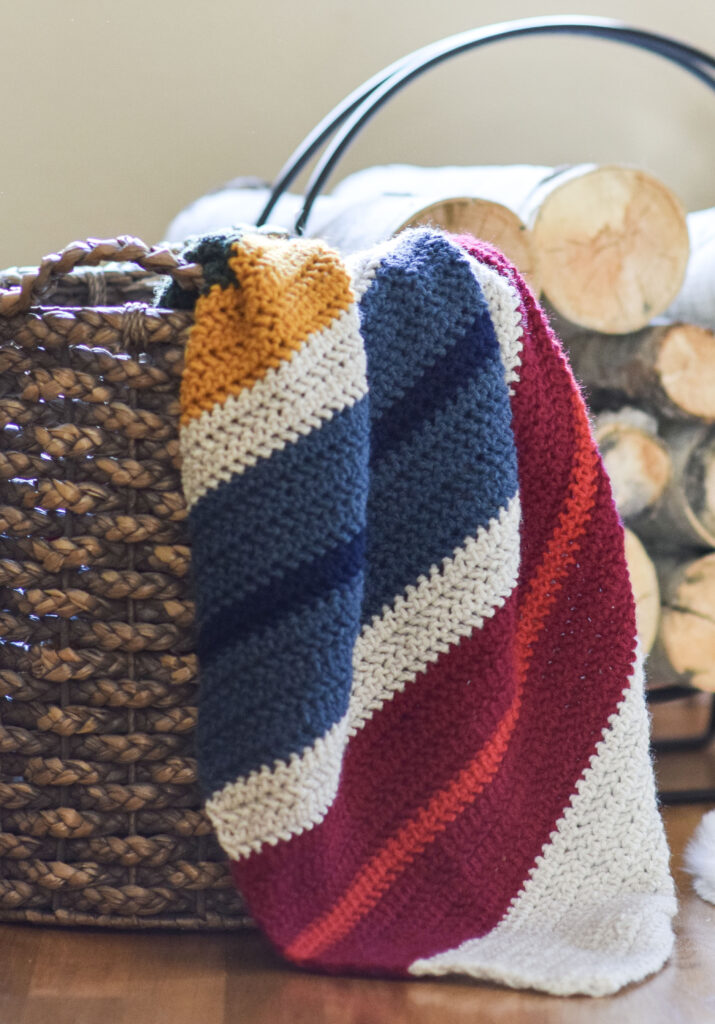 Ready for a blanket that is cozy as can be, and also can be completely customized? I have a slight (okay, major obsession) with camp blankets, Pendleton & Hudson Bay type throws. These blankets are often extremely pricy, so I have to control myself. But what if we can make our own? They are cozy and reminiscent of quieter days, and days spent in the tranquil outdoors. This blanket was inspired by the woven blankets of the past that you might find in a cozy cabin setting. What do you think? And can you believe I'm actually using color (it happens about once a year haha!) By the way, if you like this style, but you'd prefer it to be knit, you can see my Native Stripes Knitting Pattern HERE.
This blanket is super simple to crochet and is perfect for beginners and advanced crocheters alike. The stitch that you'll use is the herringbone half double crochet (see a tutorial HERE from New Stitch A Day), which creates an amazing, flat textured fabric. Some folks would even think that it looks knit!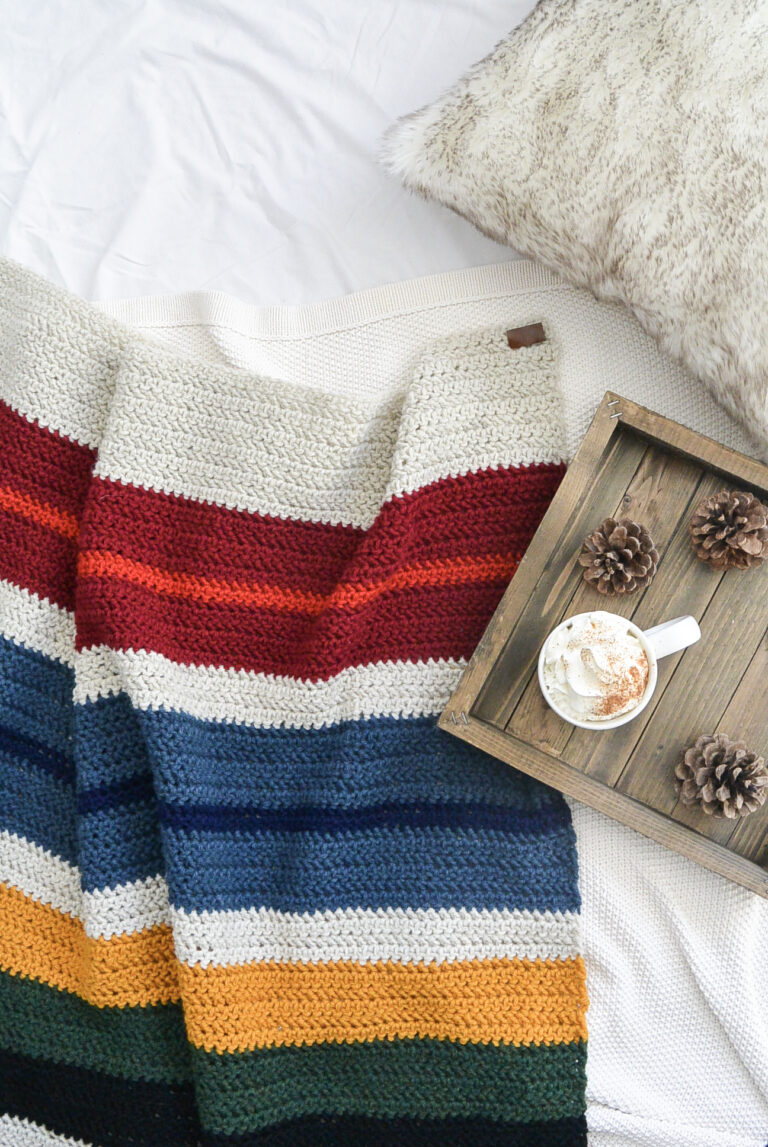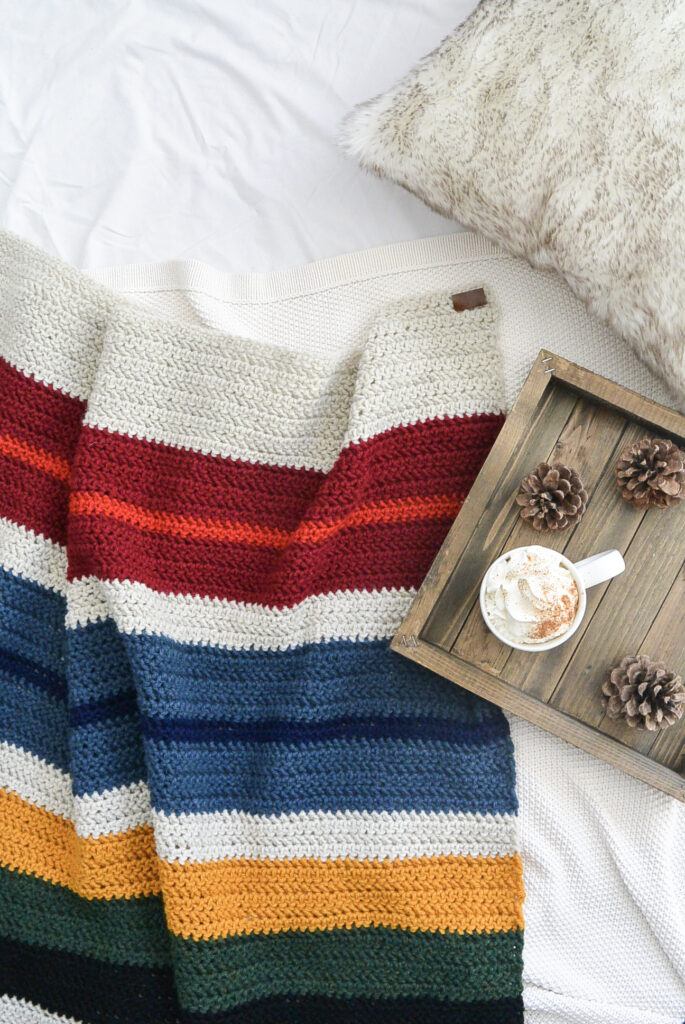 I wanted to use a yarn that is soft, washable and warm, so Lion Brand Wool Ease was the winner. This is one of my all time favorite worsted weight yarns for winter, as it's a cozy wool blend with an incredible array of colors. (I'm partial to the Natural, of course).
It was a lot of fun to come up with this striping pattern and meld the colors for that southwest, woven look. However, you can customize it any way that you like! Make the stripes thicker, thinner and add fringe or tassels. You can also easily adjust the size of the blanket by simply starting with a longer or shorter chain in any stitch count, and crocheting for more or fewer rows. Yay! Do any of you remember my Mexican Serape Blanket Crochet Pattern? Stripes really can be a lot of fun and projects like this can make great stash busters. Feel free to use your favorite mix of colors!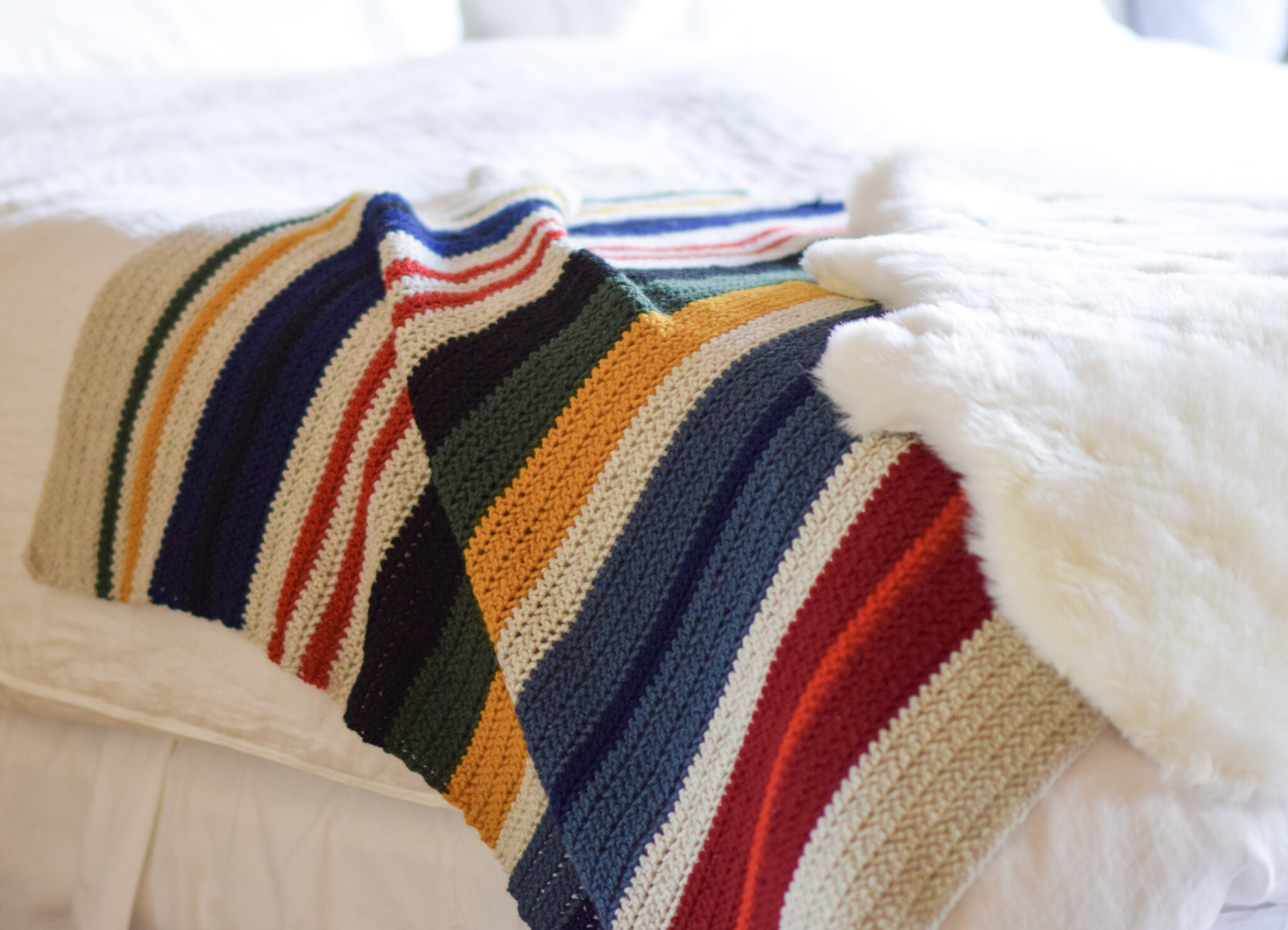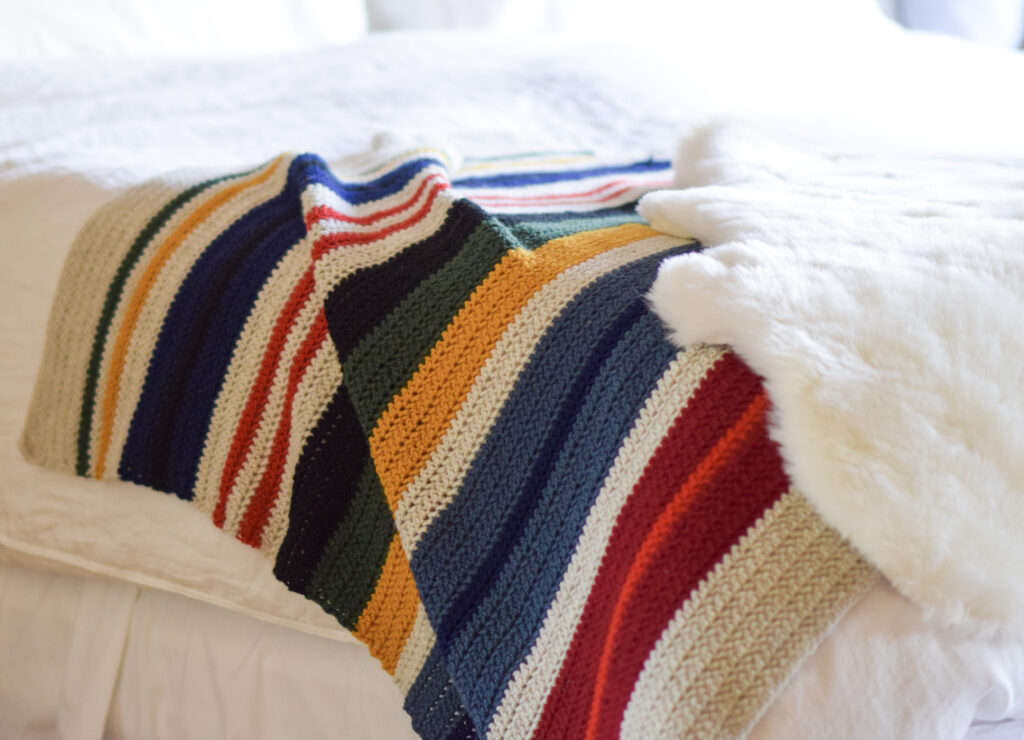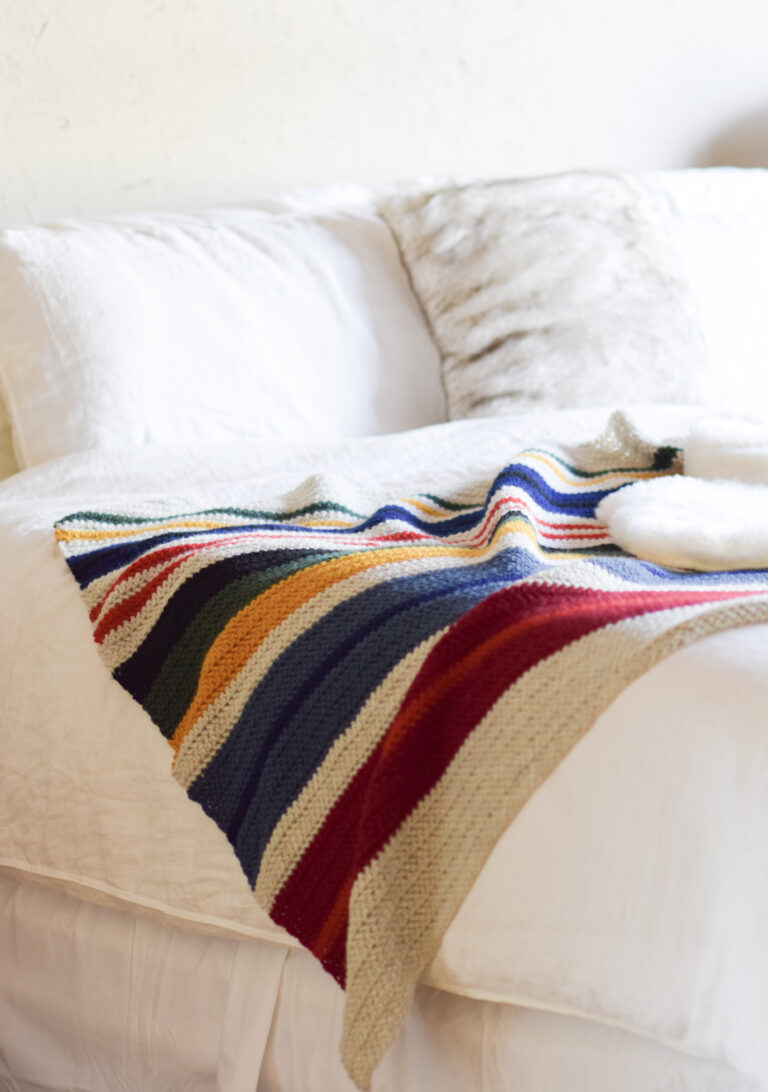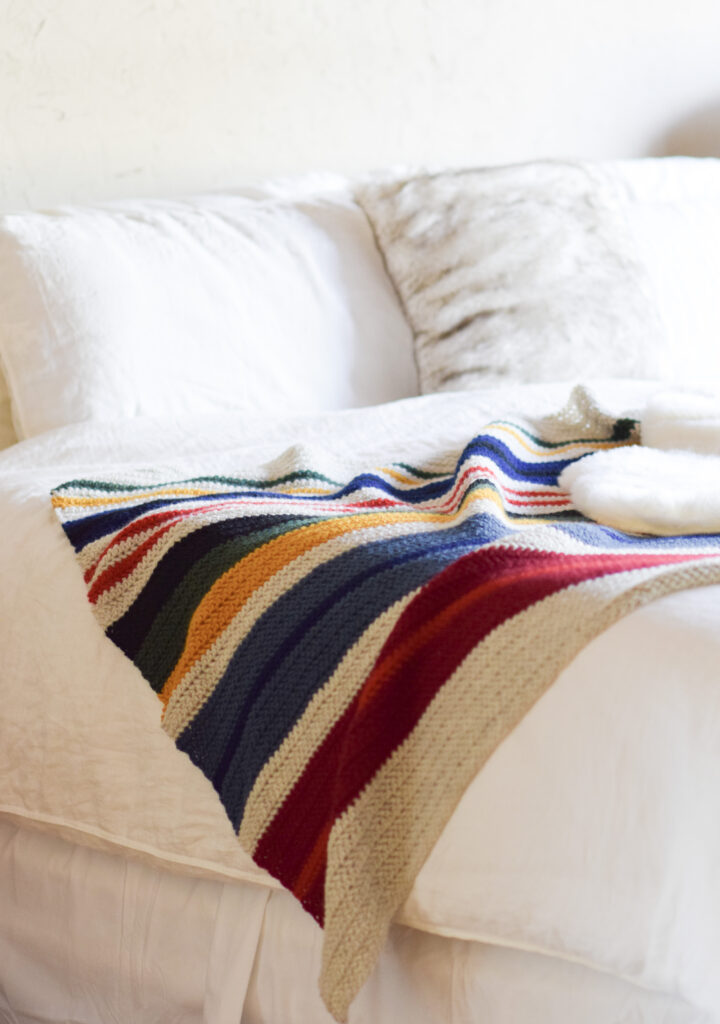 So, shall we get to this easy peasy blanket pattern?
The free pattern's below, or you can grab the ad-free printable from Etsy HERE.
Description: Featuring a modern stitch pattern with clean lines and a warm, wool blend fabric, this blanket is sure to add cozy vibes to any space. The stripes are reminiscent of rustic camp blankets, making it a perfect choice for guys and gals alike. Easy enough for new crocheters, anyone can enjoy this relaxing project full of color and warmth.
Skill Level:
Beginner
Materials:
US Size K 6.5 mm crochet hook
4 Lion Brand Yarn Wool Ease in Natural Heather 85 g/skein Convenient kit HERE (Feel free to choose any colors that you like with your kit!)
1 Lion Brand Yarn Wool Ease in Ranch Red
1 Lion Brand Yarn Wool Ease in Black
1 Lion Brand Yarn Wool Ease in Gold
1 Lion Brand Yarn Wool Ease in Forest Green
1 Lion Brand Yarn Wool Ease in Navy
1 Lion Brand Yarn Wool Ease in Denim
1 Lion Brand Yarn Wool Ease in Cranberry
Pattern uses approximately 670 g of yarn
Scissors
Tapestry needle
Dimensions (approximate):
44" X 40"
Abbreviations & Skills:
ch – chain
Hhdc – herringbone half double crochet – Yarn over, insert hook into stitch, yarn over, pull up a loop, pull that loop through the first loop on your hook, yarn over, pull thru remaining two loops.
st – stitch
sts – stitches
Gauge:
Approximately 11 stitches and 11 rows in 4" X 4" in Hhdc stitch
Notes:
This blanket is crocheted entirely with the herringbone half double crochet stitch. Follow the pattern as written, using the color indicated for each row. You can easily adjust the size of your blanket by crocheting for more rows or fewer rows. Be creative and use any of the colors you like to add more striping! In order to make this blanket wider, you may begin with a longer chain using any stitch count. Keep in mind that yarn needs will change when you adjust the size of the blanket.
Cabin Stripes Blanket Crochet Pattern Instructions
With the color Natural, ch 124.
Row 1 Hhdc in 3rd ch from hook and in each st across the row. (122)
Row 2 Ch 2, turn, Hhdc in first stitch and in each st across the row. (122)
Repeat row 2 for the remainder of the pattern making color changes as indicated.
Rows 3 – 10 Natural
Rows 11 – 16 Cranberry
Rows 17 – 18 Ranch Red
Rows 19 – 24 Cranberry
Rows 25 – 28 Natural
Rows 29 – 34 Denim
Rows 35 – 36 Navy
Rows 37 – 42 Denim
Rows 43 – 46 Natural
Rows 47 – 52 Gold
Rows 53 – 58 Forest Green
Rows 59 – 64 Black
Rows 65 – 68 Natural
Rows 69 – 70 Ranch Red
Rows 71 – 72 Natural
Rows 73 – 74 Ranch Red
Rows 75 – 78 Natural
Rows 79 – 82 Navy
Rows 83 – 84 Black
Rows 85 – 88 Navy
Rows 89 – 92 Natural
Rows 93 – 94 Gold
Rows 95 – 96 Natural
Rows 97 – 98 Forest Green
Rows 99 – 108 Natural
Tie off and weave in ends.
Block as desired to shape and size.
Feel free to add fringe, tassels or a border with any remaining yarn.
Enjoy your new Cabin Stripes blanket!
Wishing you all the cozy, happy, crocheting!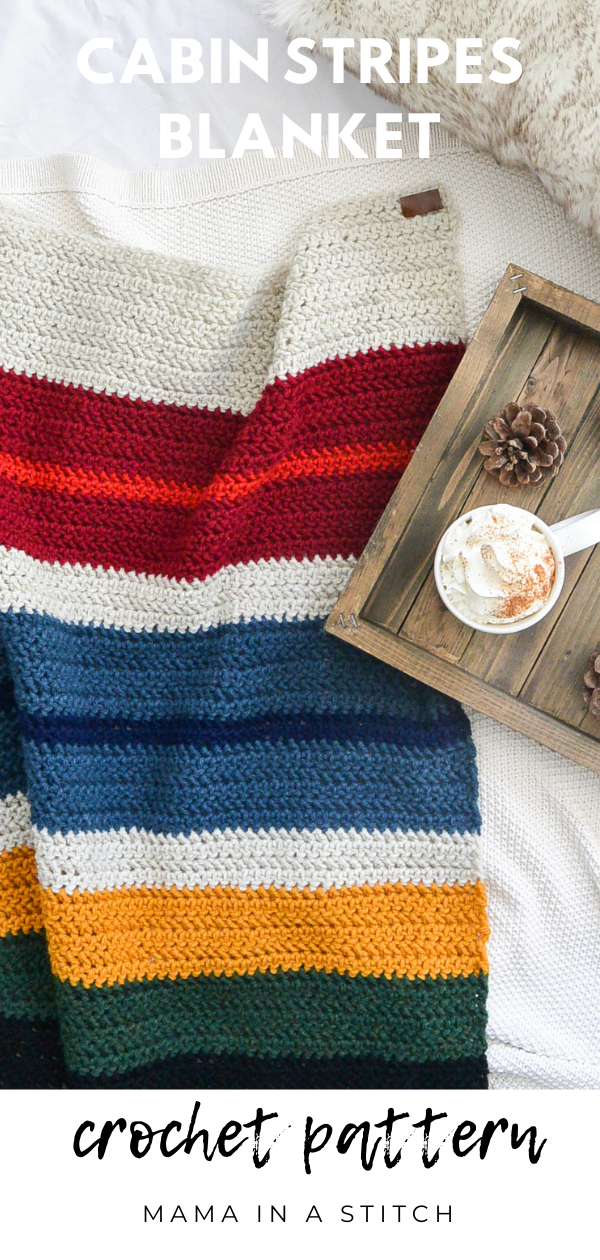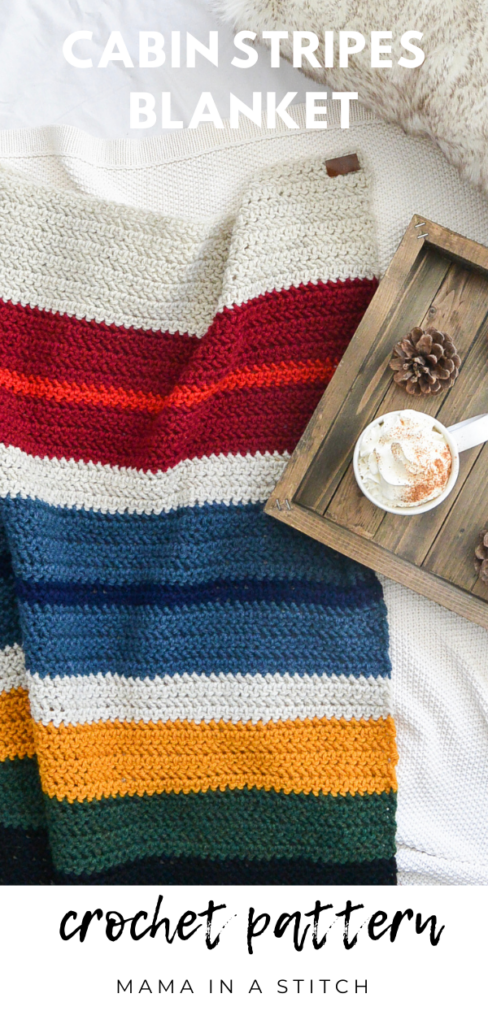 If you make a blanket with this pattern, I'd love to see it! Tag me @MamaInAStitch #mamainastitch on Instagram so I that I can catch it.
XO,
Jessica
Thank you to Lion Brand Yarn for sponsoring this post. All opinions are 100% my own.
If you liked this, you might also like:
Chunky Icelandic Blanket Pattern