This squishy little crocheted scarf pattern is so practical and fun to make. The scarf itself isn't really dip dyed (pretty sure you already knew that – lol), but I'm loving the contrast of two of my very favorite colors. Even though I'm a neutral lover, you can get as creative and colorful as you want with this versatile scarf. It also makes a great stash buster as it uses just one skein of the cream color and part of the grey skein. You can scroll down to see the free pattern below or you can purchase the ad-free printable PDF version from my Etsy shop (here)!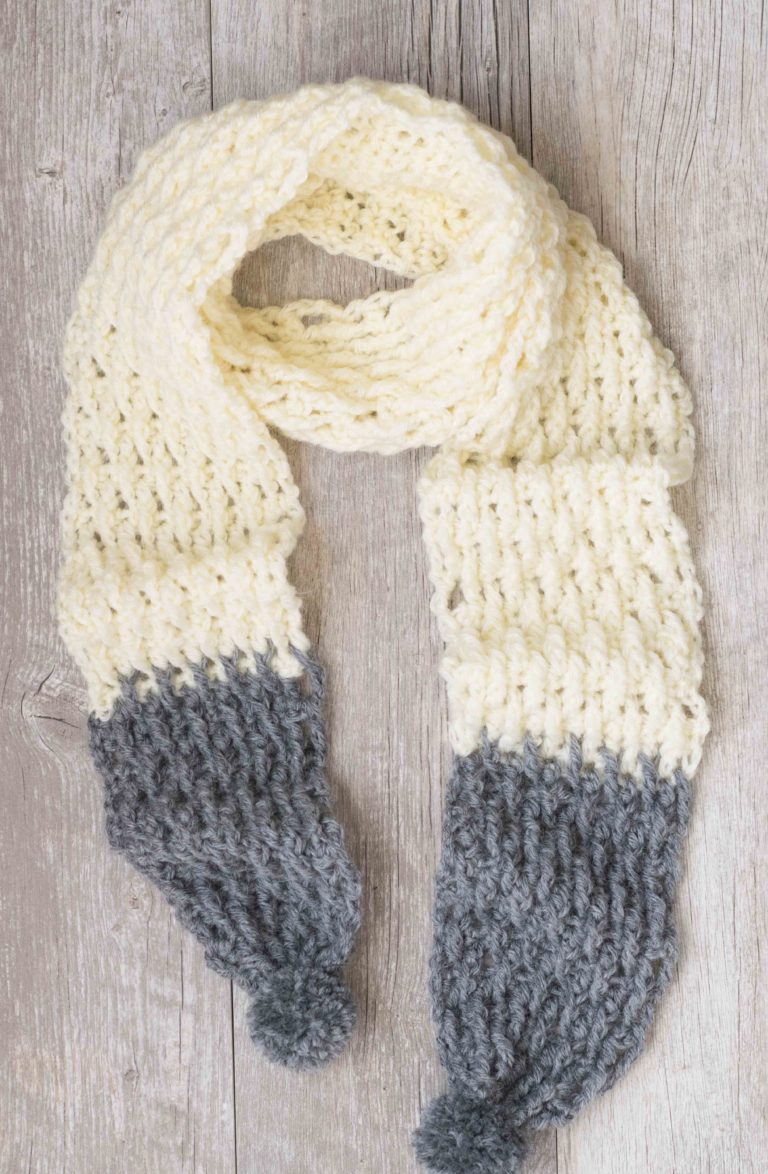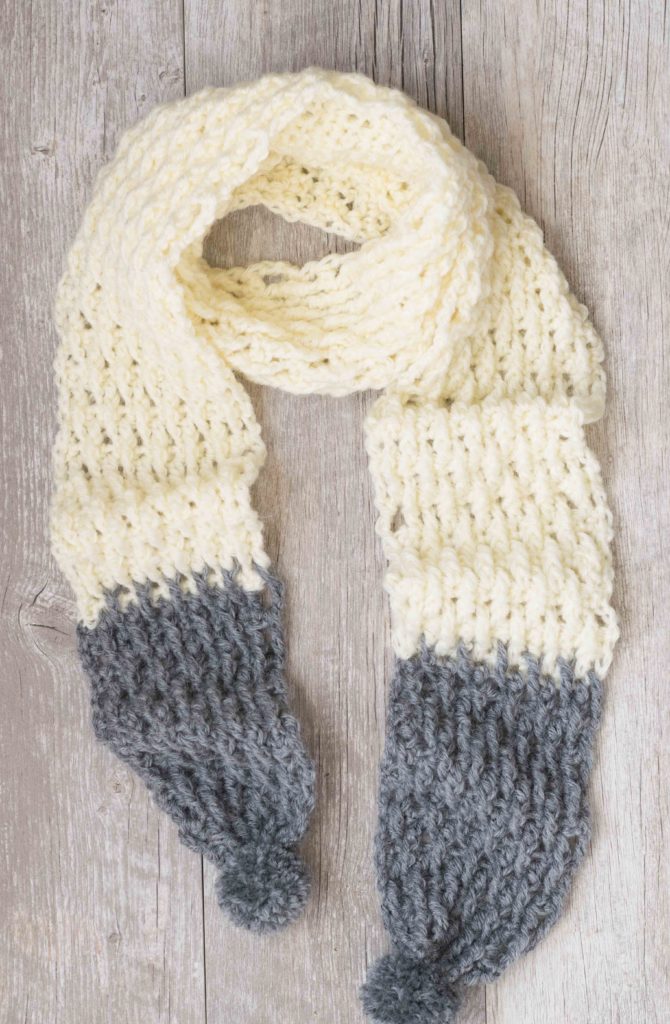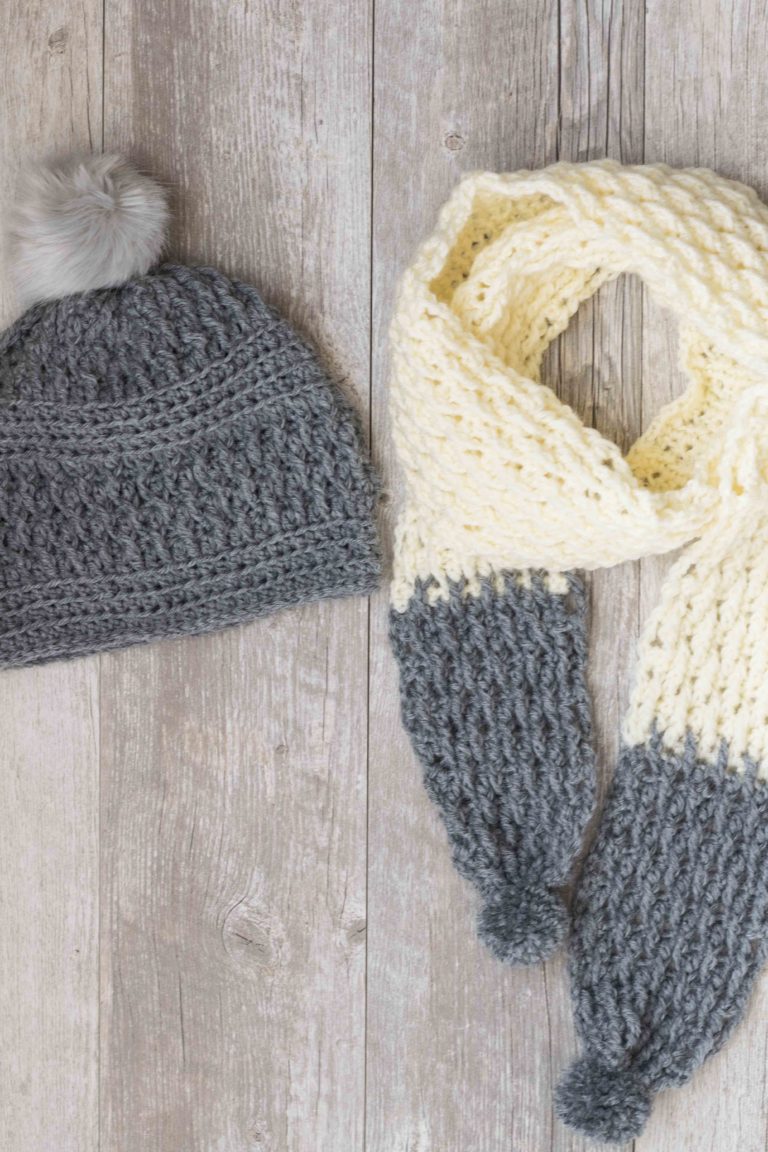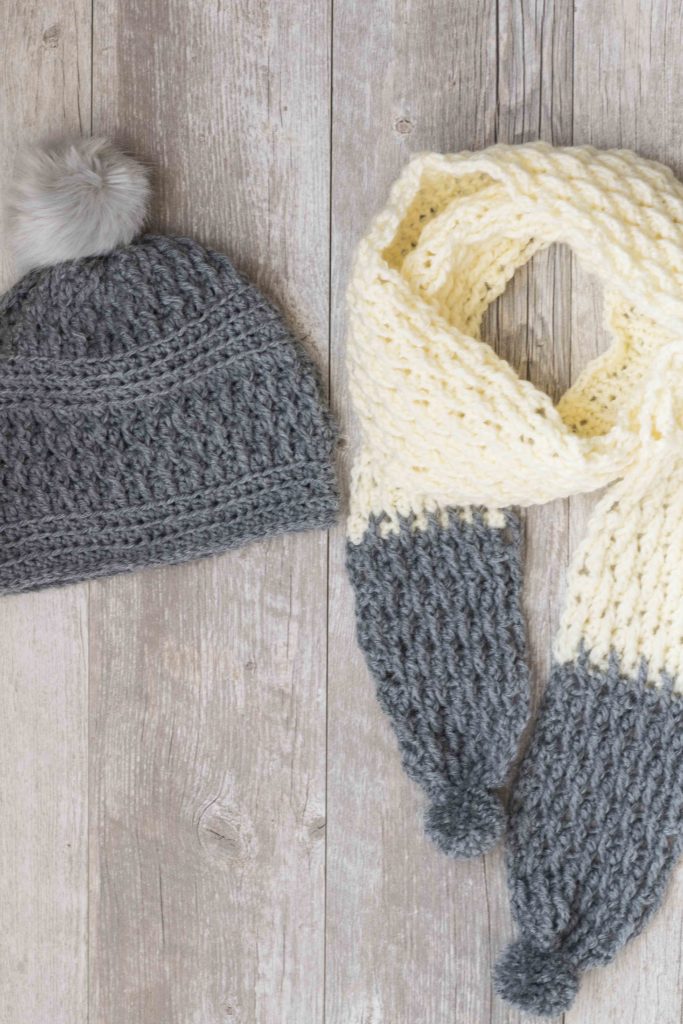 You can also find this matching squishy hat pattern on the blog (here). I definitely got this textured Raised Ripple Stitch out of my system. Hehe! A lot of folks enjoy making hat and scarf sets and they do indeed make great gifts. Do you make hats or scarves around the holidays? Hats are my favorite thing to make my little girl.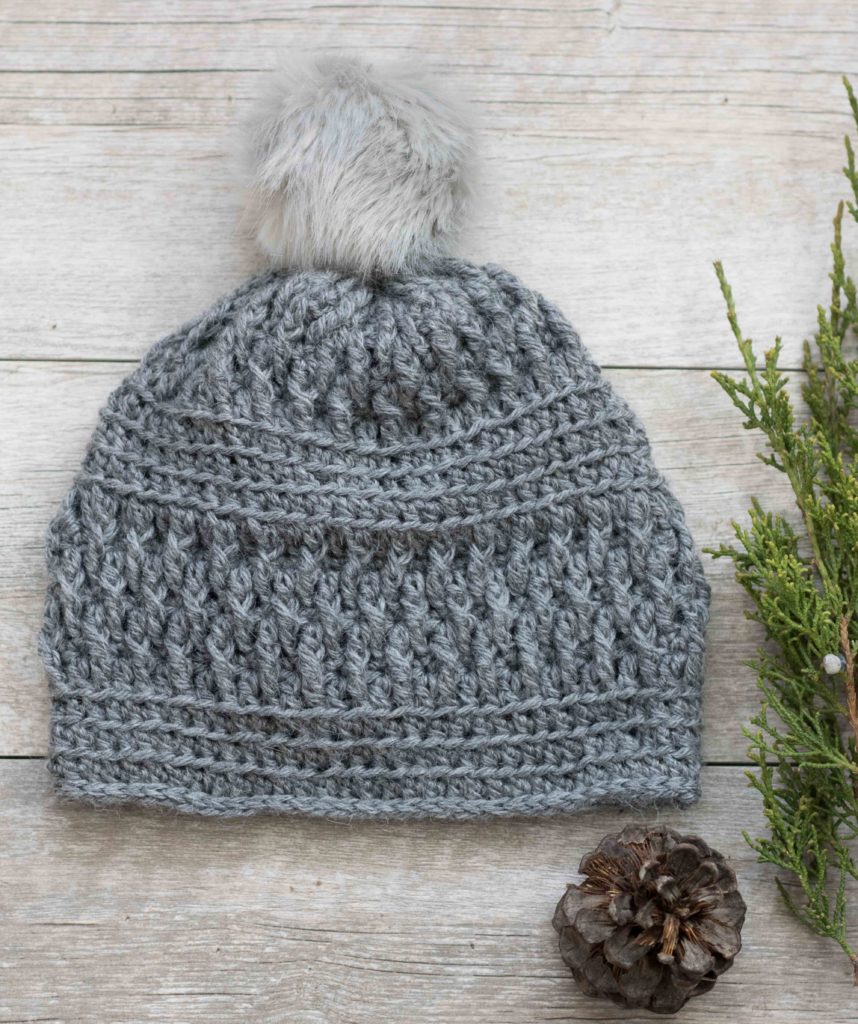 The fabric is so squishy and as I mentioned earlier, it's created with the Raised Ripple Stitch which I recently posted about on the blog (tutorial here). If you like to practice new stitches while making something useful, this scarf is the way to go. Whenever I practice a new stitch, I always try to make something useful, even if it's a simple washcloth. This scarf is a skinny, pretty piece that you can make your own with your preferred colors and worsted weight yarn. While there are poms on the ends of mine, you can add fringe, tassels or even leave them as they are. The slight halo that the alpaca gives to the fabric is so "in" right now and so feminine. Love it!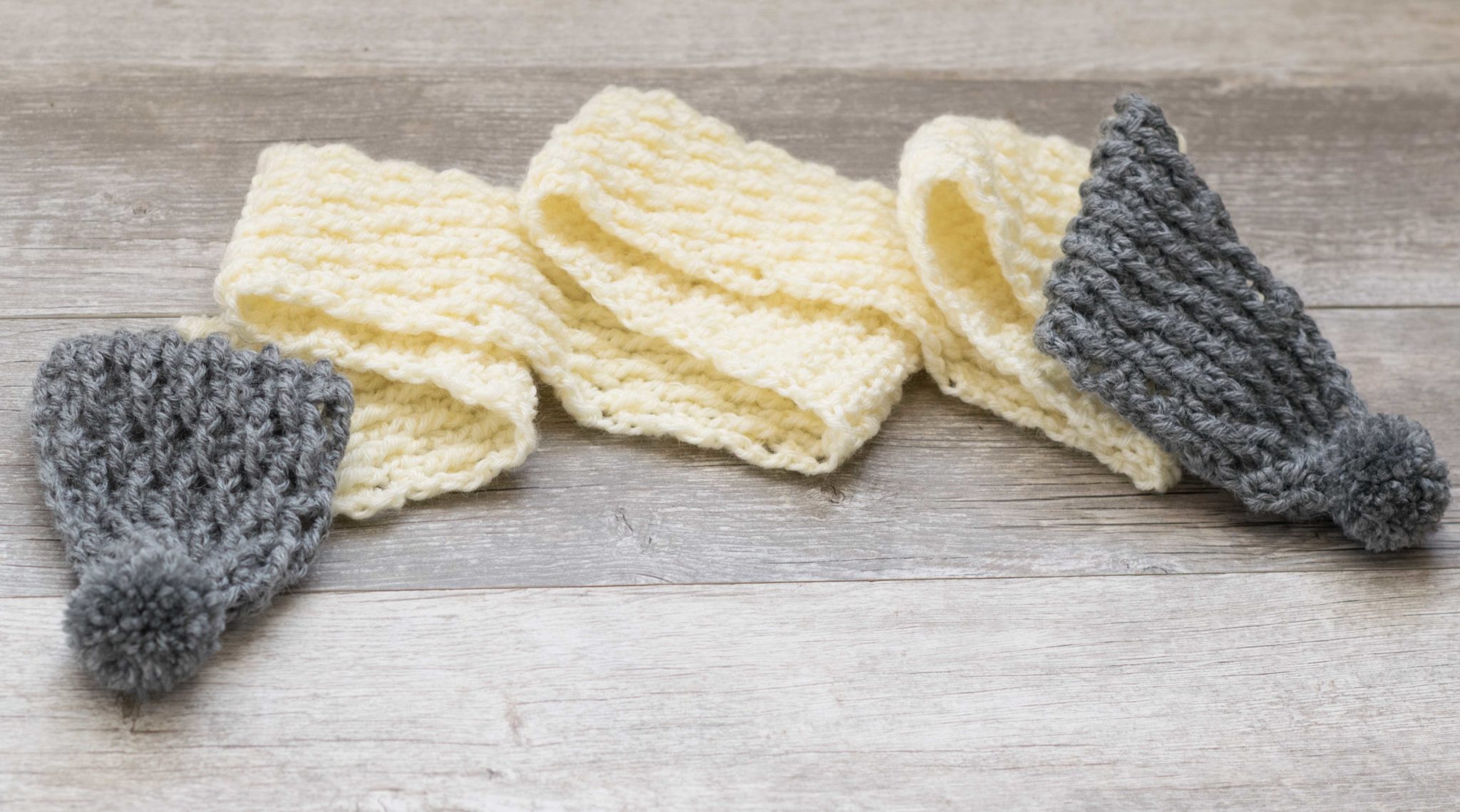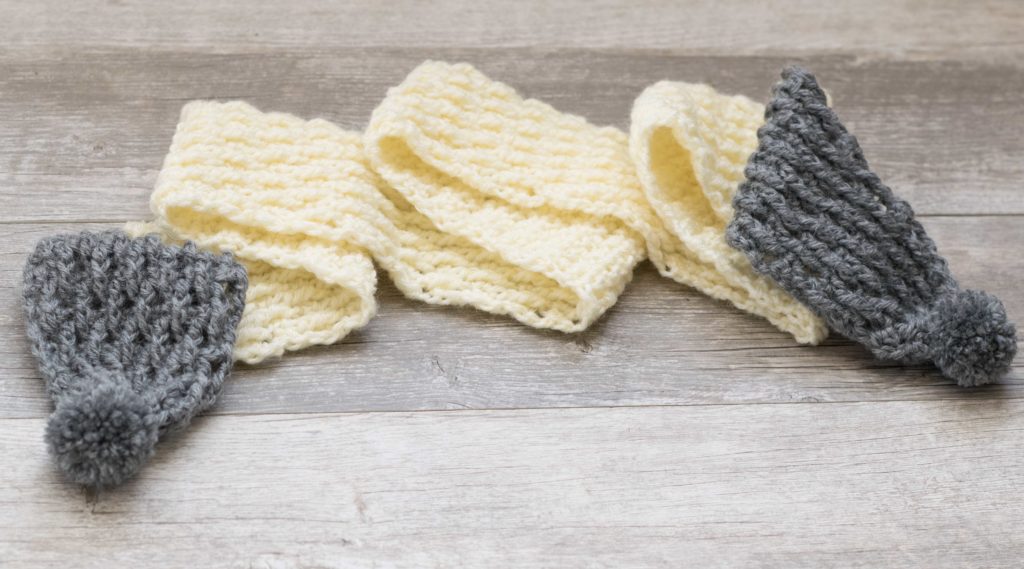 Below: All the leaves have fallen, there's a dusting of snow on the ground. It's definitely scarf time. (My hubby gets this photo credit)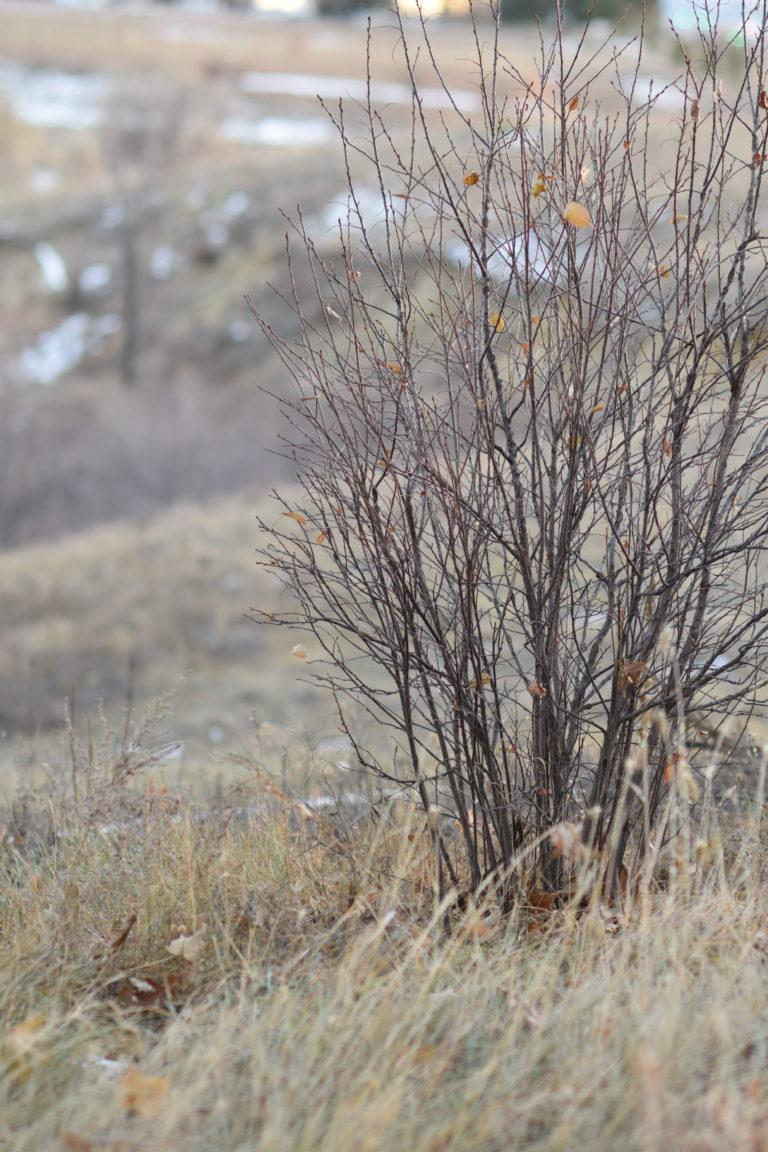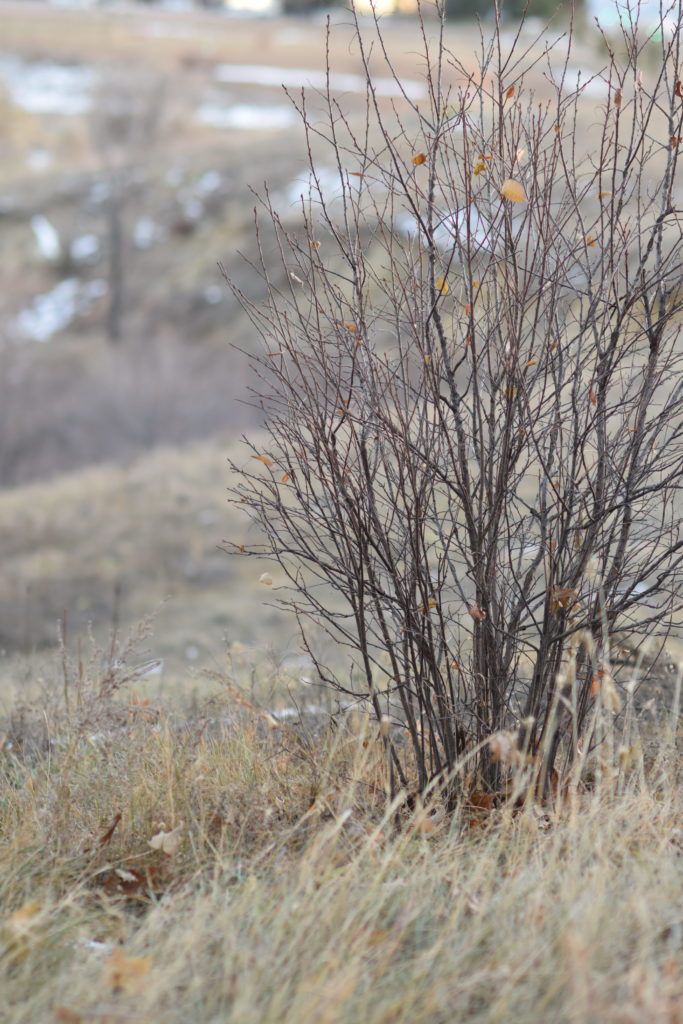 Pattern Description: Texture, texture, texture! Raised ridges collide to create a visually pleasing and super cozy fabric for this scarf. Wrap yourself up in the warmth of alpaca and the beauty of modern crochet stitch work. The color possibilities are endless and it only takes two skeins of yarn. This skinny scarf will compliment any winter outfit.
Skill Level: Intermediate
Materials:
US Size K 6.5 mm crochet hook
1 skein Lion Brand Yarn Touch of Alpaca in Cream (here) (100g/skein)
1 skein Lion Brand Yarn Touch of Alpaca in Oxford Grey (here) (100g/skein) Pattern uses approximately 128 g of yarn
Scissors
Tapestry Needle
Gauge: Not important for this pattern
Dimensions (approximate): 66" X 4.5"
Abbreviations & Skills:
FRTR – Front Raised Treble – yarn round hook twice, insert hook from front around double crochet stitch indicated from right to left, then complete the treble crochet as normal.
ch – chain
sc – single crochet
dc – double crochet
st – stitch
Notes: This pattern is worked flat. The contrasting ends are added at the end of the pattern when then main color section is complete. You can find a full tutorial and video on how to work the Raised Ripple Stitch, which is used throughout this pattern at https://www.mamainastitch.com/how-to-crochet-the-raised-ripple-stitch/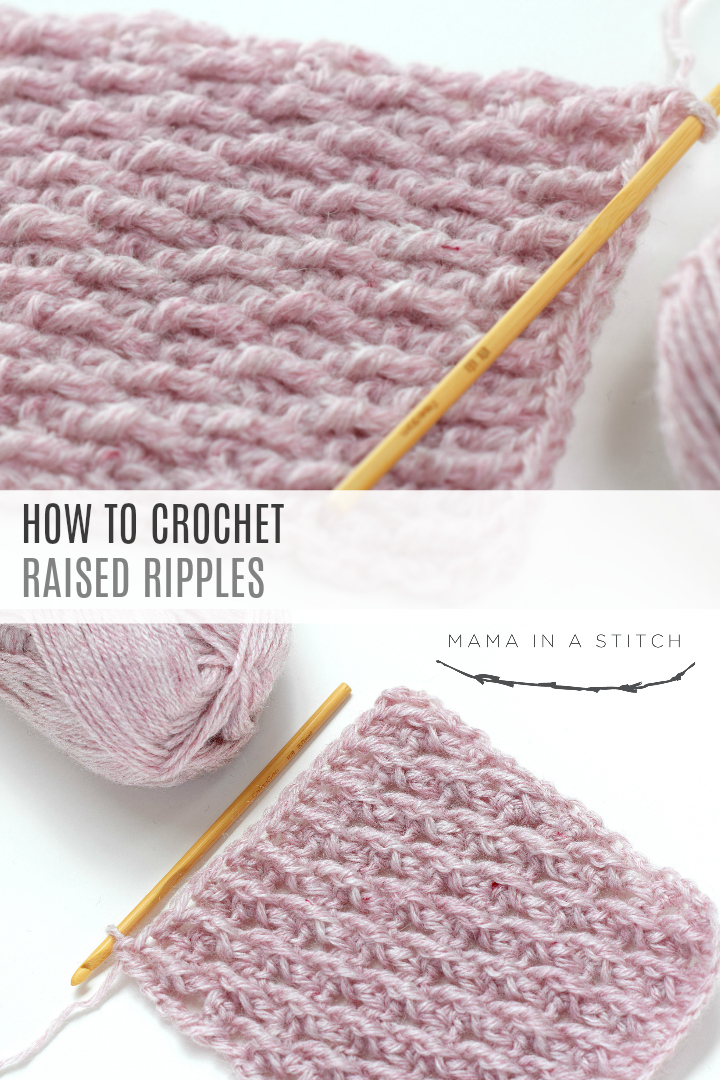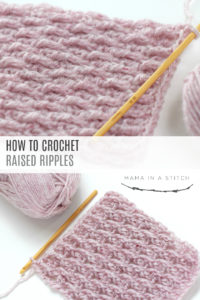 See the pattern below or you may choose to purchase the ad-free, printable version from my Etsy shop here
Alpaca Squishy Dip Dyed Scarf
With Main Color (Cream) Ch 15
Row 1: 1 dc in 4th ch from hook, 1 dc in each ch to end, turn (13)
Row 2: Ch 1, sc in 2nd st from hook, 1 sc in each st across, ending with 1 sc in 3rd of ch 3, turn. (13)
Row 3: Ch 3, skip first sc, *1 FRTR around dc below next sc, skip this sc, 1 dc in next sc, repeat from *, ending 1 dc in ch 1, turn. (13)
Row 4 Repeat row 2
Row 5: Ch 3, sk first sc, *1 dc in next sc, 1 FRTR around dc below next sc, repeat from *, ending 1 FRTR around dc below ch 1, turn. (13)
Repeat rows 2 – 5 until main color is gone or scarf measures approximately 52" long
Change Color to Oxford Grey (Contrast Color)
Repeat stitch pattern from rows 2 – 5 for approximately 7", ending with a row of single crochet stitches. Tie off and weave in ends.
Attach yarn to opposite end of scarf which is the side with your initial chain. Repeat the same stitch pattern starting with row 3. Next work row 4 and row 5. Then repeat the stitch pattern from rows 2 – 5 for 7" or as long as you'd like (matching the length of the other end), ending with a row of single crochet stitches. Tie off and weave in ends.
Attach Poms (optional) or be creative with fringe or tassels.
Enjoy your squishy new scarf!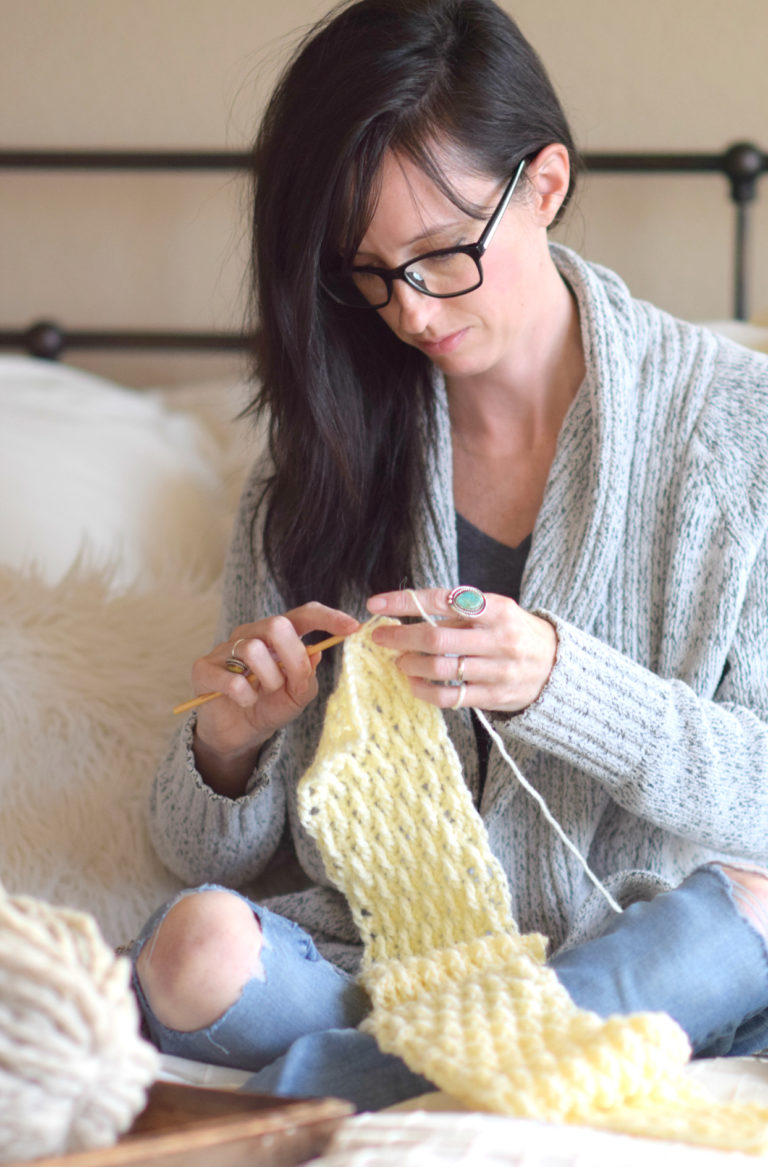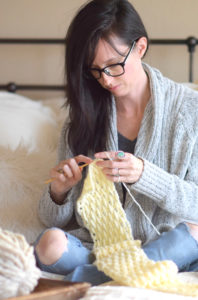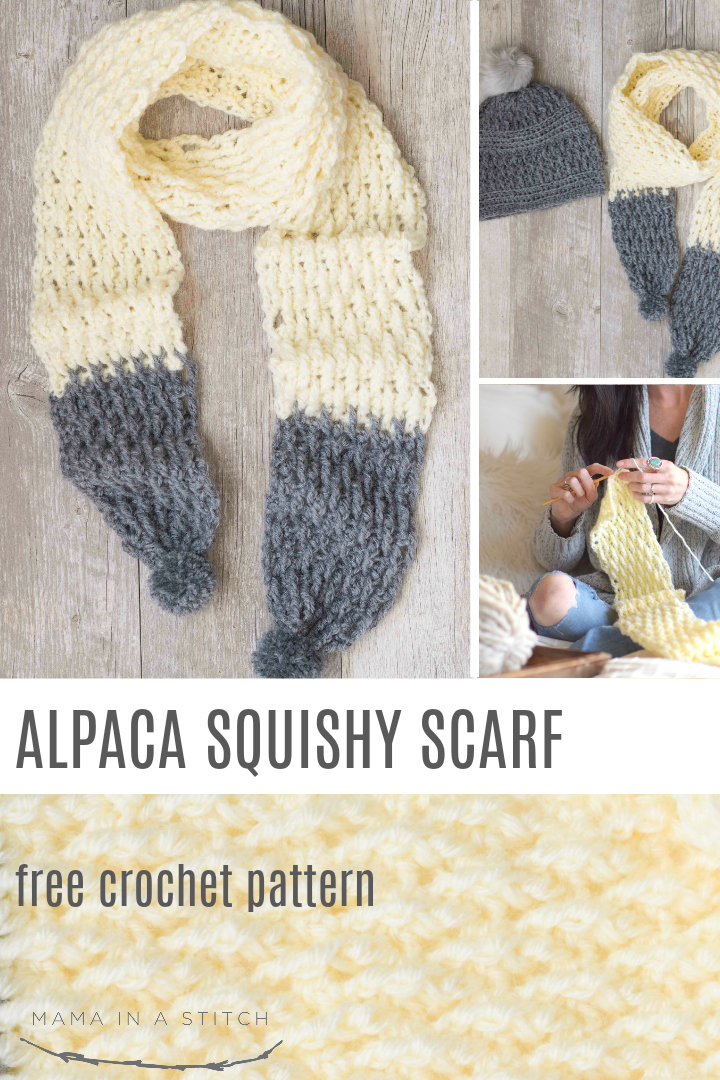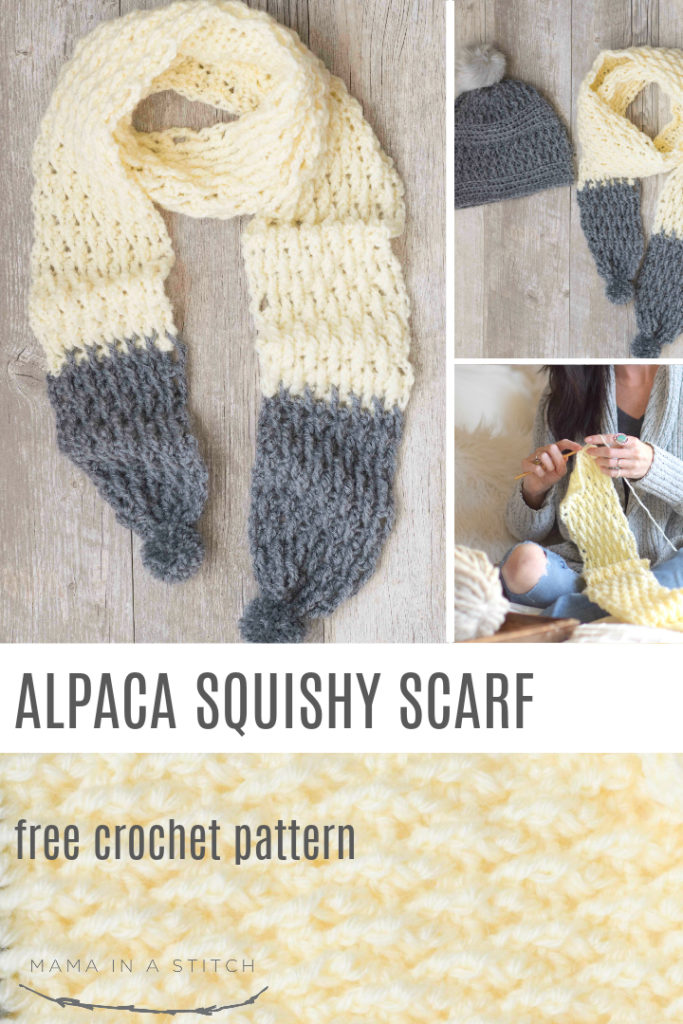 XO,
Jessica
If you liked this, you might also like:
Chunky Squishy Crochet Scarf Pattern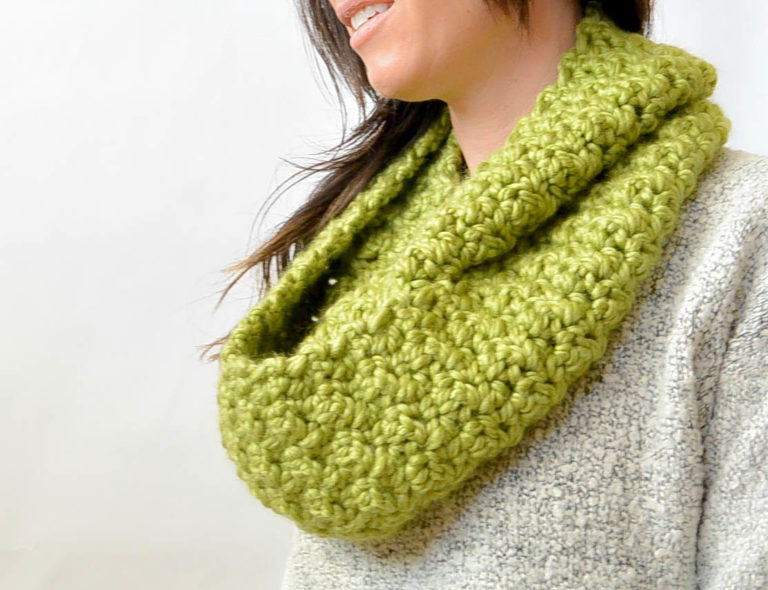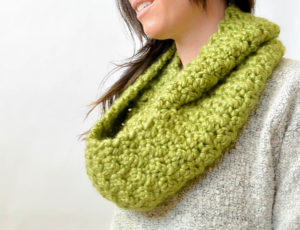 Chunky Icelandic Crocheted Blanket Pattern