Cable Knit Blanket Pattern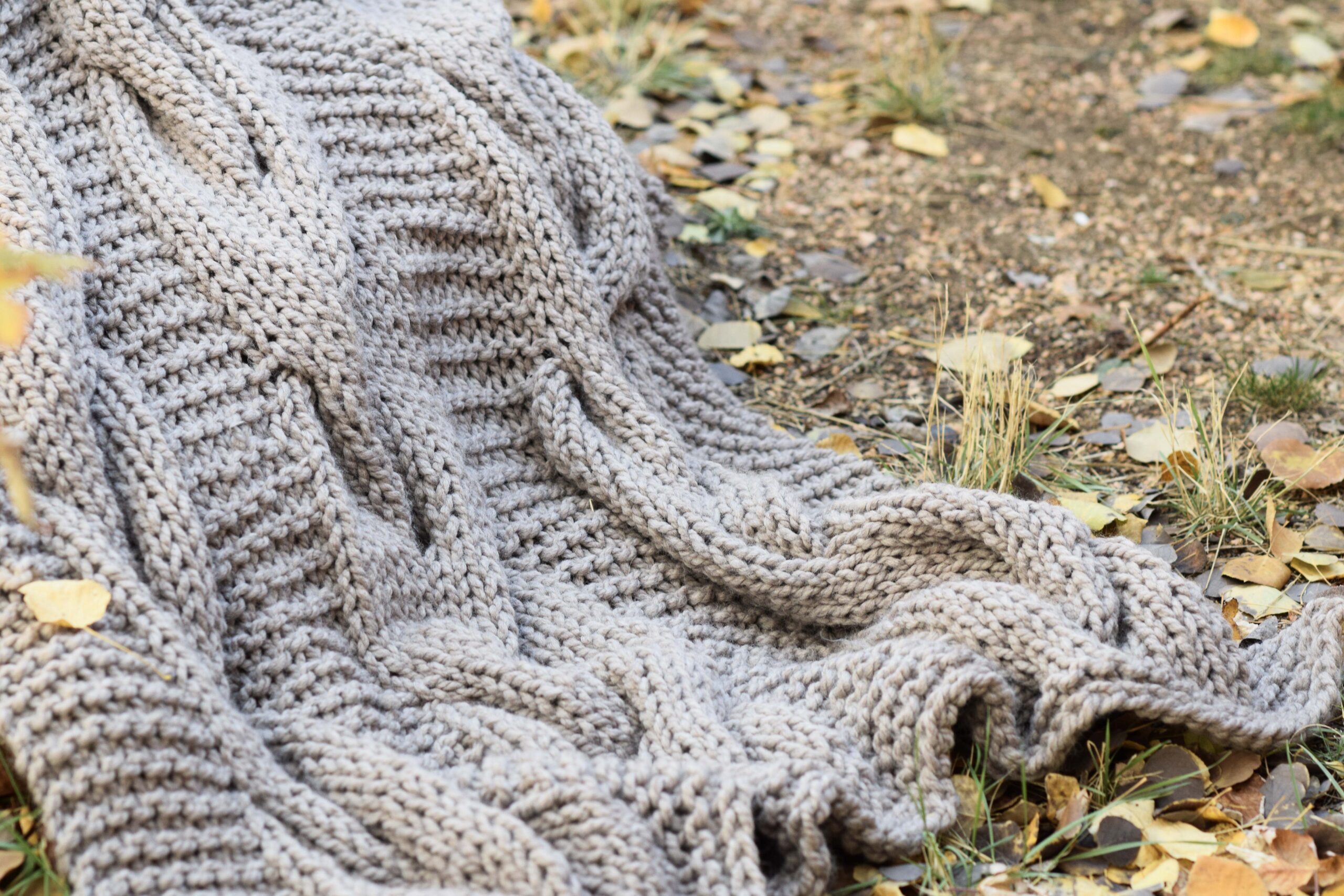 This Grand Cables Throw Knit Blanket is so quick and easy to make! I love how it drapes perfectly and looks like it could have been bought from a high-end home store. You can see the free knitting pattern below as well as a link to a tutorial to show you how to knit cables. The printable version is also available in my Etsy shop HERE and you can find the kit from Lion Brand HERE (in SO many color options!)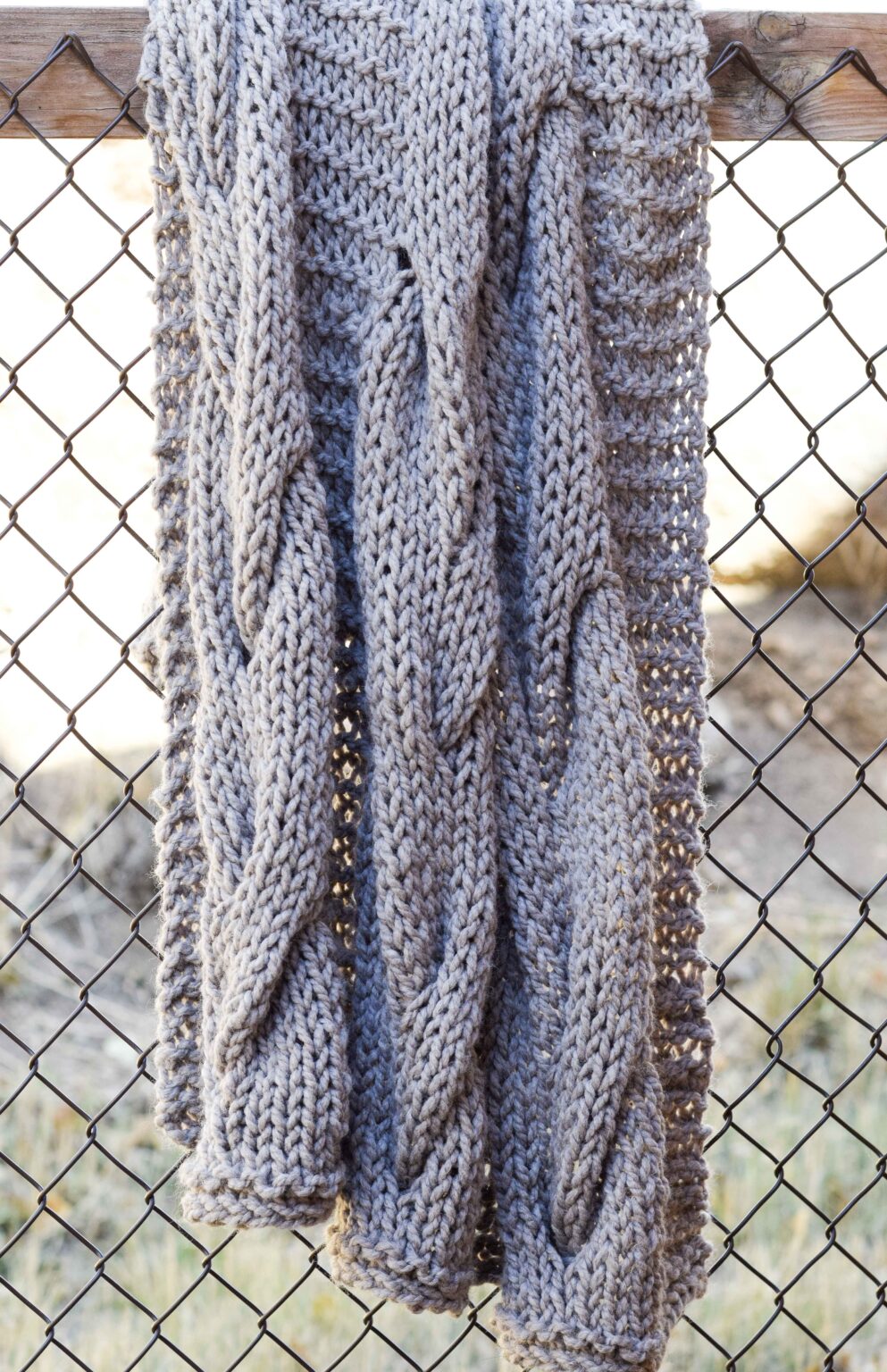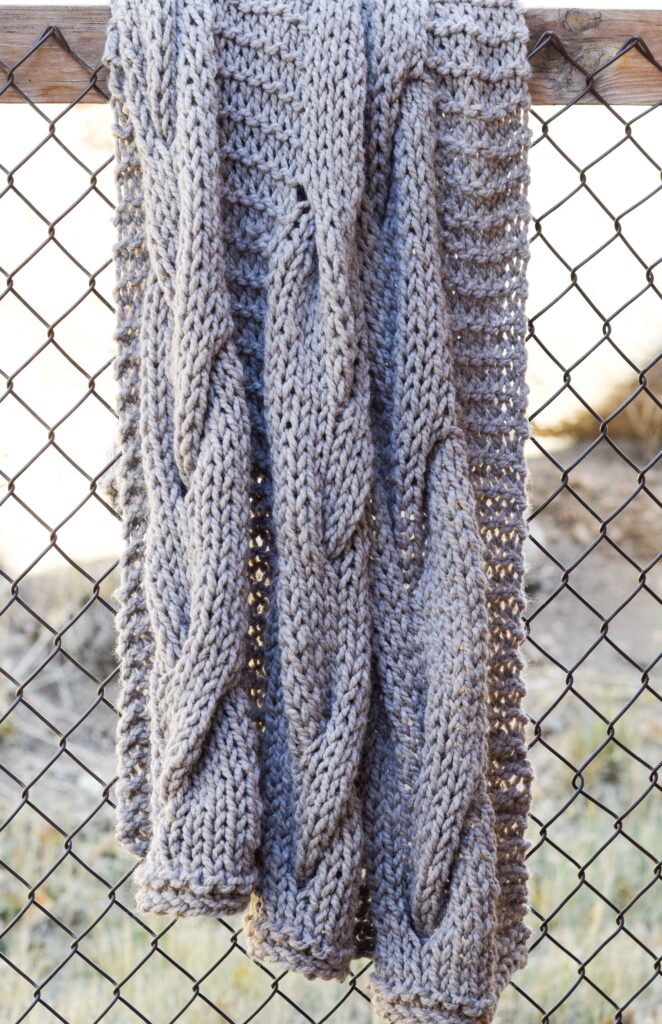 I love cable blankets because they are on trend, but also a real classic. I designed this one to be modern and have loose, pretty cables. (I actually spent sooo much time getting trying to get the cables just right for my Cable Knit Sweater. I used those cables as inspiration for THESE cables, so it was a lot easier this time!)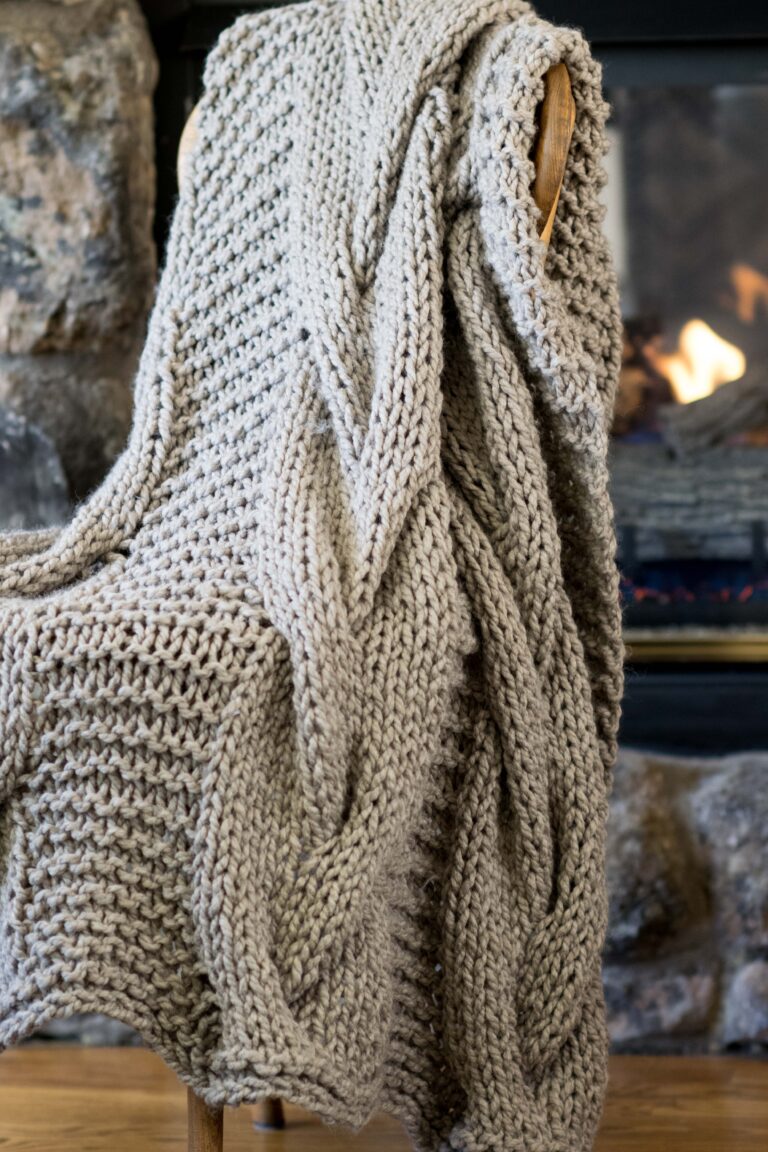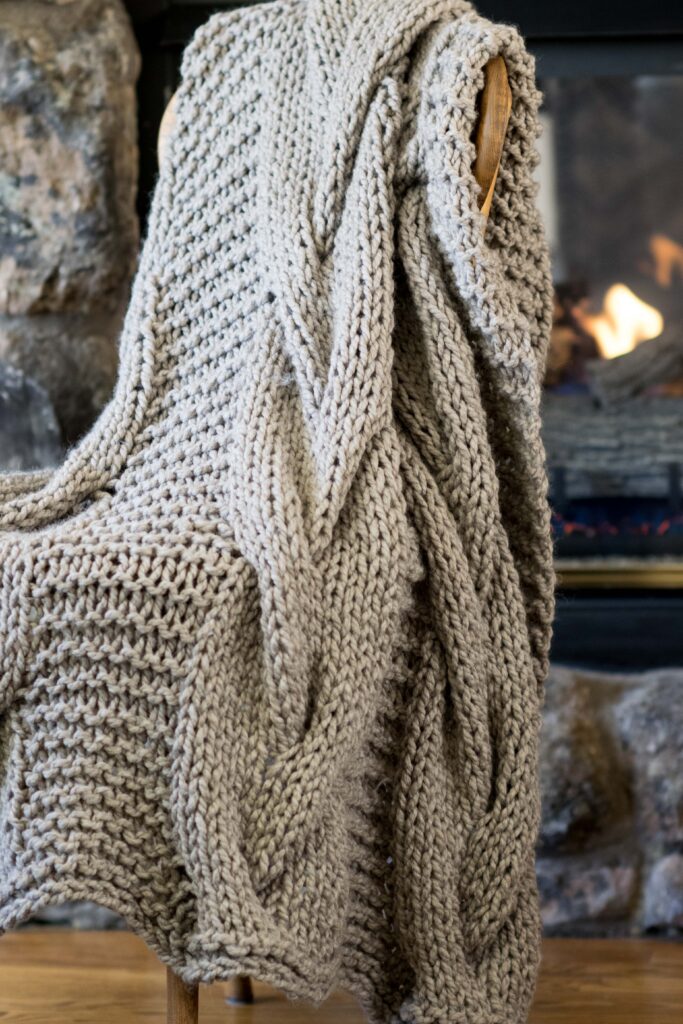 You will be surprised at how fast you can knit this blanket as the needles are LARGE. Not too large that they are cumbersome, (I've been there), but large enough that the stitches work up quickly. It also really enhances the drape and stitch definition on this blanket.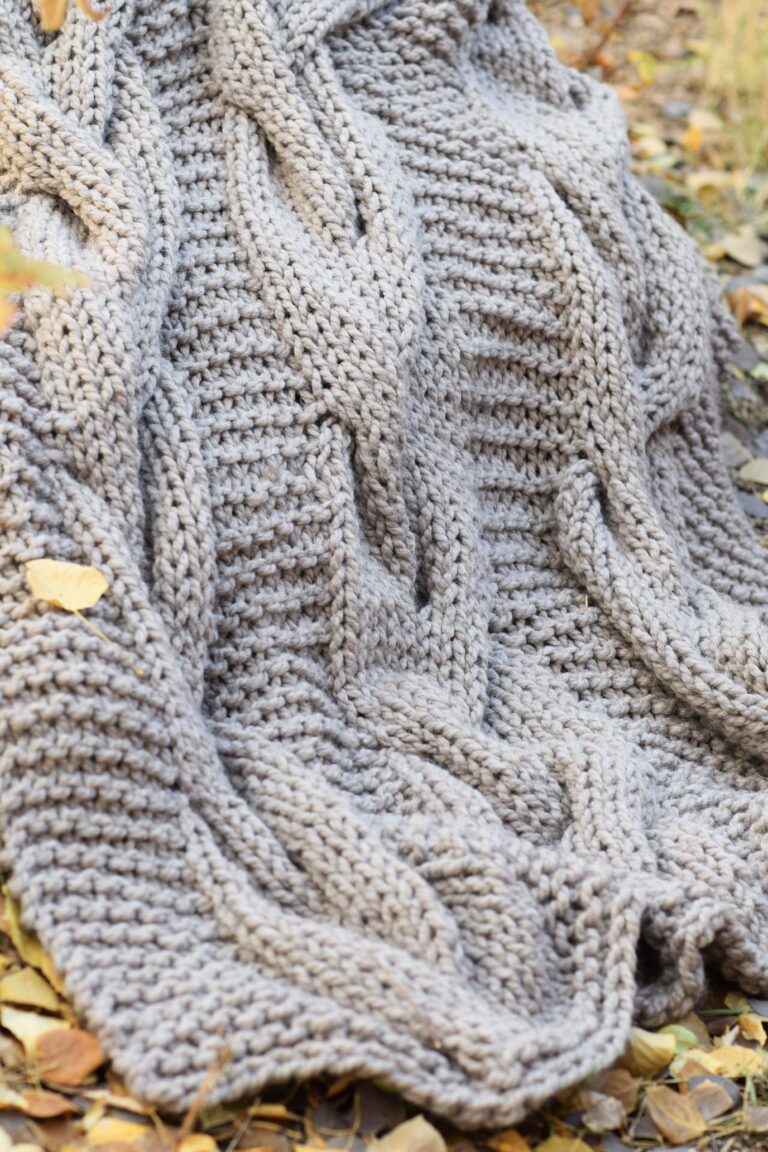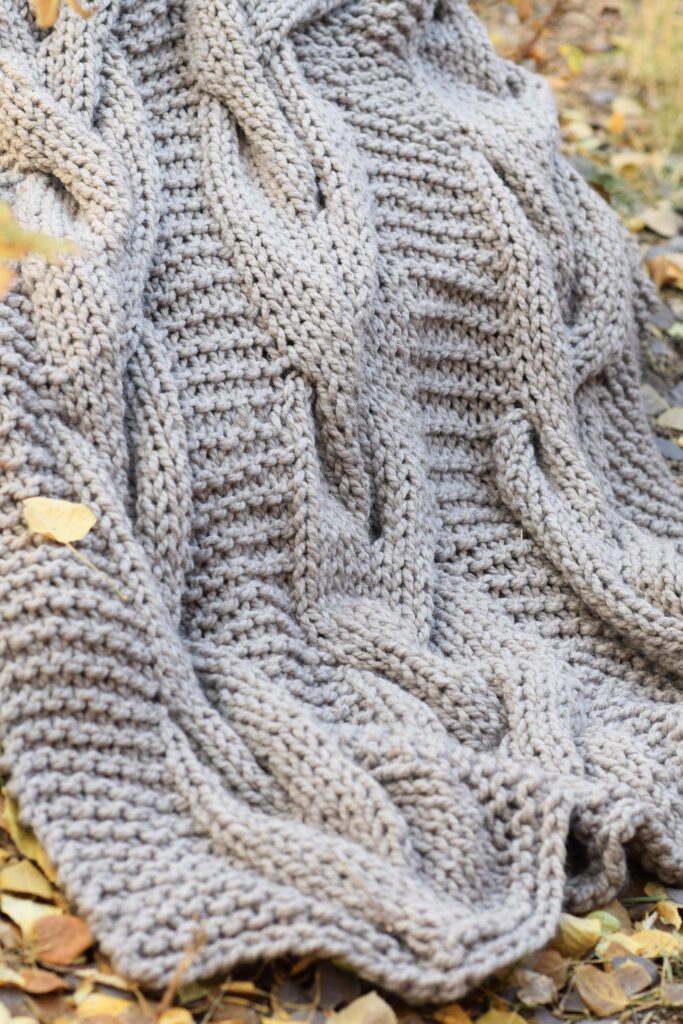 It's fun for gift giving because it's impressive and can be used just about anywhere. I hope you like it too! By the way, if you want to try cables on a smaller project first, you could check out my shawl, headband, or hat as well.
Okay, here's in people words how you knit a cable blanket…
How To Knit A Cable Blanket
You'll see the full knitting pattern below, but this is a little breakdown on how to work cables. Grab your needles and yarn first!
If you know how to knit and purl, the next thing you need to learn is to "hold the stitches". It is SO simple to do. Basically, you knit across the row until you get to the point where you'll work the cable. You then will "hold" a set number of stitches on a cable needle, then knit a given number of stitches from your regular needles, and lastly knit the stitches from your cable needle.
You will simply follow the pattern across each row and hold the stitches in front or back of your work as needed. Check out this full picture tutorial on how to knit a simple cable HERE so that you can understand directions for knitting cables!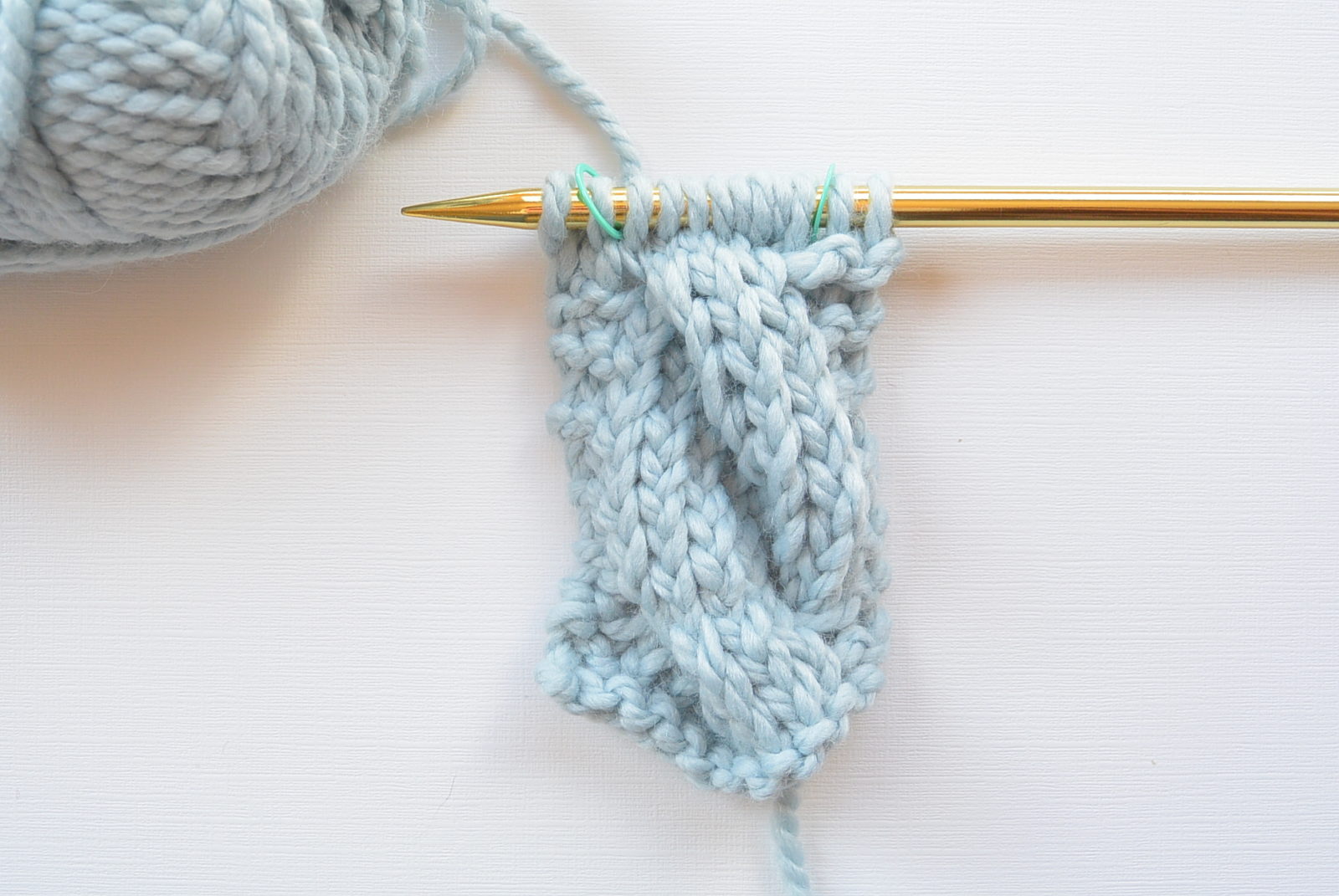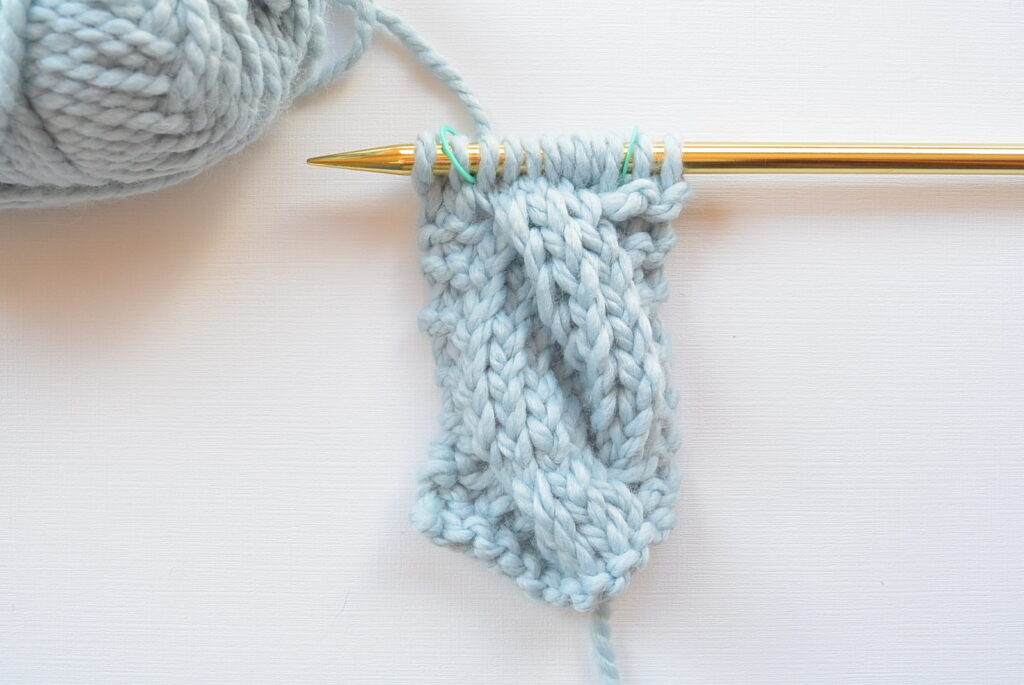 Alright, we are off to the cable knitting races. 🙂
Remember that you can also choose to purchase the printable from Etsy HERE, or scroll on down to see the full free pattern.
Description:
Loose, stunning, oversized cables make this timeless throw both beautiful and cozy. This blanket works up extra fast with large needles and super bulky yarn so it's great for gift giving or making as a gift for yourself. Impressive yet simple, the repetitive cables lay on a background of textured garter stitch. The soft wool blend keeps you warm and the color options are endless. Truly heirloom style yet right on trend.
Materials:
8 skeins of Lion Brand Yarn Wool Ease Thick & Quick super bulky yarn in Driftwood 140 g/skein Convenient kit available from Lion Brand HERE in several color options
Pattern uses approximately 1100 grams
US Size 35 (19 mm), 29" or longer circular knitting needles
Scissors
Cable needle
Tapestry needle to weave in ends
Size (approximate): 40" x 45"
Gauge: Approximately 6 sts & 9 rows in garter stitch (remember that 1 "ridge" of garter is two rows of knit stitching)
Pattern Notes:
This blanket features three 10 stitch cables. If you've never knit cables, you can see a tutorial on how to knit cables on the Mama In A Stitch Blog here: https://www.mamainastitch.com/howtoknitacable
To make the blanket longer, just repeat rows 1 – 20 of the cable pattern section until it's as long as you'd like.
Abbreviations & Skills (US Terms):
k – knit
p – purl
st – stitch
sts – stitches
k2tog – knit two together decrease

Cable:

A 10 stitch cable is worked within the pattern. Abbreviations and skills are as follows.

5/5 LC: 10-stitch left cable. Slip 5 sts to cable needle and hold in front, k5, k5 from
cable needle.

5/5 RC: 10-stitch right cable. Slip 5 sts to cable needle and hold in back, k5, k5 from
cable needle.

Grand Cables Throw Knitting Pattern
Cast On 77 sts
Garter Edging (2 rows only)
Row 1 Knit each st across the row.
Row 2 Repeat row 1.
Cable Pattern Section
Row 1 Knit each st across the row.
Row 2 K8, p15, k8, p15, k8, p15, k8.
Rows 3 – 8 Repeat rows 1 & 2 in that order.
Row 9 K8, 5/5 LC, k13, 5/5 LC, k13, 5/5 LC, k13.
Row 10 Repeat row 2.
Rows 11 – 18 Repeat rows 1 & 2 in that order.
Row 19 K13, 5/5 RC, K13, 5/5 RC, k13, 5/5 RC, k8.
Row 20 Repeat row 2.

Repeat rows 1 – 20 from the cable pattern section until piece measures approximately 45" long or desired length.
Final Garter Edge
Finish the blanket by knitting the last 3 rows in order to match the beginning Garter Edging.
Purl the cast off row and weave in ends. Block to shape and size as desired.
Now cuddle up with your beautiful cables!!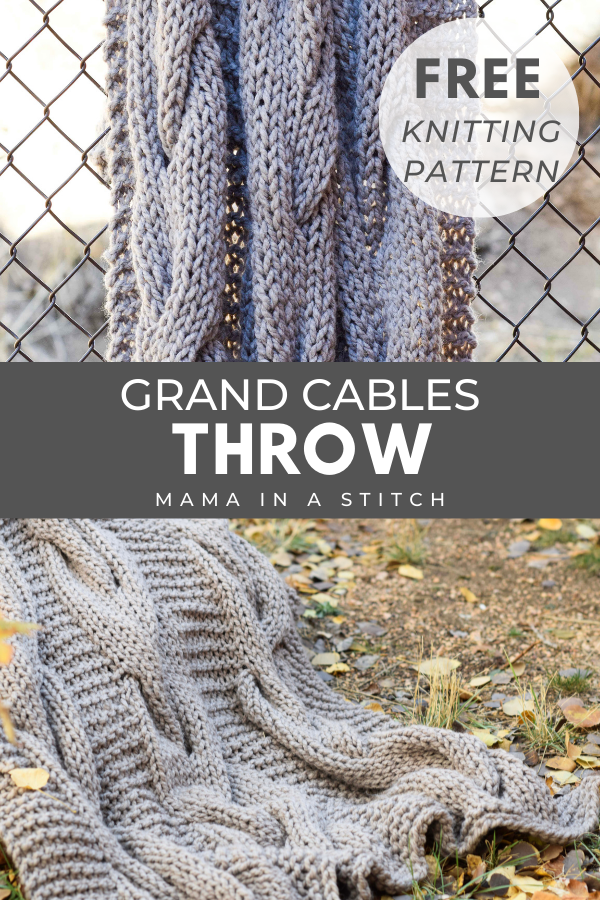 I hope you like this cable knit blanket as much as I do! Did any of you make the Endless Cables Knit Lapghan from many years ago? I hope you enjoy this new version too.
XO,
Jessica
Thank you to Lion Brand for sponsoring this post. All opinions are 100% my own.