Easy Relaxed Marled Cardigan Knitting Pattern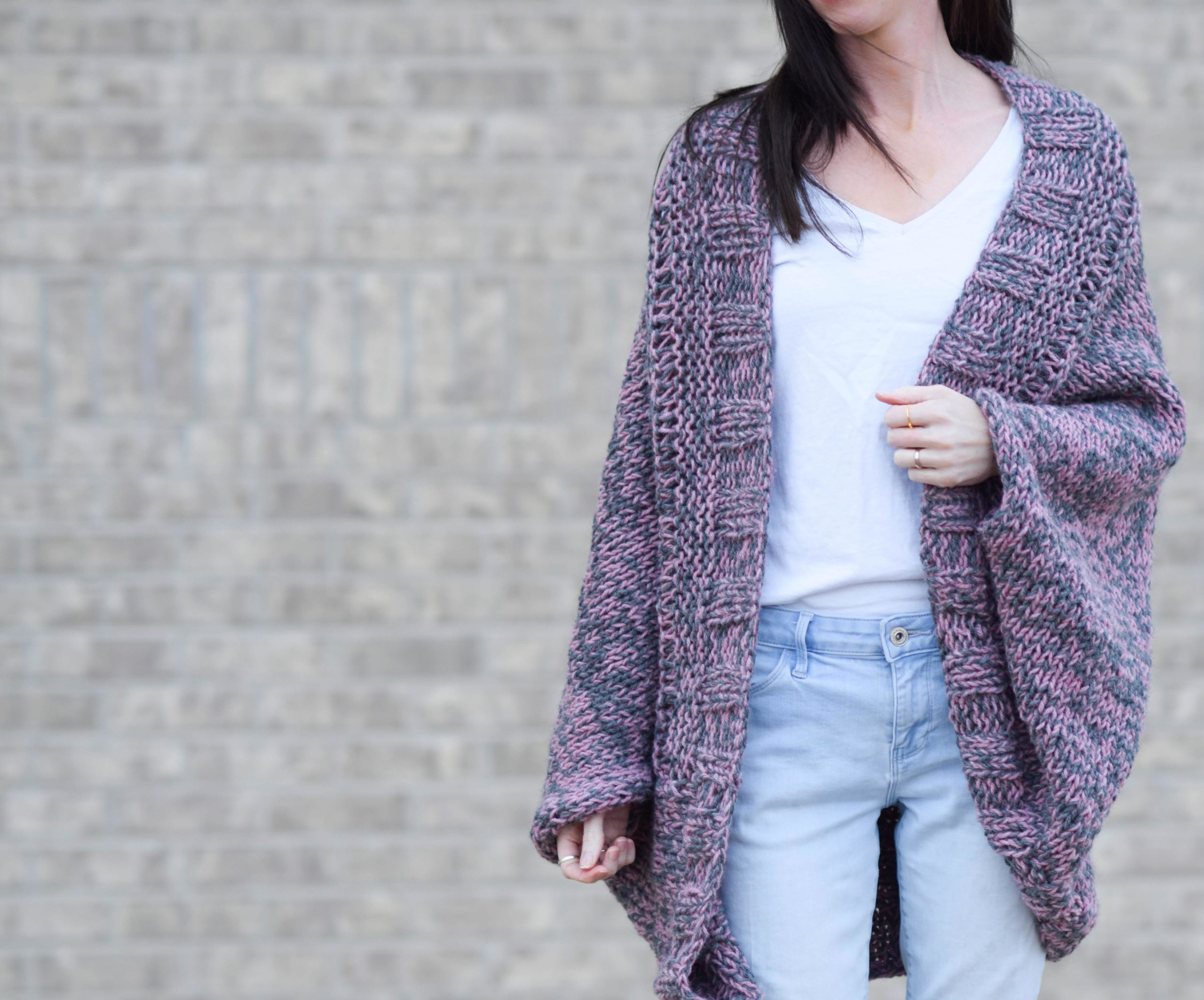 Hey friends! It's the newest knit blanket sweater! One of the most popular patterns on my blog has been the Easy Knit Blanket Sweater, and this is truly a takeoff from that design. Let me just start off by filling you in on the important features of this newest knit cardigan pattern. Much like that sweater, this cardigan is super comfortable, beginner friendly, and fairly quick to make. If you can knit a scarf, you can make this as it's essentially a rectangle that is folded and seamed. There are no fussy extra sleeves to add, and it still turns out to be a comfortable, drapey sweater. And even though you won't be adding any sleeves, I've made this one longer and wider than my original Easy Knit Blanket Sweater so it actually has sleeves built in! If you follow my blog, you know that I'm all about easy patterns that are fun to wear. For this reason, I'm super pleased with how this project turned out and I'm loving these two colors together! As usual, you can scroll down to see the free knitting pattern below, or you can find the kit available from Lion Brand here (20% off for a limited time), as well as the ad-free PDF available for purchase in my Etsy shop HERE.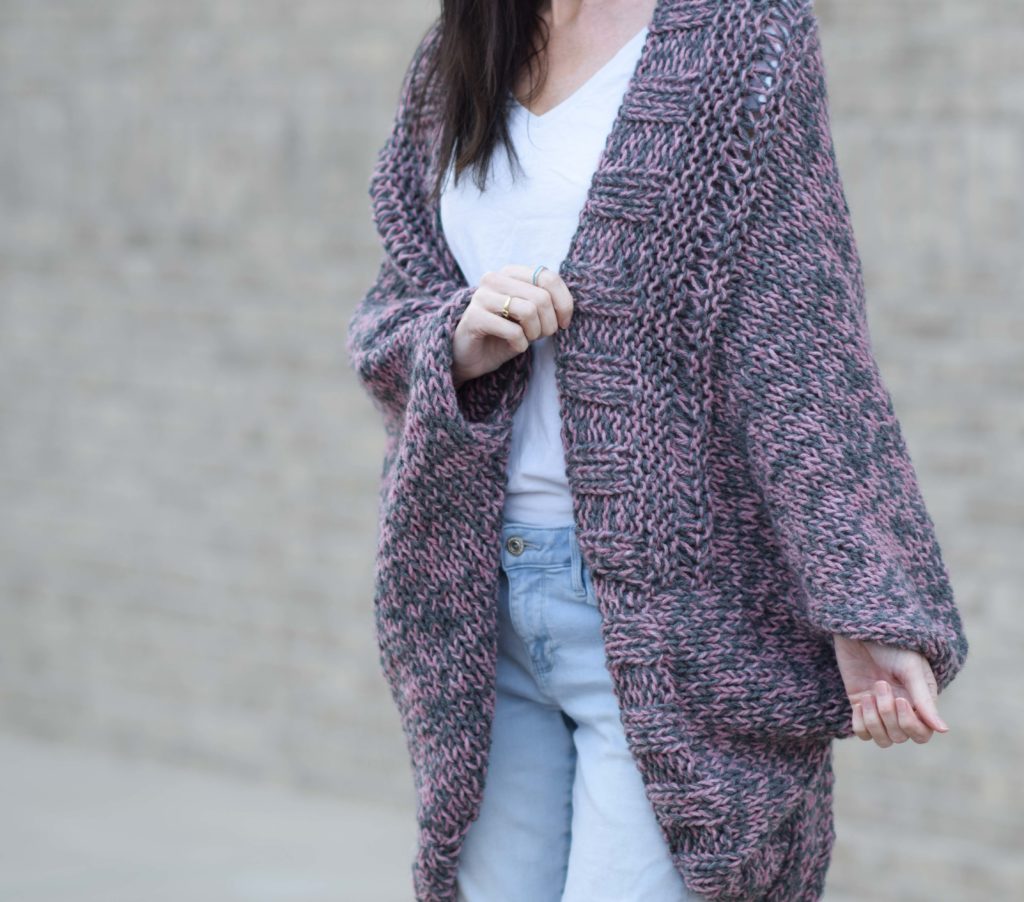 I definitely debated over what colors to use for this cardigan, but I knew that I wanted to make a marled fabric. The marled look has been on sweaters everywhere this season and I even bought one for myself at Target before Christmas. The look is accomplished by holding two contrasting colors of yarn together throughout the pattern. While I decided to use the Rose Heather color this time, I think this sweater would also look amazing in black and white or grey and white. I pushed my boundaries a bit with color and am so happy that I did. This Rose Heather and Oxford Grey came together in such an awesome way and the grey works to tone down the pink. Oh! And if you crochet (because I inevitably will have some of you asking for a crochet version which I love, you can see similar crochet versions here Cozy Blanket Cardigan and here Drop Stitch Cardigan)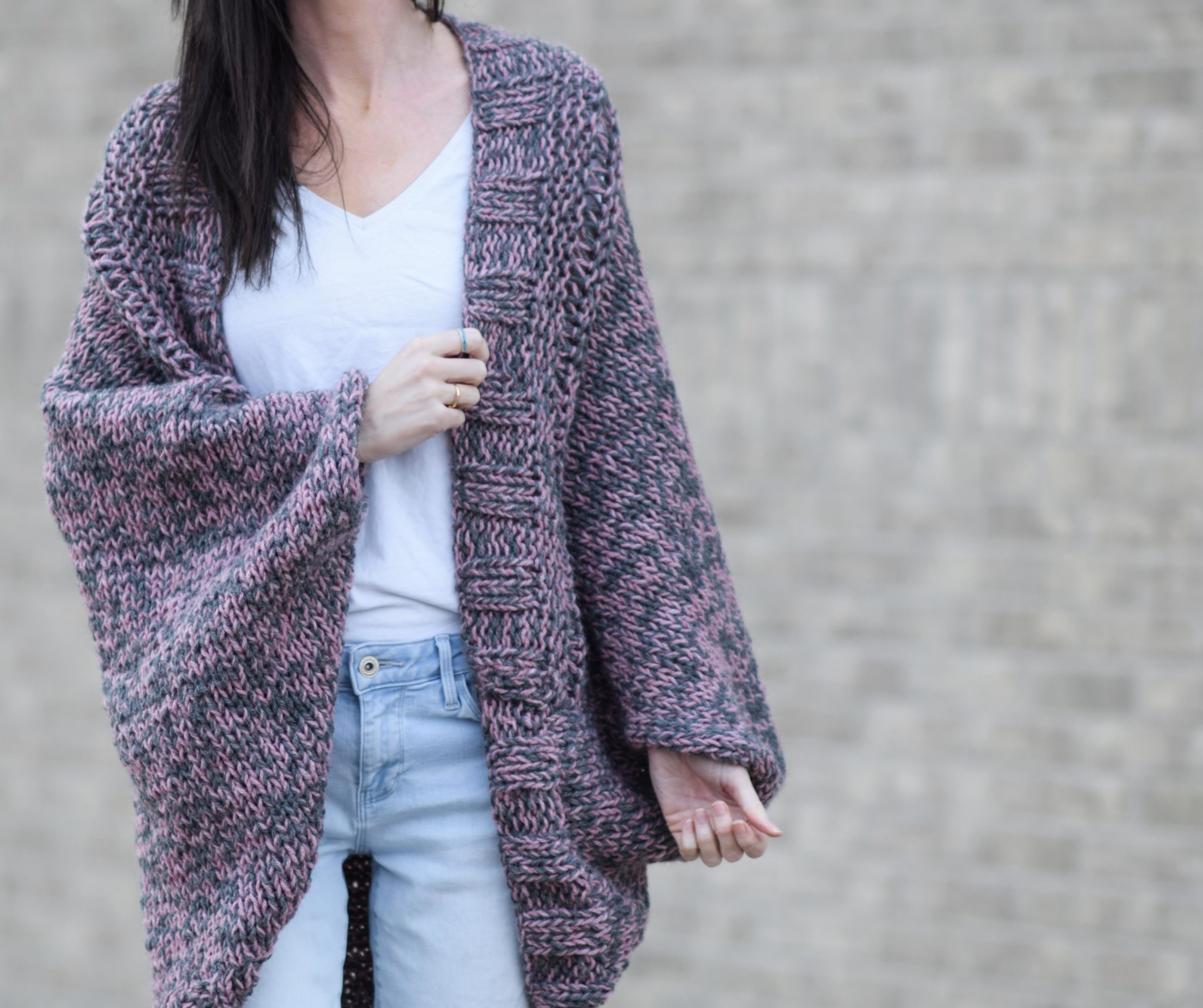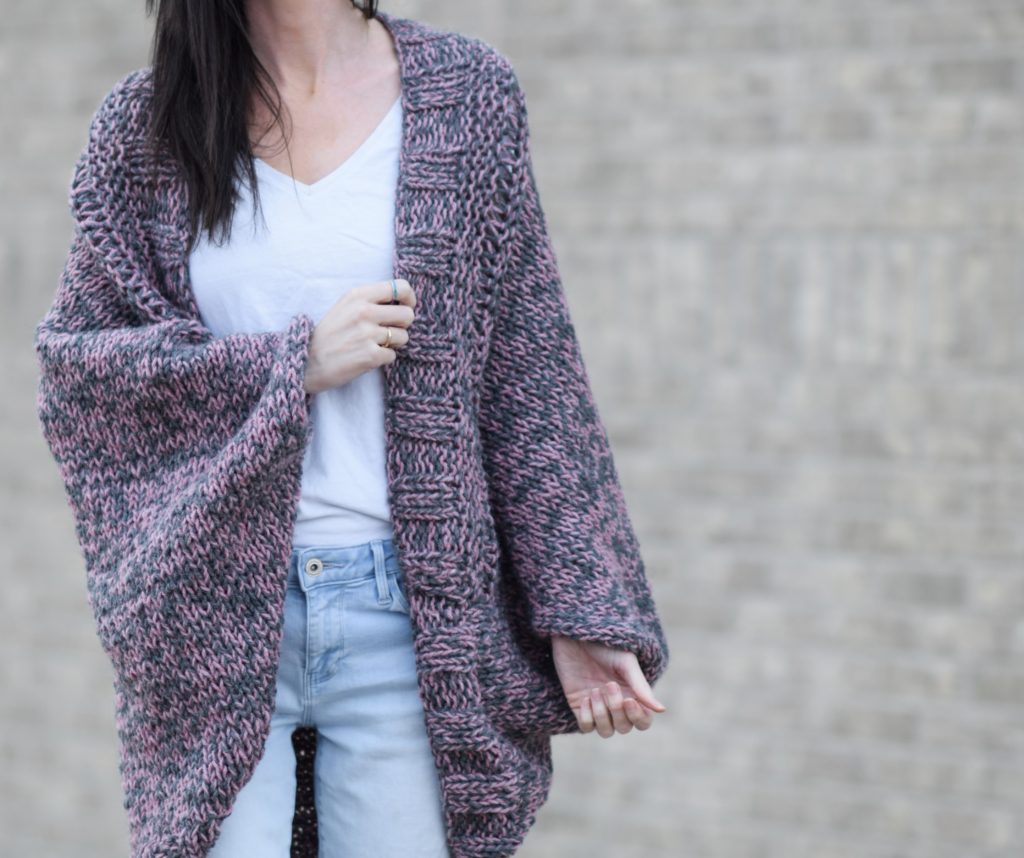 The sizing is roomier than that first knit blanket sweater that I made. I also find this one to be even more comfortable to wear, probably because the yarn is a bit lighter. It stays put on my shoulders and is light and drapey which I love. If you do find that it begins to slide off the shoulders, you can become really creative by adding a button, clasp or tie of some sort to close the front and hold it in place. While I usually add a button, I didn't find that I needed to with this particular cardigan.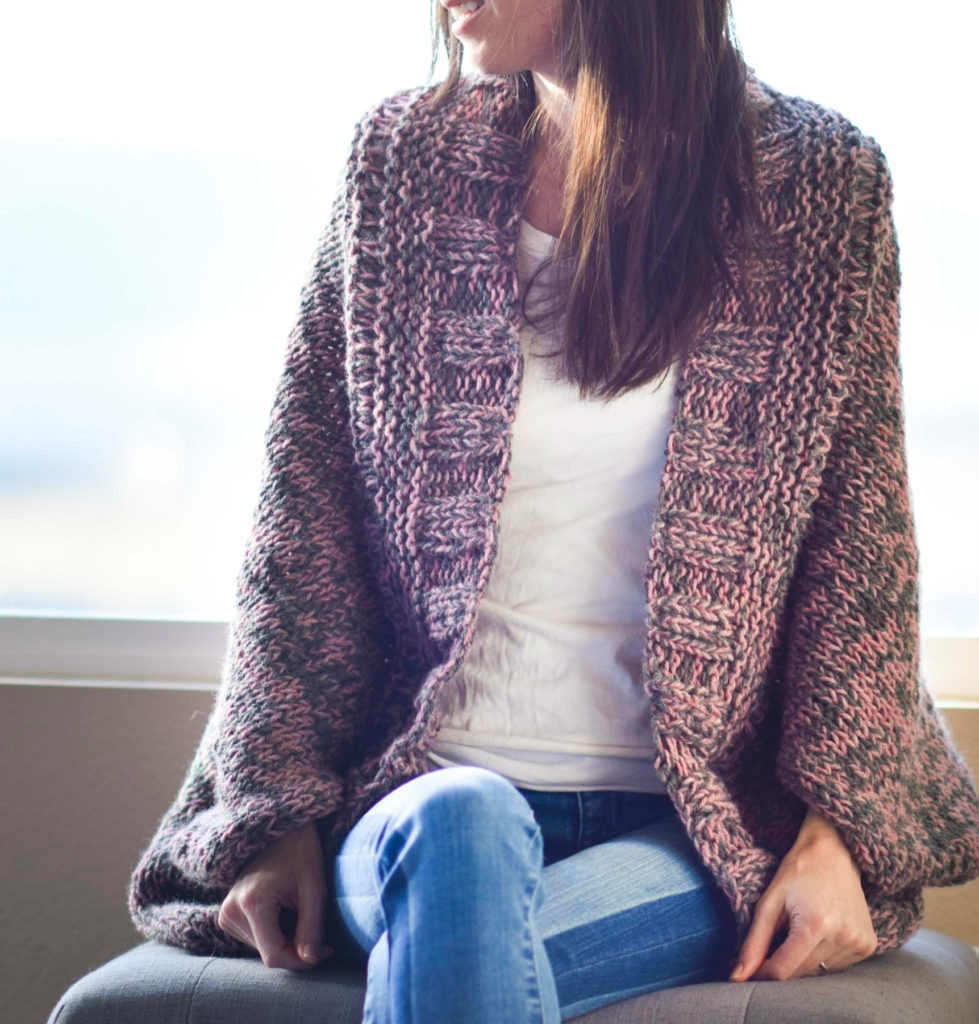 This yarn is also amazing! If you've never tried the Lion Brand Wool Ease yarn (HERE), I highly recommend it. Not only is it a soft wool blend, the colors that are available are some of the best colors I've seen available. I LOVE the Blush color as well and I can't wait to get my hands on some.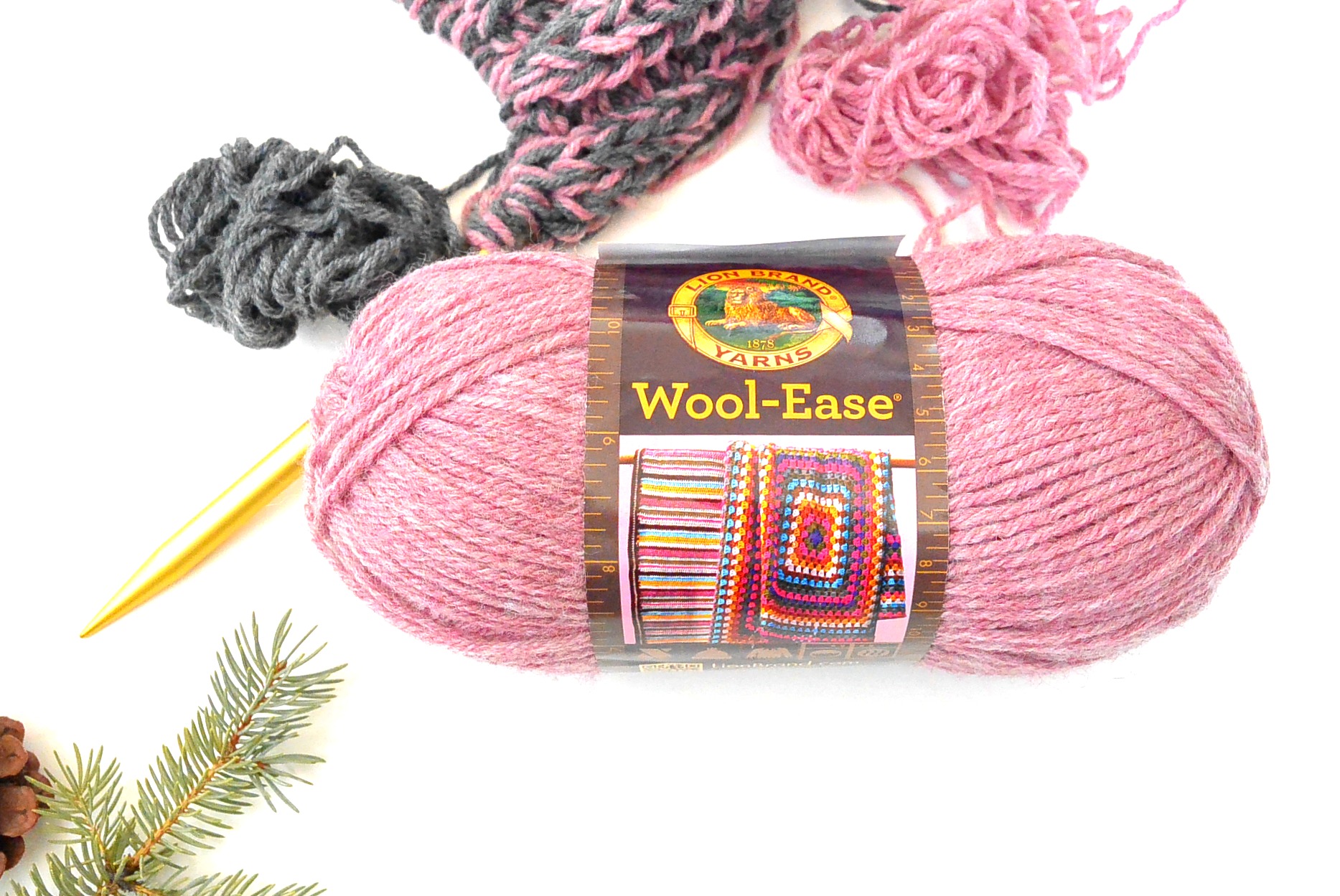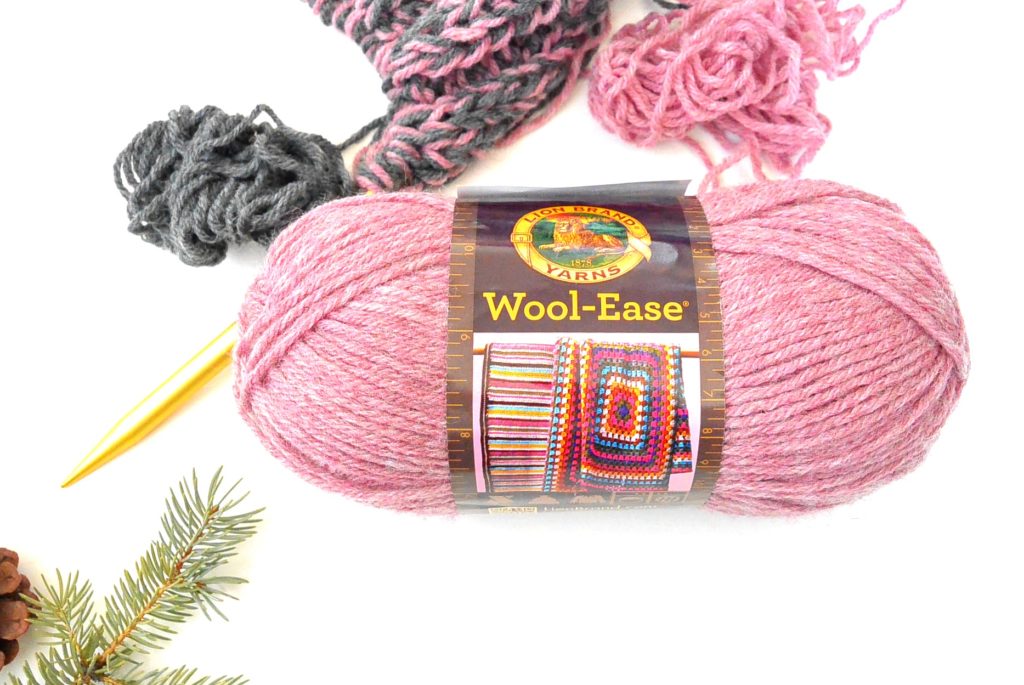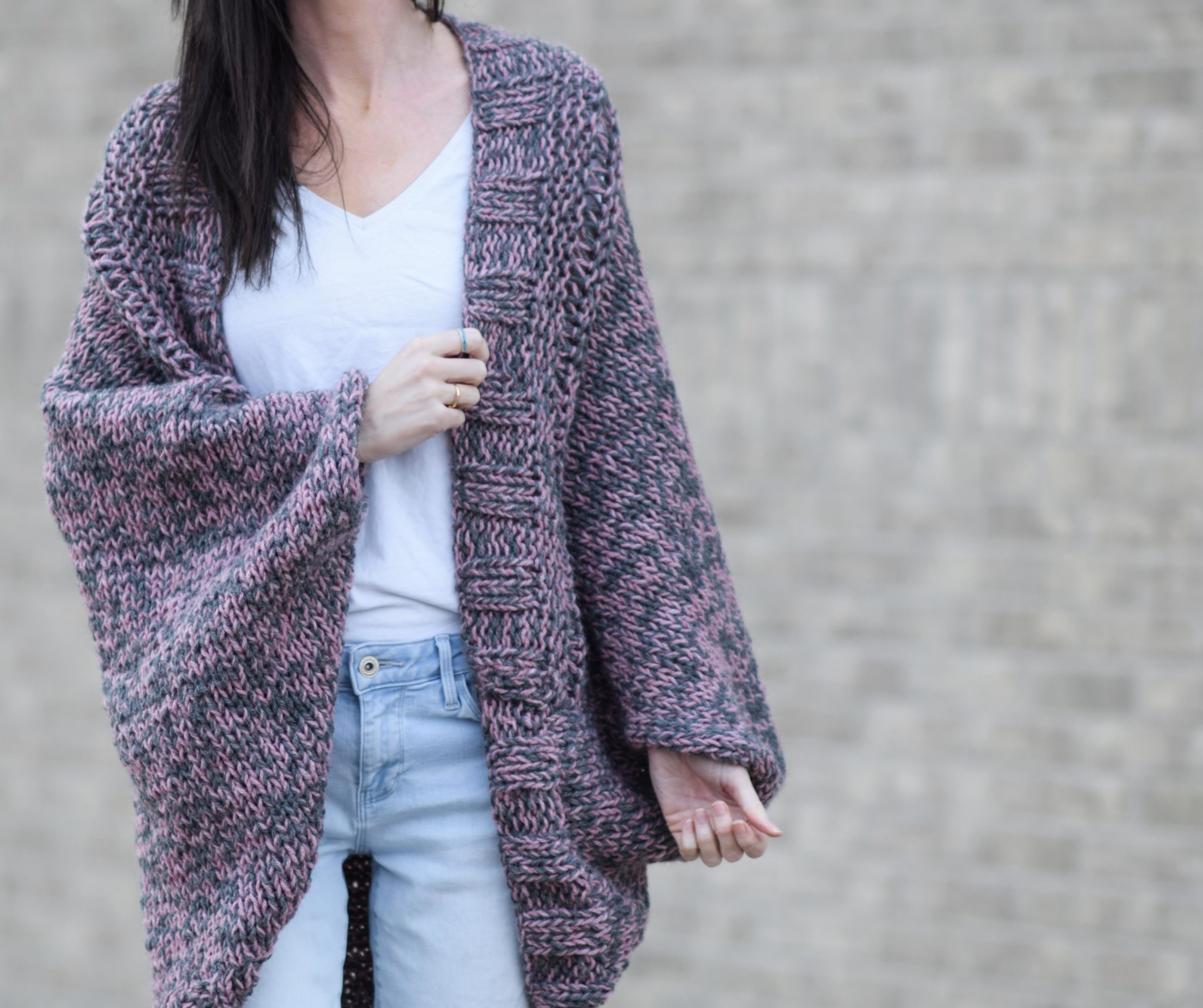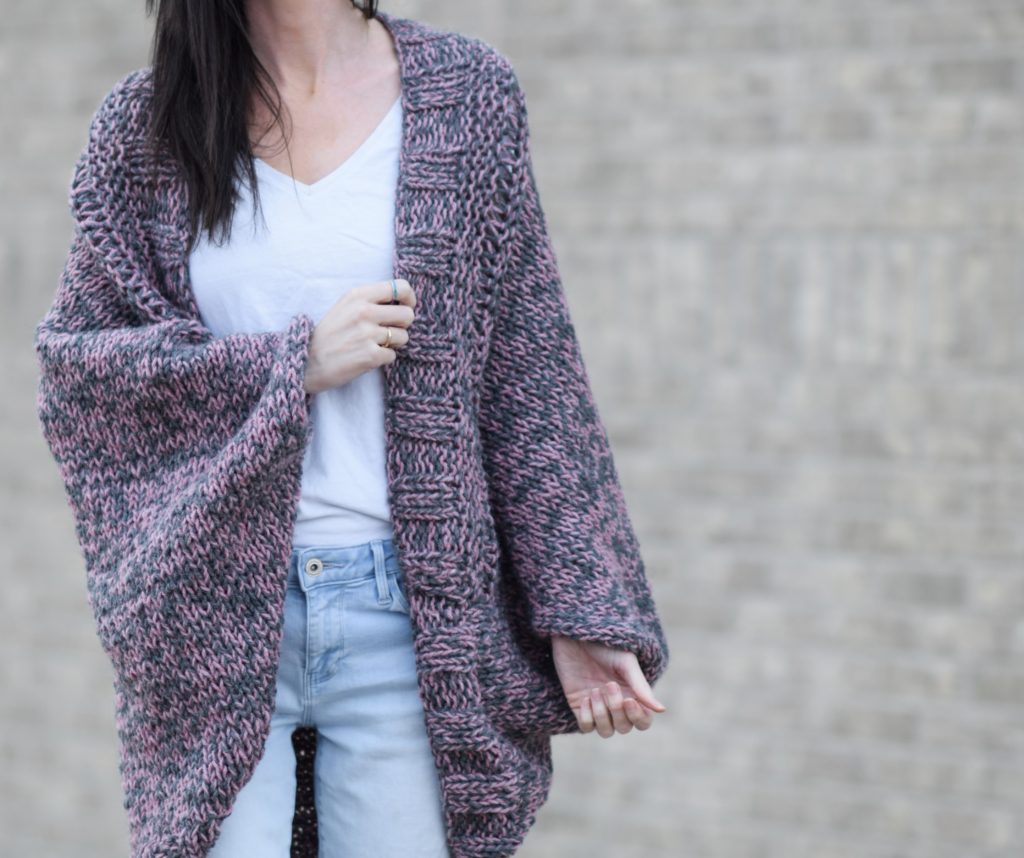 Below, you can see how you knit holding the two colors together at the same time. It's so squishy, soft.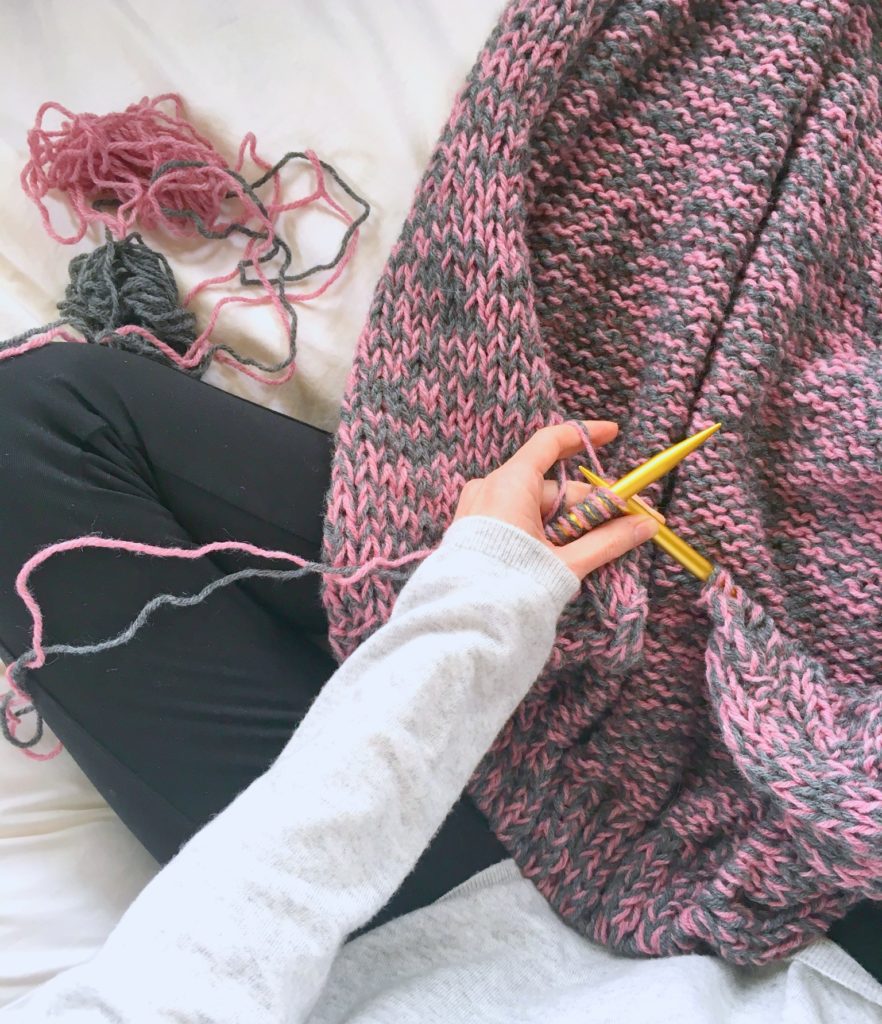 The neckline of the cardigan features a wide rib pattern, garter stitching and a row of drop stitches. I think it adds just enough texture and interest to make it fun, but also keeps it classic for everyday wear. And if you've never done drop stitches, fear not! You can skip the drop stitches completely and replace those rows with the stockinette that is worked throughout the pattern. However, if you've had some knitting practice, drop stitches are a breeze. You can check out just how to do the drop stitches from New Stitch A Day here.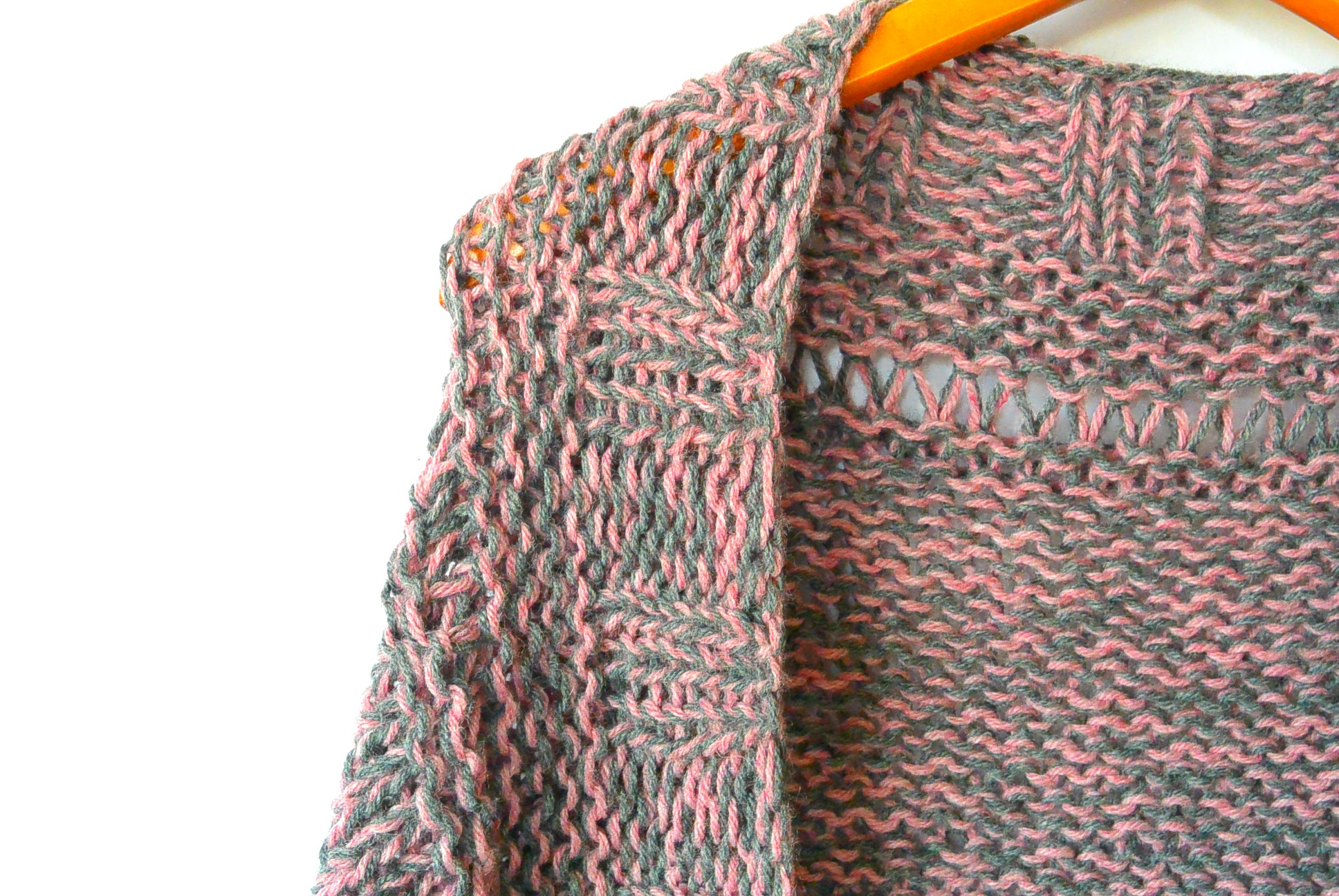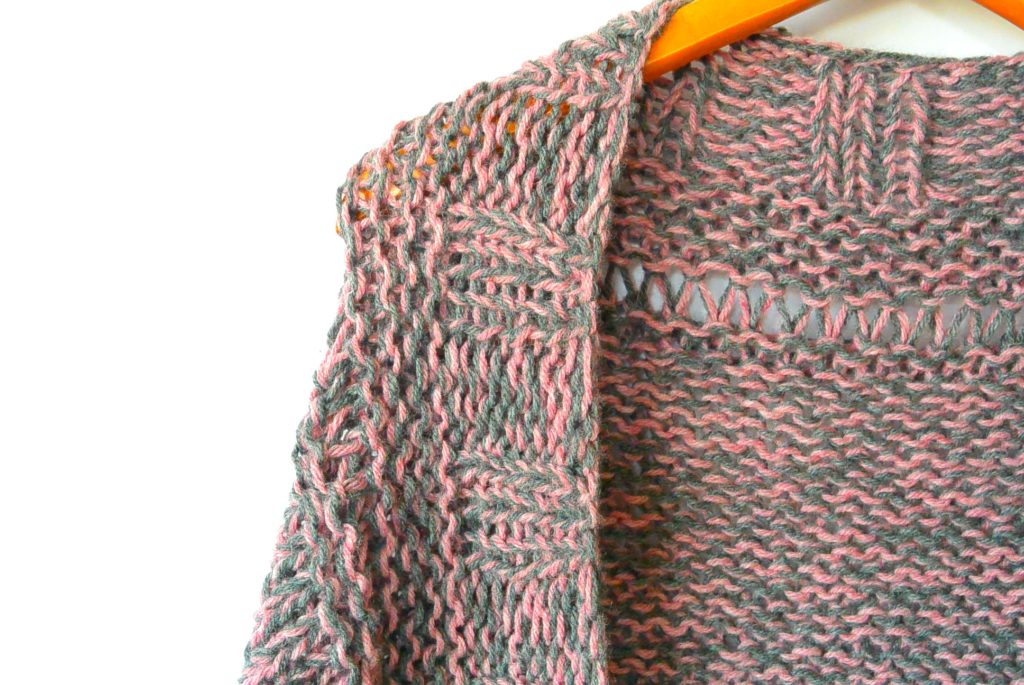 You will knit this on circular needles but it's not knit in the round! You simply use the circulars because they are long enough to hold all of the stitches, but you knit just as if you were using straights. If you have never knit straight on circular needles, you are in for a treat! I prefer circulars over straight needles any day as I find that my stitches don't fall off as easily.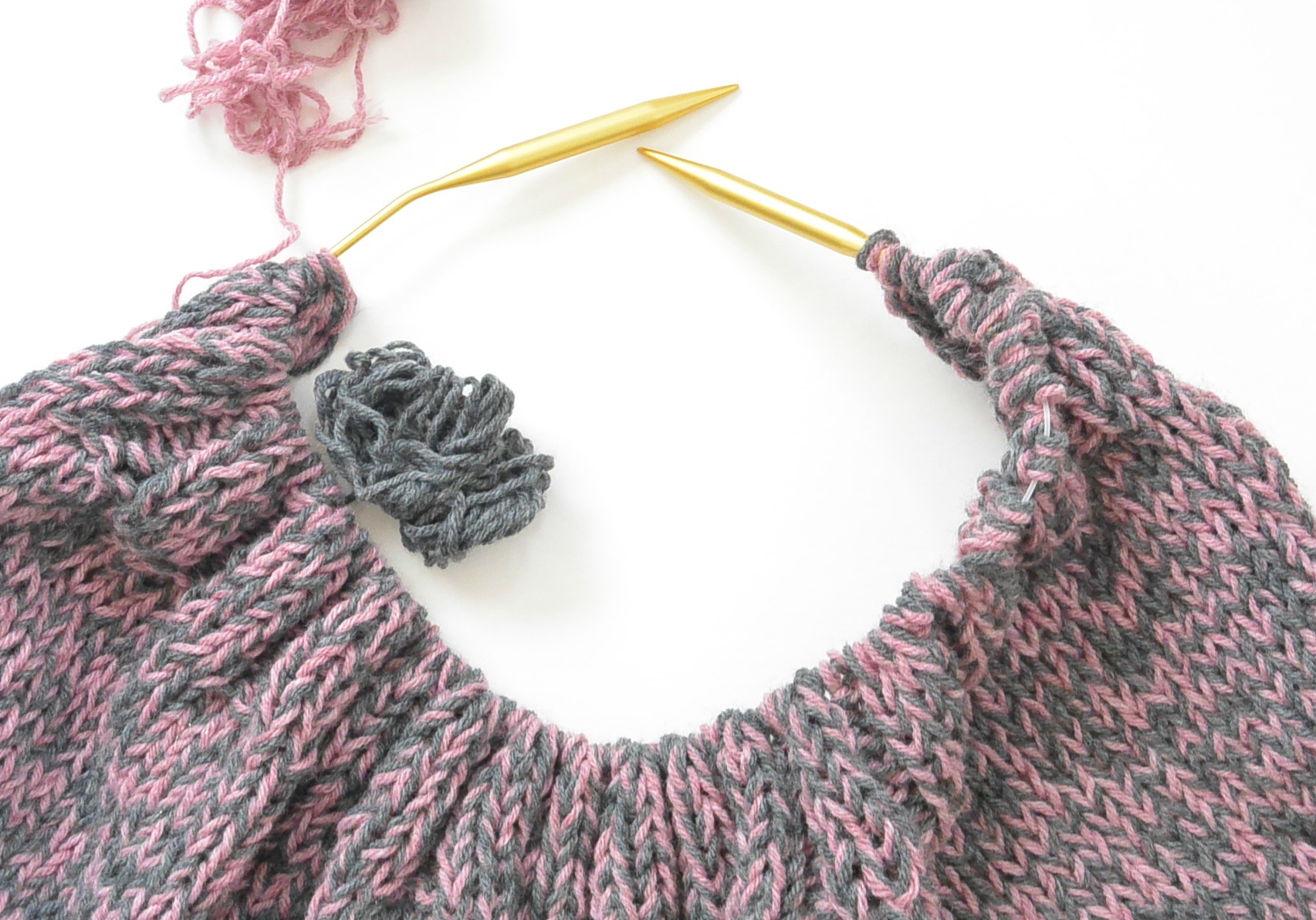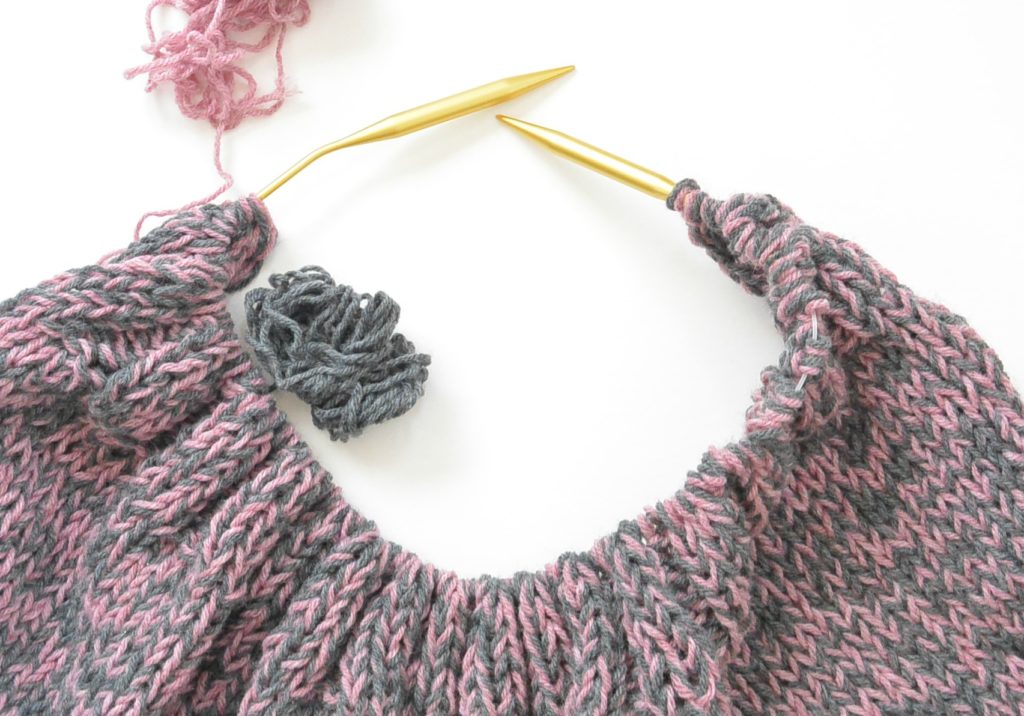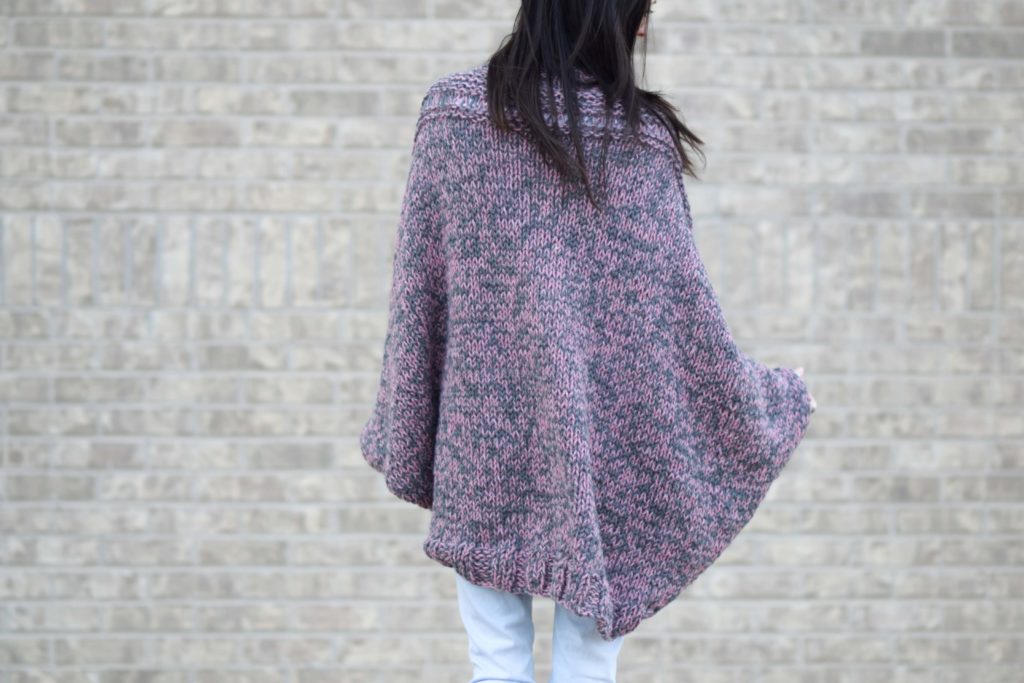 First I'd like to give you a quick overview on how you will knit this and then I'll go into the pattern specifics:
First, you will begin by casting on stitches and will work in a ribbing pattern. Next you'll work into a garter stitch pattern as well as do a row of drop stitches. This will make the edges pop!
Second, you will knit in stockinette stitch for the majority of the pattern. This means you will knit one row and then purl the next row.
Third, you will finish off with another ribbing pattern, cast off and get ready to seam the arms.
Last, you will fold the piece in half (or fold the corners inward as I've done for my past blanket sweaters) and seam inward leaving holes for the arms. You can see exactly how it's done in the diagram below!
Okay, so now let's get into this pattern! Find the free pattern below or the printable version available for purchase on Etsy HERE!
**Note: in the photos I am wearing a S/M and is 5'6″ and 105 lbs
With incredible drape, a relaxed fit and trendy marled fabric, this is sure to be your new favorite cardigan! This beginner friendly pattern works up quickly on large needles and is simple and fun to make. Create a comfy, beautiful piece that you are proud to wear even as a new knitter.
Skill Level:
Beginner
Materials:
US Size 15 (10mm), 29" Circular Knitting Needles
S/M
3 skeins Lion Brand Yarn Wool Ease in Rose Heather (85g/skein)
3 skeins Lion Brand Yarn Wool Ease in Oxford Grey (85g/skein) Pattern uses approximately 505 g FIND THE FULL KIT FOR PURCHASE FROM LION BRAND HERE
L/XL
4 skeins Lion Brand Yarn Wool Ease in Rose Heather (85g/skein)
4 skeins Lion Brand Yarn Wool Ease in Oxford Grey (85g/skein) Pattern uses approximately 576g
Tapestry Needle
Scissors
Stitch Markers (optional for assembly)
Gauge:
Approximately 9 ½ stitches per 4 inches
Dimensions:
S/M Rectangle measures approximately 46 ½" X 32"
L/XL Rectangle measures approximately 48 ½ X 35"
Length:
S/M 32"
L/XL 35"
Bust Circumference of Cardigan (Approximate):
S/M 64"
L/XL 68"
*note cardigan is meant to be worn open
Sleeve Length (Approximate):
S/M 28"
L/XL 29"
Width Across Back (Approximate):
S/M 24"
L/XL 26"
Abbreviations & Skills:
Cast On
k – knit
p – purl
yo – yarn over
Cast Off
Notes:
This simple knit cardigan is made by creating a rectangle and folding to seam for the arms. You should be comfortable with the knit and purl stitches as well as yarn overs. The yarn overs are used to create simple drop stitches in the pattern along the neckline. If you've never tried drop stitches, there are a lot of great tutorials that you may find online by doing a simple search. This shrug is knit holding two strands of yarn together throughout the pattern. Right Side refers to the stockinette side and Wrong Side refers to the side with reverse stockinette. Two sizes are available – S/M, L/XL. The boxy fit of this shrug stretches to fit a variety of sizes. Tip: Check your gauge and measure after many rows to ensure your size is turning out correctly. The pattern is forgiving, so if your measurements are slightly off, you will still have a cute cardigan. See the diagram at the end of the pattern for additional help on how to seam in order to finish the cardigan.
Follow the key for your size throughout the pattern: (S/M, L/XL)
Easy Relaxed Marled Knit Cardigan Pattern
Holding two strands of yarn together 1 Grey and 1 Rose Heather (or chosen colors), CO (111, 117)
Rib Section (3X3 Ribbing)
Row 1 K3, p3 across ending with k3 (111, 117)
Row 2 P3, k3 across ending with p3 (111, 117)
Repeat rows 1 & 2, working in this rib pattern for a total of 9 rows ending with the row 1 pattern
Next, you will move onto the Garter Stitch and Drop Stitch Section
Garter Stitch & Drop Stitch Section (note: if you aren't comfortable with the drop stitch section, just replace these rows with stockinette!)
Rows 1-6 Knit each stitch across row (111, 117)
Row 7 *K1, yo; repeat from * across row ending with a k1 (111, 117)
Row 8 Knit each knit stitch across the row and let each yo drop off the needle (111, 117 )
Row 9-10 Knit each stitch across the row (111, 117)
Stockinette Section
Row 1 Purl each stitch across row (111, 117)
Row 2 Knit each stitch across row (111, 117)
Repeat row 1 & 2, working in stockinette stitch for approximately (26", 29") ending on the Right Side (111, 117)
Final Rib Section
Row 1 P3, k3 across the row (111, 117)
Row 2 K3, p3 across the row (111, 117)
Repeat rows 1 & 2 for approximately 3". Tie off and weave in ends.
Assembly: (see diagram below) Fold in half lengthwise so ribbed edges meet. Place stitch markers approximately 5 ½" from fold. With a length of yarn and your tapestry needle, seam from markers to edge (use the mattress stitch seam for stockinette portion). The openings will be for your arms! Tie off and weave in ends. Lastly, while not necessary, feel free to get creative by adding a button or tie closure to the front. (Measurements in diagram below are approximate)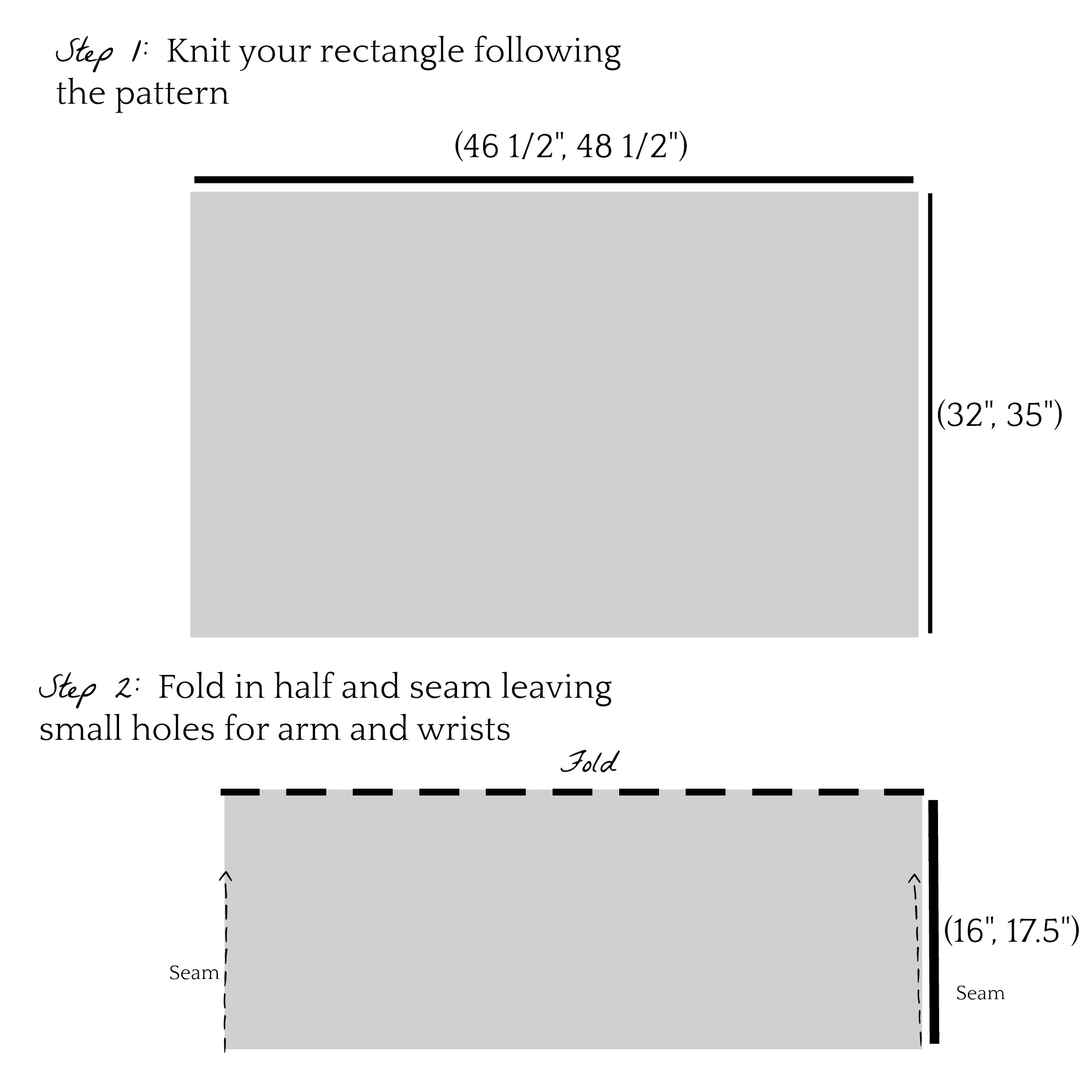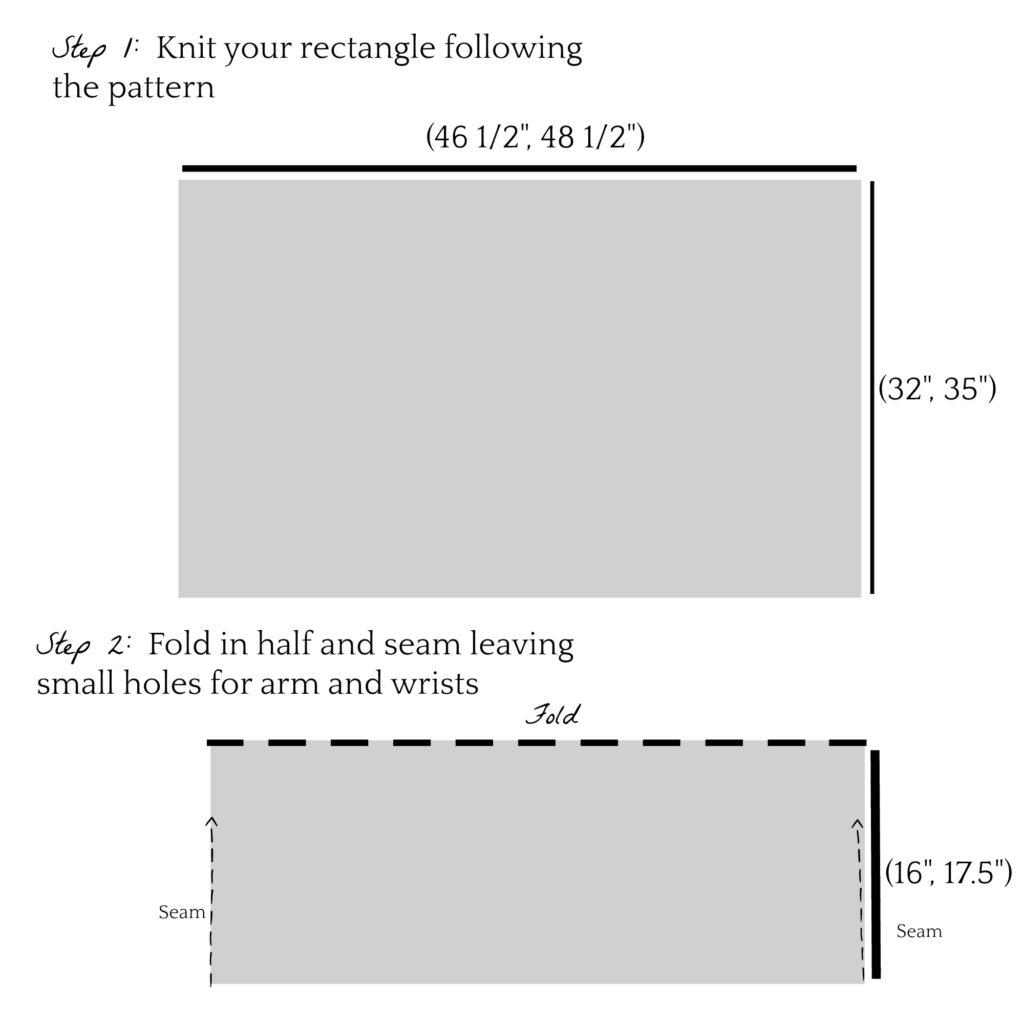 You might remember that I assembled the Easy Knit Blanket sweater which I shared a while back the very same way: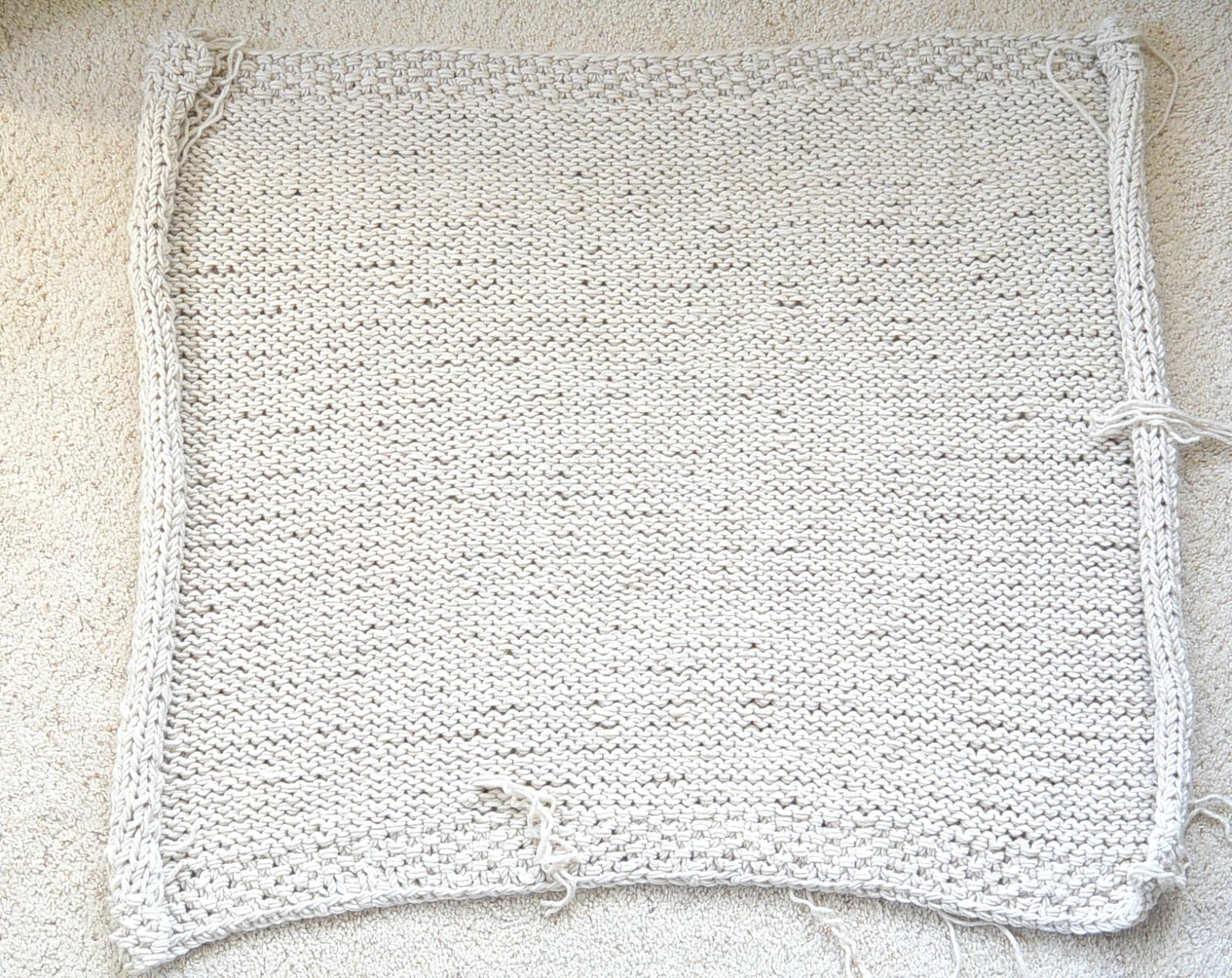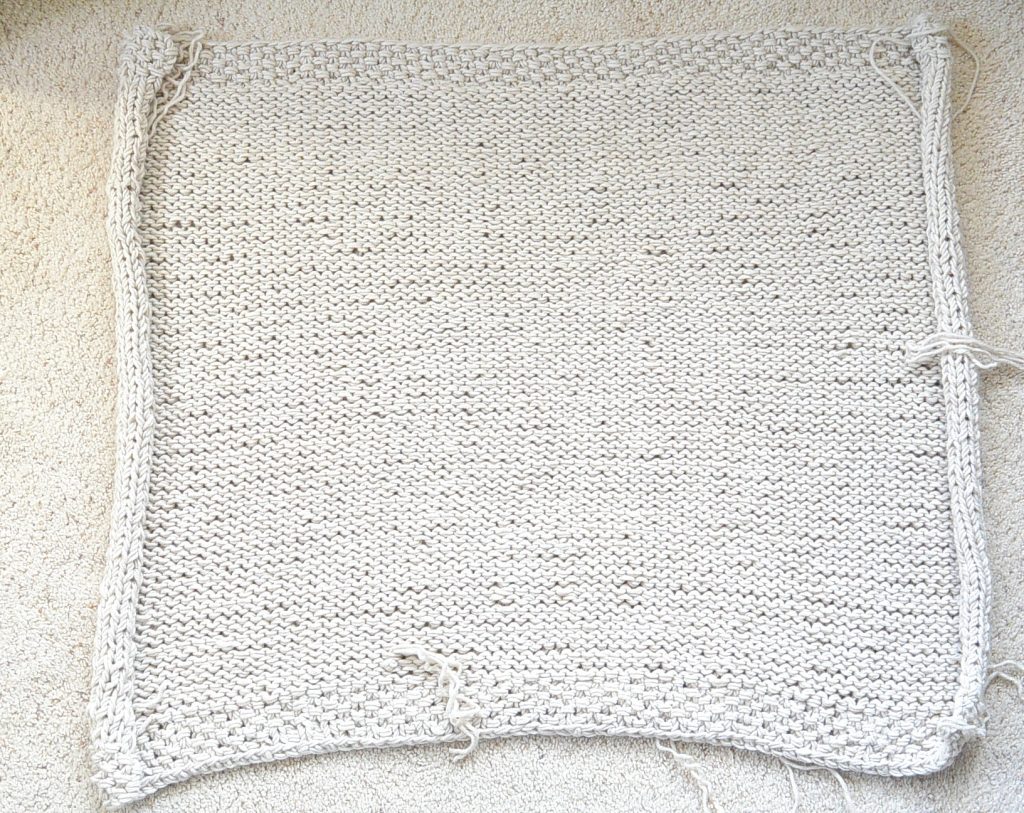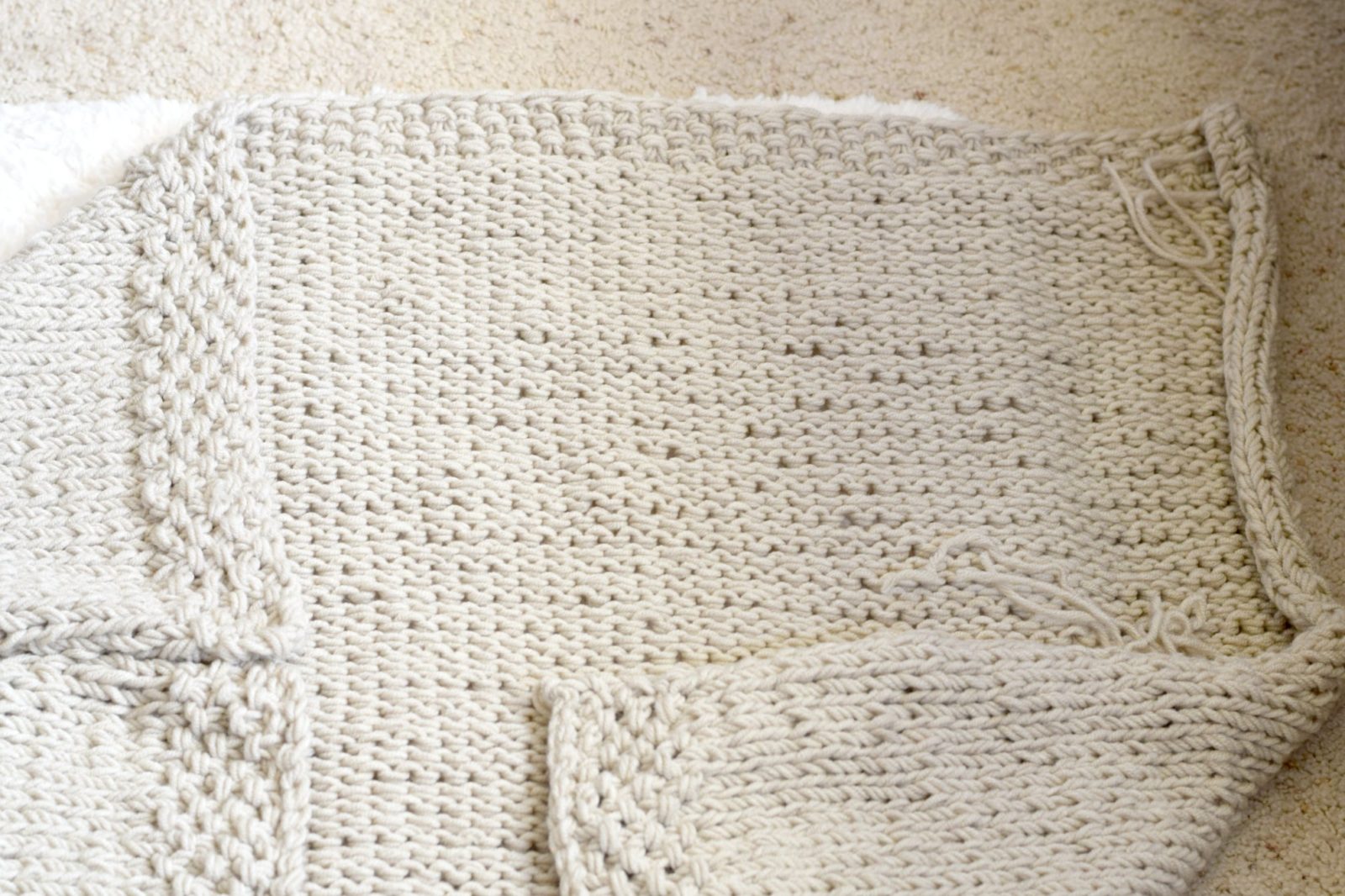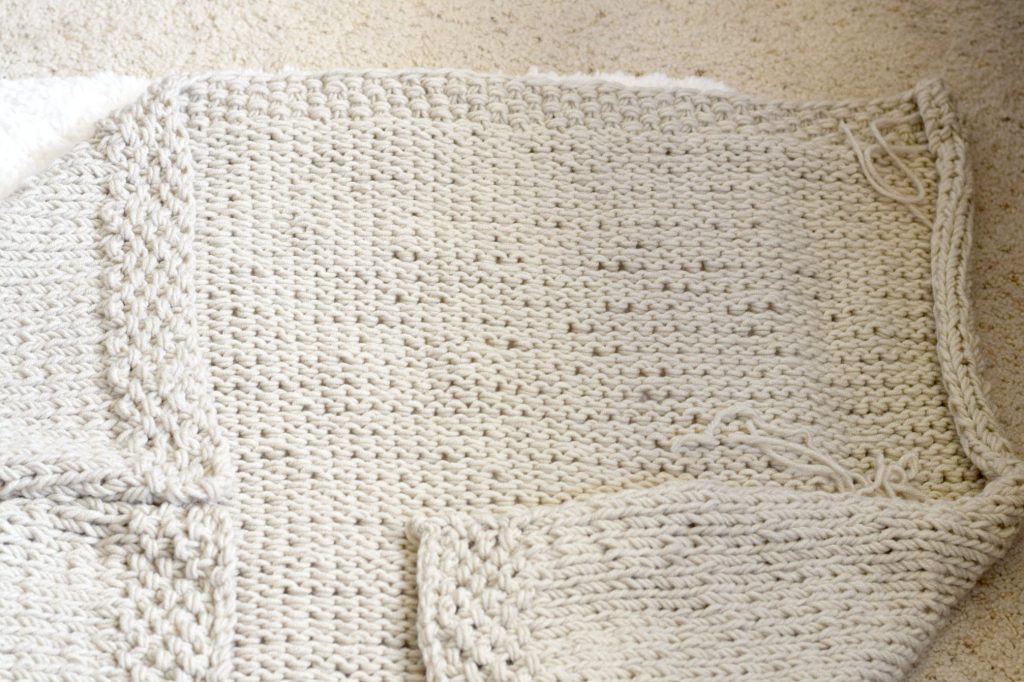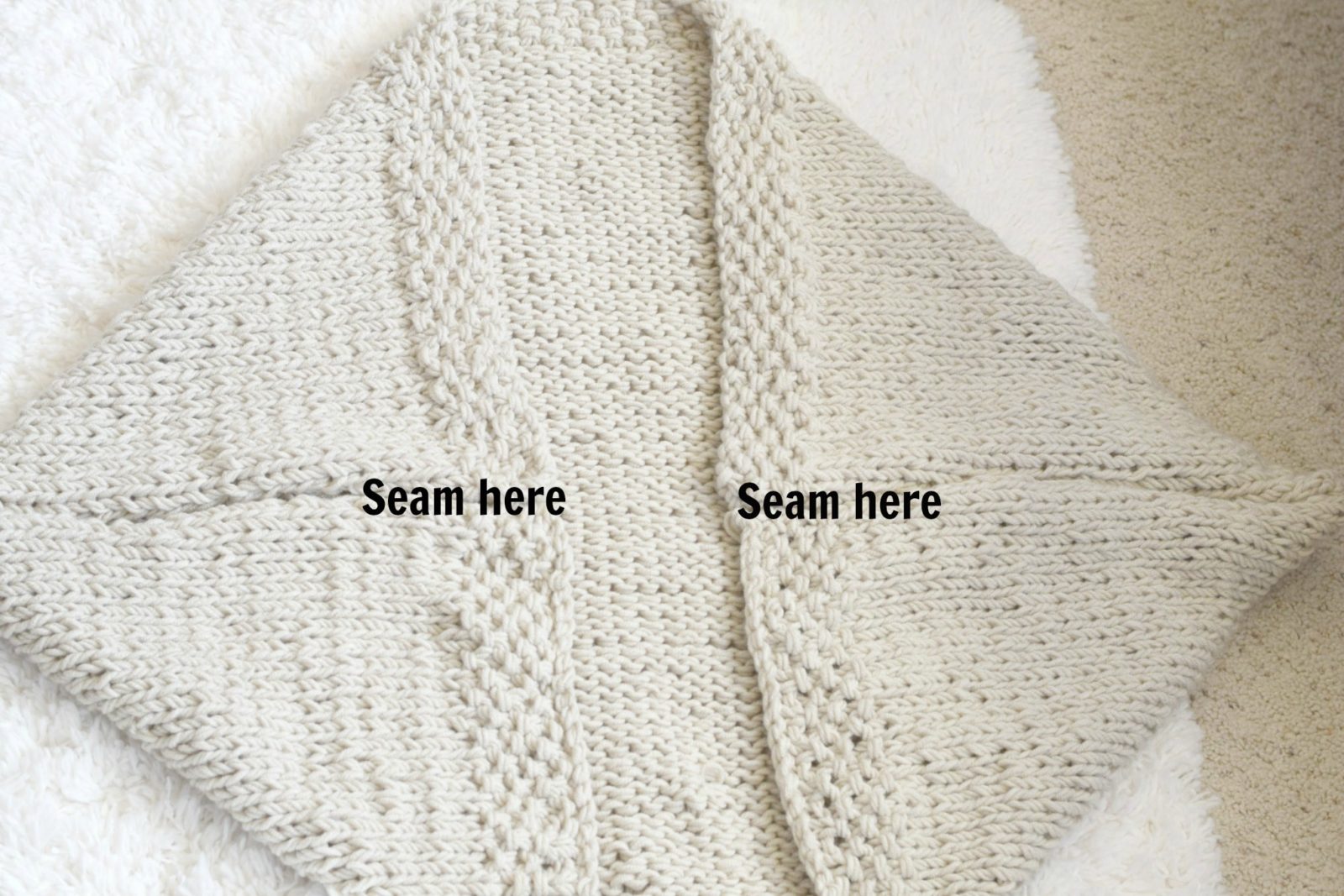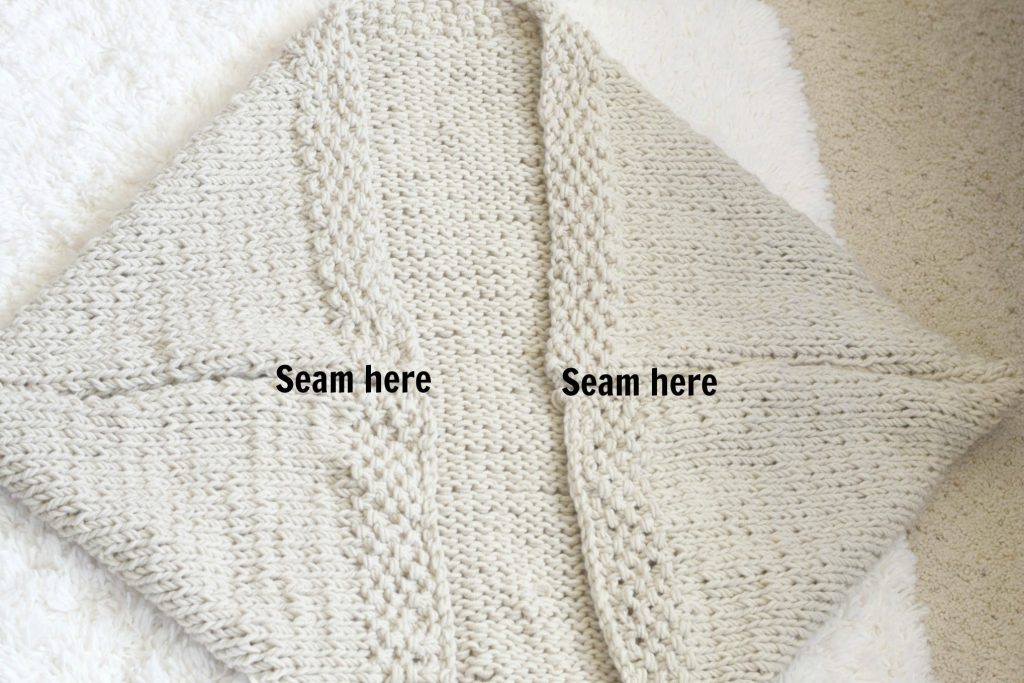 That's it my friends! I hope that you love your brand new cardigan and please let me know if you have any questions or comments about the projects!


XO,
Jessica
If you like this, you might also like: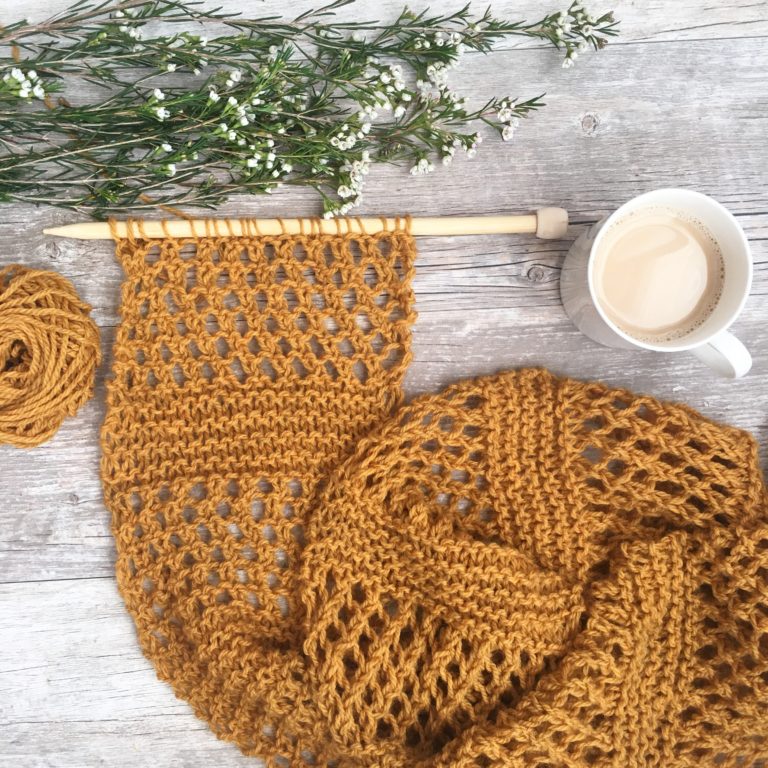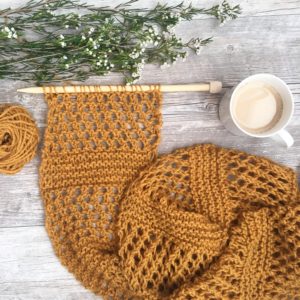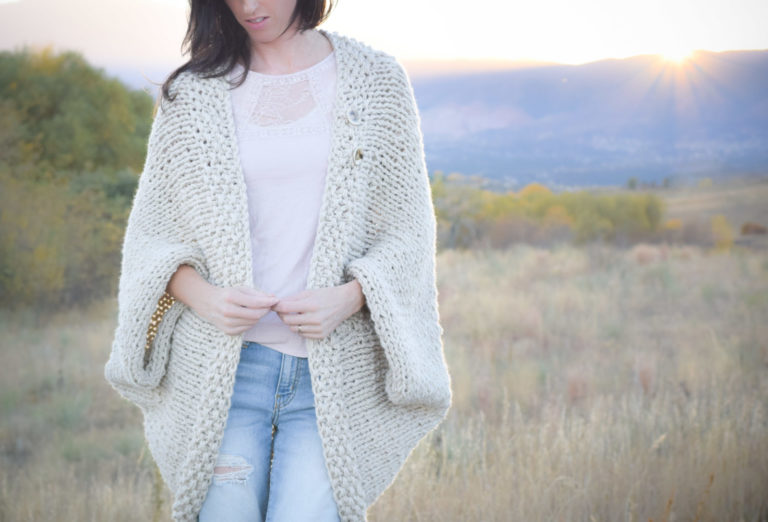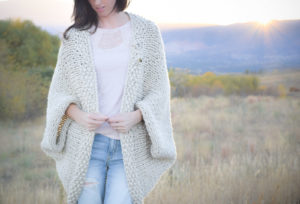 Thank you to Lion Brand Yarn for sponsoring this post. All opinions are 100% my own.