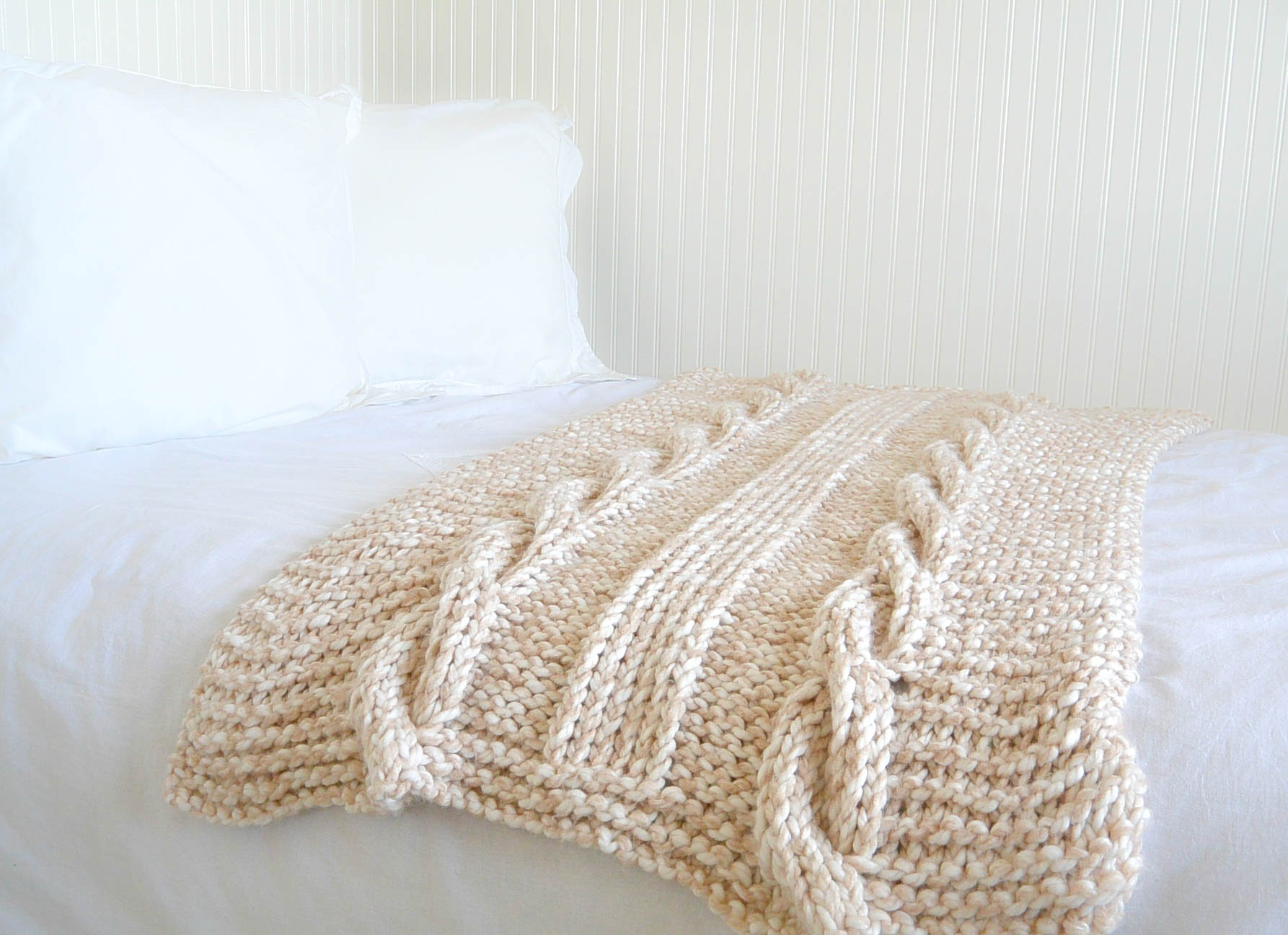 Putting my "quick and easy" mantra aside, check out this chunky cable knit blanket that I just finished!  Okay, in reality, it actually is very quick and easy for a blanket.  Have you seen some of the beautiful chunky cable knit blankets out in stores and online? I can't believe how expensive some of them are. My hubby might have fallen over if I attempted to buy one!
This is something I've wanted to make for a long time, and it was such a pleasure to finally knit it up!  It had to be named "Endless Cables" because the blanket is all about the two forever long cables that look like they are going to twist themselves right off the end of the afghan.  🙂 Cables you say……easy??  YES! These are super duper easy cables, and you can see my picture tutorial below on how to make them. The pattern uses BIG needles and Lion Brand Color Clouds Yarn which is an amazingly soft jumbo/super bulky yarn so it works up really fast.   The "lapghan" only uses knit and purl stitches, so it is very doable if you've got the knit and purl thing down pat.
This "Endless Cables" blanket was done in a months time, working a few hours here and there.  The last blanket that I knit took me something like 6 months, and it was a major challenge to finish.  This was fun to finish because it was neat to see how the cables looked as they got longer and longer. 🙂
If you've never done cables, but have wanted to try them, this could be a winner.  You will see there are a lot of repeat rows and you make the same simple cable row every 9 rows.  It isn't overwhelming, and with the big yarn and needles it's easy to see mistakes and it works up quickly.
Notes:
Measurements: Final Blanket "Lapghan" measures 34″ wide x 50″ long
Gauge: Approximately 1.5 stitches and 2 rows per 1 inch
This pattern has two single 8 stitch cables
This pattern uses Knit, Purl and 4/4 LC
Abbreviations:
4/4 LC: 8 stitch left cable. Slip 4 stitches to cable needle and hold in front, k4, k4 from cable needle.  (You will see in my picture tutorial below that I didn't use a cable needle, but rather a mechanical pencil to hold my stitches)
You will need:
US Size 35 (19 mm) 29″ Circular Needles (I got mine from Lion Brand Yarns here)
9 Skeins Lion Brand Color Clouds Yarn in Travelers Tan
Scissors
Tapestry Needle to weave in ends
Endles Cables Knit Lapghan Pattern:
With your US Size 35 Circular knitting needles cast on 60 stitches
Row 1 Knit across row
Row 2 Knit across row
Row 3 Knit 13, Purl 8, Knit 18, Purl 8, Knit 13
Row 4 Knit across row
Row 5 Repeat row 3
Row 6 Knit 13, LC, Knit 18, LC, Knit 13  (This is your cable row. When you come to the "LC", feel free to see my picture tutorial on how to make the twist for your cable)
Row 7 Knit 13, Purl 8, Knit 6, Purl 6, Knit 6, Purl 8, Knit 13
Row 8 Knit 21, Purl 6, Knit 6, Purl 6, Knit 21
Row 9 Repeat row 7
Row 10 Repeat row 8
Row 11-15 Repeat row 7 and 8. In other words, for row 11 – repeat row 7.  For row 12 – repeat row 8.  Continue repeating the sequence of row 7 and then row 8.
Row 16 K 13, LC, P6, K6, P6, LC, K13
Repeat Row 7 – Row 16     7 times
Bottom Edge of blanket:
Repeat Row 3
Knit across row
Repeat row 3
Knit across row
Knit Cast off.
Tie off, weave in all ends.
How to make the cable row in pictures:
What do you think of this?  Make sure to let me know if you try it out, and as always, let me know if there's anything I can do to make the pattern any better!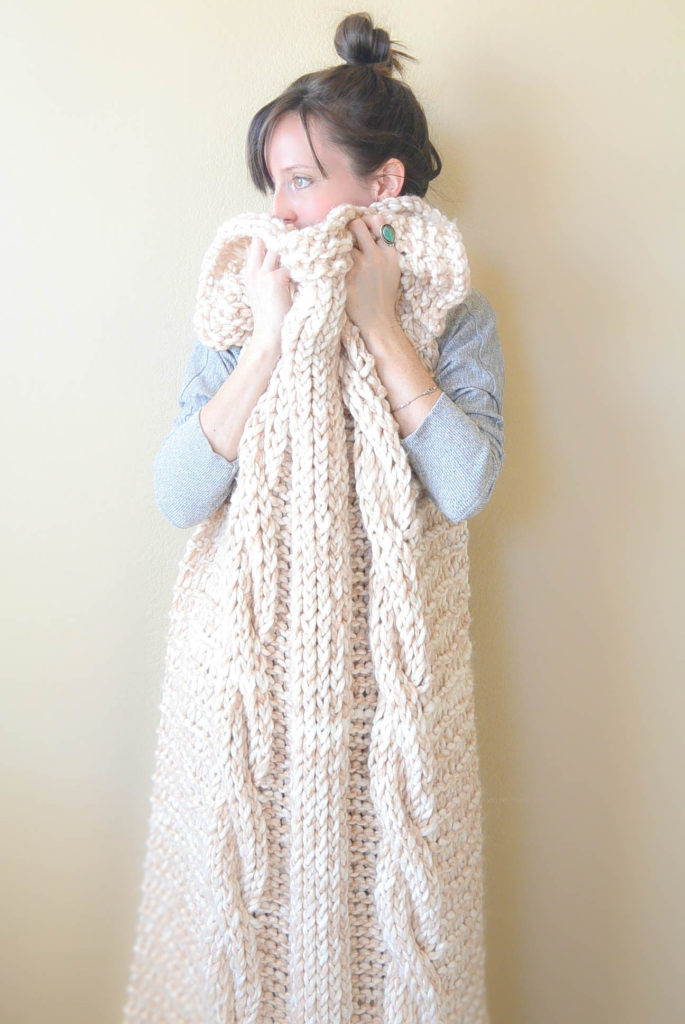 I hope you enjoy your cuddly, giant "Endless Cables" knit blanket as much as I do!
Thank you so much to Lion Brand for sponsoring this post. 🙂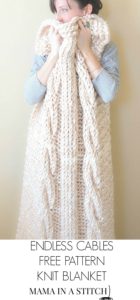 Be sure to check out some of my other free knitting patterns here and feel free to share pictures of your Mama In A Stitch projects with me on my Facebook Page!
I'd love to hear if you enjoy making cables in the comments below.  🙂
Thank you friend!
-Jessica
If you crochet you must check out this gorgeous crochet cabled blanket by Stephanie at All About Ami!! We were working on our blankets around the same time and laughed because they are so similar!