How To Knit A Cable Hat – Golden Waves Toque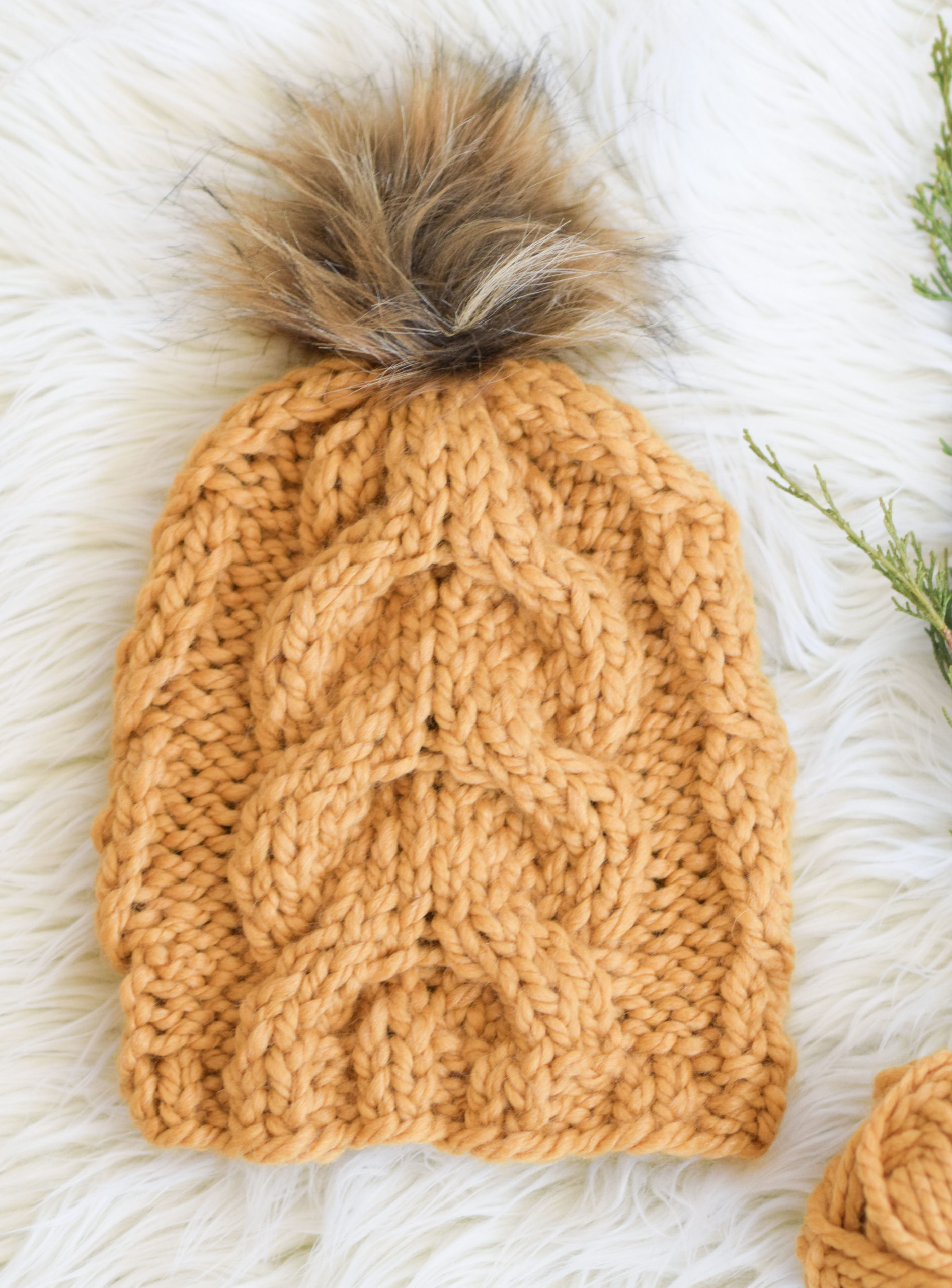 So it's officially hat season and I was in need of a new, cozy beanie. I thought it might be fun to take some of my favorite cables from the Winding Cables Knit Wrap and integrate them into a chunky, mustard hat. If you've never tried cables or just plain enjoy them, you'll really like this project! I'm going to link to my cable tutorial below so you can practice and make this in no time. 🙂 (Scroll down to see the free pattern, or you can find the ad-free, printable version in my Etsy shop HERE)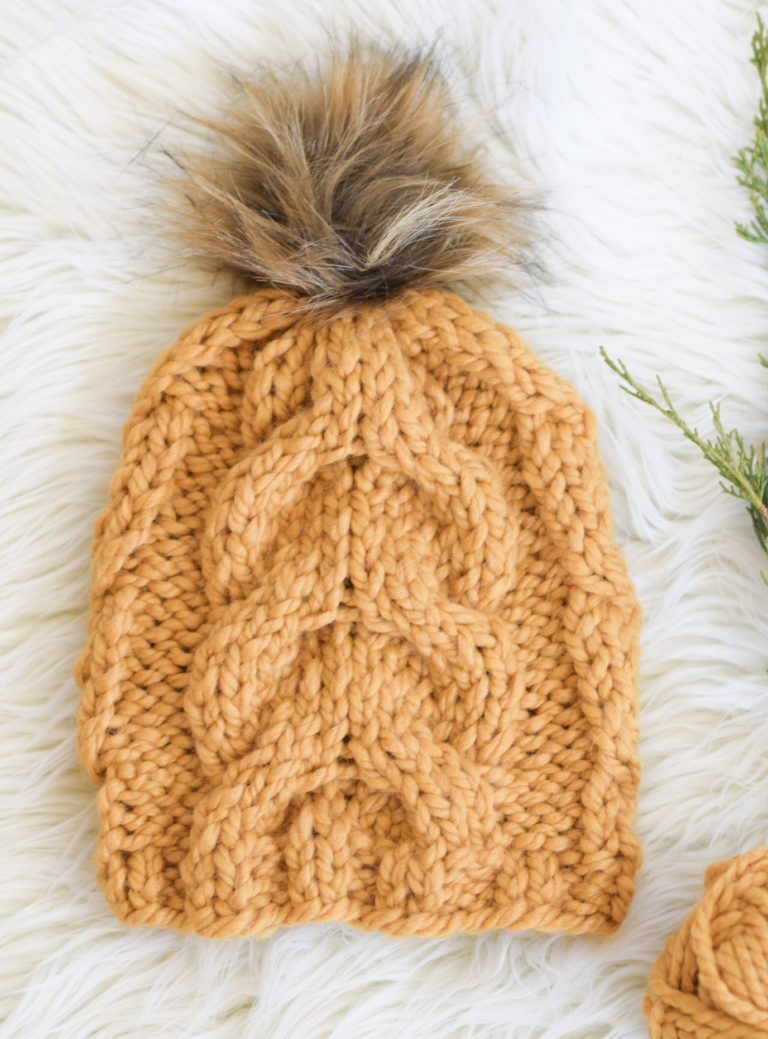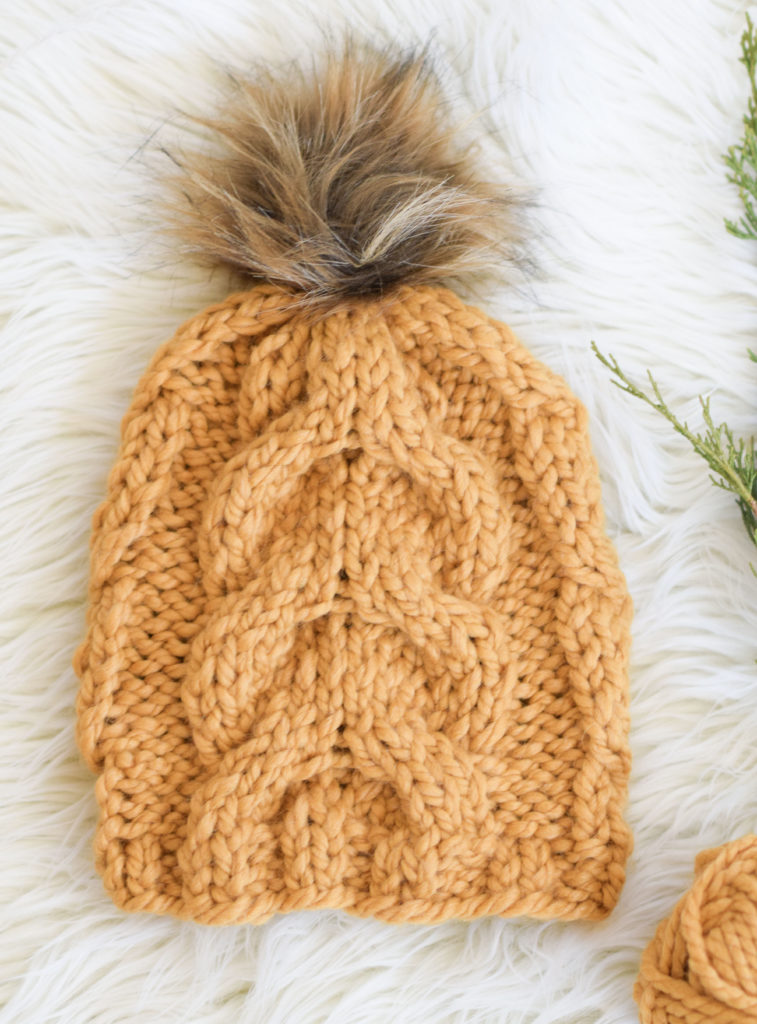 Above: This particular hat features a big, pretty inverted cable in the center and two smaller cables on each side. It's flanked with reverse stockinette and some garter stitching.
In some of my previous blog posts I've talked about how cables seem intimidating, but they are super easy.
This hat is knit flat, so if you know how to knit and purl, you can definitely make it.
Unfortunately, my hubby wasn't available to be my photographer for this one. While you can't see how it looks when worn, I can assure you that it's even cuter on than when it's laying flat. I just love it!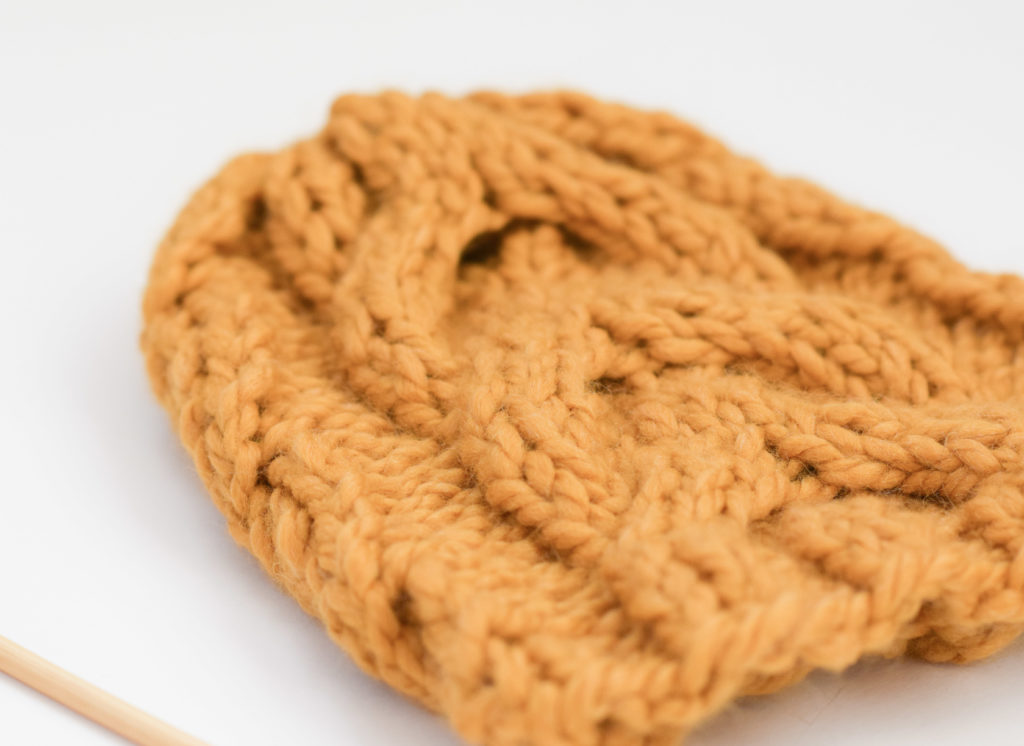 So, before you get started, take a look at my "How To Knit A Simple Cable" blog post HERE.
That post explains exactly how it works and how you read the pattern. It is seriously SO EASY once you understand it. Basically, when you get to a "cable row", you will slip a few stitches onto a separate needle to "hold" them. You then knit from you're regular knitting needle, and then knit the stitches you're holding. Give it a try and you'll see how simple it can be. Even the big, glorious inverted cable on this hat isn't difficult. 😉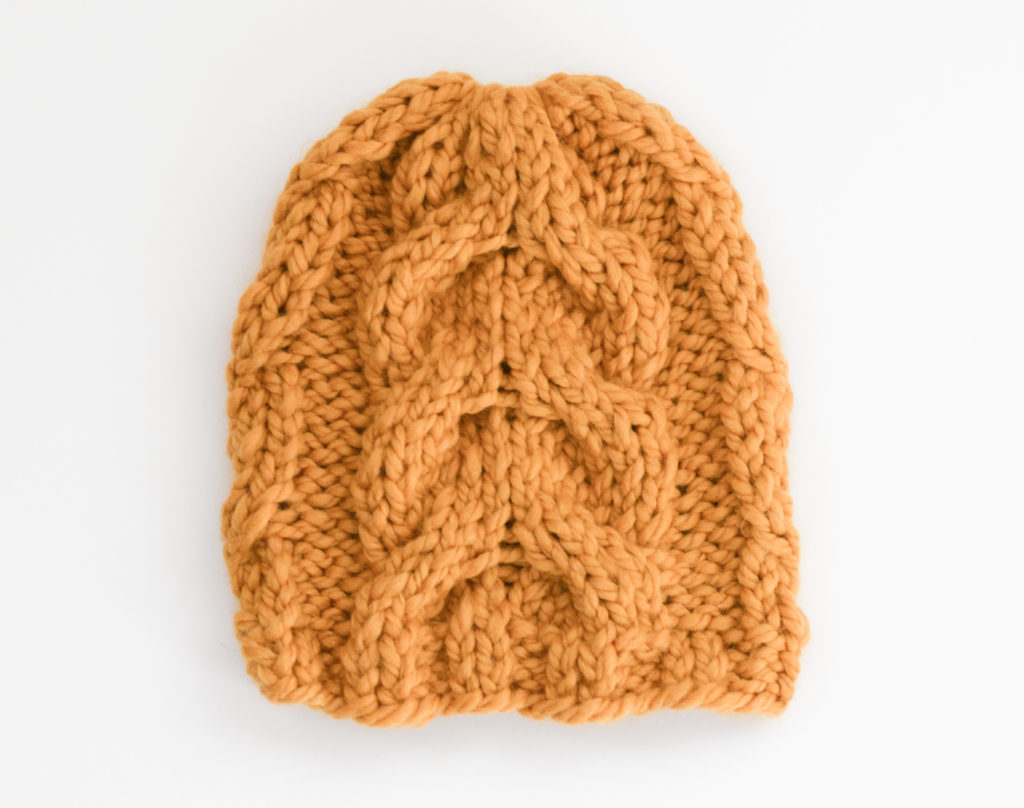 You will also find some helpful photos at the bottom of this post showing how the hat came together!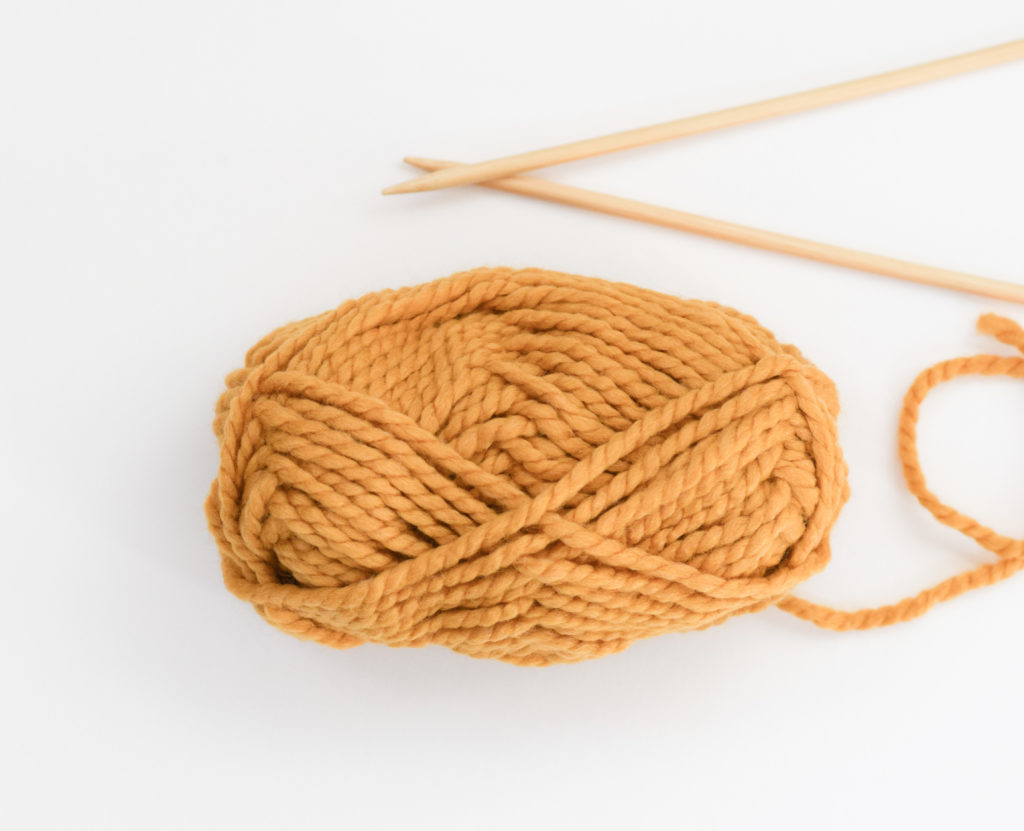 Above: If you follow me, you know this is probably my all time favorite yarn. Lion Brand Wool Ease Thick & Quick HERE.
Alright, let's get to how you'll knit this cable hat!
You'll find the entire free pattern below or you may choose to purchase the ad-free, printable version from ETSY here. If you're a Mamas Maker Member, your printable is waiting HERE.
Golden Waves Toque – Free Knit Hat Pattern
Description:
This squishy, warm, golden toque features an inverted cable on the front and smaller cables on each side. The texture and beauty of this hat isn't only impressive, but it's super fun and quick to make.
You will need:
US Size 15 knitting needles (circular or straight)
1 skein Lion Brand Thick & Quick in Mustard (HERE)
Scissors
Tapestry Needle
Cable Needles (optional – you just need something to hold your stitches)
Optional: Pom
Size:
Women's Size approximately 9″ wide x 10″ tall NOTE: I like my hats to fit snug as they tend to stretch. However, if you need to make yours wider, simply cast on an additional 4 sts or consider going up a needle size. The extra two stitches on either end will be the same as the beginning and ending stitches in the pattern.
Gauge:
Approximately 8 sts (garter stitch) in 4″
Abbreviations & Skills:
k – knit
p – purl
Single 4 stitch cable
2/2 RC – 4 stitch right cable. Slip 2 stitches to cable needle and hold in back, k2, k2 from cable needle
2/2 LC – 4 stitch left cable. Slip 2 stitches to cable needle and hold in front, k2, k2 from cable needle
Inverted Double Cable
3/3 RC – 6 stitch right cable. Slip 3 stitches to cable needle and hold in back, k 3, k3 from cable needle.
3/3 LC – 6 stitch left cable. Slip 3 stitches to cable needle and hold in front, k3, k3 from cable needle.
PATTERN
Cast On 40 sts
Ribbed Bottom Edging
Rows 1 – 4 K2, p2 across the row
Body
Row 1 K6, p1, k4, p3, k12, p3, k4, p1, k6
Row 2 P3, k3, k1, p4, k3, p12, k3, p4, k1, k3, p3
Row 3 Repeat row 1
Row 4 Repeat row 2
Row 5 K6, p1, 2/2 LC, p3, 3/3 LC, 3/3 RC, p3, 2/2 RC, p1, k6
Row 6 Repeat row 2
Row 7 Repeat row 1
Row 8 Repeat row 2
Now, repeat rows 1 – 8, in that order, 2 more times.
Next, repeat rows 1 & 2.
Next, draw the yarn through the loops on your needle. Cinch them all together to close.
Seam
Now you will seam up the hat! Using a length of yarn and your tapestry needle, you will work a mattress stitch seam to sew the hat together.
Step 1: Cast on and work the ribbed edge. Next, get started with your cables!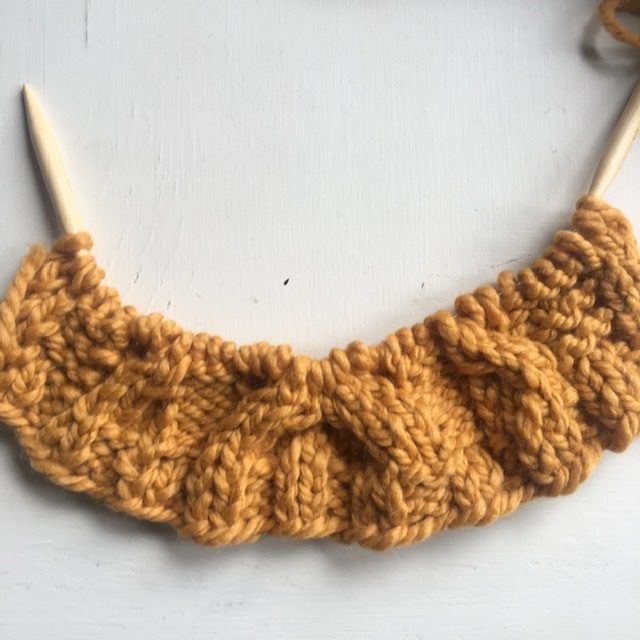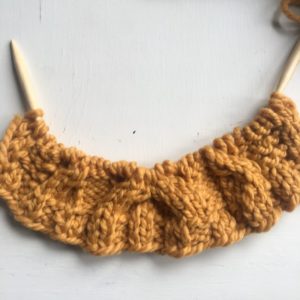 Step 2: Follow the pattern and repeat rows 1 – 8 as instructed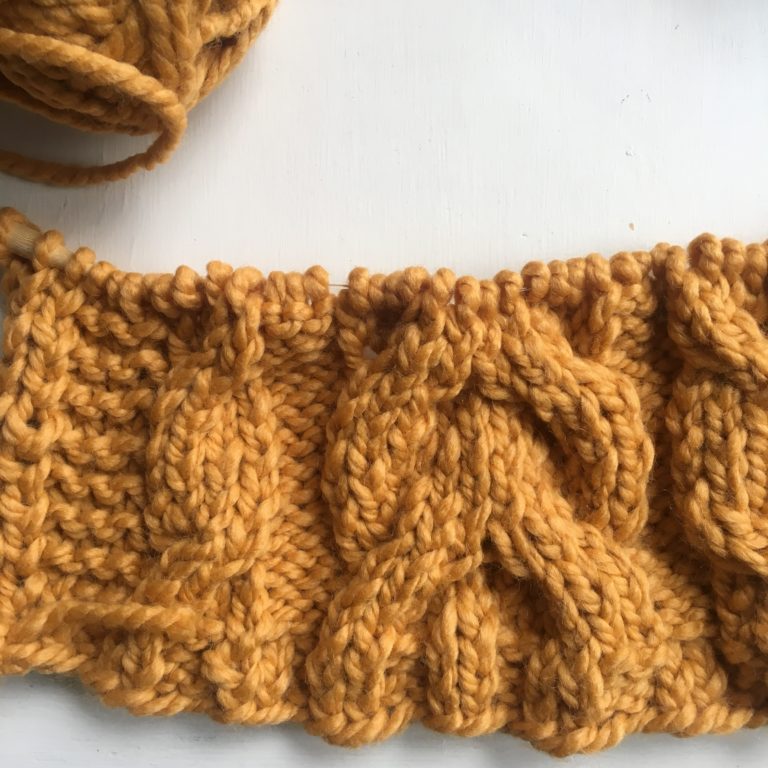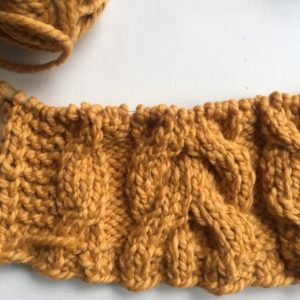 Step 3: Once finished knitting, pull yarn through loops on the needles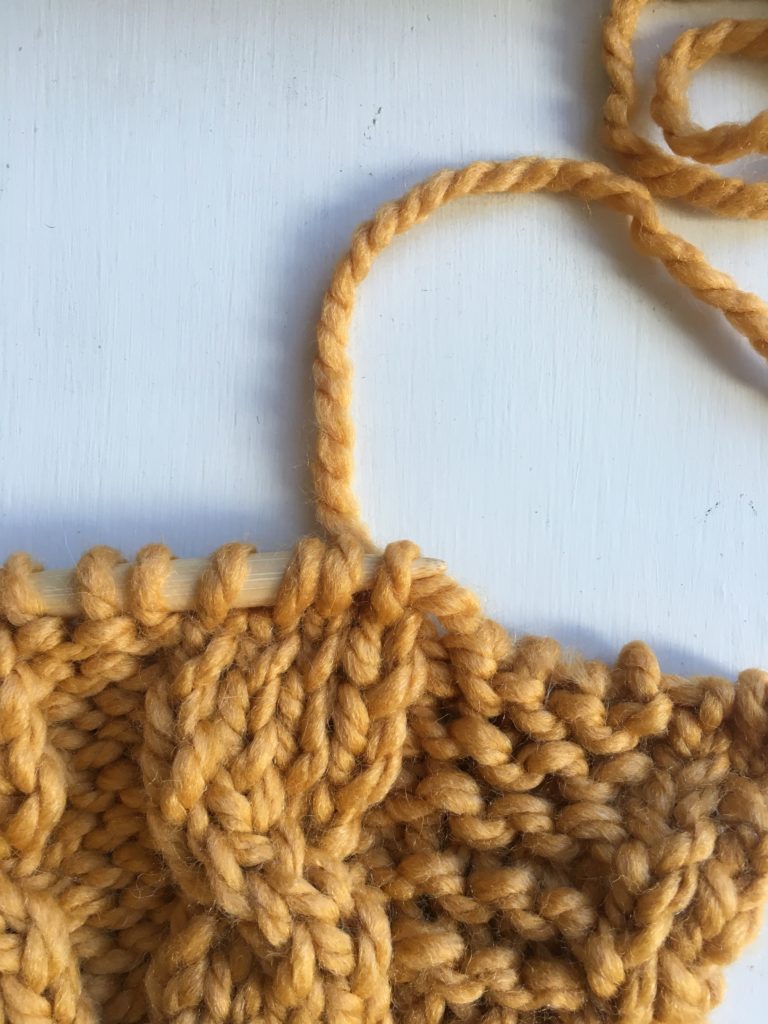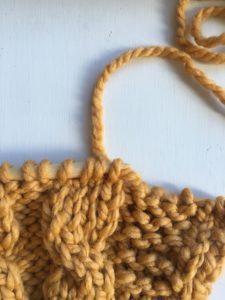 Step 4: Cinch the top closed and tie off.
Next, use the mattress stitch seam (since it's stockinette) to sew up the two sides together.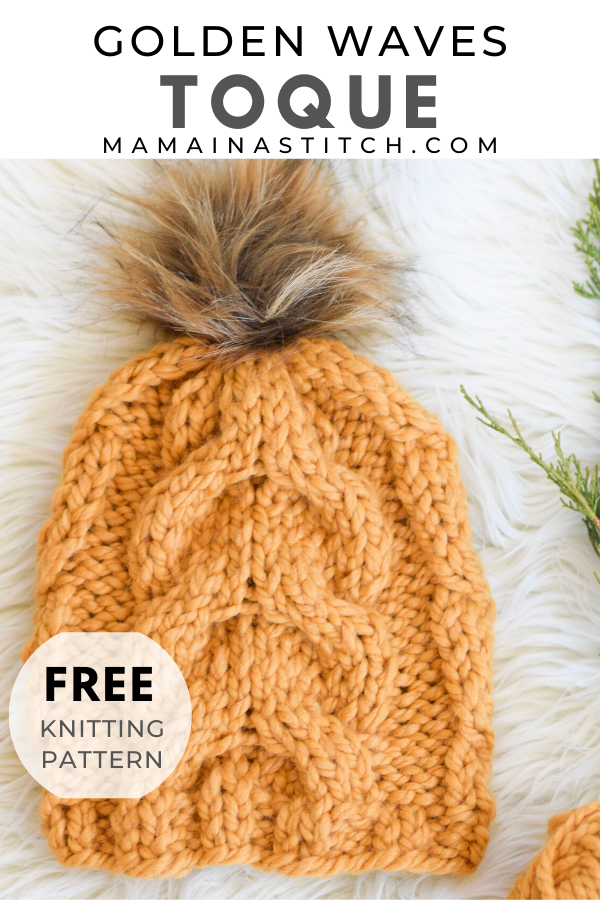 Add a pom or leave it plain. I still don't know which look I prefer, but I'm leaning toward liking it more with the pom. How about you?
I'd love to see if you make one! Simply tag me on Instagram @mamainastitch #mamainastitch
Enjoy cabling my friends!
XO
Jessica
Want more cables?