You can find the free pattern at the bottom of this blog post, or you may choose to purchase the kit from Lion Brand Yarn HERE (20% off for a limited time!) or the ad-free, printable PDF pattern from my Etsy shop HERE
I'm really thrilled to share this gorgeous cable knit wrap with you today! This piece can work as a shawl, wrap, or even a large scarf. Several folks like to make prayer shawls and this would be such a special pattern for that kind of project. It's also very light and comfortable to wear, which doesn't always happen with super bulky yarns. When I heard that I'd get to try the new Fifty Fifty Alpaca Wool yarn from Lion Brand, I knew that I'd have to design something special. The yarn is so luxurious that it just seemed that winding, squishy cables would be the perfect pairing.
What I love about this wrap is that it's simple to make, but the cables appear quite complicated. This is definitely an heirloom worthy piece and I wish you could feel how soft and warm it is! If you've wanted to finally try cables, or just love working cables, this wrap could be the perfect project. I've linked to a tutorial on how to knit cables below and you can also find tons of help on YouTube! This yarn is pricey as it's a luxury yarn, but I do treat myself every now and then, especially when making a special gift. 🙂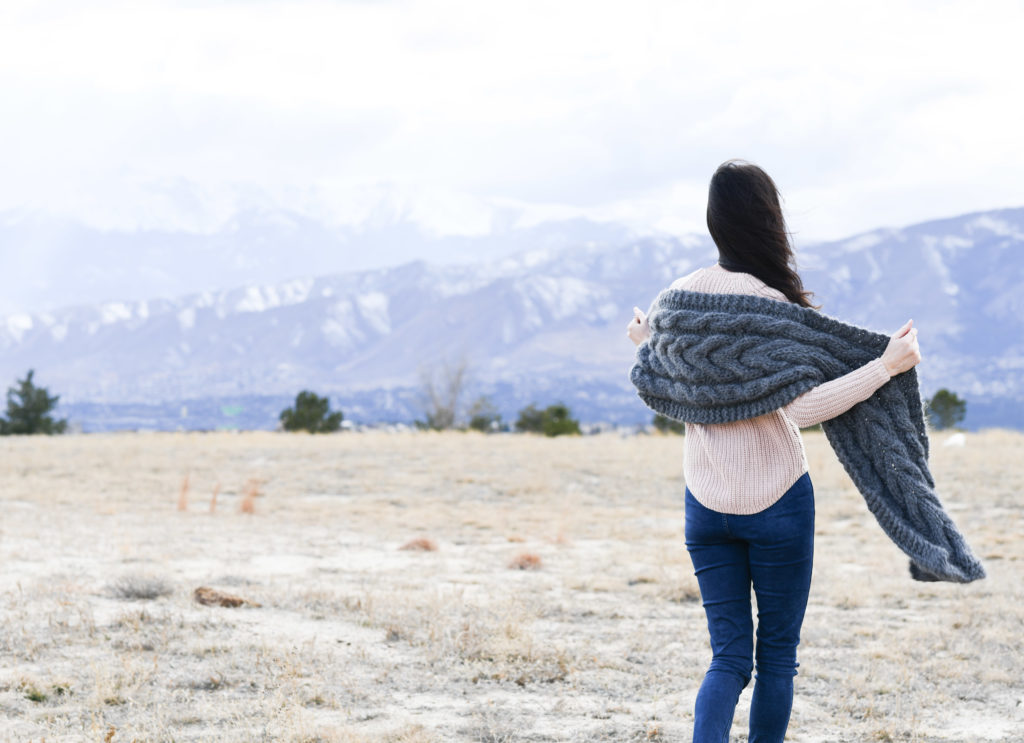 Have you ever tried to knit cables? I was so scared to try them initially but was shocked to find out how easy they actually were. Essentially, you are knitting or purling across the row and then you will slip a few stitches onto another needle to "hold" the stitches. You will then follow the pattern and eventually knit the stitches that are being held. You can see how to knit a simple cable on my blog HERE. If you learn how to knit that simple cable, you can then knit any cable.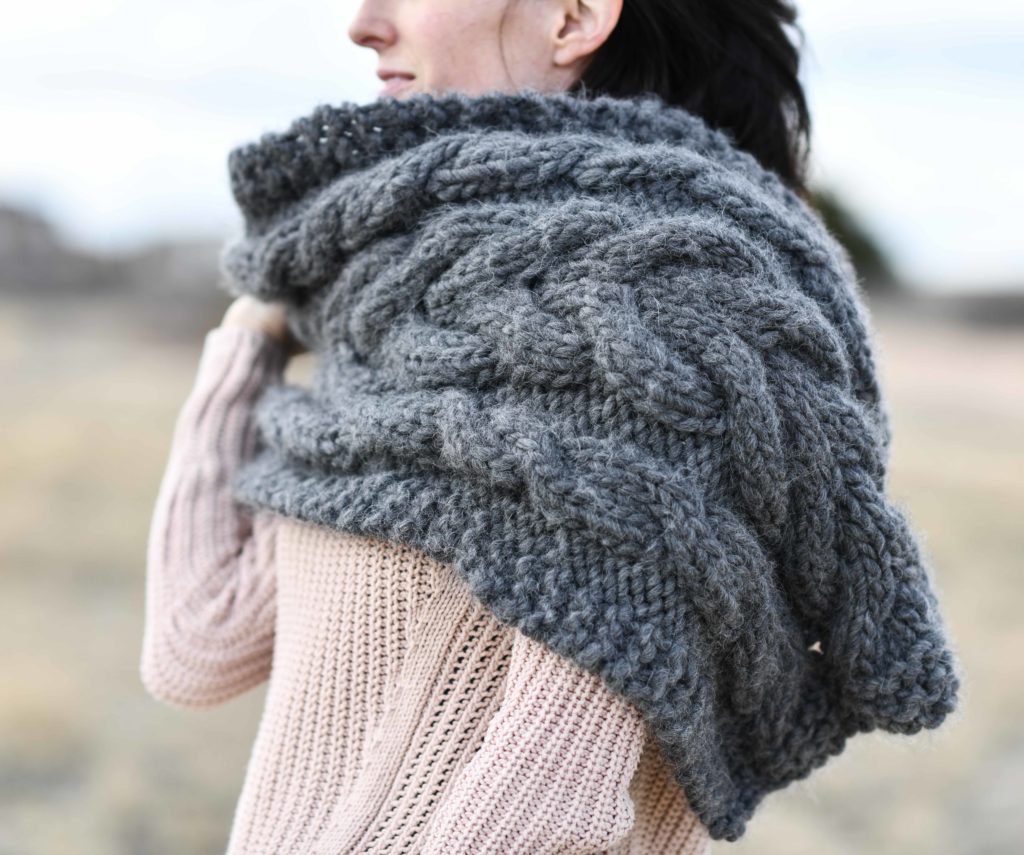 Below: Here's a look at the stitch pattern as I tested it out on the gorgeous Ecru color. This yarn is very similar to Wool And The Gang's Crazy Sexy Wool and We Are Knitters as well. However, the Fifty Fifty is less expensive (this one is $21.95 a skein). This Fifty Fifty also happens to be a blend of wool and alpaca, rather than 100% wool. I find that the charcoal grey really shows the variety of fibers. It did shed when being knit, but doesn't seem to shed as bad while being worn. The shedding was definitely worth it to me in this case because of how soft, comfortable and pretty the yarn is. The color options are also really beautiful and you can see them all on the Lion Brand site HERE!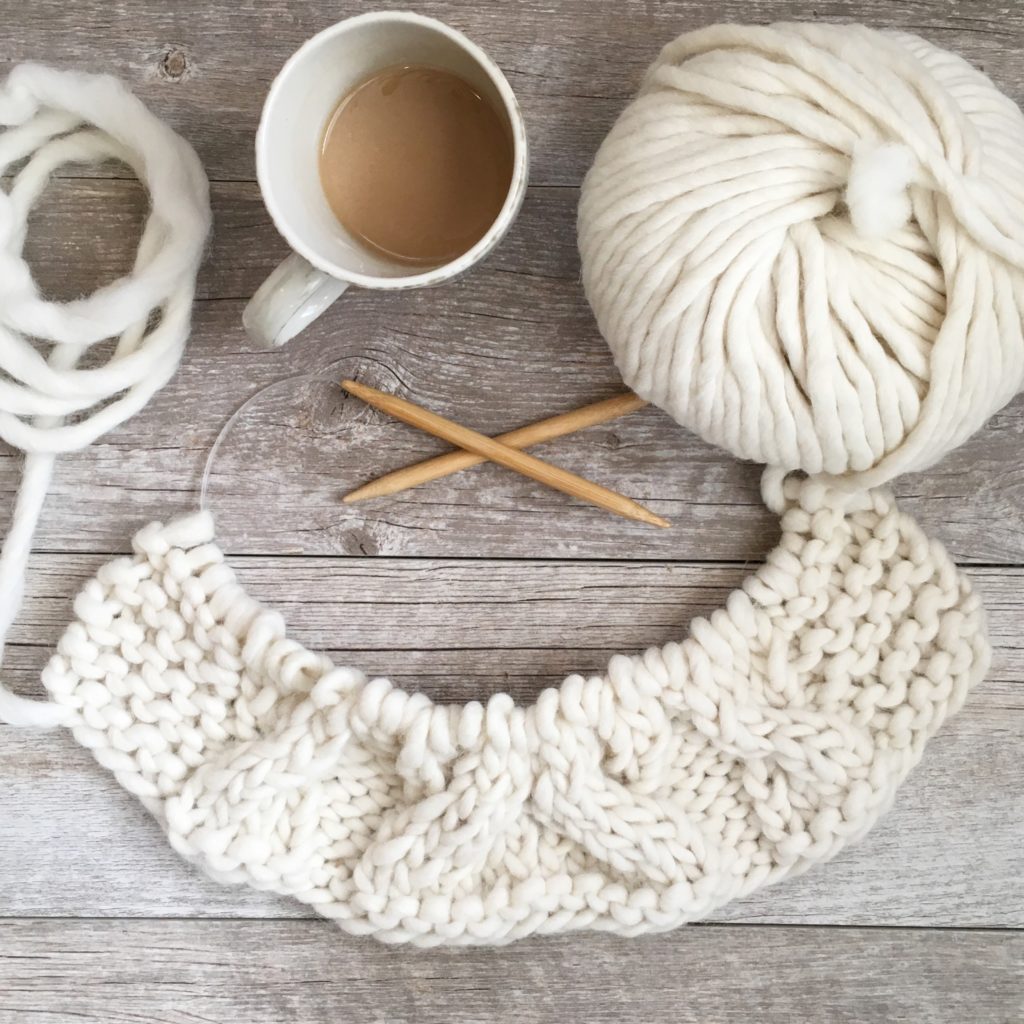 It's incredible how quickly this piece can be knit as you memorize the pattern repeat. The big yarn and needles make it easy to work while it's fun and relatively fast.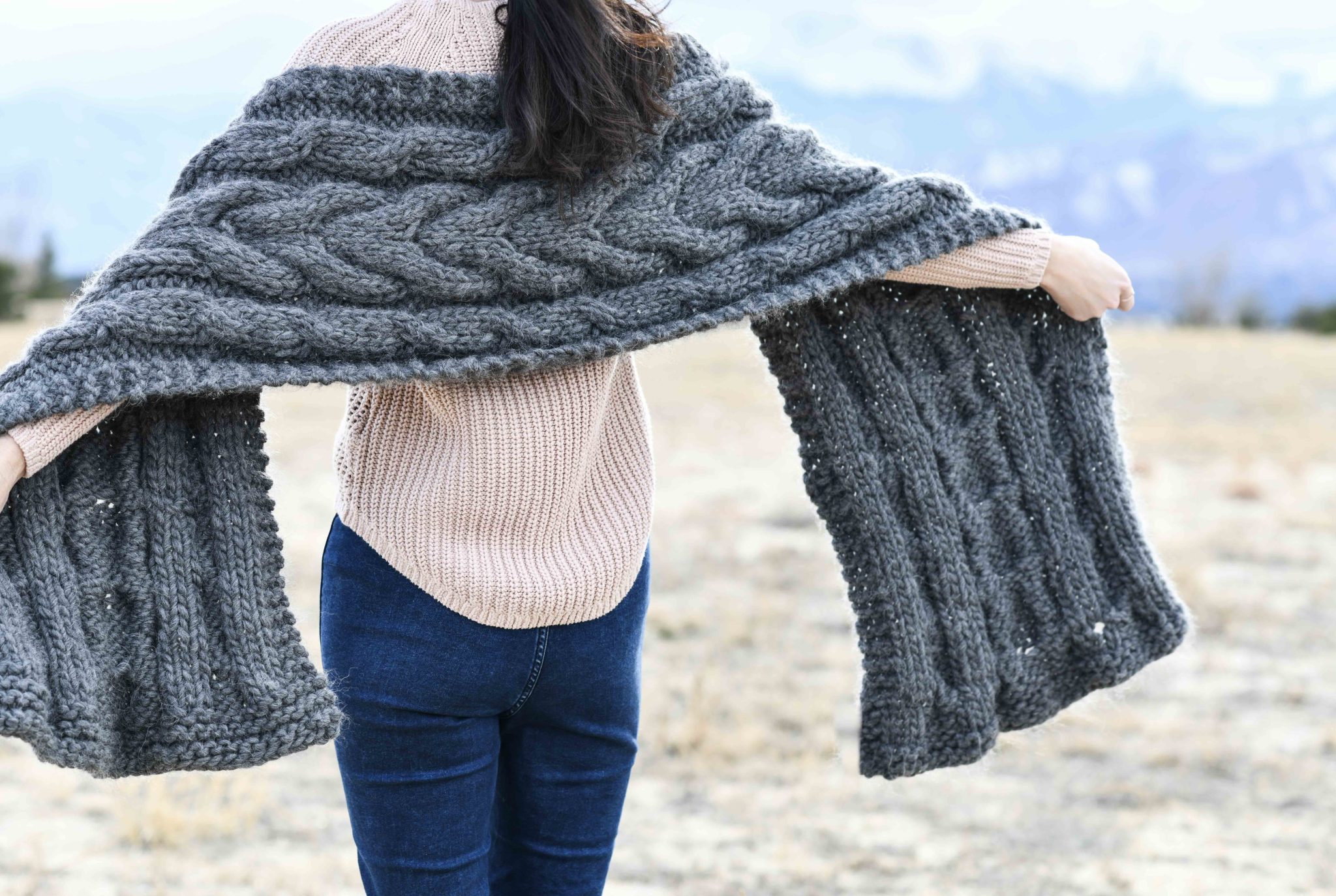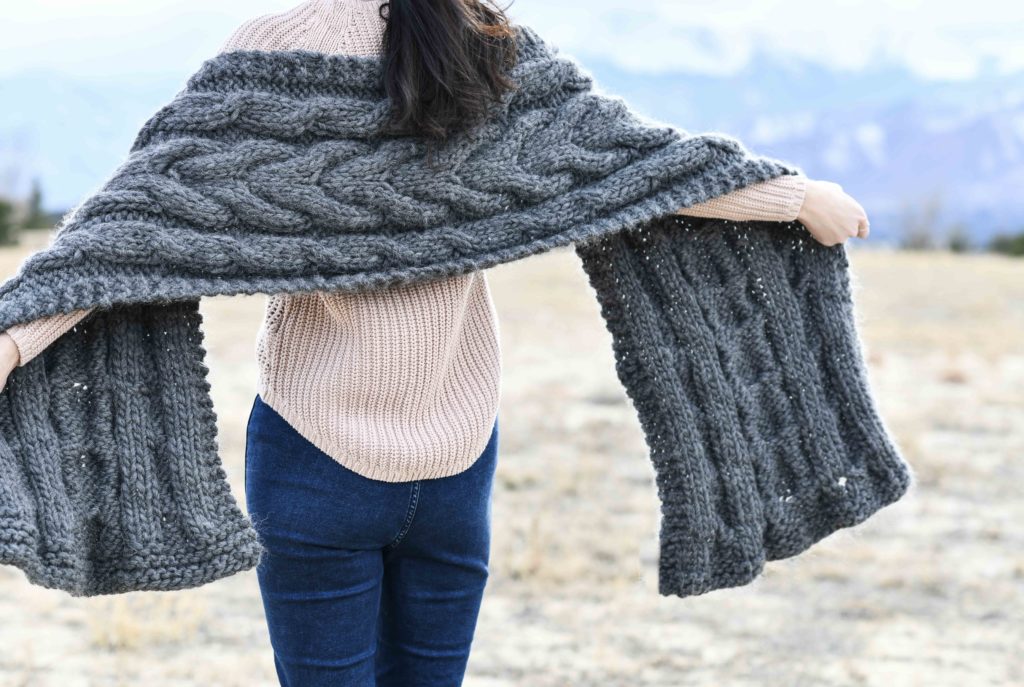 Originally I had a couple of extra stockinette stitches between the garter edge and the cable, but this caused the edges to flip a bit.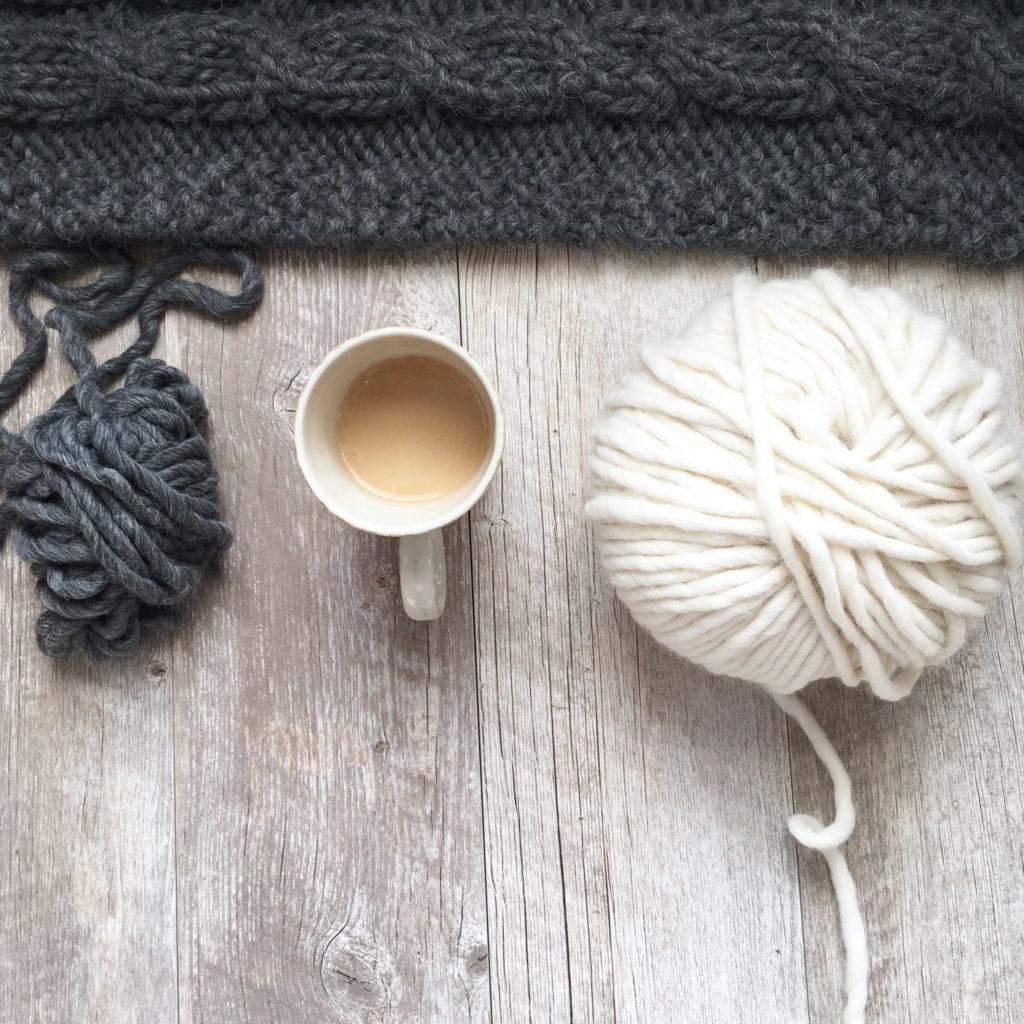 Below: Such a cool blend of fibers, right?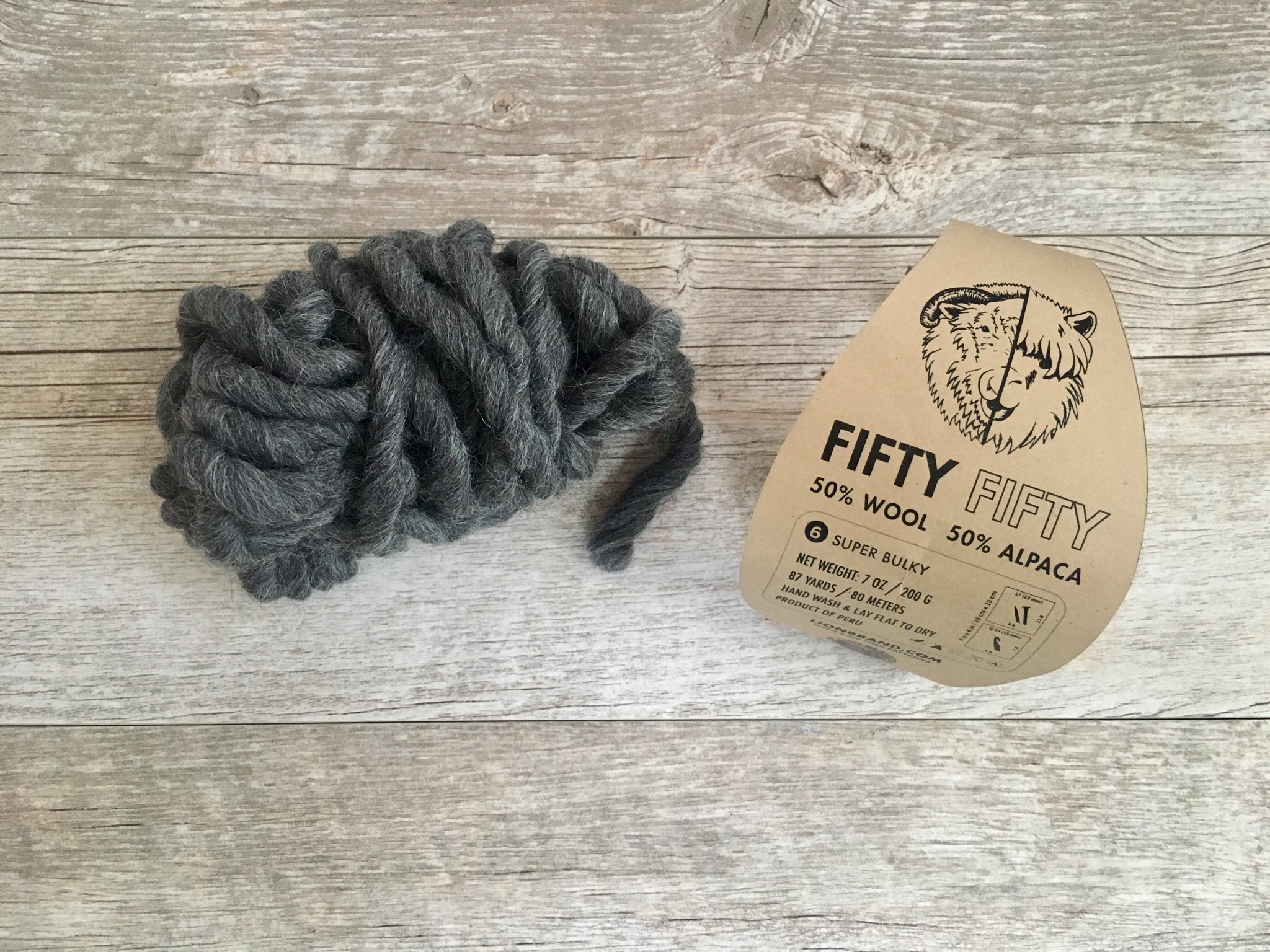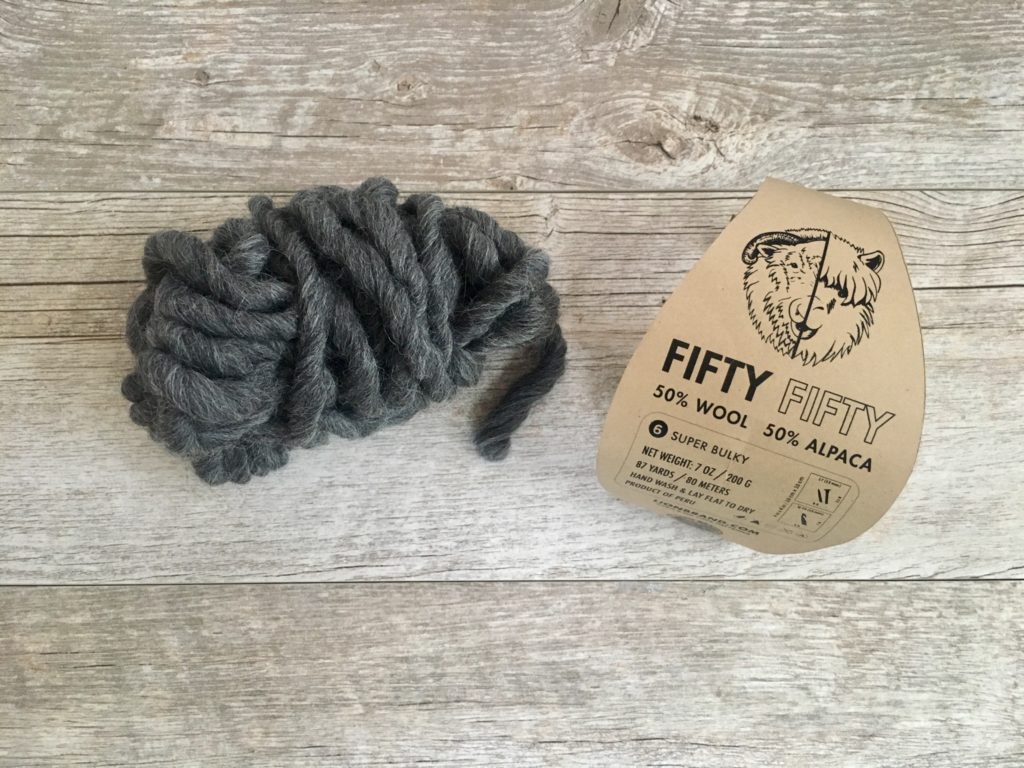 Okay, let's get to this pattern. 🙂
Below, you'll see it written out for free (as usual on my blog) or you may choose to purchase the ad-free, printable version from my Etsy shop HERE
Easy Winding Cables Wrap Free Knitting Pattern
Pattern Description: A luxurious yarn calls for an equally luxurious knitting pattern, and this wrap is it! Twisting cables crawl along this wrap to show off the luxurious fiber. The fluffy alpaca blend yarn is light and airy yet warm as can be. While the cables appear complicated to the untrained eye, they are very simple to knit. An easy eight row repeat will have you making this piece in no time! Wrap yourself in luxury!
Skill Level: Intermediate
Materials:
US Size 17, 12.0 mm long straight knitting needles or 24" circular knitting needles
5 skeins Fifty Fifty Yarn by Lion Brand Yarn (200 g/skein) Pattern uses approximately 900 g (Kit available from Lion Brand Yarn (20% off for a limited time) HERE or you can just buy the yarn HERE)
Scissors
Tapestry Needles
Dimensions (approximate)
65" X 14.5"
Abbreviations & Skills:
k – knit
p – purl
Single 4 stitch cable
2/2 RC – 4 stitch right cable. Slip 2 stitches to cable needle and hold in back, k2, k2 from cable needle
2/2 LC – 4 stitch left cable. Slip 2 stitches to cable needle and hold in front, k2, k2 from cable needle
Inverted Double Cable
3/3 RC – 6 stitch right cable. Slip 3 stitches to cable needle and hold in back, k 3, k3 from cable needle.
3/3 LC – 6 stitch left cable. Slip 3 stitches to cable needle and hold in front, k3, k3 from cable needle.
Gauge:
Approximately 10.5 stitches and 12 rows in 4" x 4"
Notes:
This cable wrap is knit by following an eight row repeat for the majority of the wrap. First, you will knit 4 rows to make a garter edge. Next, you will work the body with the cables by following the pattern of eight rows. Finally, you'll end with a garter stitch edge. You should find it to be quite easy once you've worked several rows and begin to see the pattern emerging! You may find a "How To Knit a Simple Cable" tutorial from the Mama In A Stitch website at https://www.mamainastitch.com/howtoknitacable/ which may be helpful if you've never knit cables. You can also find many video tutorials on YouTube by conducting a simple search. At the bottom of this pattern you will see close up photos of the stitch-work and additional tips.
Pattern Instructions
Cast on 38 stitches
Beginning Edge
Rows 1 – 4 Knit each stitch across the row
Body
Row 1 K5, p1, k4, p3, k12, p3, k4, p1, k5
Row 2 K5, k1, p4, k3, p12, k3, p4, k1, k5
Row 3 Repeat row 1
Row 4 Repeat row 2
Row 5 K5, p1, 2/2 LC, p3, 3/3 LC, 3/3 RC, p3, 2/2 RC, p1, k5
Row 6 Repeat row 2
Row 7 Repeat row 1
Row 8 Repeat row 2
Now, repeat rows 1 – 8, in that order, approximately 21 more times or until entire piece measures approximately 63-64" long. Knit the last four rows to make an edge at the end which matches the beginning edge.
Cast off and weave in ends.
Helpful Photos:
Below: Working the first 2/2 LC of the row. You can see that 2 of the stitches are being held in the front of the work. You may use a cable needle or circulars to hold the stitches. Knit the next two stitches off your knitting needle, then knit the two stitches that are being held in front. This technique of slipping stitches off the needle and holding in front or back is used for each cable. When working the "RC" cables, the stitches are held in back until they are worked.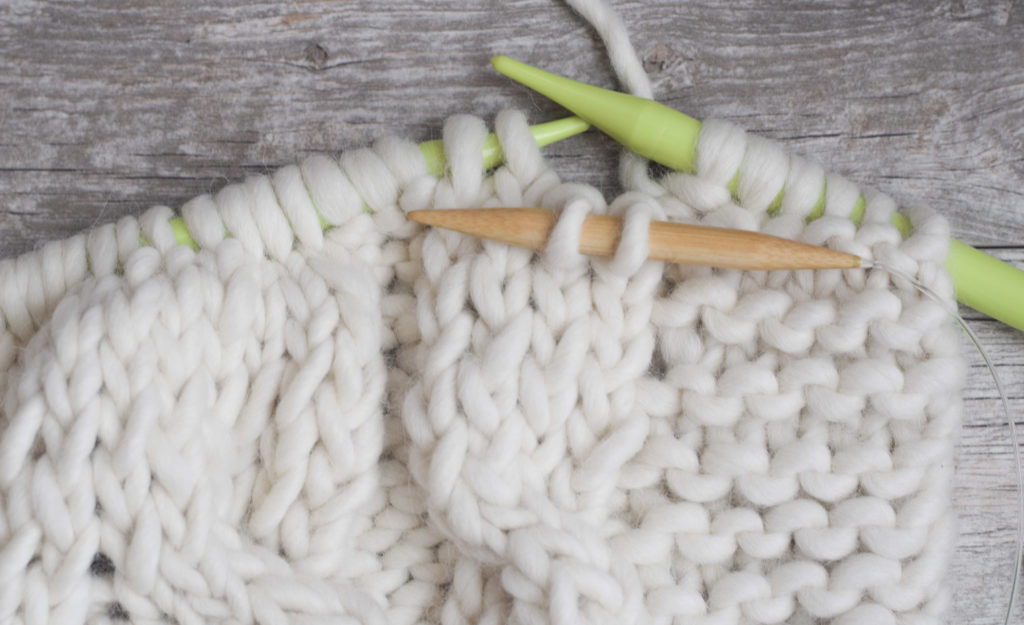 Below: As you knit, you will see the pattern emerge! It then becomes quite easy to repeat throughout the rest of the wrap.
That's it my friends!
This is a project where you can really feel proud of your knitting skills. I think you'll love cables if you haven't tried them yet!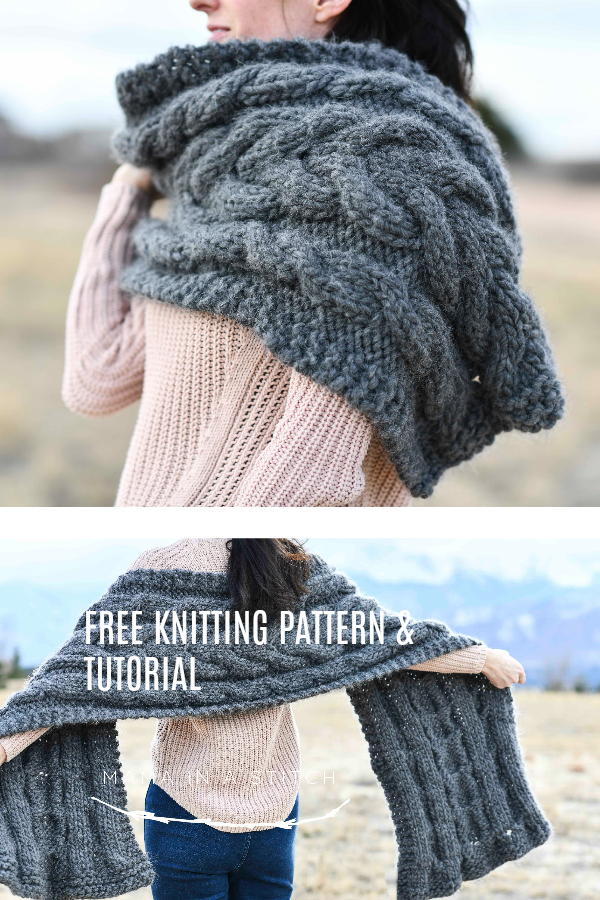 I'd love to see if you make one! Feel free to tag me on Instagram @mamainastitch #mamainastitch.
Have a lovely day my friends!
XO,
Jessica
Thank you to Lion Brand Yarn for sponsoring this post. All opinions are 100% my own.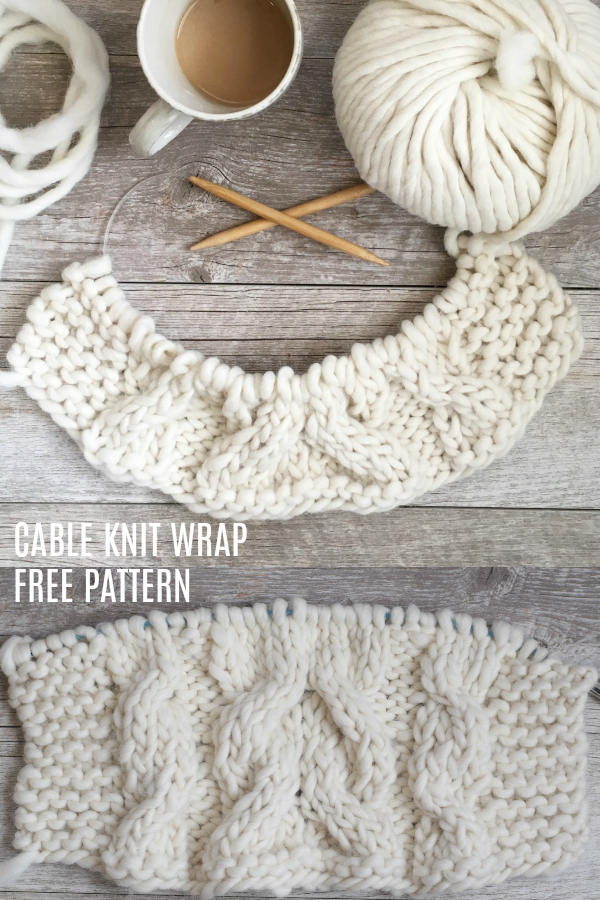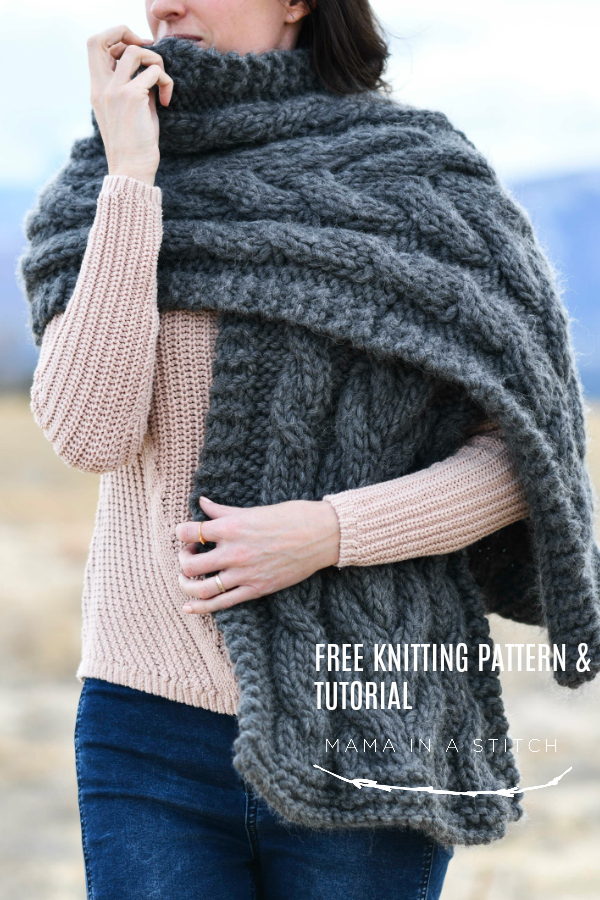 If you liked this, you might also like: