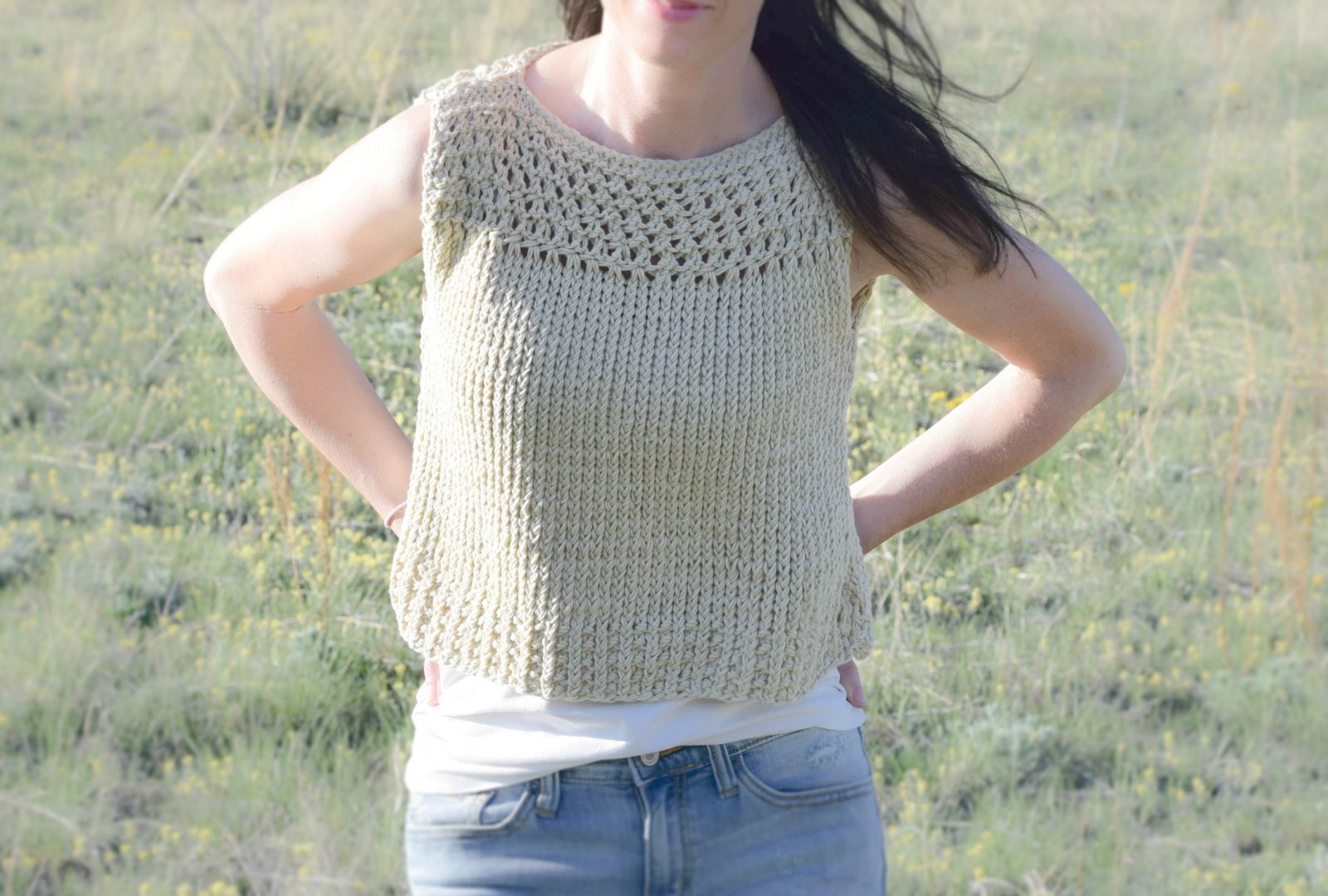 Hi friends! You might remember that last summer I conquered my first knit top pattern (you can see it here) and a crocheted "Broomstick Lace" top (see here).  I was ready to make another one, and am so pleased with how it turned out!  Comfortable, fun, EASY, practical and simple to customize.
I wore it to the grocery store the other day just before taking pictures for the blog, and ran into a friend of mine. She just loved it and asked if I made it.  In her words "It's so eye catching!"  How fun is that?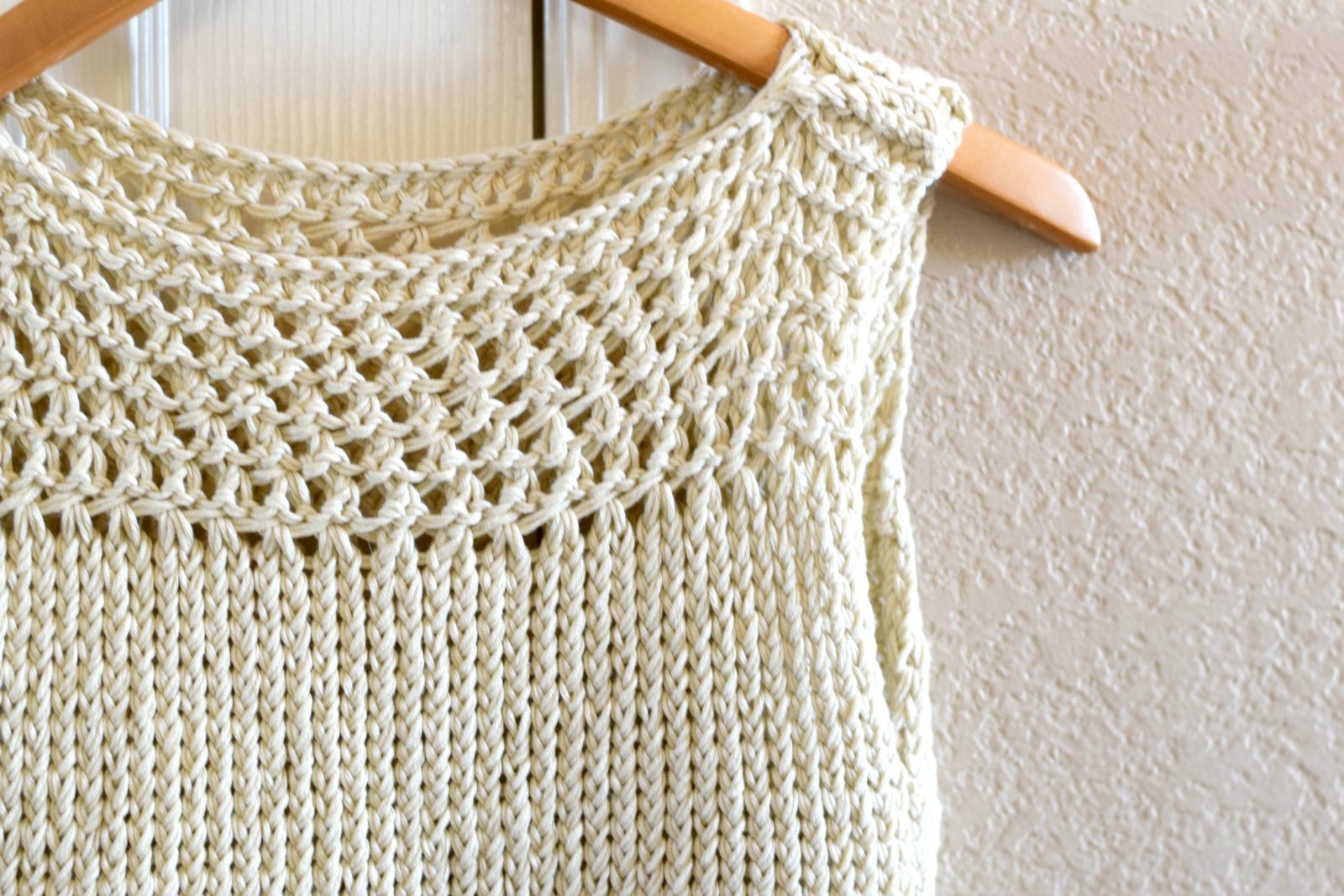 This top works up really fast (as far as knit shirts go) because it's knit holding two strands of cotton/bamboo yarn together.  The Lion Brand Cotton Bamboo yarn does NOT disappoint! It is one of my new favorites and is perfect for summer clothing and accessories. It creates a beautiful drape and is so soft and light. Oh, I also used larger US size 11 knitting needles which lent to how quickly I could finish this shirt. The whole "holding two together" really gave the top a cool texture as well.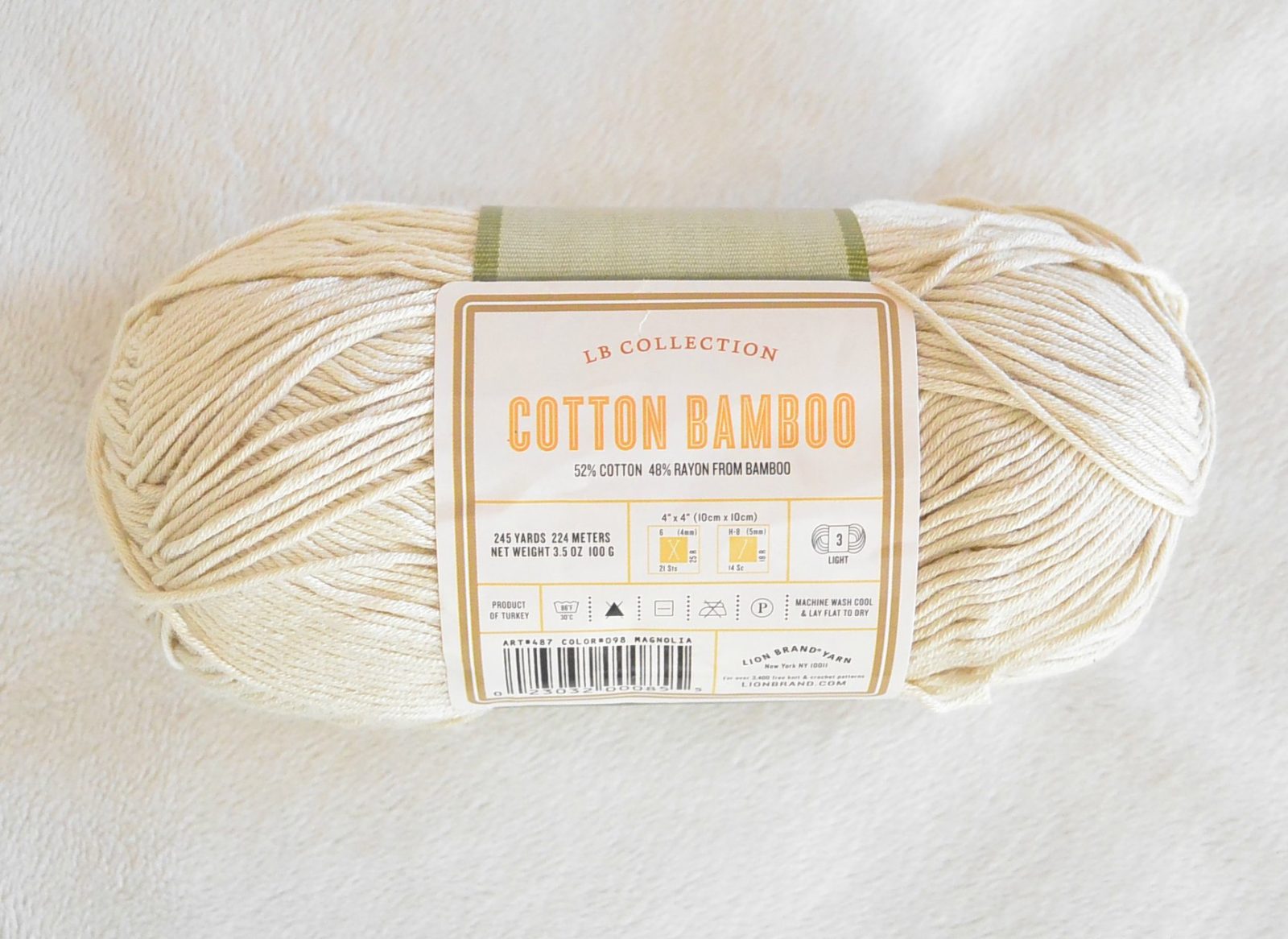 This shirt is breezy, but still gives you great coverage.  With the whole crop top trend going on right now, you could definitely make this shorter by doing less stockinette rows.  Let's not kid ourselves – I'm not pulling off the crop top look, but it would be super cute for you hip gals out there!  My husband even questions whether my torn jeans are appropriate "mother's" wear.  Oh well!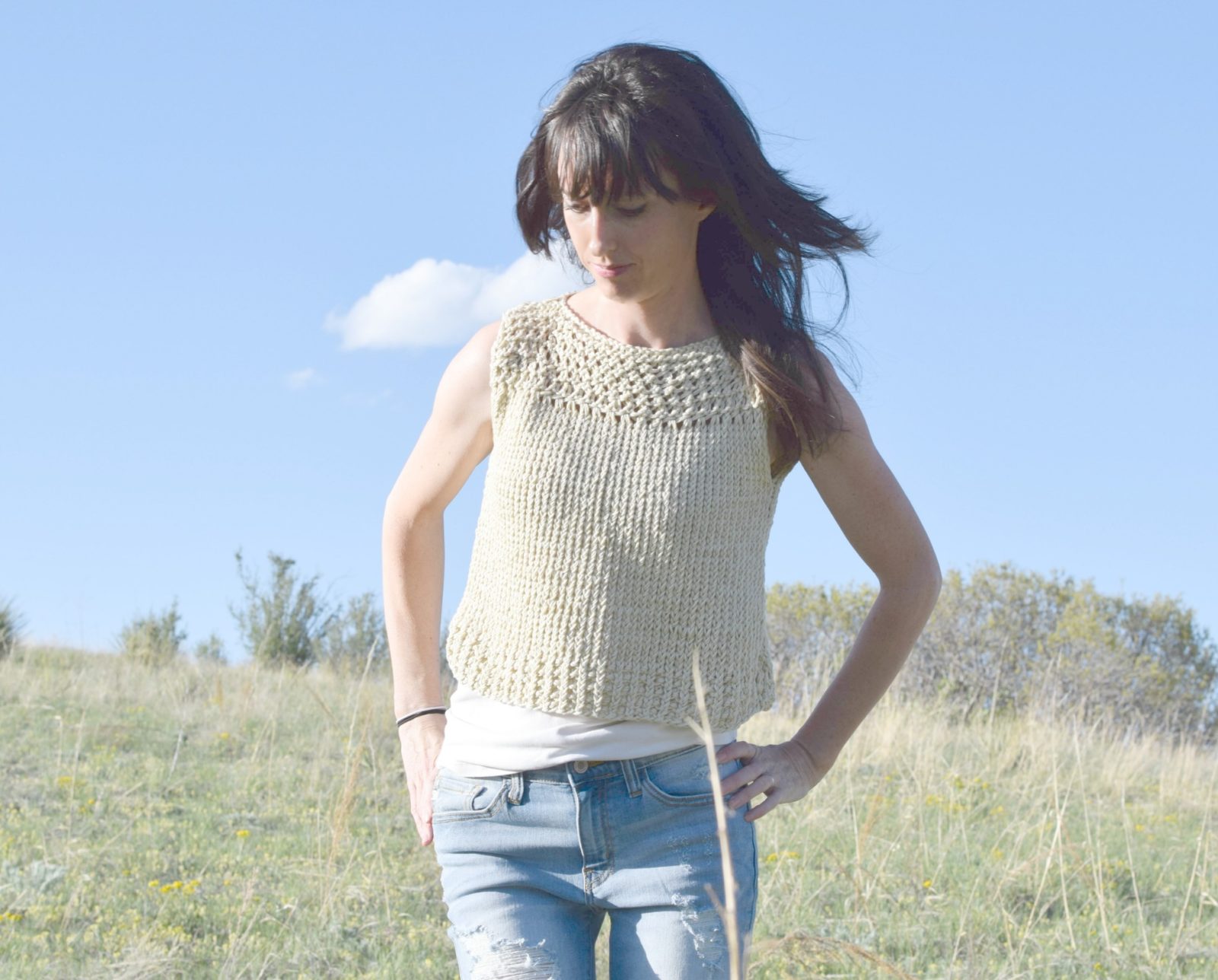 Here's the lowdown on knitting this shirt. Can you knit? Can you purl? Can you do a yarn over? Do you think you can knit two together?  If you said yes, you can make this in a flash! If no, just look it up on YouTube because these are basic stitches that you can learn in no time. Wee!
You will need:
3 skeins of LB Collection Cotton Bamboo or comparable "3" Light Yarn (You will have to split the third skein in order to hold two together OR just purchase a 4th skein which is what I did)
US Size 11 , 8.0 mm Knitting Needles
Scissors
Tapestry needle to weave in ends and seam sides
Details:
Gauge: Approximately 2 3/4 stitches and 3 rows / 1″ in stockinette – this is quite forgiving as there is no shaping to the top and it fits loosely.
k2tog – knit two together
yo- yarn over
k- knit
p-purl
It is made holding two together.
Worked flat, from the bottom up in two pieces. You're basically knitting two squares. Then seaming them together. Easy!
The pattern is for a S – M ( you can see my best guess for size large below).  The top measures approximately 16″ from top center, to bottom center and approximately 16.5″ across when seamed. You can adjust the length by doing more or less rows of stockinette or mesh stitches.
For a size large you simply need to cast on more stitches. From looking at the sizing chart from the Craft Yarn Council I believe adding 8 more stitches will do the trick.  In addition, you will want to make an additional 4″ of the stockinette section.  This is my best guess at sizing!
**I always slip the first stitch of each row. This creates an even side without bumps. If it's a knit stitch, slip as if to knit. If it's a purl stitch, slip purl wise.
The bottom is worked in a broken rib stitch, the middle portion in stockinette and the top in a simple mesh pattern. All very easy!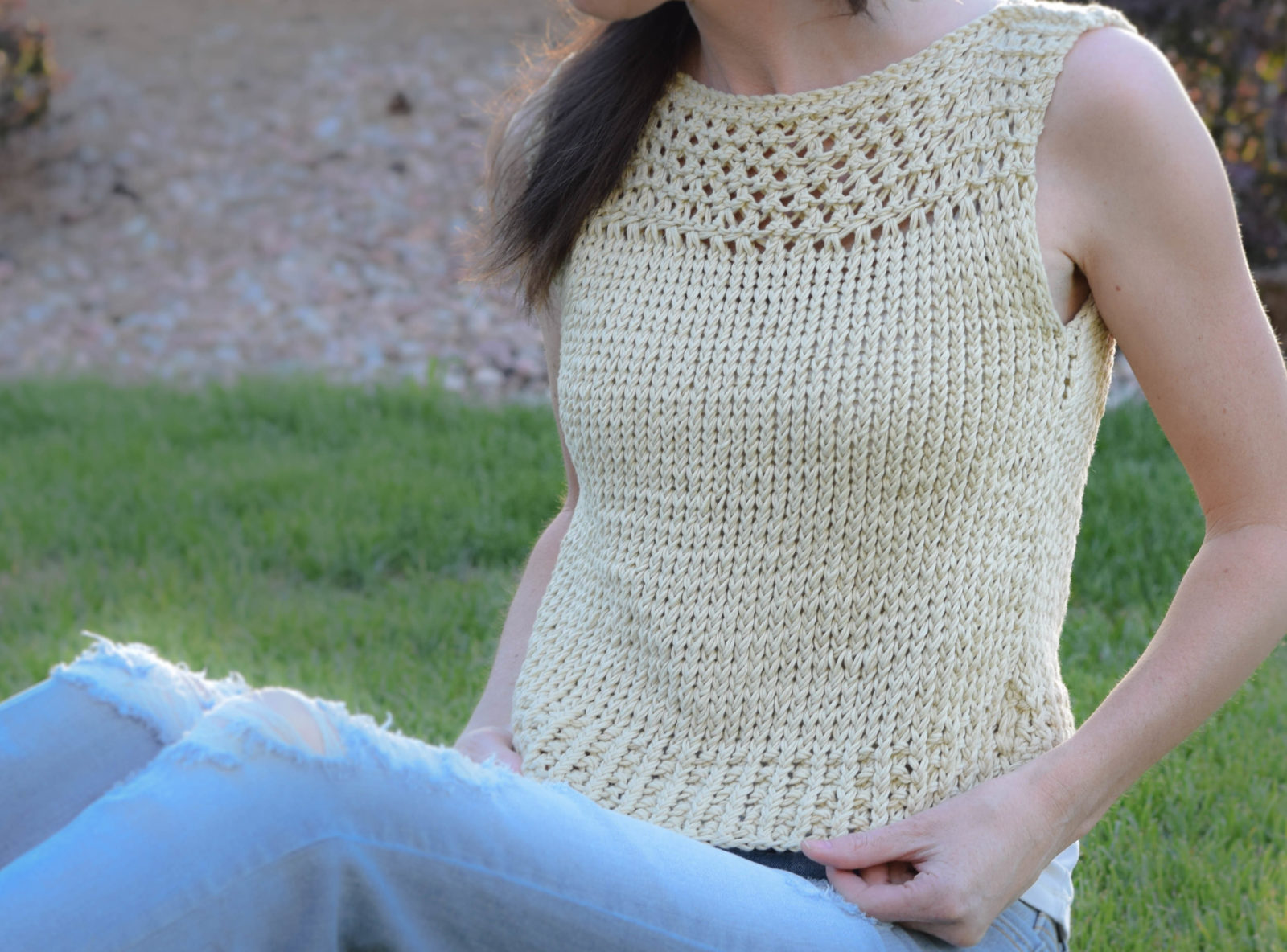 Summer Knit Top Pattern
Holding two strands of yarn together, cast on 51 stitches (For size S/M), 59 for L
Bottom Ribbing:
Row 1 P1, k1 across row. End with a purl stitch.
Row 2 Knit across row
Row 3 – until you have approximately 2.5″  Repeat row 1 and 2 end on the wrong side (RS is row 2 knit across, WS is P1,K1 row)
Center Stockinette Portion
You will now work in stockinette, starting on the RS
Next row: Knit across row
Next row: Purl across row
Repeat this sequence, alternating knit and purl rows, working in stockinette stitch for 10.5″  (For a large 14.5″)  Remember you can make this longer or shorter by adding more rows, or making less rows!
Upper Mesh Section
Row 1: (RS) Knit across row
Row 2: (WS) K1, *yo, k2tog,* repeat from * to * across row,
Row 3 Knit across row
Row 4 K2, *yo, k2tog*, repeat from * to * across row to last stitch, k1.
Repeat rows 1-4 for approximately 3″
Next: Knit across row
Knit cast off
Tie off, weave in ends
Repeat this pattern in order to make two sides of your shirt.
**It was brought to my attention that I have twisted stitches in my sample here pictured.  Apparently, this is how I've knit it without even knowing! If you know how to twist stitches, then you may do so.  However, if not, this will not change the pattern and how you make the shirt.  The gauge might be slightly different, though the top is quite forgiving and is meant to fit a variety of sizes as it's a square seamed together.  You should double check your gauge to match the size that best suits you.  Sizing can be found through the link I've shared from the Craft Yarn Council.
Assembly:
With your front and back pieces place wrong sides together. Use the mattress stitch to seam up each side.  Start from the bottom and work your way up, leaving approximately 7″ for the arm holes.  Weave in ends. You will not be able to see the seam when you use the mattress stitch.
For the top shoulder, seam with your preferred method ( I just used a whip stitch ) starting from the outside.  Seam approximately 2″ in. Tie off and weave in ends.
Tie off, weave in all ends!
There you have it, your new summer vacation knit top. I hope that you like this knit top as much as I do.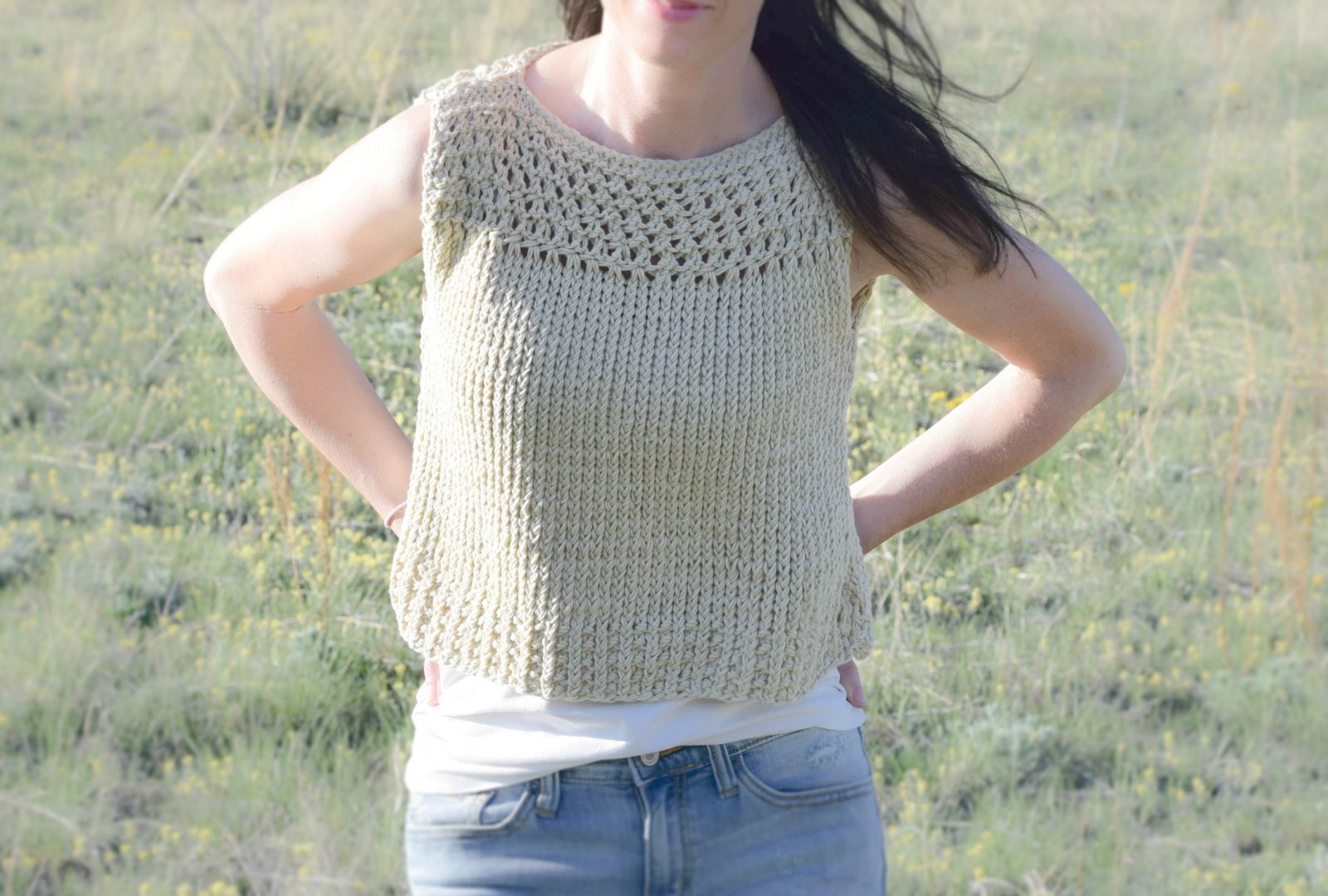 Happy summer to you and yours!
Thank you to Lion Brand Yarn for sponsoring this post! All opinions are always my own.
Feel free to share your projects with me and follow along on my Facebook page. 🙂