How To Knit A Bias Wrap – Stripey Bias Wrap Pattern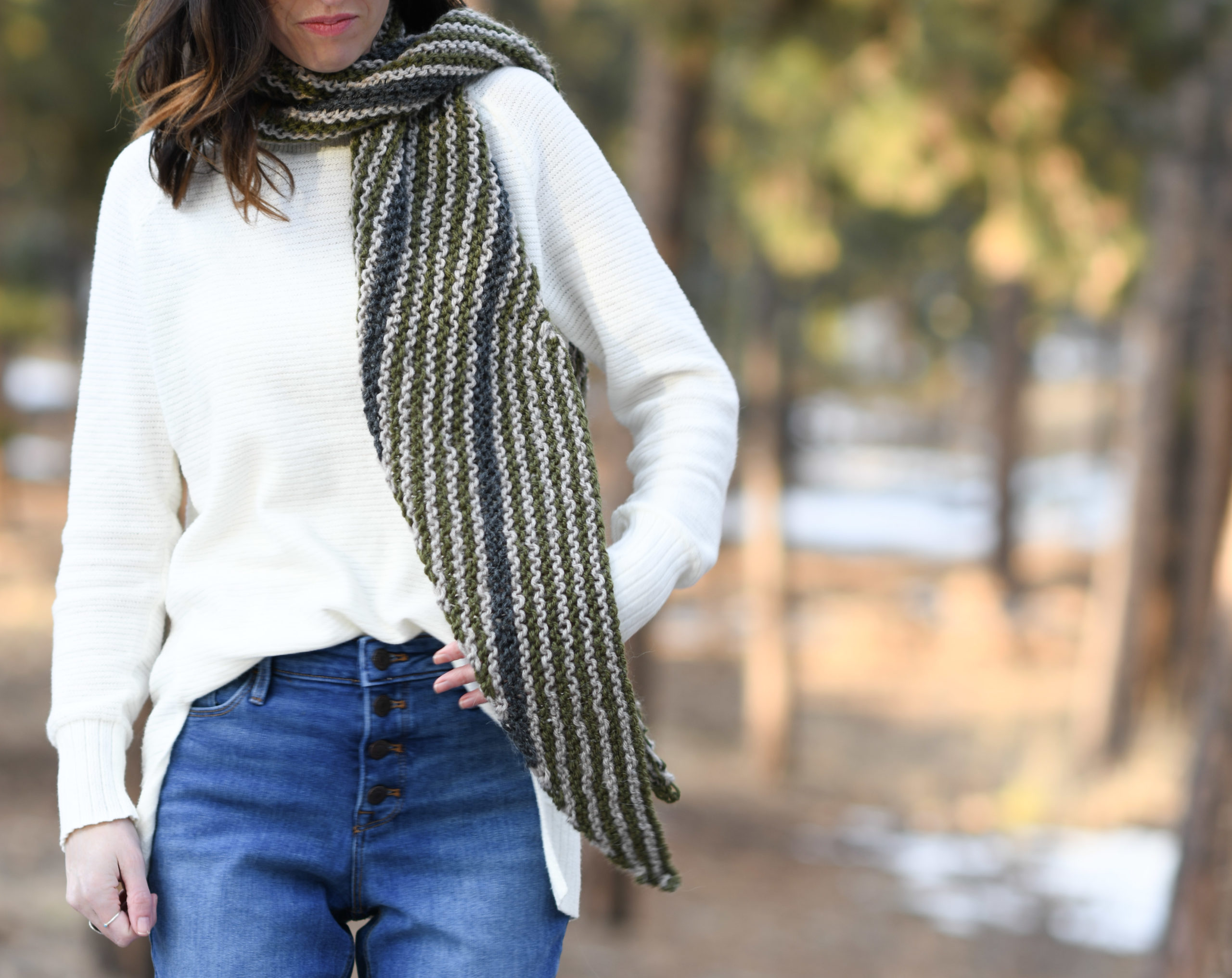 Today's free knitting pattern is for a super easy wrap or scarf which is knit on the bias! I'll explain how to knit on the bias to create beautiful diagonal stripes like you see here. The ad-free, printable is also available on Etsy HERE
This wrap is understated but impressive with it's diagonal striping and various colors – and it's so easy to knit. It turned out to be very comfortable, surprisingly light, and easy to wear. The striping is simple to create and there's no need to cut your yarn (except for with the few dark stripes).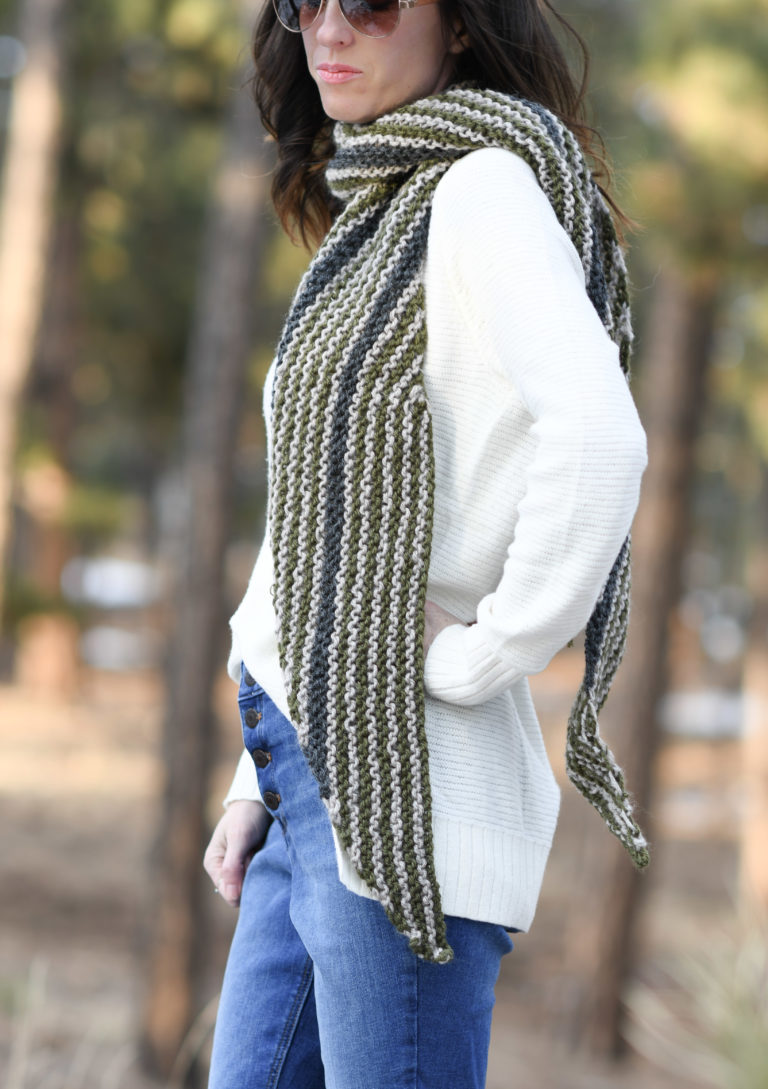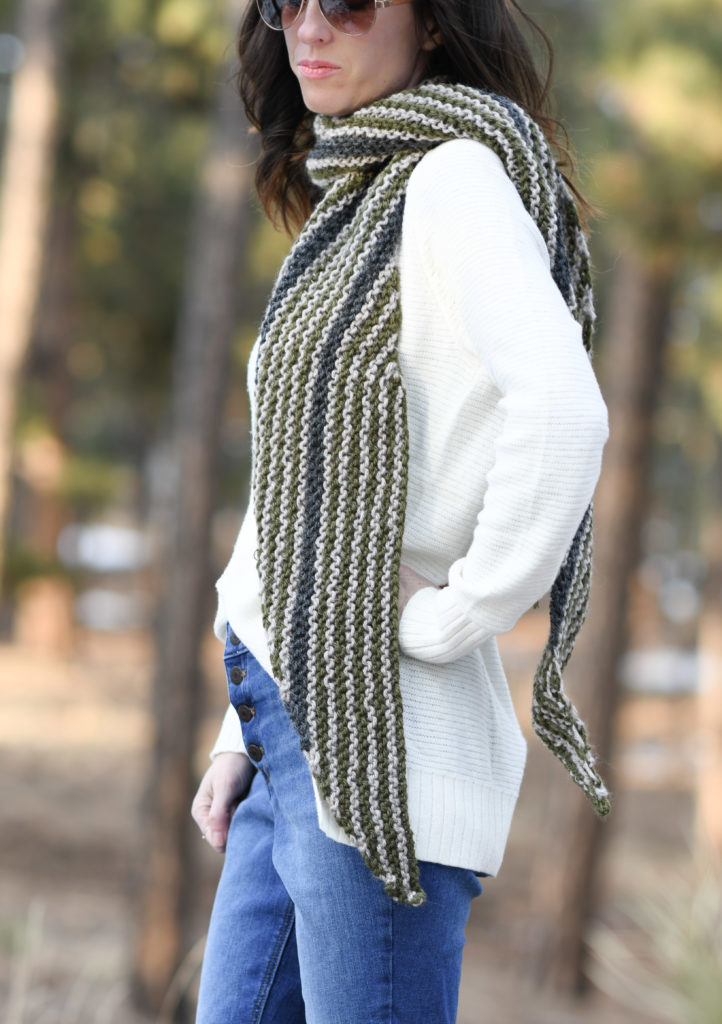 You will work decreases at one end of the scarf and increases on the opposite end to achieve the diagonal look. If you've never tried the "kfb" to increase, see how easy it is (here). To decrease you will just knit two stitches together as if they were one stitch. This is all it takes to make pretty, diagonal striping. Fun, right?
What I love most about this project is that it makes a great stash buster for our leftover yarn from the holidays. There's just no need for those partial skeins to go to waste.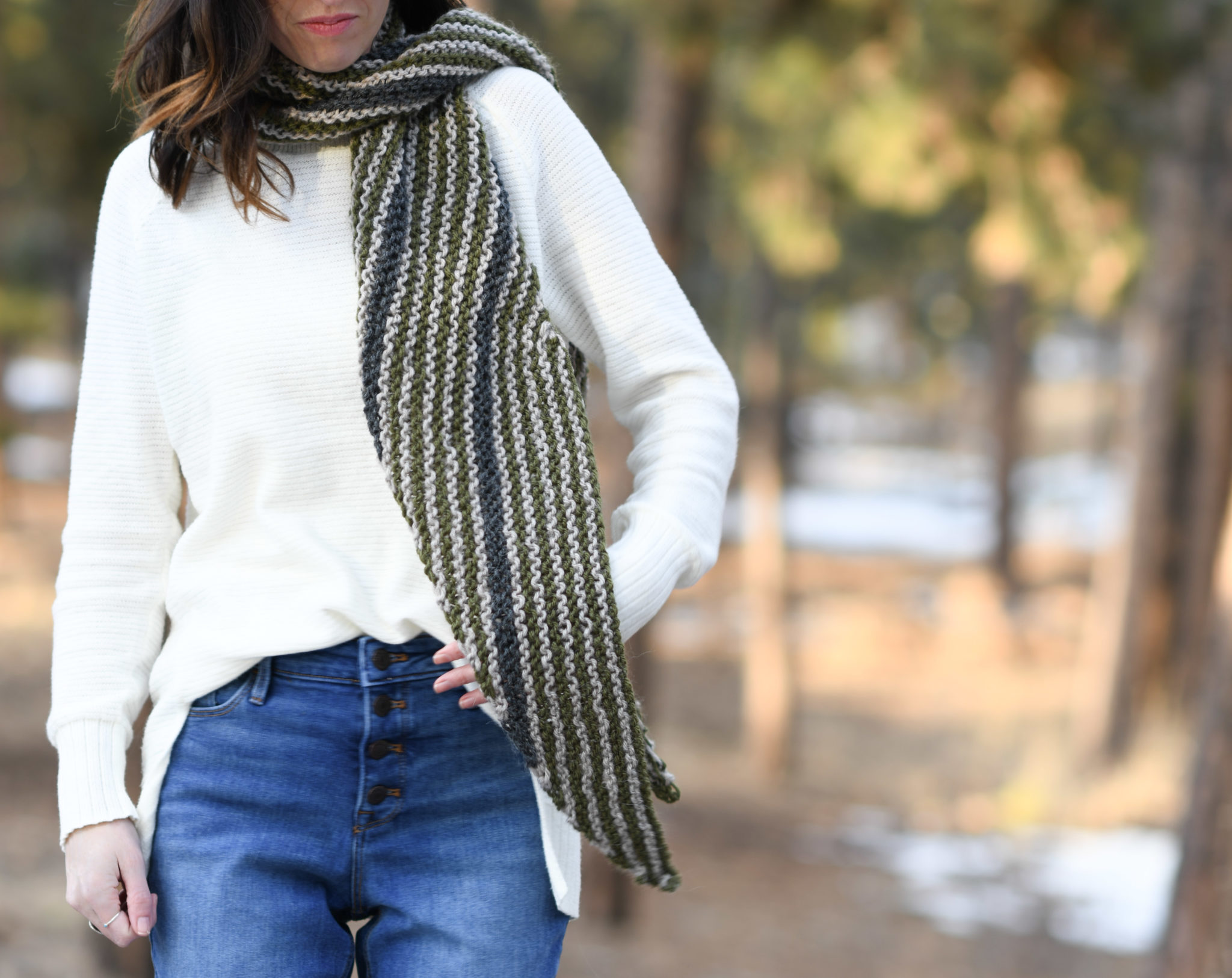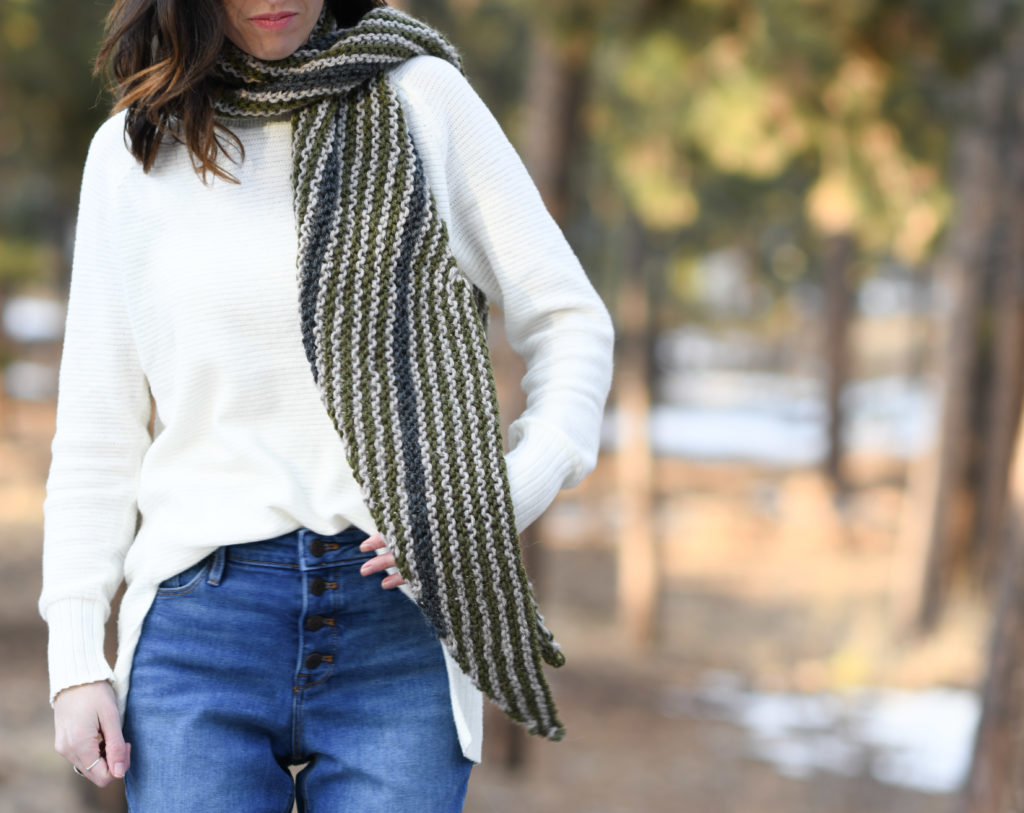 This particular wrap was made with Lion Brand Touch of Alpaca (here), which you've seen me use many times in the past (here and here)! However, like I said before, feel free to use any worsted weight yarn that you'd like. Half the fun is picking the colors that you want in your scarf.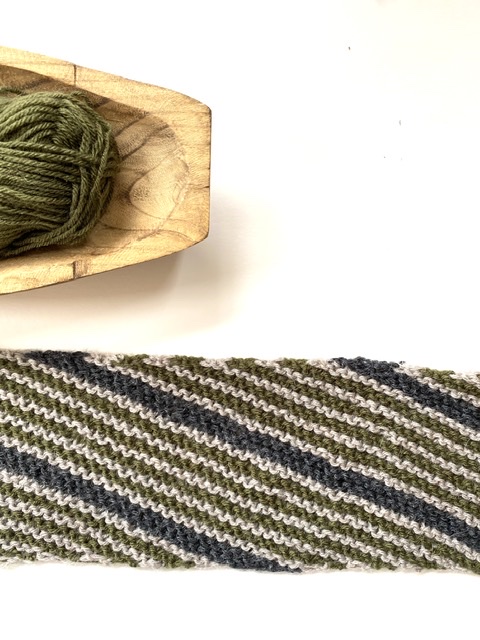 This is the third pattern in my "Into The Wild Collection". The colors in this wrap remind me of the treed forests, which I love. 🙂
So let's hop to this pattern!
Description:
This diagonal striped scarf is light, comfortable, and easy to knit! It features dramatic bias striping that's super easy to create. Don't worry about weaving in ends for color changes as the yarn can be carried up the side! This makes for a great stash buster and a way to stay eco-friendly by putting our partial skeins of yarn to use. Have fun picking any color combination that you'd like for this cozy, classic piece.
Skill Level:
Beginner +
Materials:
US Size 11 knitting needles
1 skein Lion Brand Yarn Touch of Alpaca in Taupe (100 g/skein)
1 skein Lion Brand Yarn Touch of Alpaca in Olive (100 g/skein)
1 skein Lion Brand Yarn Touch of Alpaca in Charcoal (100 g/skein)
Pattern uses approximately 140 g of yarn total
Tapestry Needle
Scissors
Dimensions (approximate):
Approximately 7.5" X 70"
Abbreviations & Skills:
k – knit
p – purl
kfb – Knit Front Back Increase – knit the first stitch on your needle, and before removing the stitch from the needle, work into the back of the loop and knit. Pull the stitch off the needle.
k2tog – decrease – knit two together
st – stitch
sts – stitches
Gauge:
Not important for this pattern
Notes:
The entire wrap is made with a two row repeat. The diagonal look is created by making a simple increase on one side and a decrease on the other side. Change colors as indicated in the pattern. To avoid weaving in ends when making color changes, simply carry the Olive and Taupe yarn colors up the sides as you knit. The only time you will cut the yarn to change colors is for the Charcoal stripes. Enjoy!
Pattern Instructions
Stitch Pattern:
Row 1 Kfb, k to last 2 sts, k2tog (50 sts total)
Row 2 K2tog, k to last st, kfb (50 sts total)
Repeat rows 1 & 2, in that order, throughout the pattern.
Instructions:
To begin, cast on 50 sts with Olive
Next, follow Stitch Pattern above, working two rows with the color Olive
Next, work two rows with the color Taupe (You may carry colors up the side to avoid cutting yarn)
Continue this pattern, knitting two rows with Olive, followed by two rows with Taupe for a total of 18 rows
Next, change colors to Charcoal and work 4 rows in Stitch Pattern
Repeat this pattern until the scarf reaches your desired length or it's approximately 70" long.
That's it!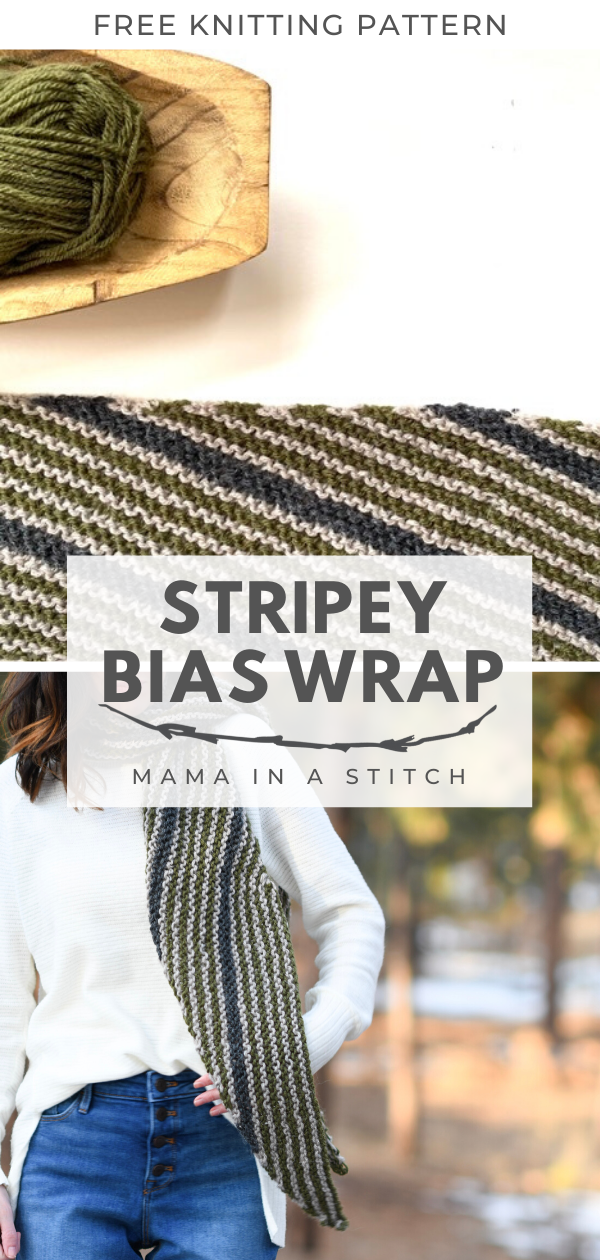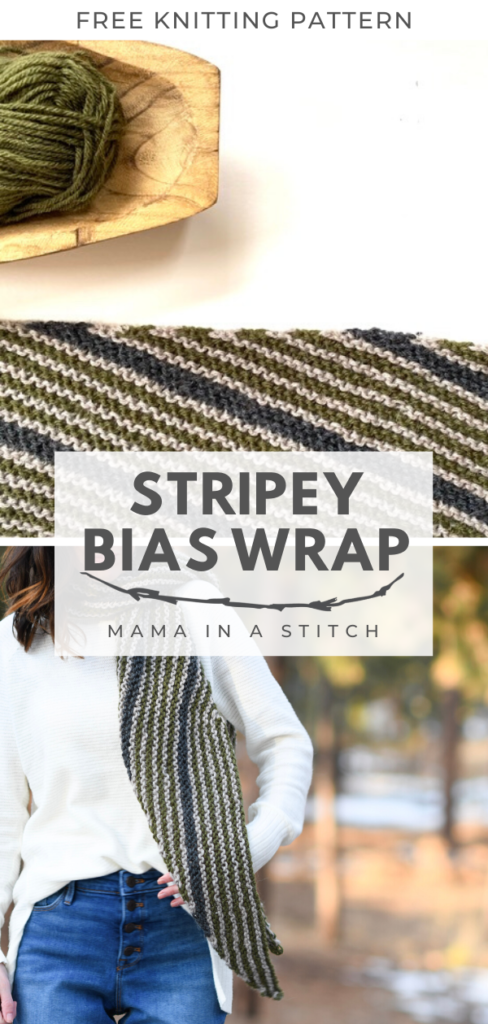 I hope that you enjoyed this pattern. I've made a crocheted bias wrap in the past (here), but it was fun to come up with a knit design. 🙂
Have a great week!
XO
Jessica
If you liked this, you might also like: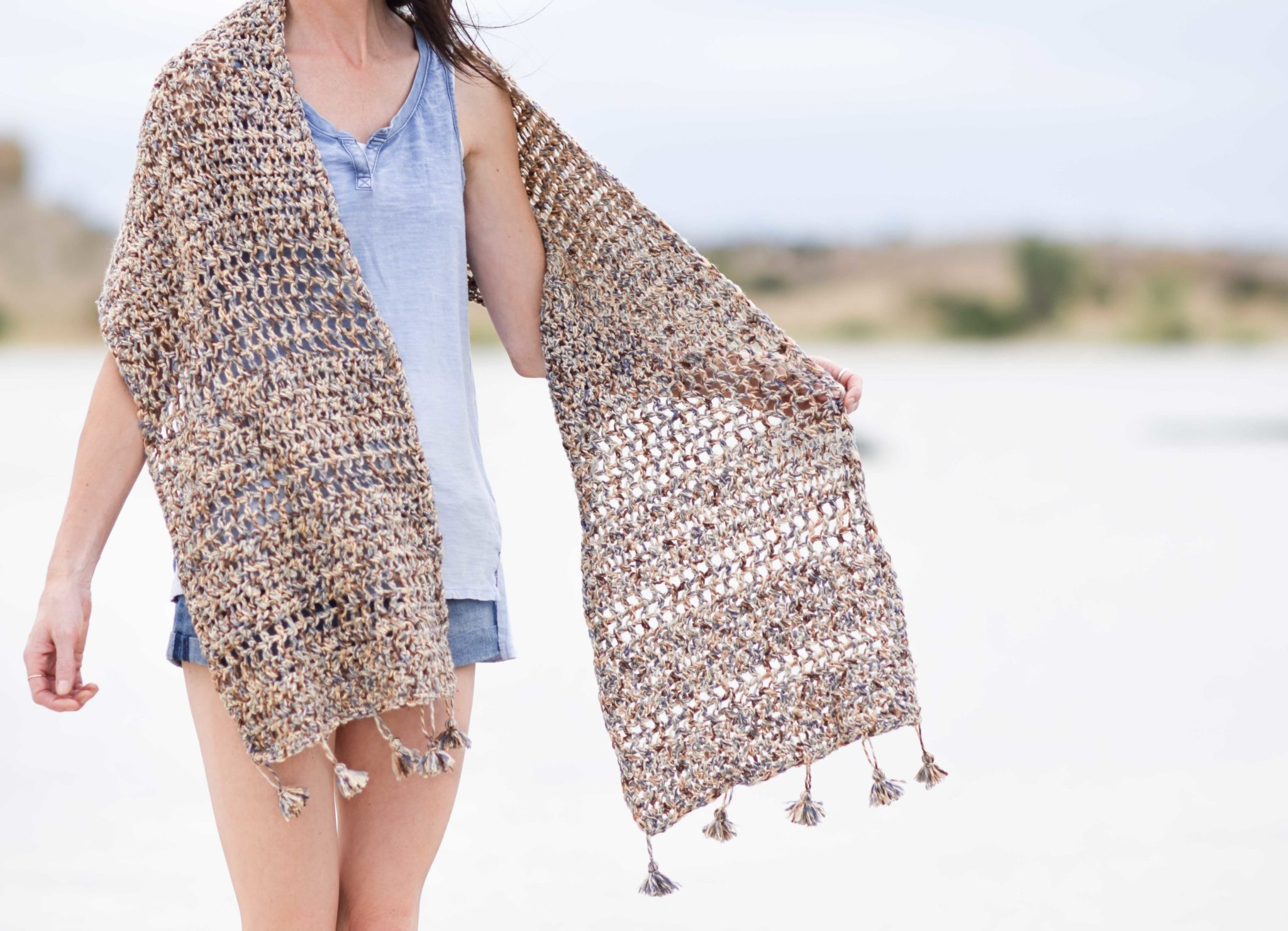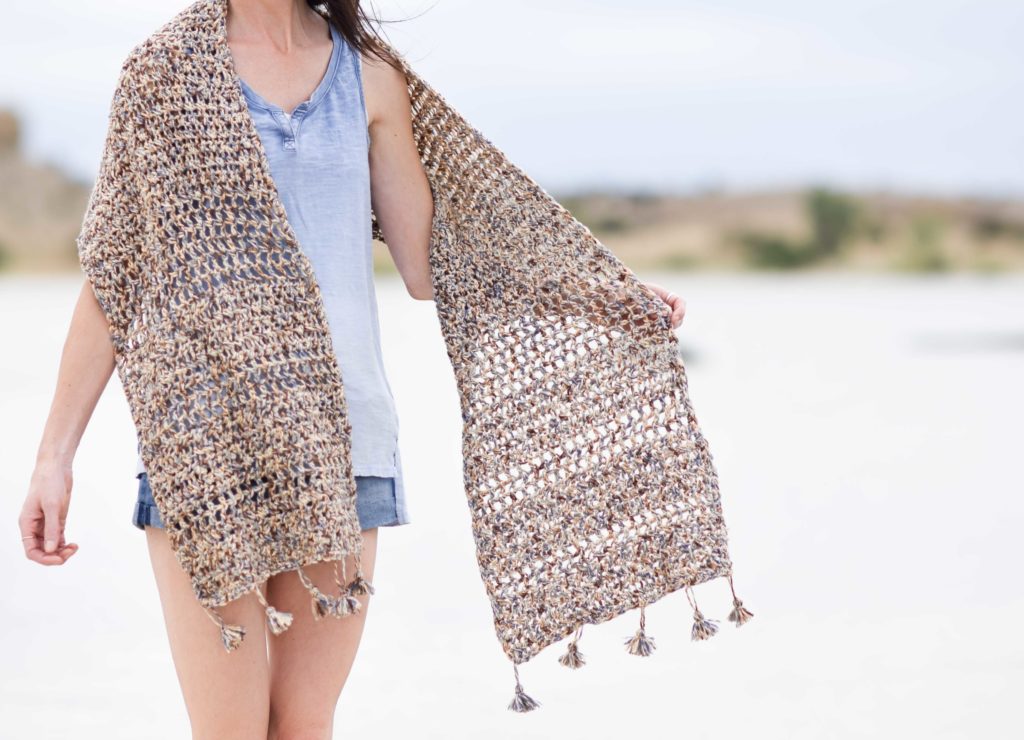 Merlot Alpaca Wrap Knitting Pattern