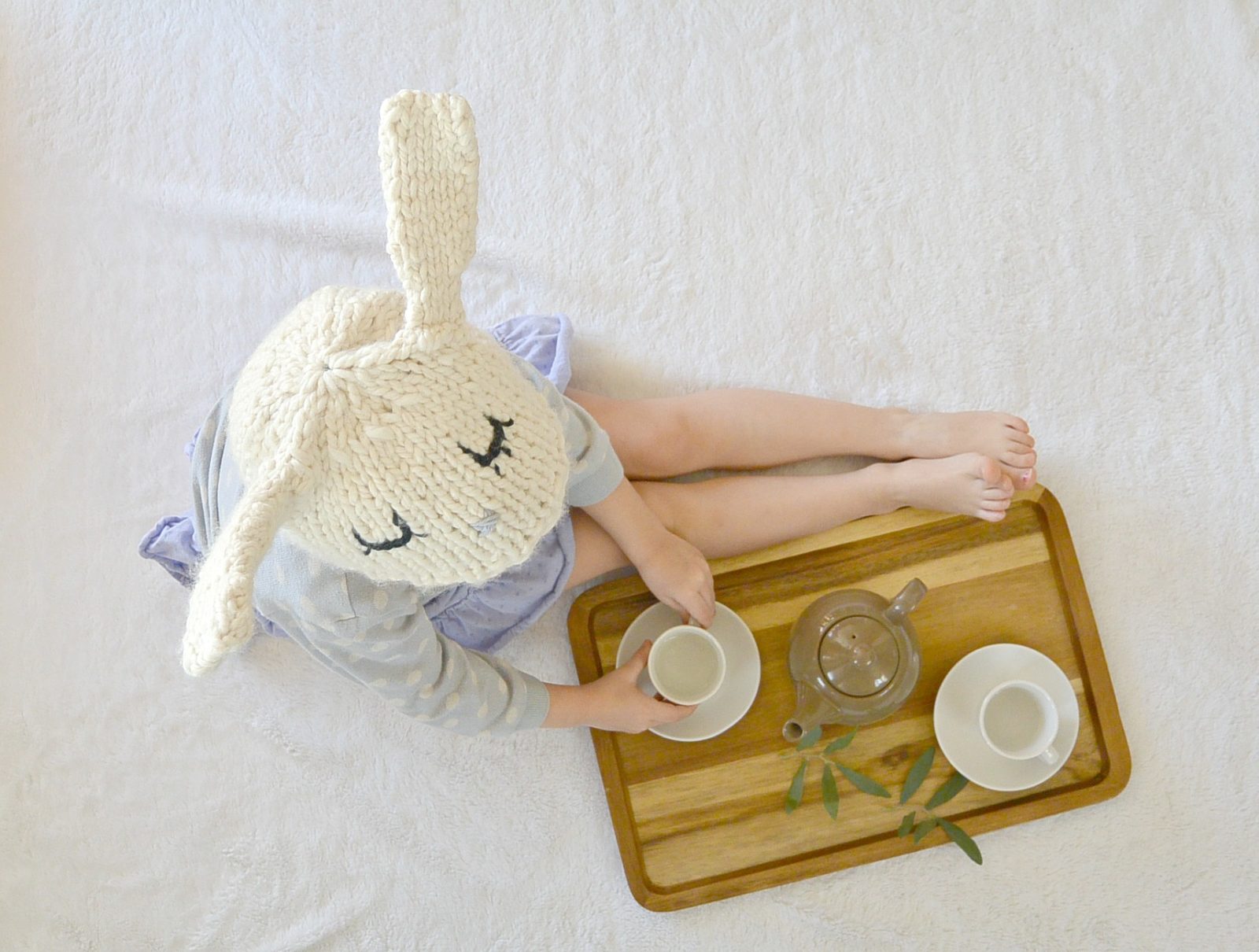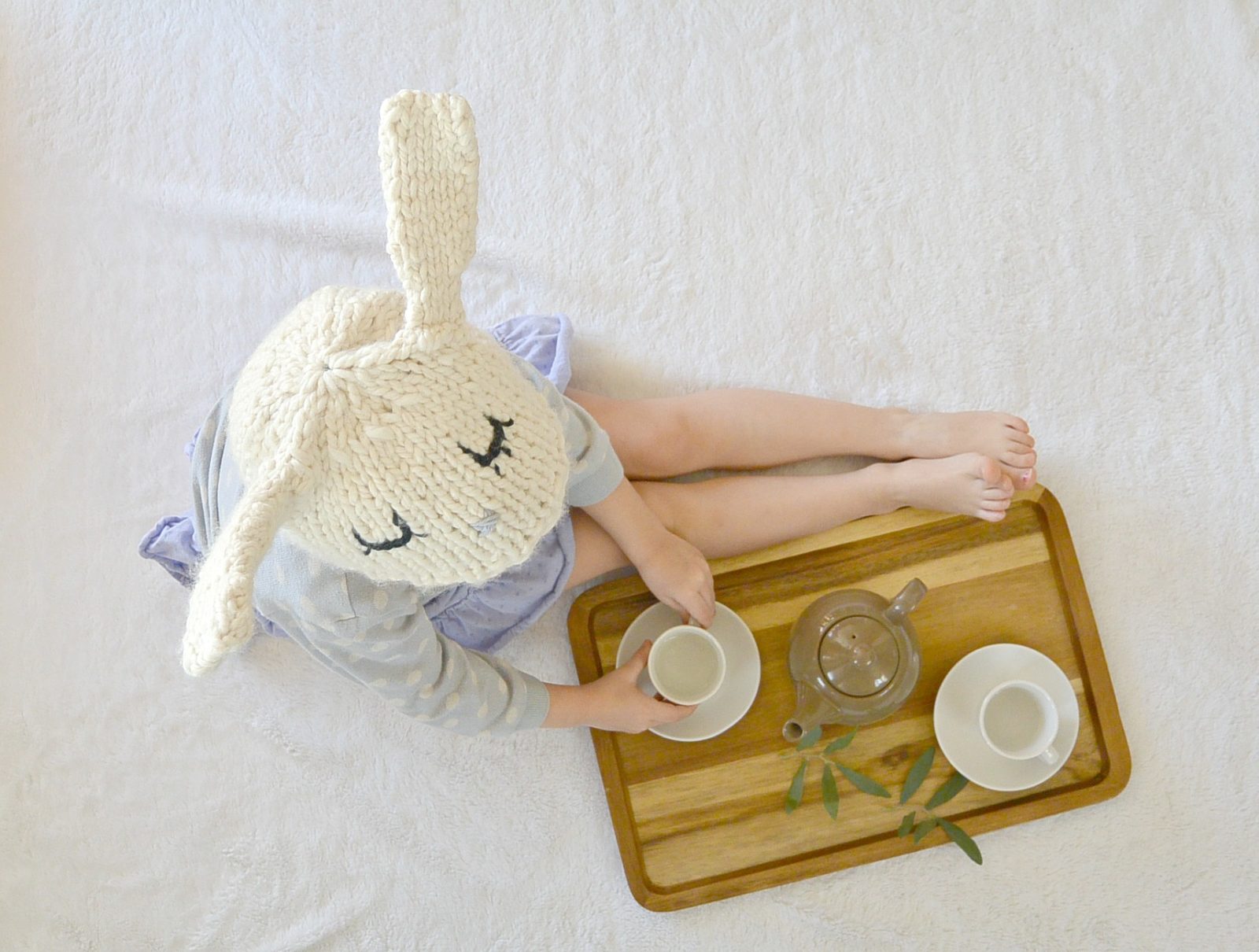 With spring and Easter within sight, I wanted to make my daughter a bunny hat. I hoped for something vintage yet modern, sweet and boutique-like, all at the same time. The ears had to stand up, and this was a bit of a challenge. With some trial and error, they stand up and flop around just how I wanted. Once I completed it, my girl happily put it on and bounced around the kitchen. Success!
This is super easy because it is knit flat and seamed (you could certainly do it in the round as well). All you need to know for this hat is how to knit, purl and decrease (there is very little decreasing, so fear not). This hat will fit 2T to 3T (small 4T) (add some stitches or take some away to adjust fit for a larger or smaller child!). You could also make it without the eyes and nose. I really liked the look of it before I added the features too. This probably shouldn't be your first project, but if you've had some practice with other easy projects, you are good to go!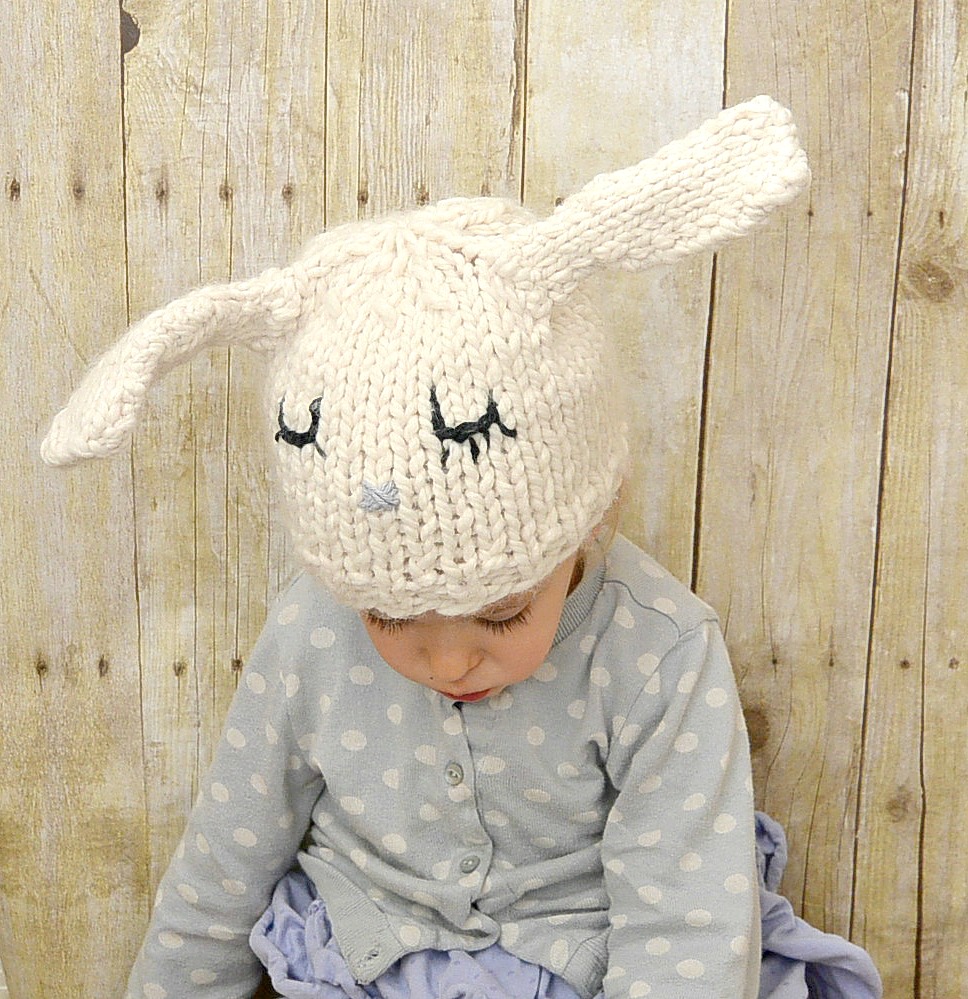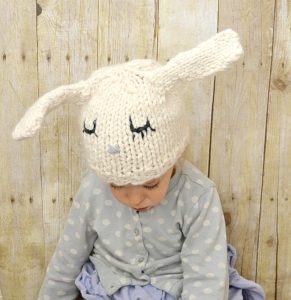 You will need:
One skein Lion Brand Yarn Wool Ease Thick & Quick – Color Fisherman
Scissors
Tapestry Needle
Size 8 Knitting needles (for the ears)
Size 13 Knitting needles (for the hat)
Crochet Hook (optional – this was used to embroider eyes and nose)
Black worsted weight yarn, grey worsted weight yarn (optional – this is for the eyes and nose, if you want them)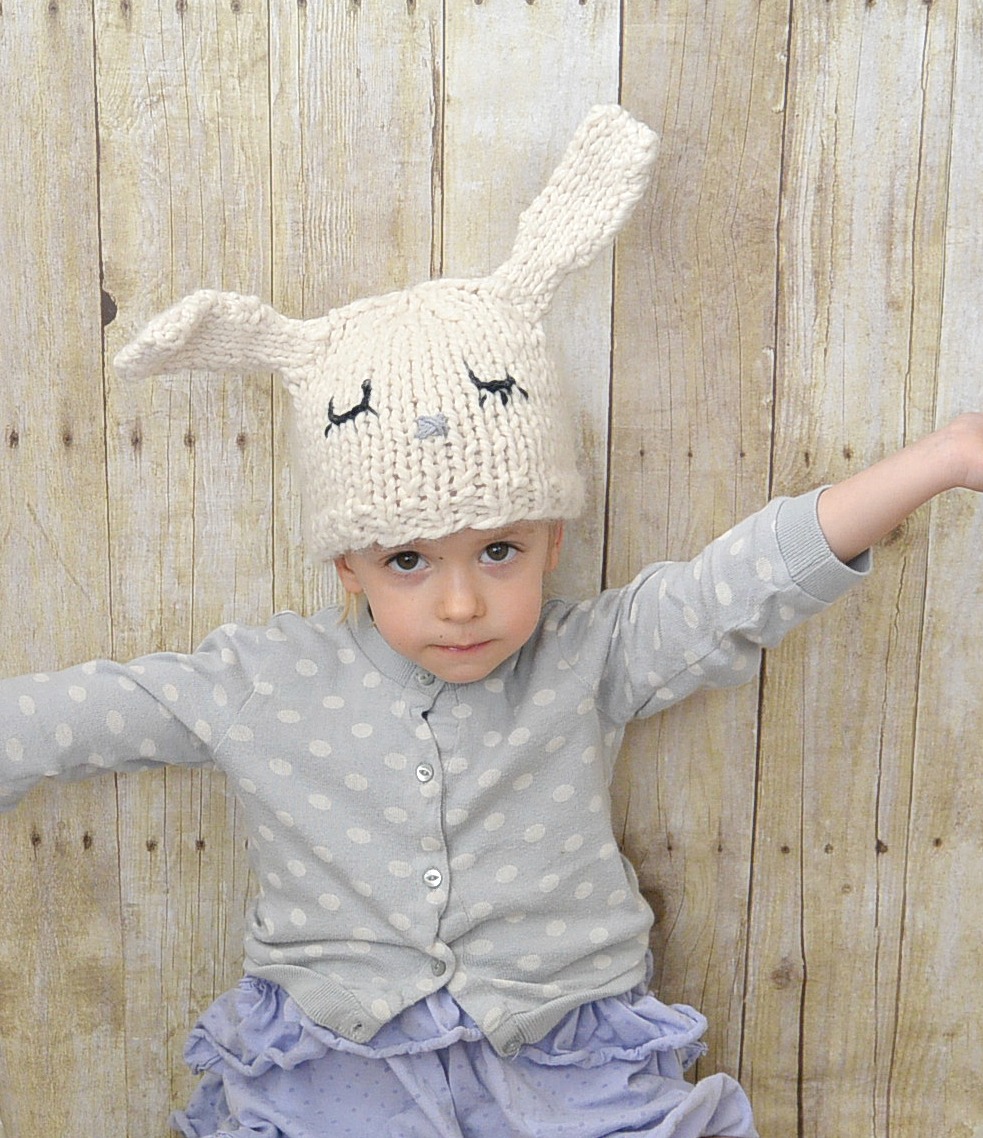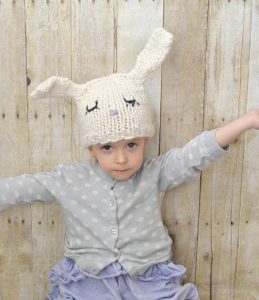 *Gauge is approximately 2.5 stitches and 3 rows per inch
Hat Portion (Hat is knit flat)
With your size 13 Knitting Needles
Knit Cast on 40
You will now work in a 1X1 rib. So you knit one, purl one. Do this rib pattern for three rows.
Row 4 *Knit Across row (you are now beginning to knit in stockinette stitch)
Row 5 Purl Across row*
Repeat from * to *, continuing the stockinette stitch for 4.5 inches, or approximately 16 rows
Decrease Row:
On your next knit row (after you've completed your 4.5 inches of stockinette) : *Knit 2 together, Knit one, Knit 2 together, Knit one* Repeat * to * across row.
Next Row: Purl Across Row
Next Row: Knit Across Row
Next Row: Purl 2 together across row (Decrease across this row)
Cut a long tail, pull through the loops, and tighten to make the top of your hat. Tie off. Your hat now has a top. You will now seam the hat, using a mattress stitch (There are tons of tutorials on youtube if you've never done the mattress stitch. This stitch makes the seam invisible)
Ears: (you will knit four flat pieces, two for each ear)
Using Size 8 Knitting Needles
Cast on 6 stitches
Work in Stockinette (Knit one row, Purl the next row, Knit one row, Purl the next row) for 3.5 inches
*On your next knit row, decrease
Decrease Row – Knit 2 together, Knit, Knit, Knit 2 together
Next Row – *Purl Across row
Next Row-Knit Across row*
Continue * to * (stockinette) for a total of one inch
Cast off, weave in ends
**You will make four of these "ears". Once you have four, see assembly below.
Assembling the bunny ears:
With two of your knit "ears", uncurl, place wrong sides together. You will whip stitch around entire ear, leaving the bottom open. DO NOT CLOSE THE BOTTOM OF THE EAR.
Repeat this so you have two bunny ears!
Attaching the ears to the hat:
With the ear open (the ears are like a tube and you want the bottom to be open when attaching it to the hat) Place the small open end on the hat and whip stitch around entire ear once. Check if there are areas that need more support, and go around a second time. Add an extra stitch to parts that may need more support to hold the ear in place.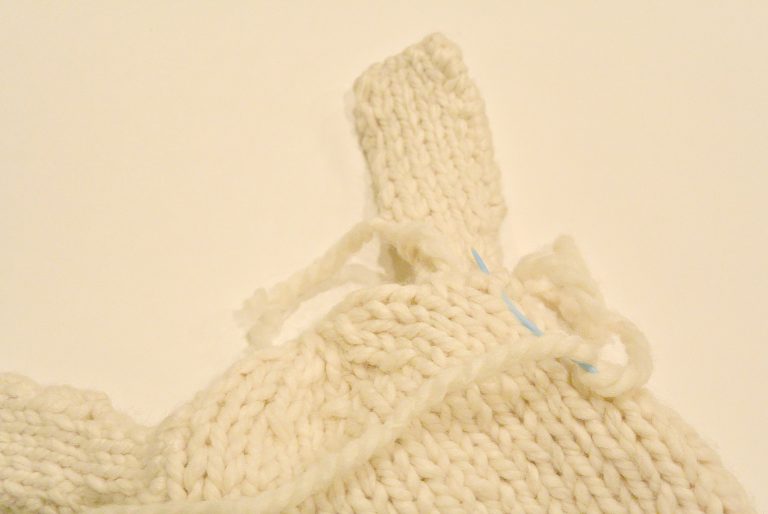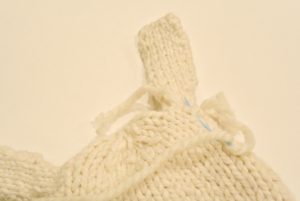 Face Embroidery (Optional – It's cute without a face too!):
For the eyes, I used a crochet hook to slip stitch the shape of the eye. Again, there are a lot of tutorials on youtube on how to do this slip stitch embroidery. Below, I have pictures of how I did it. You can move your cursor over the picture for a short explanation. There are many ways to embroider your eyes, and you can customize as you would like. Lay your hat flat with it facing you. One third of the way down, and about five stitches in, you can start the upper outside portion of your eye. Slip stitch three stitches down, three over, and three up, tie off.
For the eyelashes I used a tapestry needle with my yarn to simply stitch some straight lines. The nose was also done with a tapestry needle and grey yarn. I weaved an X shape three times for the nose.
Finally, make sure all of your ends are tied off, and weave them all in! As always, let me know if you have any questions, or if there is anything I can do to improve my instructions!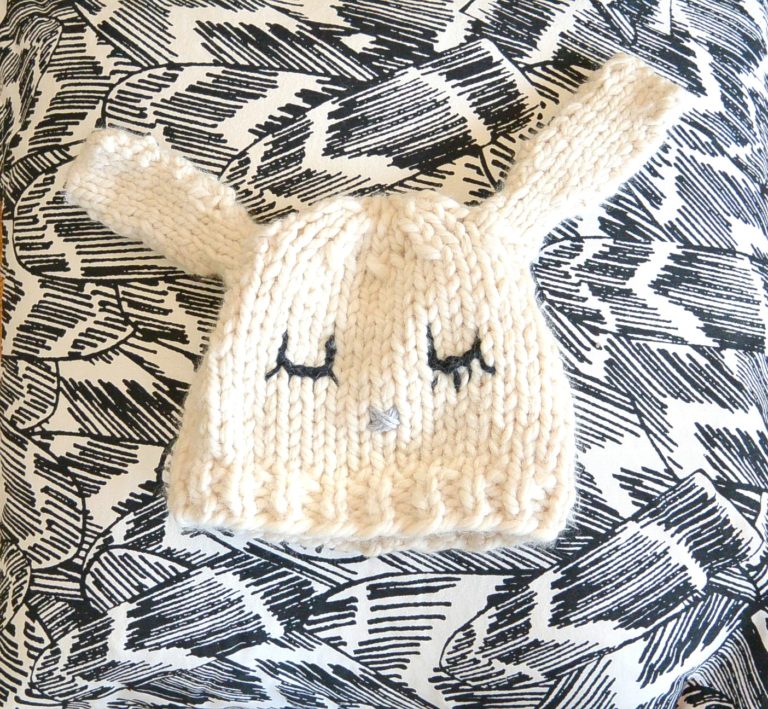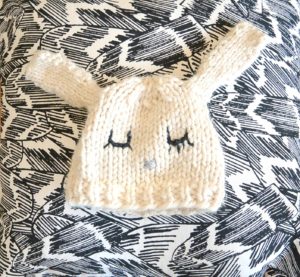 If you liked this, check out all of my other free and easy knitting patterns! Subscribe or check back often for new ideas!