Today's free Knitting pattern is for a summer cardigan kimono. It's super easy to make and is so light and airy! You will see how easy it is to knit as it's definitely beginner friendly.
After crocheting the Barcelona Summer Kimono, I received many requests for a similar kimono to be made as a knit version. This knit Drop Stitch Cotton Kimono turned out to be light, drapey and comfortable to wear so I'm really happy to share it with you today. It uses easy knitting stitches including drop stitches and the basic knit stitch. I'd say it's easy enough for a beginner who feels good about the knit stitch and is ready to move on from making a scarf! If you've never knit drop stitches, this is a fun piece to try it out since there's no complicated shaping. The cotton yarn holds up really well and keeps it's shape which is also a bonus! And you know me, I'm always comfortable with a nice neutral but can you imagine this kimono in a bright color for summer as well? I'd love to see if you one of you get brave with color on this one. 😉 As usual, you can find the free pattern below as well as the printable pattern available for purchase in my Etsy shop here as well as the full kit available in several color options (currently 25%) from Lion Brand here. 🙂 Yay!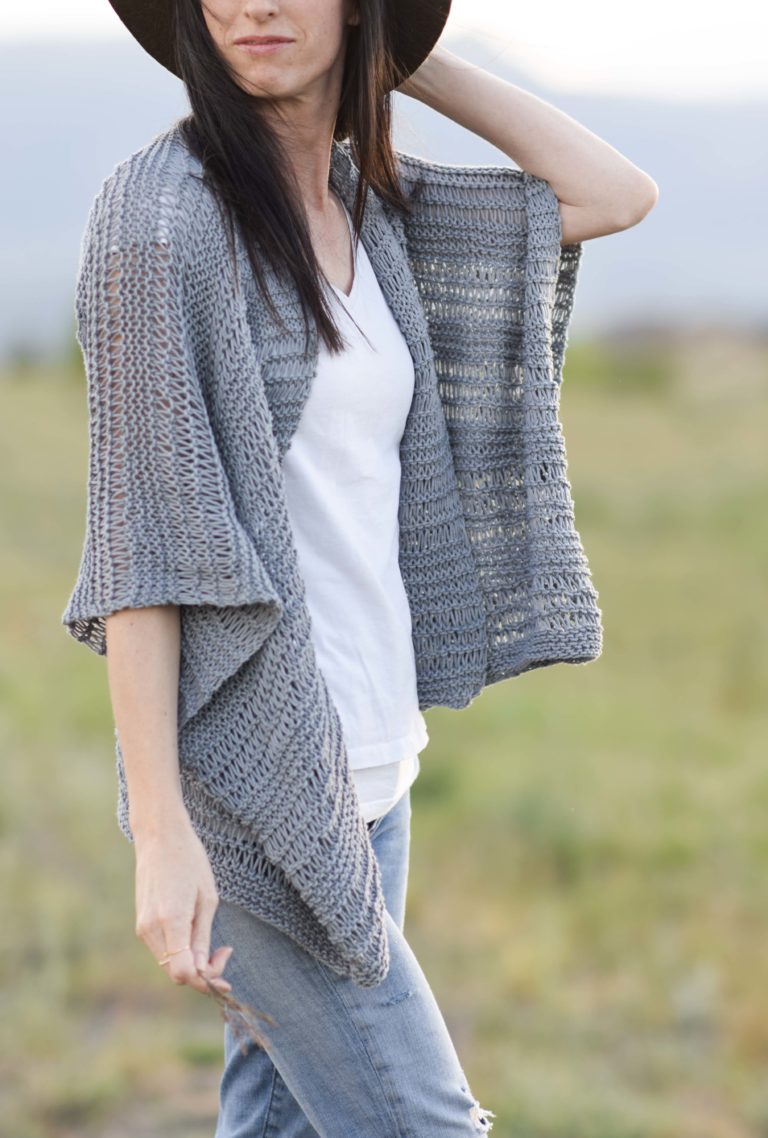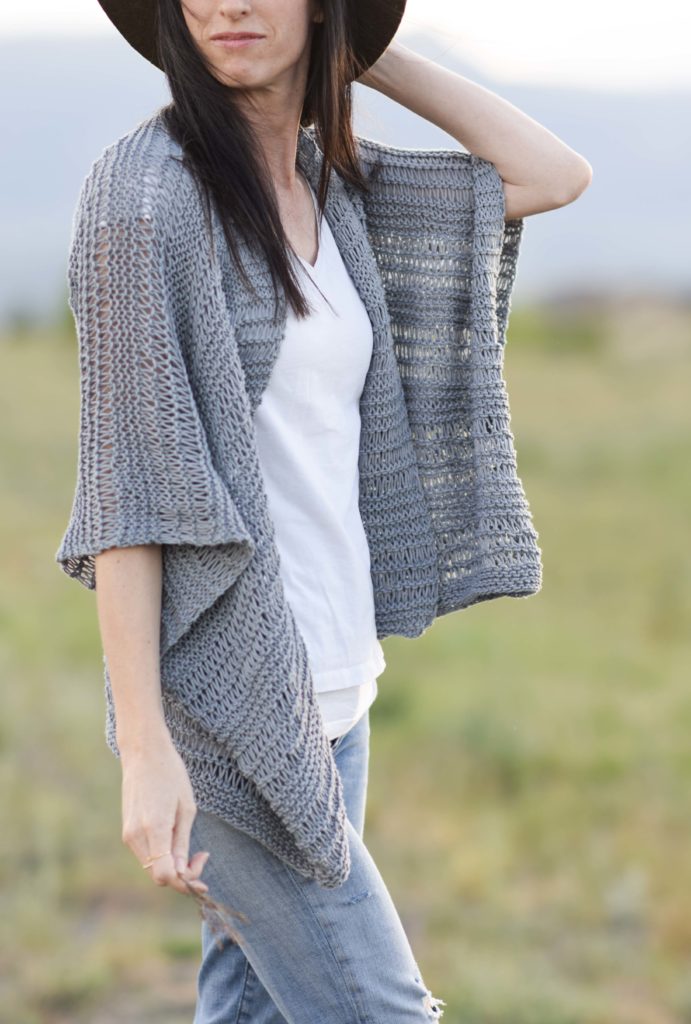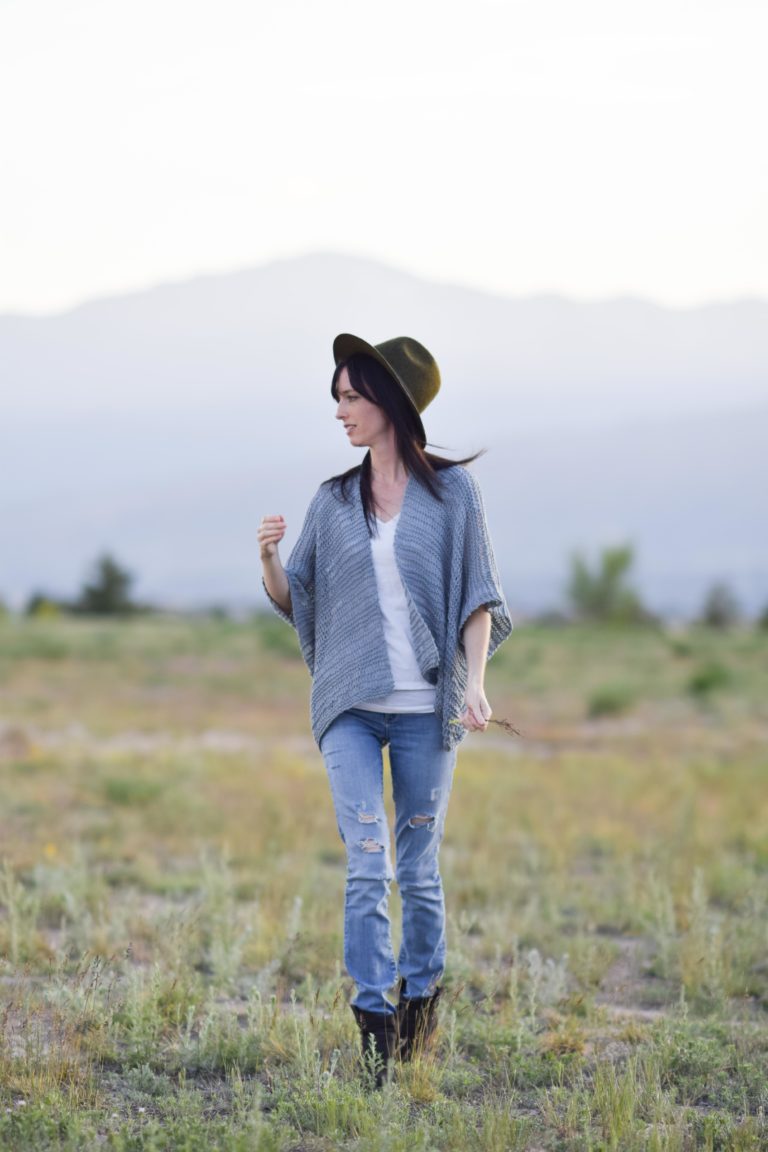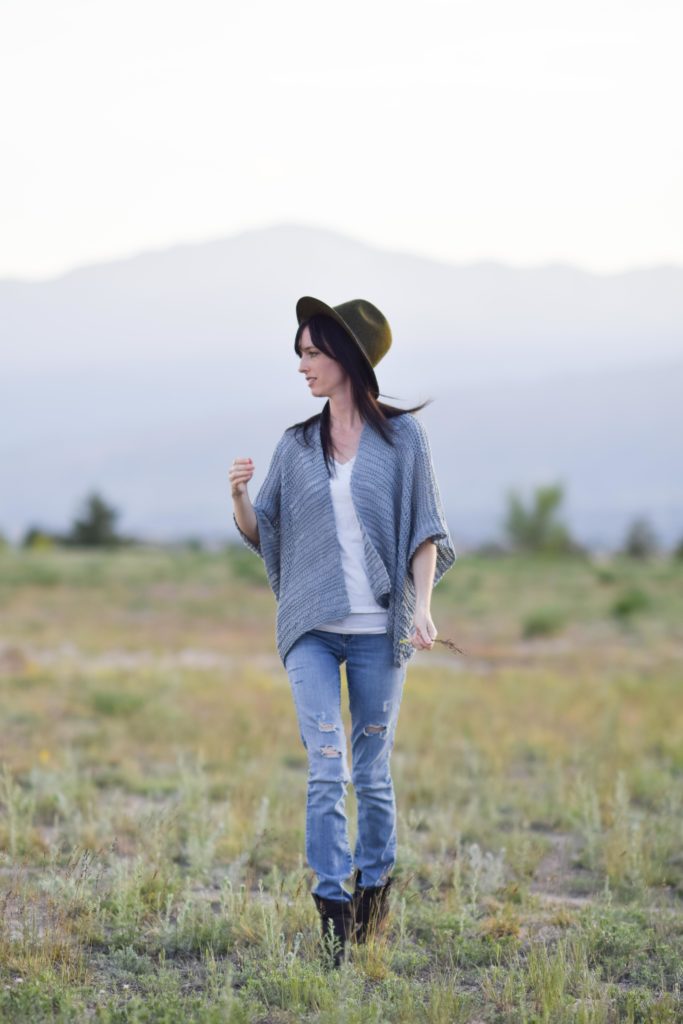 The thing I love most about this piece is that it adds style to almost any outfit and can be worn with jeans or shorts. It's also a nice option to use as a cover-up or to throw on when you're in air conditioning. (I couldn't believe how cold the air conditioning was when we went to Florida last year! Who knew you'd need to pack a sweater to go INDOORS!)
Below: We are so excited to be able to enjoy the outdoors again now that it's warmed up. I wish the summers weren't so short. 🙂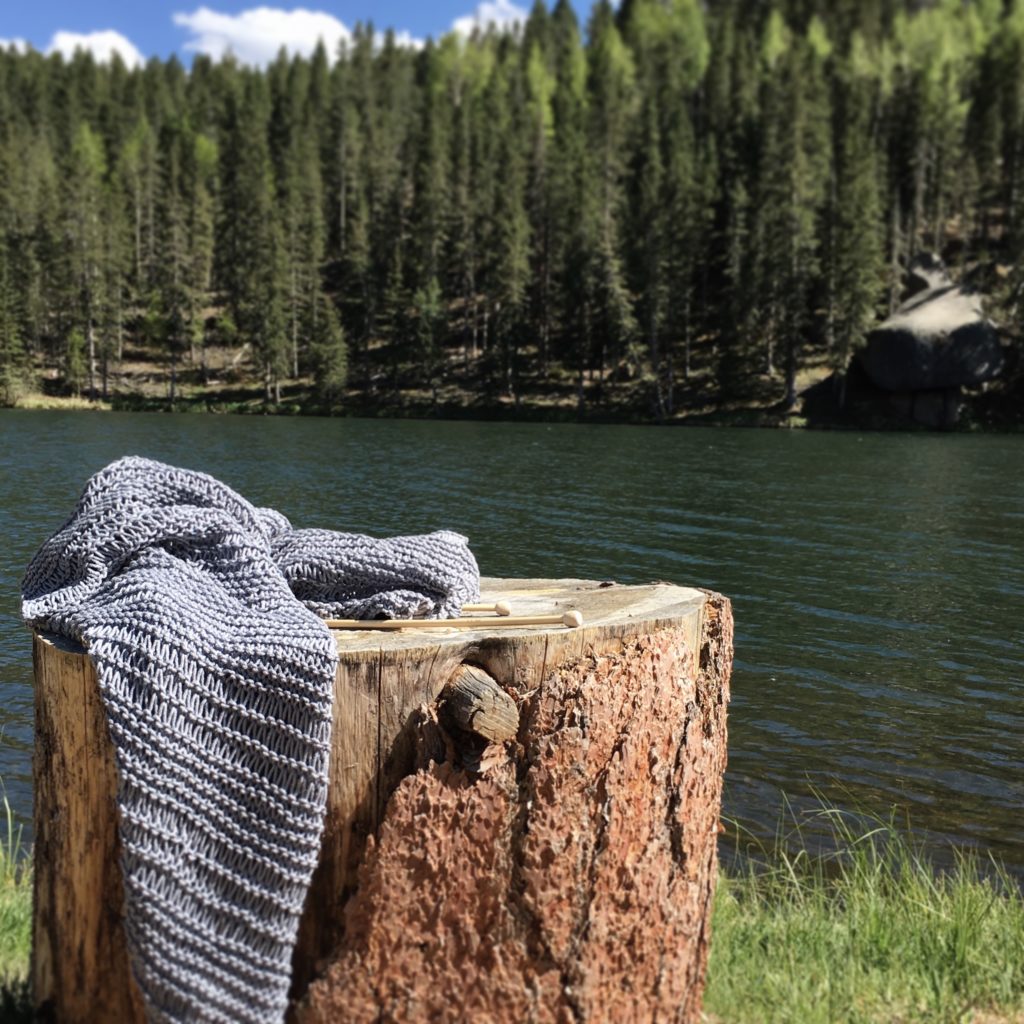 You will knit this as two rectangular pieces and then seam together up the sides and the back. EASY EASY! The construction method is essentially the same as what I used for the Telluride Knit Kimono Pattern this last winter and I know a lot of you thought it was really simple. Because of the easy assembly and beginner knit stitches, it's definitely safe to say that this is a beginner friendly pattern. 🙂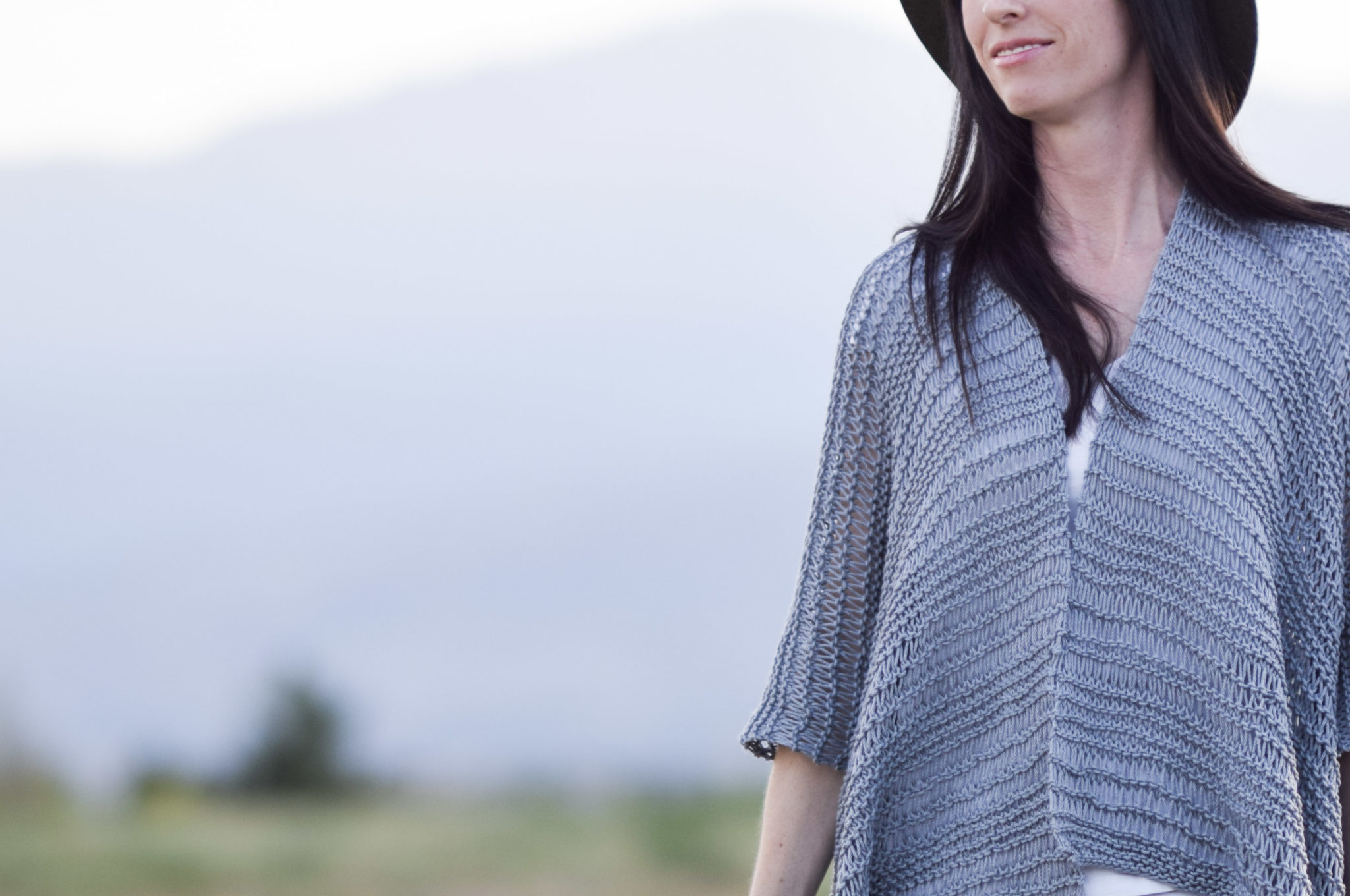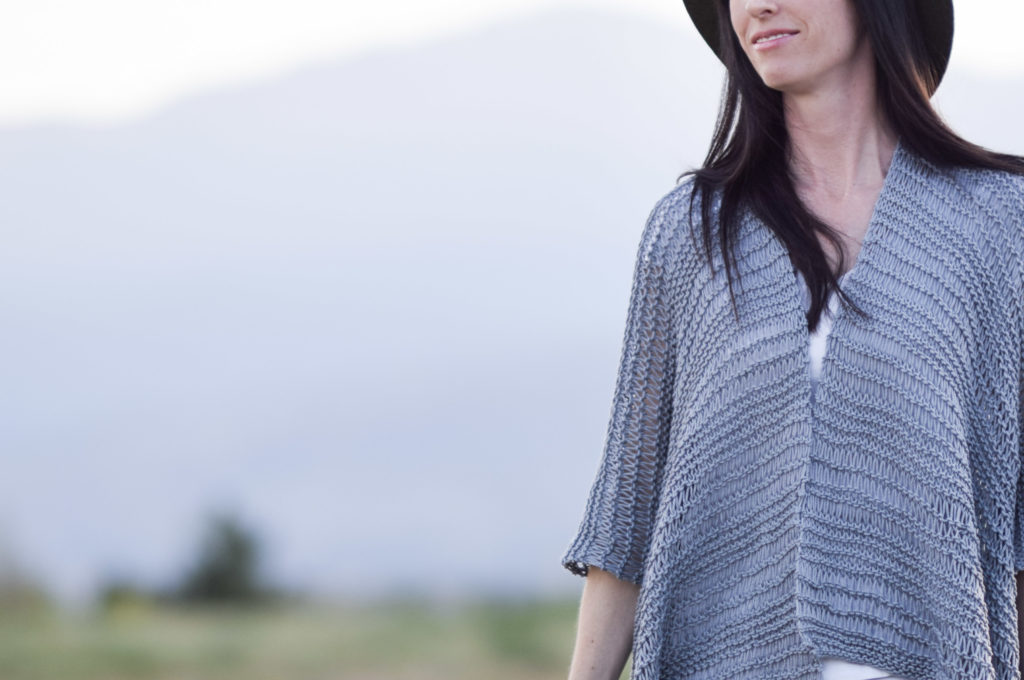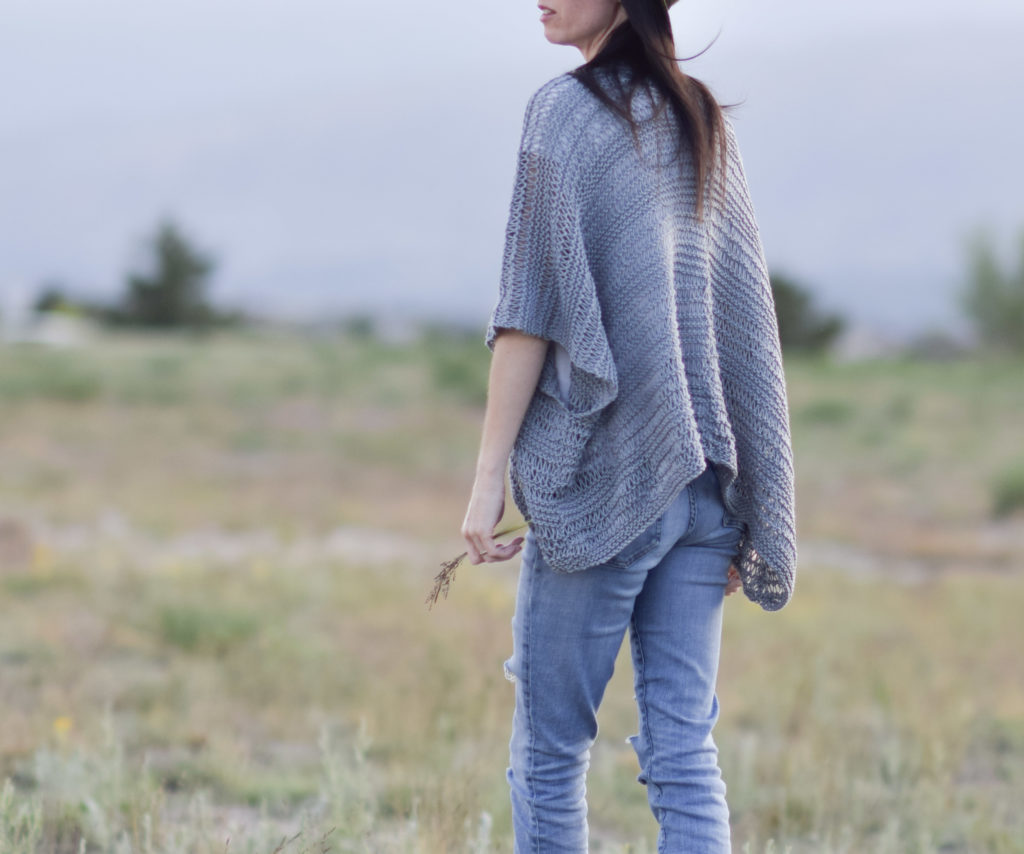 Below: This "Silver" 24/7 Cotton (here) is so pretty isn't it? It has just a touch of sheen that brightens up the yarn just enough.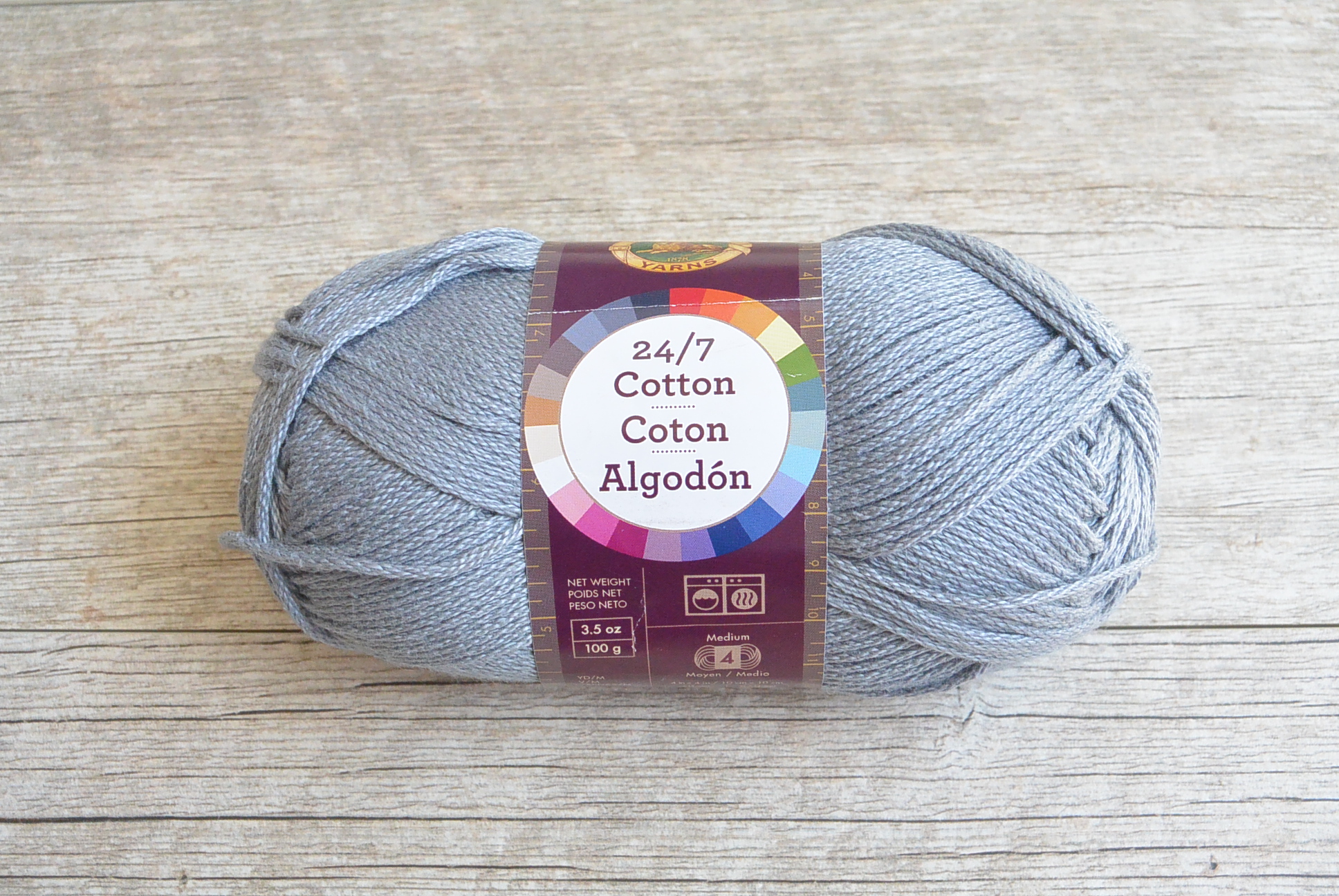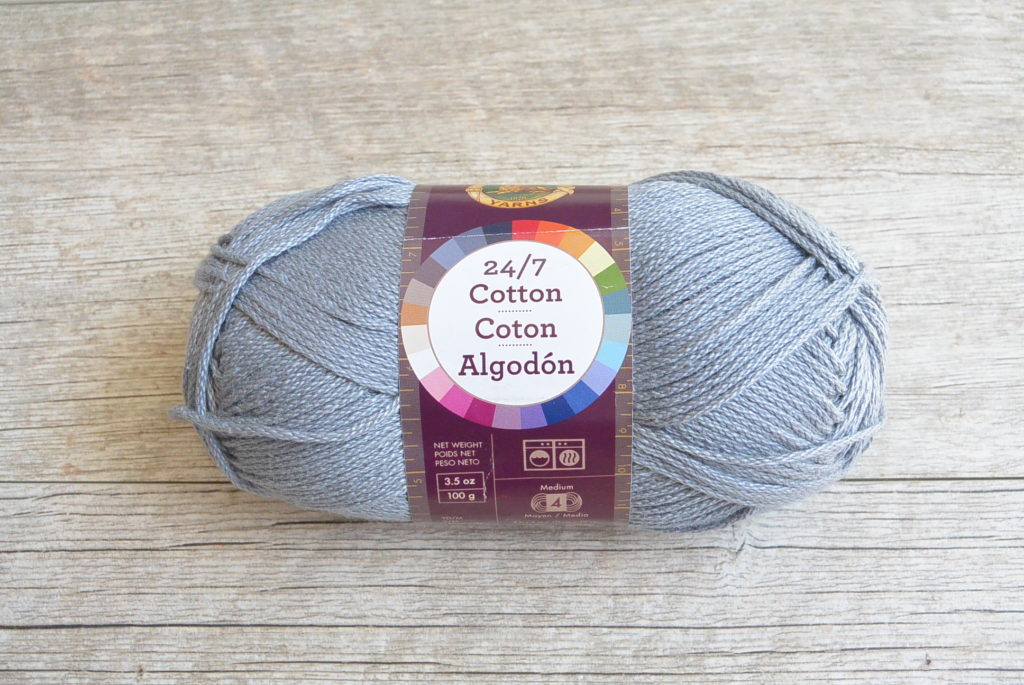 Below: The sections of simple knit drop stitches really give it that airy look and feel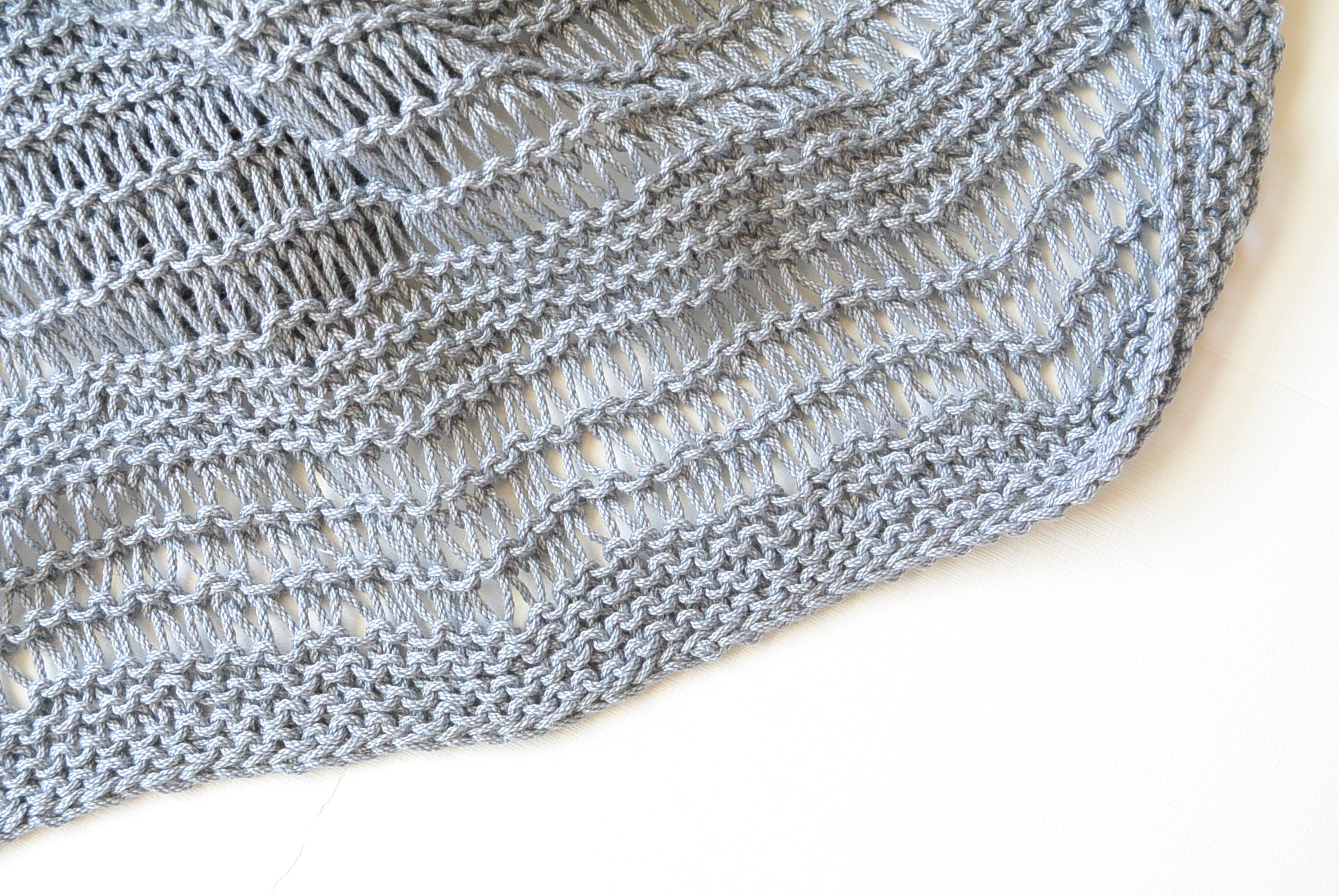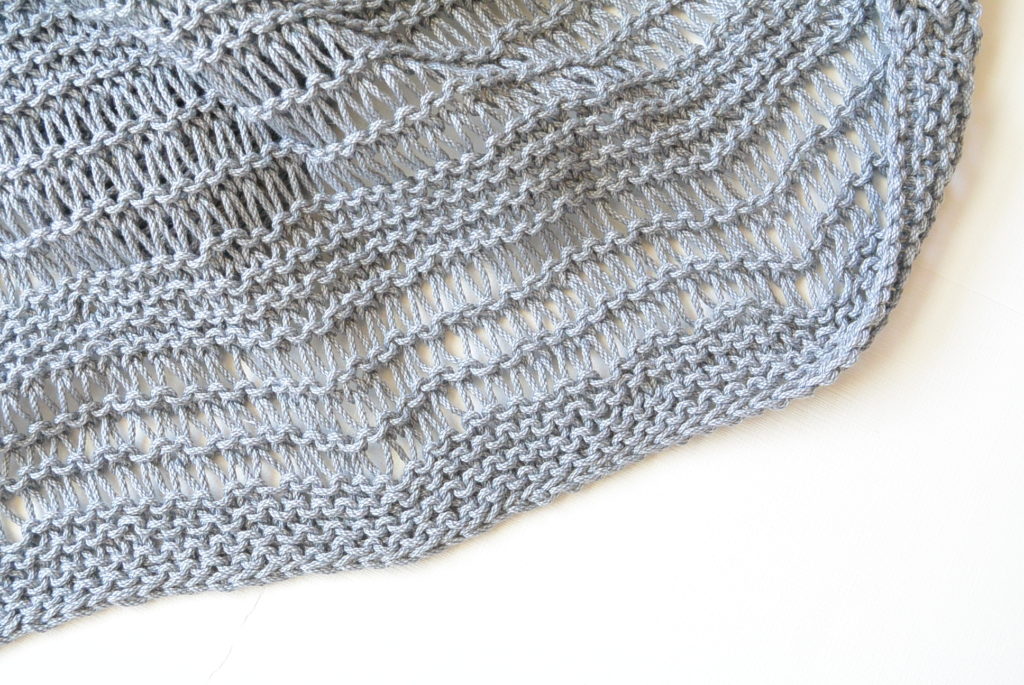 Such a fun easy top to make!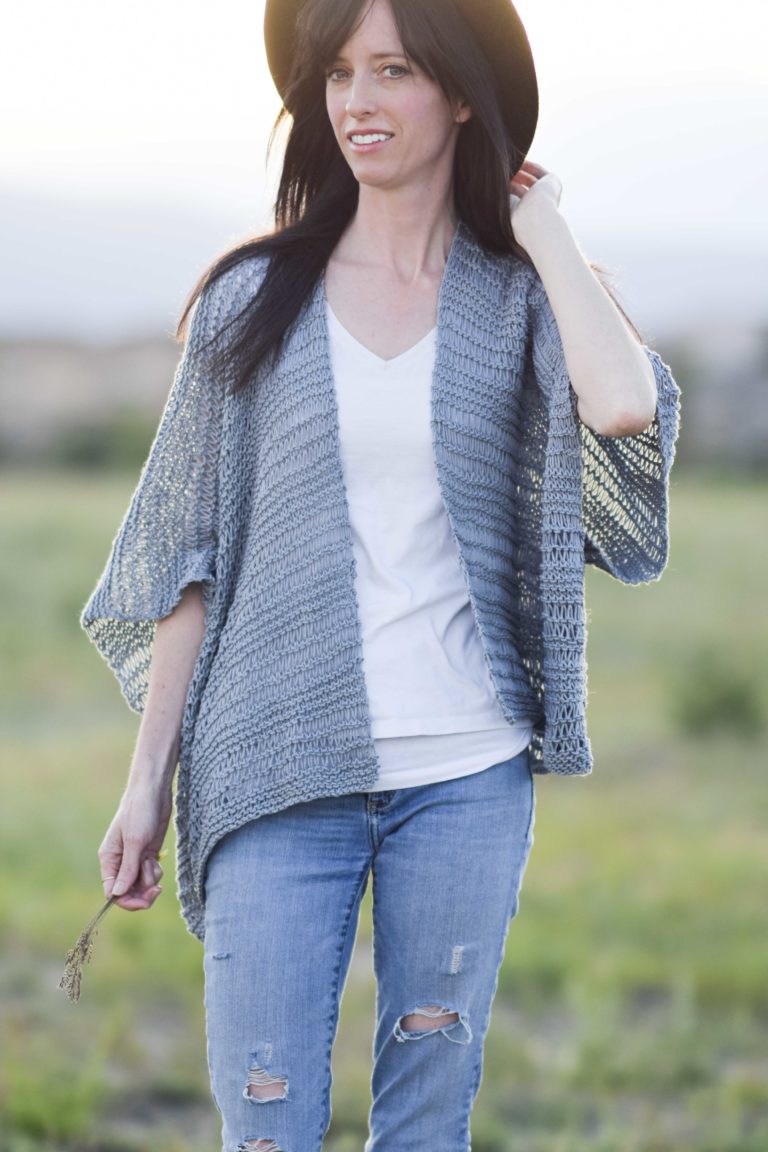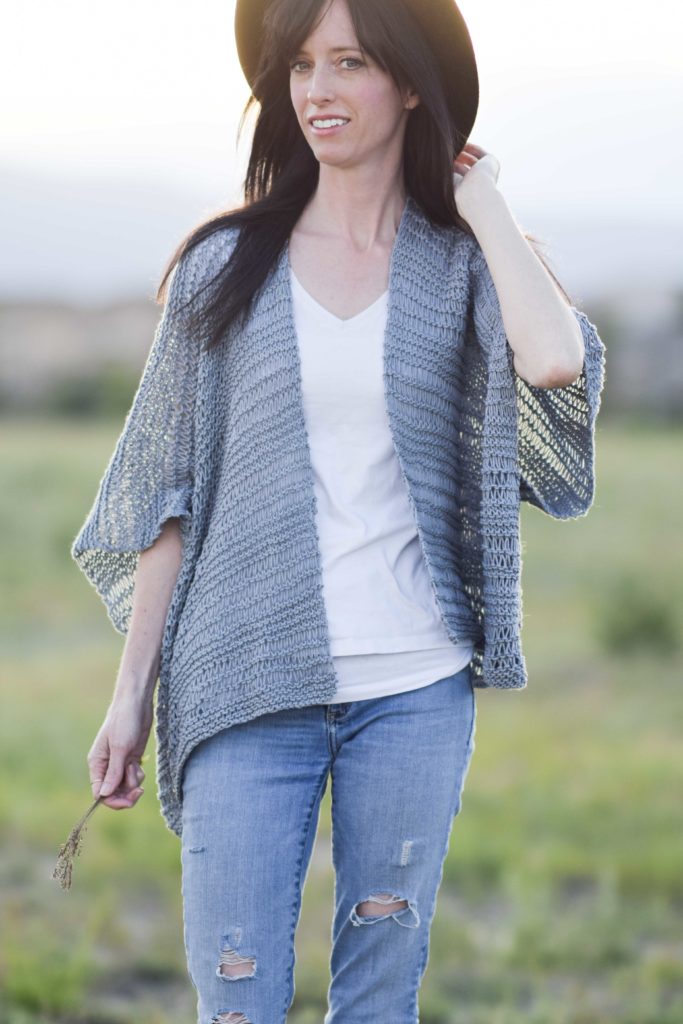 Shall we get started?
Remember you can see the full pattern below or may choose to purchase the printable version from my Etsy Shop HERE.
Drop Stitch Cotton Kimono Easy Knitting Pattern
A beautiful and light cotton kimono that can be worn in any climate including during the warm summer months. This beginner friendly pattern works up effortlessly as it's created with simple knit stitches and drop stitches. Wear it for a day out with friends or take it on your next beach vacation to cover up in style!
Skill Level:
Easy +
Materials:
US Size 10 (6.0 mm) Knitting Needles
(4,6) skeins Lion Brand Yarn 24/7 Cotton in Silver (100 g per skein) Pattern uses approximately 380 g (S/M) and 513 g (L/XL) (Yarn & Kit Available HERE)
Scissors
Tapestry needle to seam and weave in ends
Gauge:
Approximate: 14 stitches and 21 rows in 4" X 4" of garter stitch
Dimensions:
Follow the key for your particular size throughout the pattern. Sizing will be marked as follows:
(S/M, L/XL)
S/M
Bust Circumference (Approximate) 64"
Cross Back Width (Approximate) 32"
Length (Approximate) 21"
Each individual panel measures approximately: 16" by 42" (after blocked)
L/XL
Bust Circumference (Approximate) 72"
Cross Back Width (Approximate) 36"
Length (Approximate): 25"
Each panel measures approximately: 18" X 50" (after blocked)
Abbreviations & Skills:
k – knit
yo – yarn over
Notes:
This kimono is knit mostly in the garter stitch and also includes drop stitch sections. If you've never worked drop stitches, they are quite easy to do! They are created by making yarn overs and then dropping them off the needle in the following row. There are many great video tutorials about the drop stitch that you can find by doing a simple online search. Two rectangular panels are knit and then seamed at the center and sides to form the kimono. (See assembly section for details) You may make the piece longer by knitting more rows to make each panel longer than indicated in the pattern (keep yarn needs in mind). Blocking each panel can also increase the length once finished.
UPDATE: Seaming the drop stitch can be a big challenge! To avoid seaming, simply modify this pattern to work the two panels together in the back. Then split the stitches evenly to work the two sides of the front.
Pattern
Cast on (55, 62) stitches (or double this to work the back panels together, then split the stitches to work the front as two separate sides. This way you avoid difficult seaming)
Row 1 – 7 Knit each stitch across the row (55,62)
Row 8 K1, *yo, k1. Repeat from * across the row (55, 62)
Row 9 K1, *drop yo off needle, knit next stitch. Repeat from * across the row. (55, 62)
Rows 10-13 Repeat rows 8 and 9, in that order, 2 more times. You will have 3 total sections of drop stitches.
Repeat row 1 – 13 until piece is approximately (40", 48") (NOTE : to line up the rows and drop stitches when seamed, you will want to end with the garter stitch rows of 1 – 7)
Cast off and weave in ends.
Repeat above pattern to make a matching second panel.
Next, block to size. After blocking, final measurements should be approximately:
S/M 16" X 42"
L/XL 18" X 50"
Assembly:
Place panels side by side on a flat surface while lining up the drop stitches and the garter stitch sections. With a length of yarn and a tapestry needle, seam up the center, stopping approximately 4" from the middle center.
Next, fold each panel down and seam up each side leaving openings for the arms (approximately 12" long opening).
That's it you guys!


I hope you enjoyed this pattern and please let me know if you have any questions!
XO
Jessica
Thank you to Lion Brand Yarn for sponsoring this project and post! All opinions are 100% my own.
If you liked this, you might also like: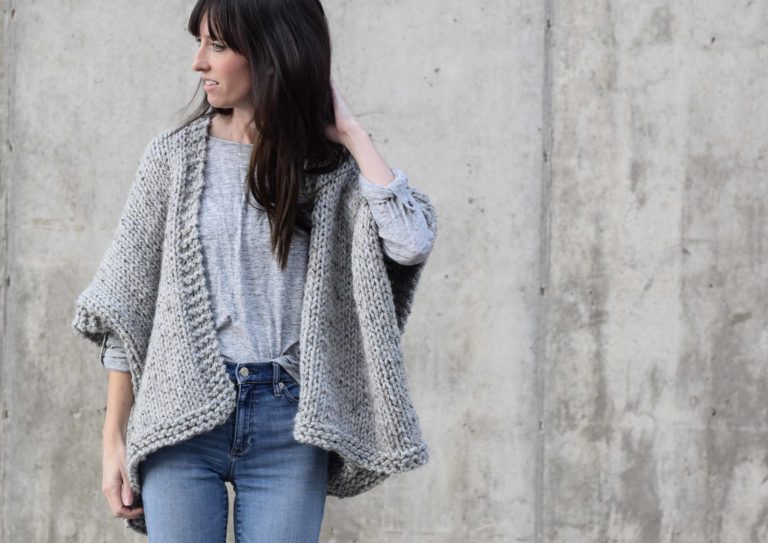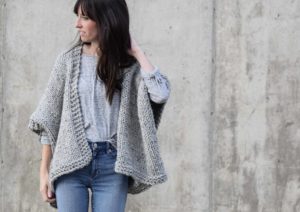 Easy Relaxed Marled Knit Cardigan Pattern