Soft Beginner Crochet Blanket Pattern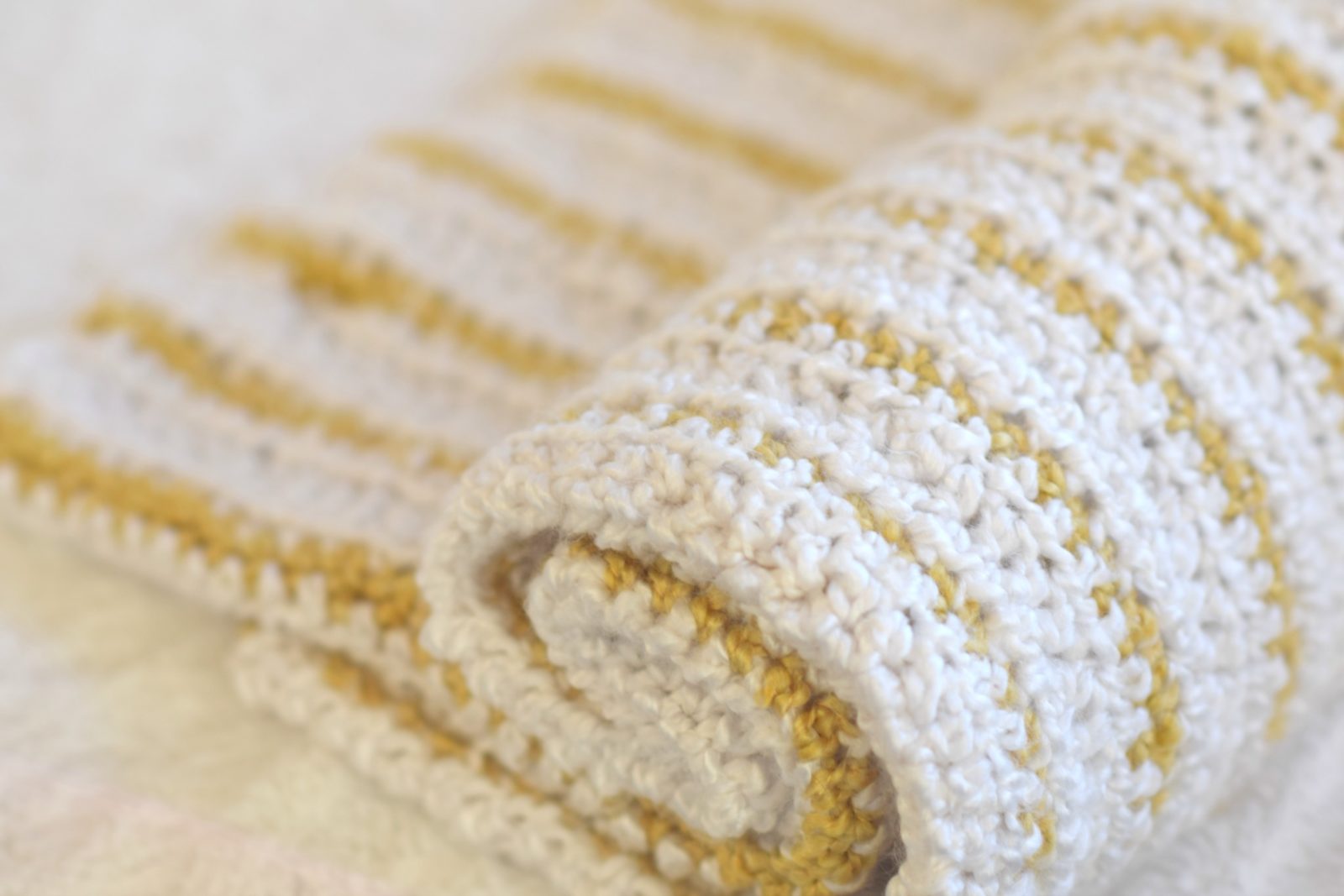 This beginner crochet blanket idea came to me thanks to a chat I had with a lady in the yarn aisle. I've learned so much in the yarn aisle over the years! She told me that anytime she has a baby blanket to make, she buys Homespun yarn and simply single crochets the entire thing. The yarn itself is super soft, squishy and has a really unique texture which makes a super cute blanket. She was buying the yarn that had various colors, but I decided it would be fun to design a blanket with the solid colors to give it a modern striped look. I absolutely love how this turned out! It's made entirely with half double crochet stitches and single crochet stitching. Perfect if you're a beginner or you want a super easy blanket pattern. Update: Lion Brand yarn has created a kit for this pattern and you may purchase it here!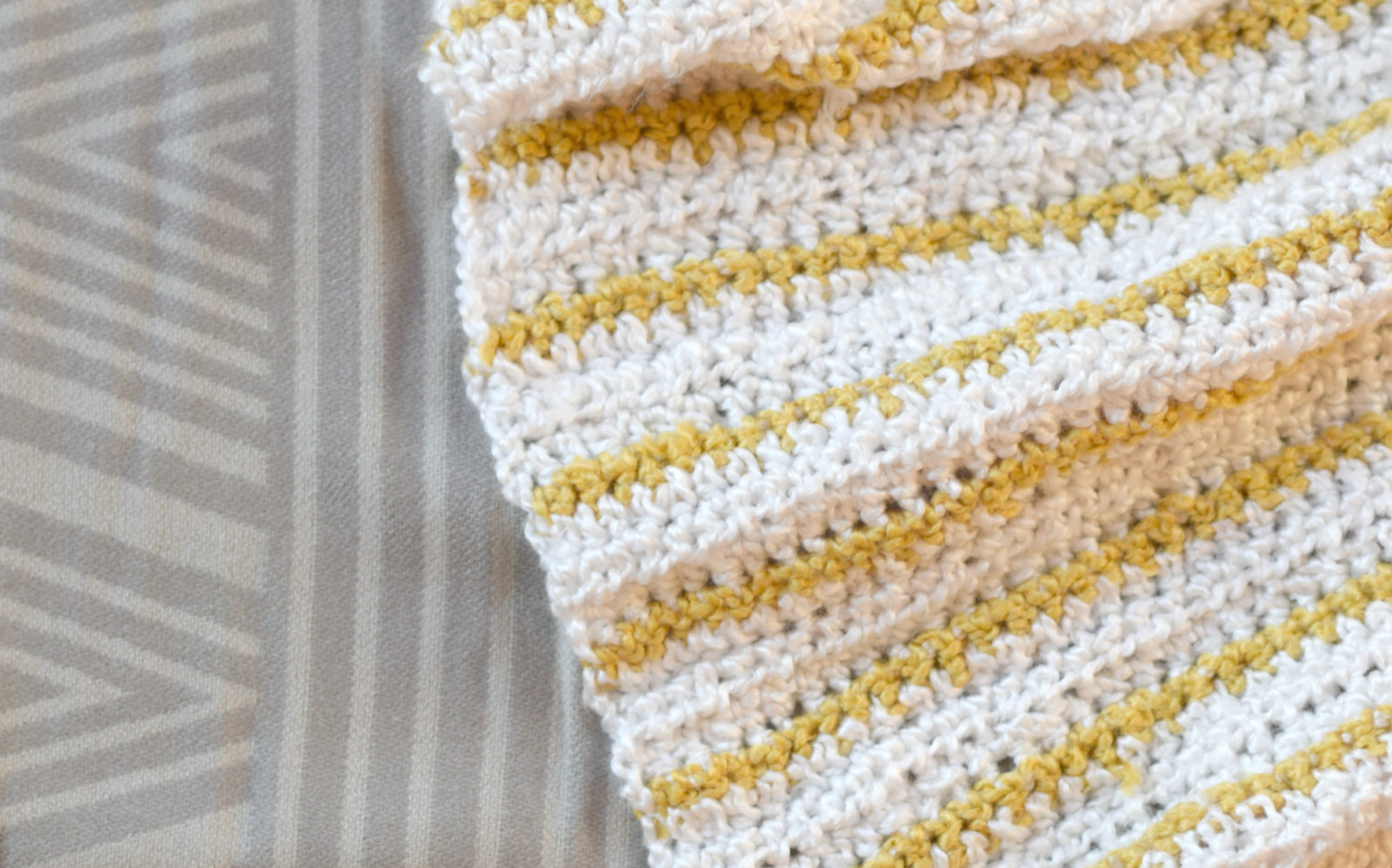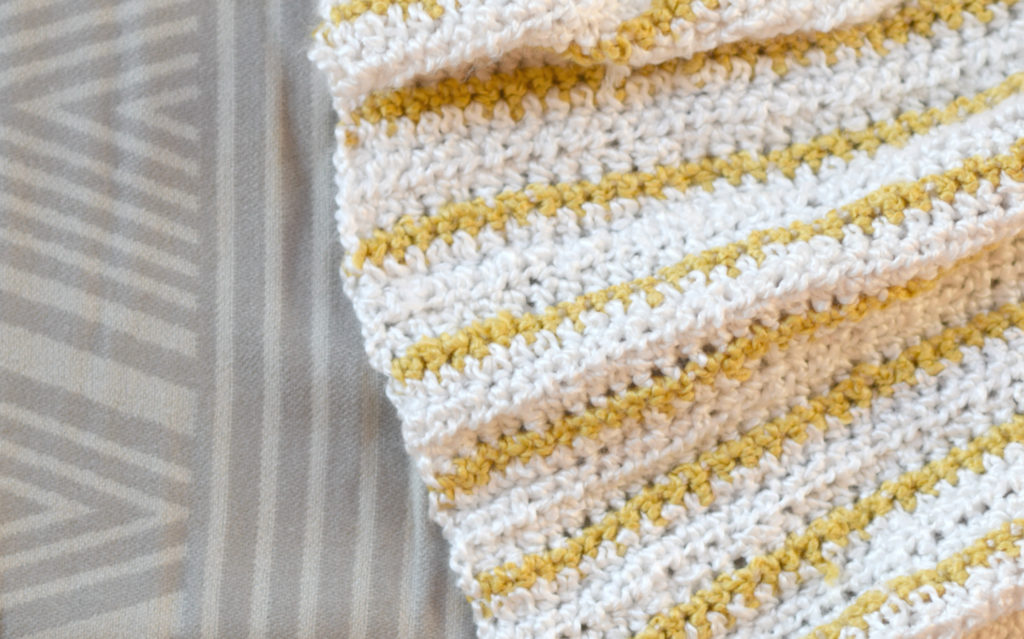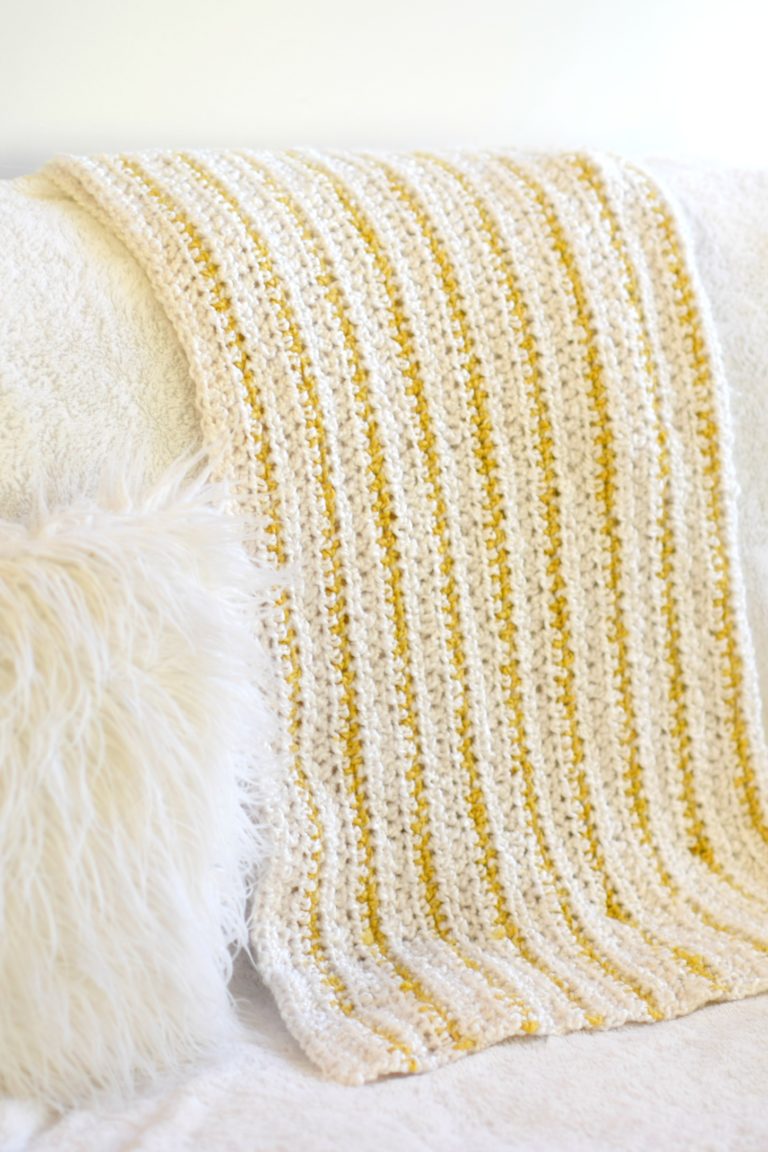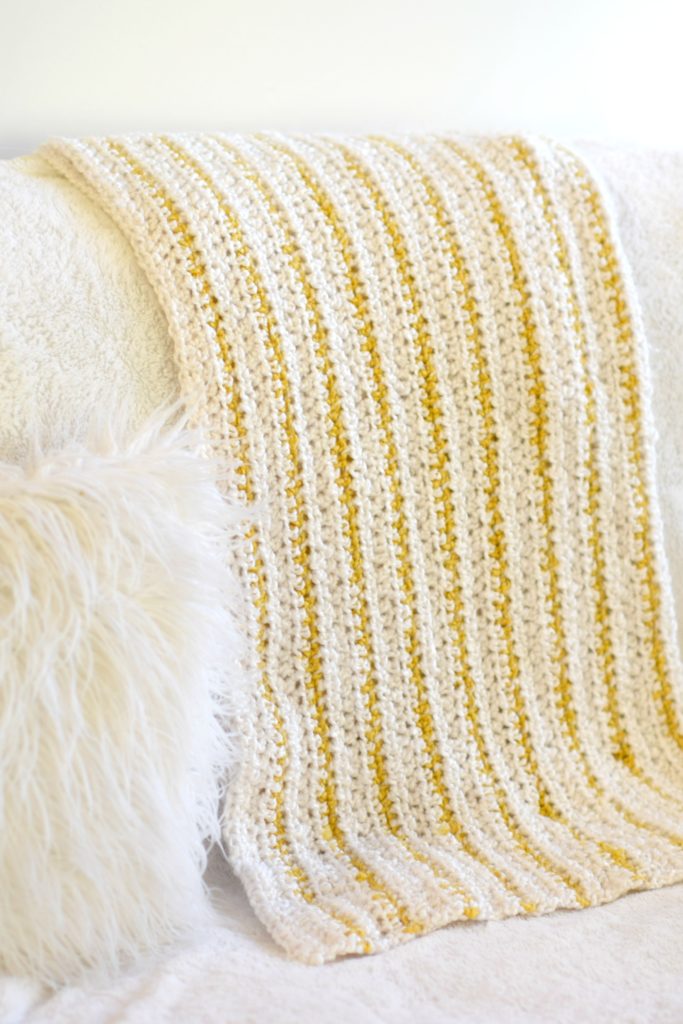 The color possibilities are endless and while this one is a baby blanket or lapghan size, you can make it as big or small as you'd like! What do you think of the gold and cream together? It seems to be a hot color trend right now and it makes the perfect gender neutral gift, don't you think? The yarn can be a bit of a challenge to see the stitches and also to take apart if you need to frog it. However, because of the simple stitches in this pattern as well as the light color yarn, I don't think it's too challenging and I really love the result. I also really loved using this yarn for my Sedona Serenity Knit shawl HERE.
So let's get started on this soft and luscious little blanket!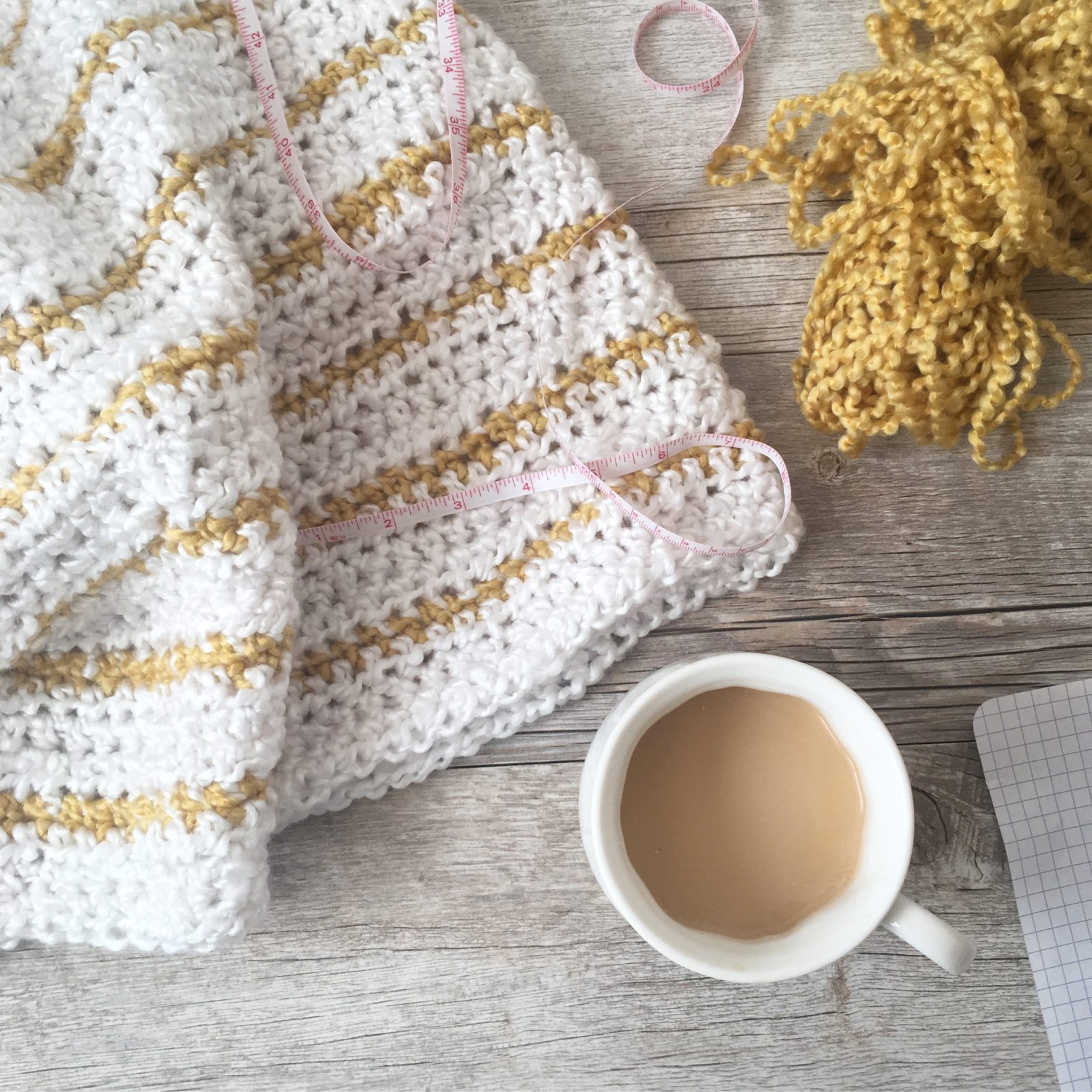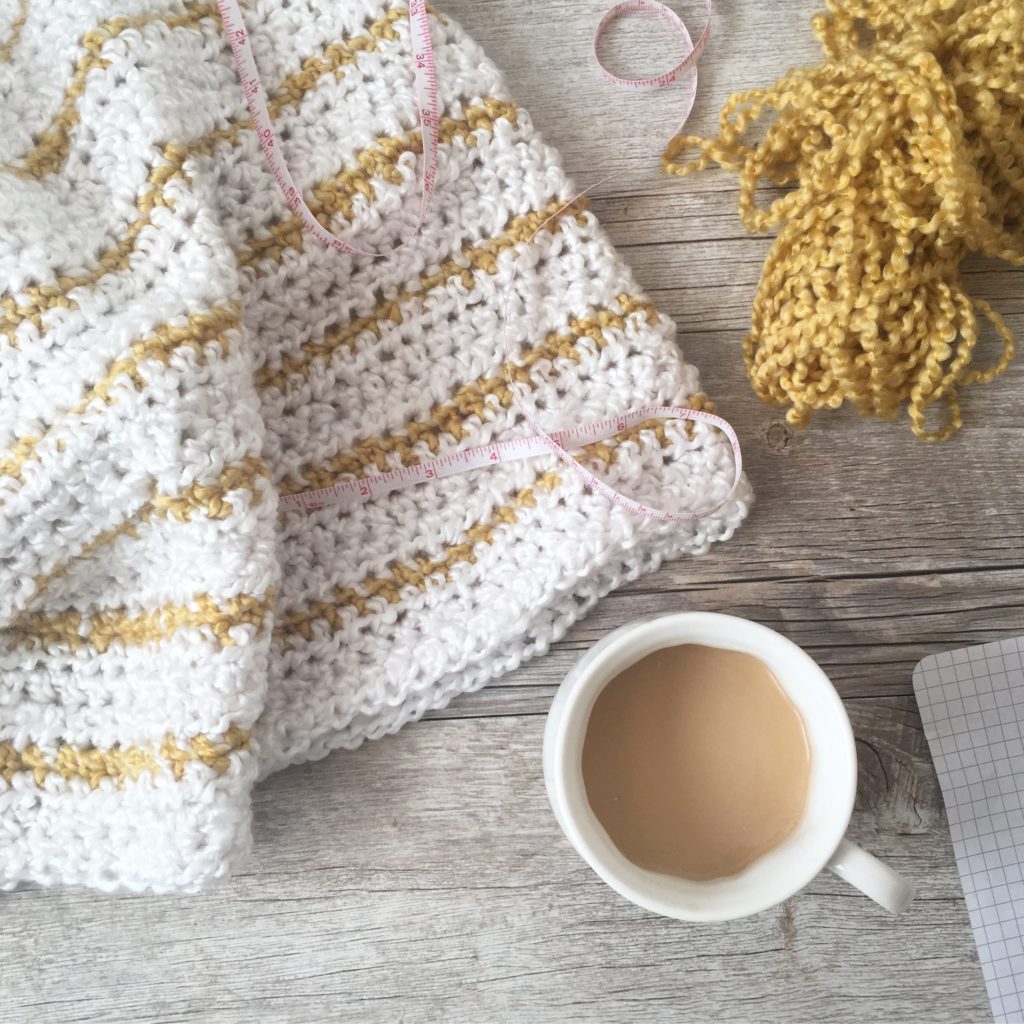 Notes: You should be comfortable with half double crochet and single crochet as well as doing simple color changes. These are the most basic crochet stitches! (Feel free to practice this pattern on a small swatch first to ensure you're keeping the correct stitch count in each row and your piece isn't growing or shrinking. For example, chain 11 and work the pattern to make sure you're creating a nice, straight square)
Soft Beginner Crochet Blanket Pattern
You will need:
US Size K 6.5mm Crochet Hook
3 Lion Brand Yarn Homespun in Hepplewhite (170 g/skein)
1 Lion Brand Yarn Homespun in Golden (170 g/skein) Pattern uses approximately 680 grams of yarn (or purchase the kit from Lion Brand Yarn HERE)
Scissors
Tapestry Needle to weave in ends
Size:
Approximately 35″x35″
You can make this as large as you'd like though! Simply start with a longer chain to make it larger and crochet for more rows!
Gauge:
Not important for this pattern
Pattern:
Note: Ch 2 at beg of row counts as hdc throughout pattern
With Hepplewhite
Ch 99 stitches
Row 1 Hdc in 3rd ch from hook and in each st across row (98)
Row 2 Ch 2, turn, hdc in each st across row (98)
Row 3 Ch 2, turn, hdc in each st across row (98)
Change color to Golden
Row 4 Ch 1 (counts as st), sc in each st across row (98)
Change color to Hepplewhite
Row 5 Ch 2, turn, hdc in each st across the row (98)
Repeat rows 2 – 5 until blanket is about 34″ long or desired length. Finish by crocheting two more rows with Hepplewhite to match the pattern throughout the blanket. Tie off and weave in ends.
Block as desired.
That's all there is to it!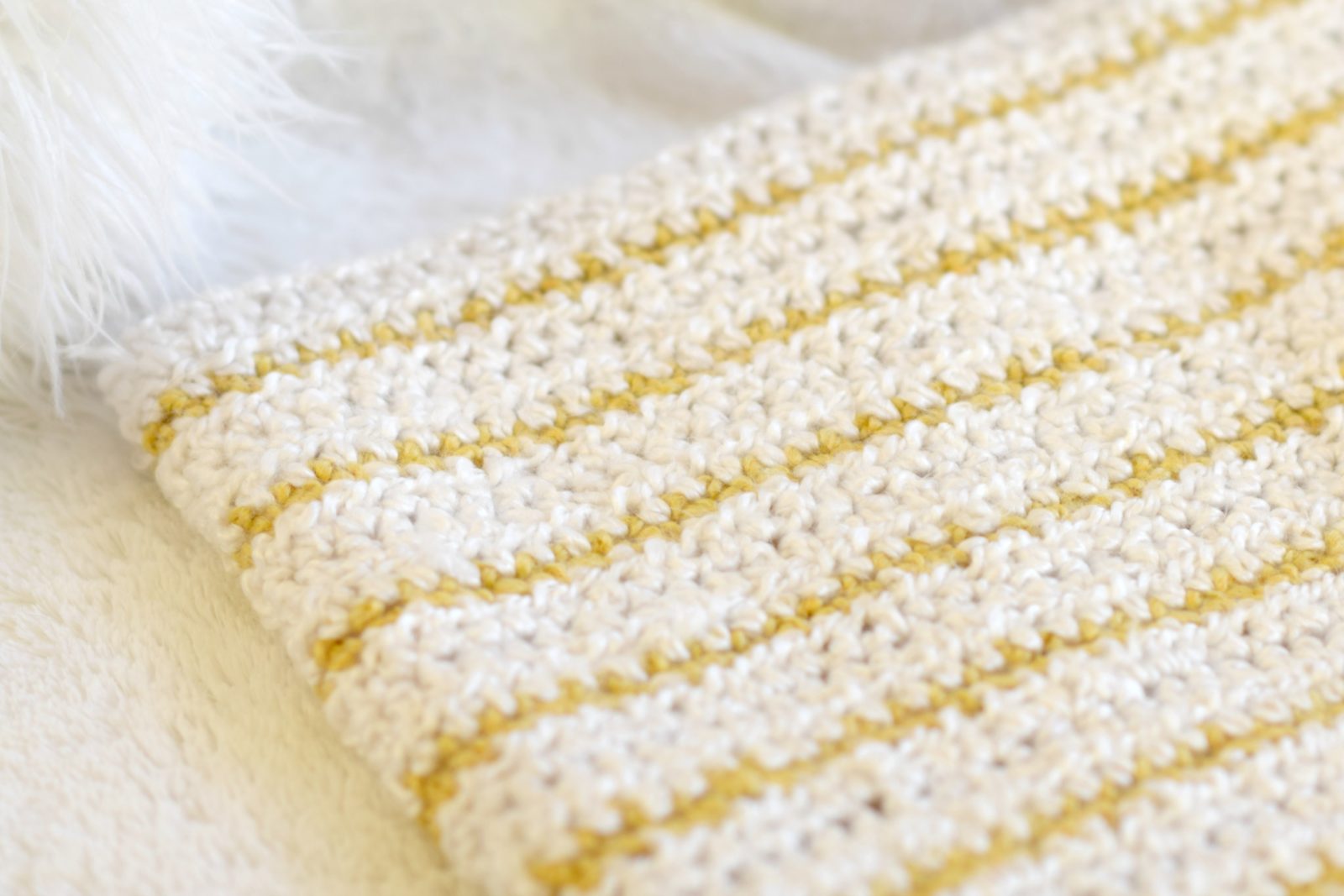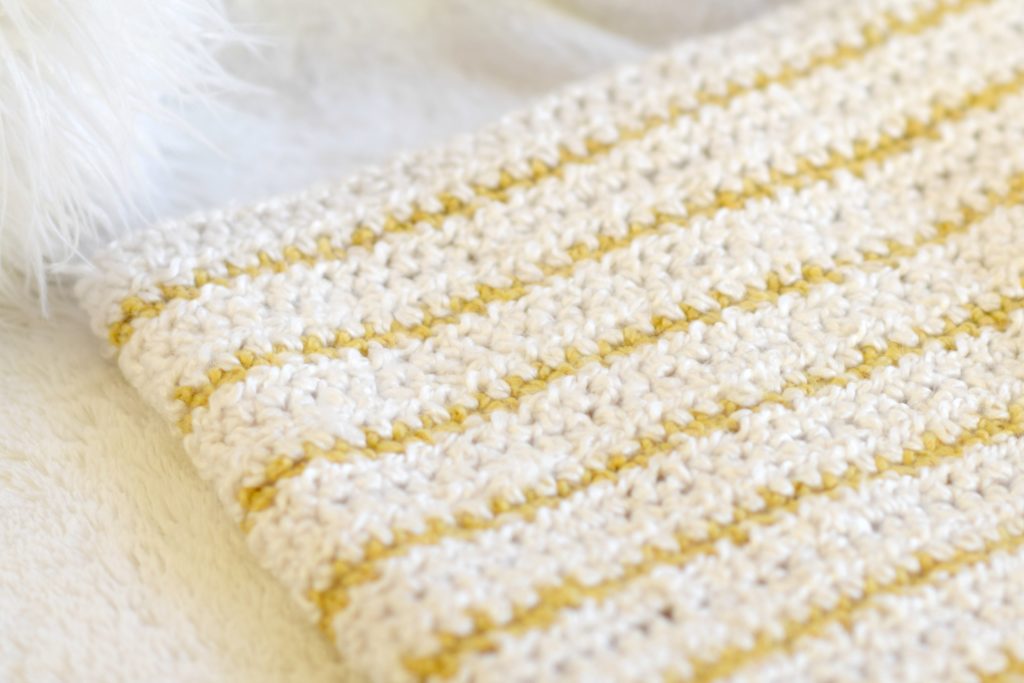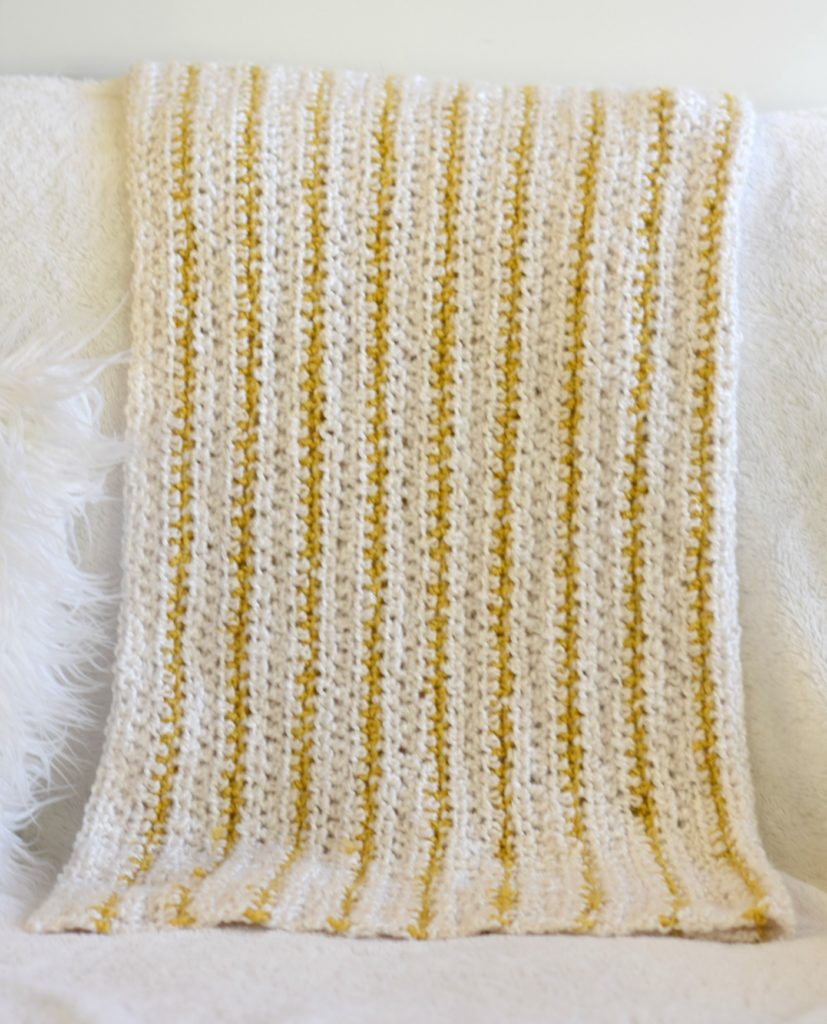 I hope that you enjoy this pattern! What colors would you choose? I'd love to hear if you make one!
XO
Jessica
If you're looking for some other blanket ideas: