Light Frost Easy Blanket Sweater Crochet Pattern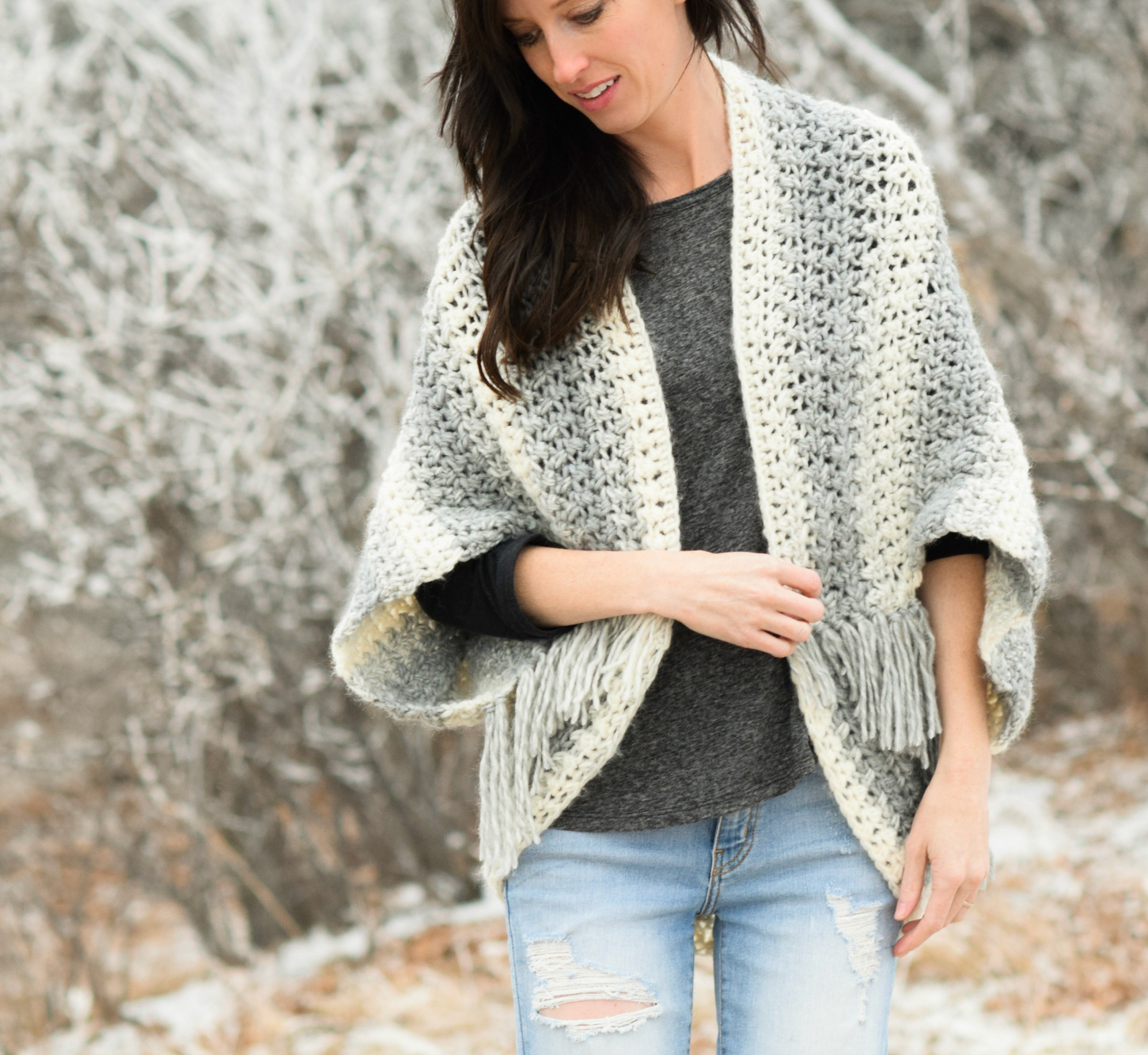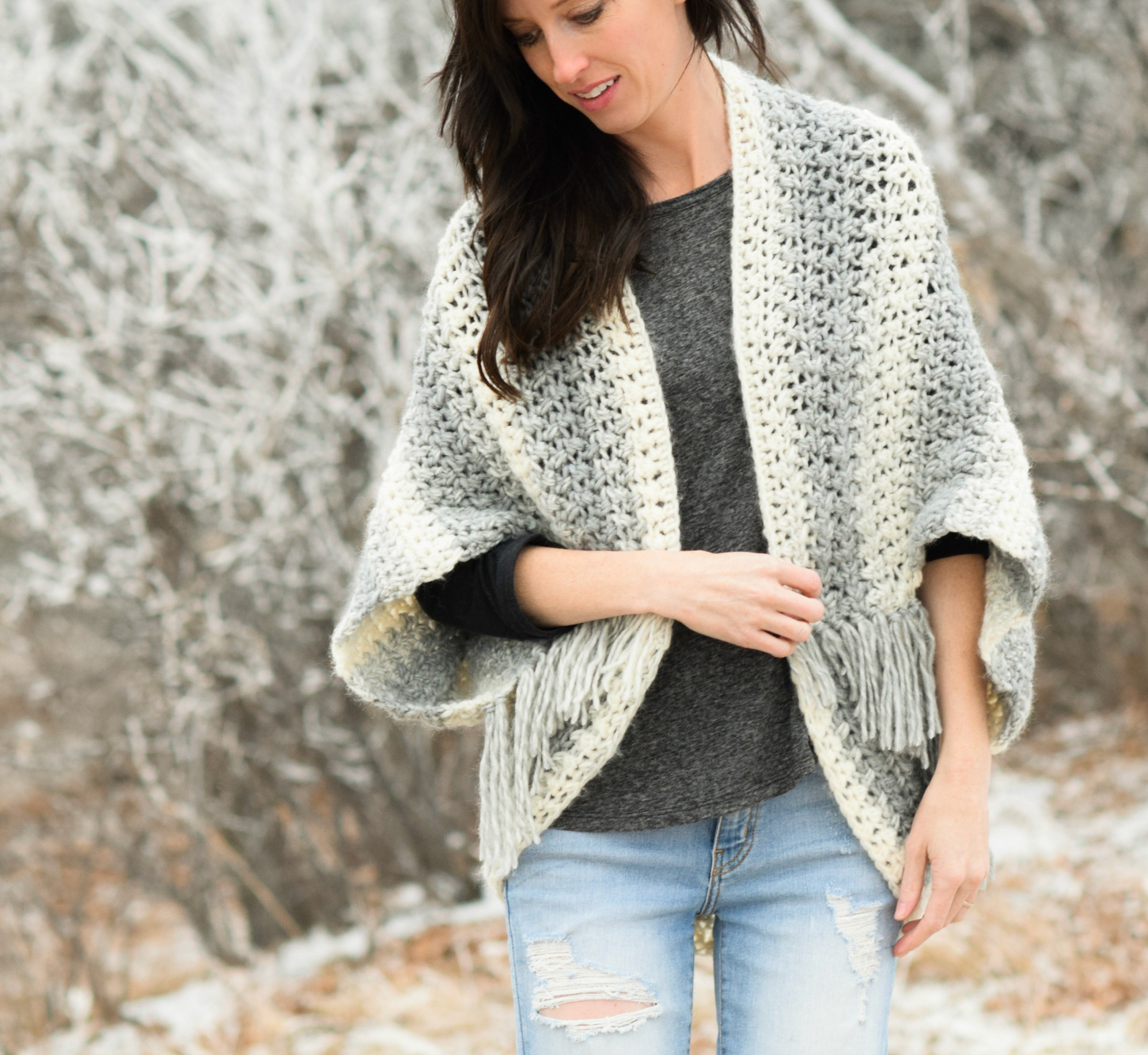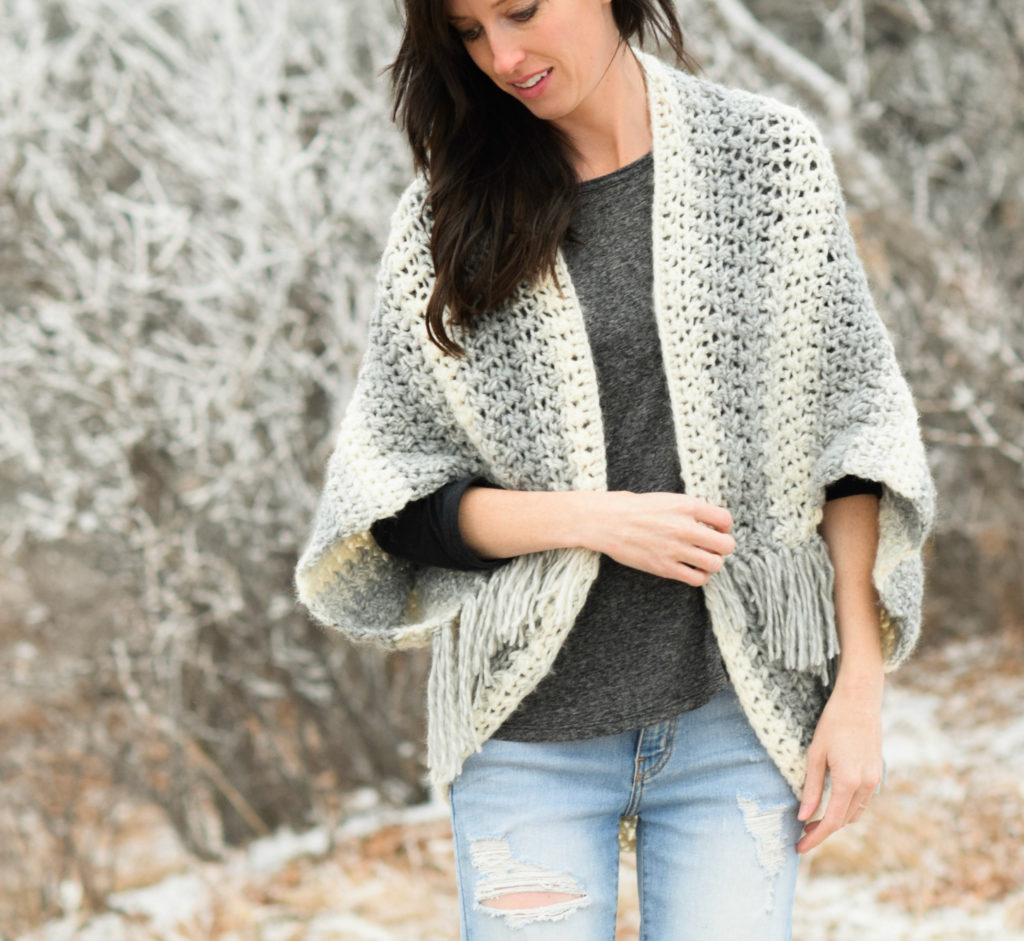 If you can't already tell, I have a thing for these blanket sweaters! This new Light Frost Blanket Sweater pattern uses a simple crochet stitch combination that almost looks knit. It's the first time that I've played around with the crossed half double crochet stitch and I'm loving the look! I've also added fringe (optional) to this version which I think makes it unique. This sweater is a bit lighter than the past two blanket sweaters that I've shared which I think makes it a bit more versatile. AND, is this colorway not gorgeous?! After making two different Blanket Sweaters in solid colors (see the knit sweater here and the crochet sweater here), it was really neat to see the self striping yarn work up so nicely on this fabric. The coolest thing about these sweaters though is how easy they are to make, yet they appear to be so complicated to the untrained eye. Hee hee – our secret! But really, just check out the pictures at the bottom of the pattern to see how easy these are to put together.
When I came across this Lion Brand Scarfie Yarn in Silver & Cream, I couldn't resist it. This is one of my very favorite color combos and I just love how the gradient of the dark grey works into the cream. Isn't it a lovely combination? And I'm so excited to let you know that Lion Brand has NOW made this pattern into a kit! You can purchase the kit, which includes all of the yarn needed for this project, as well as a printed copy of the pattern on HERE. Of course, you can scroll down and see the pattern below for free as well here on my blog. 🙂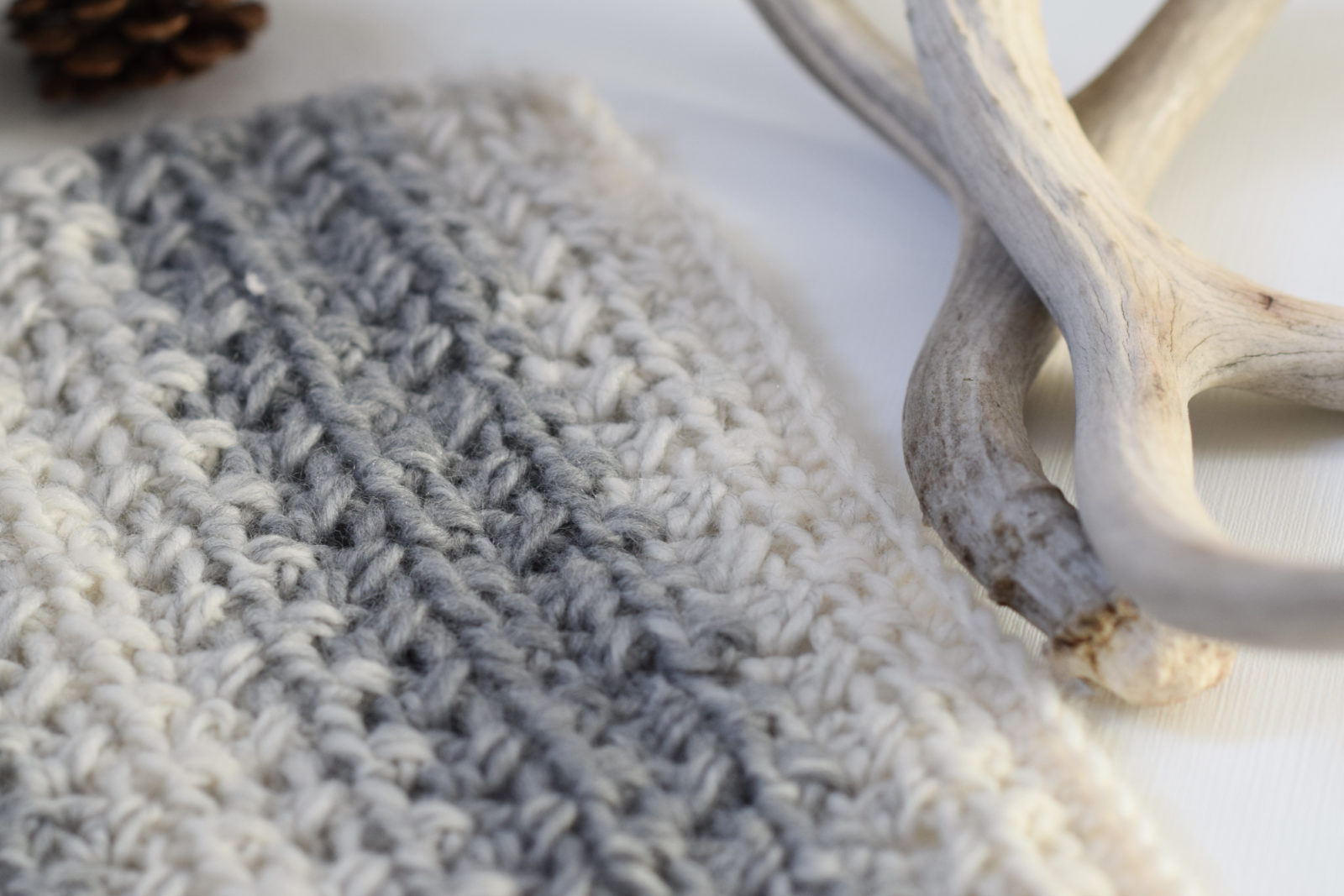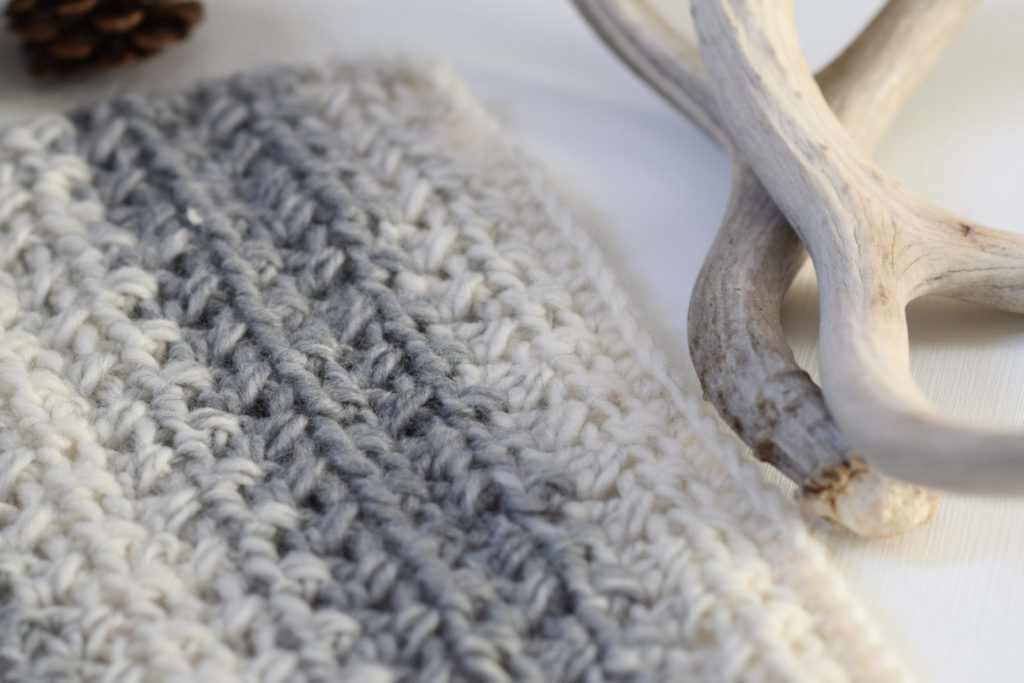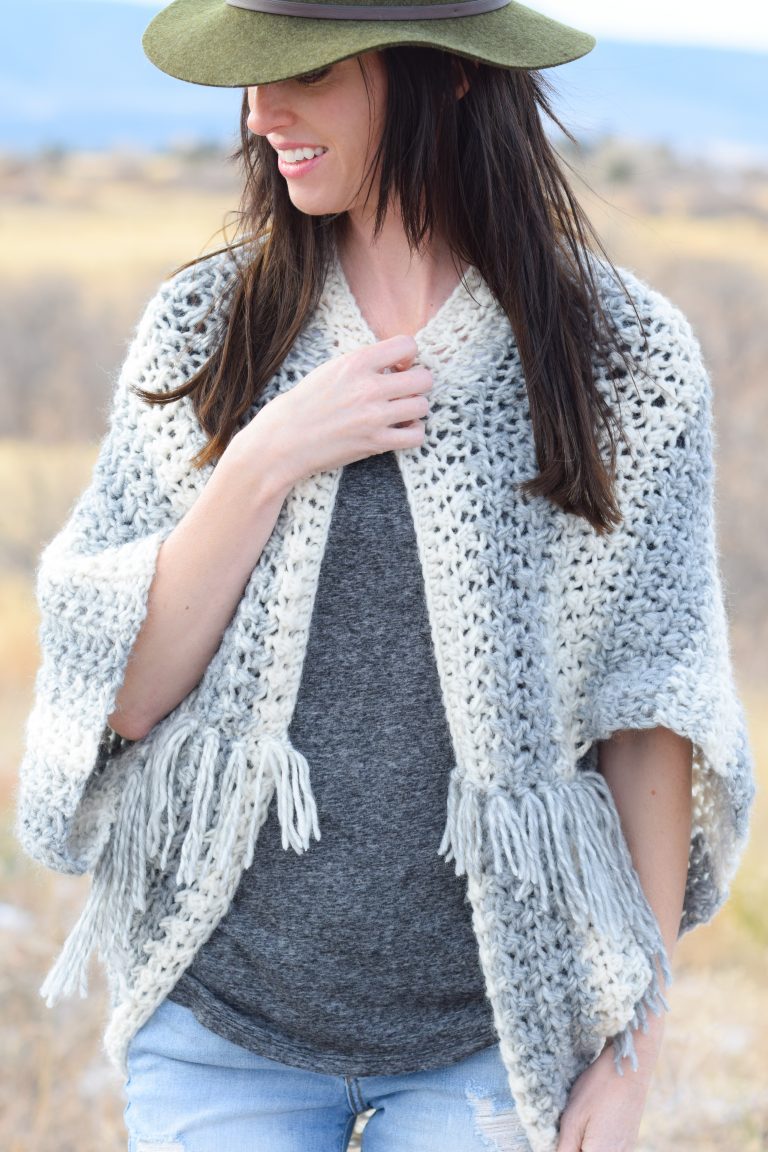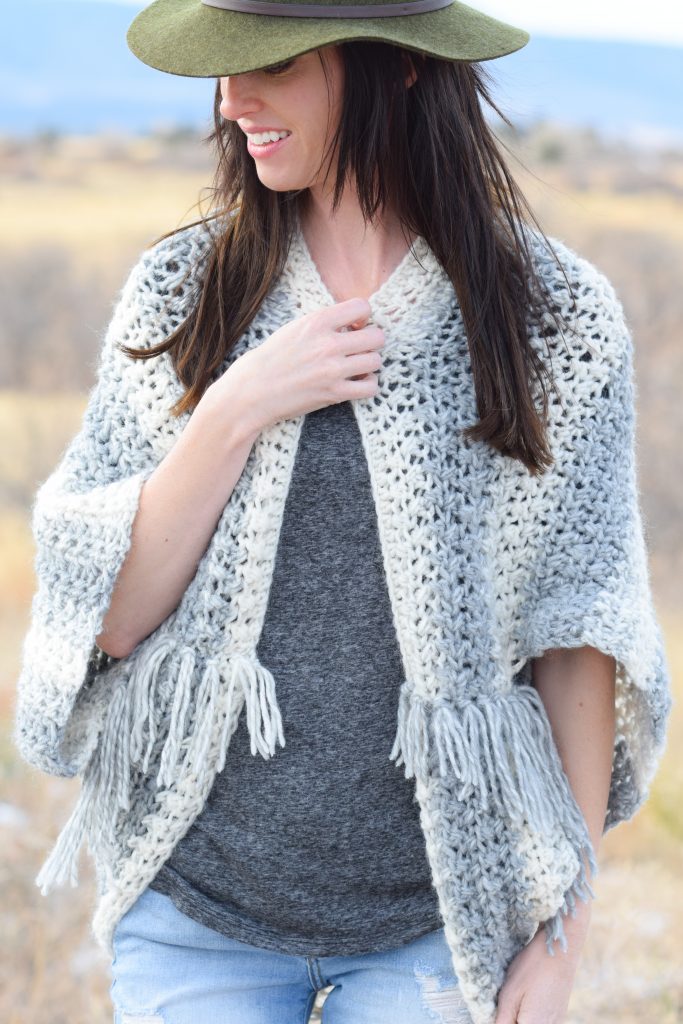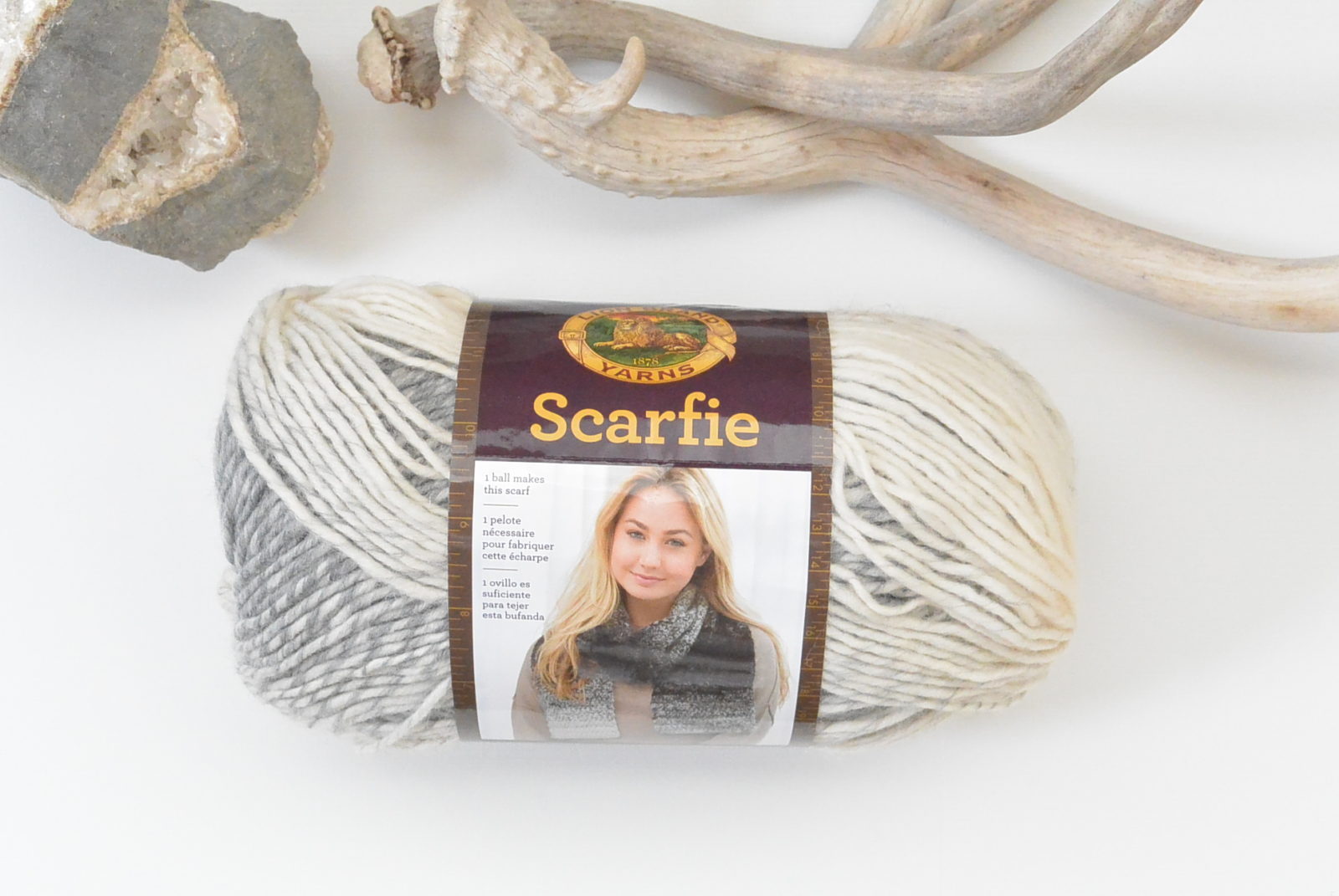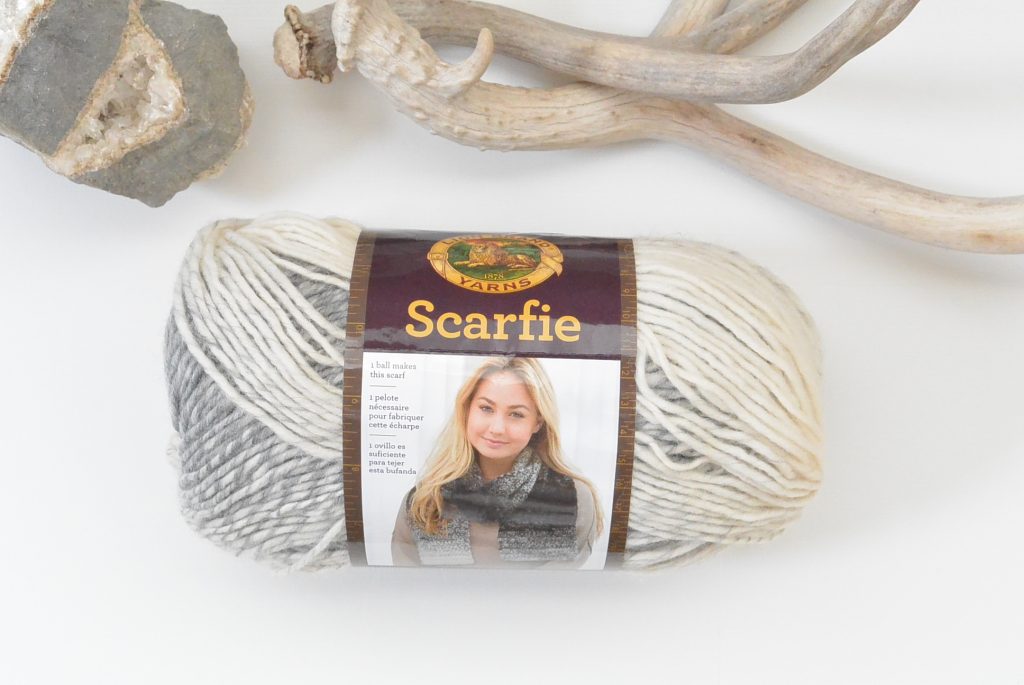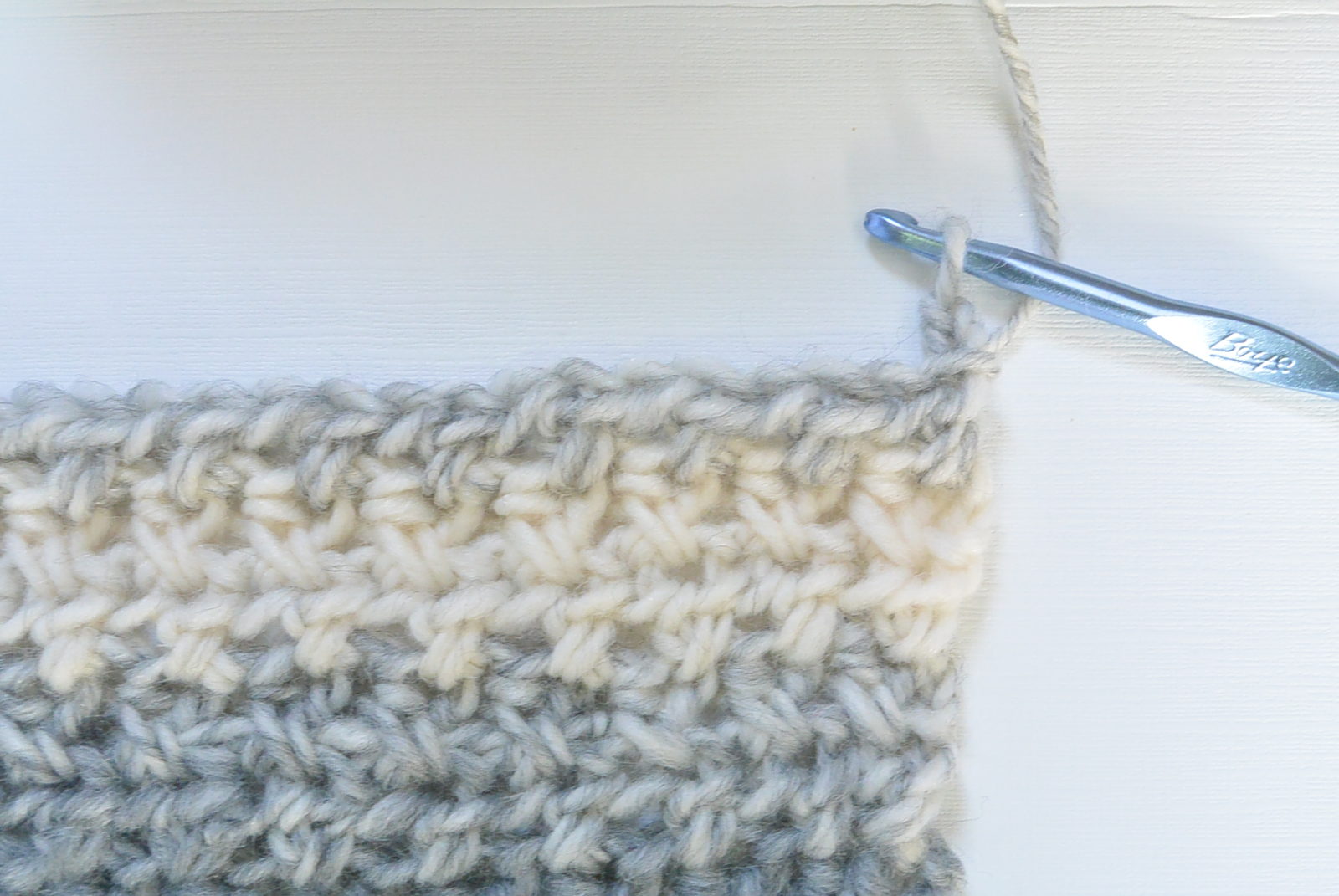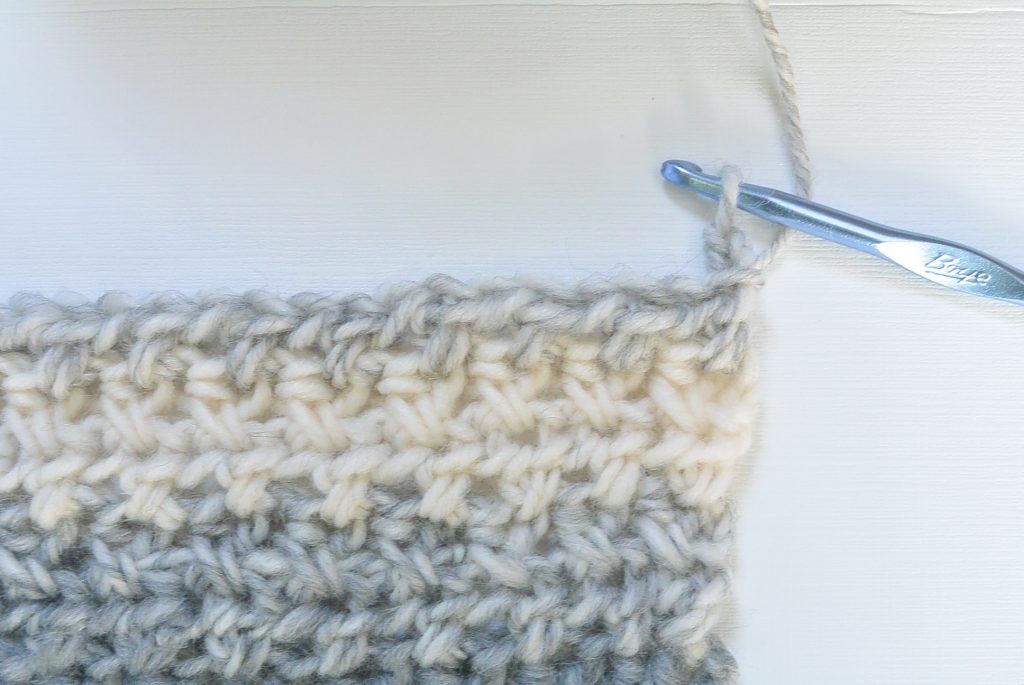 So, you might remember my love for this combo when I made the Mod Heirloom Crochet Blanket that literally took me more than half a year to finish. Lol! I'm the slowest crocheter on planet Earth if I'm making something big. However, this sweater, while not crazy fast, works up quickly being that it's a sweater.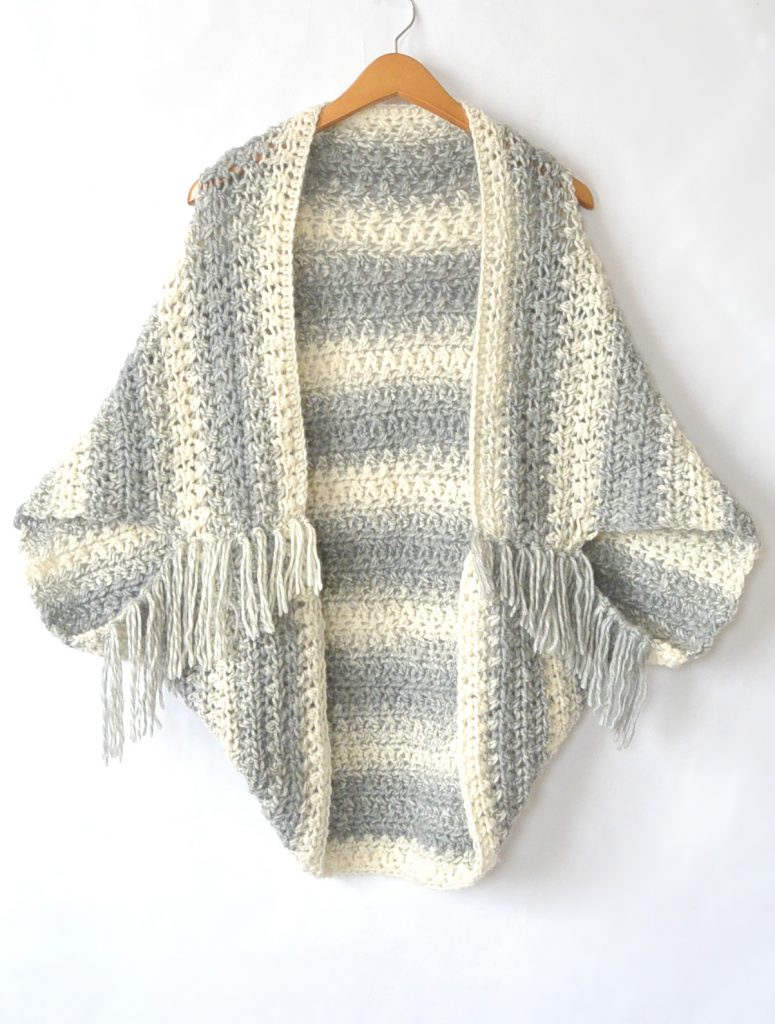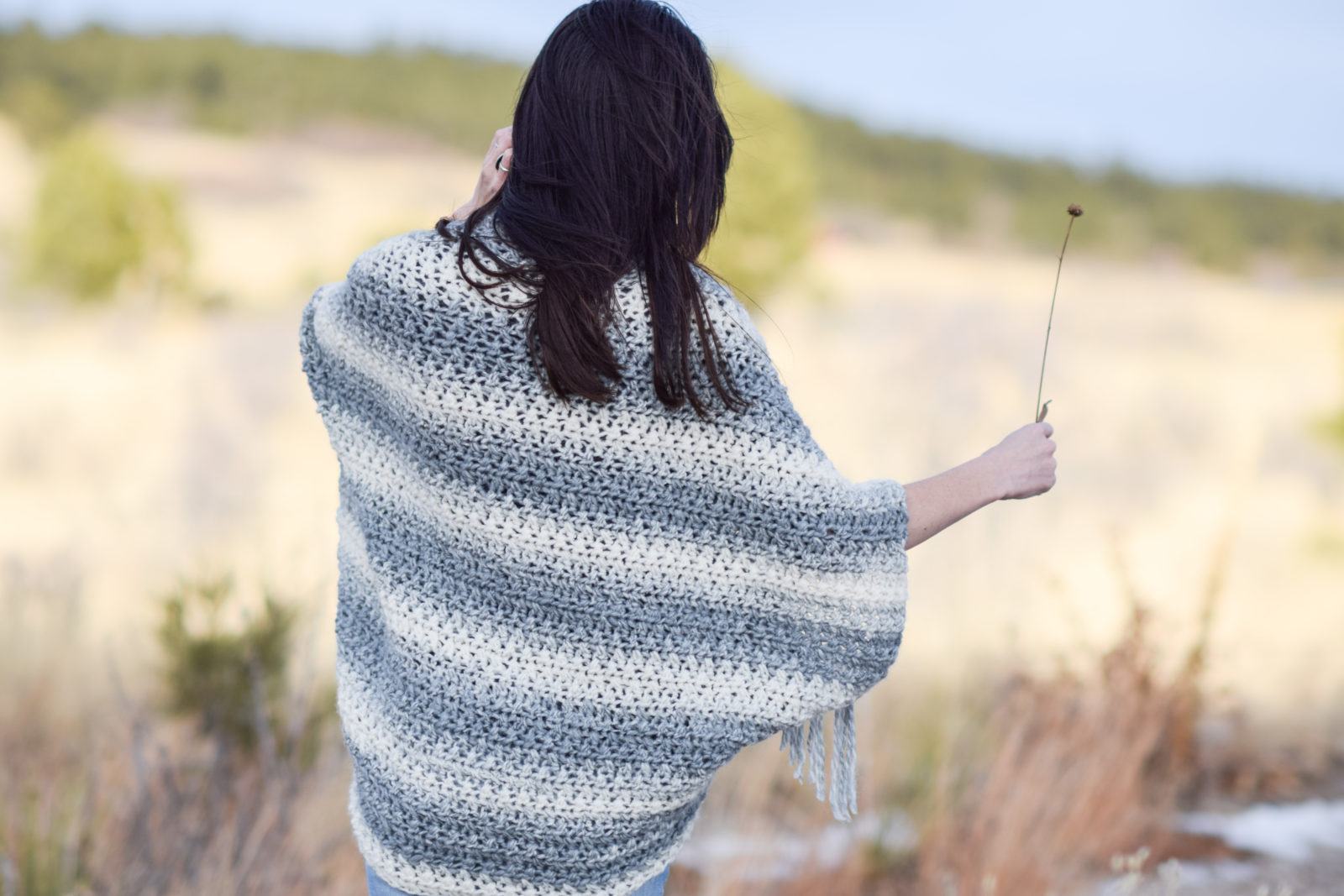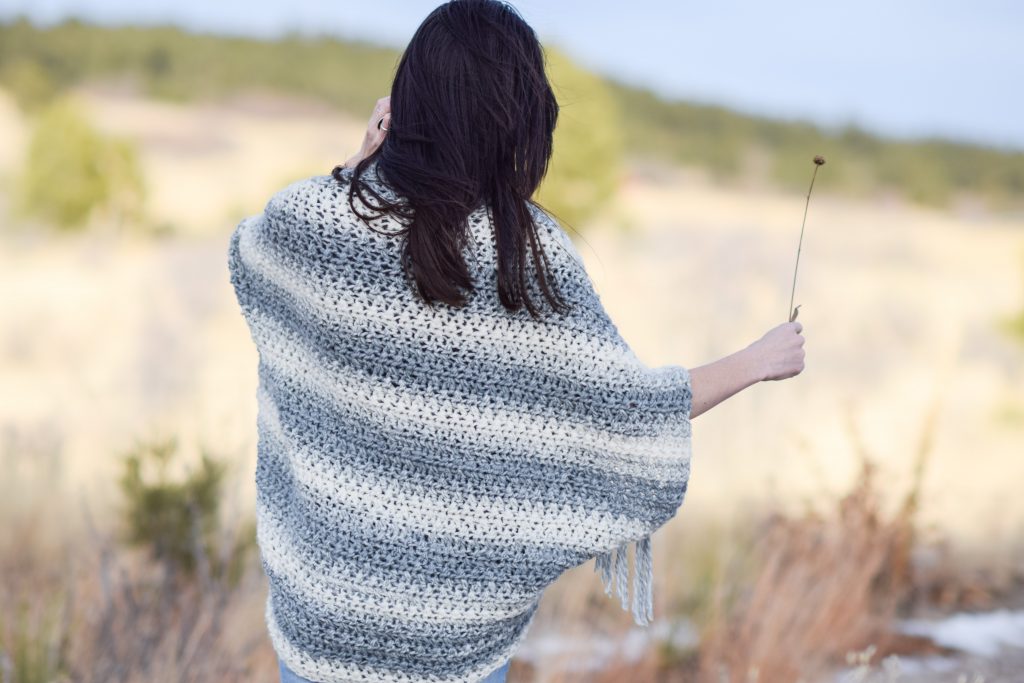 So here we go! Read on to see how easy it is to make this and don't forget to check out the stitch tutorial as well!
Explanation:
This medium weight, blanket sweater shrug is perfect to take off the chill and add some style to your wardrobe. The self-striping Lion Brand Scarfie yarn creates gorgeous soft stripes with an eye catching and unique colorway. The stitch used is a crossed half double crochet which creates a "knit like" look in certain sections of the shrug. The construction is very simple as it's made by crocheting a rectangle that is then seamed at the arms. This blanket sweater is both comfortable and functional for colder months. Attach fringe for a trendy look, or leave the blanket sweater fringe-free to show off the clean, modern striping.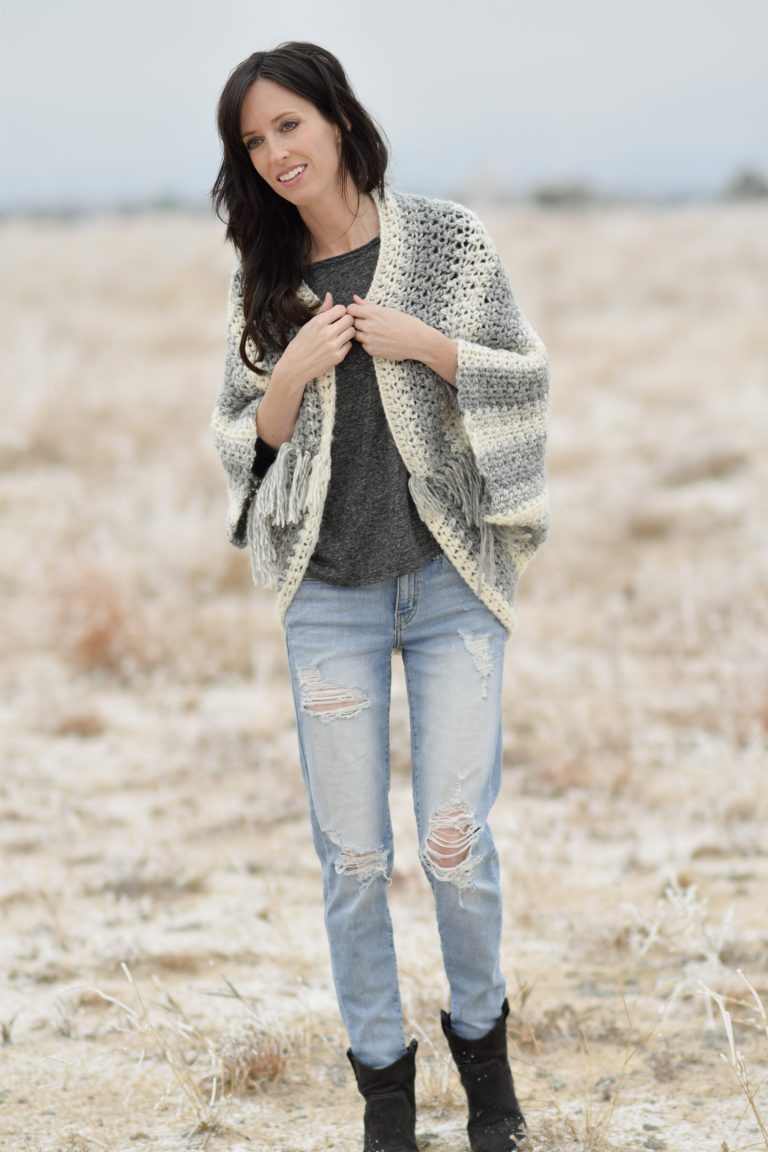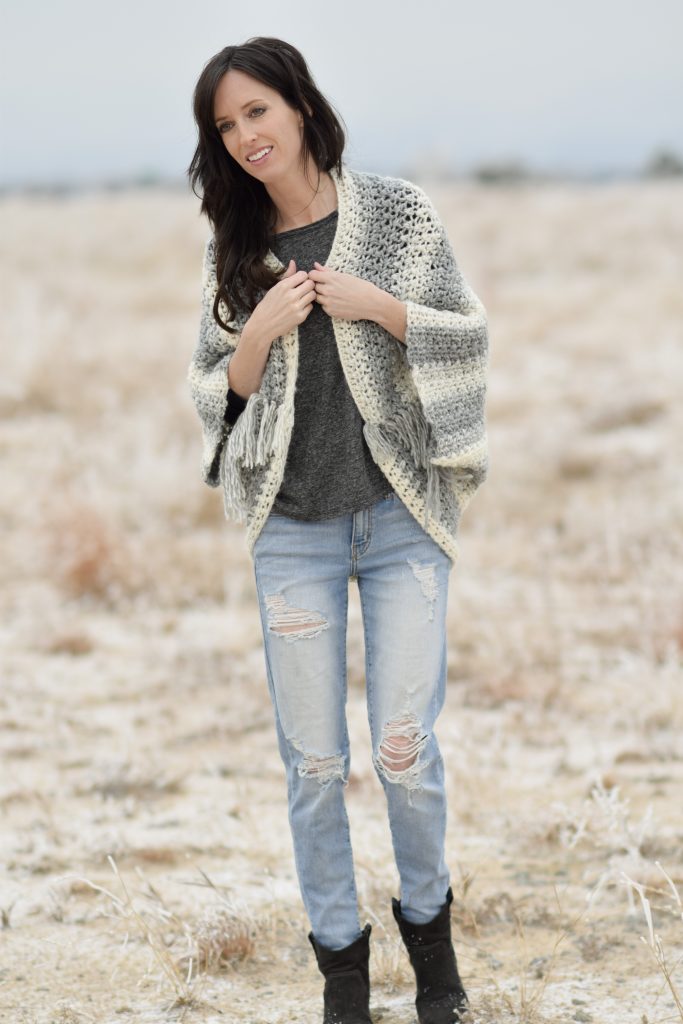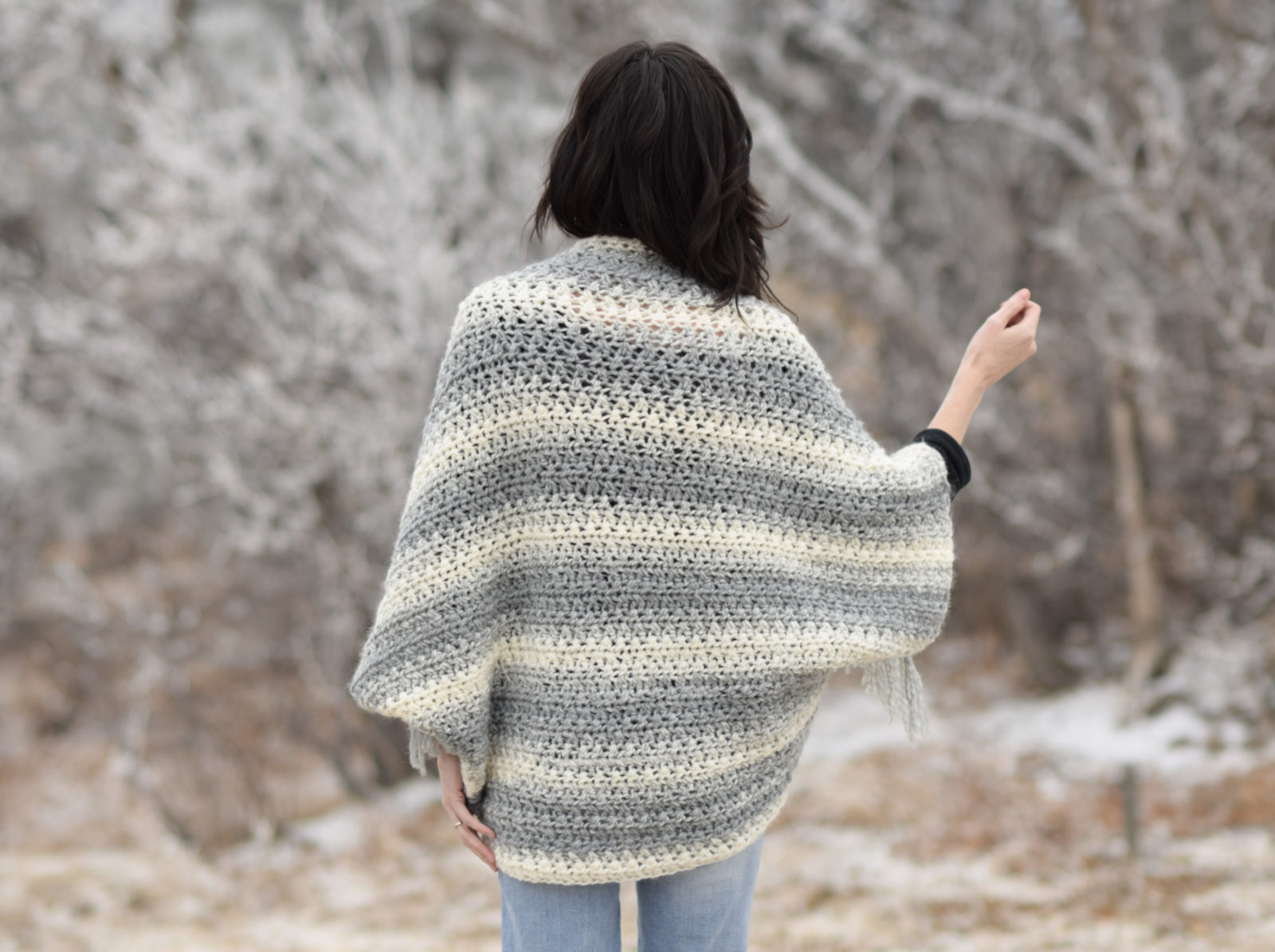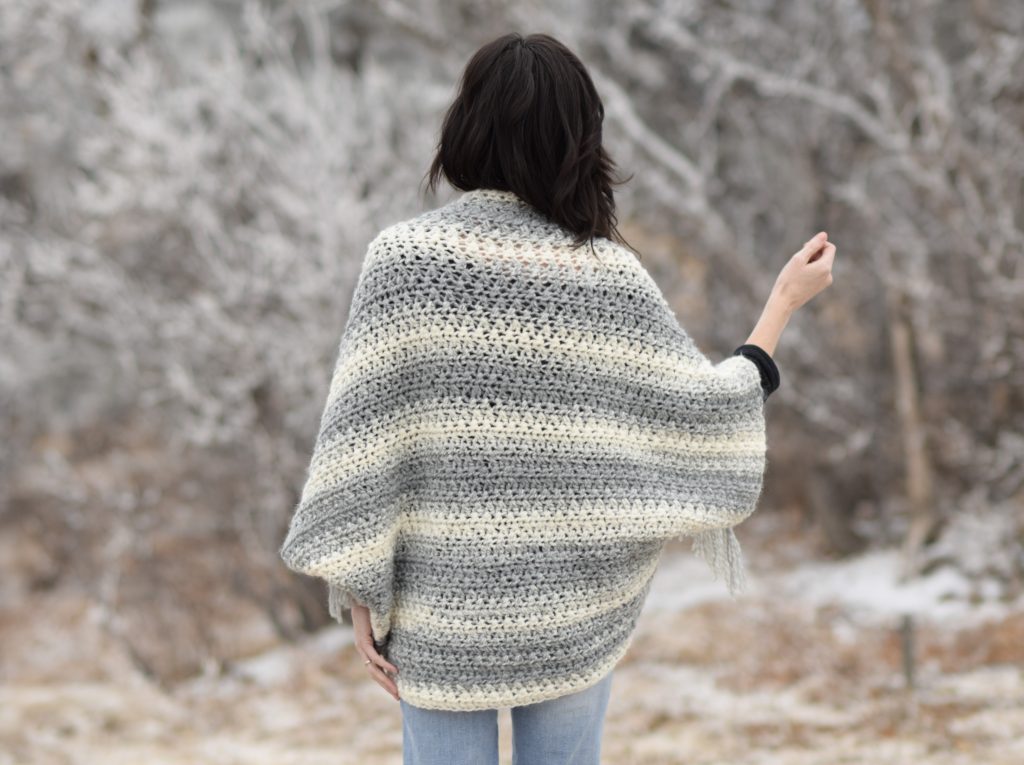 Measurements:
When flat on the floor (as pictured below for seaming), the shrug measures 35" inches from end of sleeve to end of sleeve. It measures approximately 32" inches from top of shrug to bottom of shrug (It stretches slightly downward when worn). This is a one size fits most shrug, though as with any one size fits all top, the fit will vary depending on your size. The sleeves will appear shorter and the shrug will fit tighter on a size large without adjustments. It is pictured on a size small. Adjustments may be made by starting with a shorter or longer chain while keeping an even stitch count. Gauge is listed below. Example possible adjustment for a size large: Increase initial chain by 10 stitches and crochet until piece measures 34" inches from initial chain rather than 32" inches.
Continue to scroll down for the free pattern, or you may purchase an inexpensive, advertisement free, printable PDF pattern on Etsy HERE!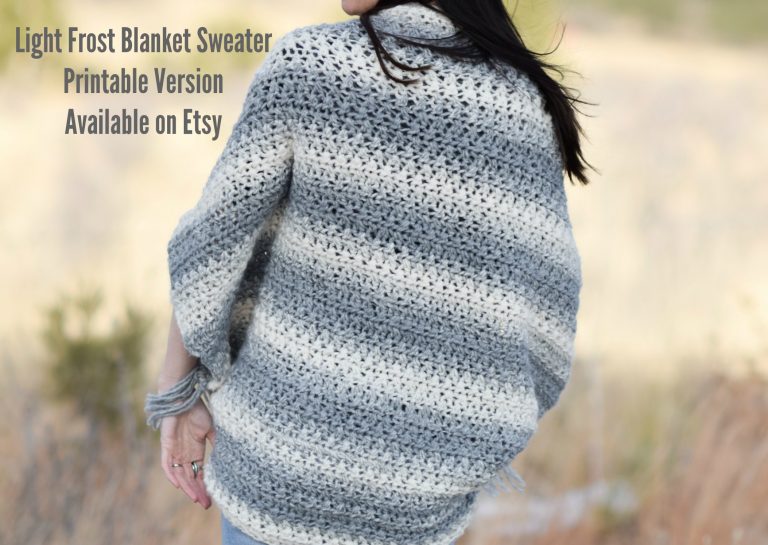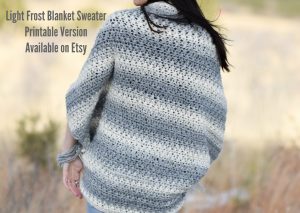 You will need:
US Size K 6.5 mm Crochet Hook
3 skeins of Lion Brand Yarn Scarfie (Bulky Size 5) in Cream/Silver (150 g per skein) This sweater uses 354 grams of yarn including fringe detail (Note: Some readers have told me that they haven't found this color in stores.
You may also choose to purchase the kit from Lion Brand, which includes all of the yarn needed for the pattern as well as a copy of the pattern HERE.
Scissors
Tapestry needle to weave in ends
Gauge:
Gauge is just over 2.5 stitches per inch
Skills & Abbreviations:
ch – chain
hdc – half double crochet
skip stitch
Notes and Tips:
The pattern is created by making half double crochet stitches, skipping a stitch, then going back to the skip stitched to make another half double crochet stitch (see picture tutorial below). Before beginning this project, you may want to practice on a small swatch by chaining an even number of stitches and following the stitch pattern below.
*Tip – Count your stitches every couple of rows to ensure that you are not increasing or decreasing by accidentally placing the crossed half double crochet stitches in the incorrect location.
*Some skeins of the Scarfie yarn might perfectly blend with each other, meaning that you end on a grey stripe and the next skein starts with cream for perfect striping. However, if your skeins don't line up in this manner, ball up the yarn that doesn't match and save it for later. For example, if you just finished a skein ending with a grey stripe, but your next skein begins with the grey, you will want to ball up that grey section, save it, and begin with the cream.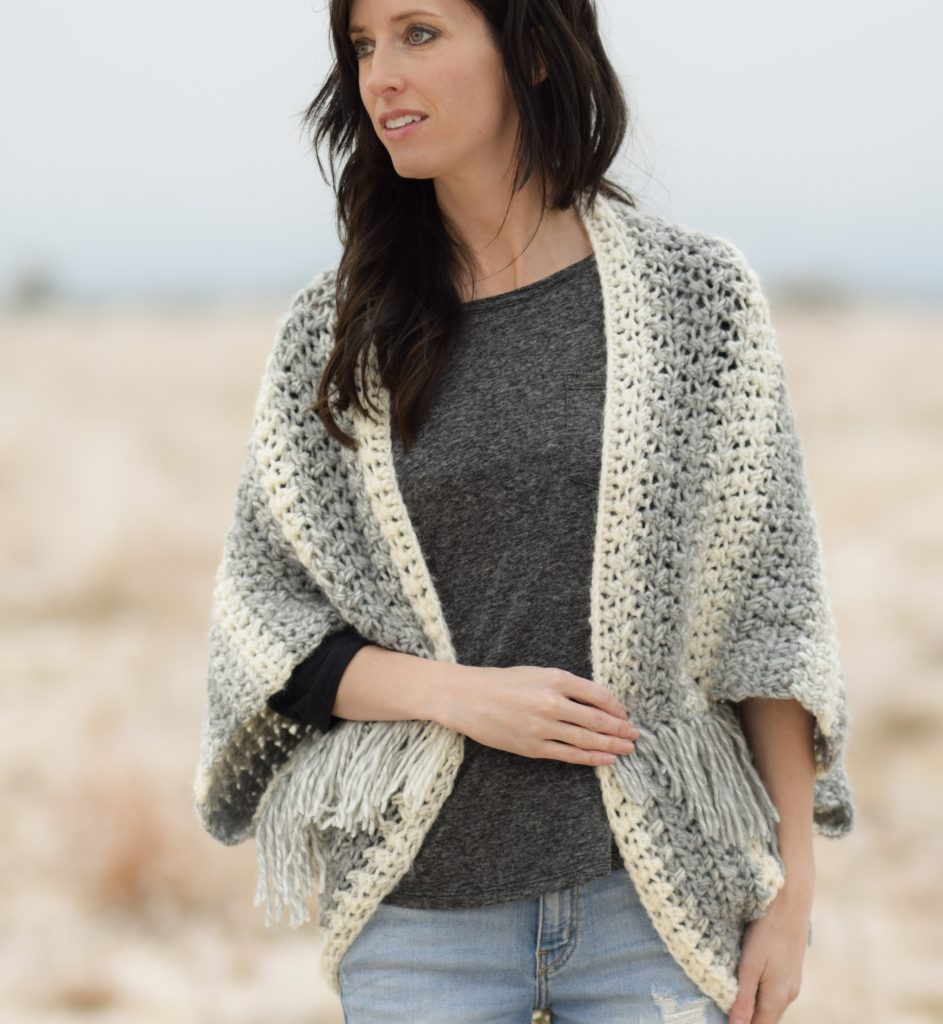 Pattern:
Ch 98
Row 1 Half double crochet (hdc) in 3rd chain from hook and each stitch across row. (96 stitches)
Row 2 Ch 2, *skip the next hdc, hdc in the next hdc, then hdc in the skipped hdc*. Repeat from * to * across. (96 stitches) Turn.
Repeat row 2 until your piece measures approximately 32" inches from top to bottom. Refer to stitch picture tutorial below for additional help
Tie off and weave in all ends. Proceed to assembly.
Be sure to see my tutorial for the crossed half double crochet stitch HERE.


Assembly and finishing:
Place piece flat on the ground lengthwise like a hot dog. Fold in sides as pictured below. Attach yarn to the end of sleeve and seam with a slip stitch, 5.5″ inches in on each side. I only grabbed one "leg" of each stitch from both sides to create less bulk at the seam. I imagine that a whip stitch could work well here too if you prefer. The fabric is reversible, but seam on the wrong side of the sweater so that you will turn it inside out after seaming. Tie off and weave in ends.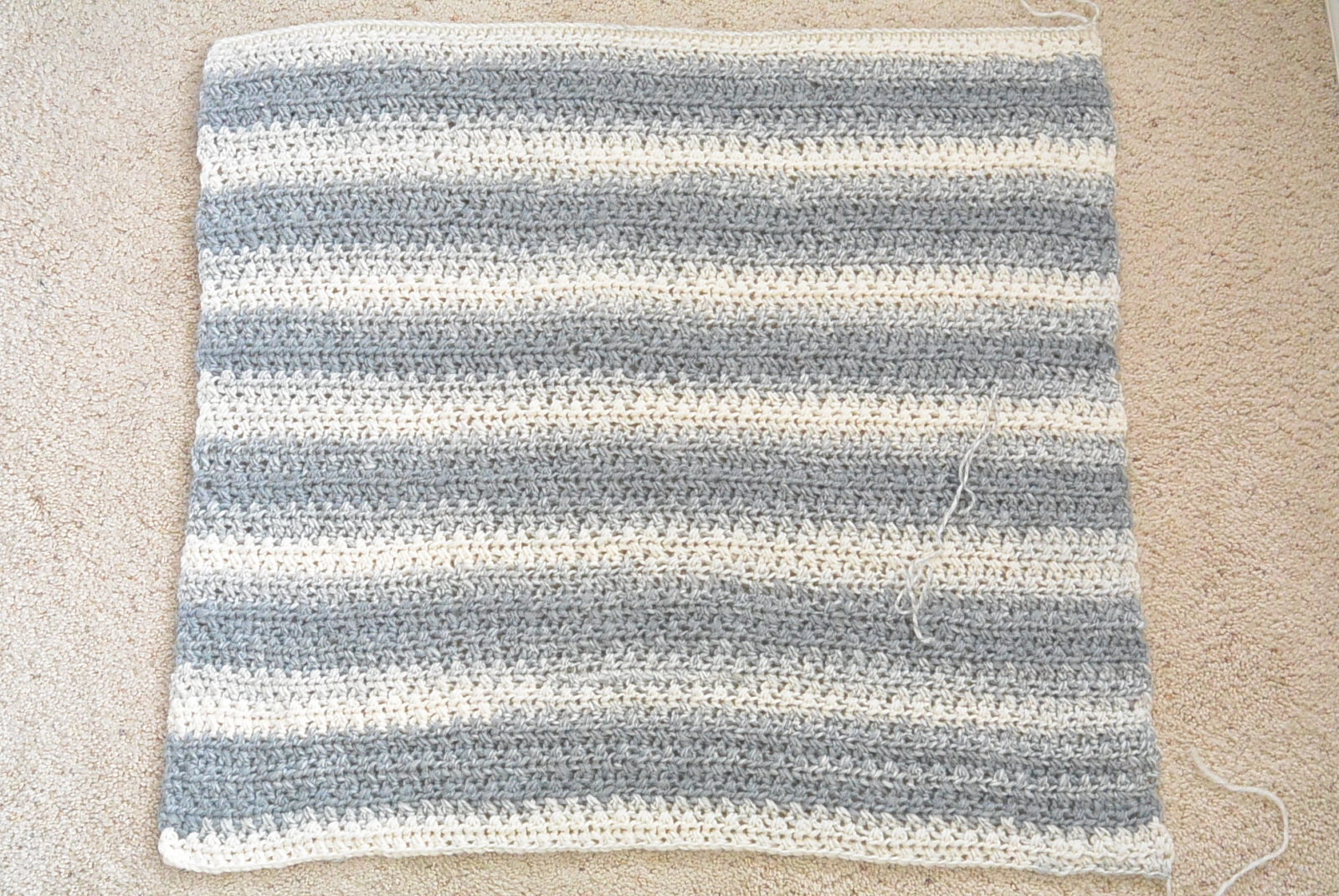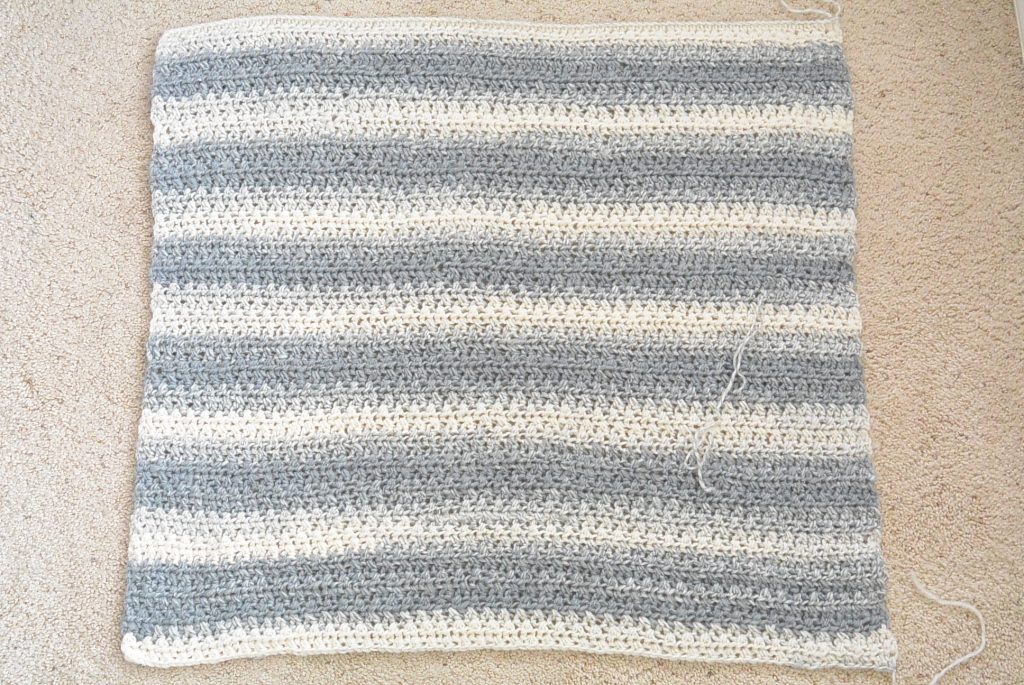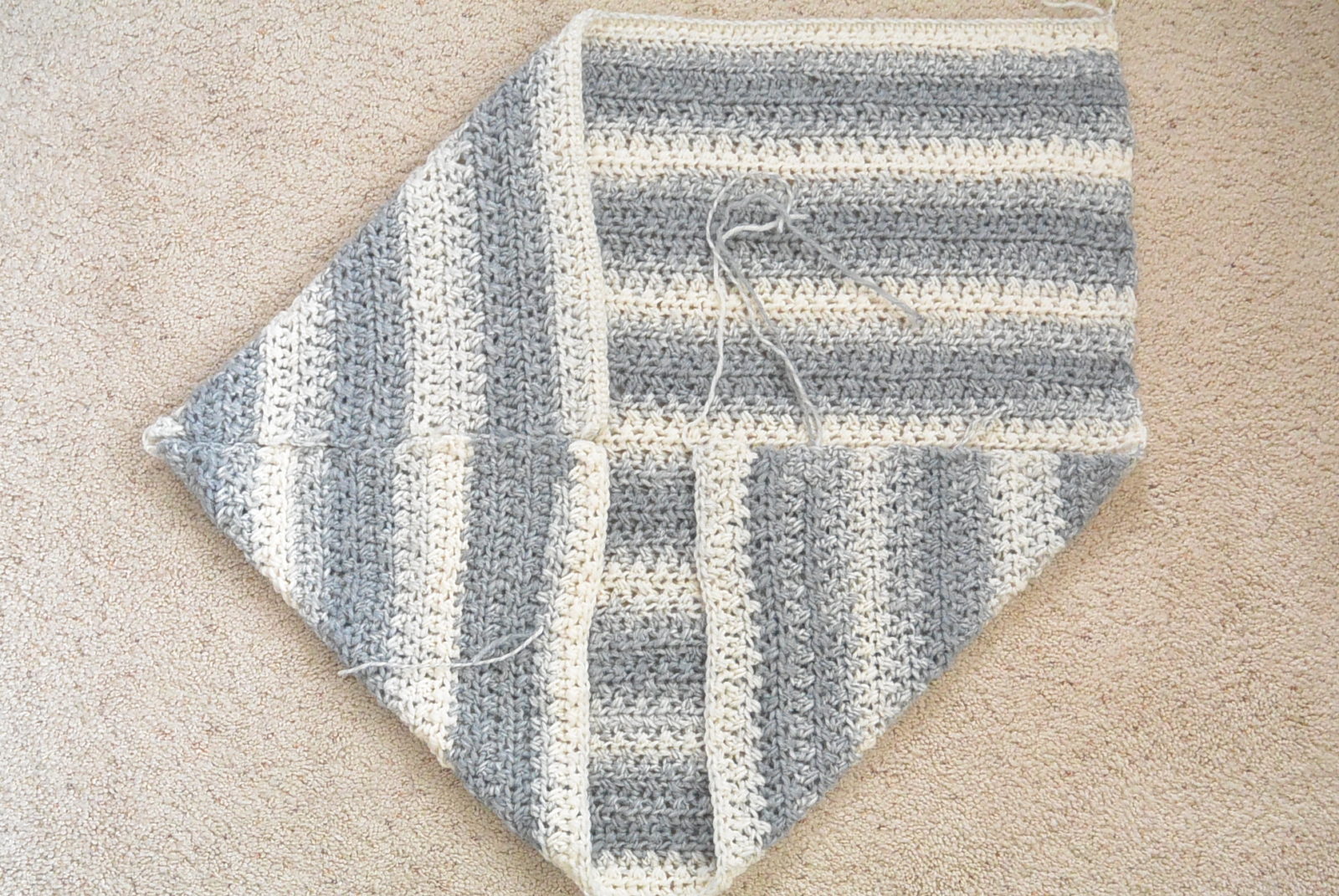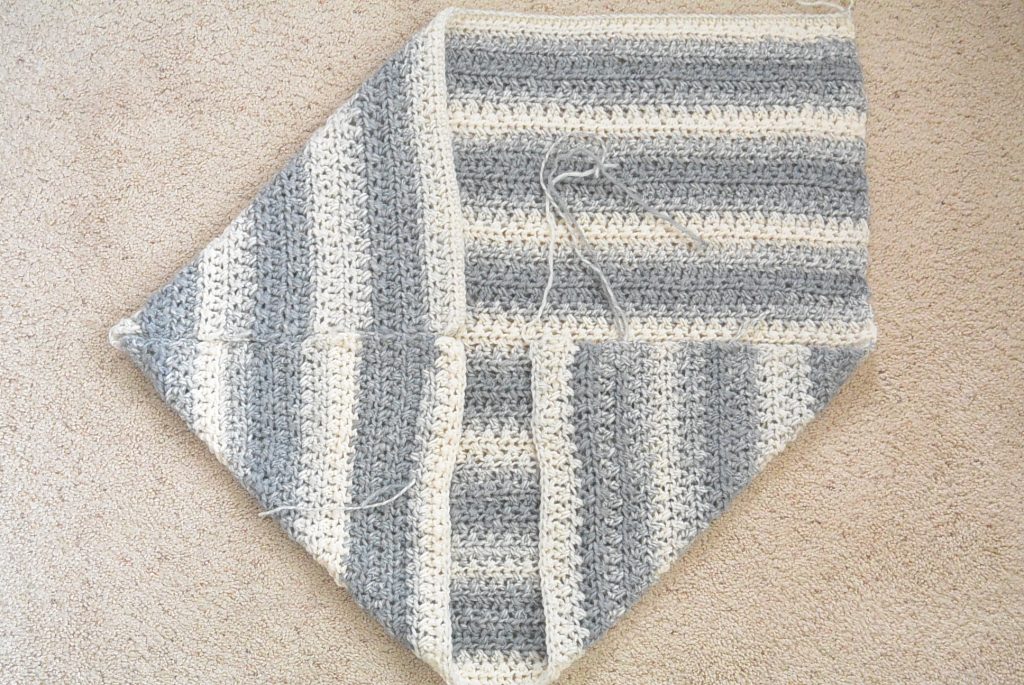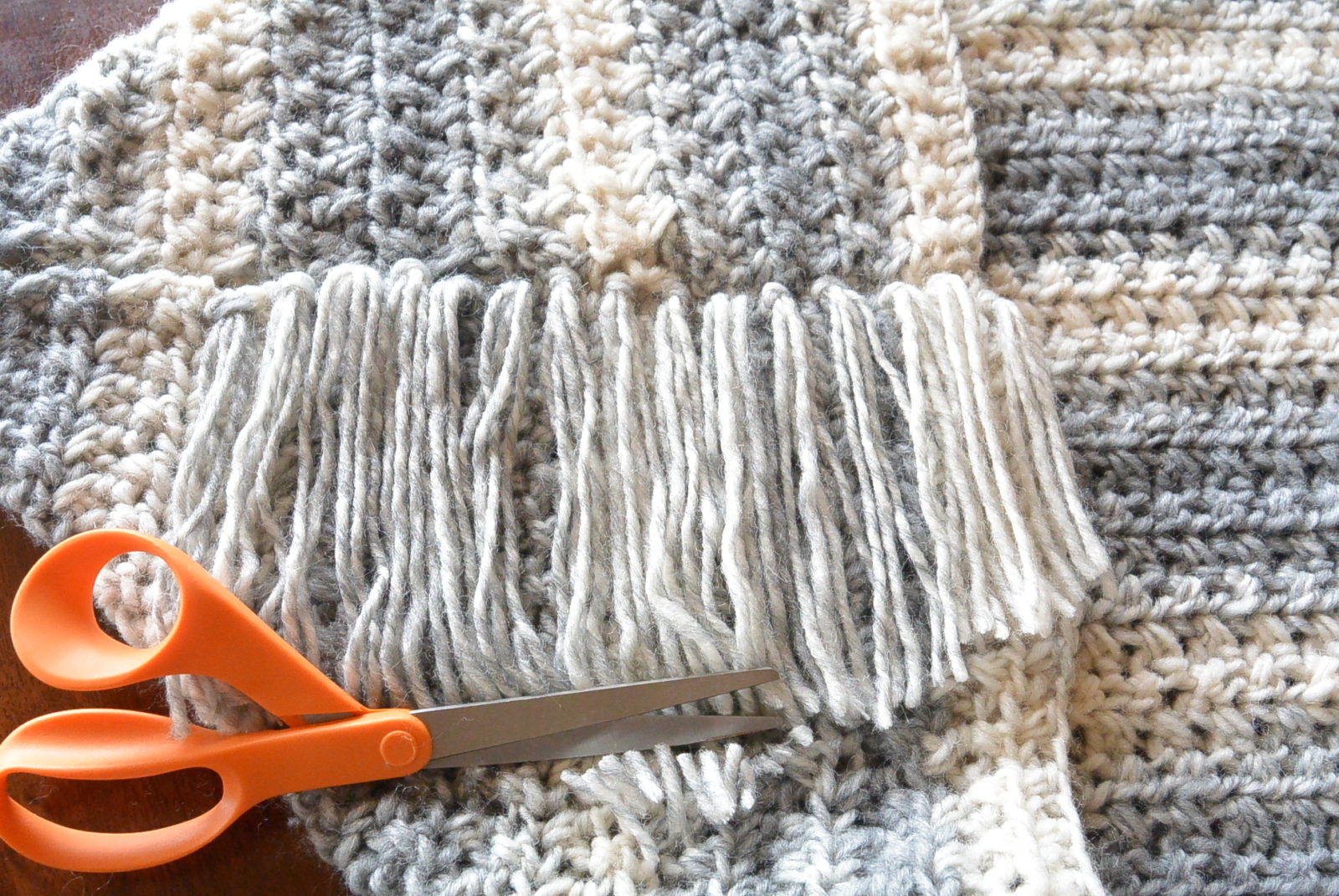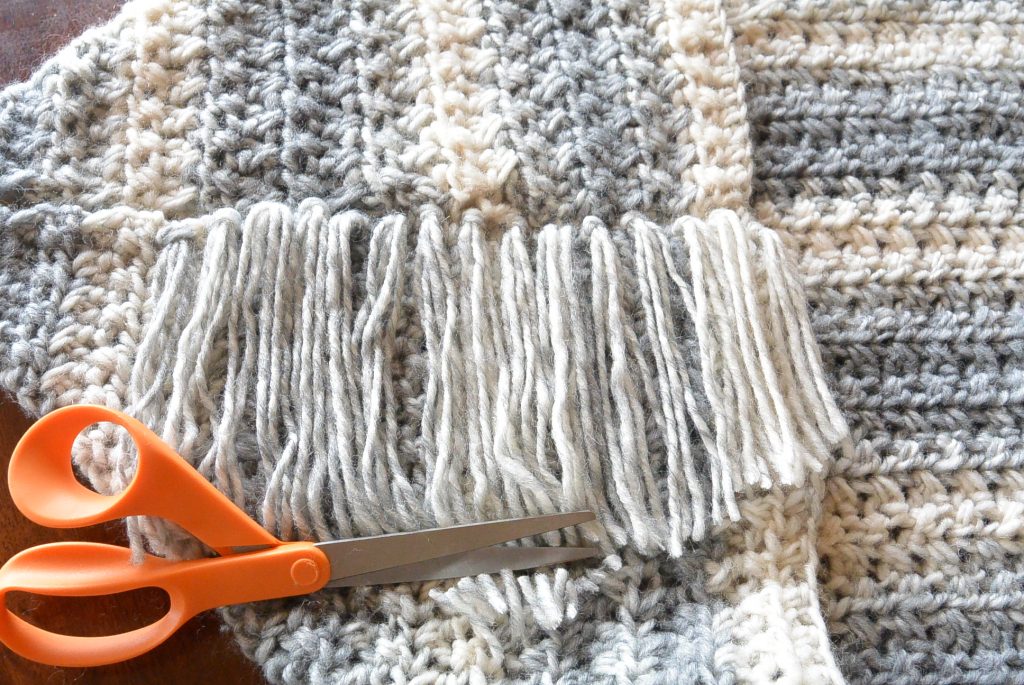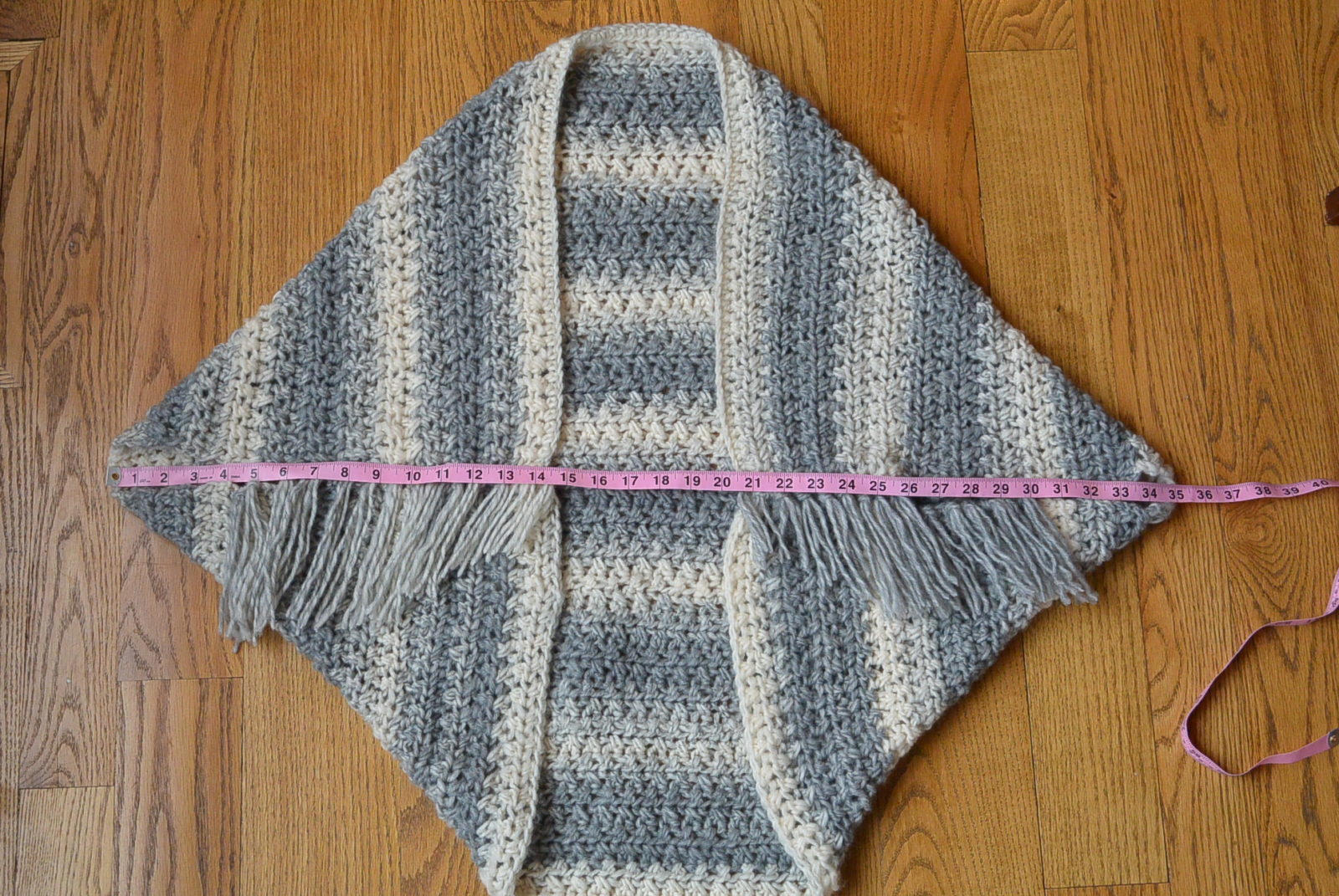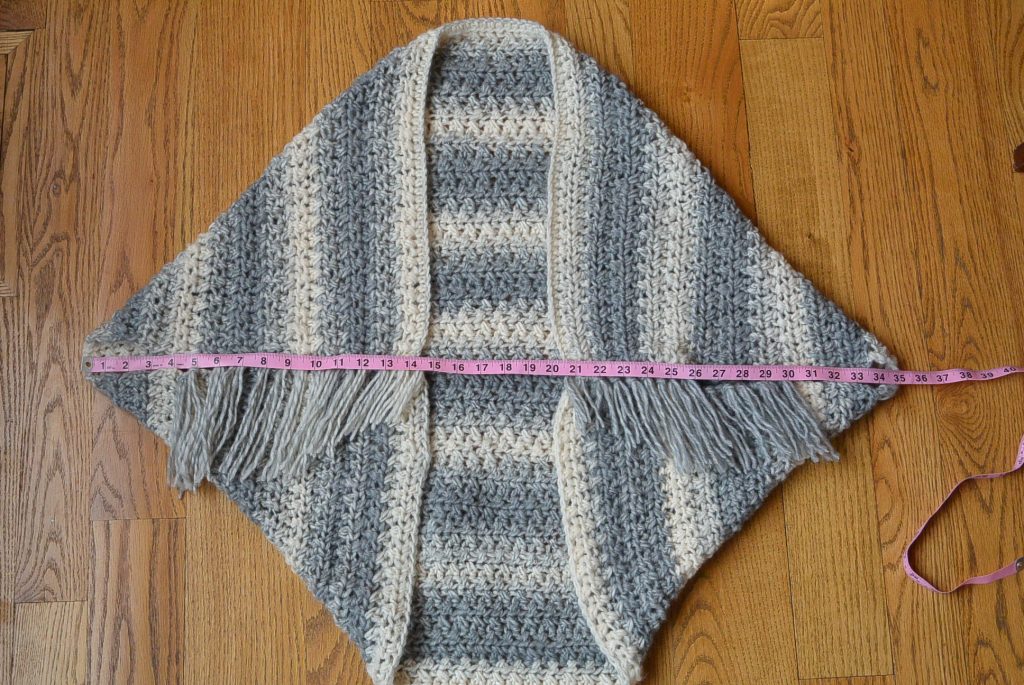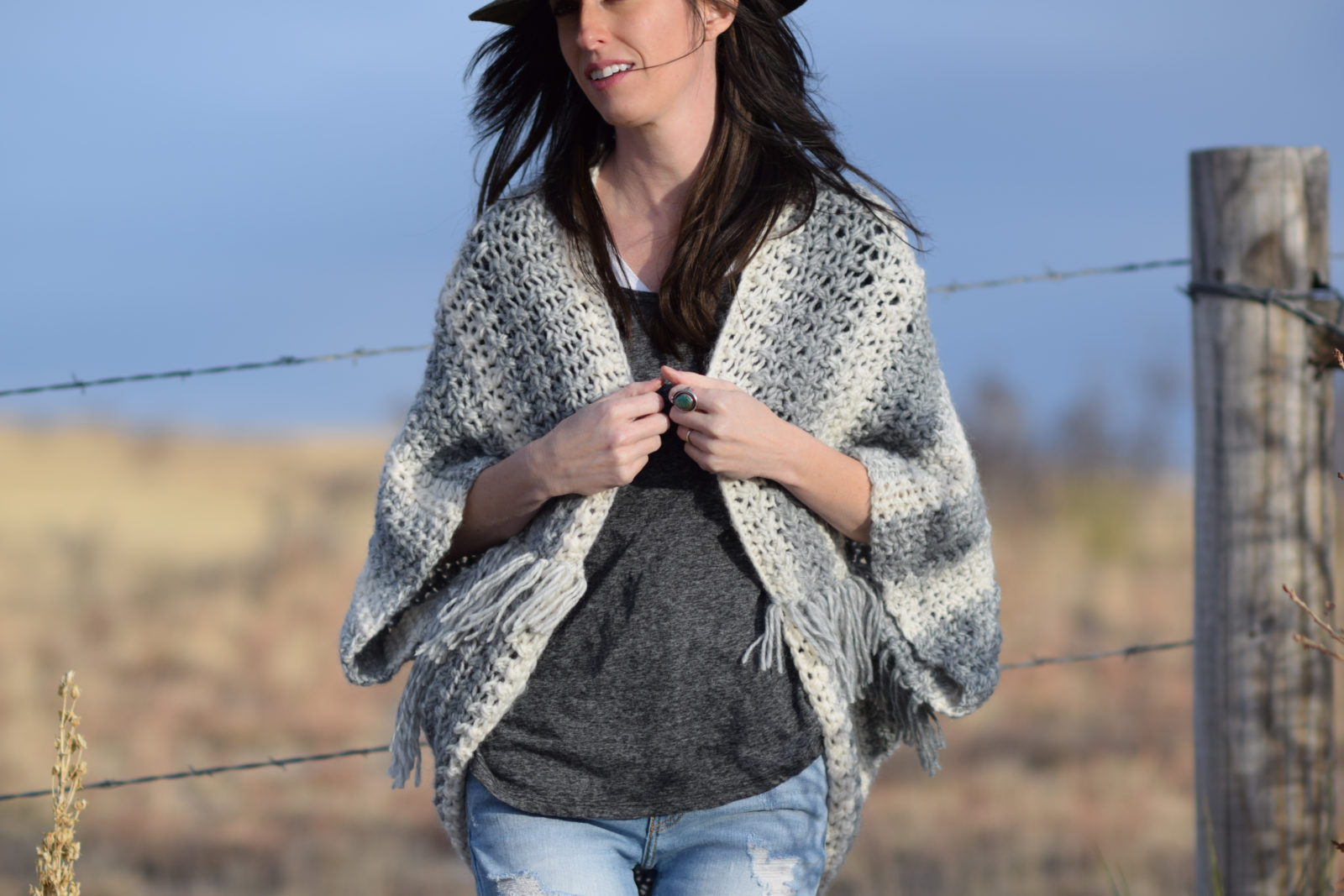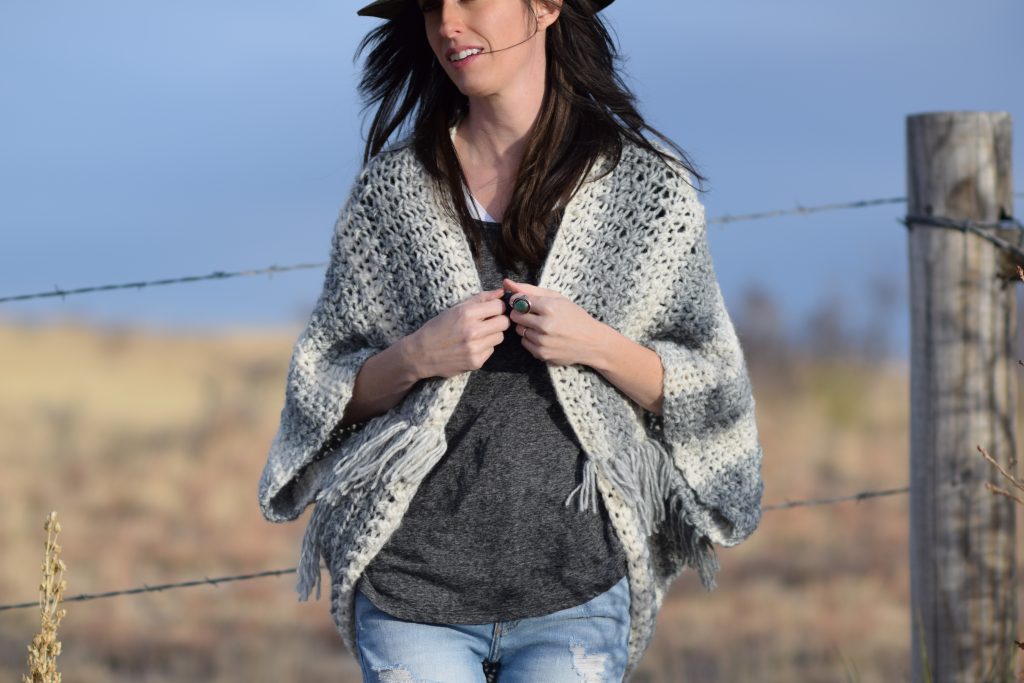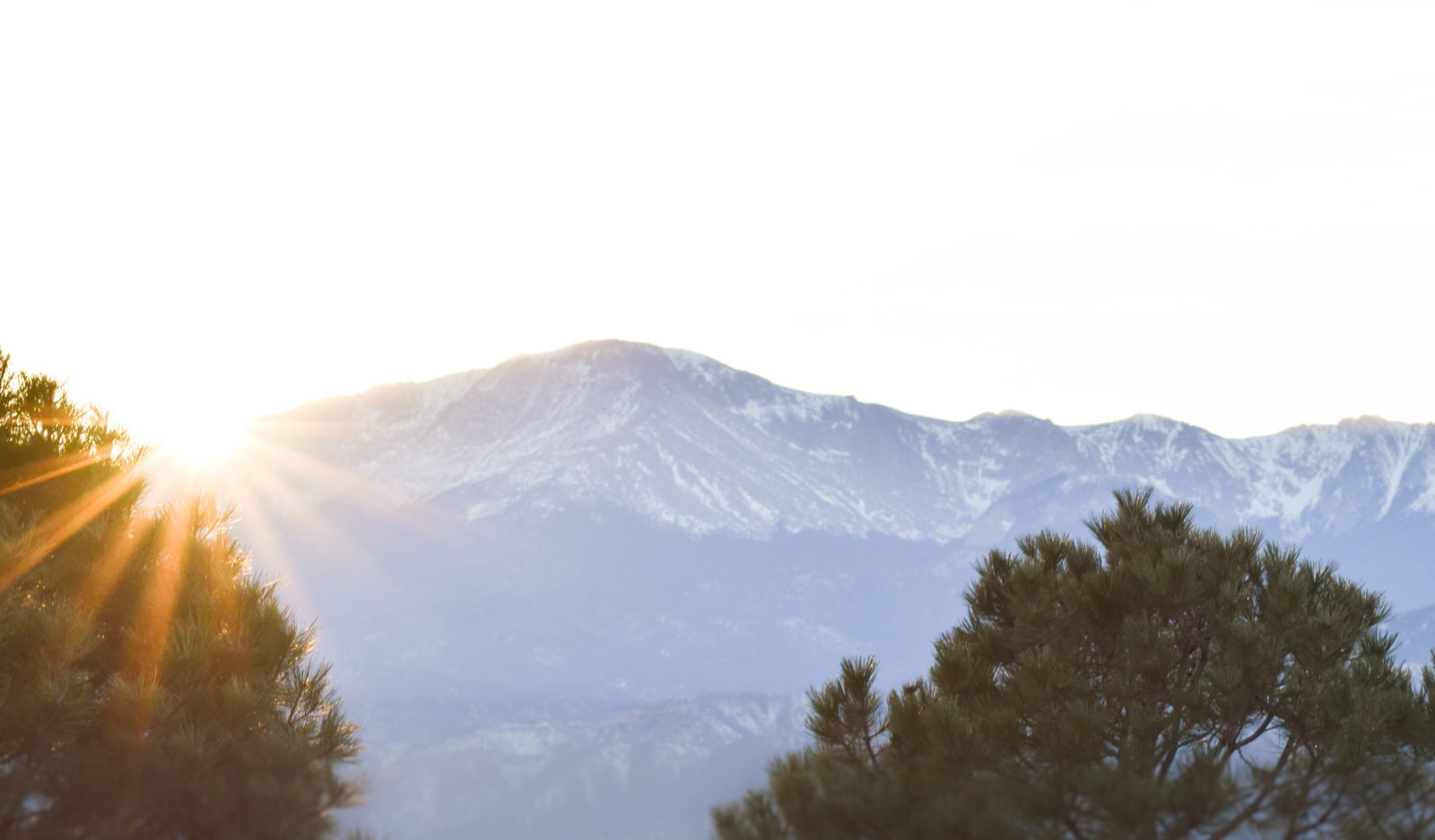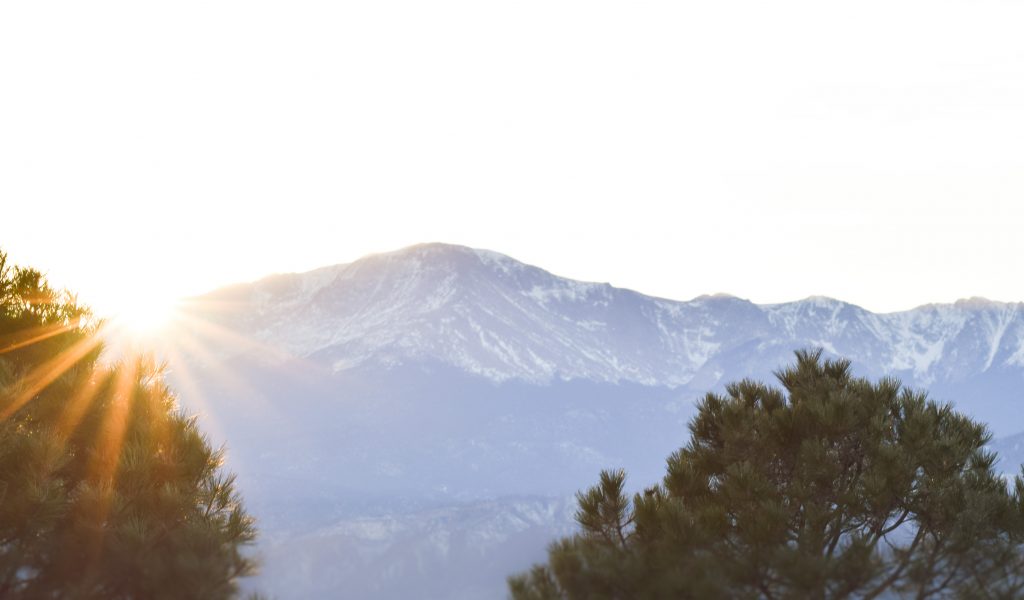 I sure hope that you've enjoyed this project! If anything, you might have a new yarn that you'd like to try. 🙂
XO
Jessica
Thank you to Lion Brand Yarn for sponsoring this post. All opinions are 100% my own.