How To Make A Rainbow Blanket with Loop Yarn – Free Pattern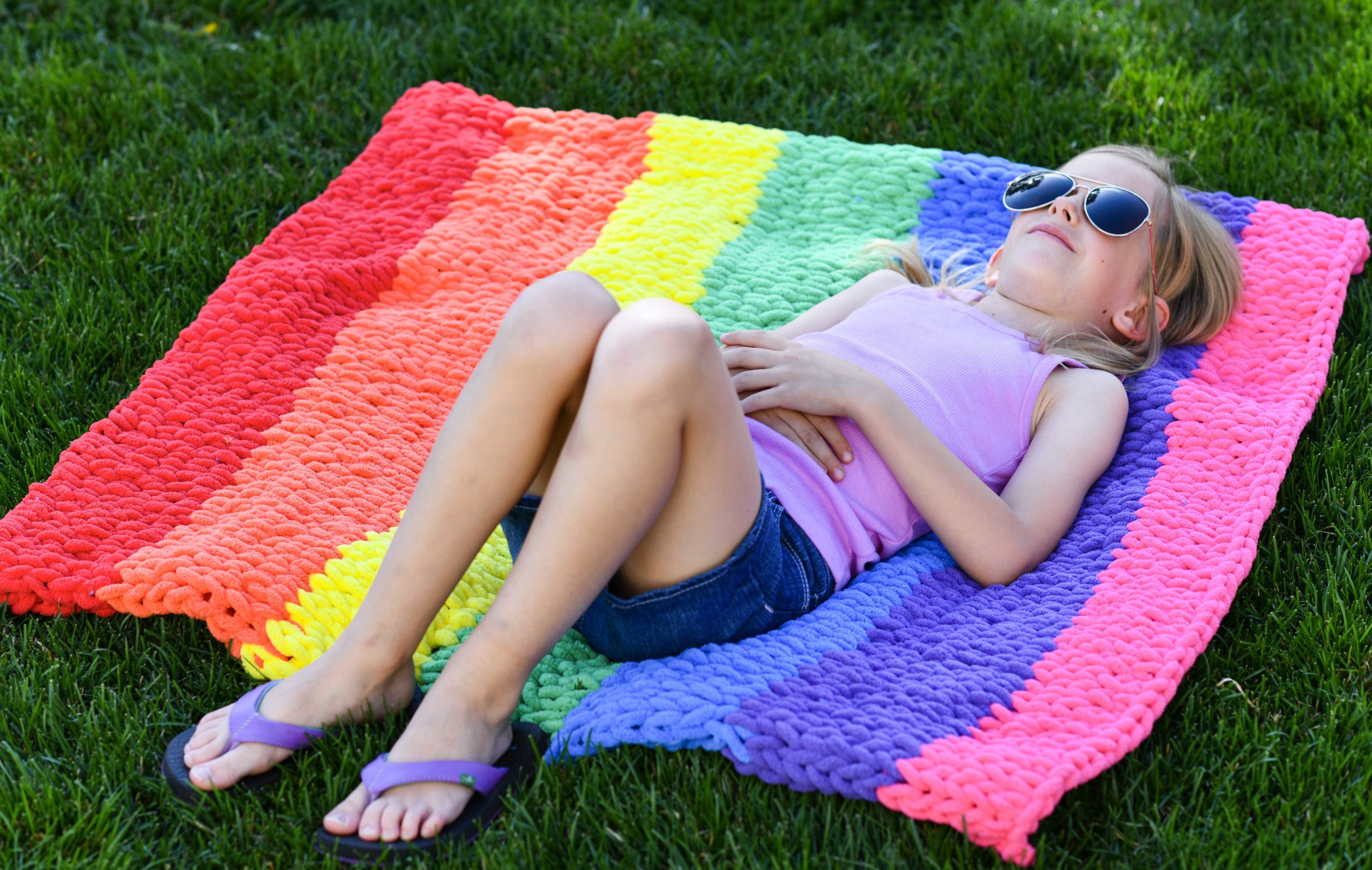 This is such a fun blanket and guess what….I didn't design it! The idea for this blanket came straight from my seven year old daughter. 🙂 The Lion Brand Crayola Off The Hook Yarn (here) makes it easy to create a knit-look blanket without the need for a single knitting or crochet skill. It was simple enough for my baby girl to help make it and it was fun for me too!
As a mama to a little one, let me tell you, most little kids love rainbows! This blanket is great for boys or girls and they will have a ball helping to make it. And if your kiddo likes different colors, it's easy to mix and match whatever colors he or she likes best. If you follow my blog, you know it's rare to see a lot of bright color here! Ha! But when it comes to kids, they love bright. You might remember the Native Stripes Knit Blanket or the Modern Camp Blanket, both of which I made for my girl and both of which are BRIGHT! Anyhoo, you can see a full, picture tutorial as well as a video tutorial below to help you make this blanket. You may also choose to purchase the ad-free, printable tutorial with all important photos HERE.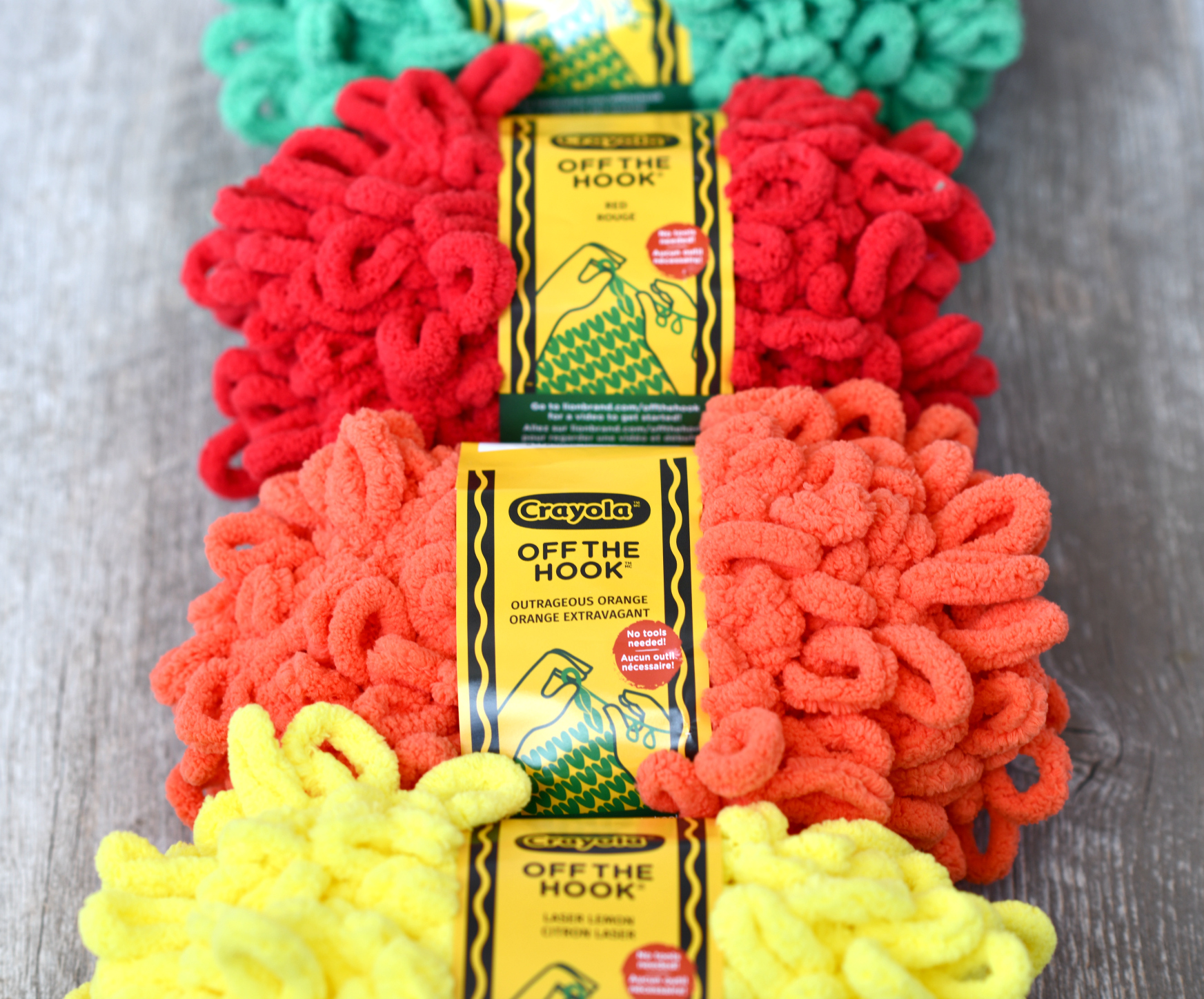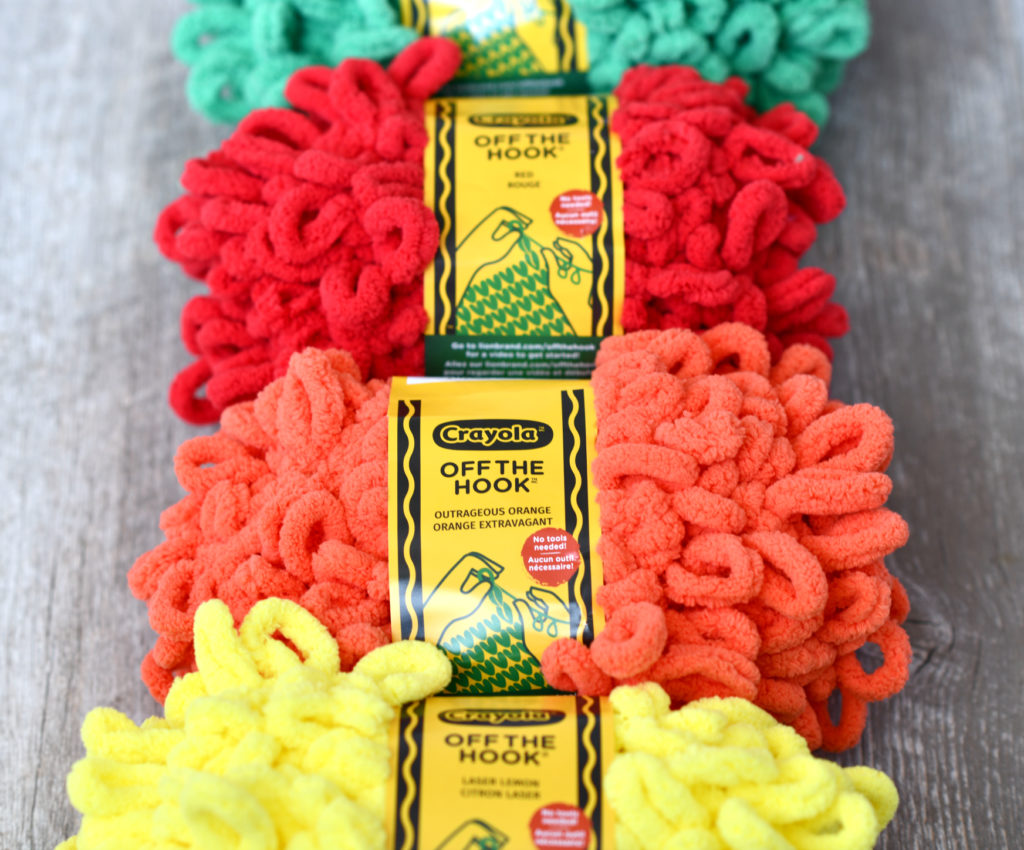 Before I get into how we made this, I want to point out some of the features that we love about this blanket. The yarn is soft and squishy as can be, which of course creates a squishy soft blanket. It's also machine washable and dryable making it perfectly suited to use on your outdoor adventures. I can't tell you how much my girl loves her new blankie! She currently has it on her bed and will be using it all summer long for picnics. It'll be really nice to take the the pool as well and if you're lucky enough to be near a beach, it would make a lovely beach mat. (Wish there was a beach in Colorado. Boo!)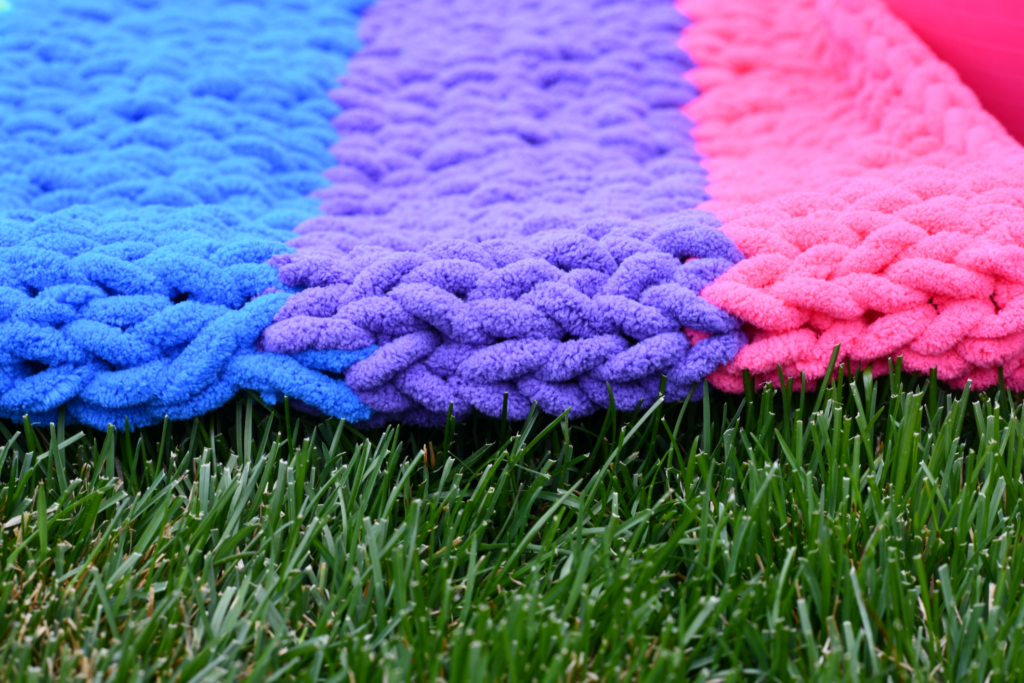 And while we decided to make a blanket which is a fairly big project, there are so many small things you could make as well! Other ideas we had were:
Toss pillow (just make two squares, stuff and seam)
Little Blanket for doll or stuffed animal
Kids Scarf
Headbands
Like I mentioned previously, she chose to make it in all the colors of the rainbow (and in the correct order of all the colors of the rainbow). She's very particular! It's really fun to let your baby pick the colors that they like and go for it. While Emilia loves the rainbow, maybe your boy loves blue and green. Of course, purple and pink stripes would be super fun for a girl. Go with whichever colors your little one likes best!
This was something that we could work on together for a while, then set it down to work on the next day. It was fun to change colors and see how the blanket developed into the rainbow. I hope you enjoy it too!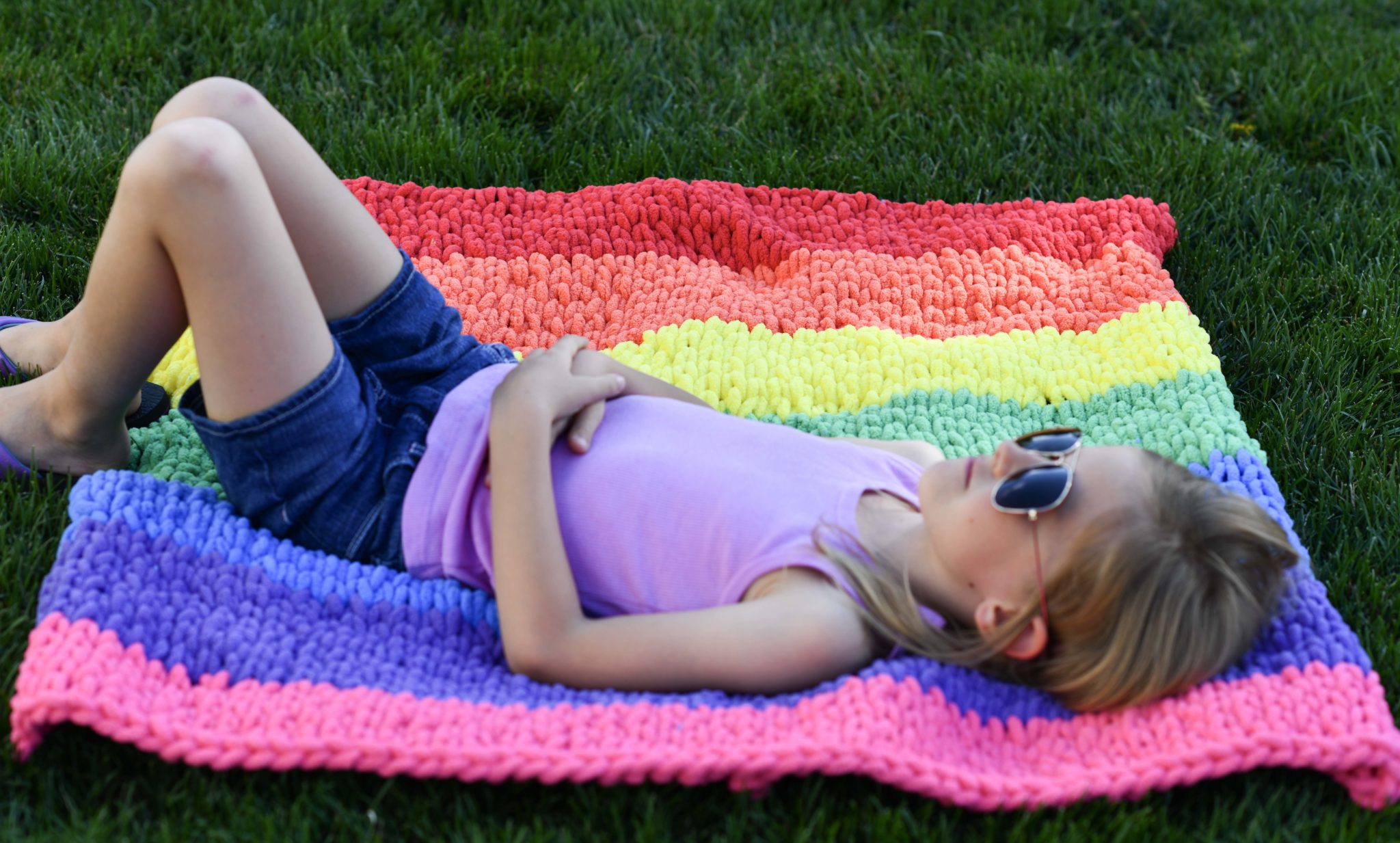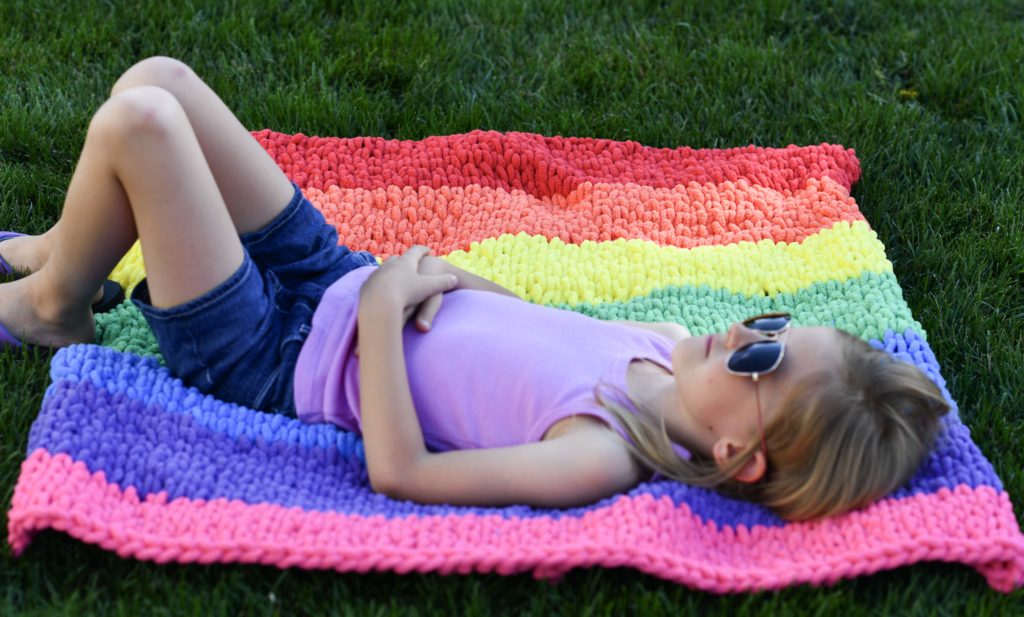 So let's get to how to make this easy, no-knit blanket!
Below, you'll see my video tutorial. I've also included a picture tutorial as well!
Free tutorial below, or you may choose to purchase the printable, ad-free version HERE
How To Make A Rainbow Blanket with Crayola Off The Hook Loop Yarn
Description: With all the colors of the rainbow, this blanket is so much fun for little girls and boys! There's no need to have any knitting knowledge in order to make this playful blanket or beach mat.
Materials:
1 Lion Brand Crayola Off The Hook Yarn Outrageous Orange (Find the yarn on the Lion Brand Site HERE)
1 Lion Brand Crayola Off The Hook Yarn Fern
1 Lion Brand Crayola Off The Hook Yarn Cornflower
1 Lion Brand Crayola Off The Hook Yarn Royal Purple
1 Lion Brand Crayola Off The Hook Yarn Magenta
1 Lion Brand Crayola Off The Hook Yarn Red
1 Lion Brand Crayola Off The Hook Yarn Laser Lemon
(100 g/skein – Pattern uses approximately 700 g total) Please note: At the time that this blanket was made, the skeins were 100 grams each. They're now 85 g/skein. If you follow this pattern, with the same number of skeins, your blanket will turn out smaller. You may like the smaller size, or you may want to order some extra skeins to make it a bit larger.
Size: 37" x 35"
Notes: This blanket is made without the use of knitting needles or a crochet hook. To create the look of knit, you will work the pattern is shown in the picture tutorial. You may also find a helpful video tutorial on the Lion Brand Website when you visit the page featuring the Crayola Off The Hook Yarn.
Step 1: With the Red yarn, count out 53 loops or measure a length of yarn approximately 38" long. Place a paperclip or tie a length of yarn to mark this location.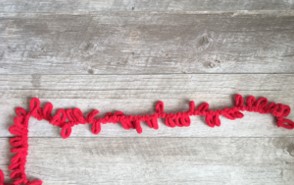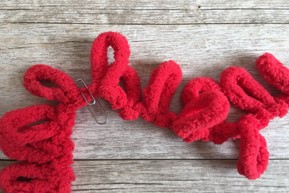 Step 2: Bring the remaining yarn around and place it just above the length of yarn measured. (below)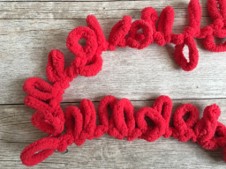 Step 3: Pull loops through as pictured. Continue this across the row. At the end of the row, simply repeat this process. (below)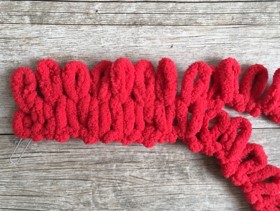 When it's time to change colors, cut yarn and leave three loops on the end as pictured below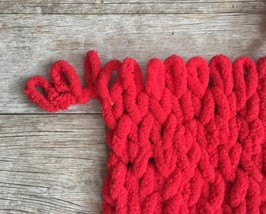 Place new color on top of previous color as pictured below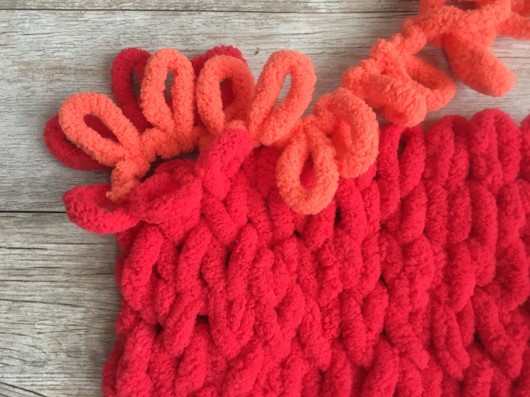 Pull both loops through the loops as done previously. Ensure the new color is on top of the previous color. Next, continue with the new color across the row.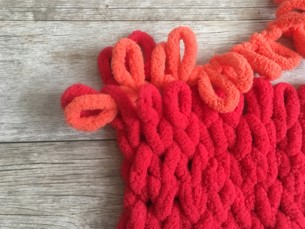 To tie off the end of your blanket, pull the second loop through the first loop as pictured below on the right side. Work TOWARD the tail of your yarn.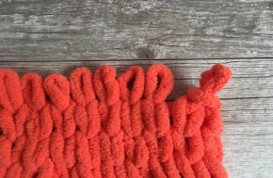 Continue this process across the row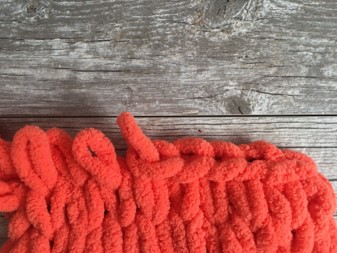 Once you've reached the tail of the yarn, cut the loops off the tail. Next, pull the tail through the final loop to tie off.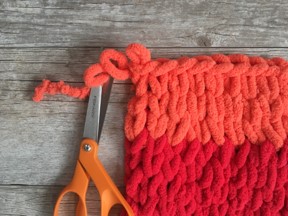 Secure and hide the tail by weaving it into your work.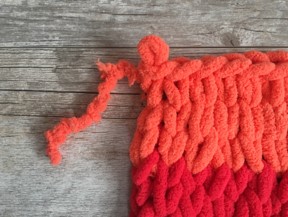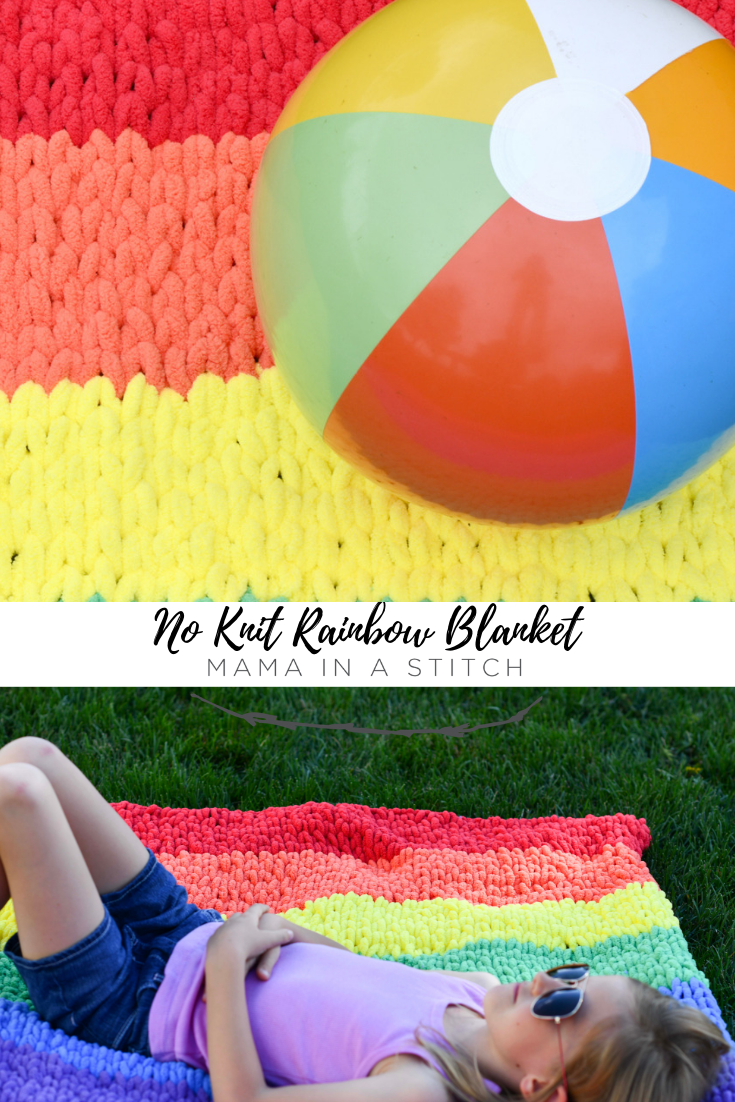 I hope you enjoyed making this fun blanket!
XO,
Jessica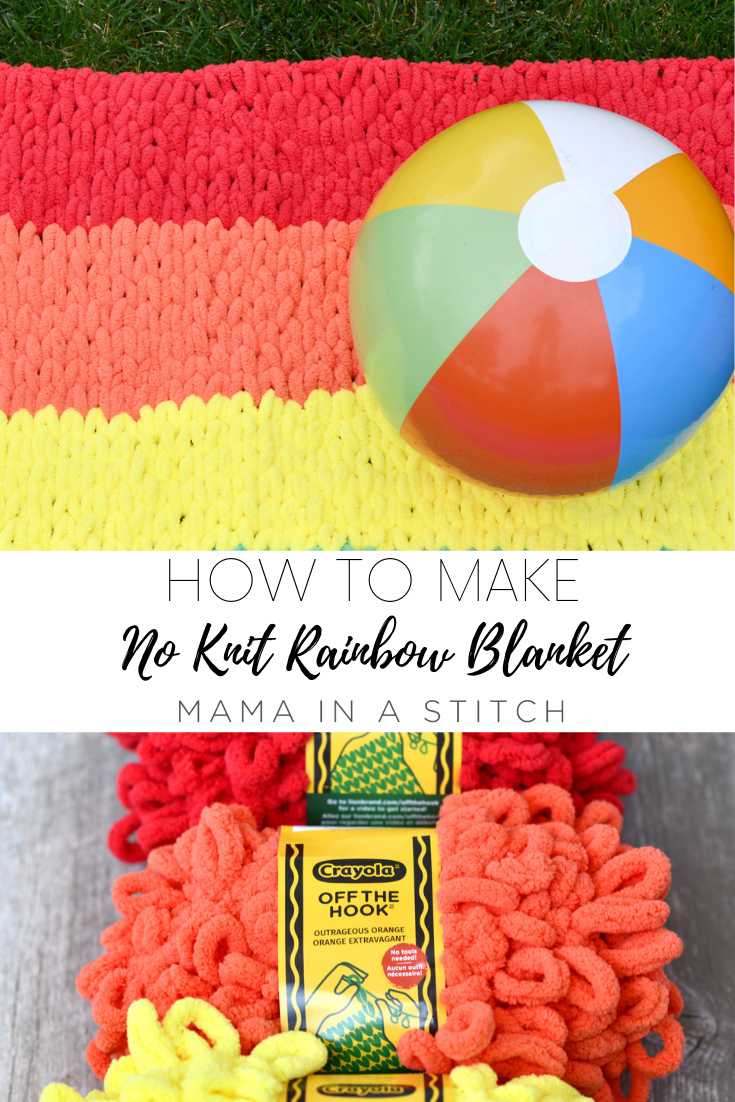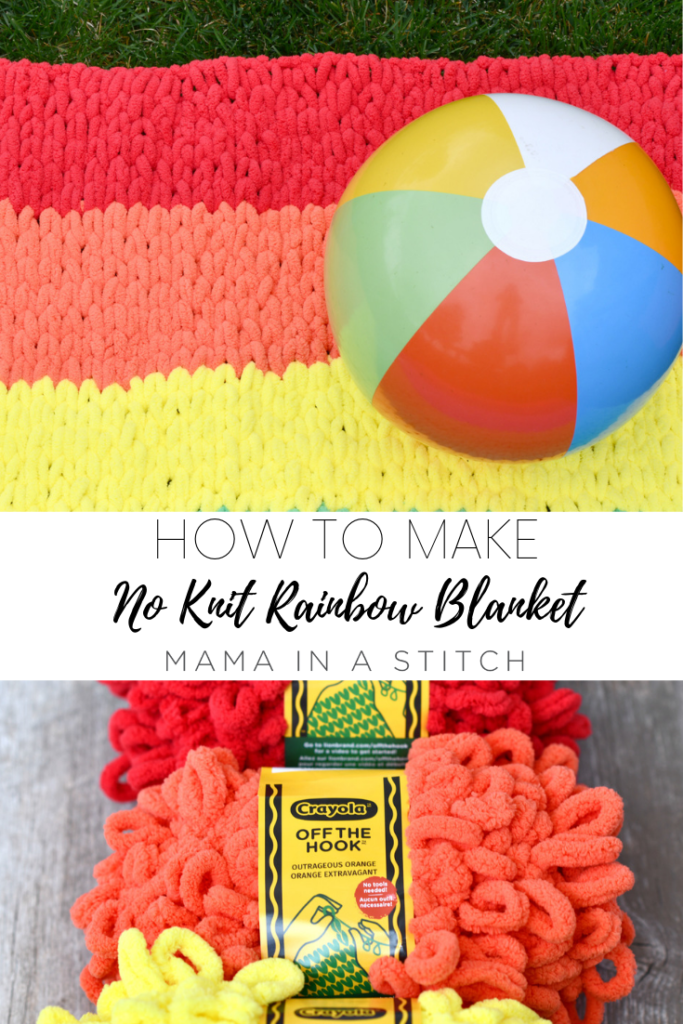 Do you like brightly colored blankets? You might also like these free knit and crochet patterns!