Hearthside Crochet Blanket Pattern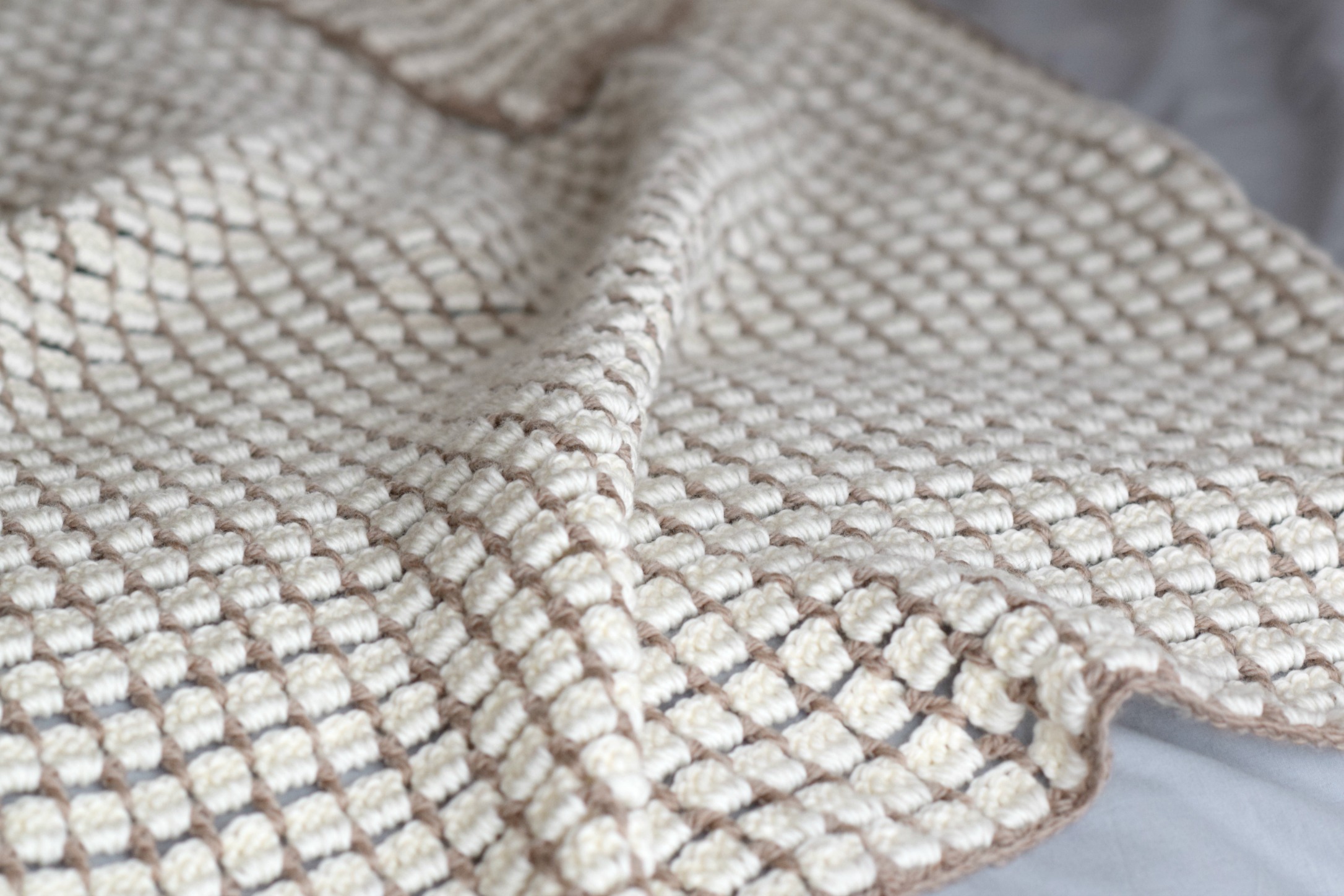 Hi friends! One of the most popular patterns on my blog has been the Mod Heirloom Crocheted Blanket that I made for my family last year. I used Cascade 128 Superwash which is a wool yarn that is crazy soft and completely washable. The truth is that I avoid a lot of 100% wool yarns simply because they're not the easiest to wash but that's not the case with this yarn. The other reason that wool can be hit or miss is the "itchy" factor. However, this wool is incredibly soft. I love the look and lofty feel of it and wanted to come up with another pattern this year. The Mod Heirloom is characterized by it's clean lines, modern look and neutral colors. In trying to stick with that theme, I chose to use the block stitch with this project and keep neutral color tones that will stand the test of time. No crazy colors that will allow any particular decade to claim it (remembering the mustard yellow and brown throw from my youth – lol)!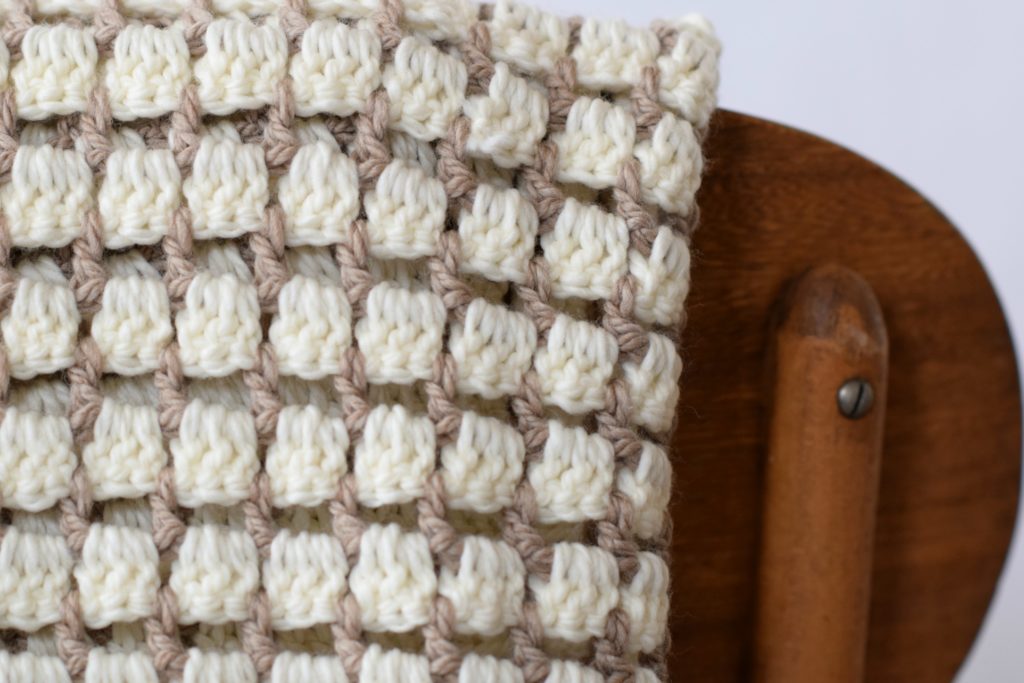 Have you ever tried the block stitch? This is the first time I've used it in a project and I absolutely LOVE it! You can find a full picture tutorial on my blog to see how it's done HERE. It is a simple two row repeat, making it a great TV or Netflix stitch. 😉 It's always a thrill to me to use super simple stitches that are also beautiful.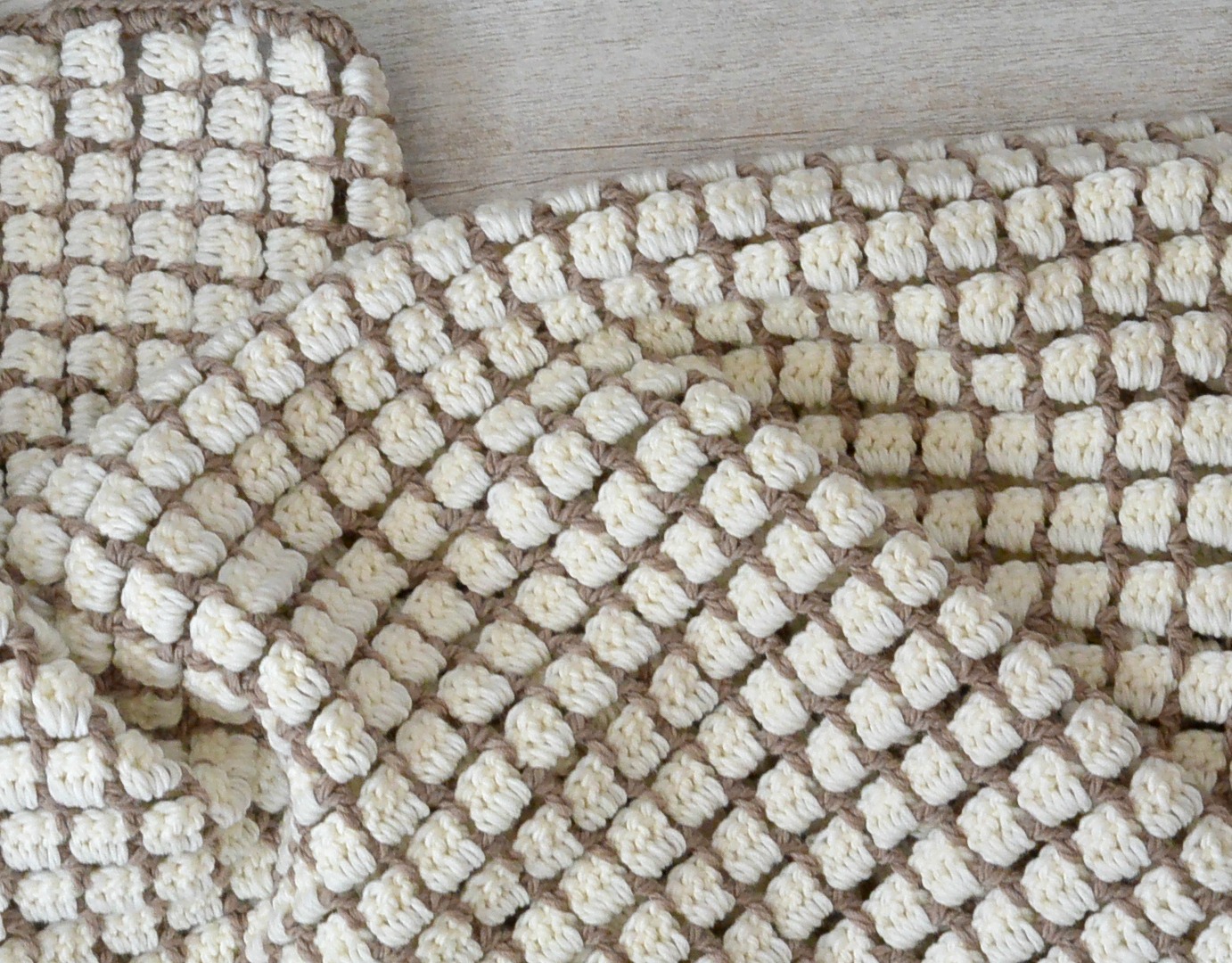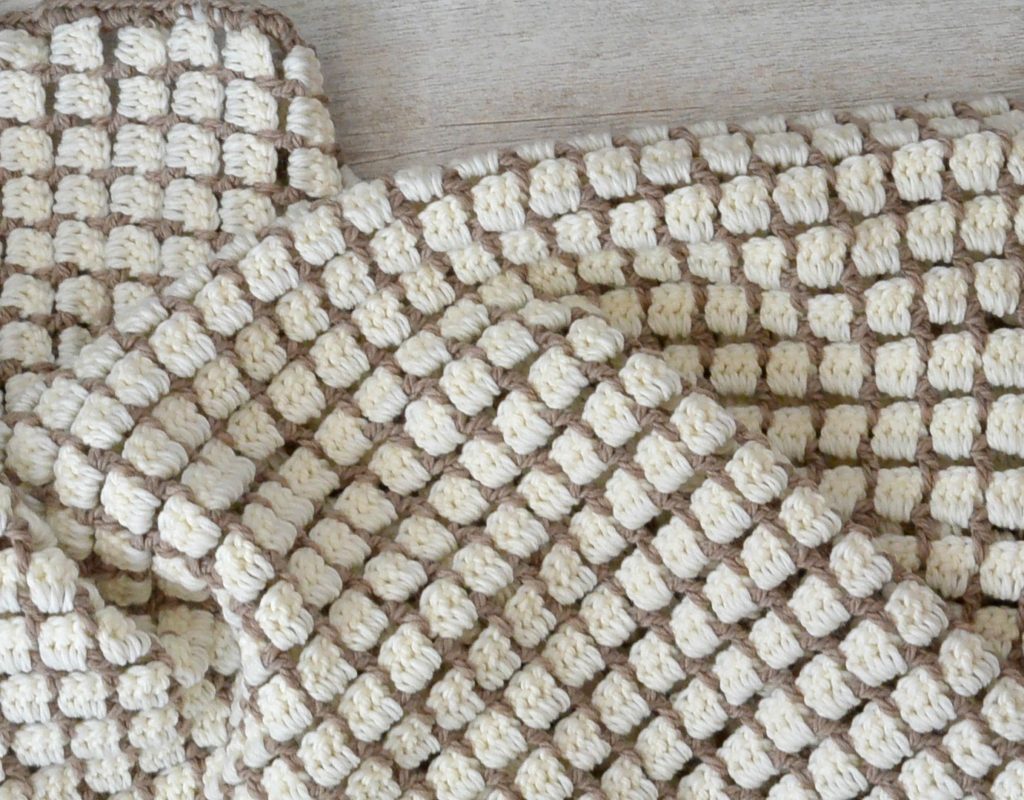 You can scroll down for the blanket pattern below and also be sure to check out the stitch tutorial here:

Let's get started!
Made with luxurious chunky yarn and neutral colors, this throw blanket will compliment any living room décor. Clean, modern lines in this blanket make it a beautiful choice for gift giving or as a gift to yourself.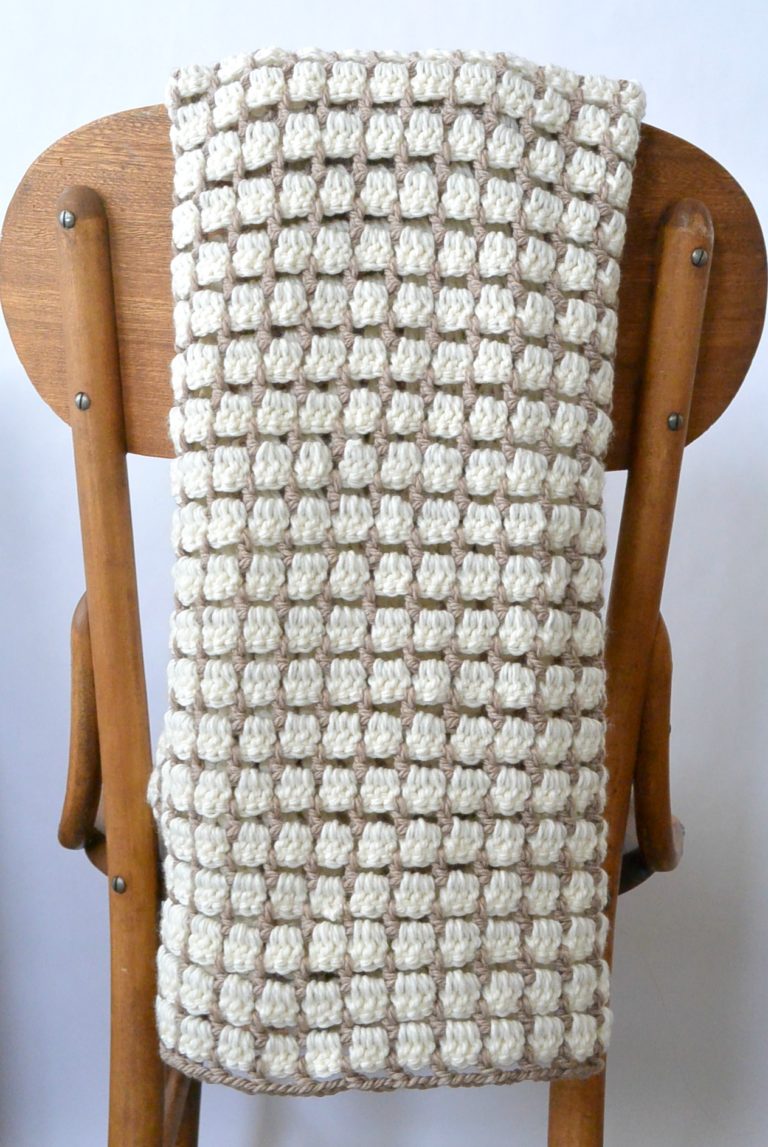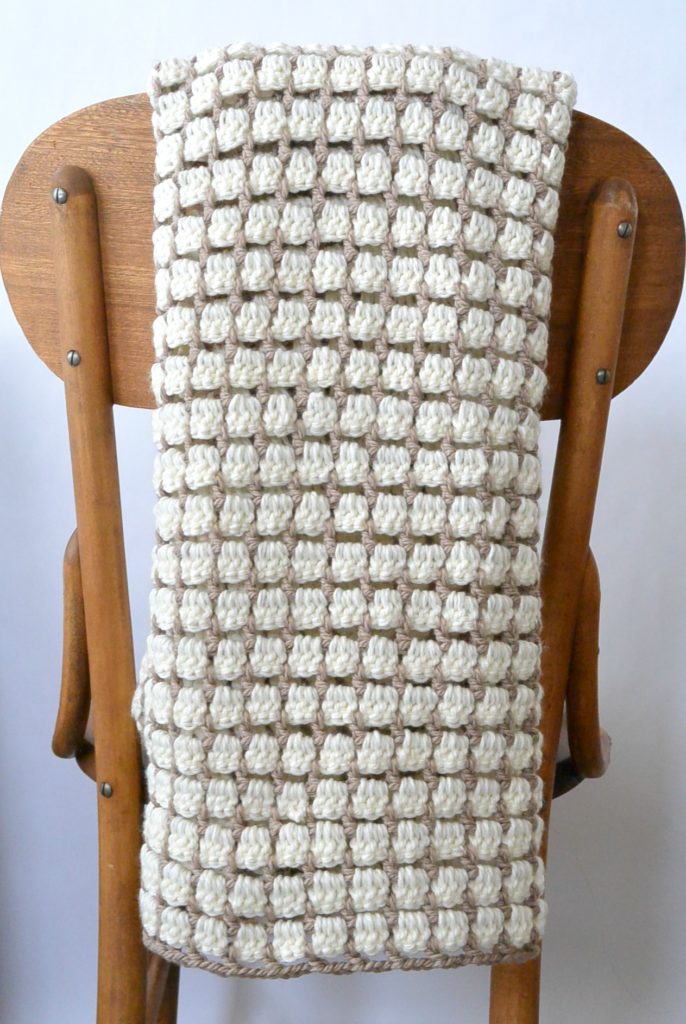 You will need:
US Size J 6.0 mm crochet hook
6 Cascade Yarn 128 Superwash in Ecru (100 grams/skein)
3 Cascade Yarn 128 Superwash in Doeskin Heather (100 grams/skein)
(Pattern uses approximately 852 grams)
Scissors
Tapestry needle to weave in ends
Size:
Approximately 33" X 46" This is a nice lapghan size.
(To make a larger throw blanket size, double your yarn and start with a chain 223 and follow stitch pattern. This size will be approx. 66" X 46")
Notes:
You can make this any size that you like by making your beginning chain longer or shorter. It should be in a multiple of 3 + 1. Feel free to make any border that you'd like once your blanket is complete! Remember to see my stitch tutorial for additional help here.
Skill Level:
Easy +
Gauge:
Not important for this pattern however it's close to 13 dc stitches per 4 inches
Skills & Abbreviations:
ch-chain
dc-double crochet
ch2sp-chain two space
rep- repeat
sc-single crochet
sk-skip
sp-space
st-stitch
Notes:
You should know how to do basic color changes. Pattern is in a multiple of 3+1. Ch1 at beginning of row three doesn't count as a stitch. The rest of the chain stitches count as stitches in the total at the end of the row. It is easiest to carry the colors up the sides as you work to avoid weaving in a bunch of ends when you finish.
Pattern
With Doeskin Heather, Chain 112
Row 1 Sc in 2nd ch from hook and next sc, *ch 2, sk 2 ch sts, 1 sc in the next st; repeat from * across the row, 1 sc in the last ch. Change color to Ecru at end of row, turn. (111 stitches)
Row 2 Ch 3 (counts as dc stitch), 3 dc in each ch2sp across the row. (Do not make stitches in any of the sc stitches except for final sc) 1 dc in last sc of the row. Change color to Doeskin Heather at end of row, turn. (110 dc stitches)
Row 3 Ch 1, 1 sc in 1st st, 1 sc in sp, *Ch2, sk 3 dc, 1 sc in the sp. Repeat from * across the row. 1 sc in the last st, change color to Ecru at end of row, turn. (111 stitches)
Repeat row 2 & 3 until your piece reaches desired length (for this pattern approximately 46") ending with a Doeskin Heather row. Single crochet evenly around entire blanket, working 3 sc in each corner with Doeskin Heather color. Tie off and weave in ends. Block as desired.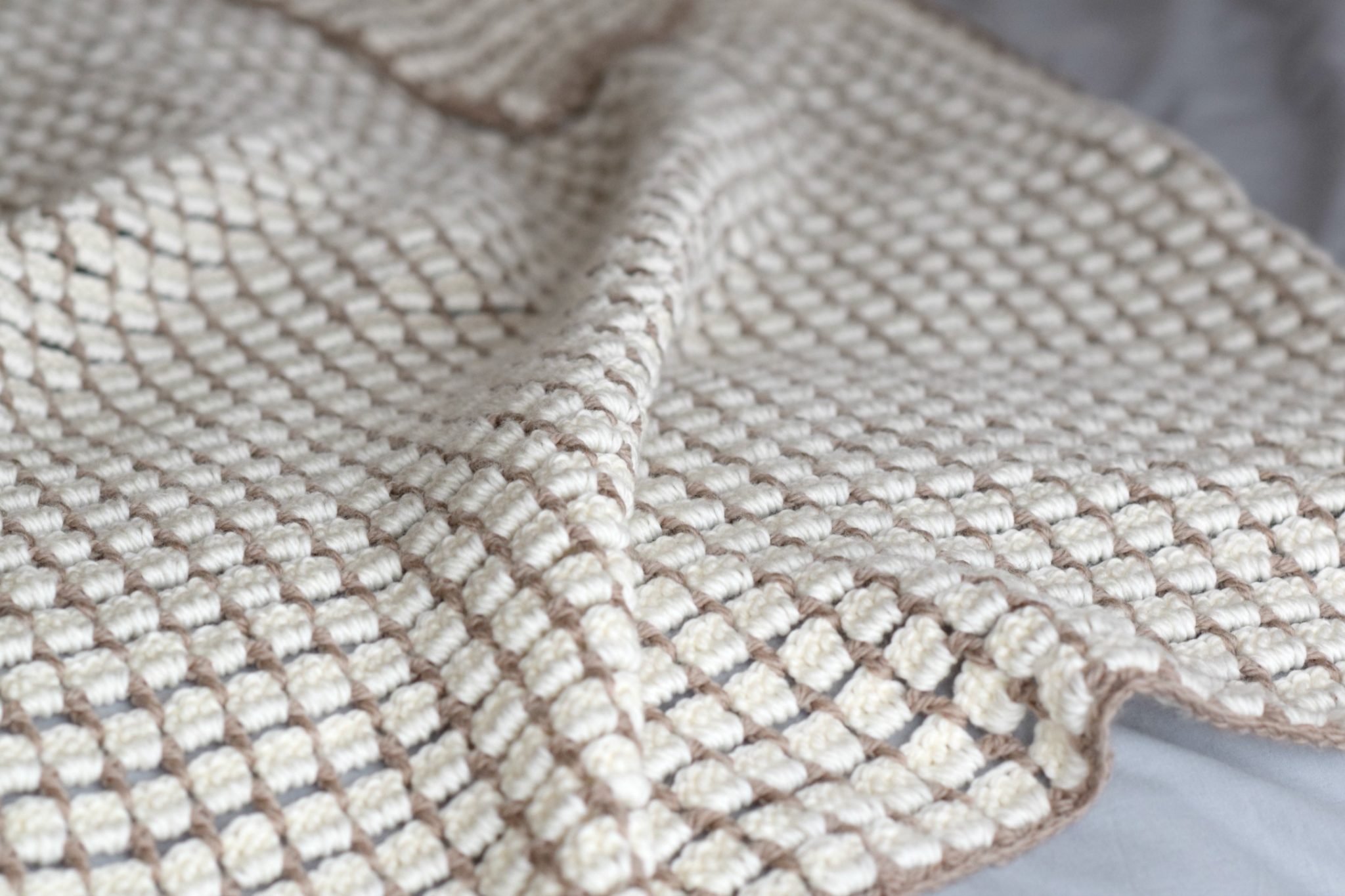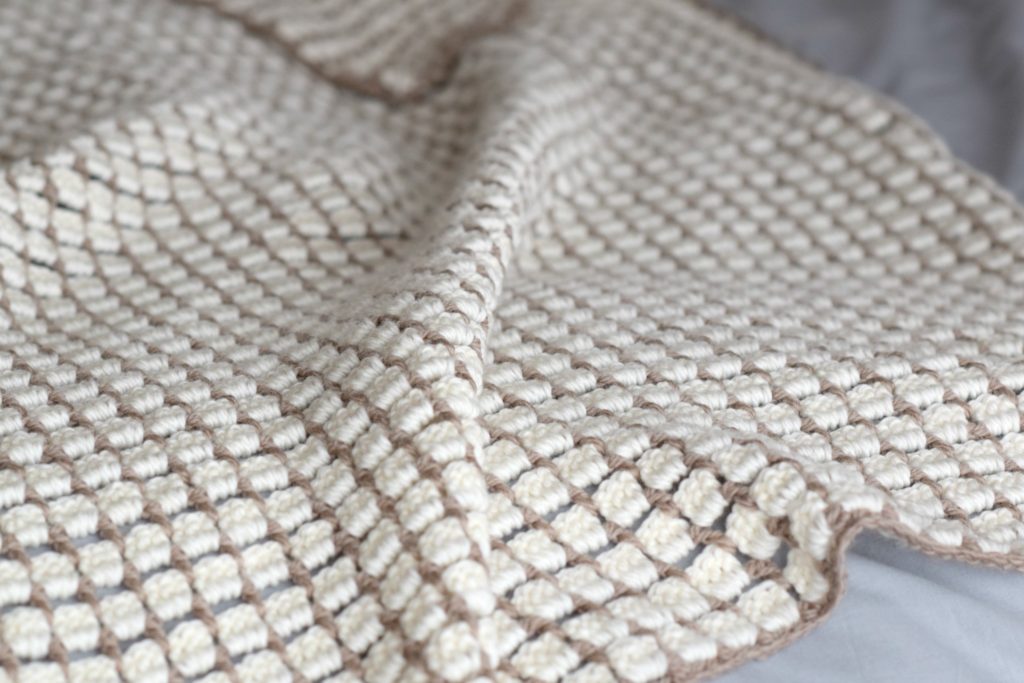 That's all there is to this super easy pattern! You can be so creative with the colors that you use and the size blanket that you make. It's such a versatile pattern!


I'd love to hear if you make one for yourself or a loved one.
Thank you to Cascade Yarn for supplying the yarn for this lovely project!
XO
Jessica
If you enjoyed this you might also like: