Light Alpaca Poncho Crochet Pattern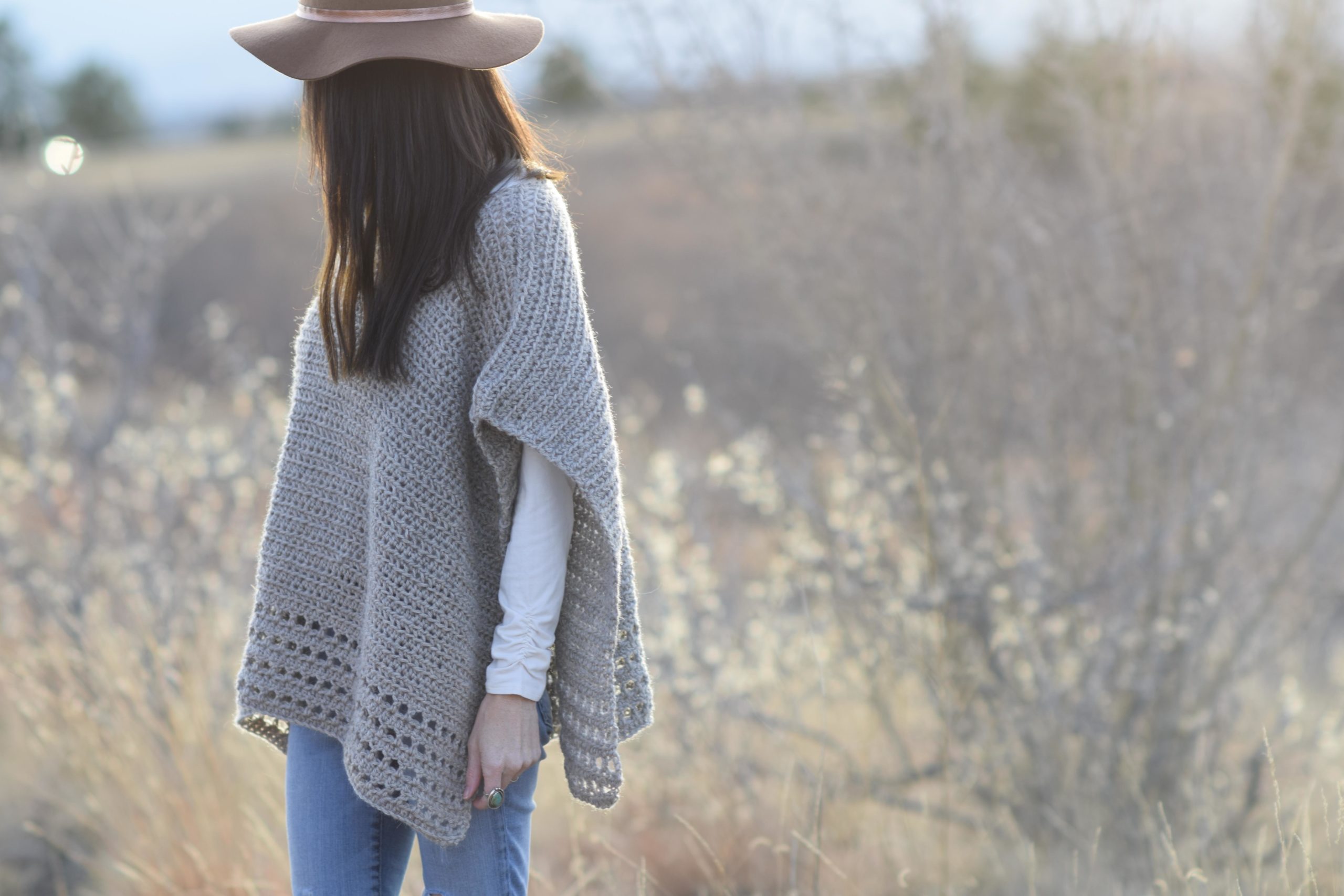 Can I just say that I'm so glad the poncho trend is still going strong? They are so cozy, comfy and can be super easy to knit or crochet. This poncho crochet pattern that I'm sharing today is essentially made up of two rectangles seamed together at the shoulders. It doesn't get any easier than that! And while it's simple, it's also practical and turned out to be quite pretty in my opinion – lol. I really love the Touch Of Alpaca Yarn that I was able to use for this pattern as it looks like a luxury yarn to me. The bit of Alpaca adds a neat texture and I love this gorgeous neutral Taupe color. Neutrals are always my go-to favorites but I did enjoy using this same yarn in multiple colors for the recent Ruana that recently I made as well. This pattern uses half double crochet stitches and I've included a picture tutorial below for the open mesh portion along the bottom. You can scroll down for the free poncho pattern or you can also find the the full kit available for purchase from Lion Brand Yarn here, or a printable ad-free version in my Etsy shop here.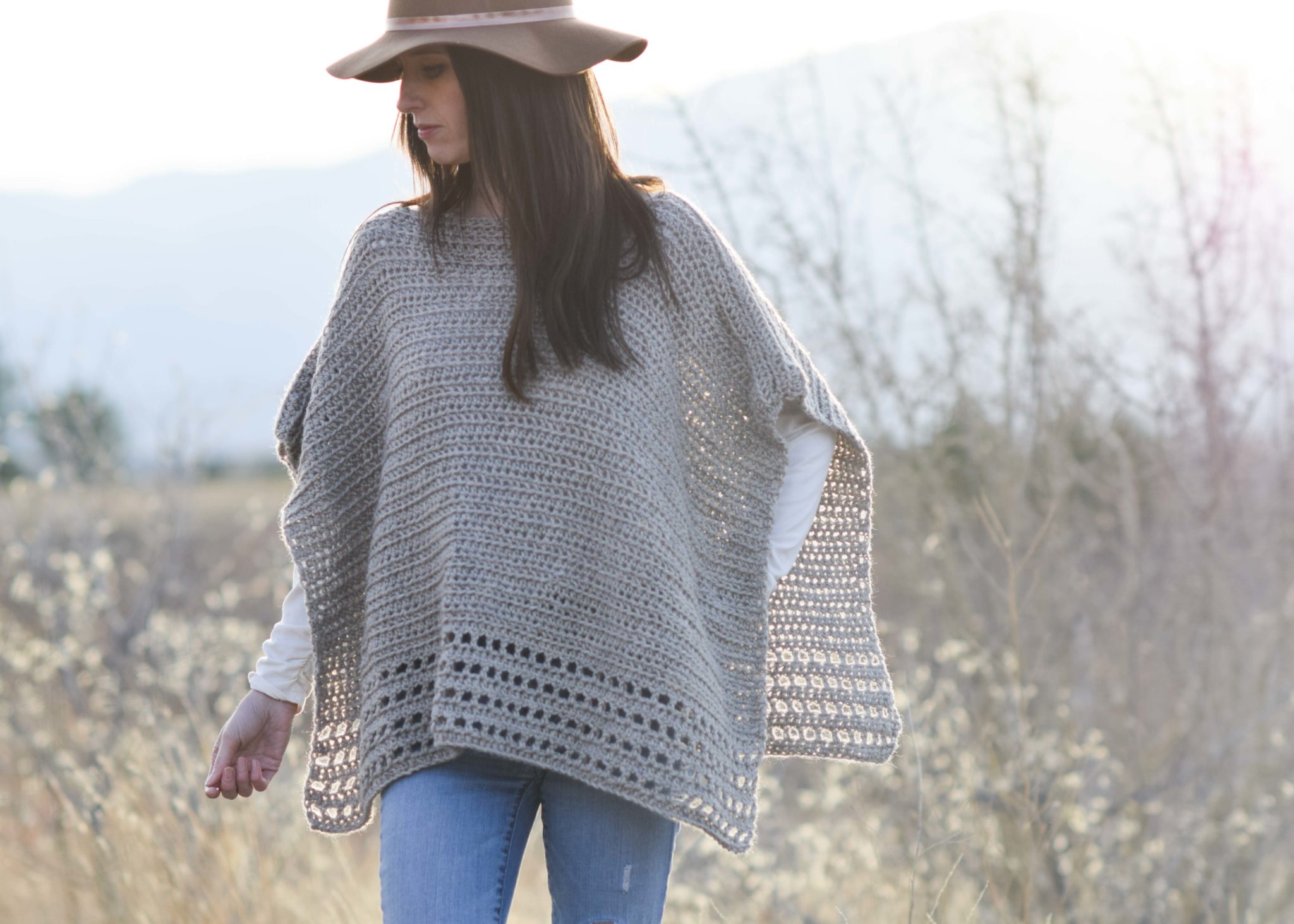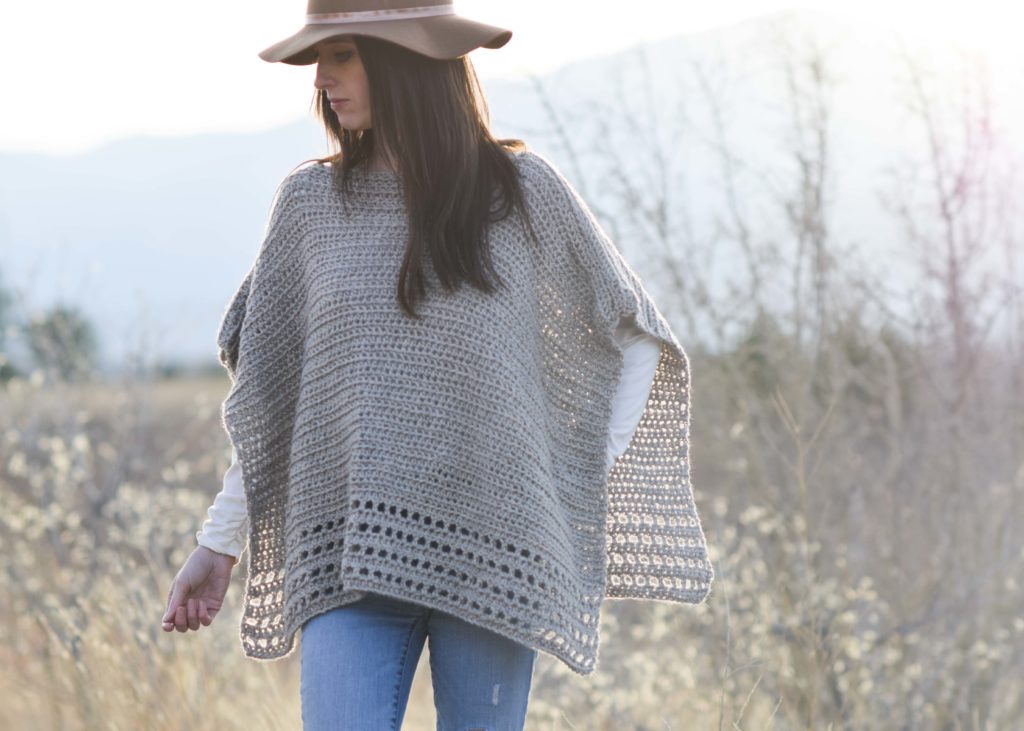 The lower portion of the poncho has simple open-work stitching and the upper portion is made with half double crochet stitches that are worked through the front loop only. I'm really pleased with the clean, modern lines on this piece. It was a lot of fun to crochet as it didn't take forever (though it's not the fastest project I've done), but the yarn was also lovely in my hands. Yet another one of those great, Netflix and crochet mindless patterns!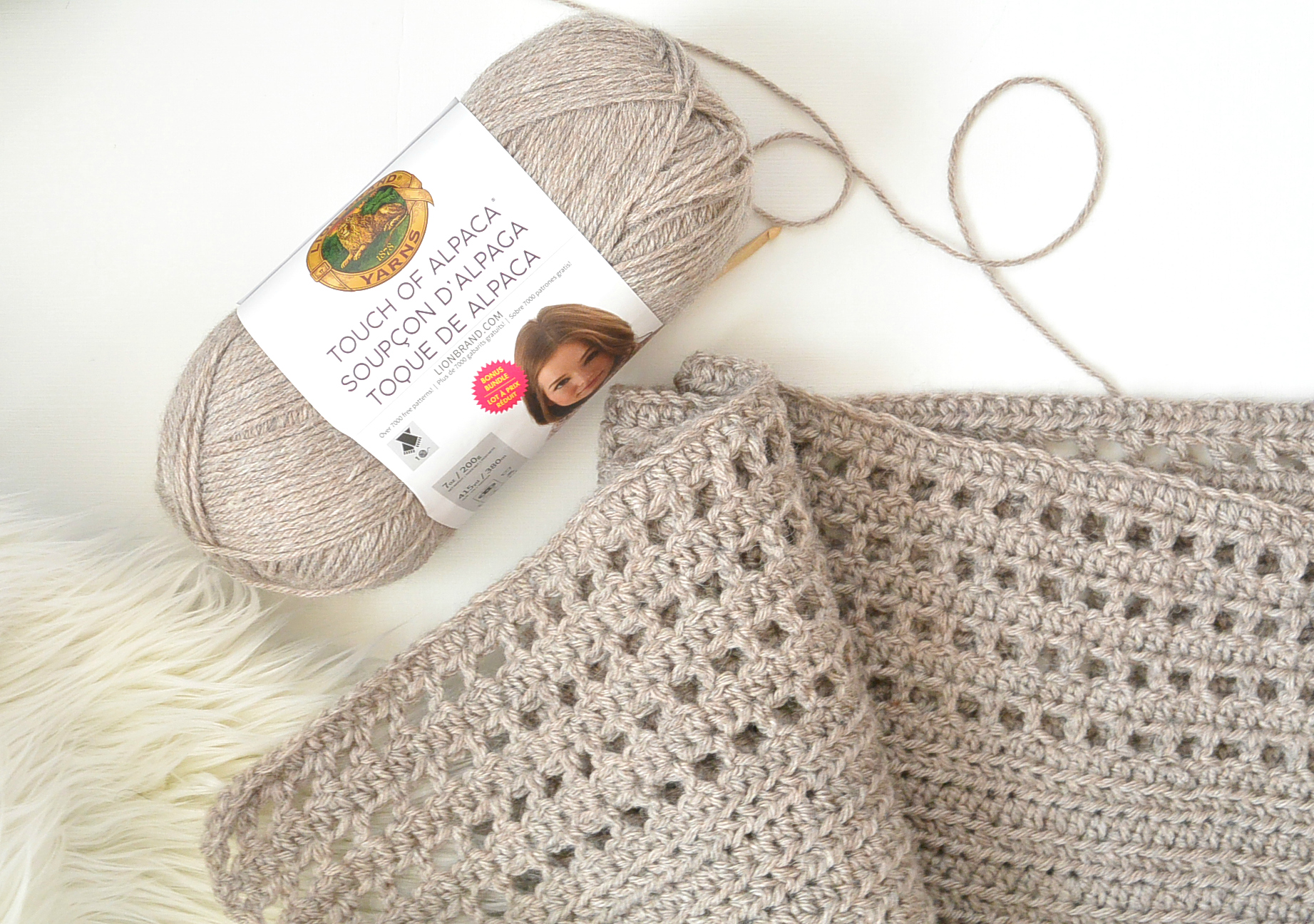 You can find the yarn in regular sized skeins or in the bonus bundle sizes either at Lion Brand's website, Michaels Website or at select Michaels stores. The bonus bundles hold the equivalent of two regular skeins of the yarn so there's less weaving in ends. That's a huge plus for me….no ends please!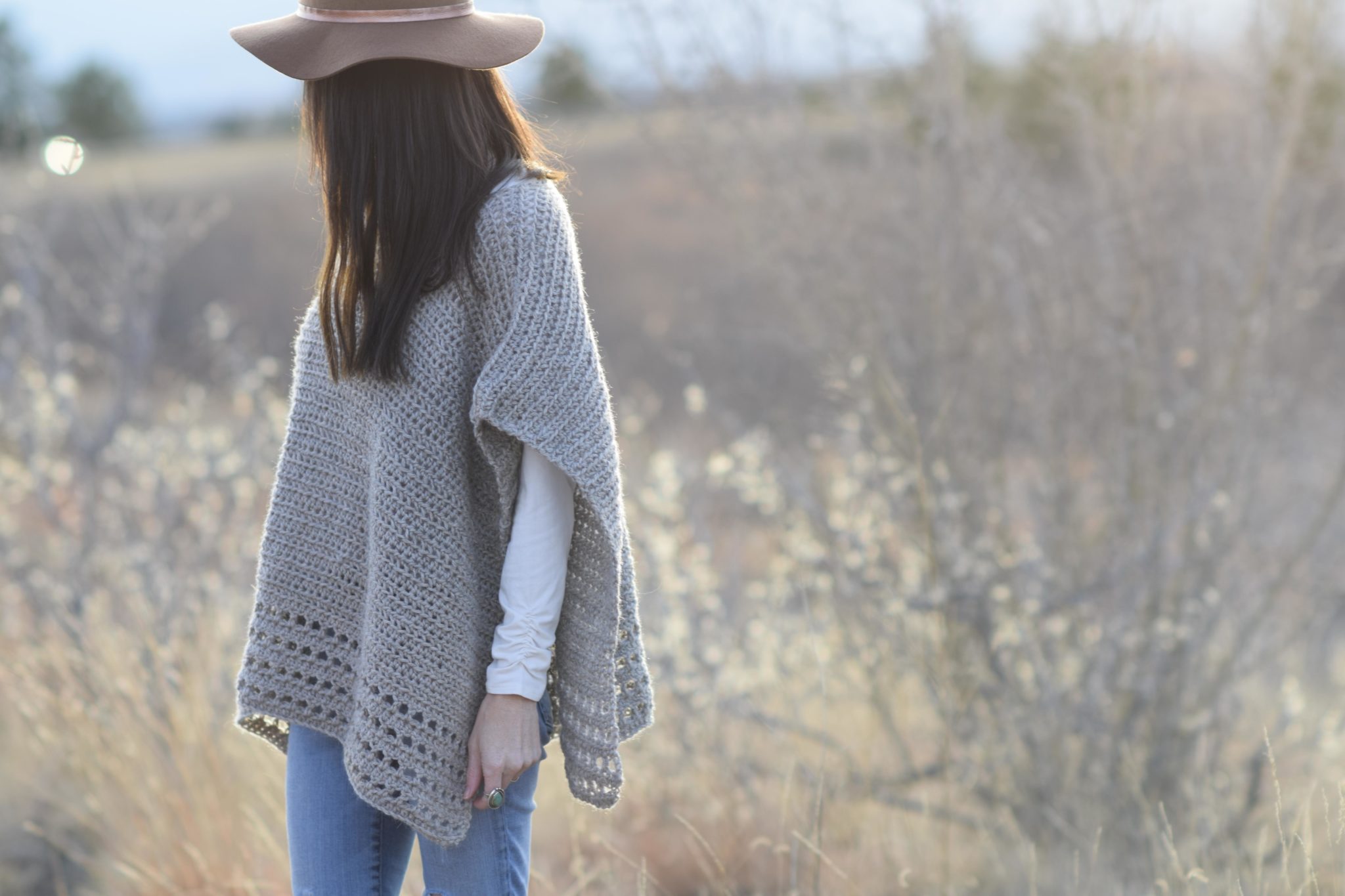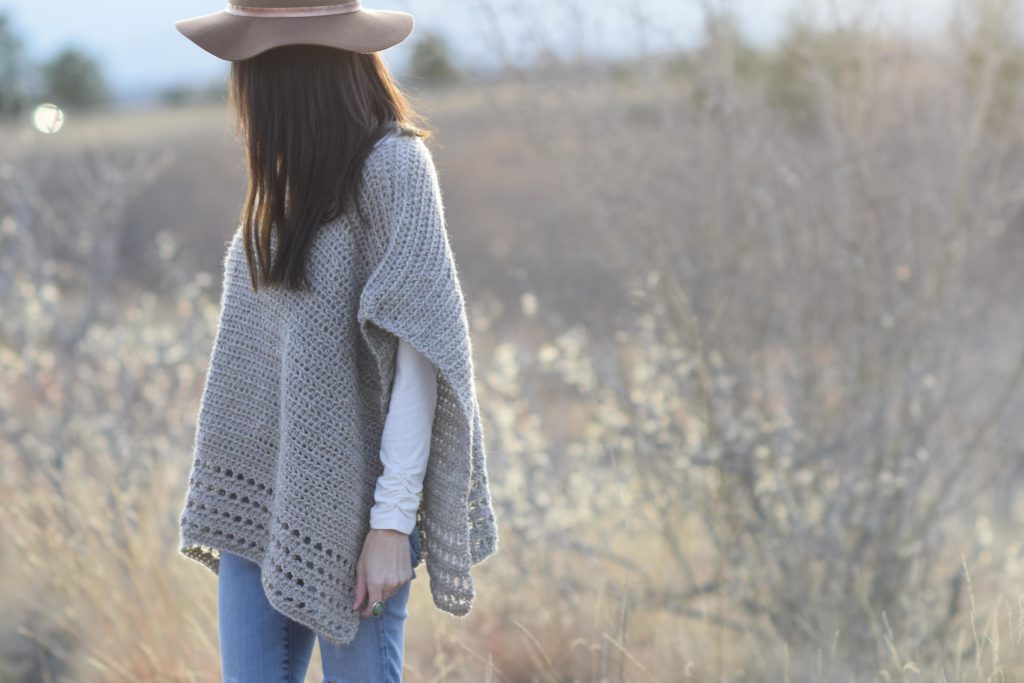 You wouldn't know, but it was freezing the day we were out taking photos of my new poncho. It did cut the chill of the wind, but the nice part about this poncho is that it's not super heavy so it will work for those of you in slightly warmer climates as well.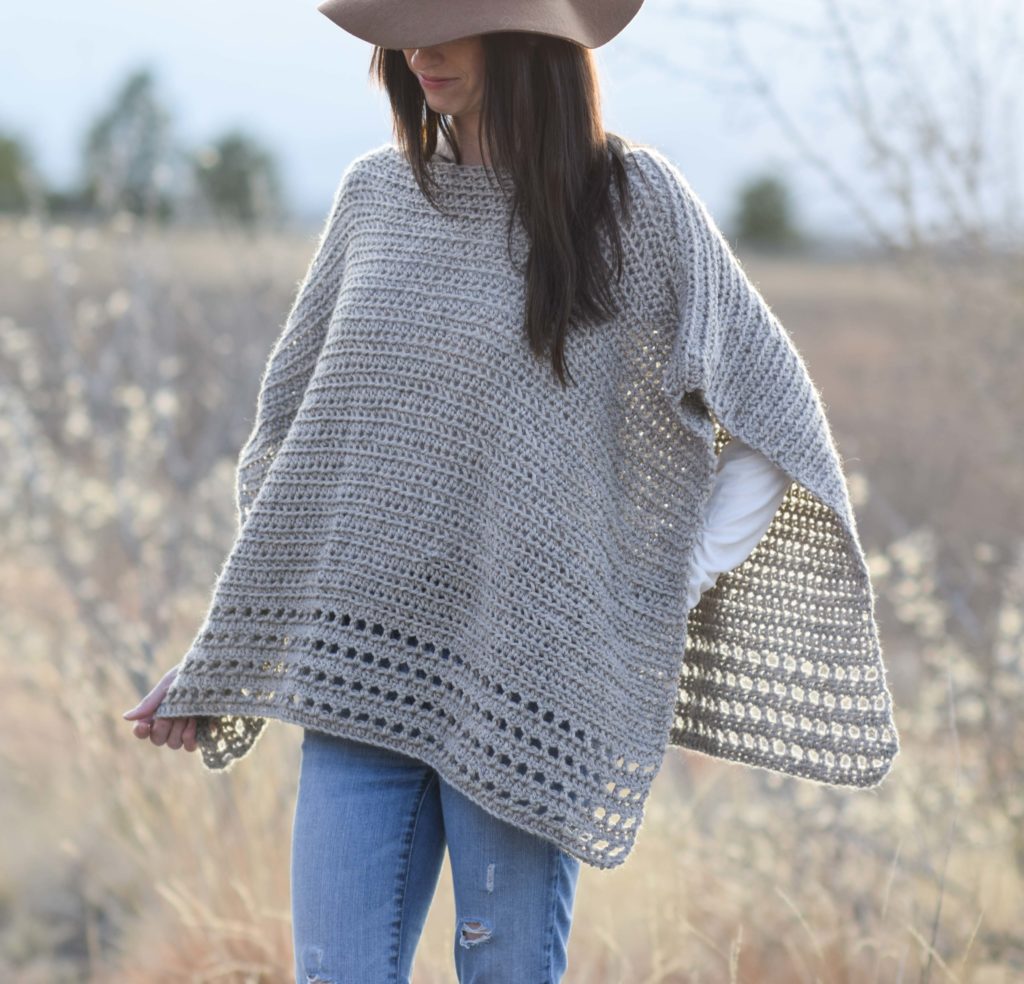 While I love neutrals, I had a lot of fun playing with colors in the Touch of Alpaca when I made the All The Colors Serape Ruana. (Below)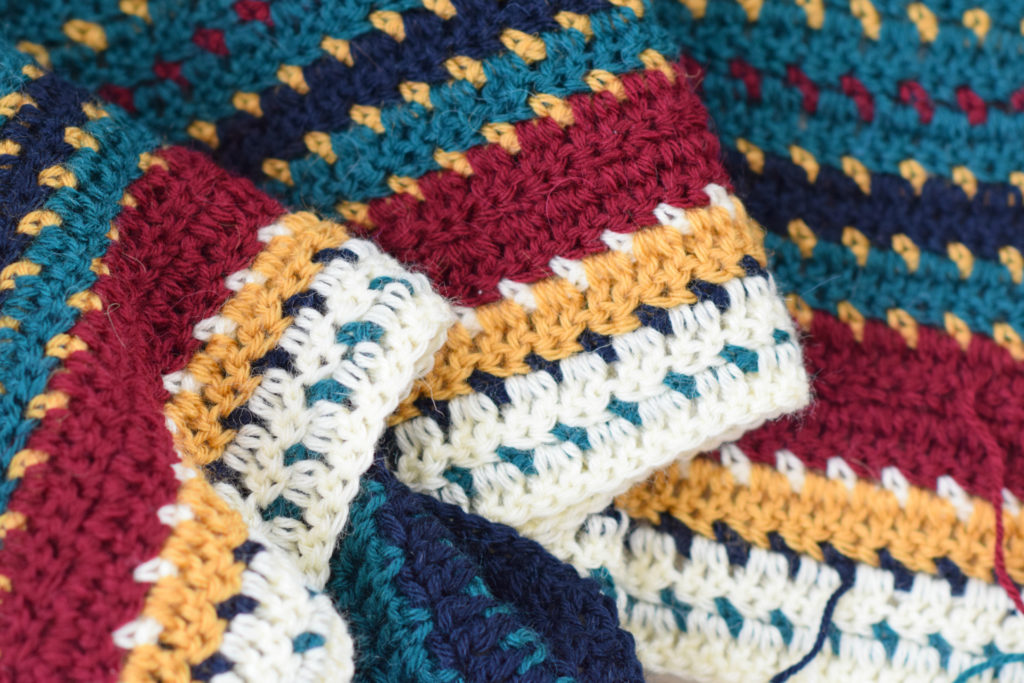 Light Alpaca Poncho Crochet Pattern
The simplicity of this poncho as well as the clean lines make it a stylish, classic piece. The alpaca blend gives it a soft look and feel while the lovely detail along the lower edge adds interest and breathability.
You will need:
US size J 6.0 mm crochet hook
4 Lion Brand Yarn Touch of Alpaca in Taupe (100 gr/skein) Pattern uses approx. 400 grams (or 2 of the Touch of Alpaca Bonus Bundles)
Scissors
Tapestry Needle
Size:
Approximately 31" wide X 22" long – One Size **Please measure yourself to ensure that this size will work for you before beginning my friends. As with any one size piece, the fit will be different on various size bodies. I am a size small and 5'6″ and am pictured in the poncho. If you intend to add length please purchase more yarn than is called for in the pattern. You can make it wider by adding stitches to your original chain, and make it longer by crocheting for more rows to make it longer than indicated in the pattern.
Skill Level:
Easy +
Gauge:
Approximately 11 stitches and 8 rows per 4 inches *Important! Check your gauge and adjust as necessary before beginning. You may go up or down hook sizes in order to get the correct gauge. I do tend to be a loose crocheter compared to some people and this is reflected in this gauge measurement. Your size can be incorrect, or you will need more yarn than called for if gauge isn't correct.
Skills & Abbreviations:
hdc – half double crochet
ch – chain
sk st – skip stitch
hdc flo – half double crochet through front loop only
st – stitch
dc – double crochet
Notes:
This poncho is made by crocheting two panels and then seaming at the shoulders. Each panel is crocheted from the bottom up. Check your gauge and measure as you go to ensure the size turns out as you'd like. You may adjust the size by changing the hook size or tension. In addition, you can start with a longer or shorter chain but keep an odd stitch count. Keep yarn needs in mind if you adjust the size. See photo tutorial for stitch assistance.
PONCHO PATTERN
Note: Ch 2 at beginning of all hdc rows counts as hdc stitch throughout
Lower Edge Detail
Ch 87
Row 1 Hdc in 3rd ch from hook (counts as 2 hdc) and in each st across row (86)
Row 2 Ch 4 (counts as 1st dc st of row and ch 1 st), turn, dc in 7th st from hook (this is the third stitch in on row below); *ch 1, sk st, dc in next st. Repeat from * across the row. (85 stitches total including 43 dc stitches, 42 ch stitches) See stitch photo tutorial below for additional help with row 2 & 3
Row 3 Ch 2 (counts as 1st st of row), turn, hdc in 4th st from hook and in each st across the row, 2 hdc in turn ch of previous row (85)
Row 4 Ch 4 (counts as 1st st of row and ch 1), turn, dc in 7th st from hook; *ch 1, sk st, dc in next st. Repeat from * across the row ending with a dc in turn ch from previous row. (43 dc stitches, 42 ch stitches)
Repeat rows 3 & 4 two more times.
Next, repeat row 3 for a final time.
Main Body
Row 1 Ch 2 (counts as first st of row), hdc flo in each st across row. (85)
Repeat row 1 until piece measures approximately 22" or you've used half of yarn required for entire pattern. Keep a small amount of yarn for seaming at end. Note: You can make the piece longer by crocheting more rows. Keep yarn needs in mind.
Tie off and weave in ends.
Repeat above pattern to make second panel.
Assembly
Place panels together. With a length of yarn and your tapestry needle, seam inward at shoulders leaving approximately 10 ¾" space in the center for the head opening. Block as desired.
How To Crochet The HDC Mesh Picture Tutorial
Below you will find a swatch tutorial using the pattern above.
Below: Row 1 – Half double crochet across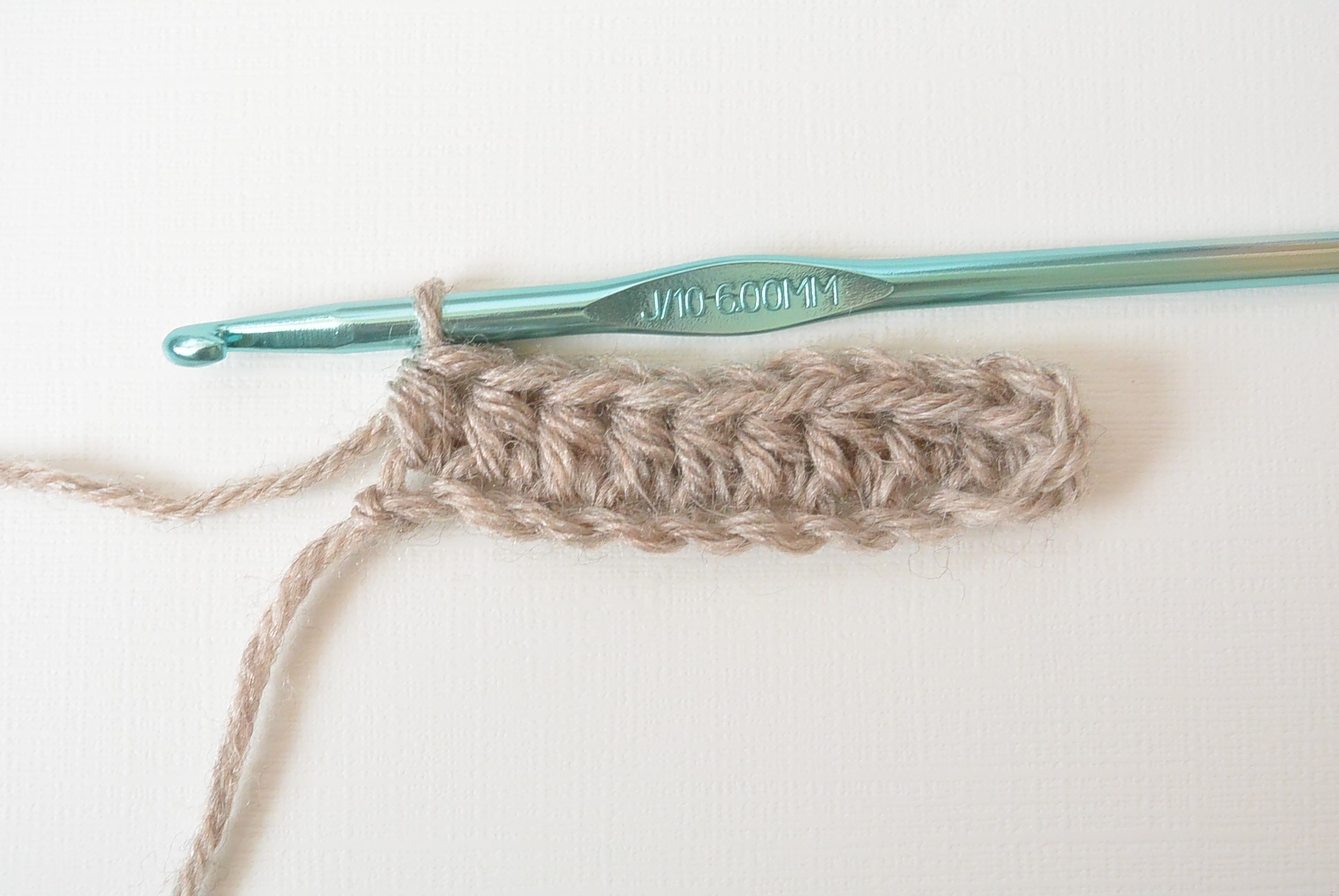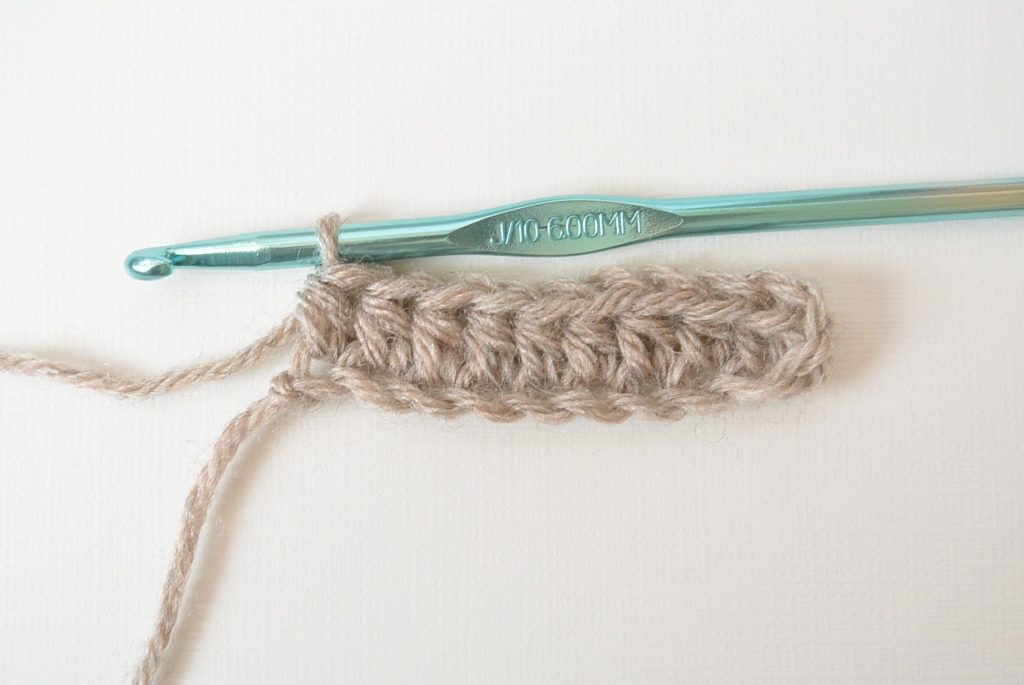 Below: Row 2 Ch 4, work into 7th stitch from hook – see where hook is about to work into stitch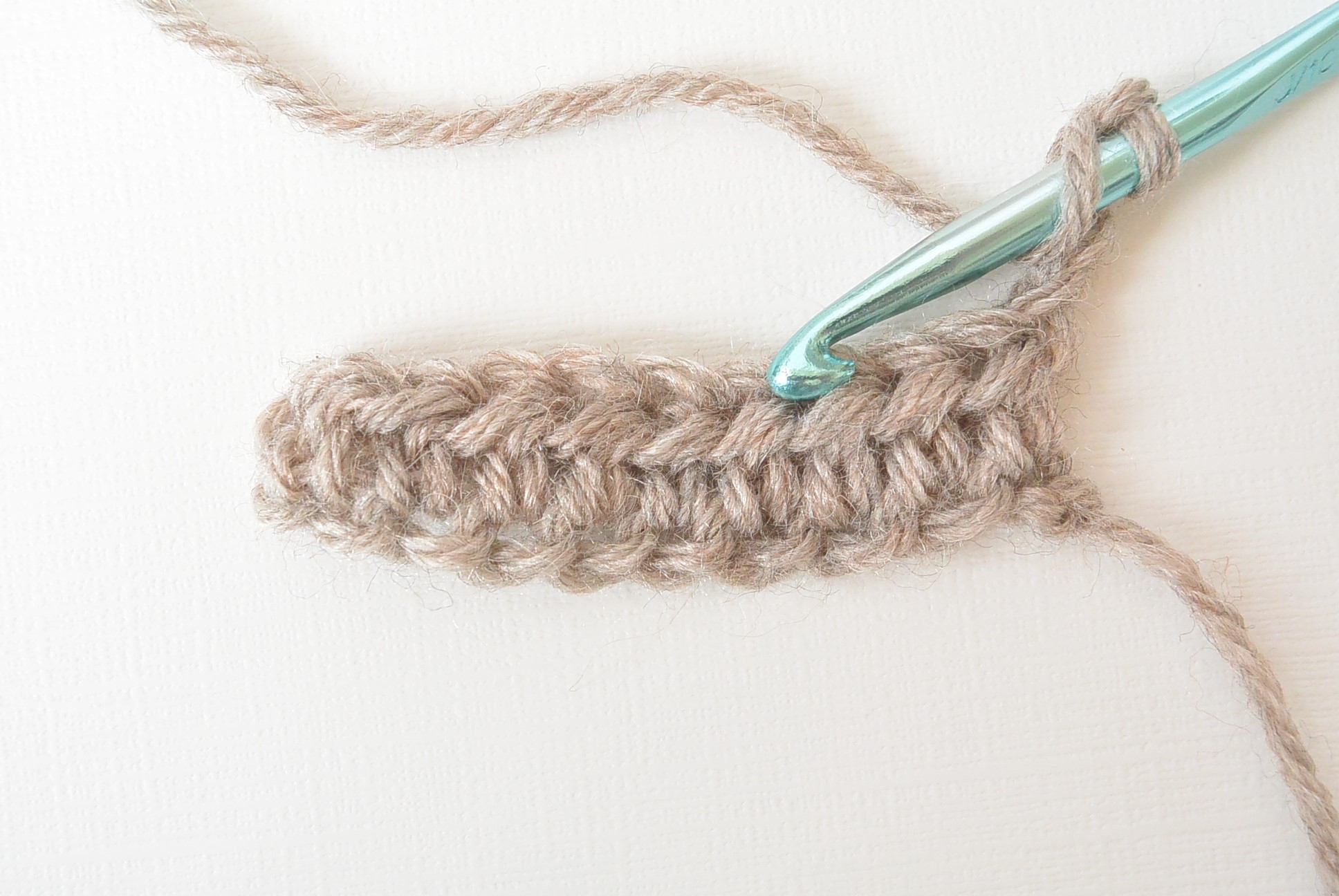 Below: Row 2 complete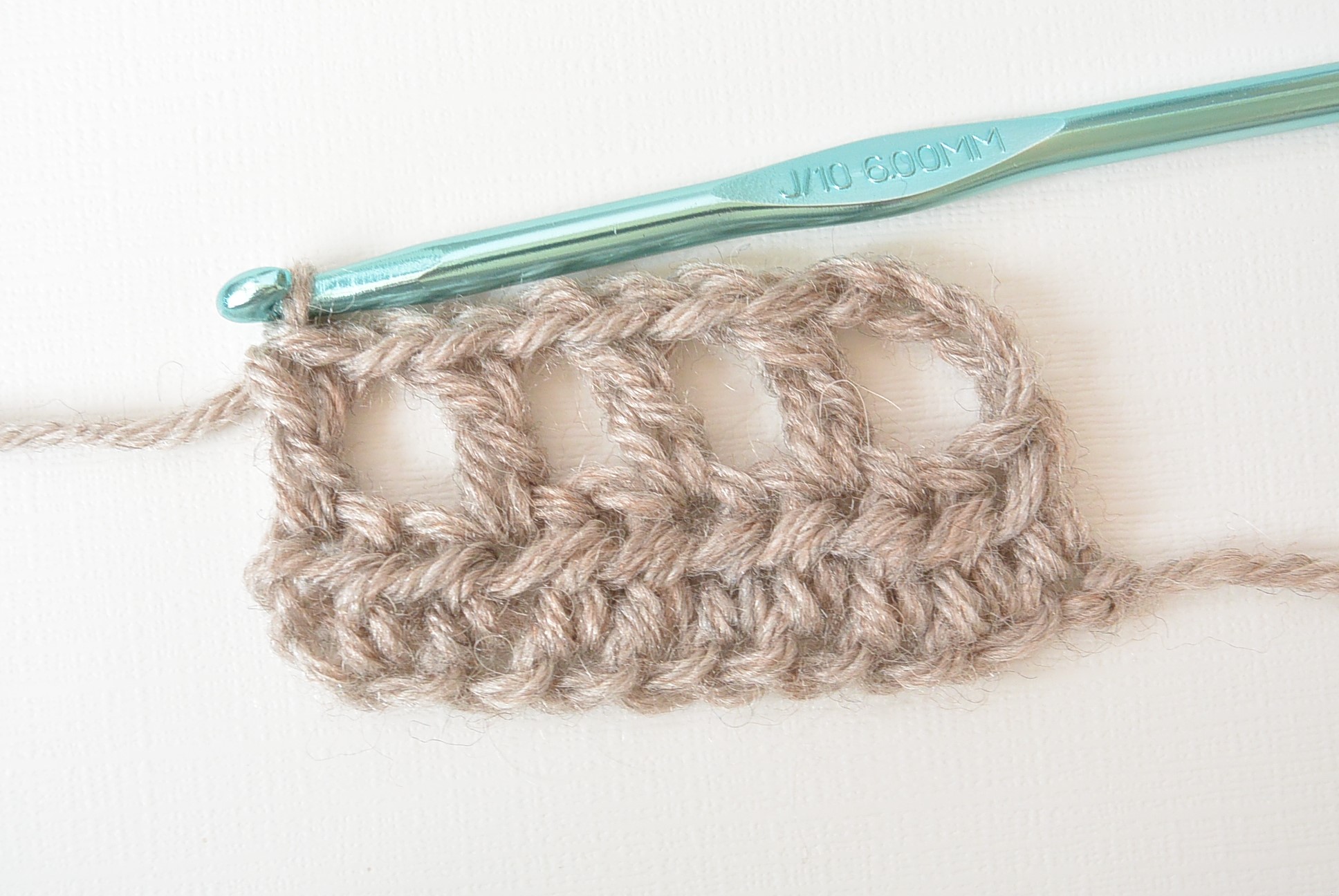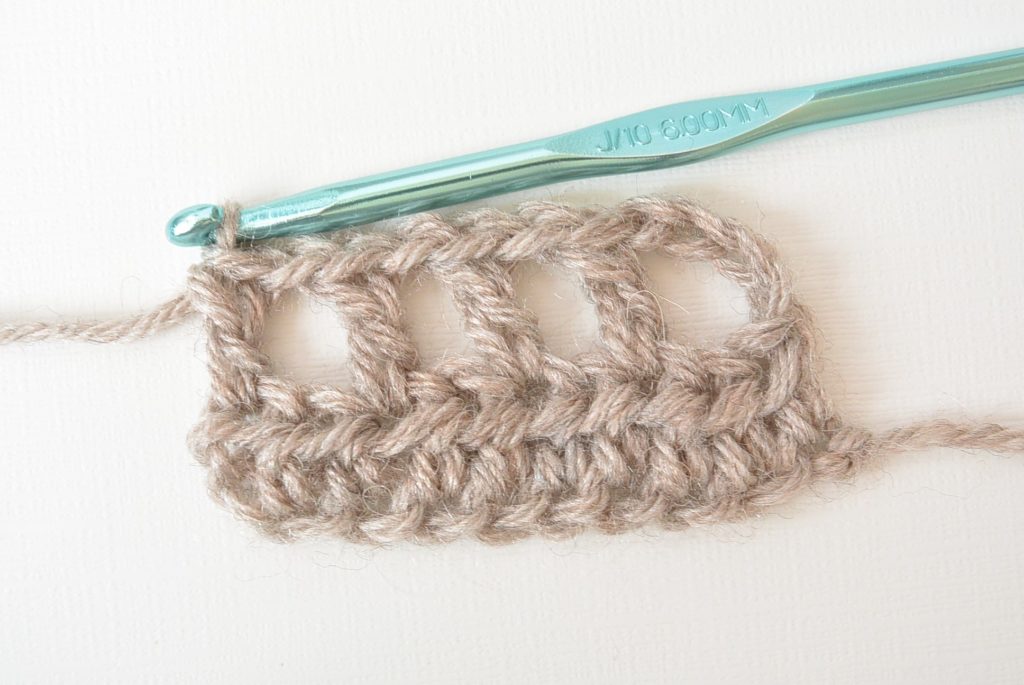 Below: Row 3 Start with ch 2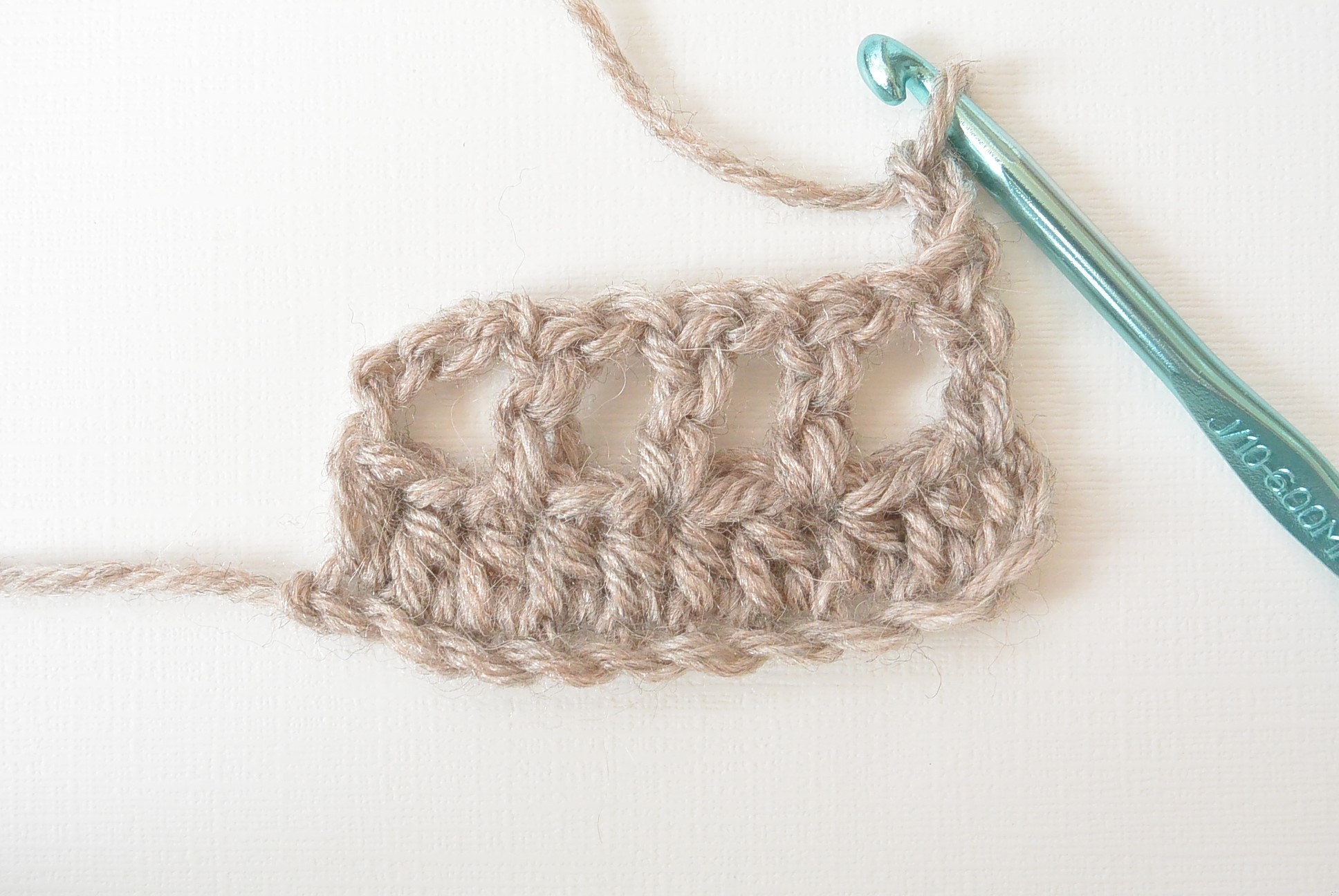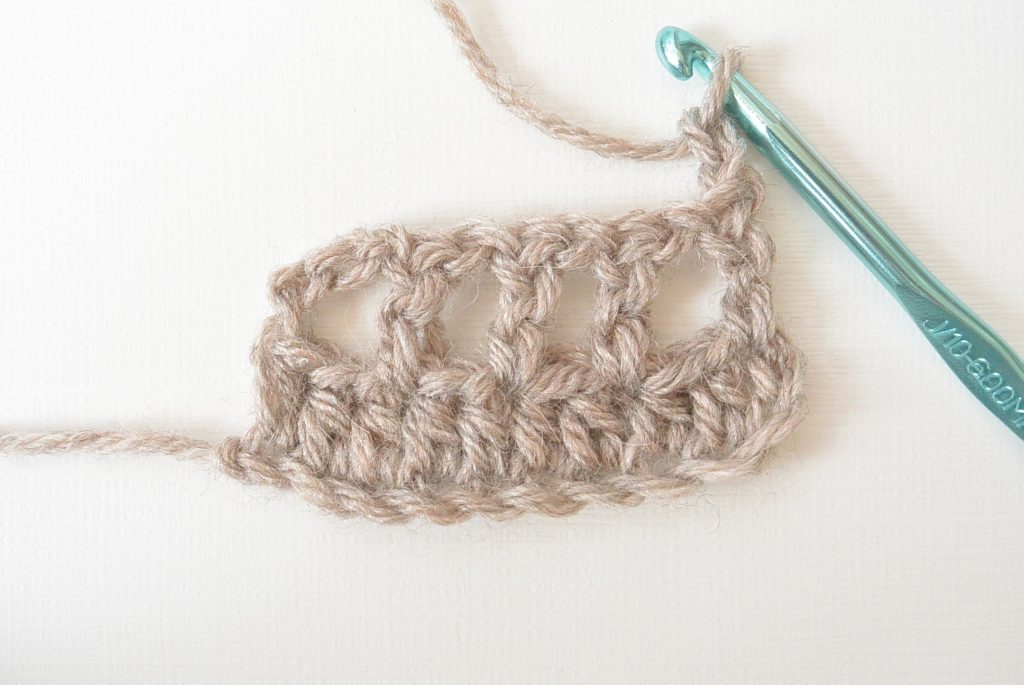 Below: Hdc in 4th stitch from hook and each st across row (this includes the ch stitches) If you find it too difficult to work into the ch stitches, you may work into the space.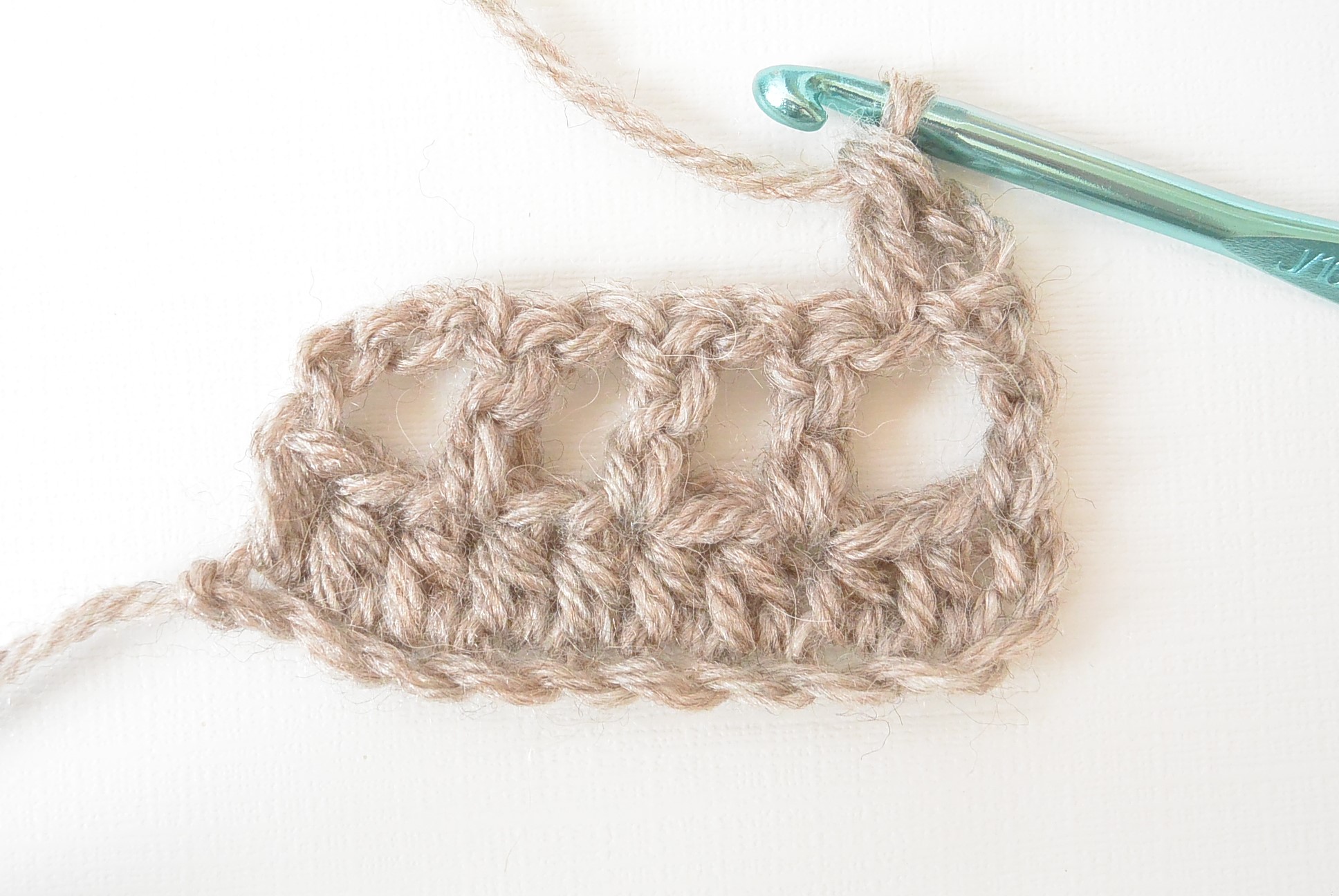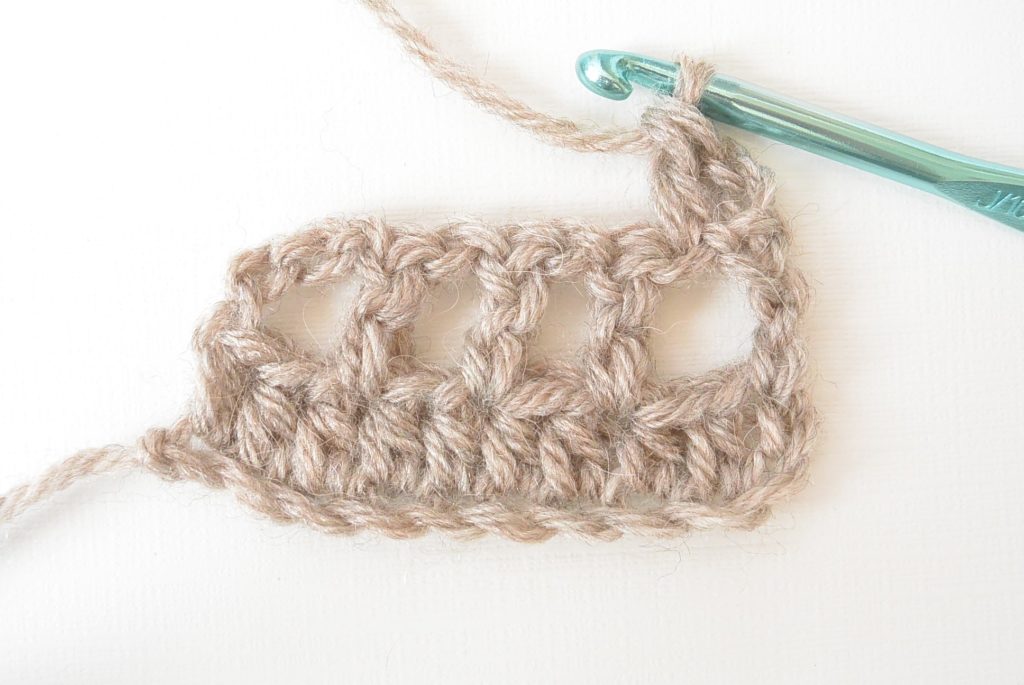 Below: About to work the last two stitches of the row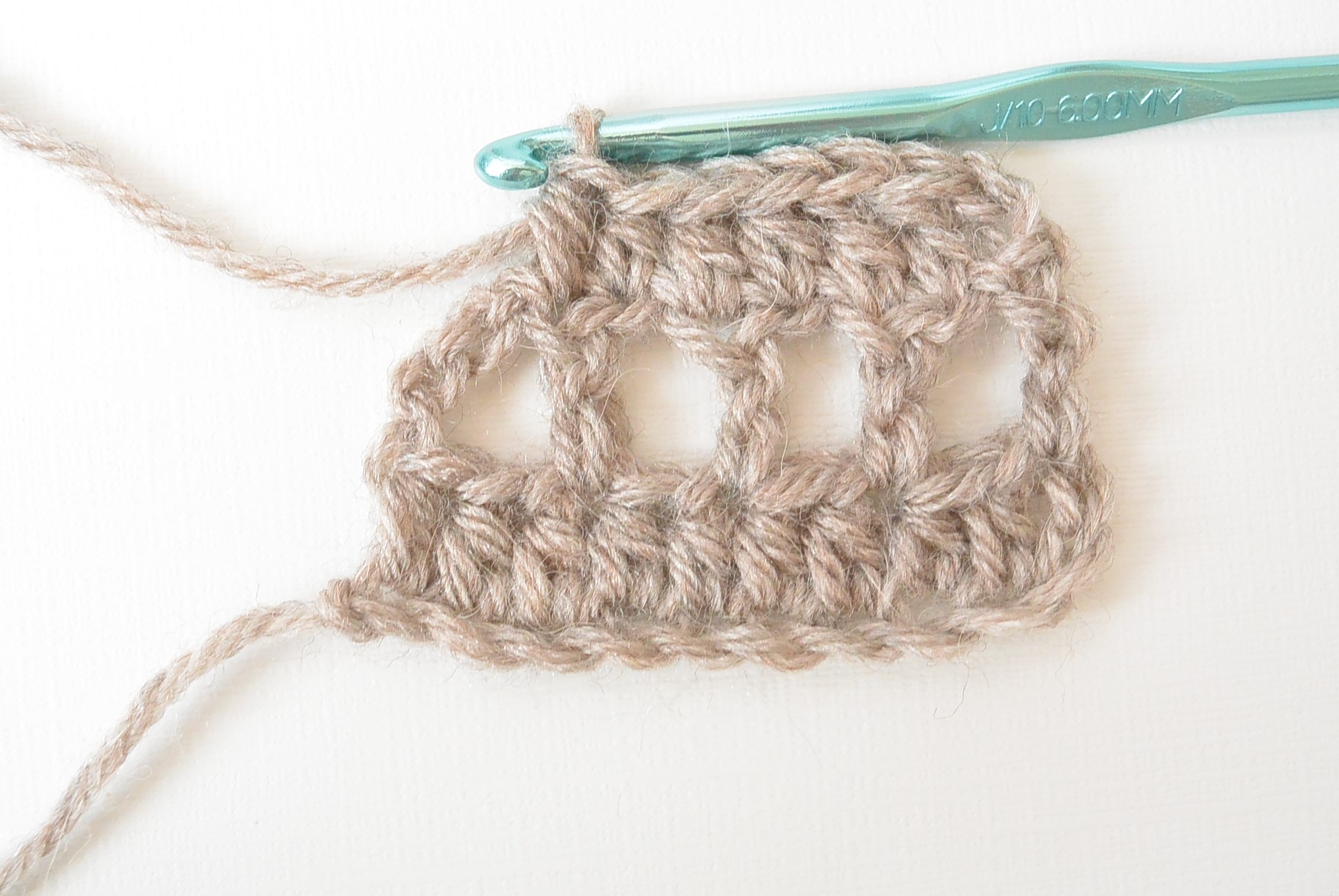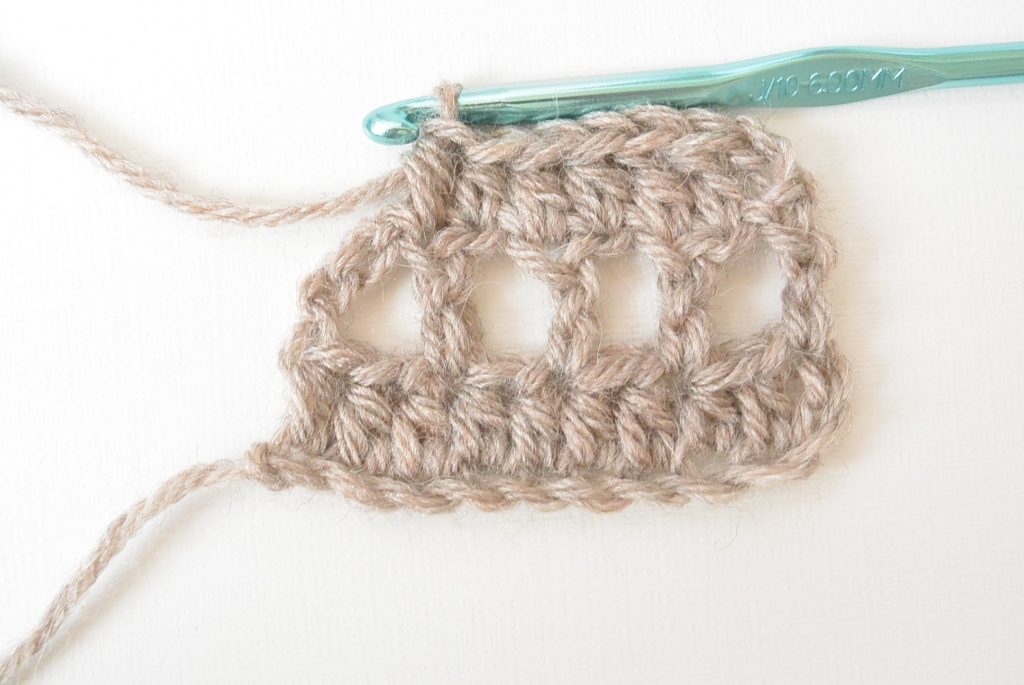 Below: Working into the top of ch 4 which counted as a ch st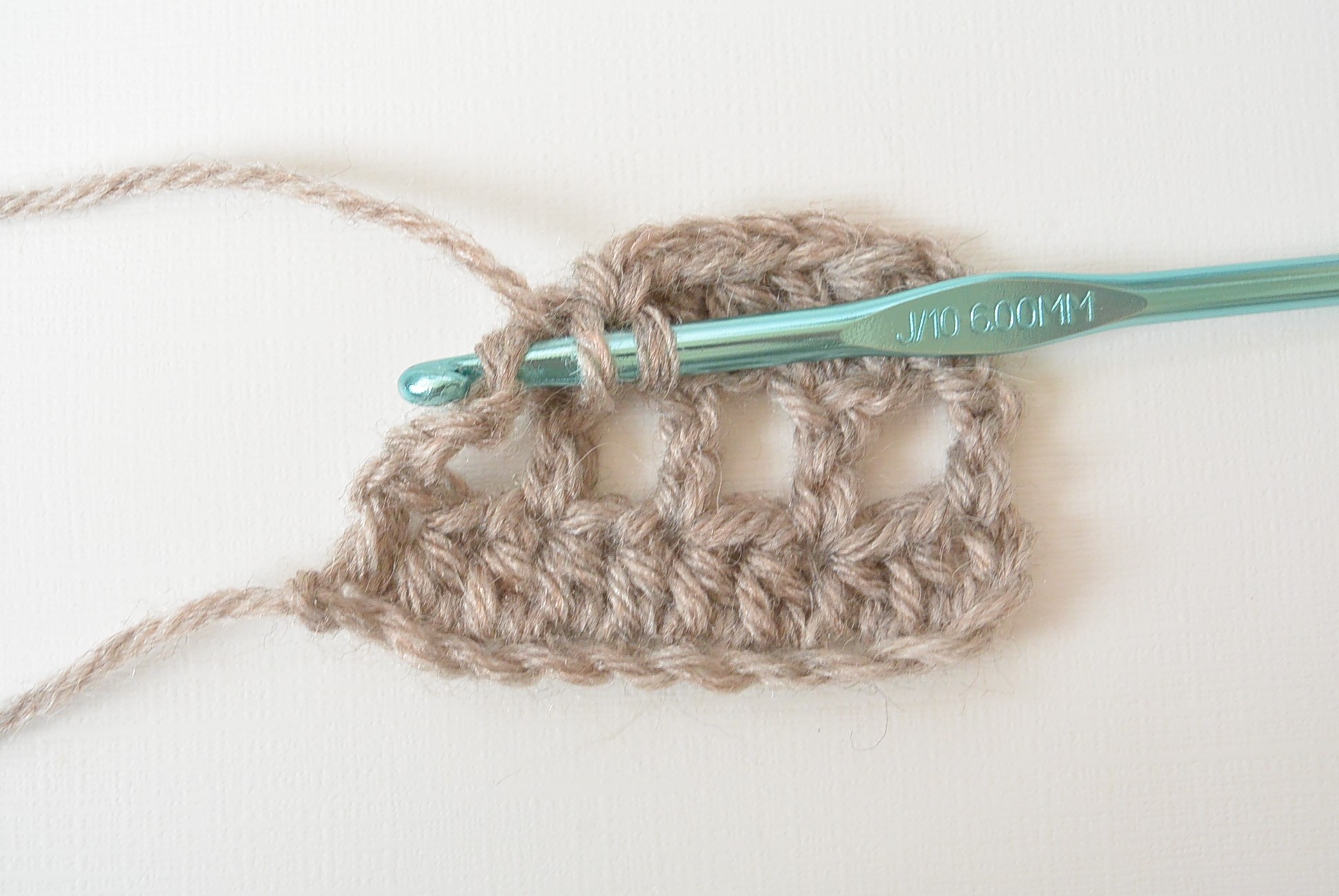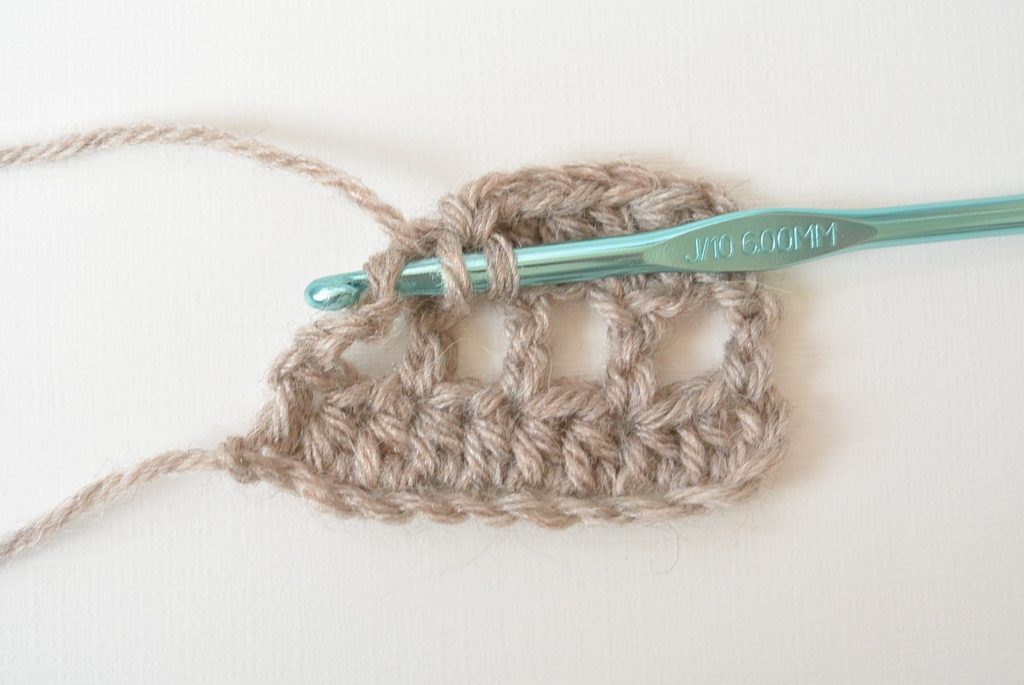 Below: Working FINAL stitch of row into the ch 4 which counted as a dc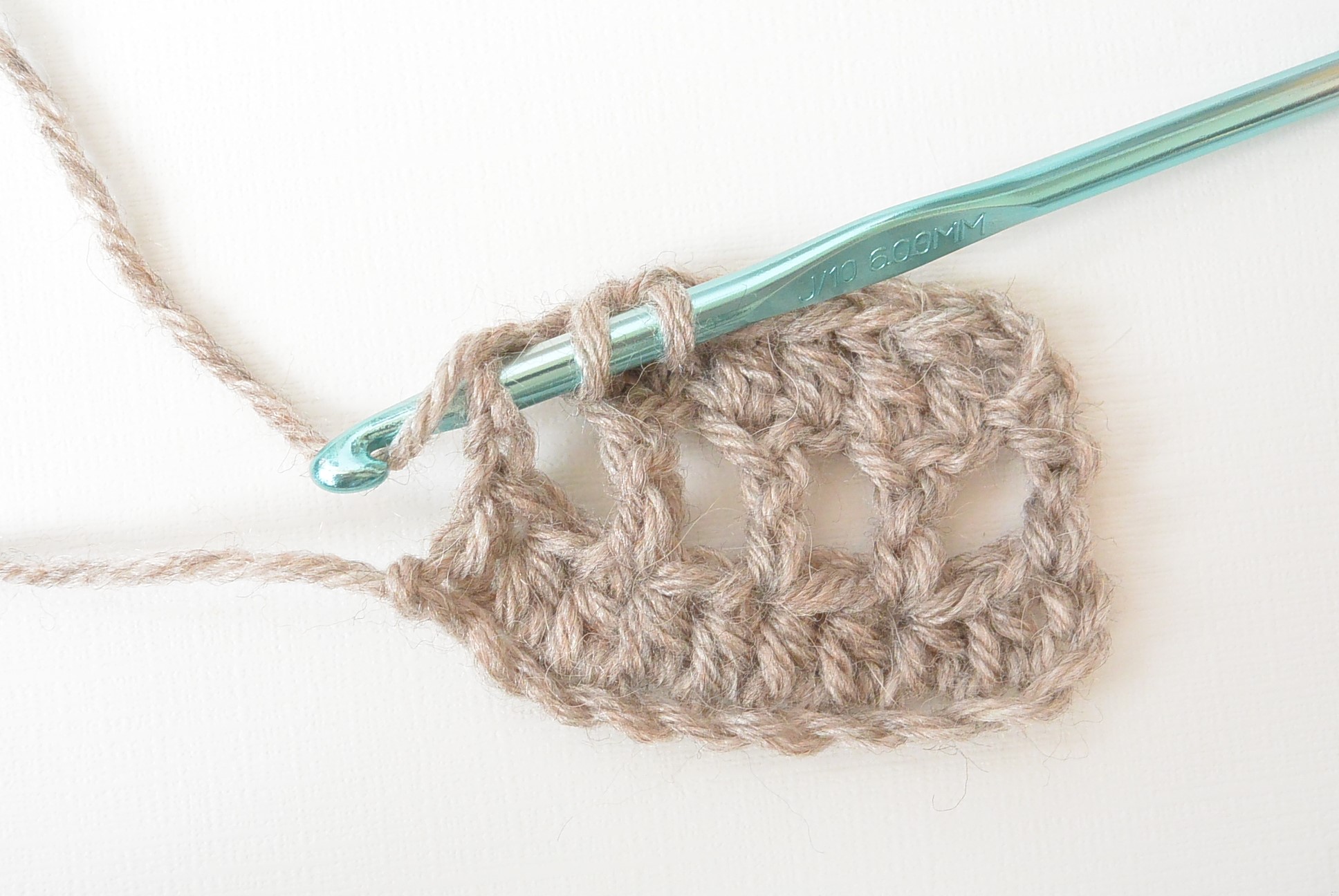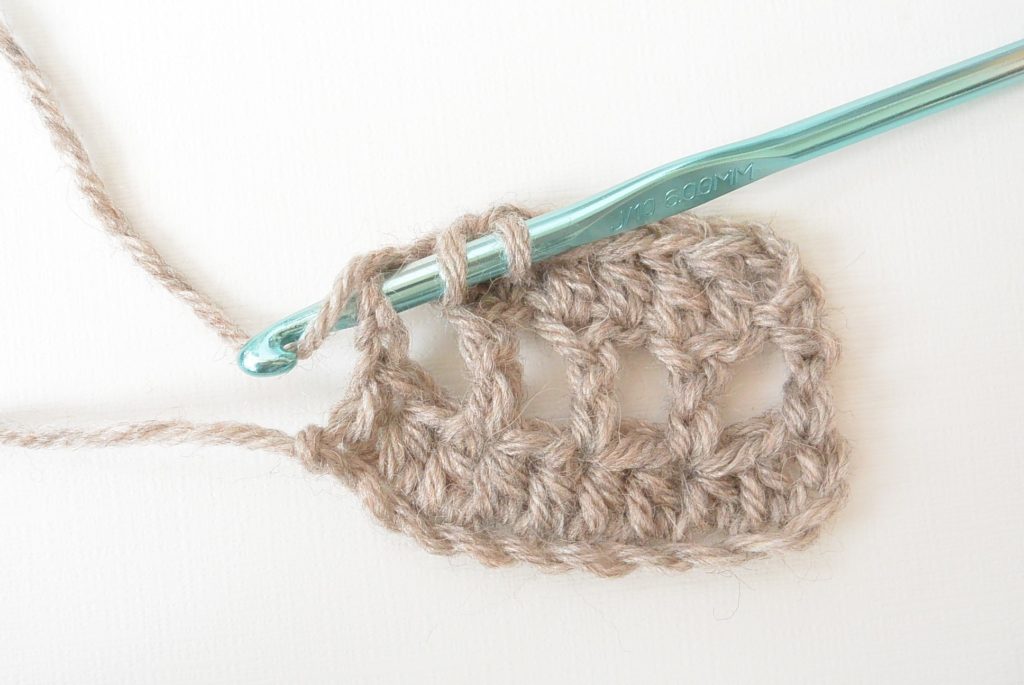 Completed rows 1 – 3 Be sure to count your stitches if you're having difficulty. You may also practice on a small swatch such as this. Chain an odd number of stitches and follow the pattern.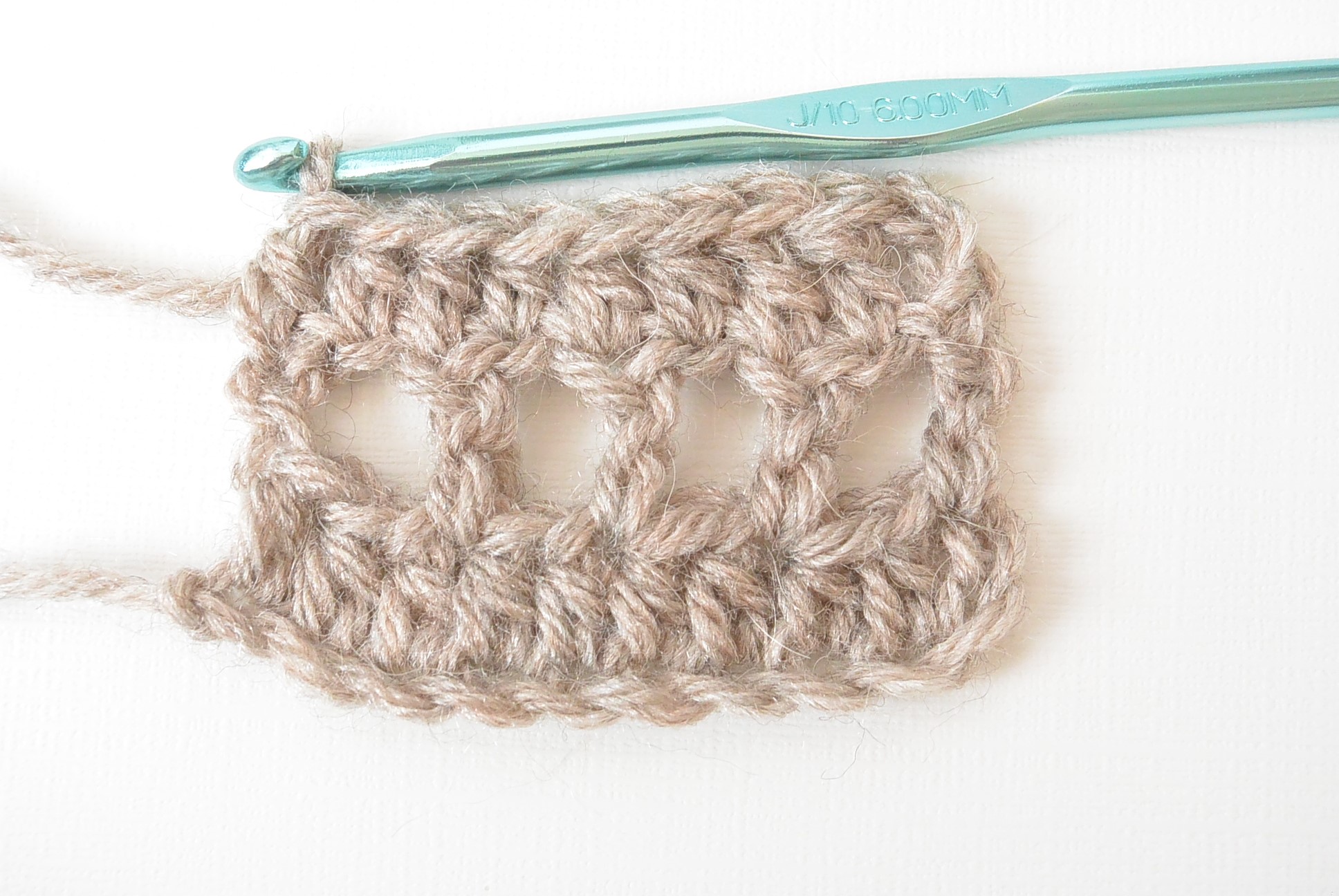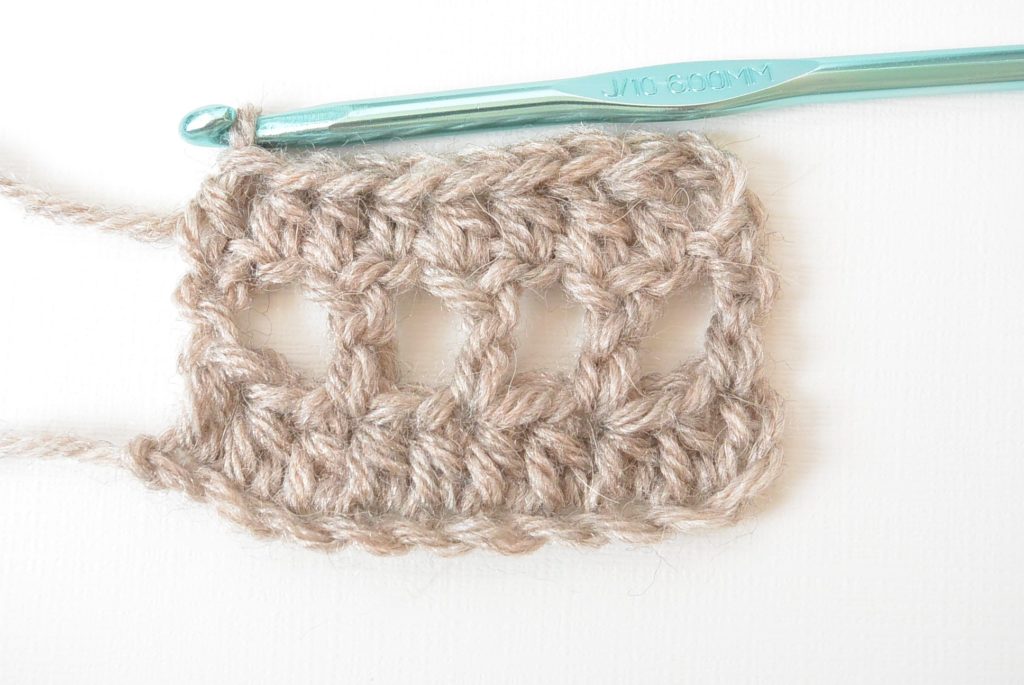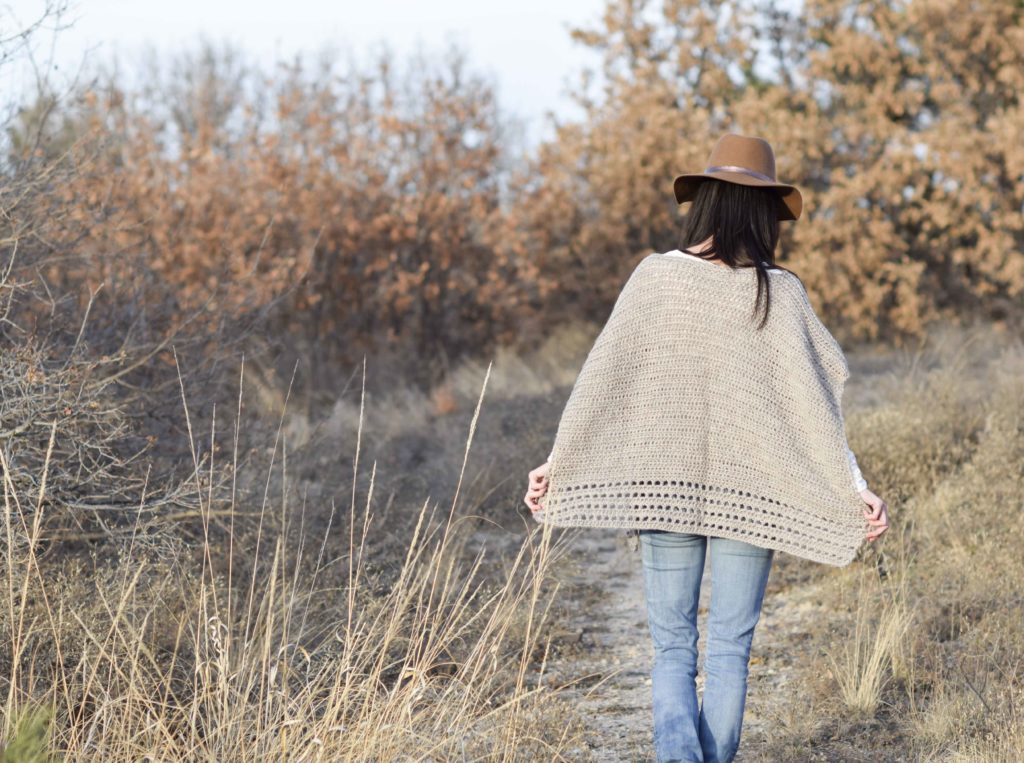 I hope that you enjoy your lovely alpaca poncho! Happy crocheting and let me know what you think!
XO
Jessica
If you liked this, you might also like these projects of mine: