Broomstick Lace Crochet Top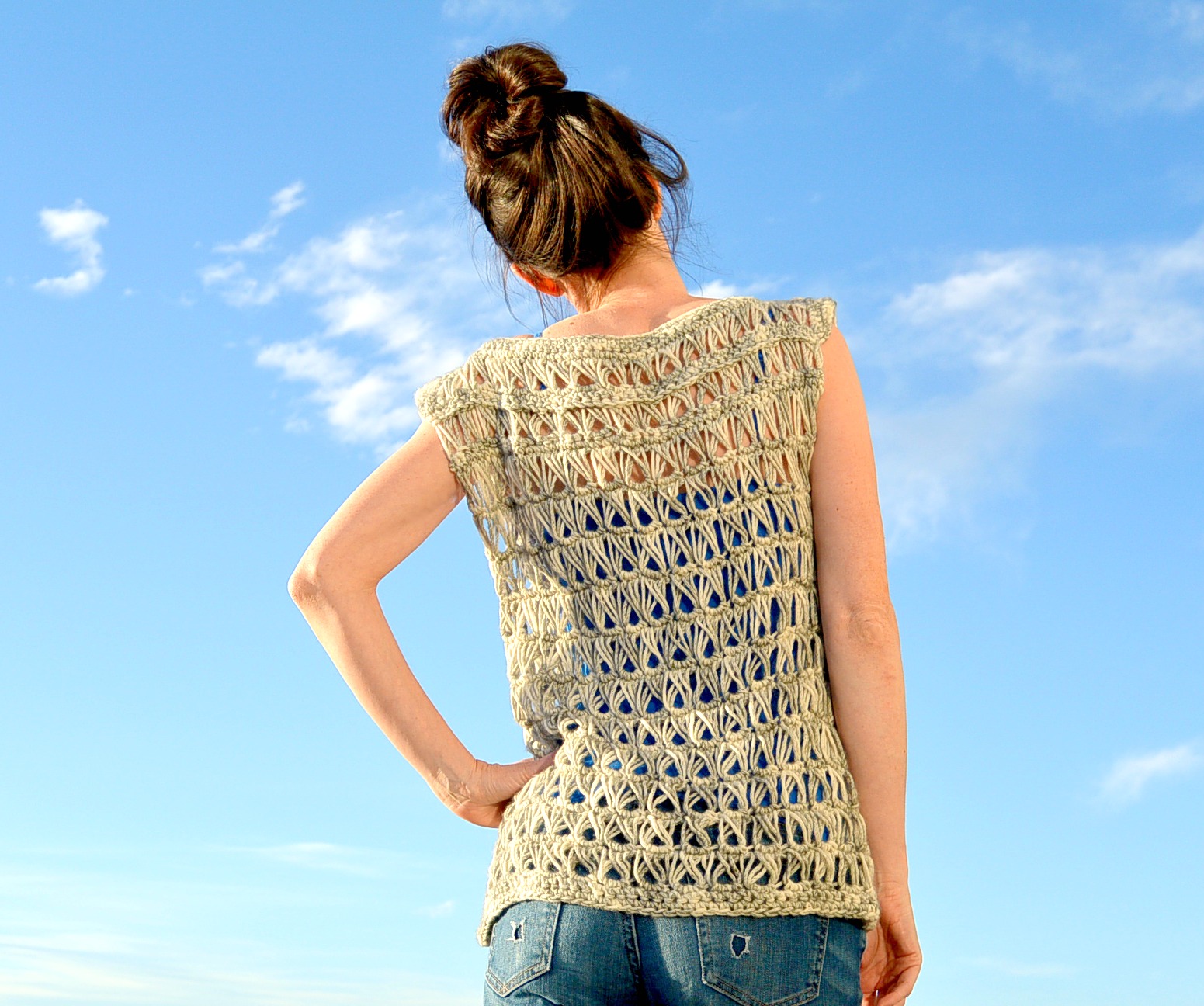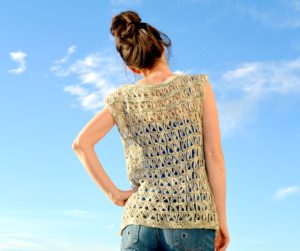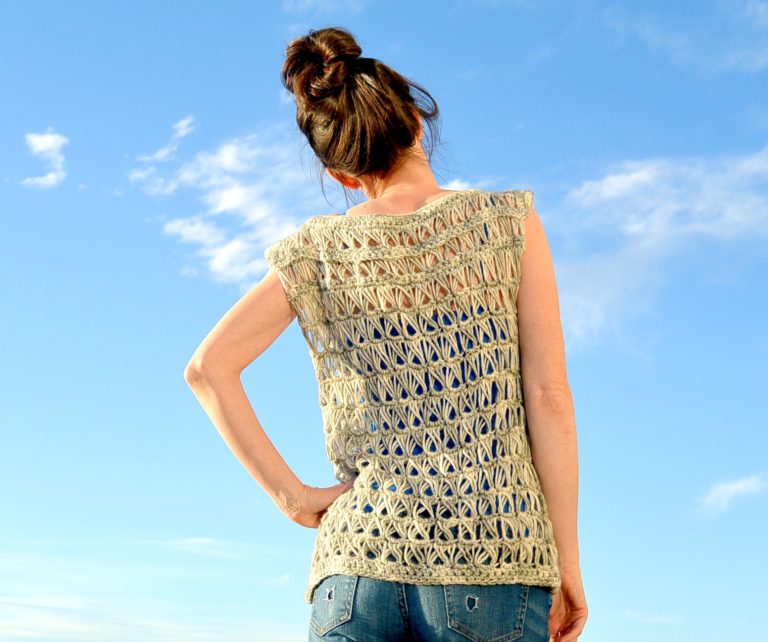 When I first saw broomstick lace, I assumed it must be very complicated. After reading a bit about it, I realized it is super easy! I'm not going to lie, it is a bit cumbersome at first, trying to prop up an extra knitting needle to work around (see pics below). It works up pretty quickly, and at least for this pattern you only need to know how to single crochet and half double crochet. Apparently it is called broomstick lace because they used broomsticks in the past to make it. Now we just use BIG knitting needles, but you can use whatever "stick" you might like! I actually taped two of my needles together to get the size I wanted. I really needed big, open lace for this top, and this was the only way to make that happen. You can see this in my pictures below.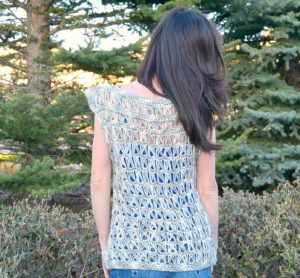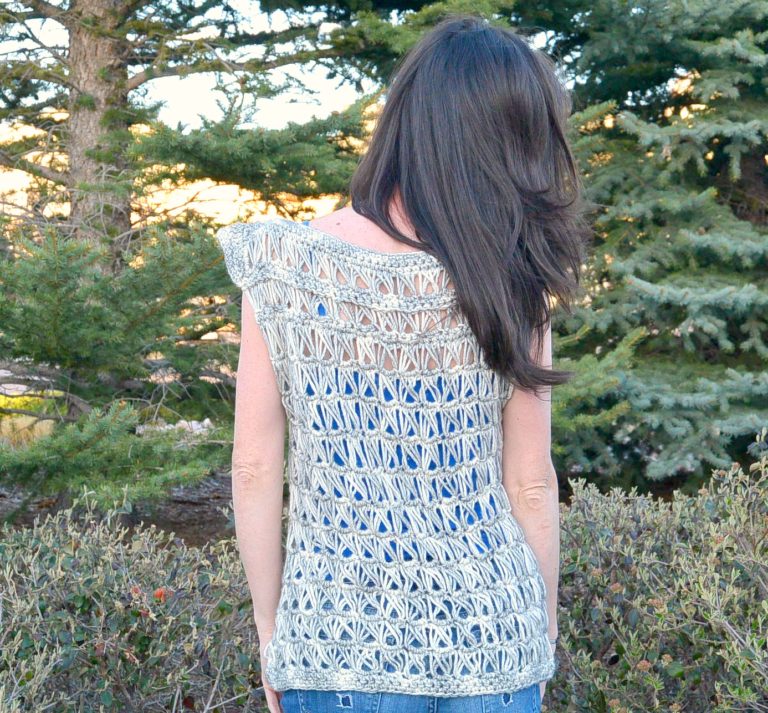 I will describe how to do broomstick lace, but for a full-blown tutorial just head over to YouTube and do a quick search. You will see how easy it really is! This is a great top to practice the stitch as there is no increasing or decreasing. I am really excited to wear it!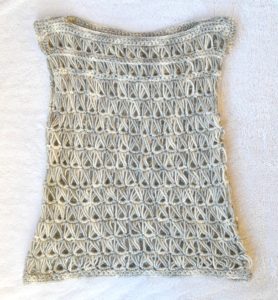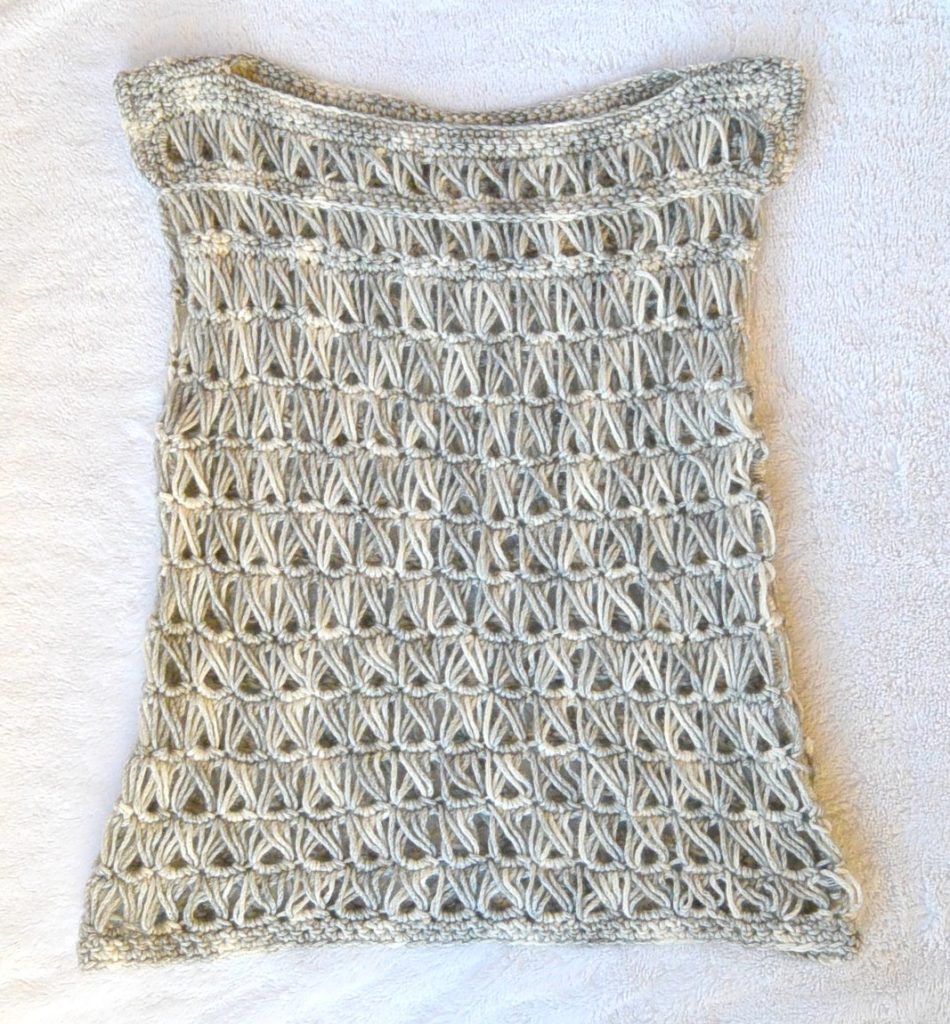 *This would probably be a Women's Small, or Extra Small (it is roomy, so could be a medium) You can adjust the size as the pattern is very forgiving. To increase the size, add stitches to your initial chain. Increase in sets of 3's. Meaning, my pattern says 52, so you can up it to 55, 58, or 61, for example. The best way would be to make your chain the length of shoulder tip to shoulder tip. You can then follow my pattern, with your new stitch count. It is a VERY easy pattern consisting of two squares seamed together. The pattern does create a neckline detail, but if you want to make this REALLY easy, just chain and do strictly broomstick lace throughout the two squares. Seam, and that's it!
*This is worked in two pieces, the front and the back. It is then seamed with slip stitches and single crochet.
*The two pieces are worked from the top down, using the same pattern.
*Simple cap sleeves are added at the end
*I blocked my finished top by simply getting it wet and laying it out flat to dry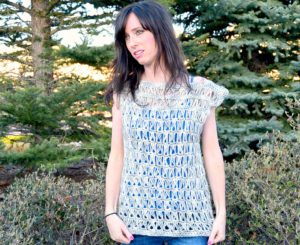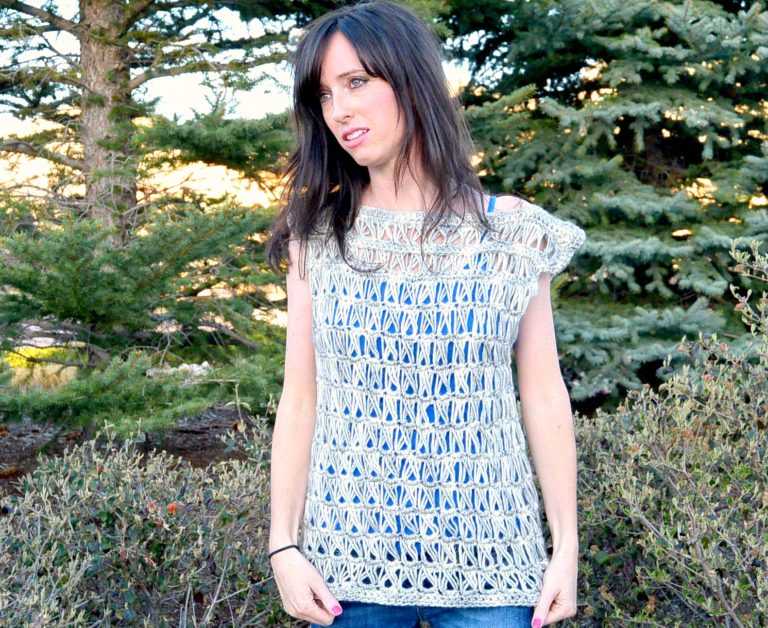 You will need:
3 skeins of Patons Denim-y in Grey Denim (It is mostly cotton) or another worsted weight yarn (this yarn is on the larger side of worsted weight yarns, so don't pick an itty-bitty yarn )
Size H Crochet Hook
2 US Size 35 knitting needles, taped together (see picture below)
Scissors
Tapestry Needle
This is what making Broomstick Lace Looks Like: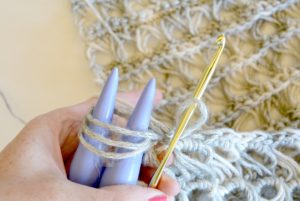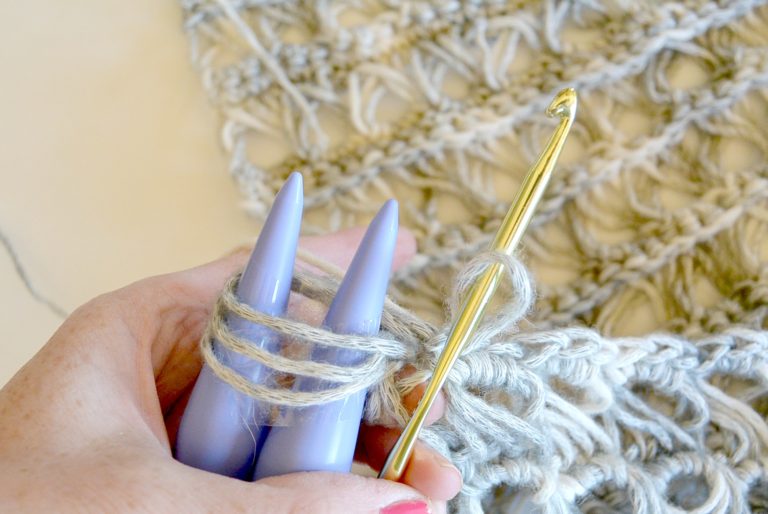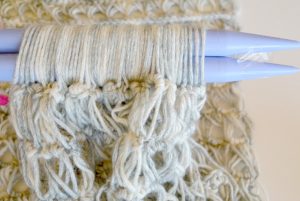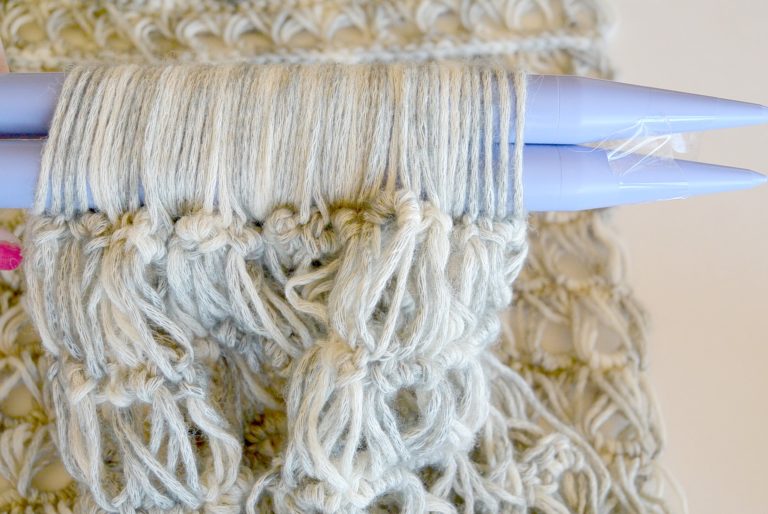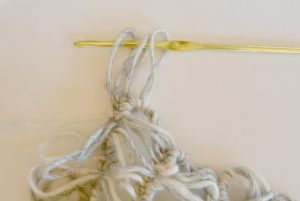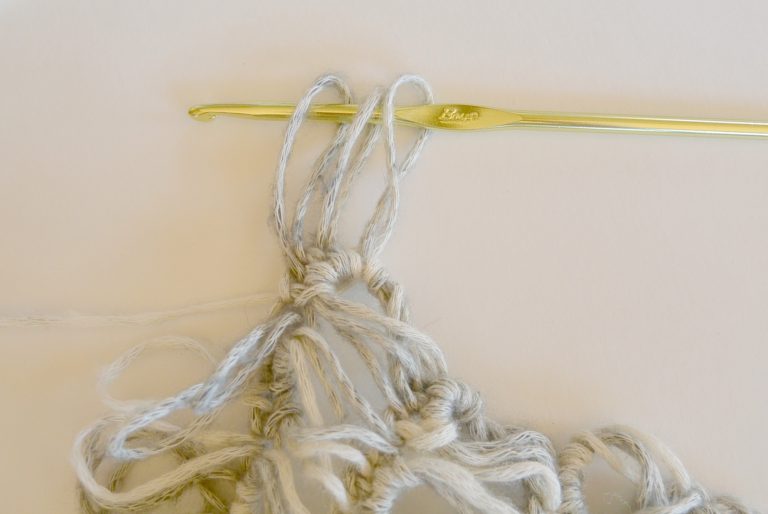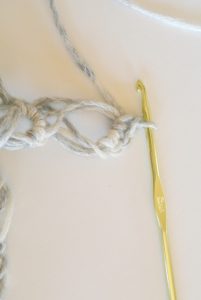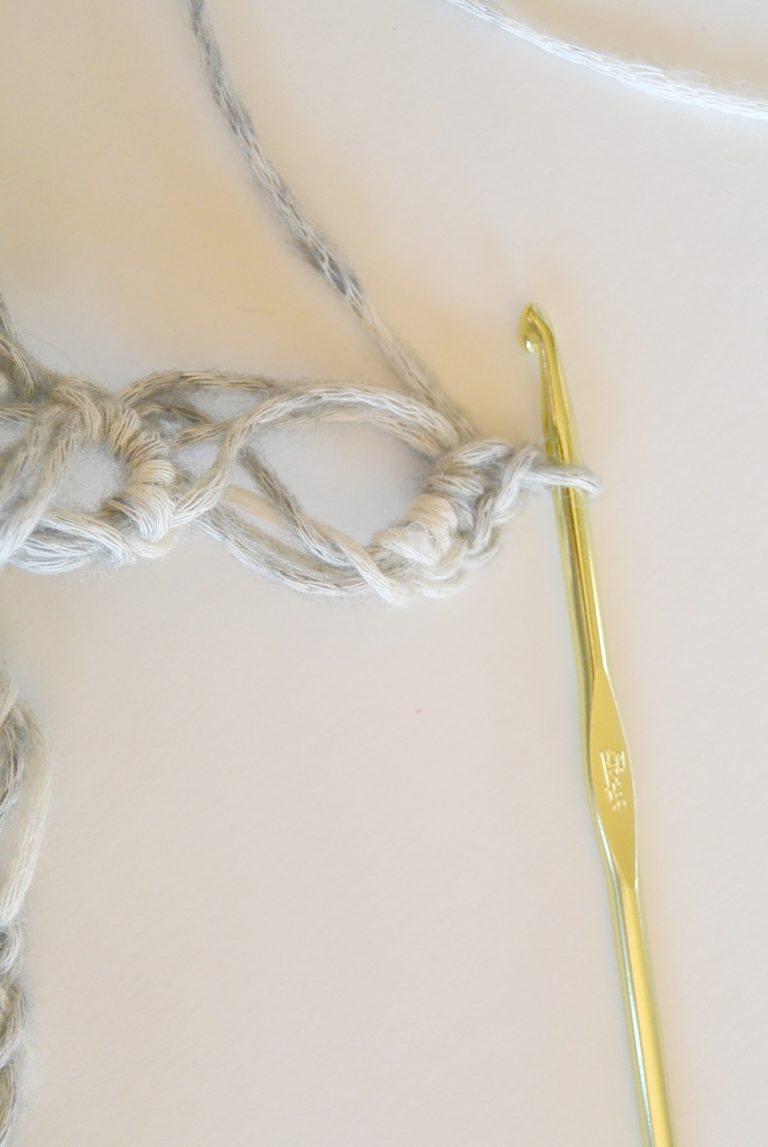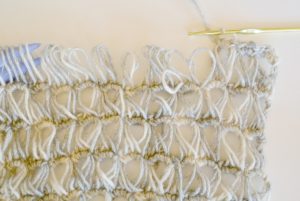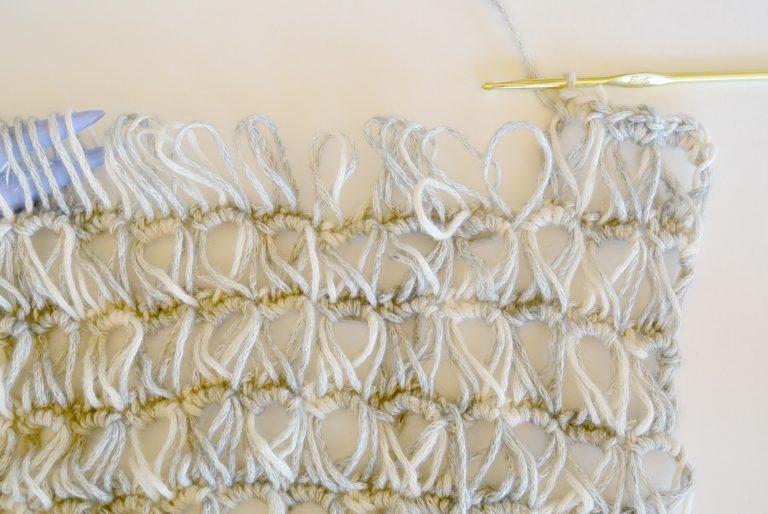 Pattern:
Front
Chain 52
Row 1 Single Crochet across row (51 stitches), Chain 1, Turn
Row 2 Single Crochet across row (51), Chain 1, Turn
Row 3 Single Crochet across row (51) Do NOT Chain 1
Row 4 Pull up the yarn on your hook (a broomstick lace loop or bL) over your taped knitting needles. Do this through each stitch until the end (51)
Row 5 Working 3 bL at a time, make 3 sc in each group of 3 bL. (See pictures), Chain 1, Turn
Row 6 Single Crochet across row (51) Do NOT Chain, Pull up loop
Row 7 With pulled up loop, bL. Do this for each stitch across row (51 bL total)
Row 8 Working 3 bL at a time, make 3 sc in each group of 3 bL, (51 bL) Chain 1, Turn
Row 9 Single Crochet across (51sc), Do NOT chain 1. Pull up loop
Row 10 *With your loop bL. bL in each stitch across (51).
Row 11 Working 3 bL at a time, make 3 sc in each group of 3 bL *
Row 12 – and until length desired is reached – Repeat from * to *
Finish with a set of three rows of single crochet on the bottom
Back
Use the same pattern that you used to make the front.
Seam:
Lay the two pieces with right sides together ( I used the NON-ribbed side for my right side)
Seam using single crochet, bottom up, on both sides. Seam up until the point where you want the bottom of your sleeve opening. For me, that was eight (bL) rows up. Tie off, weave in ends.
Seam the outsides of each shoulder, 2 inches in on either side with slip stitches. Tie off, weave in ends.
Cap Sleeve – OPTIONAL:
This is a forgiving pattern:
*Essentially, you are making three rows of single crochet (within that, one section of half double crochet) on the outer shoulder of your top.
Row 1 With the shoulder laying flat, insert hook on edge of bL loop (see picture). Single Crochet across to opposite bL loop, and ending at the other edge (I did 4 sc in each bL loop) Chain 1, Turn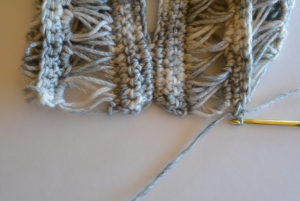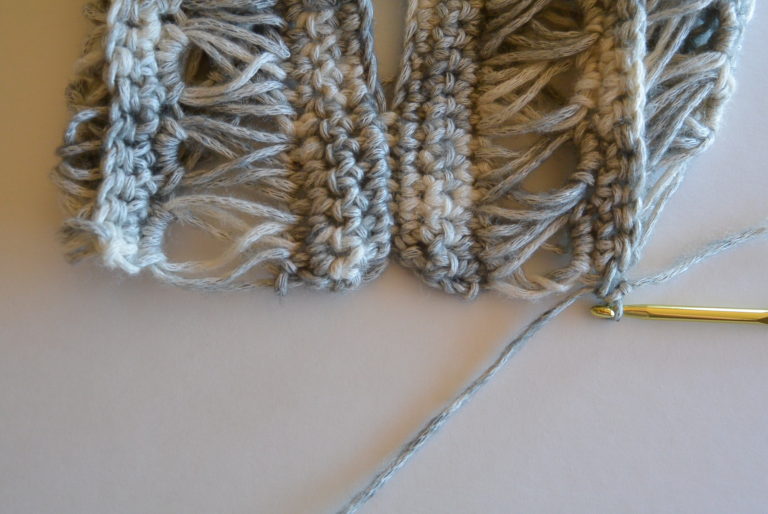 Row 2 Single Crochet (4) in the bL loop, then HDC in each of the Single Crochet stitches that are at the top of the shoulder. Single Crochet (4) in final bL loop. Skip one chain, and slip stitch. Chain one, turn. (The slip stitch will give the sleeve a more rounded look)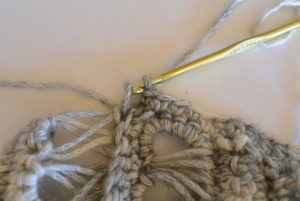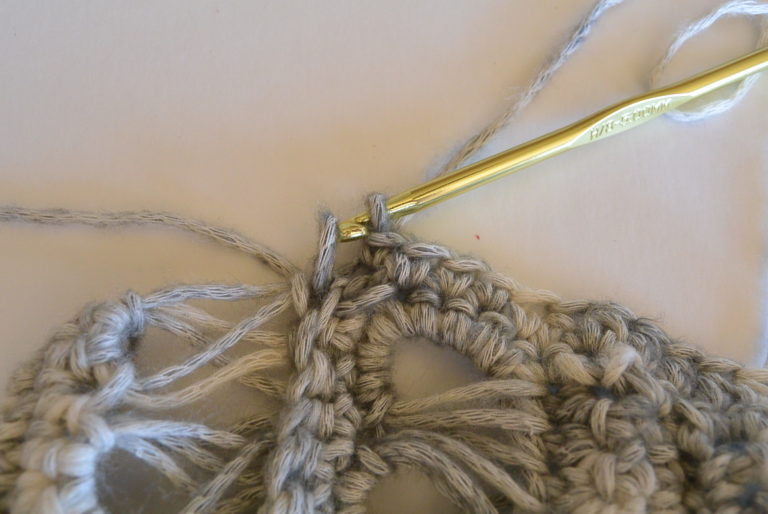 Row 3 Single crochet across. At end, skip a stitch and slip stitch. Tie off and weave in ends.
I suggest blocking your top as it makes the lace lay flat and look a little prettier 🙂 (I feel embarrassed that I've never blocked anything before this project)
That's all it takes for a pretty lace top!
This is the first time for me explaining how to make a top! Please let me know if there is something I can improve in my pattern and descriptions!
Have you tried broomstick lace before? What have you done with it?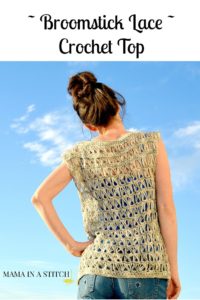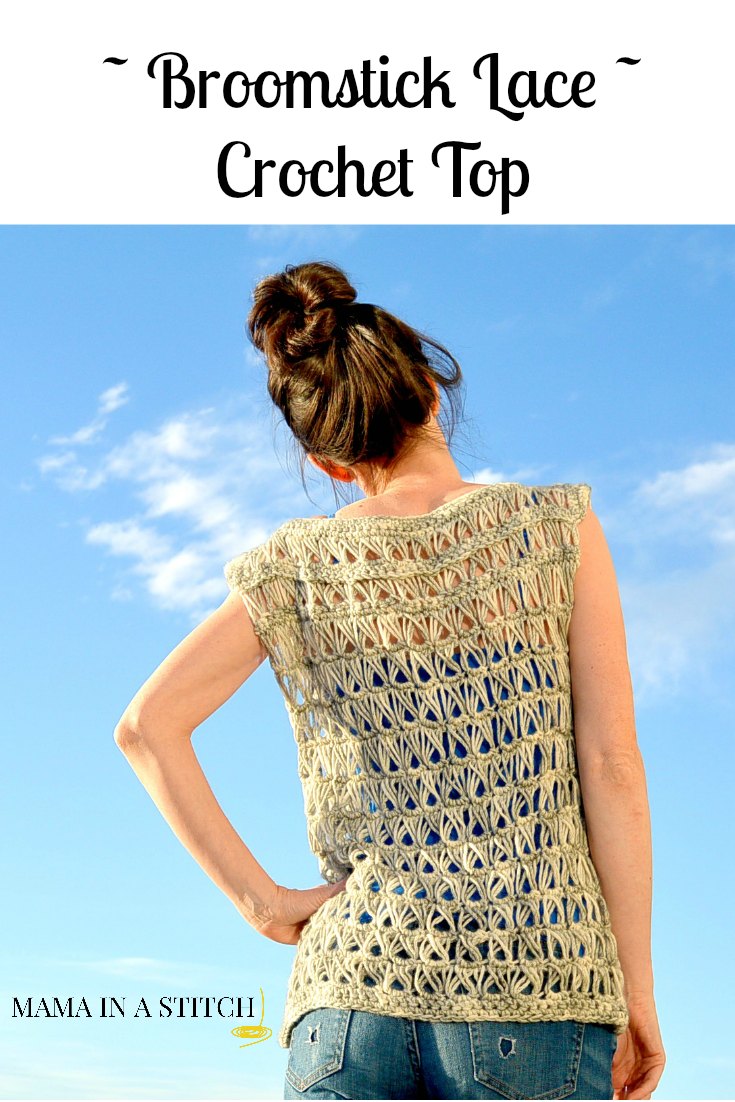 If you like this, please feel free to subscribe to the blog or my monthly newsletter for free and easy patterns! You can find me on Facebook, Instagram and Twitter!