Baja Blanket Sweater Crochet Pattern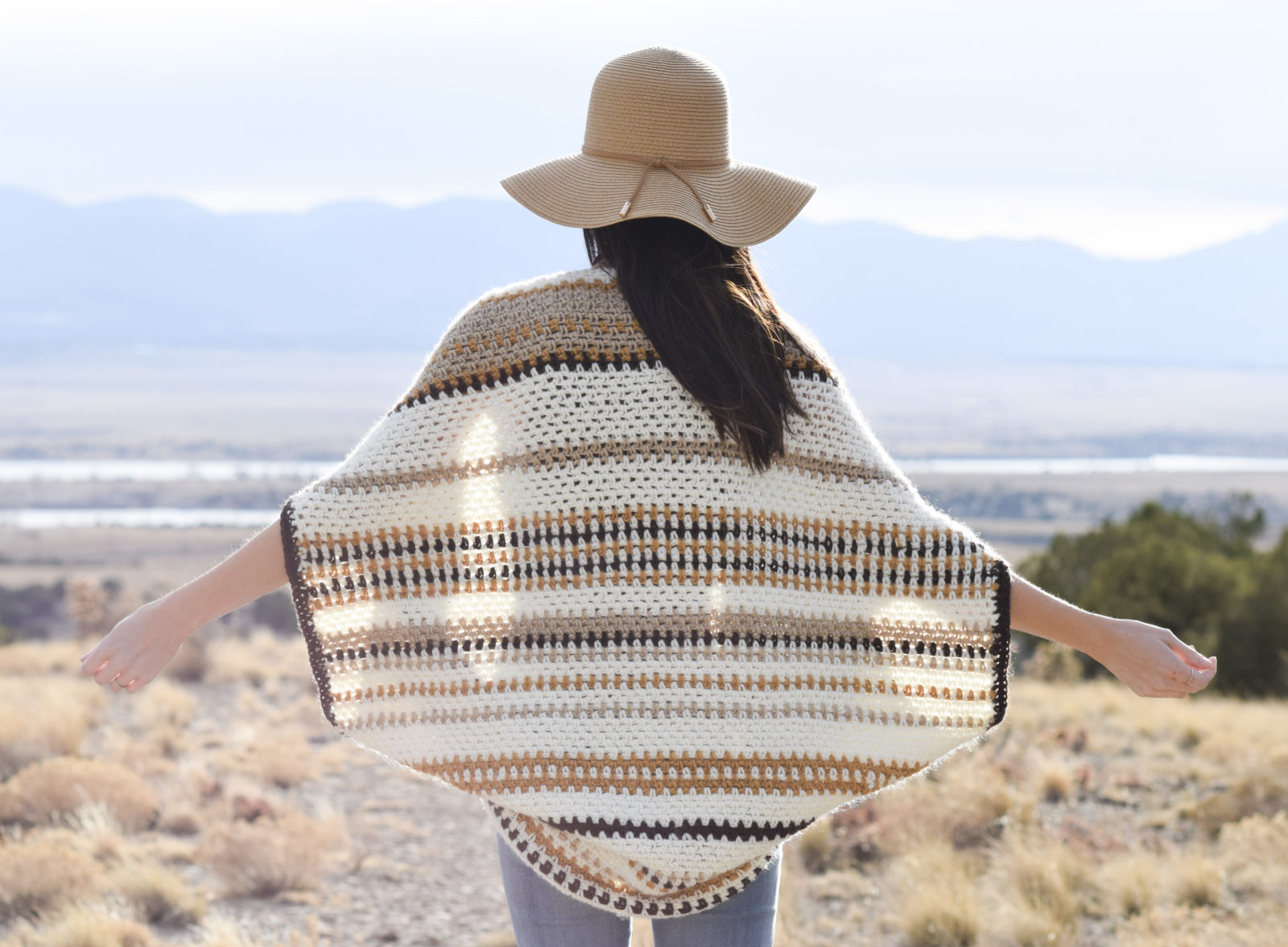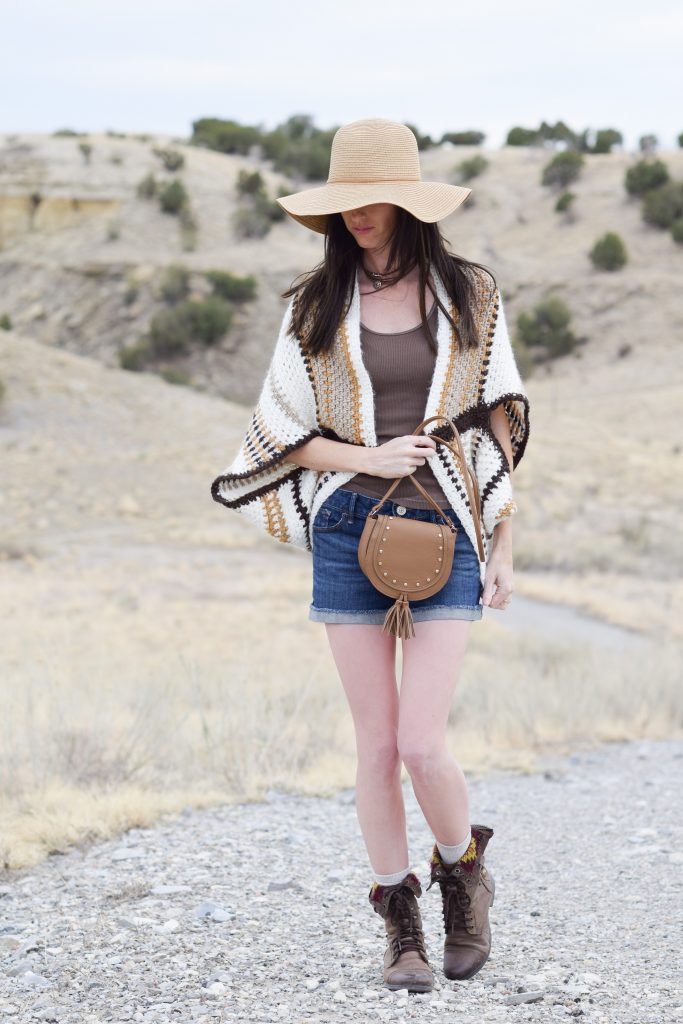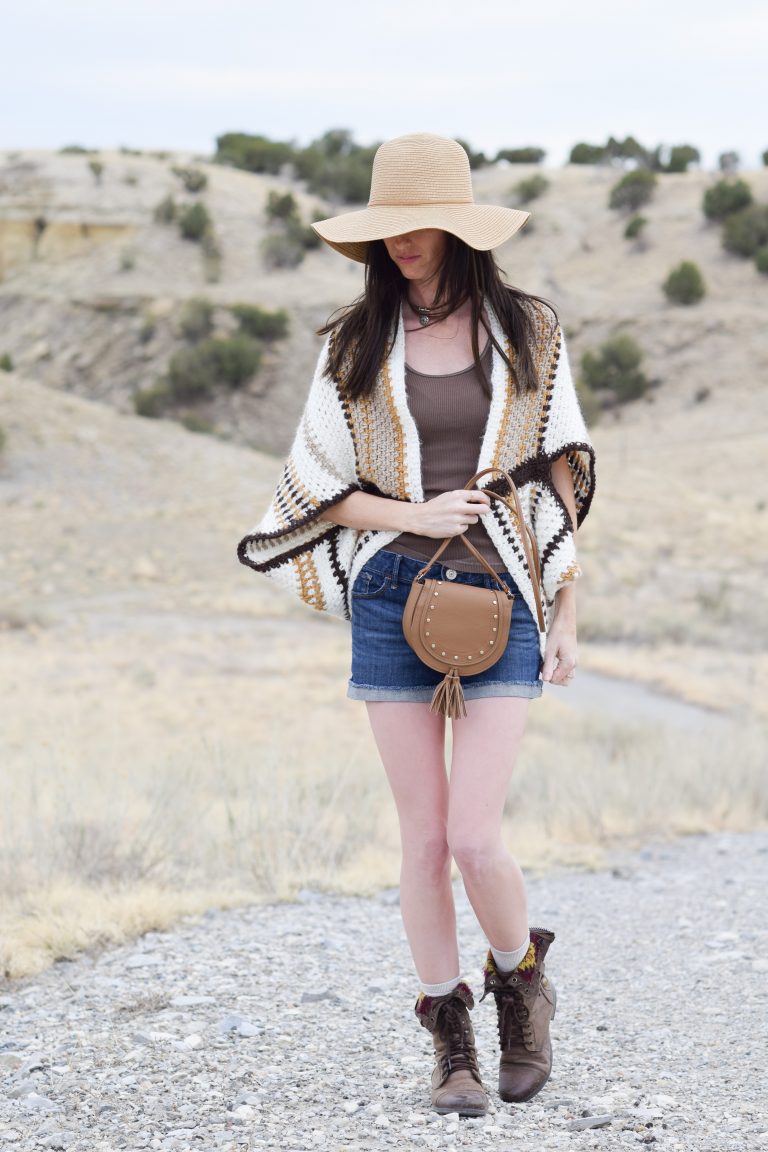 I'm so happy to that my new "Baja Blanket Sweater" is finished and I can share it with you today! As you may already know, I've made quite a few different types of these blanket sweaters. It all started when I wanted a cocoon "blanket like" sweater with buttons that was heavier than the other super cute knit and crocheted cocoons that I'd seen. However, what's neat about these types of sweaters (or cocoons) is that they can be as light or heavy as you'd like. I loved working on this lighter version and being able to try out some new colors AND a brand new yarn! In fact, Lion Brand has turned this into a kit and you can purchase the pattern and all of the yarn needed HERE! Or, simply scroll on down the page to see the full pattern for free. 🙂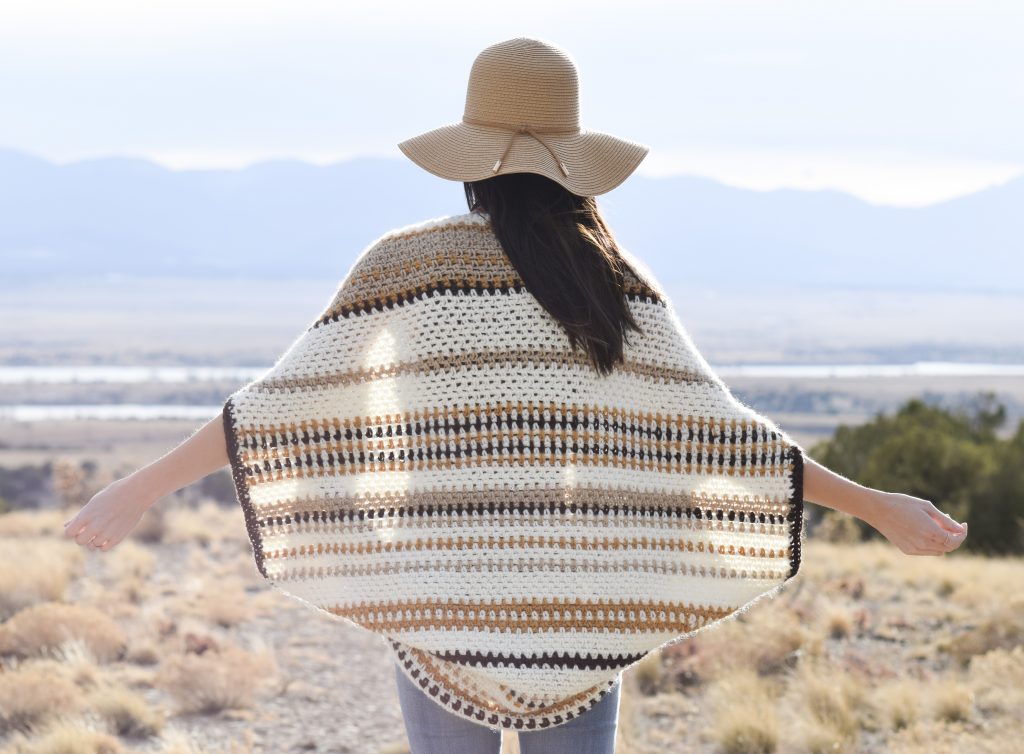 This sweater is made with "New Basic" yarn from Lion Brand and I'm absolutely loving the color choices. It's crocheted almost entirely with the moss stitch (see my picture tutorial here), which is SO EASY. I love how it worked up with the variety of light and dark browns, creating the illusion of intricate colorwork. I've shared a picture tutorial for this stitch, so if you've never tried it, check out the tutorial and try it out on a little swatch. You should find that it's enjoyable and super simple.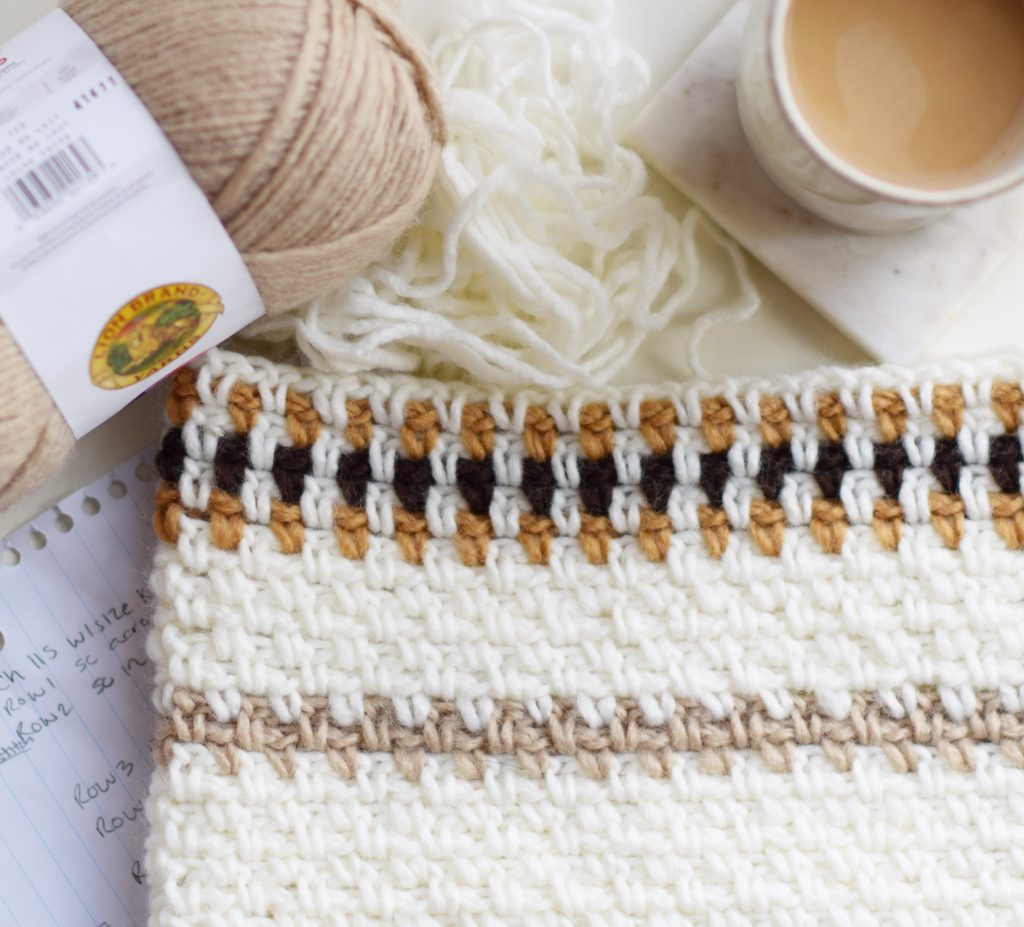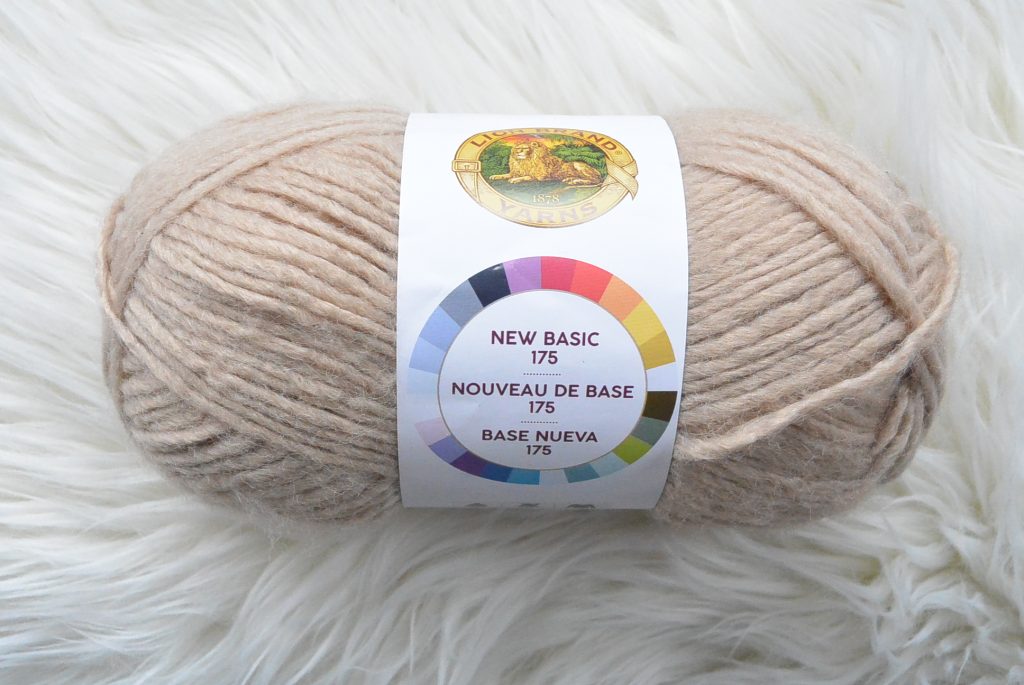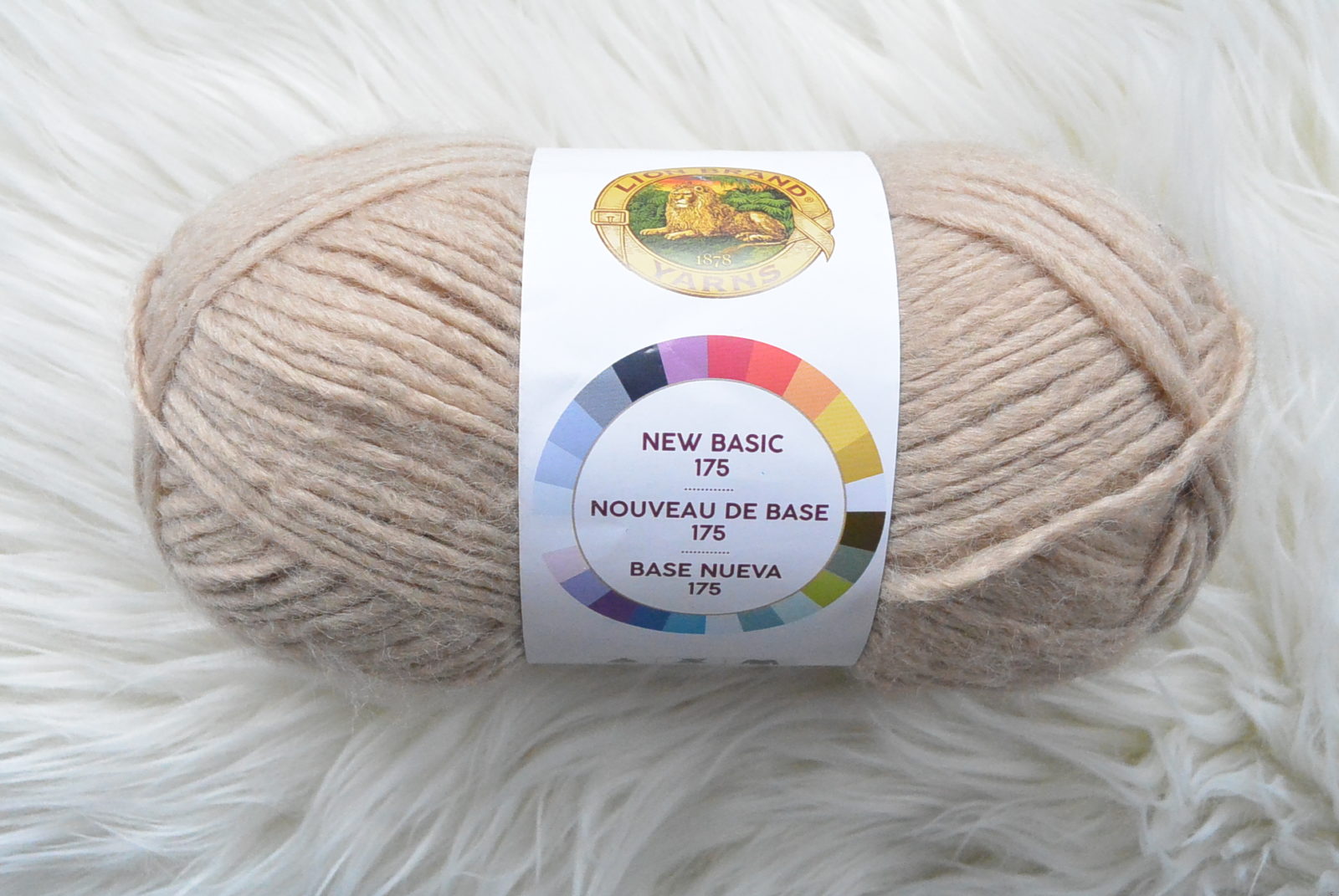 My family and I had a great time hunting for fossils near my aunt and uncle's home. It was the perfect time to wear my new sweater and snap some pics for the blog post at the same time. I promise to not overwhelm you with nature pics, but you know I have to sneak at least one in here (more at the end of this post – he he!).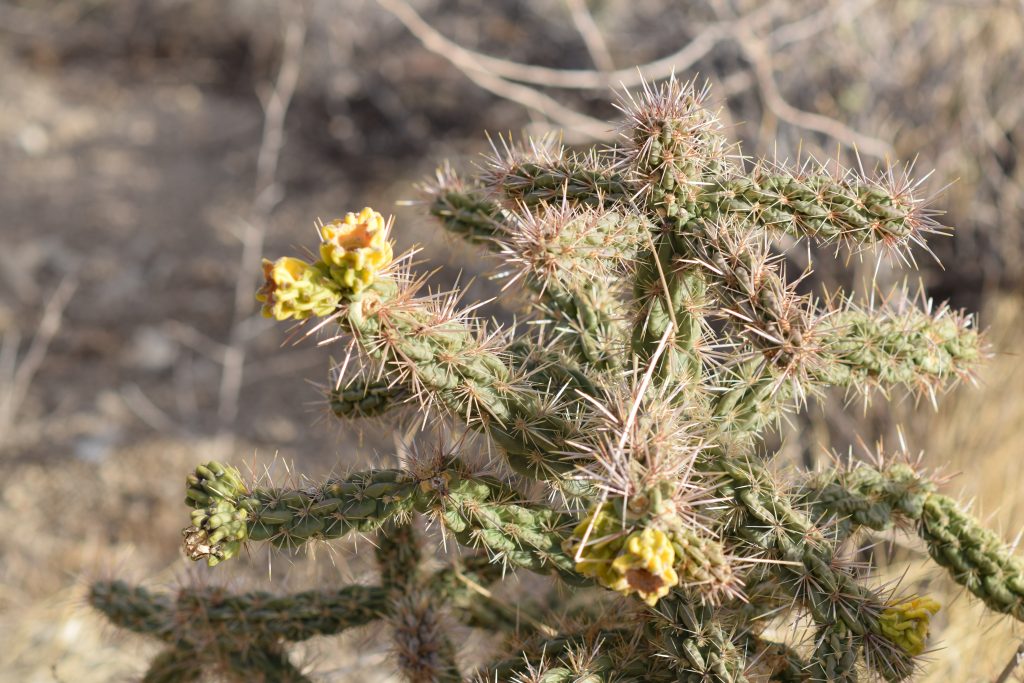 Here ya go – my official explanation of this project and pattern:
While the stunning color work in this sweater appears complicated, it couldn't be any easier! By using four colors of yarn and making simple color changes, this beautiful sweater works up very easily. The moss stitch draws the eyes to the individual stitches which look very similar to intricate knit stitches. The boho feel and incredible color detail ensure that this piece will be noticed on the beach, out on the town or wherever your travels take you.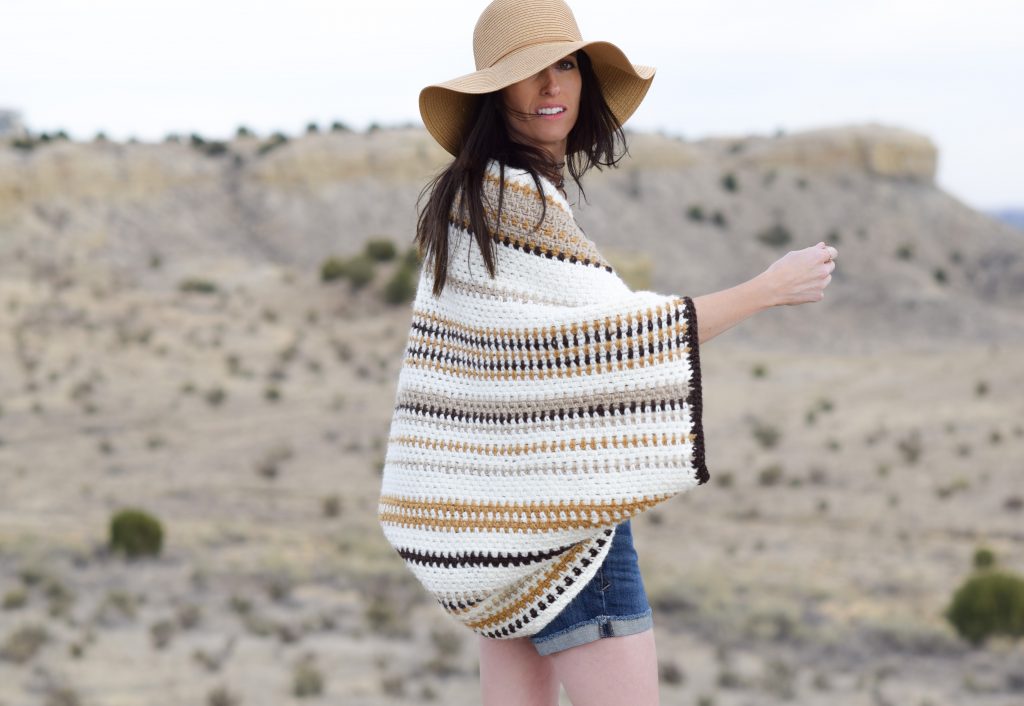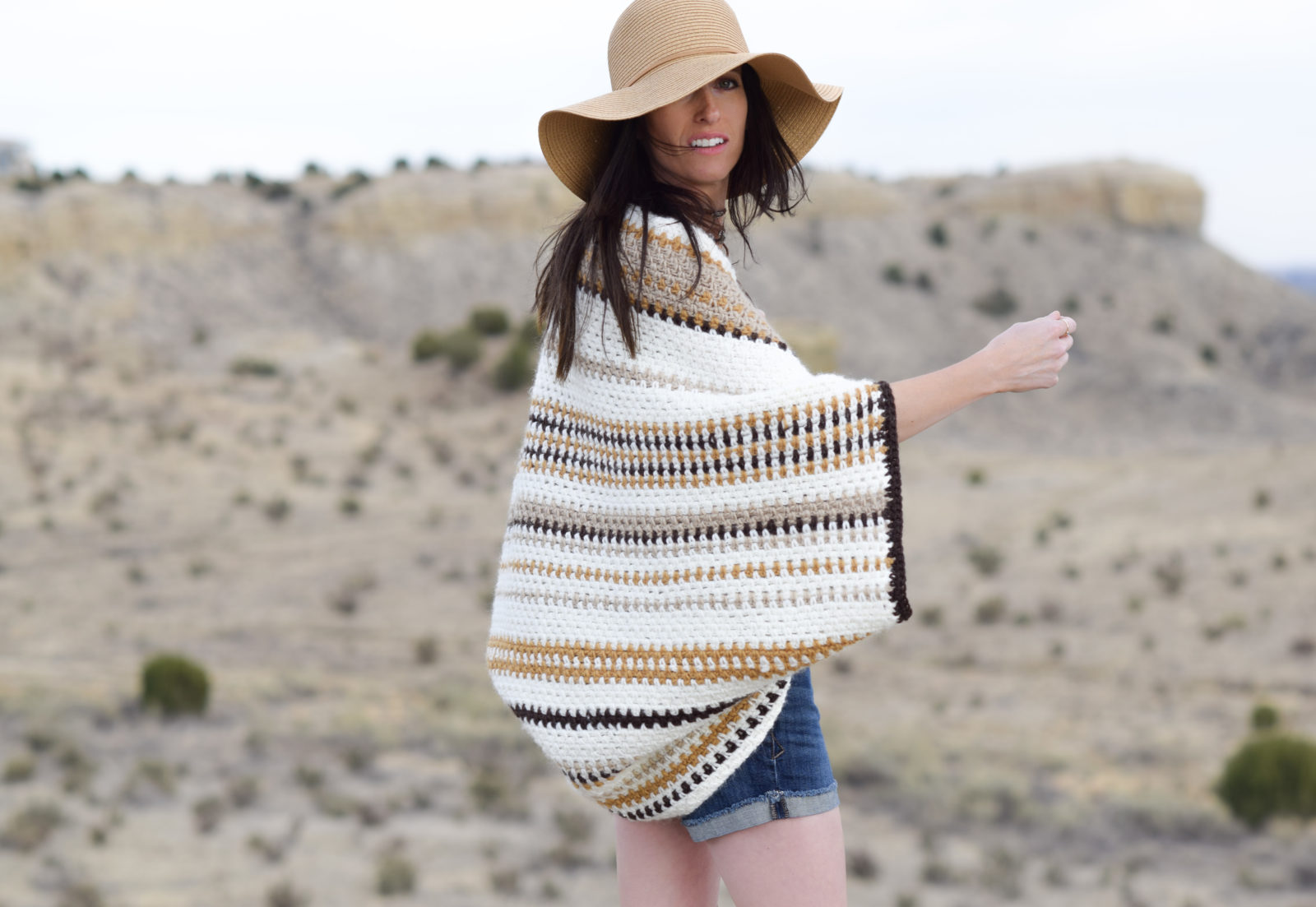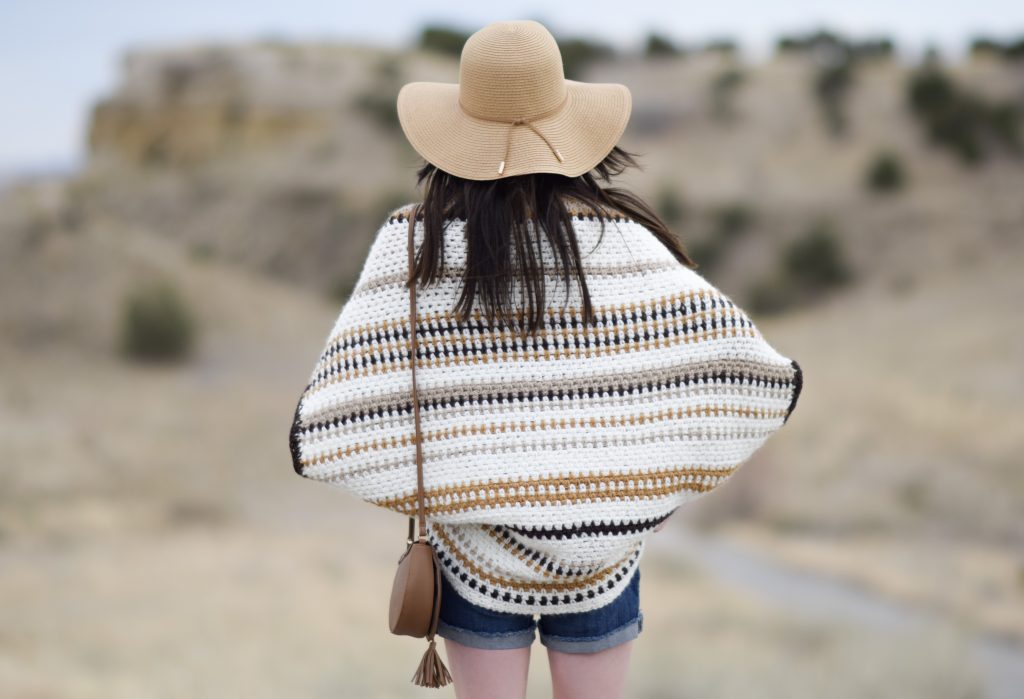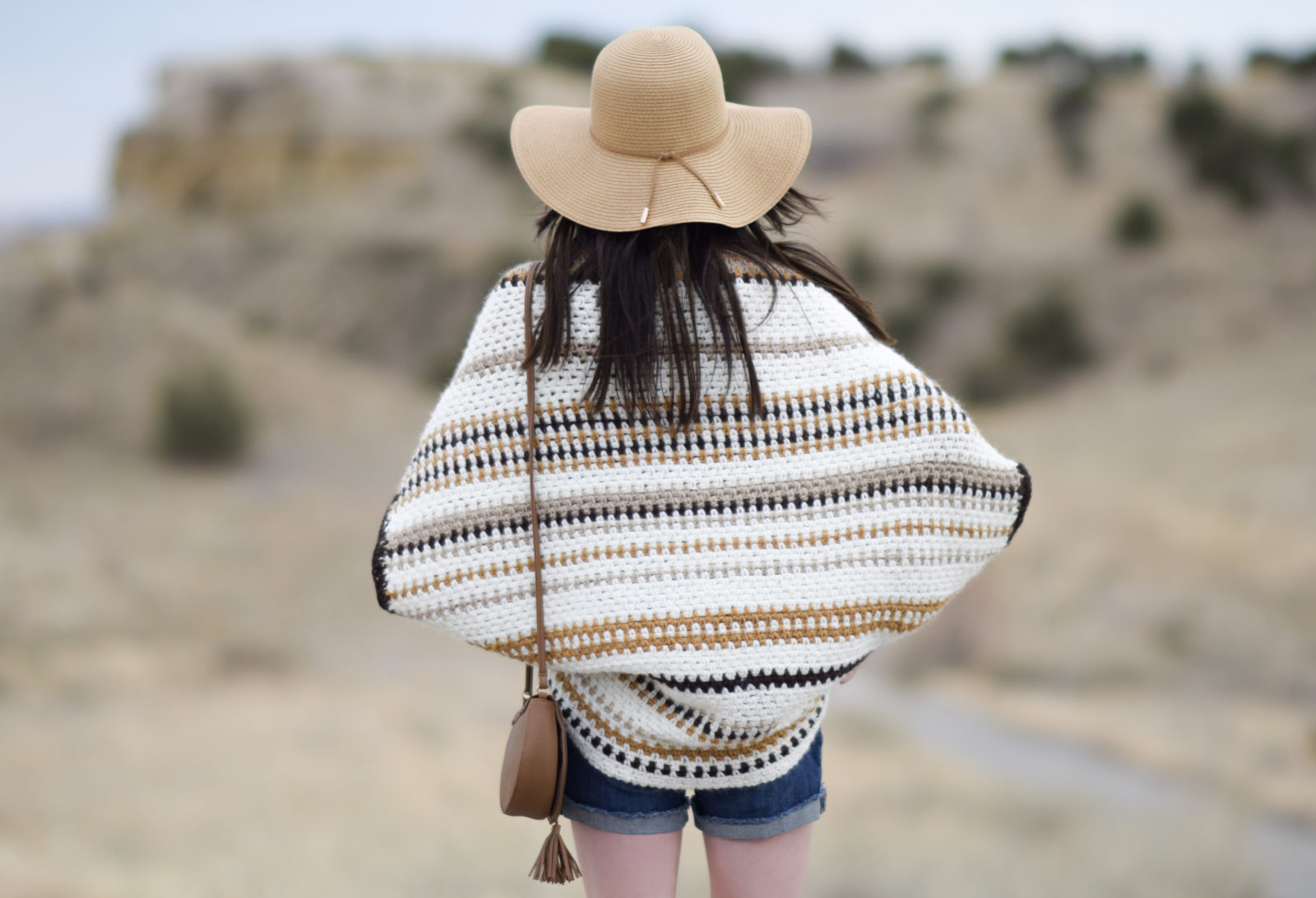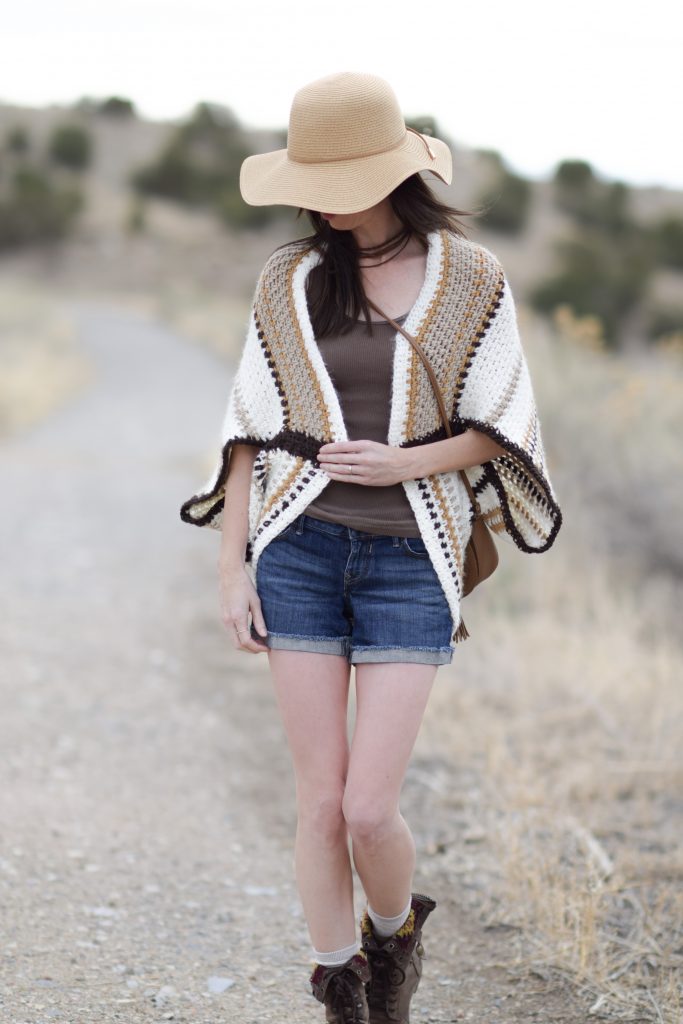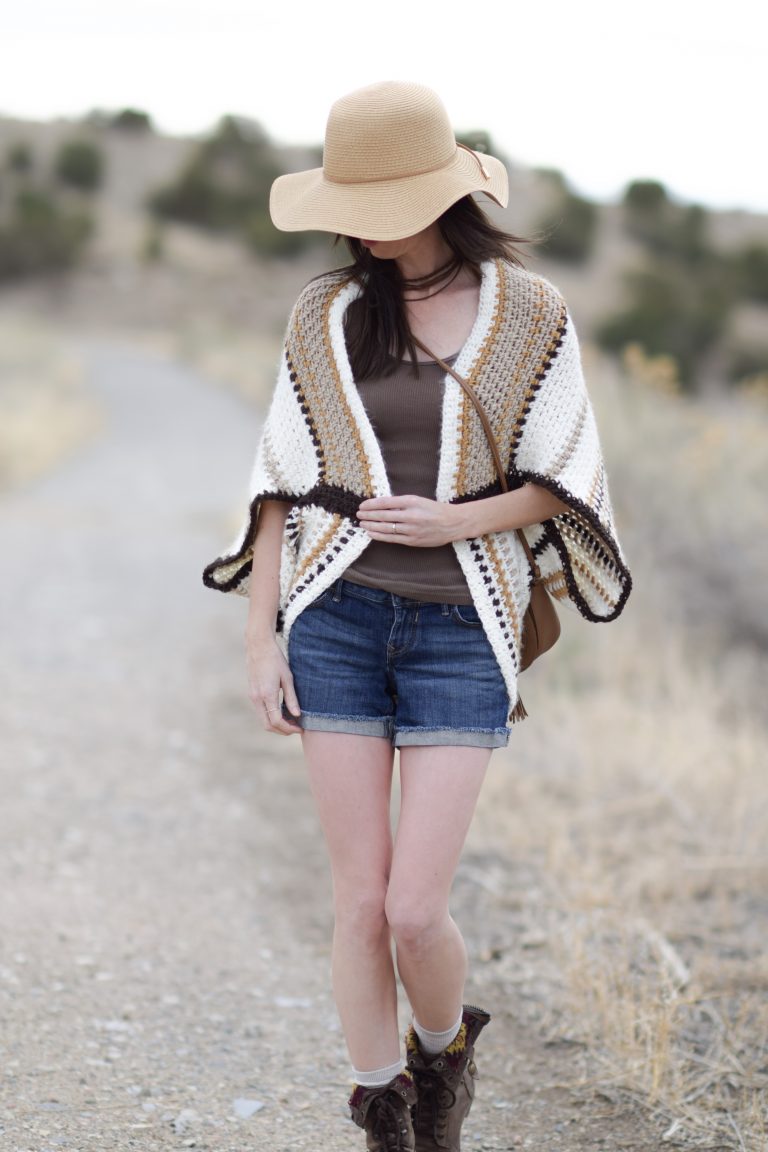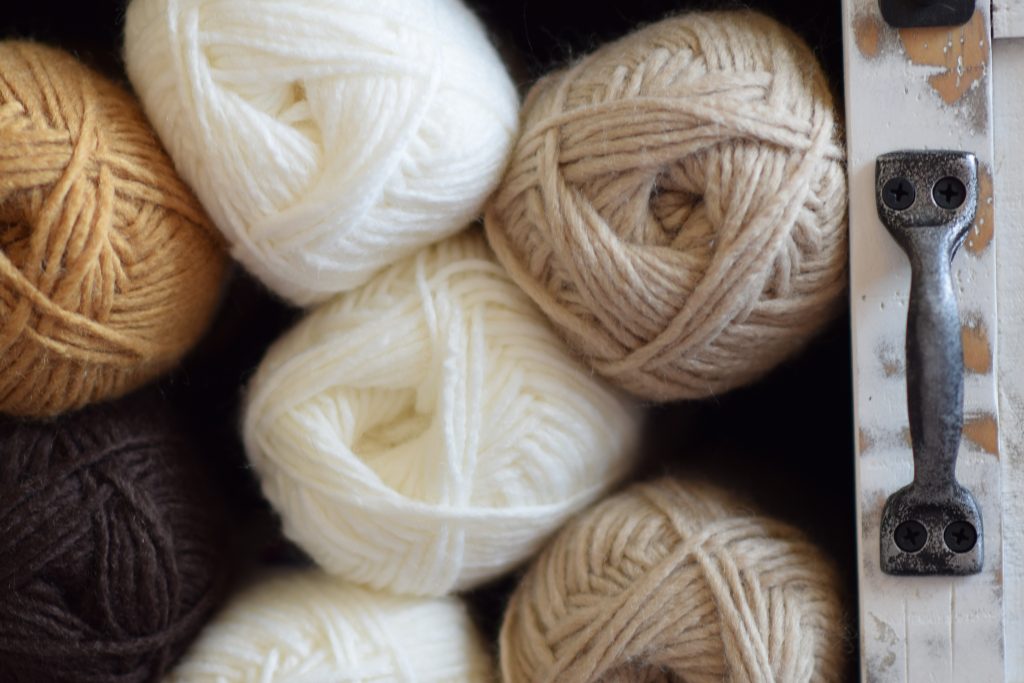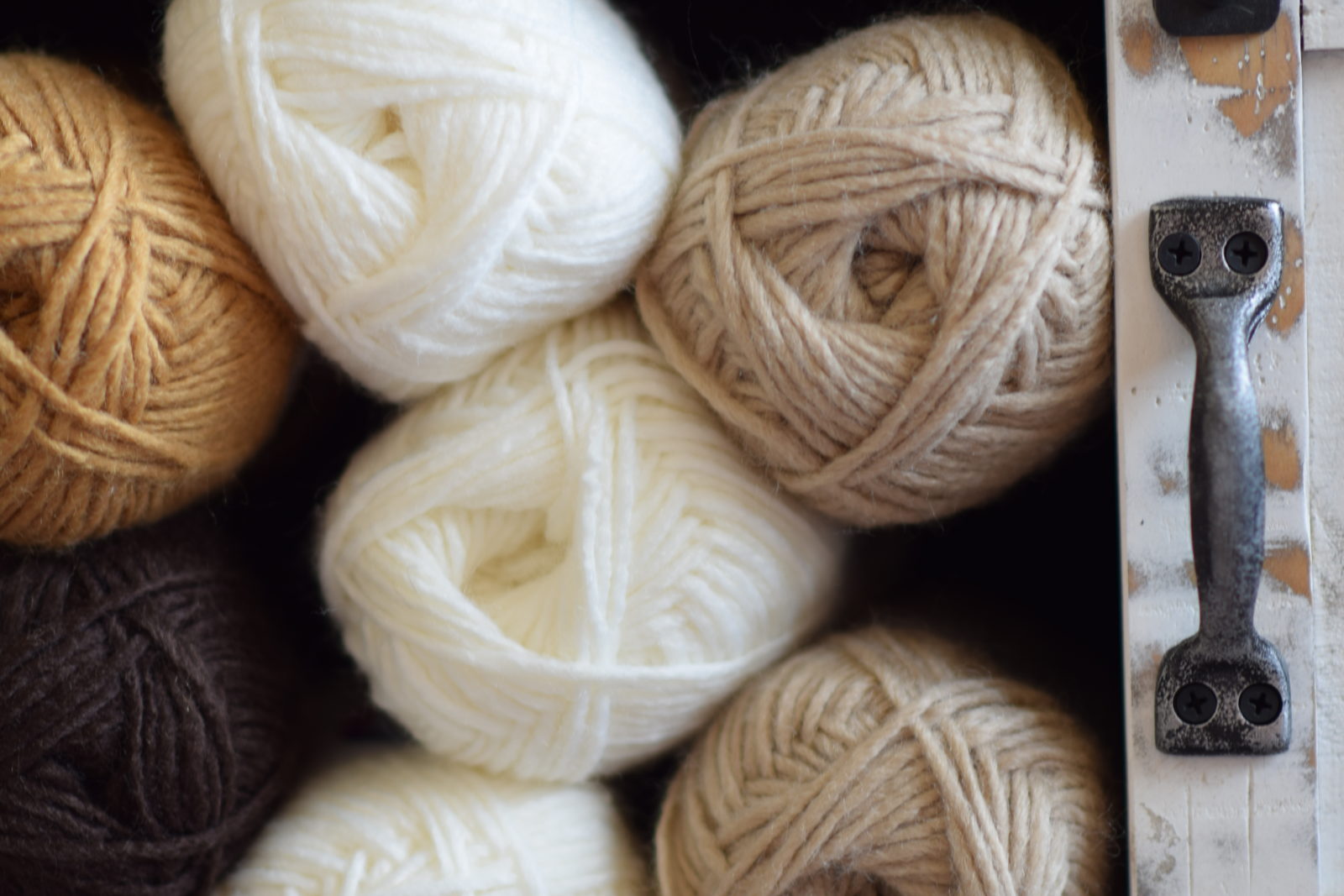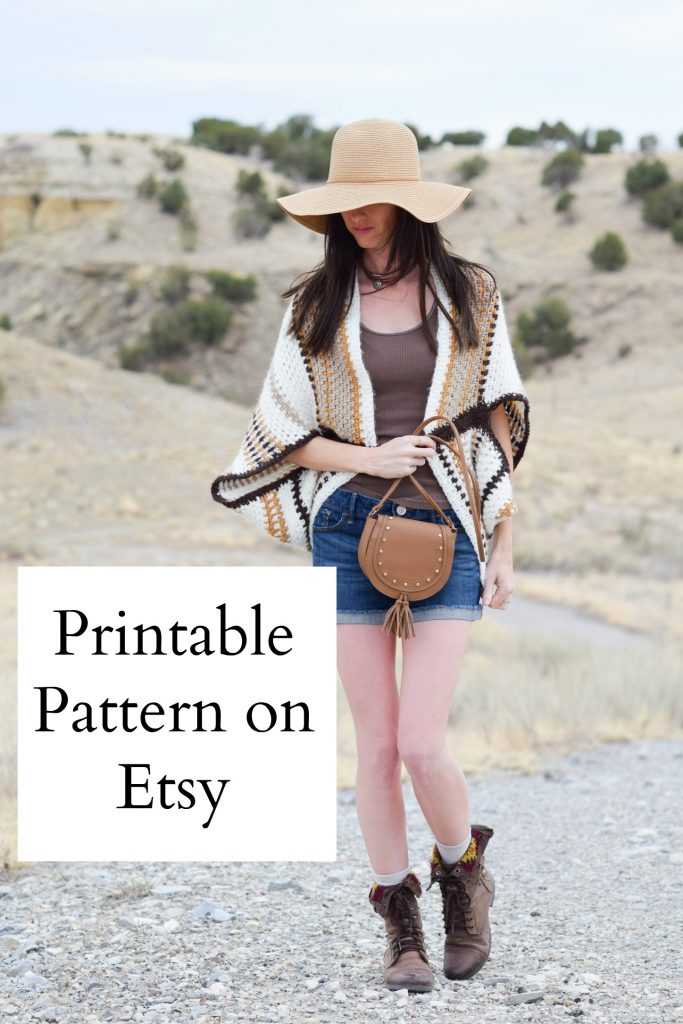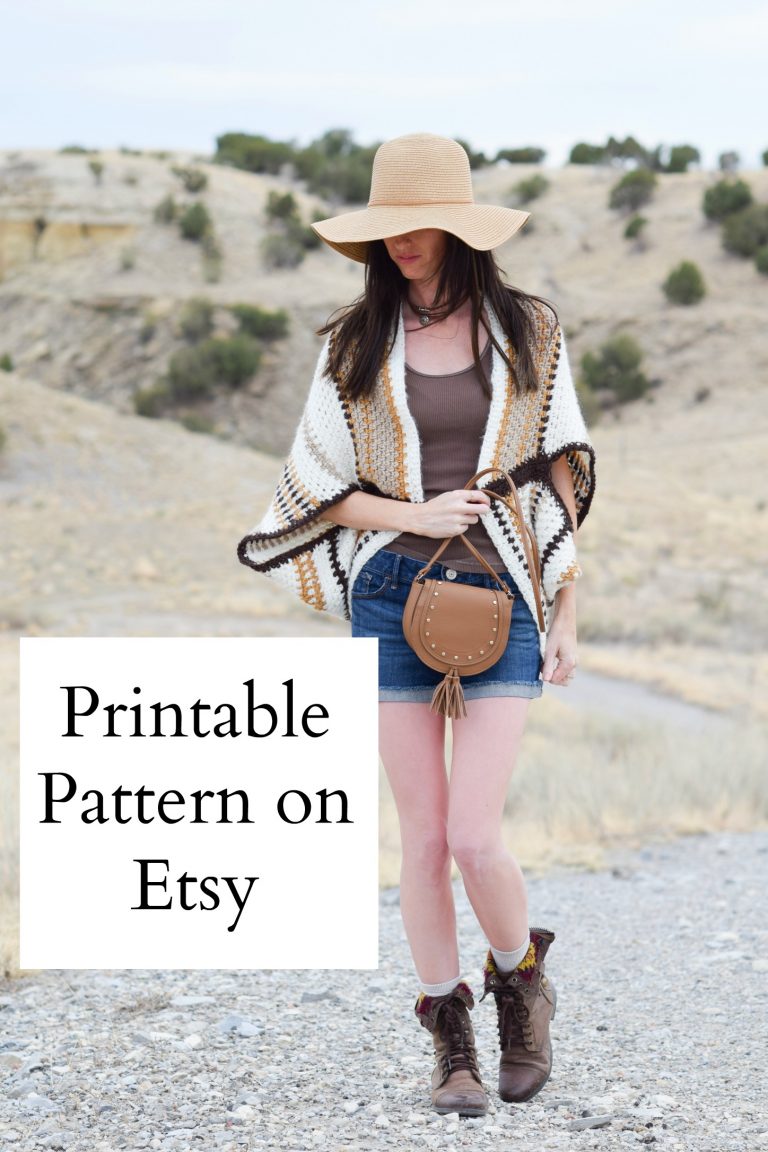 Level: Beginner +
Measurements:
One size fits most – modeled on myself and I'm a size small
When piece is laid flat on the ground, measurement from end of sleeve to end of opposite sleeve is approximately 35" inches. Top, center neck of piece to bottom of piece measures approximately 31" inches.
*Check gauge before crocheting to ensure correct sizing. I am a loose crocheter! This means that if you crochet tighter than I do, your piece will turn out smaller. FOR BEST RESULTS, MEASURE YOUR PIECE AFTER A FEW ROWS TO ENSURE IT IS APPROXIMATELY 33″ inches LONG. AFTER ADDING THE EDGE AT THE END, IT WILL BE 35″, MATCHING THE SIZE LISTED.
*If you find that your piece turns out small due to a difference in gauge, simply add more rows. This can be done to lengthen the piece. In addition, you may make it wider by adding more rows to the final espresso edge section. BLOCKING WILL ALSO HELP MAKE THE PIECE LARGER IF NECESSARY.
**I'm sometimes asked how to make these blanket sweaters larger. With this sweater, you will want to start by making a longer chain, but keep an odd stitch count and crochet for more rows. Of course by doing this you will use more yarn than what is listed below. I don't have specific sizes because it is a shawl-like, blanket type shrug that is versatile and fits many sizes.
You will need:
US Size K 6.5mm crochet hook
3 skeins Lion Brand New Basic Yarn (Weight 4) in Cream (175 yards/skein and 100g) (Pattern uses approx. 284 g of Cream) (Or purchase the kit, including the yarn and pattern HERE)
1 skein Lion Brand New Basic Yarn in Café Au Lait (Pattern uses approx. 71 g)
1 skein Lion Brand New Basic Yarn in Camel (Pattern uses approx. 62 g)
1 skein Lion Brand New Basic Yarn in Espresso (Pattern uses approx. 50 g)
Scissors
Tapestry needle to weave in ends
Gauge:
Just under 3 ½ stitches per inch
Skills & Abbreviations:
ch – chain
sc – single crochet
st – stitch
sk st – skip stitch
Notes and Tips:
This blanket sweater is created with the simple moss stitch. The moss stitch is made up of a series of single crochet stitches and chain stitches. You will simply crochet a rectangle following the pattern below, then fold and seam to create the arms. For this pattern, you should know how to change colors at the end of a row.
*The yarn is a 4 weight, but it is on the thick side of 4. If you are going to substitute yarns, be sure it's a "chunky" worsted weight yarn. 🙂
*If you have never tried the moss stitch, you might want to practice on a small sample first before attempting the sweater. Simply chain an odd number of stitches and follow the stitch pattern below.
(See picture Granite / Moss Stitch Tutorial HERE )
Baja Blanket Sweater Crochet Pattern:
Start with Cream
Ch 115
Row 1 Sc across row, ch 1, turn (114 stitches)
Row 2 Sc in 2nd st from hook, *ch 1, sk st below, sc in next stitch. Repeat from * across. Sc in final stitch of row. Ch 1, turn. (114 stitches)
Row 3 Sc in 2nd st from hook, *ch 1, sk st below, sc in next ch space below. Repeat from * across. Sc in final stitch of row. Ch 1, turn. (114 stitches)
**In each of the following rows until you reach the final espresso edge section, repeat row 3 with the indicated color for each row.
Row 4-5 Camel
Row 6 – 11 Café Au Lait
Row 12 Camel
Row 13-15 Café Au Lait
Row 16 Camel
Row 17 Espresso
Row 18 – 26 Cream
Row 27 – 28 Café Au Lait
Row 29 – 34 Cream
Row 35 Camel
Row 36 Cream
Row 37 Espresso
Row 38 Cream
Row 39 Camel
Row 40 Cream
Row 41 Espresso
Row 42 Cream
Row 43 Camel
Row 44 – 47 Cream
Row 48 – 50 Café Au Lait
Row 51 Espresso
Row 52 Cream
Row 53 Café Au Lait
Row 54-56 Cream
Row 57 Camel
Row 58-60 Cream
Row 61 Café Au Lait
Row 62 – 67 Cream
Row 68 – 69 Camel
Row 70 Cream
Row 71 – 72 Camel
Row 73-77 Cream
Row 78-79 Espresso
Row 80 – 85 Cream
Row 86 Café Au Lait
Row 87 Cream
Row 88 Espresso
Row 89 Cream
Row 90 Camel
Row 91 – 95 Cream
Row 96 Café Au Lait
Row 97 – 98 Cream
Row 99 – 100 Camel
Row 101 – 102 Cream
Row 103 Espresso
Row 104 – 107 Cream
Tie off and weave in ends.
Final Espresso Edge Section:
Next, pick up the Espresso yarn on corner of blanket. Single crochet evenly along each short side of the blanket (2 sides). Make two rows of single crochet stitches along each side. Tie off and weave in ends.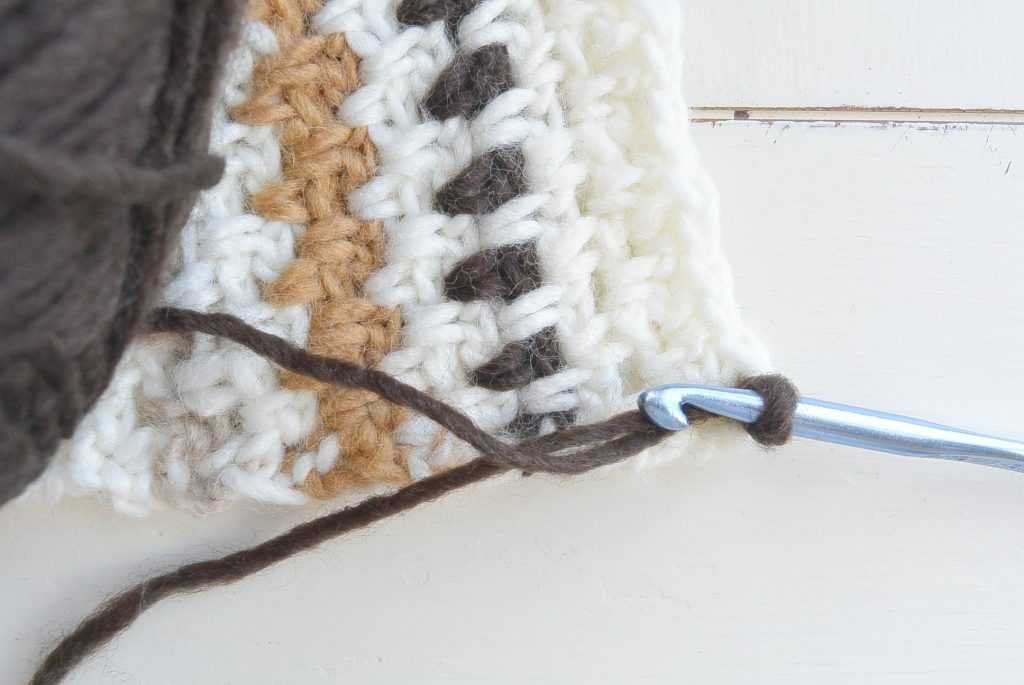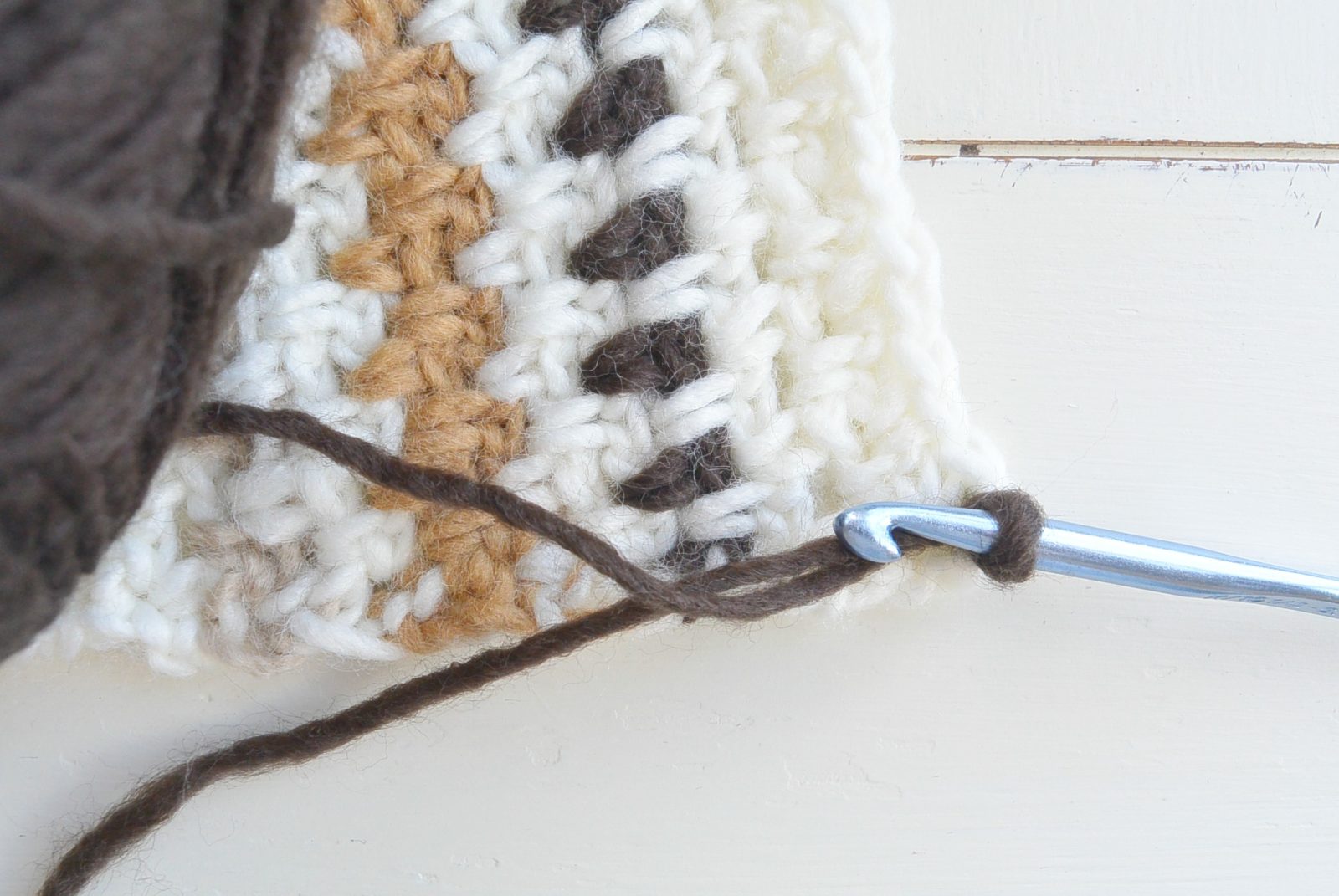 Photo Above: Attach Espresso and make two rows of single crochet stitches along the two short ends of the blanket sweater.
**Block if necessary to shape.
Assembly: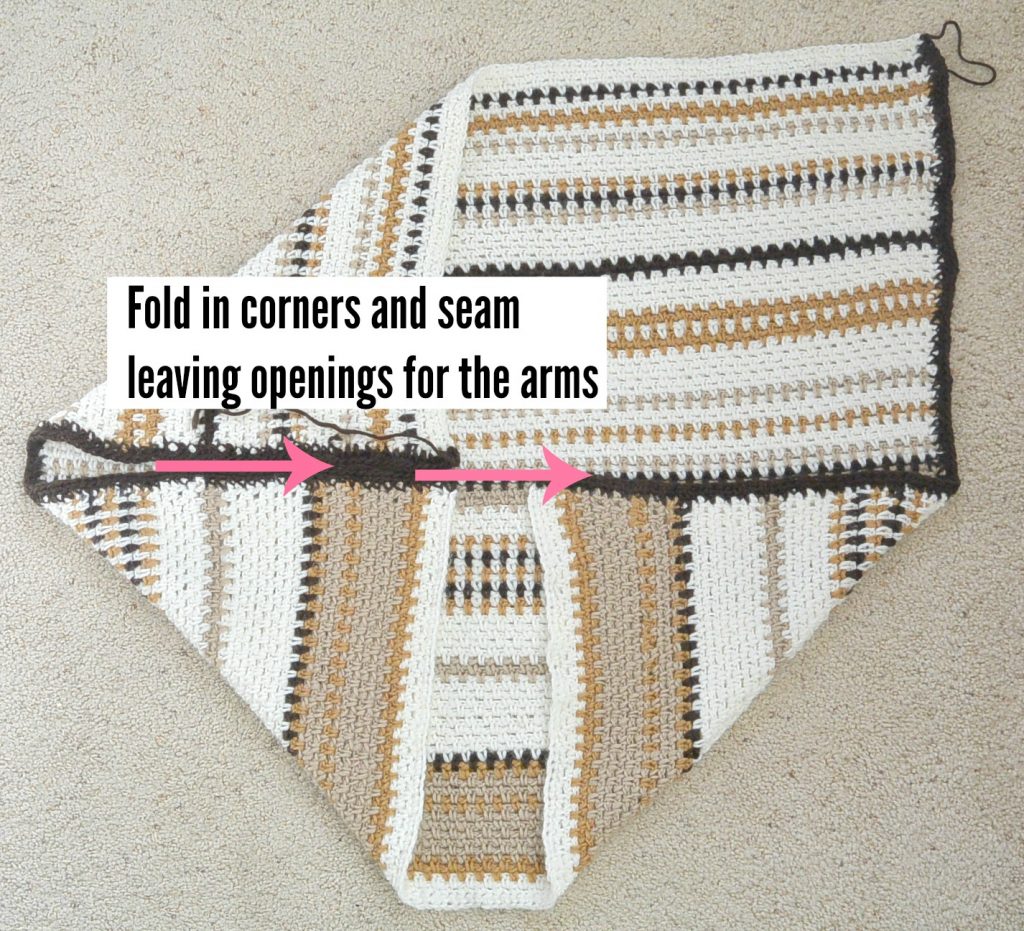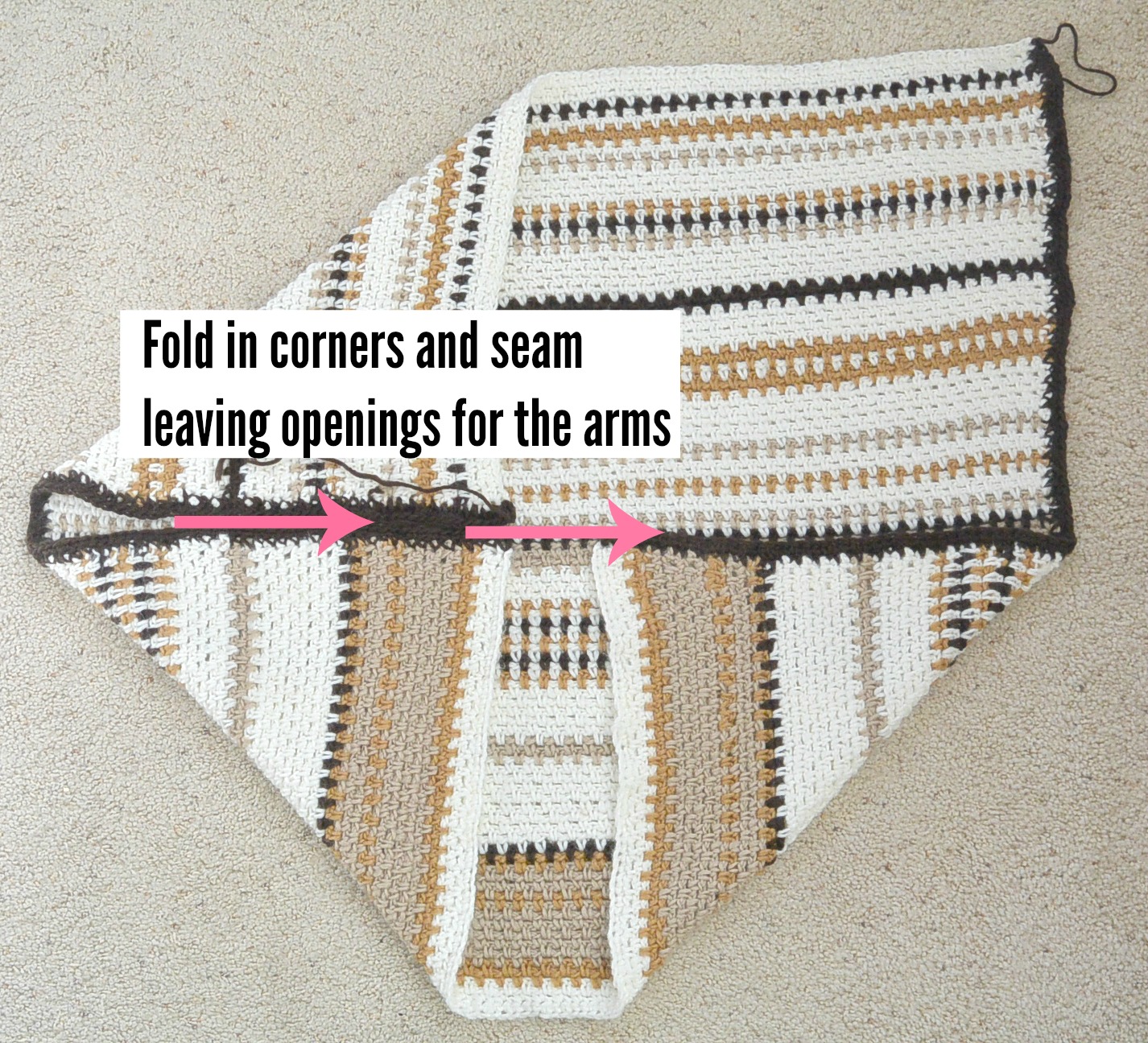 Lay piece flat, lengthwise (hot dog wise). Fold in corners as pictured below. Using a length of Espresso yarn, seam with a whip stitch or slip stitch seam from the inner corners outward for approximately 7" inches. This will leave an opening for the arms on each sleeve. Tie off and weave in all ends.

That's all there is to this piece. Pretty easy right? I'm really loving mine and look forward to wearing it this summer. It would be great for a beach vacation. I better get convincing the hubby on that one. 😉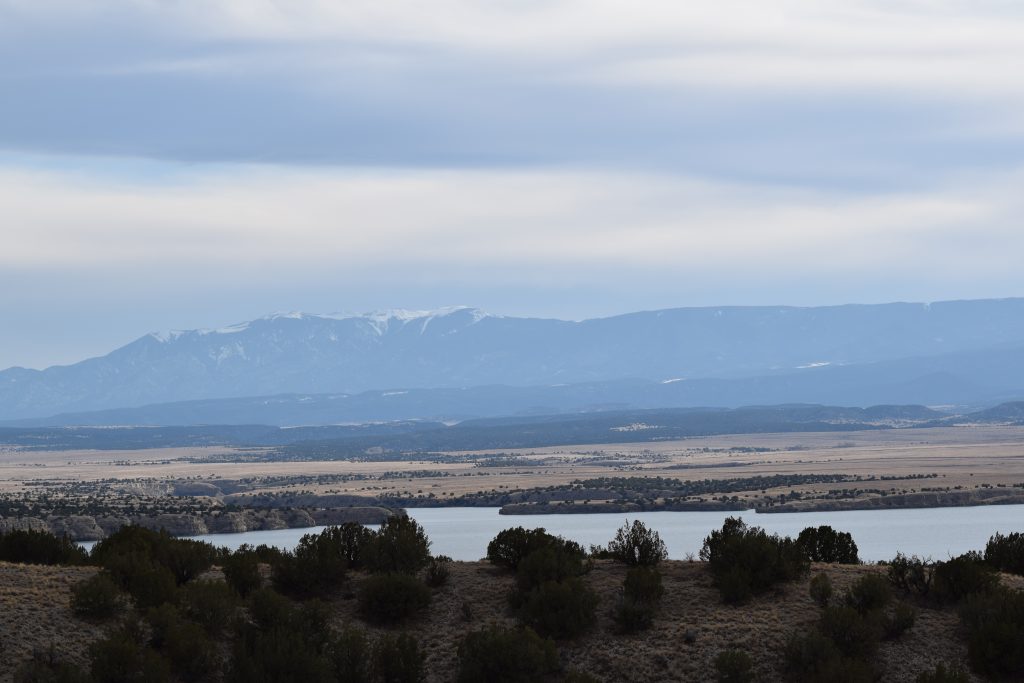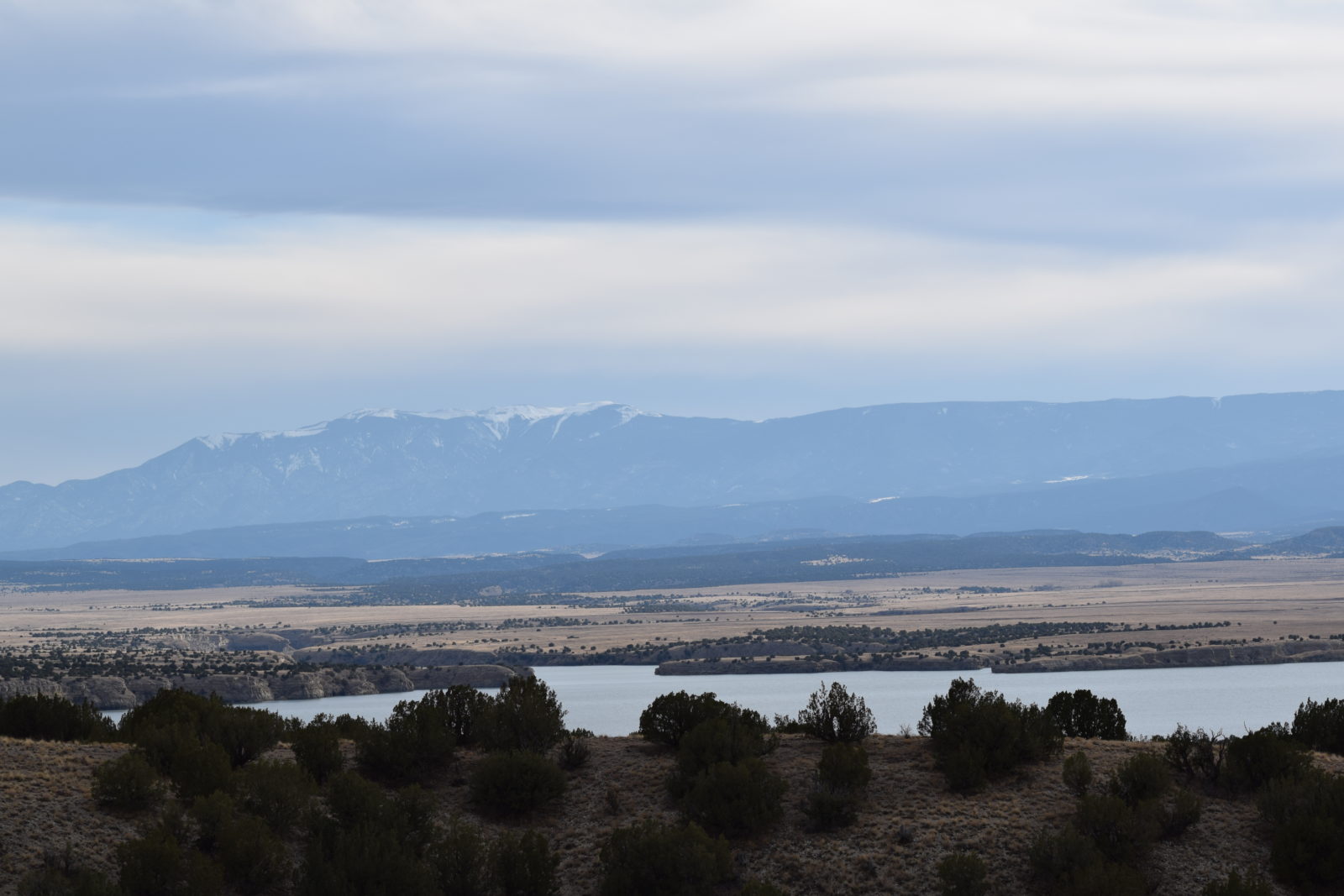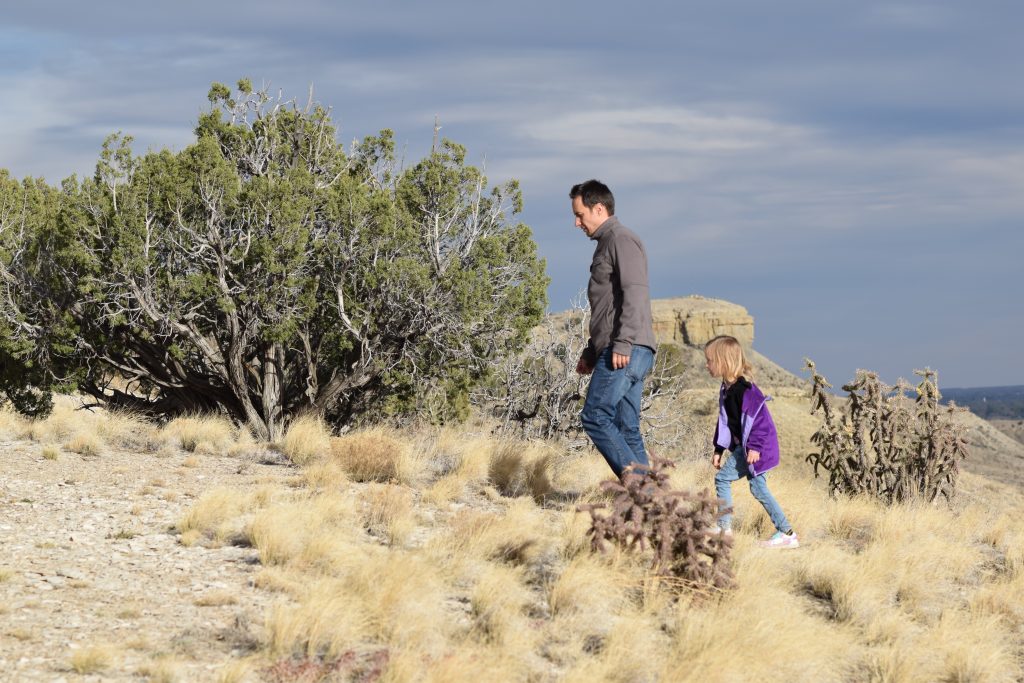 Happy making my friends!
XO
Jessica
PS Feel free to shoot me your thoughts on this project in the comments below. 🙂
Thank you to Lion Brand Yarns for sponsoring this post. All opinions are 100% my own. 🙂
If you like this, you might also like: