How To Knit A Market String Bag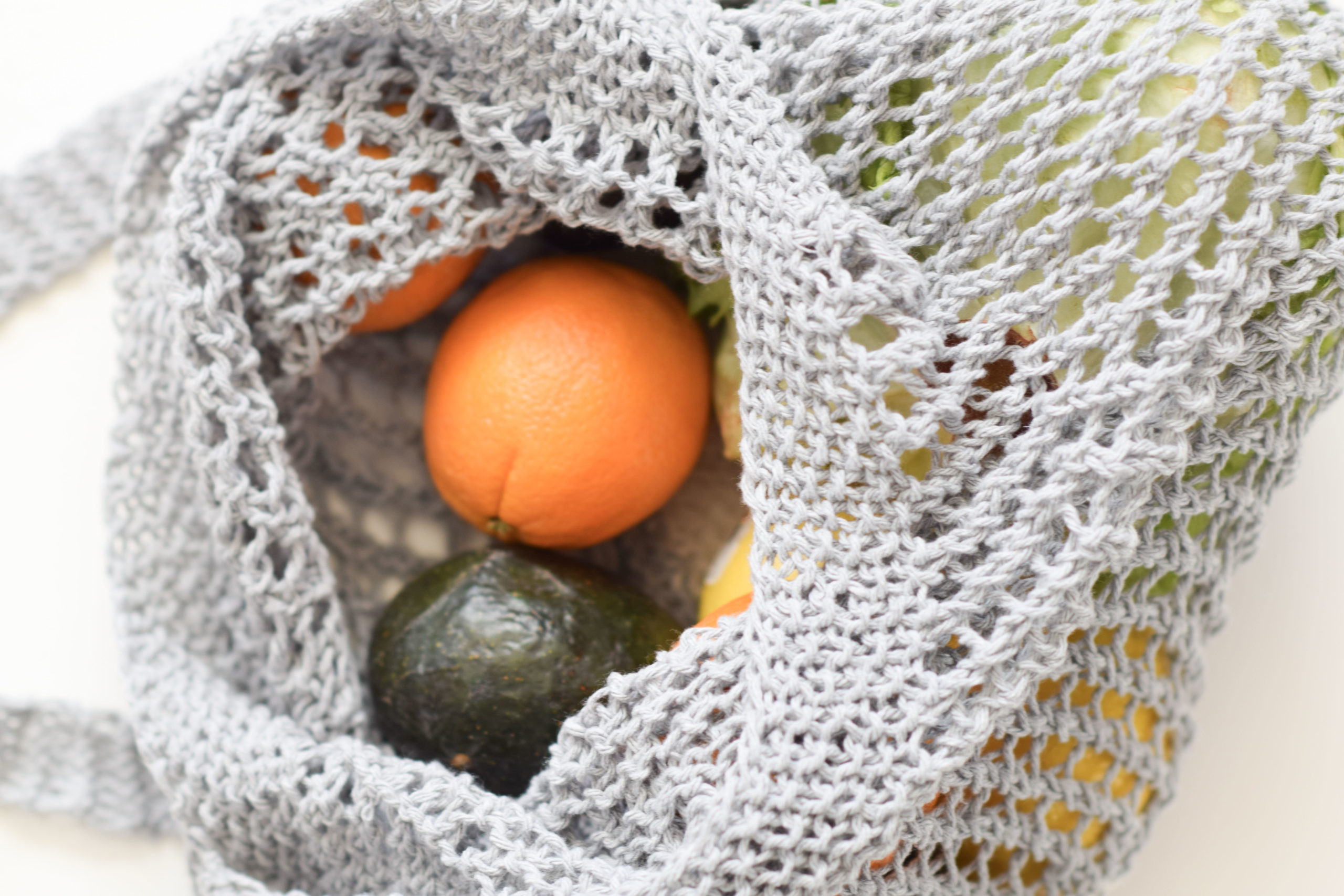 Today's free pattern and tutorial is for an easy, eco-friendly knit market bag! This shopping tote is simple to knit and is designed with new knitters in mind.
Using basic stitches and a simple shape (it's basically a tube), you can whip several out to go shopping in no time. 🙂 I also have a crochet version available HERE.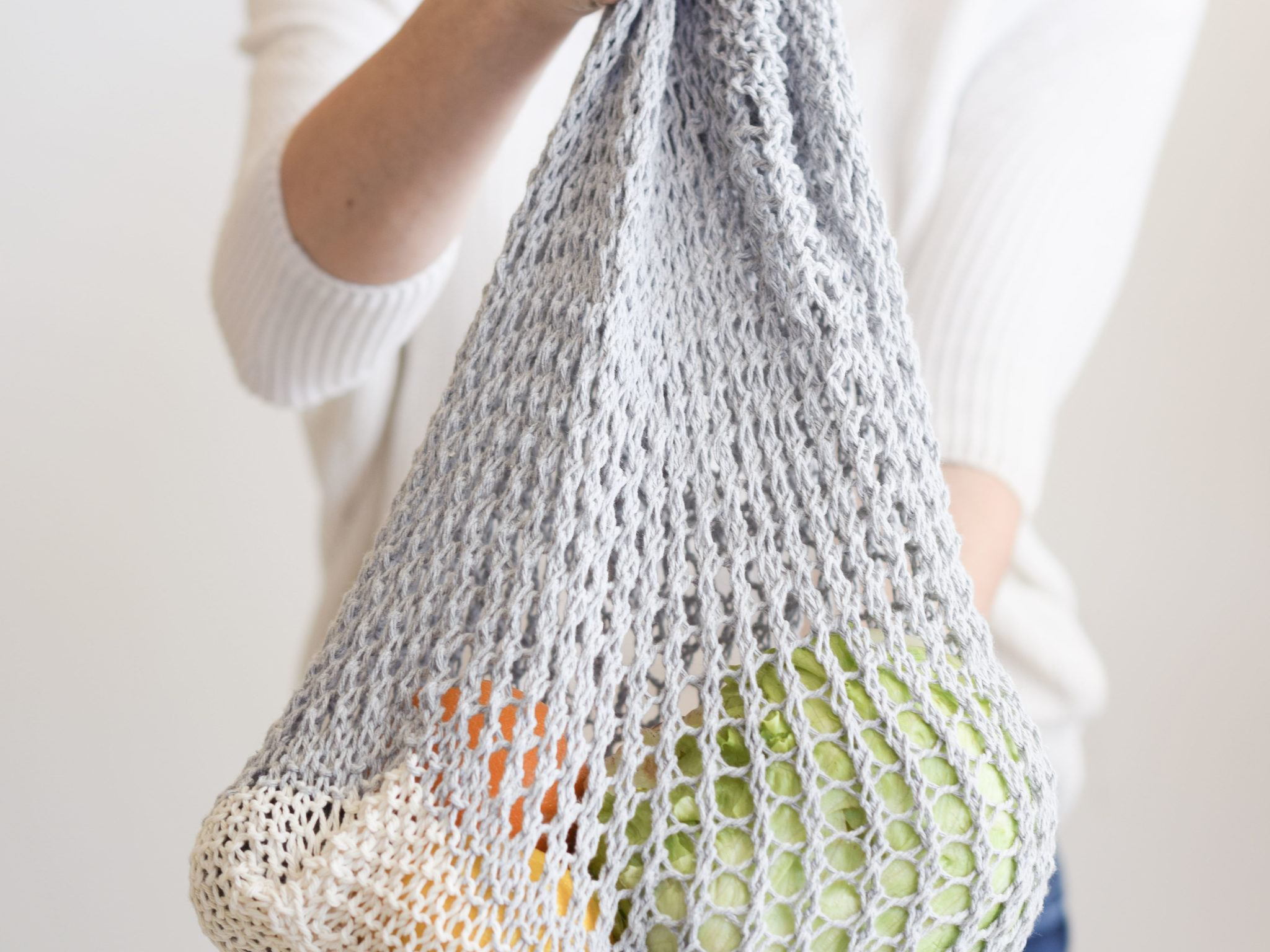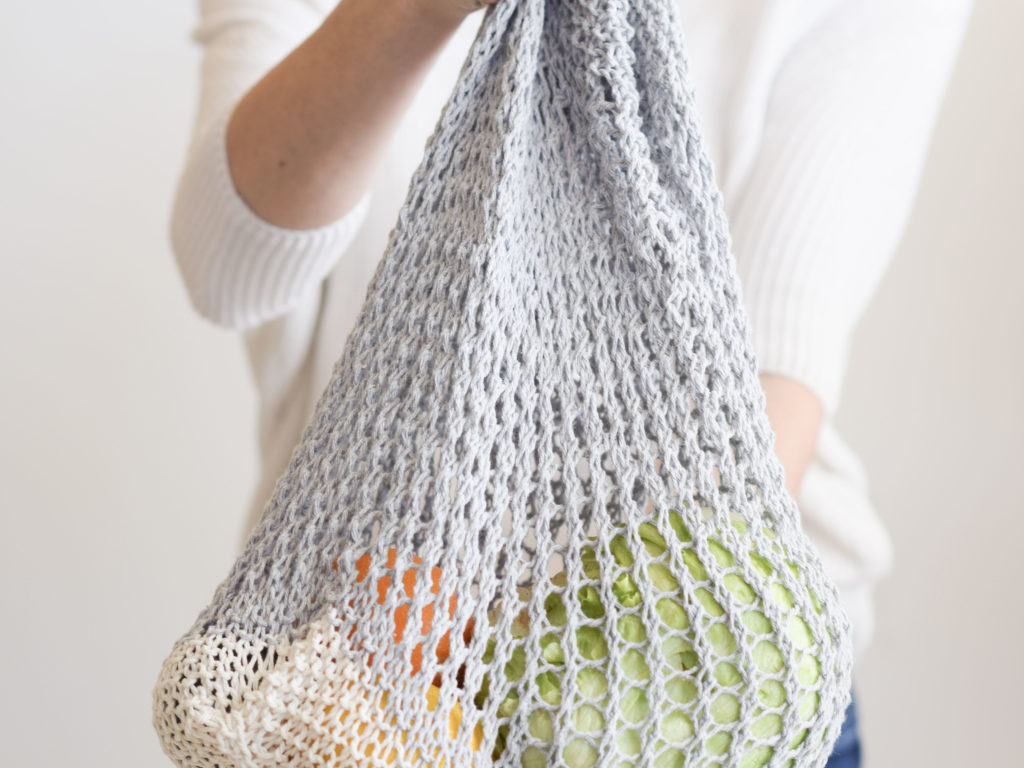 With more and more stores limiting the use of plastic bags, it only makes sense to think of what we can use as alternatives.
I've made a couple of knit bags over the years,the Aspen Mountain Bag & The Farmers Market Bag, but hadn't made a bag that I could really put to use for groceries. Plastic is a real hazard for our planet and I've seen some scary statistics about it lately!
It's kind of nice to know that when we knit this project, not only are we having fun, but we are taking a small step to help our earth. It's also just a cute bag, sooooo with that, let's get to it!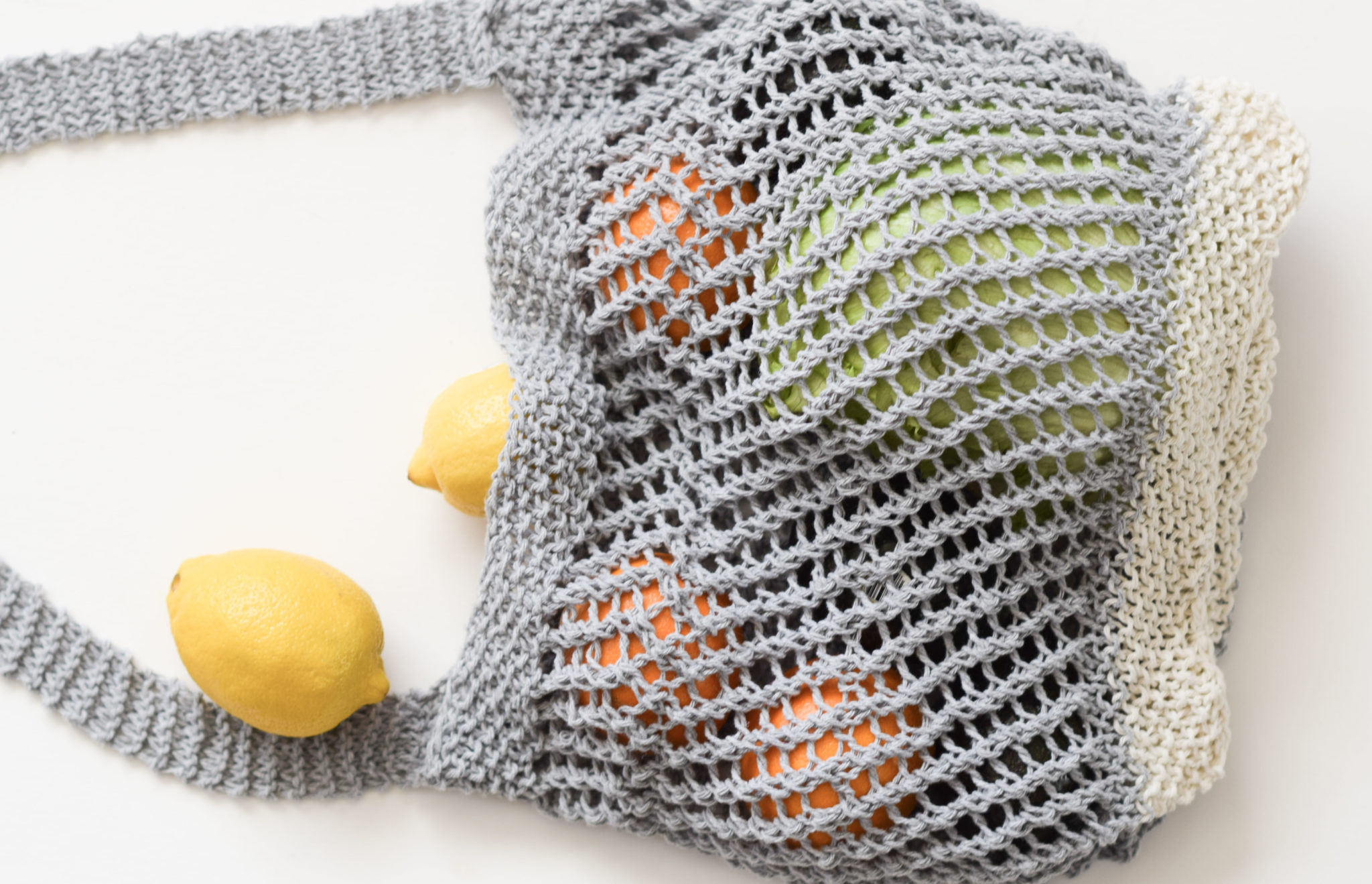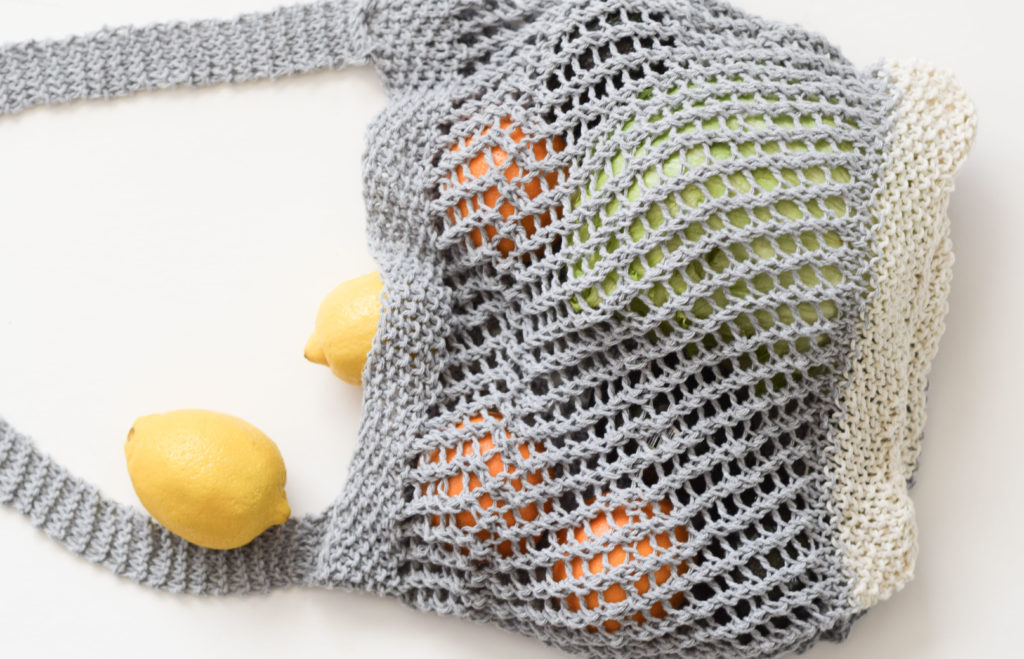 What Yarn To Use for A Knit Market Tote
For this project, I chose to use Lion Brand Yarn Re-Up, however, it's been discontinued. The great thing is that you can use any yarn you like!
Simply grab any worsted weight #4 or light yarn that you have! Cotton is always nice for these bags, but the sky is the limit.
Again, this is a cotton blend, worsted weight yarn, but feel free to use any other comparable yarn that you might have on hand.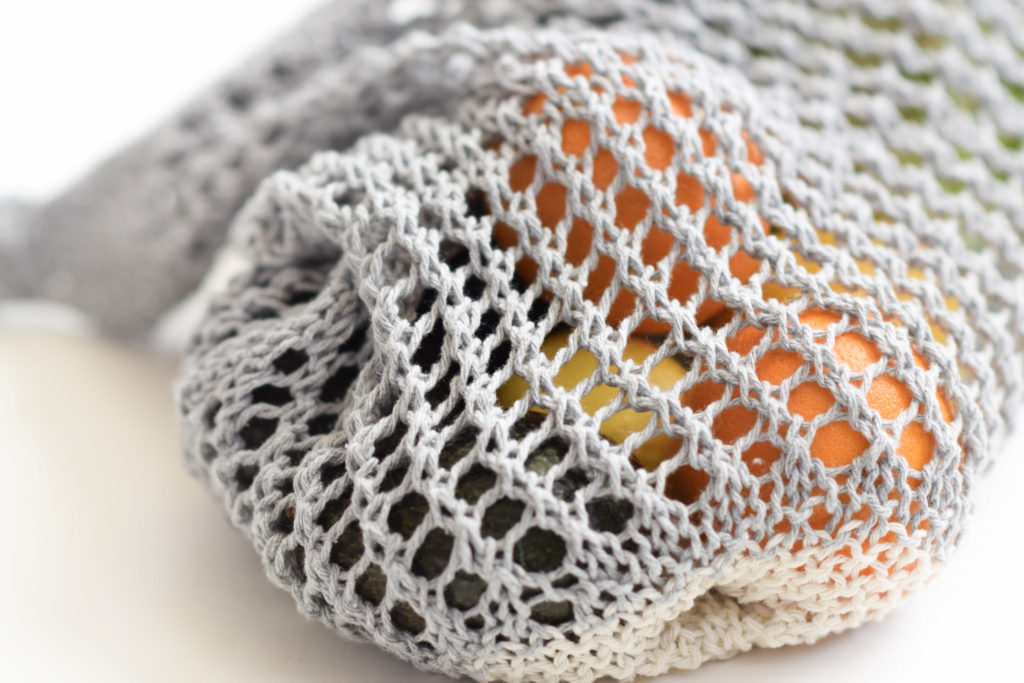 My bag uses two colors just to add a little interest, but you can use as many or as few colors as you'd like.
How Do I Knit This Market Bag?
Grab your circular needles! There isn't a lot of counting, which is awesome, and no shaping with this pattern. Essentially, you will be knitting a tube, from the bottom-up .
The bag's finished by seaming the bottom closed and adding handles at the end. The stitches are all super basic, and this is a fun pattern to try if you've wanted to work in the round.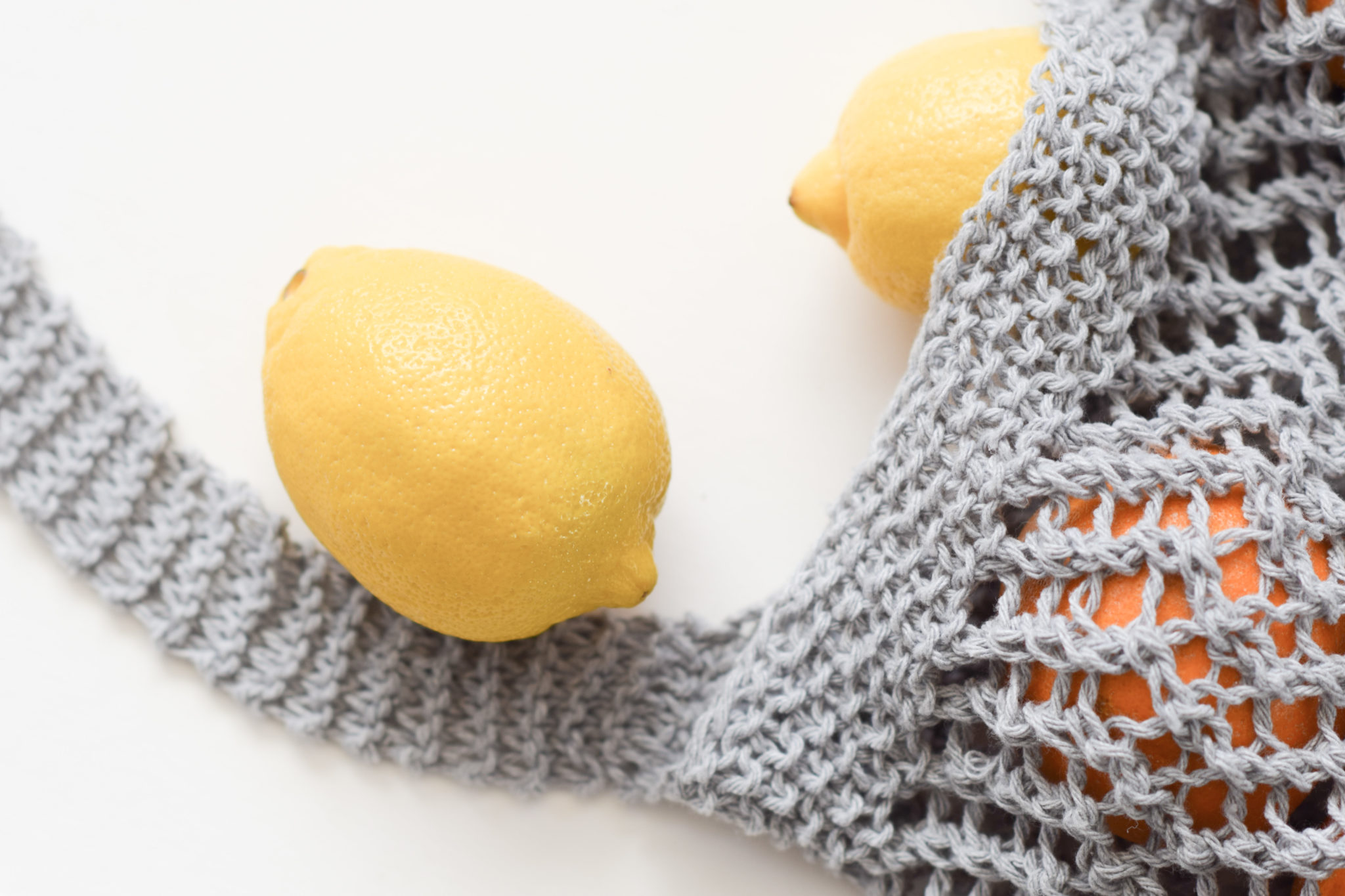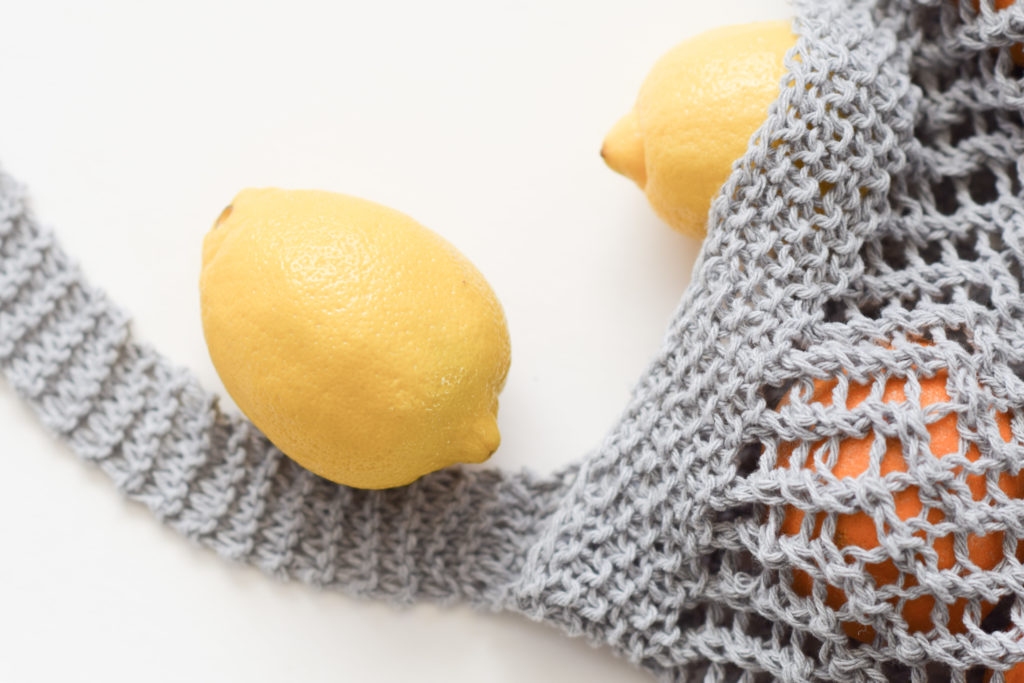 The mesh stitch used in this pattern is so versatile.
I also used it in my Honeycombs Easy Scarf Knitting Pattern HERE. While the scarf pattern is knit flat, there is a helpful video tutorial included (here). Definitely check it out if you feel clueless on starting this stitch! It's super easy once you get going!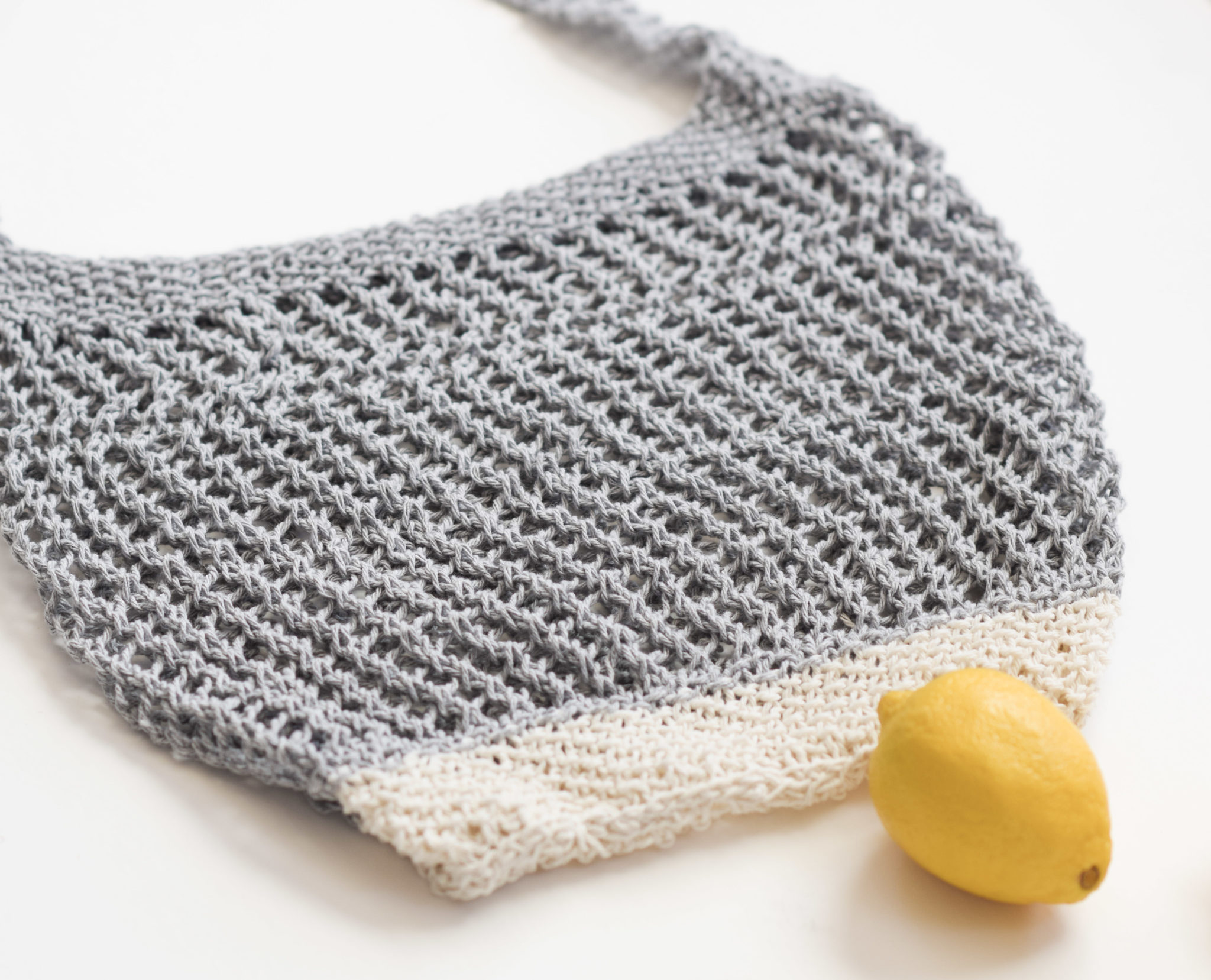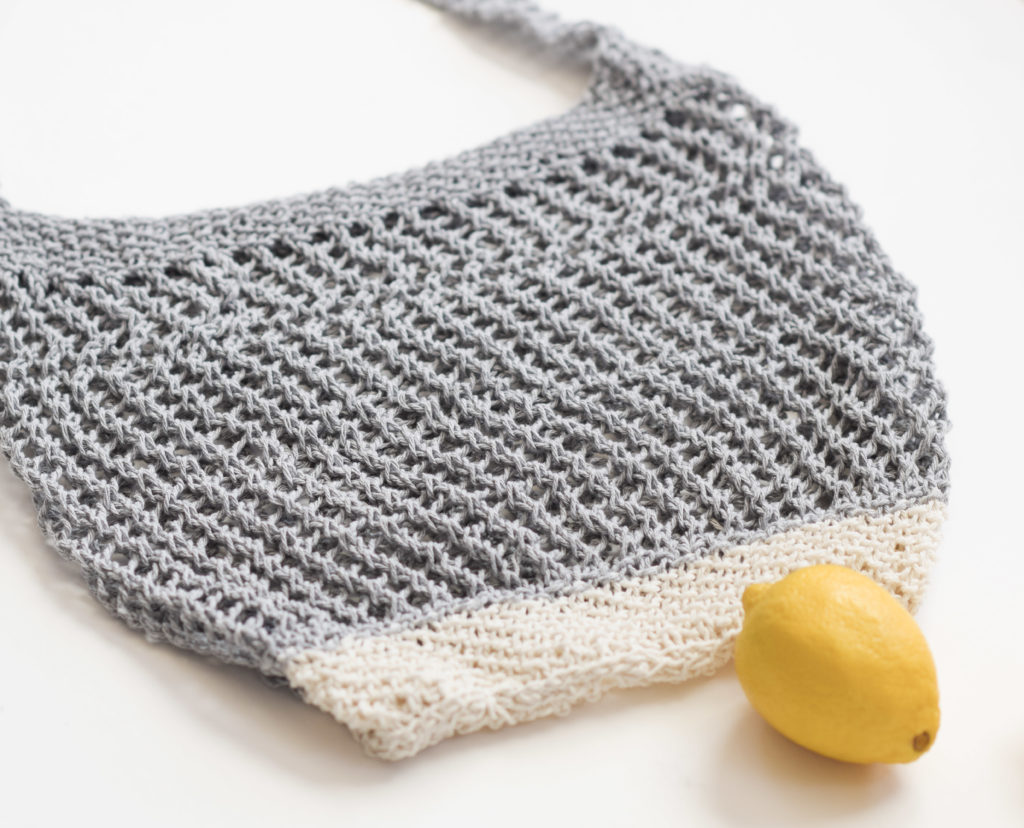 Scroll down to see the full pattern! You can also find the ad-free, printable version in my Etsy Shop HERE!
Below: Love this Re-Up yarn. It's got a great, sturdy, texture. Any good cotton or acrylic will work though!
Picture Tutorial How To Assemble The Knit Market Tote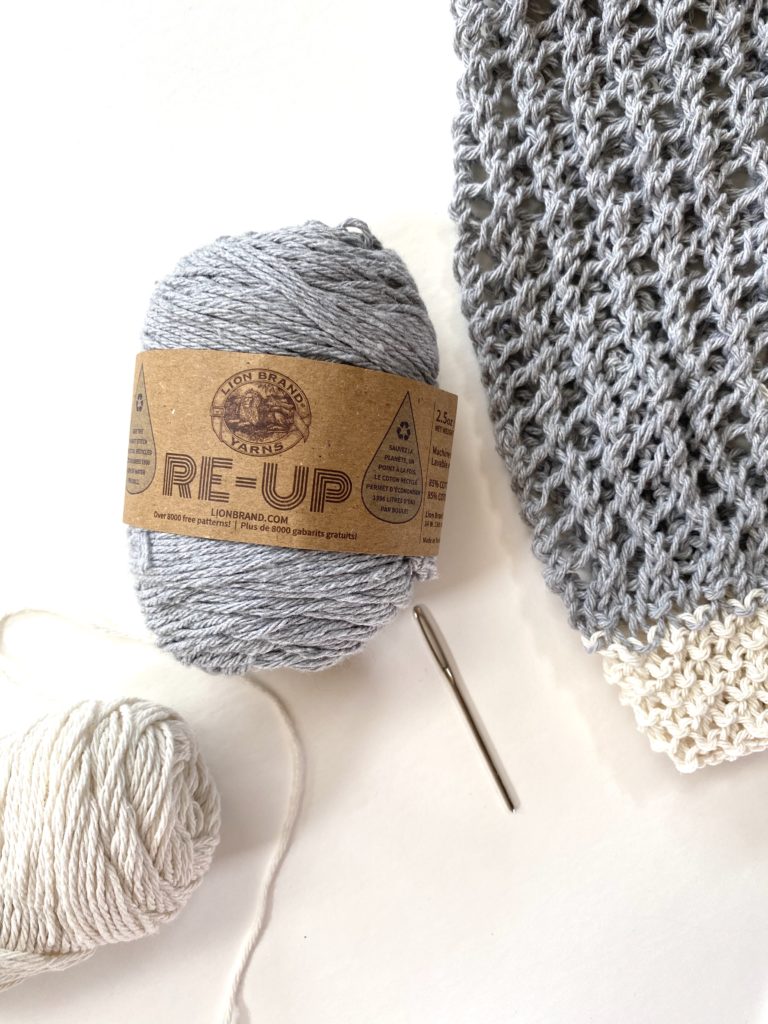 You'll seam the bottom closed (pictured below)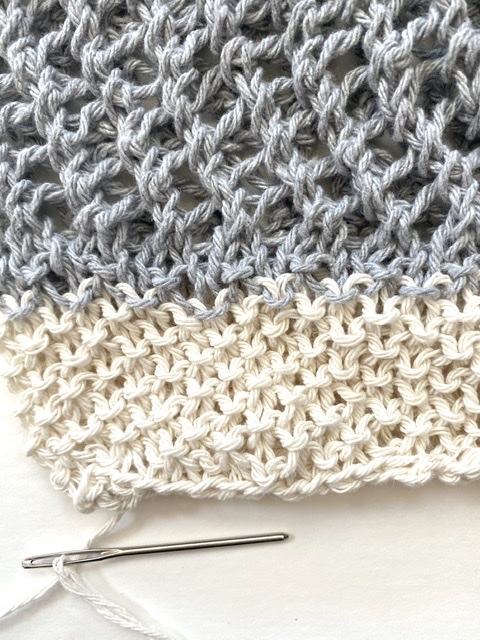 To shape, fold the bottom corners in slightly (such a great, beginner friendly hack!)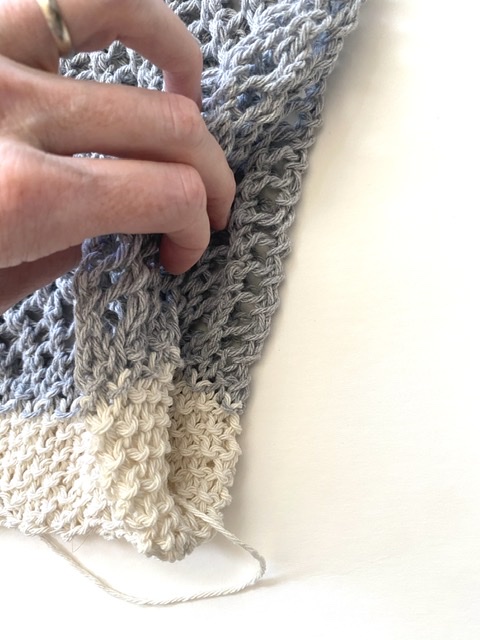 Attach handles with a sturdy slip stitch seam (if you can crochet) or basic whip stitch (below).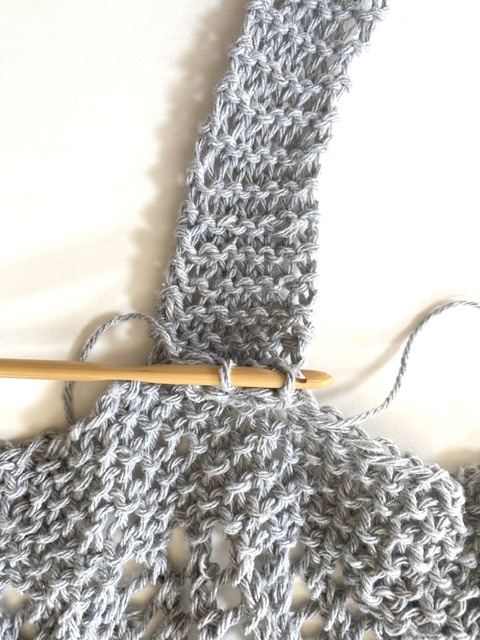 Pattern Description: Cut back on plastic by using this pretty, eco-friendly net bag. Perfect to haul produce or take along to your local farmers markets. The beginner friendly pattern is easy to follow and quick to make.
Skill Level:
Easy +
Materials:
US Size 9, 5.5 mm 16" circular knitting needles
2 Lion Brand Yarn Re-Up (HERE) in Grey 70 g/skein
1 Lion Brand Yarn Re-Up (HERE) in Ecru 70 g/skein
Pattern uses approximately 140 g worsted weight yarn
Scissors
Tapestry needle
Sizes/Dimensions (approximate): 14" wide x 14"tall
Abbreviations & Skills:
k – knit
p – purl
k2tog – knit two together (decrease)
yo – yarn over
Gauge:
Not important for this pattern.
Notes:
This bag is knit from the bottom-up and is knit in the round. You're basically making a tube that you will seam and close at the bottom! Handles are knit separately and are attached with your preferred seaming method. If you're familiar with crochet, the slip stitch seam was used on the handles for the bag that is pictured. The bag here uses two colors for a nice contrast, but you can make this with just one color as well!
Eco Market String Bag Knitting Pattern Instructions
(Ad-free, printable pattern, including helpful photos can be purchased in my Etsy shop HERE)
With Ecru, cast on 92 sts, join to knit in the round
Seed Stitch Bottom
Rd 1 *K1, p1; repeat from * around
Rd 2 * P1, k1; repeat from * around
Repeat rounds 1 & 2 for approximately 2″, working the seed stitch
Next, change color to Grey & move onto the Main Body of Bag Section
Main Body of Bag
Rnd 1 *K2tog, yo; repeat from * around
Rnd 2 Knit each st around
Rnd 3 *yo, k2tog; repeat from * around
Rnd 4 Knit each st around
Repeat rows 1-4 until entire bag is approximately 12" tall.
Finish by working 2" of seed stitch, following the same stitch pattern as in the Seed Stitch Bottom section.
Cast off and weave in ends.
Block to shape and size as desired.
Seam & Shaping
With a whip stitch or preferred seaming method, sew the bottom of the bag closed. Next, fold the two bottom corners inward. Tie each of them down with a length of yarn and weave in ends.
Handle
With Grey, cast on 7 stitches.
Knit each row until the handle is approximately 20" long (keep in mind that it will stretch and become longer when used). Make it as long or short as you'd like.
Cast off and weave in ends.
Sew the handle to the bag with a slip stitch crochet seam or a whip stitch seam.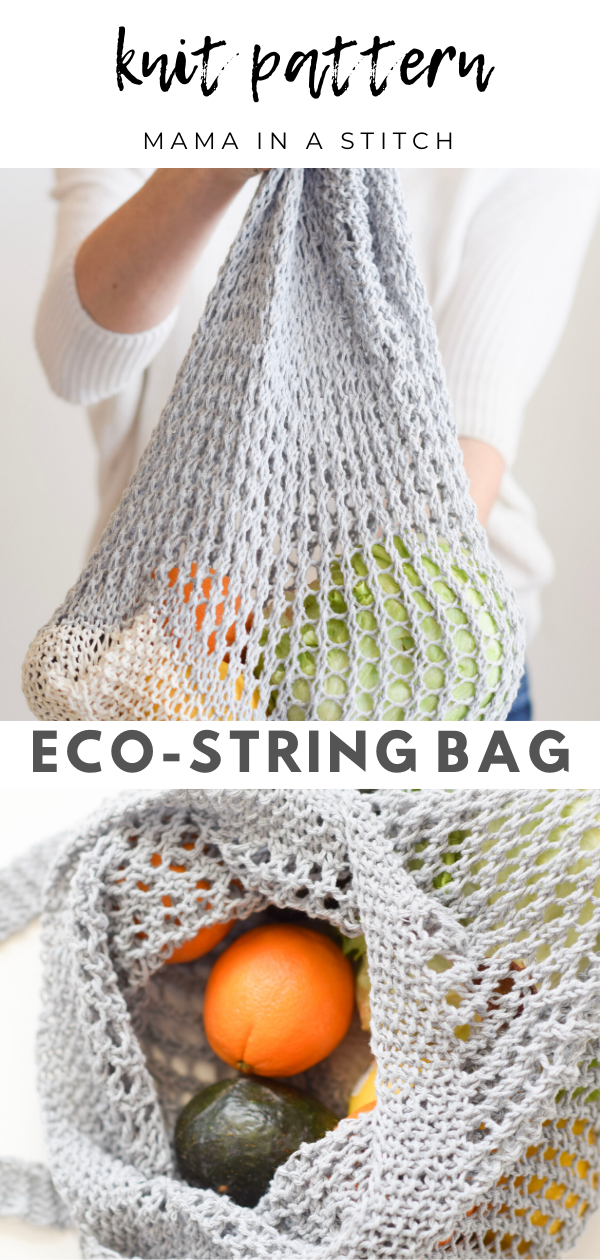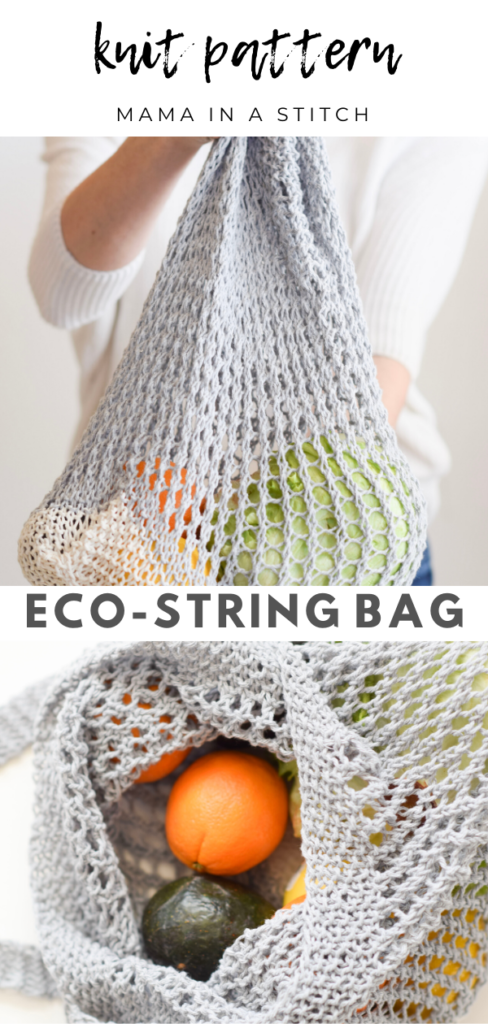 Enjoy your new, planet-saving, eco bag! 🙂
I'd love to see if you knit one – just tag me @mamainastitch on Instagram or post a pic on my Facebook page!!
XO,
Jessica
If you liked this, you might also like: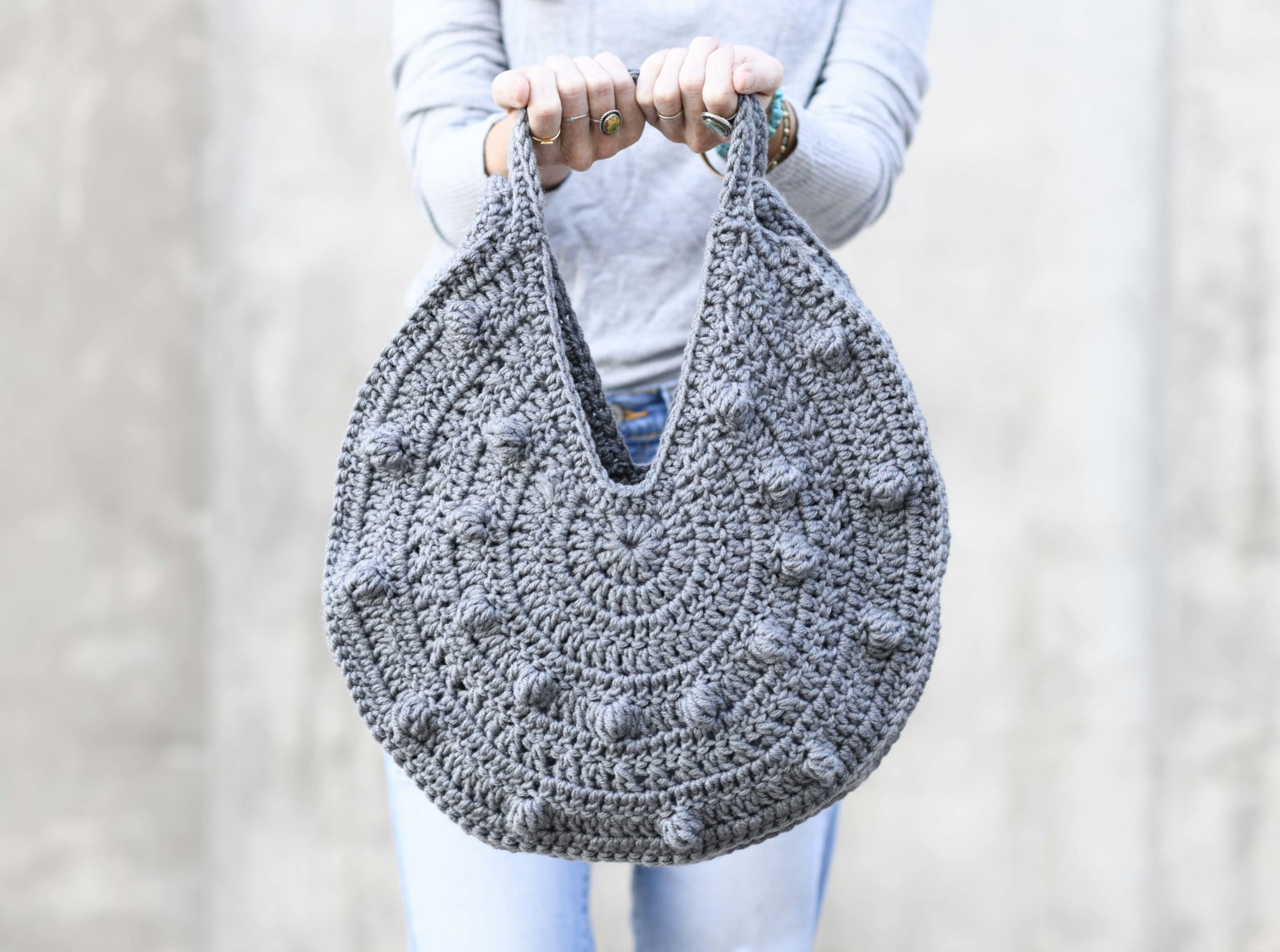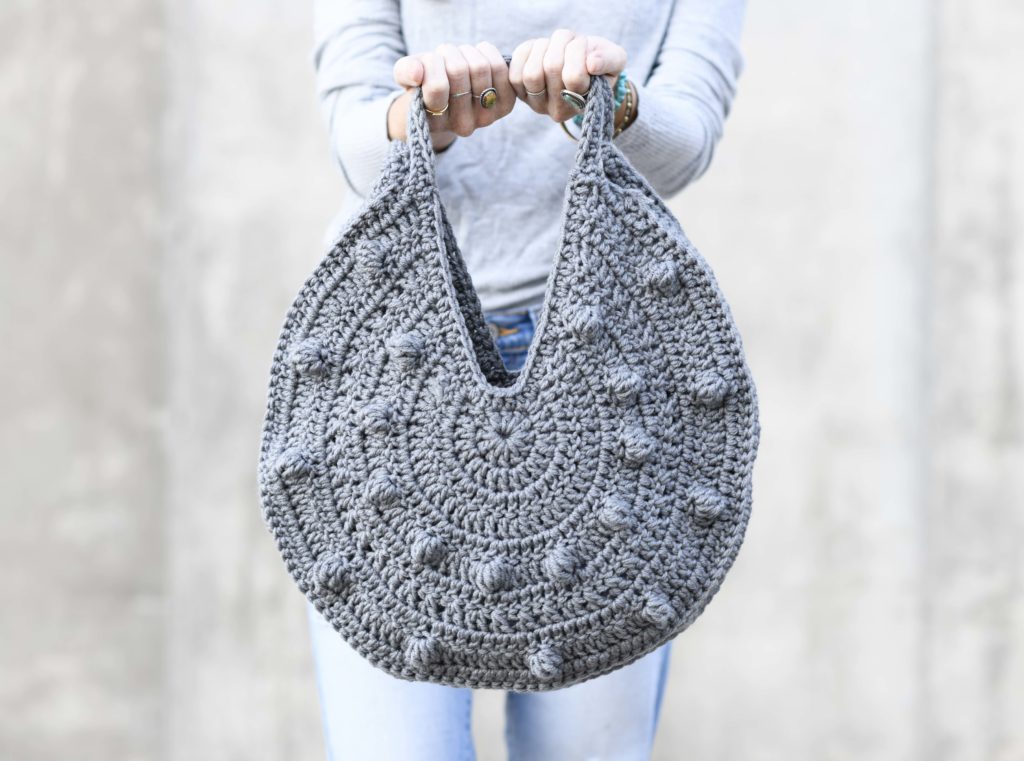 Jute Summer Circle Bag Pattern