See the free knitting pattern below or you may choose to purchase the advertisement-free, printable version from my Etsy shop HERE
These easy knit coasters are so cute and super simple to make! After several big projects, I felt like I needed a little breather. Ha! These "rugs" make the perfect stash buster and you can use all those little scraps of yarn you don't want to throw in the trash. I only used the knit stitch for these guys, so beginners can make them too. 🙂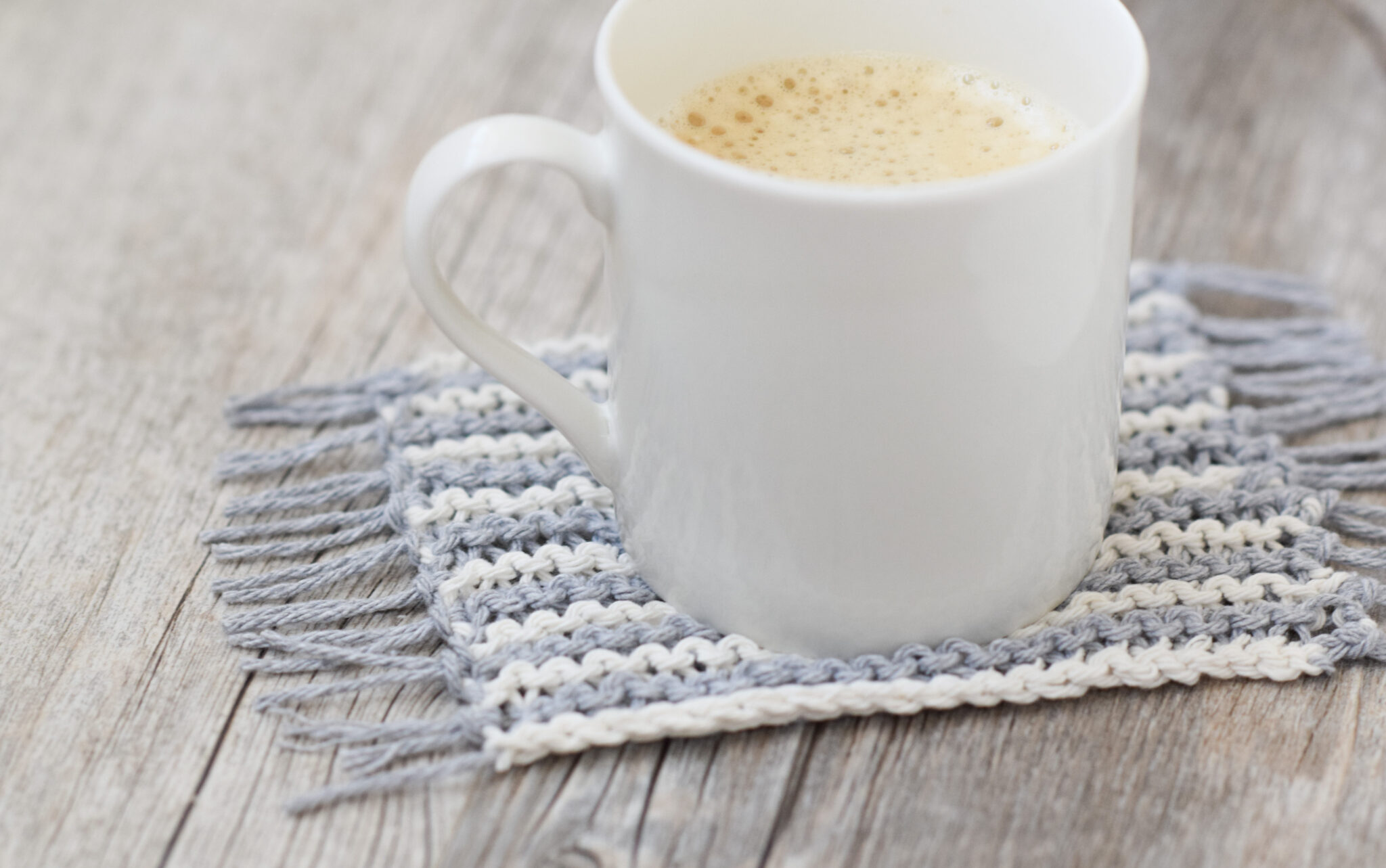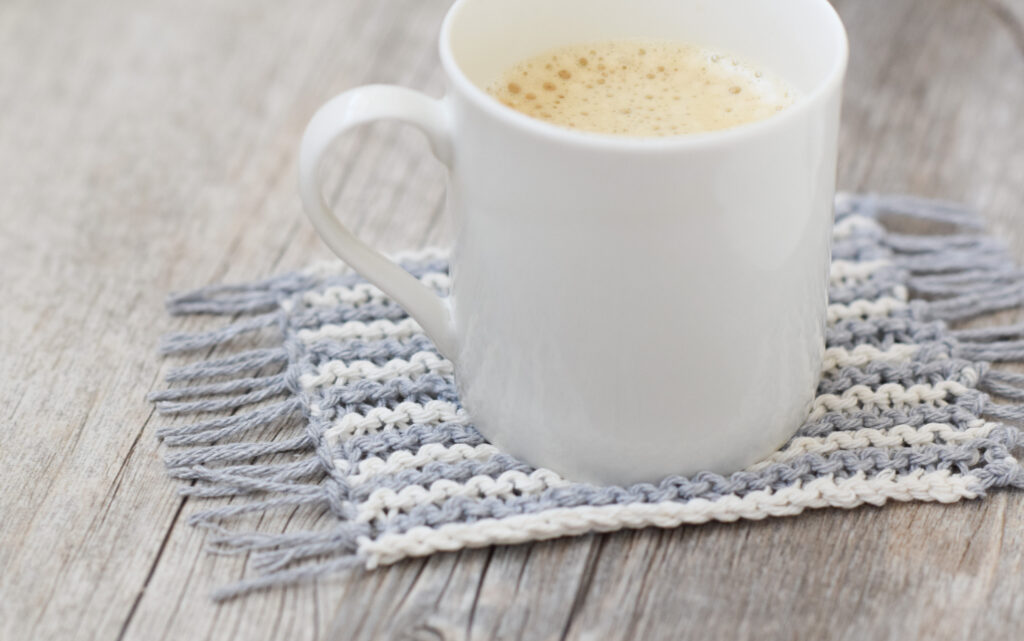 Ready for a relaxing, mindless, little knit? Me too!
Do any of you remember waaaaay back to my Cutie Seed Stitch Coaster? My daughter still uses it in her bedroom, and it's held up so well! While today's pattern uses the garter stitch, the seed stitch is another great option because it lays flat as well. Stay away from curly ol' stockinette for these unless you have a generous border!
Okay, how do we make these mug rugs? You are going to do is cast on 22 stitches and knit away. I used left over scrap yarn from my Eco Market String Bag, but you can use any worsted weight yarn that you have on hand. You can make these as large or small as you'd like as well. Cast on more or fewer stitches, in any stitch count, to make them into your perfect size. Definitely use this pattern as inspiration for your own tastes and design ideas! Crazy colorful stripes would be a lot of fun!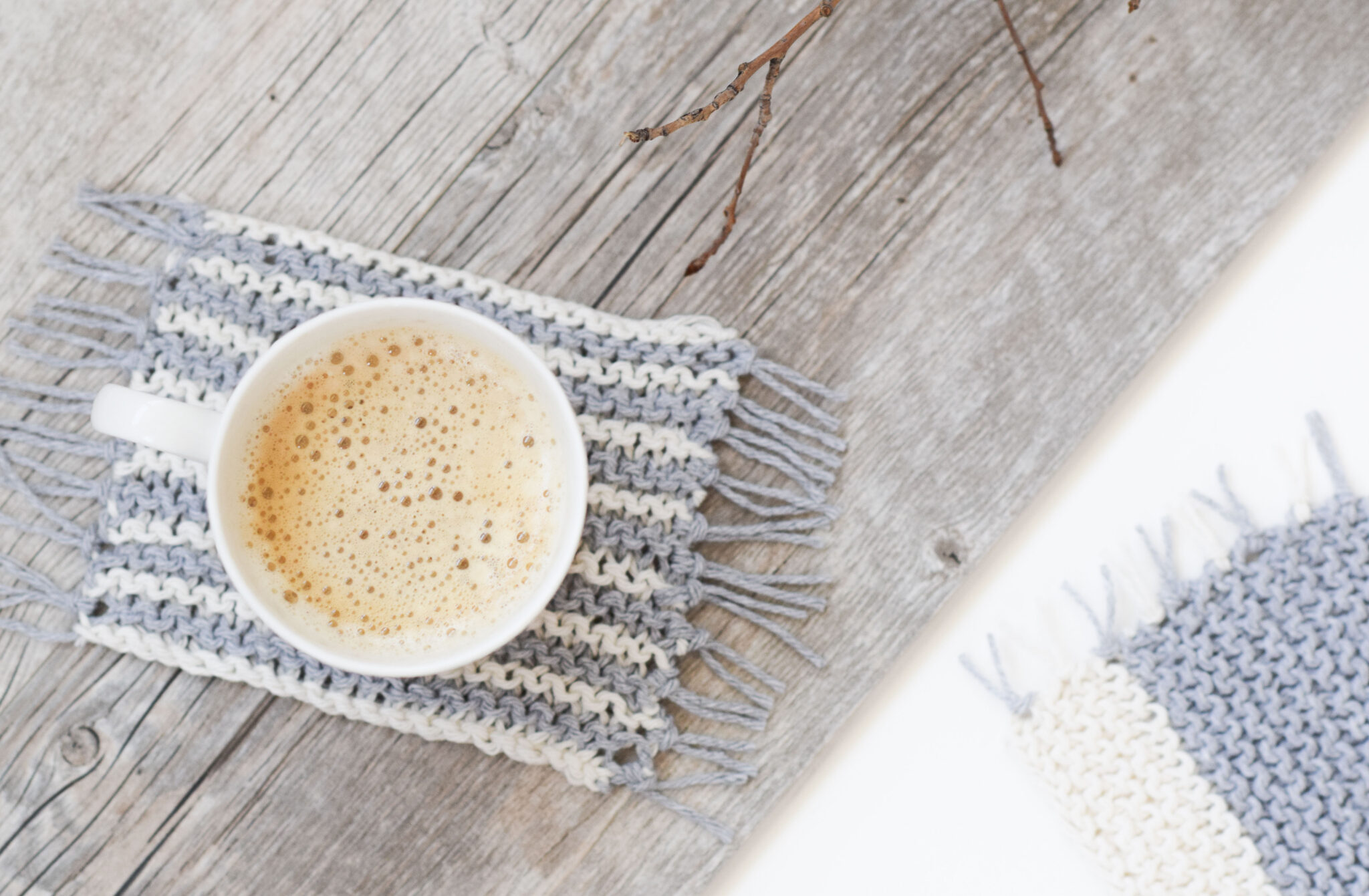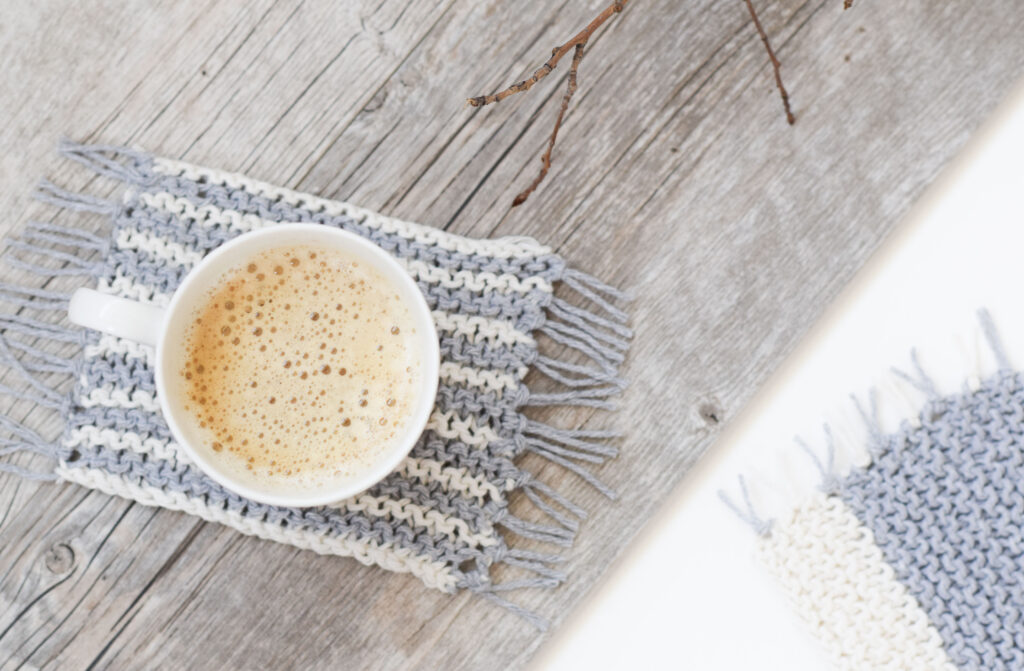 Again, if you're good with the most basic knit stitch, you can make these really easily. We so often get stuck on "scarves" as being a first knit project. However, I think these little mug rugs would be a great first project. I'd just stick with making them one color, rather than working color changes if this was my first project.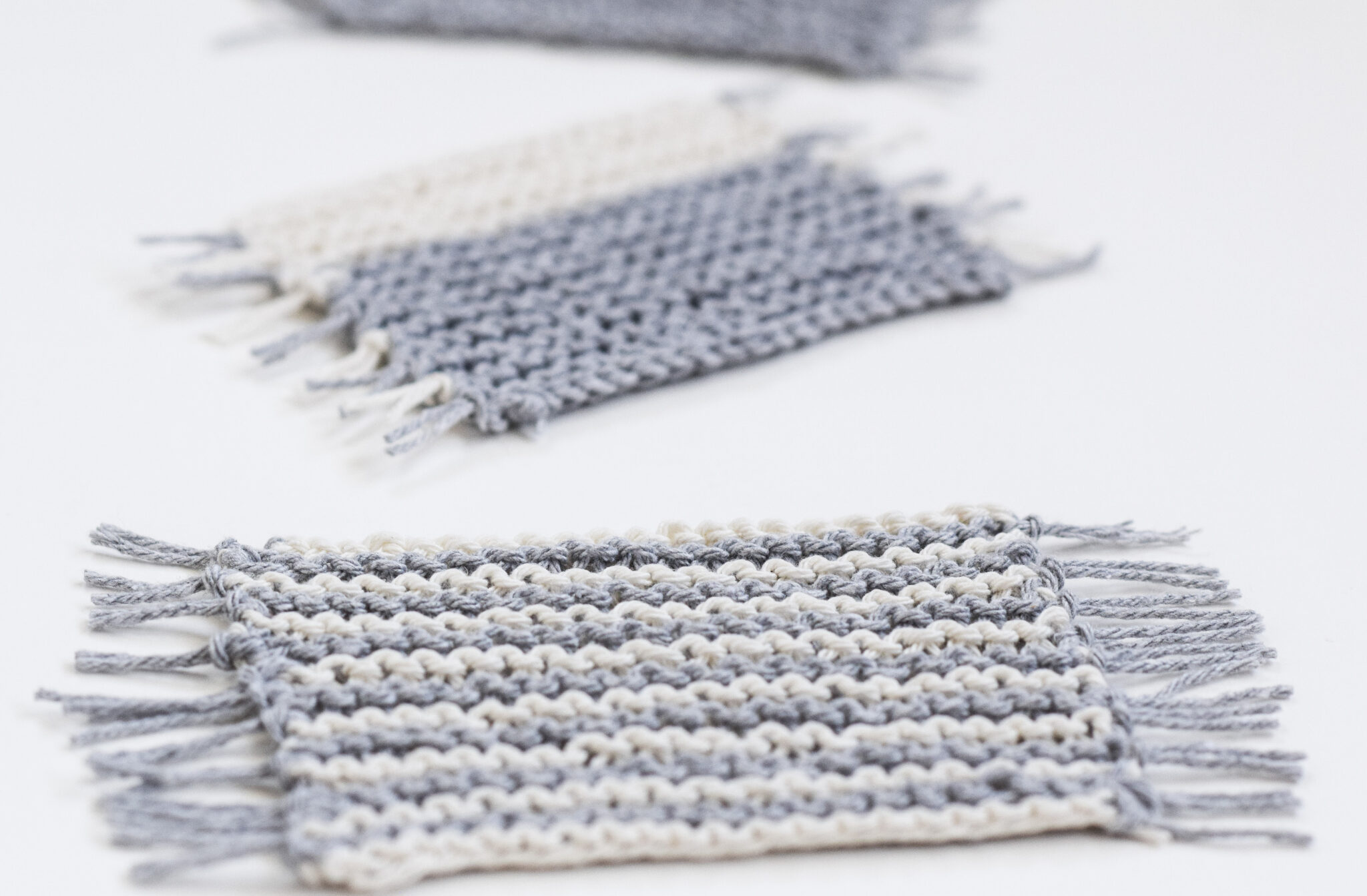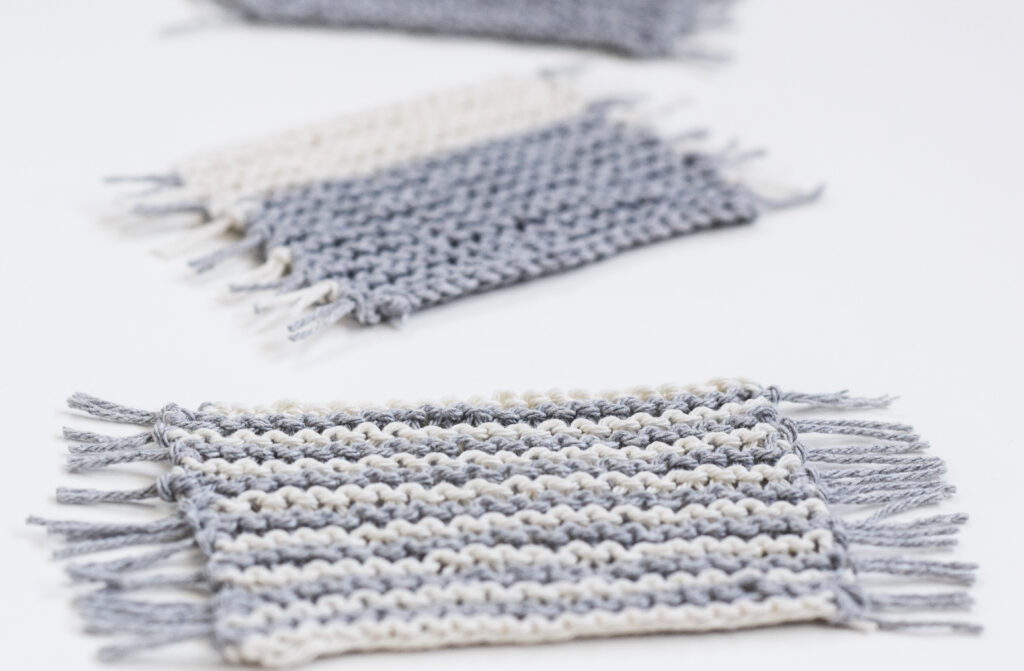 Alright, let's hop to the pattern!
Remember that you can find the advertisement-free, printable version available for purchase in my Etsy shop HERE
Pattern Description: These handy little mug rug coasters are easy to make and can be used anywhere in your home or patio area. This is a perfect project to use up your scrap yarn! These mug rugs are completely beginner friendly too, so anyone can make them.
Skill Level:
Easy +
Materials:
US Size 7, 4.5 mm knitting needles
1 Lion Brand Yarn Re-Up in Grey 70 g/skein worsted weight #4
1 Lion Brand Yarn Re-Up in Ecru 70 g/skein worsted weight #4
Scissors
Measuring Tape
Tapestry needle
Sizes/Dimensions (approximate):
5" x 4.5" – 5"
Abbreviations & Skills:
k – knit
Gauge:
Notes:
These mug rugs are knit from the bottom up using the garter stitch. You can easily adjust the size by casting on more or fewer stitches to begin. Knit for as many or few rows as you'd like until you reach your desired size. Have fun playing with the colors! If you're a beginner, you can stick to a solid color to avoid color changes. Block to shape and size for a more professional, finished look. Have fun!
PATTERN INSTRUCTIONS
Stitch Pattern
Remember that the fun of this pattern is that you can make it your own! Cast on more stitches to make a bigger rug. Use your left-over scrap yarn if you'd like, and your favorite colors. Enjoy!
Cast on 22 sts
Row 1 Knit each stitch across the row
Repeat row 1, knitting across each row, until piece is as long as it is wide.
Cast off and weave in ends!
Striped Mug Rug
Change colors every 2 rows, carrying yarn up the sides. No need to cut and weave in ends each time!
Color Block Mug Rug
Knit 10 rows of Ecru. Knit the remainder of the mug rug with Grey.
Solid Mug Rug
Knit the entire mug rug with Grey.
Fringe
Cut 1 strand of yarn approximately 2" long. Fold and place folded end through edge of the rug. Next, pull the ends of the fringe through to finish. Place fringe evenly along two, opposite sides. Trim to make the ends nice and neat.
Enjoy your little rugs!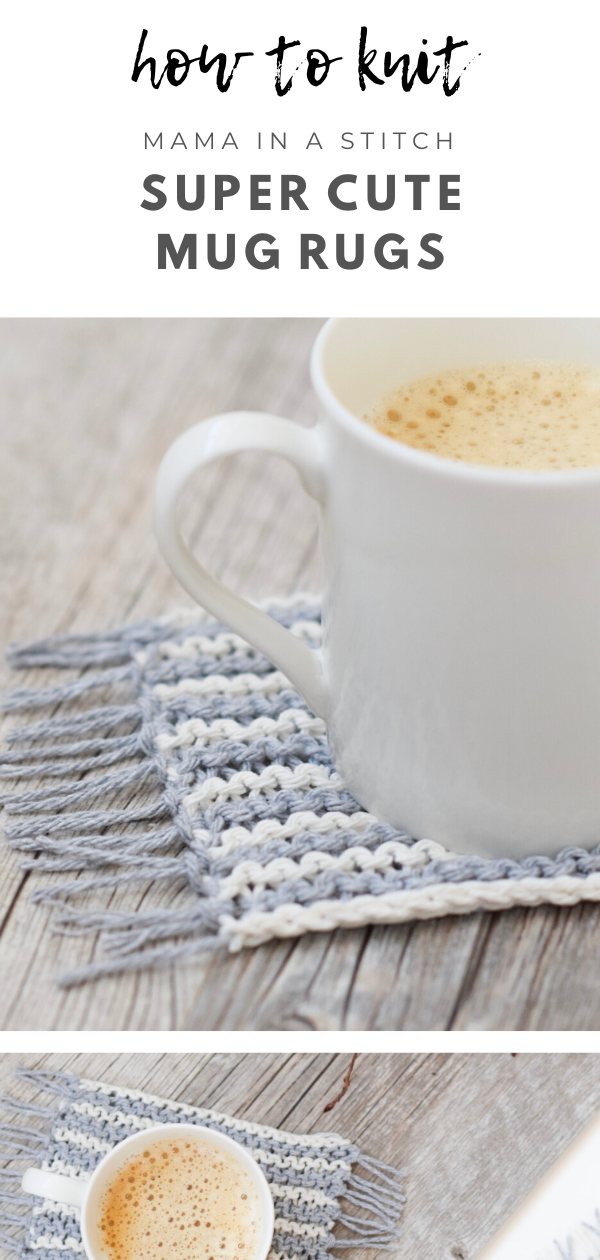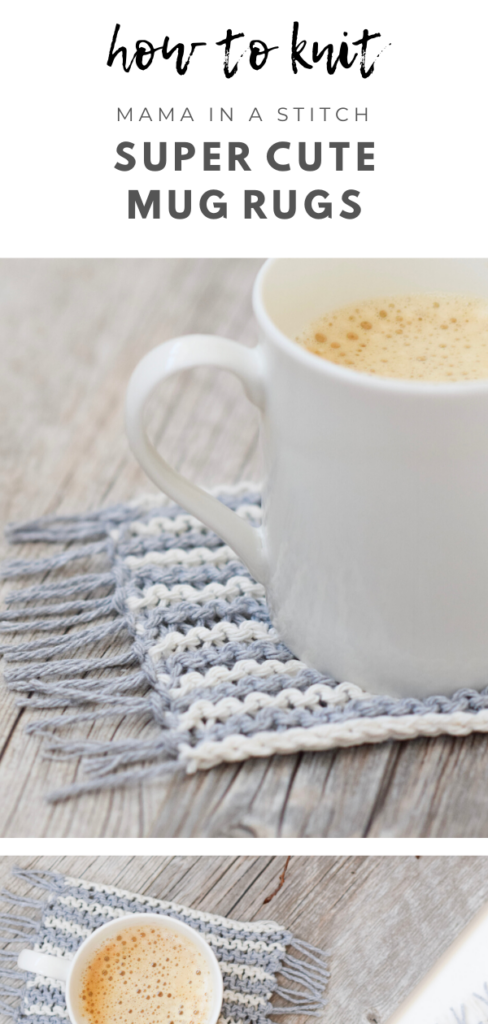 I hope that you enjoyed this simple, mindless project for a change. I know that I did!
Feel free to share your project with me on Instagram @mamainastitch. Have fun knitting!
XO,
Jessica