Timberland Tweed Quick Throw Blanket Knitting Pattern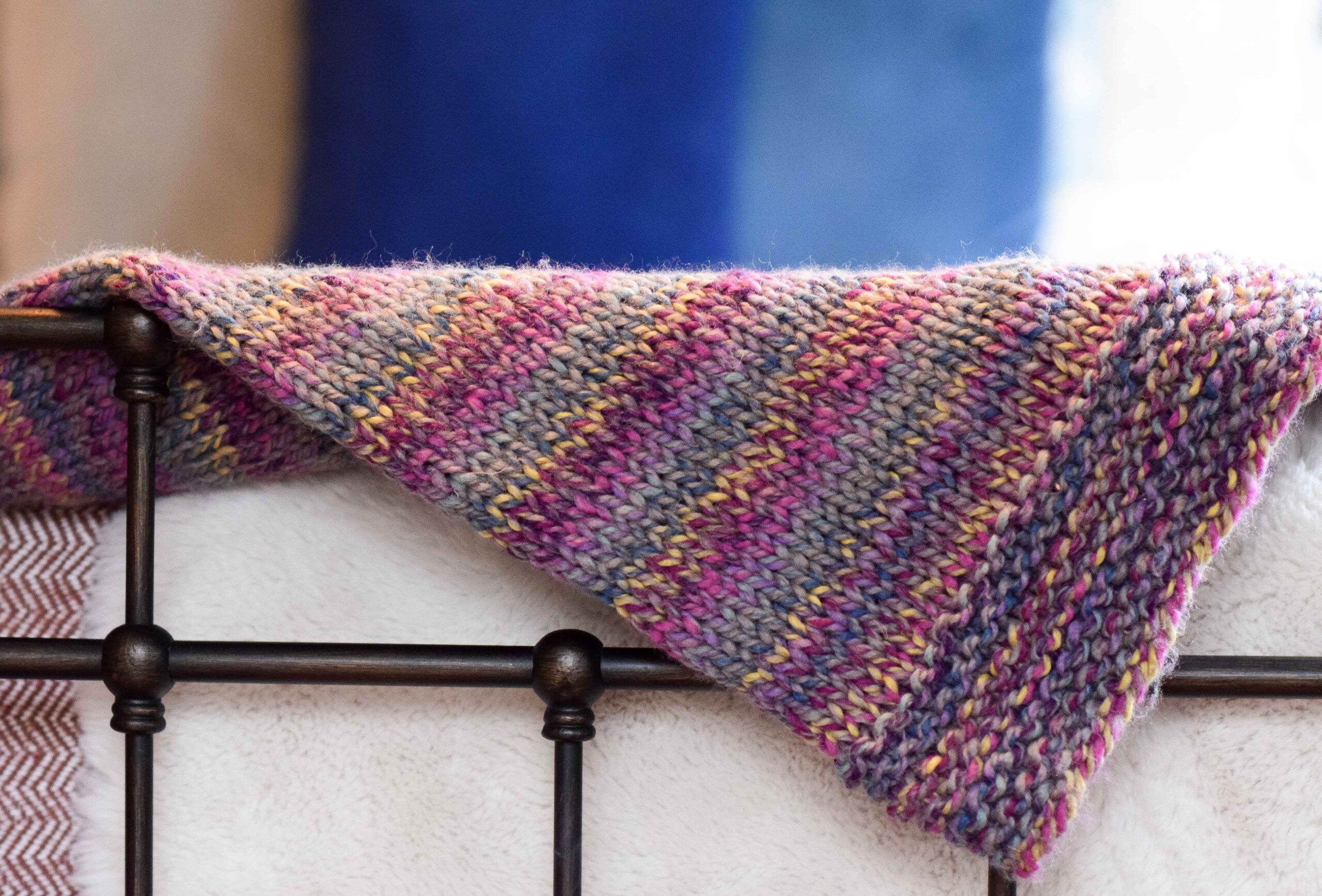 This Timberland Tweed Throw Blanket is super easy to knit, yet it's full of rustic color and adds a gorgeous cozy vibe to any space! It's fast to knit as well since it's done on large needles with super bulky yarn. This is such a great go-to pattern for so many occasions and it can be made in ANY color. Read on!
You can see the free pattern below, or you may choose to purchase the ad-free, printable version from Etsy HERE, or the kit from Lion Brand Yarn HERE (in tons of color options).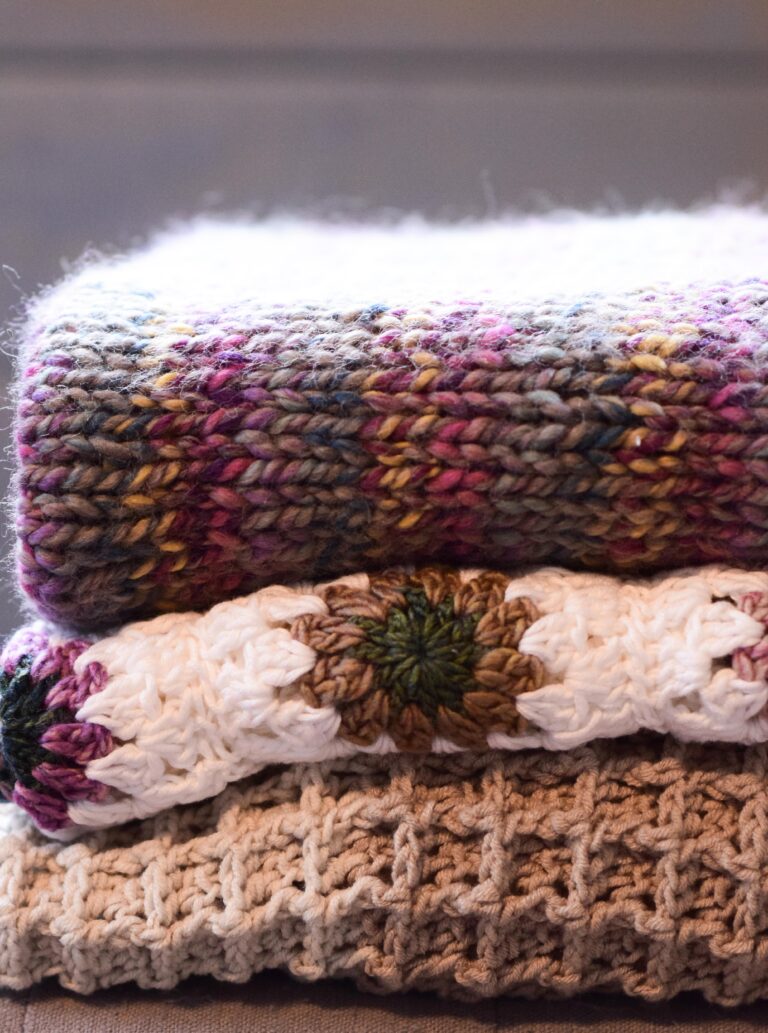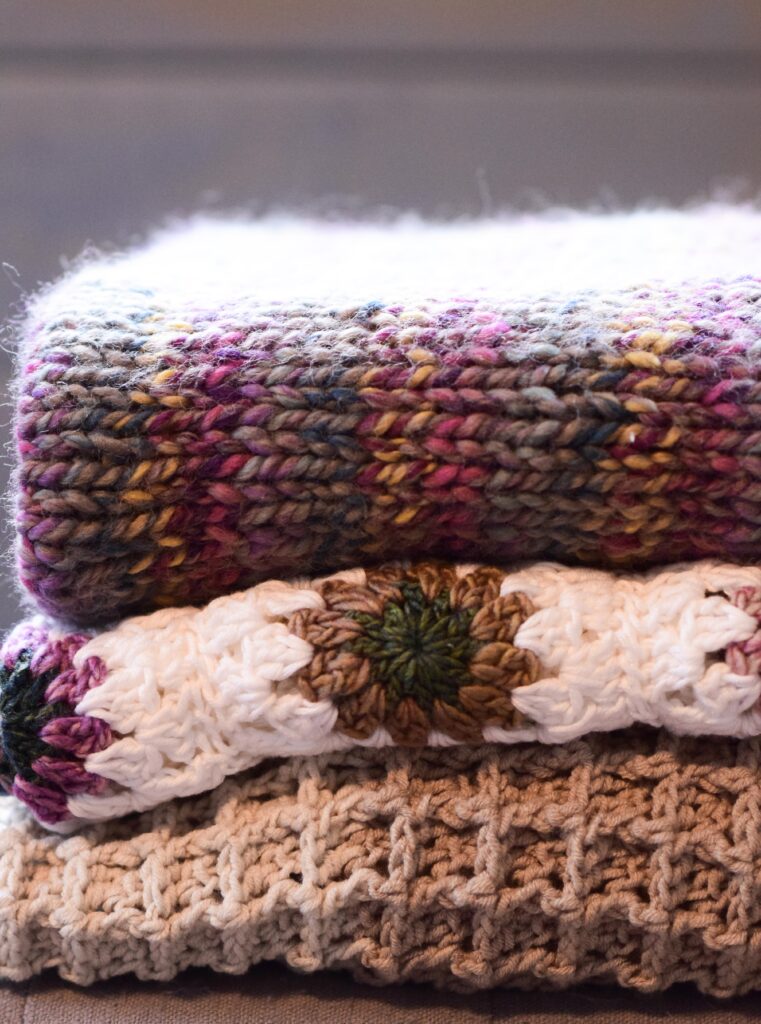 Sometimes you just want a nice, classic blanket, and you don't want to think too hard. (Raises hand) I'm still trying to get myself together after the holidays, so this is a nice project to have.
It only uses knit and purl stitches, so if you can do those beginner stitches, you can make this with no problem. And again, it's a quick knit which I also love.
If you're one of my crocheters, wishing you could knit as well to make this blanket, definitely go check out my YouTube on how to knit if you crochet, here. Once you learn to knit and purl, you can come back and make this beginner friendly blanket. 🙂
HOW TO KNIT
I wrote the pattern out in two sizes, but it's so easy to customize. This could be used as a lapghan, wheelchair blanket, baby blanket, throw blanket, or buy more yarn and make a big blanket for your queen size bed! I don't have the patience for that last one, but kudos to you if you do. 🙂 It's just a great go-to type blanket pattern!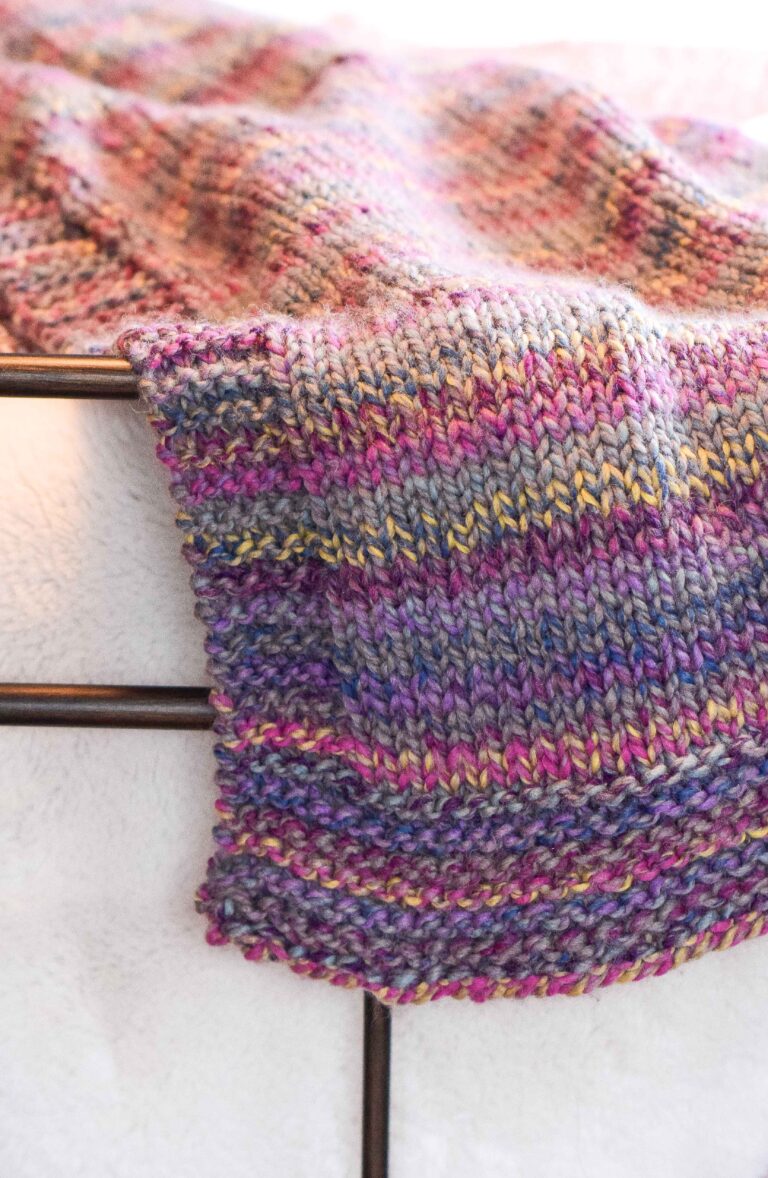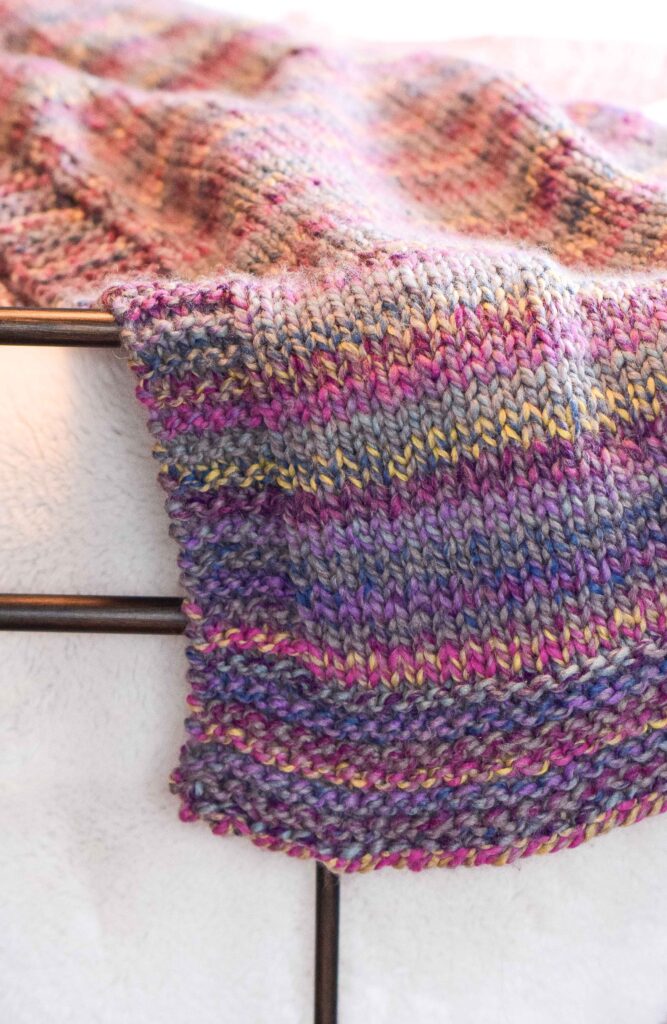 What Yarn Do I Use For This EaSY Knit Blanket?
Oh yeahhhh, the yarn right? The yarn you choose really makes this throw! The tweedy, variegated yarn gives it a great, colorful rustic look. I love when I find new colors of yarn that I like, or I finally have an idea that works for a certain yarn. I've seen this Lion Brand Astroland before, but wasn't totally sure how I'd use it. Well, this is how!
It looks like there are a couple of colors worked together at once, doesn't it? Definitely check out the other variegated and tweed colors you can use! I want to make this in several other colors as well. It would be beautiful in a solid cream, or even the Oatmeal for a nice neutral. There are SO many options.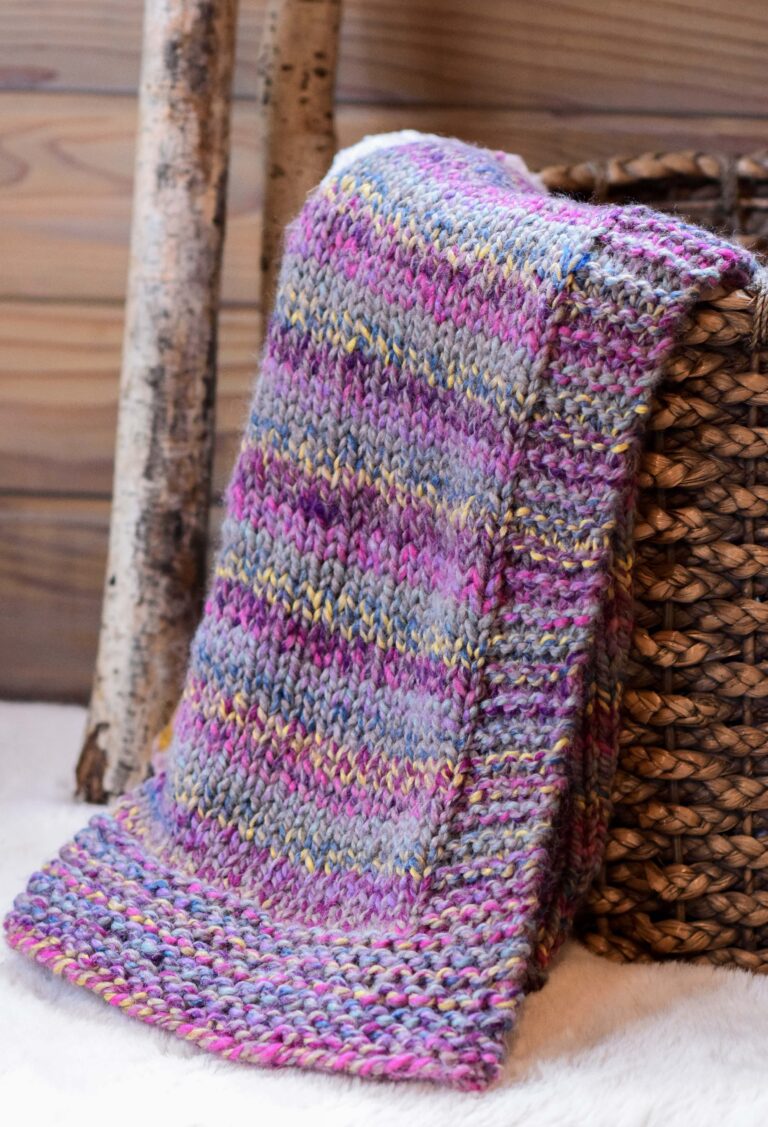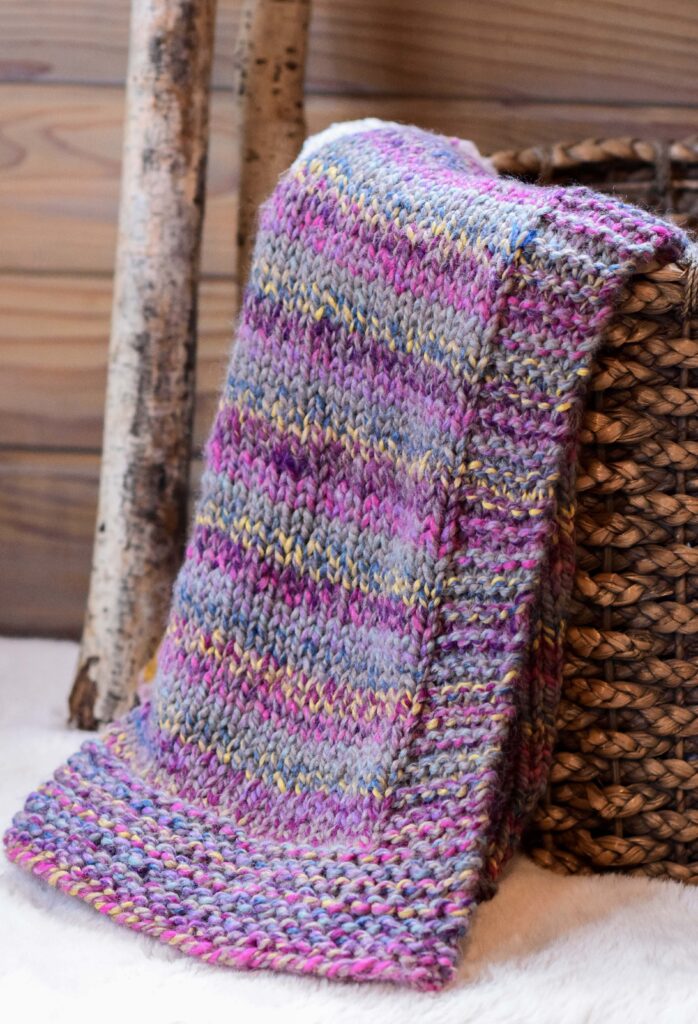 Okay, are we ready to hop to this pattern? Remember that you can see the freebie below, or you may choose to purchase the ad-free, printable version from Etsy HERE.
Description:
Gorgeous mixed tweed colors adorn this rustic blanket, yet there are no color changes and it's knit with a single strand of lofty yarn! This cozy, chunky throw is super simple to knit and it features clean, classic lines that suit anyone's style. Be sure to check out all of the color
options as choosing your favorite one is so much fun! There are several variegated options, as well as tweeds and solid colors. This quick-to-make beauty will be cuddled for years to come!

Materials:
7 (10) skeins of Lion Brand Yarn Wool Ease Thick & Quick in Astroland or preferred color (Convenient Kit available HERE) (super bulky yarn 140 g/skein and 87 yds) Pattern uses approximately 905 g (1286 g)
US Size 13, 36" or longer, circular knitting needles (blanket is knit flat)
Scissors
Tapestry needle to weave in ends

Size (approximate):
Two Sizes Available
Small Throw: 38" X 43"
Large Throw: 42" X 54"

Follow the directions throughout the pattern for the size you are making. The Small Throw is listed first, followed by the Large Throw: S (L)

Size can be adjusted – see "Pattern Notes" for more details.

Gauge:
Approximately 9 sts and 11 rows in 4" x 4" in stockinette stitch
IMPORTANT: Check gauge before beginning to ensure size turns out correctly. Adjust needle
size if needed (try US 15's, for example, if you're counting too many stitches in your swatch)

Pattern Notes:
This pattern uses garter stitch and stockinette stitch. You simply need to know how to knit
and purl for this pattern. Yay! If you've never knit these stitches, feel free to practice on small
swatch before beginning to make sure you understand.

You will begin with a garter stitch border. Next, you will move into the stockinette pattern
repeat which includes a 6 stitch garter trim on each of the sides. Finally, a garter stitch edge is knit to finish the blanket. The pattern calls for circular needles in order to comfortably hold all of the stitches on the needles, but keep in mind the blanket is knit flat.

To adjust the length, simply follow the pattern until your blanket is the desired length (keep in mind the final garter stitch edge length as well). To adjust the width, cast on with any multiple of stitches. Keep yarn needs in mind when adjusting the length and width of the blanket!

Have fun!

Abbreviations (US) & Skills:
k – knit
p – purl
st – stitch
sts – stitches

Cast on 86 (97) stitches
Stitch count remains the same throughout the pattern.

Beginning Garter Edge
Rows 1 – 14 Knit each st across the row.
Next, continue onto the Stockinette Stitch Pattern Repeat.
Stockinette Stitch Pattern Repeat
Row 1 K6, purl across to last 6, k6.
Row 2 Knit each st across the row.
Repeat Rows 1 -2, in that order, until the throw measures approximately 39" (50") inches total.
Next, move onto Final Garter Edge.
Final Garter Edge
Knit last 14 rows in order to match Beginning Garter Edge.
Cast off and weave in ends.

That's all there is to this beauty!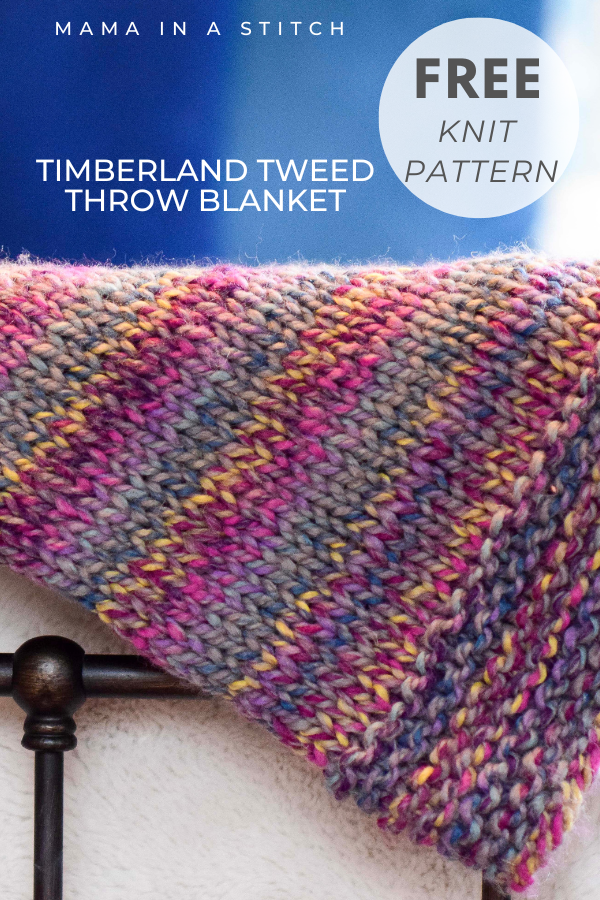 I hope you enjoyed this simple, beginner friendly knit blanket pattern today. Even though it's simple stitches, stockinette is still one of my all time favorites.
If you like quick, beginner friendly blankets like this, you might also like:
Native Stripes Throw – totally beginner friendly!
Quick & Cuddly Knit Throw Pattern – this one is SUPER fast and simple.
Happy blanket making my friends!
XO
Jessica