Faux Fur Stocking Easy Knitting Pattern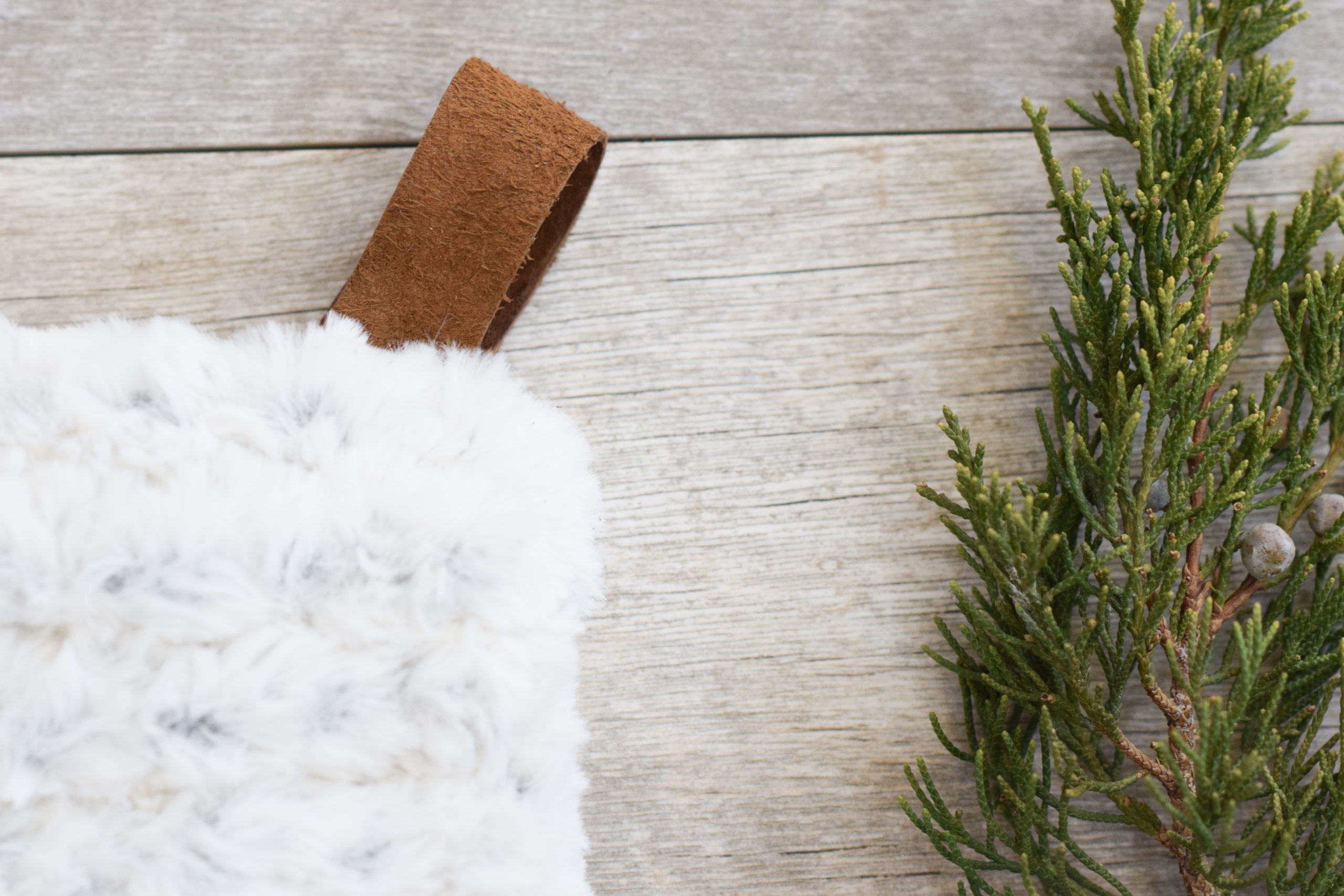 This easy knit Christmas stocking is quick to make and is right on trend with the faux fur. I was so excited to plan this project as my contribution to the Little Gift Knit Along put on by Underground Crafter, Stitches & Scraps & Creative Crochet Workshop. Definitely check out the knit along as there are some fun, little project options. They also have a faux fur giveaway that you can enter(here). I love being part of our far-reaching knit and crochet community!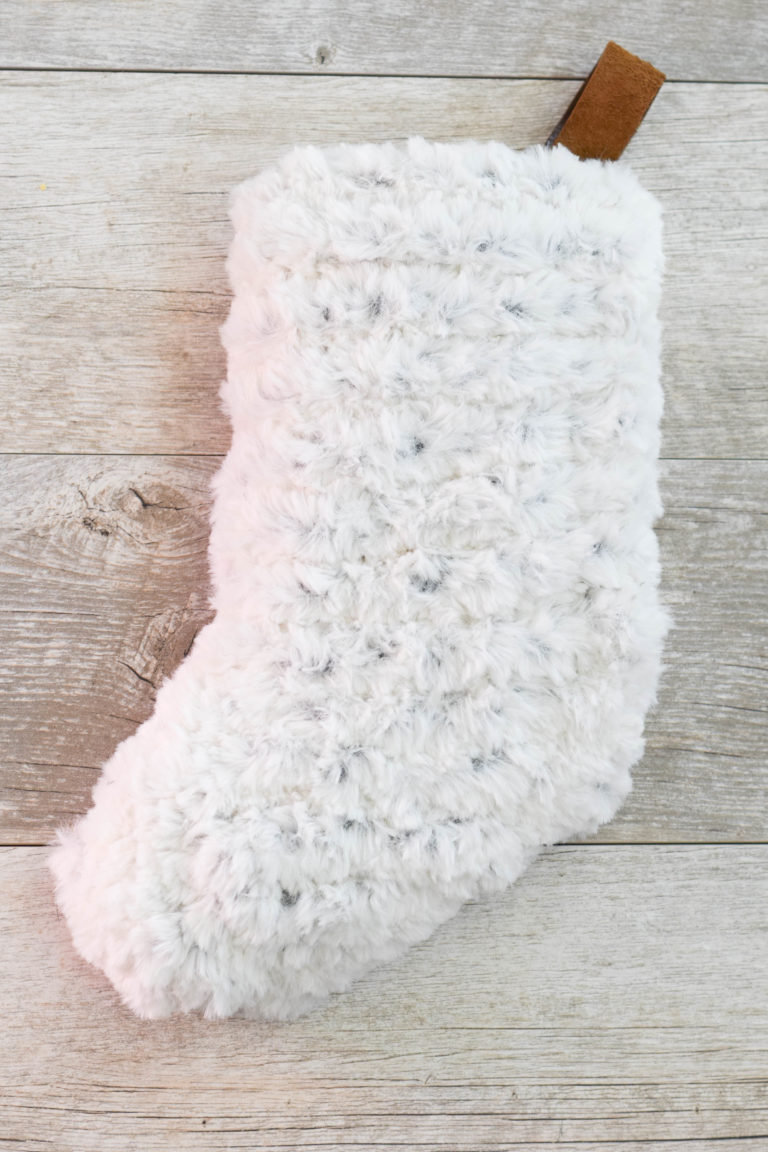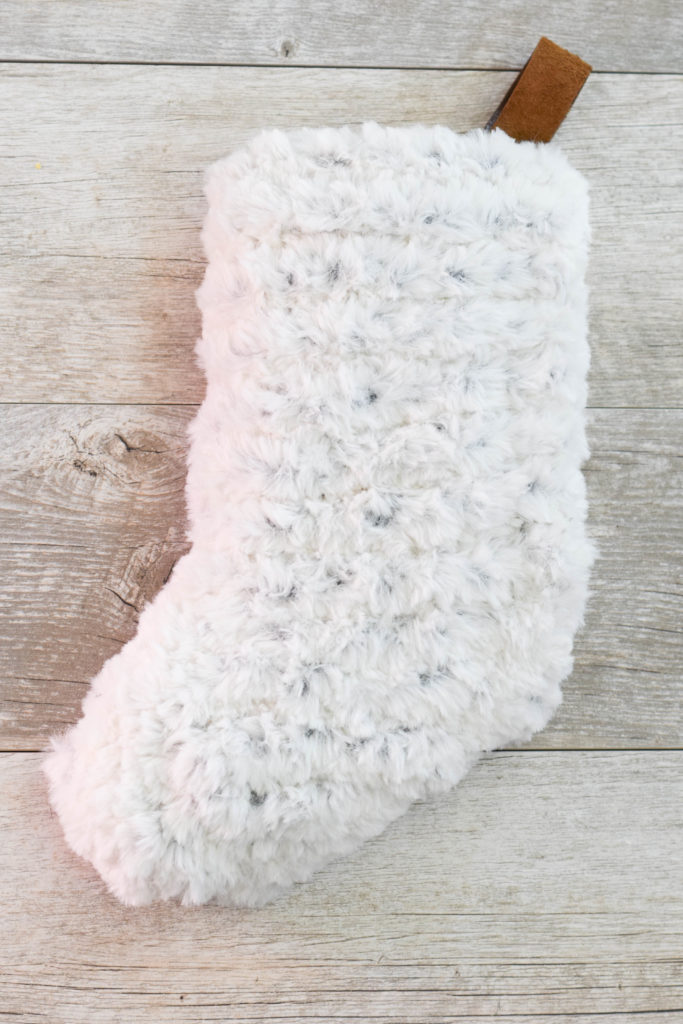 Have you seen all the faux fur this season? From craft stores, to home decor stores, it just seems to be the new hot thing!
I've recently seen fur tree skirts, stockings, poms, ornaments and more. So much we can do with the faux fur yarn! You can find it through Lion Brand (HERE) and I've also seen a lot of skeins at my local Wal-Mart.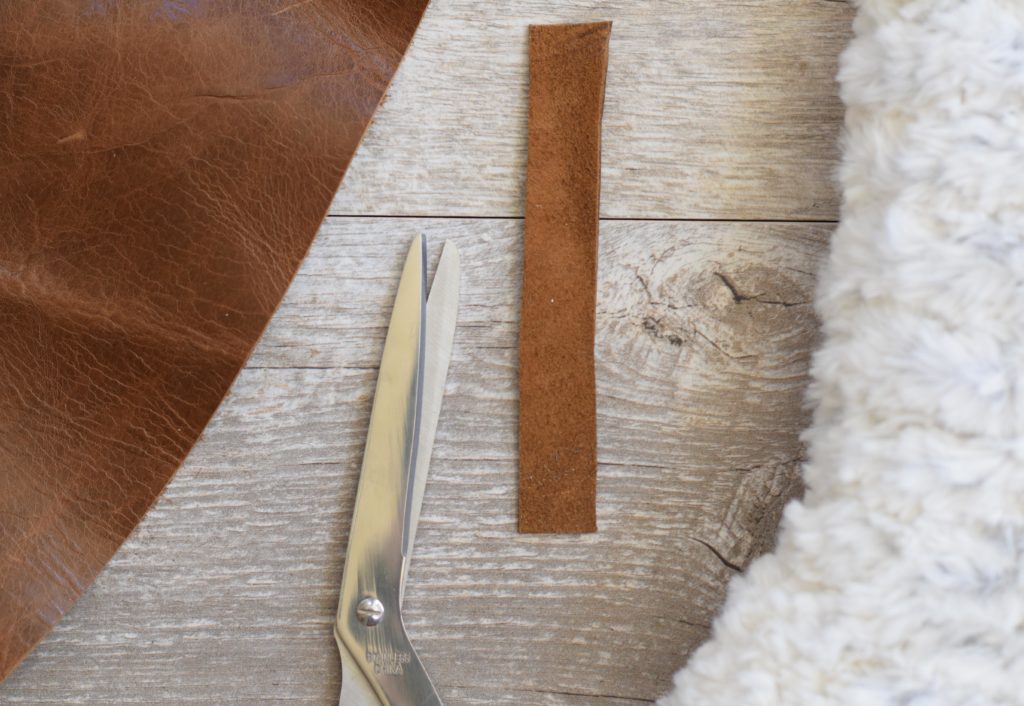 I created this knitting pattern to be as simple as possible. It's knit flat, in two pieces, from the top-down. There are only a few rows of simple shaping at the bottom, and the entire thing is made with the beginner knit stitch. Once you've made the front and back, you simply seam them together.
While this stocking alone could be a gift for someone, I think it would be cute to give with a gift inside! Stuff it with some of your friend's fave teas or coffee. A gift card with a thoughtful note would also work great! It could also make a really cute pet stocking. We always have a stocking for our pups (you might remember Ruby HERE). They get a bone or toy each Christmas! What would you do with this stocking?
I've added a small leather hanger, but you can be creative! Use a length of the fur yarn, regular yarn, or even a pretty satin ribbon would be beautiful.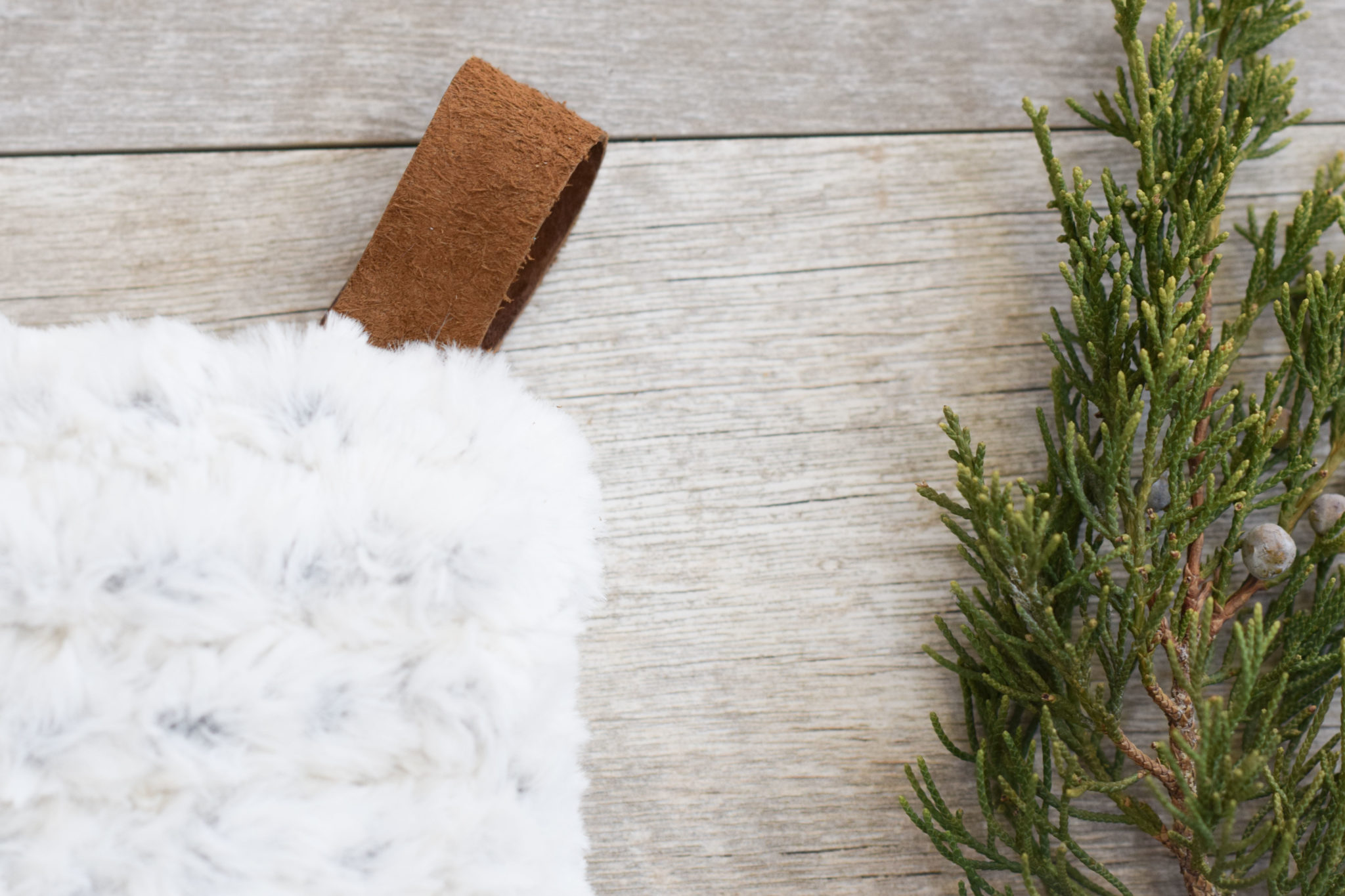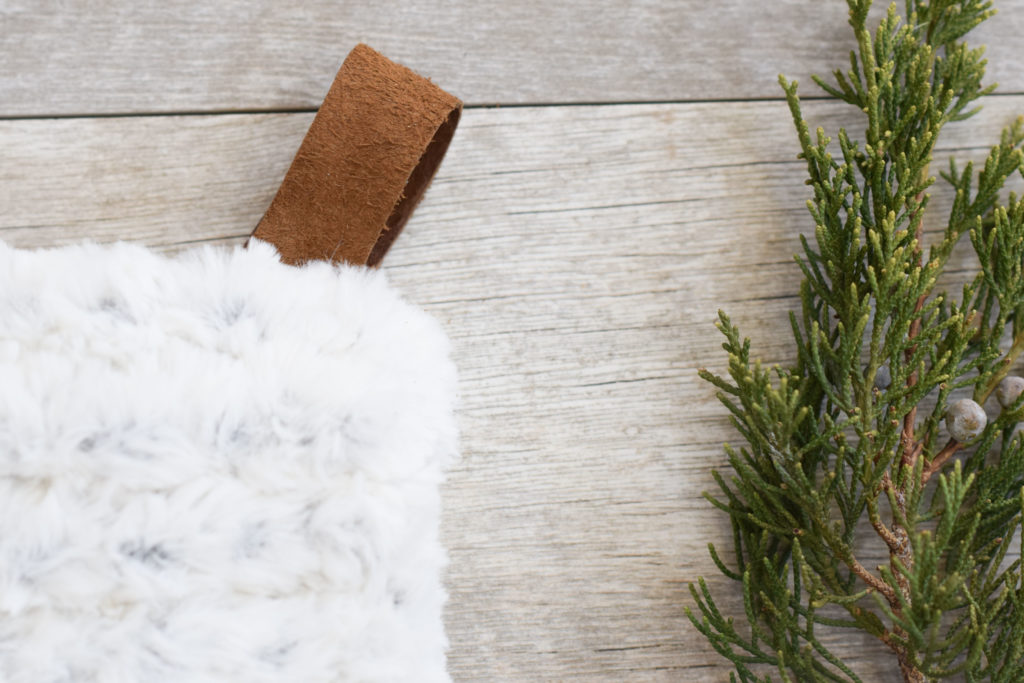 So let's get to the pattern! This particular pattern isn't available in Etsy or in the Mamas Maker downloads as it's one of my few "only found on the blog" patterns. Thanks so much and see the full, free pattern below!
Faux Fur Stocking Knitting Pattern
Size:
This is a small stocking, but you can easily modify the pattern to make it the size you'd like. As written, it's about 6″ wide and 12.5″ long to the toe. If you'd like to make it wider, consider casting on 10 – 12 stitches and following the same stitch pattern. To make it longer, you may simply knit across each row for more than 15 rows and begin the decrease rows when you'd like. Keep in mind that you'll need more yarn if you make it larger!
You will need:
US Size 35 Knitting Needles
2 skeins Lion Brand Go For Faux Thick & Quick in Chinchilla (HERE)
Scissors
Tapestry Needle (if needed)
Abbreviations & Skills:
st – stitch
sts – stitches
k – knit
k1fb – Knit the first stitch on your main needle. Before taking the stitch off the main needle, insert the tip of your working needle into the backside of the loop and knit it through the back loop. Then pull the stitch off the needle. Here's a tutorial from NEW STITCH A DAY HERE
k2tog – knit two stitches together (decrease)
KNITTING PATTERN
Cast On 8 sts
Rows 1 – 15 Knit each st across the row
Row 16: k2tog, knit to last stitch, kfb
Row 17: Knit
Row 18: k2tog, knit to last stitch, kfb
Row 19: knit
Row 20: k2tog, knit to last stitch, kfb
Row 21: Knit
Row 22: k2tog, knit to last stitch, kfb
Row 23: knit
Row 24: k2tog across (4 sts) bind off
Cast off, weave in ends.
Repeat pattern to make second panel.
Assembly:
Place panels together and seam with a whip stitch, leaving an opening at the top of the stocking. You want to be able to stuff it, of course!
That's all there is to it!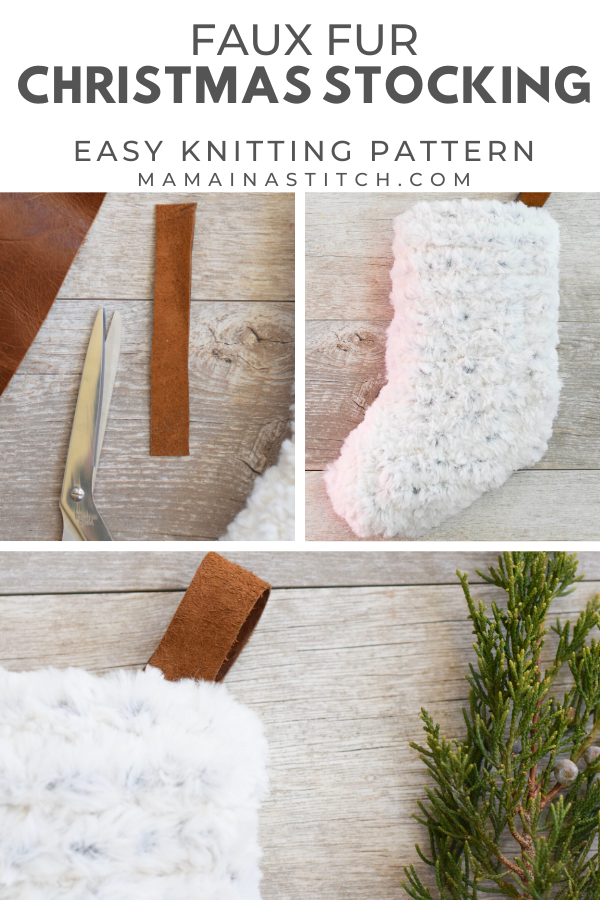 And don't forget to check out the other gift ideas through the Knit Along sponsored by Lion Brand Yarn and my fellow bloggers HERE! They even have a giveaway that you can enter! I can't believe it's already that time of year to think about Christmas.
I hope you enjoyed this quick gift idea!
I'd love to see if you make a stocking – simply tag me on Instagram @mamainastitch #mamainastitch.
Happy holidays!!
XO
Jessica
If you like quick projects, you might also like: