How To Crochet A Hand Towel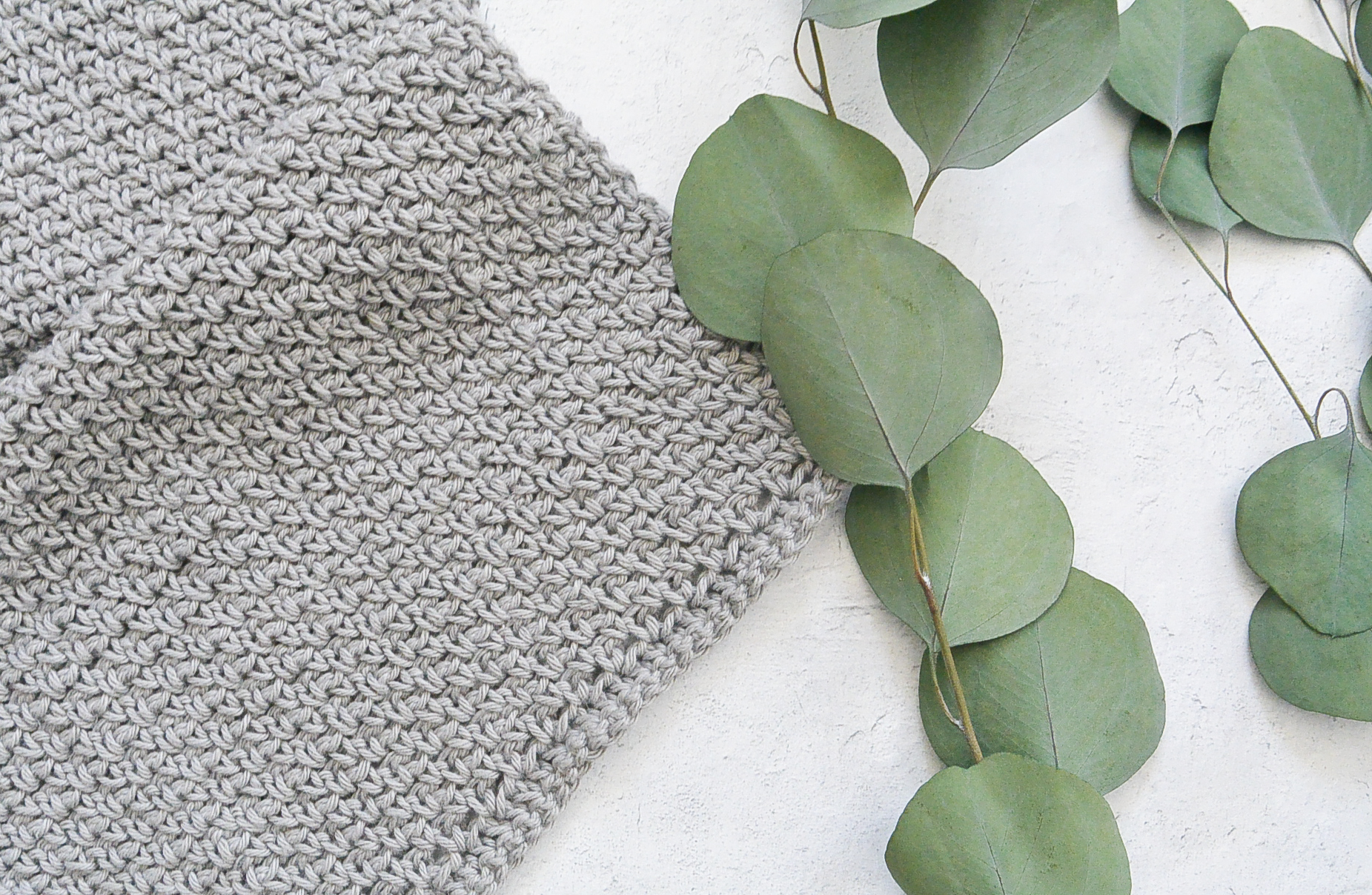 Dish towels, hand towels, and washcloths are easy to crochet and they are super useful in our bathrooms or kitchens. They also happen to make wonderful gifts for hostesses or housewarming get togethers (not that those are happening in lovely 2020, lol). Today, I'm going to show you how to make two pretty towels that you can use today by crocheting simple, but timeless stitches with a lovely cotton blend yarn HERE.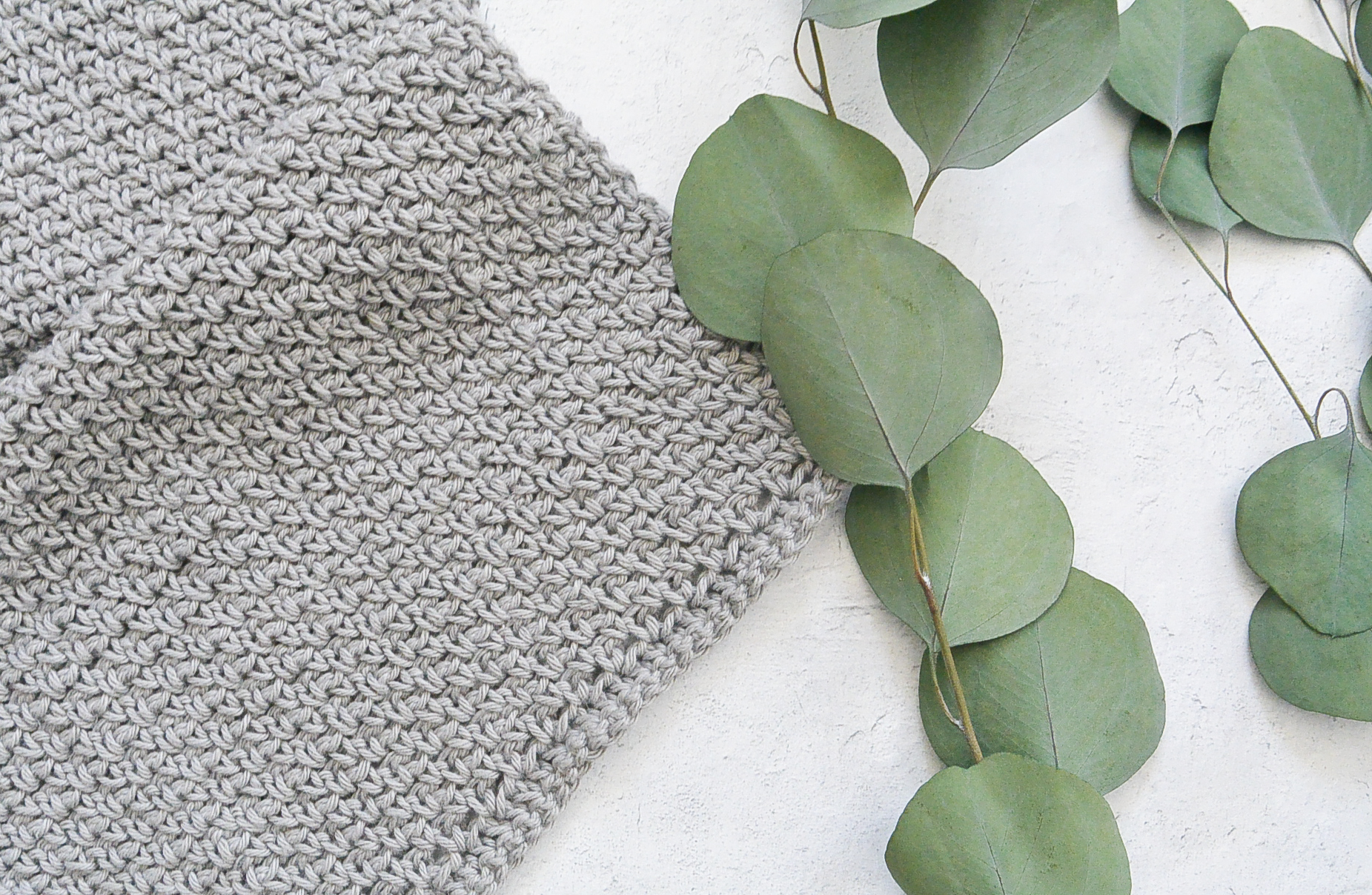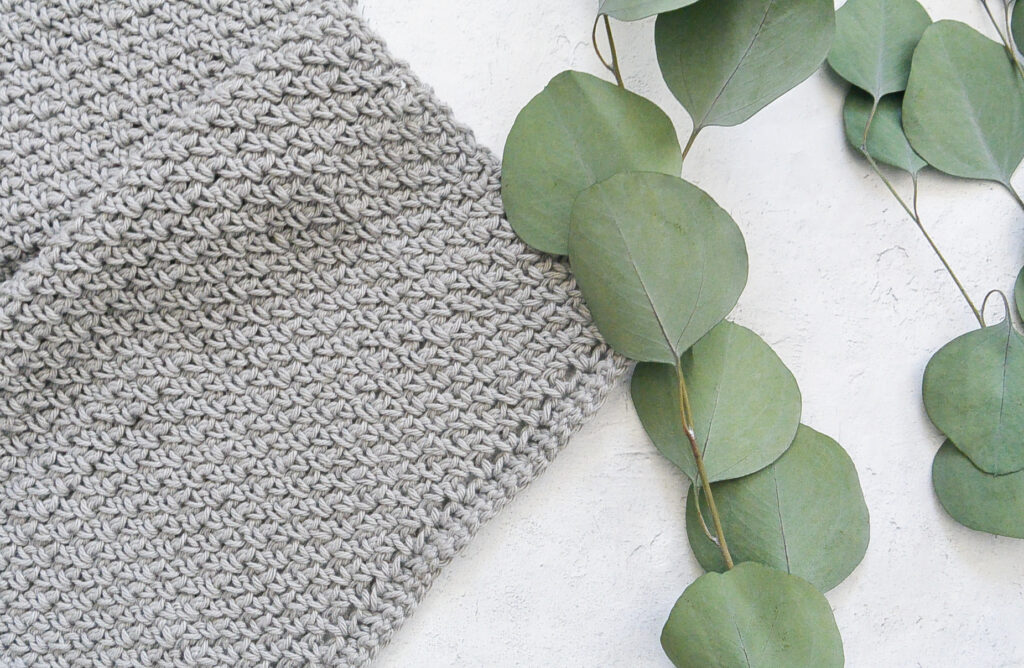 While you can use just about any stitch that you like to make these, I think it's nice to use stitches that are not "holey". Just like a towel you'd buy at a store, you want it to be absorbent and also hold up well in the wash. In order for it to be absorbent, definitely use cotton or a cotton blend! I have a pet peeve of trying to dry my hands on towels that don't dry my hands. (This is what acrylic will do) 😉 Also, I always use cotton for washcloths (see a couple of my washcloth patterns HERE and HERE), unless I'm wanting them to be a bit more like scrubbies.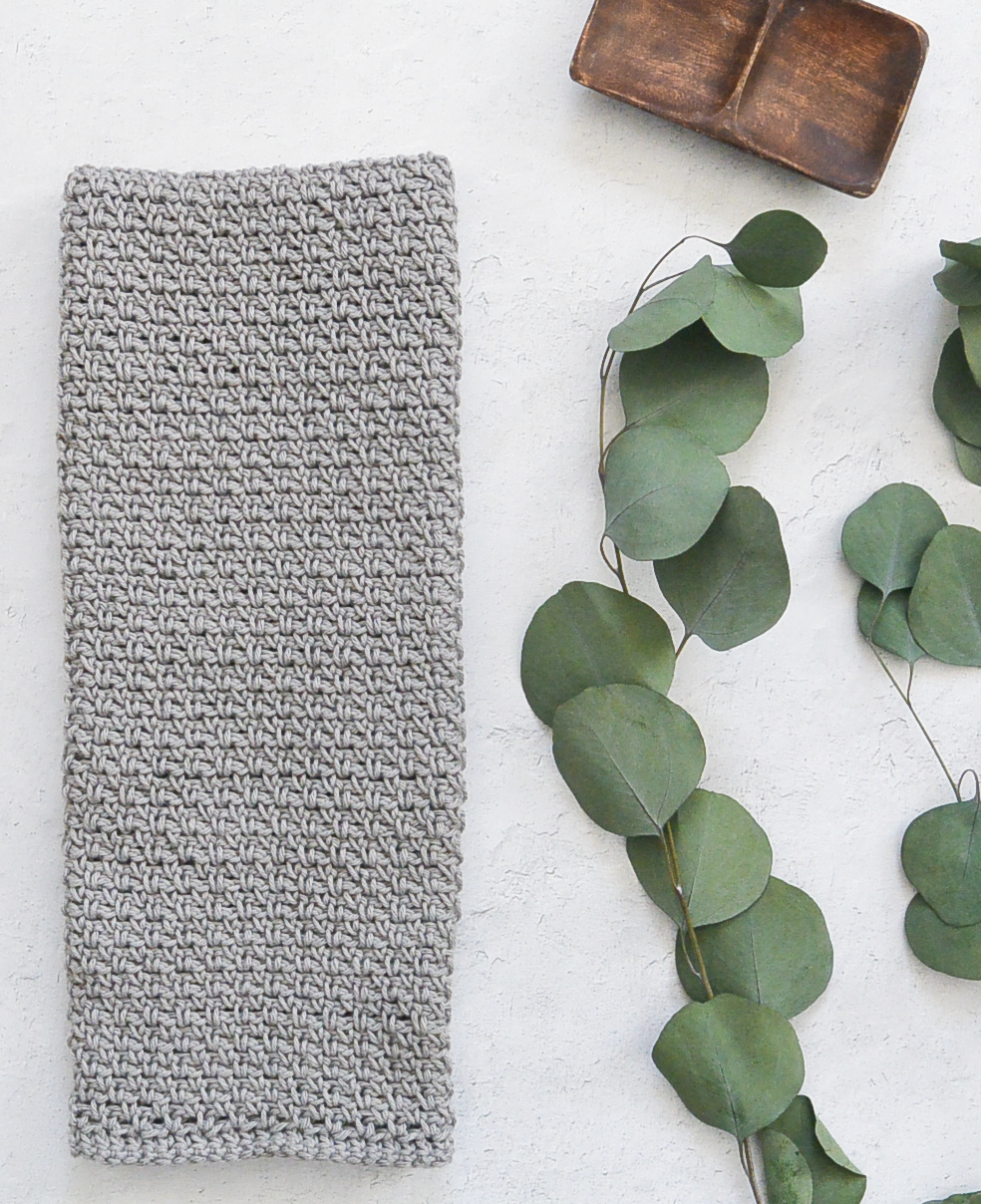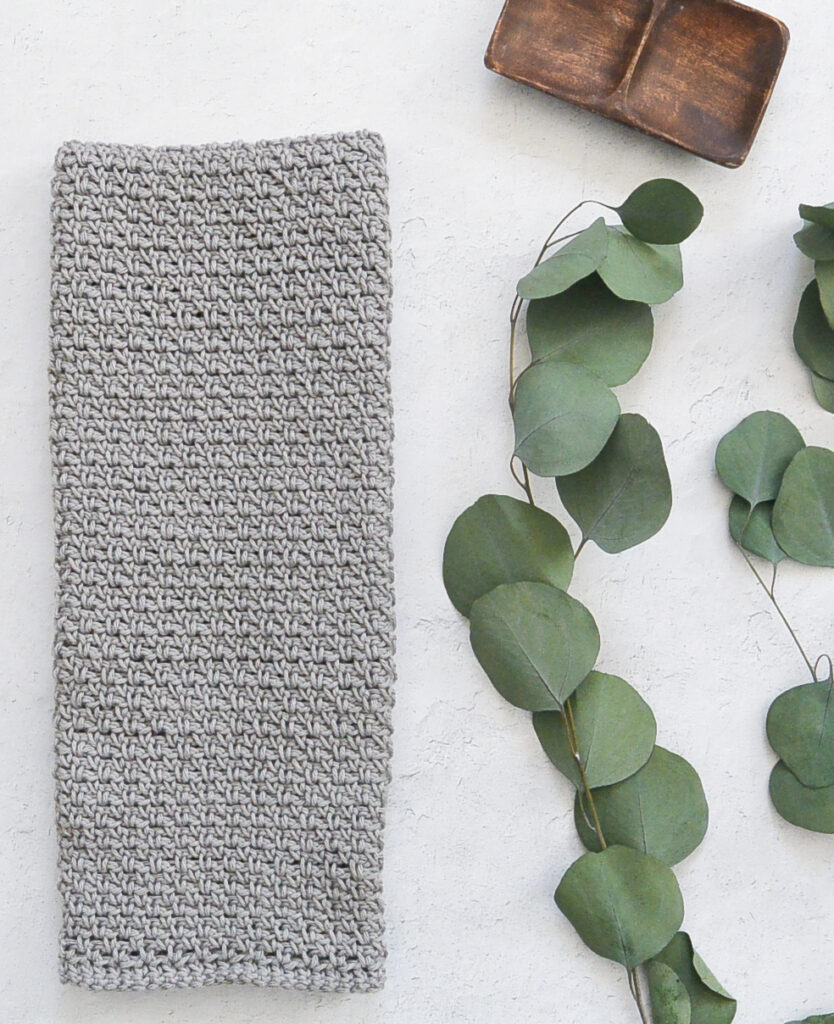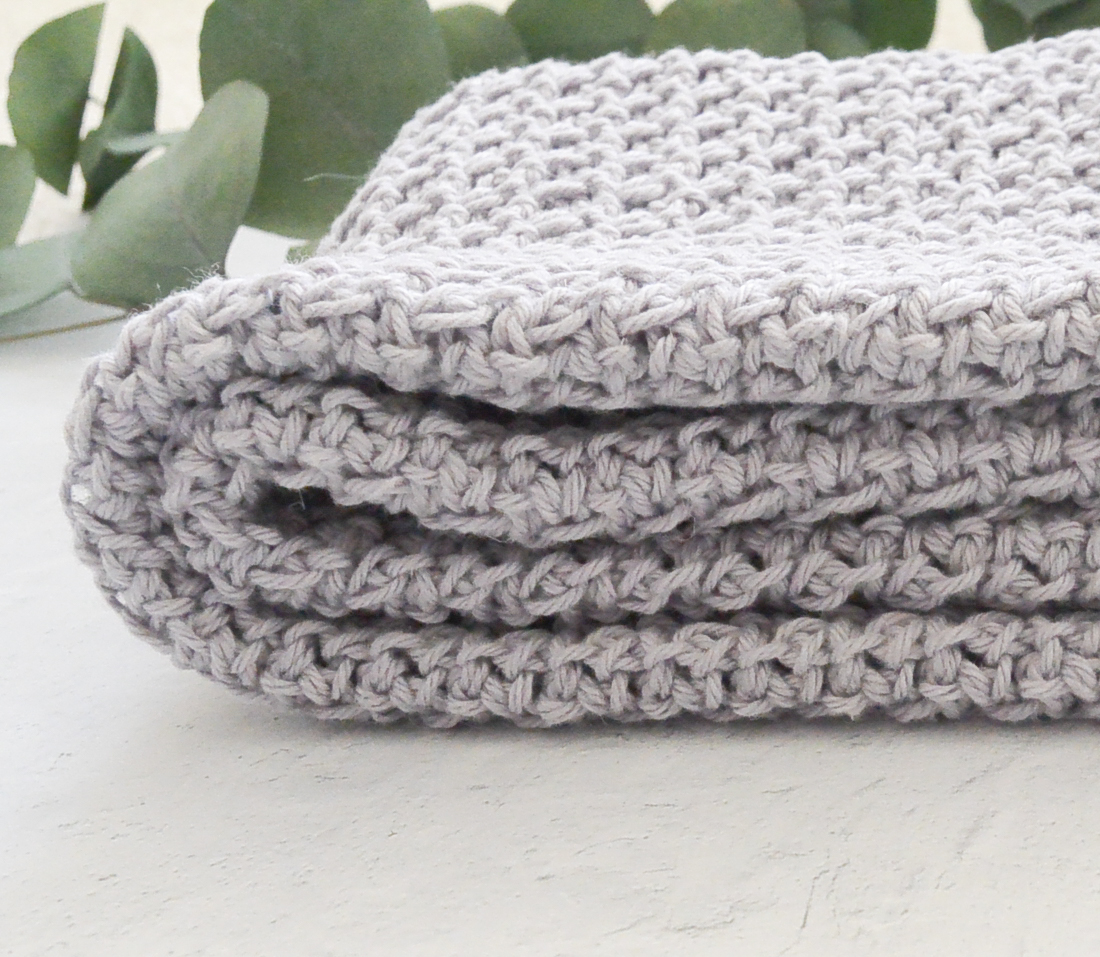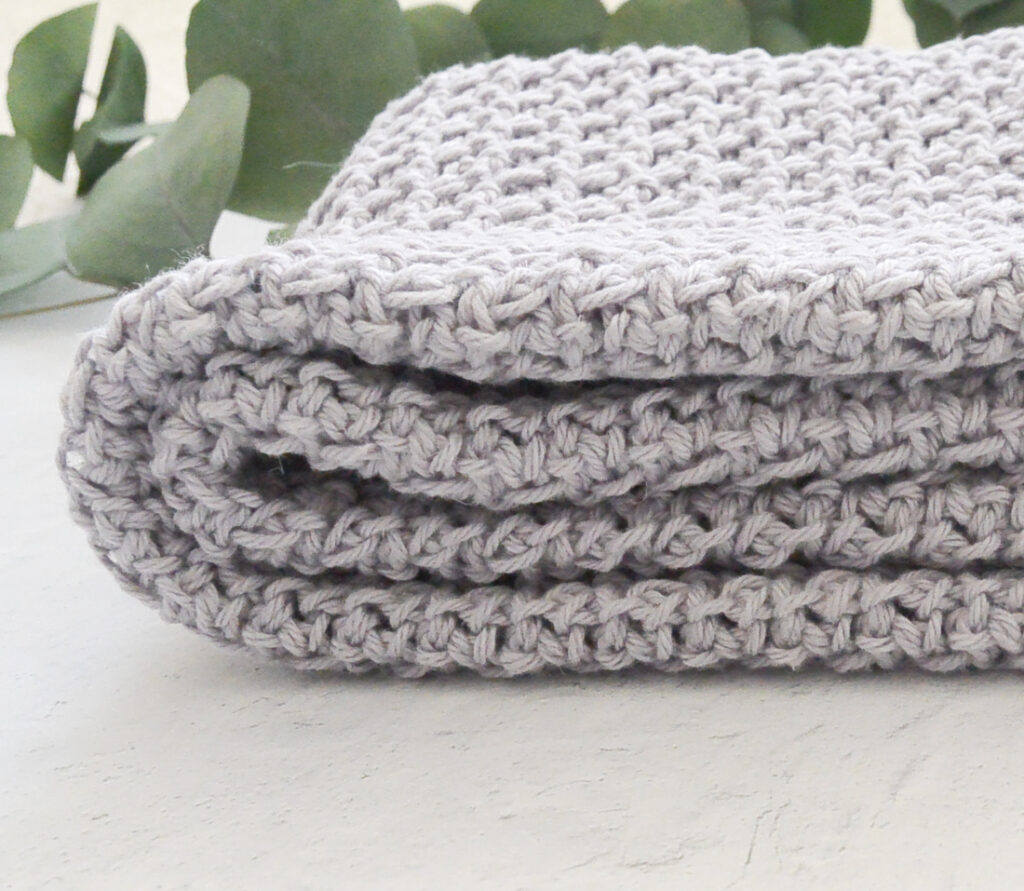 For these two hand towels, I've used the beautiful Cotlin yarn from WeCrochet (HERE). This is an incredible, 70% cotton 30% linen yarn that can be used for home goods and wearables alike! It has good structure, but still has a nice drape and soft feel.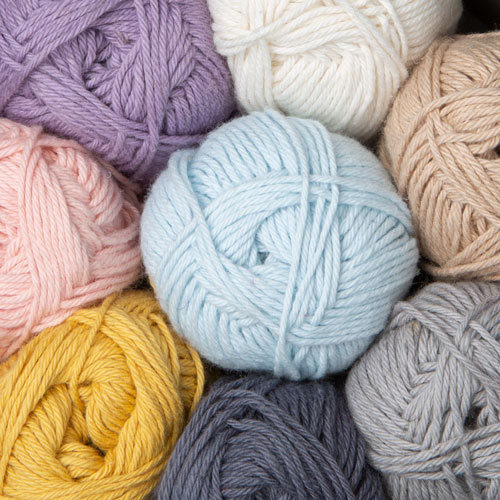 If you've tried Peaches & Cream, which is quite stiff, this Cotlin yarn is much softer and luxurious. Don't get me wrong, I like Peaches & Cream too, but it's just different than this cotton. For a hand towel or baby washcloths, I like the Cotlin as it is nicer on the skin and has more drape for hanging. If you want to be extra eco-friendly, go for the Simply Cotton Worsted Weight – it's so perfect and ORGANIC. I finally got my hands on some and can't wait to use it!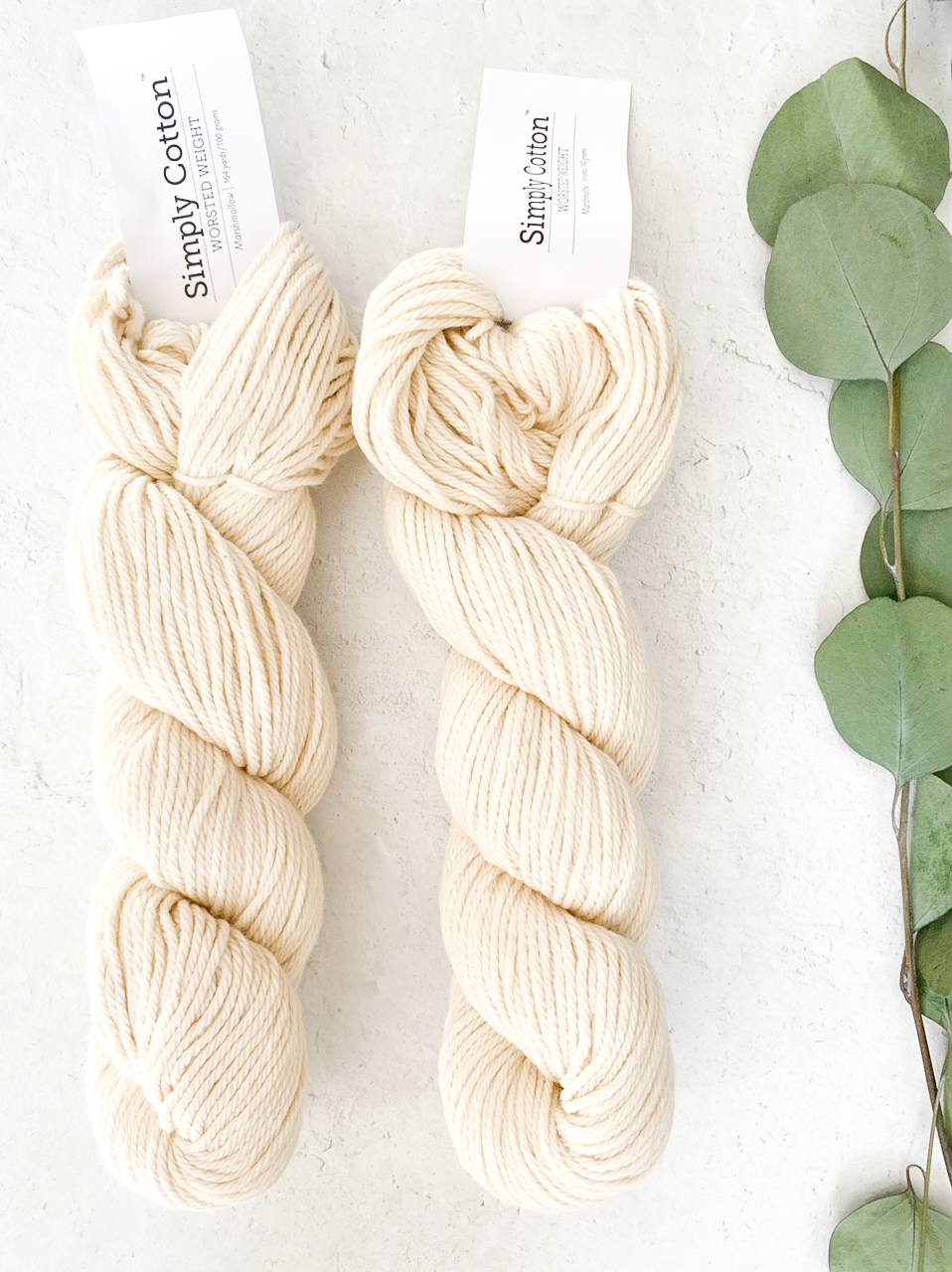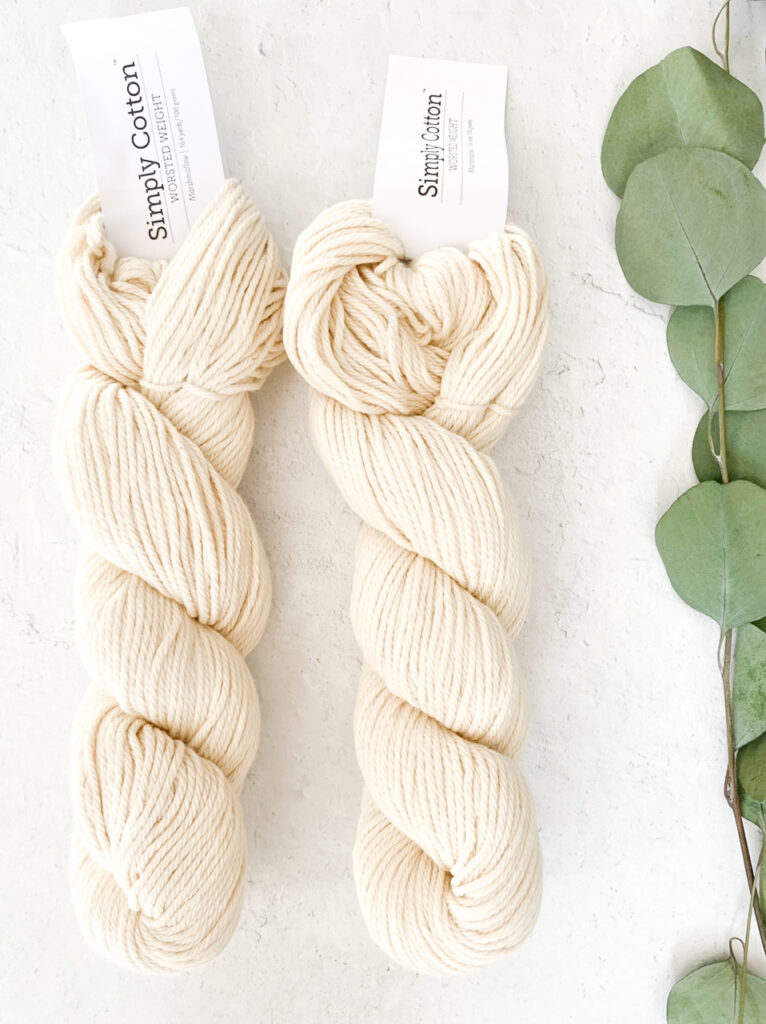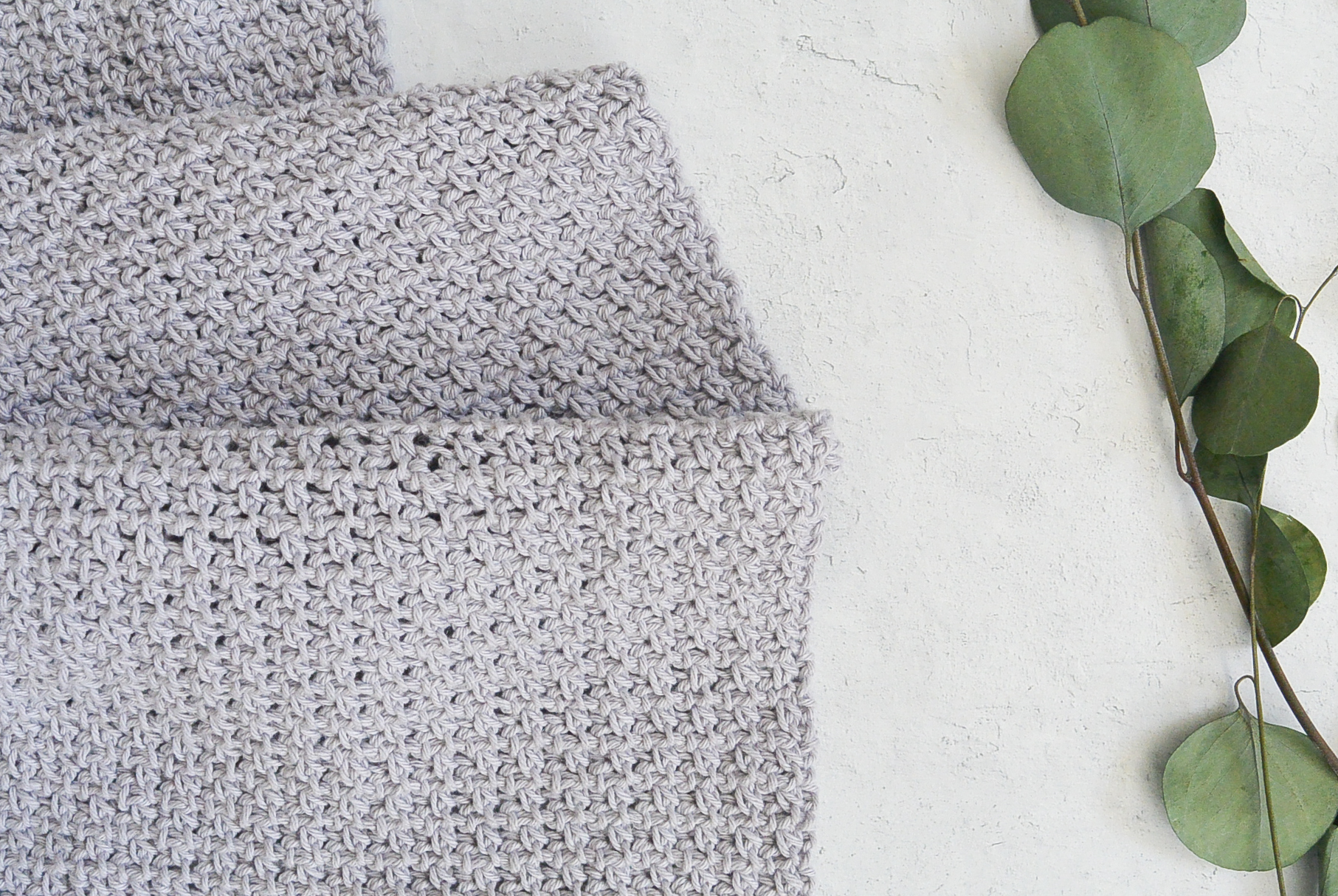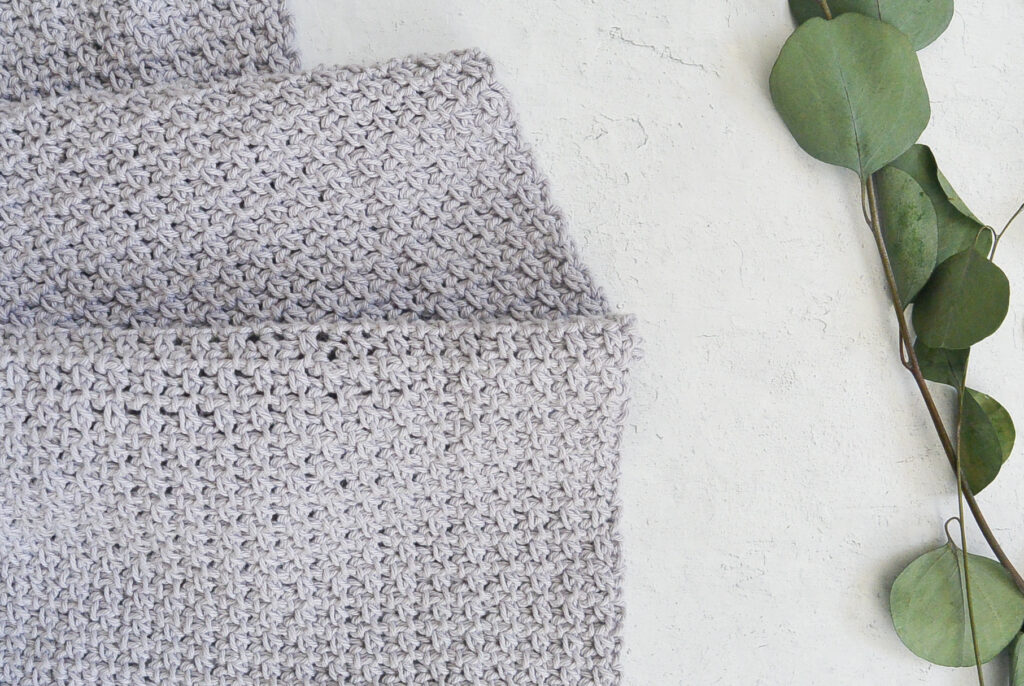 Okay, so how do we make a towel? It's simple!
I'm going to share the basics on how to make these two fun towels below, but basically there's a method that you can keep in mind. Here goes….
First you want to start with a chain that's about as wide as you'd like your dish towel to be. In this case, I chained 49 for the Moss Stitch Towel and 44 for the Textured Stitch Towel. I'd say these are like small finger towels for a guest bathroom. To make them more of a large, hand towel or kitchen towel, I'd double the number of chain stitches to start!
From there, you will simply crochet in the stitch pattern of your choosing until your towel is as long as you'd like. The cool thing about making your own towels is that you can make them any size you'd like! While I made these fairly small, you could also make them quite large which would be amazing for drying a lot of dishes. Of course, you'd need more yarn if you choose to make them bigger. You can also consider adding a little loop to hang your towel, or adding a cute personalized tag in the corner.
If you're making these as gifts, you can consider also giving matching washcloths. You can see the full post on how to make a Textured Hostess Washcloth HERE. It would be really easy to make your own Granite Stitch Washcloth as well by simply making a chain as long as you want the washcloth to be wide and crocheting until it's as large as you like.
Okay, let's get to the easy way to make each of these towels!
Both small towels:
Size: Approximately 10″ wide by 30″ long as written. REMEMBER, it's easy to make them larger by simply starting with a longer chain. You may also choose to use a larger hook to make them bigger.
You will need:
US Size H 5.0 mm crochet hook
3 skeins of Cotlin Yarn by WeCrochet (pattern used about 150 g of yarn) This is a DK weight, but you can also use worsted weight. I used two slightly different shades of grey, the Pennyroyal and Carrara colors.
Remember that my towels are pretty small, so you'll need more yarn if you're making a larger hand towel or kitchen towel. Consider buying 6 skeins rather than 3 skeins for one towel.
Scissors
Tapestry Needle
First up, the Granite Stitch Towel…
How To Crochet A Granite Stitch DISH Towel Tutorial
Chain 49 for a finger towel, or 91 for a larger hand towel or kitchen towel. See my granite stitch tutorial here if needed.
Row 1 Single crochet across, chain 1 and turn.
Row 2 Sc in second stitch from hook, *ch 1, skip stitch below, sc in next stitch. Repeat from * across row, make an sc in last stitch of row. Ch 1, turn.
Row 3 Sc in second stitch from hook, *ch 1, sk st below, sc in next ch 1 space below. Repeat from * across row, make an sc in the last stitch of row. Ch 1, turn.
Repeat row 3 for as long as you'd like!
Consider adding a border around the entire towel with the crab stitch or single crochet.
If you need extra help, remember that you can also look HERE for a picture tutorial on this Granite Stitch, or feel free to do a simple search in YouTube if you'd like to see a video on how it's done. Super simple!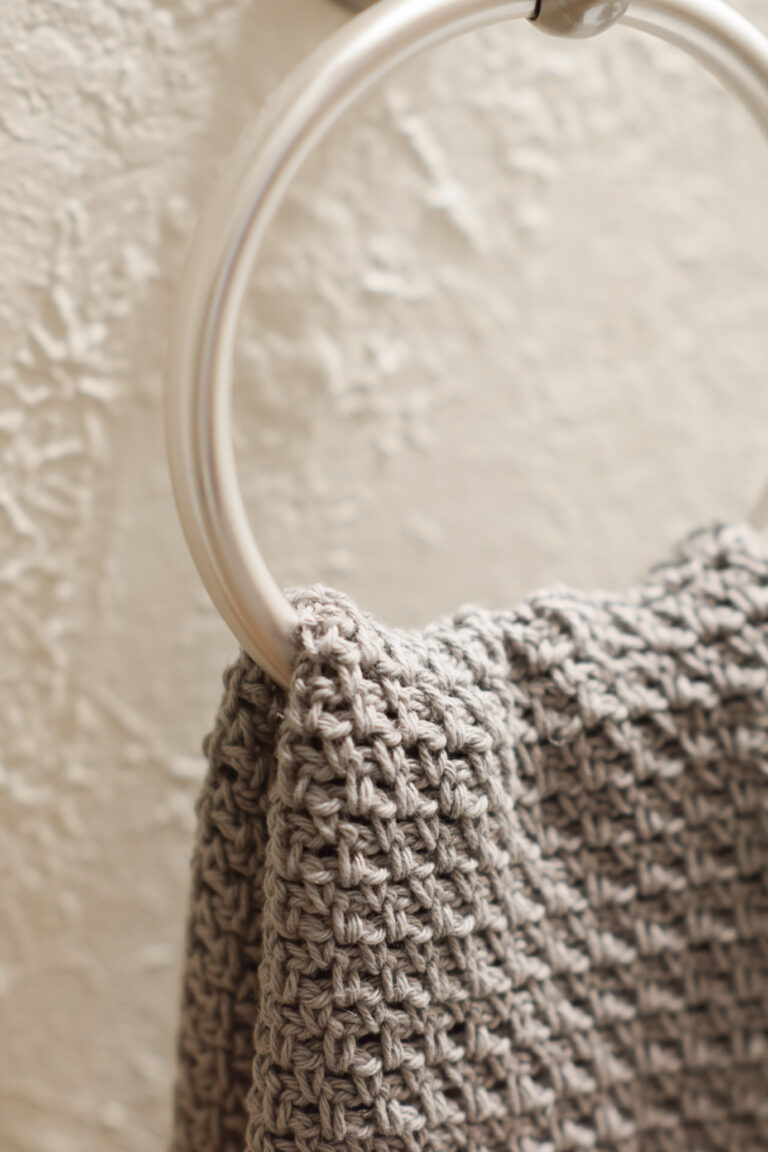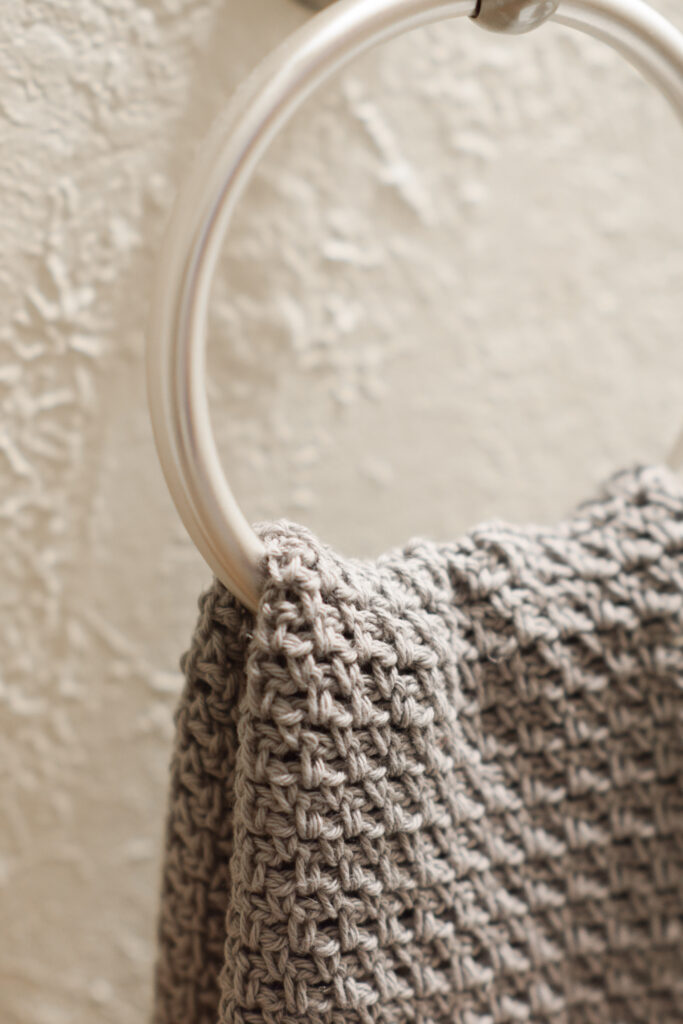 Next up, the Textured Stitch Towel (it looks similar to the granite stitch but it is different!)
How To Crochet A Textured Towel Tutorial
Chain 44 sts for a finger towel or 86 for a larger hand towel or kitchen towel. See my video tutorial for this stitch HERE
Row 1 Sc2tog in 2nd & 3rd ch from hook, *ch1, sc2tog over next two chains; repeat from * to last ch, ch 1, sc in last ch.
Row 2 Ch 1, turn, sc2tog over 1st st and ch-1 sp, * ch 1, sc2tog over 1st st and ch-1 sp; repeat from * to last stitch, ch 1, sc in last st.
Repeat row 2 until your piece is as long as you'd like!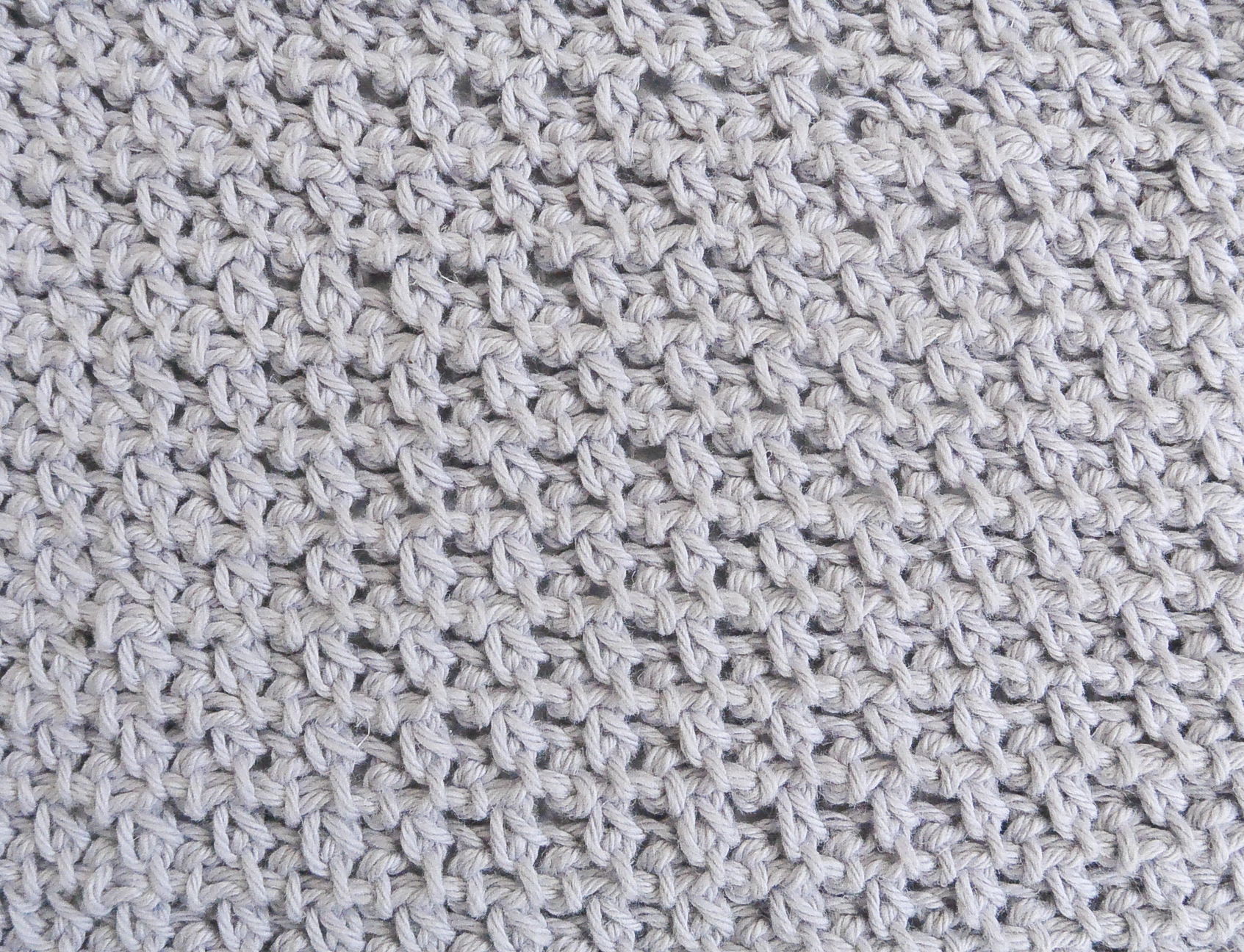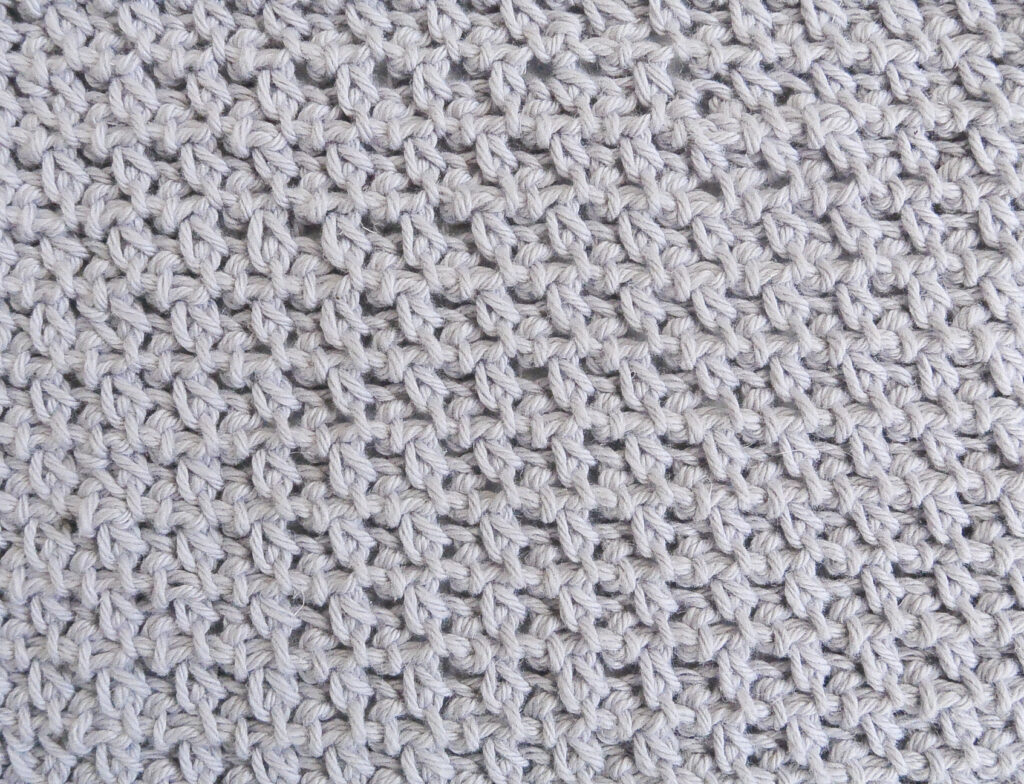 You can see a full, video tutorial for this stitch here:
Isn't it so simple?
I love these projects as they are small enough to take with us when we travel, but also are just super useful. While I hesitated to start using knit and crochet washcloths and towels because they seemed too "special", I'm so glad I got over it! They are a lot of fun to make and use in daily life.
I hope you enjoyed these two towels today and found some inspiration, my friends. Happy towel making!
XO,
Jessica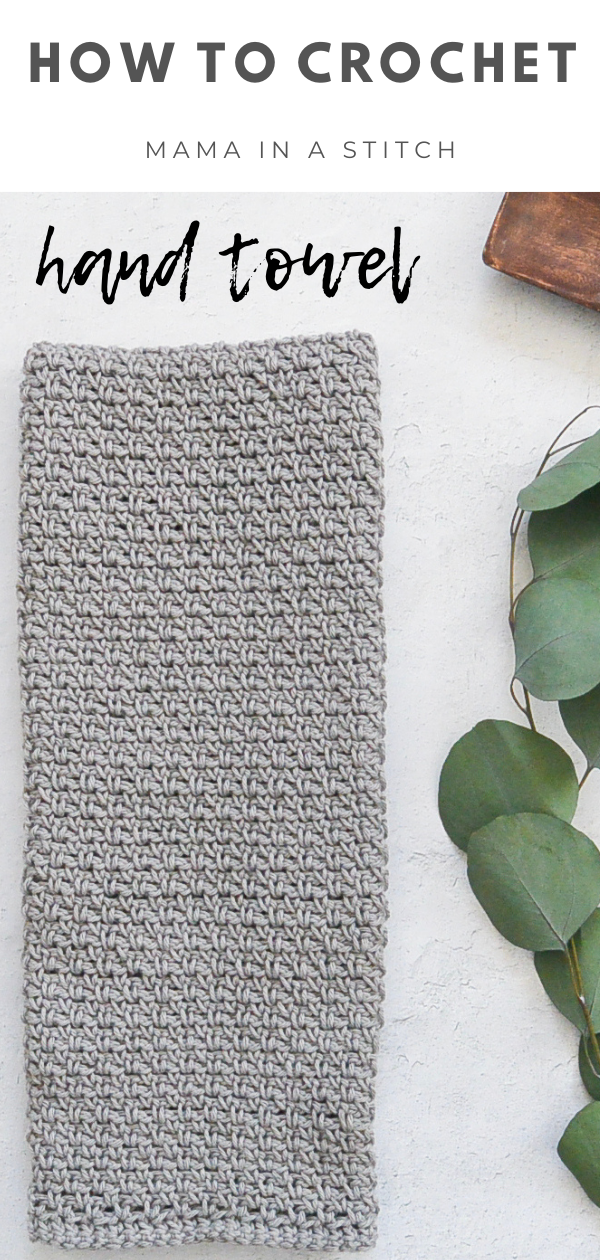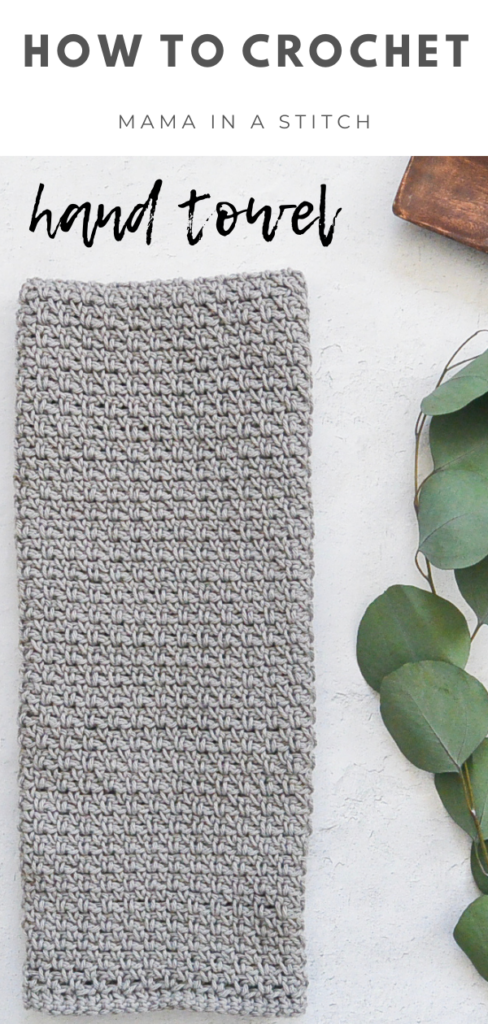 Thank you to WeCrochet for sponsoring this post. All opinions are 100% my own.