Knit Squares Blanket Seamless Quilt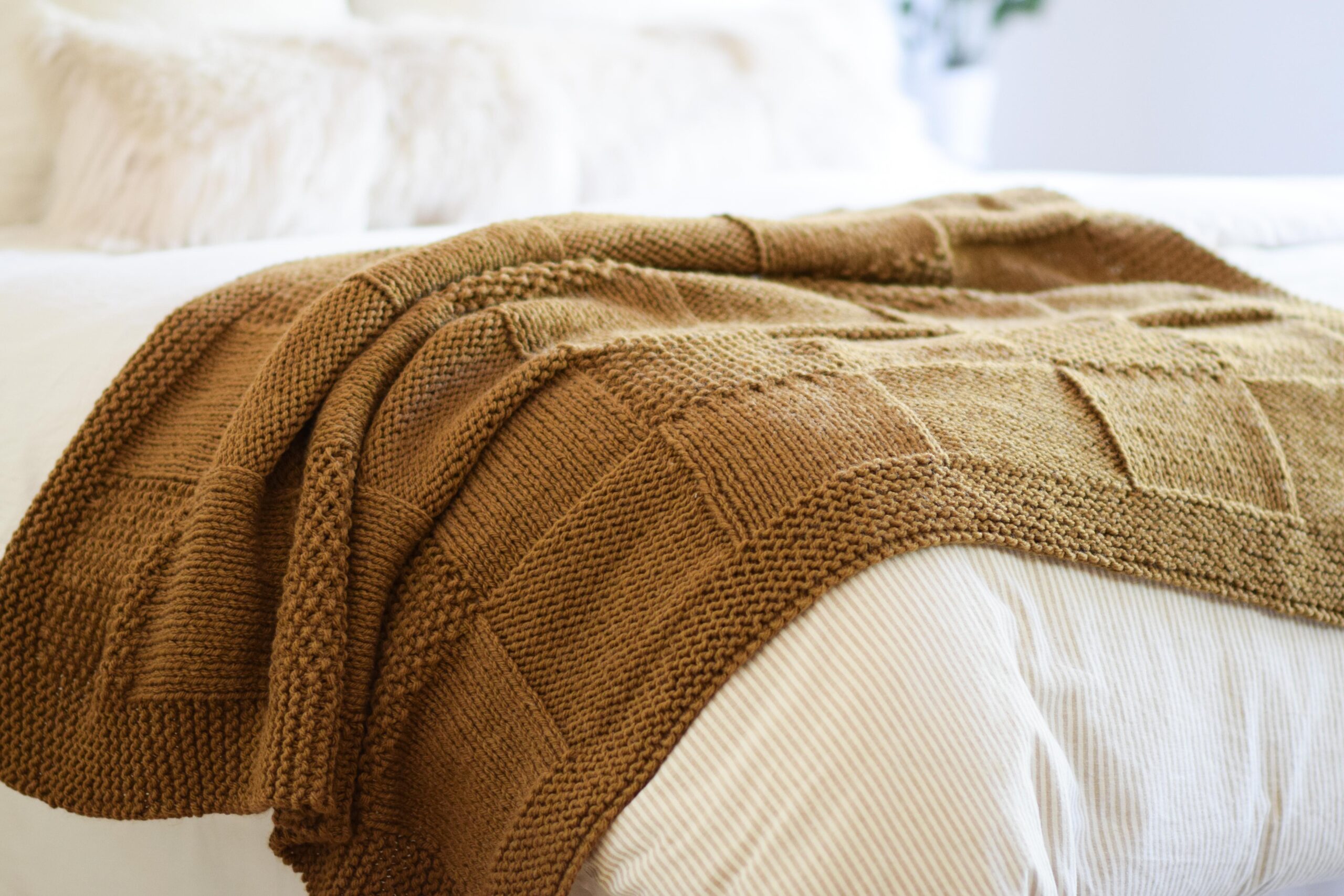 I love the look of checkers, squares, and quilts, but I don't love seaming them together. There, I said it. Ha! This "Knit Seamless Quilt" blanket features beautiful squares, but none of the seaming. Hooray!
See the full, free pattern below, or you may choose to purchase the ad-free printable version from Etsy HERE, or the kit from Lion Brand HERE.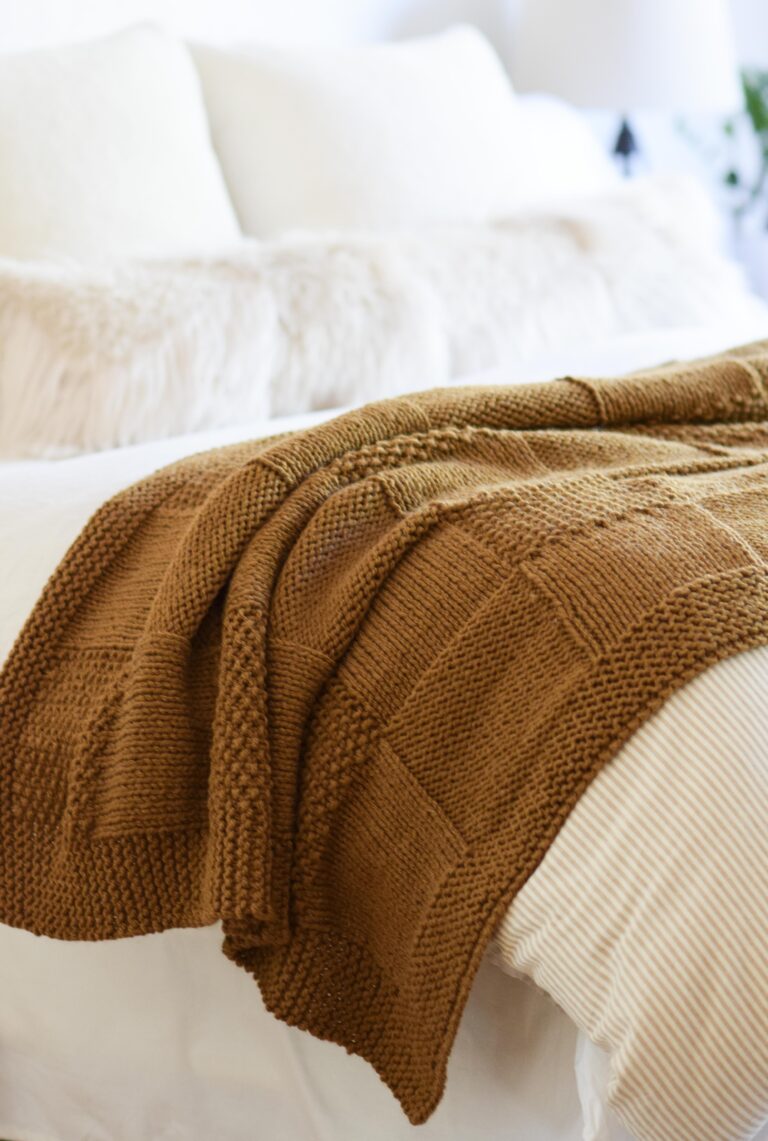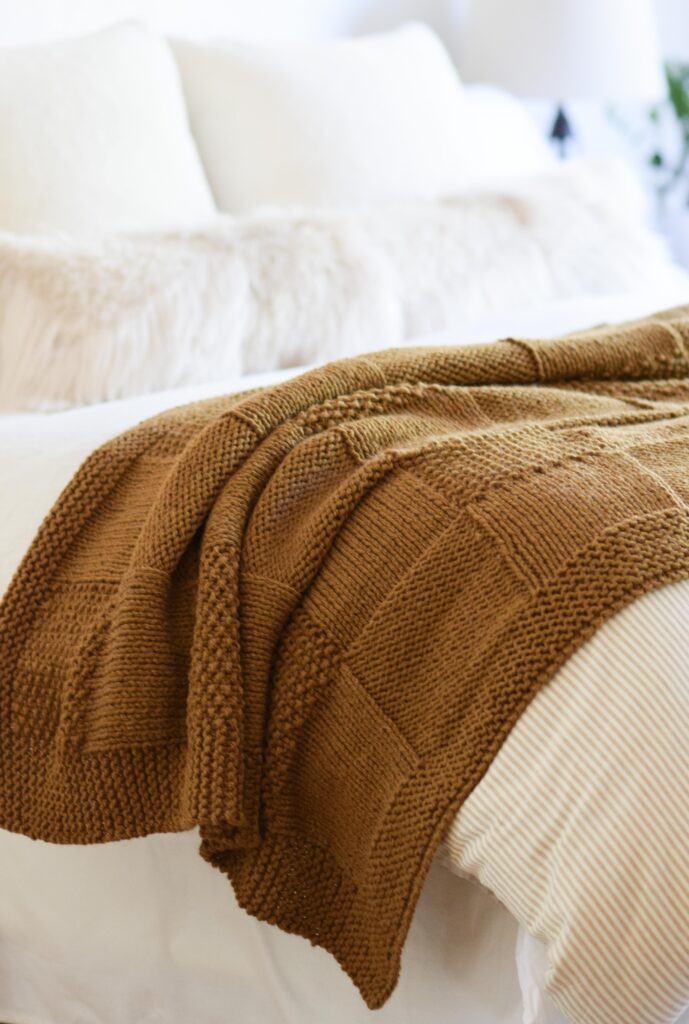 This is definitely a project that holds your attention, yet is easy and calming as there are no crazy hard stitches.
There are a lot of us out there that prefer to not have to seam, and to those who love seaming, I wish I was you! Some of you might remember when I was part of the Traveling Afghan project HERE, where we created a beautiful blanket made of several knit squares. If you don't mind seaming, or you want to work the squares individually (very fun and easy for carrying in your purse) definitely check out that project as well!
Okay, back to today's pattern that's made in one handy dandy piece. Quilts are trending right now, so this is basically my knit version. Again, it's super fun because it really holds your interest, yet it's simple.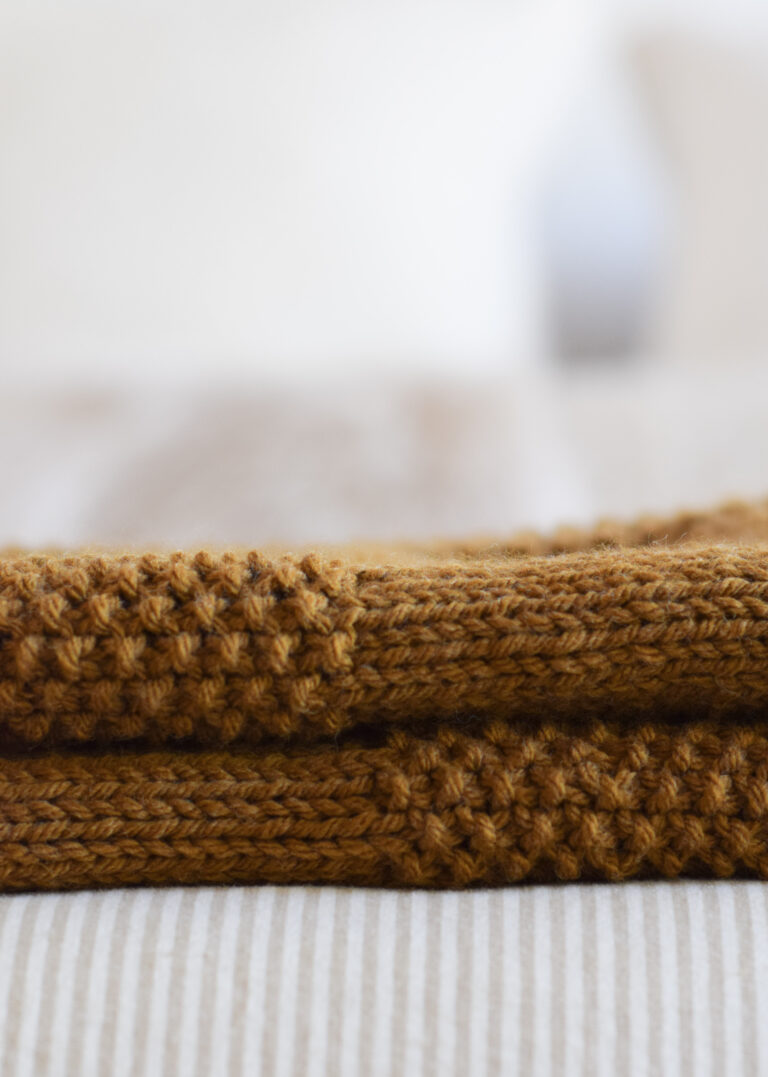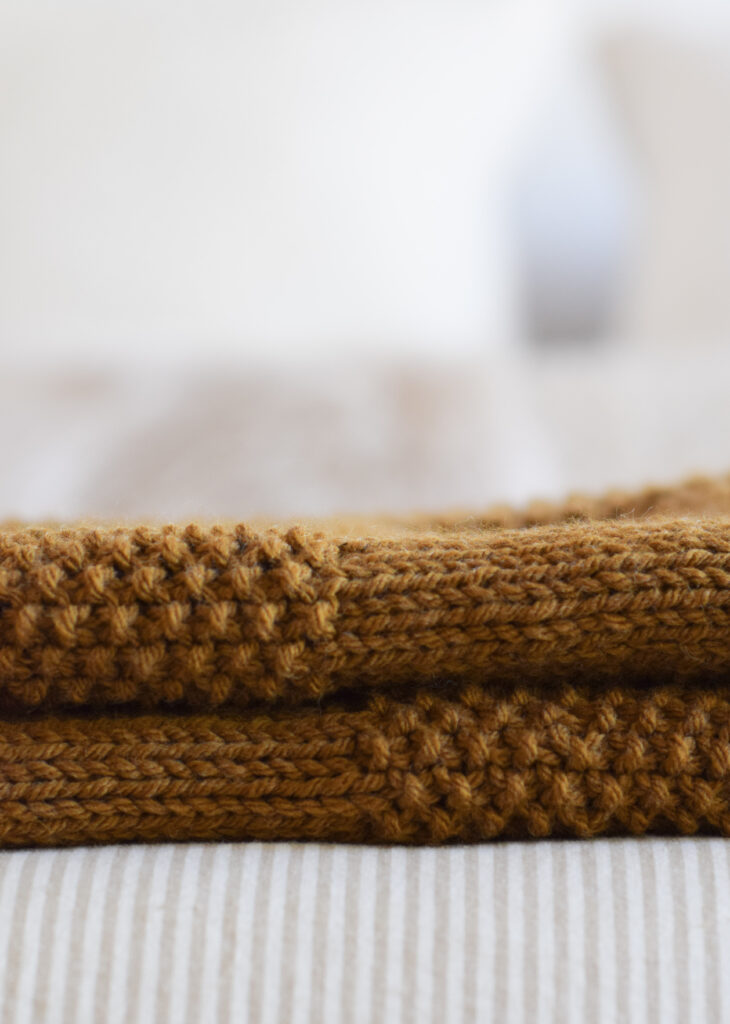 You can definitely make this blanket in just about any size you'd like. If you follow my pattern exactly as it's written, you'll end up with a small throw, similar to a lapghan size. This is my fave size because of it's versatility. Throw it over you on the couch, or even toss it in the car for a road trip. If you want to size it up or down, go for it! It could make for a beautiful baby or toddler blanket, or even a large blanket for a bed. I've included instructions in the Notes section on how to adjust the size if you'd like.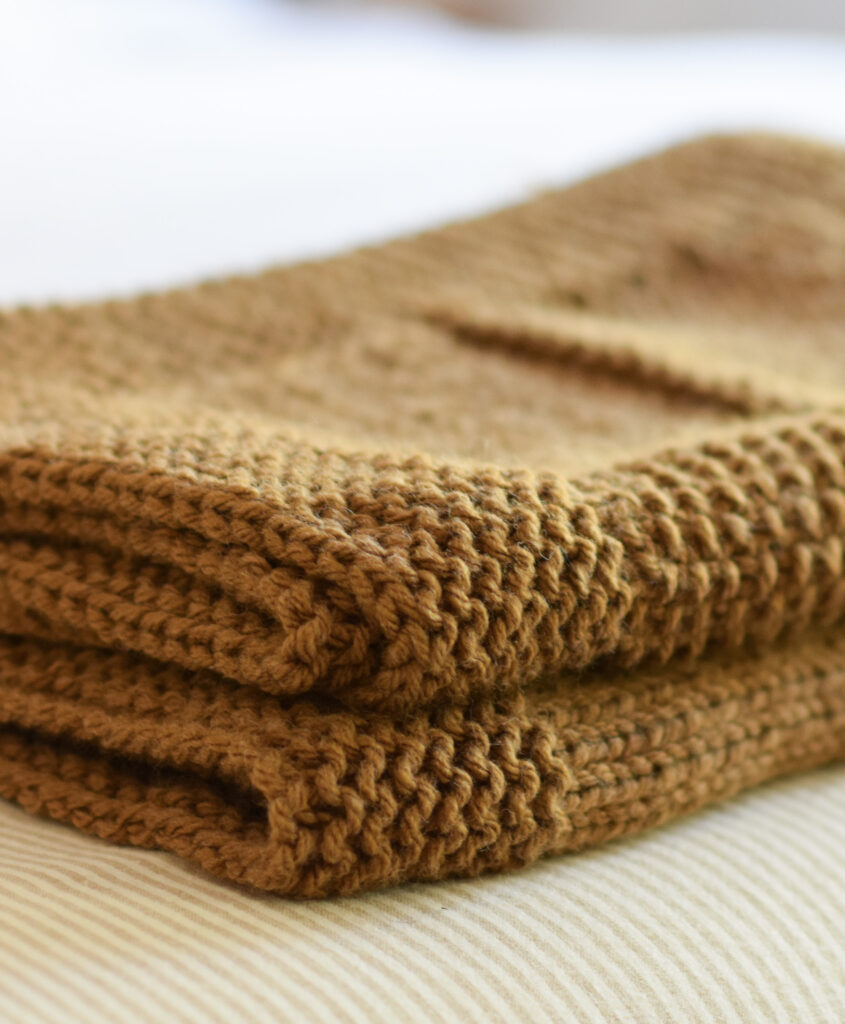 What yarn do you use for your seamless quilt blanket?
This is made with Lion Brand Hue + Me, which I've now gotten to use in a few projects. Honestly, a nice chunky weight #5 is sooo great to work with, but they are hard to find! I'm really happy to have this as a new go-to for my chunky needs. Lots of great colors to choose from, and a nice weight.
Many of you know I tend to go for super bulky yarns for blankets because I'm impatient and want them to work up quickly lol (HERE and HERE for example). The chunky weight is still quicker than a worsted, but it gives you that look and feel of slightly lighter blankets in comparison to the super chunkies.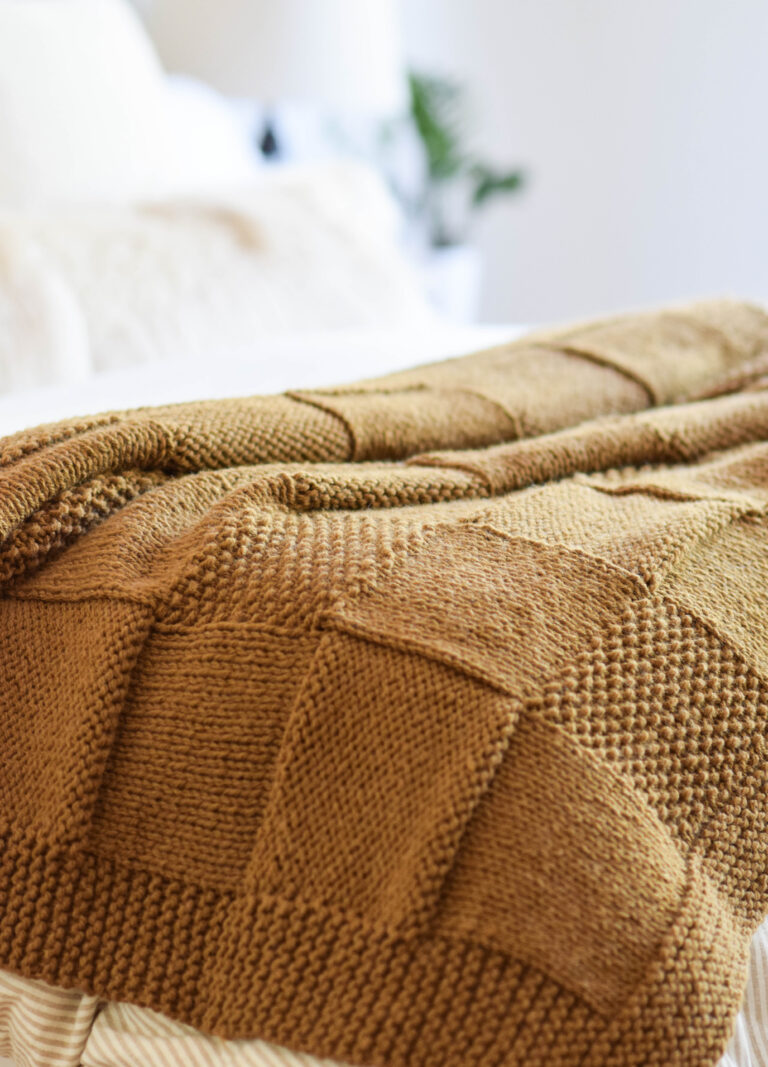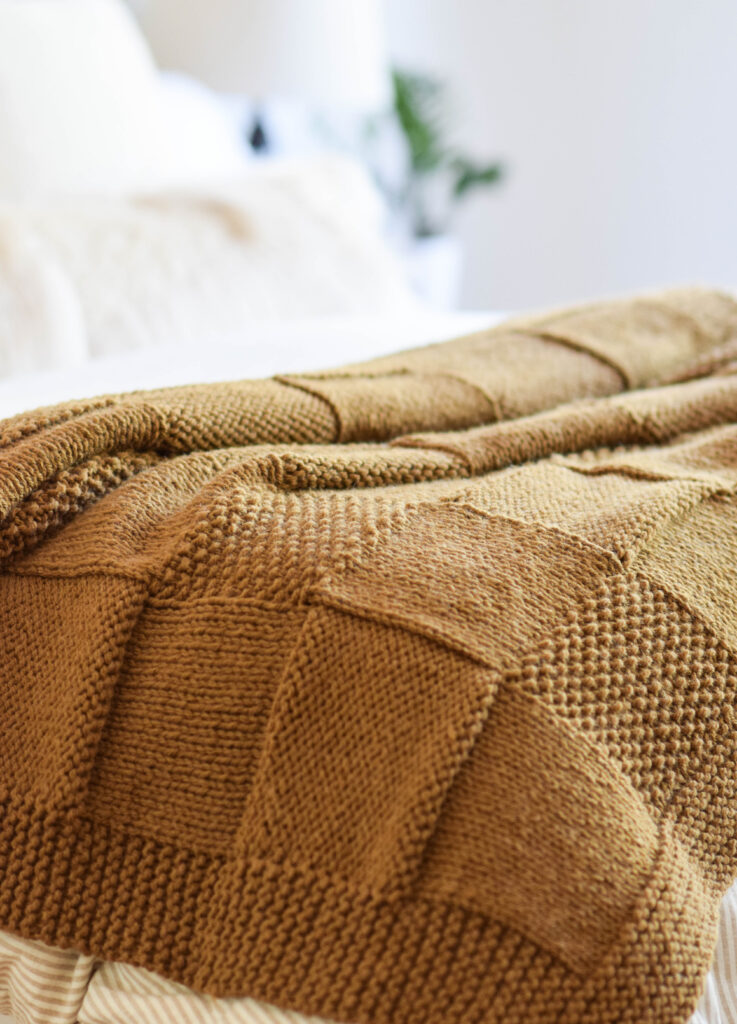 What color would you make yours? This Arrowwood color just looked so cozy to me, and actually had been sold out when I initially wanted to use it for a sweater a while back. Lucky me, it came back in stock and I could put it to use for this "quilt". It's such a cozy, warm, color that's sure to be noticed. I can imagine this being gorgeous in SO many colors!
So, let's get to this fun pattern!
Description:
Checkers and quilt-like squares are currently all the rage, and this beautiful knit blanket will keep you right on trend. Forget about seaming several squares together as this blanket is knit in one piece. Using only three stitches, you'll create a variety of textured squares that are reminiscent of quilt squares or basketweave patterns. It's easy enough for adventurous beginners and relatively quick to make with chunky yarn!
Materials:
7 skeins of Lion Brand Yarn Hue + Me in Arrowwood Chunky #5 yarn 137 yds/skein 125 g/skein
Pattern uses approximately 820 grams Convenient kit available HERE in several color options
US Size 15 (10 mm), 36" or longer, circular knitting needles (blanket is knit flat)
Scissors
Stitch markers (optional)
Tapestry needle to weave in ends
Size (approximate):
One size: Small Throw/Lapghan
46" X 46"
(Adjust length by repeating pattern until blanket reaches desired length. Keep yarn needs in mind.)
Gauge:
Approximately 10 sts and 13 rows in 4" x 4" of stockinette
Pattern Notes:
This blanket's knit from the top down, in one piece. The pattern calls for circular needles in order to comfortably hold all of the stitches on the needles, but keep in mind the blanket is knit flat.
You will work a two section repeat that's quite simple! Section 1 features a row of squares, alternating reverse stockinette squares and regular stockinette squares. Section 2 features a row of alternating stockinette squares and seed stitch squares. Feel free to use stitch markers at the beginning/end of each square to keep track of which stitch pattern to work.
The pattern uses the garter stitch, seed stitch, stockinette, and reverse stockinette stitches.
To adjust the length, simply follow the pattern repeats until your blanket is the desired length. If you'd like to make it wider, cast on more stitches in order to add more squares. In order to follow the pattern as written, cast on enough for 2 more squares, or 32 more stitches. The number of squares across (width) must be an even number, and each square is 16 stitches. Have fun!
Abbreviations (US) & Skills:
k -knit
p – purl
st – stitch
sts – stitches
RS – right side
( ) – repeat
KNIT Seamless Quilt Pattern
Cast on 114 stitches
Stitch count remains the same throughout the pattern.
Beginning Garter Edge
Rows 1 – 14 Knit each st across the row.
Next, continue onto Section 1.
Section 1 – Stockinette & Reverse Stockinette Squares
optional – place markers can be used as needed throughout pattern
Row 1 K9, *P16, place marker, k16, place marker, repeat from * to last 9, k9. RS
Rows 2 – 22 of Section 1 Repeat row 1 of Section 1.
Next, continue onto Section 2.
Section 2 – Stockinette & Seed Stitch Squares
Row 1 K9, *K16, place marker, (p1, k1) over the next 16 sts, place marker, repeat from * across to the last 9 sts, k9.
Row 2 K9, * (k1, p1) over next the 16 sts, place marker, p16, place marker, repeat from * across to last 9 sts, k9.
Rows 3 – 22 of Section 2 repeat rows 1 & 2 of Section 2.
Next, repeat Sections 1 and 2, in that order, 2 more times each for 6 TOTAL sections. Your blanket will have 6 squares across and 6 squares down when complete.
End Garter Edge
Finish with 14 rows of knit stitches to match the beginning garter edge. Cast off and weave in ends. Yay! That's it!
I hope you liked this seamless quilt, my friends! If you love texture in your blankets and haven't seen my Fall Cuddler or Winterland Throw, you might like those as well.
Wishing you a relaxing, enjoyable time as you make this knit quilt!
XO,
Jessica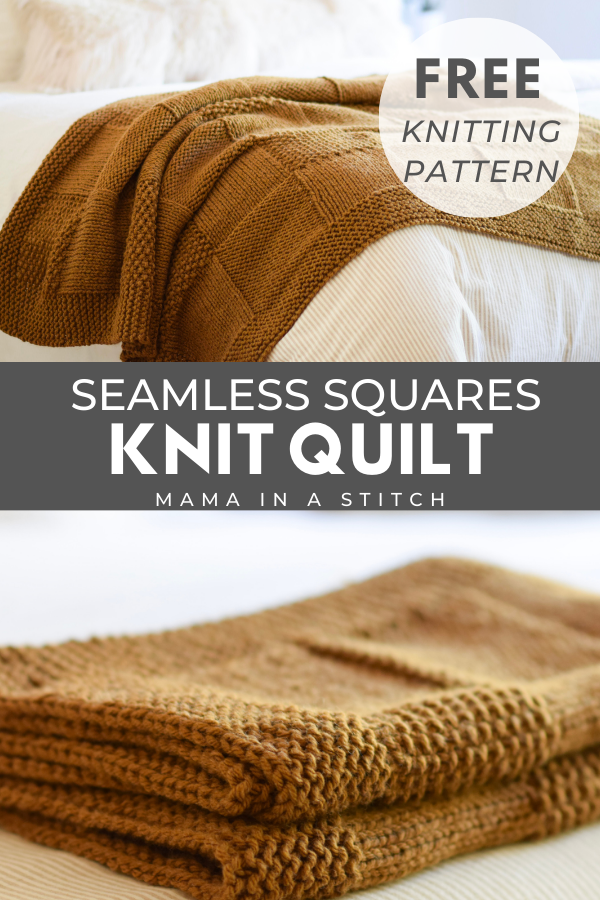 Want to browse my patterns like this and more? See them HERE!
Thank you to Lion Brand Yarn for sponsoring this post. All opinions are 100% my own.