How To Add Soles to Knit or Crochet Slippers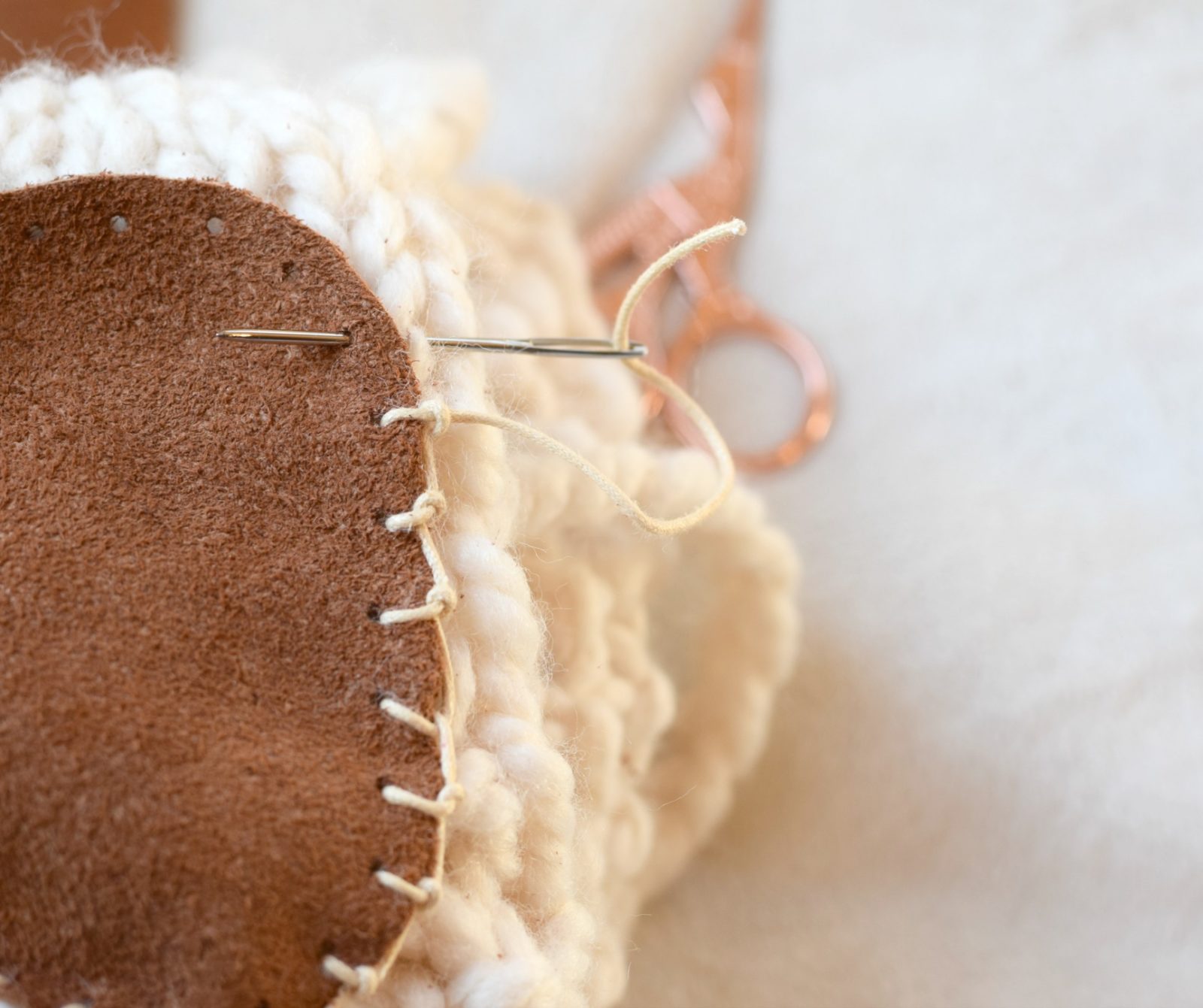 Do you want to add leather soles for your knitted slippers? Learn how to make gorgeous crochet slippers with soles. Check out the technique and photos below. And don't forget to grab the knit slippers pattern.
I love my knit slippers. They're beautiful, comfy, and oh-so-cozy! The only downside to them is that they can be a little, well, slippery on slick surfaces. And let me tell you, slipping on the wood floor with a mug of steaming hot coffee in my hand is NOT my idea of a good time.
That hasn't actually happened – I just have had visions of it happening. So, I had to do something to help prevent it from happening (one day in the future).
I decided to add soles to my knit slippers, and I wanted to share with you how I did it. It's a super simple process that will make your slippers even better than they already are (which is awesome).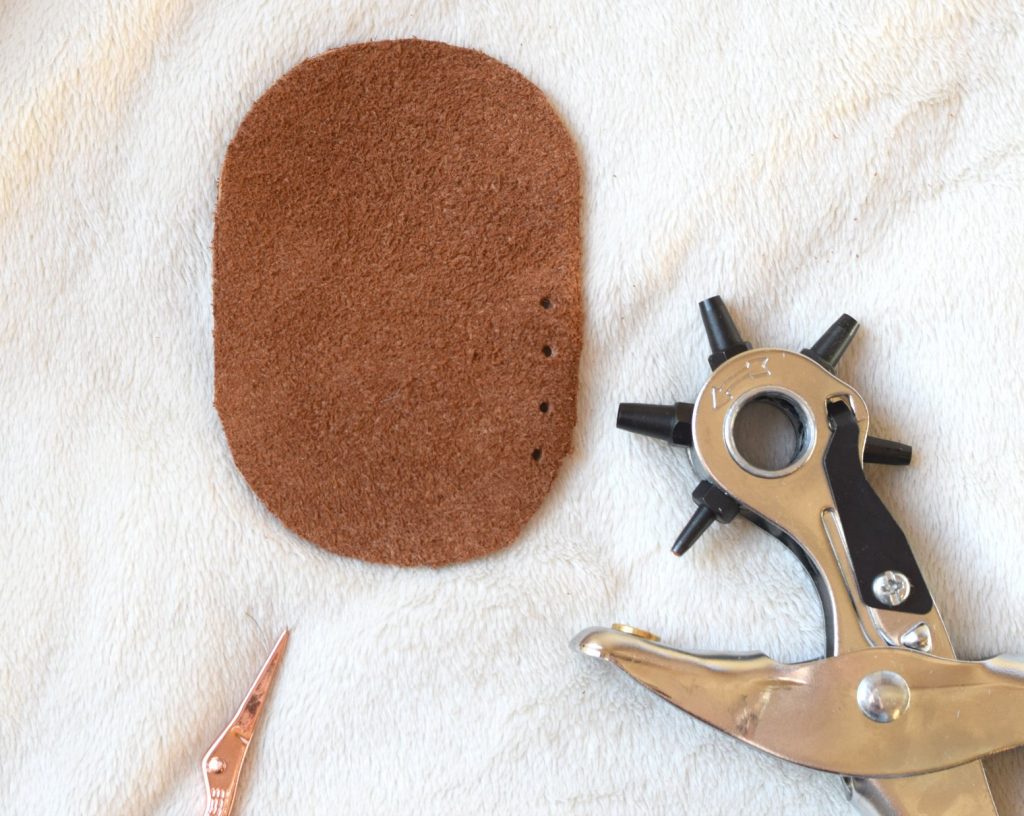 A favorite part about this project for me is that you can customize the sole in any way that you'd like! I wanted to do something different than the customary one large leather sole on the bottom of my slippers.
I chose to cut two small ovals out of suede and attached them to the bottoms of my slippers. But you CAN certainly make an all-in-one-piece sole if that's what you prefer. Please check the project notes below for how to adjust the project if you want to make this style of sole.
Let's get started…
Supplies You'll Need To Make Leather Soles For Knitted Slippers
You will need:
faux leather (or your preferred material)
leather punch
waxed thread
scissors
tapestry needle
Project Skill Level
Easy
How To Make Leather Soles For Knitted Slippers
The process for adding leather soles for knitted slippers is easy enough that anyone can do it. Knitting your slippers is the "hard part," but it's not a hard project either! It's just that this project is so easy it will make the slippers look hard.
Here's how to make separate leather sole circles the way I did:
Cut out an oval shape with the longest side measuring about 4" inches long and the width measuring around 2 ¾" inches wide from your faux leather (or other material of your choosing).
Cut a smaller oval about 2 ¼" long by 1 ½" inches wide.
Use a leather punch (or another similar tool you prefer) to punch holes through the material at even half-inch increments all the way around the oval. This will allow you to get a needle through the material so you can sew it onto your slippers.
Place the bigger oval on the bottom of the slipper under the front part of the foot (under where the ball of the foot would be). Attach it using the blanket stitch as shown below. (Please see the note below about the thread I used.)
Next, place the smaller oval on the heel of the slipper. Repeat the same process to attach the smaller oval using the blanket stitch.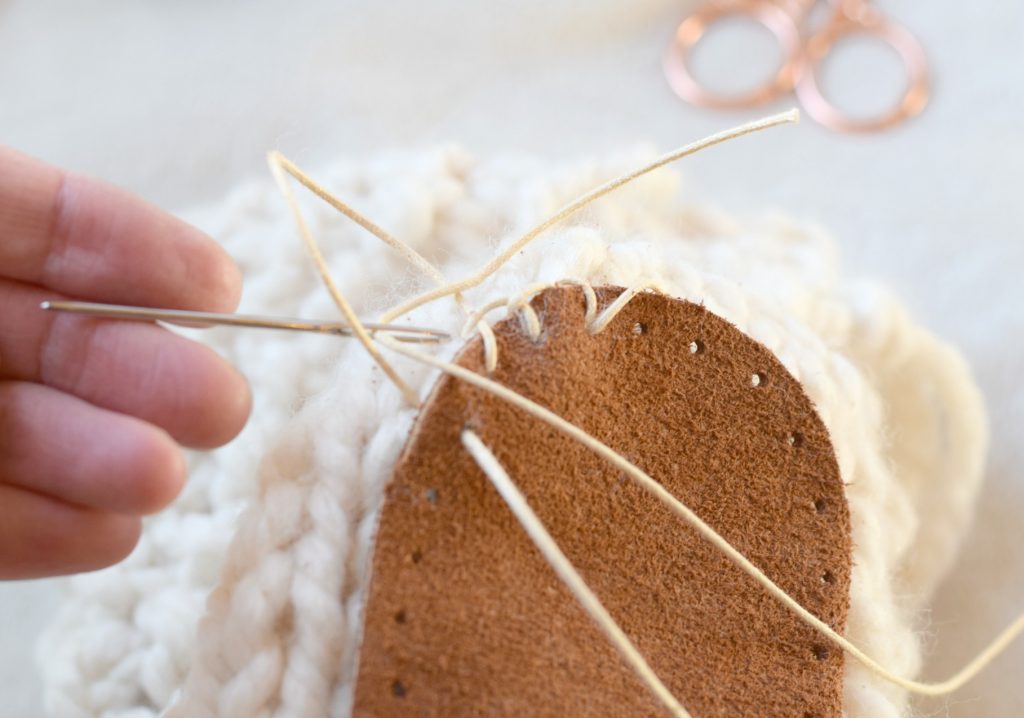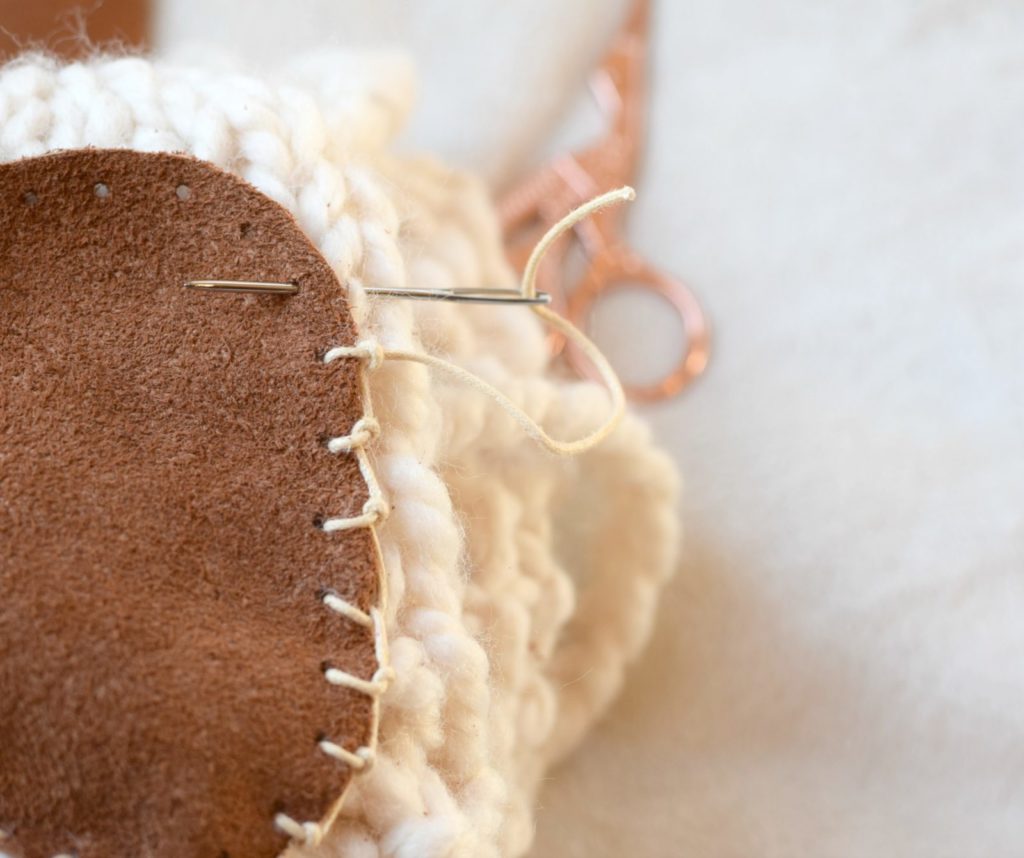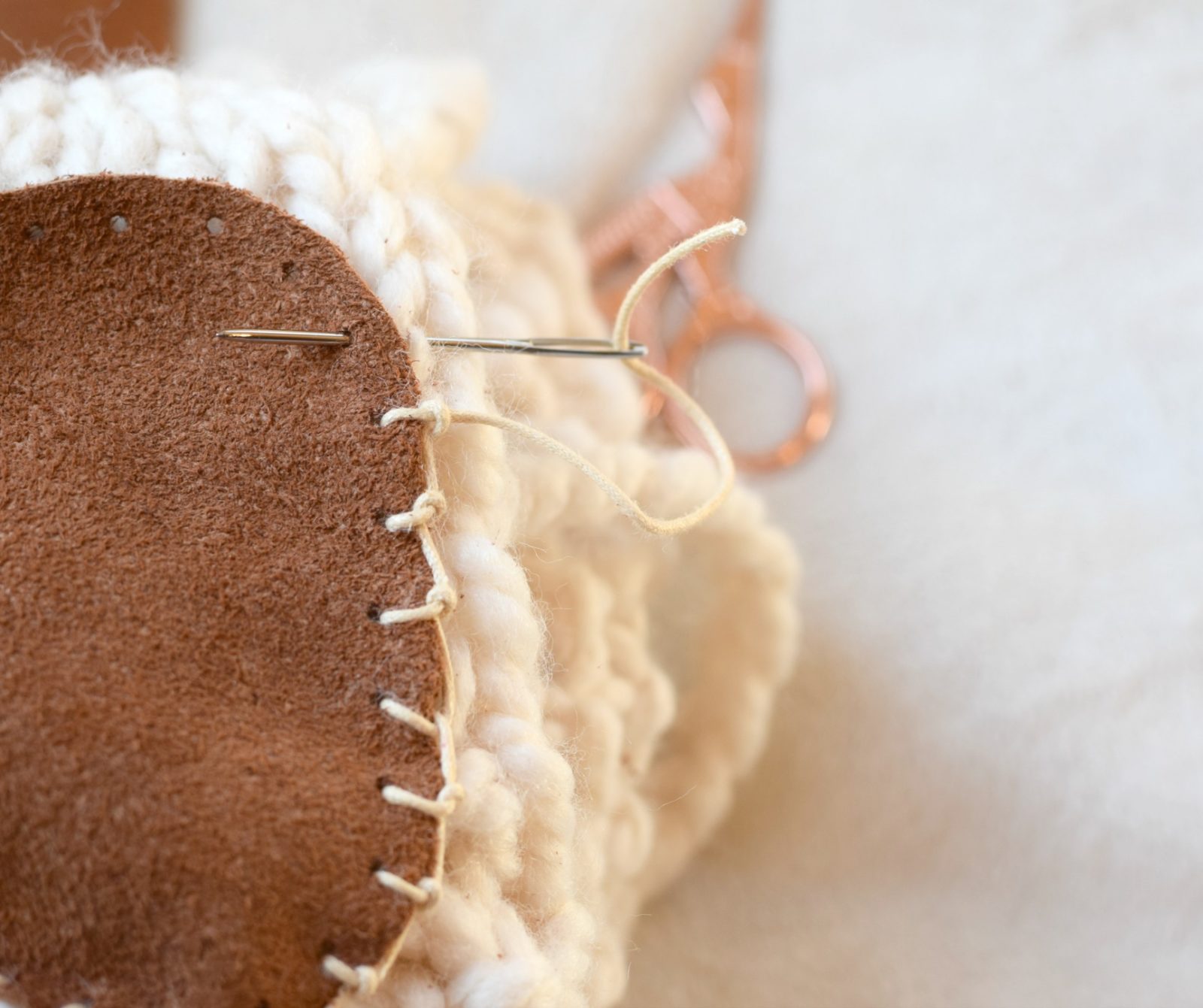 Project Notes
For this project, I suggest drawing out your sole on some scratch paper first. Once you have your first sole cut out, use it as a template for your second sole. This way, when you add leather soles for knitted slippers, they will match perfectly. This also helps if you want to make large full slipper-sized soles.
I prefer to use my tapestry needle and waxed thread to attach the soles. Waxed thread is more durable than regular sewing thread or crochet thread.
FAQs About Leather Soles For Knitted Slippers
Check out a few common questions I get from readers when they see this project.
What material is used for slipper soles?
I used faux leather for this project. However, you could use real leather, suede, or felt. What you want is something soft enough to feel comfortable yet tough enough to withstand the wear and tear that walking on them will create.
What stitch should I use to attach soles to knit slippers?
I used the blanket stitch because it works well for reinforcing the edge of thick materials as you attach them to items. This same stitch is also sometimes called the "cable stitch." It's a cousin to the whip stitch, which could also be used in this project.
Here's a great tutorial for the blanket stitch if you need a visual!
Adding soles to your knit and crocheted slippers can be so easy, can't it? Have a great day, and enjoy your slippers!
Don't forget to check out my Mountain Chalet Knit Boot Slipper Pattern here!
More Patterns You'll Love