Winterfest Ruana Crochet Pattern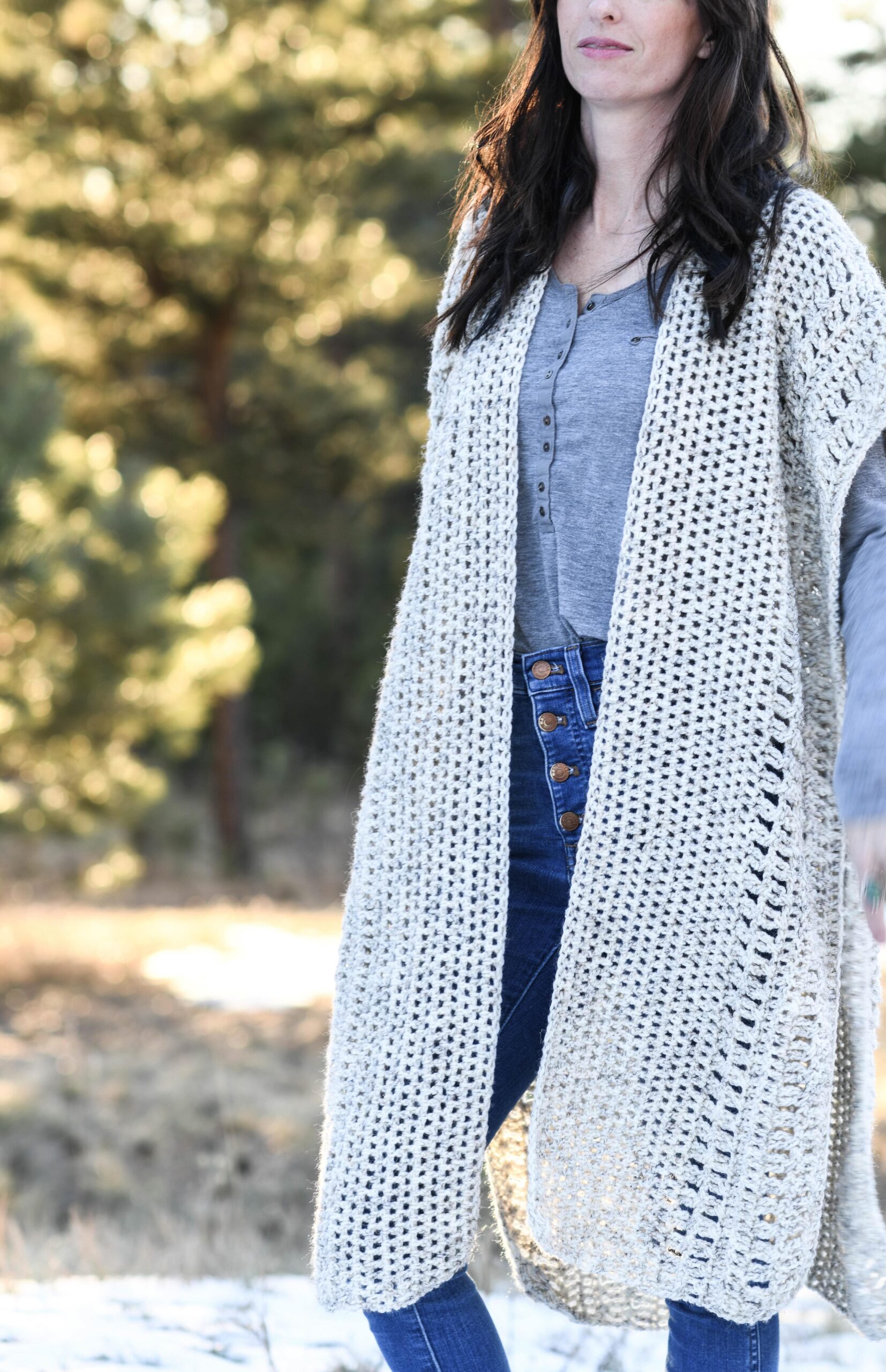 How about a beautiful ruana to wear this winter?! Have you heard of ruanas? I actually never had until I began to crochet, but they are the coolest tops! While they are much like a poncho, they can also be wrapped around the neck when worn (almost like a scarf/top/shirt hybrid, lol). They are the perfect accessory to put on for extra warmth, and to get noticed! Be prepared for people to ask, "Did you make that?!" (You can see my other crocheted ruana HERE)
You can see the full, free pattern below, or you may choose to purchase the kit from Lion Brand Yarn HERE or the printable, ad-free pattern from my Etsy shop HERE.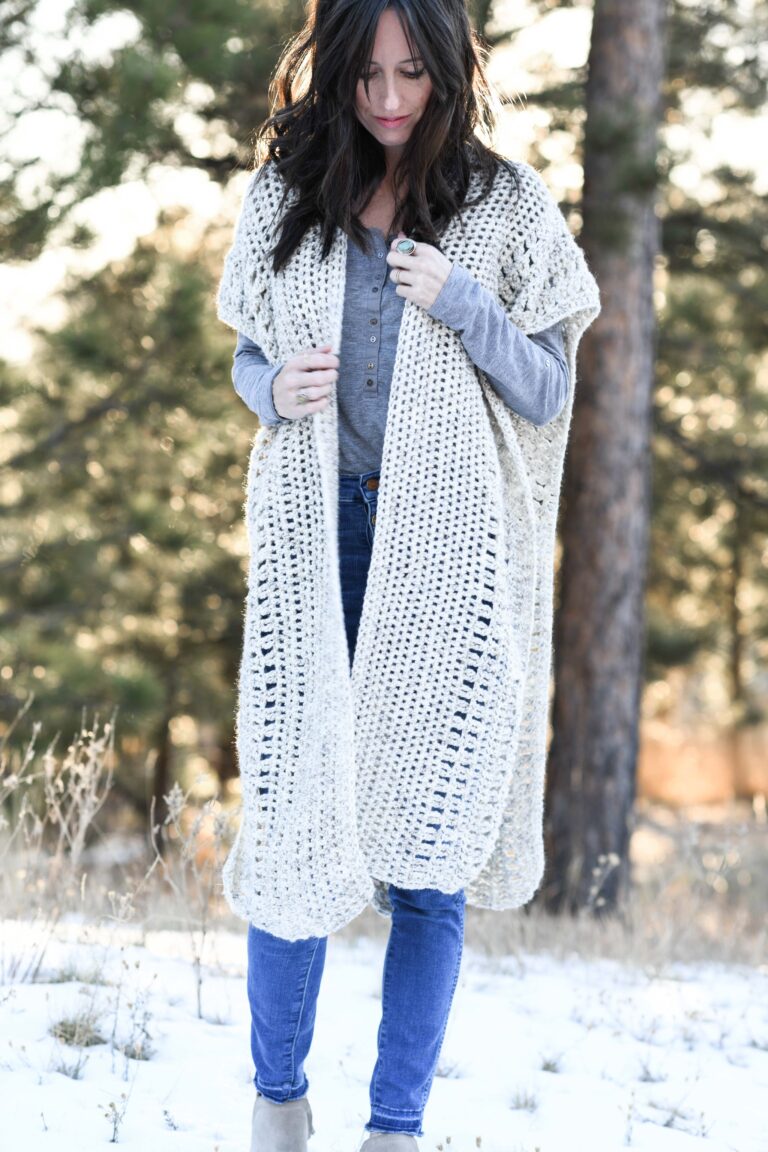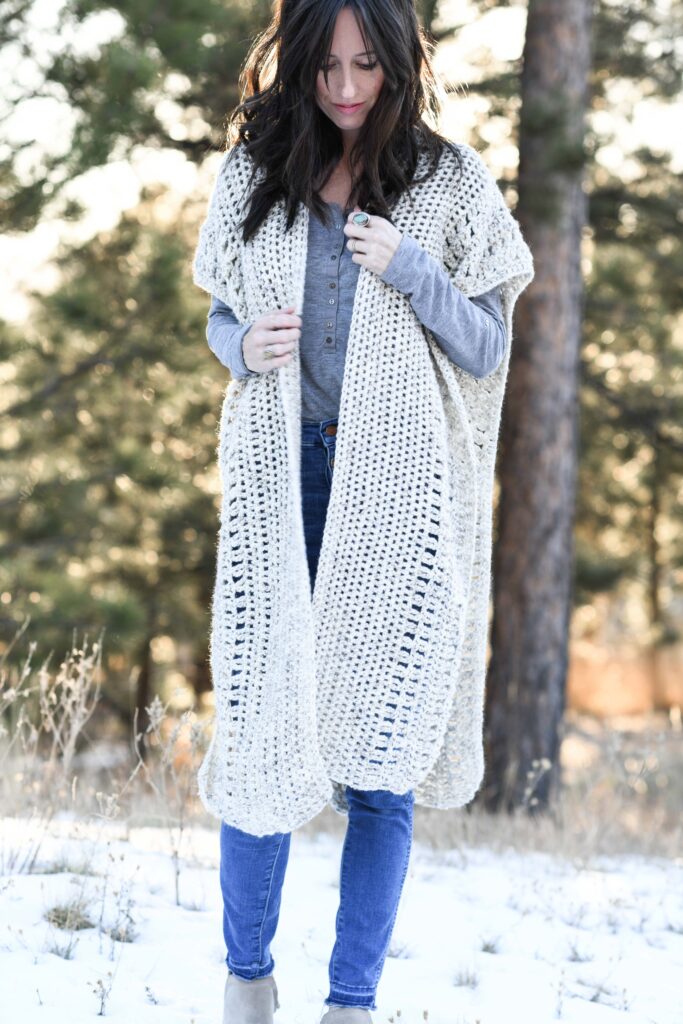 Today's ruana is really simple to crochet, but it will definitely get you noticed. It's long, warm, and features pretty, feminine stitching. This is great to throw on over any outfit, whether you're in your boots and a skirt, jeans, or your leggings and a simple tee.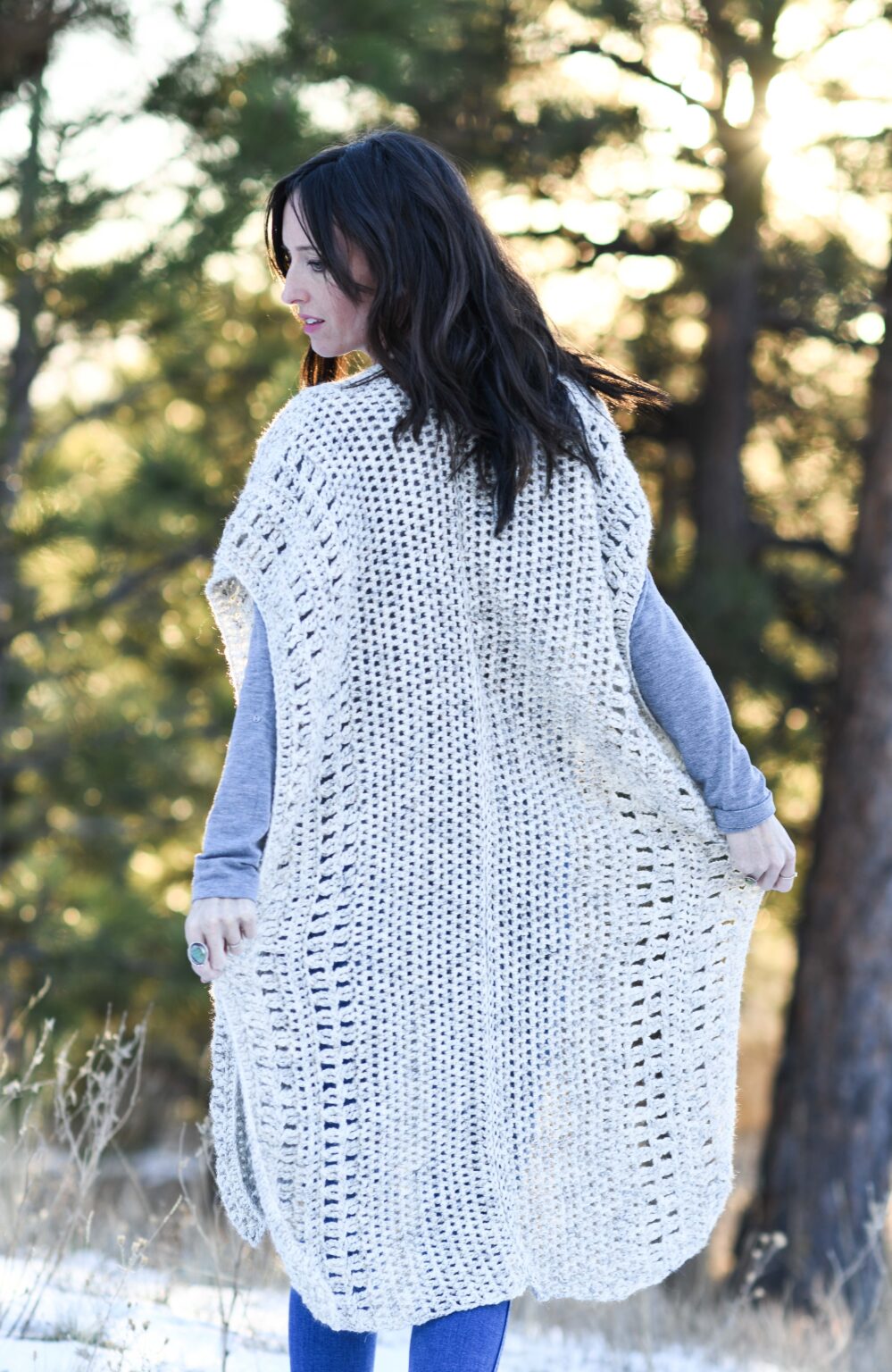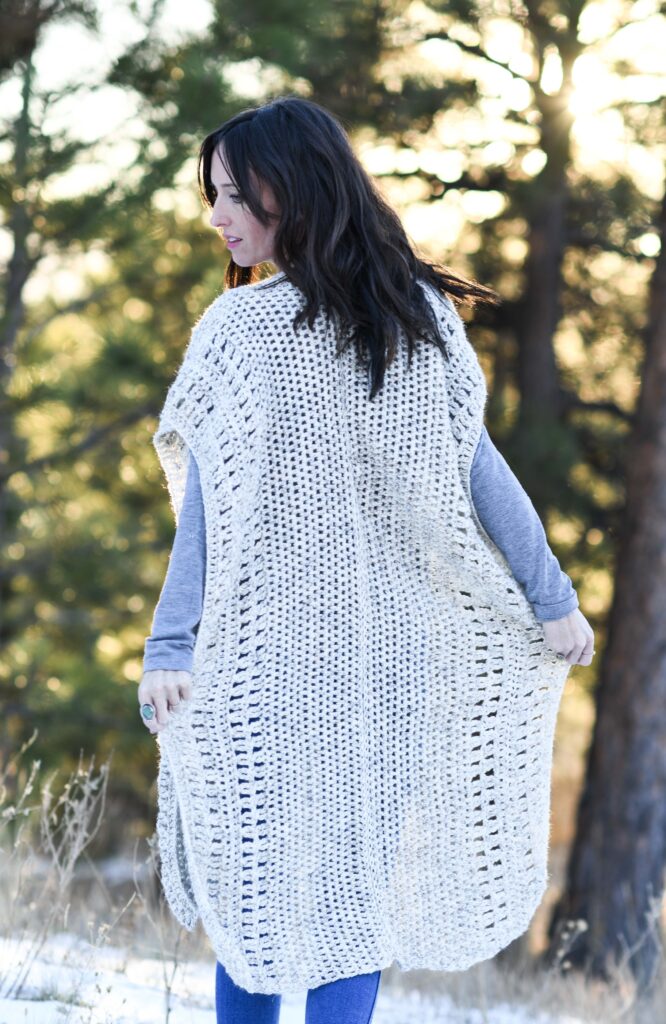 While I often go for the chunky yarn, this style needed a pretty worsted weight yarn in a nice color. I went with Wool Ease from Lion Brand HERE because the color choices are amazing and it's a perfect, warm, winter yarn option. My ruana is made with the natural color "Wheat", but you can make this in any color you like. I recently had fun with several colors in Wool Ease with my Cabin Stripes Blanket Pattern and you can see all the color options on the Lion Brand site as well. OH – and while this ruana is warm, it's not overly hot since it's open at the front and has the lace like stitching. 🙂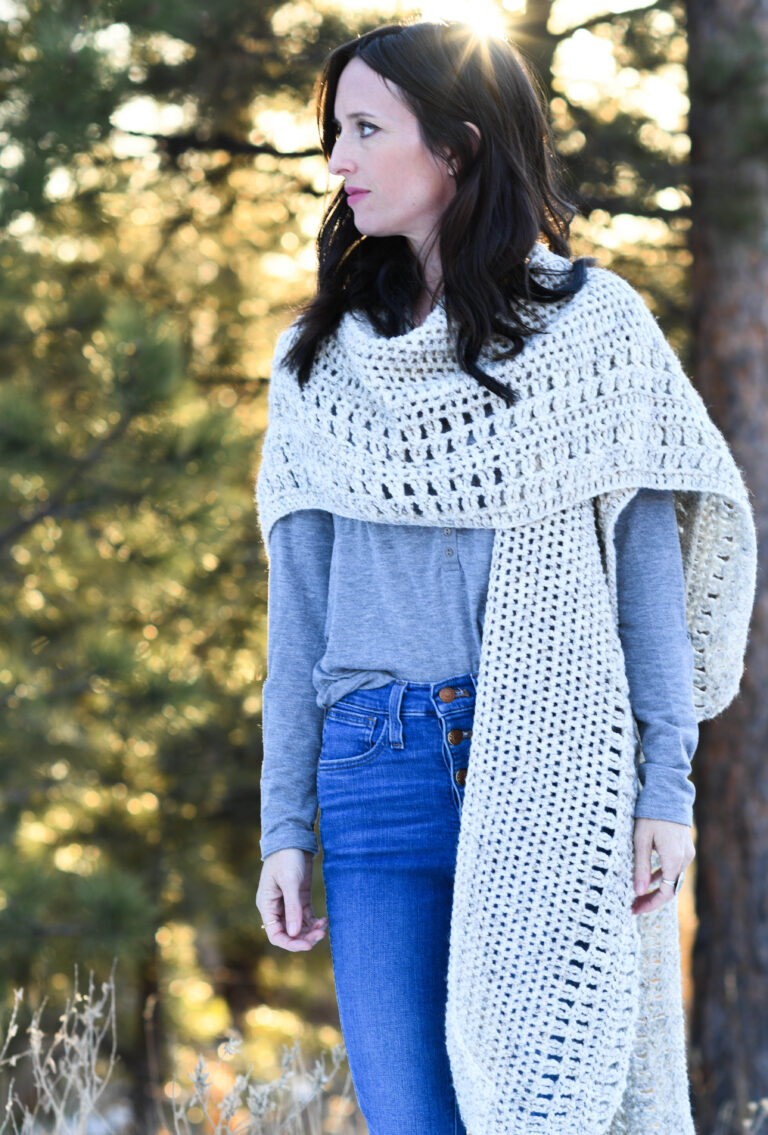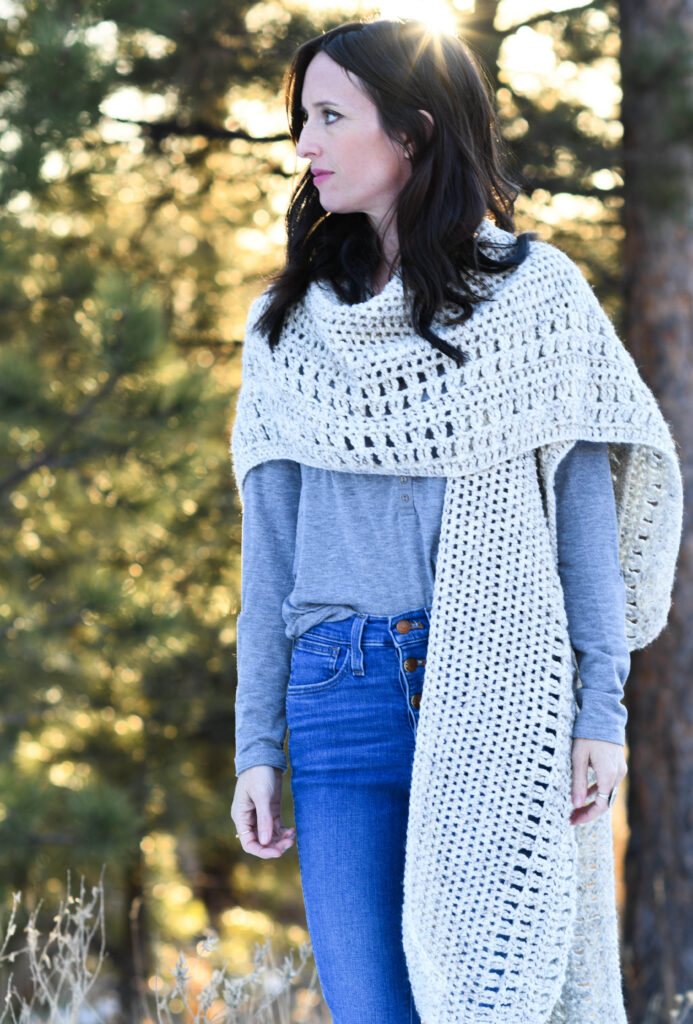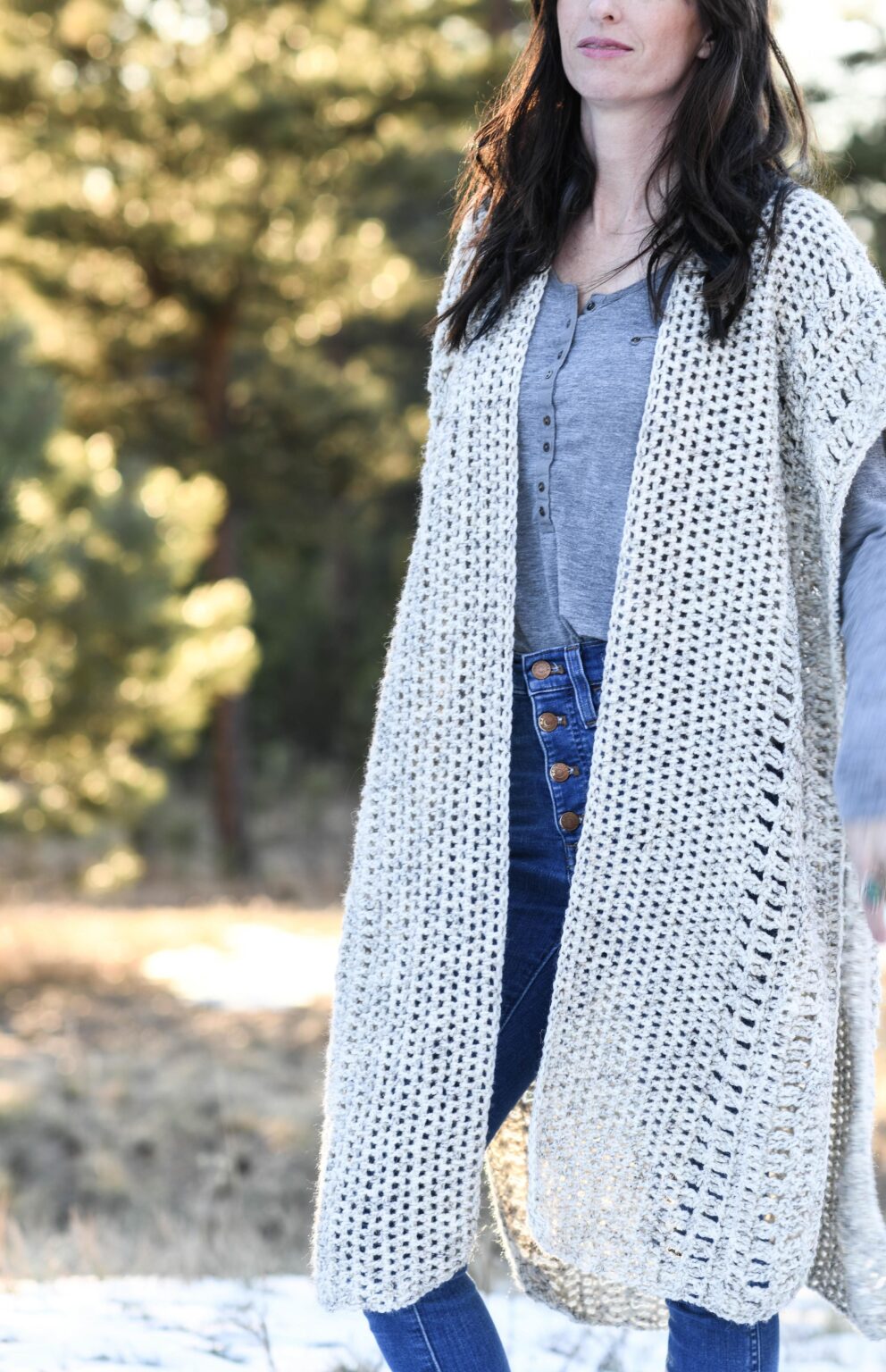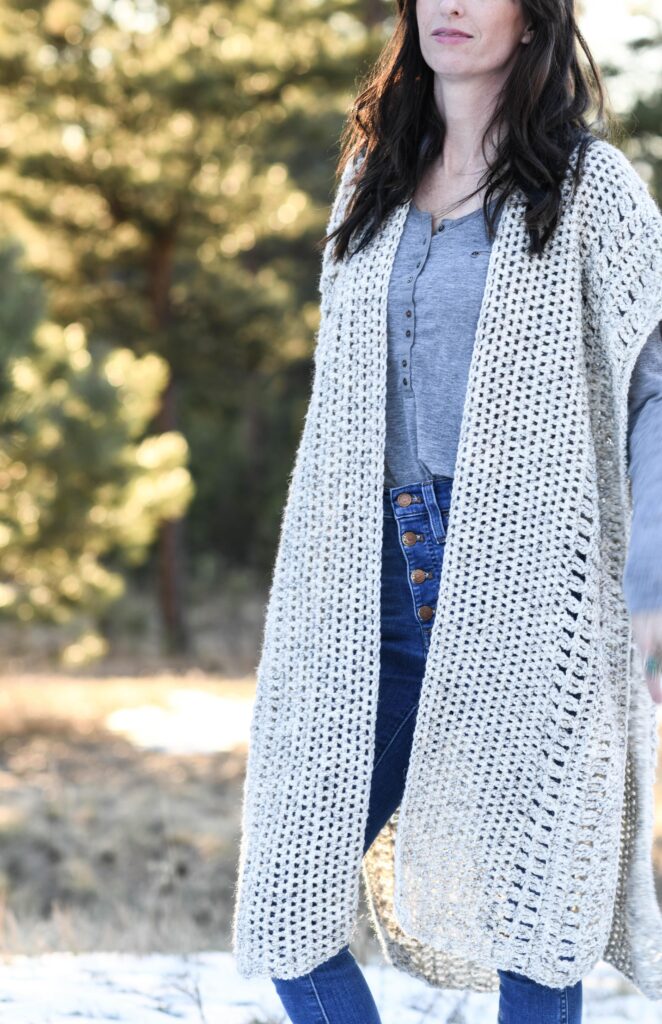 So how do we make this fun, winter show stopper?! It's suuuuuper simple!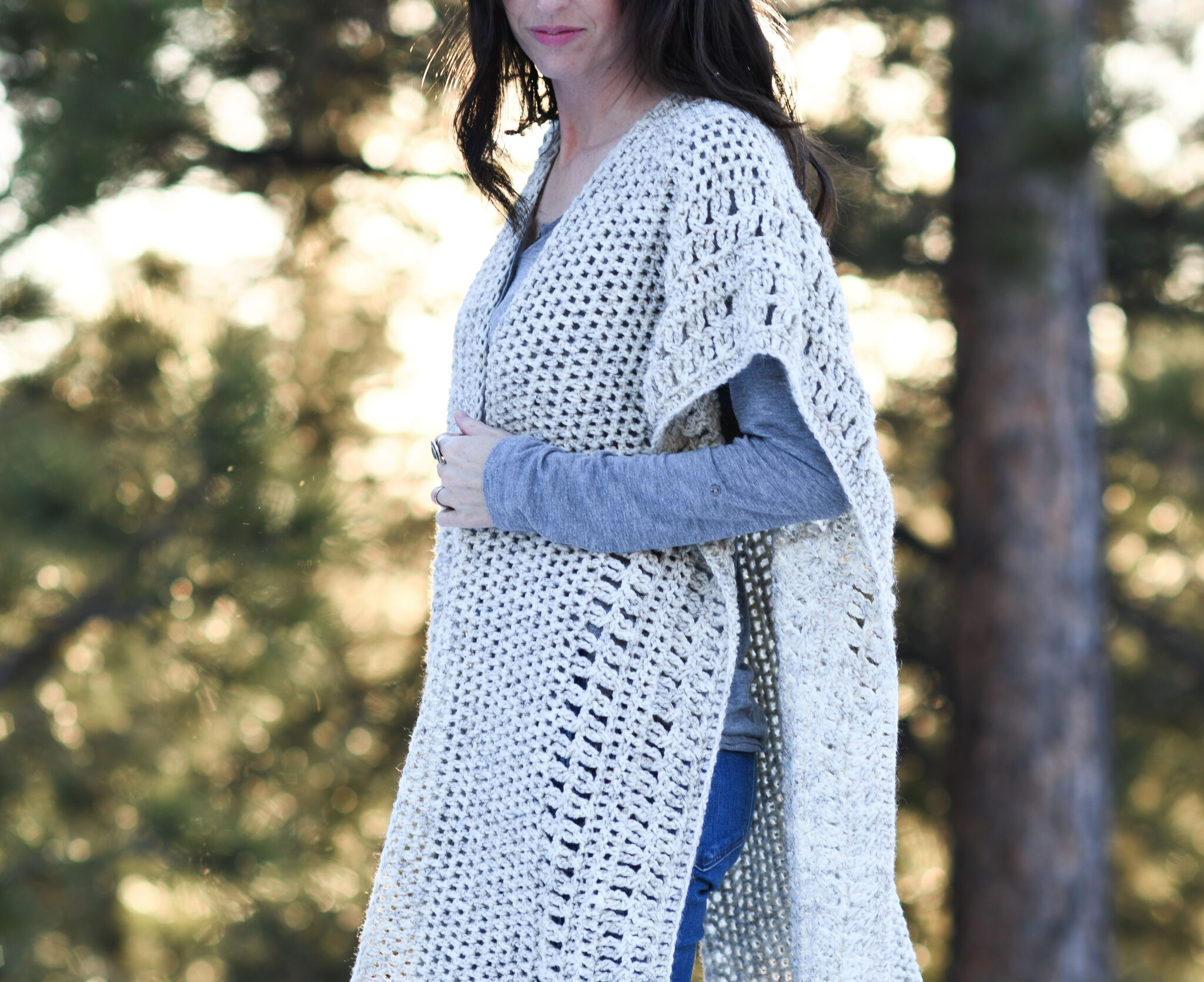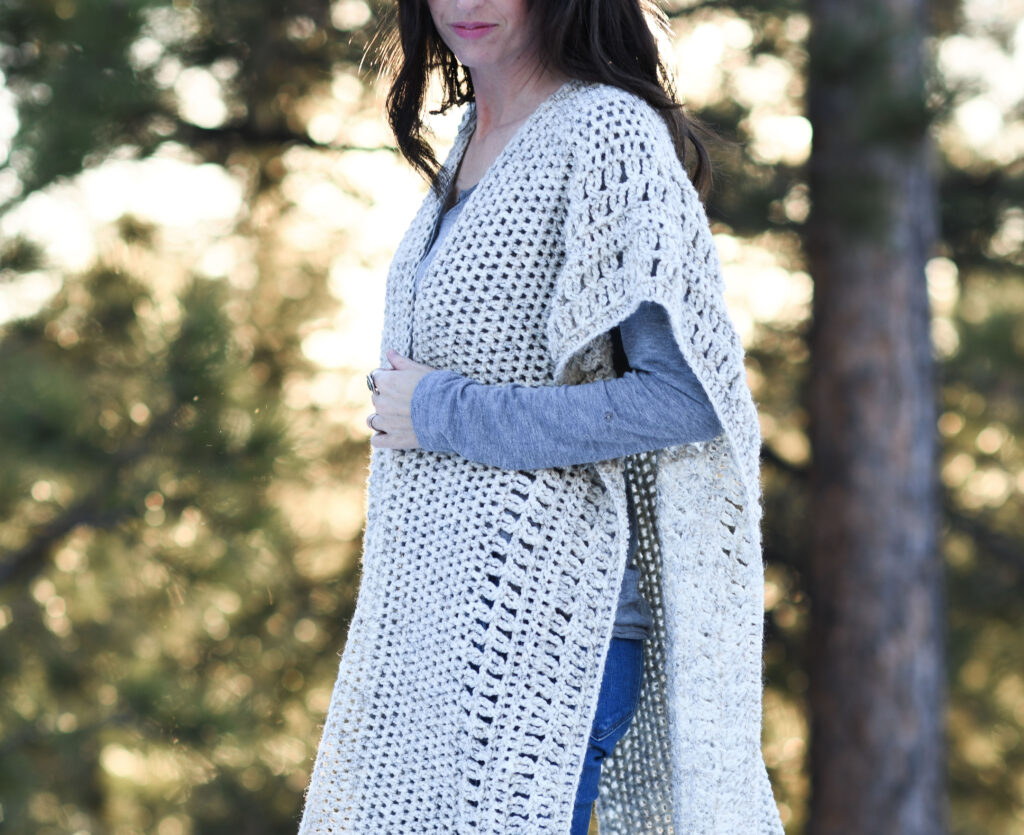 Description: (just a reminder that the free pattern's below, but you may also choose to purchase the ad-free, printable from my Etsy shop HERE)
Get noticed and wrap yourself up in the comfort of this lengthy, warm, winter inspired ruana. Understated open stitchwork paired with a knit look fabric make this a show stopper. Look no further if you want to add a unique piece to your handmade winter wardrobe. Perfect to wear with leggings or jeans and your favorite boots!
Skill Level:
Intermediate
Materials:
US Size K, 10.5 mm crochet hook or appropriate size to obtain correct gauge
7 (9, 10, 11) Lion Brand Yarn Wool Ease in Wheat 85 g/skein Grab the convenient kit with the yarn and the pattern from Lion Brand Yarn HERE
Pattern uses approximately 595 g (698 g, 790 g, 895 g)
Scissors
Tapestry Needle
Sizes (approximate):
S, M, L, XL
Please follow the key throughout the pattern according to the
size you are crocheting:
S (M, L, XL)
Bust Circumference:
48" (52", 56", 60")
Length:
37" (39", 41", 43")
Width of Each Panel:
12" (13", 14", 15")
Length of Each Panel:
74" (78", 82", 86")
Abbreviations & Skills:
ch – Chain(s)
dc – Double crochet
sc – Single crochet
st(s) – Stitch(es)
tr – Treble crochet
sp – Space
Gauge:
Approximately 10 stitches and 8 rows in 4" X 4" of double crochet worked in each space
Notes:
This ruana is made by crocheting two long, rectangular panels lengthwise and seaming them together at the back.
You will begin by making a long chain and then working a stitch pattern that will create the "lace" look. Next, you will work a simple double crochet stitch pattern, working in each space until your rectangular panel is complete. You may adjust the width by crocheting for more rows (keep yarn needs in mind). Enjoy!
WINTERFEST RUANA Crochet Pattern Instructions
Panel Instructions (make 2)
Ch 188 (198, 208, 218)
Row 1 Dc in 4th ch from hook (counts as 2 dc sts), dc in each ch stitch to end. 186 (196, 206, 216) sts
Row 2 Ch 4 (counts as tr here and through pattern), turn, skip next dc st, *1 tr in next dc st, tr in skipped dc stitch, ch 1, sk next 2 dc stitches and repeat from * to last st, tr in last dc.
Row 3 Ch 4, turn, skip next tr, *1tr in next tr, 1tr in skipped tr, ch 1, sk next 2 sts and repeat from * to last st, tr in last st.
Row 4 Ch 3 (counts as dc), turn, dc in each tr st across the row.
Row 5 Ch 3, turn, dc in each dc across the row.
Rows 6 – 9 Repeat rows 2 – 5, in that order.
Row 10 Ch 3, turn, dc in each dc space across the row.
Repeat row 10 until panel measures approximately 12" (13", 14", 15") wide
Tie off and weave in ends. Block to shape and size.
Assembly:
Place two panels vertically side by side with last rows aligned. Seam from the bottom up with a simple whip stitch until you're 3" from the center point. Tie off and weave in ends.
Feel free to be creative and consider adding a fun belt or fringe if you have extra yarn.
Schematics: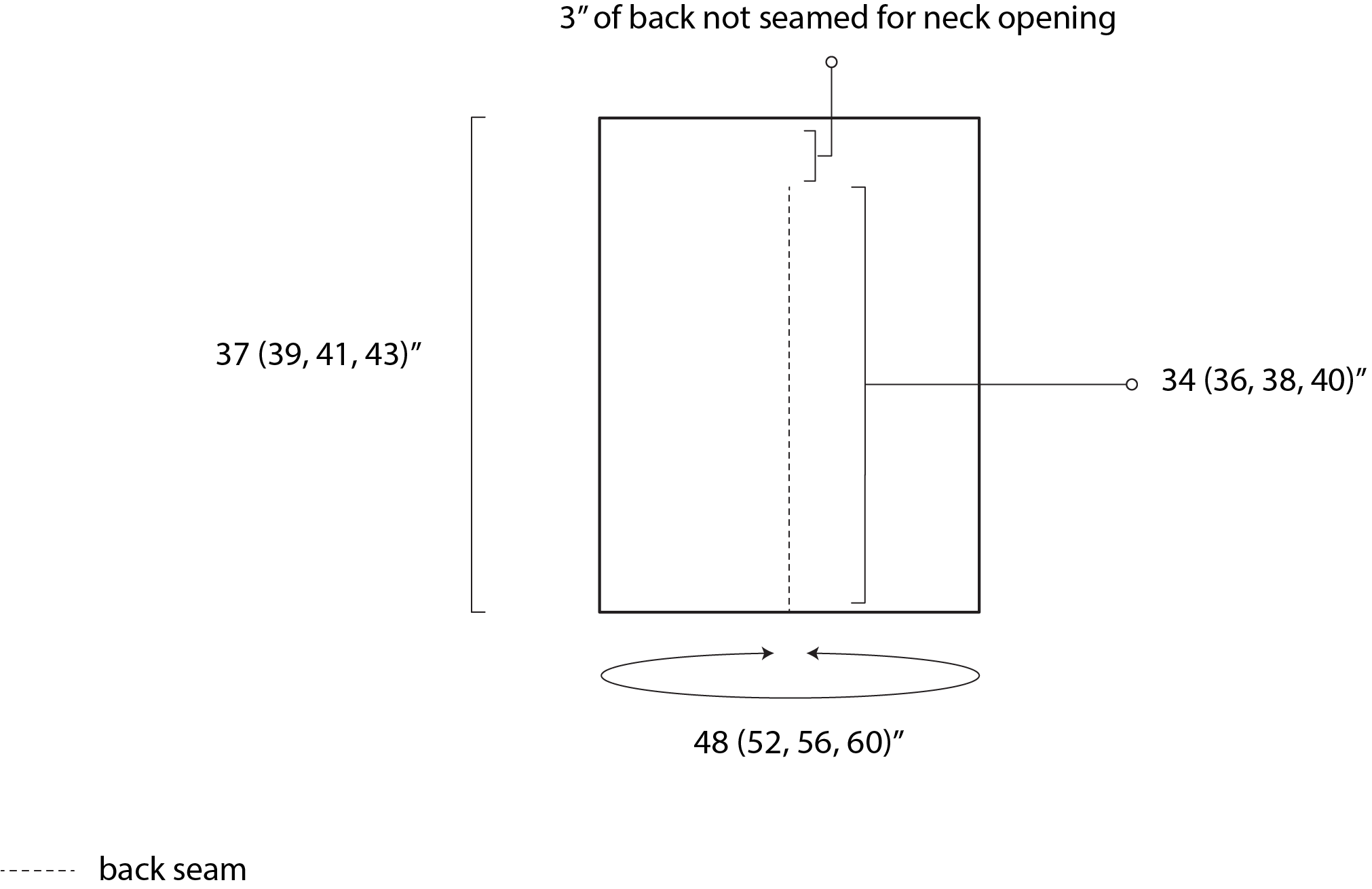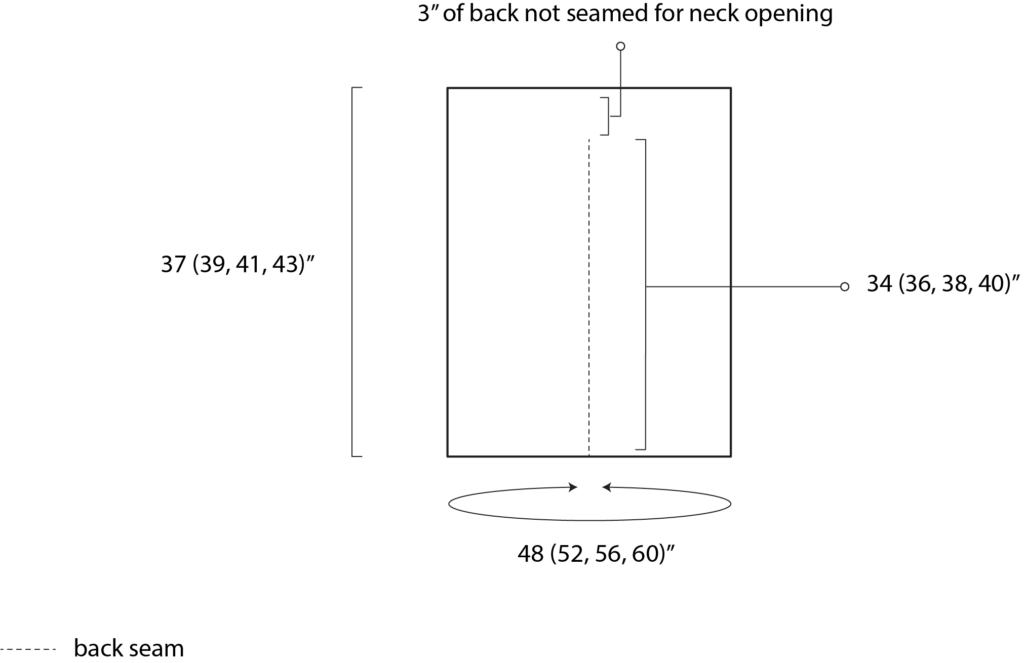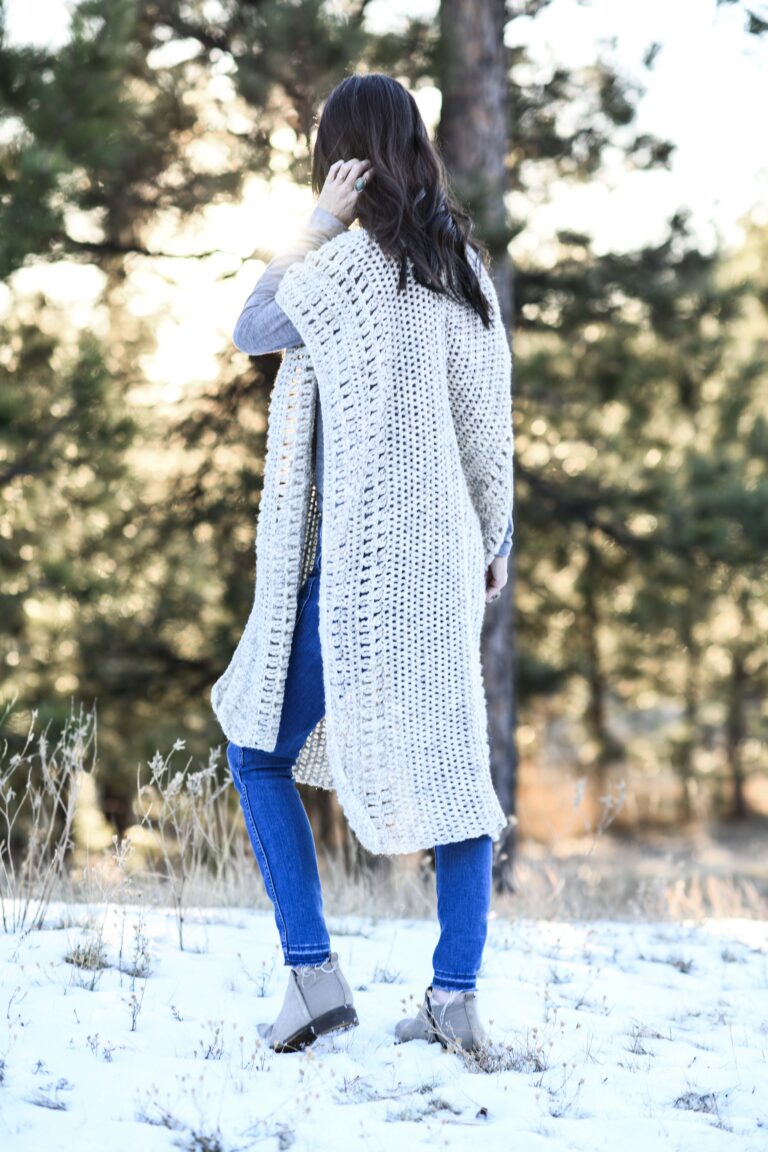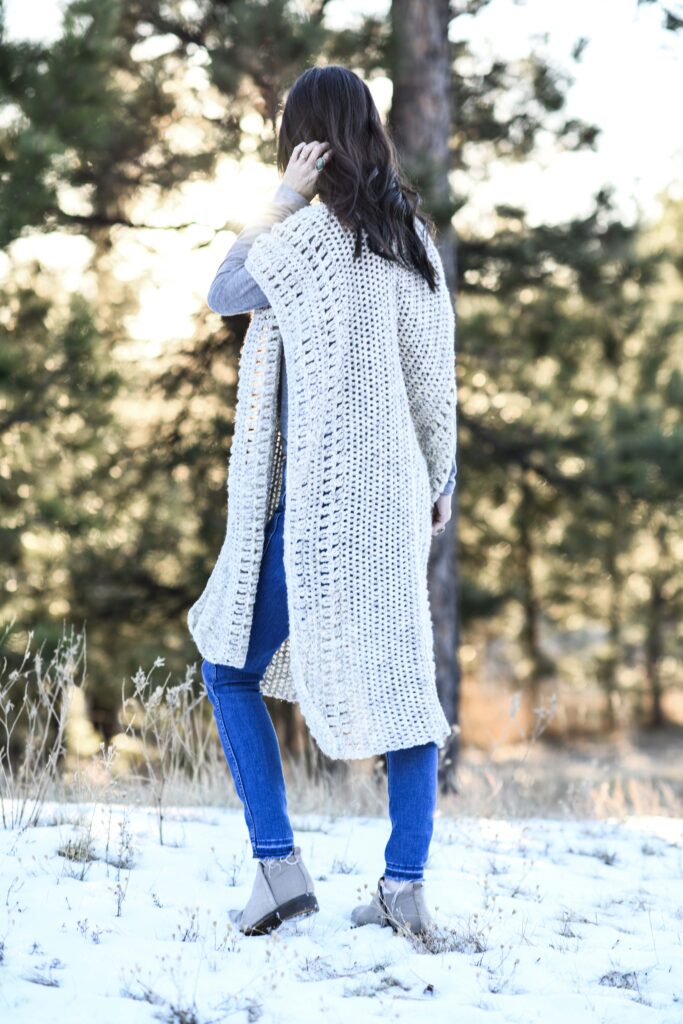 Enjoy your new ruana!
Winter can get long here in Colorado, so it's nice to have projects to keep me happy indoors. This Winterfest Ruana was a nice blend of easy and interesting with the lace stitchwork. I sure hope that you enjoy it too during these long, winter months.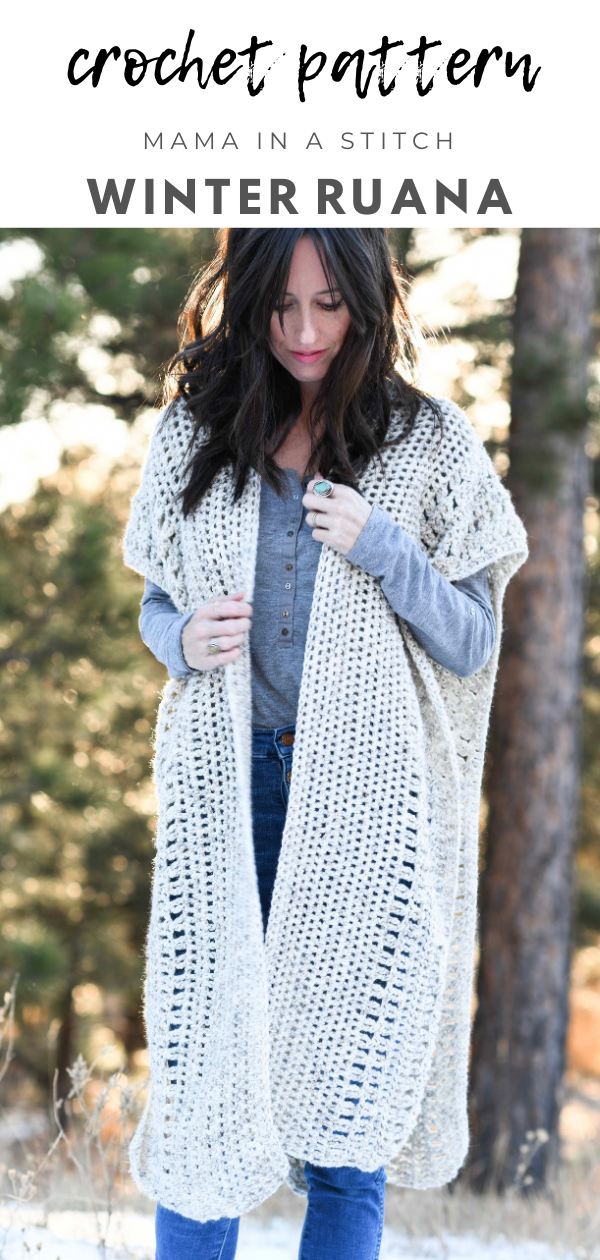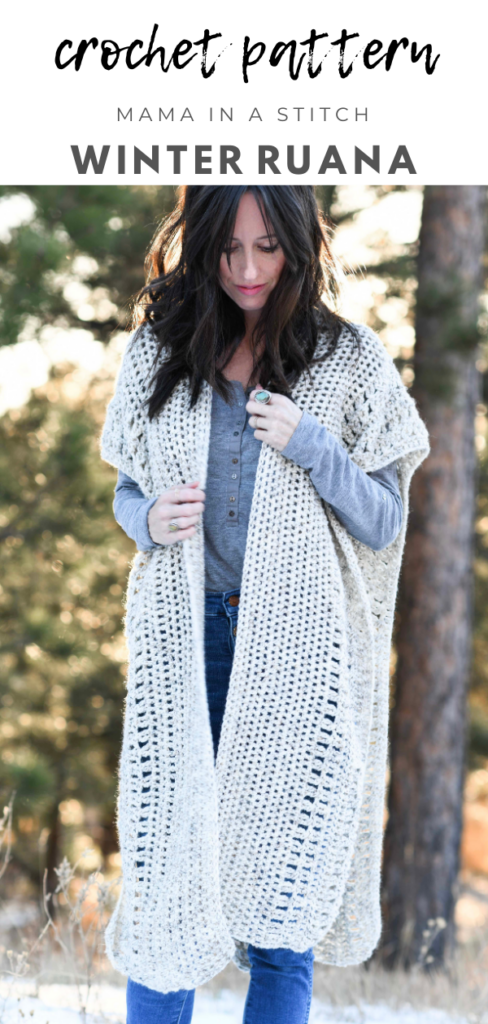 XO,
Jessica
If you liked this, you might also like: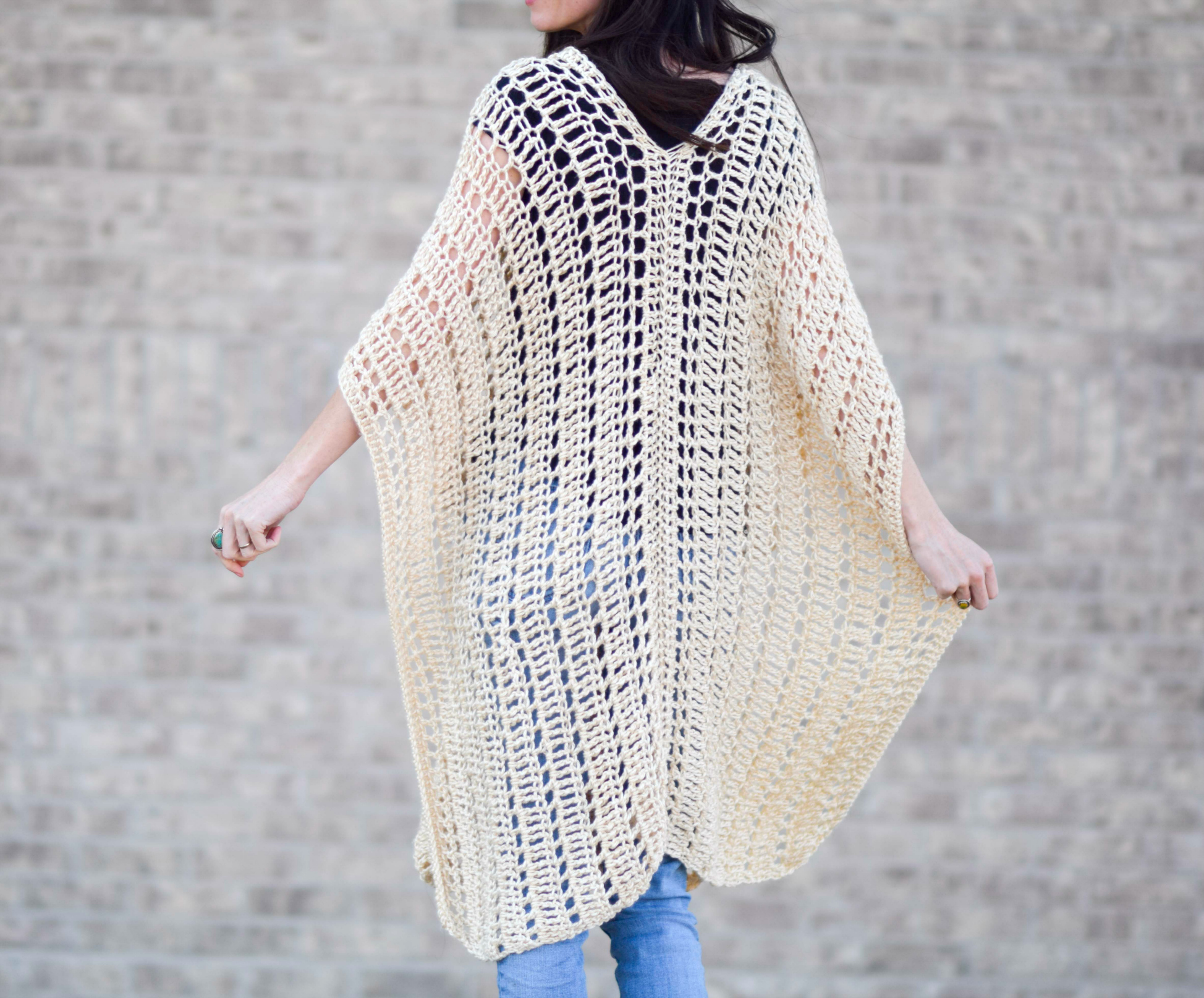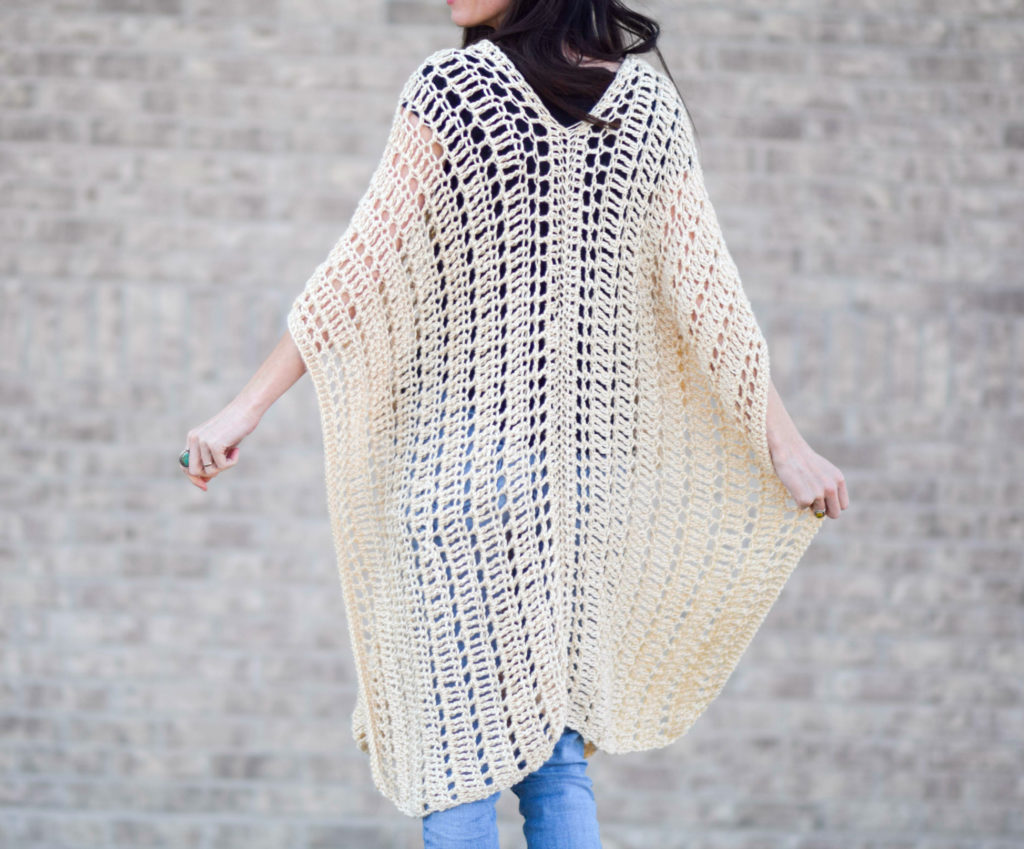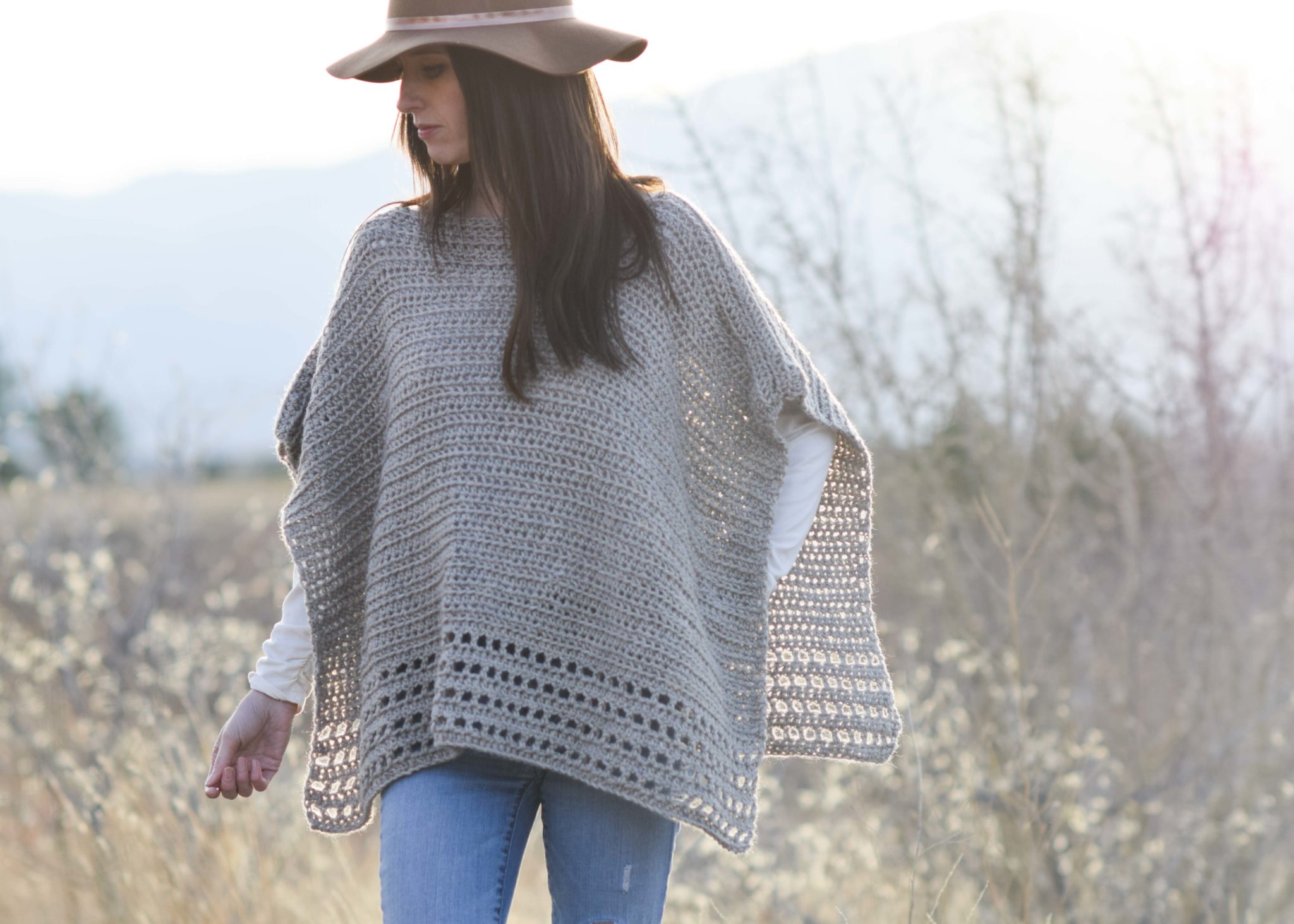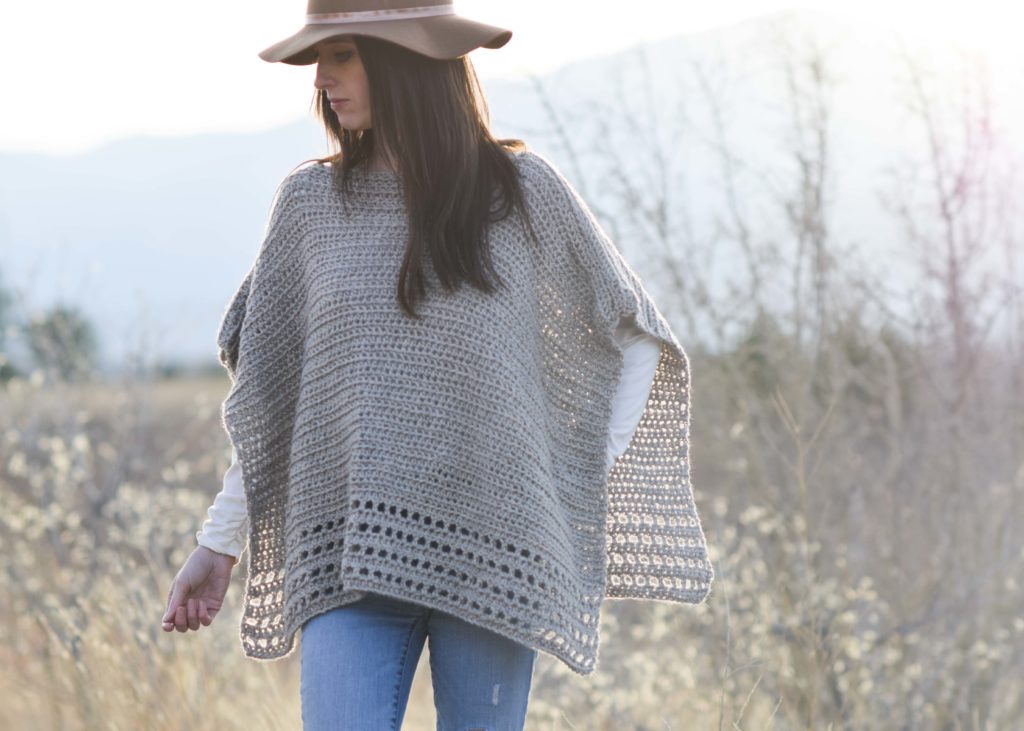 Thank you to Lion Brand Yarn for sponsoring this post. All opinions are 100% my own.