Garter & Eyelets Sleeveless Top Beginner Knitting Pattern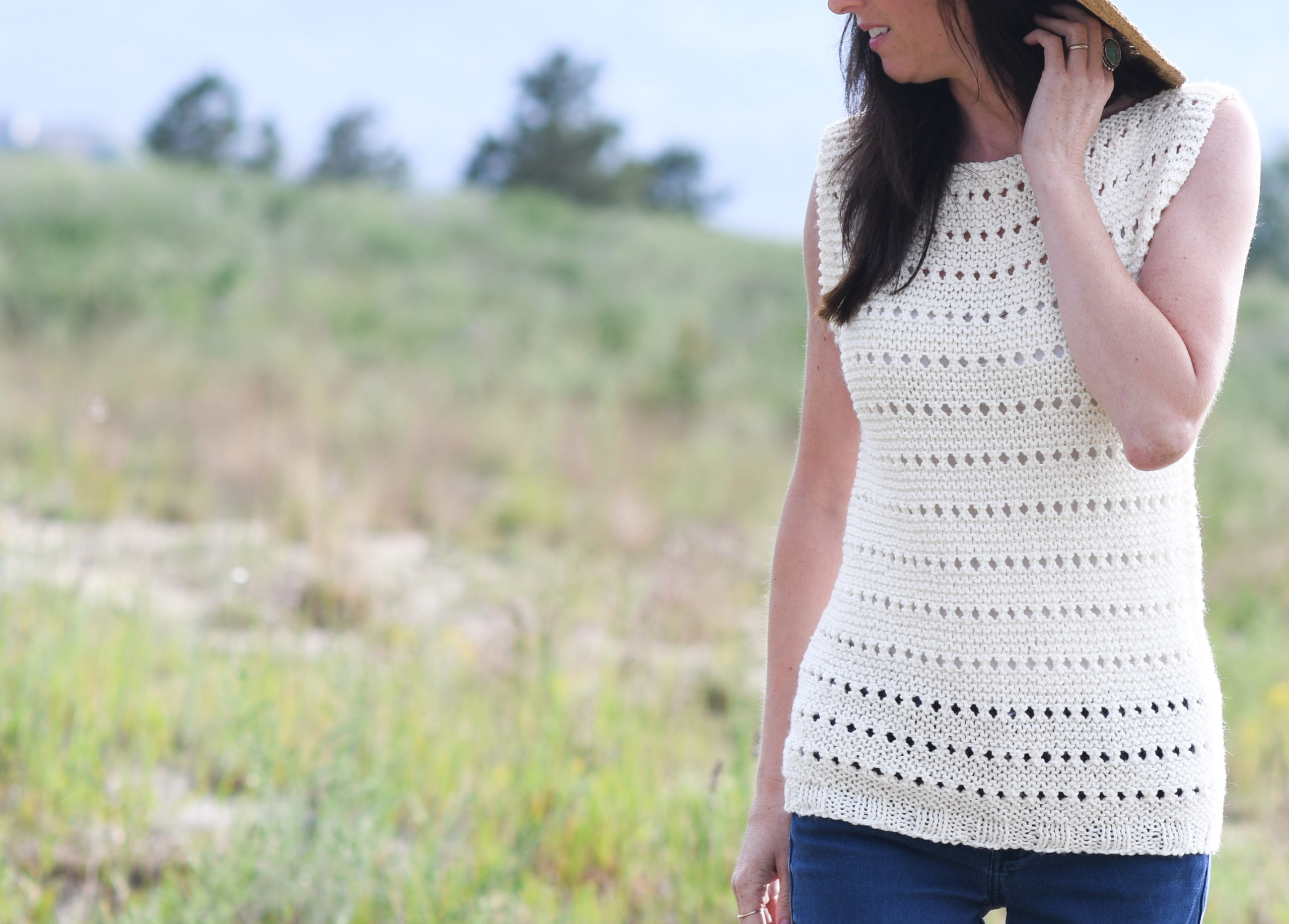 Today's project was inspired by the top I designed last year made with Lion Brand Cotton Jeans Yarn (pattern here). It's such a classic design yet it's so easy to knit. This garter stitch version is even simpler and it uses less yarn as well! It's beginner friendly as there's no shaping and you're basically using the knit stitch throughout the pattern.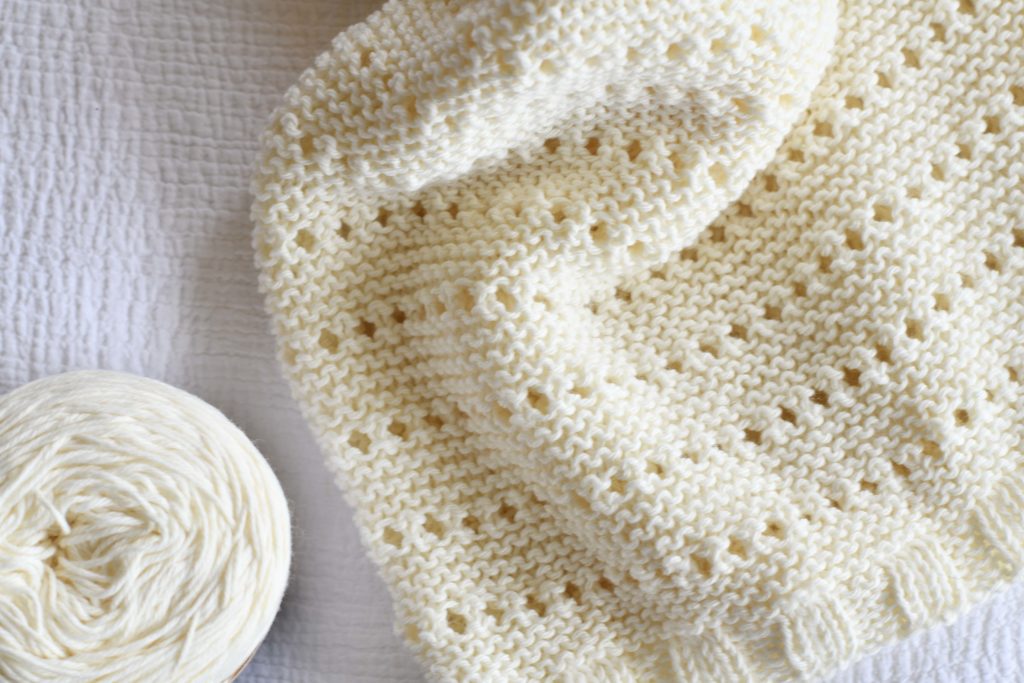 By using a slightly larger needle than what the yarn calls for, you get a light and airy fabric but still have good coverage. You'll simply make two panels while following the stitch pattern. Starting at the bottom edge of each panel and working upward, it's a breeze to knit until you've reached the correct length. At the end, you'll cast off and seam them together! In my Eyelets Sleeveless Top, you would work stockinette while holding two strands together which created a denser fabric than this top has.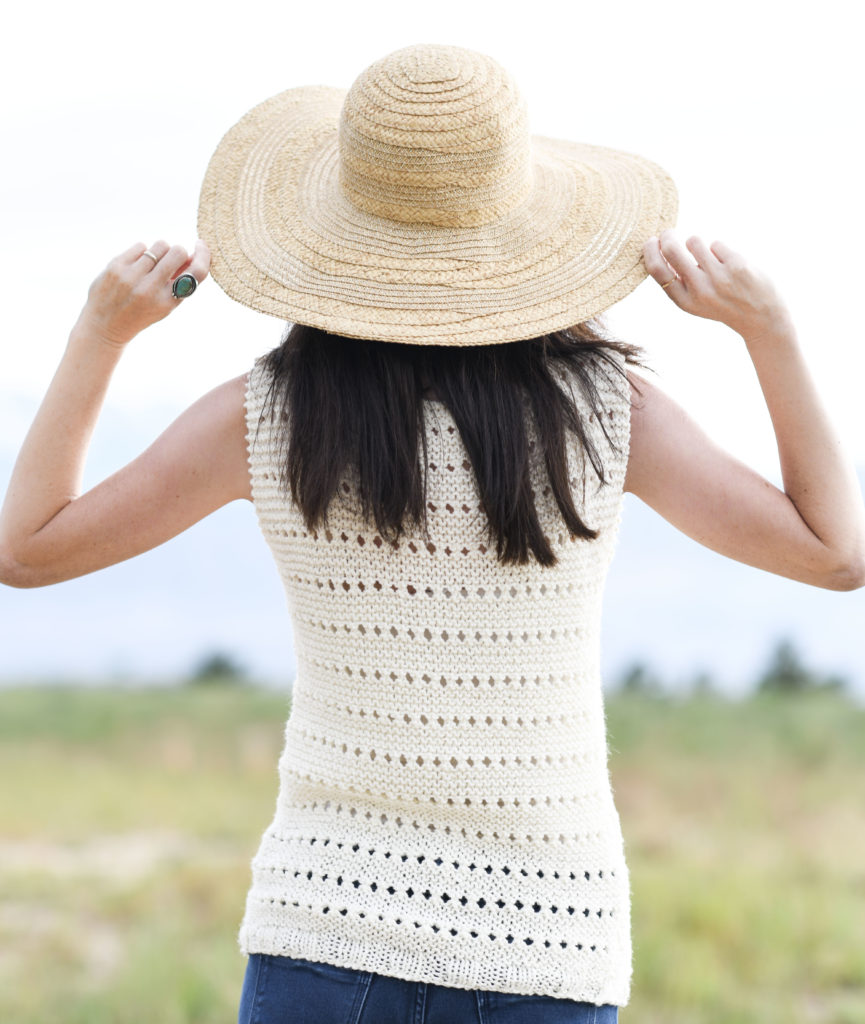 The Comfy Cotton Yarn from Lion Brand (here) is such a great alternative to acrylic. I used the Driftwood color in my Wanders Wrap and it's one of my favorite year round pieces because it's so comfortable on the skin. I'll take a natural fiber blend any day if it will hold up in the wash. 🙂 You know I'm a cream fan and when I saw this Whipped Cream color on sale, I bought up several skeins.
The features that I love most about this top are that it's light and airy while still being totally appropriate to wear under a blazer come fall. The eyelets are so simple but add so much character to this top as well. It's definitely appropriate for work or casual weekend outings. 🙂
So let's get to this pattern. 🙂
Scroll down to see the free pattern below!
Garter & Eyelets Sleeveless Top – Easy Free Knitting Pattern
Pattern Description: A beautiful top that features a squishy cotton fabric and delicate eyelet striping. This pattern is easy enough for adventurous beginner knitters and it works up fairly quickly too!
Skill Level: Easy +
Materials:
US Size 10, 6.0 mm 24" circular Knitting Needles
( 2, 2, 2, 3, 3 ) Lion Brand Yarn Comfy Cotton (HERE) (worsted weight #4) in Whipped Cream 200 g/skein
Pattern uses (246 g, 294 g, 343 g, 396 g, 452 g) total
Scissors
Tapestry Needle
Gauge: (Approximate) 13 stitches & 32 rows in 4"
Please follow this key throughout the pattern for your particular size:
(XS, S, M, L, XL)
Dimensions (approximate):
Bust:
XS – 30"
S – 34"
M – 38"
L – 42"
XL – 46"
Length:
XS – 20"
S – 21"
M – 22"
L – 23"
XL – 24"
Abbreviations:
CO- cast on
k – knit
yo – yarn over
k2tog – knit two together (decrease)
st – stitch
Notes:
In order to keep this pattern beginner friendly, this top is knit as two separate rectangular panels which are knit from the bottom up. The two panels are seamed at the sides and at the shoulders to finish. Block to shape and size as desired. Stitch count remains the same throughout the pattern
Pattern Instructions
CO (51,57,63,69,75) stitches
Bottom Ribbing
Working a 3×3 rib
Row 1 *K3, p3, repeat from * across the row
Row 2 *P3, k3, repeat from * across the row
Row 3 – 6 Repeat rows 1 & 2 in that order, 2 times
Next, you will work the Main Body of the panel.
Main Body
Row 1 Knit each st across the row
Rows 2 – 8 Repeat row 1
Row 9 K3, *yo, k2tog. Repeat from * across the row to last two stitches, k2
Row 10 Knit each st across the row
Repeat Main Body rows 1-10, in that sequence, until piece is approximately (20",21",22",23",24") long. (Note: you may adjust length of the top to your preference but keep yarn needs in mind)
Cast off and weave in ends.
Next, repeat above pattern to make your second panel. Block to shape and size as desired.
Assembly:
With a length of yarn and your tapestry needle, seam up each side of the two panels using the mattress stitch seam. Leave a generous opening for your arms at the top. Next, seam inward at the shoulders leaving an opening for your head and neck. Tie off and weave in all ends.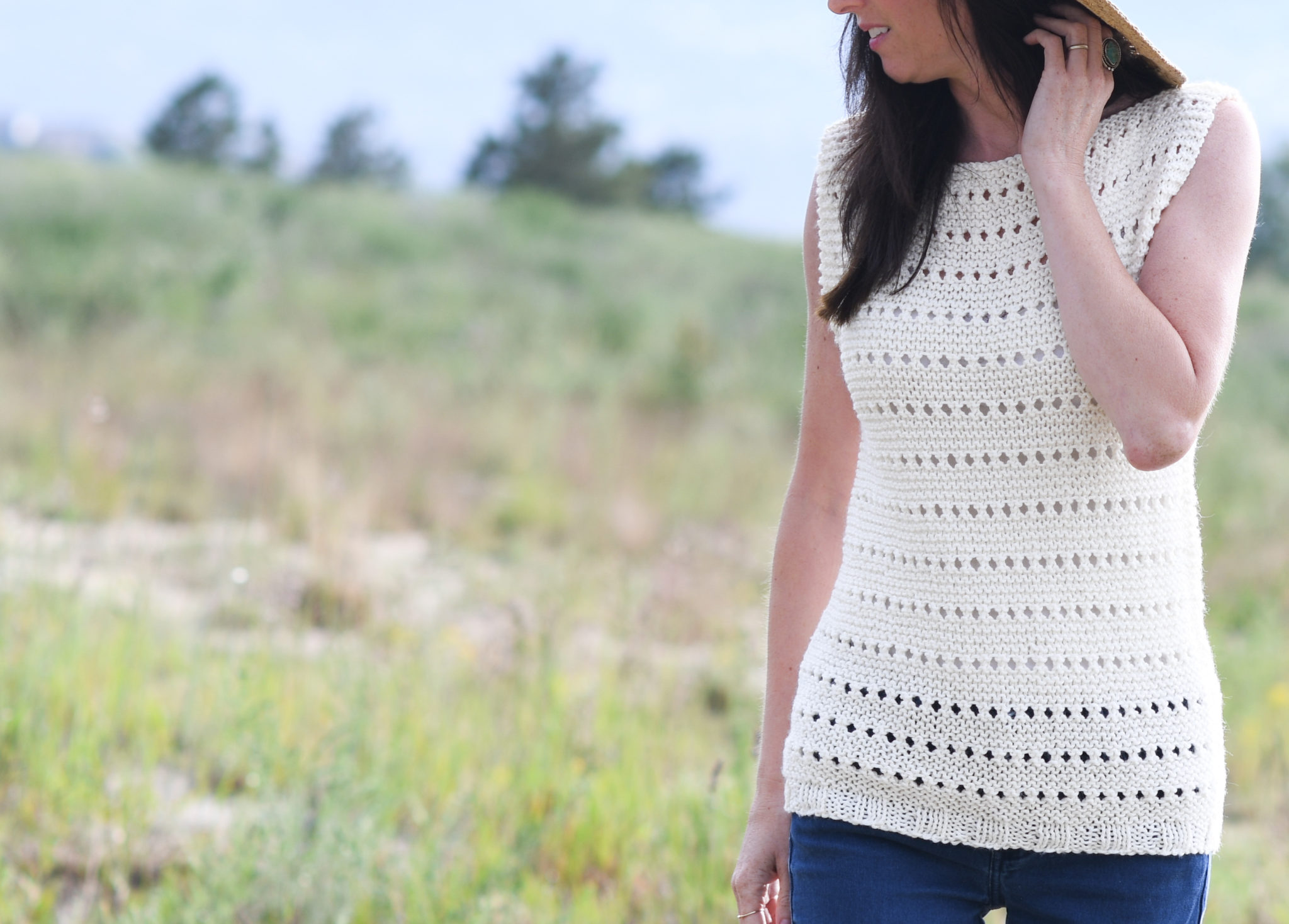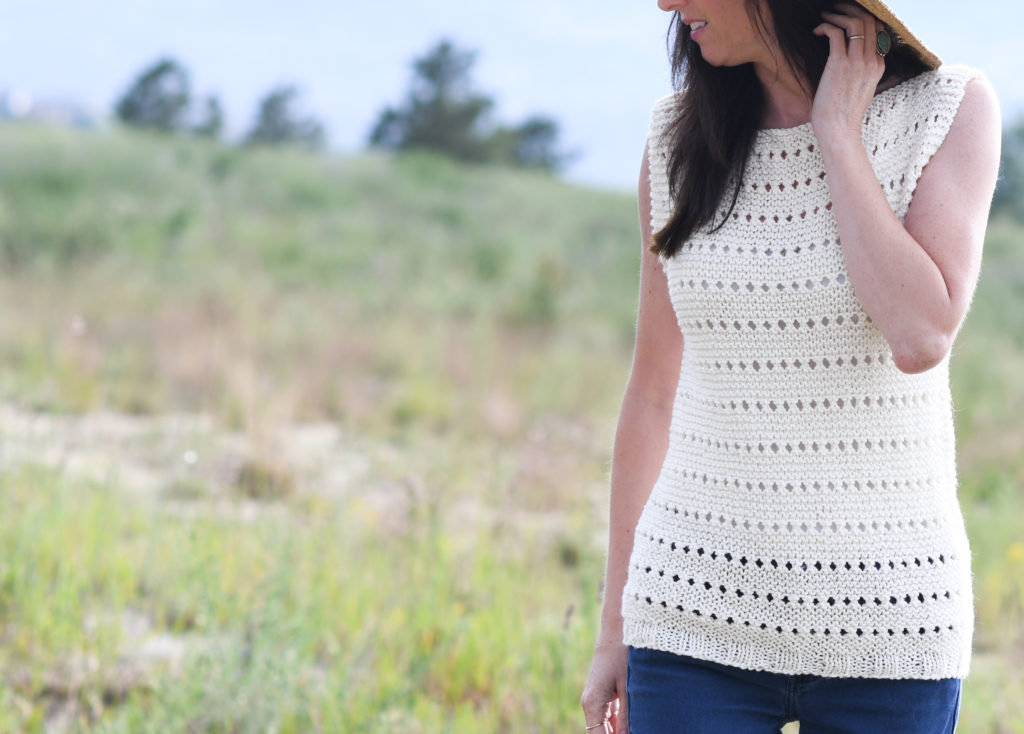 Now enjoy your new Garter & Eyelets Knit Top!
XO,
Jessica
If you liked this, you might also like: