Glenwood Tote Bag Knitting Patterns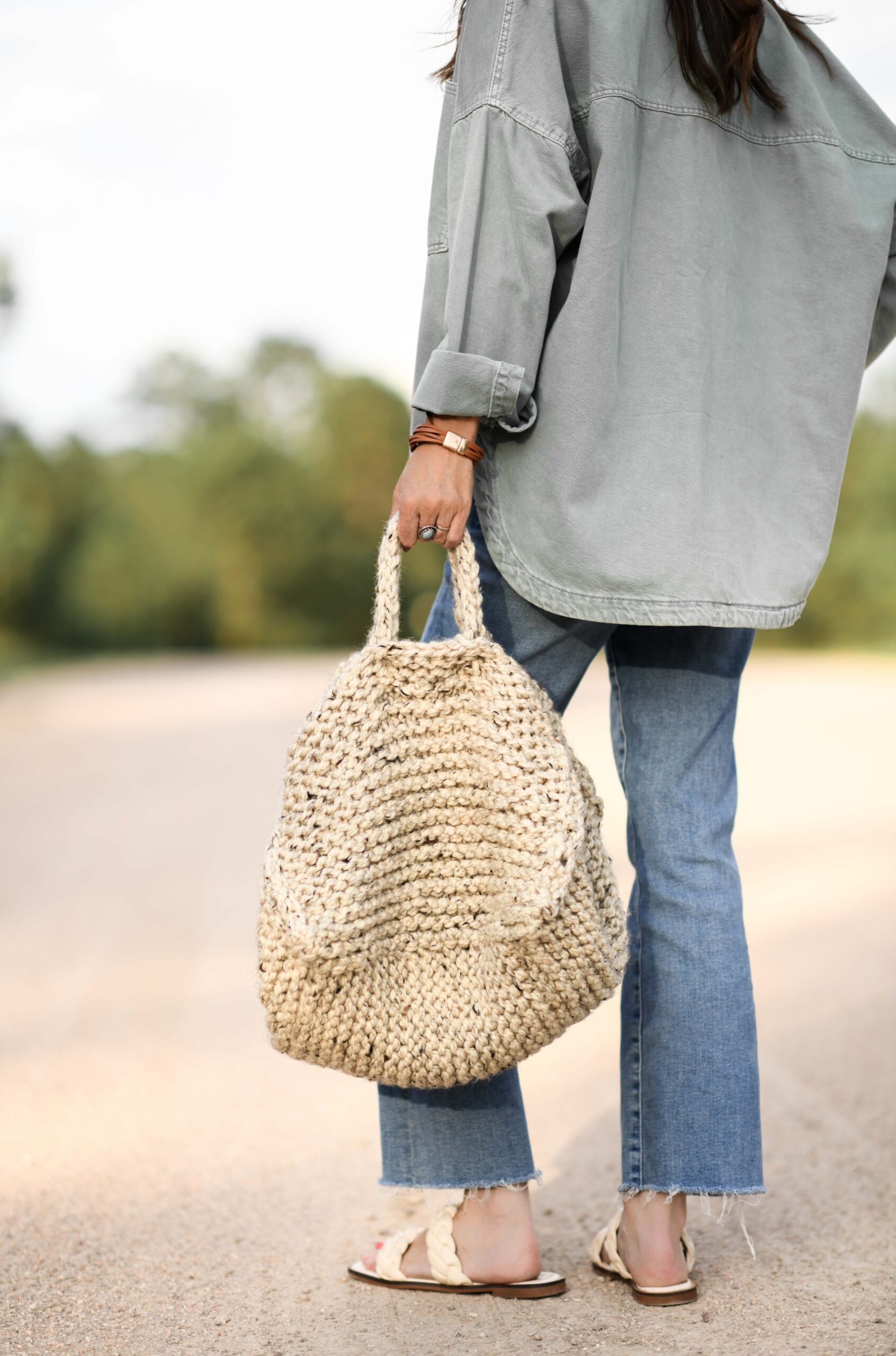 Today's pattern is for an eye catching, beginner friendly knit bag that is quick to make and quintessentially fall! You can see the full free pattern below, or you can find the printable pattern available on Etsy HERE, or the kit on Lion Brand Yarn HERE.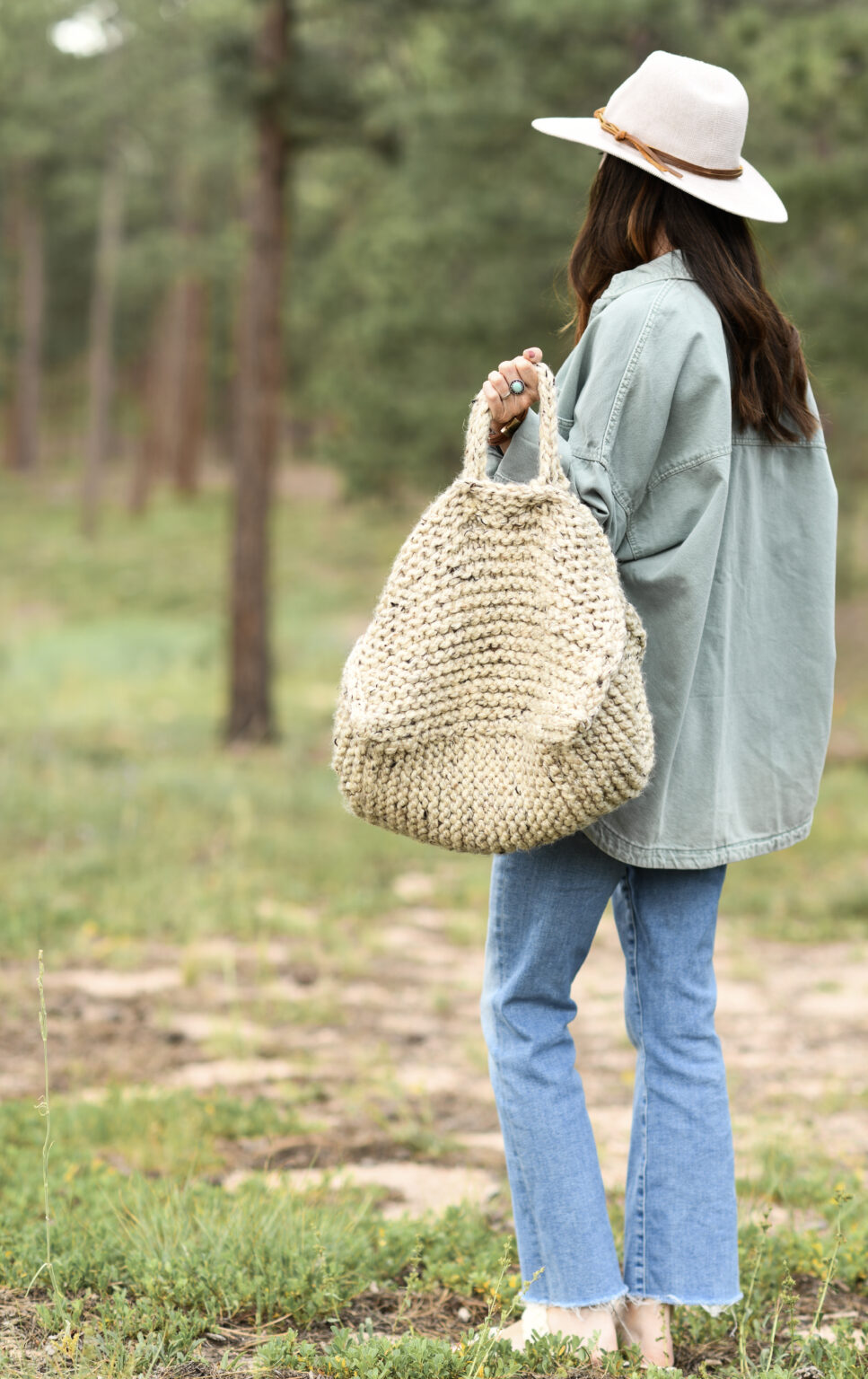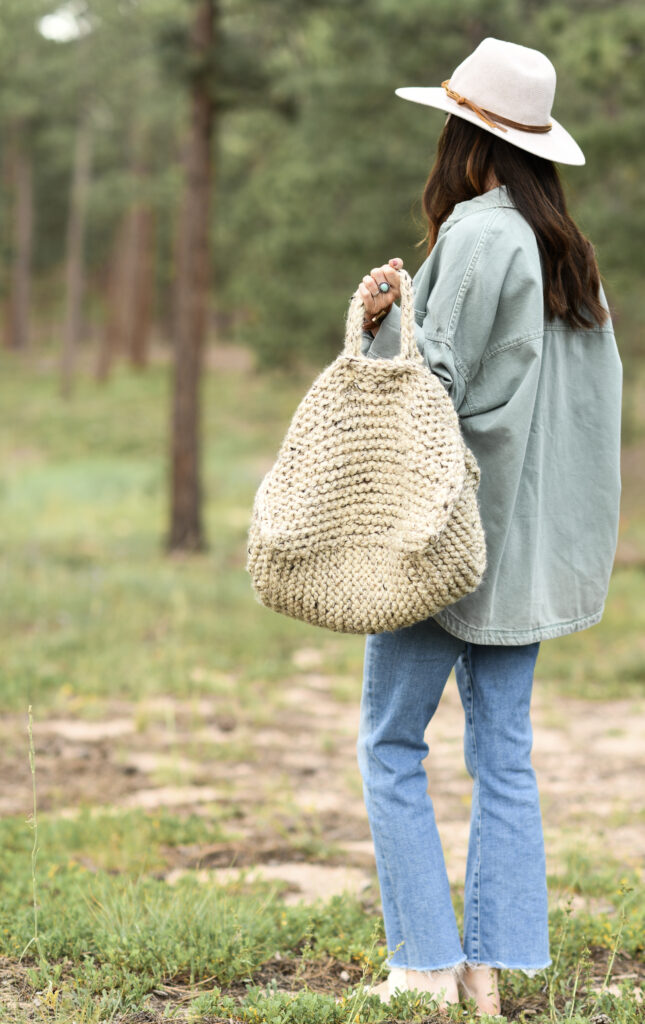 This tote is such a beauty and it works up fast and easy with super bulky yarn. It's knit flat, so anyone can make this! I love the look of the chunky yarn fabric, and it fits so much.
It's perfect to haul your yarn around, or store your large projects. This could even double as a storage bag or basket in a room.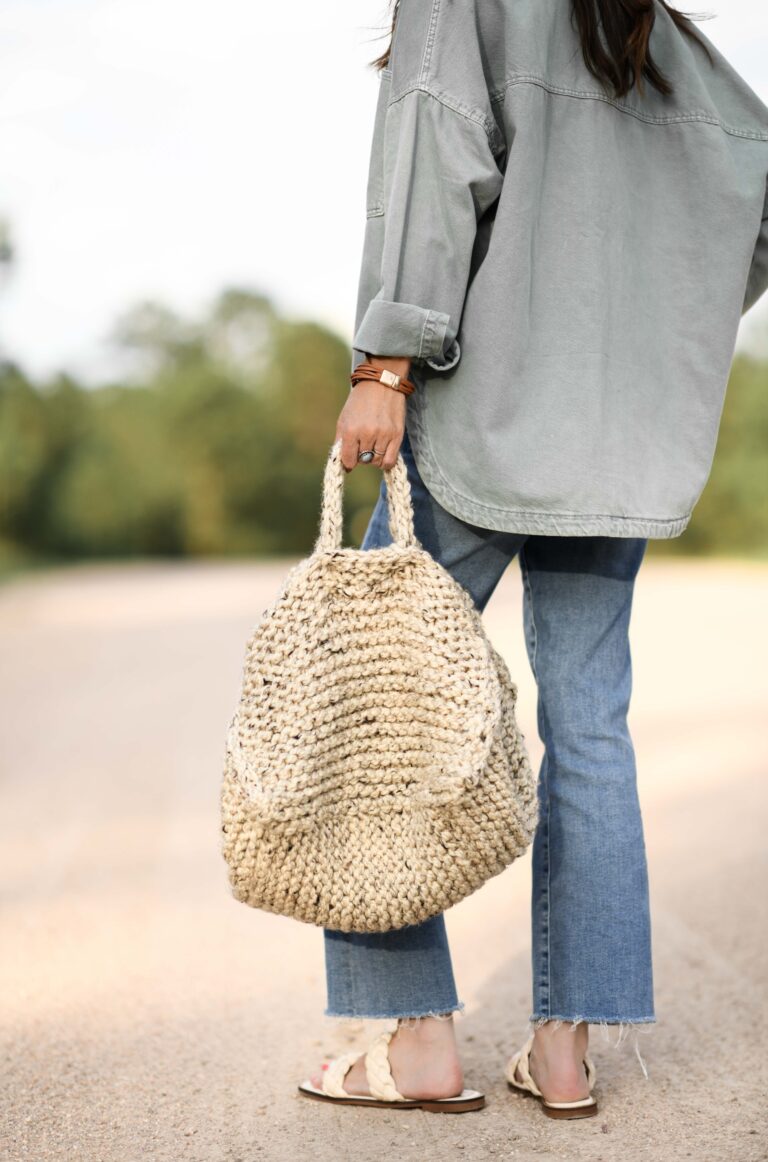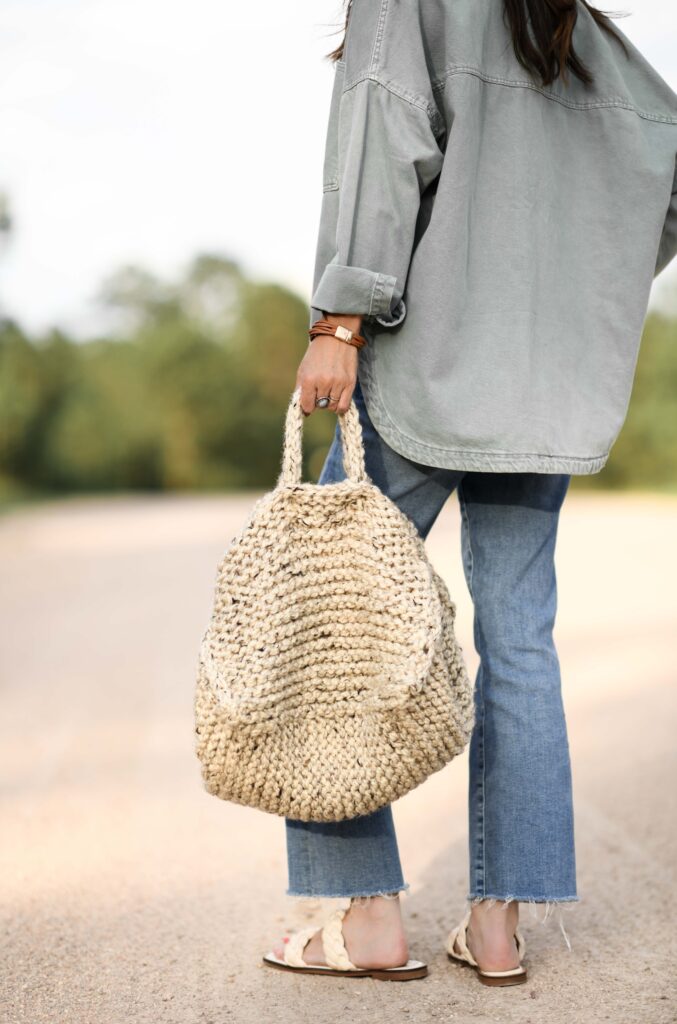 I've been on a long blanket kick, with a cardigan mixed in here and there, so it was time for something new! Enter – a big knit tote. 🙂
This tote is knit with one of my favorite fall worthy colorways, Oatmeal. You might remember it from my Fall Cuddler Pattern as well. Anyway, not only do I love the color, I love the chunky yarn because of the look AND the fact that it made this bag a quick project. Yay!
Here's a little explanation in people terms on how to knit this bag. You can also find the full, free pattern below, so keep scrolling for that one…
How To Knit A Beginner Tote Bag
First to begin, you will knit the base of the bag holding two strands of yarn together. It's a simple rectangle.
Next, you'll pick up stitches (it's so easy) on each side of the bag and knit a "side". (see progress photo)
Once you have knit each "side", you're ready to seam them together!
Seam up each side to make "box" shape.
Next, to make the bag shapely and useable, I "pinched" each side inward and sewed them together.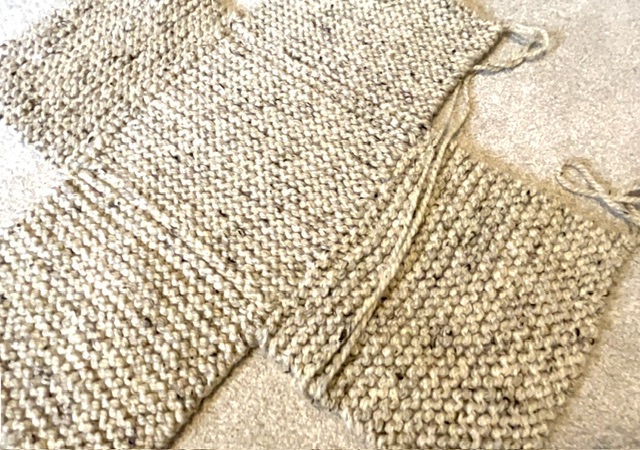 The bag has a base and four sides. Woo hoo!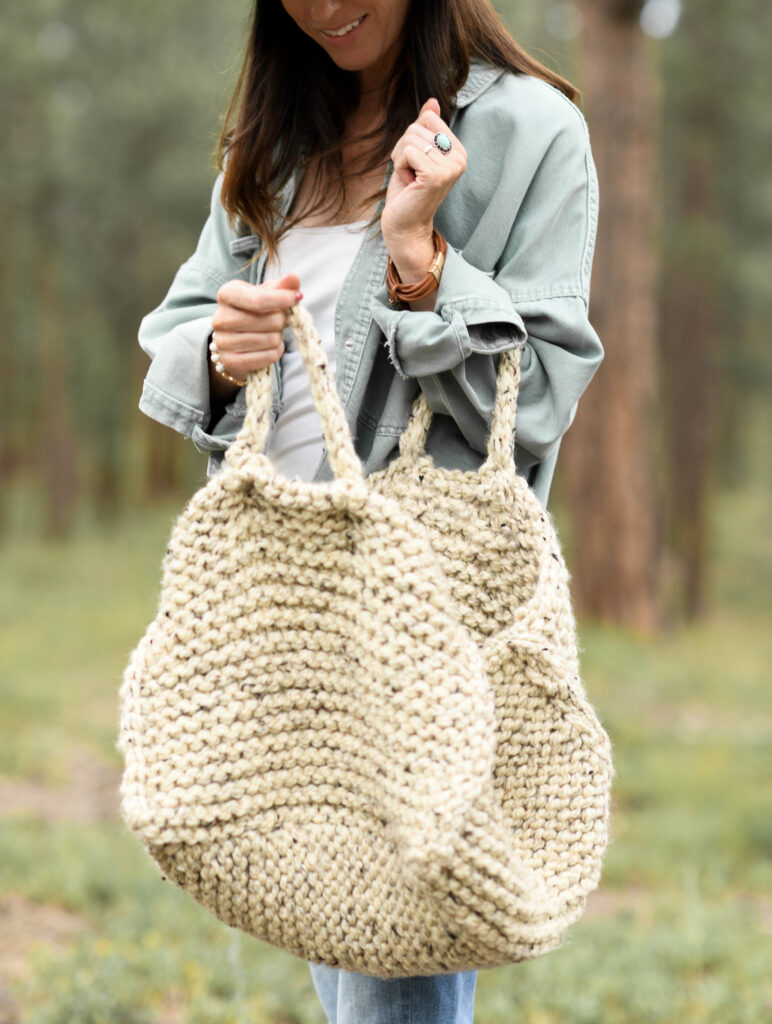 In the photo to the left, you can see where the two outer sides of the bag go inward. This is where you fold and simply tie the sides together to make it shapely!
Last, you'll knit a simple i-cord and seam it to the bag for the handles!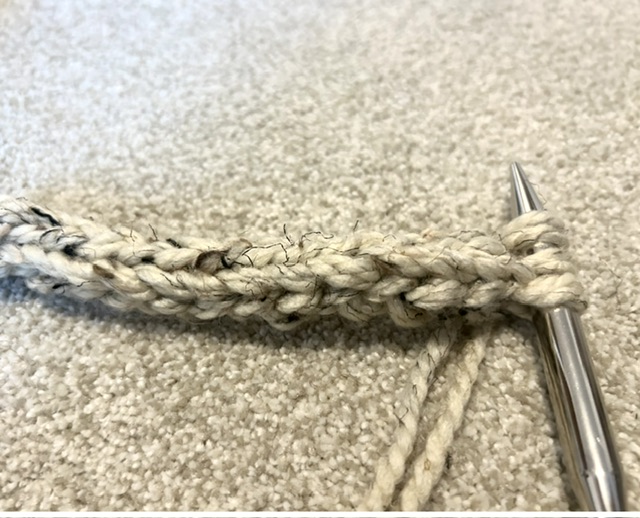 Just a basic i -cord!
Once you attach the i-cords to the bag, you're done!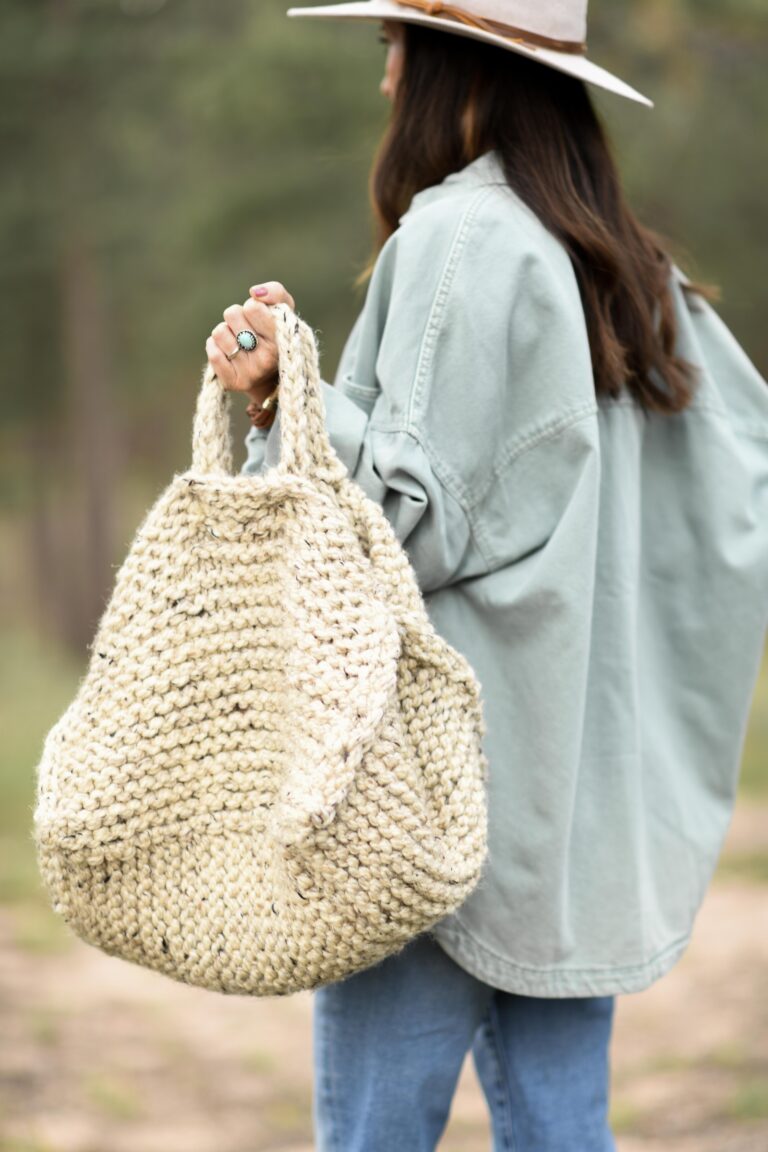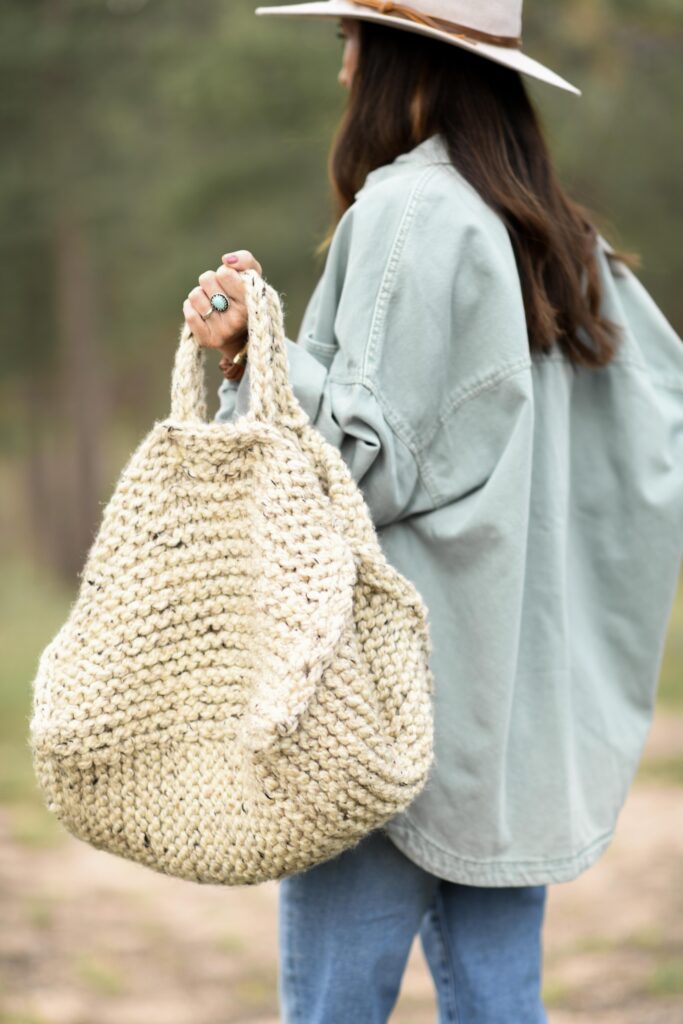 So that's the quick explanation, but here's the free full pattern!
Glenwood Tote Bag Easy Knitting Pattern
Description:
This gorgeous, big, modern knit bag can hold all the things and it's so easy to create! Super
bulky yarn makes it a quick project, and the roomy interior is so handy. It will be a show
stopper when you haul it around this fall and winter! Perfect to double as a pretty yarn
storage basket or carry-all in the car. It's knit flat and there's no shaping, so just about
anyone can make it with ease. Pick your favorite color and have fun!

Materials:
6 skeins of Lion Brand Yarn Wool Ease Thick & Quick super bulky #6 yarn in Oatmeal or
preferred color Convenient Kit HERE
Pattern uses approximately 850 grams
US Size 17, 24" or longer, circular knitting needles (bag is knit flat)
Scissors
Tapestry needle to weave in ends

Size (approximate):
11" x 13" x 10"

Gauge:
Approximately 7.5 sts and 15 rows in 4" x 4" in garter stitch

Pattern Notes:
This pretty bag is knit while holding two strands of yarn together throughout! You will begin the bag by knitting a simple rectangle for the base. Next, you will pick up stitches evenly on each side to make four sides. (If you've never picked up stitches before, you can find many online tutorials by conducting a simple search.) The sides are then seamed together along the edges to create the rectangular bag.
Next, you will knit two short i-cords that are sewn to two sides of the bag for the handles. The entire pattern is made with the simple knit stitch. This bag will stretch if hauling heavier items like most knit bags. If you're creative, you could think of lining it with fabric for extra durability. Have fun!
Abbreviations (US) & Skills:
k – knit
st – stitch
sts – stitches
The knit fabric of this bag is reversible, so there isn't a right or wrong side.
Entire bag and handles are knit while holding two strands of yarn together at the same
time.

Rectangular Base
Holding two strands of yarn together, here and throughout pattern, cast on 25 stitches.
Knit until piece measures 11" long.
Cast off and weave in ends.

Sides of Bag Basket
Pick up stitches evenly on each side of bag, working one side at a time.
Tip: On the two sides where you are working perpendicular to the rows, pick up one stitch
between each "ridge", or set of 2 rows. Pick up 25 stitches on the sides that are your cast on
edge and cast off edge.
Knit until each side is approximately 9.5" inches, or approximately 33 rows.
Cast off and weave in ends.

Sew Sides & Assemble
Using either a tapestry needle and whip stitch seam, or a crochet hook and a slip stitch seam,
fold sides upward and seam together at the edges. The pictured bag uses the crochet hook
method with the slip stitch seam on the outside of the bag.
Next, pinch and fold the long side of the bag inward at the center. Measure 3" inches inward,
and tie together at that point with a length of yarn. Repeat on the other side.

Handles
You'll now knit two simple i-cords for the handles. (There are also many great tutorials on YouTube for knitting an i-cord if you conduct a simple search)
Cast on 3 sts on your circular needles.
Row 1 Knit across
Next, slide your work to the opposite side of your needles and DO NOT turn.
Repeat row 1 by knitting across, tightening the first stitch when you work it.
Repeat this pattern by knitting each stitch across the row, then sliding the work to the opposite side (without turning) to knit again.
Continue this until your i-cord is 11" inches long. Cast off.
Repeat pattern to make 2nd icord.
Place the handles, as pictured, centered on the upper inner edges of the long sides of the bag.
With a tapestry needle and a length of yarn, sew the i-cords to the bag. Work through the i cords and the fabric, sewing them together to make strong handles. Weave in all ends and admire!
I hope you like this pretty bag! I think it will get a lot of compliments this fall. Kinda fun!
And if you're a bag lover, here are some other options to check out. 🙂
More Easy Knit Bag Patterns
Mohave Slouchy Tote Bag Knitting Pattern
Farmers Market Tote Knitting Pattern
Eco String Bag Knitting Pattern
Enjoy my friends!
XO,
Jessica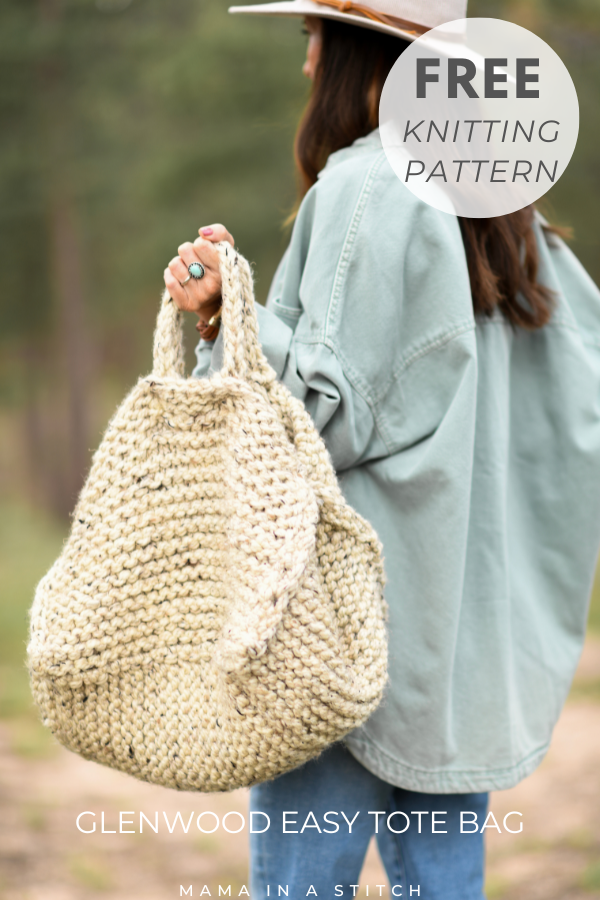 This post was sponsored by Lion Brand Yarn. All opinions, silly or not, are 100% my own.