Best Modern Hot Pad Crochet Pattern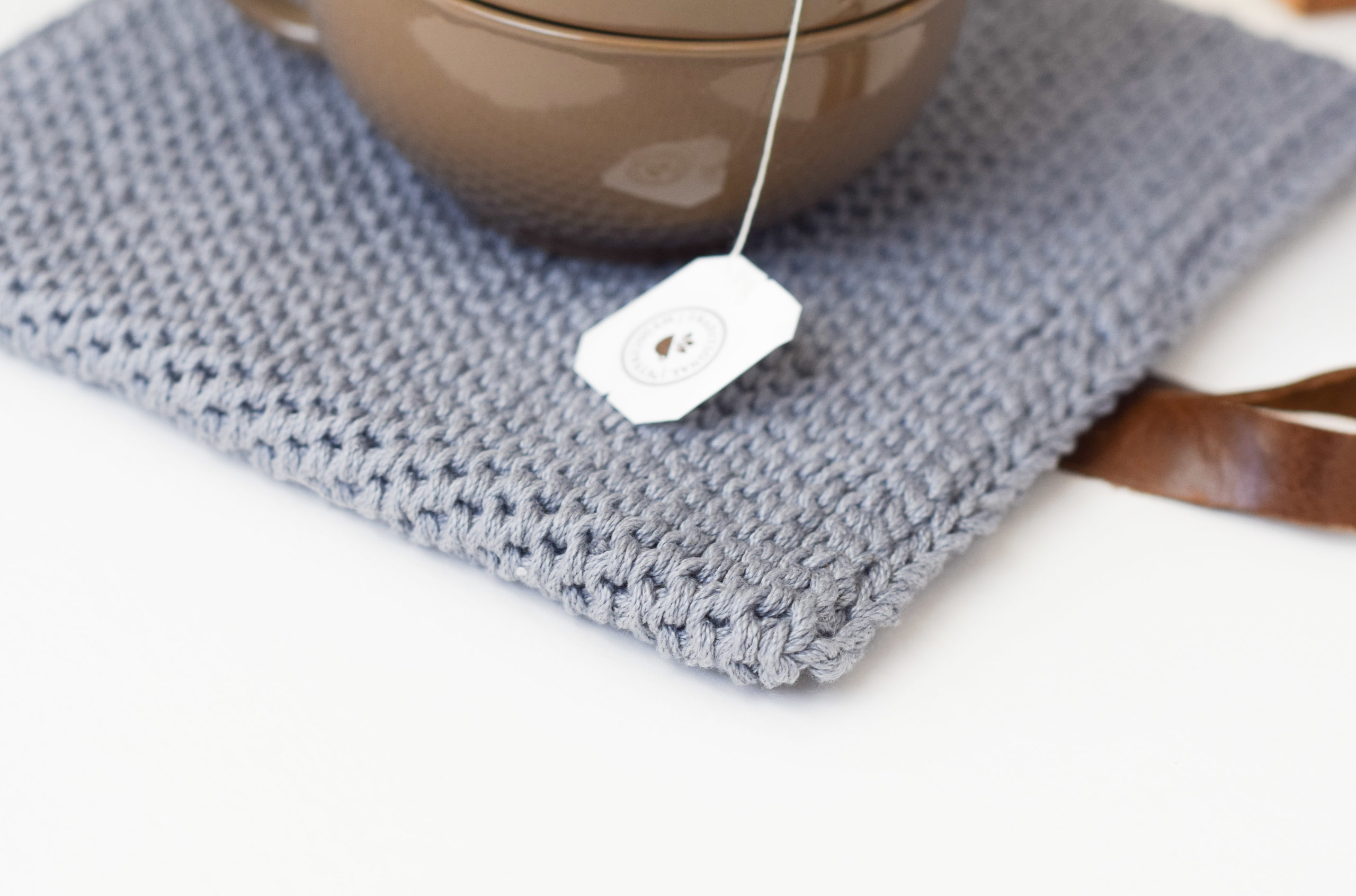 This thick, crocheted hot pad turned out so well that I'm hoping to make several more! It's so easy and completely beginner friendly, yet the pattern created a very professional, heavy duty piece. I'm running low on cute, useful hot pads that aren't stained or wearing thin, so this was made out of pure necessity. I love the modern look and the fact that it's super thick and not "holey" which is typical with crochet. You'll find the super simple, free crochet pattern below or you can also find a printable version in my Etsy shop (here)!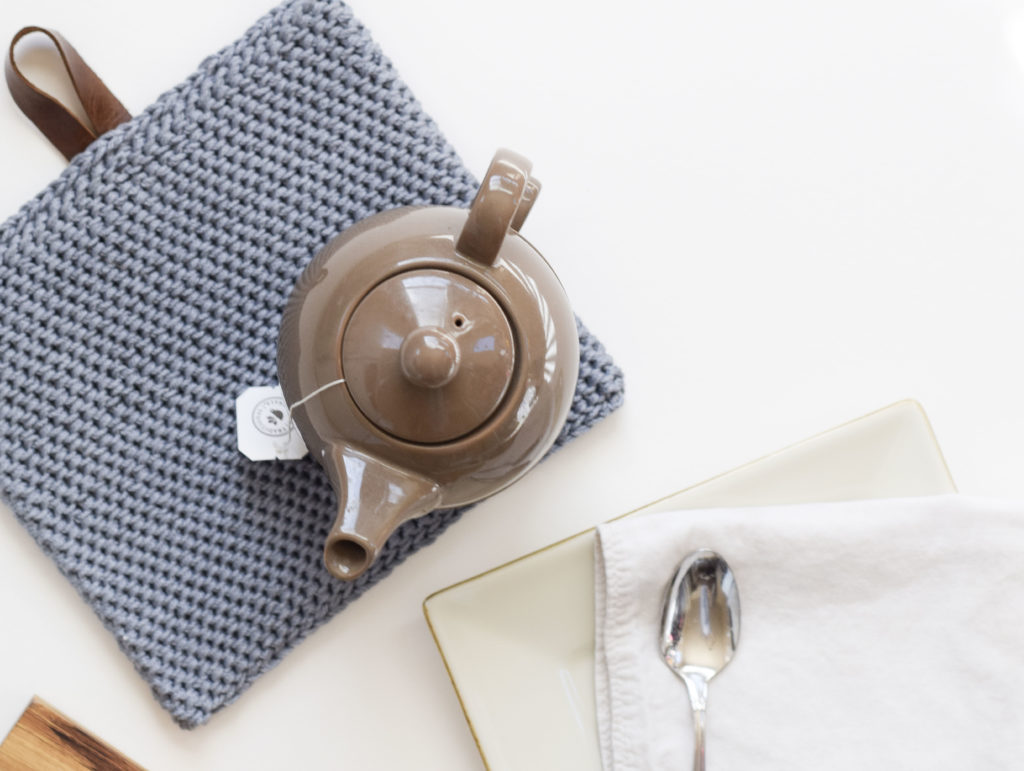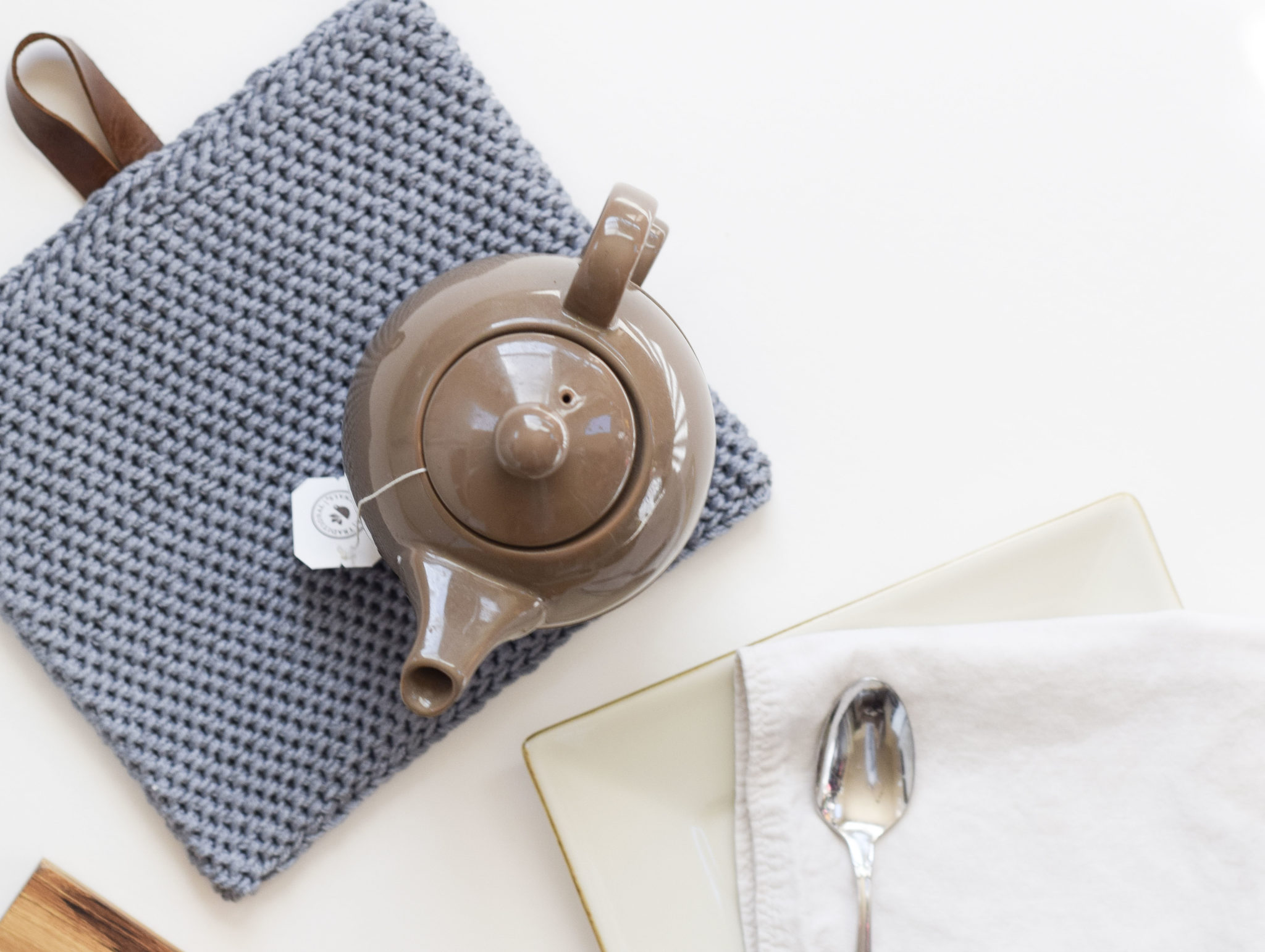 I definitely tend to make a lot of clothing items, but I equally love making pieces for my home, what about you? You might remember the granny potholder I made, which we use in our pop-up tent trailer (here). It's cute and kitschy, but today's pattern is modern and super functional. It can be used as a trivet or a potholder and I love that I can hang it from it's little leather hanger. The inspiration for this came from Crate & Barrel! Their version isn't crocheted of course, but I loved the simple look and color tones. These would make amazing stocking stuffers or hostess gifts for the holiday season, don't you think?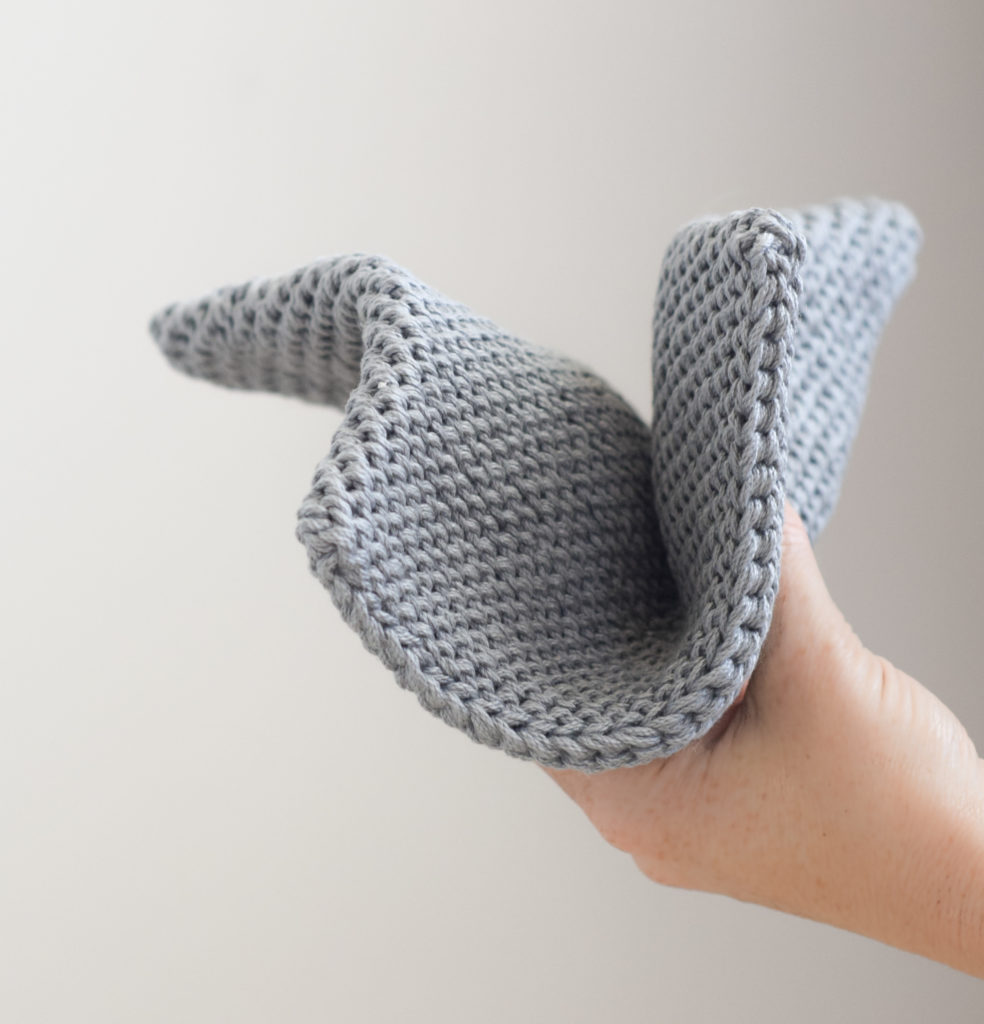 While I was making this, I asked those of you on Instagram which texture you preferred as there is a completely different look on the opposite side of the fabric. You overwhelmingly chose this texture. Thank you for helping me decide!
So how do you make a modern, thick crocheted hot pad? This one is so crazy easy. If you can make a chain and slip stitch, you can make this. They would probably do well at markets too if you sell crocheted items for charity or business. They do take a little time, but can be done in a day for sure. So let's get started!
I used Lion Brand 24/7 Cotton (HERE) which is mercerized and totally perfect for a durable hot pad. I'd say it's on the small side of worsted weight #4 yarns, so if you buy a different, thicker yarn, be sure to adjust your hook size if needed. This is a really, high quality cotton that I love for home goods. However, I also used it for my Drop Stitch Cotton Kimono and the drape is so lovely when you use the right stitches.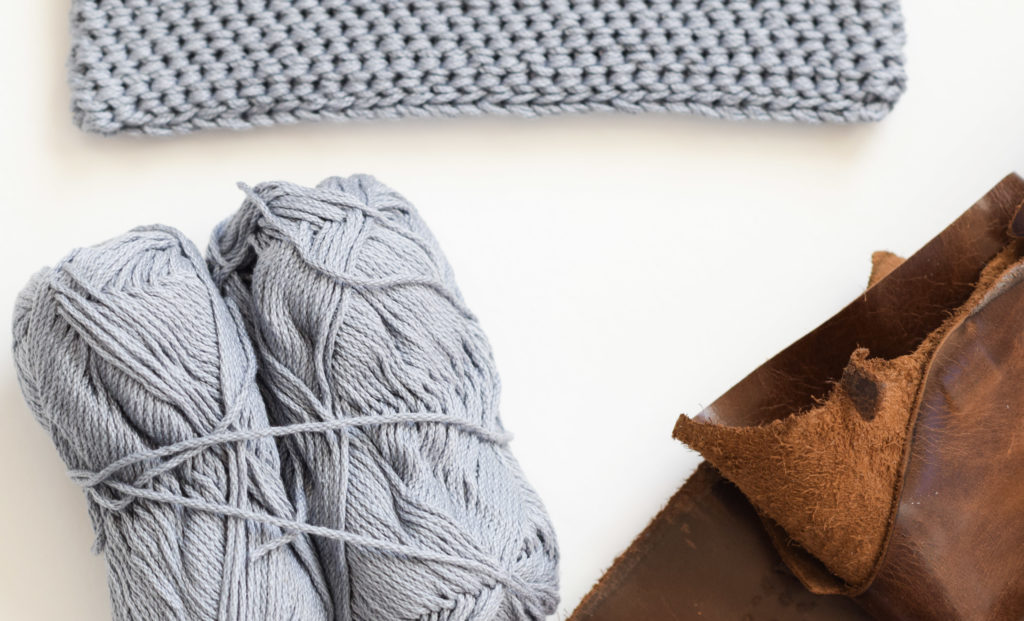 Best Modern Hot Pad – Free Crochet Pattern
The free pattern is below, or you can get the ad-free, printable from my Etsy shop HERE
Mamas Maker Members, your printable download is available HERE
Description:
This durable hot pad pattern creates a thick, tight fabric which is made to last. The mercerized cotton withstands high temperatures and the double layers keep hands and surfaces safe. Use it as a beautiful modern trivet, or as a hot pad for everyday use. Easy enough for beginners!
Materials:
US Size J, 6.0 crochet hook
2 skeins Lion Brand Yarn 24/7 Cotton (here) (worsted weight #4 yarn) in Silver (100 g/skein)
Pattern uses approximately 124 g total
Scissors
Tapestry Needle
Optional: Scrap leather for handle and leather hole punch.
Skill Level: Beginner
Size: Approximately 8 1/4 " X 8"
(Easily make larger or smaller to suit)
Gauge: Not important for this pattern
Notes:
This hot pad is crocheted in the round. You will start with a chain and then join to crochet in the round until you've reached your desired size. The entire piece is crocheted while holding two strands of yarn together.
**You can easily make this crocheted hot pad larger by starting with a longer chain and crocheting for more rounds.
Notice that each side has a different texture. Choose the side that you like best when seaming at the end!
Abbreviations (US) & Skills:
ch – chain stitch
st – stitch
sl st – slip stitch
You will work slip stitches through the back loop (see row 2 of this tutorial from New Stitch A Day HERE)
Crochet Pattern
While holding two strands of yarn together, ch 64
Join to crochet in the round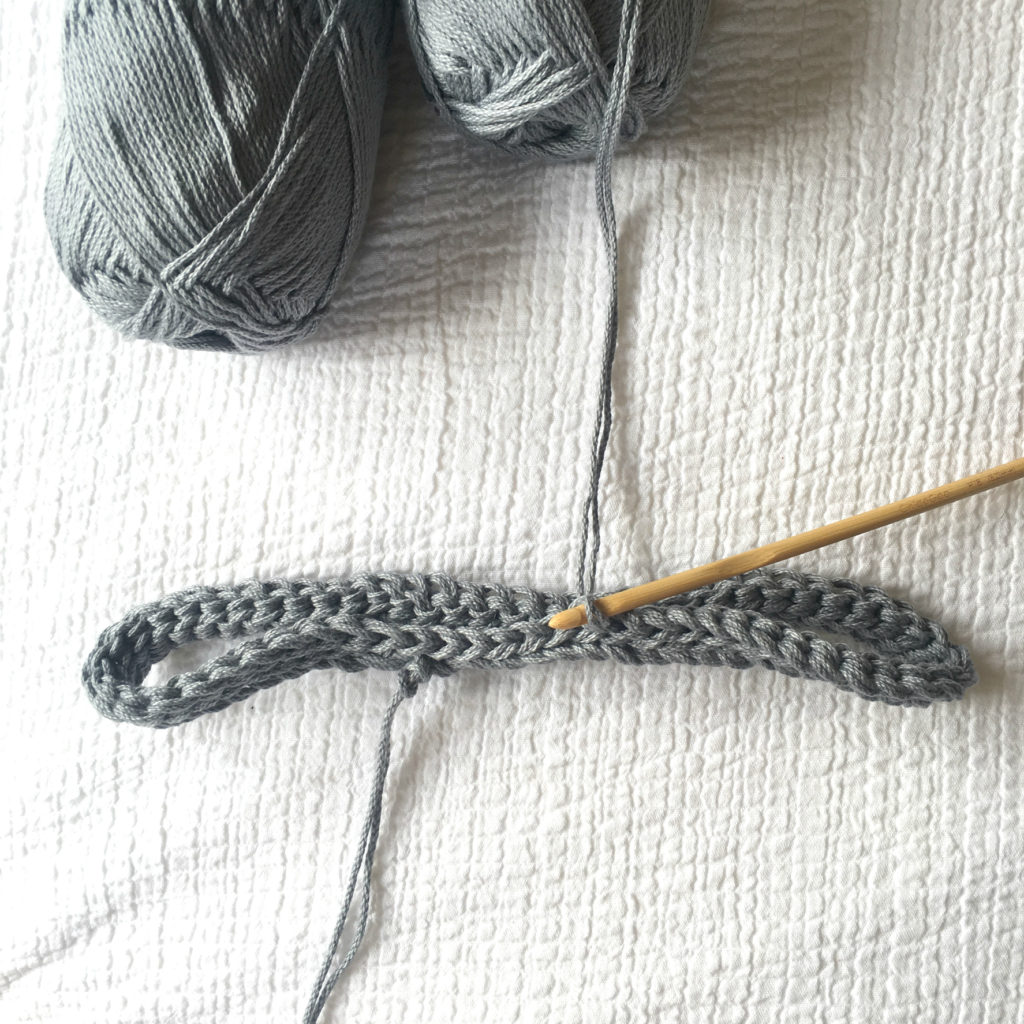 If you're not sure how to work slip stitches through the back loop, you can check out this video and tutorial from New Stitch A Day (Here) to see how it's done. You will work in the round rather than flat, but it will look just like row 2.
Entire pattern is worked in continuous rounds while holding two strands of yarn. No need to count rounds or join at end of each round. Take care not to twist your work.
Round 1 Sl st in each st around
Round 2 Sl st through the back loop of each st around
Mark beginning or end of round if needed
Repeat round 2 until piece measures approximately 8" high or until desired length. Tie off and weave in ends.
Lay piece flat and seam at top and bottom with a simple slip stitch seam. Tie off and weave in ends.
Place hot pad flat on an ironing board and block with a steam iron (if using cotton). Acrylic can melt, so if you're using a fiber other than cotton, plan accordingly and block with preferred method.
Loop Handle (optional):
Cut a scrap piece of leather approximately 1/2" wide and 5 ½" long. With a leather punch, punch one hole in each end. Place on back center of hot pad and sew with a whip stitch, working through both holes and the fabric. Tie with a knot and weave in ends.
You may also choose to put a simple crocheted loop handle on the hot pad. Simply make a chain 5 ½" long and attach to the middle or corner of the hot pad.


I hope you love yours as much as I'm liking mine. Now I need to make about three more and I'll be all set.
XO,
Jessica
If you liked this, you might also like:
Granny Square Potholder Crochet Pattern