Breckenridge Knit Topper Cardigan Pattern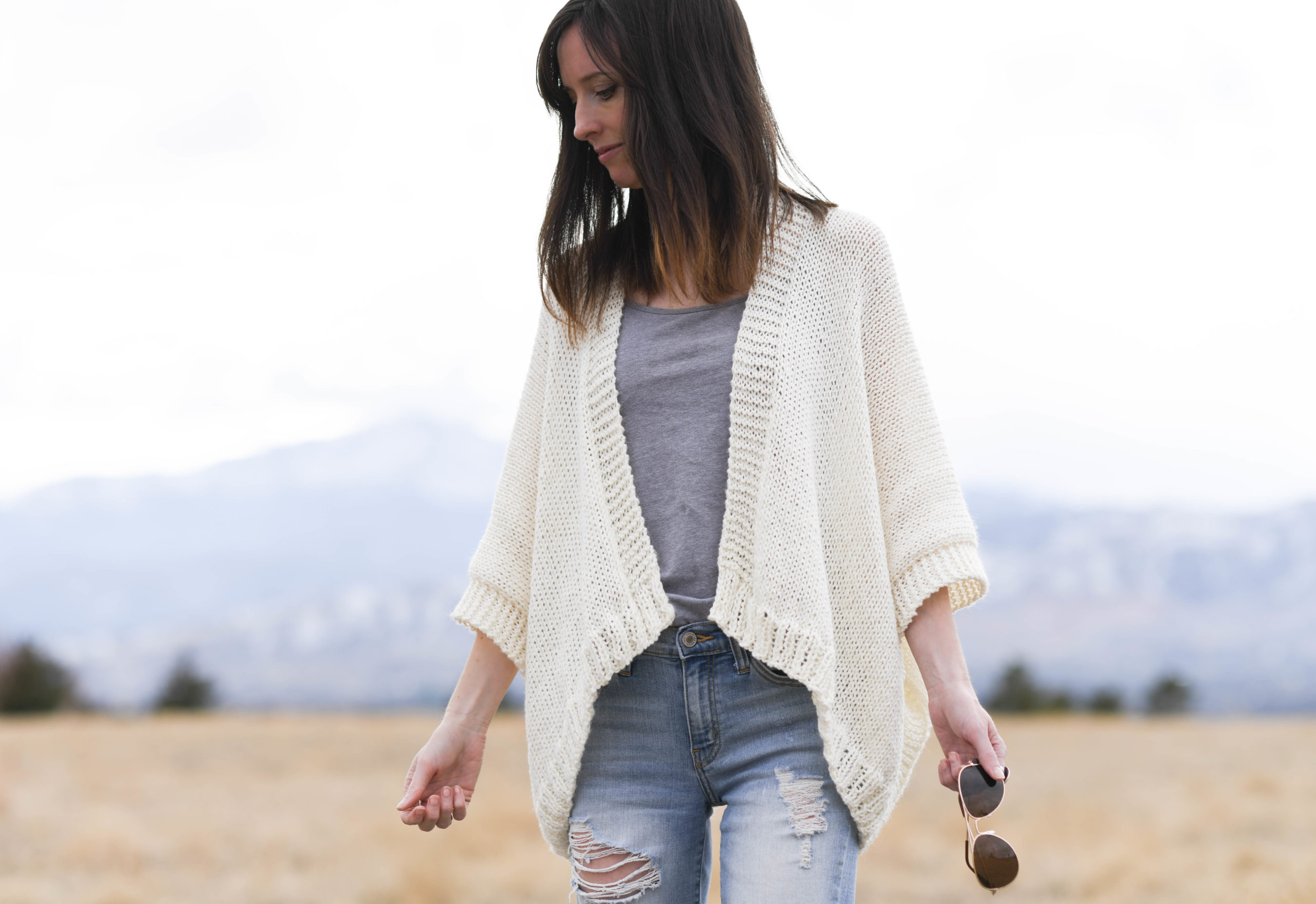 Inspired by the ever popular Telluride Knit Kimono, today's free knitting pattern is for a collared shawl style cardigan. It's easy to knit and is a perfect go-to piece for spring and summer alike. Throw it over a graphic t-shirt, a tank or even a sundress. With beginner stitches, worsted weight yarn, and a pair of knitting needles, you can make this and wear it all year long. Find the free pattern below, the printable ad-free version on Etsy (here) or the full kit from Lion Brand in several pretty color options (HERE)!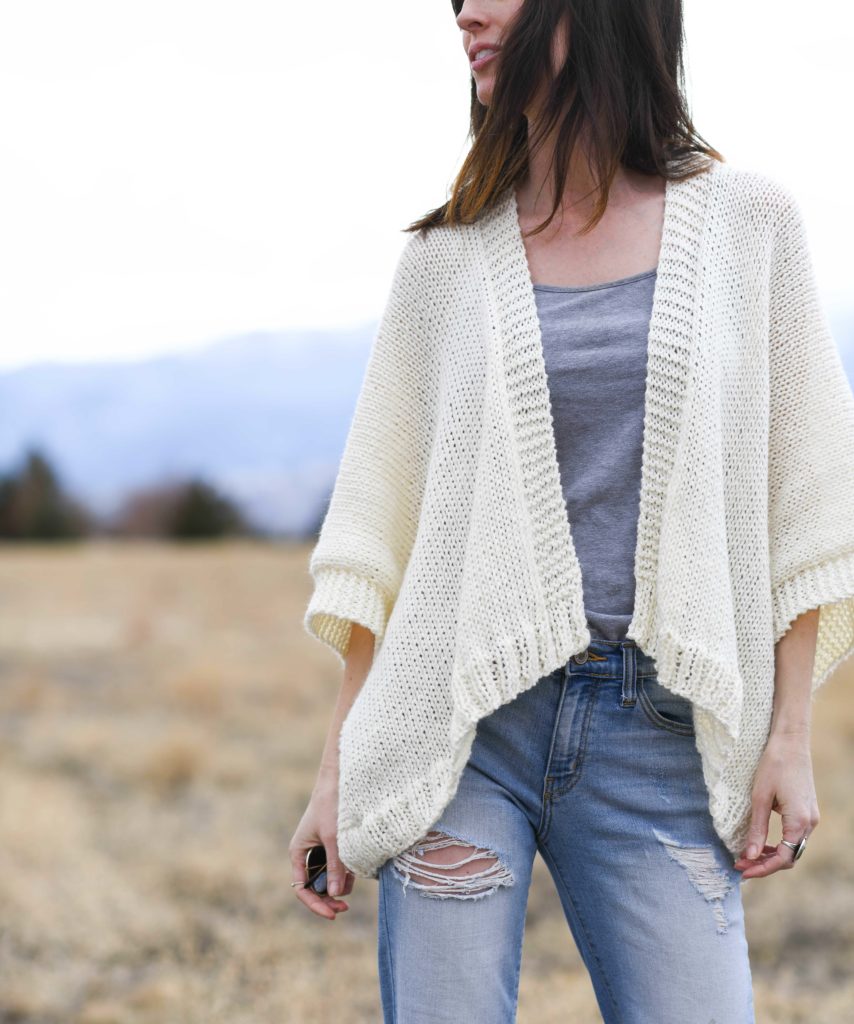 Ever since sharing the Telluride Knit Kimono many of you have asked for a lighter version, so I'm pleased to finally have one! This Breckenridge Topper (I had to keep the theme of a Colorado Mountain town name going!) is made with a soft cotton and the drape and fit is so comfy. As I mentioned earlier, you can wear it over a graphic t-shirt, a tank or even with a sundress. It's super versatile and really soft. The pattern's written for up to a 3XL, so more of you can make it! YAY!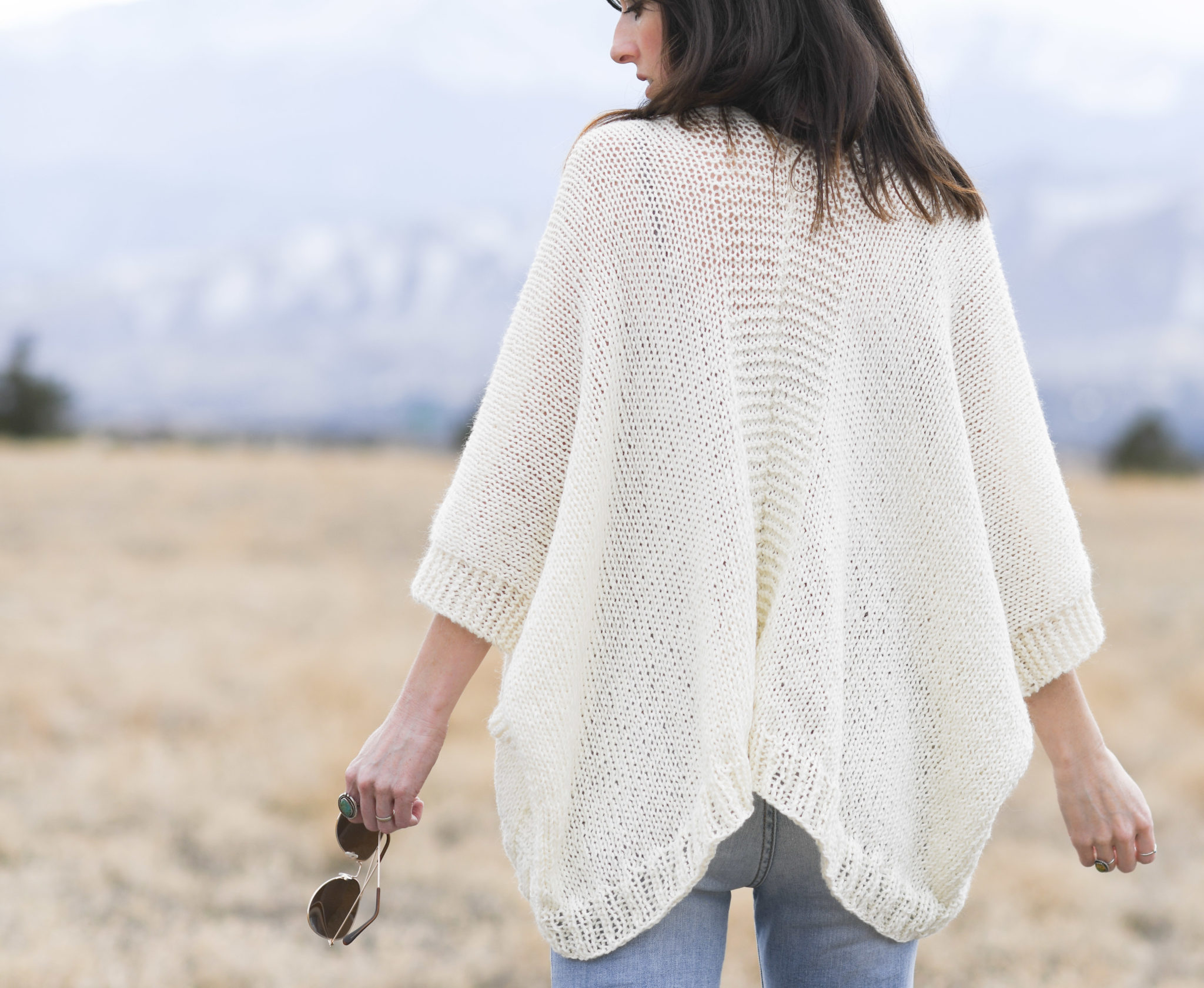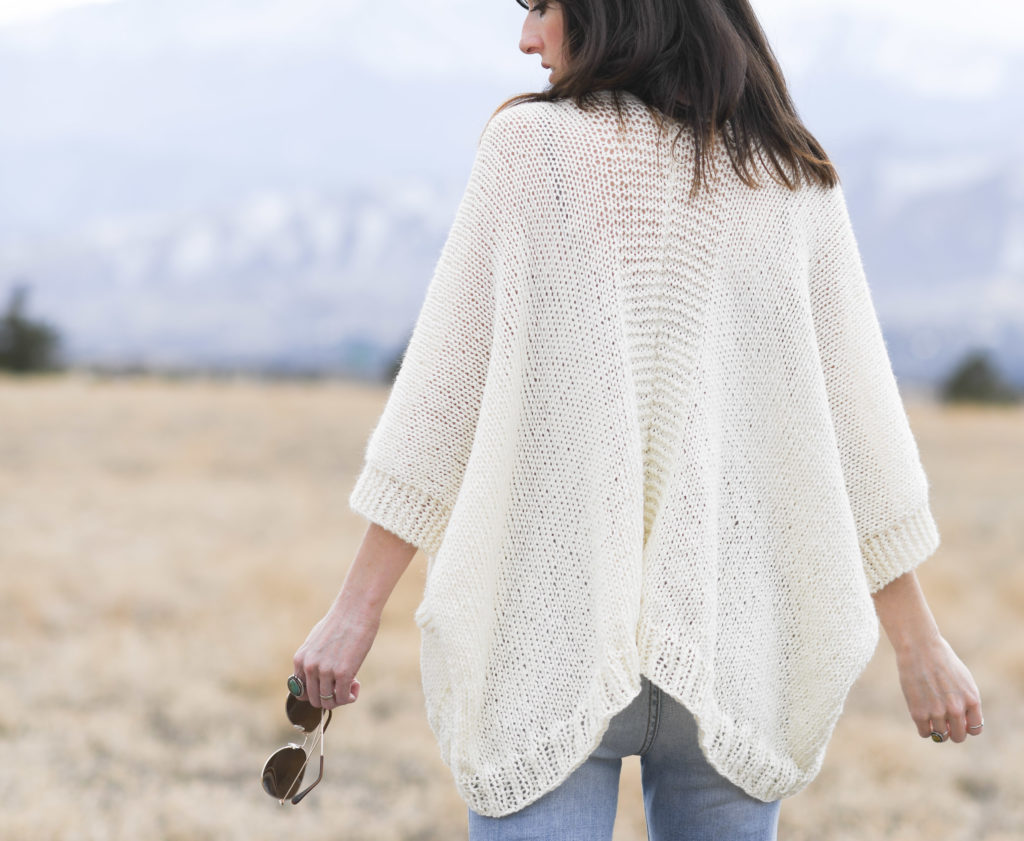 Just like the Telluride Kimono, this Topper is made with two basic rectangles that are seamed at the back and sides. Using larger needles than what's called for on the yarn label gives this cardigan a light and airy feel. It's easy to roll it up or fold it for packing or taking it along on your day out.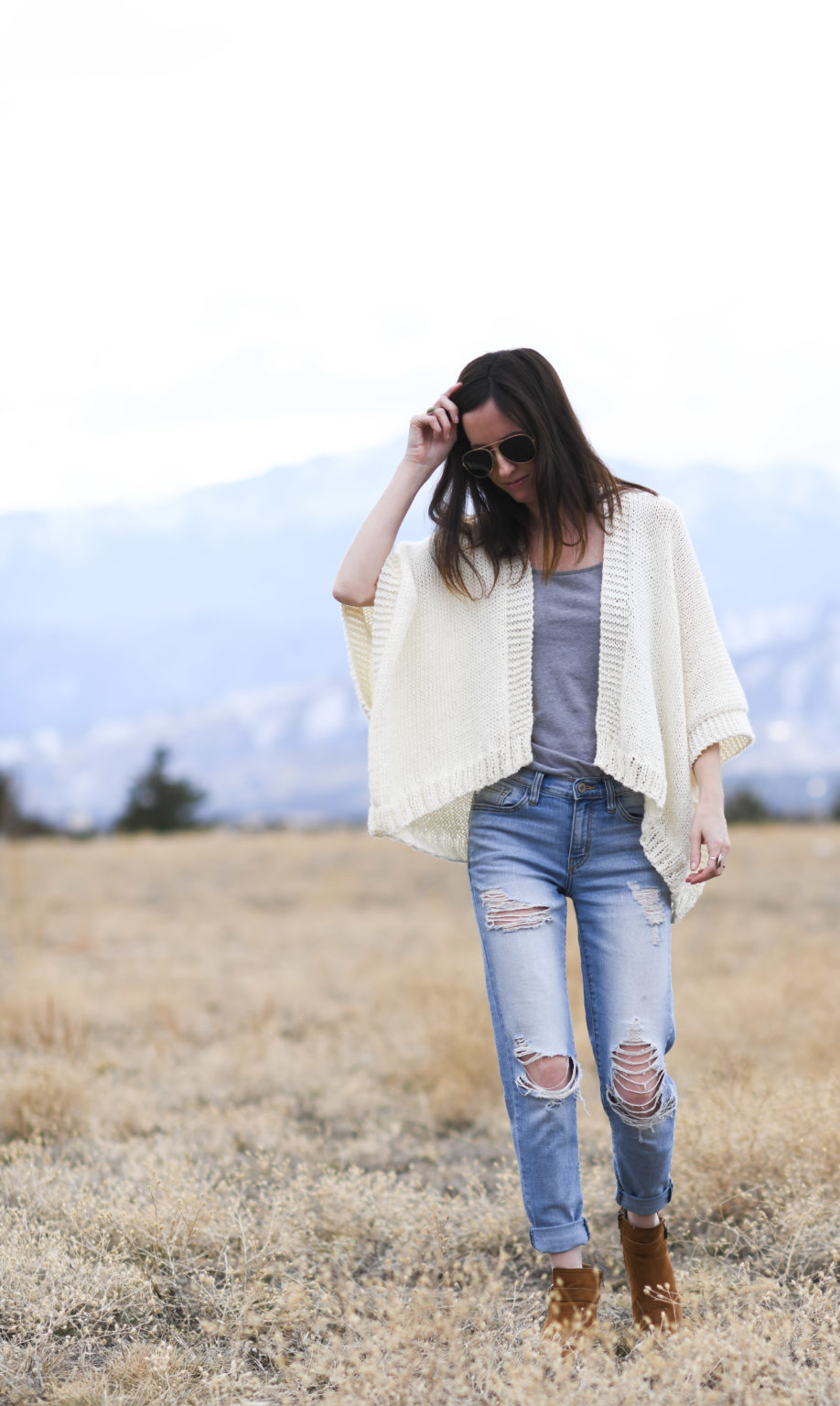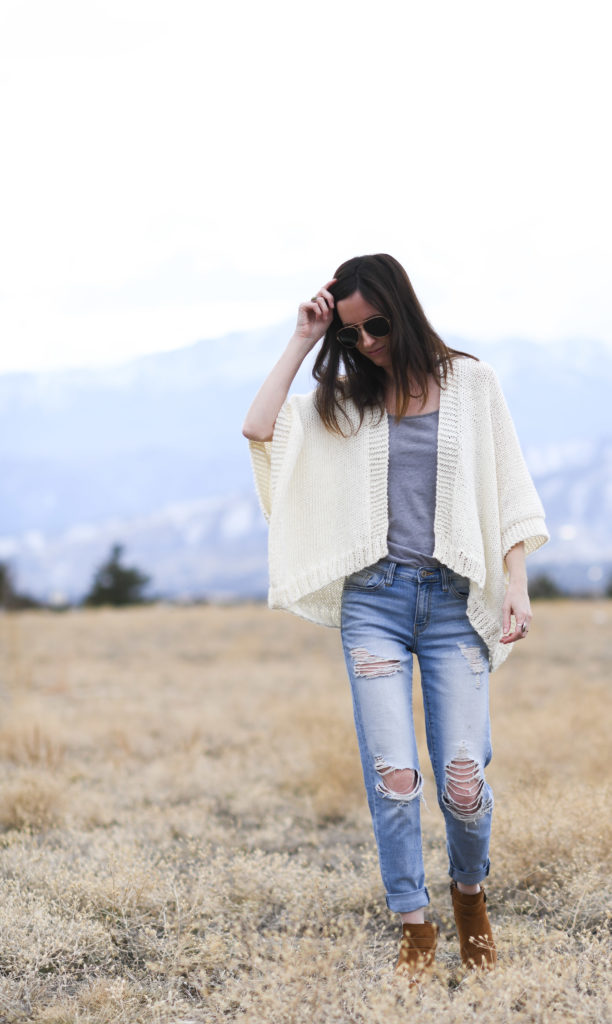 This isn't the first time that I've chosen to use this Comfy Cotton from Lion Brand for a project. I loved using it for my Garter & Eyelets Top (here) as well as the Wanderers Wrap (here). I find it to be soft, durable, and I love that it has a natural fiber (cotton) as these pieces are worn so close to the skin in summer months.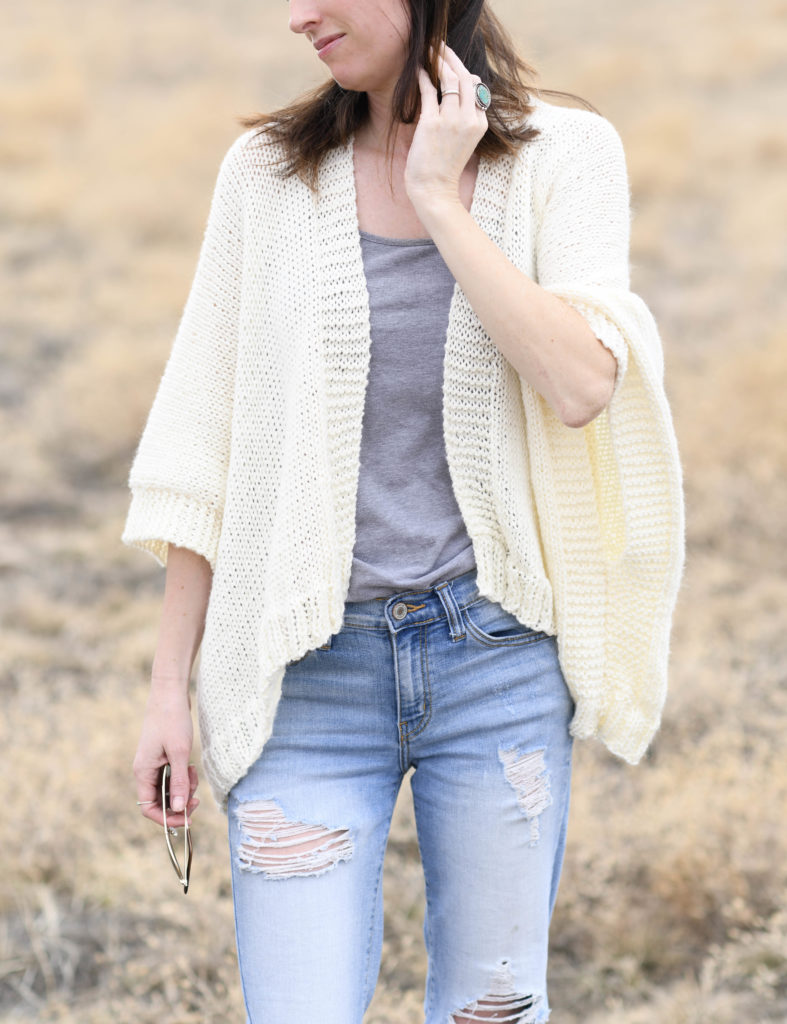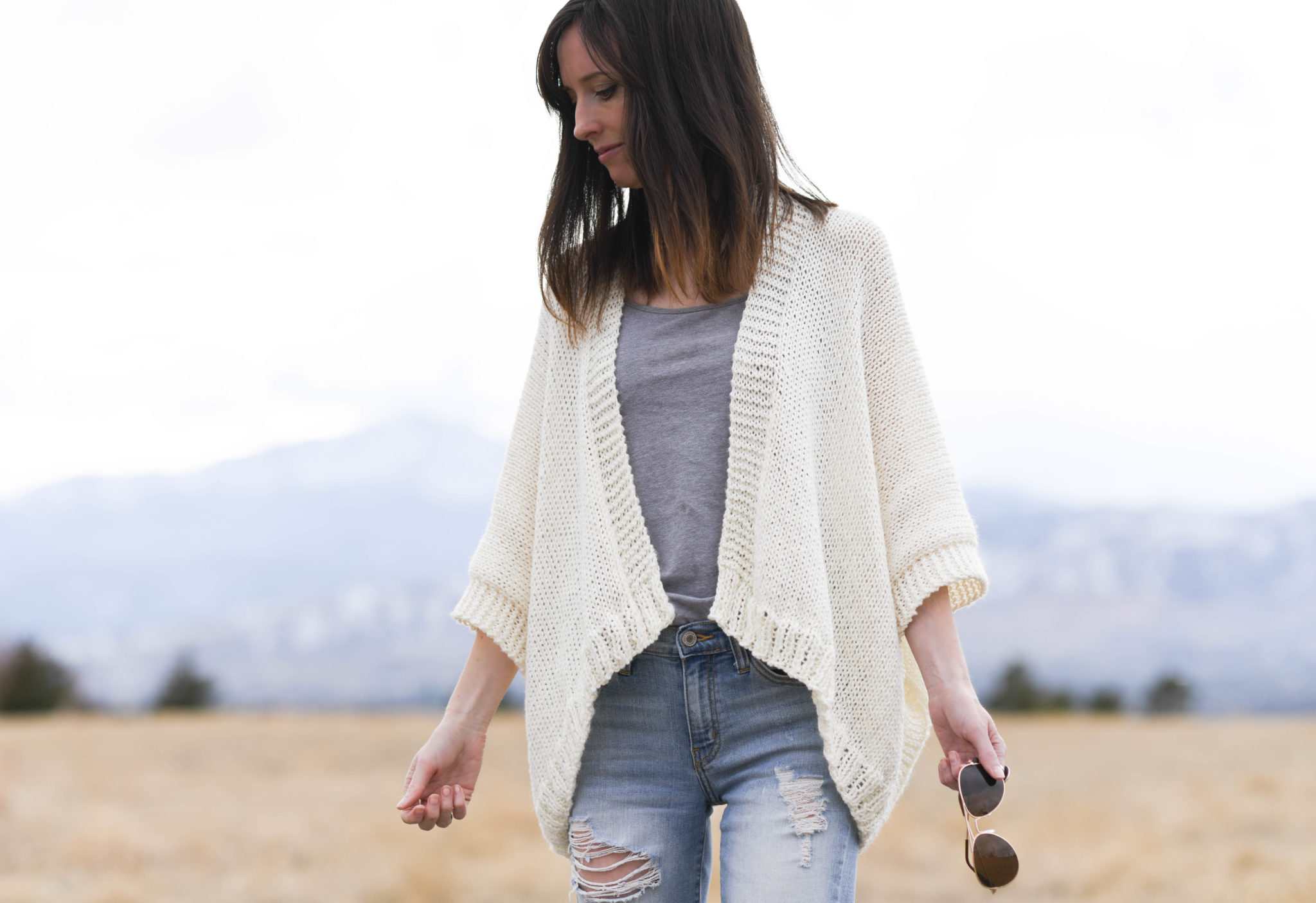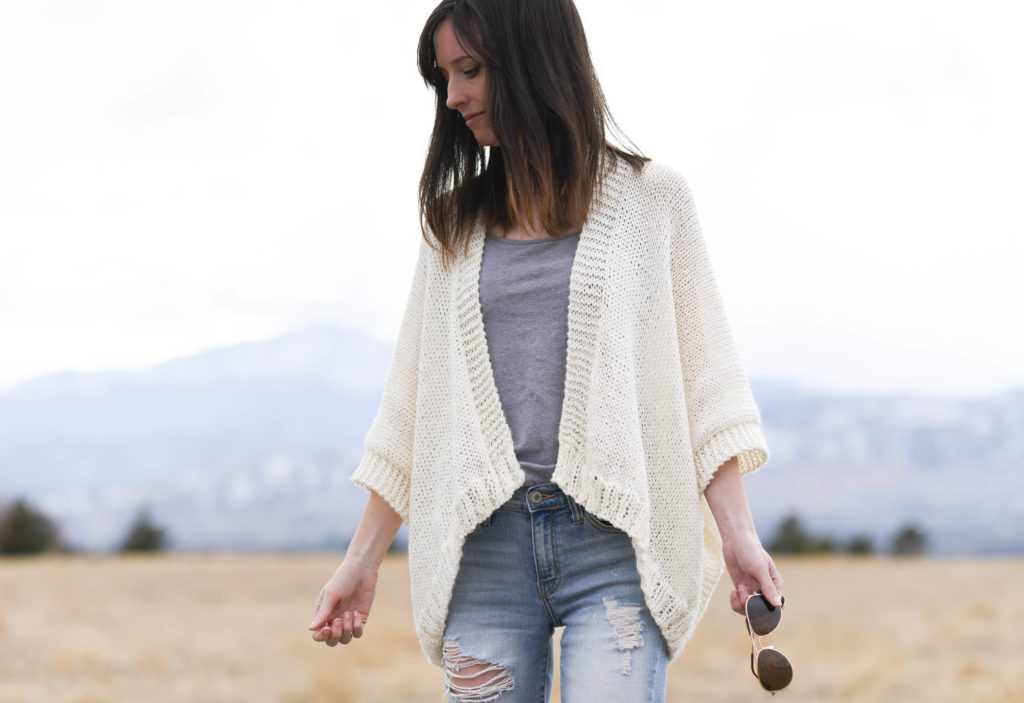 You know me and my obsession with cream colored yarns. Lol! What color would you make yours?
Let's hop to this pattern!
Pattern Description: A comfy fit and airy, cotton fabric makes this wide sleeved cardigan your go-to spring and summer piece. Wear it over a tank or graphic tee all season long. Super simple to knit and cool to wear.
Skill Level:
Easy +
Materials:
US Size 11 8.0 mm 29" circular knitting needles
3 (3, 3, 3, 4, 4) Lion Brand Yarn Comfy Cotton Blend in Whipped Cream (200 g/skein) Convenient Available Kit HERE
Pattern uses approximately 405 g (449 g, 498 g, 552 g, 611 g, 678 g)
Scissors
Tapestry Needle
Sizes/Dimensions (approximate):
Small, Medium, Large, XL, 2X, 3X
Please follow the key throughout the pattern according to the size you are knitting:
S (M, L, XL, 2X, 3X)
Bust Circumference (approximate):
S – 68"
M – 72"
L – 76"
XL – 80"
2X – 84"
3X – 88"
Length (approximate):
S – 20"
M – 21"
L – 22"
XL – 23"
2X – 24"
3X – 25"
Abbreviations & Skills:
k – knit
p – purl
Gauge:
Approximately 14 ¾ stitches and 16 rows in 4" x 4" of stockinette stitch
Notes:
This topper is made by knitting two rectangular panels that are folded and seamed up the back and sides. Circular needles are used in order to hold all of the stitches comfortably on the needles. Note that the panels are knit flat. If you would like to add length to your piece, simply knit more rows on each panel. Feel free to try the panels on before seaming in order to check if you're happy with the length. Keep yarn needs in mind.
BRECKENRIDGE KNIT TOPPER PATTERN INSTRUCTIONS
Cast on 64 (68, 72, 76, 80, 82)
*stitch count remains the same throughout the pattern
Ribbed Edging
Row 1 *K2, p2; repeat from * across the row
Repeat row 1, working a 2 x 2 rib pattern across each row until piece measures 2"
Next, move onto the Main Body Section
Main Body Section
Row 1 Knit each st across the row 64 (68, 72, 76, 80, 82)
Row 2 K8, p48 (52, 56, 60, 64, 66), k8
Repeat rows 1 & 2 in the Main Body Section until entire piece measures approximately 40" (42", 44", 46", 48", 50") in length
FINAL Ribbed Edging
Row 1 *K2, p2; repeat from * across the row
Repeat row 1, working a 2 x 2 rib pattern across each row for 2"
Cast off and weave in ends.
Repeat above pattern to make second panel.
Block to shape and size as desired.
Assembly:
Place panels side by side with wrong sides facing up. With a length of yarn and your tapestry needle, whip stitch seam (or use your preferred seaming method) from the bottom of the pieces upward until you reach the center of the panels. Tie off and weave in ends. Fold upper portion of panels down. Seam up the sides of each panel with whip stitch seam or preferred method approximately 7 ½ " inches on each side. Tie off and weave in ends.
Panel Measurements:
Approximately 17" (18", 19", 20", 21", 22") wide and 42" (44", 46", 48", 50", 52")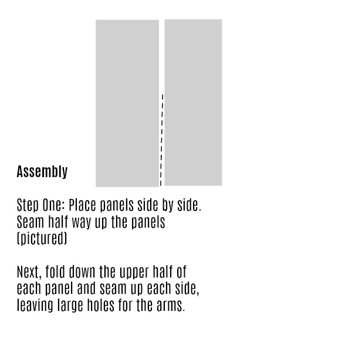 That's all there is to it! Two rectangles, fold, sew, wear. Boom!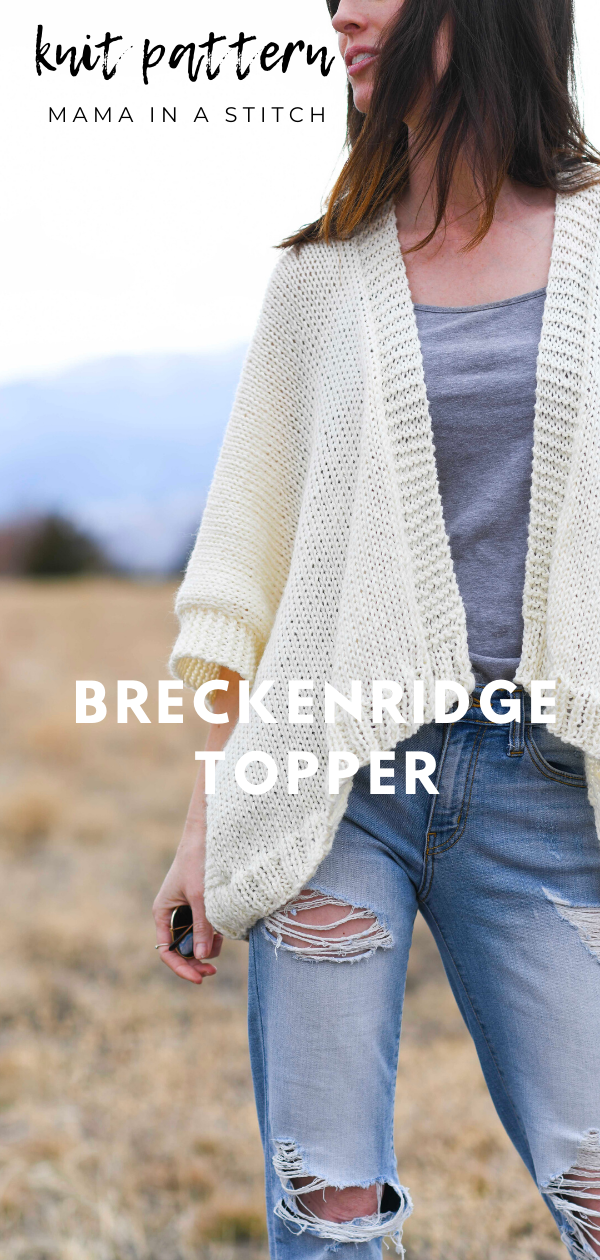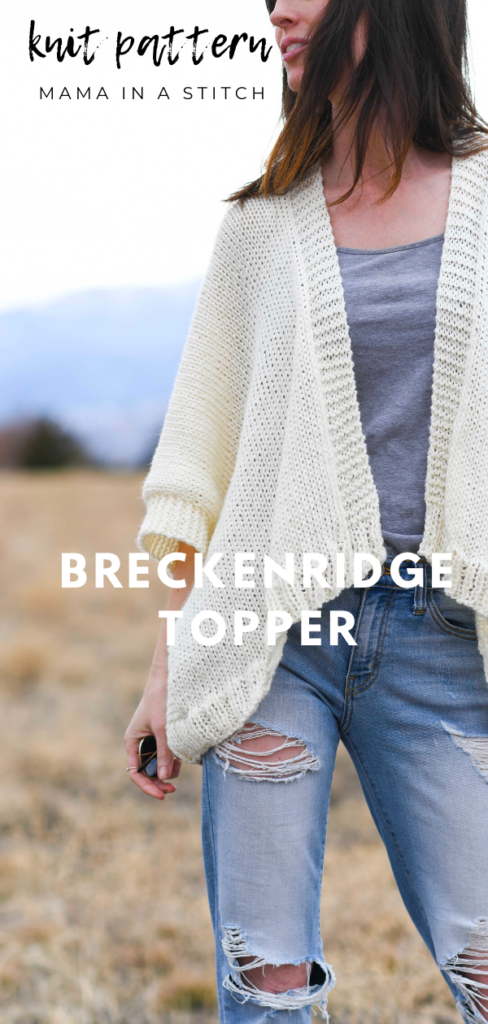 I hope you like this pattern and I'd love to know if you make one! Feel free to share on Facebook or Instagram, just tag me @MamaInAStitch.
Stay safe and well my friends.
XO,
Jessica
Thank you to Lion Brand Yarn for sponsoring this post. All opinions are 100% my own. 🙂
If you liked this, you might also like: