Eyelet Sleeveless Top Easy Knitting Pattern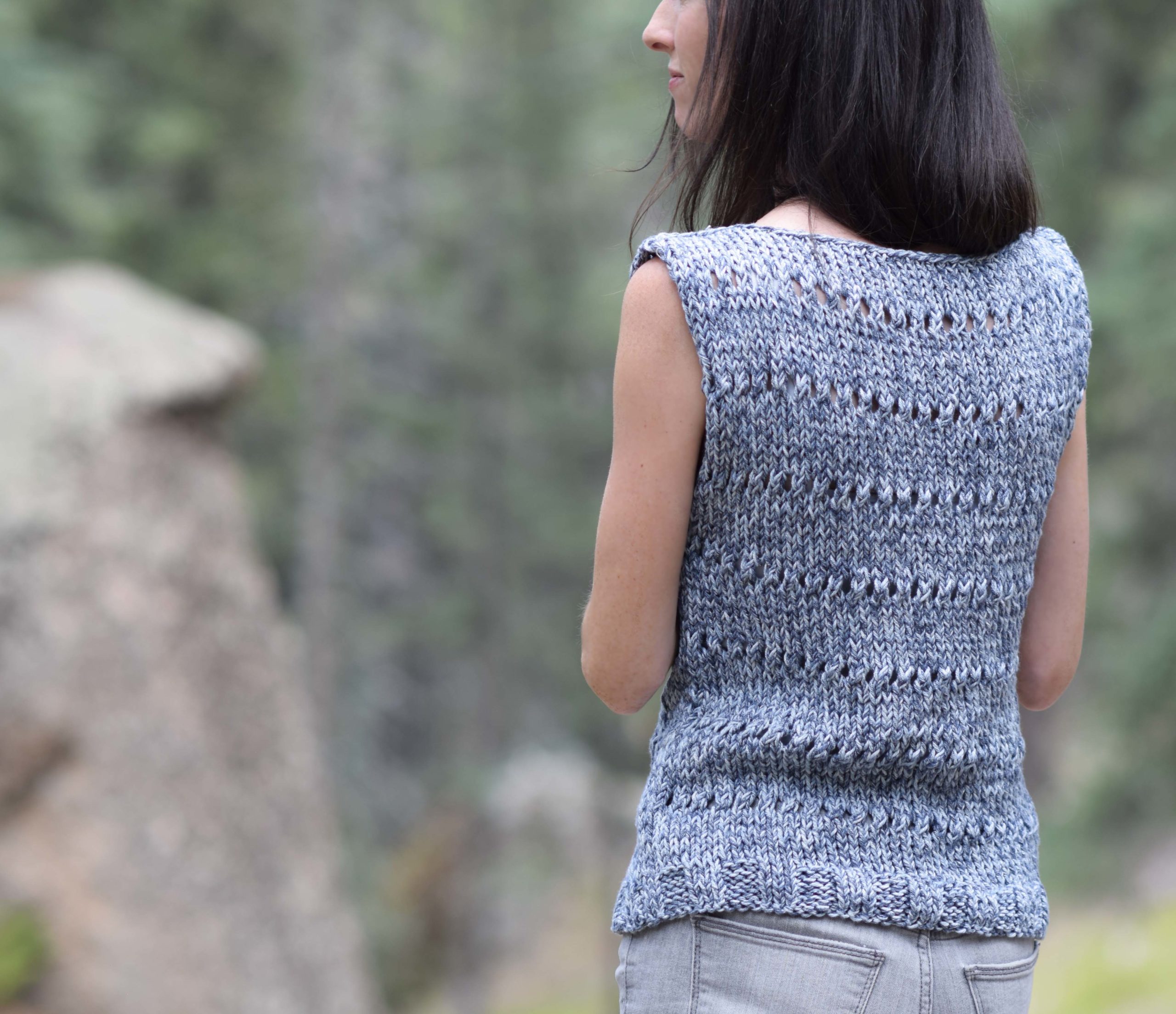 It's pretty fun to share this pattern because it's quite similar to the Vintage Crochet Top pattern that I recently posted. There were several requests for a knit version, so I hope this will please those of you who emailed me. 🙂 This top is just as simple as the crochet top, but the eyelets are a bit more delicate and this is made with 100% LB Collection Jeans Cotton yarn. As always, scroll down for the free pattern or you may purchase the printable ad-free version (here)or the kit from Lion Brand Yarn (here). 🙂
What I love about this shirt is that it's completely appropriate for work and also super cute for a casual day in jean shorts. Beyond that, it's easy as can be but still impresses your friends (lol) because of the pretty open-work throughout the top. If you know how to knit and purl, you're good to go. If you've never done yarn overs, take a look on YouTube at how easy it is so you can stretch your knitting skills to make this shirt. It's a great pattern to try for your first garment!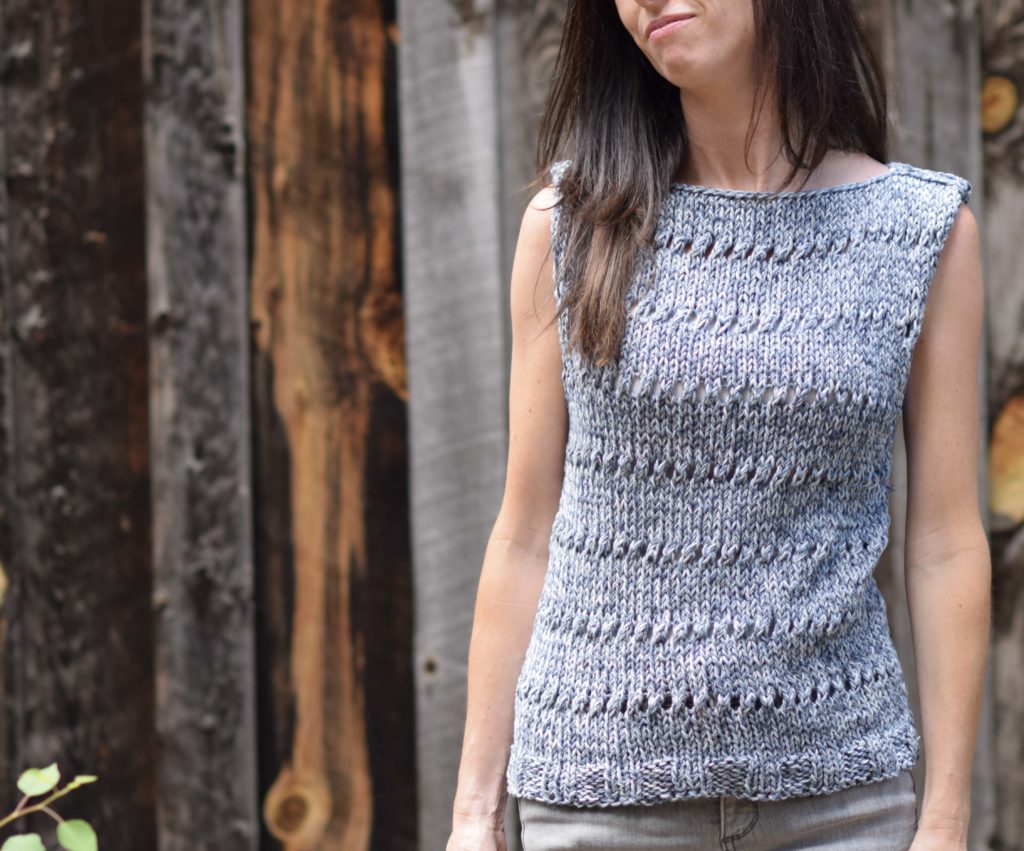 You might remember that I've touted the Lion Brand Jeans acrylic yarn because it is such a soft and "drapey" acrylic. However, this cotton is also just as nice in it's own right and feels like a treat to work with. The Jeans Cotton has great drape which is not always the case for many of the cottons that I find in the big box stores. Don't get me wrong – I love those craft store, Wal-Mart cottons (Lily & Cream etc) for washcloths, but they aren't ideal for wearables in my opinion because they're fairly stiff.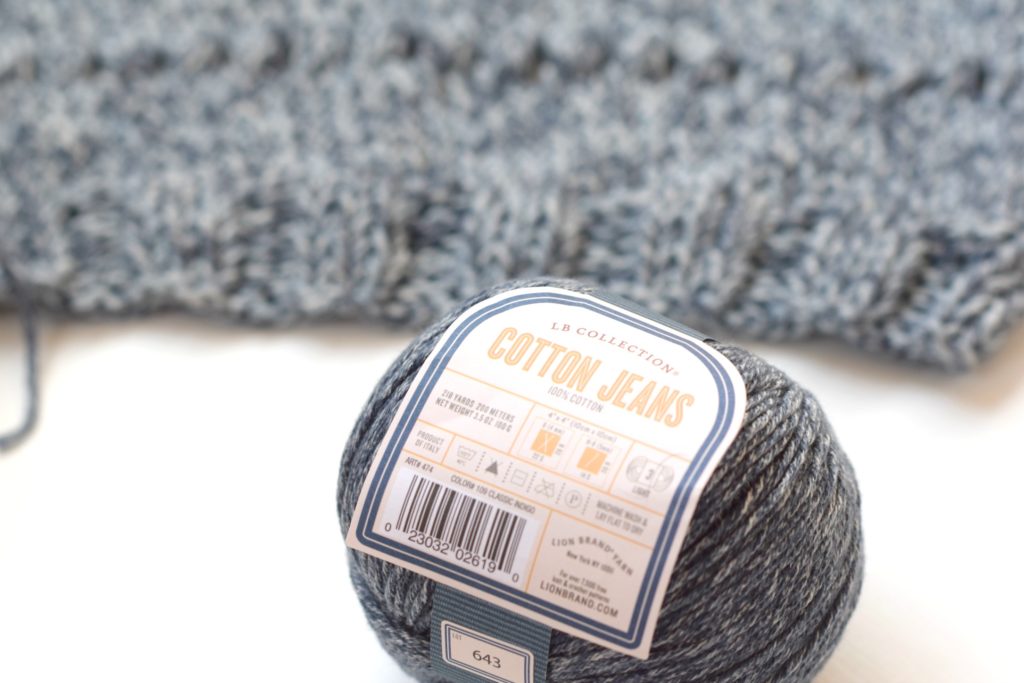 While the Jeans yarn already has a great heathered look to the yarn, I wanted to amplify it even more by combining two colors. This gives it that sort of marled, heathered look that's really in right now.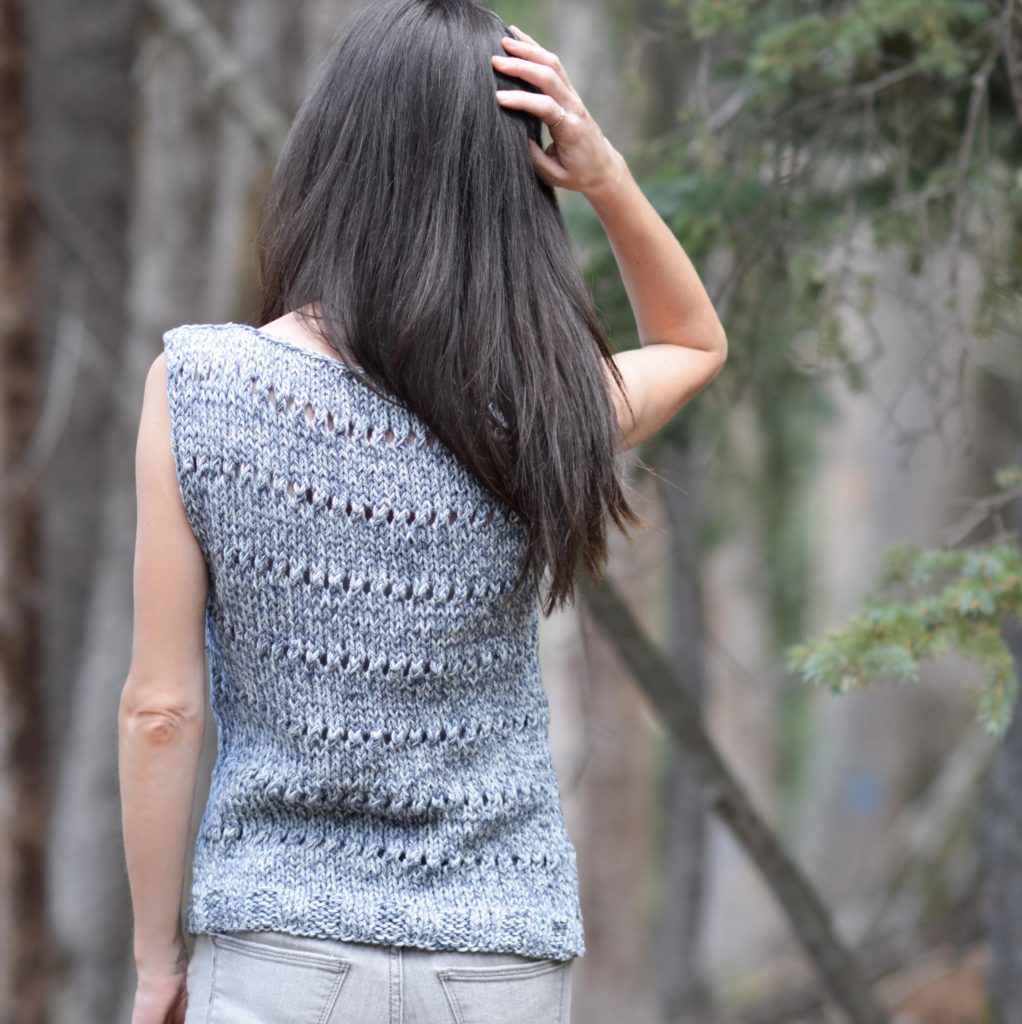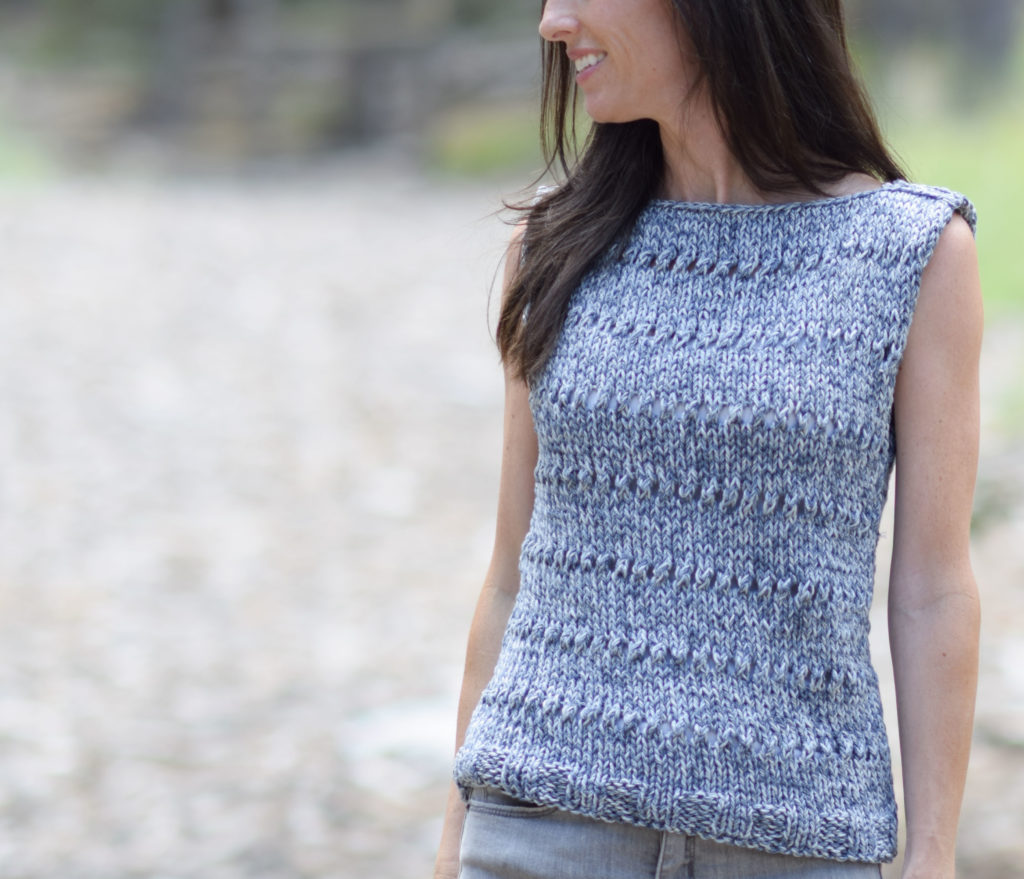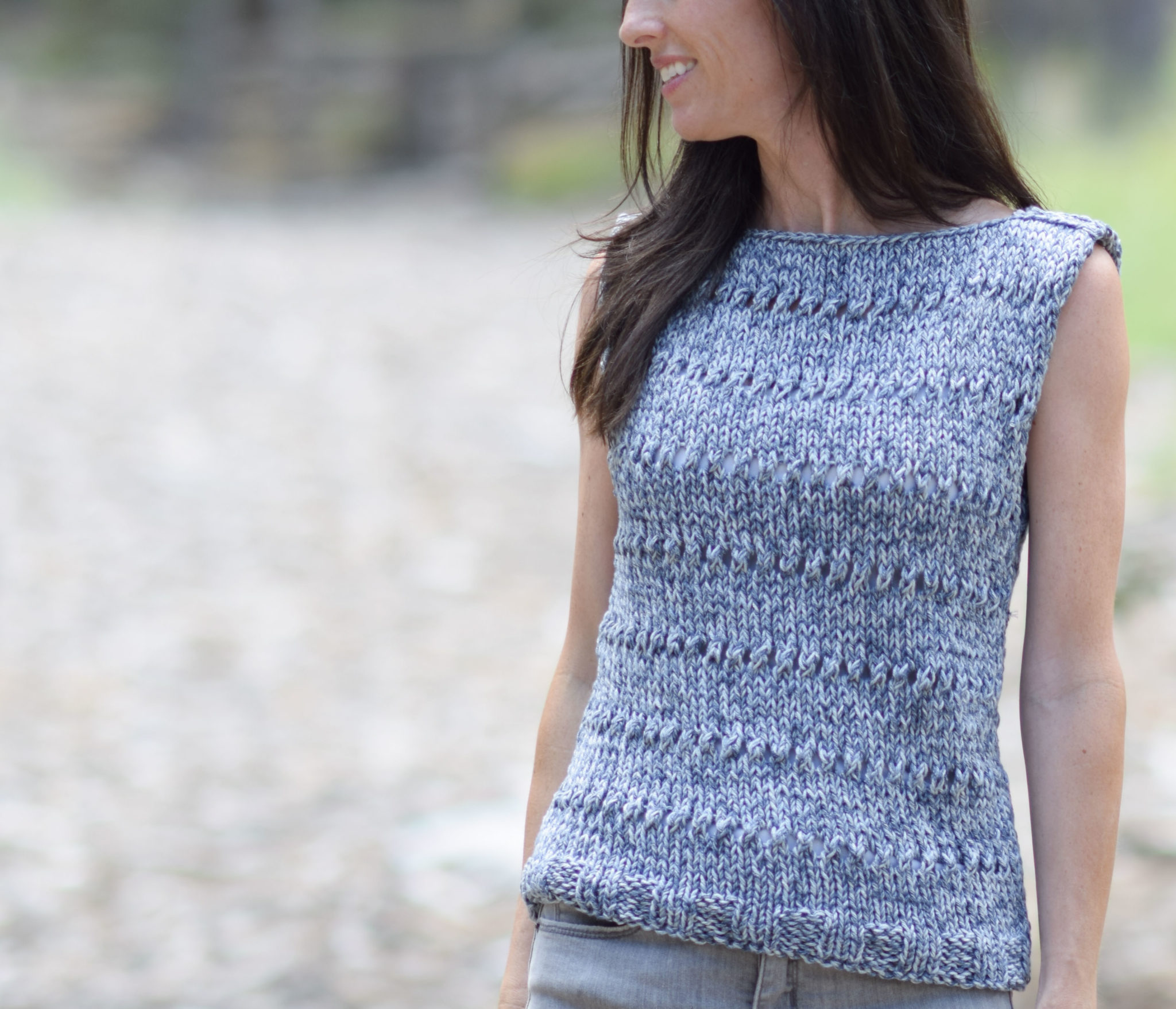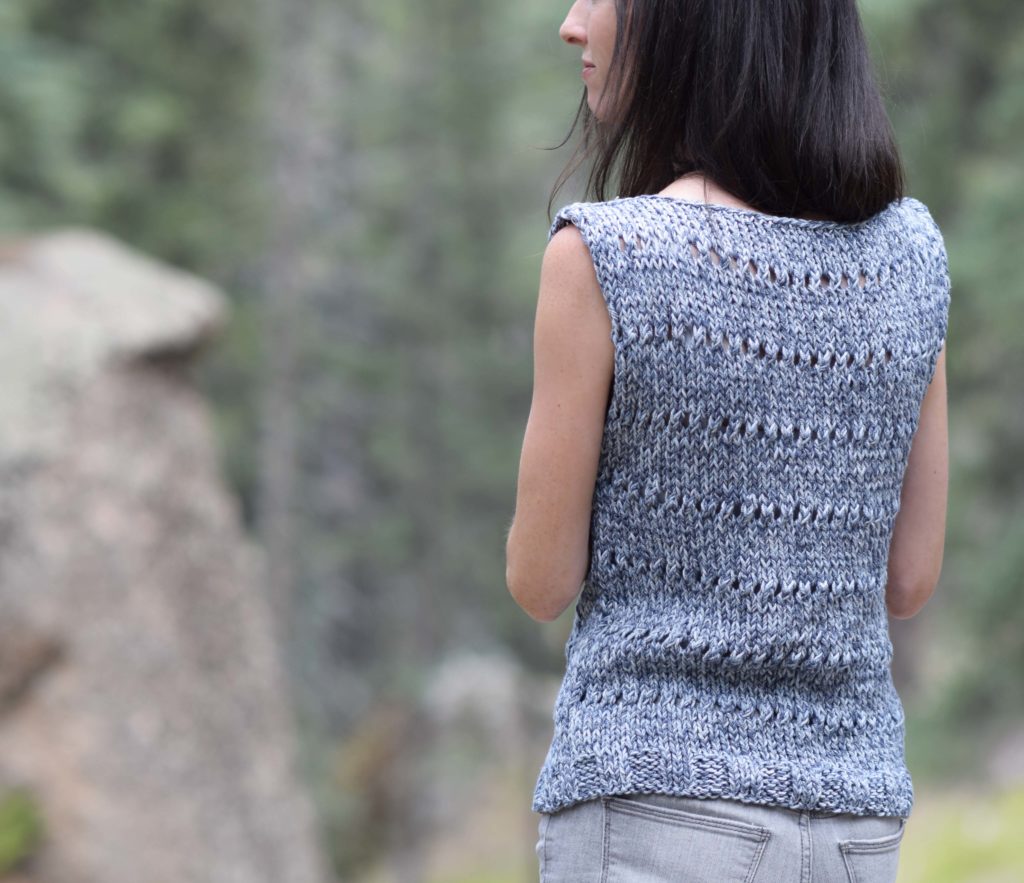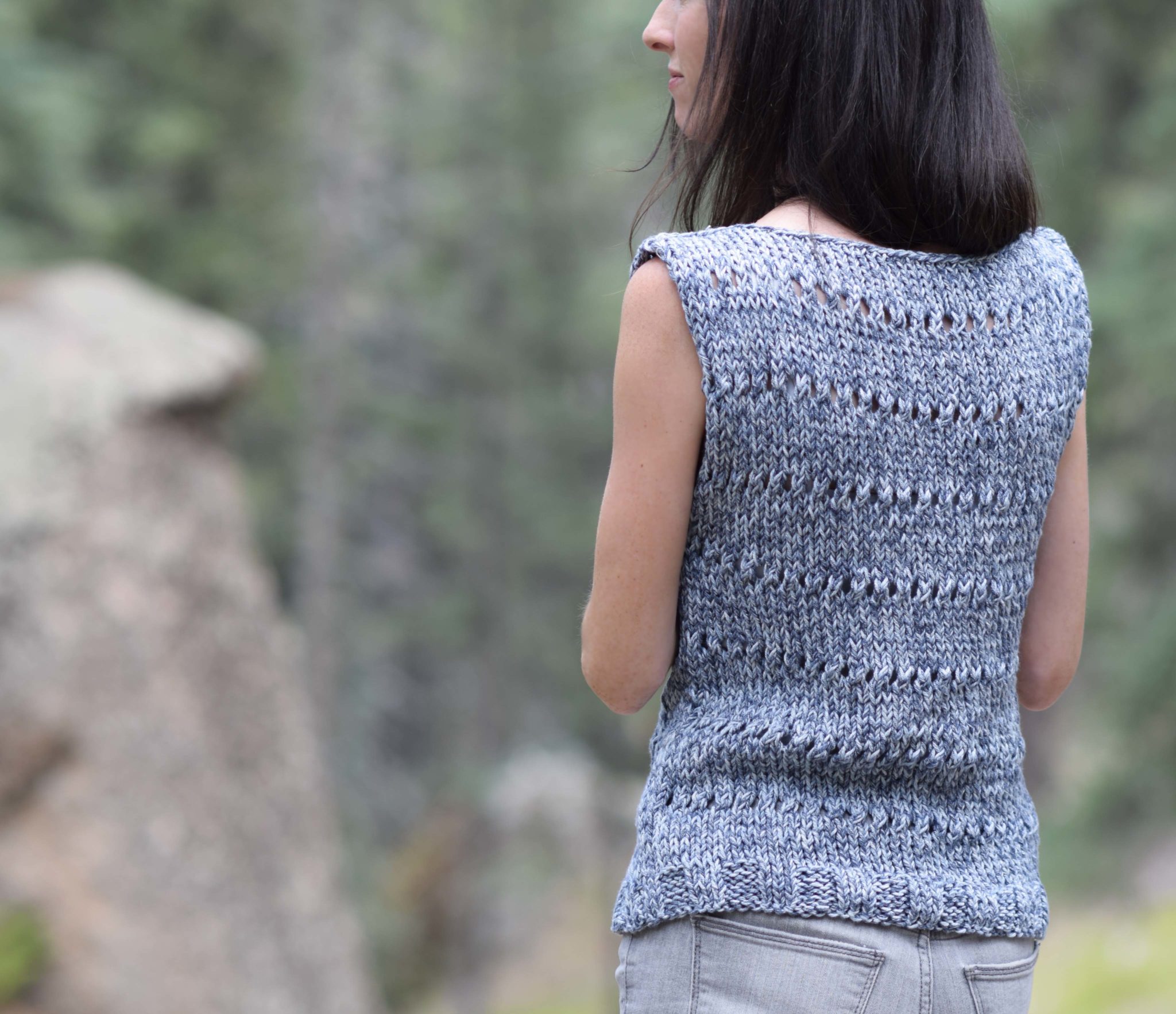 Ready to get started? Here we go….
(Free pattern below and printable ad-free version in my Etsy shop here)
Pattern Description: A beautiful top that features a marled cotton fabric and delicate eyelet striping. This pattern is easy enough for adventurous beginner knitters and it works up fairly quickly too! The "Cotton Jeans" yarn creates a fabric that will go with skirts, jeans and even coordinate with your work day outfit. A lovely sweater that will be enjoyed in summer and fall alike.
Skill Level: Easy +
Materials:
US Size 10, 6.0 mm 24" circular Knitting Needles
(2,2,3,3,3,4) Skeins Lion Brand Yarn LB Collection Cotton Jeans Yarn in Indigo (100 g/skein) (Kit available for purchase here)
(2,2,3,3,3,4) Skeins Lion Brand Yarn LB Collection Cotton Jeans Yarn in Sunbleached (100 g/skein)
Scissors
Tapestry Needle
Gauge: (Approximate) 13 stitches & 16 rows in 4"
Please follow this key throughout the pattern for your particular size:
(XS, S, M, L, XL, XXL)
Dimensions (approximate):
Bust:
XS – 30"
S – 34"
M – 38"
L – 42"
XL – 46"
XXL – 50"
Length:
XS – 20"
S – 21"
M – 22"
L – 23"
XL – 24"
XXL – 25"
Back
XS – 15"
S – 17"
M – 19"
L – 21"
XL – 23"
XXL – 25"
Abbreviations:
CO- cast on
k – knit
yo – yarn over
k2tog – knit two together (decrease)
p – purl
st – stitch
Notes:
In order to keep this pattern beginner friendly, this top is knit as two separate rectangular panels which are knit from the bottom up. The two panels are seamed at the sides and at the shoulders to finish. Throughout the pattern, you'll hold two contrasting colored strands of yarn together. Block to shape and size as desired. Stitch count remains the same throughout the pattern
Eyelet Sleeveless Top Easy Knitting Pattern Instructions
Holding two strands together (one of each color), CO (51,57,63,69,75,81) stitches
Bottom Ribbing
Row 1 *K3, p3, repeat from * across the row
Row 2 *P3, k3, repeat from * across the row
Row 3 – 6 Repeat rows 1 & 2 in that order, two times
Next, you will work the Main Body of the panel.
Main Body
Row 1 Knit each st across the row
Row 2 Purl each st across the row
Rows 3 – 8 Repeat rows 1 & 2 in that sequence
Row 9 K3, *yo, k2tog. Repeat from * across the row to last two stitches, k2
Row 10 Purl each st across the row
Repeat Main Body rows 1-10, in that sequence, until piece is approximately (20",21",22",23",24",25") long. (Note: you may adjust length of the top to your preference but keep yarn needs in mind)
Cast off and weave in ends.
Next, repeat above pattern to make your second panel. Block to shape and size as desired.
Below: Working through the pattern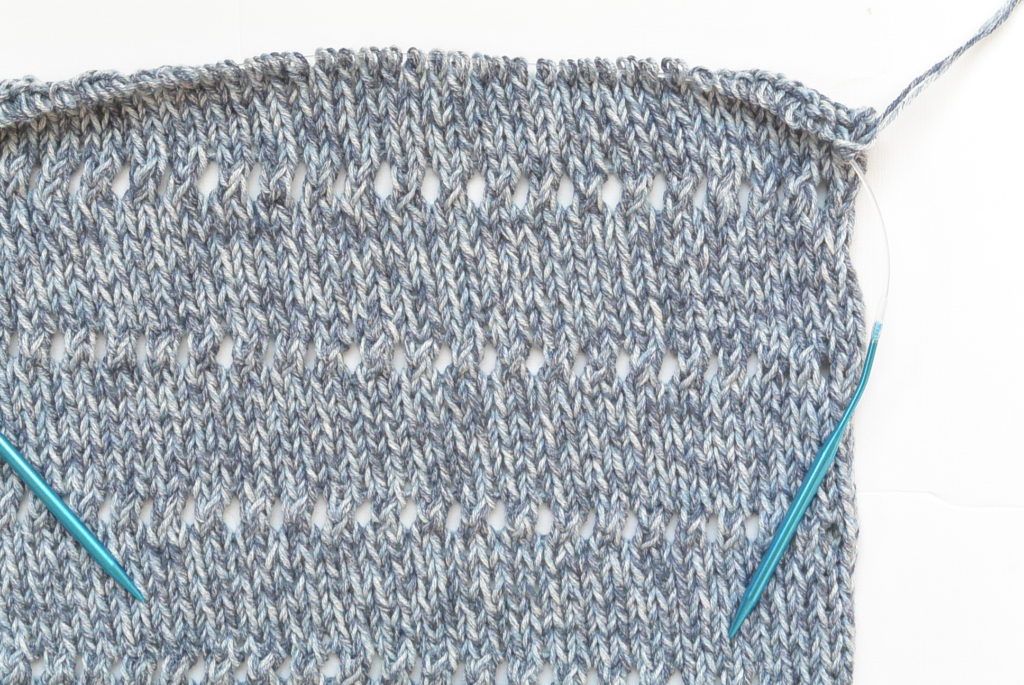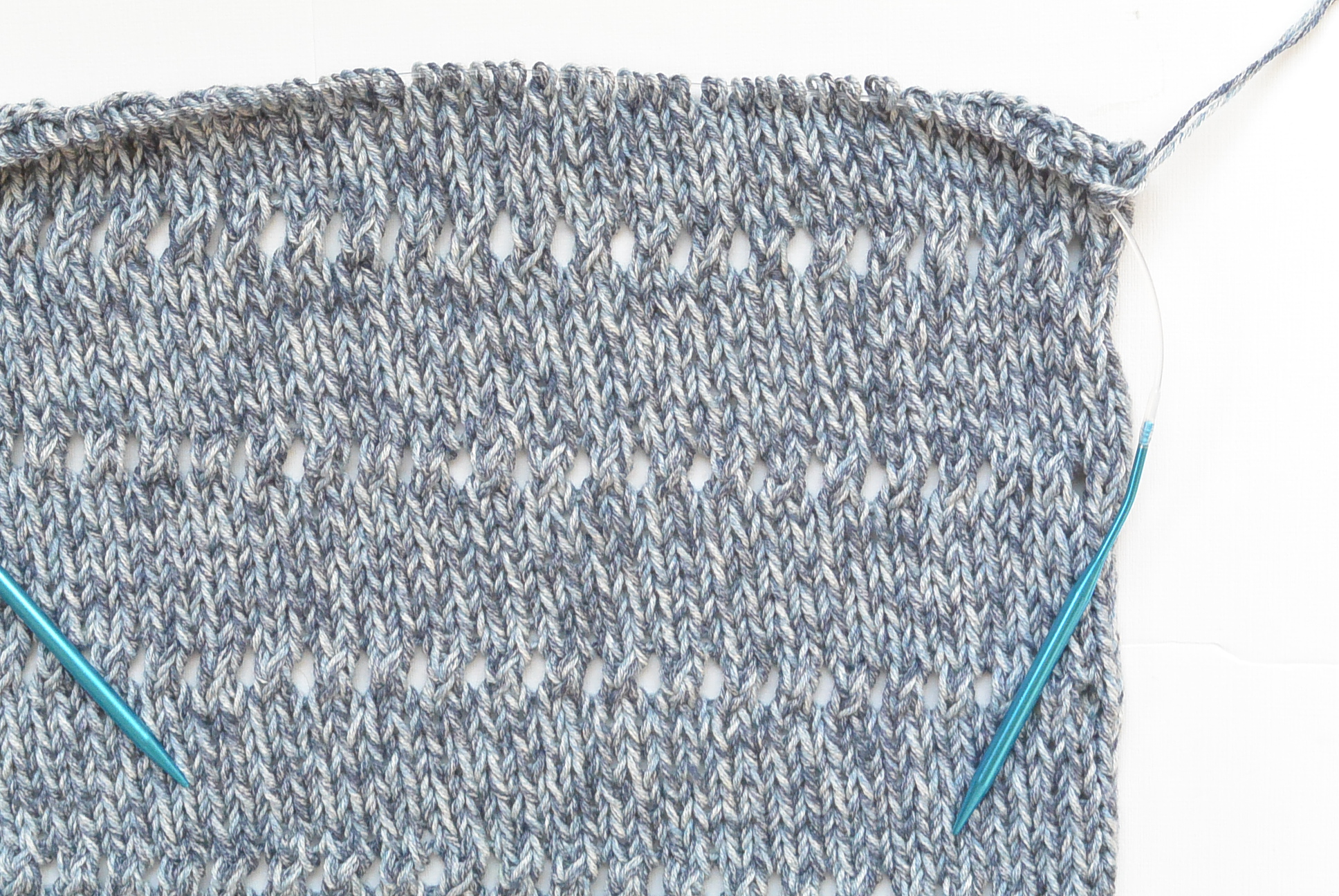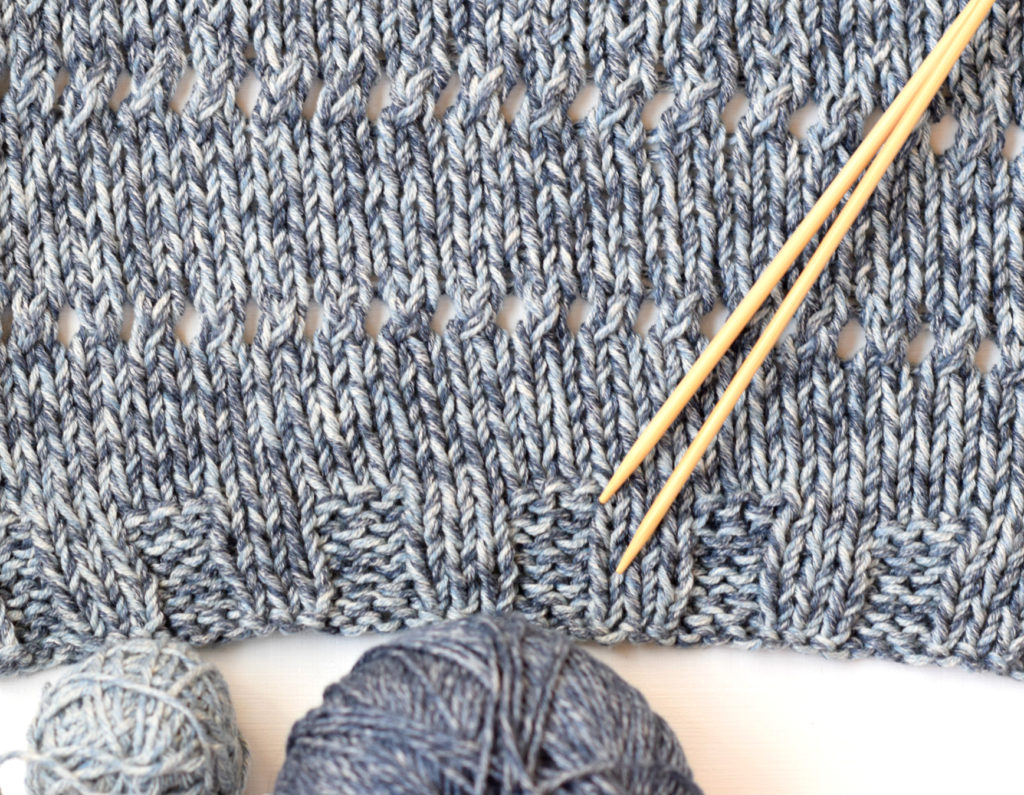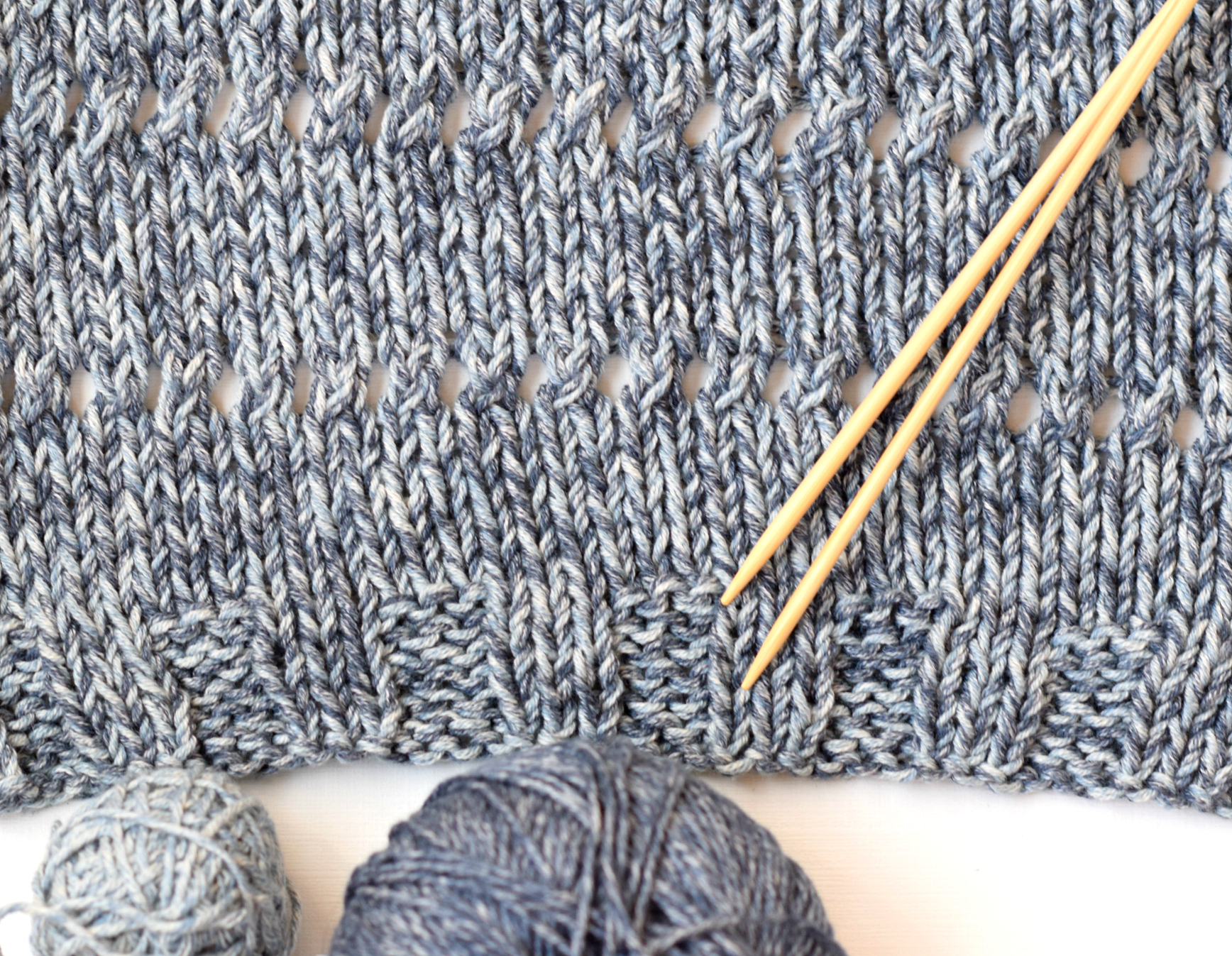 Assembly:
With a length of yarn and your tapestry needle, seam up each side of the two panels using the mattress stitch seam. Leave a generous opening for your arms at the top. Next, seam inward at the shoulders leaving an opening for your head and neck. Tie off and weave in all ends.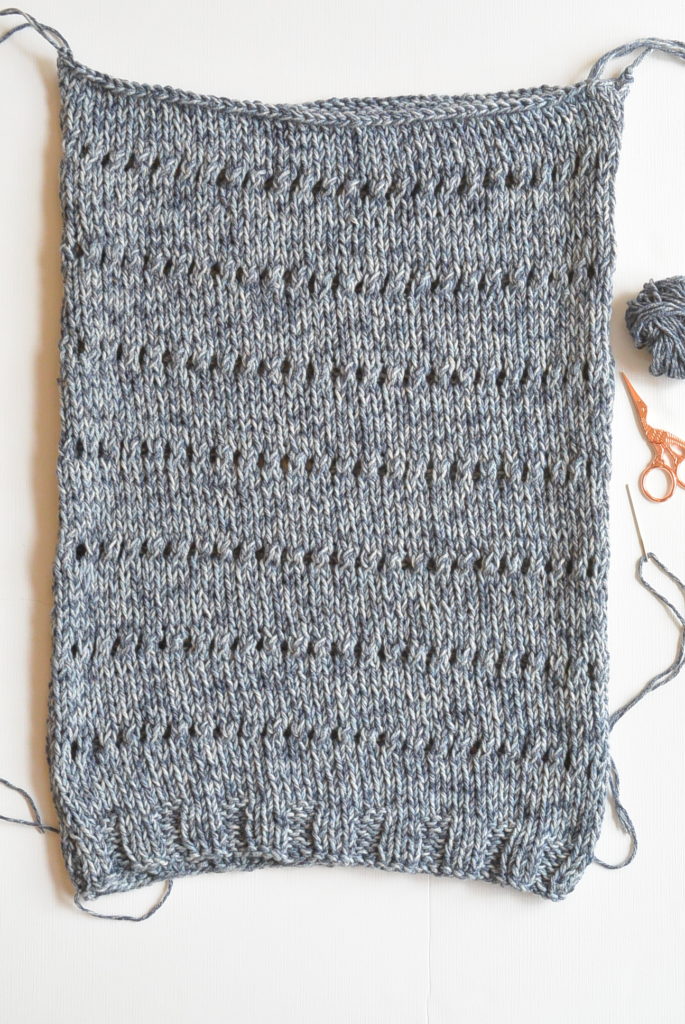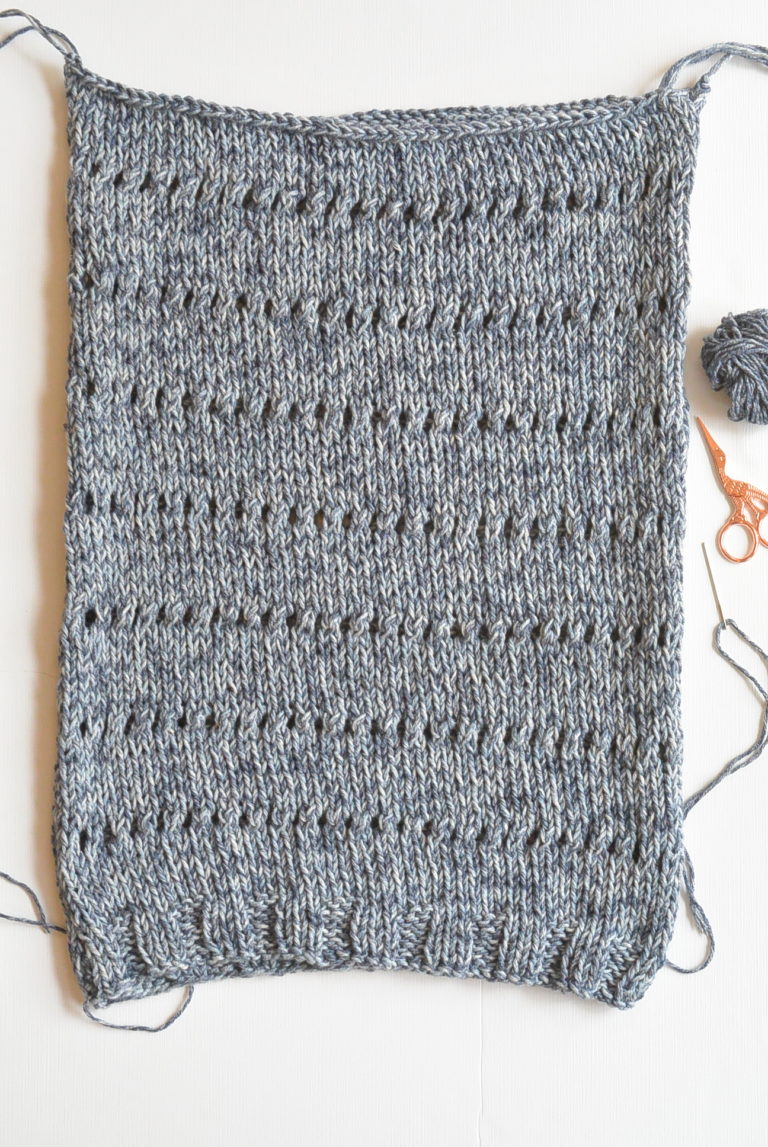 I sure hope that you found this to be easy and fun to make (and hopefully fun to wear too!) I'd love to hear your thoughts in the comments section. Happiest knitting to you!
XO,
Jessica
PS You can also find a Loom Knit Version here from Loom Knit Central by Chris for those of you who enjoy the loom!
If you liked this, you might also like: