Often times we consider knit and crochet to be winter activities, but some of my all time favorite projects have happened in the summer time! This simple crocheted poncho was so fun to make as it worked up very quickly and it's going to be perfect for warm summer days. The style reminds me of vacation time and it pretty much makes me want to take a trip abroad to some exotic country….aww one can dream. I made a summer poncho (here) last year , and I thought it would be nice to make a different one this year. It's perfect to throw over a t-shirt or tank, or you can even use it as a swim suit cover-up. Like most of my patterns, the construction method is very easy as it's essentially two rectangles that are seamed together to form a pretty poncho. The stitch pattern is simple enough for someone who is still fairly new to crochet, and I think you'll be pleased with how relatively fast you can crochet this piece. It was a thrill to see that Lion Brand created the kit for this pattern with several different color options, which I LOVE! You can see the kit and all of the gorgeous colors here (it's also on sale for a limited time). Next time, it'd be fun to make this in the "Pinnacles" color. (Scroll down for the full, free pattern below or you may choose to purchase the ad-free printable pattern from my Etsy Shop here)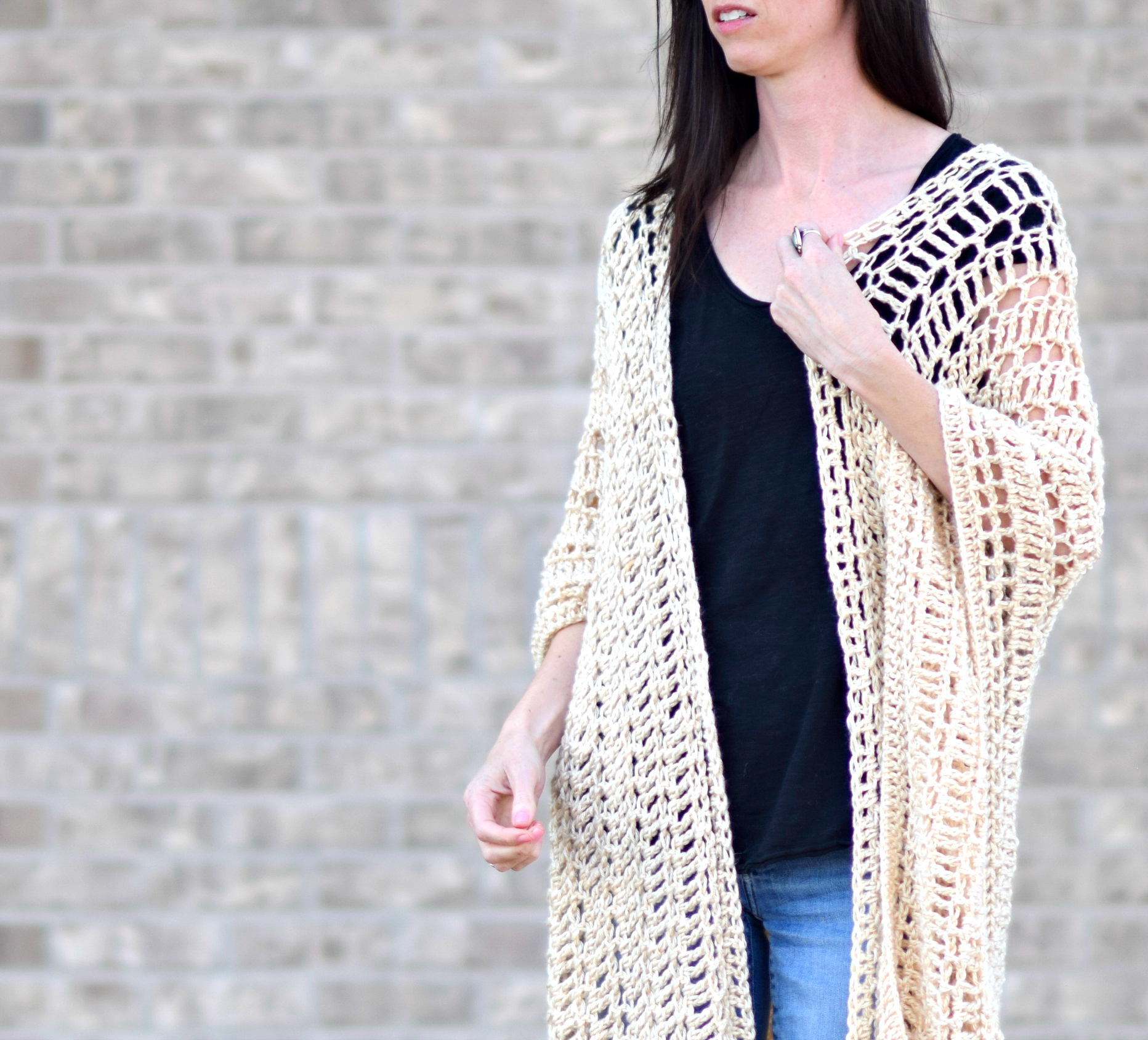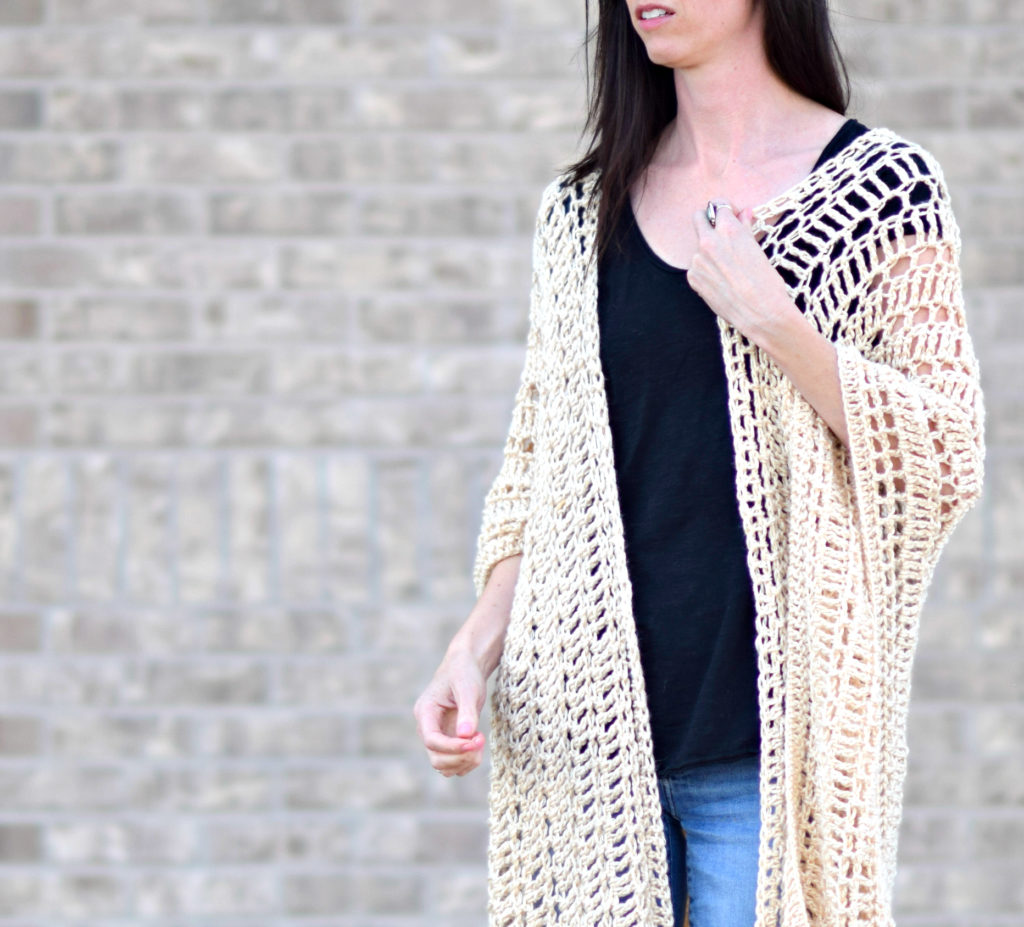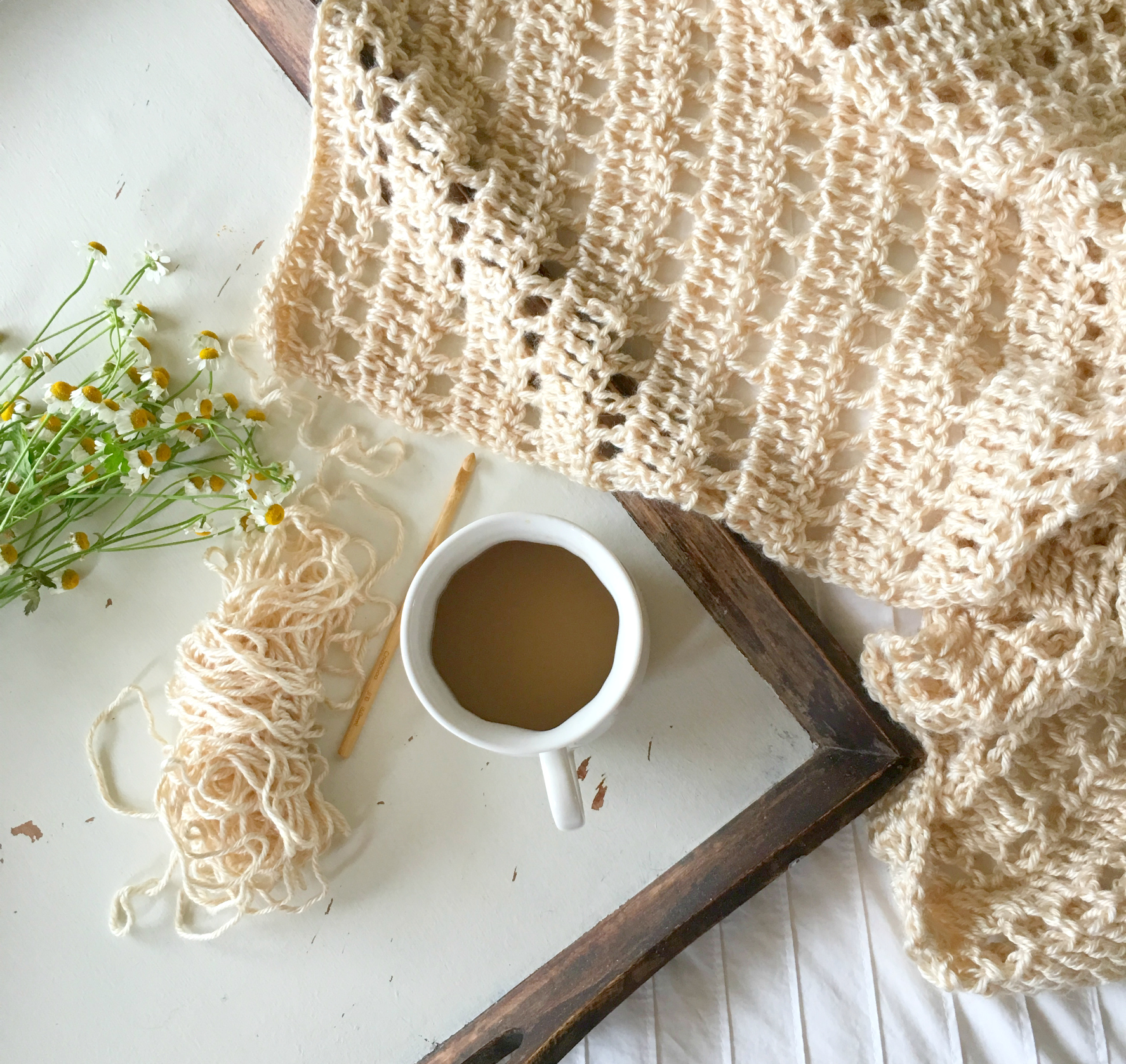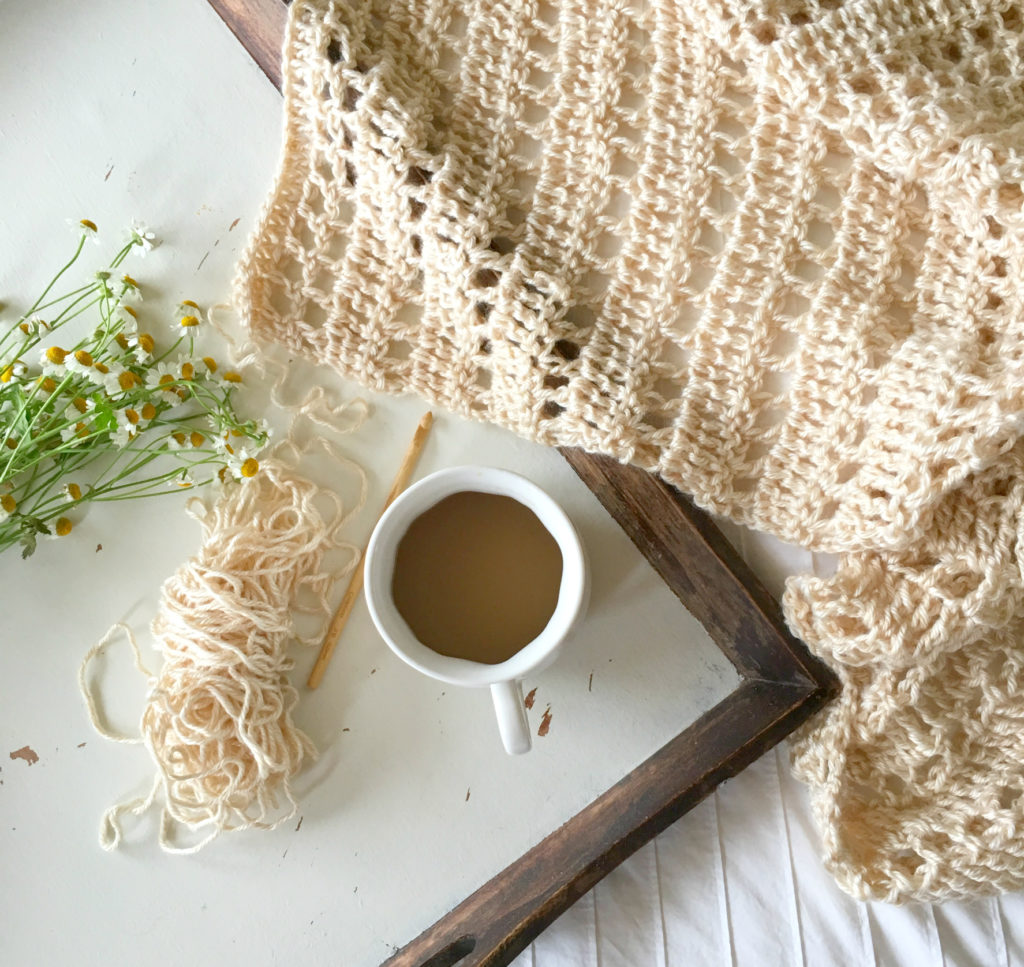 For this crochet pattern, I used Lion Brand Heartland (here) which has a wonderful drape and is very soft which was necessary since this is worn close to the skin. The yarn's 100% acrylic, so it's washable and it holds the color and shape really well. It's also really affordable and I find that one skein goes a long ways which is always a plus. You might remember the Smoky Mountains Triangle Wrap which was made with a few different colors of Heartland.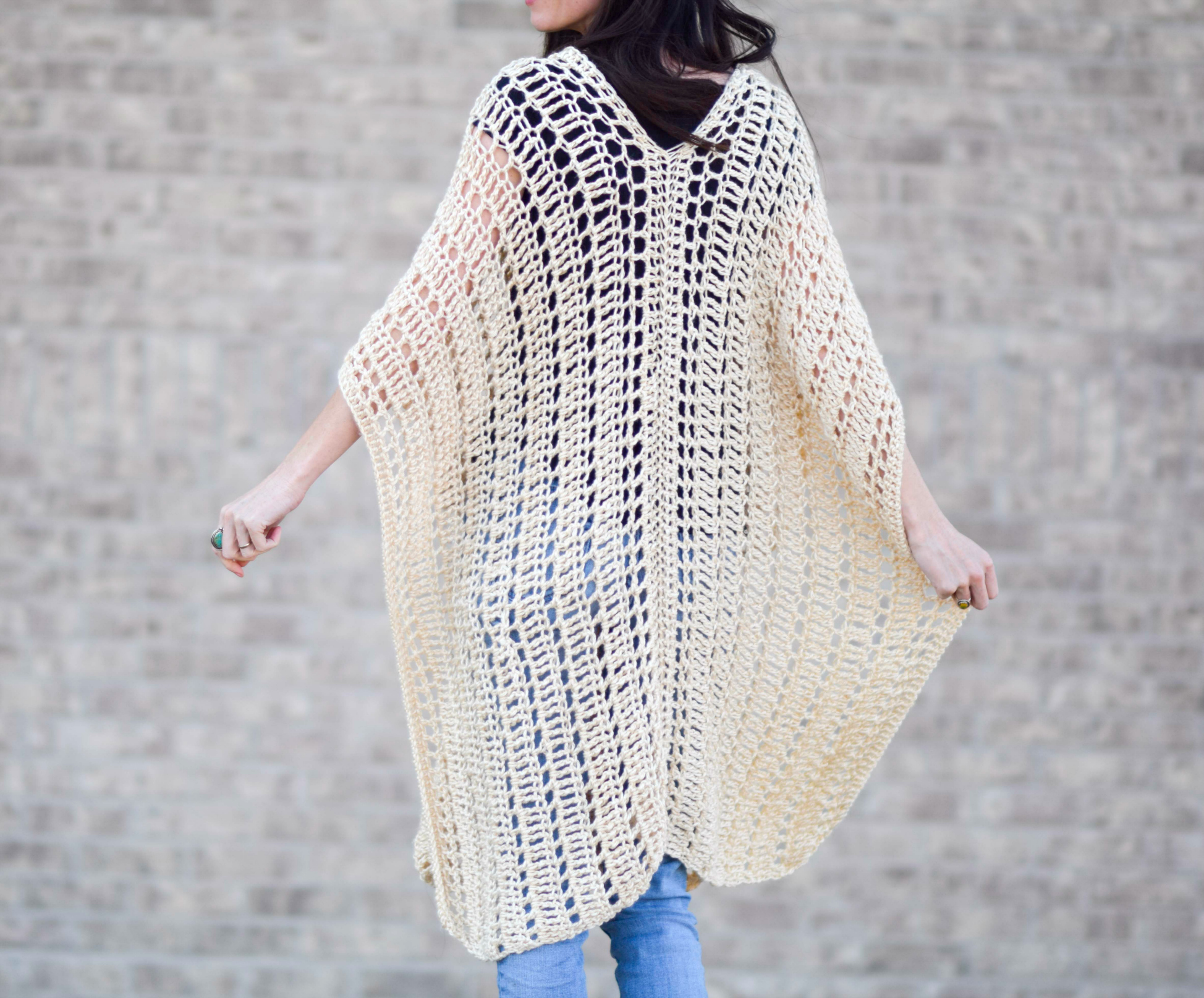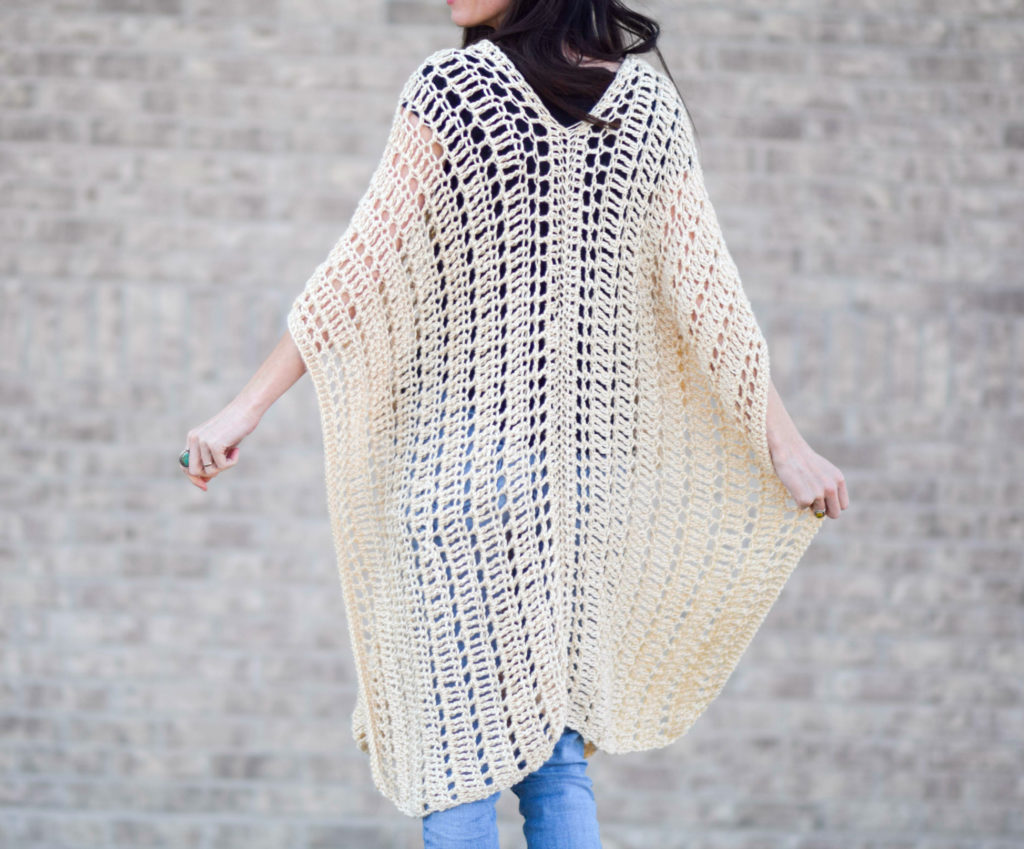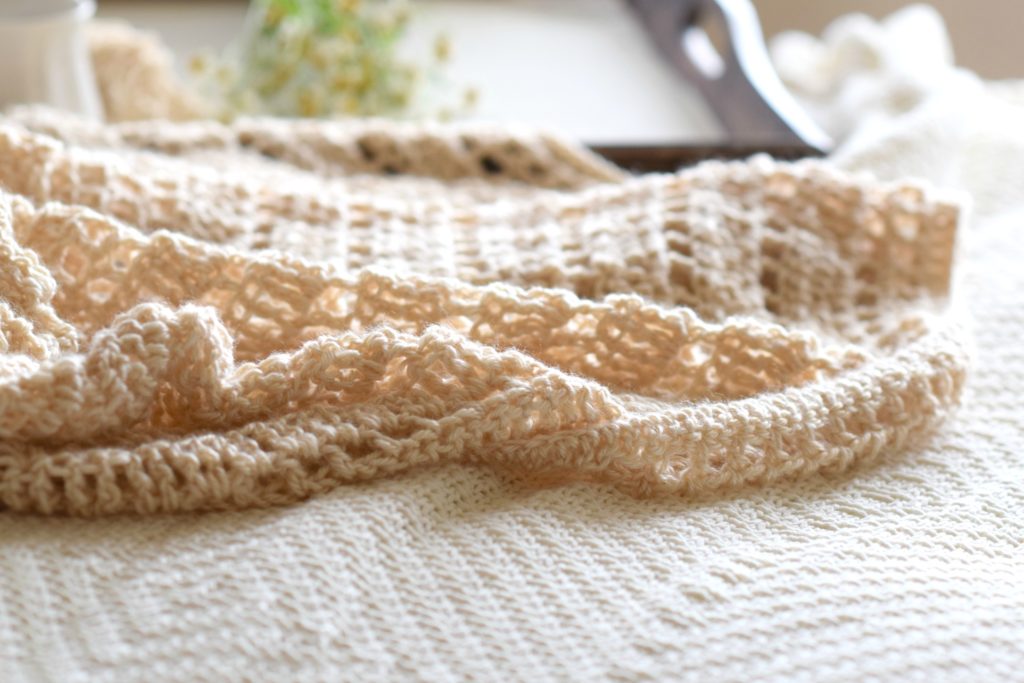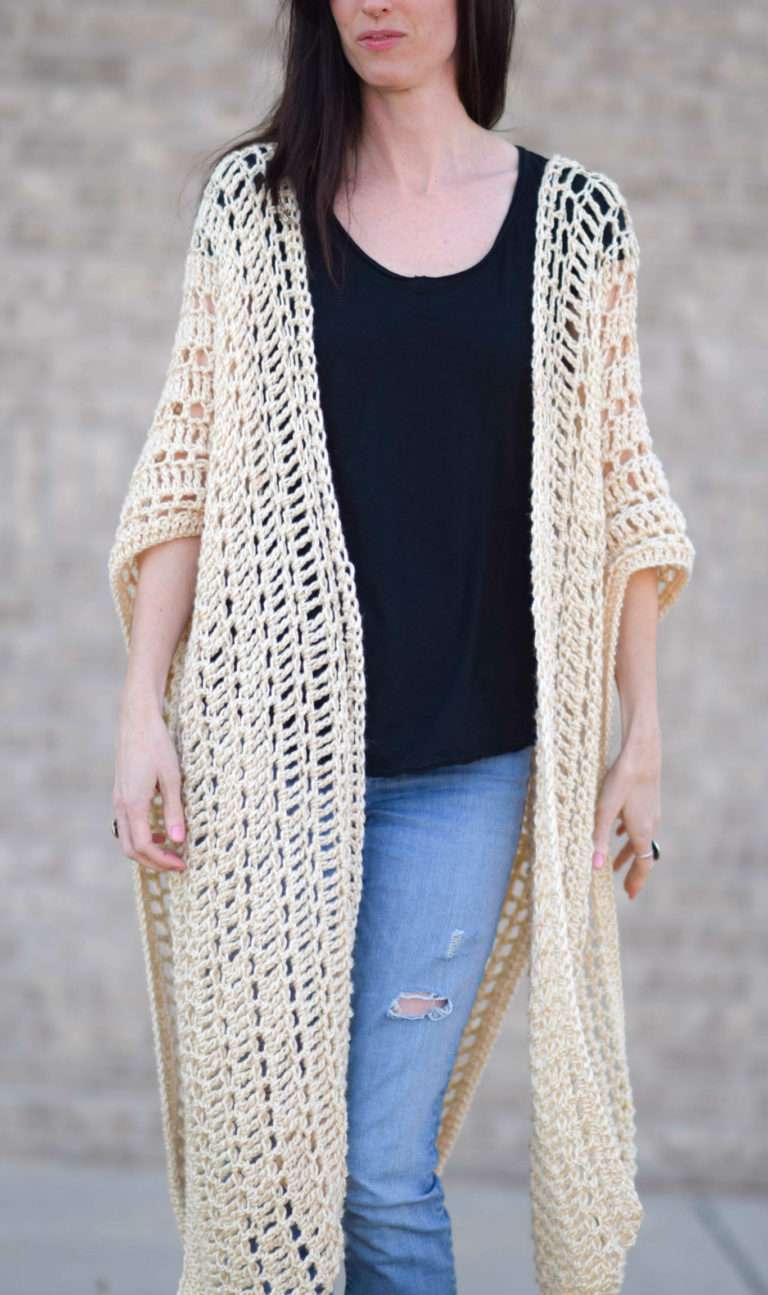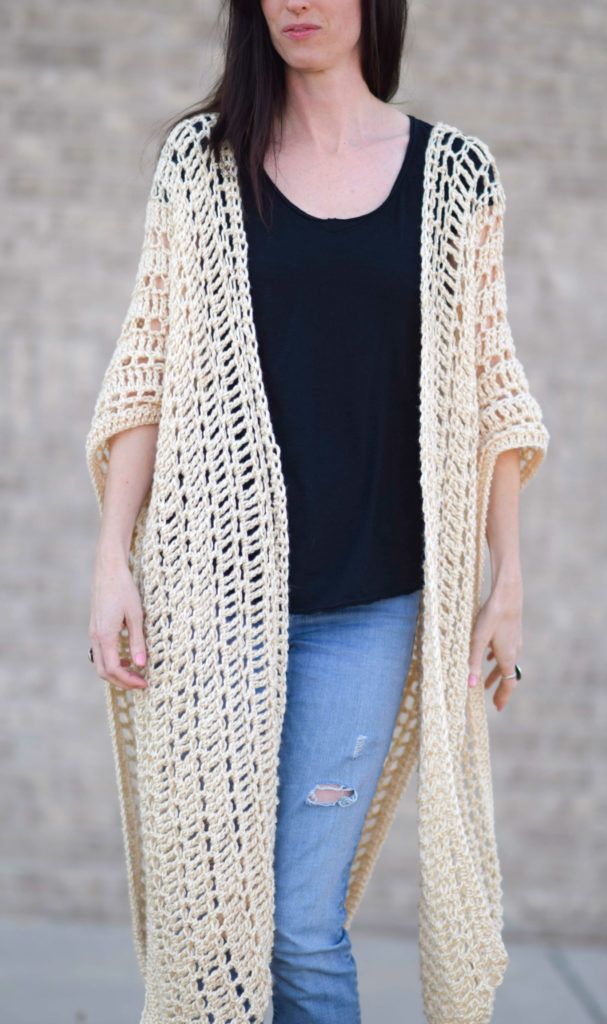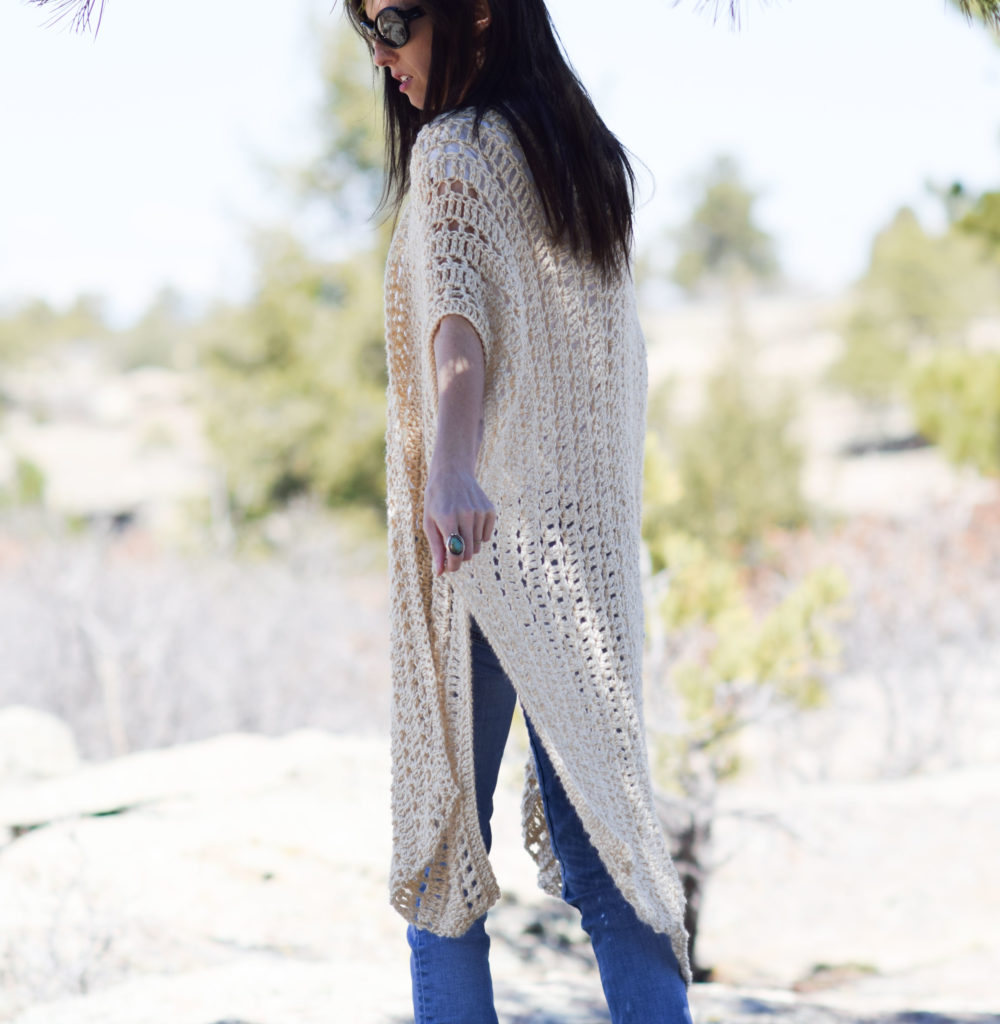 By the way, I am SOOOO excited for warm days and summer time! Lately, even as I blog, I'm able to have my windows wide open with the sun streaming into my home. What a welcome time of year!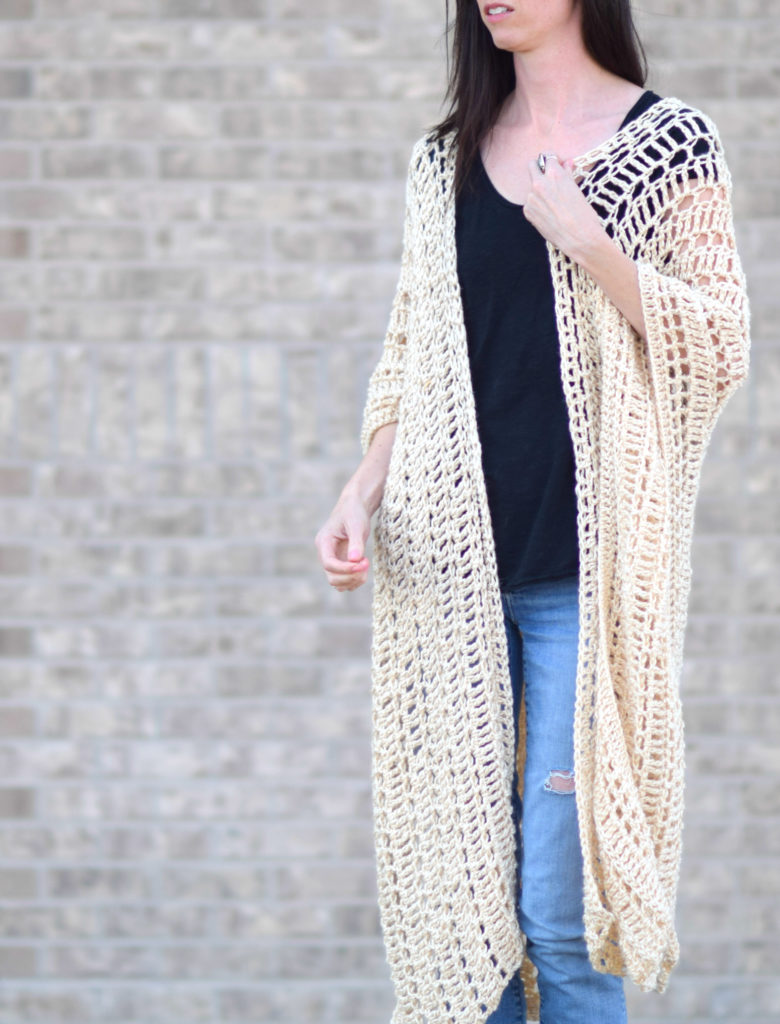 It was so satisfying to work the section of open stitching on my Light Alpaca Poncho Pattern this last winter, so it was super enjoyable to make this Casablanca Poncho almost entirely with open stitching!
Ready for this easy poncho pattern? Here we go….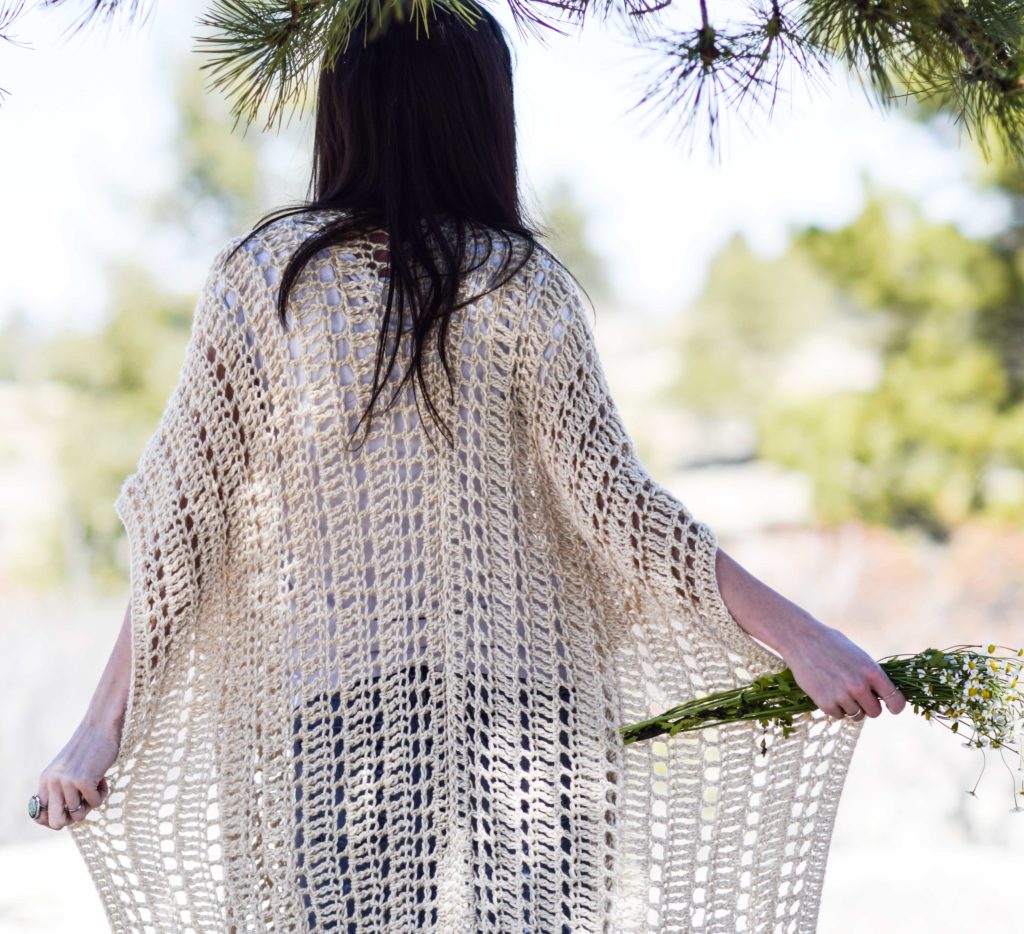 Casablanca Summer Poncho Crochet Pattern
This light and airy poncho is sure to be a favorite piece in your summer wardrobe. Elegant, yet casual, it can be worn over a t-shirt, tank, or even over a swimsuit for a day at the beach.
Skill Level:
Easy +
Materials:
US Size L 8.0 mm crochet hook
4 Skeins Lion Brand Heartland Yarn in Acadia (142 g/skein) Pattern uses approximately 530 g
Tapestry Needle
Scissors
Gauge:
Approximate:
Just over 10 stitches & 4 ½ rows per 4" X 4" (main stitch pattern, alternating one row of triple crochet and one row of double crochet stitch work)
Dimensions:
One Size Fits Most
Bust: Approximately 62" circumference
Width: Approximately 31"
Length: Approximately 34"
Abbreviations & Skills:
ch – chain
st – stitch
dc – double crochet
sk st – skip stitch
tr – triple crochet
ch sp – chain space
Notes:
This poncho is crocheted as two rectangular pieces then seamed to finish. There are two ways to assemble the poncho in order to create different styles (see assembly section below). The majority of the pattern is worked by alternating a row of triple crochet with a row of double crochet and chain spaces. You may make the poncho wider than indicated by adding more rows to each panel while following the main pattern repeat (rows 4 & 5). Be sure to keep yarn needs in mind if you modify the pattern. Each panel is worked lengthwise. You may make the poncho longer or shorter by adjusting the initial chain, but keep an odd stitch count.
**ALSO – See my tips below for practicing the stitch pattern on a small swatch before attempting the entire poncho! It's a great way to ensure you're doing it correctly before you start your project.
Crochet Pattern
Ch 169
First Edge:
Row 1 Dc in 4th ch from hook and in each ch st across the row (167)
Row 2 Ch 4 (counts as dc stitch & ch 1), turn, sk st, dc in 3rd st of foundation row, *ch 1, sk st, dc in next st. Repeat from * across the row working the final dc into the top of the turn ch from the previous row. (167)
Row 3 Ch 4 (counts as dc stitch & ch 1), turn, sk the ch sp, dc in the next dc, (this is the 3rd st of the row), *ch 1, sk ch sp, dc in next dc. Repeat from * across the row working the final dc into the turn ch from the previous row. (167)
Main Pattern Repeat Center:
Row 4 Ch 4 (counts as tr stitch), turn, tr in first ch 1 sp of row, *tr in next st, tr in next ch 1 sp. Repeat from * across the row, working the final tr stitch into the turn ch of previous row. (167) –note the turn ch 4 from previous row counts as a ch 1 sp and dc stitch
Row 5 Ch 4 (counts as dc stitch & ch 1), turn, sk st, dc in 3rd st of row, *ch 1, sk st, dc in next st. Repeat from * across the row working the final dc into the turn ch from the previous row. (167)
Row 6 Repeat row 4
Row 7 Repeat row 5
Row 8 – 17 Continue the pattern repeat by working row 4, followed by row 5, ending with row 5.
Second Edge:
Row 18 Repeat row 3
Row 19 Ch 3 (counts as dc), turn, dc in first ch sp, *dc in next st, dc in next ch sp. Repeat from * across the row making your final dc in turn ch of previous row.
Tie off and weave in ends.
Repeat above pattern to make second panel of poncho.
Assembly:
Option 1 – Open Front Poncho: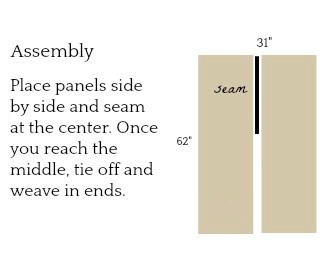 Above: Place two panels evenly side by side on a flat surface. Measure the length of the poncho to find the mid-point. Using your tapestry needle and length of yarn, whip stitch or use your preferred seaming method to seam the two panels together. Work from the bottom up, ending approximately 3" before the mid-point. Tie off and weave in ends.
Option 2 – Closed Front Poncho: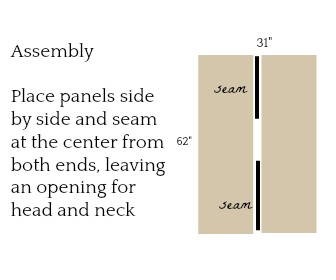 Here's how it looks if you seam the front closed (below):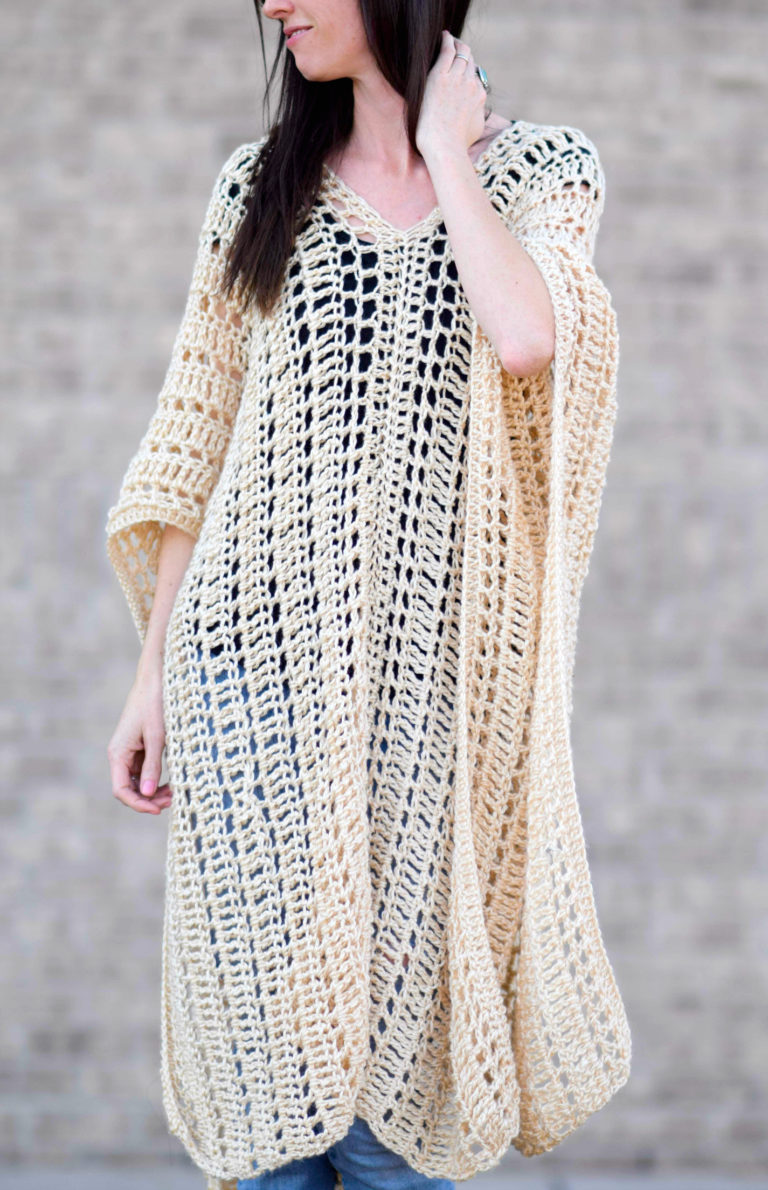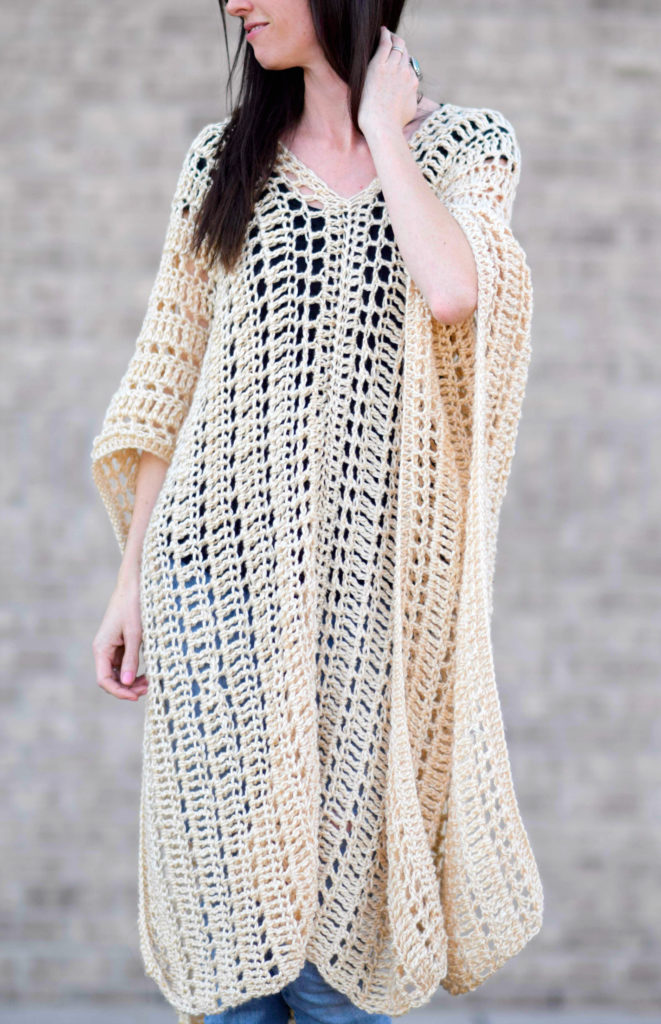 Below: If you'd like to ensure your stitch counts will be accurate before you begin the poncho, you can practice by chaining an odd number of stitches (9 or 11 for example) and working the stitch pattern from rows 1-5.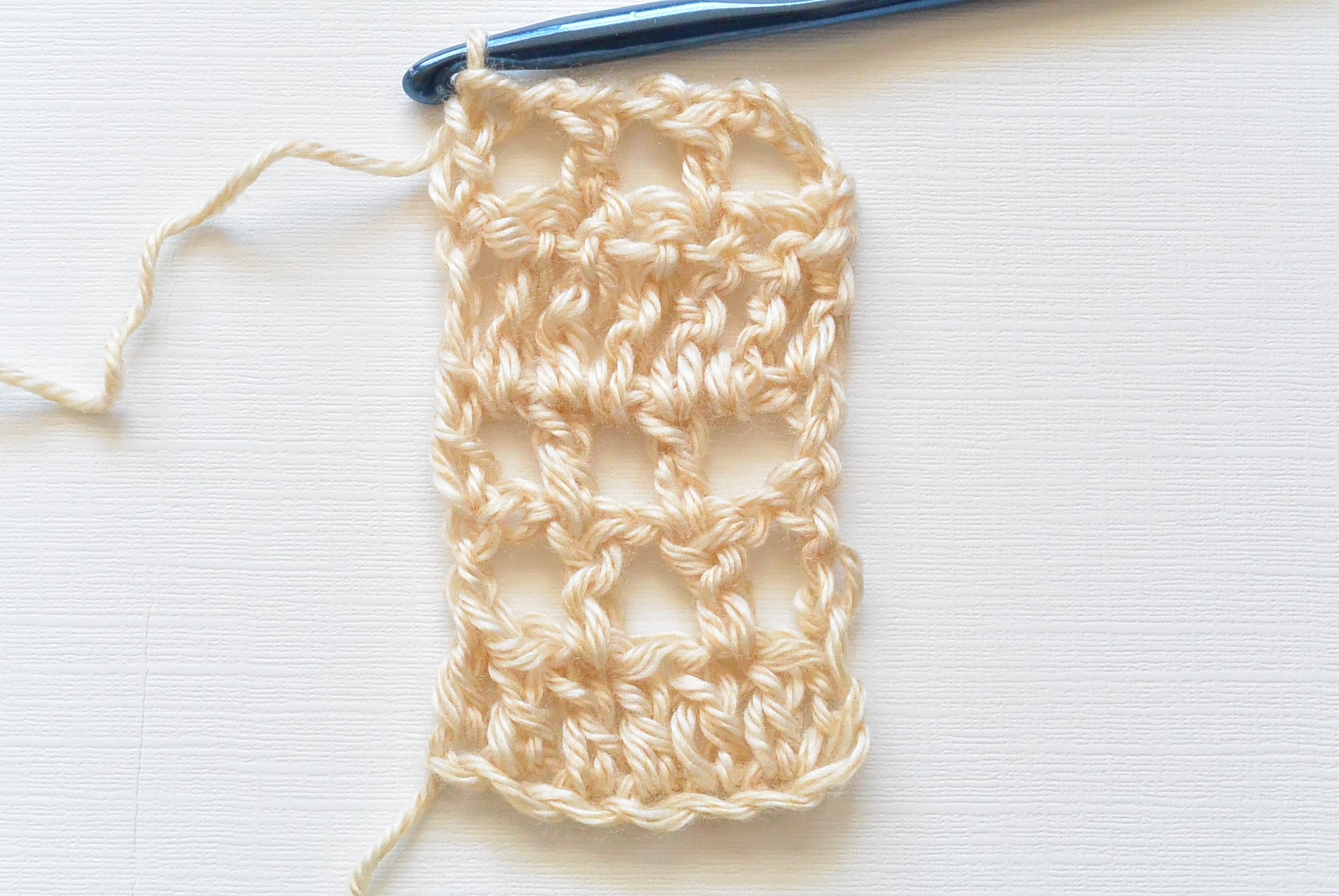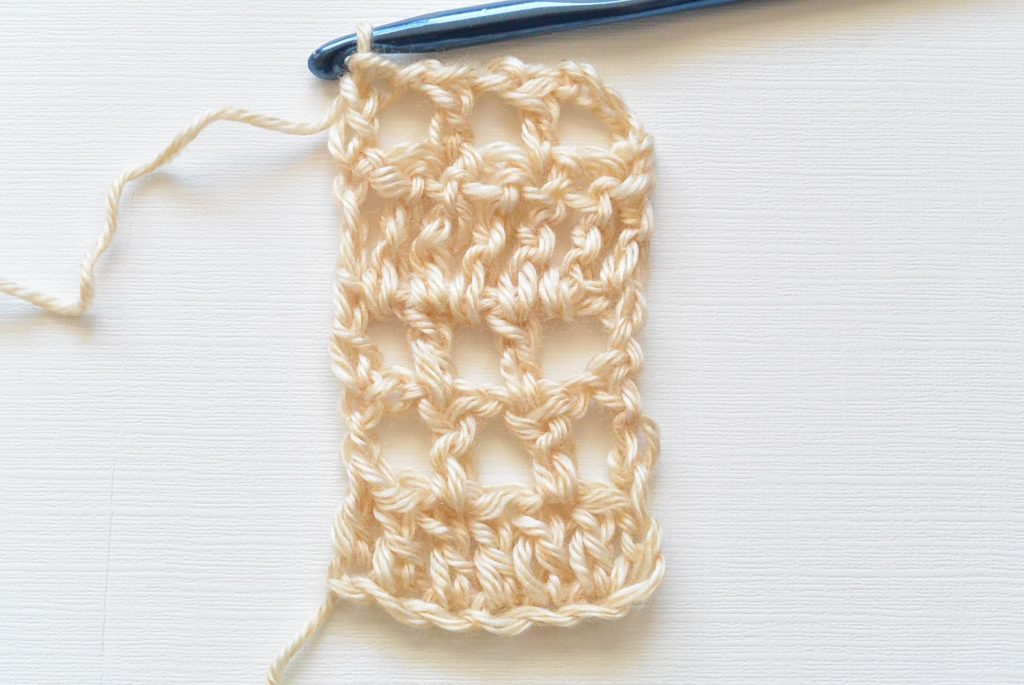 Below: Each panel will have this light & airy pattern. You can see the where the two edging sections of the pattern are worked as well as the main stitch pattern in the center.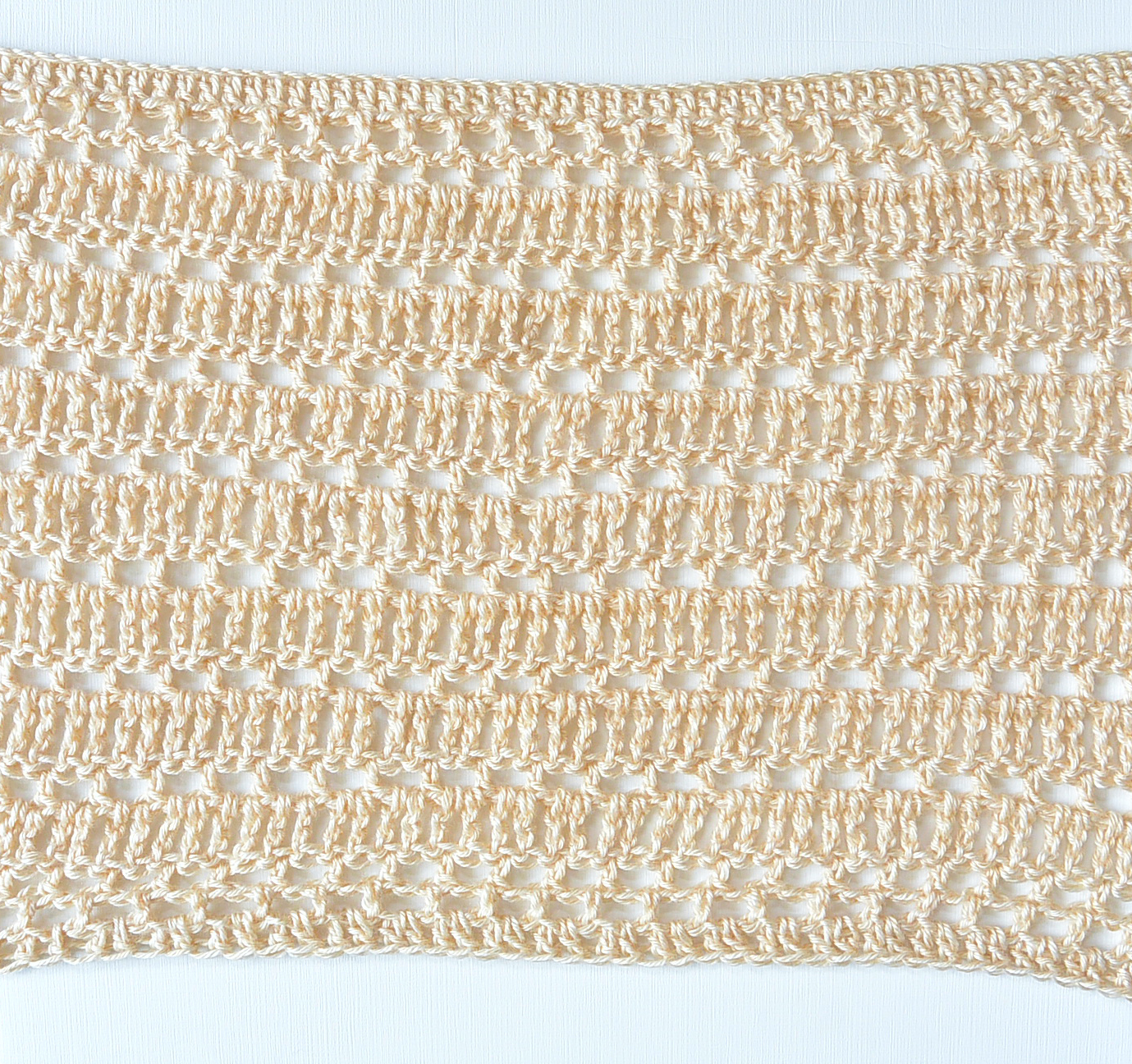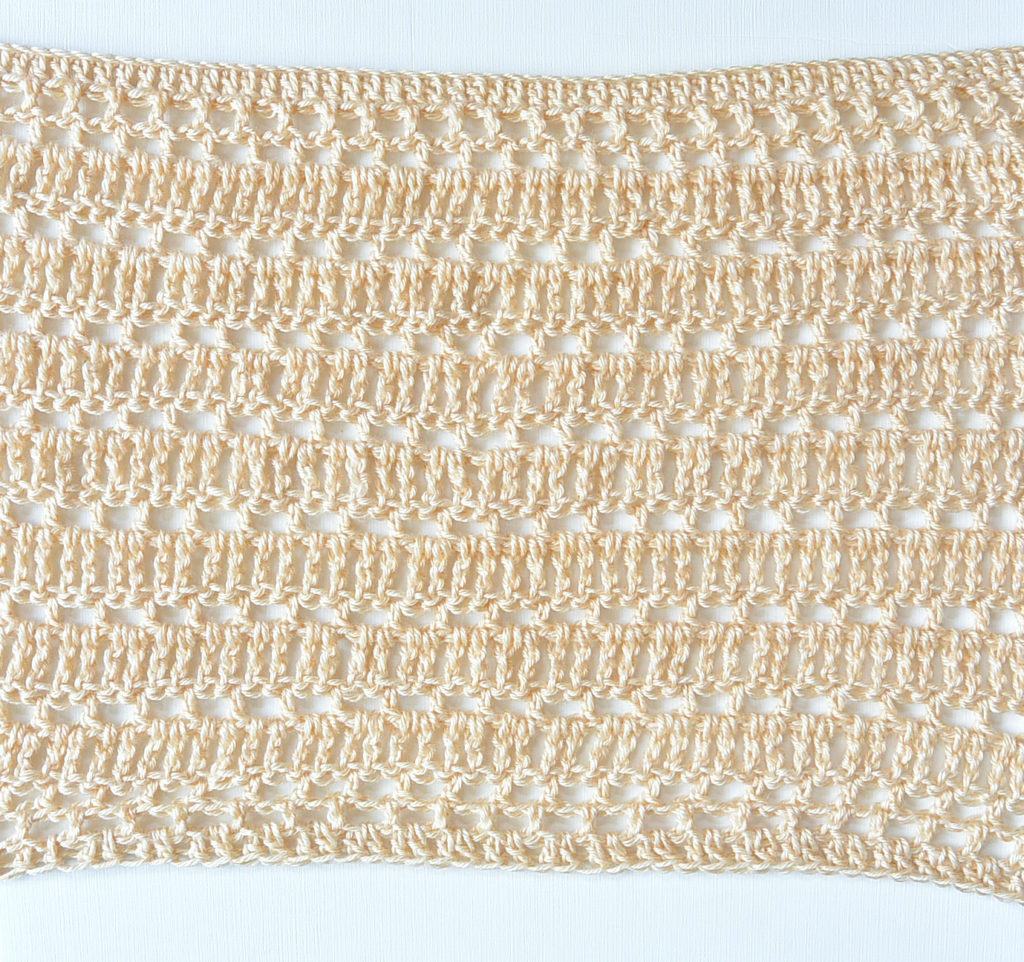 Enjoy your new poncho and I've love to hear if you plan to make one! Who else is excited for summer?
XO,
Jessica
If you liked this, you might also like: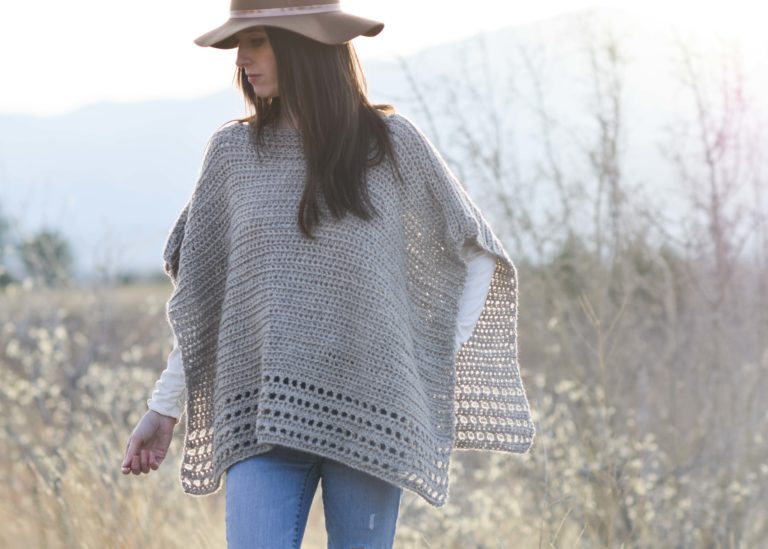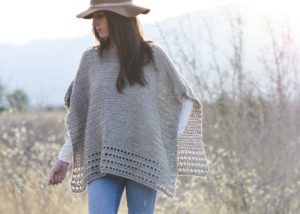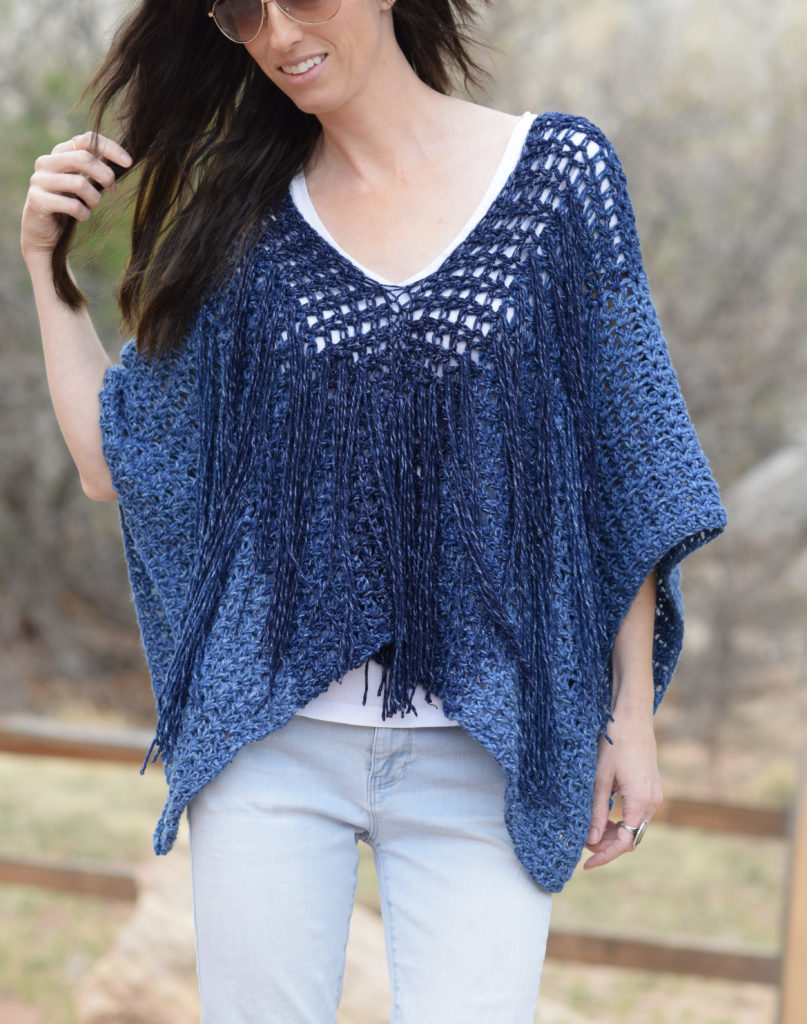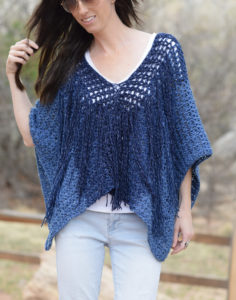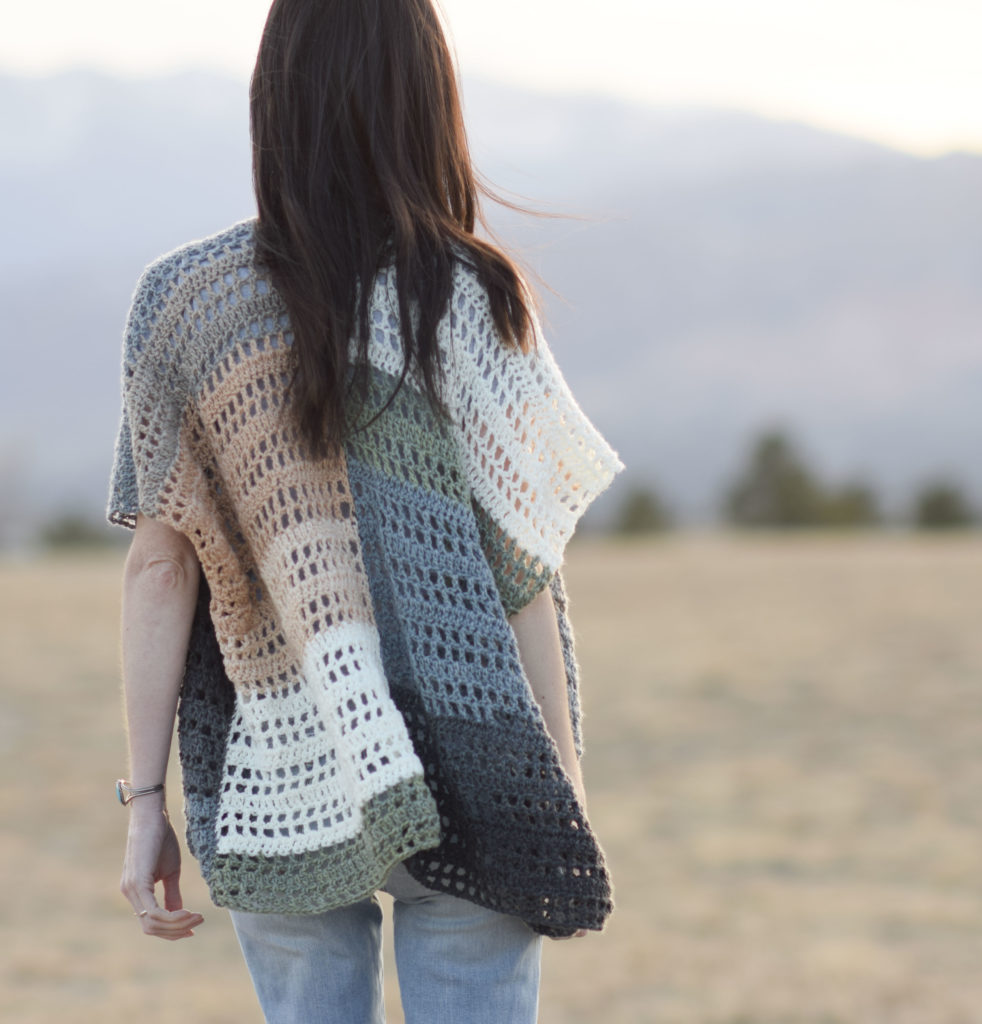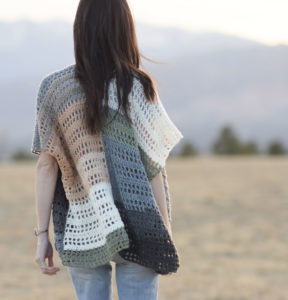 Thank you to Lion Brand Yarn for sponsoring this post! All opinions, (crazy or not – haha) are 100% my own!