How To Crochet An Easy Summer Shrug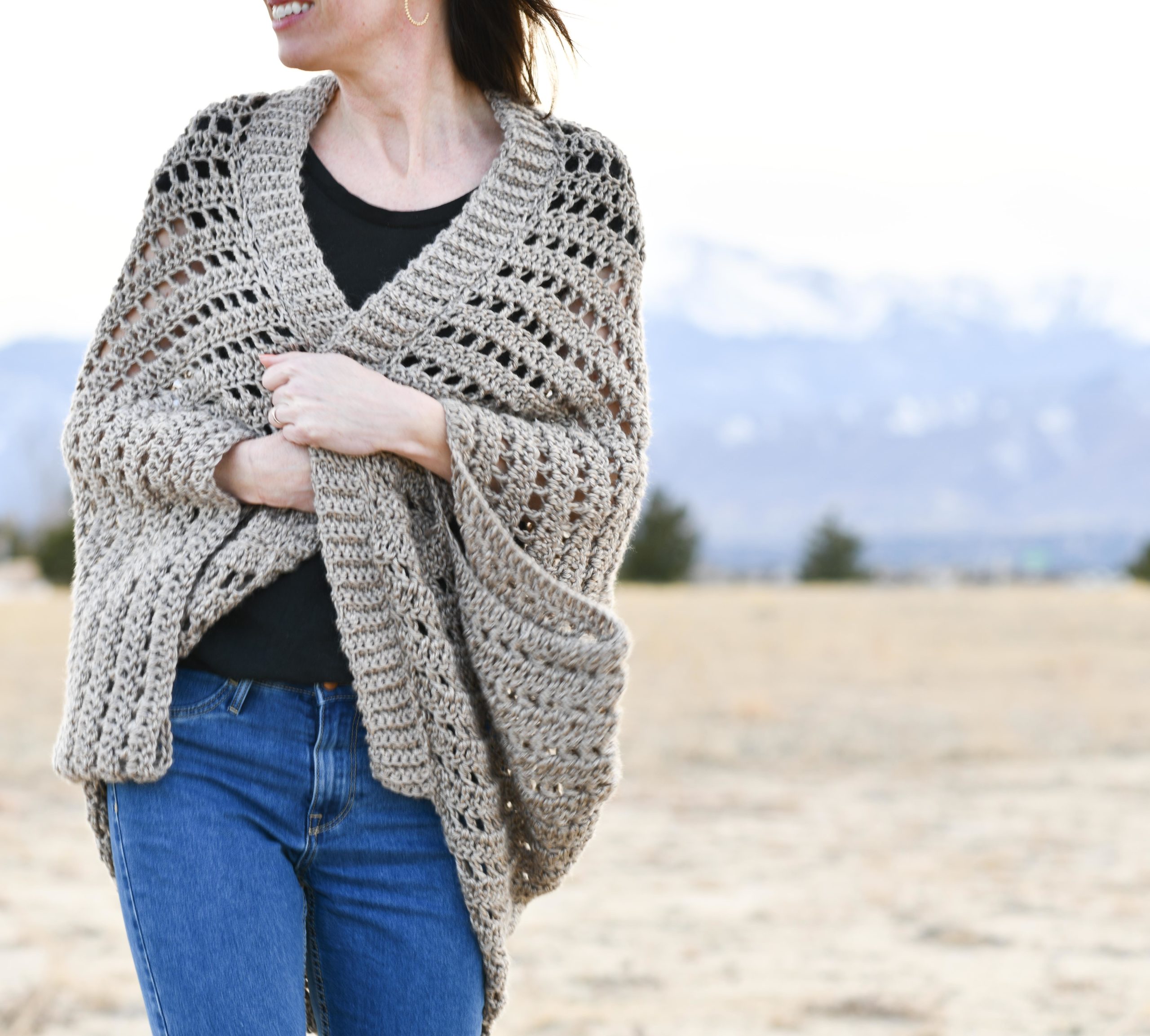 Scroll down for the free crochet pattern or you may find the ad-free, printable version of this pattern for sale in my Etsy shop, featuring large print and all helpful photos HERE
How about a new, pretty, beginner friendly crochet project that you can wear all summer long? If you're new to crochet, this is a fun project to stretch beyond single crochet stitches and make something beautiful that you can show off. This might be my fave of all the summer blanket sweaters, shrugs and cocoons that I've shared over the last few years. It was inspired by my Casablanca Poncho Pattern and the Mod Mesh Blanket Sweater both of which were simple projects made with Heartland yarn from Lion Brand (here). This "Easy Summer Fun Shrug" crochet pattern uses basic double crochet stitches and chain stitches to make create the open-work fabric and all you will need to do is make a big rectangle.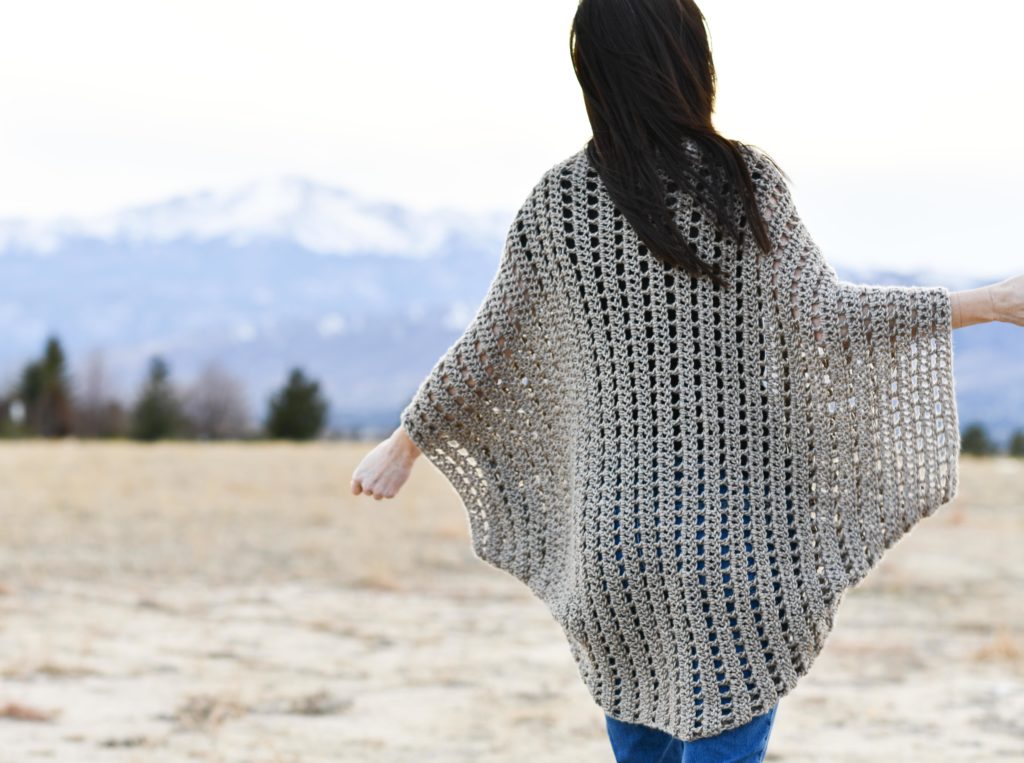 Back when I was just learning to crochet, I was always on the search for simple pattern ideas that were still pretty. I didn't want to only make scarves and I know many of you might want to branch out too.
And, neutral color lovers, rejoice! Isn't this Grand Canyon color amazing? The yarn has incredible drape so it's comfortable on the skin and the slight sheen makes it extra "summery". I'm not always a fan of sheeny yarn (is that a word?), but it works wonderfully in this case. And while I used just one color ( I know, I'm so predictable ), you can be creative and use as much color as you'd like! You can see all of the Heartland color options here. Go crazy!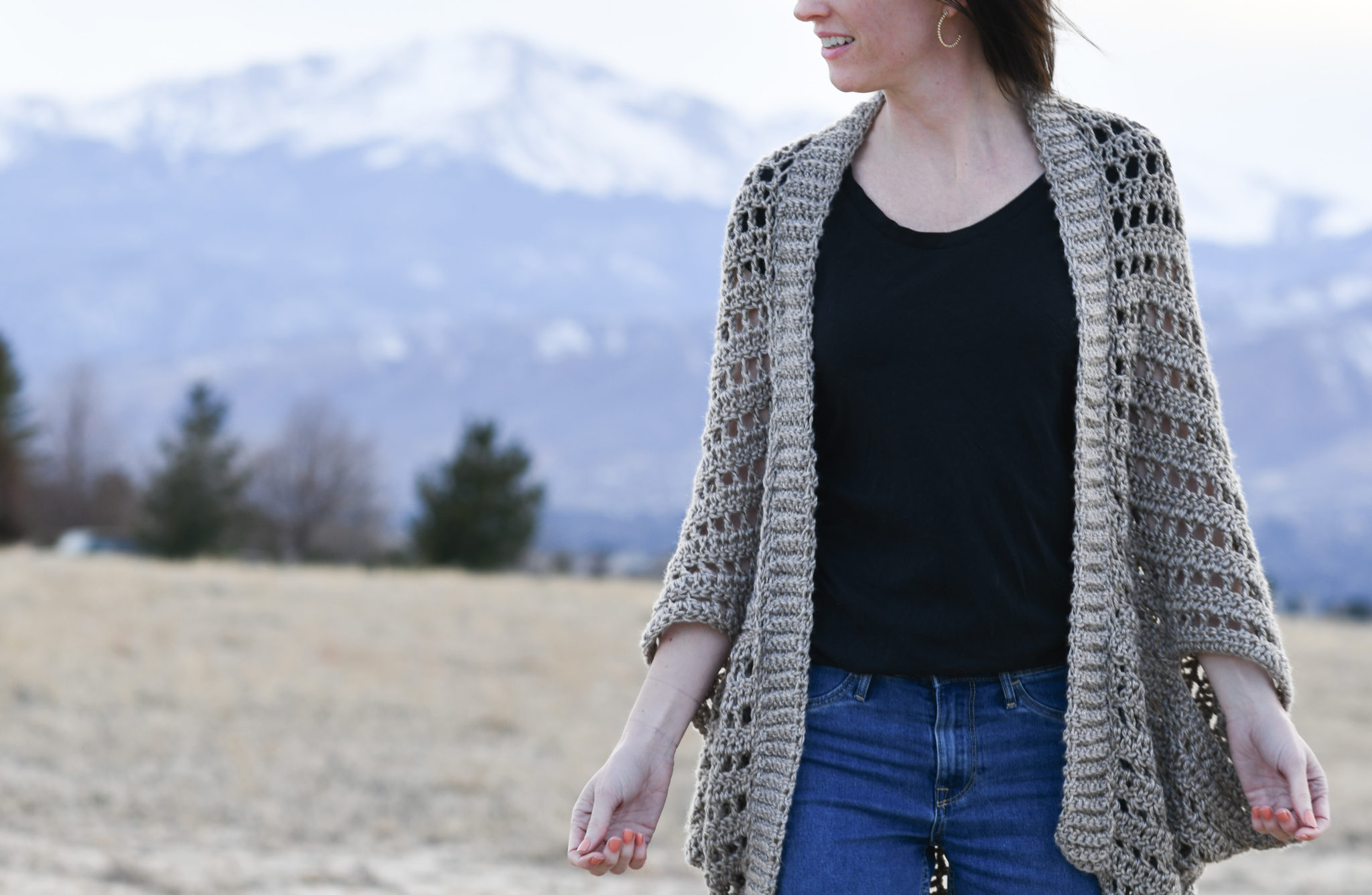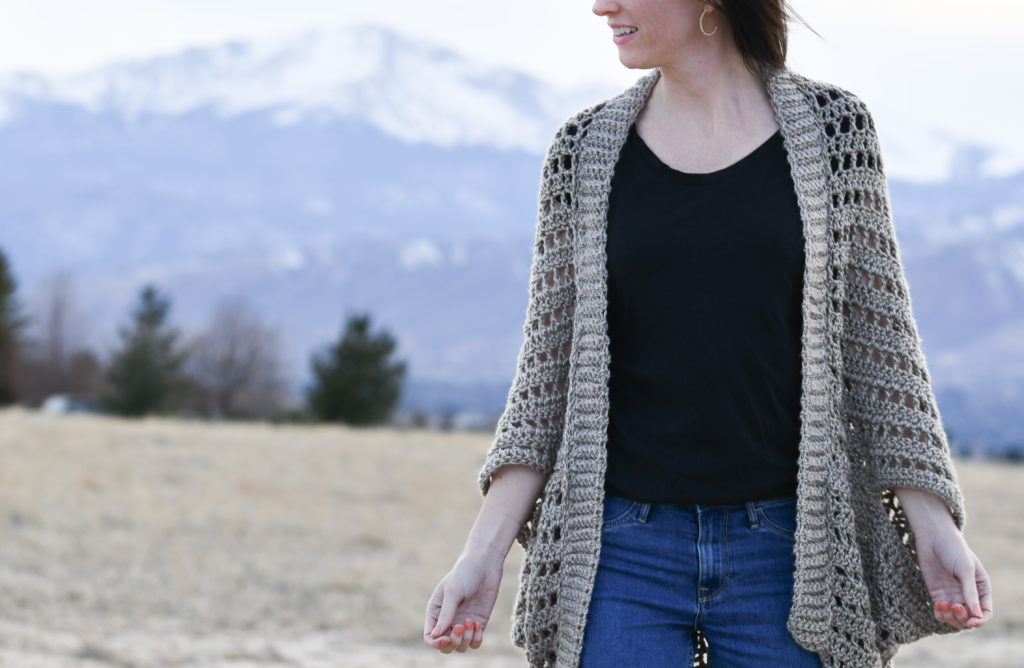 Below: This yarn is a budget friendly, incredibly soft option for summer knit and crochet projects.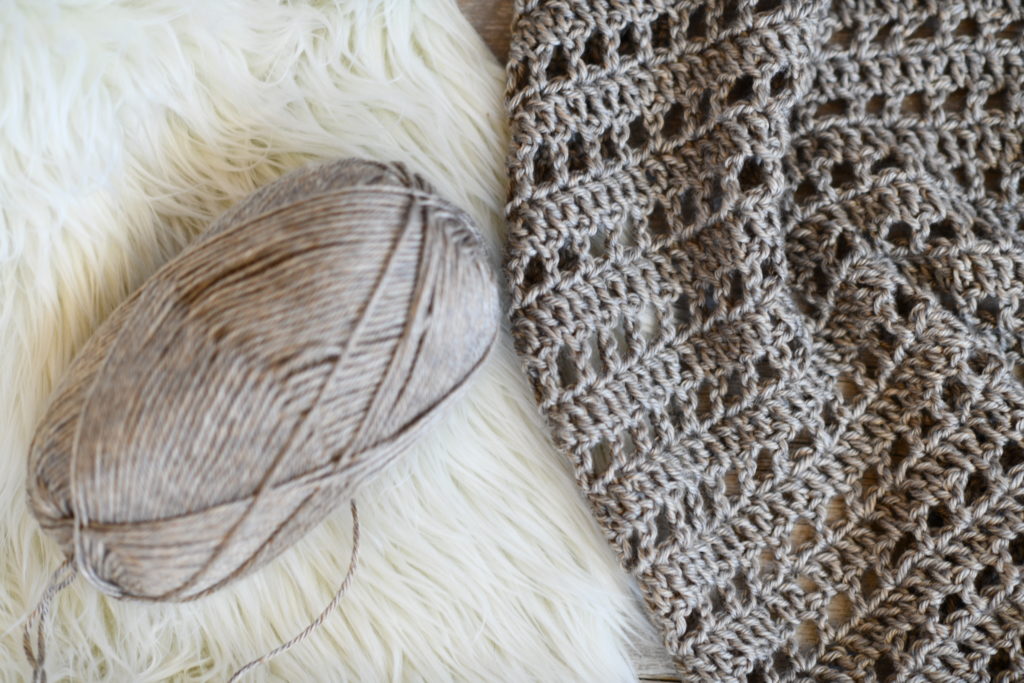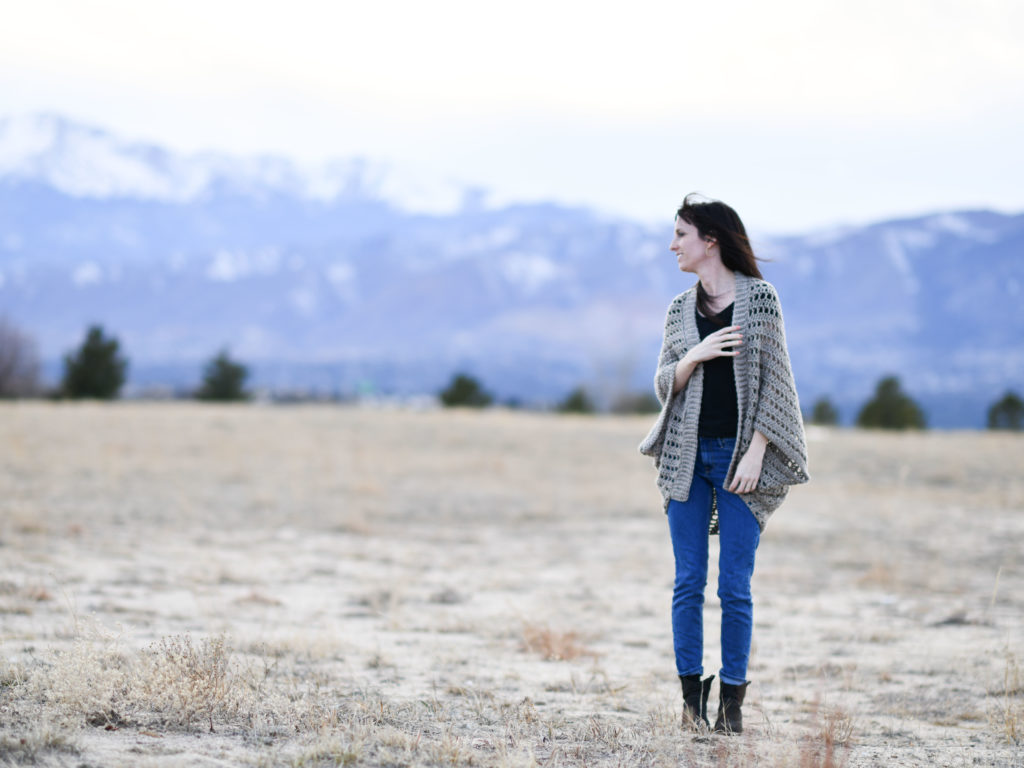 Below, you'll see the two projects this piece was inspired by. 🙂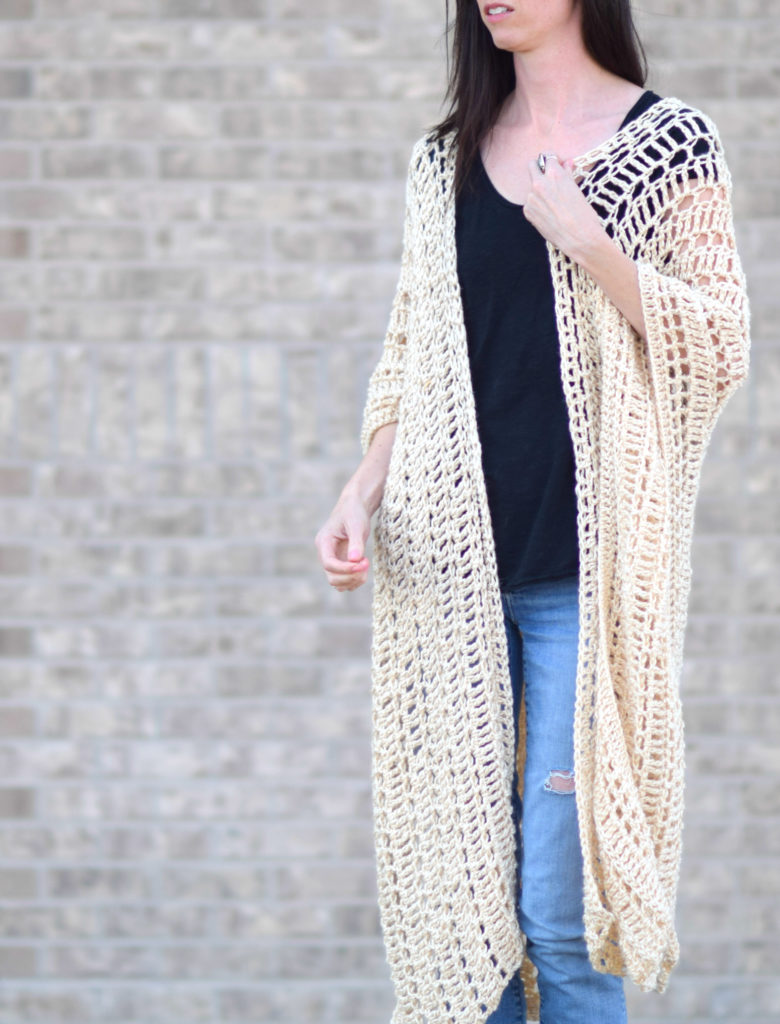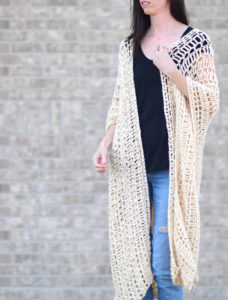 Mod Mesh Blanket Sweater (below)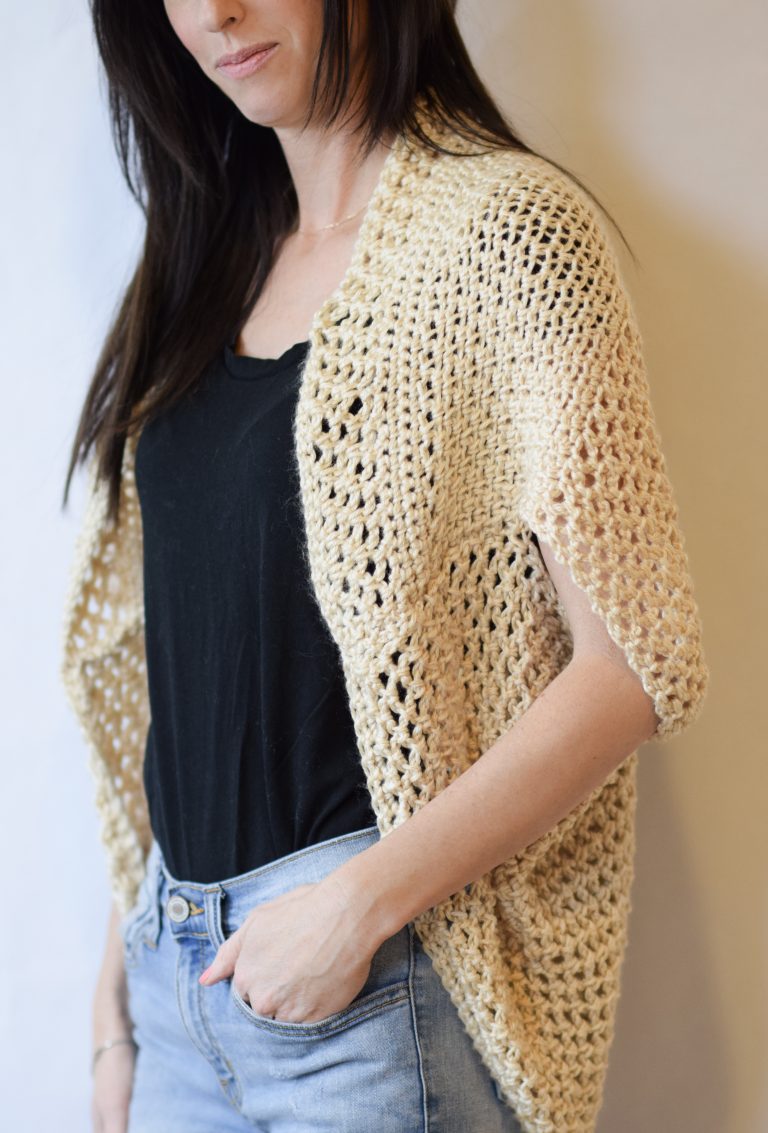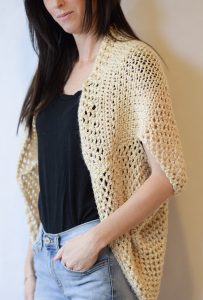 Today's pattern is similar to these as it has the open stitch-work, but there's no blocking needed and it's just one piece (well, the collar's attached separately but that's it).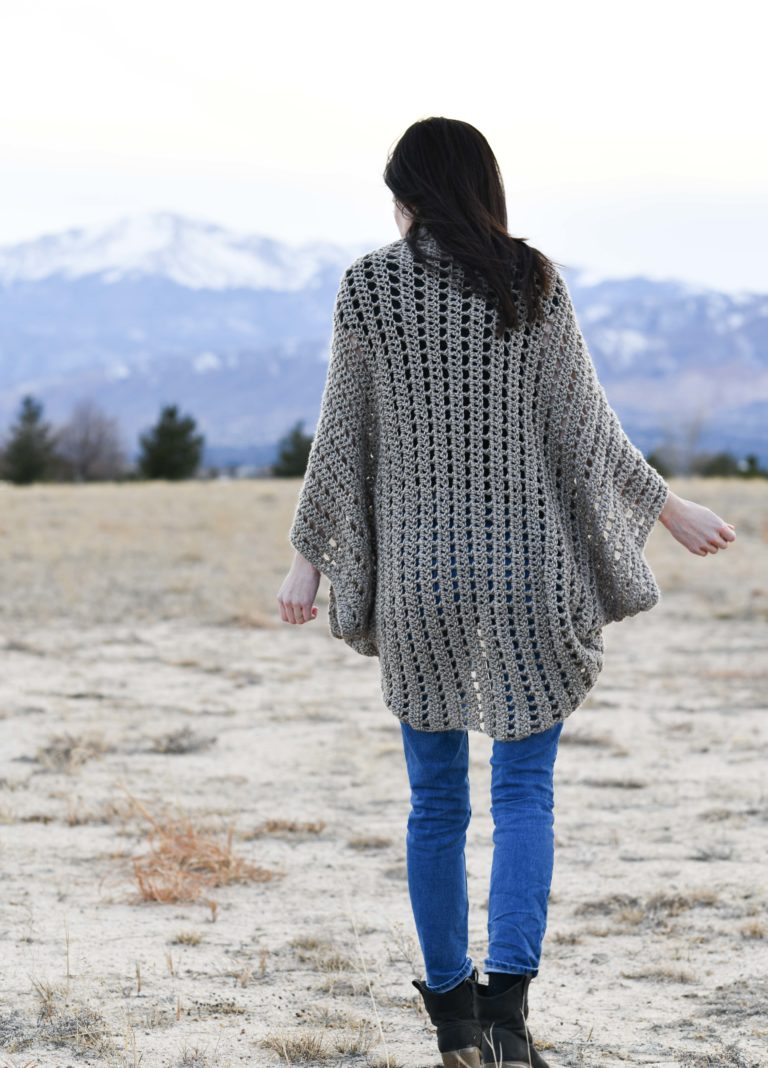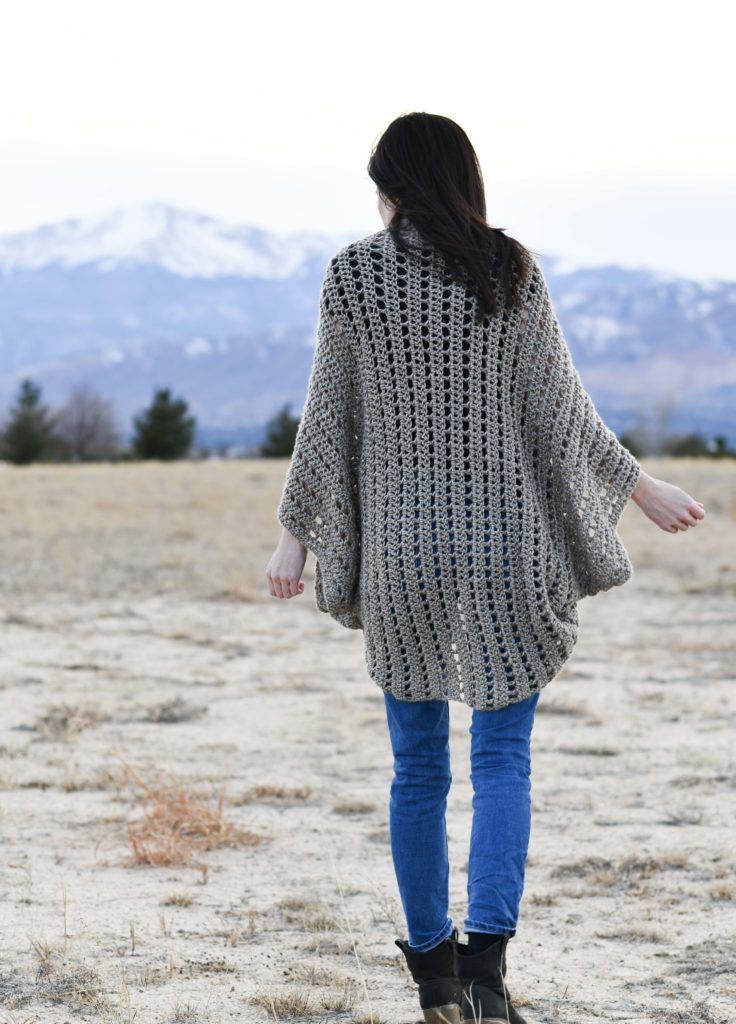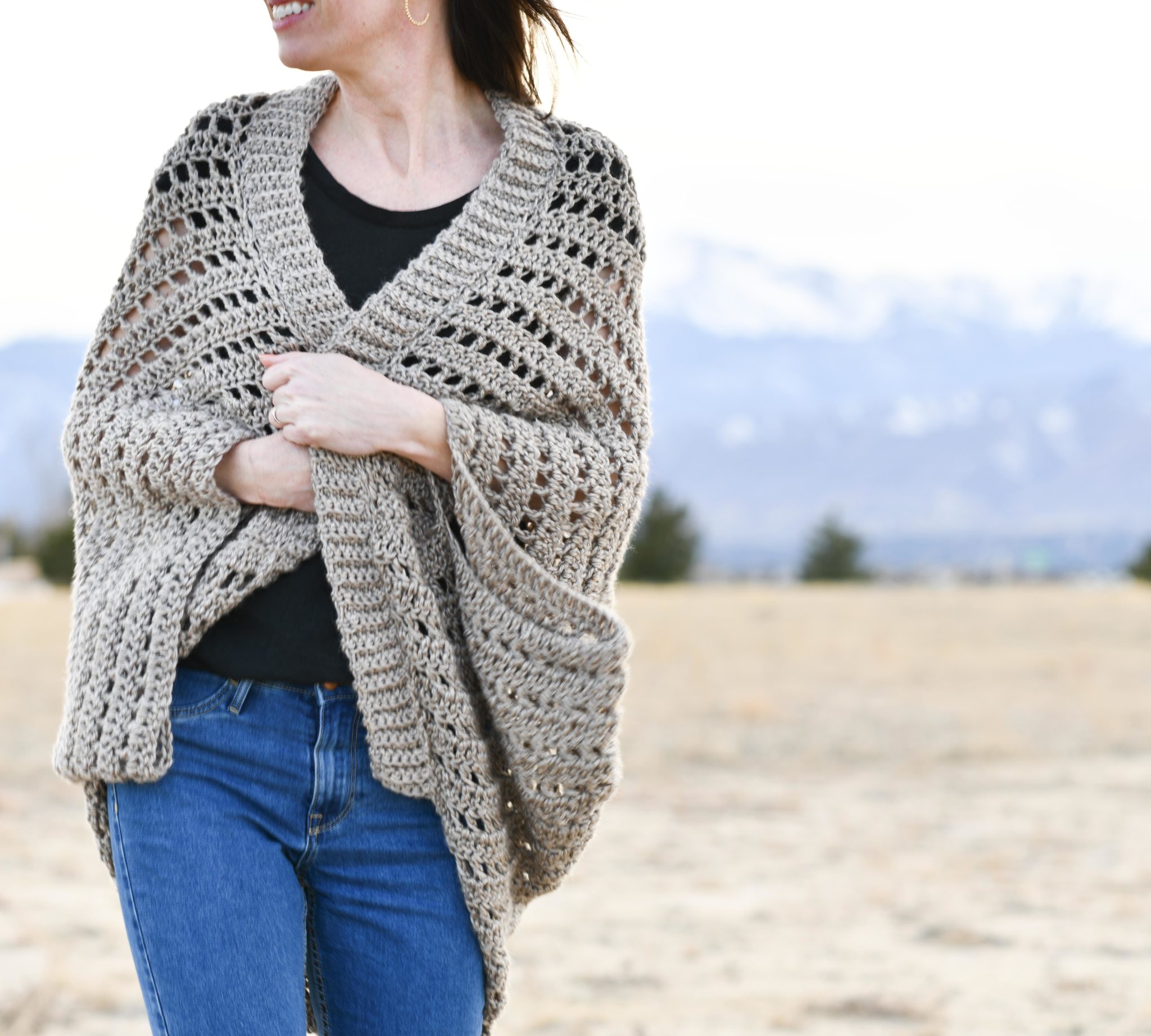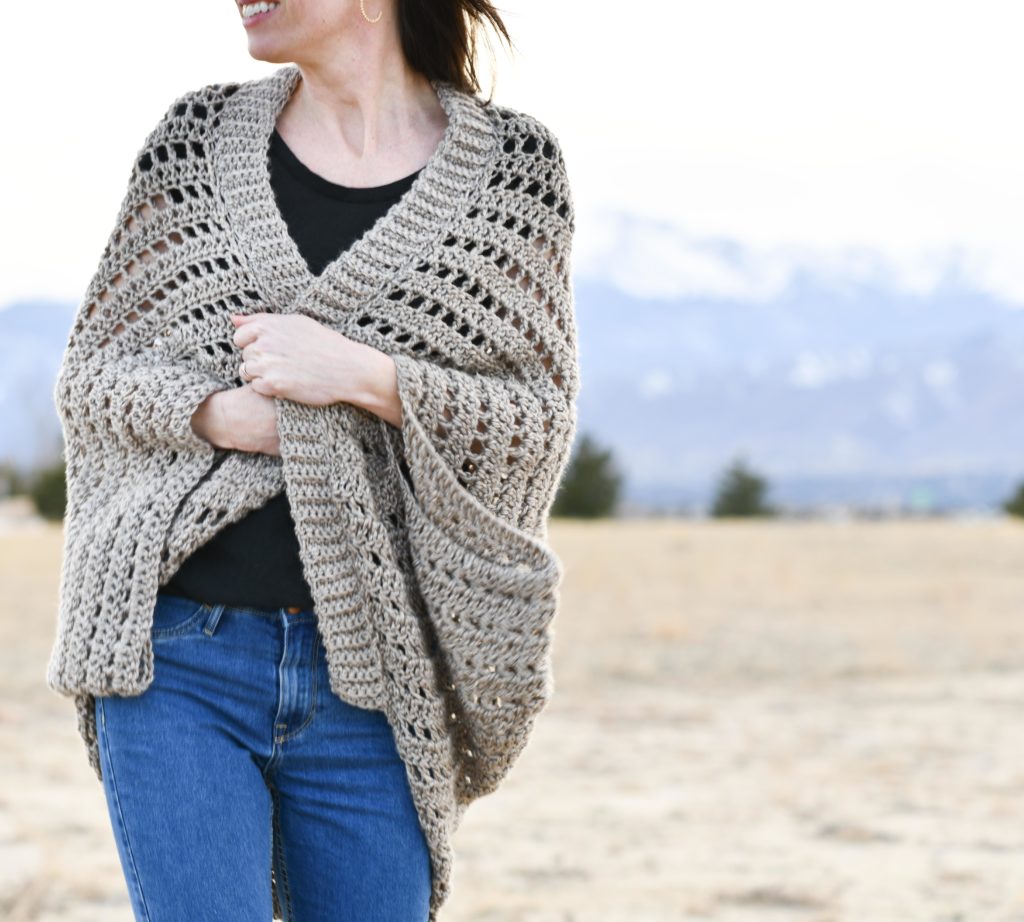 Remember to scroll down to see the helpful photos on how this is put together! And here's the video tutorial:
Easy Summer Fun Shrug Crochet Pattern
Pattern Description:
This super simple pattern uses double crochet and chain stitches to create a modern, open work fabric. The soft, light yarn is perfect for warm weather and the clean lines make it trendy yet classic. You'll crochet a simple rectangular shape and fold to seam. The collar is attached at the end and lends to it's comfort and style. This pattern includes pictures to help you along.
Skill Level:
Beginner +
Materials:
US Size K 6.5 mm crochet hook
4 Skeins Lion Brand Heartland Yarn in Grand Canyon (Pattern uses approximately 450 g)
Scissors
Tapestry Needle
Dimensions (approximate) One Size Fits Most
Width: (from end of arm to end of arm) 41"
Length: 34" including collar
Measurement is taken while piece is laid flat.
(Pictured on size small model)
Abbreviations & Skills:
ch – chain
sc – single crochet
sc blo – single crochet through the back loop only
dc – double crochet
ch st – chain stitch
st – stitch
sk st – skip stitch
ch 1 sp – chain 1 space
Gauge:
Not important for this pattern
Notes: This shrug is created by crocheting a rectangle lengthwise while following the stitch pattern It is then folded and seamed to create the arm openings. The collar is then crocheted separately at the end and is attached with a simple whip stitch.
Pattern Instructions
Main Body
Ch 89
Row 1 Dc in 3rd st from hook and in each ch st across the row (87 stitches)
Row 2 Ch 4 (counts as 1st dc st and ch st), turn, sk st, dc in next st, *ch 1, sk st, dc in next st; repeat from * across the row ending with a dc stitch. (87 stitches)
Row 3 Ch 3 (counts as dc st), turn, *dc in ch 1 sp, dc in next dc st; repeat from * across the row, working final dc in 3rd st of turn ch from previous row. (87 stitches)
Repeat rows 2 & 3, in that order, until piece measures approximately 41" long. Tie off and weave in ends.
Next, you'll crochet the collar!
Collar
Ch 8
Row 1 Sc in each st across the row (7 stitches)
Row 2 Ch 1, turn, sc blo in each st across (7 stitches)
Repeat row 2 until collar reaches approximately 60" long, tie off and weave in ends.
Assemble:
Place rectangle width wise on flat surface. Fold each corner inward as pictured below. Seam the corners together, working approximately 4 ¾" inches inward leaving openings for the arms. Tie off and weave in ends.
Center the collar onto your piece and whip stitch to attach. Tie off and weave in ends.
Helpful Photos:
Below: An up-close of the stitch pattern. You may choose to practice the stitch pattern on a small swatch before beginning. Simply chain an odd number of stitches and follow the pattern for the Main Body of the shrug.
Below: The completed rectangle. Your beginning chain is along the side of the piece as you are worked lengthwise. Fold the corners in as pictured.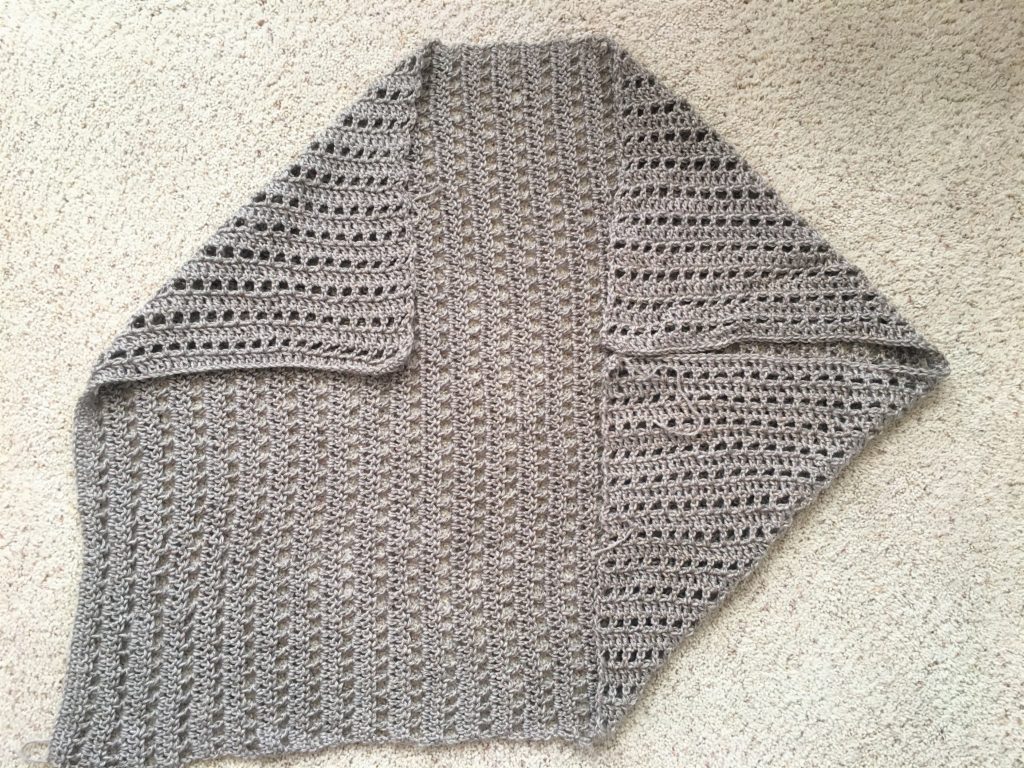 Below: The corners are all folded and now you will seam while leaving openings for the arms.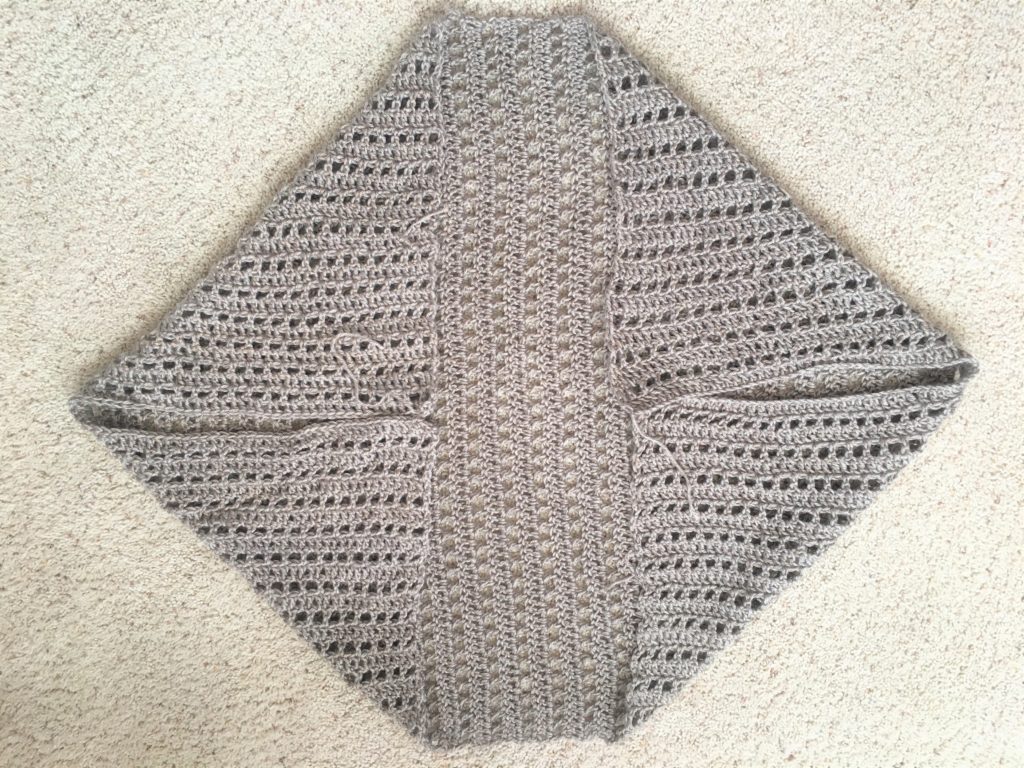 Below: Seaming to create the sleeves.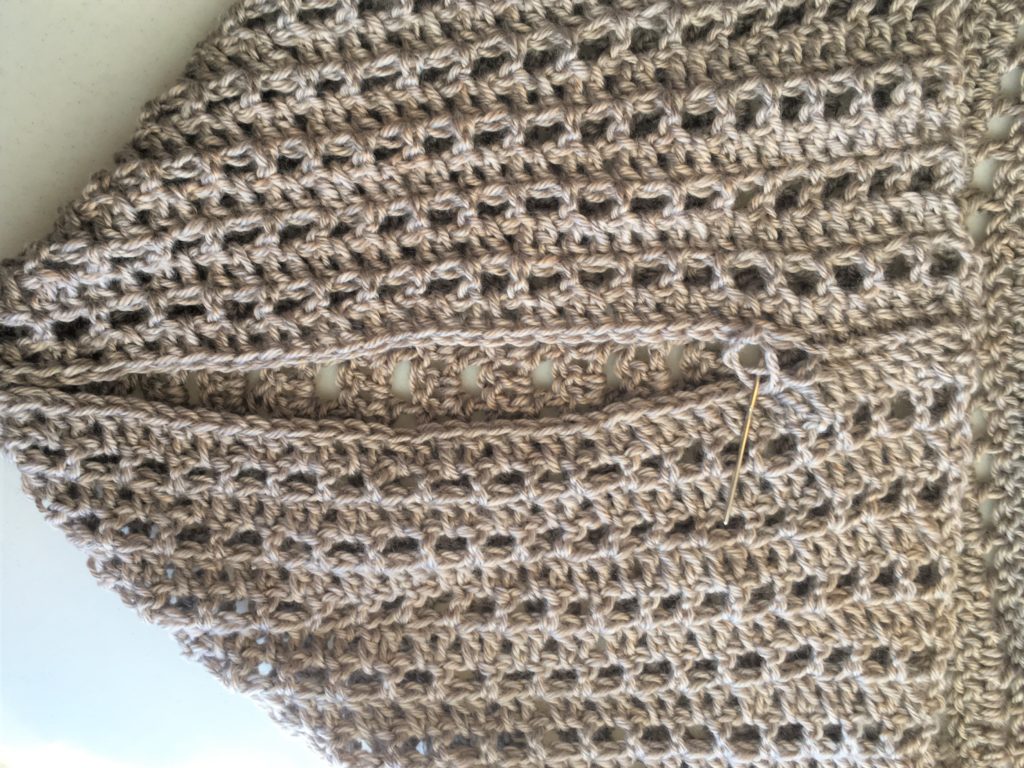 Below: Attach the collar and whip stitch to the shrug.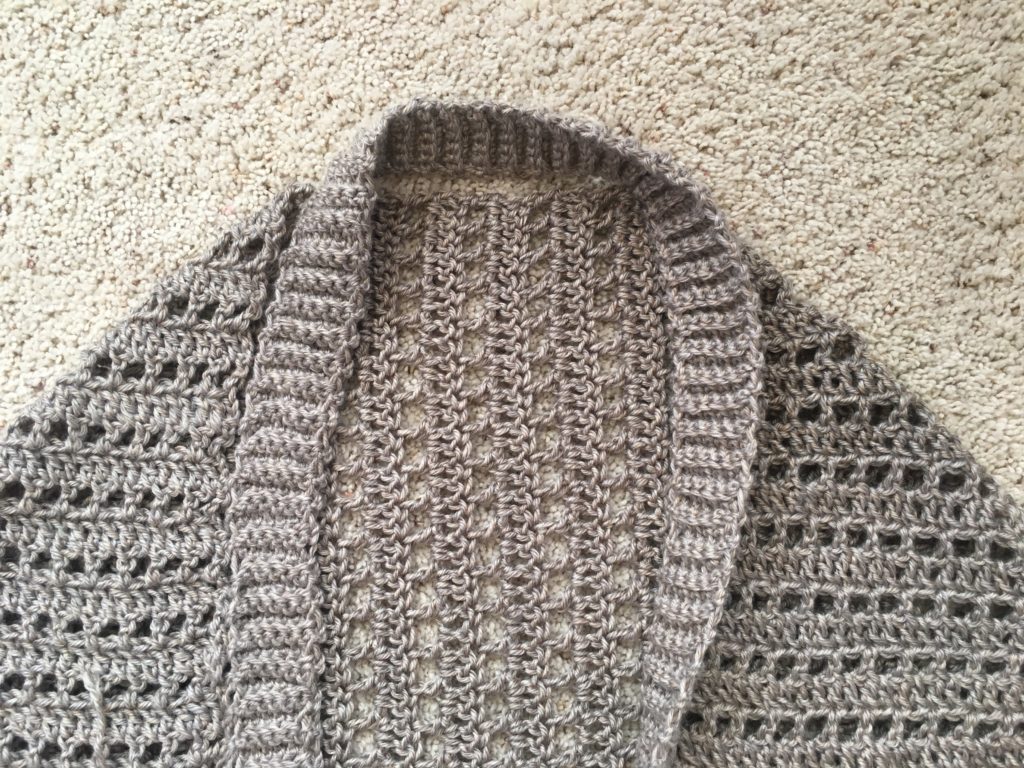 It also can be helpful to practice the stitch pattern on a small swatch before starting the full rectangle. All you need to do is chain an odd number of stitches and follow the stitch pattern for the main body. Here is an example of what a small swatch will look like: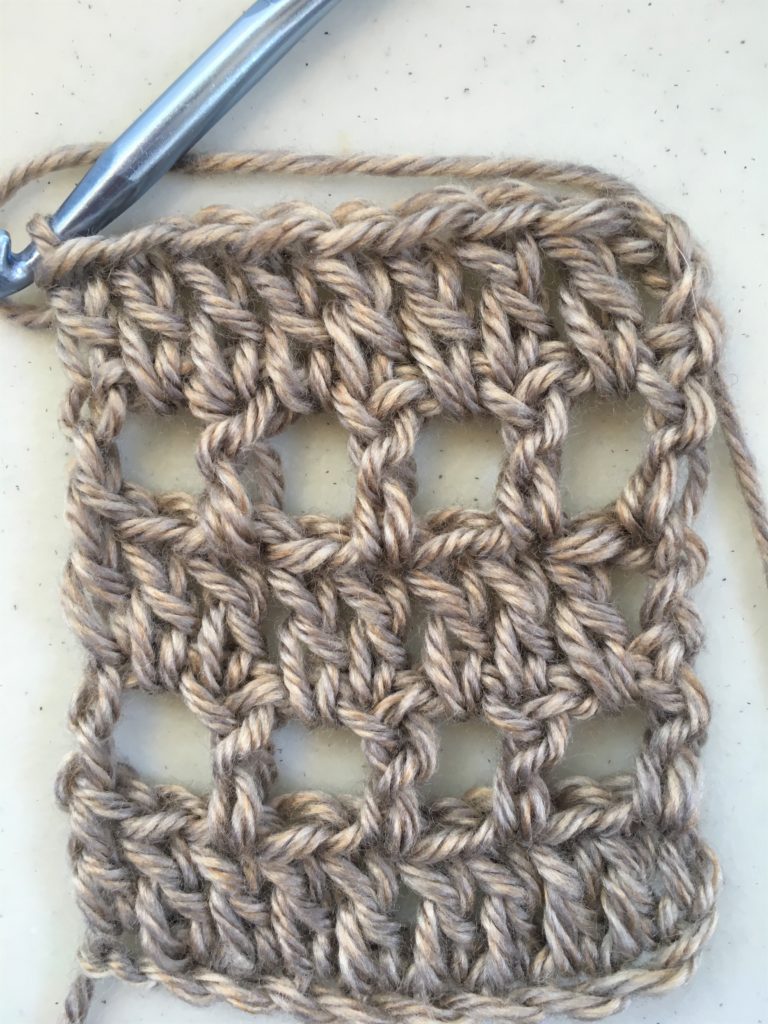 And that's all there is to it, my friends!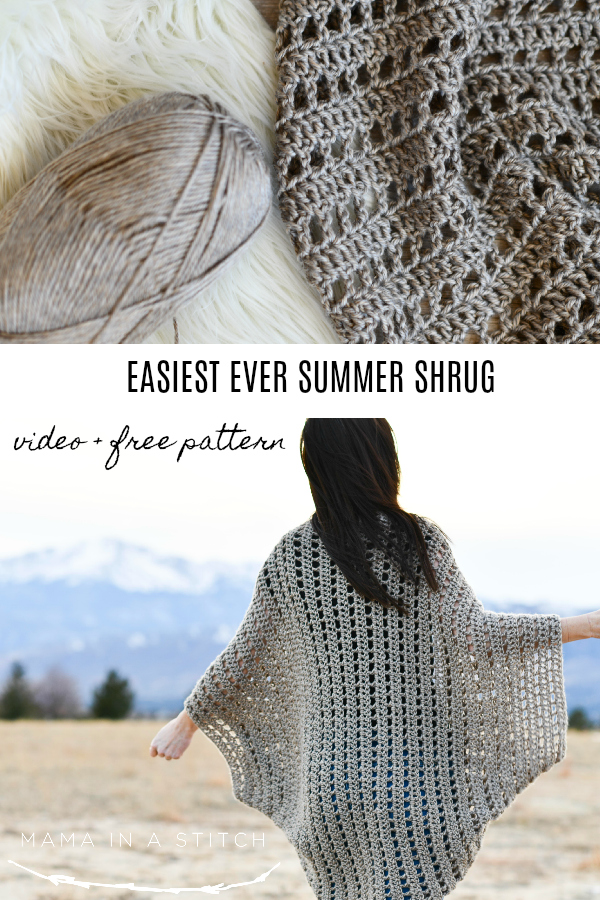 I hope you enjoy it and I'd love to see if you make one! You can tag me on Instagram @mamainastitch and #mamainastitch to show me your finished pieces. Happy spring my friends.
XO,
Jessica