Aspen Relaxed Knit Poncho Pattern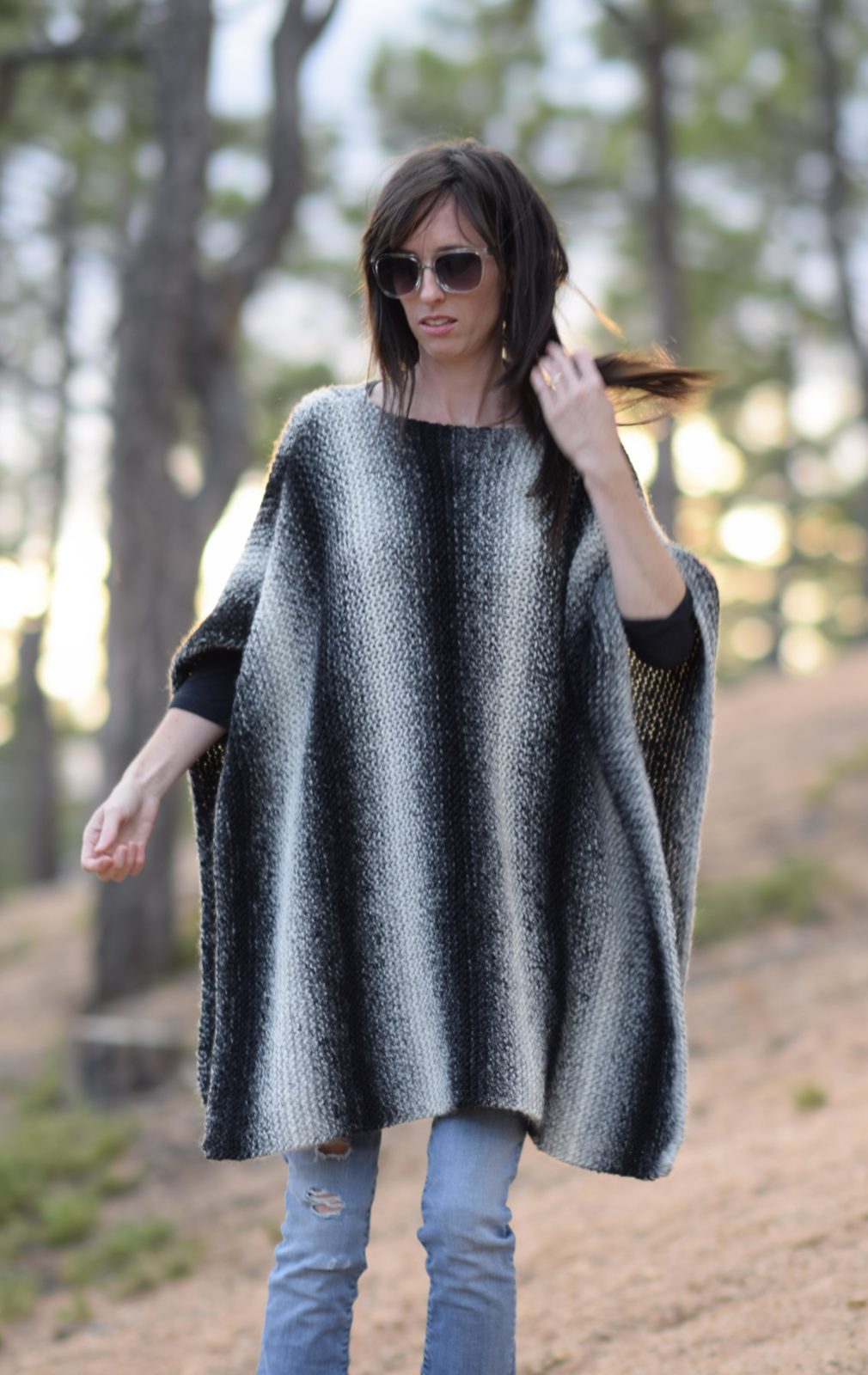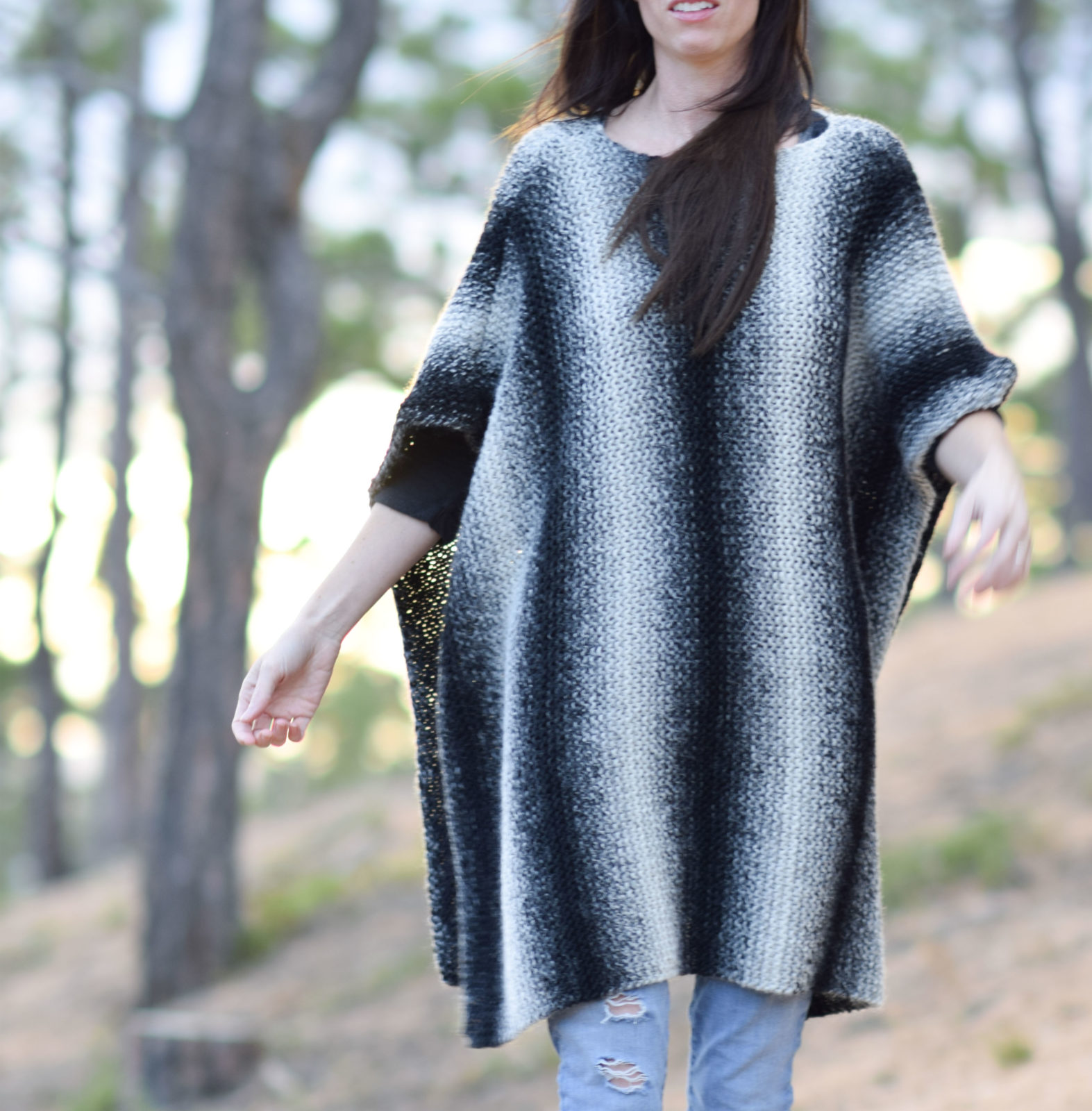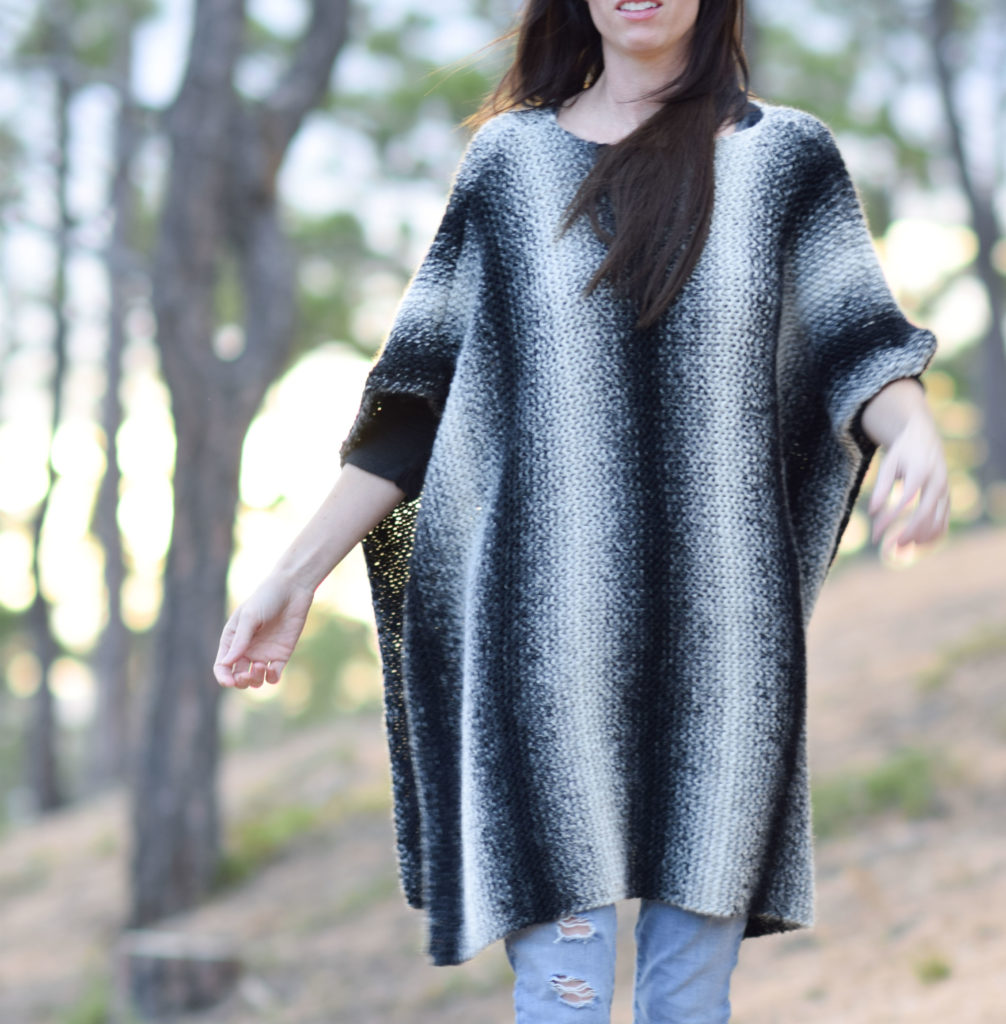 Hello my friends! Today's knitting pattern is here thanks to several requests from you for a knit version of the crocheted Driftwood Oversized Hooded Poncho that I shared back in August. This Aspen Relaxed Knit Poncho has an amazing drape, comfort and warmth and is made entirely with the beginner garter stitch! This is one of those beginner friendly projects that prove you don't have to be a master knitter to make something really beautiful and completely functional. It's just as easy as a beginner scarf quite honestly, although it will take a lot longer to make. 😉 Really though, this project reminds me of one of the reasons this blog even came to be. When I first started knitting I wanted projects to be totally easy but still wearable (and that was sometimes hard to find). So there I went, making up crazy easy projects. Even now though, I still prefer simple and mindless projects. This poncho does take more time than many of the patterns you'll find from me, but this can certainly be one of those projects that you pick up and put down whenever you have the time. Hopefully you will find it to be easy peasy and if you're a beginner maybe you'll want to try this out. 🙂
Update: Lion Brand Yarn has made this pattern into a kit that you can purchase HERE, or feel free to scroll down to see the free pattern below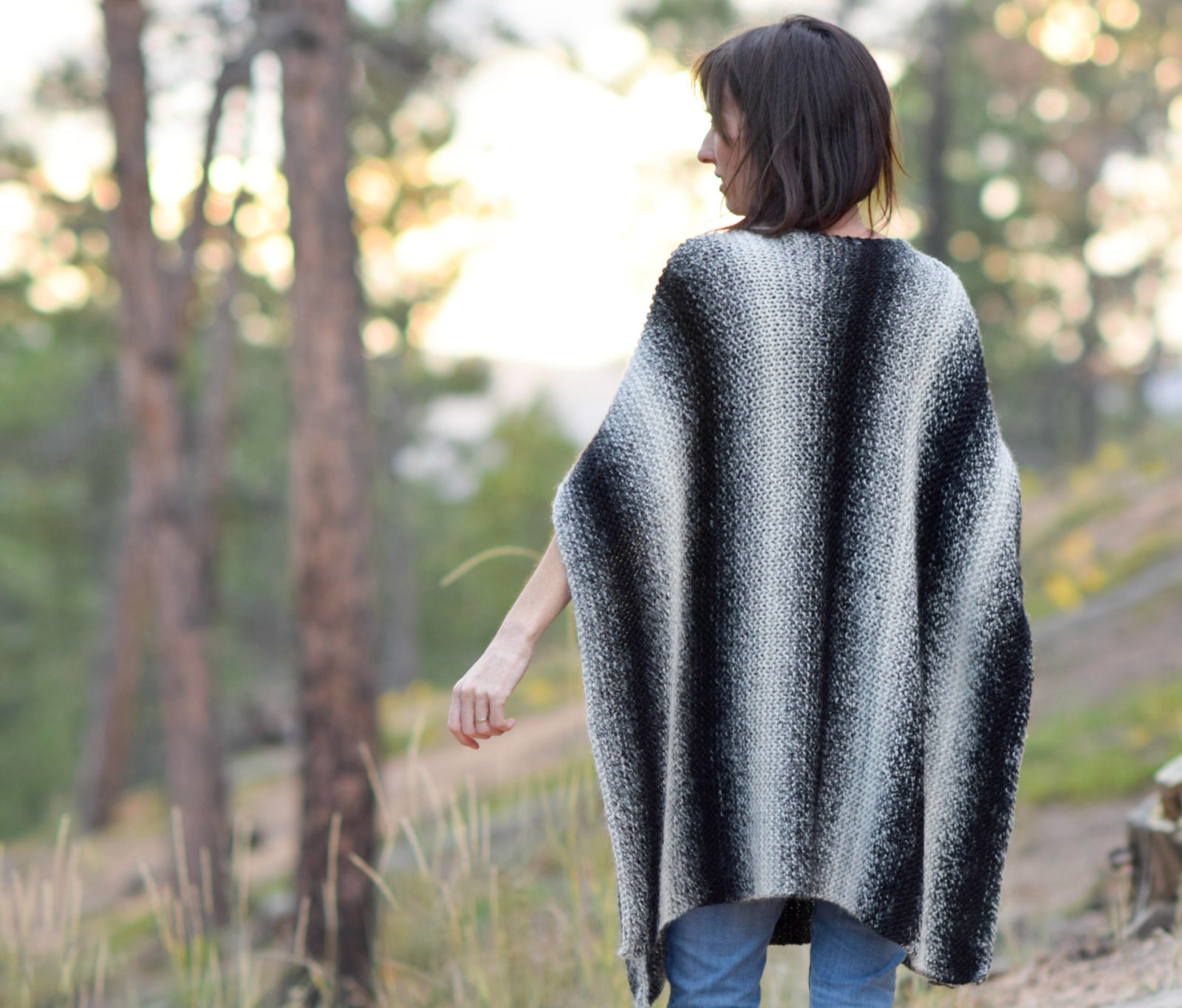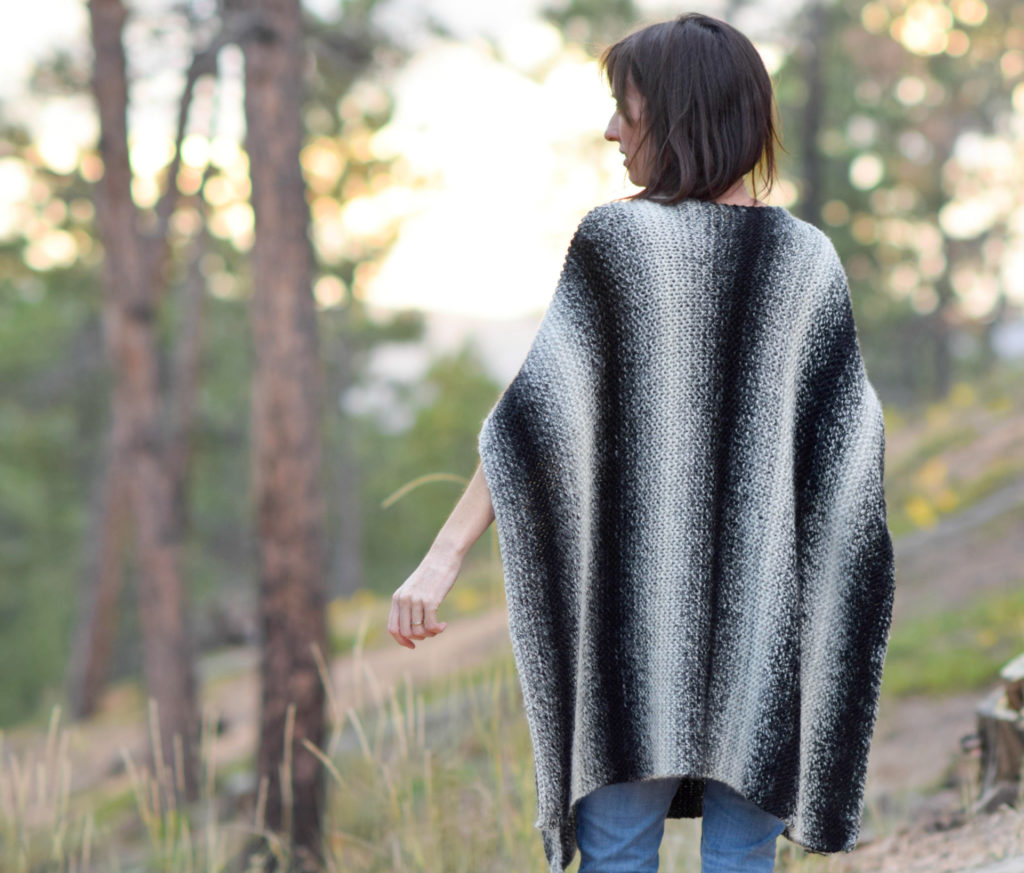 It had to be named the "Aspen" because the vertical striping and coloring reminds me of one of my favorite trees, the Aspen tree in the winter. It's made with Lion Brand Scarfie, so the color work just happens like magic without you having to do any color changes. I didn't add a hood to this one, but if you're experienced you certainly could knit a large rectangle, fold it in half and seam it to the neckline just like I did with the crochet version. The classic black and white color blend goes with just about anything and I think the vertical striping is slimming and flattering. What color would you like to see this with poncho?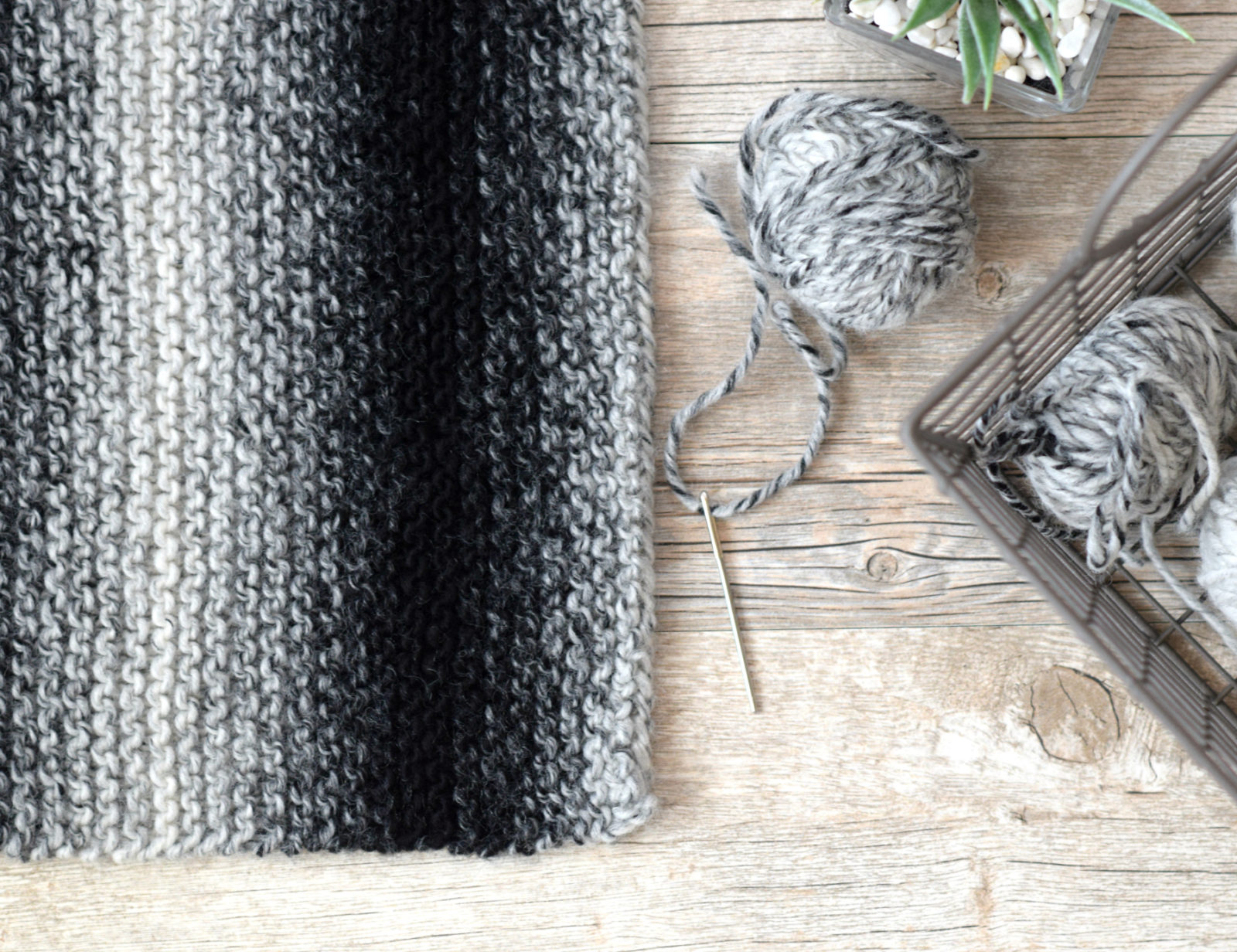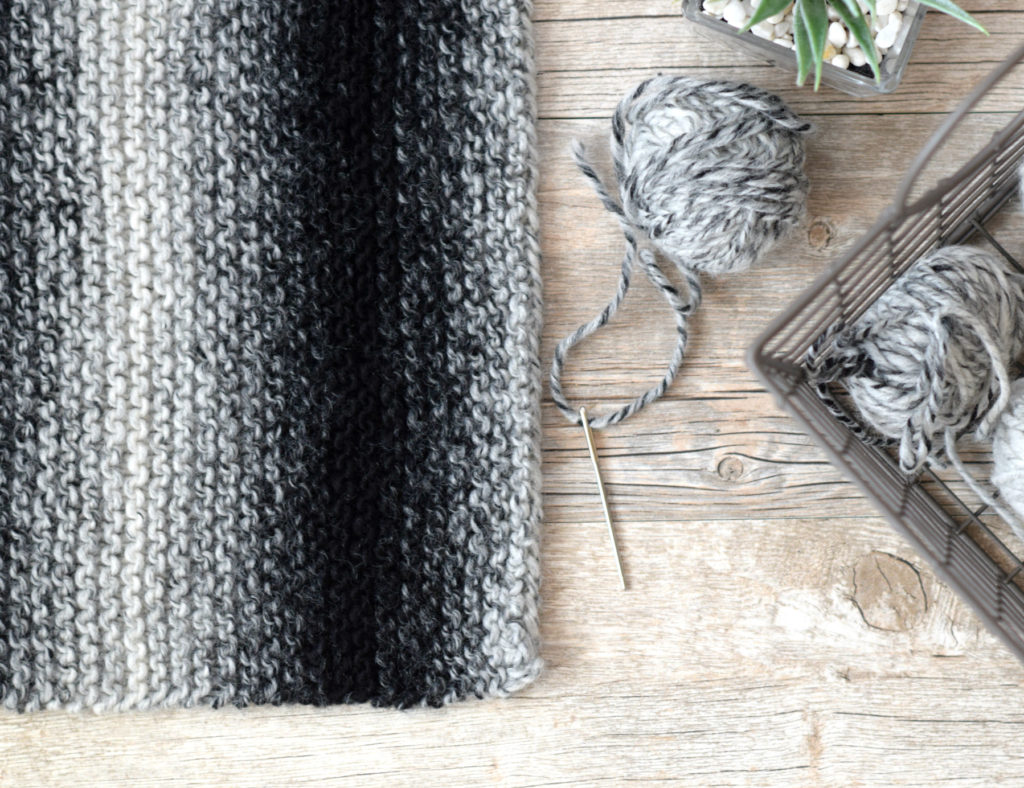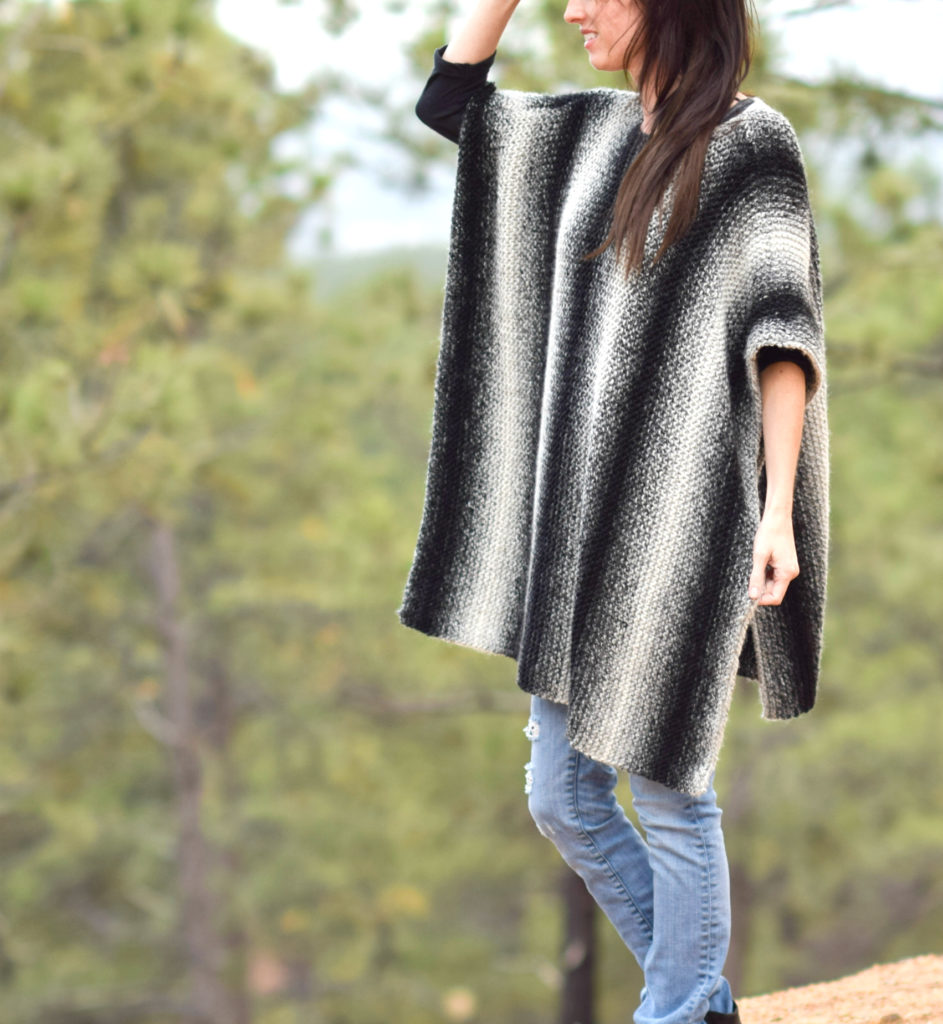 Essentially, this poncho is made by knitting two rectangles and seaming at the shoulders with a basic whip stitch or any seam you prefer. So very simple! Oh, and if you don't know how to knit but want to learn, you can check out my video and post on how to knit here.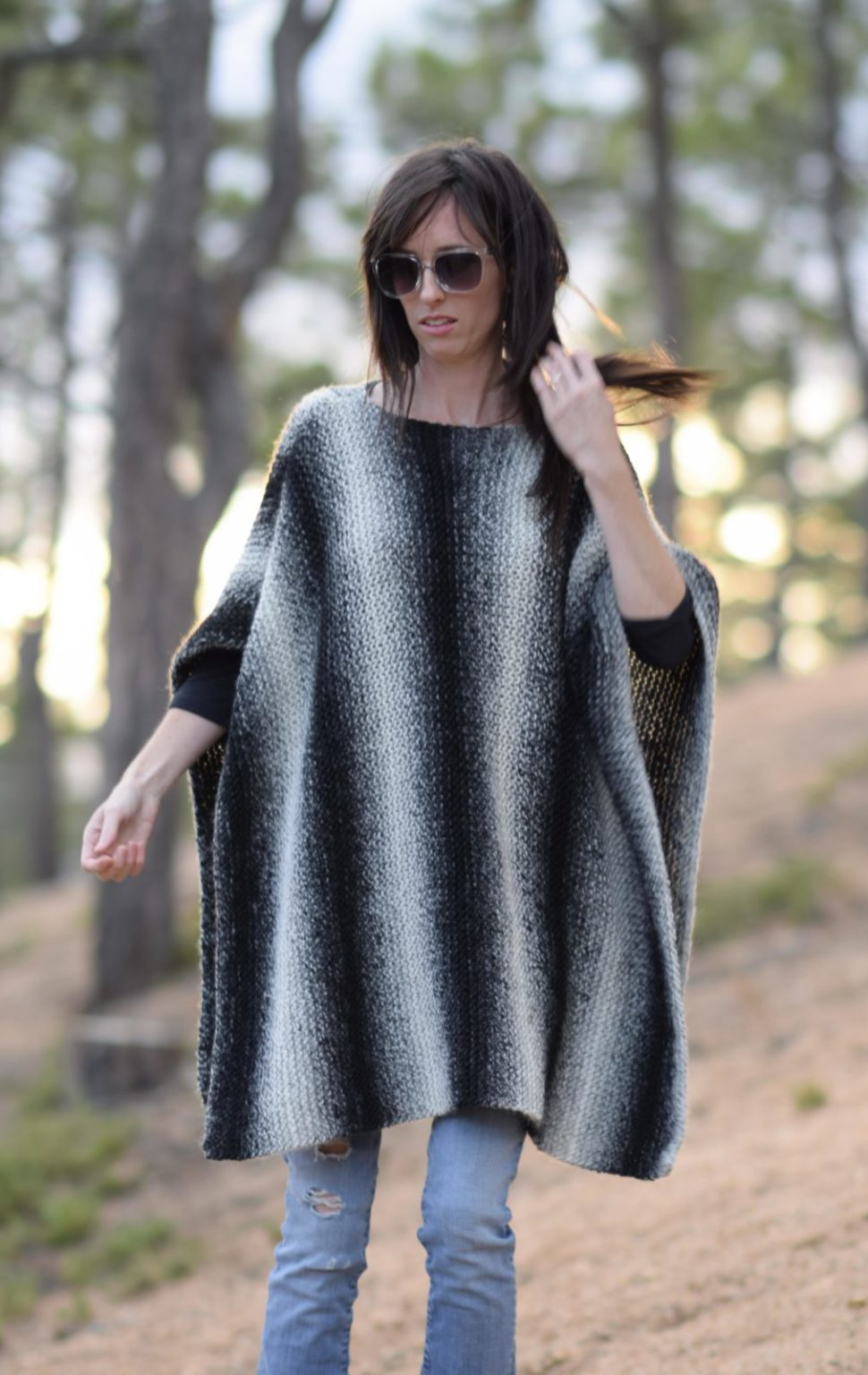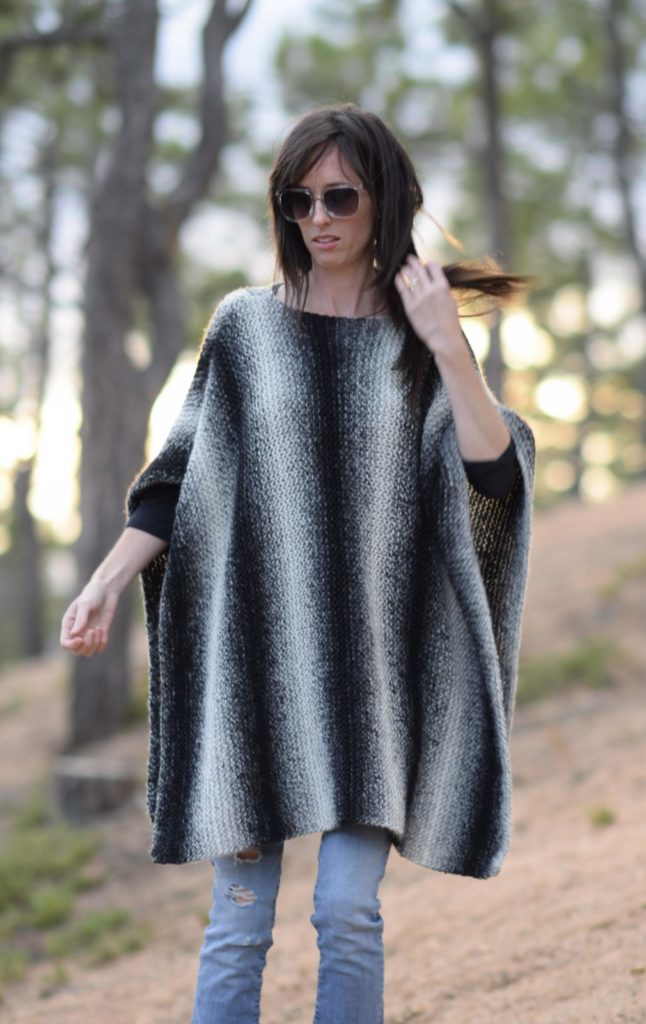 Alrighty, are we ready to knit this? You can find the free pattern below, or the ad-free printable PDF pattern available for purchase in my Etsy shop here. 🙂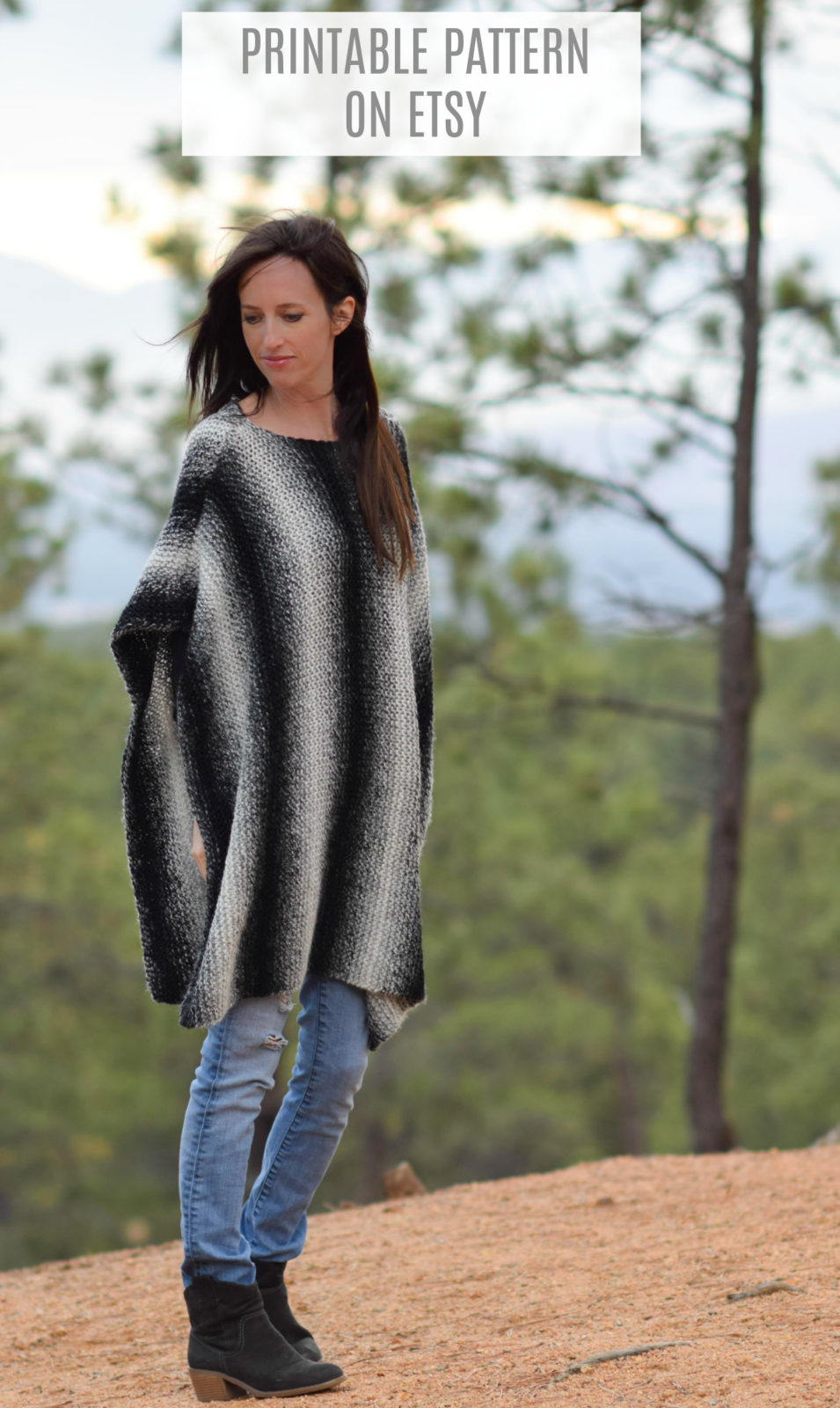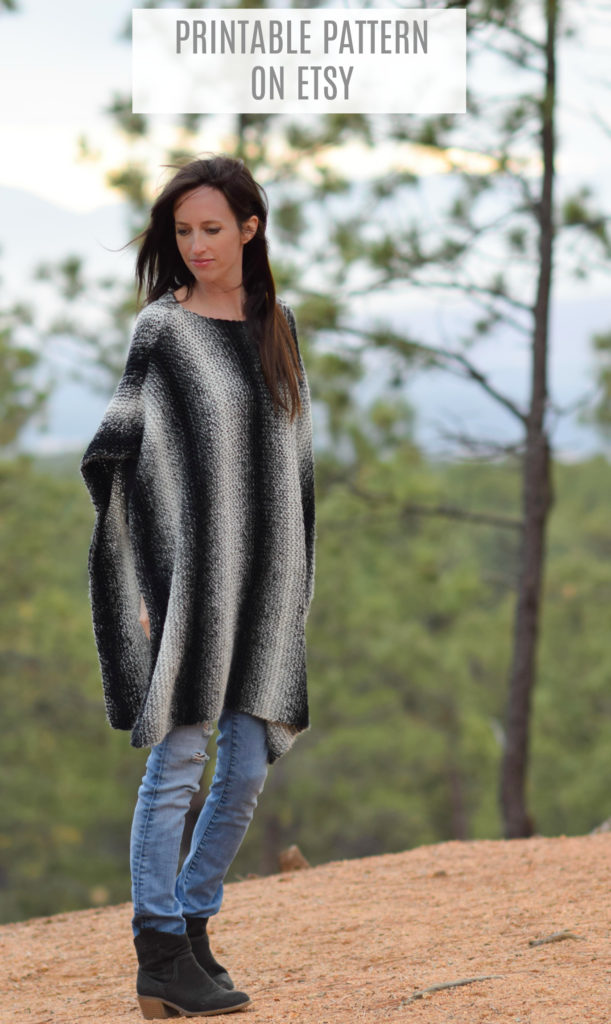 Aspen Relaxed Knit Poncho Pattern (Easy Knit Pattern)
This beginner friendly poncho has a beautiful drape and classic color combo making it a perfect piece to add style and comfort to any cold weather outfit.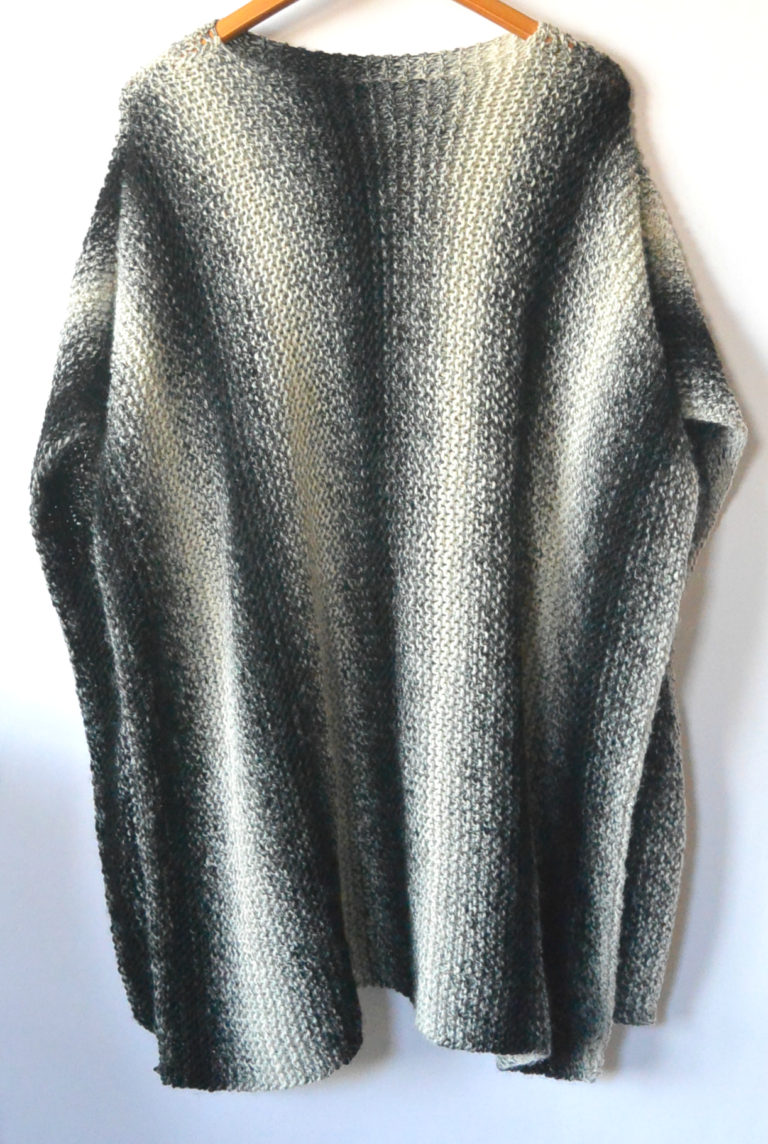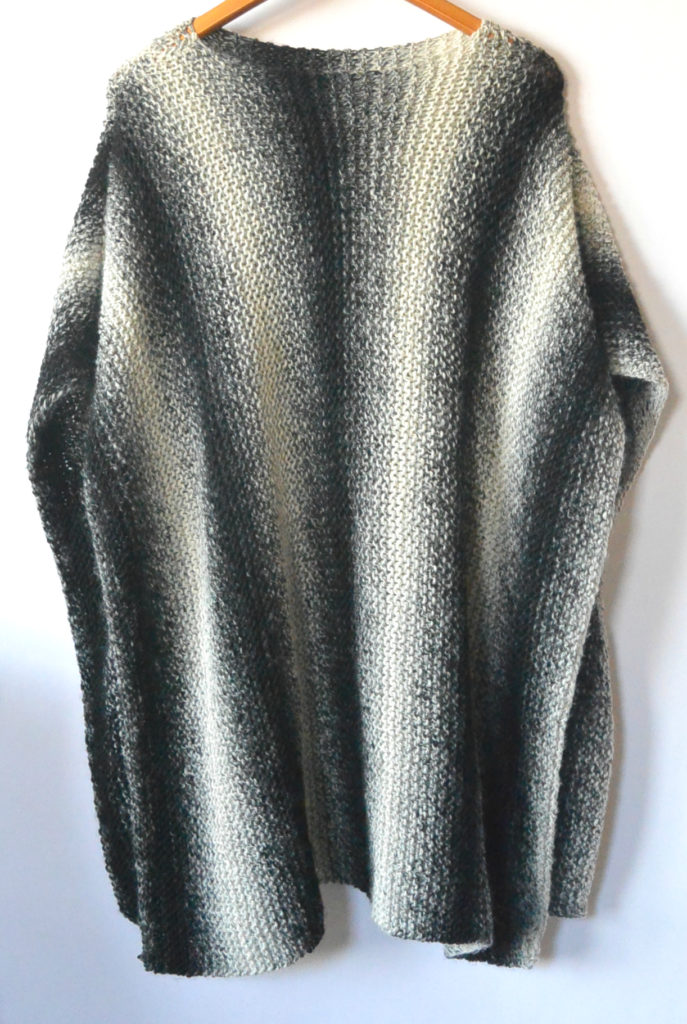 You will need:
US Size 11 8.0 mm 29" circular needles
4 skeins Lion Brand Scarfie Yarn in Cream / Black (150 g/skein)
Pattern uses approximately 476 g
Scissors
Tapestry Needle to weave in ends
Size:
One size
Measurements:
Approximately 31" wide X 26.5" long
Skill Level:
Beginner
Gauge:
Not important for this pattern
Skills & Abbreviations:
k – knit
Notes:
This poncho is made by knitting two rectangular panels and seaming them together at the shoulders. The cast on edge is the side of the panel and the knitting is worked across. Pattern is worked from one side to the opposite side of the rectangle.
If you want the front and back striping to be similar, begin each panel with the same color. For example, if your first panel starts with black, you should also begin your second panel with black. Skeins will often work out the same, but it may be necessary in some cases to wind a certain color and save it for later in order for consistent striping throughout the pattern.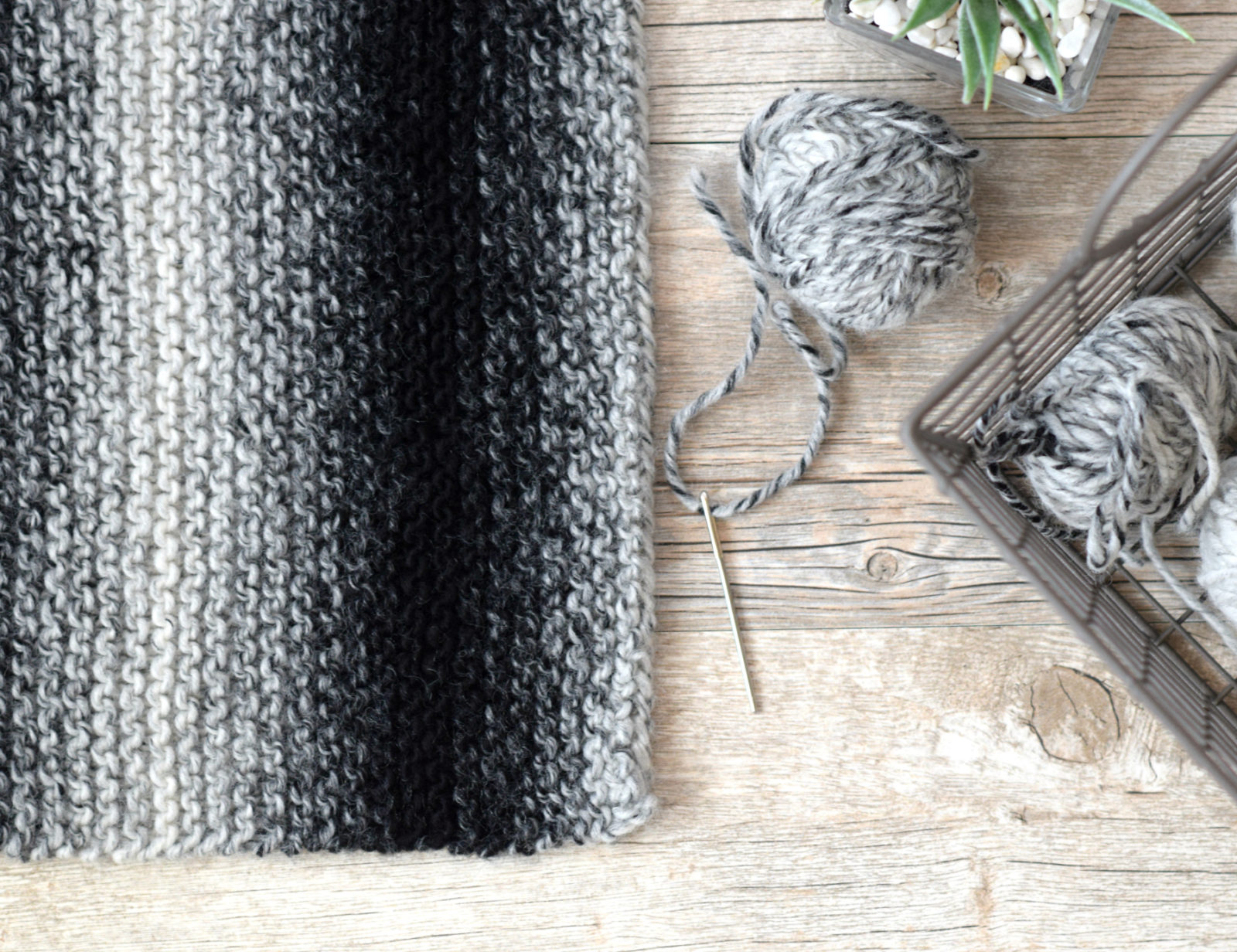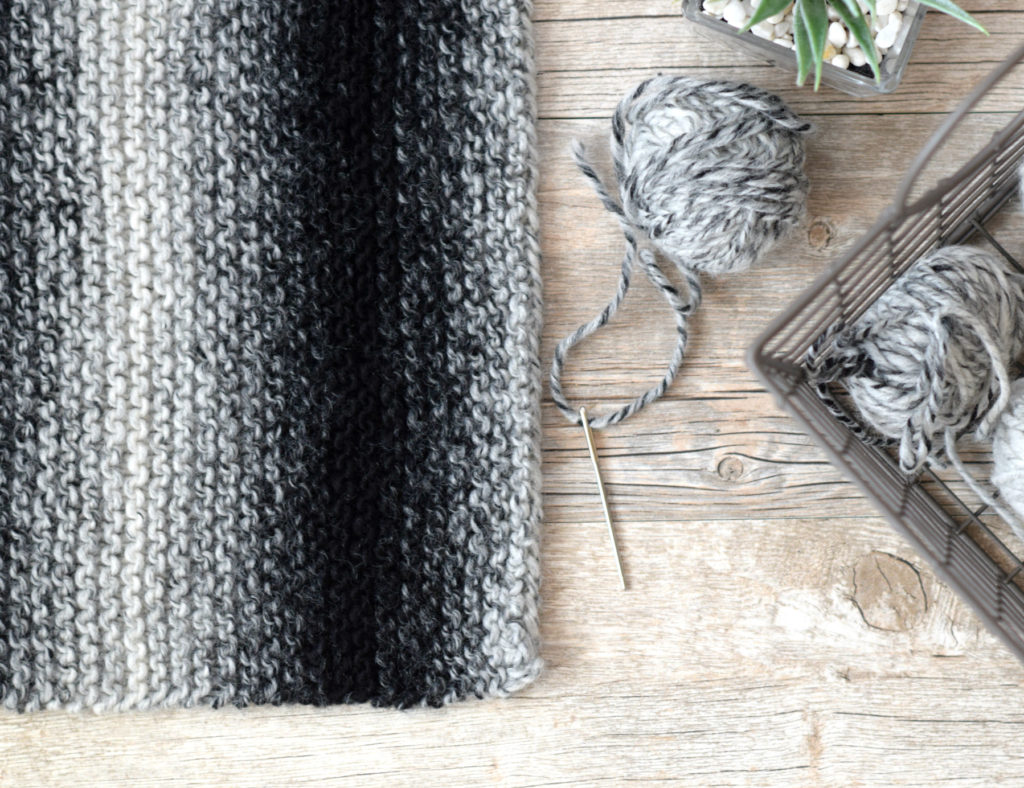 Aspen Relaxed Knit Poncho Pattern
Cast On 86 stitches
Row 1 Knit across row (86 stitches)
Next, repeat row 1, knitting across each row until piece measures approximately 31", ensuring that the stripe at the cast off end matches the stripe at the cast on edge.
Cast off, weave in ends.
Repeat above pattern to make second panel.
Assembly:
Place panels one on top of the other with stripes vertically aligned. With a length of yarn and your tapestry needle, sew the top of the two panels together from the outside, inward leaving approximately an 8" opening in the center for the head opening. While this may seem small for the head opening, the fabric stretches when worn so it becomes wider on the neckline. If you do need to make it the opening wider or smaller, simply adjust your seam accordingly. Weave in those ends. 🙂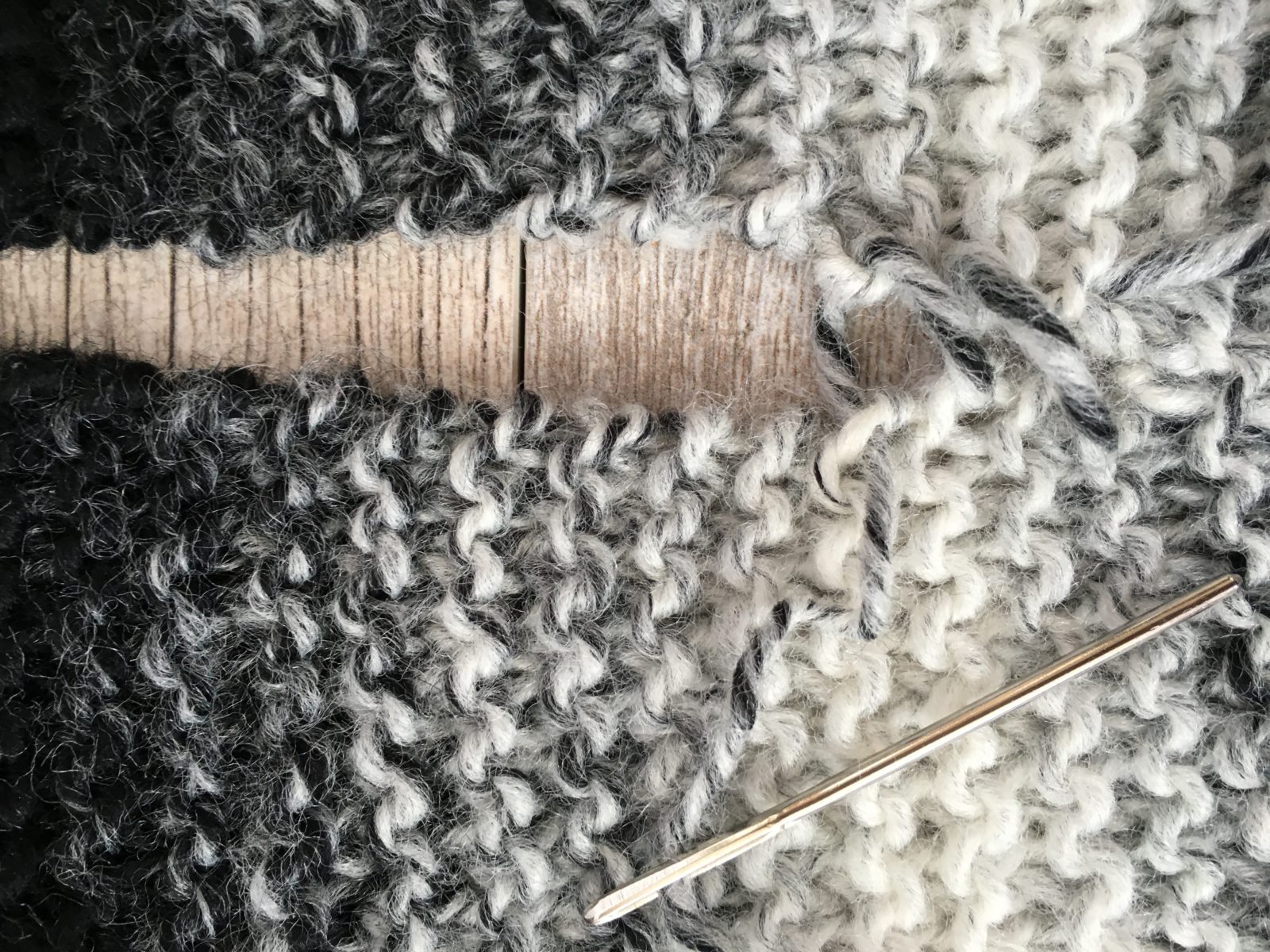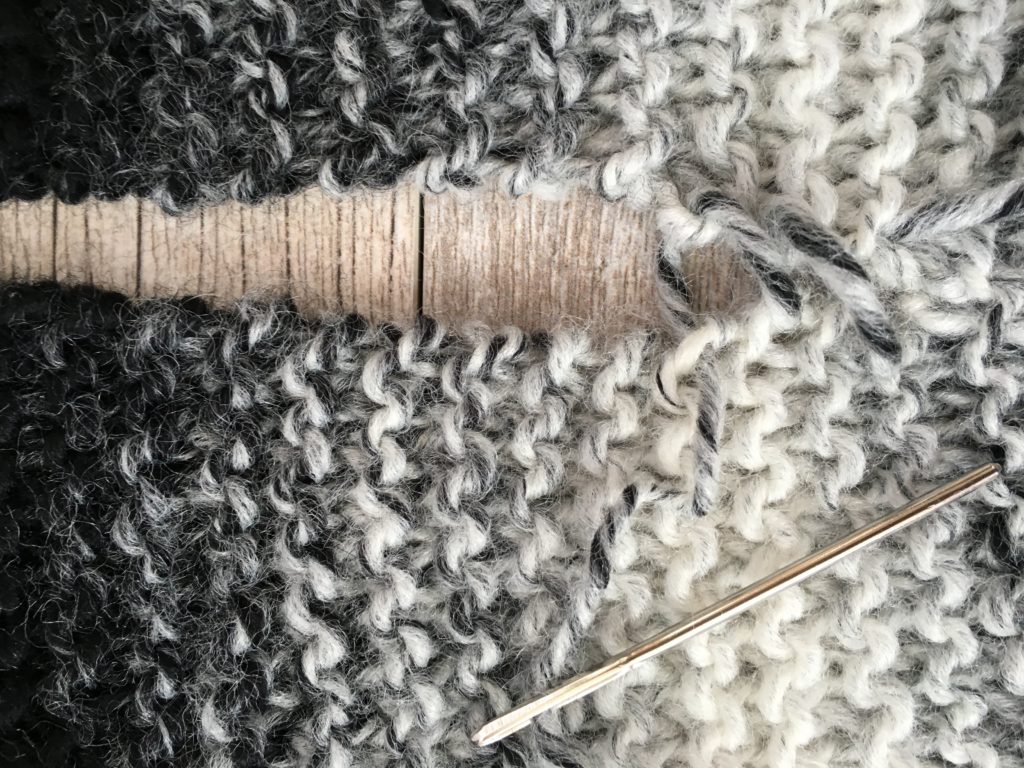 I'd love to hear if you make one. 🙂 And as always, feel free to tell me your thoughts or questions in the comments below.
XO
Jessica
If you crochet and want to make something similar, there's this: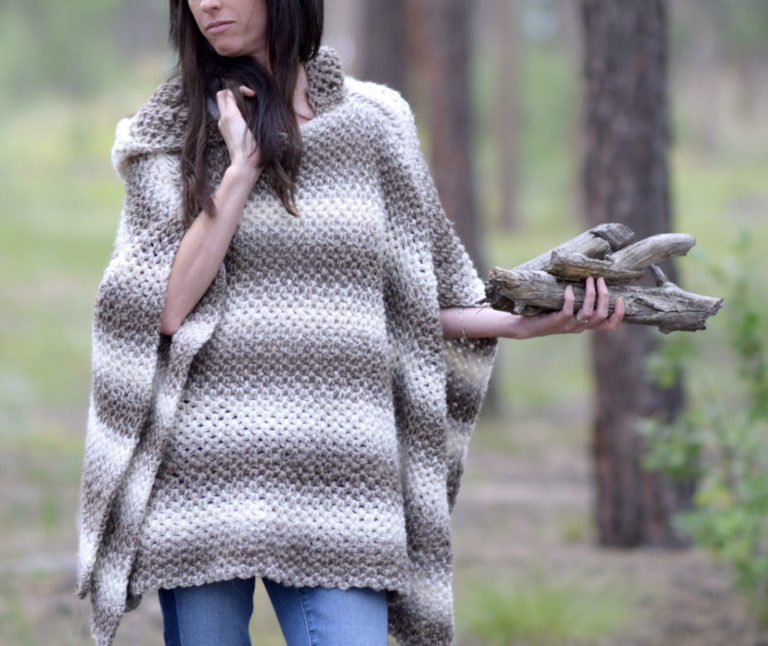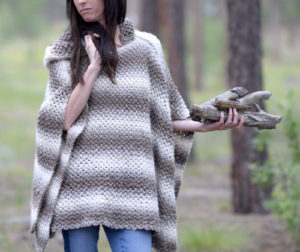 Or another easy knitting pattern: