Big Luxurious Alpaca Knit Scarf Pattern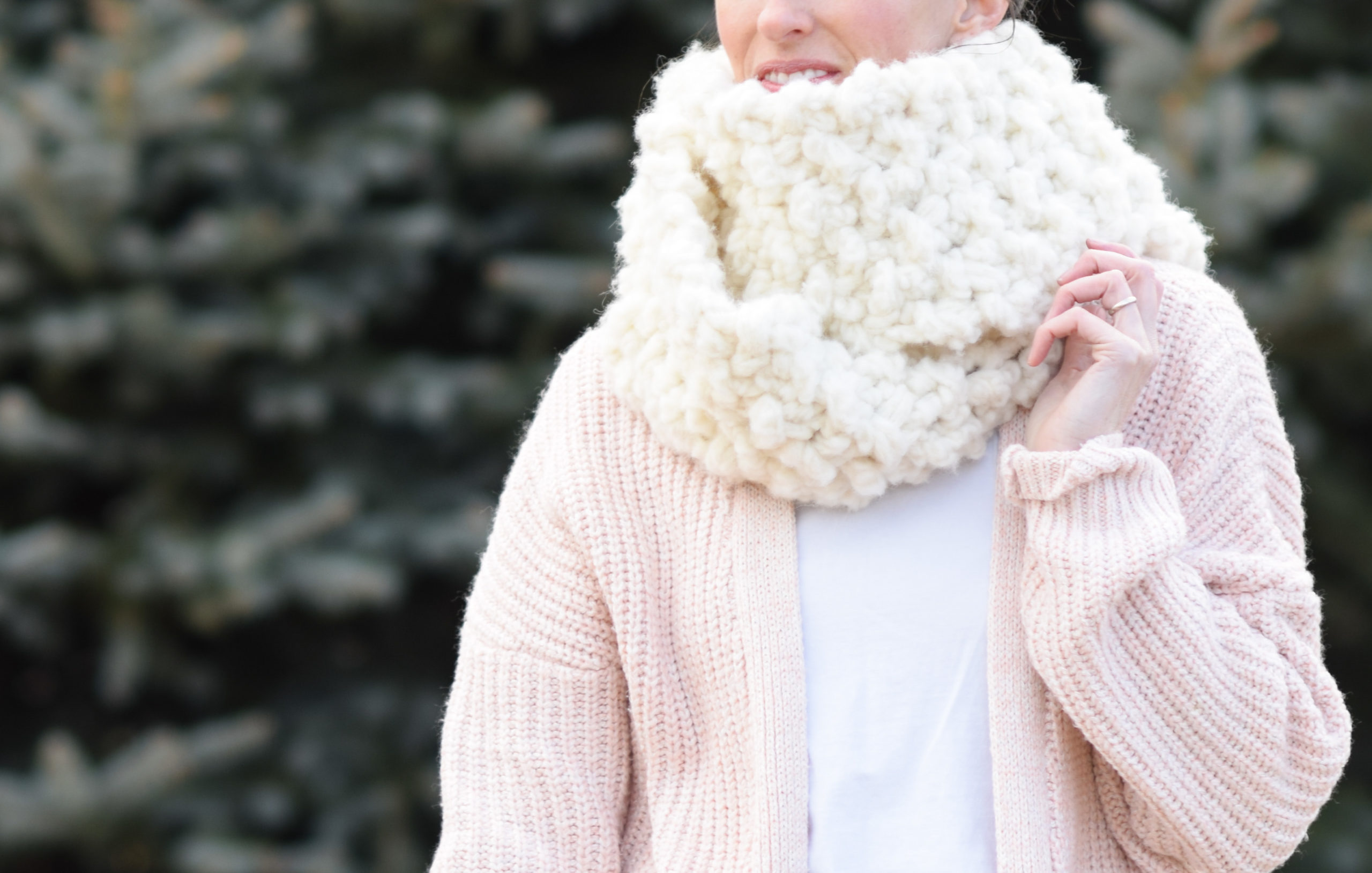 Anyone want to wear a handmade, luxurious cloud around your neck? Yeah me too. In prepping for my trip to NYC (squeeeel!) I wanted to be able to wear this luxurious, warm knit scarf. While it's big and wonderful, it's also a quick knit and wait for it……it only uses ONE SKEIN OF YARN. I happen to have a second skein of this incredible Lion Brand Alpaca Blend so one of my bff's is getting a glorious, hand knit cloud to wear around her neck soon. This is definitely not your run of the mill scarf; it makes a super special and thoughtful gift to a friend or yourself as the fiber is lux, lux, lux. You also don't need to be an expert knitter to make this as it uses the most basic knit and purl stitches. I'll explain more about this easy pattern below and I've also linked to a video tutorial so anyone can do this!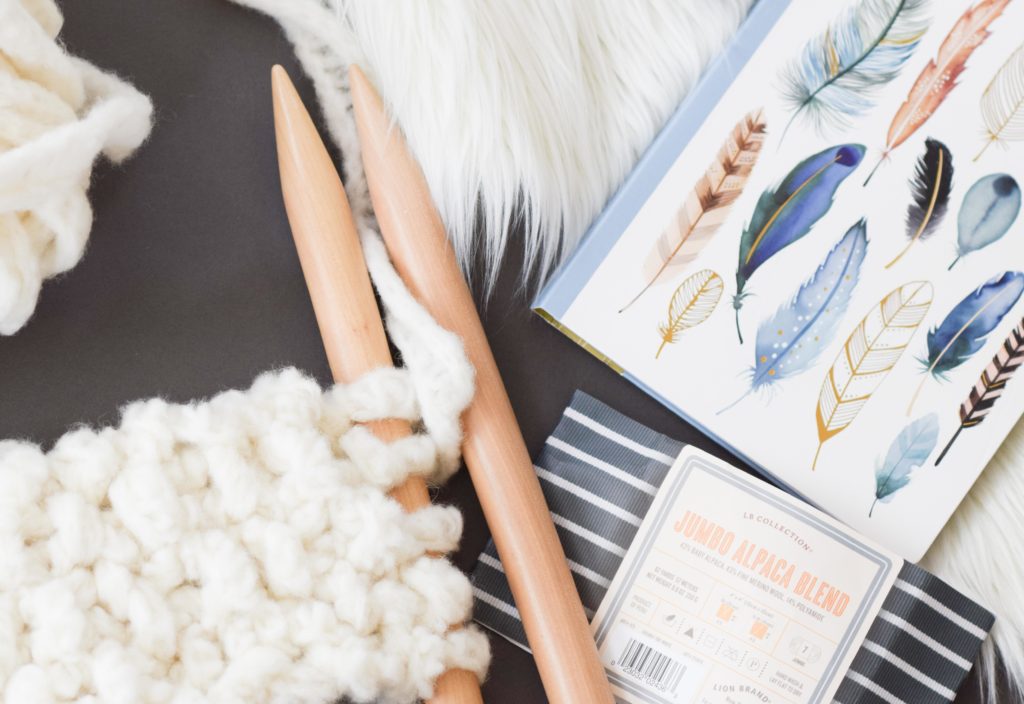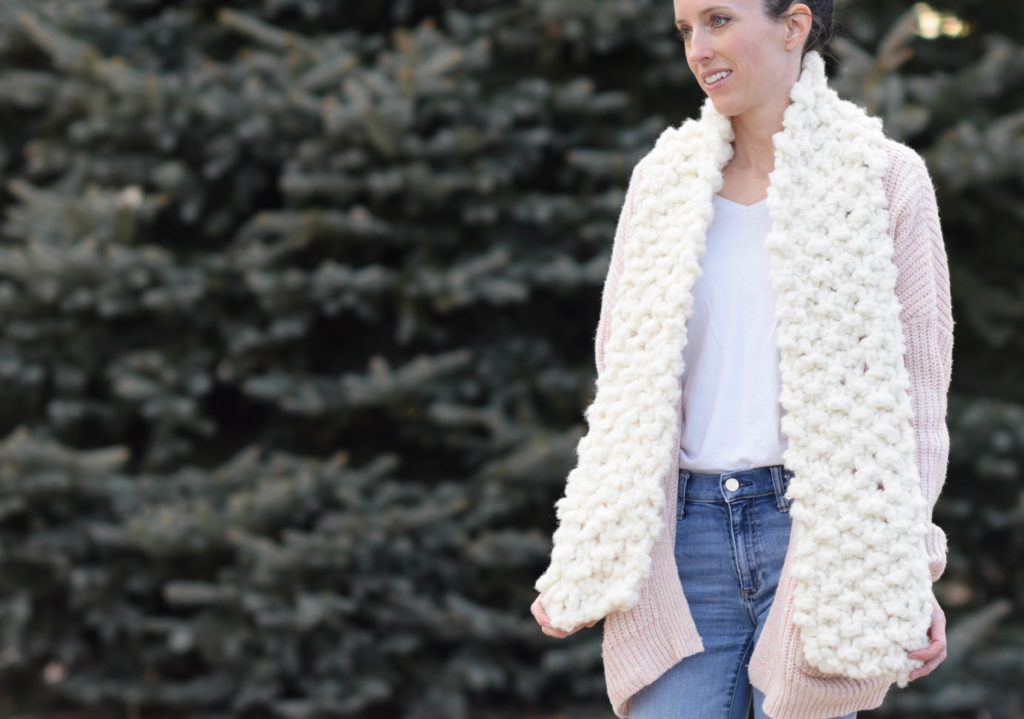 When Lion Brand asked if I'd like to try out their Jumbo Alpaca Blend yarn, of course I didn't have to think twice. Ha! I certainly chose cream as I often do, but they also included a skein of bright pink which I'm in love with as well. It was funny because while we were taking photos in my neighborhood for this blog post, my husband kept asking if I was freezing and I wasn't! It was something like 20 degress F, but even without a jacket this alpaca and wool blend (which is SO SOFT by the way) kept me toasty. The yarn reminds me a bit of the gorgeous roving wool for the giant knit blankets that you see all over Pinterest and Instragram. I've yet to make one of these giant knit blankets, but from what I've read the roving wool sheds. I don't want shedding blankets or scarves as my dogs do enough shedding thank you very much. Hehe! This Jumbo Alpaca Blend doesn't shed AT ALL! I expected it to be beautiful but possibly loose some little fuzzies. Not so. I absolutely love it and it's the definition of quality and beauty in my book.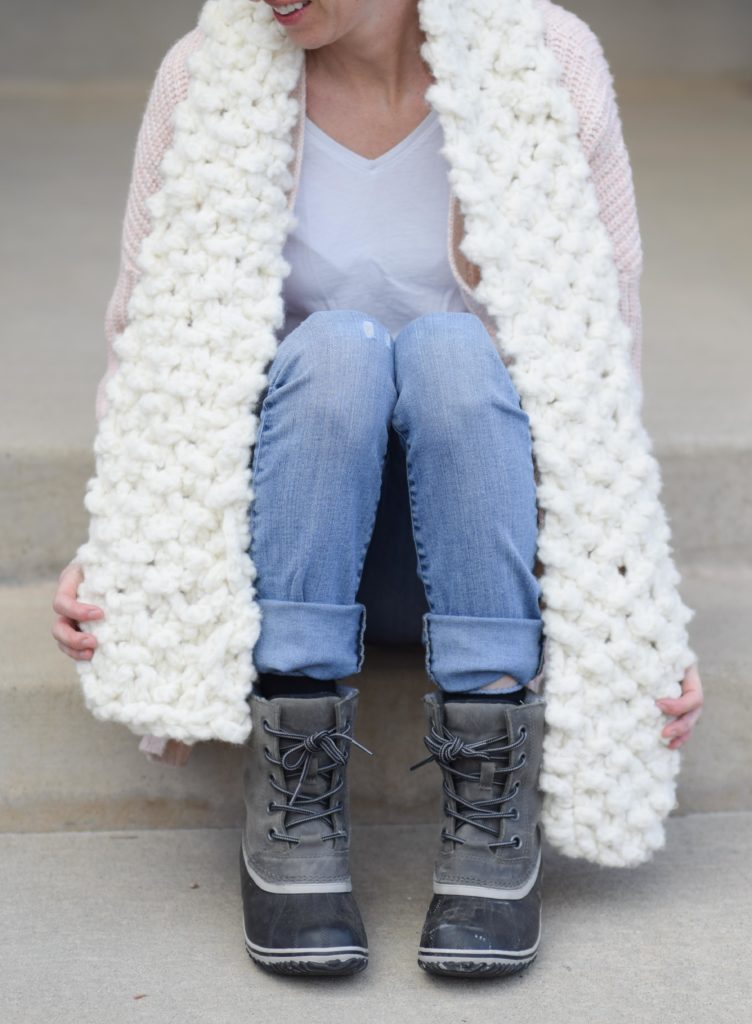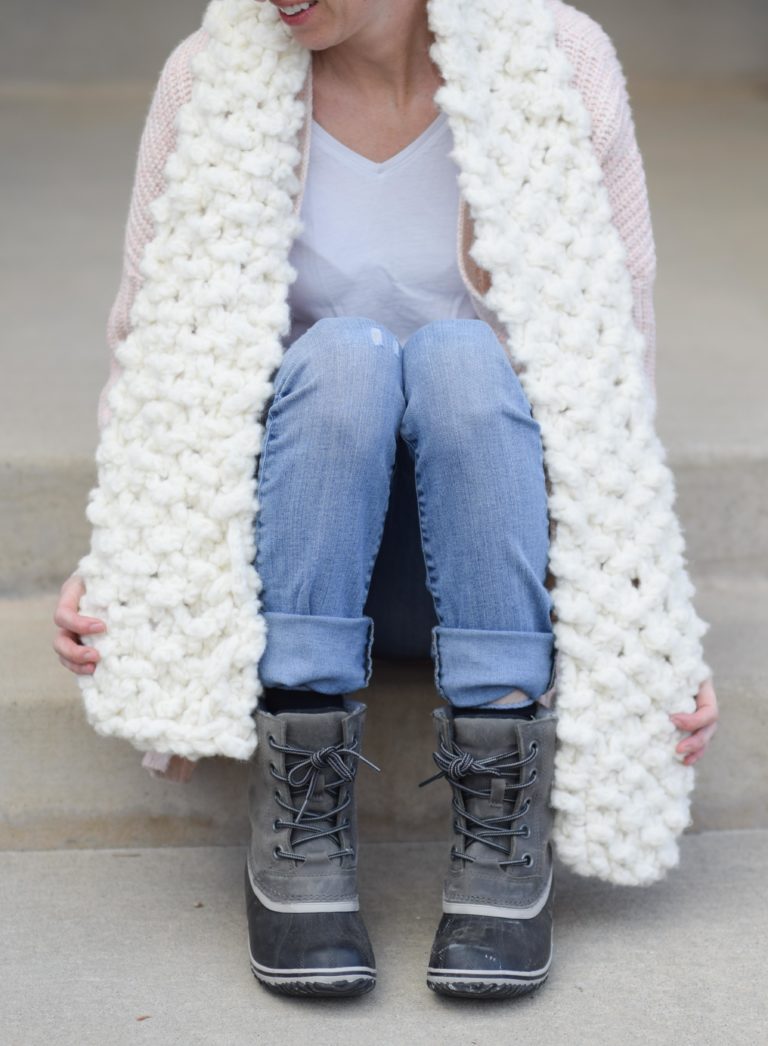 So how do we knit this? I started out using the stockinette stitch for a classic sort of look, but it was curling too much and not giving me the bouncy texture that I really wanted. Enter the seed stitch. I think it looks amazing with the jumbo yarn! You simply knit the purl stitches and purl the knit stitches. So like I said earlier, if you can knit and purl, you'll have no trouble working up this scarf for yourself or your friend! And if you can't yet knit and purl, you can always learn how to knit! Check out my tutorials here and here. Once you've got the two basic knitting stitches down, come back and make this scarf. 😉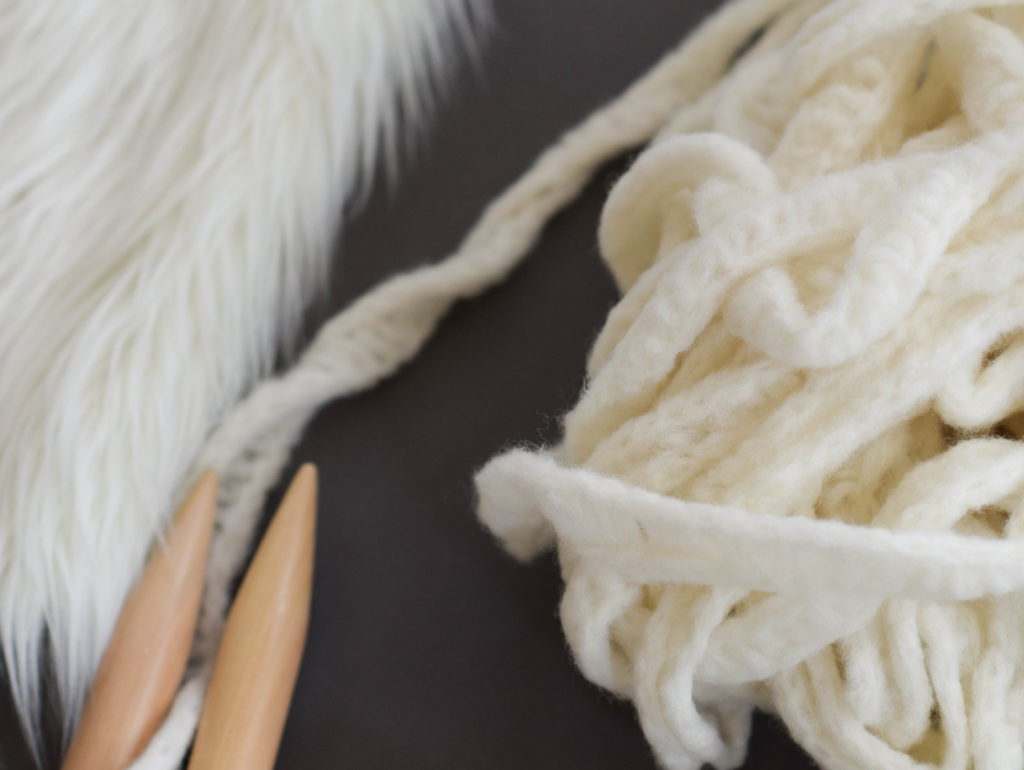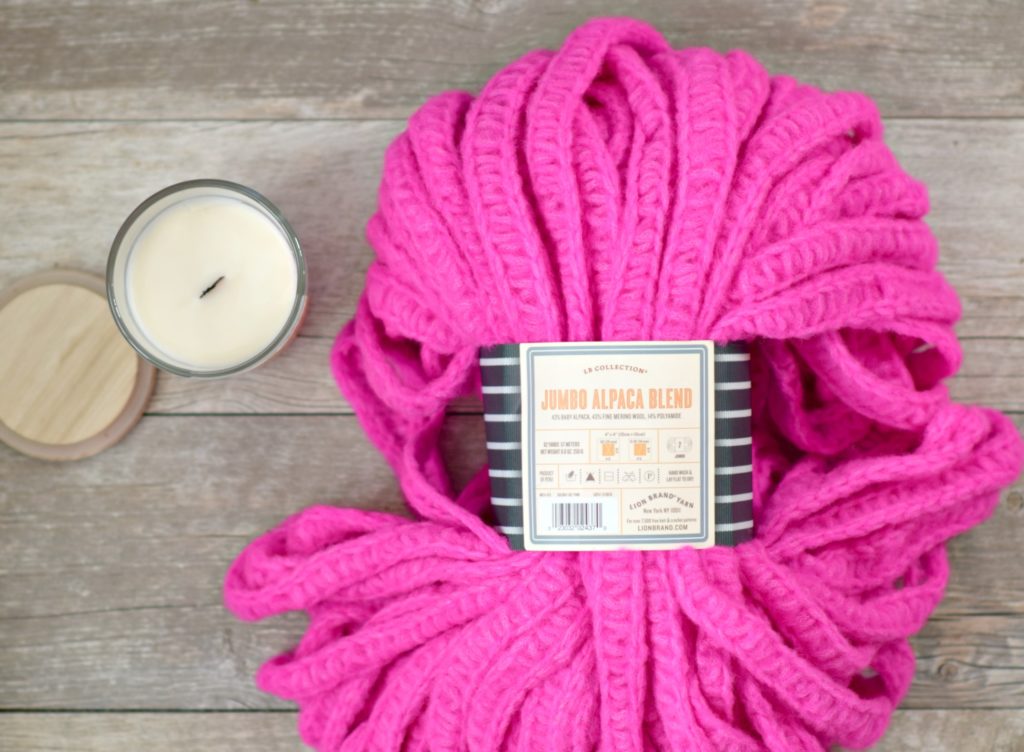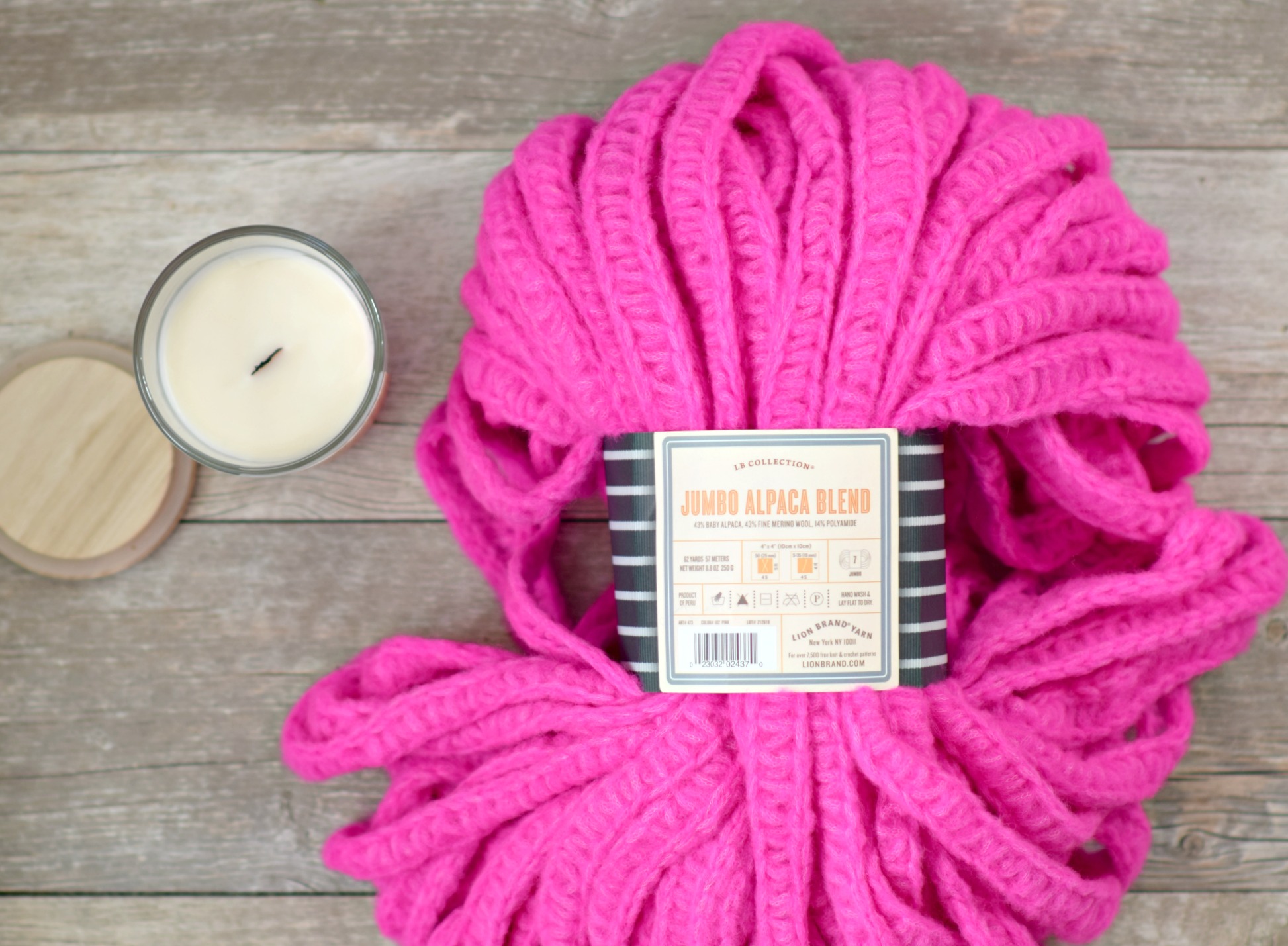 Above: The yarn itself has a really unique texture. When it's worked up with the seed stitch as this scarf is done, it reminds me a fluffy cotton!
Have you used jumbo needles before? These big needles are a lot of fun and also different from your standard little needles. You get more exercise with these I say. Hehe! The cool thing is that this knitting pattern works up SO quickly when you combine the big needles and big yarn. So let's get to the basic pattern!
Big Luxurious Alpaca Knit Scarf
Knit Scarf Size: Approximately 60″ long and 7″ wide
Skills & Abbreviations:
k – knit
p – purl
cast on
cast off
You will need:
US Size 50 25.0 mm Knitting Needles
1 Skein Jumbo #7 Alpaca Blend Yarn from Lion Brand Collection (62 yards/250 grams) Pattern uses entire skein 250g
Scissors
PATTERN
Cast On 6 stitches
Row 1 *K1, p1, repeat from * across to end of row
Row 2 *P1, k1, repeat from * across to end of row
Repeat rows 1 & 2 until you run out of yarn or your scarf is approximately 60″ long
Cast off and weave in ends. I just wove in these ends with my fingers! Is there even a tapestry needle large enough for a yarn like this? Lol. I have to re-do one of my ends as it was a late night job and apparently I wasn't paying attention.
Now put it around your neck and enjoy!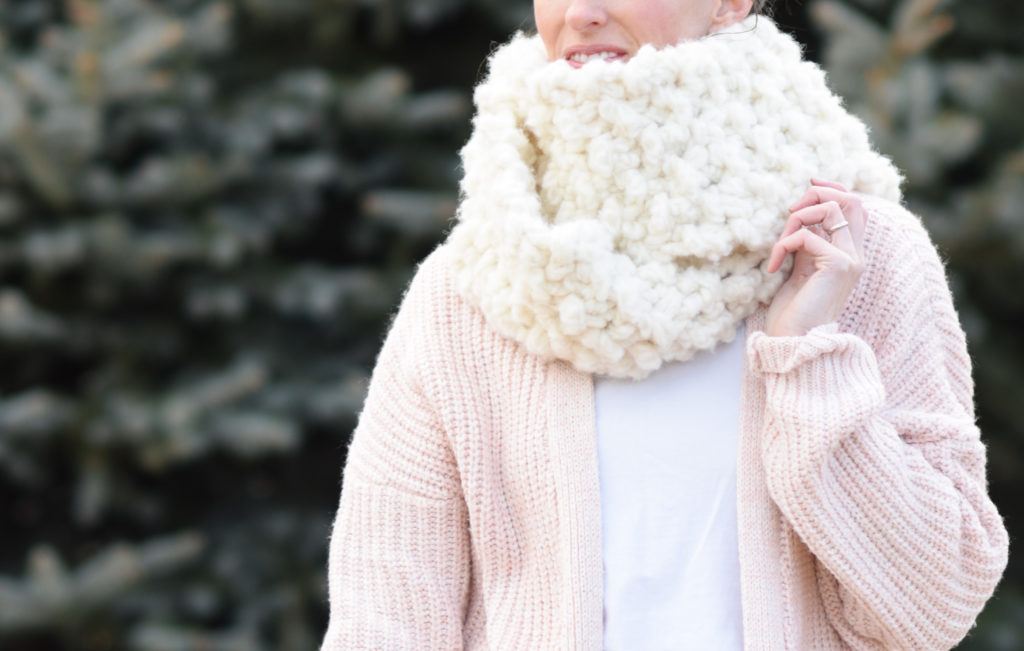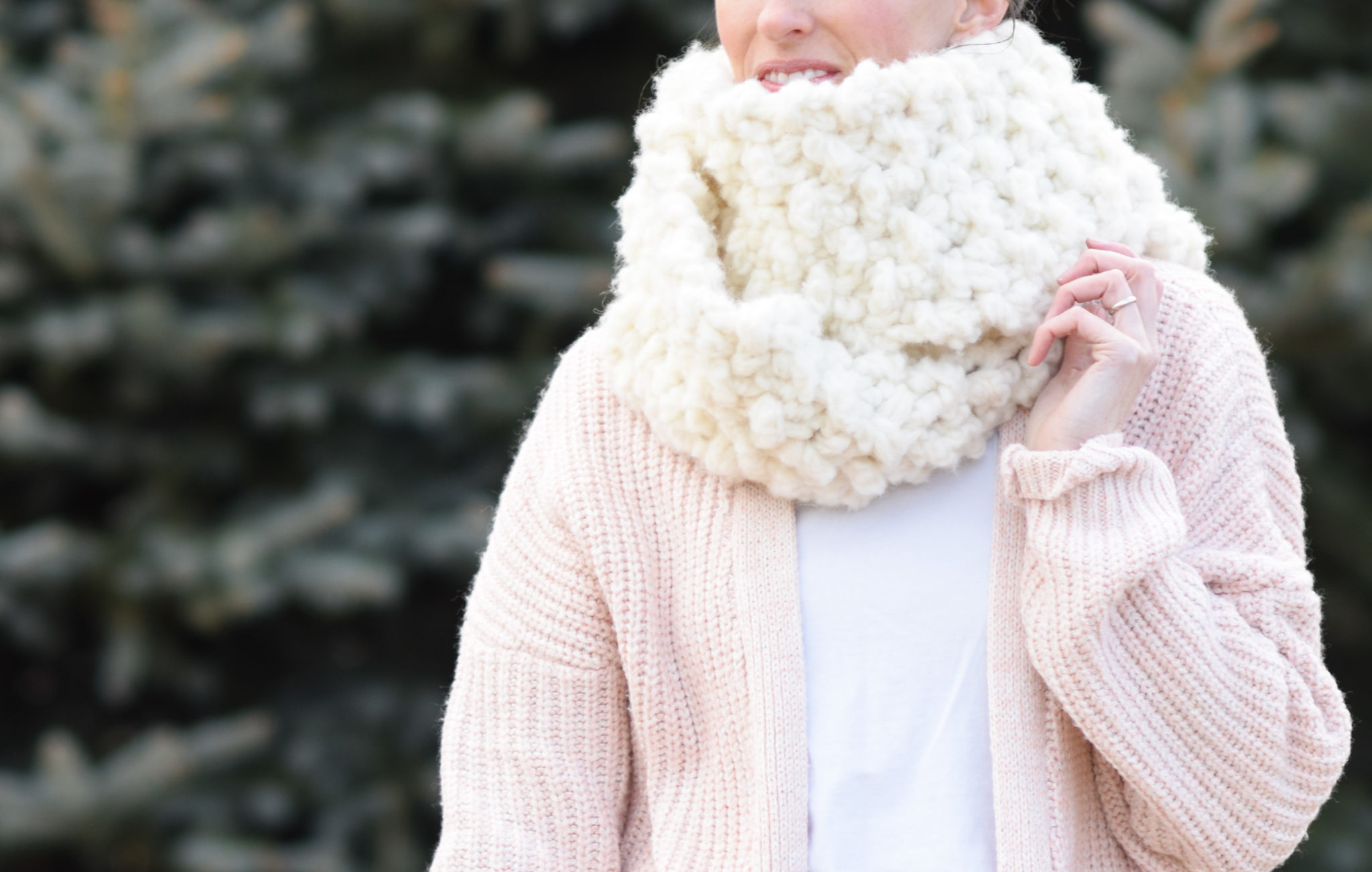 Have you splurged on yarn before or used anything like this one? I think that it's wonderful to occasionally treat yourself to a new special yarn, or buy something special when making an important gift. This jumbo alpaca blend yarn is truly special and no doubt I'll be using it in the coming years.
Have you used a jumbo yarn like this before and what have you made with it? I'd love to hear about it in the comments section below!
XO
Jessica
If you liked this, you might also like: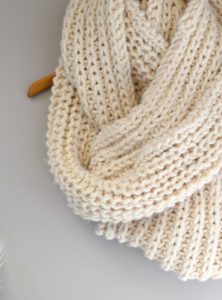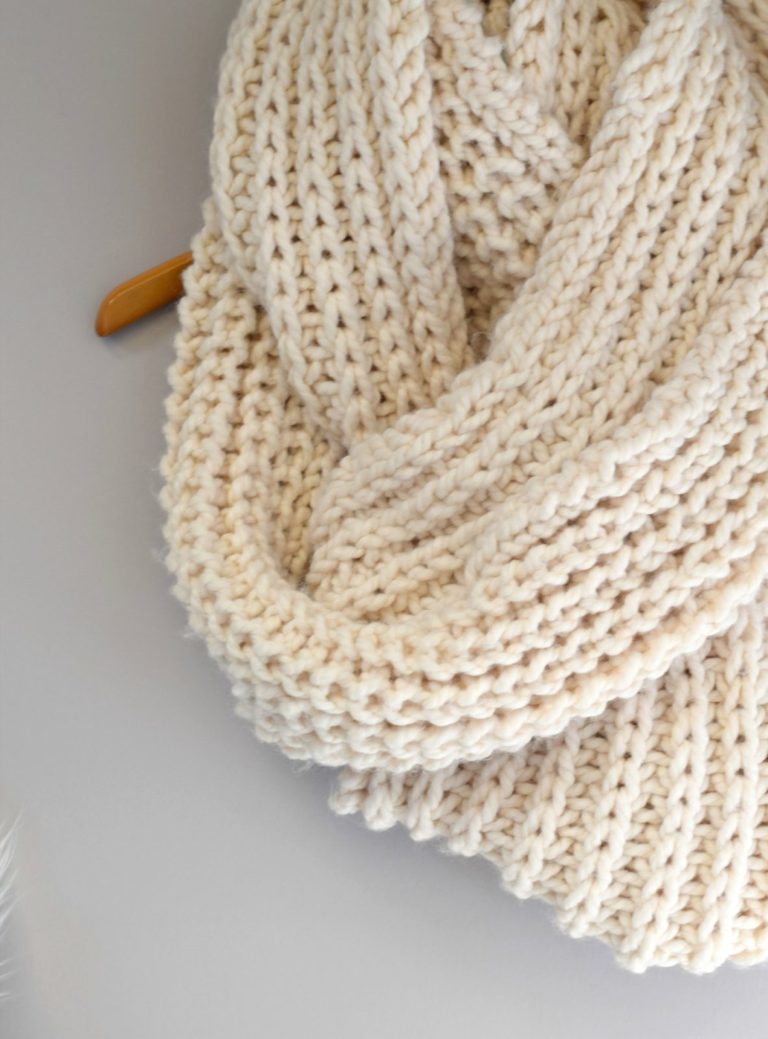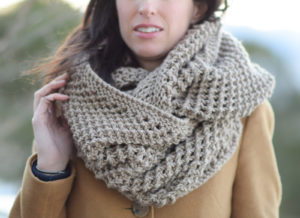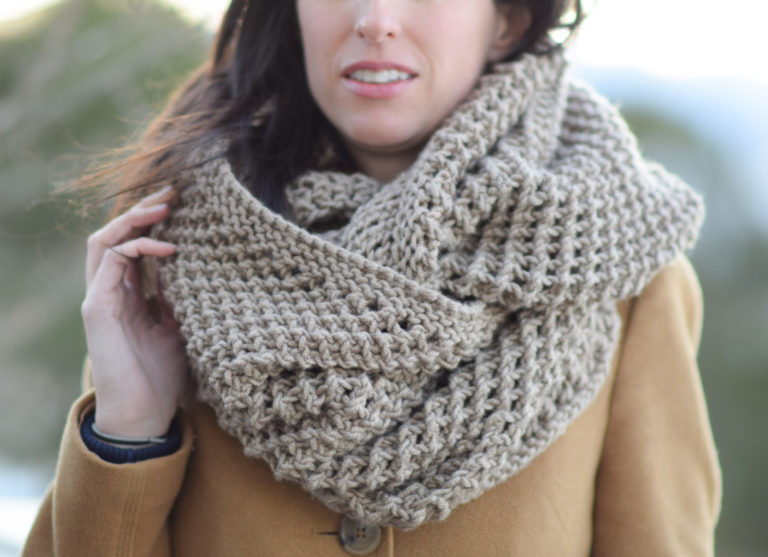 Thank you to Lion Brand Yarn for supplying the yarn for this scarf! All opinions are 100% my own. 🙂